3D printing furniture design
How 3D Printing Is Turning the Furniture Business Upside Down
NATHANIEL BERMAN IS FOUNDER OF HOUSELY, A DESIGN AND REAL ESTATE BLOG TRACKING TRENDS IN DOMESTIC ARCHITECTURE. HERE, HE LOOKS AT EXAMPLES OF 3d-printed furniture and the technology's impact on furniture manufacturing.
Pizza, working cars, entire office buildings, tiny power tools — is there anything that can't be made with a 3D printer? Over the last several years the world has seen 3D printing shake up a number of industries. It seems as if there's nothing one can't have printed these days, and now this technology is changing the world of furniture, too. Lamps, chairs, tables and decorative hardware are now being printed, and it's quickly changing how companies produce pieces as well as increasing the options available to consumers.
Cohda's Binary Furniture
Changing the Design Process
One part of the furniture business that has traditionally required significant time and financial investment is the design process.
Prototypes have to be made, models tested and pieces reworked to reach a final product. 3D printing streamlines, simplifies and reduces the cost of designing furniture. Being able to create lightweight furniture prototypes quickly and inexpensively with 3D printing enables designers to test their creations more thoroughly and maximize the beneficial features in the finished product. UK design firm Cohda collaborated with 3D printer Freedom of Creative to produce the Binary Furniture Collection. It's styled to resemble designs made by an old school Spirograph, and being able to electronically sketch and then print each piece has made the collection affordable for the business and its customers.
Patrick Jouin's One Shot Stool
A rapidly growing number of furniture design firms are experimenting with 3D printing, and the results have been quite creative. With less production and design expenses, 3D printing lets companies develop furniture that is as beautiful to look at as it is functional.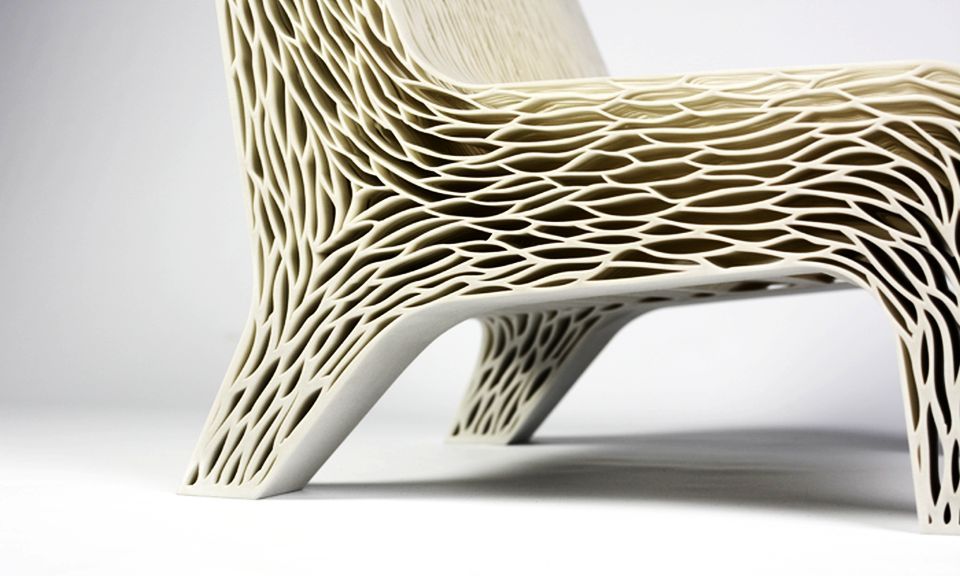 The One Shot stool, designed by Patrick Jouin, is a 3D-printed piece that folds up to save space when not in use and elegantly fans out when an extra seat is needed. Its aesthetic is unlike that of most other stools, and that's what makes the One Shot's design so attractive to those who like modern furniture.
Patrick Jouin's One Shot Stool
Patrick Jouin also designed a light, called Bloom, for Materialise that is an articulated lamp produced via 3D printing. The shade opens and closes, resembling a lotus flower. Incredibly, Bloom is printed in one piece and requires no assembly at all. It's just one of a number of innovative pieces that are coming to the furniture market and expanding consumer options like never before.
Patrick Jouin's Bloom
Manufacturing Revolution
In addition to giving designers the ability to create furniture that's simply not possible to make by traditional methods, 3D printing has made it cheaper for new businesses to enter the furniture game.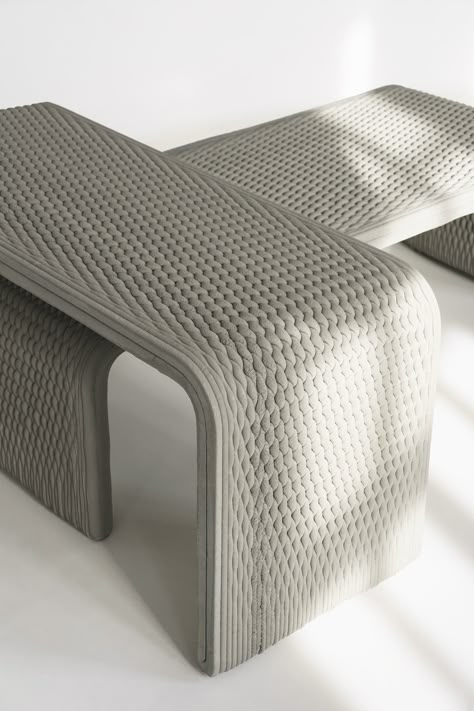 Less design and production expenses equates to furniture that can quickly be made available to consumers at a lower price on both ends. It's truly a win-win for designers, manufacturers and people who want awesome furniture without spending an arm and a leg.
Since its inception, the 3D printing industry as a whole has grown over 45 percent each year. In 2013 the market was valued at $2.5 billion, and the projected value is estimated to reach $16 billion by the year 2018. This technology allows furniture design firms and retailers of home goods to increase their bottom lines, waste significantly less resources and energy and make production much more efficient.
Dirk Vander Kooij's Endless Pulse Chair
3D printing is not only more cost effective for companies, it's much more environmentally friendly and sustainable than most traditional means of creating furniture. Dirk Vander Kooij's Endless Pulse Chair is made via 3D printing and comprised of discarded refrigerators that have been melted down.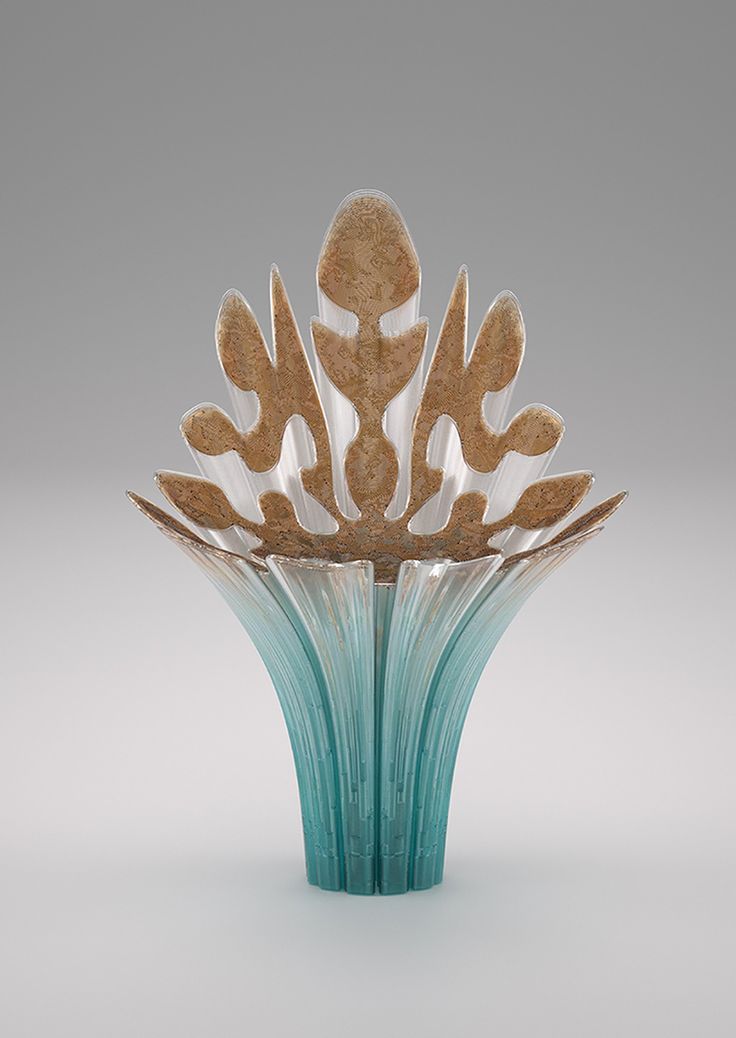 The result is a piece that's durable and strong yet lightweight. As an eco-conscious bonus, the Pulse Chair itself can be recycled.
Dirk Vander Kooij's Endless Pulse Chair
Consumer Benefits
Custom designed furniture has historically been cost prohibitive because of the costs involved on the business end, but printed furniture eliminates some of that burden. Not only is designing prototypes made easier with this technology, getting finished pieces to customers is as well. They can choose their preferred colors, styles, and other customized options and it won't add any additional cost to the printing process.
While 3D printing will change many segments of the furniture industry, it won't replace traditional manufacturing or upholstery entirely. Those who prefer classic designs or pieces crafted of exotic woods and materials are unlikely to start favoring the very modern style of furniture that 3D printing produces. However, consumers who want their furniture to look like a trendy Pinterest board, custom artwork, or minimalist piece will find it very easy to love 3D printed furniture.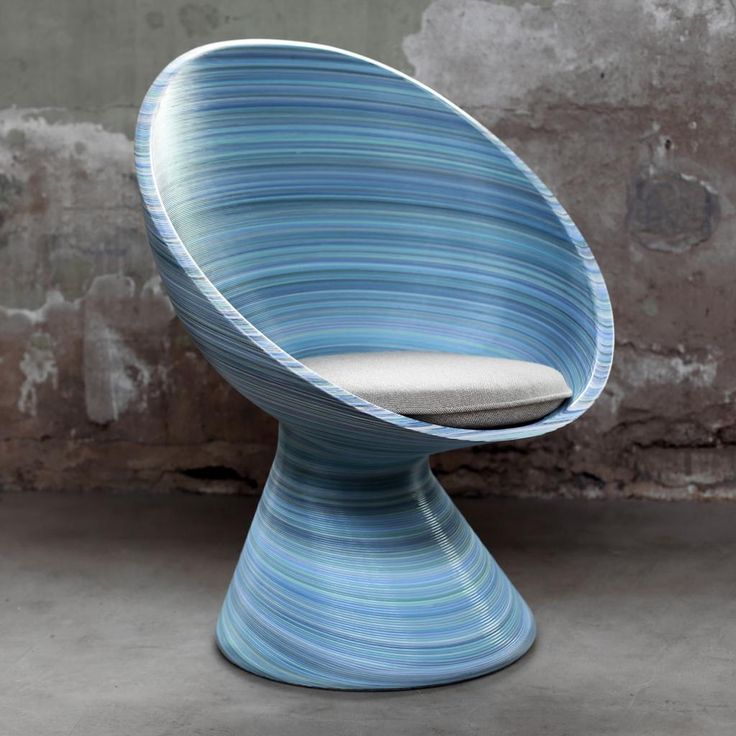 © Studio Leyssen Photograph
Peter Donders's Batoidea Chair
Peter Donders is a Belgian furniture designer who developed the Batoidea Chair and creates each one with the aid of 3D printing. It's an airy piece of furniture with attractive twists and curves, and it can be printed in various colors. Similar chairs made of metal cost many times more than Donders' printed design, and he says that without additive manufacturing, creating the Batoidea Chair would result in a great amount of waste.
Peter Donders's Batoidea Chair
In addition to having a much wider array of designs to choose from and the ability to easily obtain custom pieces, 3D printed furniture is easier on the wallet than traditionally manufactured furniture. Whereas a custom table would cost thousands of dollars, a printed one would cost a few hundred, if that. It's much quicker to actually get the furniture in hand as well.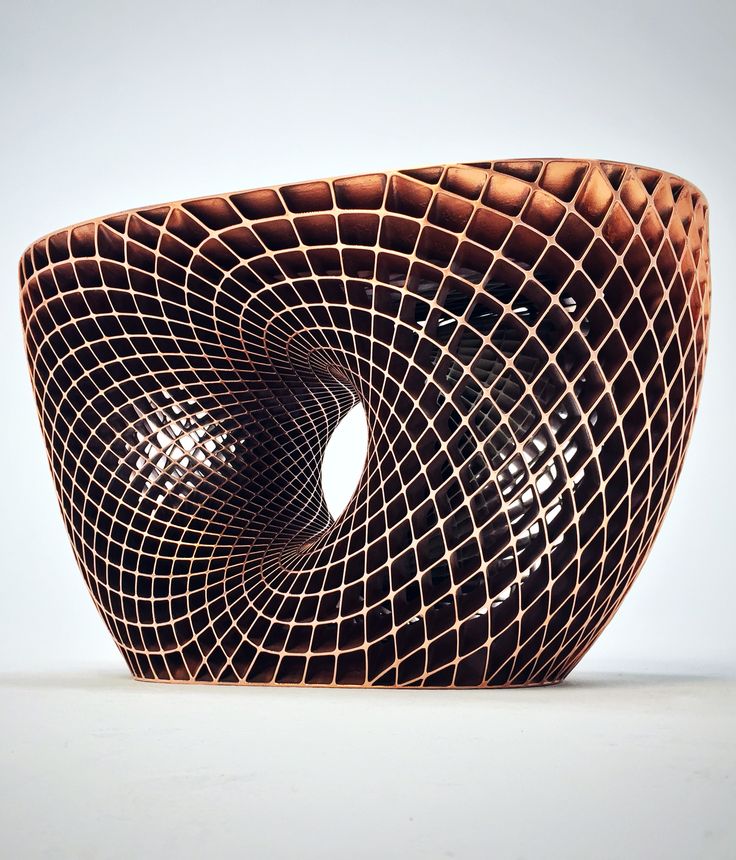 Designer Dirk Vander Kooij can create furniture with his 3D printer, dubbed Furoc, within a three hour time span. That's incredibly faster than the time it takes to make non-printed furniture, and it's even 40 times faster than most 3D printers.
This speed will change furniture shopping as consumers have come to know it. In the very near future, customers will be able to go to locations nearest them and get their chairs, tables, and fixtures 3D printed on the spot. Imagine being able to look at a piece of furniture online, have it printed, and then pick it up the same day — it's a very real possibility, and shoppers and retailers can expect it to become reality in just a few years. Lower production costs, endless design possibilities, happy consumers — it's no wonder 3D printing is taking the furniture industry by storm.
Originally posted on housely.com.
Read more articles by Nathaniel
As part of our new tech section, Architizer presents an overview of apps that can benefit architects and designers throughout the lifetime of a project, from concept to completion.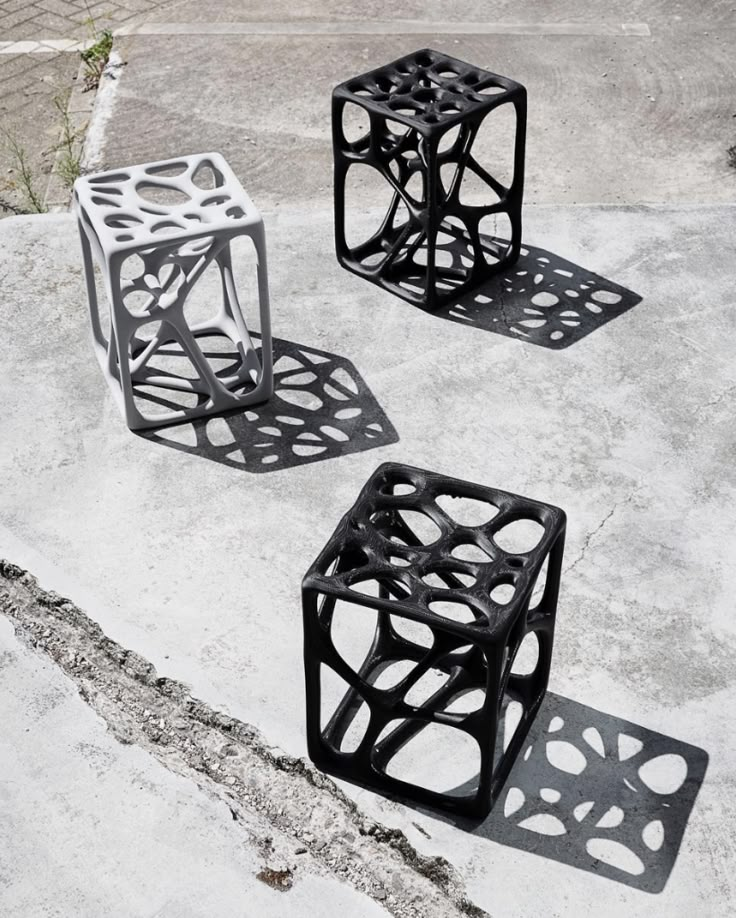 In the field of architecture, time is always of essence. Drafting a field report during or after a site visit is often a time-consuming and tedious…
Thonon-les-Bains, France
14 Best 3D Printed Furniture Projects
Published on February 13, 2019 by Carlota V.
While 3D printing is gaining ground in the industrial sector, it is also present on a smaller scale in homes, open spaces or even parks and streets. We have noticed more and more 3D printed furniture for example. From chairs, tables, stools to sofas, there is no shortage of initiatives! Designers and manufacturers use 3D printing technologies to increase complexity and offer customisable furniture. Some can even be printed directly at home. Discover some 3D printed furniture projects and leave with some great home decor ideas!
TOP 1: DRAWN Furniture
Drawn is a French company that has developed its XXL 3D printer called Galatéa to create custom furniture and decoration.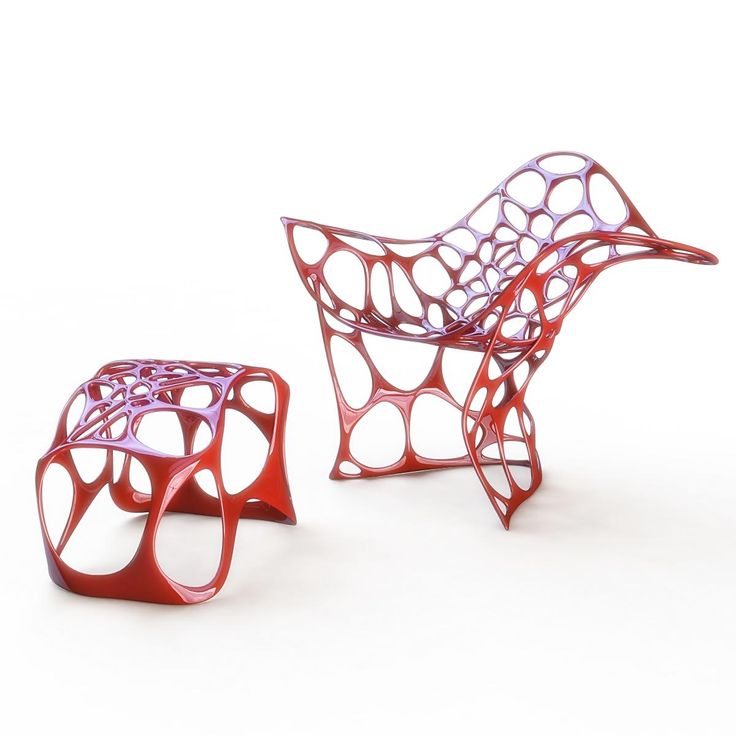 After a successful Kickstarter campaign in 2015, it started manufacturing plastic stools, tables and chairs and smaller decorative items such as vases. The users can choose the colour and shape of their furniture and watch the 3D printing of his chair for example.
TOP 2: Print Your City Project
If you walk the streets of Amsterdam or along the coast in Thessaloniki, Greece, you may see 3D printed street furniture, including benches. They were made from the plastic waste of the city's inhabitants. This waste was recycled and transformed into 3D printing filament. This initiative clearly shows that 3D technologies have a key role to play in preserving our environment and can create value in all sectors of activity.
TOP 3: Nagami's Chairs
The Spanish design studio Nagami presented its collection of avant-garde chairs last year at the Milan Furniture Fair. Four fairly futuristic chairs, printed in 3D from different materials; two of them have been made with biodegradable plastic granules for example.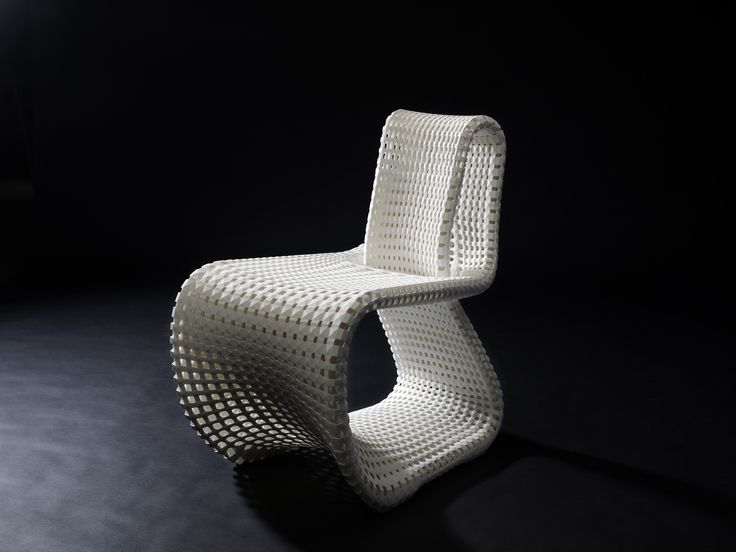 They remind us of a floral structure and are very colourful: we go far beyond the simple kitchen stool! This project is more likely to demonstrate the possibilities offered by 3D technologies in the architecture and furniture sector, we are not sure to see them appear any time soon at Ikea.
TOP 4: RIO Collection
Integrate and Morgan studios worked together to create RIO, a collection of chairs and tables that integrate 3D printed elements. For example, it is the backrest of the chair that has been printed in 3D in 24 hours from a liquid resin or polyamide powder and a mathematical algorithm. The result is a piece of furniture that combines craftsmanship and new technologies, impossible to make otherwise. The same principle applies to tables where part of the base has been printed in 3D.
TOP 5: 3D Printed Benches from XtreeE
The French startup XtreeE develops advanced large-scale 3D printing technology for architectural design, engineering and the construction sector.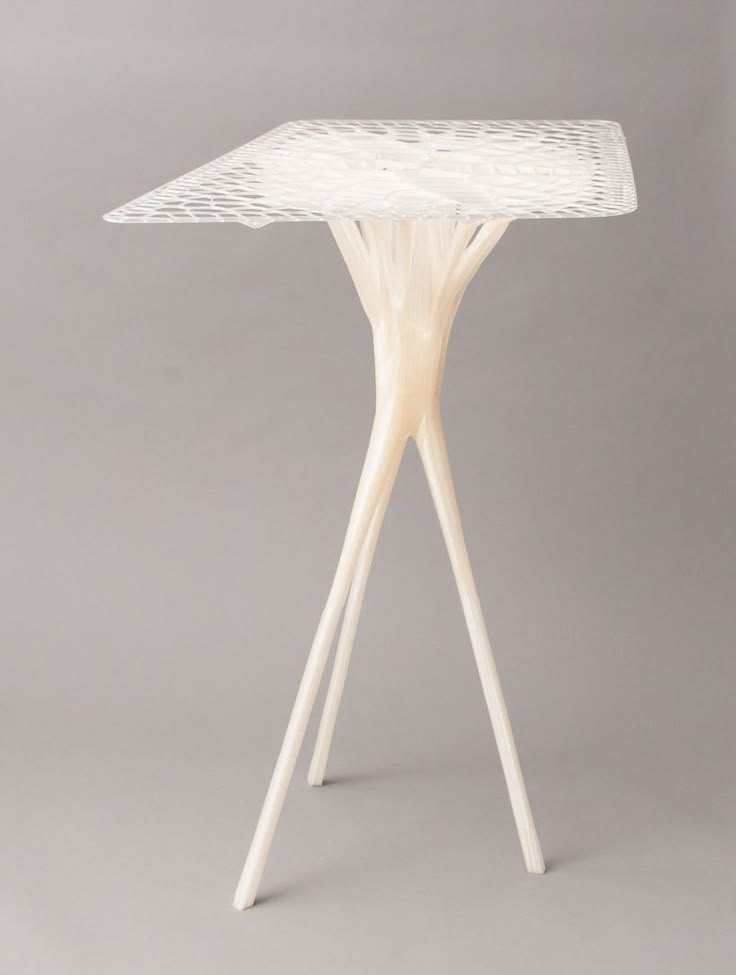 The startup is also a concrete 3D printing specialist. Amongst many projects, it actually ran from 2017-2018 the woven concrete benches project. As a result, they created a series of three benches by collaborating with Berlin-based design studio, Studio 7.5. The benches exploited the woven pattern both for aesthetic value and its structural performances. It is a very complex motive to obtain with a classic mould. However, the 3D printed design is both geometrically complex and uses a minimal amount of concrete.
TOP 6: Simplus' Modular Wall System
Simplus is a New-York City based design practice founded in 2014. They work across the disciplines of architecture and industrial design with an approach rooted in digital methodologies and rapid prototyping. One of their projects, baptised SuperMod is a 3D printed modular wall system. It combines function and beauty. The wall fluctuates between different sized modules to accommodate various types of storage needs. 3D printed materials of opaque white and translucent red plastic allow for light to come through certain modules and produce glowing effects in the surrounding place.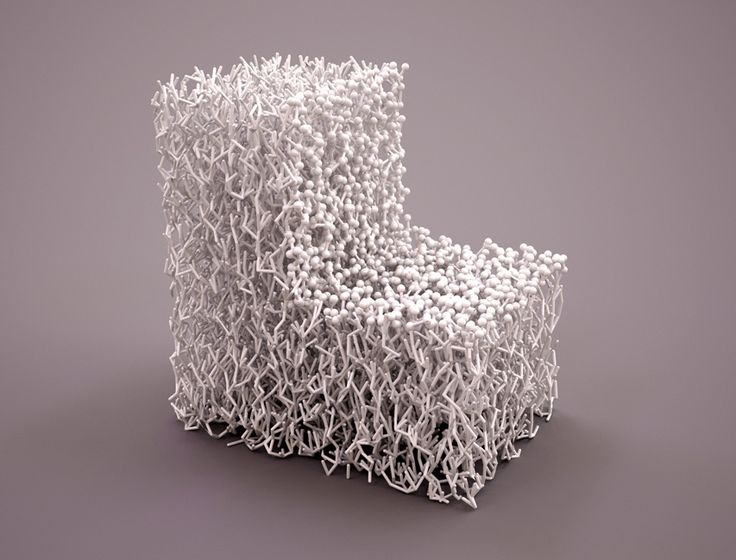 TOP 7: BigRep's Ocke Series
The BigRep ONE v3 from BigRep was created to make industrial 3D printing for large-scale objects as easy as possible. The printer offers 1m3 print volume. This time, it's 3D designer Beatrice Müller who has put the technology to good use. In fact, she has designed furniture to be printed almost in one piece on the machine. In BigRep's Ocke Series, the set of 3D printed furniture consisted of a chair and sofa. As Müller explains, 3D printing gives designers more design freedom to create new and interesting concept ideas.
TOP 8: KARO Coffee Table from Zortrax
3D printing manufacturer, Zortrax created the KARO coffee table with its M200 3D printer to showcase the potential of their technology. The coffee table's legs were 3D printed in the company's Z-ULTRAT black, grey and ivory filaments. The legs of the table add up to 3Kg of plastic. It took nearly 263 hours to print the several diamond-shaped and triangular modules needed to assemble the table.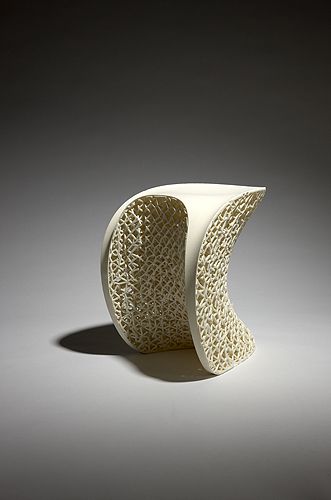 Once printed, a circular glass was placed over the base to form a classy tabletop. KARO is a weather-proof furniture piece, suitable for both indoor and outdoor home environments.
TOP 9: Puzzle Chair from BITS&PARTS
This puzzle chair from BITS&PARTS can be downloaded online for free and printed at home, or you can order a 3DHub to print the chair. You can choose between the "Kids Maker Chair 19", the "Maker Puzzle Chair" and the "Kids Maker Chair 39". The latter, for example, has 39 puzzle pieces, each of which weighs approximately 170 grams. According to BITS&PARTS, you need a total of 3.5kg of filament in each colour and it should be printed with 2.85mm ABS. With different colours you can design your individual chair to print at home!
TOP 10: Ikea's Gamer Chair
Together with the start-up company UNIQ, which specialises in 3D printing, the furniture store giant IKEA wants to produce personalised, ergonomic and interactive video game equipment.
Since a comfortable chair is essential for gamers, but no one has ever dealt with personalised gaming chairs before, IKEA decided to take on the task. The aim is for the customer to simply scan his body and receive the chair within two weeks. The first personalised gaming chair should be marketed starting from 2020. In fact, this is not the first IKEA model to be produced by additive manufacturing. As early as 2017, the furniture store launched a collection of 3D-printed furnishings, such as a coat hook in the shape of a hand.
TOP 11: ALEKSA Studio's Table
This table was designed by ALEKSA studio in London. The additive legs of the table were manufactured by 3D Print UK using an SLS printer. The very efficient structure of the legs makes it possible to carry the heavy walnut wood top despite their minimal weight. The use of 3D printing technologies allows designers and manufacturers to produce different variations and sizes of the table on request.
TOP 12: Jon Christie's Chairs
Jon Christie has been a DJ by profession, but throughout his experience he has always worked with design and lighting.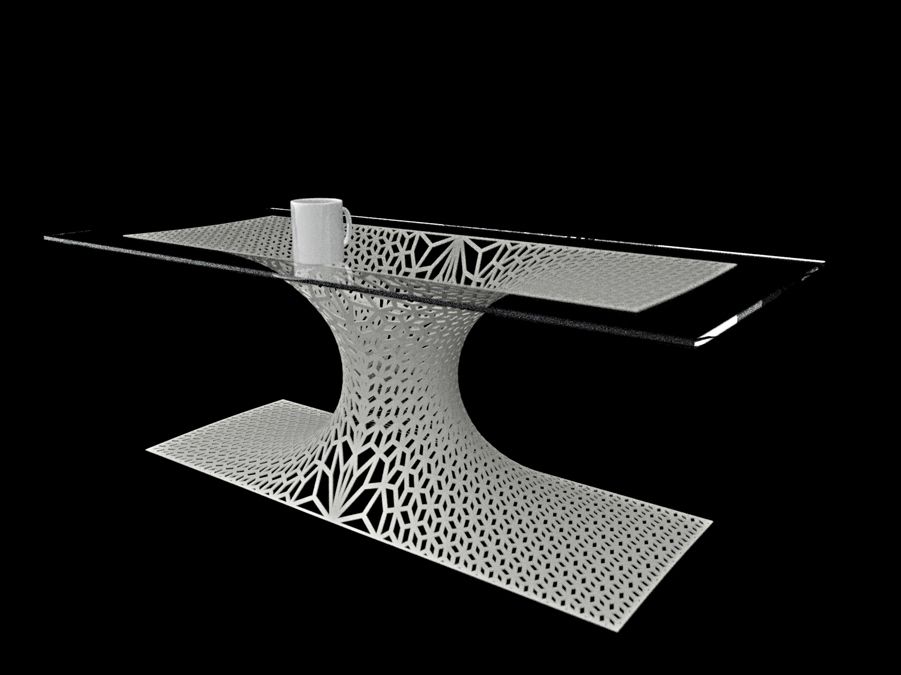 That's why after 20 years of experience he has decided to merge additive manufacturing technologies with traditional furniture manufacturing techniques. This is how his first collection emerged, taking a Scandinavian design of chairs decided to add 3D printed gaskets, which has allowed greater creativity in terms of color and shapes when creating. For its development it has used the melted deposition technology of the Dutch brand Ultimaker.
TOP 13: Steelcase & MIT Collaboration
The collaboration between MIT's Self-Assembly Lab, designer Christopher Guberan, and furniture brand Steelcase yielded to the development of a new 3D printing method: Rapid Liquid Printing. Effectively, it draws inside a gel the structures to be printed. It was thanks to this development that an original table was created, which takes advantage of the fact that this manufacturing technique has no gravity limitations and is capable of doing so in less time than traditional technologies. The table was printed in just 28 minutes!
TOP 14: 3D Printed Lamps
Pierre-Yves Jacques, is the creator behind the French design studio LPJacques.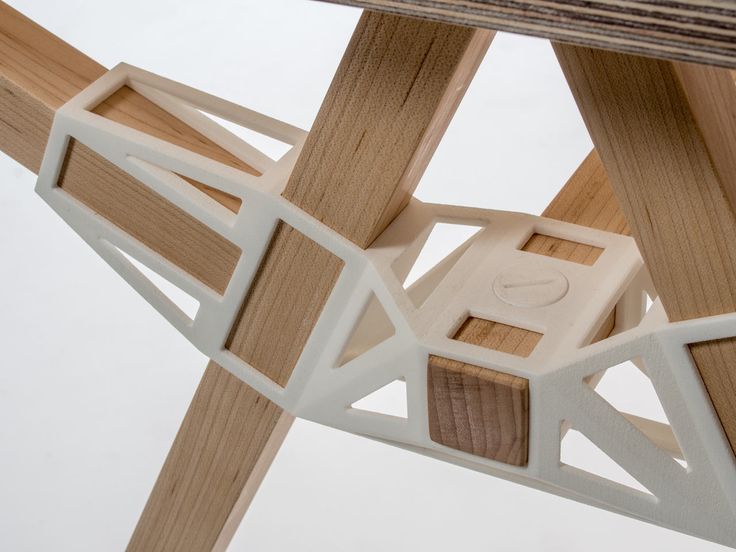 The design studio specialises in the use of additive manufacturing technologies for their projects. A few months ago he unveiled his Di-Lamp project. These lamps can be completely customised by users thanks to additive manufacturing technologies. You can choose the type of design and colour of the perfect lamp for your living room. In addition, the studio has also included a series of decorative elements to match your lamp.
Are you inspired by these 3D printed furniture projects? Let us know in a comment below or on our Facebook and Twitter page! Don't forget to sign up for our free weekly Newsletter, with all the latest news in 3D printing delivered straight to your inbox!
Furniture on a 3D printer: 3D printing
In this article we talk about making furniture using additive technologies - 3D printing - about the advantages and examples of using this approach in practice and what technique is best to use.
This article was prepared using a publication from the site 3dsourced.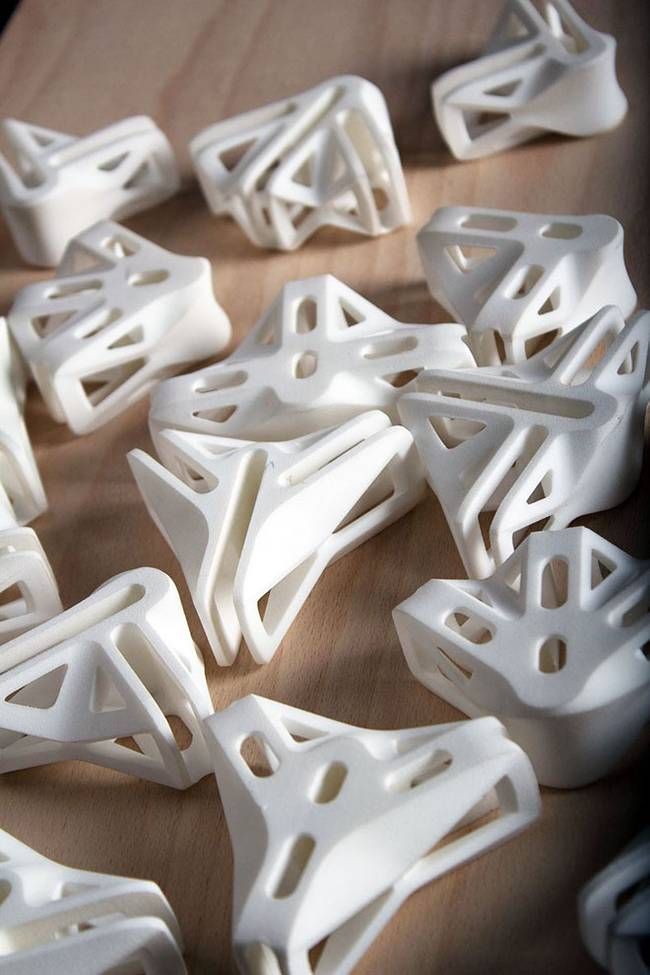 com, which was translated and supplemented for you by the Top 3D Group.
You may have once had the idea to use 3D printing in the manufacture of furniture for your home, but you dismissed it, considering this idea too laborious, time consuming or expensive. After all, large industrial 3D printers with a huge print area, like the Farsoon SS403P 3D printer, are usually needed to create large pieces of cabinet furniture, right?
That used to be true, but now there are ways to use 3D printing in the interior without the need for large-format industrial machines.
Read on - we'll take a look at some of these applications with real examples.
Option 1: Build furniture with the Hangprinter
Designed by Torbjørn Ludwigsen, the Hangprinter is a cable-suspended and movable print unit designed to print large objects as cheaply as possible. The Hangprinter doesn't fit in a case, its print chamber is the entire room.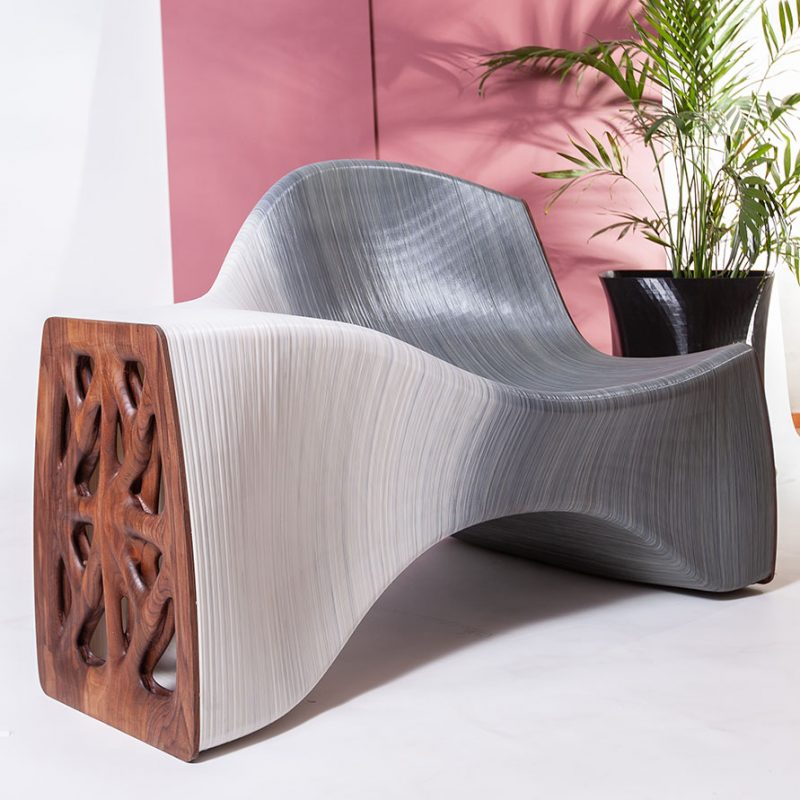 Hoping to inspire others to try frameless 3D printing, Thorbjörn has made the software files for this printer open and free for everyone to copy, use and further refine. Most parts of the Hangprinter can be 3D printed, and the cost of building one yourself is estimated to be as low as $250.
Chris Riley Stool
Introduced in mid-2017, Hangprinter printing immediately began to be tested in the creation of large objects. In the video below - one of the very first examples - Chris Riley's bar stool.
Such videos showed the strengths and weaknesses of Hangprinter, for example, the ability to create really large objects for relatively very little money and the possible delamination due to the lack of a closed camera.
Chris Riley's Stool printed with offset layers and delamination, and it also took two weeks to print because the Hangprinter was so loud it couldn't be used at night and had to be printed only during the day.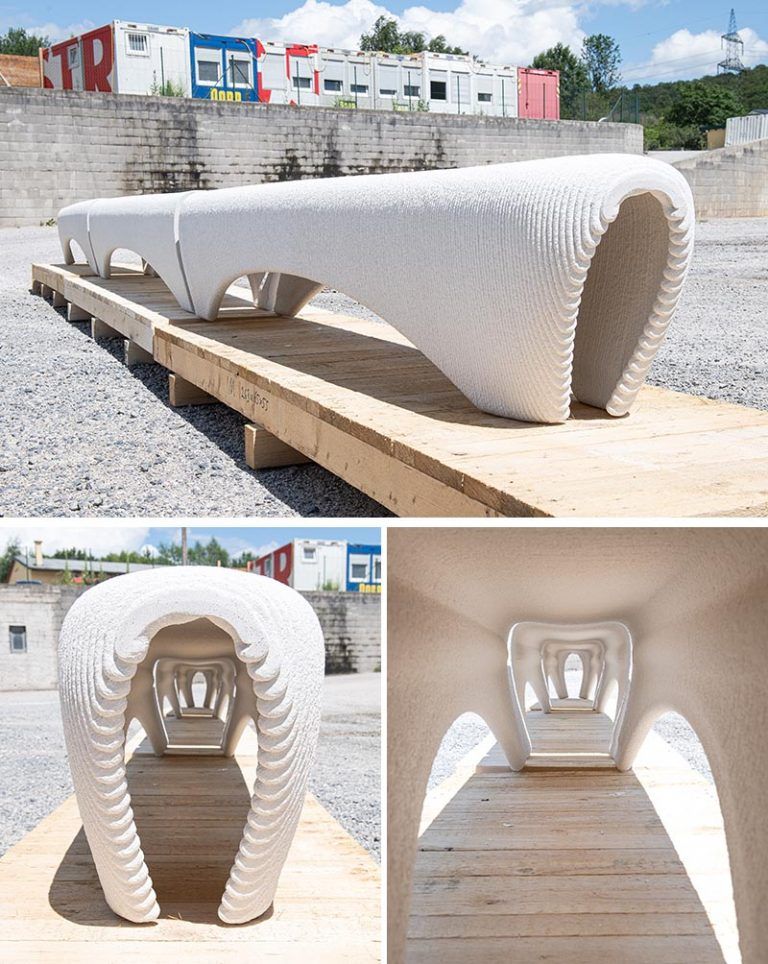 Hangprinter assembly and operation requires familiarity with 3D printers, an understanding of the mechanics of how they work, skills in working with electronics and device debugging, but there are also detailed instructions for beginners, as well as a small but growing community of other Hangprinter users who can be contacted for help.
For those who are willing to put up with the shortcomings described above, or are confident that they can avoid them, Hangprinter remains the most affordable and affordable way to create fully 3D printed furniture.
Option 2: 3D printed furniture on a large 3D printer
3D printed furniture from the Print Your City project. This model may not fit in your desktop printer.
The second method is to use a stationary 3D printer with a really large print chamber
Print Your City
The "Print Your City" project, for example, uses a 3D printer to print street furniture and other small architectural forms, consisting of a robot and a fenced indoor area equipped with a special printing platform.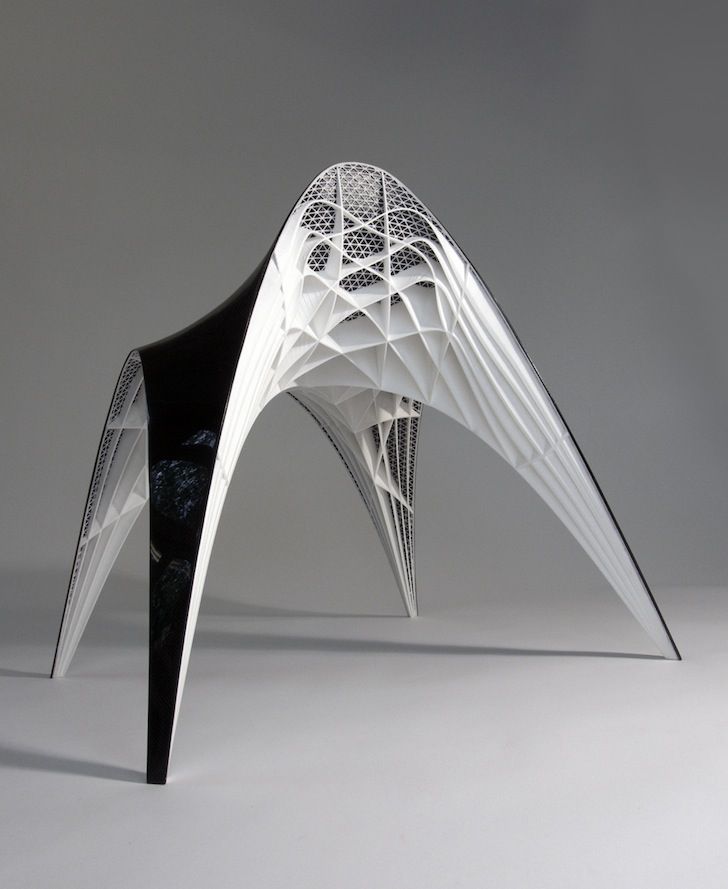 Last but not least, plastic for printing is made from recycled waste.
Despite the simplicity of the idea itself, this method of manufacture is beyond the reach of most people. Large 3D printers not only take up a lot of space, sometimes entire rooms, but are also incredibly expensive. Large industrial 3D printers like the Farsoon HT1001P can still cost hundreds of thousands of dollars.
Because of this, very few furniture projects are carried out by individuals, usually by businesses or very passionate enthusiasts, and the Wilkhahn Printstool stool shown below is an example of both.
Wilkhahn Printstool One
Designed by Thorsten Frank and manufactured by Wilkhahn, this 3D stool was produced on an industrial 3D printer and is available as part of Wilkhahn's premium office furniture range.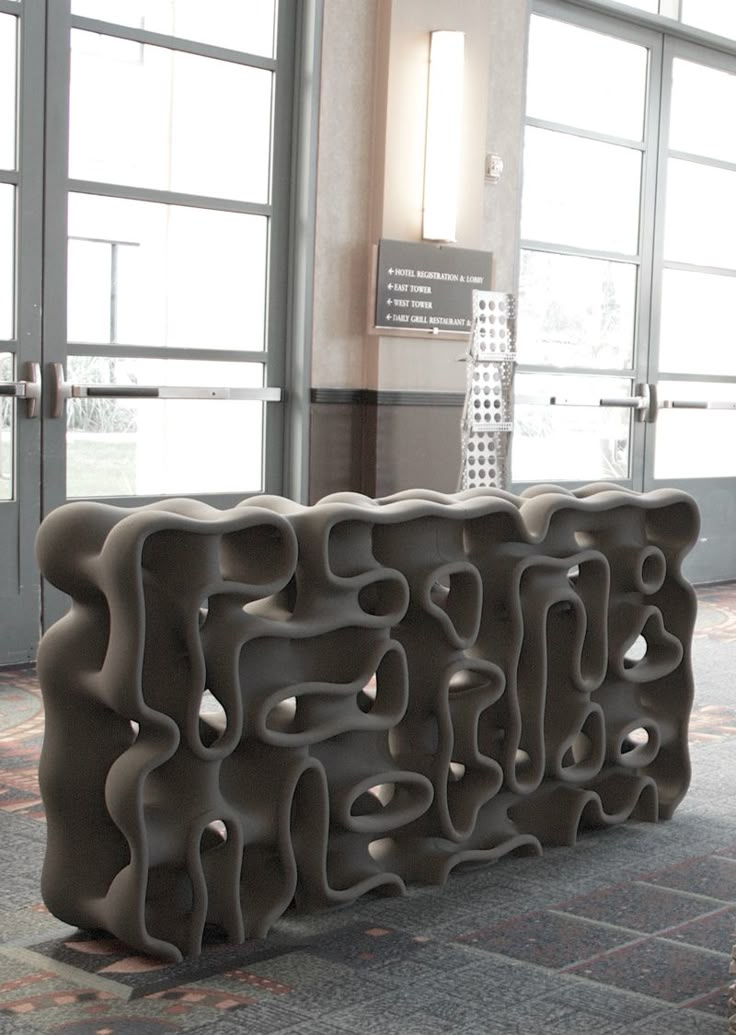 Wilkhahn is a German furniture manufacturer that strives to differentiate itself from its competitors.
"Unlike almost any other office furniture manufacturer, Wilkhahn stands for designs made in Germany all over the world. It offers high-quality office and dynamic conference furniture that sets the benchmark for the entire industry," the company says.
Printstool One is one of the few 3D printed pieces of furniture available commercially. It takes several hours to create and assemble, including 3D printing the base and attaching the seat. The base is printed with lignin, an organic biopolymer that decomposes in nature.
Although the Printstool One is a commercial product, it is not easy to obtain. It is not part of the main Wilkhahn catalog and was released in a limited edition of 500 pieces.
The price for this stool has not been disclosed and probably depends on options, seat material, for example.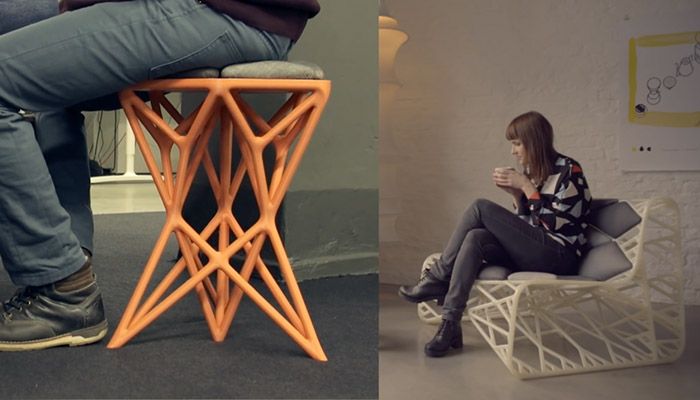 But given that regular stock stools in this manufacturer's catalog range from $266 to $660, it's safe to assume that the Printstool One costs at least $500, making it quite an expensive plastic stool. However, overpayment for exclusive furniture is a quite common phenomenon.
In recent years, 3D printing has become more and more accessible. Most likely, this will also affect its large-format sector.
RH Engineering & ManoFigura - home furniture

"Magna Patero Ortus" - 3D printed sink RH Engineering & Manofigura .
In mid-2020, this pair of German designers broke into the luxury furniture and interiors segment with their signature Manoveneer finishing technology and large-scale 3D printing.
Their favorite printer is the BigRep One, large enough to print furniture, with a 1005 mm³ displacement, and costs around $39,000, depending on specifications.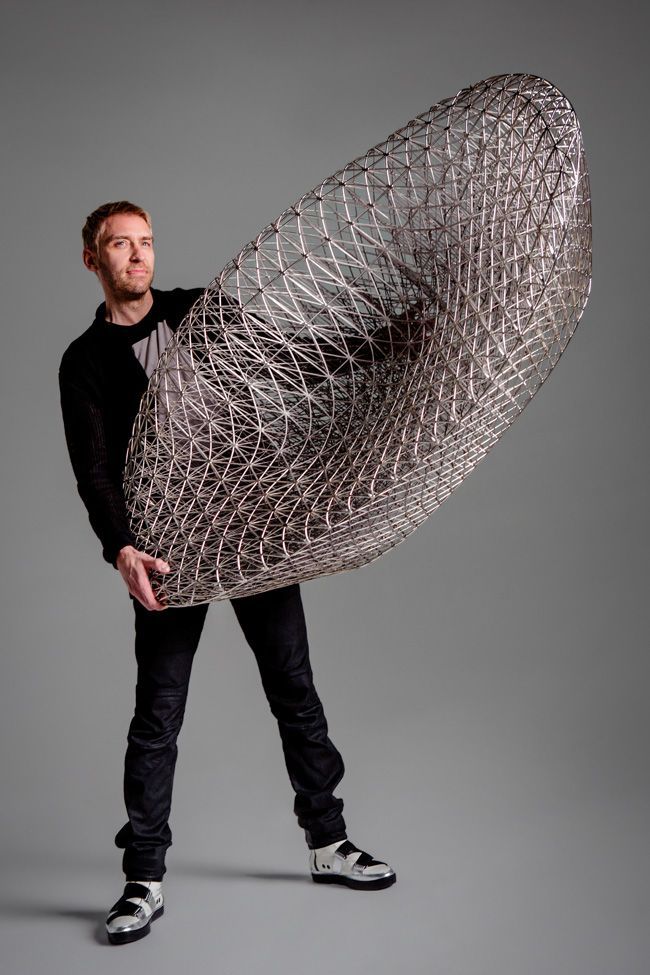 The production process begins with 3D printing of craft furniture based on the client's design, then the ManoVeneer branded coating is applied to the product. What Manoveneer is made of is a company secret, it is only known that the coating is waterproof, can imitate the texture of natural stone and weighs very little.
Option 3: modular printing on a small 3D printer
Large 3D printers will always be a barrier to 3D printing furniture due to their size and cost, prompting designers to look for ways to stop using them - they are turning to small 3D printers and print smaller parts for later assembly.
Supermod 3D printed wall

3D printed Supermod wall.
Designed by the founders of Simplus Designs, the Supermod shelving wall consists of individually printed modules that fit together.
Supermod was created for decoration, visual division of the room into zones and storage of small things in cells.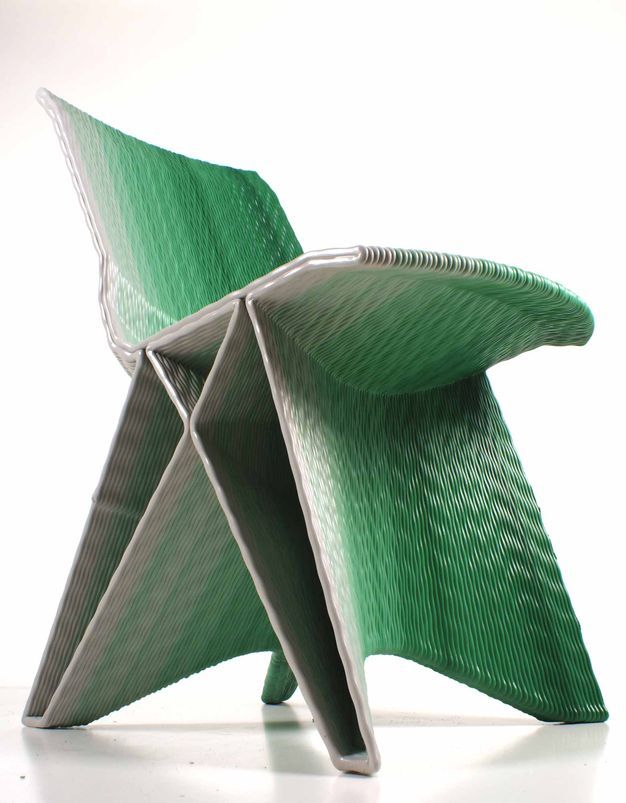 As a modular system, Supermod bypasses the need for large scale 3D printers. While the assembled wall may be taller than most people, each module can be printed on an affordable desktop 3D printer.
The next method involves using 3D printed parts in combination with conventional ones, such as a table top shield or wooden legs, giving the 3D printed components the role of fasteners and framing elements. This is the most accessible way for a wide range of makers to use 3D printing in the creation or repair of furniture.
Option 4: 3D printed parts as accessories
John Christie "Saul" dining table and chairs
John Christie, who has been creating custom furniture for over 20 years, returned to university at 40.
"During my studies, I became interested in 3D printing and how I could integrate it into the traditional furniture making process. In my projects, I studied how 3D printed parts can be used in the production of furniture.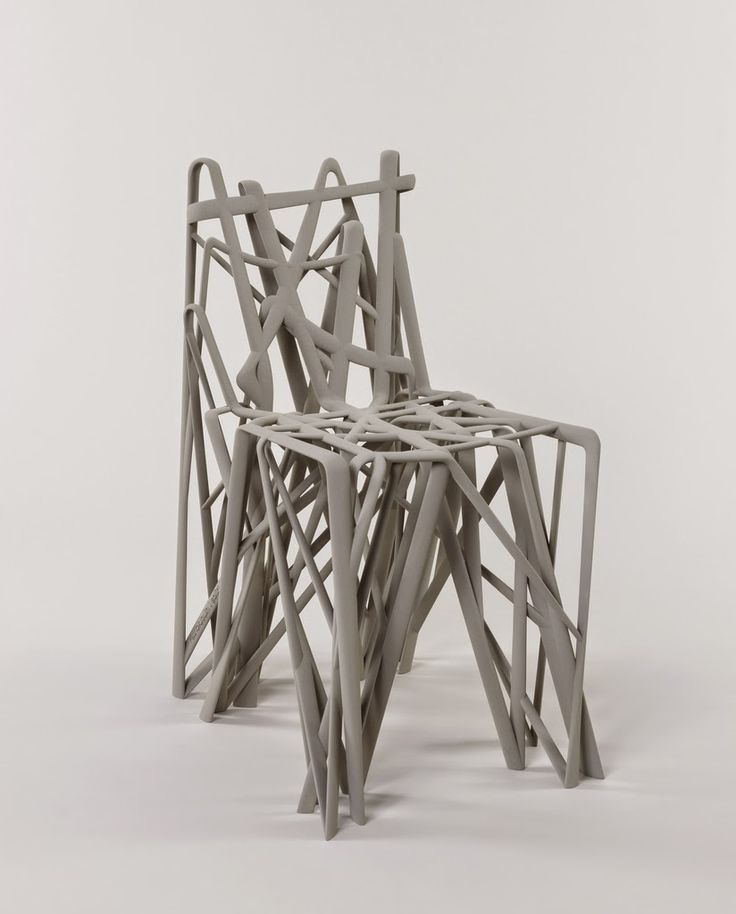 "
John is best known for his Saul Dining Table and Chairs. The table is a handcrafted piece of wood with 3D printed connections.
The author suggested that his connection system would provide "greater customization, reduced production time and waste" when applied to existing pieces of furniture.
This furniture set was exhibited at the Royal Academy of Arts in Edinburgh in 2016.
This is a craft project to sell products, but similar technology has been used by amateur authors as well.
Alexandre Chappelle Furniture
Designer and YouTuber Alexandre Chappelle has documented the process of making his own wooden table with 3D printed connections. As with John Christie's project, the only 3D printed parts on this table were the articulations, while the rest of the table's parts were made from wood using conventional hand tools.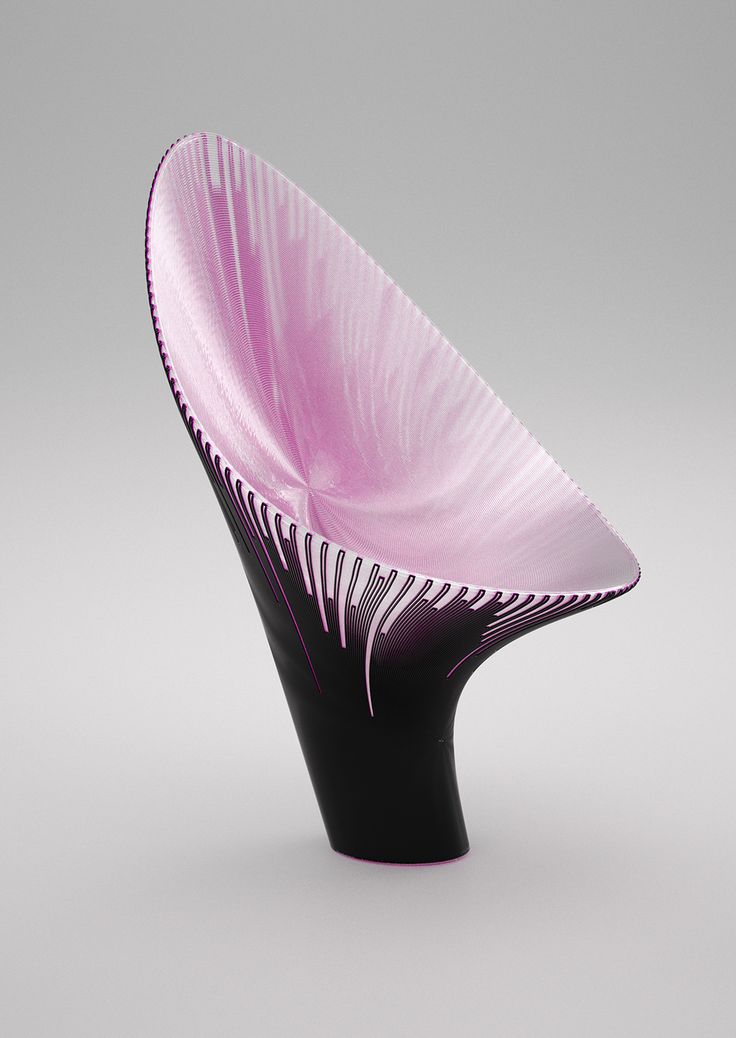 The chair is another creation of Alexandre Chappelle.
The author has posted the STL files and instructions on his personal website, where they are available for as little as $5.
This is perhaps the most affordable way to 3D print your own furniture, although the fact that John and Alexander's designs are mostly made of wood begs the question: is using 3D printed fittings 3D printed furniture?
What technique should be used to 3D print furniture?
So which of these methods can you use for your own furniture project?
If you are a professional studio or independent designer with the necessary funds, and you have a project that needs to be printed reliably and with high quality, then a large 3D printer will be the best option. 3D printing on a large printer can be ordered from a 3D studio if this is a one-time project and you are not going to purchase a printer.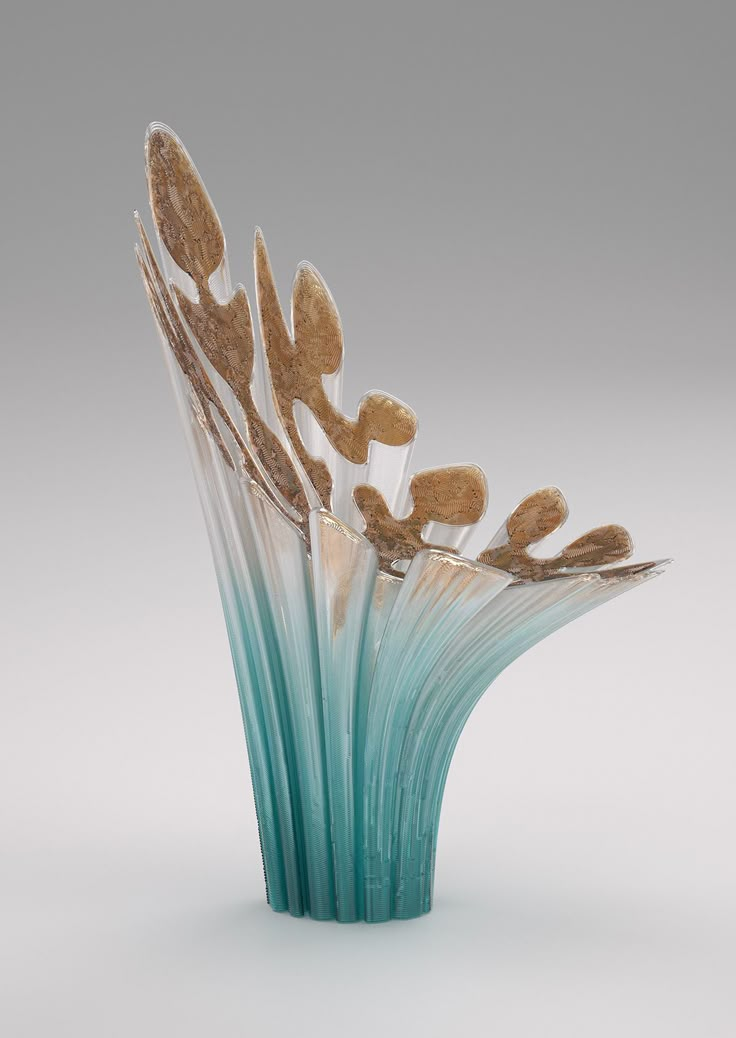 If you need printing all the time, contact Top 3D Shop, and our specialists will help you choose the machine that is most suitable for solving your problems.
If an industrial 3D printer is not available, then high-quality products can be created using 3D printing on a personal or professional desktop machine, using modular designs or printing connections for parts made using other technologies.
Regardless of the way you choose to use 3D printing in furniture creation, you already know that it can and should be used in this area. And this is what you can do for your own home, workshop or production today.
And 3D printers that can be purchased at the Top 3D Shop will help you with this - contact us for advice and, with the help of our employees, select the exact 3D printer that you need.
All about 3D printing of furniture and furniture fittings
All about 3D printing of furniture and furniture fittings | project news 3DPulse.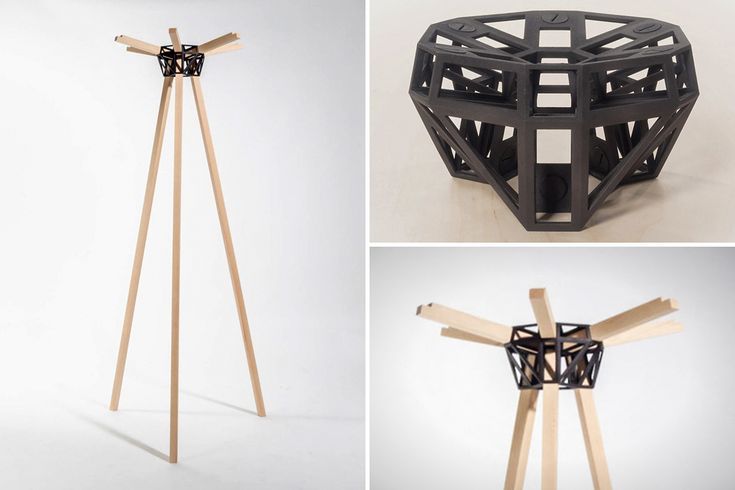 Ru
3d pulse.ru
Our new report "Construction 3D printing in Russia" has been published
Our report "Construction 3D Printing in Russia" contains information about domestic companies and start-ups that produce...
Vladimir Viktorovich Molodin (SIBSTRIN): "The idea [of printing with polystyrene concrete] appeared three years ago, and it took 30 years to get there."
Interest in 3D construction printing is growing rapidly around the world, with most of the developed 3D printers working with...
Mass 3D printing of individual houses: reality or utopia? - open study of the "Tekart" group
In its open review, Techart looks into whether 3D printing can really bring something new to the construction industry...
Victor Mann (RUSAL): "In Russia, additive manufacturing is one of the fastest growing industries"
RUSAL is a leading company in the global aluminum industry and the largest aluminum producer with a low carbon footprint.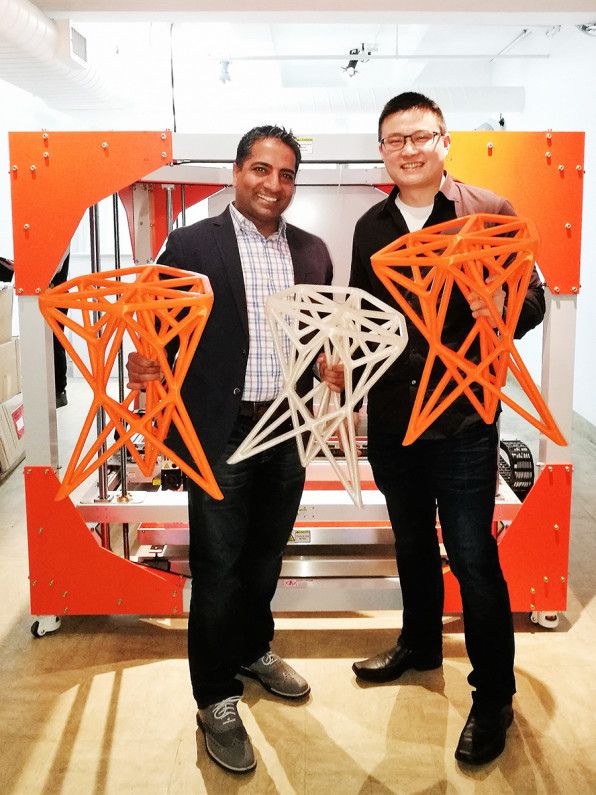 Her...
"3D Printing in the Oil and Gas Industry: Incentives and Constraints" - Techart Group Public Study
Techart Consulting Group published a study analyzing the current state and development prospects...
Current news
Furniture
Designer 3D printed origami-like lamps
Yael Akirav, an Israeli industrial designer and graduate of the Bezalel Art Academy in Jerusalem, uses 3D printing...
Furniture
Unique stool demonstrates the possibilities of large-scale 3D printing
University of Technology Sydney in Australia conducted a study of additive manufacturing settings with...
Furniture
3D printing helps speed up interior design projects
Italian architect Marcelo Ziliani uses 3D printing to create interior design items. One of the interesting...
3
Furniture
Lab for 3D printing urban furniture from plastic waste opened in Greece
The Print Your City concept, presented at the end of 2017, involves the creation of street furniture from plastic waste.