3D printer nozzle types
3D Printer Nozzle Guide - Everything about 3D printer nozzles
When dealing with the topic of 3D printing, there is a lot to consider. Before you just start printing, you should look into the possibilities and settings of your 3D printer in order to achieve the best possible printing results and to preserve the service life of the device. An important and often underestimated part of the 3D printer is the printer nozzle, which is often given little attention. Even if the nozzle of a 3D printer is a very small component, it has a significant influence on the printing speed and quality.
In this comprehensive guide, we would like to explain to you what a 3D printer nozzle is, how different nozzle types differ and how to choose the right nozzle for your requirements.
Under this post you will also find our new YouTube video, in which we summarize the advantages and disadvantages of different nozzle types and show how you can easily and easily change the nozzle on your 3D printer.
What is a nozzle and what is it used for?
Nozzle are located on the hotend and it is through which the heated filament is printed on the printing platform. With most 3D printers, the nozzle can be exchanged. Depending on the requirements, changing the printer nozzle can be very worthwhile, so you should dare to try different nozzles.
How do 3D printer nozzles differ?
A basic distinction is made between 3D printer nozzles based on the following properties:
Nozzle diameter
Material
Depending on the material and nozzle diameter, the nozzle meets different print requirements.
Nozzle diameter
3D printer nozzles are available in different nozzle diameters from 0.1 to 2.0 mm. The diameter of a nozzle also determines the possible layer height and thus indirectly the printing speed, because:
Basically, it's about how much filament is extruded and how fast.
As a rule, the maximum layer height values should not exceed 80% of the nozzle diameter.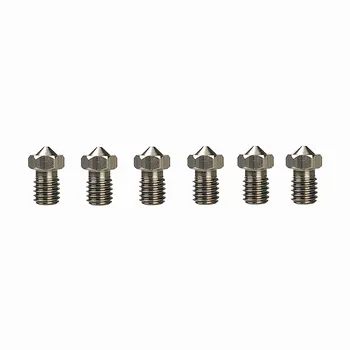 For example, a 0.4 mm nozzle has a recommended maximum layer height of 0.32 mm.
If you want to know what maximum and minimum layer height you can print with your nozzle, use the following rule of thumb:
⇒ Maximum layer height = 0.75 * nozzle diameter
⇒ Minimum layer height = 0.25 * nozzle diameter
---
0.4 mm nozzle as standard
For most 3D printers, the 0.4 mm nozzle has become the standard, as it is usually installed as standard and offers a good balance between resolution, precision and printing speed.
Small nozzles <0.4 mm
Small nozzles are ideally suited for the production of objects with very fine, precise details and barely visible layer traces.
Since the nozzle diameter is so small, the printing times are longer than, for example, with a 0.4 mm nozzle.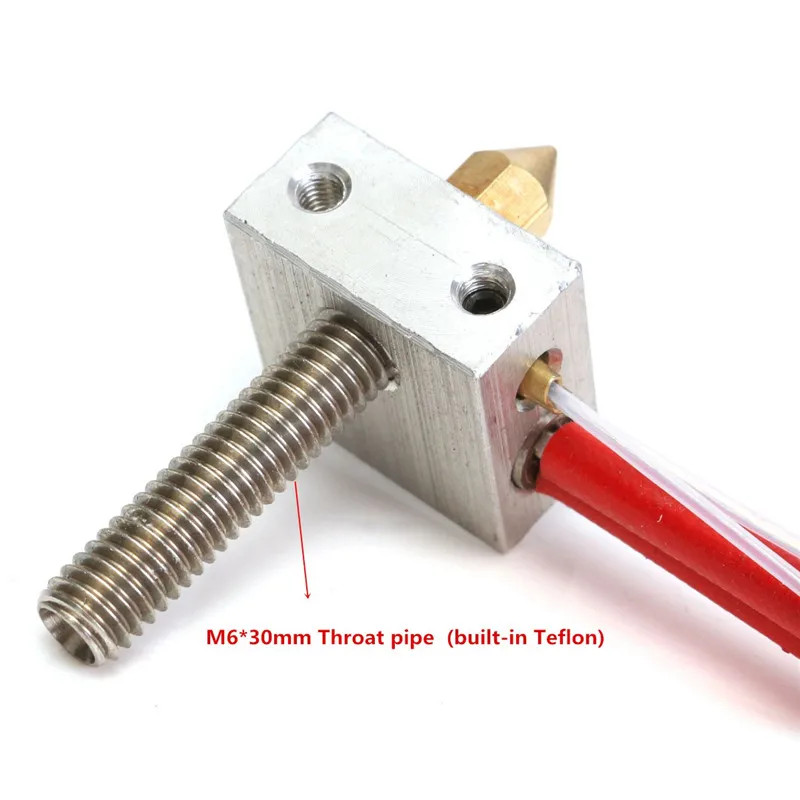 In addition, special materials, such as filaments with particles, cannot be processed with small nozzles. The risk of clogging the nozzle is also much higher than with larger nozzles.
Large nozzles> 0.4 mm
Large printer nozzles ensure a higher material flow, thicker layer heights and reduced printing times. The wider extrusion and the higher layers give the printed models more stability, but they are not as finely printed and are not rich in detail. In addition, wider nozzles hardly clog and are therefore ideal for special materials such as wood, carbon fibre or glow-in-the-dark filaments.
Due to the fast possibility of printing, large nozzles are particularly recommended for rapid prototyping.
⇒ Fact: When printing with a layer height of 0.4 mm, the printing time is almost halved compared to a layer height of 0.2 mm.
---
Nozzle materials
Due to their relatively high thermal conductivity, 3D printer nozzles are made of different metals that influence the 3D printing process in different ways.
Since some filaments have abrasive properties and therefore certain types of metal wear out faster than others, the nozzle material should be selected accordingly.
In the following, we will list the different nozzle materials with their advantages and disadvantages in order to create an overview of their abilities.
→ max 300 ° C.
Brass is the most commonly used material for 3D printer nozzles. It offers excellent heat transfer at a relatively low cost. When processing abrasive special filaments with wood, carbon or metal fibres, however, a brass nozzle wears out very quickly and becomes imprecise.
In order to protect the relatively soft nozzle material from excessive abrasion and to reduce the friction between the filament and the nozzle, a brass nozzle can be coated with nickel or chrome.
Advantages
Low cost
High thermal conductivity
Disadvantages
Low wear resistance
Not suitable for highly abrasive materials
---
→ max 500 ° C.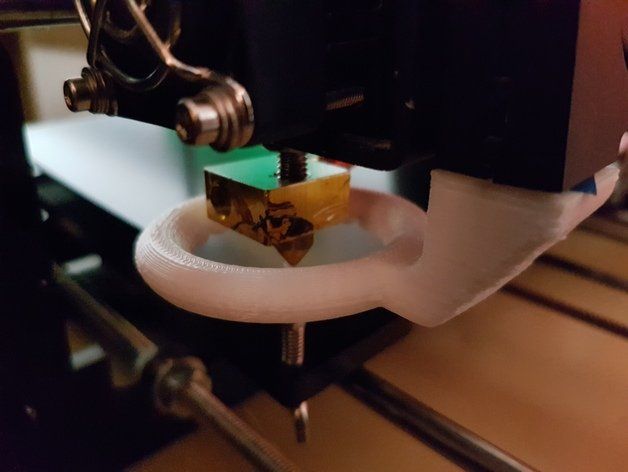 In order to protect relatively soft nozzle material from excessive abrasion and to reduce the friction between the filament and nozzle, brass or copper nozzles are also available with a nickel or chrome coating.
In addition to the improved scratch resistance, a coating also significantly increases the temperature resistance of the nozzle.
Advantages
Higher wear resistance than normal brass or copper
Perfect all-rounder
High-temperature resistance
High thermal conductivity
Disadvantages
Not as hard as hardened steel
Not suitable for permanent use with abrasive materials
---
→ max 500 ° C.
Steel is another popular material for nozzles because it offers slightly better wear resistance than brass nozzles. They also, to some extent, prevent molten plastic from sticking to its surfaces and contaminating the print with lead, which is often the case with brass nozzles.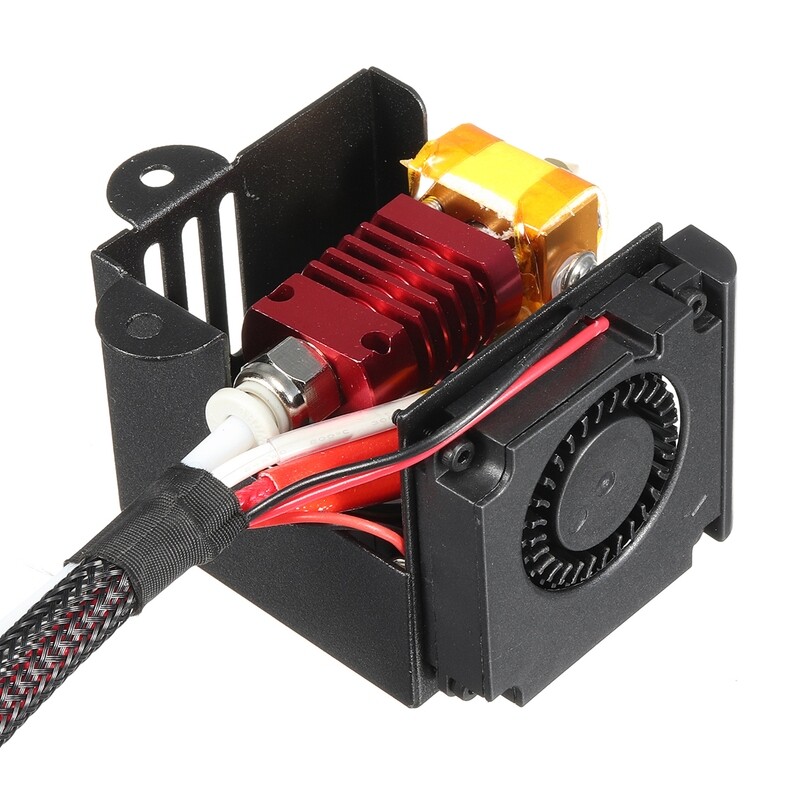 Steel nozzles are therefore theoretically suitable for food-safe materials.
Steel allows a wider range of filaments to be processed but is not recommended if abrasive filaments are used frequently. It is also less heat-conductive compared to brass.
Advantages
Better wear resistance than brass
Can be used for food-safe filaments
Disadvantages
Lower thermal conductivity than brass
Lower wear resistance than hardened steel
---
→ max 500 ° C.
Hardened steel nozzles are a useful 3D printer upgrade as they are tough enough for frequent use of abrasive materials (10 times more wear-resistant than brass nozzles) and literally offer years of use without replacement.
However, this material has an even lower thermal conductivity than the two previous materials and is more expensive to purchase.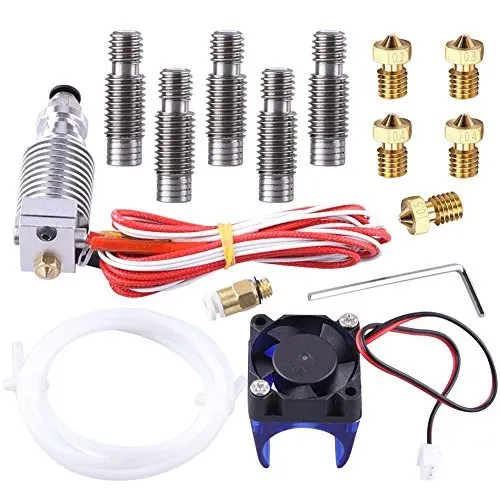 Since the inner surface of the nozzle is not as smooth as other "softer" nozzle materials, this can result in poor print quality.
Advantages
High wear resistance
Very durable
Suitable for abrasive materials
Disadvantages
Lower thermal conductivity
Lower print quality
Higher cost
---
Ruby Nozzles / Brass Ruby Nozzles
→ max 550 ° C.
Nozzles with ruby tips belong to the luxury class of 3D printer nozzles. As a rule, ruby nozzles are brass nozzles with or without a coating that have a ruby on the tip. Since the hole in the ruby can be made very precisely, there are only small diameter tolerances.
The ruby tip of the nozzle ensures additional wear resistance, which is particularly useful when processing special filaments. Compared to the other types of nozzles, the ruby nozzle is the most expensive.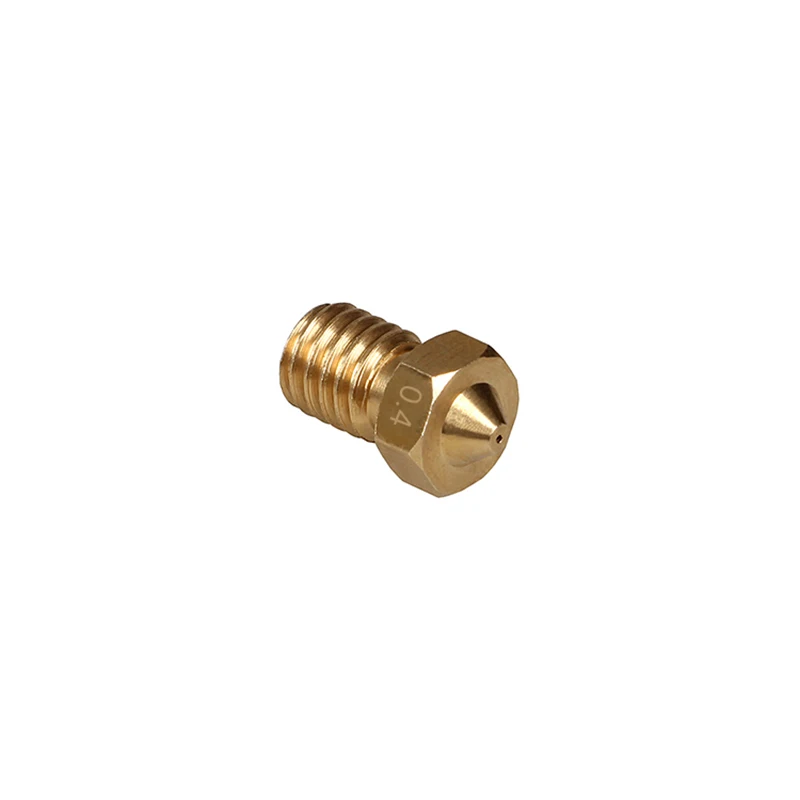 Advantages
High thermal conductivity due to the brass body
High wear resistance
High-temperature resistance
Disadvantages
---
Changing the 3D printer nozzle - this is how it works
Would you like to exchange your 3D printer nozzle? In our video we show you exactly what to look out for when replacing the 3D printer nozzle.
We would be happy if you visit us on YouTube and leave a like or comment. If you want to see something specific on our channel in the future, please let us know in the comments!
3D Printer Nozzle Comparison Guide
Swapping your 3D printer's nozzle is one of the easiest upgrades that can be done. Find the right nozzles to add to your collection for your next project as well as how to change a nozzle on your 3D printer.
Ryan Lutz
May 4, 2017
Nozzles are the last physical item in your printer to touch the filament before it becomes your 3D printed part, so it's important to understand how they work if you want to take full advantage of the possibilities afforded by the different types.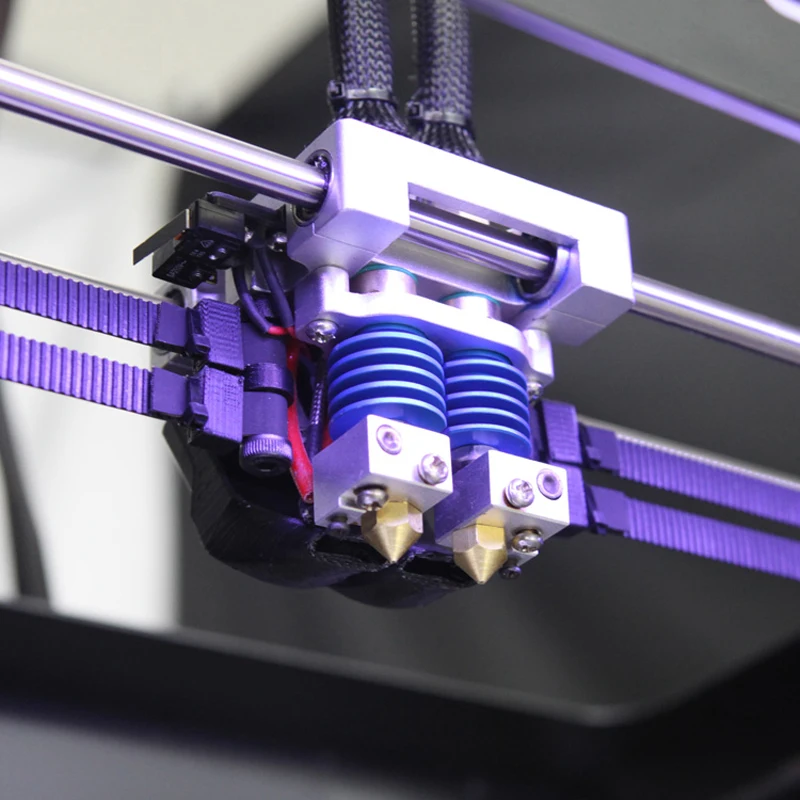 Left to Right: Hardened Steel, Stainless Steel, and Brass 
---
Classification
Generally speaking, nozzles are classified in the following ways:
Filament diameter: 1.75mm or 3.00mm
Nozzle diameter: sizes include 0.25mm, 0.3mm, 0.4mm, 0.5mm, 0.6mm, 0.8mm, 1.0mm
Material
Shape
Threading - pitch, angle
Shaft length
E3D
The industry leader for quality hotends is E3D, which is why we recommend and sell their products to our customers as an upgrade or as a replacement for a failing stock hotend. Often imitated, seldom duplicated, the E3D machine shop does a better job than anyone else at creating high-quality parts that work reliably. For this reason, most of the nozzles we sell are E3D, though it is important to note that more printers are being designed, if not with an E3D hot end, with threading that allows for installation of E3D nozzles.
The Olsson Block upgrade to the Ultimaker 2+ is a good example of this; the 2 had a unique hotend design with the nozzle and heat block as one part, and nozzle replacement required disassembly of the entire hotend.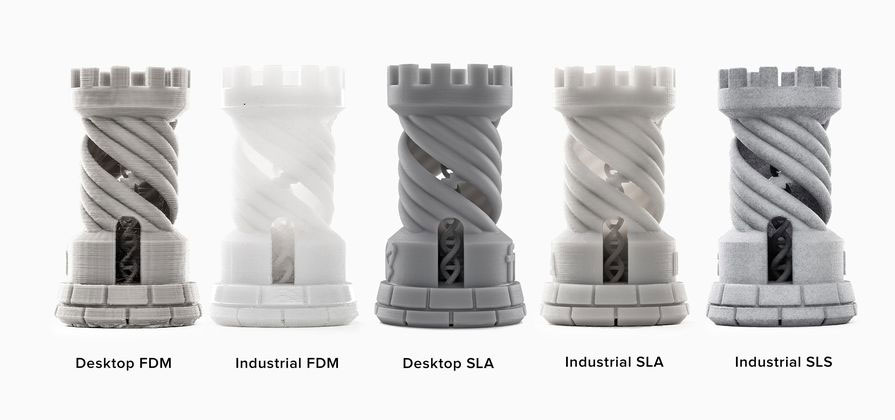 With the Olsson Block upgrade, the block is separate from the nozzle and has threading that is compatible with E3D nozzles.
E3D Standard Brass Nozzles
---
E3D nozzles are compatible with many printers' stock hotends, including those of the following:
Lulzbot TAZ 6 and LulzBot Mini
Ultimaker 2+, or Ultimaker 2 with Olsson Block upgrade
Pulse 
Robo 3D R1 and R1 Plus
MakerBot Replicator 2
Nozzle Materials
Nozzles are made from a variety of metals, and you should select a nozzle made from the type of metal that matches the type of filament you want to print with. The main reason for this is fairly simple: some filaments are abrasive and will wear down certain types of metal.
Here is a list of the common metals used to make nozzles:
Brass - The most common metal used for nozzles, brass can be used to print PLA, ABS, PETG, Nylon, TPE, TPU, PC, and most any other non-abrasive materials.
Stainless steel - Stainless steel is ideal if you need a lead-free nozzle for FDA-approved materials or medical devices.
Hardened steel - If you want to print abrasive materials, like our NylonX or ColorFabb bronzeFill for example, hardened steel nozzles are what you want.
Specialty materials - Other materials, like Tungsten and Ruby, have been used to make harder nozzles that can stand up to constant abrasion. These are for printing exclusively abrasive materials, and typically cost more than the other options.
The Olsson Ruby nozzle is actually tipped with a real ruby
---
Range of Options
Nozzles come in lots of different shapes and sizes, but they all perform the same function. The smallest nozzles (at least that are commercially available) are 0.15mm -- good for very intricate prints, though they can be difficult to calibrate and use.
On the other end of the spectrum, larger nozzles (again, of those commercially available) range up to 1.
2mm. These allow for quicker, larger prints, generally speaking.
Why have more than one size nozzle?
So why would you want to have more than one nozzle? Though you can probably make do with the standard 0.4mm nozzle, there are a few reasons you might want to have more than one extra on hand:
You want to print a model quickly, so you use a bigger nozzle
Your current nozzle gets clogged, and you need to replace it
You want fine details, so you use a smaller nozzle
The E3D Nozzle Fun Pack - collect a variety of different sized nozzles
---
How to change a nozzle
Heat the hot end to printing temperature, or at least 200°C. Failure to heat the hot end before changing the nozzle is the most common reason for a broken nozzle.

Use a tool like an adjustable wrench or channel locks to steady the heat block, while you use a socket wrench to turn the nozzle. (E3D nozzles are 7mm, for reference)

Make sure the hot end is still hot when installing the new nozzle.
We hope that this will help you find the right nozzle for all your projects - happy printing! 
Nozzles for 3D printers - types, differences. Nozzle type
Nozzle is an integral part of any 3D printer, and there are many varieties of this part. Brass products are considered standard nozzles. This type is suitable for printing with conventional types of plastics, but for those that include an abrasive, such as NylonX, is not suitable. Printing with these materials requires higher performance nozzles made from stronger materials. There are also copper nozzles, Clean Tip nozzles - such nozzles are distinguished by the fact that the thread does not stick to them, and they remain clean.
3D printing allows you to replace nozzles. This allows you to achieve different results and use different materials for printing.
3D printer nozzle: what is it?
The 3D printer nozzle is a special nozzle located in the extruder heater block. It is screwed into place by means of a thread. There is a small chamber inside the nozzle where molten plastic accumulates and is squeezed out through the hole. Moreover, the key parameters of the nozzle will be: the material from which the nozzle is made and the diameter of the hole.
Nozzle material
A standard desktop 3D printer is equipped with a 0.4mm brass nozzle. This is the best option for printing with ABS and PLA plastics. However, such nozzles are not at all suitable for printing with luminescent PLA, carbon fiber and metal enriched filaments. The fact is that plastics, which include solid particles, destroy the nozzle. The internal dimensions of the nozzle are distorted, and this affects the uniformity of the extruded material, which will inevitably affect the quality of 3D printing. For this reason, there are nozzles that are made from harder materials.
Consider further the types of nozzles that can be found on the market.
Brass 3D Printer Nozzle
Brass Nozzle is the most popular option used in most desktop 3D printers. Of all the materials used to make nozzles, this one is the softest. But brass nozzles are easy to process, cheap and affordable. Therefore, they are easy and simple to replace.
Main characteristics of brass nozzles:
corrosion resistance;
high thermal conductivity;
relative softness;
abrasion.
Application: Ideal for printing with "soft" plastics - standard ABS, PLA, PETG, and other plastic filaments that do not contain carbon fiber and metal additives.
Stainless steel or hardened steel nozzle
Steel nozzles are also used for 3D printing. They provide long-term printing with materials that contain solid particles, such as metal, carbon fiber. At the same time, such nozzles are not prone to abrasion and destruction, like softer brass nozzles.
That is, you can print for a long time without reducing productivity.
But steel nozzles are not without drawbacks: lower thermal conductivity compared to brass nozzles. This can change the flow, especially when using large nozzles.
Main characteristics of steel nozzles:
corrosion resistance;
low thermal conductivity;
relatively large weight;
abrasion resistance.
Application: 3D printing with additives (carbon fiber, metal, glass, etc.)
Ruby nozzle
Anders Olsson developed the Olders Ruby nozzle. This is a brass nozzle equipped with a tip made of aluminum oxide, that is, an artificial ruby. This nozzle was originally created for 3D printing by the third heaviest material in the world. The nozzle was the result of an experiment conducted at Uppsala University in Sweden.
Initially standard nozzles made of steel and brass after printing 1kg of plastic wear out and are no longer usable.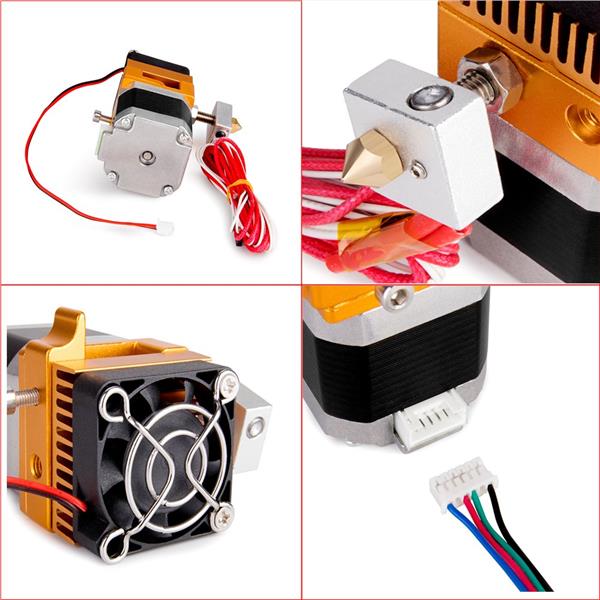 However, the nozzles have a number of disadvantages. Olson Ruby nozzles combine the high thermal conductivity of brass with the abrasion resistance of ruby. Of course, there are experts who say that the ruby ​​tip has a low thermal conductivity, which negatively affects the printing result, but there is no evidence for this. At least for now.
The main characteristics of Olsson Ruby nozzles are:
corrosion resistance;
low thermal conductivity;
abrasion resistance.
Application: Can be used for highly abrasive threads.
Tungsten Carbide Nozzles
Dyze Design Tungsten Carbide Nozzles are something of a newcomer to the market as they only started production at the end of 2018. Tungsten carbide is hard and wear resistant. It is used for drilling, cutting ceramics and metals. Such nozzles also have disadvantages, but it is too early to talk about them.
Main characteristics of tungsten carbide nozzles:
abrasion resistance, very high;
hardness;
high thermal conductivity;
corrosion resistance.
Application: This is a universal nozzle that can be added to your nozzle set, and the nozzle is also suitable for printing with highly abrasive filaments.
Nozzle sizes for 3D printer
Nozzles are characterized by the hole diameter. This characteristic will affect the degree of print detail. In this case, the influence will be exerted not only on the width of the lines, but also on the height of the layer.
Beginners are advised to use a nozzle with a diameter of 0.15mm. Compared to a standard 0.4mm nozzle, this nozzle allows you to get a higher resolution in the OX and OY axes. Thanks to thin lines, sharper corners can be obtained, but this will only be possible in that case. If your 3D printer is well set up and serviced regularly.
The choice of nozzle diameter should be determined by the layer height you require. It is necessary to choose a nozzle so that the size of the layer during printing is 25-50% of the nozzle size.
If the device is calibrated correctly, optimum adhesion can be achieved between coats.
For example, a standard 0.4mm nozzle allows you to print layers of 0.1-0.2mm. If you want to successfully print ultra-thin layers that are less than 0.05mm high, we recommend using the 0.2mm nozzle.
Small nozzles have one significant drawback. They are more prone to clogging and therefore need to be cleaned regularly. In addition, smaller nozzles significantly increase print time as the print head requires more passes to coat. the larger the nozzle, the less time it will take to print, and the time will be reduced exponentially. For example, a 0.8mm wall will take half as long to print as a 0.4mm wall. Also, large extrusion lines have greater adhesion, and therefore the finished prints have greater strength. If you are not printing fine details, then you are better off using large nozzles, which will allow you to print faster.
Smaller nozzles are more commonly used for hobby, precision models with fine details, such as jewelry.
And in order to have your own opinion on this matter, it is best to experiment!
How to choose nozzle size for 3D printer? Pros and cons
3DPrintStory &nbsp&nbsp 3D printing process &nbsp &nbsp How to choose nozzle size for 3D printer? Pros and cons
When choosing your 3D printer, the nozzle size of your 3D printer may have been the last thing on your mind.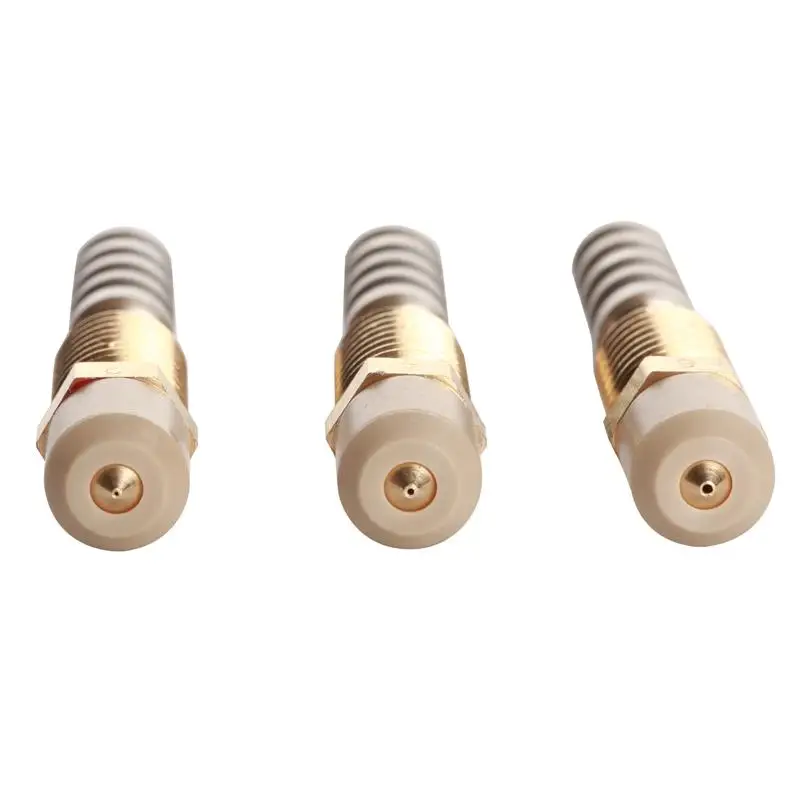 This is a detail that is often overlooked. But depending on what you need to print, the wrong nozzle diameter can get in the way.
In this article, we'll take a look at the different 3D printer nozzle sizes and why you should consider this assembly, what materials it's made of, understand the relationship between nozzle size and layer height, and how to measure the actual nozzle diameter.
How does nozzle size affect 3D printing?
Nozzle diameter affects the extrusion width of the 3D printer line. This affects some elements of your model. If you are 3D printing for business (make a lot of orders), you need to make sure your extruder is feeding the right amount of material. If too much material is fed, then more filament is used than is actually required for successful 3D printing. Well, a smaller number can simply lead to marriage.
Or maybe you're printing different models, some of them very detailed and intricate, and some more practical (like a replacement doorknob) that just needs to be printed quickly and with maximum durability.
In any case, you will need the correct setting to save time, material and ensure the normal quality of the 3D model.
There is no easy answer to what is the best nozzle size for a 3D printer. You need to weigh what you want to achieve and what elements of the 3D model are most important to you.
Depending on your 3D printer, the nozzle can be quite easily replaced (most of them are mounted on screws), and buying a package with different sizes will cost you a lot.
Most common 3D printer nozzle options
The most common standard nozzle size is the 0.4mm (or 0.35mm) nozzle used by most modern 3D printer manufacturers. The reason for this is that it is a rather large and yet versatile nozzle size. This means that you can print with exceptional detail in no time.
With the 0.4 mm 3D printing nozzle you can print up to a layer thickness of only 0.1 mm or up to 0.3 mm. The lower the layer height, the better the detail (on the Z axis) and the larger the layer height, the faster your 3D print will be, but with worse detail quality.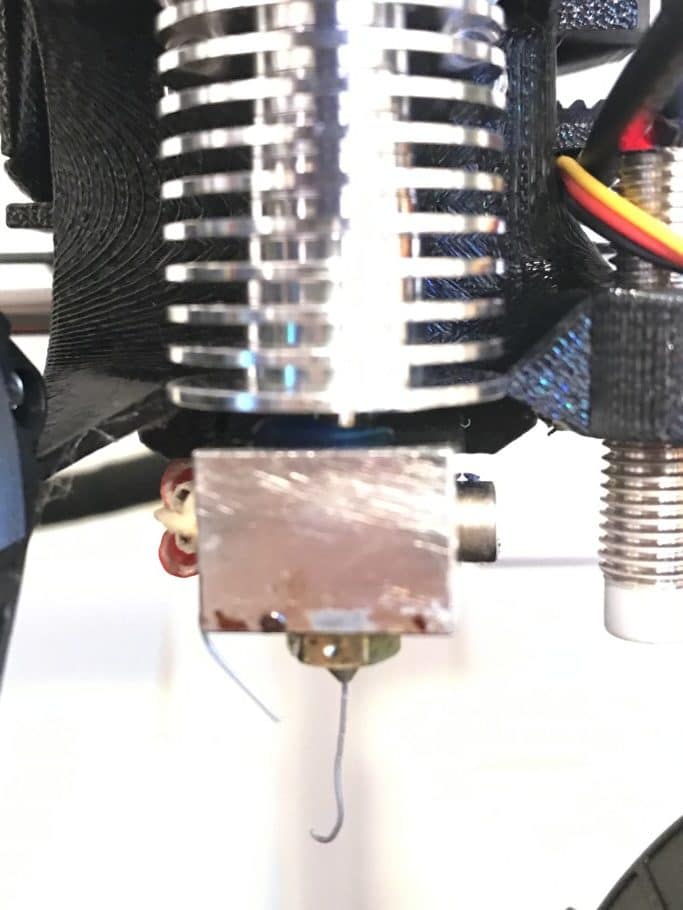 A common misconception is that if someone doesn't get good enough 3D print quality on their printer with a 0.4mm nozzle, they immediately think they need a smaller 3D print nozzle.
Another common smaller size is 0.25 mm. Some 3D printers offer 0.2mm, 0.15mm, and Mass Portal is even experimenting with 0.1mm 3D printer nozzles. And the experiments are really interesting. Thanks to this miniature nozzle, they were able to print the clock mechanism with excellent detail.
How is nozzle diameter related to 3D printer resolution?
Theoretically, smaller 3D printer nozzles allow for greater precision. But for many 3D printers, especially cheaper or older models, a smaller extruder nozzle won't necessarily make a difference if your printer doesn't support the higher resolution you need. It's like putting low-profile, high-performance tires on an old classic car - it doesn't make it go faster, and it doesn't necessarily make it better cornering.
This is also similar to how the specifications of a 3D printer on paper (eg claimed resolution) do not always result in the best print quality of the finished product.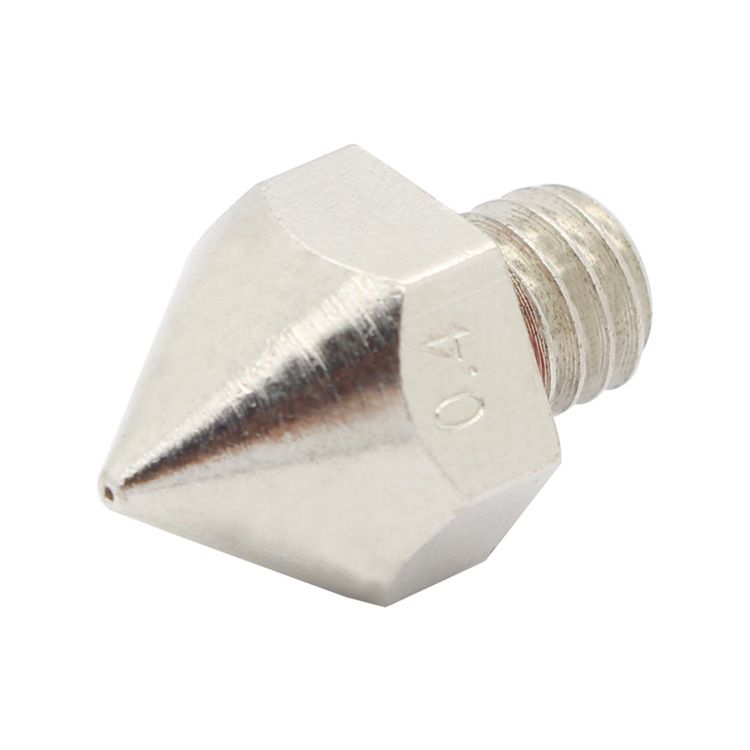 Just like Ultimaker and Zortrax have very similar resolutions on paper, but in many actual tests Zortrax produces better models than Ultimaker 2.
smaller nozzles as resolution across the board is getting better every day.
Let's look at the pros and cons of 3D printing with smaller nozzles. Some are less obvious than others. Next, we'll look at the larger, underpriced nozzles available. I hope after reading this article you will be able to answer the question: "What nozzle size should I print?".
You probably already guessed that the smaller the size of the nozzle in the extruder, the more detailed model you can get as a result of 3D printing. The thin nozzle is great for complex figures, or if you need to print very thin walls for aircraft skins, or high transparency models, etc.
The photo below shows the printed skin of a model aircraft that was made with a standard 0.4mm nozzle. If the same skin is printed with a nozzle with a diameter of 0.2 mm, then the weight (and strength) would be halved.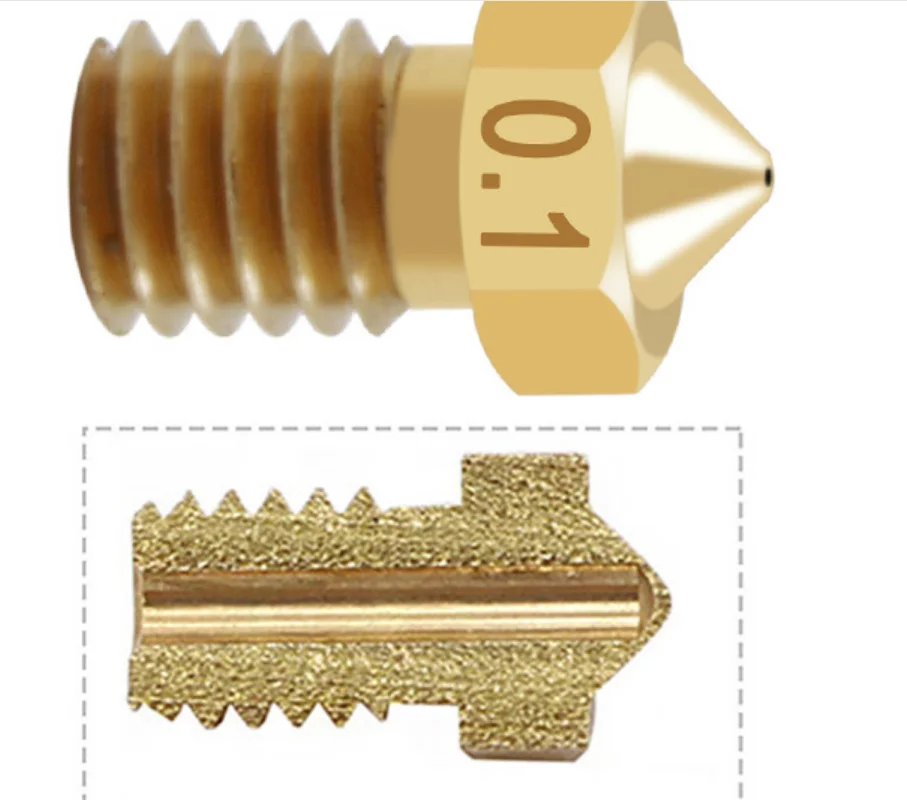 It is worth noting that a 3D printer with a 0.2 mm nozzle feeds half as much material as a 0.4 mm nozzle. And this actually leads to an increase in print time by the same two times. It should be noted that strength and detail are reciprocals of time. So to get high-quality 3D models using a thin nozzle and high resolution, you will have to be patient (2 times more than when printing with a standard 0.4 extruder :)). In some cases this is justified, in others it is a waste of time...
As a general rule, the smaller the nozzle size, the higher the chance of problems with the 3D printer. Especially if you are using cheap materials - they can work well with low models and thicker nozzles, but if you need detailed models that are printed using a thin nozzle, then you should also be puzzled by buying quality filaments for 3D printing.
Other factors are less obvious when 3D printing with a thin diameter nozzle - for example, protrusions can be a problem. This is because each layer has a smaller width for the next layer.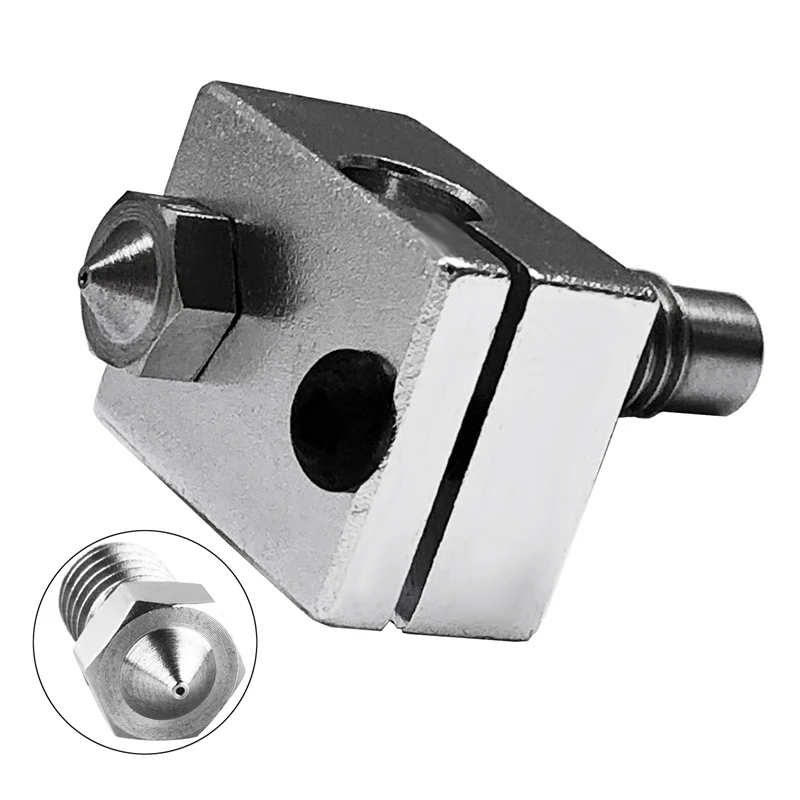 Crossing bridges can also be difficult.
But there is good news too! Where overhangs form, the caliper material will be much easier to remove if printed with a thin nozzle. Due to the increased accuracy, your slicer can use a minimum amount of material between your model and supports, so they will break off more easily and have fewer damaged pads that need to be sanded.
And finally, the most annoying thing about a thin nozzle is the ease with which it clogs. If you downsize to 0.2mm or even 0.1mm, you'll need a small particle to clog the hotend. You need to be very careful about the cleanliness of your 3D printing material and regularly clean the nozzle of your 3D printer. Otherwise, you will not end up with additional unnecessary problems.
It is also worth taking the time to understand the relationship between nozzle size and layer thickness. In short, the first parameter determines the horizontal detail (along the x and y axes), and the second adjusts the resolution along the vertical or z axis.
How to measure the nozzle size of a 3D printer?
Although the actual nozzle diameter should be engraved on the side of the nozzle, it is not always possible to read this value if it is already installed in the extruder or if you have been printing with it for some time. After all, there is the concept of wear and you may not be sure that the nozzle is the same size as before.
To determine what size your nozzle really is, very slowly extrude some material into the air (high speed may change shape or size) at the lowest setting you can feed material at (approximately 1 mm/s). Once cool, use a micrometer if you have one. They are generally more accurate than digital calipers. Keep in mind that the filament will probably expand after being extruded. Poor quality material or an extruder that is too hot (especially if you extrude at 1mm/s) will cause the material to expand more, resulting in inaccurate readings.
It is also useful to know the size to which your material expands after extrusion if you are working on getting a really nice and accurate model.
So feel free to experiment with higher speeds that are a bit more like your actual 3D printing.
How is 3D printing layer height and nozzle diameter related?
In simple terms, this is the thickness of each line of extruded material that makes up each layer of your model. The thinner the layer height (or layer thickness), the finer the print detail in the Z-axis (the vertical dimension of your model), but the more layers will be required. Increases print time.
These characteristics are related, but not completely. For example, you can print using a thinner, thicker nozzle if vertical resolution is less important to you. Or you can use a thicker nozzle with a very small layer height. Although in this case, do not get too carried away. To maintain adequate pressure, your layer height should be at least 20% less than your nozzle width - and in most cases, for best 3D printing results, it should be around 50%.
How to determine the correct distance from the nozzle to the desktop of a 3D printer?
With the correct setting of the distance between the table and the nozzle, the base of the finished model should have an almost perfectly smooth, glassy surface.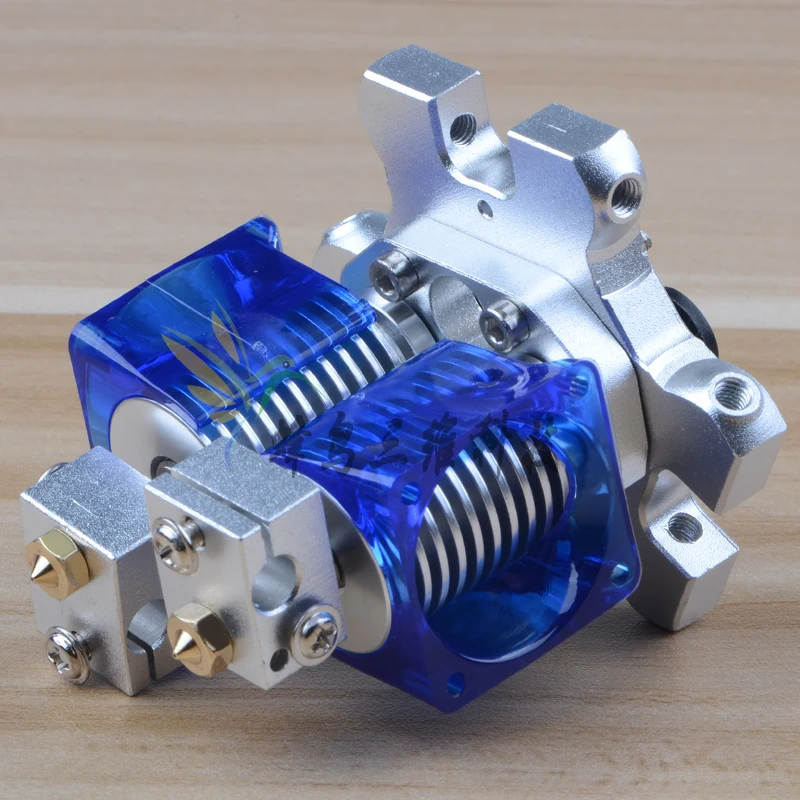 Many people assume that you need to use a stylus to properly set the distance between the nozzle and the 3D printer bed, but in fact, even that can be too thick. So it's worth thinking in the direction of the already proven table calibration with a piece of paper. You should use thin paper. For example, check paper is a great choice. Place the receipt paper under the nozzle and gradually lower the nozzle down until the receipt paper resists a little when you try to push it out. 3D printing at this height will give the bottom of the model a great look, and in the case of tall models, the print will definitely not go astray.
What is the maximum 3D print layer height compared to the nozzle size?
You don't necessarily need a layer height calculator on your 3D printer, but typically the maximum layer height is 50% of the nozzle width. In some cases, you can go higher (perhaps 75%), but in this case, you must be aware that you can sacrifice reliability.
It's best to experiment with the parameters of your model if you understand the relationship between the 3D printer's nozzle size and the layer height you'll be using to print.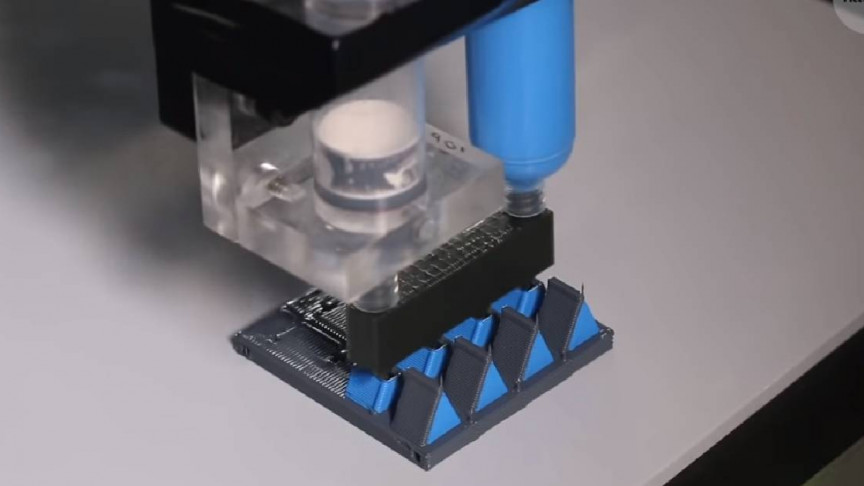 So for a 0.4mm nozzle, you will need to print with a layer height of 0.2mm, or up to 0.3mm. Your minimum should be around 0.1mm. If less, then in fact you just increase the waiting time without much benefit (on the same 0.4 mm nozzle).
In most cases, it is worth printing thinner layers with smaller nozzle diameters and generally thicker layers with thicker nozzles. Just note that if you are printing with a thicker nozzle diameter and very thin layer height, you will need to lower the extrusion settings in your slicer to prevent overfeeding.
It's also worth noting that regardless of size, you should always make sure you always have a clean nozzle. One of the easiest ways to do this is to use a high quality cleaning floss. You only need to use a few grams of it each time you brush, but this will prevent carbon buildup over time.
So why should I use a 0.8mm nozzle or thicker?
Similar nozzle sizes were more common on older 3D printers but are making a comeback.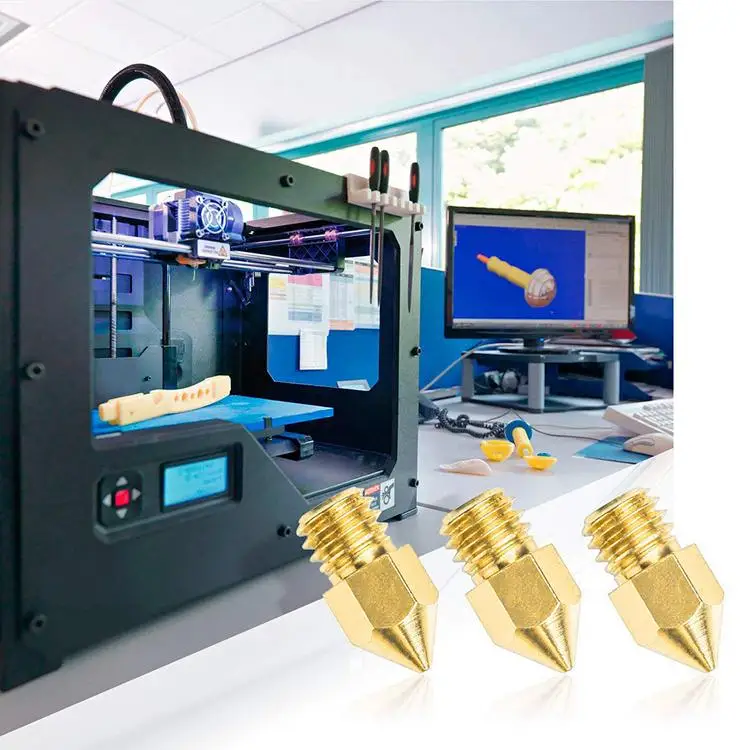 It's all about using what you need and nothing more. For a large number of models, the 0.4mm headroom that your 3D printer probably comes with may be overkill in terms of detail.
If you're looking for strength and speed, but detail is less important, a 0.8mm or even 1.0mm nozzle is worth it. And don't forget that models printed with a 0.8mm nozzle can be very detailed, as a lot depends on your 3D printer as well.
The only slight disadvantage may be that you use more material, but with thicker part walls you can probably compensate with less infill.
There is no single optimal nozzle size for all models, you just need to take all factors into account and decide which nozzle size is best for you.
What nozzle size should I use for composite materials?
It is worth noting that composite materials (any particulate filament such as wood filler, copper filler, carbon fiber nylon or glass reinforced nylon) will cause extrusion problems when using a thinner nozzle.