3D printer filament wholesale
Wholesale 3d Printing Filament Products at Factory Prices from Manufacturers in China, India, Korea, etc.
Home
Machinery & Equipment
Manufacturing Equipment
3D Printing & Supplies
PC 3D filaments
3d Printing Filament
Categories
3D Printing & Supplies

3D printer filaments 3D printers
Souvenirs & Memorabilia Merchandise

Badges
Hosiery

3D printed socks
Packaging & Printing Services

3D printed parts & product services
Feature
Waterproof(886)
Heat-resistant(710)
High strength(690)
3D(564)
Breathable(526)
Material
Polyester(671)
Metal(619)
Epoxy(444)
Fabric(415)
Leather(411)
Technics
Woven(647)
Printed(549)
Plating(461)
Embroidered(417)
Yarn dyed(357)
Verified Business Types
Exporter(3173)
Manufacturer(2625)
Consultant(547)
Wholesaler(350)
Importer(342)
See More
Verified Product Certificates
CE(842)
TUV(622)
ROHS(372)
SGS(133)
OEKO-Tex 100(80)
See More
Verified Company Certificates
ISO 9001:2015(954)
ISO 9001:2008(465)
BSCI(325)
ISO 14001(212)
OHSAS 18001(59)
See More
Supplier Location
China(5525)
Guangdong(2057) Jiangsu(1592) Zhejiang(675) Fujian(563) Shanghai(309)
Taiwan(63)
Hong Kong SAR(61)
Canada(9)
Macau SAR(4)
See More
Supplier Ranking
P6(626)
P5(321)
P4(4065)
P3(551)
P0(102)
Lead Time
Years in Business
OEM Services
OEM Services(3986)
Trade Show
Trade Show(177)
FOB Port
Shenzhen(1534)
Shanghai(1171)
Lianyungang(683)
Ningbo(528)
Xiamen(504)
Business Types
Manufacturer(2900)
Trading Company(2510)
Online Seller(2238)
Wholesaler(1515)
Exporter(1406)
供应商免费网络推广
1. 免费上传100张产品图
2. 赢逾140万国际买家关注
3. "生意通"助您轻松管理询盘
Product ListSupplier List
5665 results from 583 suppliers for "3d Printing Filament"
Shop online for wholesale 3d printing filament? Global Sources has a full-scale list of wholesale 3d printing filament products at factory prices featured by verified wholesalers & manufacturers from China, India, Korea, and other countries to satisfy all the requirements!
Verified Manufacturer
Ready to Order
Min. Order
FOB Price (USD)
Global Sources puts an end to the complex traditional commerce by bringing together 3d printing filament suppliers and buyers. In our B2B platform, it takes only a few clicks to spot stylish goods, compare the price, learn the MOQs of Chinese, Indian, and Korean 3d printing filament products for sale as well as items from other countries, and reach out to suppliers to strike a deal.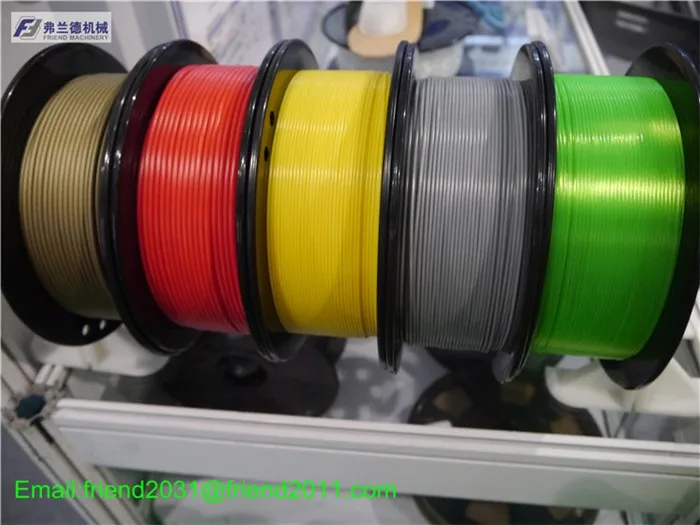 Selected Products (0/20) Clean All
Canada Wholesale ABS, PLA, HIPS 3D Printing Materials Filaments
Filaments.ca offers discounted pricing for customers who wish to purchase filaments in larger quantities. Some examples of our wholesale purchasers are: prototyping services, 3D print shops, machine shops, lab/medical facilities, schools, universities, retailers and more.
Wholesale prices apply to the "Filaments.ca" brand materials only, Minimum order quantity required.
If you are interested in receiving a quote please do not hesitate to contact us for friendly informed chat with one of our knowledgeable staff. Phone 1-888-536-5551 or email [email protected]
As a direct importer and a manufacturer of 3D printing materials, We are able to provide great priced and quality products to our resellers.
The 3d filaments we manufacture and import have been chosen because of their excellent quality and good end-user satisfaction.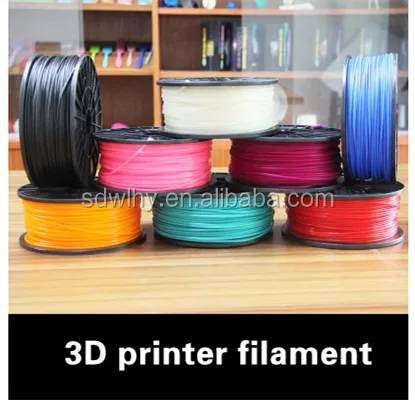 The are No application fees, No minimum order quantity, Reliable inventory, Fast handling & Shipping.
Filaments.ca is an exclusive Canadian distributer and actively looking for resellers for the following popular brands:

We have distribution center in Mississauga ON. In Canada, all of our orders ship by Canada Post Expedited Parcel or UPS Ground with tracking information and e-mail notification.
If you are interested in receiving a quote please do not hesitate to contact us for friendly informed chat with one of our knowledgeable staff. Phone 1-888-536-5551 or email [email protected]
The size of 3D printers is growing and so is the need for larger spools of filament. We are now offering large size spools for every type of material that we make. Our large filament spool sizes are .1kg, 2kg, 2kg, 10kg, 20kg, in both 1.75mm and 2.85mm ABS/PLA with a tolerance of +/-0.05mm. 
All of our filaments are laser measured, any out of specification filament is rejected.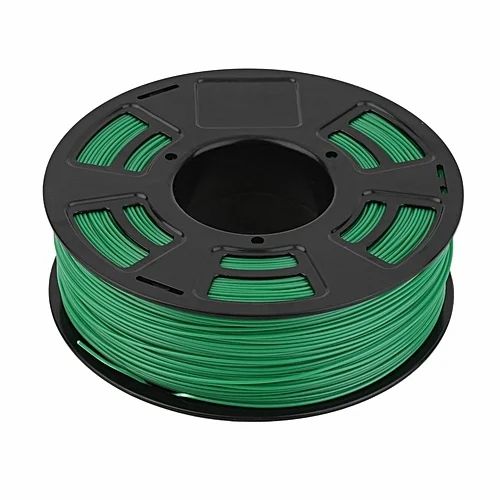 Our filament is traversed layer by layer to ensure trouble free uncoiling when printing.
Please contact us if you have any questions about our large 3D filaments spools. 
If you are interested in receiving a quote please do not hesitate to contact us for friendly informed chat with one of our knowledgeable staff. Phone 1-888-536-5551 or email [email protected]
Filaments.ca sells private label filaments to the 3d printing industry. We offer our partners a wide and unique range of filaments ready to sell in their own branded packaging. This allows business the possibility to increase their sales margin, distinguish themselves from competitors and create brand loyalty.
If you are interested in receiving a quote please do not hesitate to contact us for friendly informed chat with one of our knowledgeable staff. Phone 1-888-536-5551 or email [email protected]
Filaments.ca can manufacture custom color 3D printer filament, you can choose from existing colors, or you can have a custom color according to your specification.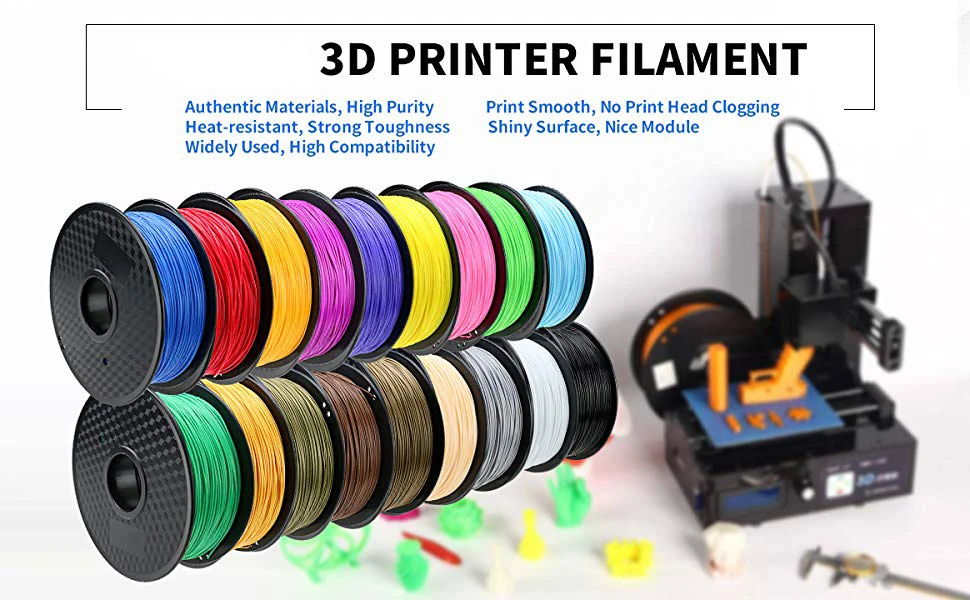 If you are interested in receiving a quote please do not hesitate to contact us for friendly informed chat with one of our knowledgeable staff. Phone 1-888-536-5551 or email [email protected]
Filaments.ca offers discounted pricing for customers who wish to purchase filaments in larger quantities. Some examples of our wholesale purchasers are: prototyping services, 3D print shops, machine shops, lab/medical facilities, schools, universities, retailers and more.
In order to qualify for wholesale pricing, a minimum order quantity of 24 kg must be met. You can mix quantities of any color/material/diameter you wish as long as you meet the 24 kg MOQ. (For Example: 10 x Black 1.75, 15 x White 3.00 | or 10 x Blue 1.75, 10 x Red 1.75, 5 x Green 3.00 | Etc...)
Shipping Wholesale Orders:
We ship by courier of our choice. If you prefer a certain courier or wish to use your account with a courier of your choice, please let us know.
Our wholesale prices already include shipping to most cities in Canada, excluding remote locations. Please contact us for confirmation.
Wholesale pricing structure:
Wholesale prices apply to the "Filaments.ca" brand materials only. We do not wholesale materials from other manufacturers.
Click here to view our current wholesale pricing structure.
* Prices are in Canadian dollars.
Payment:
The acceptable payment methods for wholesale orders are Cheque and Bank Transfer.
Ordering:
Please contact us by email or phone to arrange a wholesale order.
How PLA is made for 3d printers. Report from the shop / Sudo Null IT News
A pistol shot was the signal to create a business.
In order to dispel the myths that plastic spools for 3d printers grow on trees can only be bought and resold, as well as that it is enough to buy an all-in-one extruder and start your own business, I went on reconnaissance to the Moscow manufacturers of ABS and PLA (and HIPS).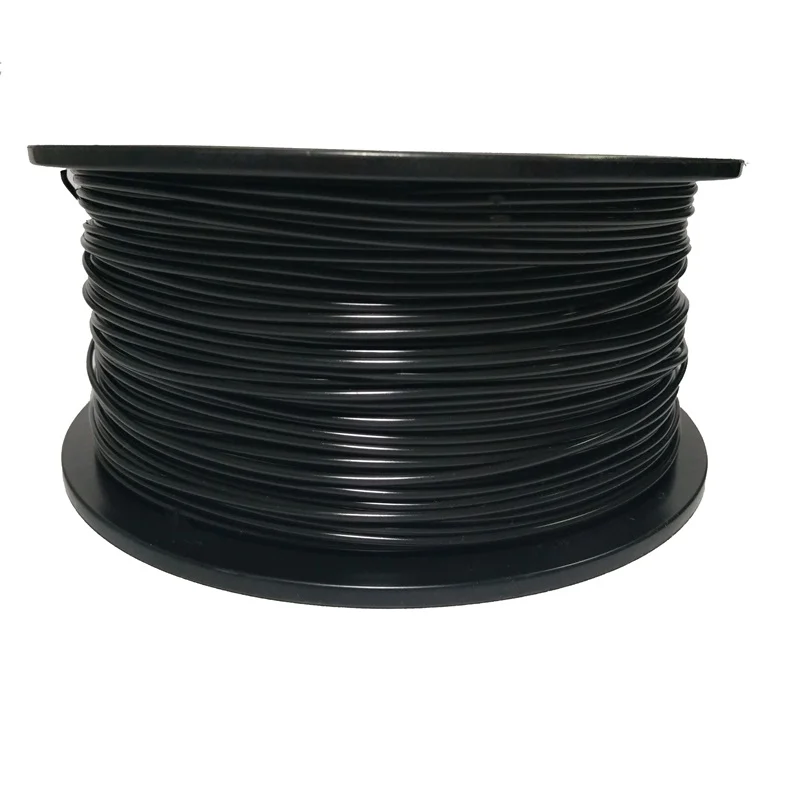 Indeed, I ended up in a professional workshop with industrial equipment, with high-precision measuring and control devices, high standards of cleanliness (because the production process is very responsible) and sociable founders (ready to share knowledge with an inquisitive and thinking audience), who have a lot of techno-creative ideas and takeover plans world market. (+5 National Pride Level)
As the co-founder of the company told me: "First we saw a fruit knife open and an orange peeled with it, then the video of Cody Wilson's gun came as a shock and away we go..."
At the time when I wrote the first 2 articles about 3d printers on Habré (spring 2013), these guys had already started creating a plastic production business. It is interesting that both I and they came up with a similar idea, how to supplement the saying, they say, a person can endlessly look at fire, water, how another person works and how a 3d printer prints.

Polylactide (PLA, PLA) is a biodegradable, biocompatible, thermoplastic, aliphatic polyester whose monomer is lactic acid.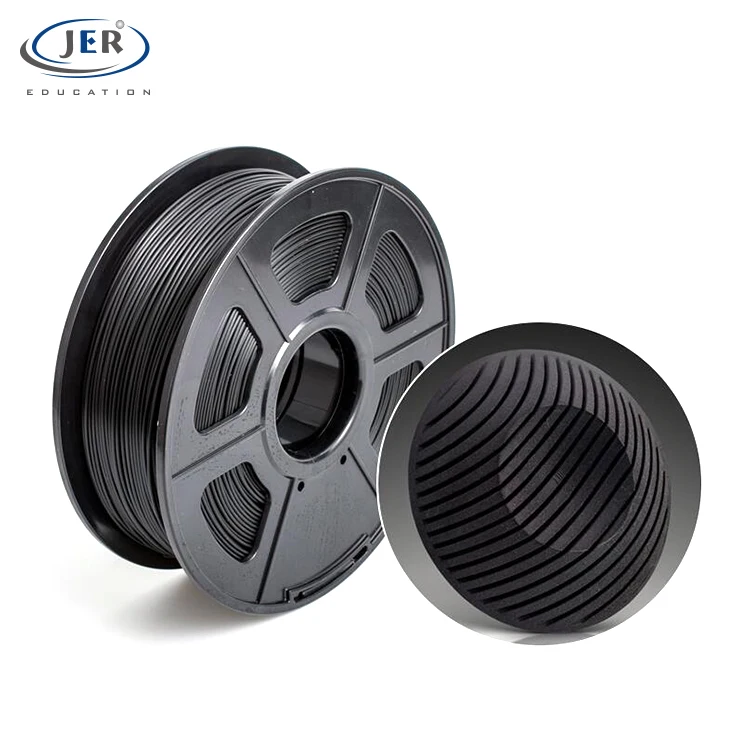 The raw materials for production are annually renewable resources such as corn and sugar cane. It is used for the production of products with a short service life (food packaging, disposable tableware, bags, various containers), as well as in medicine, for the production of surgical sutures and pins.

Under the cut - the main stages of turning raw materials into coils with PLA for 3d printers

Shop panorama
Right to left

There was a corn, then it is processed into such balls and put in such boxes

About 900 kg of plastic is obtained from a ton of raw materials

Since this is a natural product, it is afraid of light and moisture, so it is protected with such a bag and a piece of silica gel

And this is a "vacuum cleaner" with which 100 kg of "corn balls" are scooped up and sent to container

Here the raw materials are dried, while the smell is like in a confectionery
Add a "pinch" of dye (also completely natural, Austrian quality)


Here the raw material is heated and turns into a viscous mass.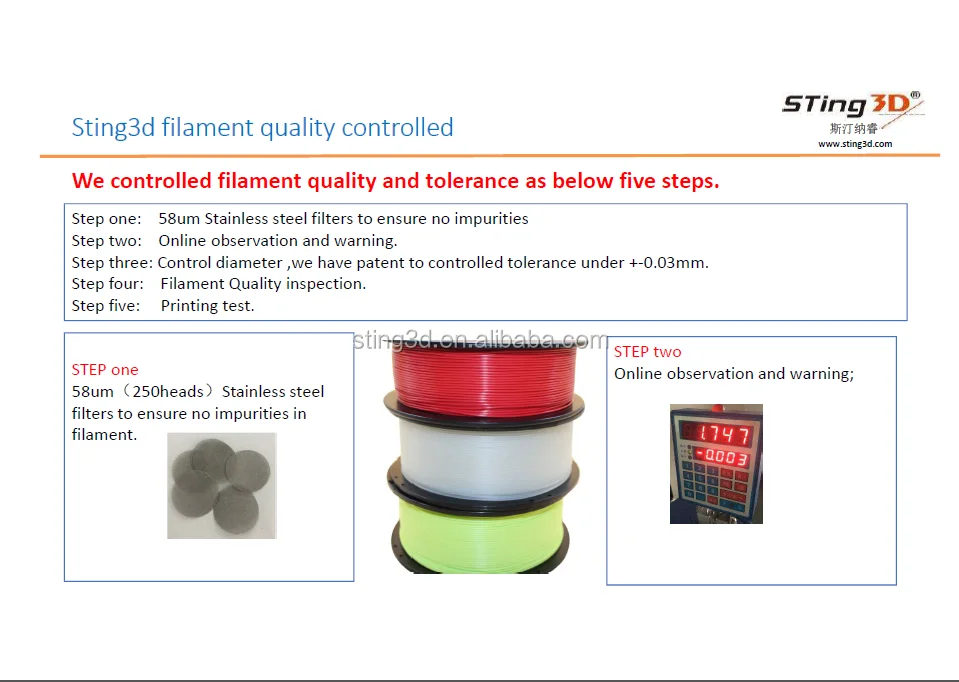 Under the pressure of the shaft, we pass through the heating elements.
The diameter of the outlet of the "furnace" is about 3 mm, the plastic acquires the desired diameter (1.75 mm) due to the fact that it is immediately pulled, and the draft is very precisely adjusted

Bosh. For ABS and PLA different temperatures

The diameter of the cooled plastic is measured by a laser device. Thread diameter tolerance set to ±0.03 mm

Remote monitoring of plastic diameter
Laser threading speed 55 meters per minute


Traction control. It is the thrust that creates the desired diameter. Using this unit, you can very accurately select the thrust of the motors and thereby adjust the diameter of the plastic.

"Spindle" - controls the speed of winding on the coil. No on COIL.

Here is the COIL.
Without plastic

It is important to note the uniformity of filling the spool
After the large spool is full, it is removed and the thread is rewound onto small (usual for everyone) spools.

Ordinary coils fall into the caring hands of the girl who completes the box

Dust-proof bag, moisture-proof silica gel, strong box to protect from direct sunlight and stickers. The stickers indicate the recommended melting temperature (they are different for ABS and PLA), filament diameter, weight and material.

From here they will go all over Moscow and the CIS countries
Purity
What I noticed is that the workshop is very clean, all measures have been taken to keep dust as low as possible: windows are sealed with adhesive tape, cleaning is often done, antistatic liquid is used, especially important places are covered with polyethylene.
soluble plastic
high-strength polystyrene (HIPS), which in its characteristics is very similar to conventional ABS (for which Rep 2X is "optimized"). HIPS dissolves in limonene, a citrus-based substance.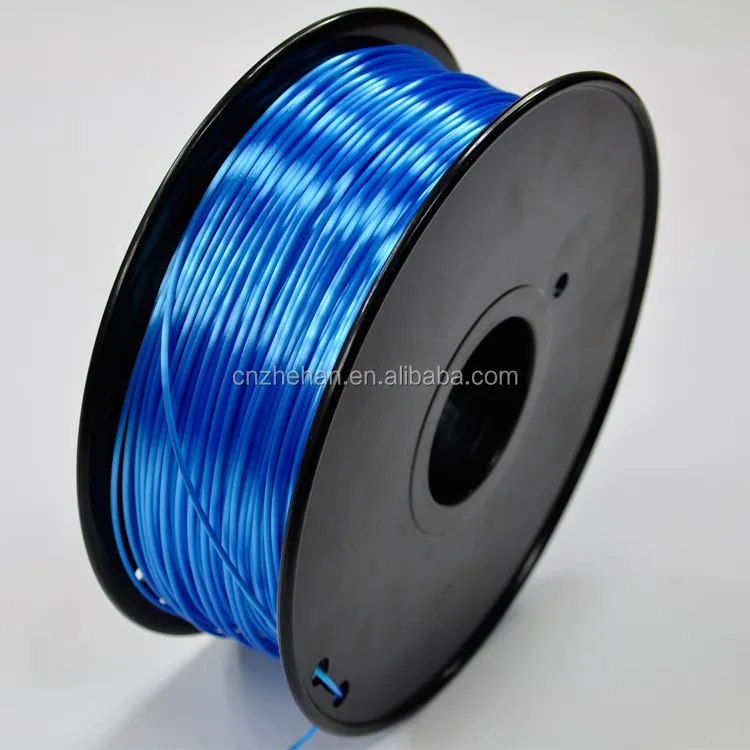 Complex objects can be printed with standard ABS or PLA, and HIPS can be used as support material. The final product is immersed in a limonene bath where the HIPS dissolves in a few hours. In addition, HIPS has a close operating temperature, adheres well to ABS and the platform. The consumption of limonene is small, since most of the support is usually removed by hand. A lemon bath is a slightly more complicated procedure than if it were ordinary water, but it has its own plus: after bathing, the item smells like lemon.
A couple of tips on how to choose good plastic.
PLA is very sensitive to storage conditions (dark, dry and dust-free). The twig should be clean, without inclusions, smooth, without delamination, on the surface - a slight sheen.

The presence of foreign bodies is checked at the rupture site. If you pull yourself up and tear a piece of plastic (and it breaks where it is "thin"), then the place of the gap should be uniform - this is a sign of good quality.
Durability/Biodegradability
(picture for environmental investors)
and here is the data similar to the truth

examples from PLA

How to choose high quality filament
3D printing filament is the blood of your printer. In this article, we will share some thoughts about plastic filaments with you. They will help you better understand what makes 1.75mm filament good and what to look for when you buy plastic materials for your printer.
Extruder diagram
There are many types of filaments. Most of the examples and considerations below in this article will apply directly to PLA and ABS plastics, but the principles described in the article apply, in most cases, to other types of plastics.
Both PLA and ABS are great materials and you can create amazing things with them. But it is probably better to try both of these types to understand which one you like best.
Below you will find a list of the main characteristics for both plastics.
1 Why PLA?
2 Why ABS?
3 Why 1.75 mm?
4 Diameter tolerance
5 Filament Roundness
6 Coil diameter
7 Filament storage
8 Checklist of Parameters to Check When Purchasing Filament
Why PLA?
PLA (short for Polylactic Acid) is a plastic based on renewable starches such as corn starch and sugar cane starch.
This plastic is biodegradable and releases a small amount of ultrafine particles (UFCs) when printed.
When working with this plastic, a subtle, but rather pleasant, sweet smell appears.
Depending on the characteristics and color of the filament, the extrusion temperature can vary from 160 to 220 °C.
PLA printed parts are more rigid than ABS parts (ABS plastic is more flexible).
In general, parts printed with PLA have a slightly glossy finish.
PLA is less prone to warping during printing and much more sticky than ABS.
PLA becomes soft at around 60°C (heat distortion temperature).
PLA requires slightly more push force when extruded, as it has a higher coefficient of friction than ABS.
PLA came a little later in the history of FDM 3D printers and has a pretty promising future.
Why ABS?
ABS (short for acrylonitrile butadiene styrene) is a common thermoplastic (for example, LEGO bricks are made of ABS plastic). This plastic is made from petroleum products.
ABS is more prone to emitting ultrafine particles (UFCs) than PLA. Therefore, it is recommended to use this plastic in a well-ventilated area.
When working with it, a slight smell of "burnt plastic" appears.
Depending on the characteristics and color, the extrusion temperature can vary from 220 to 260 degrees Celsius.
Products printed from ABS plastic are slightly elastic and less brittle than those made from PLA.
In general, ABS printed parts have a glossier surface than PLA printed parts.
ABS plastic becomes soft at around 100°C (heat distortion temperature), making it more heat resistant than PLA plastic.
ABS has a lower coefficient of friction than PLA and requires slightly less extrusion force than PLA.
ABS can be considered a "traditional" type of filament, as it has been used for 3D printing since before the advent of PLA.
Why 1.75 mm?
The lighter the filament per unit length, the less weight the extruder motor has to move and the easier it is to do the job.
Also, smaller diameter filament heats up faster (because it takes less time for the heat to reach the center) and so you can print faster.
This allows for a slightly more compact hot nozzle design.
Smaller nozzles allow for more precise plastic flow control and reduce the risk of leaks.
With a more compact size, they can more accurately define contours and make sharper angles.
The force required to push the plastic into the extruder is less because the pressure generated inside the nozzle will also be less.
Now that we've explained the benefits of 1.75mm filament, let's talk about what to look for when buying a good filament. Some of these rules are more obvious than others, but other rules are just as important when choosing. In this article, we will look at the most important ones so that you can make an informed decision on your own when buying filament for a 3D printer.
Diameter Tolerance
Unstable Diameter = Unstable Extrusion
When printing on any FDM type printer, it is important to understand that the printer control software calculates the extrusion volume based on the filament diameter, the extruder nozzle diameter on your printer, and the extrusion speed (usually use the name flow rate - in mm / s).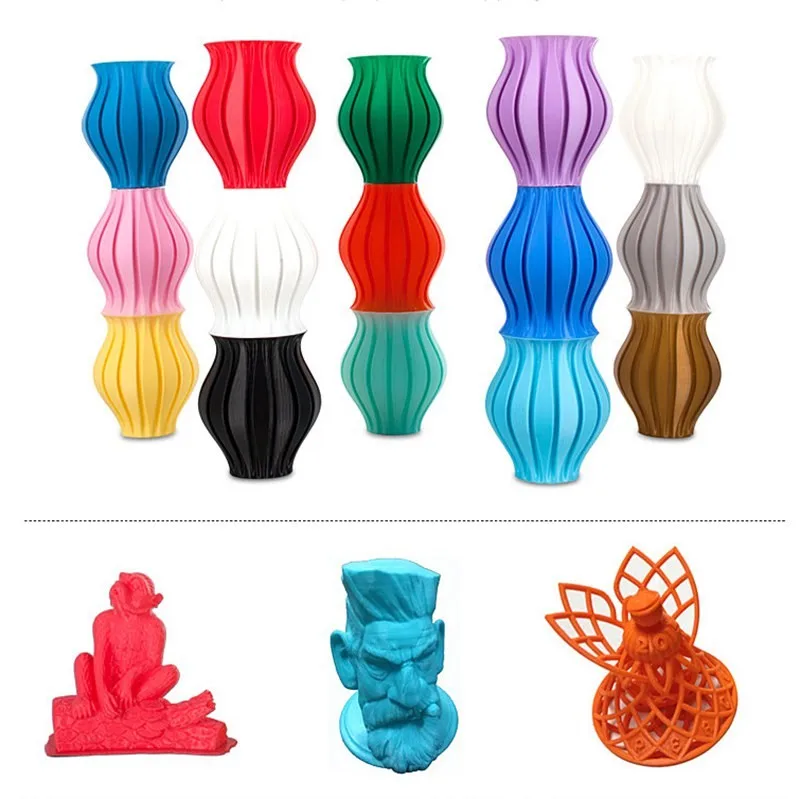 Essentially, your printer controls the amount of plastic that is ejected from the nozzle as the extruder gear rotates and pushes a certain length of filament into the hot nozzle.
If the filament has an irregular diameter, the amount of plastic extruded will vary and the software will not be able to adjust the extrusion length to compensate for these fluctuations. Instead, it will continue printing, with the expectation that a certain amount of plastic will come out "theoretically". This is what we call "unstable extrusion".
Filament Diameter Tolerance
Ideally, the filament has a completely constant diameter all the way to the end. However, in real life, due to the manufacturing process, there is always a tolerance within which the filament diameter will vary.
The filament tolerance shows actual changes in the diameter of a particular filament. For example, Boots Industries filament, with a diameter of 1.75 mm, has a tolerance of ± 0.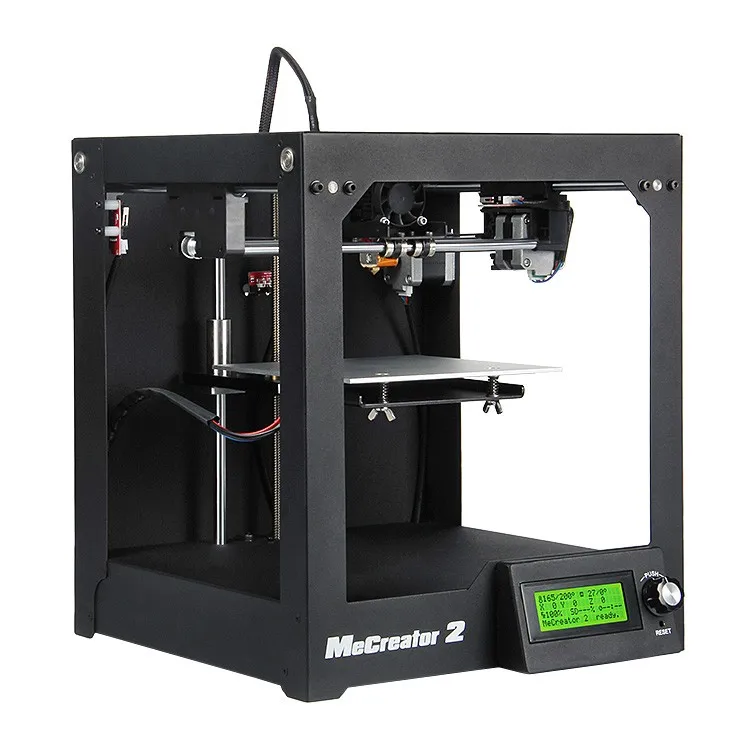 03 mm.
Serious problems can arise from inconsistency in filament diameter. A typical consequence is extruder failure, a condition in which the extruder stops functioning and no more plastic enters its hot nozzle. This can happen if the filament suddenly becomes too thin for the tensioner and the pressure on the filament is not enough to grip.
Thin filament can lose contact with the extruder wheel
Another effect of reducing filament diameter is backflow in the hot nozzle (preventing plastic from entering the die).
At the other extreme is a sudden large expansion of the filament diameter when the extruder motor does not have enough power to push it or such a large diameter does not enter the hot nozzle opening.
Another effect of a large increase in filament diameter is that the extruder gear can abrade the surface of the plastic, causing the take-up mechanism to not be able to grab the filament to push it through and stop feeding.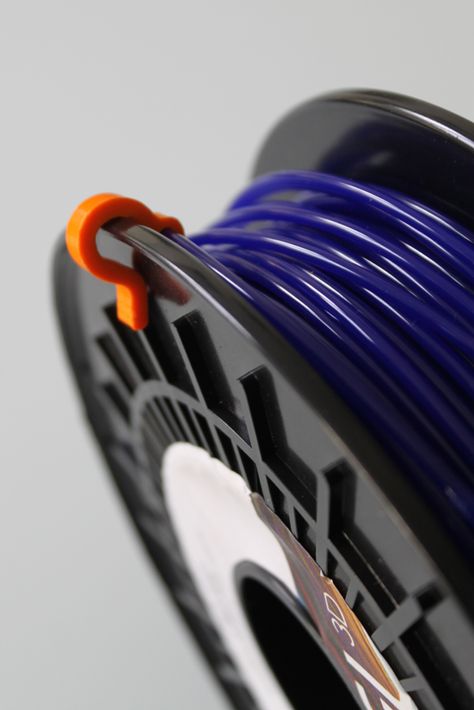 Large increase in diameter of poor quality filament
In all cases, difficulties with an extruder of this nature can be compensated by a tension mechanism that maintains pressure on the filament dynamically, regardless of its diameter, by means of a spring. However, not all tensioners have this feature and therefore cannot prevent the difficulties associated with large diameter deviations.
Generally, when looking for quality filament, the industry's gold standard for diameter tolerances of no more than 0.05mm is the focus. Working closely with manufacturers, we have found it very difficult to improve this standard and maintain a consistent diameter over the entire length of the reel. When buying a new spool of filament, you can use a micrometer to measure the diameter in several places to make sure it matches the advertised tolerance.
Roundness of the filament
When in contact with the extruder wheel, the filament always undergoes some compression due to the fact that the extruder wheel needs to grip the plastic.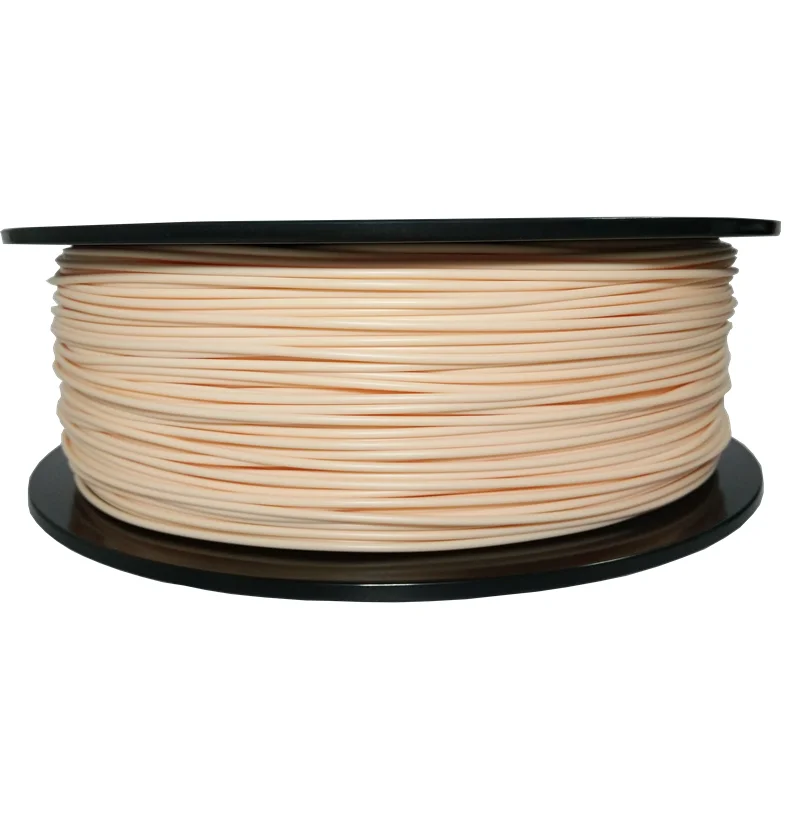 This will indeed reduce the roundness of the filament thread, but this effect is constant along the entire length of the spool, so it practically does not affect print quality.
Normal deformation in contact with the extruder wheel
But, despite the above, the constancy of the round shape of the filament along the entire length of the coil is of great importance. This is because if the filament suddenly loses its perfectly round shape and becomes oval, it can cause the extruder to fail in the same way as increasing or decreasing the diameter of the filament.
Spool diameter
When buying filament, you probably want to use all of it. We researched materials from different suppliers and came across different types of coils. We have found that some coil designs can significantly reduce the usability of the material. When using a spool with a relatively small (< 100 mm) inner diameter, we found that tightly wound plastic was more difficult to unwind.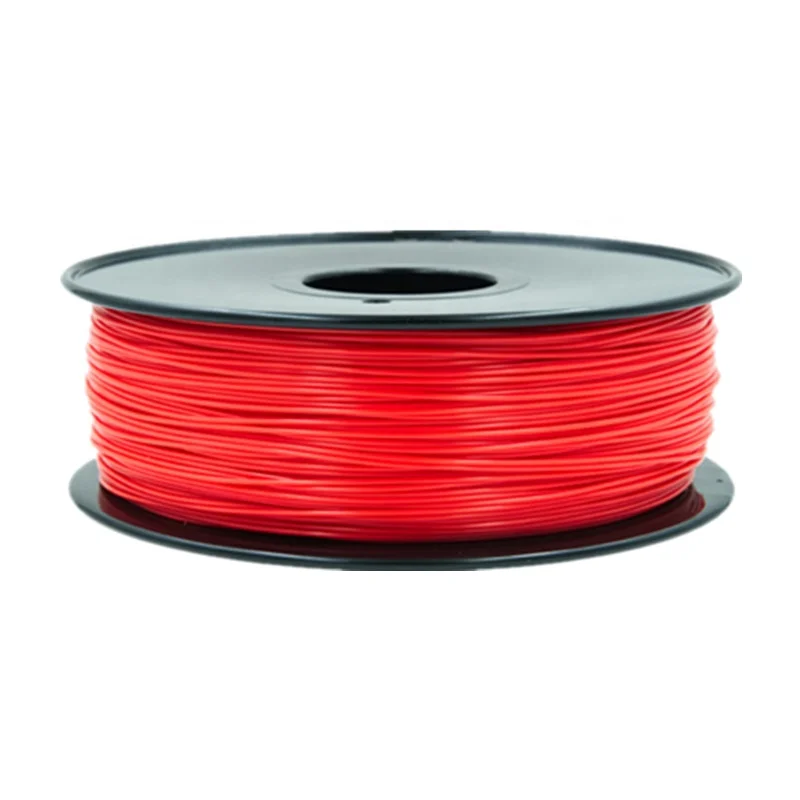 This may depend on the temperature of the plastic at which it was wound onto the spools by the manufacturer. Some manufacturers in the production of plastic introduce an additional production step, allowing the finished plastic to cool slightly before winding onto spools.
However, it is important to remember that most extruder designs involve drawing the filament directly off the spool. Thus, when you reach the end of a tightly wound spool, it becomes increasingly difficult to unwind the filament, and the extruder wheel may begin to slip and strip the filament.
Tightly wound PLA filament
This situation is usually corrected by increasing the extruder pressure, but be aware that too much wheel pressure can significantly affect the roundness of the filament (if the pressure is too high when passing through the extruder, the filament becomes slightly oval).
To avoid these difficulties and to minimize the distortion of the filament as it passes through the extruder, we recommend a spool with an inner diameter greater than 100 mm.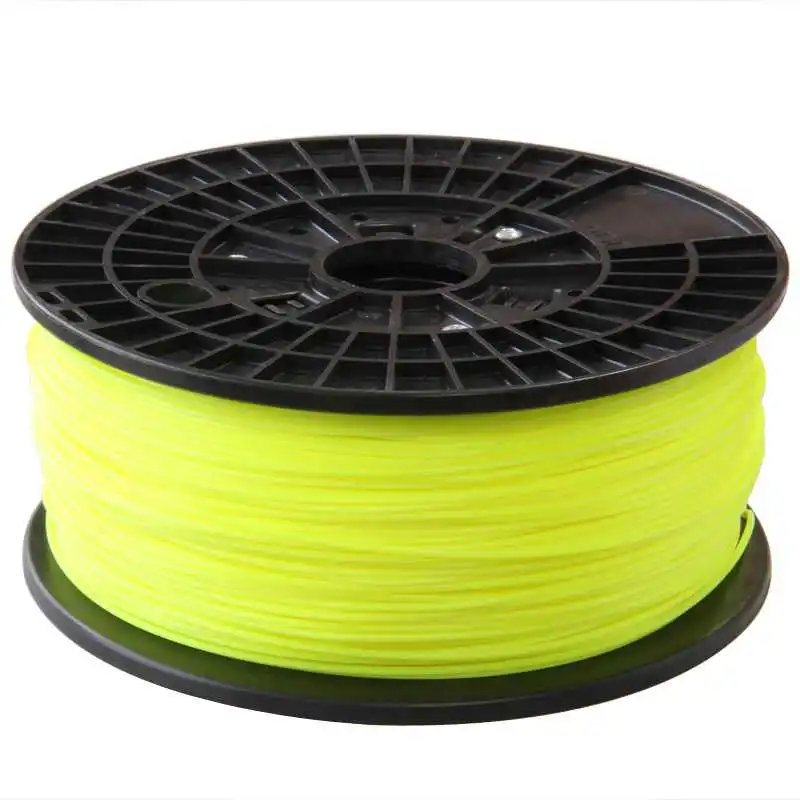 Of course, a reel with too large an inner diameter is also not the best choice, because they are more expensive to transport and store. Each supplier has their own principles and priorities regarding filament production and quality, but we have only discussed the inner diameter of the spool here in terms of convenience for 3D printing.
Filament storage
Three different spool diameters we tested
If you plan to purchase high quality filament and properly set up your printer to achieve high print quality, filament storage is also important. A common problem with most types of plastic (regardless of quality) is that over time, it absorbs moisture, and as a result, small water droplets form inside the filament. The problem is that these small droplets, when heated in a hot extruder nozzle, reach a boiling point of about 100 degrees Celsius and explode. This drastically reduces print quality as it will cause the plastic to splatter from time to time instead of being neatly layered.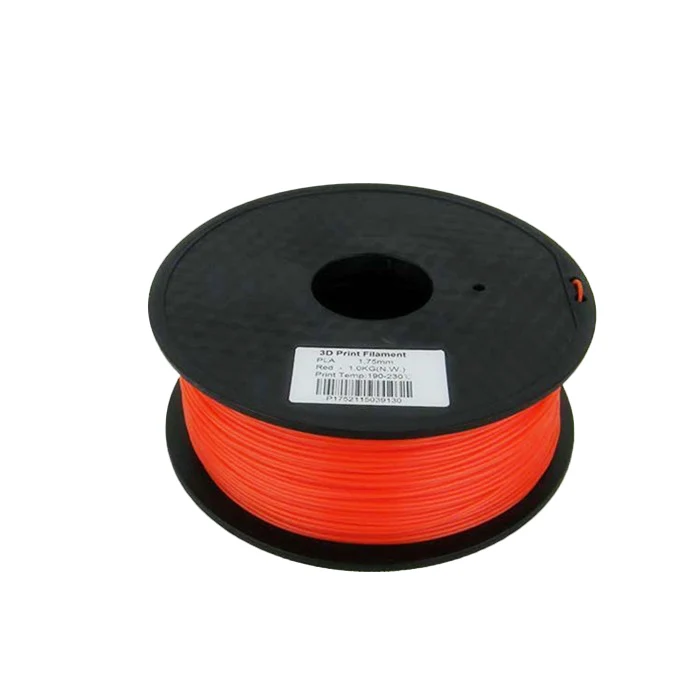 We recommend a simple strategy for filament storage. We recommend that you purchase a large plastic container to store the filament and use a bucket of dry rice as a desiccant. This is an inexpensive and very effective way to keep the filament completely dry.
Checklist of Parameters to Check When Buying Filament
Plain plastic container with spools of filament and a bucket of rice as a desiccant
We have discussed above some of the most important parameters to consider when purchasing plastic filament. Below we provide a complete list of tips for buying filament that you may find useful.
Buy only filament whose diameter tolerance is the pride of the manufacturer and advertised accordingly (0.05mm or less is the gold standard).
Buy only a filament that has a perfectly round cross-section along its entire length (usually with this parameter, the diameter tolerance is very good).