Self levelling 3d printer
6 Affordable Auto Leveling 3D Printers To Save You Time & Hassle
Manual leveling is tedious, repetitive, and exposes you to the more underrated component of failed prints — human error. Wouldn't it be great to automate all the boring stuff away, and get to printing? It's good news for you then, as auto-leveling 3D printers have become more and more affordable.
BUDGET PICK
Anycubic Kobra
One of the cheapest self-leveling printers around.
Performed well in our review.
Available at:
Anycubic hereAmazon here
MID-RANGE PICK
Creality Ender 3 S1
Builds on Ender 3's success with extra power and auto-leveling
Improved direct drive extruder
Available at:
Creality hereAmazon here
PREMIUM PICK
Prusa i3 MK3S+
One of the best 3D printers for $1000 with great auto-leveling
Durable, accurate, it's perfect
Available at:
Prusa here
---
What is an auto-leveling 3D printer?
An auto-leveling 3D printer is one that comes equipped with the necessary kit (sensors) to automatically detect the distance between the nozzle and the print bed.
Prior to auto-leveling, makers worldwide had to manually adjust their 3D printer's bed so it was at the correct distance away from the nozzle. This was time-consuming, annoying, and put beginners off. Moreover, you'd have to re-level your 3D printer every few prints as the bed began to fall out of alignment over time.
Having a self-leveling 3D printer saves you time and hassle, so you can get to doing the fun things like printing your favorite models.
These auto-leveling printers have proximity sensors near the tip of the nozzle and detect where the print bed is across various points on the print bed. For example, the Creality CR-10 Smart has 16 points spaced evenly across the print bed that the nozzle probes to get distance data.
With this data, the 3D printer's firmware can make adjustments on the distance the nozzle comes to the print bed during the 3D printing process.
For example, if one side of the print bed is slightly uneven, the printer adjusts to this and ensures that the nozzle and bed remain the same distance apart throughout the print, improving bed adhesion and print quality.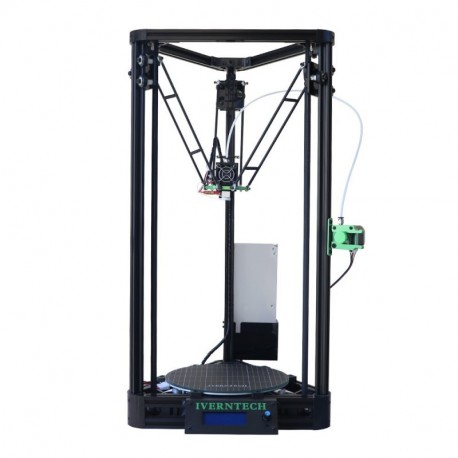 Generally, the ideal distance between the printer nozzle and bed is around 0.1mm, but this can vary.
Problems that can occur if the nozzle is too close to the print bed include:
Scratch marks on the print bed
Filament will be unable to extrude, especially in the first few layers
Can clog your nozzle
Problems that can occur if the nozzle is too far away from the print bed include:
Bad adhesion 
Filament will curve and twist around the nozzle rather than being deposited
Poor print quality
Either way, badly optimized bed leveling causes bad adhesion and worse print quality, so it's key to do this properly. Even with an auto-leveling 3D printer, it can be worth manually calibrating everything every once in a while to ensure your settings are spot on.
What are the advantages of a 3D printer with automatic bed leveling?
Better print quality and bed adhesion
More accessible for less experienced beginners
Saves you time and hassle manually leveling the 3D printer
Human error can affect manual leveling
Therefore, a level print bed is crucial for high-quality prints.
If you're trying to avoid constantly ruined, sloppy-looking prints caused by poor layer adhesion, go for a self-leveling 3D printer.
---
Can you upgrade a 3D printer to auto level?
Yes, you can, and many makers opt to upgrade their printer so that it can auto level. Many 3D printer auto-leveling kits are available, but check the kit you're interested in is compatible with your printer.
Some popular 3D printer auto-leveling kits include:
BLTouch — kits Available on Amazon here
CRTouch — Creality's version — Available at Creality here / Amazon here
EZABL
These kits come with firmware, such as Marlin, which when placed where your printer's z-stop is, learns the height of the build plate, and makes adjustments based on these measurements.
---
TOP PICKS
Best XYZ Reviews – Full Round-Up
Anycubic Kobra: Best budget pick
Flashforge Adventurer 3 Lite: Best enclosed low-cost option
Anycubic Vyper: Similar to Kobra but slightly upgraded (but costs extra)
Ender 3 S1: Best auto-leveling 3D printer under $500
Prusa i3 MK3S+: Best for $1,000
Ultimaker S3: Best for professional use, or if budget is no issue for you
The best auto-leveling 3D printers
3DSourced is reader-supported.
When you buy through links on our site, we may earn an affiliate commission. Learn more
Anycubic Kobra – cheapest auto-leveling 3D printer
Price — Check latest price at Anycubic here / Amazon here
Automatic Bed Leveling: Anycubic LeviQ
Leveling Points: 25 points
Build Volume: 220 x 220 x 250 mm
Minimum Layer Height: 50 microns
The Anycubic Kobra is the cheapest 3D printer with a self-leveling bed around and a thrifty way to get all the time-saving benefits at a price that won't scare away 3D printing novices. Launched in early 2022, it's a machine designed to make 3D printing easier for newcomers by removing the more hands-on aspect of setup and tinkering.
Anycubic has equipped the Kobra with its in-house developed mesh point ABL 3D printing system, the LeviQ. It measures the bed at 25 distinct points, stores the data, and adapts the printing process to mitigate surface inconsistencies.
We had the chance to spend some quality time with the Kobra, and we couldn't have been more impressed with the Levi Q system. The probe automatically levels the bed in just a few minutes with a single click. You can also fine-tune Z offset on the fly to get those flawless layers, thanks to an easily accessible setting in the intuitive display UI.
Elsewhere, the Anycubic Kobra has features we've rarely seen at this price. There's a smart direct drive extruder, Anycubic excellent coarse PEI-coated removable magnetic bed, and a well-sized 220 x 220 x 250 mm build volume, all housed in a compact machine that won't take up too much space.
Specifications are one thing, but the Anycubic backs them up with solid quality prints out-of-the-box. As with most budget printers, there's some software tinkering involved to get the very best results, but once there, the Anycubic positively sings when fed PLA, TPU, and PETG.
In many ways, the Anycubic Kobra has redefined what we should expect from low-cost printers and, for our money, is hands down the best 3D printer under $300 currently on the market.
---
Flashforge Adventurer 3 Lite
Price: $339 — Available at Flashforge Official store here / Available on Amazon here
Build volume: 150 x 150 x 150
If you've got younger kids that you want to get involved in 3D printing, the Adventurer 3 Lite is perfect. It's enclosed, so it keeps any curious child's hands safely locked away from the nozzle while printing, with this enclosure also benefiting your prints as you can more effectively control the temperature, and reduce warping.
The Flashforge Adventurer 3 Lite is one of the cheapest 3D printers with auto-leveling, another feature that makes it ideal for beginners or kids, letting you skip all the hassle and get straight to the fun printing. The removable heated bed makes it easier to remove prints after printing, and despite its appeal as a basic, easy-to-use printer, it can still print tougher filaments like PETG.
It also comes with a filament run-out sensor, switching off automatically in the event of a power cut or similar failure, pausing your print so you can resume without ruining your model, and it's very quiet, so it won't disturb you too much if you're working or relaxing in the same room.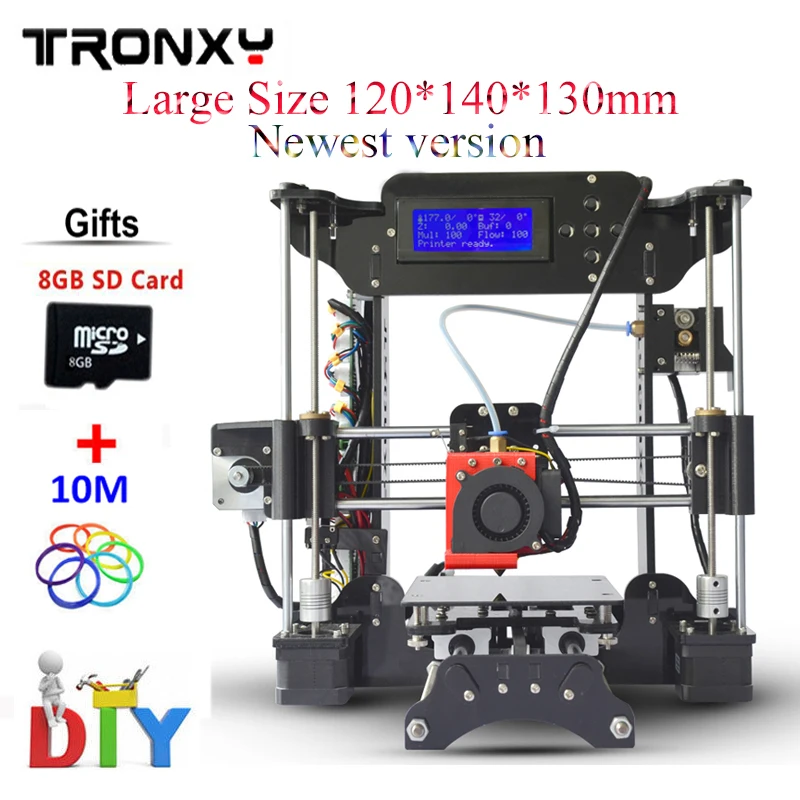 ---
Anycubic Vyper
Price: $429 — Available on Anycubic Store here / Available on Amazon here
Build volume: 245 x 245 x 260 mm
Another low-priced self-leveling 3D printer, the Anycubic Vyper's 1-click auto-leveling system automatically adjusts based on the data gained from each of 16 different points across the print bed to optimize printing.
Despite the large build volume, it's a compact printer that doesn't take up too much space, and when we recently tested it out we were impressed with the print quality. Though we didn't run it too fast, Anycubic say that with the Vyper's new fan cooling system you can print faster without a noticeable loss in print quality — at up to 100mm/s.
The new 32-bit motherboard and control chip makes it more powerful than previous Anycubic 3D printers, making for better precision and quieter printing. The large 4.3-inch touchscreen is a nice bonus, and the UI is easy to use to get printing and change each setting.
Another great feature is the new and improved double gear extrusion system within the extruder, making flexible filaments like TPU easier to print and prevents tangling, and also makes standard PLA printing more reliable.
Overall, we were impressed when we tested the Anycubic Vyper, and if you're looking for a high-quality 3D printer that auto levels for a good price, this could be the one for you.
You can read more in our full Anycubic Vyper test here.
---
Ender 3 S1 / S1 Pro
Price — Check price at Creality store here / Amazon here
Automatic Bed Leveling: Creality CR Touch Auto Leveling
Leveling Points: 16 points
Build Volume: 220 x 220 x 270 mm
Minimum Layer Height: 50 microns
Emerging from one of the longest-running and best-selling 3D printing legacies, the Ender 3 S1 is the new, more sophisticated version of the Ender 3 – with two versions, the Ender 3 S1, and S1 Pro, with subtle differences.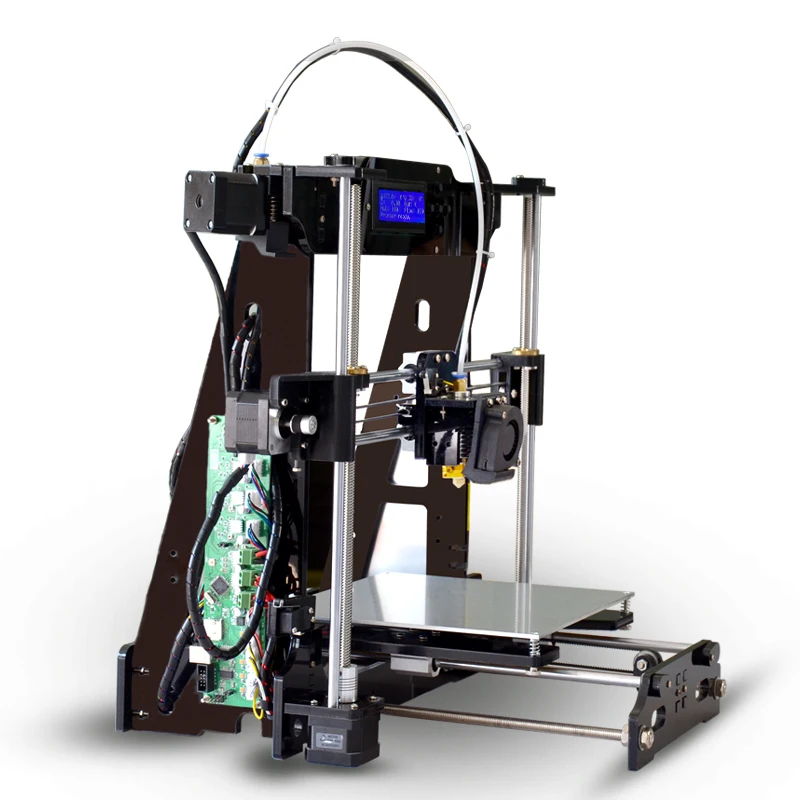 In our review of the Ender 3 S1 Pro, we noted how Creality has gone to considerable lengths to make the printer a tinker-free, set-and-forget incredibly welcoming to beginners, and improved a number of key areas.
Both the Ender 3 S1 and S1 Pro have key upgrades, such as automatic bed leveling – a first for the Ender 3 family. Creality has used its self-developed BLTouch look-alike, the CR Touch.
It measures 16 points across the bed to provide the printer with all the data needed to compensate for different surface heights and deliver optimal printing. Unlike some automatic bed leveling systems, the CR Touch keeps its calibration sharp and trim even after multiple prints.
Of course, you could always buy an Ender 3 for dirt cheap and install a CR Touch yourself. It would be a viable option if it weren't for the stacks of extra features found on the S1.
The Sprite dual-gear direct drive extruder is worth mentioning, as is the fantastic PC spring steel sheet, sleek LCD, extremely quiet 32-bit motherboard, and a larger 270mm maximum print height (vs 250mm on the Ender 3).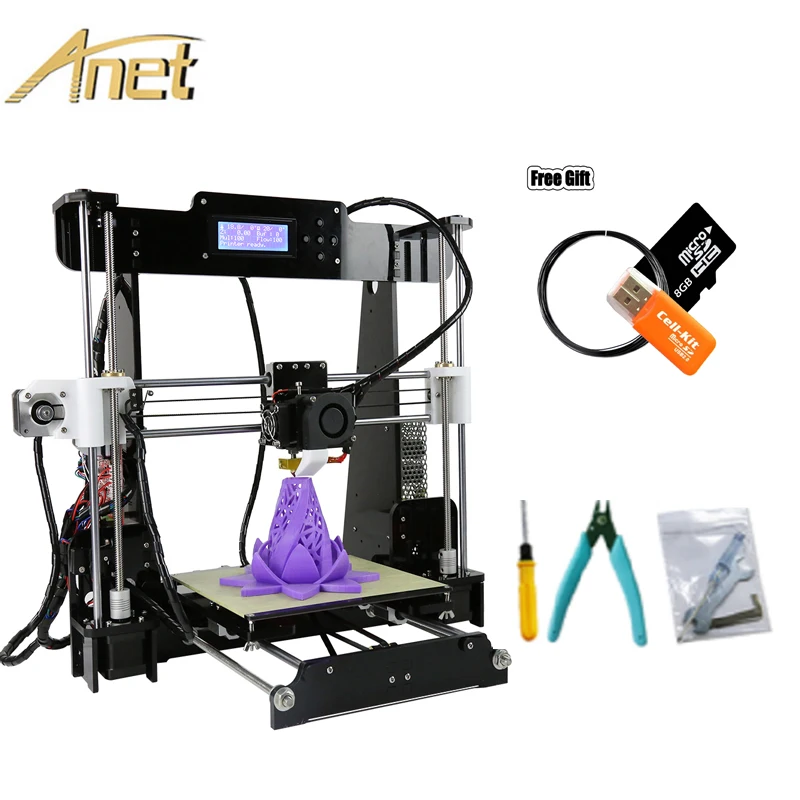 Not only does it feature auto bed leveling, it's also very accurate and precise (example print of a cat on the right), and very quiet (we measured it to be 36dB in our test on the left).
The Ender 3 S1 does cost more for all these upgrades, so whether the extra features are worth the additional spend comes down to budget and convenience. The Ender 3 is still one of the top budget picks, but you'll have to invest time, effort, and money to spruce up to anything comparable to the Ender 3 S1.
And if you're deciding between the S1 and S1 Pro for an auto-leveling 3D printer under $500, this really depends on what you want to print. The S1 Pro has an all-metal direct drive extruder that can reach 300°C, so if you want to print high-temp filaments like Nylon or PC, absolutely go for the S1 Pro. If not, you might be fine with the standard S1.
It's also worth noting that the brand-new Ender 3 Neo range also now come with auto-bed leveling, so it's more a question of whether you want the other upgrades on the S1 range.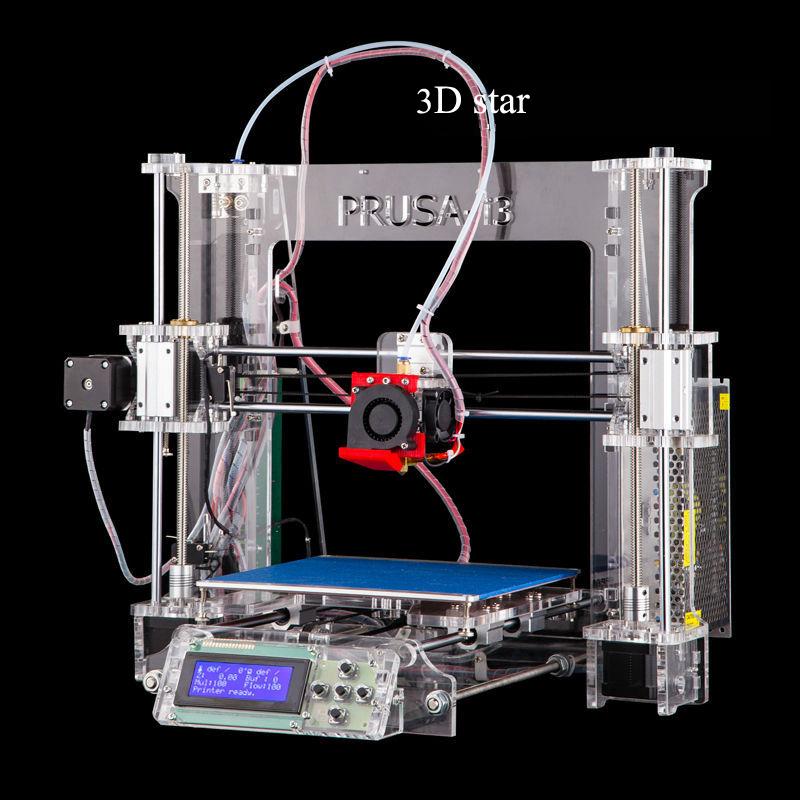 ---
Prusa i3 MK3S+ — reliable auto-leveling 3D printer
Price: $749 as a kit / $999 assembled — Available on Prusa Store here
Build volume: 250 x 210 x 210 mm
Prusa printers have been known as the most reliable, hassle-free, and high-quality 3D printers around for years, winning boatloads of awards and selling hundreds of thousands of 3D printers.
The latest version, the i3 MK3S+, comes with improved first layer calibration via the new SuperPINDA probe, and a range of other key design improvements. The automatic mesh bed leveling is flawless and keeps everything optimized, and the print platform's removable PEI spring steel sheets make it easy to remove your finished prints without having to strain and risk damaging your print while scraping it off the bed in an awkward position.
Other quality-of-life features include the filament runout sensor, power loss recovery to save where you are in your print, key safety features, and it's very quiet while printing.
Prusa printers are also open source, so you can use third-party filaments, and the i3 MK3S+ is powerful enough and can reach high enough nozzle temperatures to print filaments like ASA, Polypropylene, Polycarbonate, HIPS, Nylon, and carbon filled filaments, beyond the standard ABS and PLA.
Overall, if you've got the extra money to spend, go for the Prusa and you won't be disappointed.
---
Ultimaker S3 – premium auto-leveling option
Price: $4,080 — Available on Dynamism here / Available on Matterhackers here
Build volume: 230 x 190 x 200 mm
The premium, high-quality auto-leveling 3D printer option, the Ultimaker S3 guarantees a hassle-free printing experience. Designed for prototyping and for business use, the S3 features advanced auto bed leveling via automated calibration settings. These settings measure the build platform's coordinates and automatically adjust without you needing to manually intervene — it'll just stay level and optimized.
It's also a dual extruder auto-leveling 3D printer, so you can print with PVA and PLA for dissolving filaments, as with HIPS and ABS, and a range of other filaments. 
The Ultimaker S3 is also incredibly accurate, able to print precise parts of up to 20-micron resolutions. At this level of precision, it'll be slow, but the results will be fantastic. It's expensive and usually reserved for more professional use, but functions fantastically as an auto-leveling printer for a range of uses.
For premium machines, read our buyer's guide for commercial 3D printers.
---
Do 3D Printers Need Auto Leveling?
No, 3D printers don't strictly need auto bed leveling, but it's a helpful feature to have because it removes the need to manually level the bed, which can be both time-consuming and frustrating for beginners.
What is the best auto-leveling 3D printer?
The best cheapest auto-leveling 3D printers for ABL 3D printing include the Anycubic Kobra, Creality Ender 3 S1, and Flashforge Advenurer 3 Lite, but if you're willing to spend a little more, the Prusa i3 MK3S+ is a fantastic self-leveling 3D printer.
What are the best self-leveling bed sensor kits?
The BLTouch auto-leveling sensor probe is a widely used and highly-rated self-leveling 3D printer kit, which is compatible with many different printers and brands. Creality also sell their own version, the CRTouch, and there are other options also.
Best 3D Printers with Auto Leveling
3D printers are complex machines, with all the parts having to work coherently to provide high-quality results. So, precise adjustment of the distance between the print nozzle and the build plate is extremely important, unless you want your prints to be ruined by poor first layer adhesion.
This is Top 3D Shop, and in this article, we will touch upon the feature of automatic bed leveling, as well as look at some of the best 3D printers offering this function.
How does auto bed leveling work?
Manual print bed leveling can be pretty tiresome and time-consuming, especially for those who are new to 3D printing.
Besides, the process should be repeated after a few prints, as the bed's position can slightly change. Fortunately, a lot of 3D printers today, including entry-level consumer models, come with an automated bed leveling function that makes the process easy and quick.
The auto bed leveling function implies using a built-in proximity sensor near the tip of the nozzle. When activated, the sensor measures the distance between the nozzle and the print bed at several points on the print bed. Based on these calculations, the firmware adjusts the position of the print head right on the go, to keep the even distance between the nozzle and the bed over the entire build area during printing.
If you want to learn more about this function, read our Auto Bed Leveling Guide.
Do you need a 3D printer with auto bed leveling?
In short — yes, auto bed leveling is worth its money, as it saves a lot of time, and allows the user to avoid print failures caused by a poorly leveled print bed.
Credit: instructables.com
On the other hand, if you are an experienced user, and you don't mind spending time on manual bed leveling (and know pretty well how to do it properly), you can, probably, do without this useful feature.
If you are new to 3D printing, the auto bed leveling function will help you avoid such troubles, as poor first layer adhesion, nozzle clogging caused by too close position of the nozzle to the print bed, or scratching the print bed.
Can you upgrade a 3D printer to employ auto leveling?
If your 3D printer is not equipped with this function, you can upgrade it with an optional auto bed leveling (ABL) sensor available in the market.
There are various types of ABL sensors, the BLTouch being the most popular. It's a mechanical sensor, consisting of a microcontroller, a Hall sensor, a magnetic switch, and a pin probe used for measuring the distance between the nozzle and the print bed. Since the sensor uses physical contact for calculating the distance, there are no restrictions for the print bed material.
You are free to use the BLTouch sensor with glass, metal, or any other print bed type. The sensor is mounted near the nozzle tip and connected to the motherboard. When the pin touches the print surface, it immediately retracts, causing changes in the electromagnetic field and triggering the magnetic switch. In such a way the sensor checks several points on the print bed, and its position is calculated from the values obtained. It's important that your print bed is absolutely clean when using BLTouch, as any material residues, for example, may lead to inaccurate calculations. 
The BLTouch sensor can be used with most of the 3D printers in the market, but it is recommended to check your printer compatibility just to make sure.
Best budget 3D printers with auto bed leveling
Artillery Genius Pro
The Artillery Genius Pro is a compact FDM 3D printer featuring the build volume of 220 x 220 x 250 mm and the Titan direct drive extruder with a 0.4 mm Volcano nozzle, that enables uniform filament extrusion and provides decent print quality with the minimum layer height of 100 microns.
The extruder of the Genius Pro, unlike the original Genius model, is equipped with a touch sensor enabling the auto bed leveling function. The maximum nozzle temperature is 240 °C. The print bed, made of tempered glass, can heat up to 120 °C in 3 minutes. The printer is compatible with PLA, ABS, wood composites, PVA, HIPS, and flexible materials. The filament runout sensor and the resume printing function prevent possible print failures. The Genius Pro is compatible with Cura, Simplify3D, and Slic3r software and is operated via a 2.8" color touchscreen. The device comes as a kit, requiring self-assembly.
Credit: reddit.com
Pros
Auto bed leveling
Low-noise printing due to quiet stepper-drivers
Heated build plate
Filament runout sensor
Resume printing function
Wide materials compatibility
Cons
Lack of enclosure
No wireless connection
Needs self-assembly
Creality Ender-3 S1 Pro
The Ender-3 S1 Pro is a compact FDM 3D printer capable of working with high-temp materials, like Nylon and Polycarbonate, alongside other popular filaments, such as PLA, ABS, wood composites, TPU, and PETG.
The full-metal dual-gear direct extruder is equipped with a brass nozzle that can reach the temperature of 300 °C. The PEI-coated flexible magnetic build plate, made of spring steel, ensures proper first layer adhesion and easy removal of the printed part. The printer has a build volume of 220 x 220 x 270 mm and provides the minimum layer height of 50 microns, which is good for an entry-level FDM machine. The auto bed leveling function uses CR Touch probe to measure 16 points on the print bed and adjust the print head. The machine also features the filament runout sensor and resume printing function.
Credit: thetechnologyman.com
Pros
Auto bed leveling
High-temperature materials compatibility
Heated print bed
Decent print quality
Flexible magnetic build plate
Cons
Anycubic Vyper
The Anycubic Vyper is another entry-level FDM printer that comes semi-assembled and features a modular design, allowing for easy upgrades.
Like all the models in our list, the Vyper sports the auto bed leveling system, which uses a pressure sensor, activated when the nozzle hits the print bed, providing 16-points precise bed leveling. The build volume of 245 x 245 x 260 mm is quite decent for a compact desktop device. The printer is equipped with a dual-gear extrusion system with two cooling fans that allow printing with PLA-like materials. The maximum nozzle temperature is 260 °C. The heated spring steel magnetic build plate with a scratch-resistant coating ensures good adhesion and easy removal of the prints. The Anycubic Vyper is operated via a 4.3" touchscreen; the recommended software is Cura slicer.
Credit: 3dprintingmedia.network
Pros
Auto bed leveling
Decent build volume
Heated print bed
Easy operation
Modular design for easy upgrades
Cons
Best mid-range 3D printers with auto bed leveling
FlashForge Guider 2
The FlashForge Guider 2 is an FDM 3D printer featuring professional-grade quality, yet affordable price.
The Guider 2 has the auto bed leveling function but, unlike the other printers in this article, it's an assisted automatic process. That means the printer gives the user instructions during the calibration process, rather than automatically adjusts the position of the print head while printing. A removable heated print bed and an enclosed build chamber allow printing with ABS-like filaments. The device features a spacious build volume of 280 x 250 x 300 mm. The filament runout sensor and resume printing function stand for the reliability of the printing process. The printer comes with the FlashPrint proprietary slicer.
Credit: @matisboerodisign / instagram
Pros
Affordable price
High quality of printing
Wide range of compatible materials
Removable heated print bed
Resume printing function
Filament runout sensor
Cons
The printer is quite heavy
The prints are difficult to remove from the bed
Creality CR-5 Pro HT
Due to the maximum nozzle temperature of 300 °C and the fully-enclosed build chamber, the Creality CR-5 Pro High-Temp version can print with high-temperature materials, like PLA, TPU, ABS, and others.
The carbon glass-coated print bed can heat up to 110 °C and features a BLTouch auto leveling function. The build chamber dimensions of 300 x 225 x 380 mm allow printing large models or multiple smaller parts at a time. Consistent failure-proof printing is provided by the filament runout sensor, resume printing function, and cloud printing support. The CR-5 Pro HT can be operated via a 4.3" touchscreen, or remotely with the Creality Cloud application.
Pros
Auto bed leveling
Large build volume
Heated carbon glass-coated print bed
Wide range of compatible materials, including high-temp filaments
Cloud printing support
Filament runout sensor
Wide connectivity options
Cons
100 microns minimum layer height 
Credit: @Just Vlad / youtube
Best professional 3D printers with auto bed leveling
Raise3D E2
The Raise3D E2 is a professional FDM 3D printer, boasting a great number of advanced functions that stand for industrial-grade quality and consistency of the printing process.
The device is equipped with the IDEX dual extrusion system with two independent extruders, that allow printing the same model in mirror or duplication mode, or printing dual color or dual material parts. The maximum nozzle temperature of 300 °C gives the possibility to print with a great number of filaments, like PLA, ABS, HIPS, PC, TPU, TPE, NYLON, PETG, ASA, PP, PVA, carbon and glass-filled, and others.The standard 0.4 mm nozzle can be replaced with optional 0.2–1.0 mm nozzles, if needed. The printer sports an automatic multi-zone bed leveling system with a BLTouch sensor. Other smart features include a built-in camera and a filament runout sensor.
Credit: @3deltaworkshop / Instagram
Pros
Auto bed leveling
IDEX dual extrusion system
20 microns minimum layer height
Built-in camera
Wide material compatibility
Enclosed chamber with a HEPA filter
Door opening detection
Cons
Auto bed leveling takes quite a while
Raise3D Pro3
The Raise3D Pro 3 professional FDM 3D printer features a sizable build volume of 300 x 300 x 300 mm.
The bed auto leveling function ensures a perfectly even print area which improves the first layer adhesion, and the flexible steel build plate makes for the convenient removal of the printed parts. The Pro 3 is a dual extrusion system with two independent extruders and interchangeable nozzles with available diameters of 0.2–1.0 mm. The printer is an open-material system, allowing for the use of third-party materials alongside the proprietary filaments. A set of smart features, like built-in camera and door opening detection, provide a smooth printing experience.
Credit: @okada_ss / Instagram
Pros
Auto bed leveling
10 mm minimum layer height
High print quality
Dual extrusion system
Large build volume
HEPA air filter
Wide range of compatible materials
Cons
Requires nozzle upgrades for printing with carbon fiber
Fusion3 Edge
The Fusion3 EDGE is a fast professional FDM 3D printer with a large build volume of 368 x 368 x 343 mm and the minimum layer height of 20 microns.
Due to the proprietary ANVIL print head with the maximum temperature of 320 °C, and wear-resistant surgical steel print tubes, the EDGE can print with high-temp and abrasive materials. The printer is equipped with a 1/4" aluminum print bed with standard glass surface and can be upgraded with an optional magnetic build plate. The flat surface combined with the mesh probe bed leveling system ensure perfect first layer adhesion. The multi-zone print bed can heat up to 145 °C, and the temperature in the passively heated build chamber reaches 70 °C. 
Pros
Precise auto bed leveling system
Extremely high print speed
Exceptional print quality
Fully enclosed heated build chamber
Heated print bed
Wide range of compatible filaments, including third-party materials
Affordable price
Cons
Bowden extruder (may require upgrades and profile management when working with flexible materials)
Best large-format 3D printers with auto bed leveling
Modix Big 60 V3
The Modix Big 60 V3 is an affordable large-format FDM 3D printer.
Like all the Modix printers, the Big 60 V3 comes as an assembly kit and features modular design allowing for easy upgrades. The V3 version is based on the previous Big 60 V2 model; the improvements include a 10% larger build volume of 600 x 600 x 660 mm and the new Duet 2 powerful controller unit, which offers a lot of enhancements, like Wi-Fi connectivity, remote control option, or dual extrusion support on the main board (and up to five more extruders on the optional expansion board). The automatic bed leveling function, using BLTouch probe with 100 points probing mesh, is activated before each print. The machine is capable of working with high-temp materials, and can print at 40-micron minimum layer height, providing industrial-grade print quality and consistency.
Credit: @hwangjoonha_ / Instagram
Pros
Auto bed leveling
Modular design allowing for easy upgrades
Large build volume
Industrial-grade print quality and speed
Wide range of compatible materials
7" operating touchscreen
Affordable price
Cons
Self-assembly is time-consuming
Many features, like an enclosure, come as an option only
Modix Big 120X V3
The Modix Big 120X V3 is another large FDM printer from the BIG family, featuring an impressive build volume of 1,200 x 600 x 640 mm, which allows you to print parts of almost any size.
The machine is a self-assembly kit with the same open modular structure, as the other Modix Big printers. The enclosure comes as an option and should be bought separately. The Big 120X V3 is equipped with the new Griffin print head with the maximum hotend temperature of 285 °C, which can be further converted to 500 °C. The aluminum heated build plate features auto leveling function with the 200-point probing mesh. Modix offers a variety of components you can buy in addition to the basic package, like DUEX expansion board, E3D V6 and Super Volcano hotends, a magnetic print bed, and more.
Credit: @rebeca_gi_sa / Instagram
Pros
Auto bed leveling
Huge build volume
Modular system
Heated print bed
Wide range of compatible filaments
Compatibility with any slicing software
Cons
Enclosure should be bought separately
Takes a lot of time to assemble
Creatbot D600 Pro
The Creatbot D600 Pro is a large-scale FDM 3D printer featuring a build volume of 600 x 600 x 600 mm and a dual extrusion system with the maximum nozzle temperature of 420 °C.
Combined with the heated ceramic-glass print bed and the hot air chamber, maintaining the constant temperature of up to 70 °C, this allows the D600 Pro to print with high-performance materials, like high-temp nylons, carbon fiber-filled thermoplastics and PC. The precise auto bed leveling system using BLTouch sensor greatly adds to print quality, ensuring proper first layer adhesion. The printer comes with free CreatWare software based on the popular Cura slicer.
Credit: @3dprimade / Instagram
Pros
Auto bed leveling
Huge build volume
Heated build chamber
Printing with engineering-grade materials
Filament drying room
Cons
What is SLS 3D printing. How does an SLS 3D printer work? Overview of additive technologies.
What is SLS?
Hello everyone, Friends! 3DTool is with you!

In this article, we will talk in detail about one of the most promising technologies 3D printing .
Selective laser sintering.
Selective Laser Sintering (SLS) is an additive manufacturing process belonging to a broad family of wafer synthesis methods. In SLS, a laser selectively sinters polymer powder particles, fusing them together to create layer after layer. Granular thermoplastic polymers are used as construction material. Options for such devices can be considered in our catalog. For example, the Sintratec 3D printer.
This technology is used both for prototyping functional polymer products and for integration into small production runs, as it offers complete design freedom, high precision and produces parts with good and stable mechanical properties, unlike FDM or SLA .
Naturally, as in any other case, the capabilities of the technology can be fully used only if its key advantages and disadvantages are taken into account, so let's take a closer look at its features and principle of operation.
SLS printing process
How does SLS work?
The SLS fabrication process works as follows:
I.
The powder chamber, as well as the entire printable area, is heated just below the melting temperature of the resin, after which the leveling blade distributes a thin layer of powder over the build platform.
II. The CO2 laser scans the contour of the next layer and selectively sinters (melts) the polymer powder particles. The cross section of the component is scanned ( is sintered ) completely, so the part is monolithic.
III. When the layer is completed, the work platform moves down and the blade re-coats the surface with powder.
The process is repeated until the entire part is completed.
After printing, the part is completely sealed in the non-sintered powder, so the chamber and powder must cool before being removed. Cooling down can take a significant amount of time, up to 12 hours.
Then the resulting part is cleaned of powder residues with compressed air. The unsintered powder is collected for further reuse.
Schematic diagram of an SLS 3D printer.
SLS printing specifications In SLS, almost all print options are set by the printer manufacturer. The default layer height for is 100-120 µm . For example, the Sintratec 3D printer we mentioned above allows you to print a much thinner layer, the layer thickness declared by the manufacturer varies from 50 to 150 micron.
The main advantage of method SLS is that the part does not need supports . In this case, the non-sintered powder plays the role of the necessary support. For this reason, the SLS method can print geometries of any shape that are impossible to print with any other additive or subtractive manufacturing method.
When printing with this method, it is very important to use as much of the printable area as possible, especially in small-scale production.
Regardless of the amount of detail in the printable area, if the overall height is the same, printing will take the same amount of time. This is because it is the recoating step that determines the total print time ( the laser scanning and sintering itself is very fast ), and the printer has to cycle through the same number of layers. Also, you need to take into account the time for refilling the hopper with powder, because the same amount is poured into the chamber, regardless of the size of the printed part.
Layer sintering
When using method SLS , the sintering strength of the layers to each other is excellent. This means that printed on SLS printer parts have almost isotropic mechanical properties.
As an example, the mechanical properties of samples printed on SLS using standard polyamide powder ( PA12 or Nylon12 ), the most commonly used material in SLS printing , are shown in the table in comparison with the properties of solid nylon:
Parts printed on SLS have superior tensile strength and modulus comparable to solid material, but are more brittle ( their elongation at break is much lower than ).
This is due to the internal porosity of the resulting part.
!A typical SLS part has a porosity of about 30%!
Porosity gives parts printed on SLS a characteristic grainy surface. This porosity also means that the parts can easily absorb water and are easy to paint. At the same time, such parts require special post-processing if they are to be used in a humid environment.
Shrinkage and deformation
SLS parts are subject to shrinkage and deformation: when the newly sintered layer cools, its dimensions decrease and internal stress accumulates in it, due to which the underlying layer is pulled upwards.
Shrinkage of 3 to 3.5% is typical for SLS printing of and printer operators must take this into account during model preparation.
Large flat surfaces are most prone to deformation. This problem can be mitigated slightly by orienting the part vertically on the build bed.
But still, the best way to reduce deformation is to minimize the thickness of the flat areas of the part, and add cutouts to the model where the design allows. These actions will also reduce the overall cost of the part, as less material will be used.
Finished sls-part with embedded embedded elements.
Excessive caking
Over-sintering occurs when excess heat around the contour of the part melts the unsintered powder around. This is fraught with loss of detail on small objects such as slots and holes.
Excessive sintering depends on both element size and wall thickness. For example, a slot with a width of 0.5mm or hole diameter 1mm will print successfully on a wall thickness of 2mm but will not print if the wall thickness is 4mm or more. As a general rule, slits from to 0.8mm and holes from to 2mm can be safely printed in SLS without fear of excessive caking.
Powder removal
Since printing method SLS no support required, parts with hollow sections print quickly and accurately.
Hollow sections in this case reduce the weight and cost of the part, as less material is ultimately used. But you will need to make outlet holes in the part to remove unsintered powder from the internal cavities. The general recommendation in this case is to add at least 2 outlet holes with a diameter of at least 5 mm to your part.
If high rigidity is required, the parts must be printed solid. An alternative here would be to make the structure hollow, with no outlets. In this way, the powder will be compacted tightly into the part, increasing its mass and providing some additional support when mechanical loads increase, without affecting print time. Also, instead of one solid internal cavity, you can add a honeycomb structure ( similar to the infill patterns used in FDM ) to further increase the rigidity of the model.
Laying out the part in this way will also help reduce warping.
Removing powder from an SLS part
General materials SLS
The most commonly used material for SLS is Polyamide 12 (PA 12) , also known as Nylon 12 . At the moment, there are more and more materials with different properties for SLS 3D printing every day, for example, elastic polymers are represented by TPE powder and its analogues. Other technical thermoplastics such as PA11 and PEEK are also available but are not as widely used.
As an example, you can see the list of materials used in our catalog: Sintratec Powder Sls.
Polyamide powder can be supplemented with various additives ( such as carbon fibers, glass fibers or aluminum ) to improve the mechanical and thermal properties of the printed part. Materials supplemented with additives are usually more brittle and have higher anisotropy.
Post-processing
SLS produces parts with a powdery, grainy finish that is easy to paint. The appearance of SLS printed parts can be improved to a very high standard using a variety of post-processing methods such as polishing, classic painting, spray painting and varnishing. Their functionality can also be improved by applying a waterproof coating or metal coating.
Advantages and limitations of SLS
Summarizing the above, the key advantages and disadvantages of the technology are given below:
SLS parts have good, isotropic mechanical properties, making them ideal for functional parts and prototypes.
SLS does not require support, so parts with complex geometries can be easily printed.
SLS manufacturing capabilities are excellent for small to medium series production.
Only industrial SLS systems are currently widely available, so lead times are longer than other 3D printing technologies such as FDM and SLA.
SLS parts have a grainy surface and internal porosity that may require post-treatment if a smooth surface or water resistance is desired.
SLS cannot accurately print large flat surfaces and small holes as they are prone to warping and warping.
The main characteristics of SLS technology are shown in the table below:
And that's all we have! We hope the article was useful to you.
You can purchase SLS 3d printers, consumables for them, as well as any other 3d printers and CNC machines, by contacting us:
• By email: [email protected]
• By phone: 8(800)775-86-69
• Or on our website: http://3dtool.ru
Also, don't forget to subscribe to our YouTube channel:
Subscribe to our groups in social networks:
INSTAGRAM
In contact with
Facebook
OMMO OM-023 Laser Level 6 Lines Green Laser Level Self-Leveling Tool Instruction Manual
Leave a Comment on OMMO OM-023 Laser Level 6 Lines Self-Leveling Tool Manual operation
OMMO OM-023 Laser level 6 lords Green laser level of self-leveling tools Management Guidance
Warning
Please, before using this product, make sure that these instructions, warnings and labels have been read and understood.
Avoid direct contact with eyes.
Do not look into the laser beam (even from a distance).
Do not use high laser goggles as safety goggles.
Do not aim the laser at other people or animals.
Do not aim laser at mirrors or other reflective surfaces.
Store in a safe place when not in use.
The laser should not be used as a toy or by children.
Do not view the beam through optical instruments such as theodolites, binoculars, cameras or magnifying lenses.
Avoid using the laser in dark areas. Make sure there is enough light to avoid damaging your eyes.
Adjust the cross laser to ensure that the path of the laser beam is above or below eye level.
Make sure the cross laser is securely mounted to avoid accidental movement.
Do not crush or throw the battery into a fire. Please dispose of the battery after use.
Do not use or store the device in a humid environment.
Do not disassemble the instrument or attempt any internal maintenance as this will void the warranty. User serviceable parts not included. Warranty repairs may only be performed by approved and authorized service technicians.
This is a precision instrument. To avoid damage, always transport the instrument and store it with the pendulum lock in the carrying case.
SPECIFICATIONS
Green laser wavelength: 532 nm
Indoor working distance Green laser: 30 m
Class II laser <1.0 mW
Green laser operating temperature: -15°C to 50°C
Automatic level range ± 4°
Accuracy ±1 mm/7 m
Power supply DC Li-ion battery/charger
Battery life Green laser: 6 hours
1/4″ screw adapter
Transport lock Yes
Individual switchover function Yes
Overrange indication
Optical signal/audio
Minimum hour - when all available lines are switched on.
PRODUCT ABOVEVIEW
Power on/off button (Tips: First, press the power on/off button to the power side to turn on the device, then press the horizontal, vertical and oblique buttons as needed.
Do not press the forced download button to block, otherwise it will lead to inaccurate lines. Press it only when using in oblique mode)
Laser features:
One 360 ​​degree horizontal line, two 360 degree vertical lines, 90 degree lines. A total of 16 lines cover the full house.
PRODUCT PARAMETERS
USER SAFETY
The laser exit mark is located on the exit port.
Do not look directly into the laser beam.
Do not disassemble the instrument or carry out internal repairs. Repair is possible only in an authorized service center.
This instrument complies with laser safety standards.
OPERATION
Use the DC charger to charge the battery. When the charger is fully charged, the indicator on the charger will turn green.
Note:
Please replace the lithium battery immediately after the alarm flashes. Li-ion battery has low volume tage protection, please charge it as soon as possible when it is low.
To keep the battery performing at its best, charge it every 2-3 months, even if the battery is not dead yet. Please use the original DC charger to charge.
Place laser level
A) The laser level is self-leveling and has a range of ±4°. It will signal with a beep and a flashing light when it is not level.
B) There is a 1/4″ thread on the bottom of the laser that allows you to mount it on a tripod.
C) When the laser level is mounted on a tripod, we can adjust the laser until the bubble enters the middle of the circle to make sure it is in a horizontal position.
Control board
A) Press the switch to ON to turn on the laser, the laser will automatically level within the t4° self-levelling range.
B) The laser beam starts flashing and beeps when the device is out of self-levelling range. In this situation, place the laser on a tripod and adjust the angle of the tripod until it stops flashing and beeping.
C) Vertical/horizontal laser lines.
0 Button for horizontal laser lines, press twice to get 2 horizontal lines. Button for vertical laser lines, press twice to get 2 vertical laser lines.
D) Turn the ON/OFF switch to the OFF position to turn off the laser level.
E) Tilt Mode: When the switch is in the "OFF" position, press co to turn on the laser. Self-leveling is disabled when tilt mode is enabled.
F) Pulse mode: press Q Gain when it is in tilt mode to enable pulse mode. In this mode, it needs to work with a 5KHz laser receiver, please note that this receiver needs to be purchased separately.
Note:
Move the switch to "ON" position, it will turn on the self leveling mode. When the ON/OFF switch is in the "ON" position, the laser level cannot enter the "tilt" mode.
SERVICE AND SERVICE
Do not attempt to open the instrument. To ensure the SAFETY and RELIABILITY of the product, repairs, maintenance and adjustments must be carried out by authorized service centers. Opening the case will void the warranty. Please contact the seller as soon as you have any problems with this product.
Do not drop, hit or shake the device, otherwise the accuracy will be affected.
Remove batteries when instrument is not in use.
Always keep the tool clean. Use a soft cloth with mild body soap and a lens cloth for glass windows.
Do not leave the tool in the sun for a long time.
4.2V/1.5A power adapter works with 3.7V Li-ion battery. Power adapters can be connected directly to the instruments to act as a power source.
Never use a DC charger to charge alkaline batteries. Remove alkaline batteries when using the DC charger for power.
CONTACT
Website: www.ommohome.com
E-mail: [email protected]
Hotline: 888-909-1778 (toll free in the USA)
COPY
Thank you for choosing OMMO. If you have any problems or suggestion about the laser level, please contact us by email before leaving feedback or opening a case, this will be the fastest way to solve your problem.
If you are satisfied with the laser level, please leave a positive feedback for our product so that more customers like it. Thanks again!
FCC Statement
This equipment has been tested and found to comply with the limits for a Class B digital device, pursuant to Part 15 of the FCC Rules. These limits are designed to provide reasonable protection against harmful interference in a residential installation. This equipment generates, uses and can radiate radio frequency energy and, if not installed and used in accordance with the instructions, may cause harmful interference to radio communications. However, there is no guarantee that interference will not occur in a particular installation. If this equipment does cause harmful interference to radio or television reception, which can be determined by turning the equipment off and on, the user is encouraged to try to correct the interference by one or more of the following measures:
Reorient or relocate the receiving antenna.