Multi color 3d printer
7 Best Multicolor 3D Printers In 2022
Last Updated On September 17, 2022
Looking for the very best Multi-Color 3D Printer on the market for 2022?
Then you're in the right place.
Today we're going to be:
Looking at multicolor 3D printing;
Seeing how viable it is for interested creators;
Finding out which color 3D printer is the best choice for home users;
Loads more…
Though 3D printing is still in its infancy – and I believe there's still plenty of wild and wonderful things to look forward to in the coming years – we've already made so much progress in the last decade.
One area of continuous innovation is the ability to print in multiple different colors. 
As with most 3D printing innovations, multi-color printing was first seen on industrial machines but has been making its way over to desktop 3D printers lately.
Let's get started!
Geeetech A20M
Build volume: 255 x 255 x 255 mm
Check Latest Price
Tenlog TL-D3 Pro
Build volume: 300 x 300 x 350 mm
Check Latest Price
XYZ Printing da Vinci Color
Build volume: 200 x 200 x 150 mm
Check Latest Price
Table of Contents
Top 7 Multicolor 3D Printers At a Glance
Multicolor VS Full Color 3D Printers

1. Geeetech A20M (Most Affordable)
2. XYZPrinting Da Vinci Color (Premium Choice)
3. LOTMAXX Shark (Best For Beginners)
4. Tenlog TL-D3 Pro (Best Choice)
5. FlashForge Creator Pro (Most Reliable)
6. XRize Rize (A Look-See at an Industrial Full Color 3D Printer)

Add-Ons

7. Mosaic Palette 2 (Best Color 3D Printing Add-On)

A Few Final Thoughts…
Winner: Lotmaxx Shark
Top 7 Multicolor 3D Printers At a Glance
1.
Geeetech A20M (Most Affordable)
2. XYZPrinting Da Vinci Color (Premium Choice)
3. LOTMAXX Shark (Best For Beginners)
4. Tenlog TL-D3 Pro (Best Choice)
5. FlashForge Creator Pro (Most Reliable)
6. XRize Rize (Best Industrial)
7. Mosaic Palette 2 (Best Add-On)
Multicolor VS Full Color 3D Printers
Source: Youtube XYZprinting
I want to start with a pretty important distinction when talking about 3D printers that can print in multiple colors. 
Sometimes "full color" is a term used to describe these printers. 
And while this is technically true, "full color" more often describes industrial-grade printers that are able to produce intricate color scaling and manipulation (I included one of these on the list – the XRize Rize – for comparison's sake).
On the other hand…
… we're going to be mostly looking at multicolor 3D printers, which can usually handle only a small number of different colors, but which tend to fall under the "personal 3D printer" umbrella.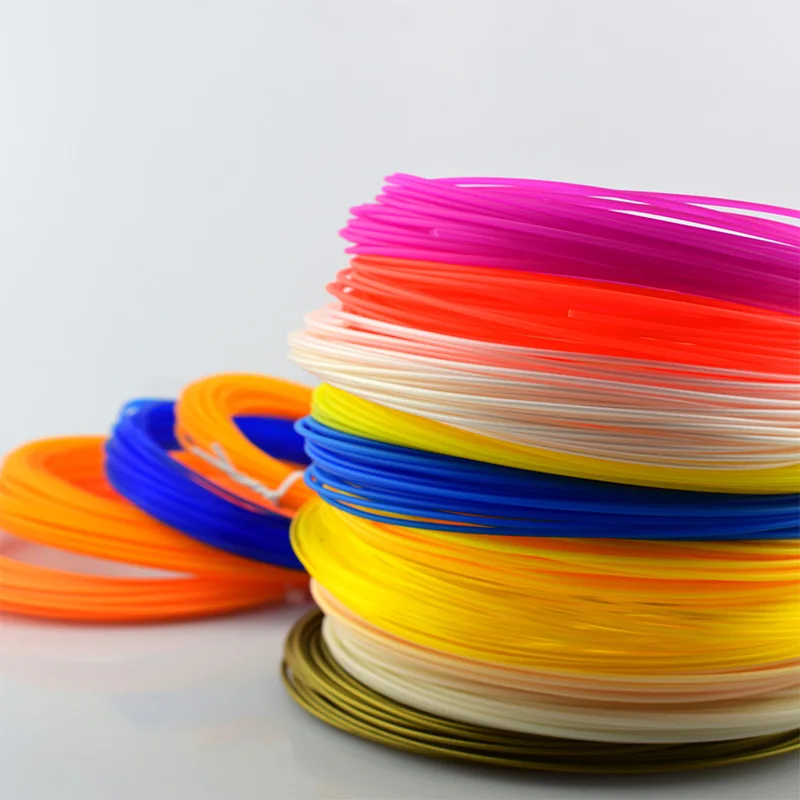 They're smaller and much, much less expensive.
All that said, multicolor printing is still a very experimental field – much less established than its industrial counterparts. 
Given the scarcity of personal 3D printers that can handle multiple colors, I'm going to be looking at every option on the market today, including dual-extruder printers where each extruder can print a separate color and multi-color printer upgrades.
So let's take a look at the best multicolor 3D printers!
1. Geeetech A20M (Most Affordable)
Print Speed: 180mm/sec | Print Volume: 255 x 255 x 255 mm | Filament Type: ABS / PLA / PETG | Color Mixing (Y/N): Y | Extruder: Dual
Geeetech has a couple of different 3D printers on the market, and I found the A20M to be its best option for multi-color 3D printing.
Given that the field is still highly experimental, the A20M doesn't cost much, which is an immediate bonus.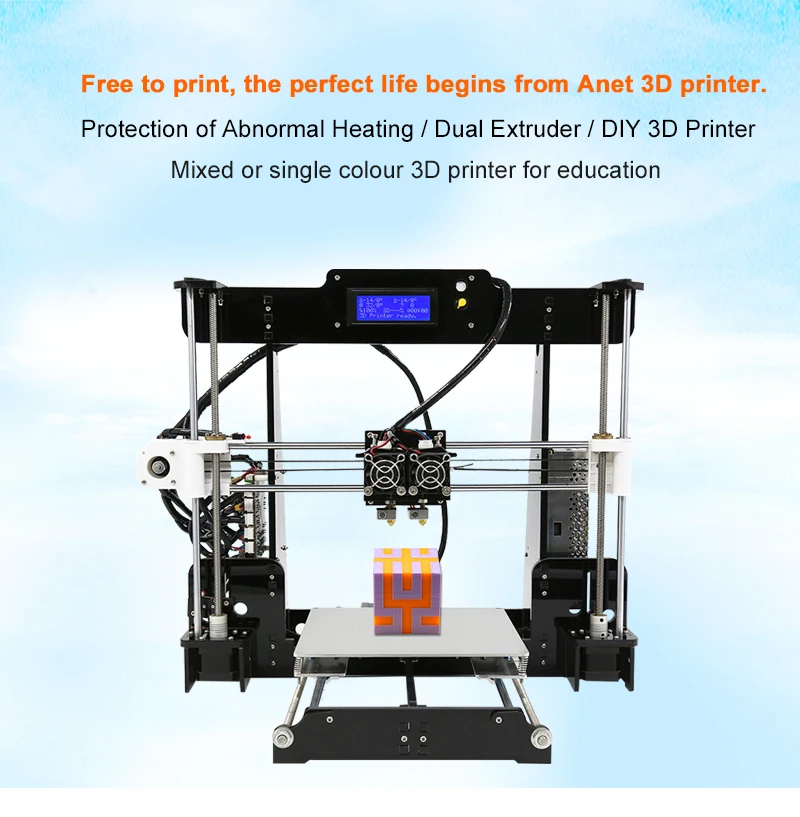 In fact…
… for any reliable dual-extruder, the A20M is still a great price. It's also blessedly easy to set up, and the dual-extrusion 3D printing technology tends to work well.
But the real reason I loved this 3D printer was its ability to push the envelope on color mixing. 
You really don't see this very much in personal 3D printers, and it's completely unheard of at this price point.
With the Geeetech, you can expect to print in two distinct colors (striping or the like) or even mix and/ or grade your colors, allowing for a full spectrum of shades and hues.
To be clear: there is a second Geeetech 3D printer that is almost identical – A20M. This printer is a single-extruder, though, and won't handle your multicolor printing.
Excellent price point
Great color-mixing technology
Solid customer service
Persistent clogging issues
Poor plate cover
Check Latest Price
2.
XYZPrinting Da Vinci Color (Premium Choice)
Print Speed: 180mm/sec | Print Volume: 200 x 200 x 150 mm | Filament Type: 3D Color-inkjet PLA / PLA / Tough PLA / PETG / Carbon Fiber / Metallic PLA | Color Mixing (Y/N): Y | Extruder: Single
This super-popular 3D printer is probably the first one you'll see when you search for a personal-use full-color 3D printer. 
And there's a good reason for that.
The da Vinci Color is one of the first (if not the first) personal printers to offer full color printing. 
While this 3D printer still has its bugs, it can offer a 3D printing design experience that's miles ahead of almost any other 3D printer on the list. 
The Da Vinci's full color capabilities mean creators have almost total control over every aspect of their design, including the exterior color design. 
Gone are the days of painting by hand; with the right schematics, you can print just about any design imaginable.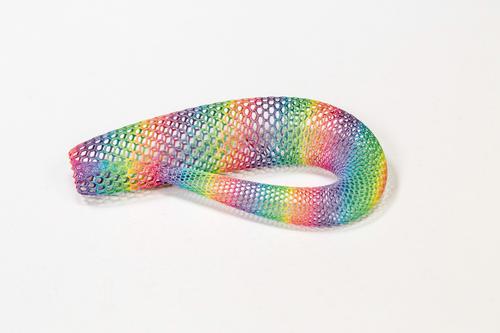 The 3D printer also comes with hands-free calibration, which can significantly reduce the amount of time you spend fiddling with the da Vinci Color. 
And while I didn't have enough time to experiment with this feature as extensively as I might have liked, it seemed to work very well for the few prints I tested.
To note: this printer comes in the regular size – which I looked at here – and a miniature version that is basically a scaled-down version of the original da Vinci Color.
Full color 3D printer capabilities
Hands-free calibration features
Excellent color palette
Very pricey
Some issues with ink cartridge technology
Check Latest Price
3.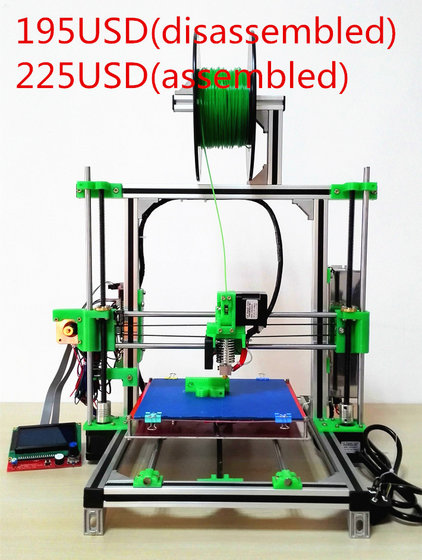 LOTMAXX Shark (Best For Beginners)
Print Speed: 180mm/sec | Print Volume: 235 x 235 x 265 mm | Filament Type: PLA / PETG | Color Mixing (Y/N): Y | Extruder: Dual
Don't be surprised if you haven't heard of this one before: it's a recent Kickstarter success story, and I only came across it when I was researching 3D printers for this article. 
That said, I'm glad I did! 
The Shark is a cool, cool 3D printer, and it's color mixing capabilities are only one piece of its arsenal. 
Yes, the Shark has full color mixing capabilities, coming in the form of dual-extruder, much like the Geeetech I reviewed earlier.
Unlike the Geeetech, though, the Shark comes with full-metal extruders and a nozzle head, and showed no sign of clogging over my short trial period.
But the fun doesn't stop there.
The Shark is also loaded with tons of quality-of-life features, including a removable touch screen, resume printing features, and even laser engraving functionality.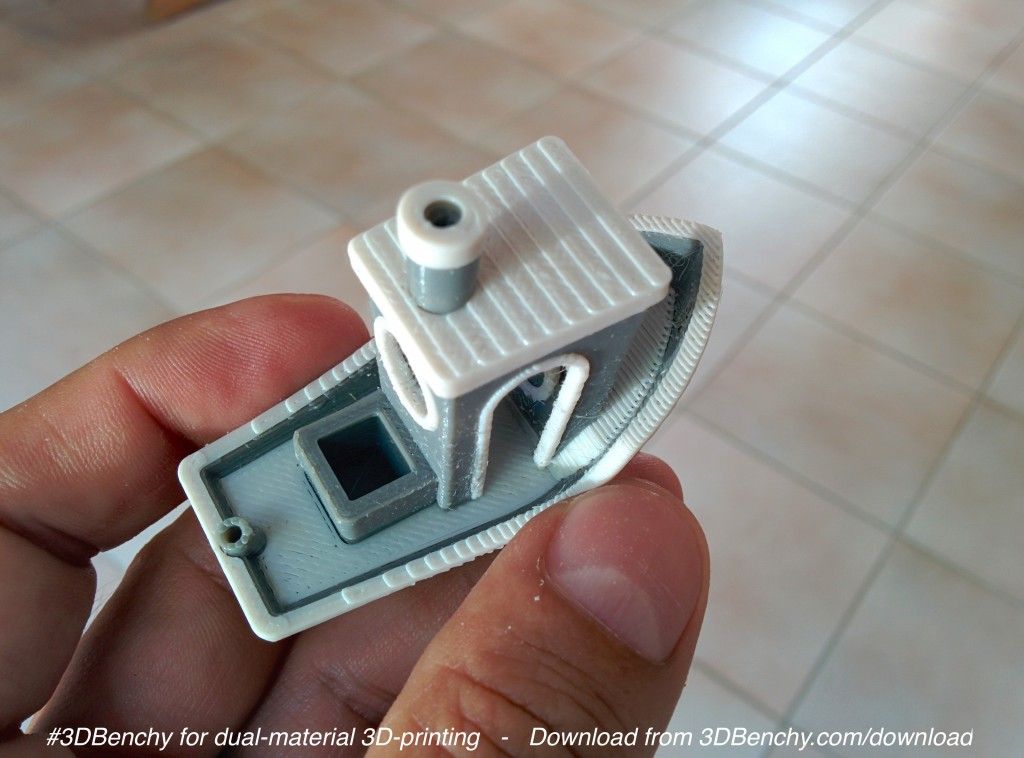 Excellent nozzle and extruder quality
TONS of features
Removable touch screen
Some issues with build-plate adhesion
Some difficulty setting up the second extruder
Check Latest Price
4. Tenlog TL-D3 Pro (Best Choice)
Print Speed: 10-150mm/sec | Print Volume: 300 x 300 x 350 mm | Filament Type: TPU / PVA / PLA / ABS / HIPS / WOOD / PETG / Flexible | Color Mixing (Y/N): Y | Extruder: Dual
Unlike the printers before, the Tenlog TL-D3 Pro's has two extruders and two nozzles.
It means that you can print two identical items simultaneously, in two distinct colors. You can also print in mirror mode and print in two different materials.
It seems like a pretty simple adaptation of the popular (and increasingly affordable) dual-extruder design. 
Without delving too far into the enormous potential of this function (try out different colors, double-up on your creation rate, etc.), this is something I expect a lot of other 3D printers to be adopting soon.
But just as easily, these two nozzles can be used on the same product, either filling in a support filament, or going for the multi-color approach.
It almost feels unfair constraining this 3D printer to a list like this… all thanks to its Swiss-Army Knife-Like variety of functions and capabilities.
How long does it take to assemble?
The D3 Pro comes half assembled and it took me 30 minutes to put it together with the help of videos online.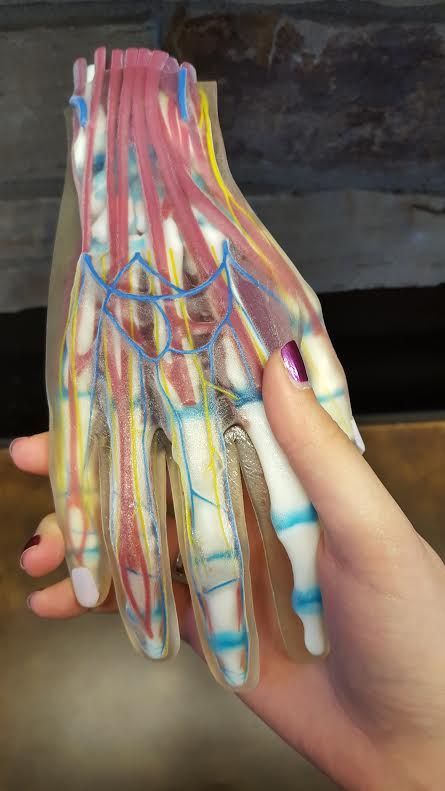 What I didn't like was the printer didn't come with a lot of instructions. 
The printer is not dead silent and there's a low humming noise from the fans. However, it's noticeably quieter than my Ender 3 Pro. 
The prints so far is very good and I have better results with custom stl files than the test files from Tenlog.
There are cheaper dual color/extruder 3D printers out there but this is the most affordable INDEPENDENT dual extruder (IDEX) 3D printer today.
All in all, this is the best multicolor 3D printer. 
Image-mirroring capabilities
Easy setup and assembly
Included warranty
Runs quietly
Poor customer service
Requires filament in both extruders
Check Latest Price
5.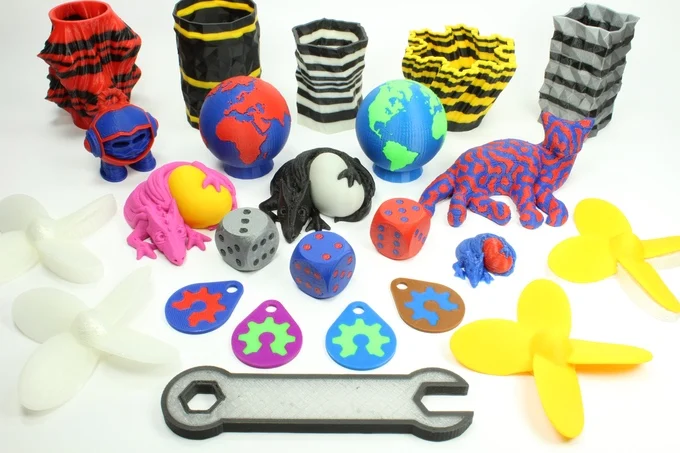 FlashForge Creator Pro (Most Reliable)
Print Speed: 100mm/sec | Print Volume: 227 x 148 x 150 mm | Filament Type: ABS / PETG / PLA / PVA | Color Mixing (Y/N): Y | Extruder: Dual
Yet another excellent dual extruder 3D printer, the FlashForge Pro, takes the shape of the enclosed-box design, whereas the other dual extruders on the list have all been open-air. 
Aesthetically, this has always been my favorite design, though it has its positives and negatives in more objective terms.
Like the previous 3D printer, the FlashForge Creator is a dual-nozzle design, though it doesn't have the independent-nozzle functionality (and the image mirroring). 
However, it does have a substantial metal frame and faster printing on single objects than the two independent heads.
On top of that, the enclosed design allows for better temperature control, and less potential warping as a result. 
However…
… FlashForge went the distance with its design, also allowing for increased ventilation options if you're printing with PLA.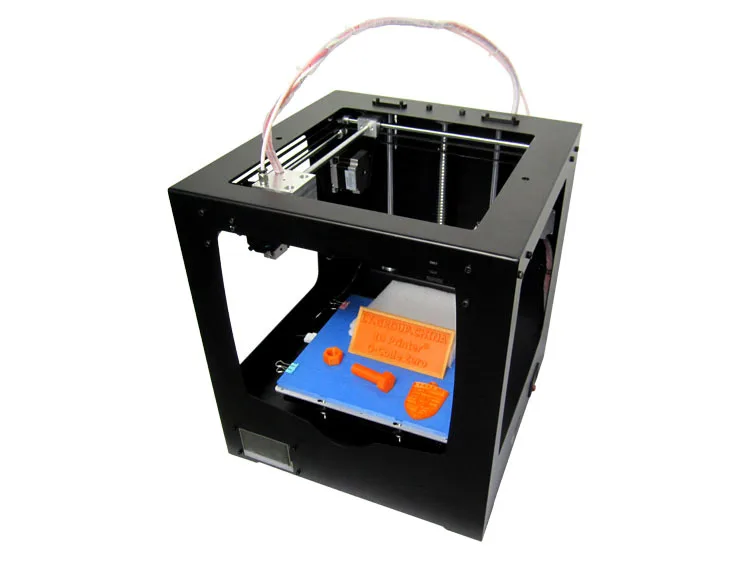 Finally, the reliability of the Creator Pro's build plate shouldn't be overlooked. 
By and large, issues with build plates, leveling and covers have been the most prevalent issue I've had with printing. 
Having a solid, completely level plate was a wonderful change for me.
Enclosed environment
Excellent built plate
Great filament variety
Some nozzle clogging
No automatic bed-leveling
Check Latest Price
6. XRize Rize (A Look-See at an Industrial Full Color 3D Printer)
Technology: Extrusion | Print Volume: 310 x 200 x 200 mm | Filament Type:  Rizium Carbon, GF (Glass Filled), ST (Semi-Translucent), Rizium One White & Black, CMYK inks and Release ink | Color Mixing (Y/N): Y
This one's just on the list for fun (unless you're a large-scale industrial manufacturer, of course).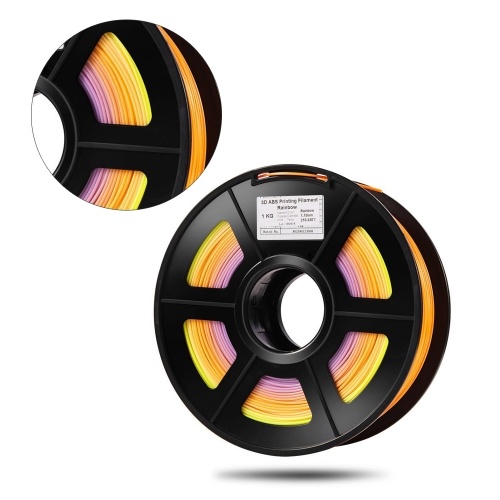 That said, it's interesting to look at the difference in the price points of desktop-style multicolor 3D printers and an industrial-grade model full color 3D printer like the Rize.
So how much does the Rize cost?
Well, as you can see from its listing, you'll need to request a quote to find the exact cost.
However…
… what I can tell you is that based on some of the other sites I looked at while conducting preliminary research, the price should fall somewhere around $55,000 – brand spanking new.
And believe me, that isn't even close to being the most expensive full color 3D printer on the market.
A full color 3D printer can set you back a dime or two.
So what do you get out of one of these color 3D printers that you'll miss in one of these other, comparatively affordable versions?
For a start off, this full color 3D printer has a precision and control over their 3D print products that nothing else on my list can come close to.
Like the da Vinci Color (one of our most expensive desktop 3D printers besides the Rize), this printer uses Inkjet toner (the same as a traditional 2D printer) to externally bind colors to the filament as it prints.
However…
… with a full color 3D printer of this price, you can expect much, much better color control than anything you'll get from the DaVinci.
This color 3D printer can also print logos, QR codes… literally anything you can imagine slapping on the side of a 3D printing; this Rize can make it happen.
It's awesome.
This full color 3D printer also comes loaded with all sorts of extra features that make it suitable for industrial production: a heated build chamber, automatic filament swapping and digitally-encoded ink cartridges, to name a few.
More than anything, the XRize is interesting because it provides us with a potential roadmap of what a future desktop 3D printer will be trying to emulate.
After all…
… the evolution of desktop 3D printer technology usually aims to copy the best capabilities of industrial best 3D printers, but on a smaller, less-expensive scale, of course.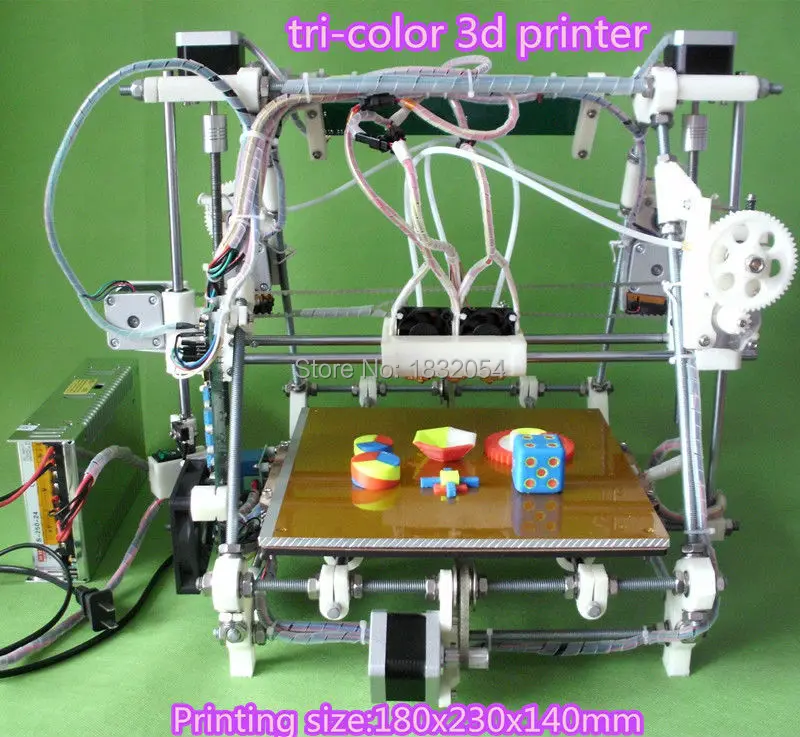 Request A Quote
Add-Ons
While there are plenty of color 3D printers that can handle multi-color print jobs within their basic design, others need some help.
Nowadays, one of the best ways of getting excellent and low-cost multi-color creations is using a multi-color add-on for color 3D printers. These tend to cost less than getting a new printer altogether, and are compatible with plenty of models (though you should always research the cross-compatibility before you order one).
7. Mosaic Palette 2 (Best Color 3D Printing Add-On)
Compatibility: Ender 3, CR-10, MakerGear, Prusa, Raise3D, Robo, Wanhao, TEVO, Anet, RepRap, gCreate & more | Filament Type:  /PLA / ABS / PETG / TPU | Extruder: One
This handy add-on is one of the most cross-compatible modifications out there. 
The Mosaic is compatible with all Bowden and Direct-Drive 3D printers, meaning it covers the vast majority of the 3D printing field.
In fact…
… a simple visit to the Mosaic site will tell you whether your machine is compatible with the add-on or not. Do check first.
Essentially, this technology modifies 3D color printers, so they have the same capabilities as multi-extruder 3D printers. 
The Palette 2 comes with four filament extruders, each of which can be loaded with its own color or material. 
From there, the Mosaic creates its own filament line, combining filaments into a single filament line, which your multi color 3D printer pulls as it would any other filament line. 
It's important to note that the Mosaic does not "push" filament into your 3D color printer, and your printer won't need many hardware upgrades to take this new filament line (to your 3D printer, this is just another line of filament coming off a spool, like any other).
As far as color 3D printing goes, this upgrade – and others like it – is one of the better options on the market.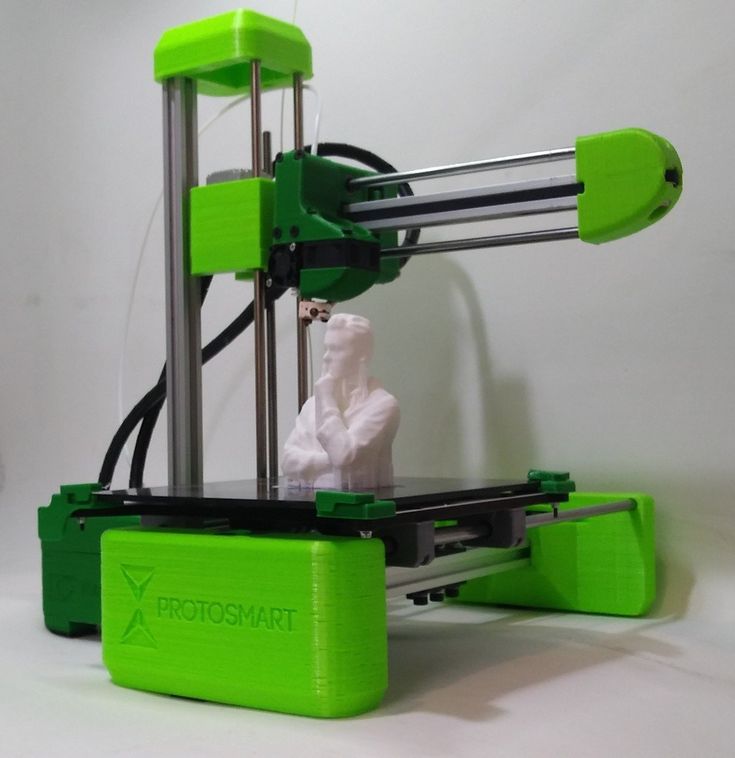 You can get patterns, logos, and solid, well-defined color switches once you get the initial setup ironed out. 
As for the integration aspect… 
… it's a somewhat mixed bag. 
Assuming your base multi color 3D printer is solid and cross-compatible with this technology, you shouldn't experience too many issues integrating the Mosaic into your print setup.
Unfortunately though…
… this upgrade does add a layer of complexity to your 3D printer – and 3D printers are known for being finicky to begin with. 
I personally didn't struggle with the integration and had a few solid prints right away. 
However, plenty of other reviews say otherwise, so it's worth mentioning here.
There are, of course, other options on the market for upgrading your 3D printer. Prusa offers their version of this upgrade, the Multi Material Upgrade Kit. However, given that it only handles Direct Drive systems and no Bowden designs, I preferred the Palette 2.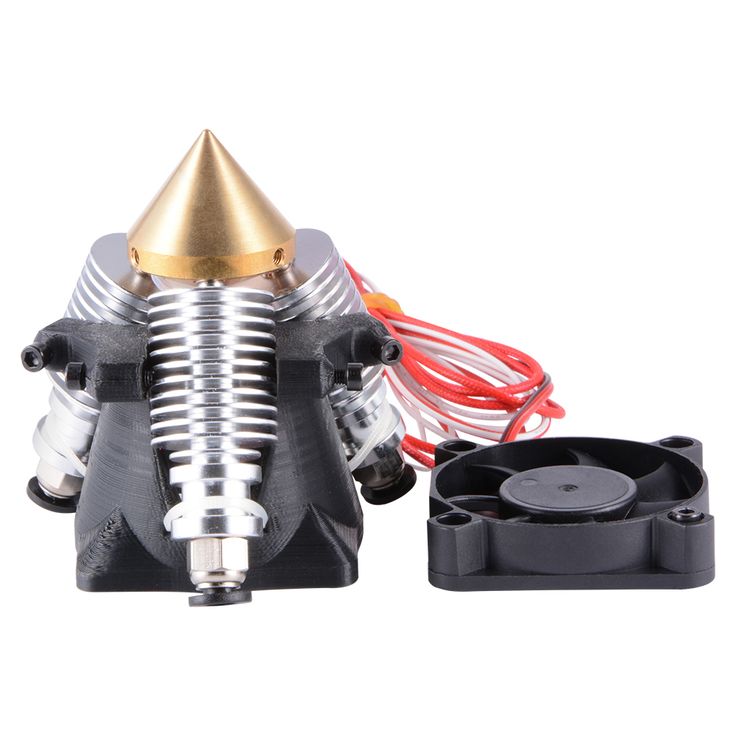 Can cost less than a new multi color best 3D printer
Excellent color manipulation and control
More color 3D printing options available than a dual-extruder
Added complexity to the print setup
Compatibility with current multi color 3D printers is required
Check Latest Price
A Few Final Thoughts…
So there you have it – a fairly comprehensive guide to multi-color 3D printing, the best (affordable) multicolor 3D printers out there, one crazy-expensive one, and an alternative option altogether!
When it comes to choosing your best color 3D printer, there are plenty of factors to keep in mind.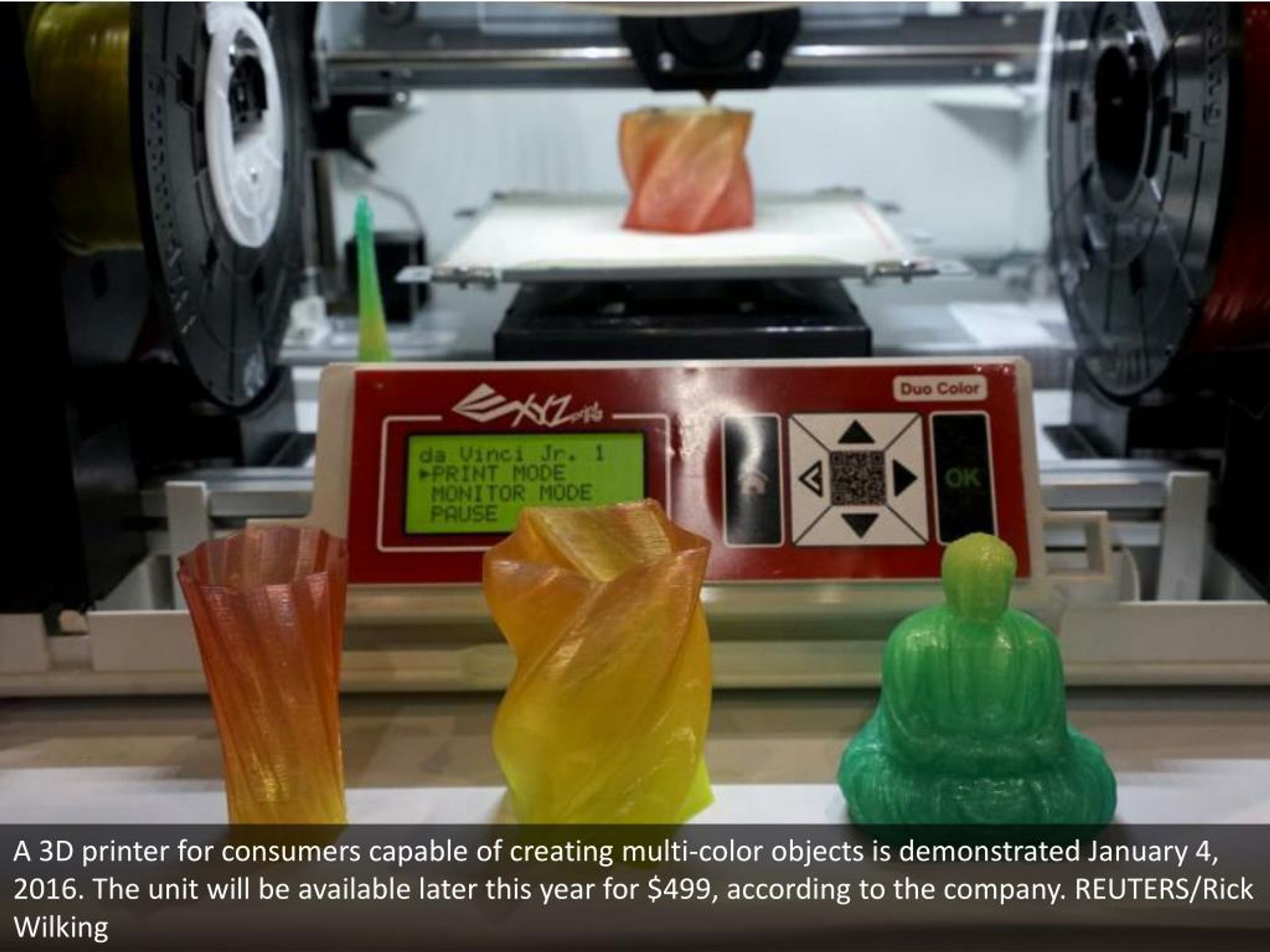 When making your decision, you should always consider what specific projects you have in mind and tailor your choice to fit. After all, if you're looking to upgrade towards multicolor 3D printing, you probably have a couple of exciting ideas in the bag already.
Some of these 3D printers excel at color combining.
For color control, the Da Vinci provides an entirely different system from anything else on the list (besides the XRize) but does so at a higher price point and with a few concerning bugs.
Some color 3D printers come packed with excellent side features, like the Lotmaax Shark.
And others have an ingenious design that comes with other exciting applications, like the dual-nozzle design of the TenLog.
Anyway, your preferences will determine your best color 3D printer, so I'll hand over the baton to you to make your choice.
You'll be churning out those colorful 3D prints before you know it.
Our pick
LOTMAXX Shark
Great 3D printer for beginners
This printer cranked out quality prints right out of the box in our test.
Comes with excellent, all-metal nozzle and extruder and many more features makes this the best value.
Check Price from Amazon
So this was kind of an underdog story for me. When I first started looking for the best color 3D printer, the Lotmaxx wasn't even on my radar.
Yet the more I learned about this 3D printer, the more I was impressed – both by its original design and by its execution. Not to mention that it's a Kickstarter success and really demonstrates the best aspects of grassroots ingenuity coming out of the color 3D printing field.
Not only is the Lotmaxx an excellent base 3D printer capable of color 3D printing, but it also comes with some innovative features that I haven't seen in a single other color 3D printer.
The laser engraving upgrade opens up new doors in creative design. The auto bed-leveling works pretty well, and the handheld removable touch-screen is something I haven't seen in any other 3D printers, no matter what price point.
And to speak on the price… all of this costs less than $500.
Typically, when I review 3D printers by newly-launched companies or Kickstarter campaigns, I'm overwhelmed by a sea of mechanical, software and assembly issues. I had none of these with the Lotmaxx.
In fact, the only persistent issue I had with this color 3D printer came from the build plate adhesion.
In some cases, my recent prints would require a lot of elbow grease and some light chiseling to remove the prints from the plate. This is one of the most straightforward issues to remedy, though, so it's not even something worth criticizing.
So there you have it!
Whether you choose the Shark or some other color 3D printer on the list (XRize, anyone?), multicolor 3D printing opens up many new avenues for you and your creations.
In a field where companies and creators are innovating every day, I can't wait to see what new color 3D printer awaits us! Until then, thanks for reading, and happy printing!
The Top Full Color 3D Printers on the Market
Published on December 2, 2021 by Carlota V.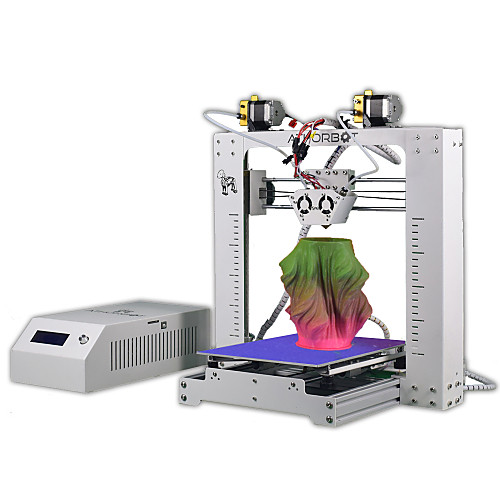 When it comes to choice of a 3D printer, several criteria must be taken into account: which applications it will be used for, the desired printing speed, the final quality of the parts, the quantity to be produced, among others. For some, a particularly essential aspect is the possibility to design parts in color. It is true that color integration is rarely the number one choice, but for some users, it is key. For example when creating a visual prototype that must look like a perfume bottle, or an anatomical model where blood vessels need to be distinguished from nerves and arteries. Enter full color 3D printers.
Integrating color into additive manufacturing is currently possible, whether through machines that are capable of offering a wide range of colors, accessories to be added to the printers, or post-processing solutions that offer options for dyeing, painting, varnishing, etc. In this listing, we focus on color 3D printers, i.e. machines that can produce a multi-color part at the end of the printing process.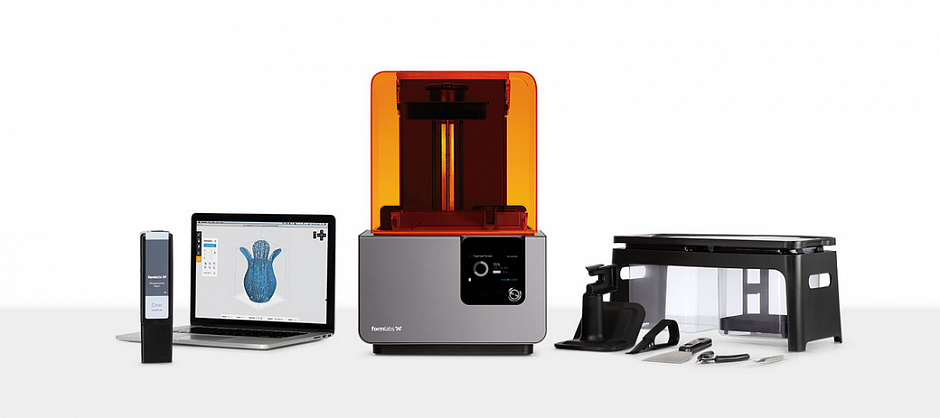 We have sorted them by printing process: extrusion, material jetting and powder binding.
Fused Deposition Modeling
FDM technology offers several possibilities for creating coloured parts. For some color 3D printers, the presence of several extruders will allow the user to choose different filaments and combine them. Other manufacturers have developed a system that can color filaments directly inside the 3D printer: the machine releases color inks at the print head, resulting in a colored filament. Finally, there exist additional accessories available to mix different filaments together.
Crane Quad
Known for launching the Micro 3D, a successful desktop 3D printer on Kickstarter in 2014, M3D continued to develop various FDM/FFF machines. Among its latest creations, the Crane Quad, a 3D printer capable of combining several filaments to create new combinations of colors or hybrid materials. In fact, the Crane Quad mixes 4 CMYK filaments to achieve more than 50,000 different colors.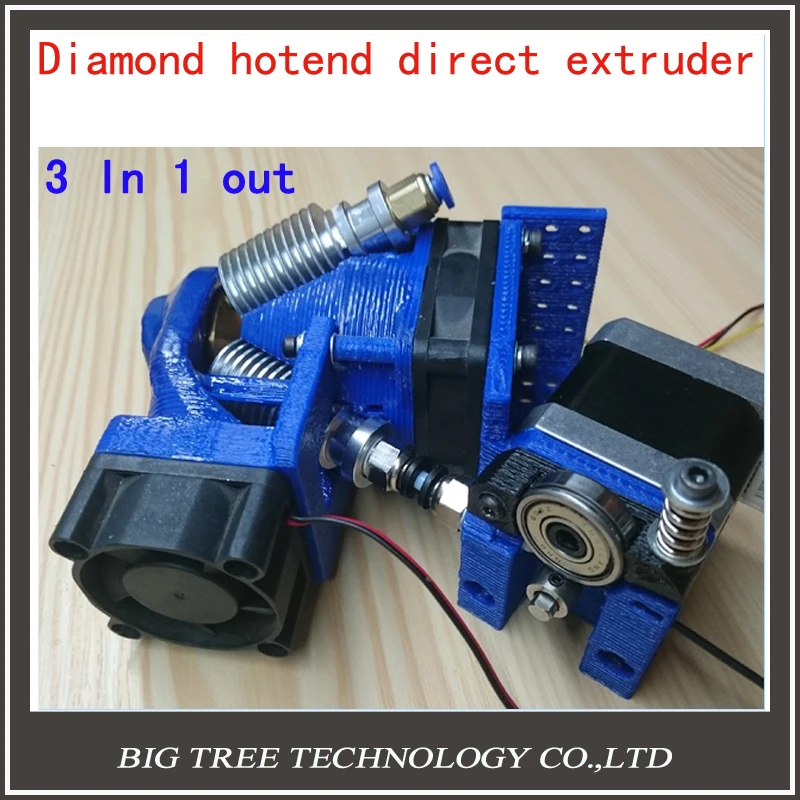 In addition, it offers a maximum manufacturing volume of 230 x 230 x 250 mm for a minimum layer height of 25 microns. It is marketed by M3D at a price of $999. You can find more information HERE.
da Vinci Color 3D printer and its mini
The da Vinci Color 3D printer combines FDM and Inkjet technologies, as it uses an absorbent, colorless PLA filament that can be mixed with different color inks. According to the manufacturer, CMYK ink cartridges can be used in an almost unlimited color gamut, up to 16 million shades. It has a print volume of 200 x 200 x 150 mm for a maximum print speed of 180 mm/s. In addition, XYZprinting also has a more compact version, the da Vinci Color Mini, with a smaller print volume of 130 x 130 x 130 x 130 mm. Features of this latest version include automatic calibration, wireless connectivity to connect to the printer remotely, and an optional laser engraving module for further customization of projects.
Element from Mosaic Manufacturing
The Element 3D printer was launched by the Canadian company Mosaïc Manufacturing.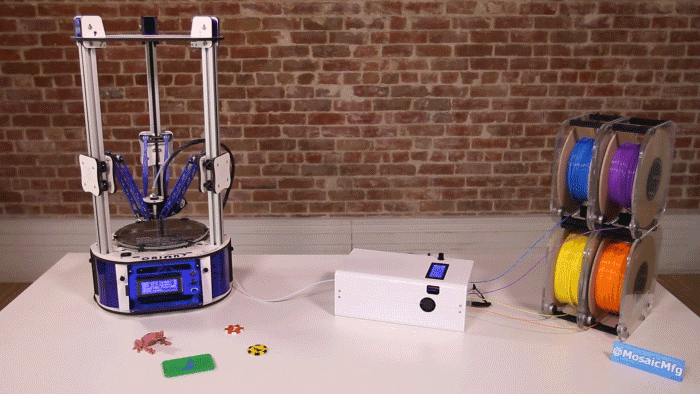 This professional machine makes it possible to achieve complex prints with different materials while obtaining realistic full-color and functional prints by combining flexible and rigid materials. It has a printing plate that reaches 120°C and a layer resolution of between 20 and 230 microns. With a maximum printing volume of 355 x 355 x 355 mm, the Element 3D printer has an all-metal gantry and a precision motion system. Other features include an internal camera for viewing the print, a touch screen control and connectivity via Wifi, LAN or USB. It is compatible with the Canva laminator, with which you can easily create, cut and manage any 3D printing project.
Palette 3
While the Palette 3 is not a 3D printer, it is probably one of the most accessible ways to design color parts. Developed by the Canadian company Mosaic Manufacturing, the machine should be connected to an extrusion 3D printer. It allows the combination of flexible and rigid materials, and users can not only create parts with complex shapes but also print in color in one go.
A Pro version of the Palette 3 is also available, with advanced properties that allow users to print with technical materials and create durable, high-volume prints. Finally, the Palette 3 Pro features Splice Core Pro, a cooling system that makes filament bonding more reliable. The Palette 3 is available from €650 and the Palette 3 Pro from €850.
RoVa4D
The RoVa4D 3D printer grew out of a successful Kickstarter campaign by Canadian company ORD Solutions, which after its first Kickstarter campaign has dedicated itself to improving the capabilities of its 3D printer. This latest version supports 5 spools and a print head that allows printing with different materials and colors, from flexible materials to soluble materials. It has a printing volume of 120 x 120 x 180 mm. In order to be able to successfully achieve color printing, the machine has 5 different spools for CMYK colours (cyan, magenta, yellow, black and white), which are then mixed within the patented hotend to give the expected color as a result.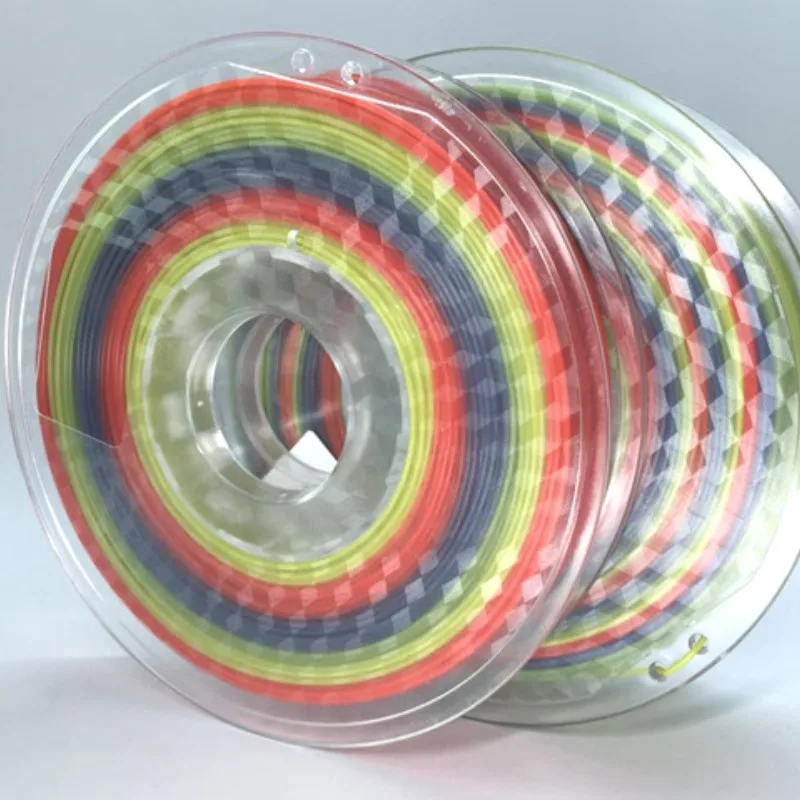 The printer can currently be purchased at the manufacturer's website for $7,500. You can find more information HERE.
XRIZE
The XRIZE is an industrial 3D printer that uses a hybrid process called Augmented Deposition to produce objects in multiple colors. This hybrid process combines extrusion-based 3D printing with a inkjet technology we know from 2D printers. While the part is created layer by layer with traditional colorless PLA, the 3D printer simultaneously releases CMYK inks (cyan, magenta, yellow, black) in the print head to add color. For example, text, images and QR codes can be printed on the part. Although the device can be described as a desktop machine, its build volume being 310 x 200 x 200 mm, the XRIZE with a price of $55,000 is less suitable for manufacturers and hobbyists but rather for industrial applications. You can find more information HERE.
Material Jetting
3DUJ-553 and 3DUJ-2207 from Mimaki
Japan's Mimaki, a manufacturer of traditional 2D printers, was the first to make a UV-curable, colored material jet 3D printer.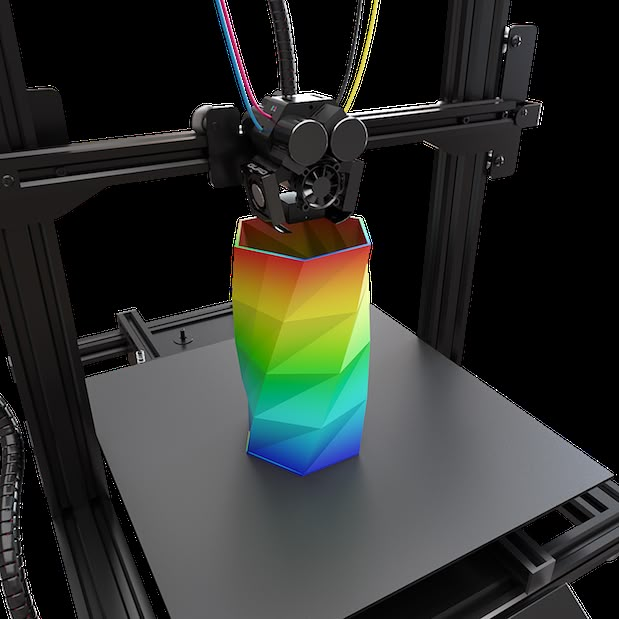 Its 3DUJ-553 solution was launched in 2017 and can create parts with more than 10 million colors. It uses a UV light curing process and is intended for the professional sector. During this process, a layer of material is applied and then covered with a UV-sensitive ink that light can solidify. The process is repeated until the final part is obtained.
More recently, Mimaki developed the 3DUJ-2207, a more compact 3D printer that offers the same color printing capabilities. It is more accessible and easier to use, unlocking a larger section of the current market. The 3DUJ-2207 is particularly suited to medical professionals, researchers and teachers, but also to designers and artists.
ActiveLab Digital Fabrication by Voxel8
The ActiveLab Digital Manufacturing System from Voxel8, acquired earlier this year by Kornit Digital, is another multi-material 3D printing solution using a technology based on material jetting. Its ActiveMix® technology consists of three possible elements, ActiveMix Extrusion, ActiveMix Spray and ActiveImage.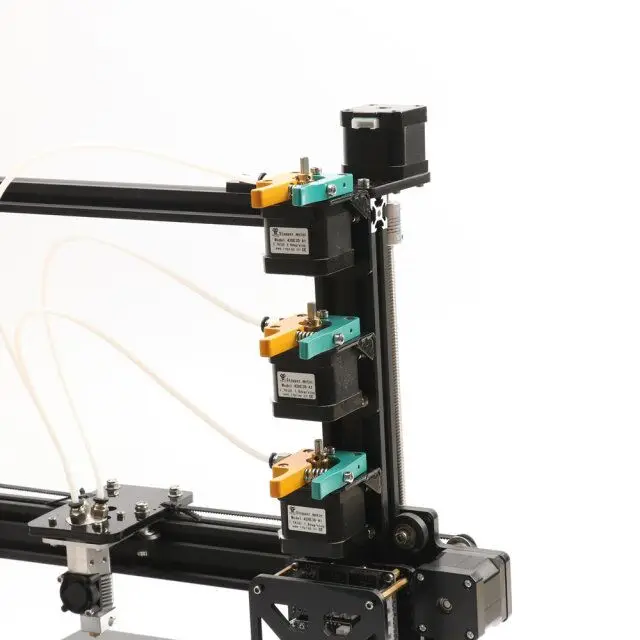 The extrusion works to build 3D structures and thick films on any surface or texture with theologically tuned fluids while the spray rapidly covers large areas of a substrate with an elastomeric spray for textiles. Finally, the ActiveImage uses inkjet technology either through spray or extrusion, or both, to embed high-resolution graphics into elastomers. Users can expect full color graphics and the company points to its use especially in the creation of sporting goods, though it also has industrial and medical applications. You can find out more HERE.
Photo Credits: Voxel8
J55 Prime
One of the most well-known names in the world of full color 3D printers is of course Stratasys with their PolyJet technology, which has the distinction of enabling the mixing of colors, materials and even textures in one part. Though they have many different machines using Polyjet, we wanted to draw your attention to their J55 Prime which was released in 2020. This more compact solution still has the multi-material and multi-color capabilities of its larger predecessors but at a fraction of the price.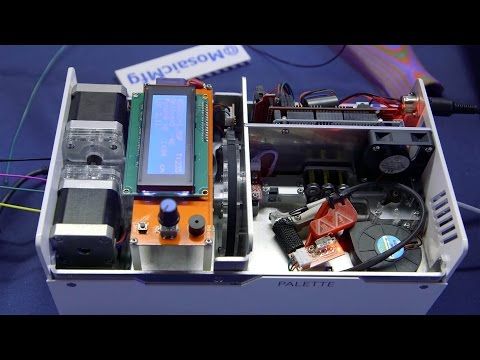 It is able to print with 5 materials simultaneously meaning that users can create over 640,000 unique combinations, including Pantone Verified colors. As it has been designed for an office or studio it is also ultra-quiet, operating at the same level as a household refrigerator. Finally, it has a ProAero™ Air Extractor to capture and filter out fumes. You can find out more about the printer HERE.
ProJet CJP Series
The ProJet CJP 260Plus is 3D Systems' most affordable and office friendly color 3D printing option. The ProJet CJP 260Plus creates photo-realistic parts in full CMY color with small feature details and the ability to use full texture/UV mapping to better evaluate the look, feel, and style of product designs. This 3D printer is based on 3D System's ColorJet Printing technology, and has a maximum build volume of 236 x 185 x 127 mm.
3D Systems manufactures an entire range of color 3D printers, including the ProJet CJP 360, CJP 260 Plus, CJP 860Pro, CJP 660Pro, and the CJP 460Plus.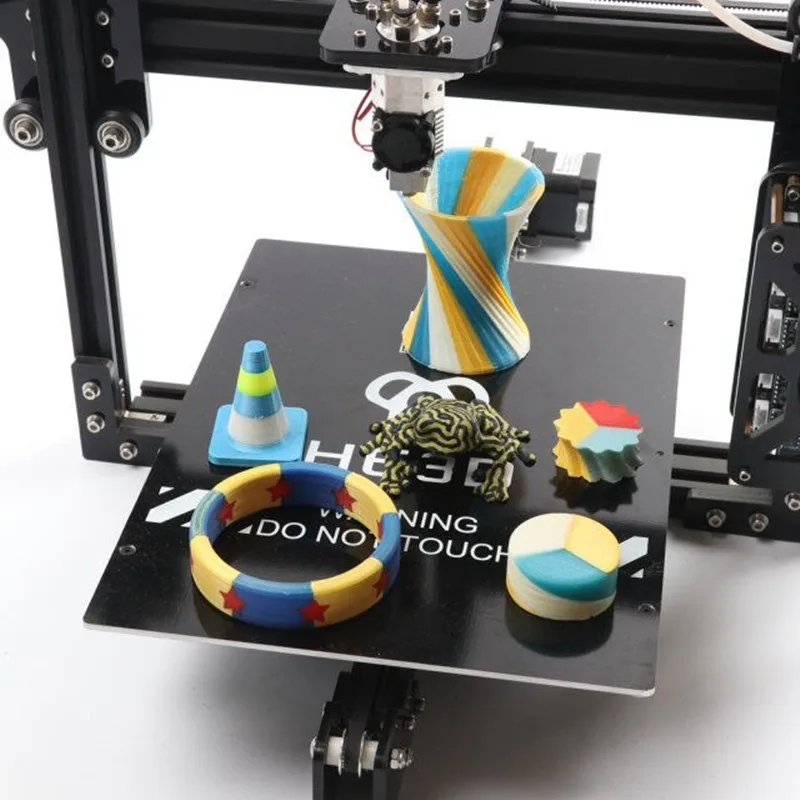 They vary according to their build volume, the 860Pro being the largest solution, with a build volume of 508 × 381 × 229 mm. You can find more information HERE.
Binder Jetting
ComeTrue T10
Developed by Taiwanese manufacturer ComeTrue, the ComeTrue T10 3D printer is based on a Binder Jetting technology and coloured inks (CMYK). The advantage of such a process is the possibility of printing parts without printing supports as well as its speed, the T10 is indeed able to reach a printing speed of 20mm/h. The ComeTrue T10 allows the manufacture of parts with a maximum size of 200 x 160 x 150 mm with a resolution of 1200 x 556 DPI for a minimum layer height of 0.08 mm. The ComeTrue 3D printer requires a post-processing machine to remove the finished prints (Dry Vacuum Cleaner). The ComeTrue T10 is available for a price of about 25,000€. You can find more information HERE.
PartPro350 xBC from XYZprinting
Launched in 2018 by Chinese manufacturer XYZprinting, the PartPro350 xBC 3D printer uses Binder Jetting.
It is compatible with standard thermoplastics, such as ABS and PLA and the machine has been designed for professionals. With a printing volume of 350 x 222 x 200 mm, the printer is, according to the manufacturer, 150% faster than machines using the same technology. Finally, the PartPro350 xBC has a removable tray so that users can easily remove parts after the printing process. According to some retailers, the price is between €25,500 and €35,000.
What did you think of our listing of full color 3D printers? Let us know in a comment below or on our Facebook and Twitter page! Don't forget to sign up for our free weekly Newsletter, with all the latest news in 3D printing delivered straight to your inbox!
Multi-color 3D printing with one extruder, in one layer
3D printing
extruder.
As usual, by creating new problems.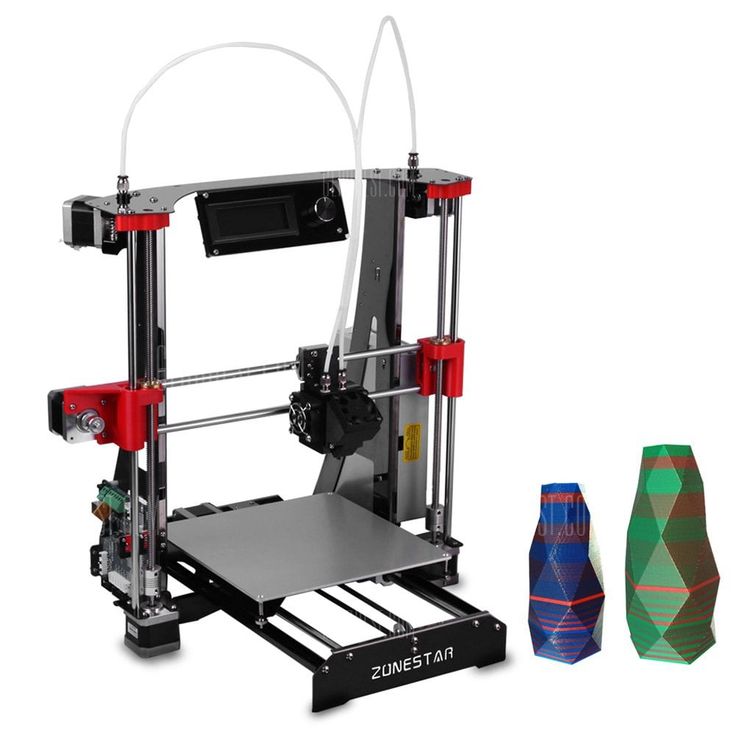 :)
The material is difficult, not everyone can handle it.
Short video describing the method here:
First, I will talk about the traditional method of multi-color printing with a single extruder, as well as its advantages and disadvantages.
The traditional printing method allows you to create multi-color printouts by replacing plastic of one color with plastic of a different color after printing a certain layer of a part.
i.e. each layer of a different color is stacked on top of the previous layers.
Everyone does it and doesn't seem to complain, it's a quick and easy to implement method to create color prints with a single extruder.
However, the method creates a number of problems (which, of course, I invented myself and rushed to solve it myself :D): Each new color forces us to increase the thickness of the part, creating a relief that is not always necessary.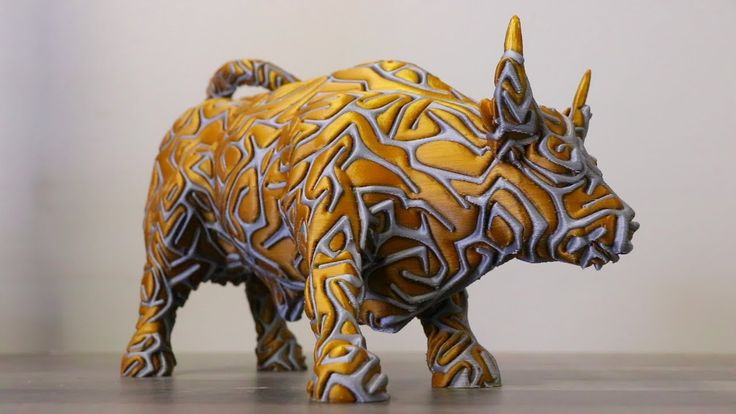 Inability to apply lighter colors on top of darker ones in thin layers. Colors often show through and blend, ruining the look of a part, and thicker coats or more layers exacerbate the part thickness problem. See the photo below for an example - white plastic does not overlap black.
The impossibility of using an even first layer to apply a pattern or an inscription, which in turn leads to the next problem.
Double-sided color patterns and lettering cannot be printed.
Unable to blend multiple colors into one layer
There may be other problems not mentioned by me, you can describe them in the comments.
Solution:
The solution is not simple, and will require a special approach already at the design stage of the model, and editing the G-code. As I said above, not everyone can do it. The solution is still limited to flat parts, but allows you to use any adequate number of colors and materials in the project.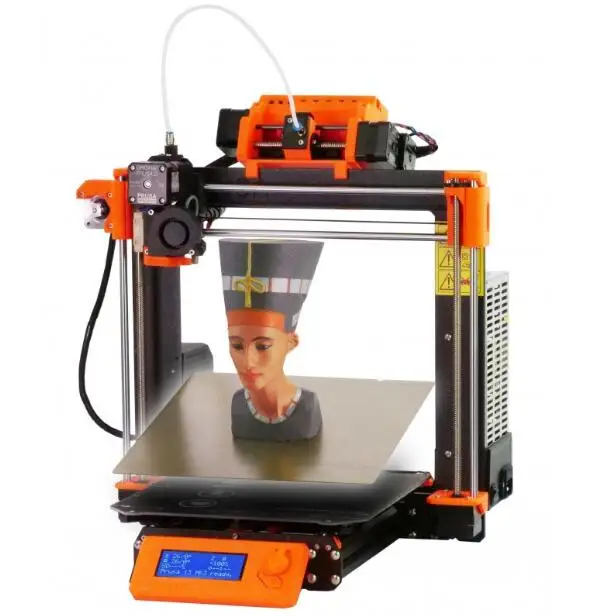 So let's get started:
Step 1: Modeling
Each layer of the new color should be placed above the previous layer.
Literally - when modeling, place layers of different colors on top of each other, so that they seem to be inserted into each other, without intersecting. Look at the finished model, it should be clearer.
Free space can be created by cutting the lower layer in the shape of the layers above, or by creating a relief, as in traditional printing.
Contours of different colors must not intersect.
Step 2: Slicing
Slicing is carried out as usual
Step 3: Editing the G-code
Editing the code is to fool the printer at a certain point and make it lower the overlying layer to the print height of the previous one. Thus, combining two or more layers in one, with the subsequent replacement of the filament.
This is done by inserting into the code, before a layer of a different color, the following commands:
G92 ZHeightReplacementLayer
M600 - or similar script for replacing plastic
For example:
to change the plastic and print two colors in one layer, we must insert the code
G92 Z0. 4 - making the printer think that it has already raised the extruder to a height of 0.4 mm
M600 - to replace the plastic.
As a result of executing these commands, the black layer will be printed at the same height as the white layer - i.e. 0.2 mm.
And that's all for me, I wish everyone successful printouts. To be continued.
More interesting articles
brtv
Loading
10/16/2022
363
5
Follow author
Follow
Don't want to
Hello my friend! Today I decided to assemble a simple pneumohydraulic generator or Generator...
Read more
302
Subscribe to the author
Subscribe
Don't want
Hello dear community!
If the experiment was successful, then something is wrong here.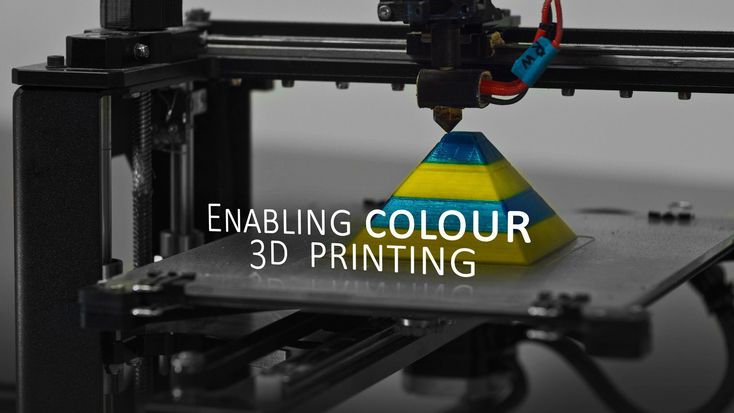 ..
Read more
261
Follow author
Follow
Don't want
I continue the series of articles started with the part devoted to polymers.
This part will be devoted to...
Read more
Color 3D printing - technology and equipment features
Today, printing of three-dimensional objects is available to everyone. Even at home, you can create three-dimensional models on compact 3D printers from a variety of materials. Color 3D printing works on the same principles as the method of building products in a single color. The availability of equipment has brought technology into the category of practical, original entertainment. However, multi-color 3D printing is also used to solve research problems and implement global projects.
Application areas for color 3D printing
3D printing is rapidly progressing, as the rapid and high-quality creation of prints gives the technology significant advantages over classical production methods.
Most printers work with only one color, which is enough when prototyping or building engineering projects. When it comes to the artistic use of 3D equipment, color or combined 3D printing is needed. The technique also helps designers to simultaneously analyze the aesthetics of the design and its functional characteristics.
Full-color 3D printing provides a wide range of possibilities for producing objects in a wide variety of shades and halftones.
The advantages of the technology were evaluated in various industries:
• construction and architecture - to build demonstration models of buildings;
• Medicine - for students to practice on realistic models of human internal organs, doctors test new techniques, develop devices for the disabled;
• education - for teaching on practical visual aids that reflect the features of a particular subject;
• fashion and design - well-known couturiers already offer entire collections printed on a 3D printer;
• Jewelery - to replace hand-made stencils, printed;
• Art and Hobbies - to create exclusive figurines or mass-produce copies of famous masterpieces.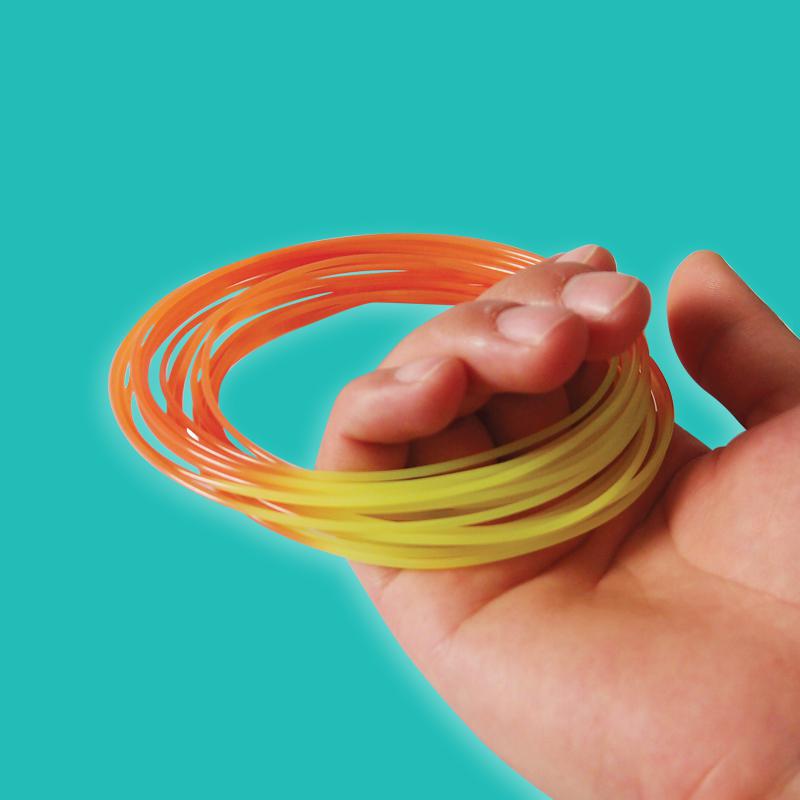 Features of working with color
Creation of color models is possible on devices operating on ColorJet Printing (CJP) full-color inkjet 3D printing technology. Today it is the most common method of growing volumetric objects.
Two-color 3D printing and construction in various colors takes place in several stages:
1. Creation of a three-dimensional model using special software.
2. The model file is cut into thin layers corresponding to the printed layers.
3. The gypsum powder is placed on the work platform in an even layer.
4. The printhead moves in a horizontal plane, applying adhesive plus color to specific areas.
5. The cycle is repeated until the complete construction of the 3D object.
6. The finished object is removed from the chamber, cleaned of powder residues with a stream of compressed air.
7. The model is completely immersed in a special compound that fills micro-holes, giving greater strength and color intensity.
8. Unused powder is recycled and reused.
The resulting products are distinguished by precision, high surface quality and a wide range of applications.
Two-color printing on a 3D printer can also be performed using FDM technology. The consumable resource in the form of a polymer rod is sent to the extruder, where it is heated. The molten mass through the nozzle is placed in layers along the established trajectory, forming the final model. The difficulty lies in the need to install a new plastic when you need to change the color of a 3D print. The calibration procedure is complicated, so fused filament printers are much less in demand.
Professional color 3D printers are divided into categories according to the purpose of operation, the complexity of operation, the required level of skill of the operator who controls the process. Equipment modification affects not only the quality of the final product, but also the price of the 3D printing service.
Conclusion
Multicolor printing is an interesting, useful technology that is constantly evolving.