Makerbot 2x 3d printer
MakerBot Replicator 2X Experimental 3D Printer
Return to Previous Page
Description
MakerBot Replicator 2X Experimental 3D Printer
Explore the Frontier of 3D Printing
The MakerBot Replicator 2X Experimental 3D Printeris for 3D printing professionals who want to push the boundaries. It's an advanced desktop 3D printer with dual extrusion that is optimized for printing with MakerBot ABS and Dissolvable Filament. You can create complex designs with intricate or interior supports using dissolvable filament. To start a 3D print, you can connect from your computer via USB or with an SD Card.
KEY FEATURES
Dual Extrusion
Experiment with overhangs and internal structures using MakerBot Dissolvable Filament as solid infill material
Add a new level of creativity to your 3D designs with two interlaced colors that you can print through precisely aligned dual nozzles—without swapping or pausing
Optimized for ABS Filament
Make snaps, living hinges, threaded objects and more with a ductile, petroleum thermoplastic with elastic deformation properties
Control heating and cooling better with a superflat heated aluminum build plate
Clear, six-sided, draft-blocking enclosure that helps prevent uneven cooling, shrinking and cracking
100-Micron Layer Resolution
Speed your way to demonstrations and presentations with settings that range from fast-draft to finer resolution
Get smooth-to-the-touch surfaces that don't need sanding, finishing or post-production
Create professional-quality, high-resolution prototypes and complex models
TECH SPECS
PRINTING
Print Technology: Fused Deposition Modeling
Build Volume:
24.
6 L X 15.2 W X 15.5 H cm [9.7 X 6.0 X 6.1 in]
5796 cubic cm [354 cubic in]
Layer Resolution: 100 microns [0.0039 in]
Filament Diameter: 1.75 mm [0.069 in]
Filament Compatibility:
MakerBot ABS Filament Spool 1 kg [2.2 lb]
MakerBot Dissolvable Filament Spool 1 kg [2.2 lb]
Nozzle Diameter: 0.4 mm [0.015 in]
XY Positioning Precision: 11 microns [0.0004 in]
Z Positioning Precision: 2.5 microns [0.0001 in]
Print File Type: .Makerbot
MECHANICAL
Construction: PVC Panels with Powder-Coated Steel
Build Surface: Heated, Black Anodized 356F Aluminum
XYZ Bearings: Wear-resistant, Oil-Infused Bronze
Stepper Motors: 1.8° Step Angle with 1/16 Micro-Stepping
SOFTWARE
Software Bundle: MakerBot Desktop Software
Supported File Types: Stl, Obj, Thing, Makerbot
Operating Systems: Windows (7+), Mac Os X (10.
7+), Linux (Ubuntu 12.04+)
Connectivity: USB, SD CARD (Both a USB cable and SD Card Included)
ELECTRICAL
AC Input: 100–240 VAC; ~4A; 50–60 Hz; 100W
Power Requirements: 24 VDC @ 9.2A
TEMPERATURE
Ambient Operating Temperature: 15 to 32°C [60 to 90°F]
Storage Temperature: 0 to 32°C [32 to 90°F]
SIZE & WEIGHT
Product Dimensions:
Without Spool: 49 L X 32 W X 53.1 H cm [19.1 X 12.8 X 20.9 in]
With Spool: 49 L X 42 W X 53.1 H cm [19.1 X 16.5 X 20.9 in]
Shipping Dimensions: 60.5 L X 58.4 W X 41.7 H cm [23 X 23.8 X 16.4 in]
Product Weight: 12.6 kg [27.8 lb]
Shipping Weight: 17.8 kg [39.25 lb]
Related Products
MakerBot Replicator+
The all-new MakerBot Replicator+ combines unparalleled performance with superior results and lasting reliability.
Re-engineered and tested for over 380,000+ hours, the Replicator+ prints high-quality concept models faster, easier, and with a 22% bigger build volume than it's predecessor. For greater reliability, the Smart Extruder+ comes standard and key components within the printer are redesigned with stiffer materials and a sturdier construction.
With MakerBot's powerful workflow tools, the Replicator+ streamlines desktop 3D printing for professionals and educators. MakerBot Print software allows you to import native CAD files, like assemblies and parts, remotely manage all connected printers over the Cloud, and optimize prints for speed and quality.
2,499.00€
Add to cart
MakerBot Replicator Z18 3D Printer
The MakerBot Replicator Z18 combines an extra-large build volume with ease-of-use and connectivity features so you can go from 3D model to 3D print efficiently and easily. Optimized for MakerBot PLA filament, the Replicator Z18 can create extra-large, ultra-tall industrial prototypes, models, and products.
You can also work on multiple designs at once by printing more than one file. Minimized downtime and keep on 3D printing with a swappable, easy-to-use Smart Extruder. You can also upgrade to the Smart Extruder+. The 3D printer's three connectivity options —USB, Wi-Fi, and Ethernet— allow for a seamless workflow. Cloud and app-enabled, the MakerBot Replicator Z18 connects to MakerBot's software and wider resources to provide you with a refined, streamlined 3D printing experience so you can focus on making things bigger and better.
6,461.00€
Add to cart
Replicator Mini+ Compact 3D Printer
Faster, Easier, Quieter 3D Printing with a 28% Bigger Build Volume The MakerBot Replicator Mini+ combines portability with ease-of-use and lasting reliability. Re-engineered and tested for over 380,000+ hours, the Replicator Mini+ is built for improved performance. You can now print faster, easier, and with a 28% bigger build volume than it's predecessor.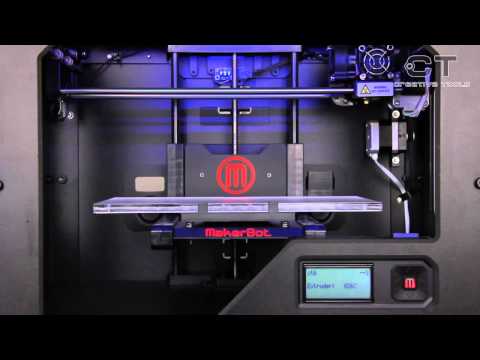 For greater reliability, the Smart Extruder+ comes standard and key components within the printer are redesigned with stiffer materials and a sturdier construction. With MakerBot's powerful workflow tools, the Replicator Mini+ streamlines desktop 3D printing for professionals and educators. MakerBot Print allows you to import native CAD files, like assemblies and parts, remotely manage all connected printers over the Cloud, and optimize prints for speed and quality. Plus, the guided wireless setup from MakerBot Mobile makes getting started easy.
1,299.00€
Add to cart
Search engine
Use this form to find things you need on this site
Right Click is disabled. Thank you for understanding
close
Professional 3D Printer Comparison | MakerBot
 

  METHOD

REPLICATOR+

REPLICATOR Z18

CATEGORY

Performance
Desktop
Desktop Large Volume

USES

Prototypes, manufacturing aids, and other parts that require complex assemblies, extreme geometries, and commercial precision.
Classroom lesson plans, STEM projects, design thinking exercises, and facilitation of 21st-century career skills.
Oversized models, housings, and structures that require a massive build volume.

PRICE

$4,999
$2,799
$5,499

LAYER HEIGHT

The range of thicknesses of each printed layer measured in microns.

20 - 400 microns

Print Modes:
High Quality - 100 microns
Balanced - 200 microns

100 - 400 microns

Print Modes:
Balanced - 200 microns

100 - 400 microns

Print Modes:
Balanced - 200 microns

COMPATIBLE EXTRUDERS

MakerBot 3D printers utilize swappable extruders for flexibility of print options and convenience of maintainance.

Model 1 Performance Extruder,
Model 2 Performance Extruder
Smart Extruder+
Tough Smart Extruder+
Experimental Extruder
Smart Extruder+
Tough Smart Extruder+
Experimental Extruder

BUILD SPEED

Max Material Flow rate is the maximum speed material can be extruded. Print Head Travel Speed is the speed that extruder moves on the xy axis.

Max Material Flow Rate:
~50mm3/sec
Print Head Travel Speed:
500 mm/sec
Max Material Flow Rate:
~15mm3/sec
Print Head Travel Speed:
Up to 175 mm/sec
Max Material Flow Rate:
~15mm3/sec
Print Head Travel Speed:
Up to 175 mm/sec

PRINTER FRAME CONSTRUCTION

The printer's frame connects the xy gantry to the z stage making it the essential structural component of the printer. Increased rigidity will lead to better print quality.

Ultra-Rigid Metal Frame
Injection Molded ABS with aluminum gantry-reinforcement
Injection Molded ABS with aluminum gantry-reinforcement

BUILD VOLUME

The maximum space available for 3D printing either your complete object or a component of your final, assembled object.

19 L x 19 W x 19.6 H cm / 7.5 x 7.5 x 7.75 in single extrusion
15.2 L x 19 W x 19.6 H cm / 6.0 x 7.5 x 7.75 in dual extrusion
29.5 L x 19.5 W x 16.0 H cm /
11.6 L x 7. 6 W x 6.5 H in
30.0 L x 30.5 W x 45.7 H cm /
11.8 L x 12.0 W x 18.0 H in

MATERIAL STORAGE

Material storage location can improve the user experience, and a sealed storage compartment can significantly increase the "pristine" lifetime of material allowing for high print accuracy.

Dry-Sealed Material Bay
Open back loaded material drawer
Open bottom loaded material drawer

COMPATIBLE MATERIAL

Different materials can be used for different applications.

MakerBot Precision PLA,
MakerBot Precision Tough,
MakerBot Precision PVA,
MakerBot Specialty PETG
MakerBot PLA, Smart Extruder+. MakerBot Tough, Tough Smart Extruder+. Additional materials such as bronzeFill, copperFill, and woodFill, Experimental Extruder.
MakerBot PLA, Smart Extruder+. MakerBot Tough, Tough Smart Extruder+. Additional materials such as bronzeFill, copperFill, and woodFill, Experimental Extruder.

BUILD PLATFORM

Build surface and platform type

Factory-Leveled Spring Steel Build Plate with Reusable Grip Surface
Factory-Leveled Flex Build Plate with Reusable Grip Surface
Factory-Leveled ABS Build Plate with Reusable Grip Surface

MEASURABLE DIMENSIONAL ACCURACY

3D printed parts that consistently match CAD dimensions to within a published tolerance.

DUAL EXTRUSION

Two extruders provide the added ability to print with soluble support material alongside model material.

ENCLOSED HEATED BUILD CHAMBER

An elevated 3D printing environmental temperature improves layer adhesion, reduces warping, and improves dimensional accuracy.

SMART ASSIST MATERIAL LOADING

An extra sensor and drive motor designed to automate the loading process from spool to extruder.

SMART SPOOL COMPATIBILITY

RFID Tag equipped spool providing real-time information on material type, color, and amount remaining.

CAMERA

Onboard camera for monitoring your print jobs and sharing pictures of your 3D prints.

INTERFACE

Provides easy, computer-free access to printing menus, commands, and your cloud storage library.

5" Capacitive Touch Screen
3.5" LCD Screen
3.5" LCD Screen

CONNECTIVITY

Options for connecting directly or remotely to the printer for from launching and monitoring prints, to adjusting settings and updating firmware.

WI-FI
Ethernet
USB Stick
USB Cable
WI-FI
Ethernet
USB Stick
USB Cable
WI-FI
Ethernet
USB Stick
USB Cable
Shop Method
Shop Replicator+
Shop Replicator Z18
MakerBot Replicator 2X 3D Printer from MakerBot Industries, LLC The MakerBot replicator 2X personal 3D printer has 2 print heads, which allows you to produce models in two colors at once.
The maximum print area of ​​the device is 250x160x150 mm, and the layer thickness when printing is 0.1 mm. The printer is equipped with an LCD panel that allows you to control the printing process. The SD card slot allows you to load models from memory cards and immediately print them without the help of a computer.
About the MakerBot Replicator 2X
Perhaps the only stumbling block to MakerBot's dominance of the FDM/FFF 3D printer market has been its commitment to PLA as a consumable. The vast majority of printers from this company, especially the latest series, are not designed for printing with other materials, despite the fact that the demand for versatility is very high. This, however, does not stop 3D craftsmen from experimenting with other materials. Fortunately, MakerBot designs have always been distinguished by enviable flexibility and the possibility of misuse.
However, a serious business must respect the wishes of customers.
And so, the MakerBot team deviated from the usual norms and released a printer for those who are not enough with one extruder and one consumable. The device was called the Replicator 2X - "X" stands for "experimental", implying both the design of the device and its purpose. Moreover, the printer comes with a warning for users: "Attention! It takes patience, skill and a thirst for adventure."
Design
The MakerBot Replicator 2X features transparent panels and a removable hood for smooth cooling of printed models. From the outside, the new printer is not much different from the prototype. The only thing that catches your eye is the presence of plastic panels covering the side openings in the chassis and the same transparent plastic cap on top. However, the panels give the experienced user a clear signal: this printer is not made to print with PLA plastic, or not only. The second option is correct. The cap can be removed if needed. When printing with ABS plastic, the panels allow you to maintain an elevated temperature in the working chamber, providing more uniform cooling of the layers.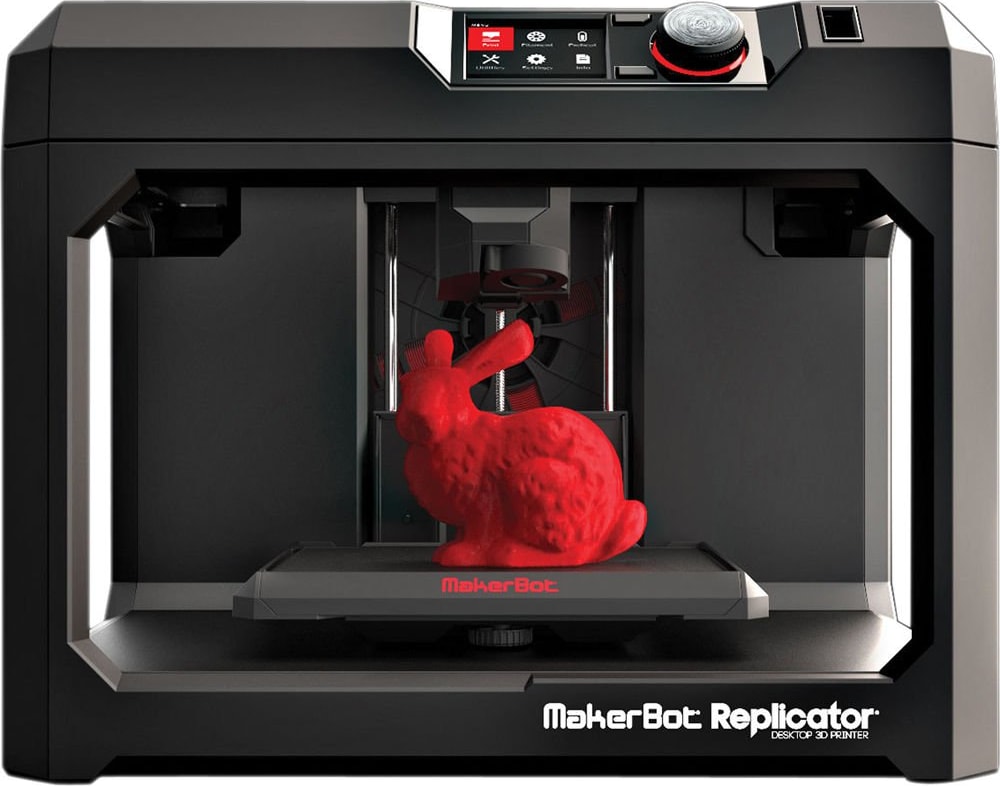 Given the high degree of shrinkage of ABS plastic and the corresponding tendency to warp, this is a very useful innovation. On the other hand, the hood can be removed and the door opened to improve ventilation and cool models faster, which is useful when printing with slow-curing PLA plastic.
Anodized aluminum heated platform covered with polyimide film
The most important requirement for printing with cherished ABS plastic is the presence of a heated platform. Of course, using a plastic work table is out of the question, so the acrylic platform of the base model was replaced with a table made of thick anodized aluminum. The problem with this kind of platforms is the relatively high possibility of surface bending due to the porosity of the coating. Quality control isn't 100%, according to some user reviews, but MakerBot has a reputation for high quality support. If the platform is defective, then you can count on a free exchange.
As a protective coating and for better adhesion of plastic to the table, it is recommended to use polyimide film (aka Kapton) when printing with ABS or masking tape when printing with PLA plastic.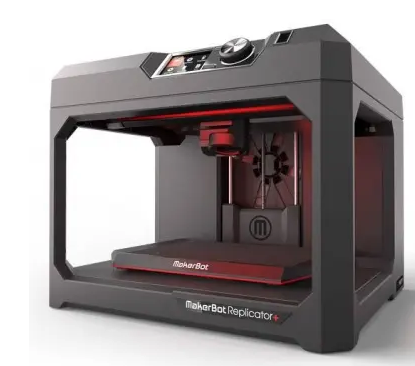 Several protective polyimide covers are supplied with the printer.
Since the dimensions of the printer have not changed (except for the cap), and the dimensions of the extruder have increased, the area of ​​​​the platform had to be reduced, losing four centimeters in length. As a result, the size of the working area of ​​the Replicator 2X is 245x152x155mm versus 285x152x155mm for the Replicator 2. Completely successful prints of ABS models larger than 15cm in X or Y are rare. Even with proper temperature control of the platform and working chamber and smooth cooling, the high shrinkage of this thermoplastic makes itself felt, causing deformation and cracking. It seems much more practical to print large products in parts, followed by gluing into a single whole - the good thing is that ABS plastic is easily soluble in acetone.
Dual extruder allows you to print in different colors or use different materials to build one model
The third difference was the return of a dual extruder for printing two-color models or using different materials.
This option has been tested before. In particular, the old "replicators" with plywood body had a double extruder, but in the fourth and fifth generation, the developers abandoned the idea, considering such designs too unreliable and difficult to operate. The only exception was the Replicator 2X, but that's why it's an "experimental" printer.
Printing
The developers do not name the types of consumables for use with the Replicator 2X, indicating only optimization for ABS printing. The ability to adjust any printing parameters, including layer thickness, wall thickness, print speed, nozzle temperature, and others, allows you to experiment with different consumables themselves, and the use of a double nozzle only expands the possibilities. For example, it is possible to print models with soluble supports. For the construction of ABS model supports, water-soluble polyvinyl alcohol, alkali-soluble polylactide, or Limonene-soluble polystyrene can be used. Add to this the ability to print with nylon, wood and sandstone simulants, polycarbonates .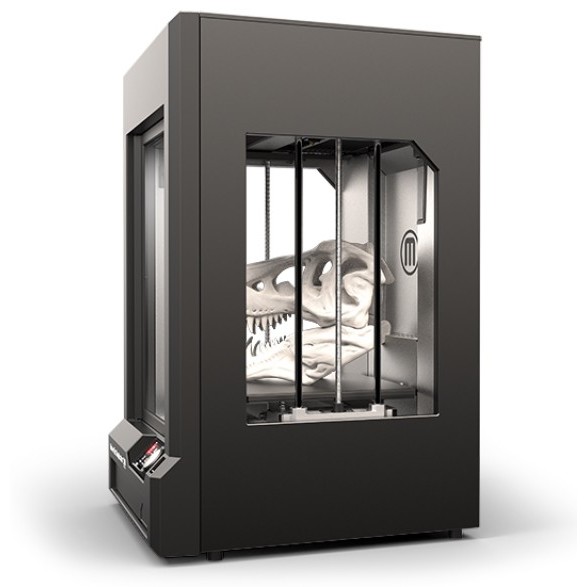 .. The possibilities of the device are very wide, and practical limitations will have to be found empirically. Even designers do not dare to say what this device is capable of, especially since the range of available consumables is growing by leaps and bounds.
Calibration of the platform has to be carried out manually, but in the eyes of 3D craftsmen, the ability to turn the screws once again is unlikely to look like a big drawback platform with screws. Fortunately, you can do without screwdrivers and wrenches - the designers have provided handles.
Replicator 2X comes with 0.4mm nozzles. Printing accuracy levels repeat those of the base model: a minimum layer thickness of 100 microns, positioning accuracy along the X and Y axes of 11 microns, and along the Z axis - 2.5. And here it is worth making a clarification: the designers frankly admit that the indicated layer thickness is rather arbitrary. The settings allow you to experiment with thinner layers.
Fourth generation MakerBot printers are fast enough to print, surprisingly even faster than fifth generation printers.
The presence of well-established algorithms for positioning the print head and a fairly fast drive affects.
Print data is transferred via USB connection or using an SD memory card
Since the Replicator is equipped with an SD card reader, it is possible to print without the usual USB connection to a PC, which is very useful, because freezing the computer during printing can lead to interruption of the process and loss of the model, and at least to serious deformations. The only pity is that the developers did not provide for a wireless connection - this drawback was eliminated only in the fifth generation of devices.
Software
MakerBot MakerWare is used as the main program. It retains all the necessary functions, but the design is somewhat simplified. Although designers recommend using proprietary, proprietary software (and the RepRap community rages at the full commercialization of the company that grew out of their ranks), it is in principle possible to use third-party open source programs that were used on earlier generations of MakerBot printers.
This includes popular examples such as Skeinforge, ReplicatorG, and Repetier-Host. These programs are more flexible when you need to fine-tune print settings.
Supported file types include STL, OBJ, and THING. The latter option is supported by MakerWare and is an archive with several STL files for simultaneous printing. MakerWare itself is compatible with Windows 7 and 8, Mac OS X and Linux.
3D modeling software not supplied, but almost any software can be used: 3dtin, Tinkercad, Sketchup, OpenSCAD, Wings3D, Scupltris, Autodesk 123D, Blender - take your pick. Moreover, the same Blender is provided with a free license and is respected by MakerBot designers.
Summary
Printing with two extruders creates a world of new possibilities. Or just peace. That is, such a globe
With the advent of the Replicator 2X, MakerBot has closed a serious gap in the product line. The company now offers three fifth-generation models, including the small-sized Mini, the large-sized Z18, and the flagship Replicator, which print with one extruder and one plastic, polylactide (PLA).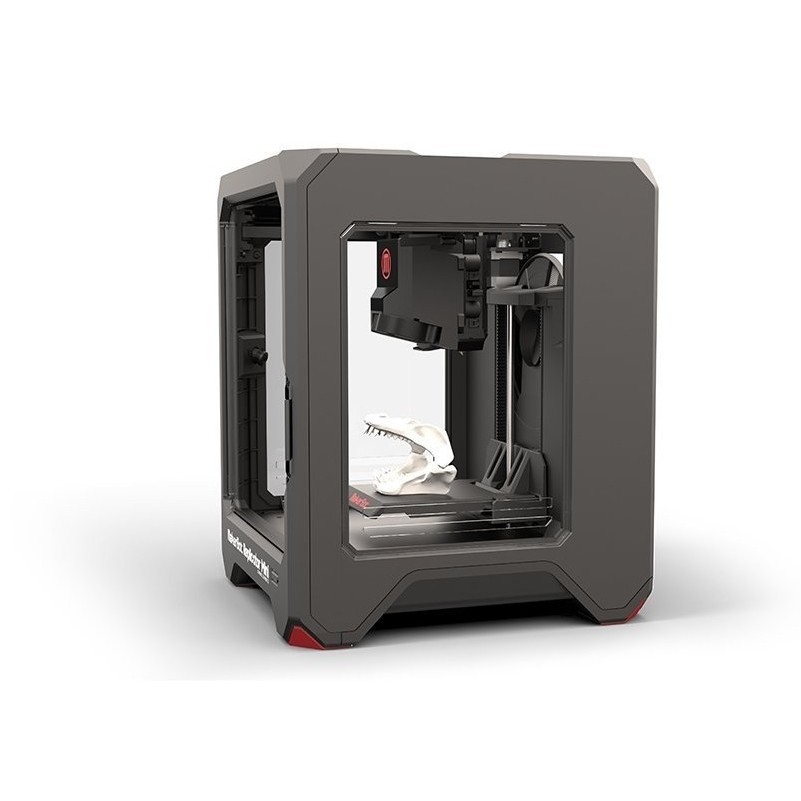 And the Replicator 2X will keep those who look back nostalgically at the early days of MakerBot, full of experimentation with different materials and two extruders. By the way, do not think that the fourth generation is outdated, because the difference between it and the fifth is only one year, and in terms of functionality and print quality, they are almost on the same level. In terms of reliability and printing speed, the fourth generation even outperforms the raw "beginners".
The choice of the Replicator 2 as the basis for the experimental platform is rational, as it is one of the most successful models of MakerBot. In addition, the pleasure of owning a universal version of the fourth generation "replicator" will cost only $ 500 surcharge compared to the original. By comparison, an additional extruder alone would cost the same amount as the competing CubeX, not including the heated deck and without the panels covering the openings in the chassis. It is quite possible that over time a similar model based on the fifth generation "replicator" will appear, but the frank dampness of the newest flagship does not yet allow for additional engineering experiments.
The Replicator 2X is designed for true enthusiasts and professionals with that "patience, skill and thirst for adventure". Ordinary users who do not want to delve into all the intricacies of the 3D printing process should take a closer look at more "friendly" models - the Replicator 2, the fifth generation Replicator, or the MakerBot Mini, specially created for domestic and educational needs.
High versatility in supplies and color
Extensive fine-tuning options
High print quality
Acceptable price for its class
Disadvantages
Quite difficult to use, requiring a good understanding of the 3D printing process
No Wi-Fi interface
MakerBot Replicator 2X 3D Printer
Home / 3D Printers / 3D Printers Desktop / MakerBot / MakerBot Replicator 2X 3D Printer
Out of production
Add to compare
Product added to compare Go
10% discount on materials Free shipping within Russia
Official distributor
We work directly with manufacturers.
Any form of payment
An opportunity to see the 3D printer in action in our demo room.
Own warranty service
Warranty and post-warranty service for equipment purchased from us.
Permanent 10% discount on consumables
When you buy a 3D printer from us,
, you get a 10% discount on all consumables.
MakerBot Replicator 2X
This model contains two printheads , thanks to which printing is carried out in two colors at once. Among printers of this class, this is definitely the best model. It gained popularity through the use of ABS plastic in printing, the color palette of which is rich enough to create a different plan of parts and objects. The working chamber of the 3D printer is designed to create objects with a size of 24.
6 x 15.2 x 15.5 cm. The body of the equipment is made of high-strength shock-resistant materials, which gives the printer such characteristics as durability and reliability. This device allows you to withstand high loads while creating objects quickly.
In this model, the developers paid much attention to the platform, as the print quality largely depends on it. The MAKERBOT REPLICATOR 2X features an anodized aluminum platform that has been specially machined for high quality item building. The plane of the working surface is ideal, which eliminates the displacement and deformation of parts during the printing process.
The MAKERBOT REPLICATOR 2X has two print heads, which means you can load 2 filaments of different colors at the same time. Naturally, printing in two colors at once is much more practical, since there is no need for additional disassembly and assembly of complex structures, and the work is not interrupted. The printing process itself runs smoothly, the plastic is applied evenly.
The printer allows you to apply a layer of 100 microns with high resolution, when with standard printing it reaches 270-340 microns. Savings are significant, which is why this model is the most popular among successful businessmen.
MAKERBOT REPLICATOR 2X has an advanced plastic loading mechanism. The new design is greatly improved by the use of a spring loaded bearing where other models use a piston and screw that require further adjustment. Changing the spool is now easy and takes much less time. The 3D printer uses a common ABS plastic for printing. The process of applying this material to the product is quite optimized, but for a high-quality result, it is still necessary to carry out additional settings when calibrating the equipment. That is why the developers called this model "experimental". The user must be sufficiently prepared to carefully control the printing process. The advantage of ABS plastic is its prevalence and availability. It is also possible to use a rich palette of ABS plastic colors:
In the REPLICATOR 2X model, the developers have significantly increased the volume of the working chamber.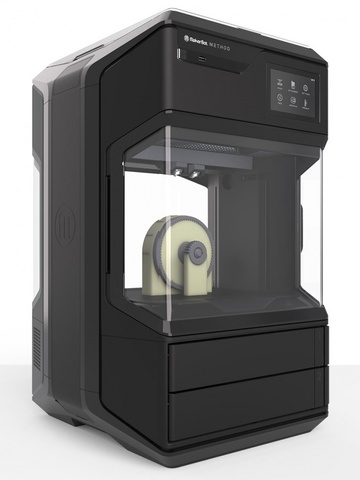 Compared to the previous model, this is approximately 37%. Thanks to this volume, the printer allows you to work with parts measuring 28.44 x 15.49 x 15.24 cm. You can also process many small objects that can fit into these dimensions. MAKERBOT REPLICATOR 2X successfully uses MakerWare software, which greatly simplifies and speeds up the work with a 3D printer. The workflow has been optimized by 30%, respectively, the speed of preparation and printing itself has become much faster. The program interface is intuitive, the tasks do not require additional training. The MakerWare platform allows you to work with various operating systems such as Windows, Mac and Linux. To create complex 3D objects, common file formats are used - .obj and .stl.
MakerBot Replicator 2X Key Features:
Professional MakerWare software with an intuitive user interface.
Print speed increased by 30%.
The use of ABS plastic.
Loading plastic is now faster and easier.
Support for major 3D file formats.
Ability to work on different operating systems.
| | |
| --- | --- |
| Printer | 1 ​​pc. |
| SD card | 1 ​​pc. |
| Power Cord | 1 ​​pc. |
| USB cable | 1 ​​pc. |
| Tool kit | 1 ​​pc. |
| ABS Starter Coil, 0.45kg | 1 ​​pc. |
| Spool holder | 2 pcs. |
| User manual in Russian | 1 ​​pc. |
| Warranty card | 1 ​​pc. |
Hi all. Today we would like to talk about the MakerBot Replicator 2X 3D printer.
MakerBot is an American company founded in 2009. Actively engaged in the popularization and promotion of 3D printing technology. At the initiative of MakerBot, the Thingiverse portal was created, in 2014 it was acquired by Stratasys.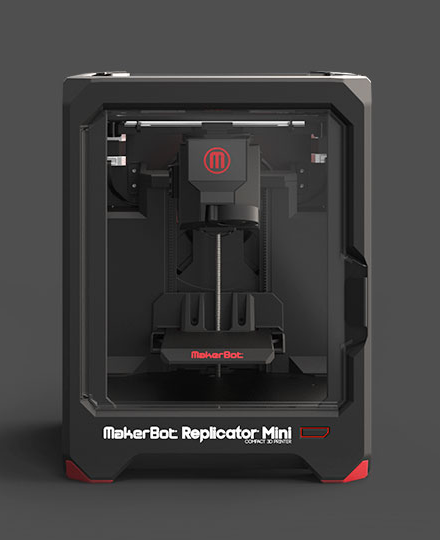 | | |
| --- | --- |
| Features | MakerBot |
| Print technology | FDM |
| Print area | 246x163x155 |
| Number of extruders | 2 |
| Nozzle diameter | 0.4 |
| Net weight | 12.6 |
| Unpacked dimensions | 490x320x531 |
| Closed case | Yes |
| Airflow | No |
| Shield presence | Yes |
| Price | 230 000 |
Unpacking.
Theater starts with a hanger, but the first impression of a printer is from the box.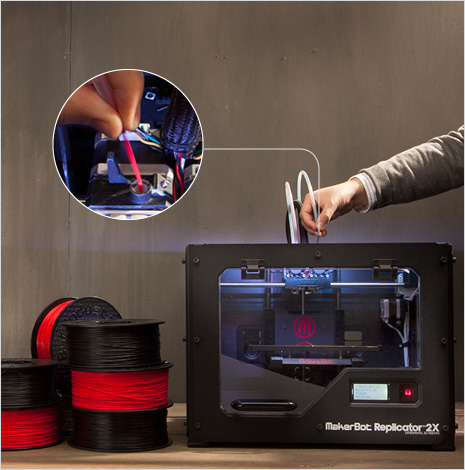 The printer is packed in 2 boxes. Printer - separately, top cover - separately.
All carriages and moving parts were fixed with ties with special pads.
Knowing our transport companies, I would be wary if my printer is shipped in separate boxes. But when ordering a printer from us, you can not worry, we always additionally pack a second box in order to avoid damage.
Complete set.
MakerBot was not very rich in packaging.
1 spool of ABS plastic 0.5 kg.

Lubricant based on PTFE

Business card - a probe for setting the gap between the nozzle and the table.

Flash drive

2 spool holders

Hexagon set

Plastic spatula for easy sticking of the film on the table

3 Kapton films

USB-A to USB-B cable

Mains power cable

Instruction in Russian and warranty card

Thread guide tubes
It is quite logical that the MakerBot only has an ABS plastic coil in the kit.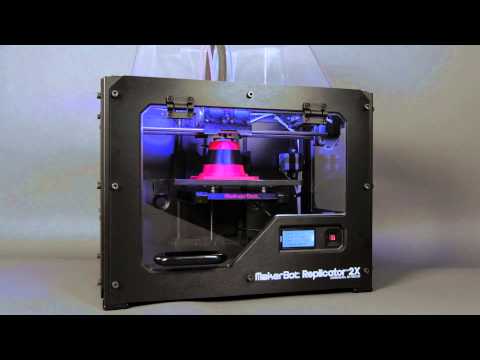 The manufacturer's website states printing only with ABS plastic.
Looking ahead, I will say that we will carry out printing tests with ESUN plastic. The spool of 1kg plastic (the hole diameter of the spool is 51 mm.) did not fit on the MakerBot holder. For him, you will have to print the holders for the coils.
Appearance.
The printer looks very nice. I didn't find any printed parts inside. All plastic parts are cast. The body is essentially a metal frame sheathed with a composite and transparent acrylic inserts.
MakerBot is a bit disappointing - the composite does not fit snugly at the bottom of the body, there is a small but unpleasant gap.
And the door does not close completely due to ill-conceived holes for the hinges (the manufacturer says that it is necessary for ventilation).
The hinges are tight and the door can be easily locked in the open position. Acrylic sidewalls can be removed, but it will be inconvenient to do this, because they are unscrewed only from the inside.


The top cover is complete. The lid at the base has a small "skirt" in which there are holes. These holes align with the bolts on top of the printer. Due to this, the cover does not roll around the printer and can be easily removed.
The front panel has a user-friendly display with soft rubber buttons.
Mechanics.
Two motors for feeding plastic are located on the "head" of the printer. In theory, this increases the weight, and consequently the inertia. But on the other hand, this layout allows you to print with soft types of plastic without problems.
The Y-axis motor is attached to the carriage.
X-axis motor mounted on the body. Nothing dangles anywhere and does not play. The straps are well tensioned.
A trapezoidal screw and 2 shafts are installed on the Z axis.
Extruders.
We will not analyze the design of the extruder in detail.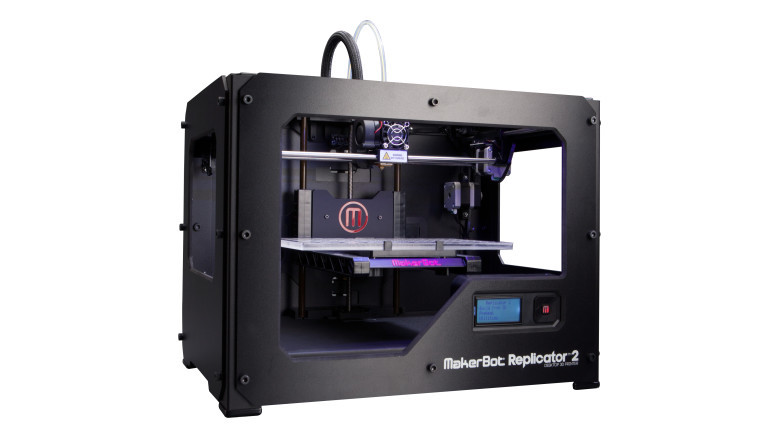 Let's just say that there is no "Teflon" tube in the design, which in theory increases the reliability of the extruder.
Electronics
MakerBot has an external power supply. I think this is more of a plus than a minus.
All wires are very well shielded. Drivers signed.
SW
MakerBot Desktop can be downloaded for free from the MakerBot website. It's not even really a slicer. The program has sections with video reviews on setting up the printer and slicer, company history, explanations of how the printer works, showing some printing defects and how to fix them. Through the Explore tab, you can go to the site of free 3D models Thingiverse and from there download models directly to the slicer. In general, everything-everything-everything that will be needed and interesting for a novice user has been collected in one place.
We tested the latest version 3.9.2.
Nice interface.
Despite the lack of the Russian language, everything is intuitive.
Video tab
Thingiverse tab.
First, in the Devices menu, select the printer on which we will print, load the model.
And then you can edit the model in the menu on the left. Change the size, location on the table, choose which extruder we will print the model and support (if the model requires printing with support).
In the Preview menu, you can see how the model will be printed layer by layer.
There are 2 kinds of settings in the Settings menu.
Quick settings. Here you can select the print quality (Low-0.30mm, Standard-0.15mm, High-0.10mm), type of plastic in the extruder, nozzle temperature, bed temperature, infill, substrate and support, if necessary.
And a bunch of advanced settings. You can set different options for each print quality.
The program is very convenient, especially for a novice user. It contains answers to most questions that arise when working with a 3D printer. From "What to print?" to "How does it work?"
For a user with experience, the whole variety of programs can sometimes be lacking.
Calibration.
When turned on, the printer greets you on the screen and beeps friendly.

The camera light turns on. In general, the printer has a sound notification for almost any reason. Turned on, heated the extruder for loading / unloading plastic, heated up and began to print. On the one hand, it is convenient, you can put the printer to warm up and go about your business. On the other hand, if you are typing at night and do not live alone, this will only be a minus.
Setting the table level is quite simple. Go to Utilities - Level Build Plate. Instructions on what needs to be done appear on the screen in English.

The head alternately moves to 7 different points of the table, on which, using the probe included in the kit, you need to set the gap.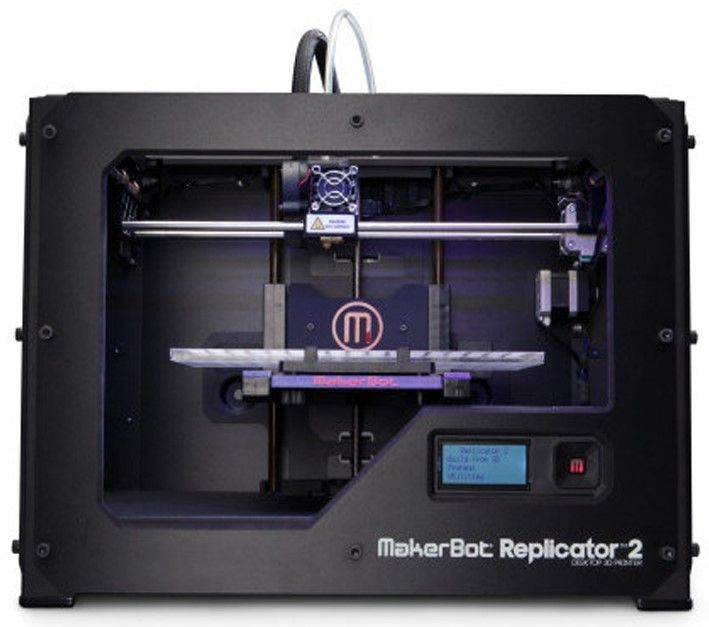 Calibration takes place with 3 screws. Five minutes and the table is calibrated.

We did not need to calibrate the distance between the print heads. It can also be done without problems through the menu.
The printer will print lines on the table with 2 nozzles, you must select lines that are parallel to each other.
Print
For tests, we used Esun ABS, PLA, PVA, HIPS plastic. When switching from one type of plastic to another, the extruder was cleaned with Esun cleaning plastic (By the way, a good and convenient thing. It is very economical. A standard 100 gr package turned out to be quite large).
First we tested the ABS, of course. On the move, it turned out such a boat. (15% infill, Standard quality).
Maker Bot did it in 1h 19m.
Still, when printing ABS in a closed chamber, it is desirable to blow it. On small details (pipe of a boat) this is especially noticeable.
On printed tests, this became more noticeable.
(15% infill, High quality)
MakerBot completely refused to print bridges. Printing time - 1h 32m.
Small ABS test (15% coverage, High quality)
Print time - 46m.
ABS printing in two colors.

Here already MakerBot has shown itself from the best side. Almost no snot on the model and color mixing. This is more the merit of the slicer. MakerBot Desktop builds a cleaning fence with two nozzles. Printing time - 2h 17m.
After the very first boat, it became clear that MakerBot with the maximum open camera cannot print objects from PLA. We decided to cheat a little and set to print two boats at once and two tests at once.
Small and large tests.
Bicolor boat.
No wonder the manufacturer declares printing only with ABS plastic. Without additional airflow, high-quality PLA printing is hardly possible.
The most interesting thing in my opinion is printing with soluble supports.
PLA+PVA

The printer did not print a small fang on the model even with additional airflow.

But there is almost no mixing of the two plastics, despite the fact that PVA is a very capricious and fluid material.
ABS+HIPS
Here the printer was "in its element". The model is printed very high quality.

Even a thin partition in the nose of the model was printed.
Print speed test.
The dice test was not very revealing.
Let's take a closer look at the first and last cube.
It can be seen that at high speeds, airflow becomes necessary. Plastic at the corners does not have time to cool down (especially close to a heated table) and begins to deform.
Despite this, the layers lie very evenly. I did not notice that the printer would shake at high speeds.
Totals
Maker Bot turned out to be a good workhorse.
A very decent printer with a very thoughtful slicer. When printing did not cause any problems. The only negative is the lack of airflow, which is still required even for ABS when printing small products.
By tradition, a minute of advertising)
Buying equipment from our company, you get 10 advantages:
1. Opportunity to use the Trade In program.
2. Warranty - 12 months
3. Instruction in Russian
4. Technical support throughout the life of
5. You buy a 3D printer from an official distributor in Russia
6. Free shipping.
7. Free training in our office.
8. Opportunity to buy a printer on credit through TKS, OTP, Renaissance banks.
9. 10% discount on plastic forever.