Brainchild 3d printing
3D Printing FAQ - Brainchild 3D Printing
We understand that the technology of 3D printing is new to a lot of people so we put together this FAQ to answer any questions you may have. We're also happy to answer any other questions you have about our services or 3D printing in general.
Have a question not answered here?
What print materials are available?
PLA
ABS
PVA
Nylon
Laywood
Laybrick
Flexible
Tough glass
What is flexible filament?
Flexible filament is a 'soft' PLA and is used to print rubber like parts that have more flex than other plastics.
What is laybrick?
Laybrick gives models the look and feel of stone while maintaining plastic like properties. Laybrick can be sanded as well as painted like other plastics and can have different effects depending on melting temperatures, creating a smoother stone effect or a more sandstone-like texture.
What is laywood?
Laywood filament is a wood like material for 3D printing that gives the objects the look and feel of wood.
It can also give these parts other wood-like properties such as the ability to be cut, painted and sanded.
What is nylon?
Nylon is a very versatile material which prints as a bright white with a translucent surface and has a very high impact strength, is lighter than ABS and can easily absorb colour post-printing. Also commonly used for stringed instruments as well as composites in clothing.
What is PLA?
Polylactic Acid or PLA is one of the two most common 3D printing materials. It's considered to be one of the more eco-friendly options as it is made from corn starch and requires less resources to produce than other petroleum based plastics. It can be used for a broad range of applications since it is strong and durable, as well as having low warp and odour properties. PLA is also commonly used in medical applications for plates, rods and mesh.
Why choose PLA?
PLA is a plastic made of renewable starches such as corn and sugarcane.
It is biodegradable and does not emit a lot of ultra fines particles (UFCs).
It produces a barely noticeable, but quite pleasant, sugary smell when extruding.
Depending on the specifications and the color, extrusion temperature can vary between 160 and 220 °C.
Parts printed using PLA are more rigid than ABS parts (ABS is more flexible).
In general, parts printed using PLA have a slightly glossy finish.
PLA is less prone to warping during print and is 'stickier' than ABS.
PLA starts to become malleable (heat deflection point) at around 60 °C.
PLA requires a bit more force to be extruded as it has a higher coefficient of friction than ABS.
PLA is a bit more recent in the history of FDM 3D printers and has a promising future.
What is ABS?
Acrylonitrile butadiene styrene (ABS) is the other most common 3D printing material although unlike PLA is a petroleum based product. It can be used to make similarly durable products as PLA but which can withstand higher temperatures and are less brittle.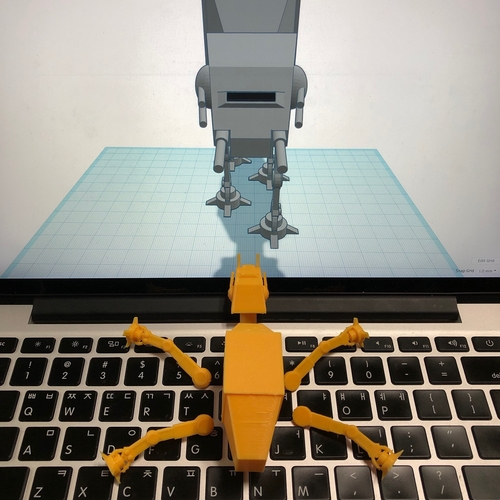 ABS can also be processes after production with acetone to smooth the surface and give a gloss like finish.
Why choose ABS?
ABS is a common thermoplastic (LEGO blocks are made of ABS) that is essentially pretroleum based.
ABS is more prone to producing UFCs when compared to PLA. Good ventilation is recommended.
It produces a slight 'burnt plastic' smell when extruding.
Depending on the specifications and the color, extrusion temperature can vary between 220 and 260 degrees Celsius.
Parts printed using ABS have a "bend" to them and are less brittle than PLA.
In general, parts printed using ABS have a glossier finish than PLA parts.
ABS starts to become malleable (heat deflection point) at around 100 °C (which makes it more heat resistant than PLA).
ABS has a lower coefficient of friction than PLA and requires slightly less force to be extruded than PLA.
ABS can be considered the "legacy" type of filament since it was used for 3D printing before PLA.
What is PVA?
Polytvinyl alcohol or PVA prints translucent and is used primarily in 3D printing as a structural support material for overhanging features. It is water-soluble and is most widely known and used outside of 3D printing applications as a glue.
"Prêt à imprimer" fashion is here
3D Printing EventsConsumer ProductsFashion
The SSYS 2Y22 collection featuring PolyJet 3D printing on textiles culminates years of work by Stratasys' Naomi Kaempfer
Davide SherJune 9, 2022
6 minutes read
Article photos by Alessandro Polli.
Stay up to date with everything that is happening in the wonderful world of AM via our LinkedIn community.
Anyone who sees firsthand the multimaterial, multicolor, high-resolution capabilities of high-end PolyJet 3D  printing immediately begins imagining the creative possibilities offered by this most advanced polymer 3D printing process.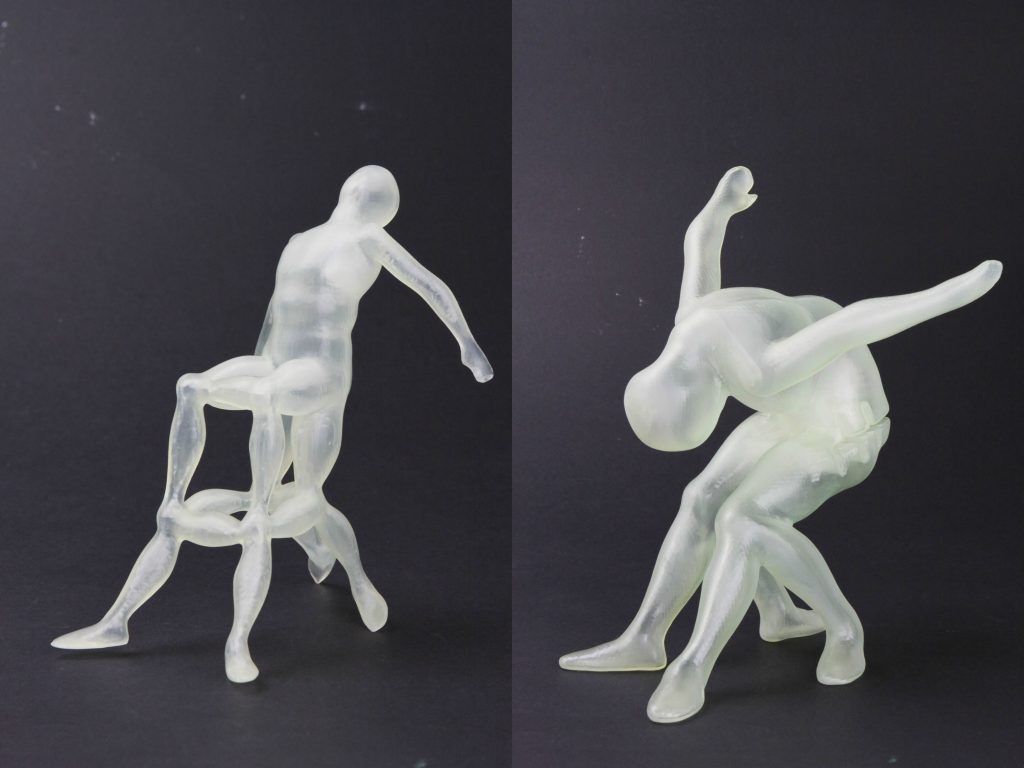 This is especially true for the future of customizable clothing. While experimental use of 3D printing – and PolyJet 3D printing specifically – for artistic and even wearable products has existed for nearly a decade, real end-use applications, even in the highest-end design and fashion products are still rare. That's no longer the case. With the SSYS-2Y22 Reflection Collection, the brainchild of Naomi Kaempfer and Boris Belocon, PolyJet 3D printing is entering the world of high fashion and luxury consumer products. With it comes a new Stratasys 3D printer, the J850 Tech Style, developed specifically for printing on textiles and the ability to create consumer products that cannot be made in any other way.
"Boris Belocon and I have been working closely since 2014," Naomi Kaempfer, Art, Design, and Fashion Director for Stratasys, told 3dpbm when we meet her on the first day of their Milan Design Week launch event, at the Superstudio+ space in Zona Tortona. "He is the engineer that connects the creative world to the machines.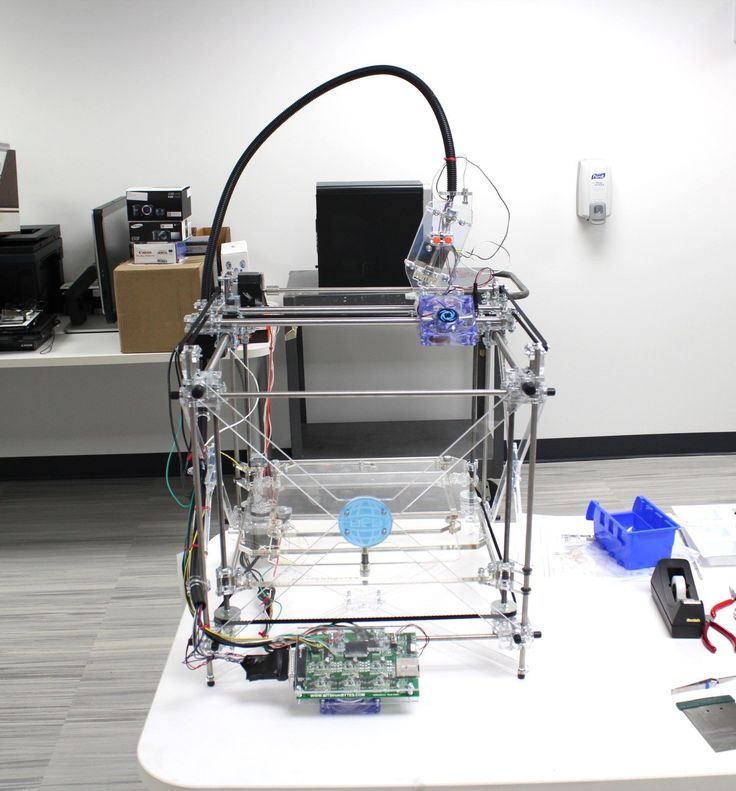 We then worked with the fantastic R&D and Production teams, as well as Stratasys Application Engineers to make this initial idea into the real 3D printing on textiles you see today."
For those who are not familiar with it, the Milan Design Week events take place throughout the entire city of Milan during Salone del Mobile, the largest global fair for the furniture and product design industries. These events, collectively known as Fuorisalone (outside the Salone) focus on 5 main areas of the city. Zona Tortona is one of these areas and it was where it all started. Many large 3D printing projects have been exhibited during Fuorisalone and this is one of the largest and most important ones ever presented. Certainly one of the most disruptive and innovative.
Naomi Kaempfer continued: "I'm responsible for all the art, design, and fashion projects: I come up with a creative project with a design and technological understanding, and Boris adapts it to our technology. In 2018, he showed me that we could print on textiles.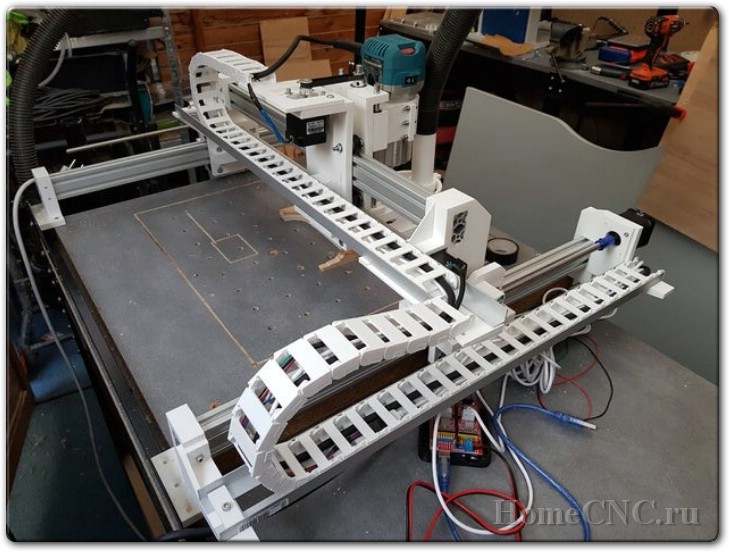 It started with a small printed part on a piece of cloth. It was not necessarily very aesthetic at first but it was absolutely convincing and I was super excited about it."
Directly 3D printing on textiles is a revolution because it allows the creation of customizations and products that would either be possible to make or would have such a high labor cost that would make them impossible to bring to market, at any price.
"It was a real breakthrough – Kaempfer continued – since the fashion industry had already been looking at possibilities offered by 3D printing but they could not solve the issue of stitching the printed parts to the garments."
Fast forward to 2Y22
So here we are, four years later, presenting the SSYS-2Y22 Reflection Collection, a collection of unique dresses, created by several artists, including those created by designer Karim Rashid. As one of the most prolific designers of his generation, with more than 4000 designs in production, 400 awards, and operating in over 35 countries Karim's a legend of design.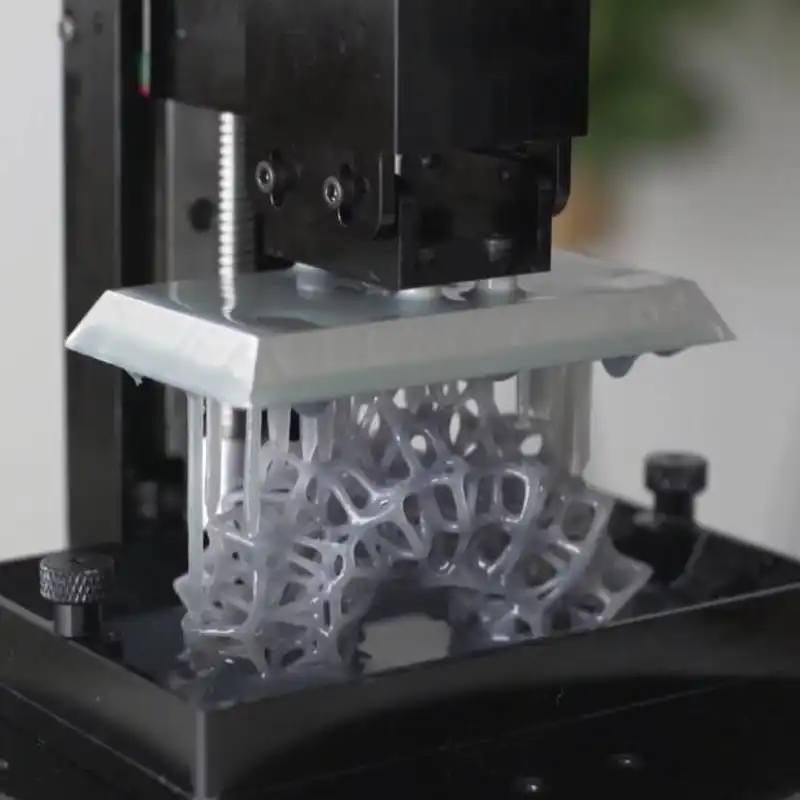 Each piece in his repertoire reflects the signature style of art graphics and geometry.
"In particular – Naomi Kaempfer said – his interdisciplinary designs digitally transformed from 2D to 3D, as he created a range of luxury handbags and dresses that are fashionable in both casual settings as well as more elegant occasions. Now we are working with 3D on 2D and it will be interesting to see where that leads. The challenge is how to translate Karim's art into his dresses. We want to do this with new materials, including a new fluorescent line of Polyjet materials."
Some of the designs by Karim Rashid
Naomi Kaempfer confirmed that the J850 Tech Style technology is already a practical tool, ready for adoption in the high-end fashion market. She also sees even broader adoption of new applications in the longer-term future. The idea is not to create just a dress to wear once during a show, but something that can be worn several times on many different occasions. At home and outside the home.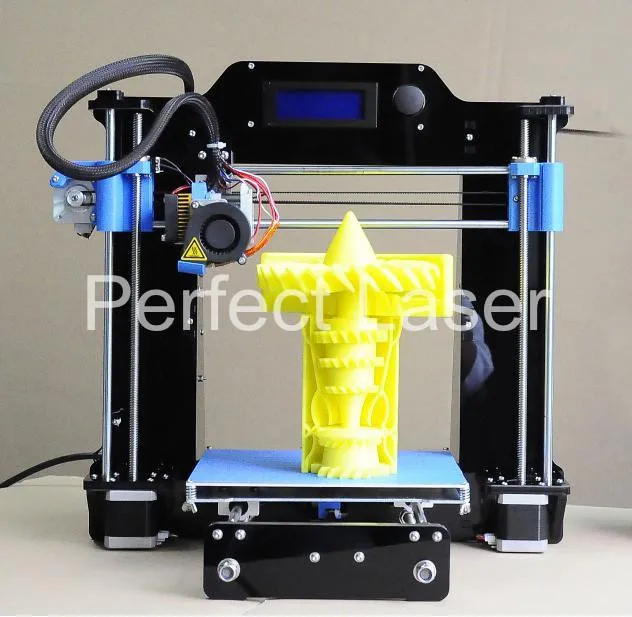 To demonstrate this, Stratasys is offering to print on visitors' clothing during the show.
One of the main elements that emerge from Rashid's collection is the simplicity and elegance of the dresses, combined with the uniqueness of the 3D printed customization. "I wanted to make dresses that would be very wearable, Rashid explained. "There were some limitations in terms of the area we could print so we used that in order to make the different sections fit the body patterns as well as the 3D printed pattern." Certain elements are a direct result of the unique characteristics of the 3D printable materials. For example, a transparent yellow pattern on a black dress give the illusion that the material changes color as the dress moves.
The collection of 3D printed dresses by various designers is reflecting the impact the past two years had on the fashion world. Both comfortable clothing with an eye on sustainability, and garments that express intense emotions, from anger to sadness to happiness.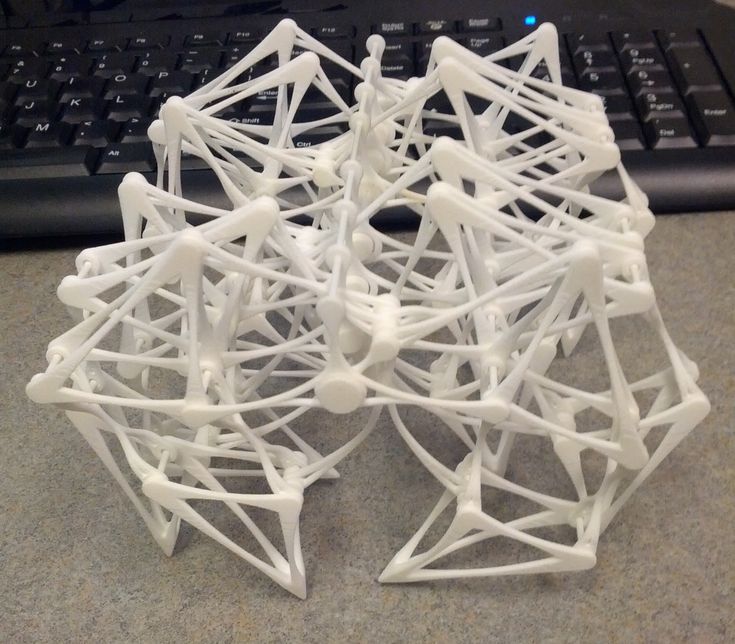 "We had the time to think about our inner world instead of our outside world. So a lot of the pieces that you will see here reflect on that either. We will talk about emotionally sensitive topics. We'll talk about expressions of emotions. We'll talk about tradition. going example. 3D printing on textiles is promoting and responsible manufacturing and is exploring topics such as inclusivity and diversity.
Other items of the collection really push the technology to the limits on dresses that are close to unique works of art, enriched by the possibilities of polyjet technology. The J850 Tech Style system was also used to create many other completely and usable final products such as purses, lamps and a very special reusable perfume bottle [More about that here]. In fact, the machine's possible uses can range from some very practical and colorful, customizable buttons to futuristic conceptual smart-midsoles that can continuously gather data on the person wearing them.
Prêt à polyjet
How could polyjet technology be adapted to print on textiles and create unique end-use products? It was not easy.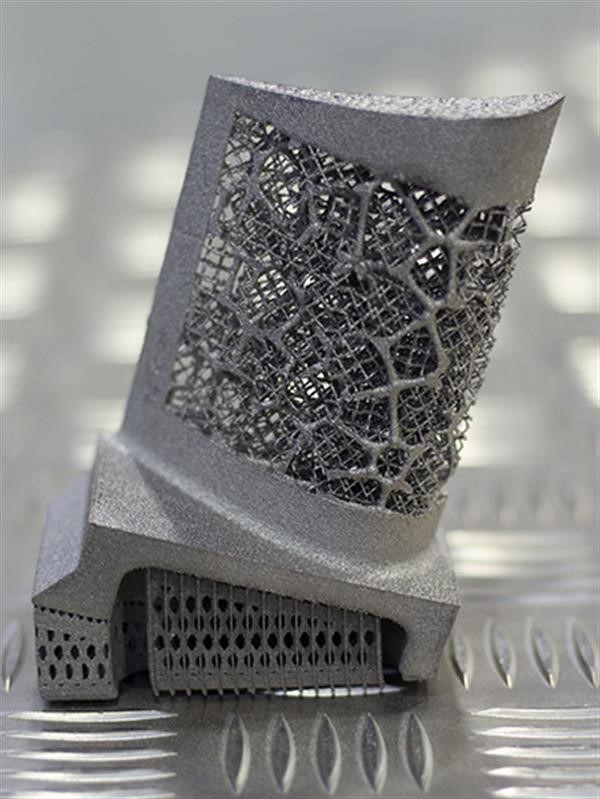 "Polyjet is an extremely accurate technology, up to 16 microns – Kaempfer explained – which means that the print platform has to be extremely stable. Introducing an element such as textiles on the build platform was very challenging." The J850 Tech Style does this by using a custom jig, that holds the textiles in place firmly on the print bed. "It was not evident that we would succeed," Naomi says. "The droplets need to be jetted so that they lined up horizontally perfectly on top of the printed and any jig could cause some movement. But our engineering team developed it so that it's fully stable.
Not only that: the J 850 Tech Style can print on finished and even previously worn clothes, thus revitalizing and customizing otherwise plain garments. This is in spite of the fact that the printer has a 36 by 46 cm build platform that may appear limiting. The way the Stratasys engineers got around it is by adding a 5 cm space beyond the build plate for the textiles to be placed.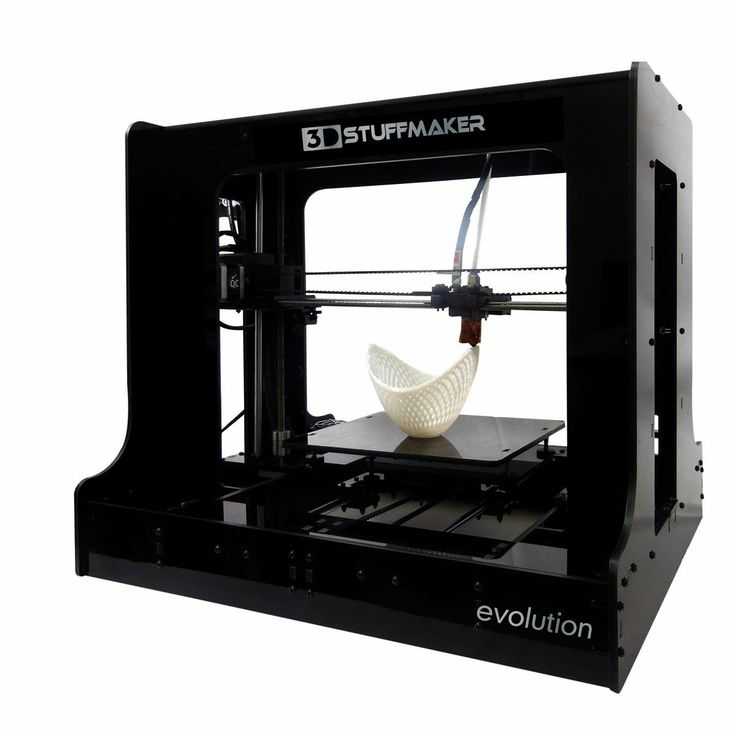 This space can be extended to up to two meters through the custom jigs. "This jig and the extra space allow us to print directly on pants or on sleeves," Naomi said and we will demonstrate that during the show offering visitors the possibility of having something printed on their shirt or even pants while they wait.
If 3D printing on textiles is very much enabled by the evolution of polyjet hardware, the production of more durable final parts such as the perfume bottles is made possible by significant advancements in polyjet materials science over the past few years. Neither would be possible with GrabCAD Print, the software that takes these multi-color files from the CAD design programs and feeds them to the machine. This combination of elements will now be continuously expanded into new technologies and processes, such as those available via the Origin and SAF systems. This combination of textiles and multiple new technologies is bound to exponentially expand the possibilities.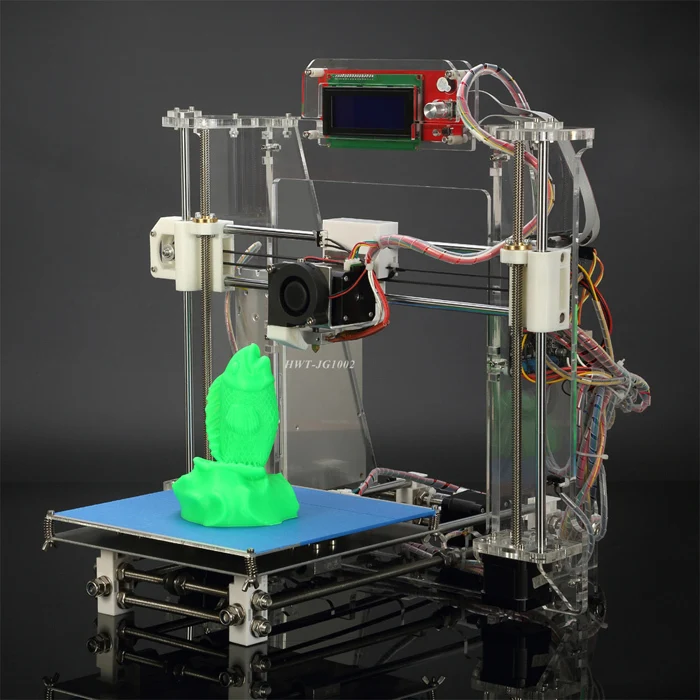 "We really are just beginning to discover them," Naomi concluded.
Photos credits: Alessandro Polli
Related Articles
Back to top button
3D printers in construction: prospects for application
At first glance, 3D printing structures seem to be some kind of shell of a half-finished building. But upon closer examination, you will not find even a brick. Layers of material seem to build up one on top of the other - this is how a complex structure is created. It's a futuristic world of 3D printing where robotic arms automatically layer and compress layers of concrete or plastic or any other material into a foundation and build a structure.
This method of construction is quite niche today - only a few prototypes of 3D houses and offices have been printed in the world. However, this technology represents an exciting and potentially powerful solution to building change.
What is 3D printing in construction, what is the potential, and will we be working on 3D printed projects in the near future?
What is 3d printing in construction?
3D printers in construction: how is it done?
5 examples of innovation
How can 3d printed projects help construction companies?
3D printing distribution
3D printing in civil engineering
Wiki House technology - an open source project for 3D printing: what is behind the concept
Reverse side of the coin
How can 3D printing be integrated into construction
About PlanRadar
3D printing in construction - what kind of technology?
3D printing for construction uses both a 3D printer that has a robotic "crane-arm" that builds structures right on the construction site, and the creation of certain elements by printers at the factory, which are already assembled into a structure on site.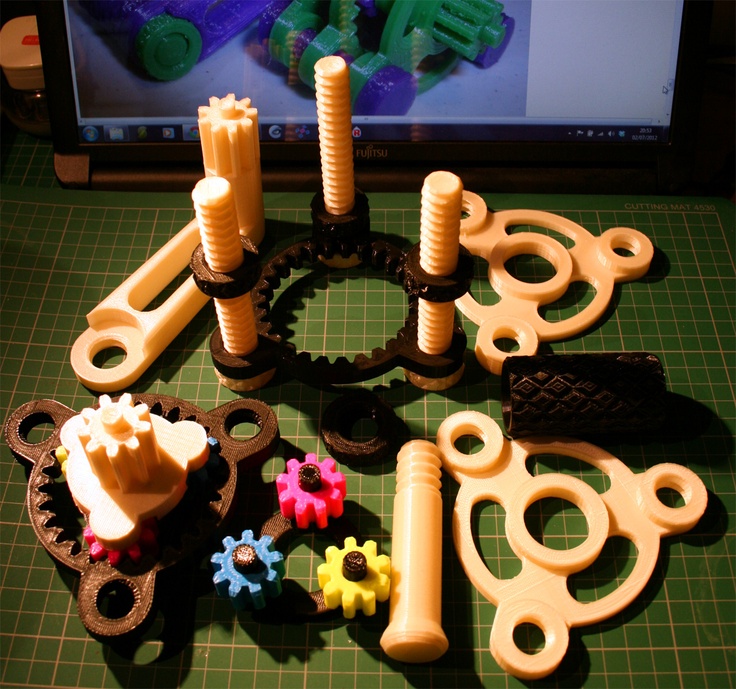 The concept of 3D printing is not new: it first appeared in the 80s. But it's only in the last decade that this technology has been improved enough (and the cost significantly reduced) to become a real mainstream.
3D printers are not much different from conventional inkjet office printers. The software tells the printer about the dimensions of the final product. And then the printer starts to output the material to the platform according to the plan. 3D printers often use liquid metals, plastics, cement, and variations of various materials that, when cooled and dried, form a structure.
In a building 3D printer, the CAD or BIM programs tell the device what to print, and the machine starts layering the material according to the design plan.
3D printers in construction: how do they work?
3D printing concept - The printer extrudes a defined liquid mixture in layers, layer by layer, creating a design based on a 3D model. The prepared mix of concrete, filler, plasticizer and other components is loaded into the hopper of the device and fed to the print head.
The mixture is applied to the surface of the site or to the previous printed layers. This is how most 3D printers work. Among them, there are three types of devices for 3D printing:
Robotic printer
Read also: New technologies in construction 2021
5 innovative examples of 3D printing
To date, only a few 3D printing projects have been implemented in the construction industry. Here are five of the most impressive and promising projects:
Dubai City Hall Office Building, UAE
1. Dubai City Hall Office Building, UAE
3D printed building. The office block built in the UAE is 9,5 meter high building with an area of ​​640 m2.
An Apis Cor 3D printer moved around an open-air construction site with a crane and erected different parts of the structure.
2. Office of the Future, UAE
Office of the Future, UAE
Another impressive 3D printed building in the UAE, the Office of the Future is a unique, fairly large structure that currently houses a temporary headquarters organization Dubai Future Foundation.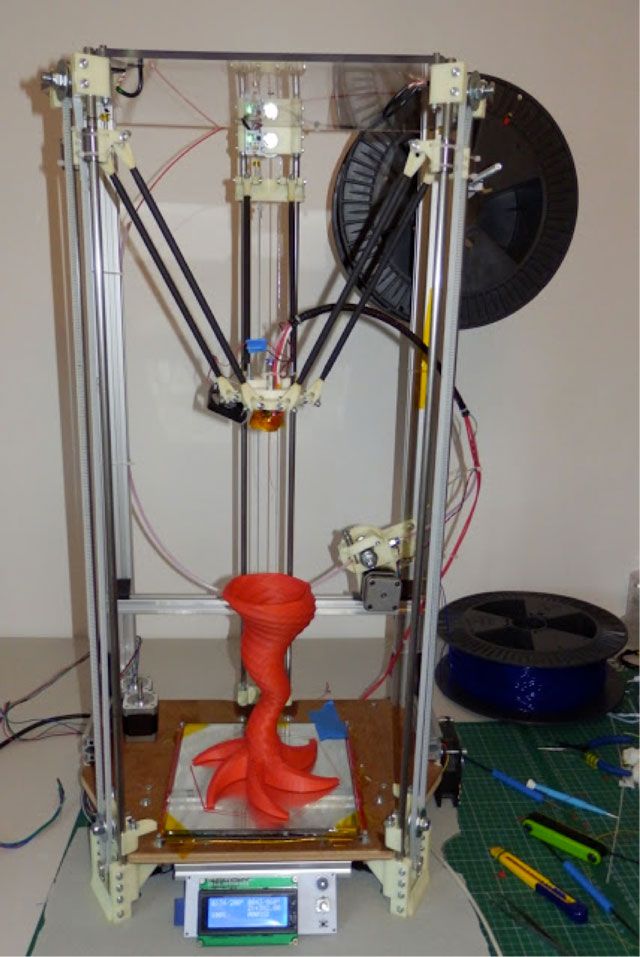 For this building, the elements were not created on site and were printed in 17 days, while the building itself was assembled in 48 hours.
3. WinSun 3D Printer Homes, China
WinSun 3D Printer Homes, China
WinSun 3D Printing Company of China has also applied factory-built 3D printers to build residential buildings. The company has created several house projects, including a small multi-storey building. All construction details can be printed quickly and cheaply and then quickly assembled on the construction site.
The company calculated that it would cost as little as $161,000 to build and print their five-story building.
4. 3D printed license plate at Lewis Grand Hotel, Philippines
3D printed license plate at Lewis Grand Hotel, Philippines
When planning a trip to the Philippines, consider staying at the Lewis Grand Hotel in Angeles City , Pampanga, where visitors will be greeted with the world's first 3D printed hotel suite.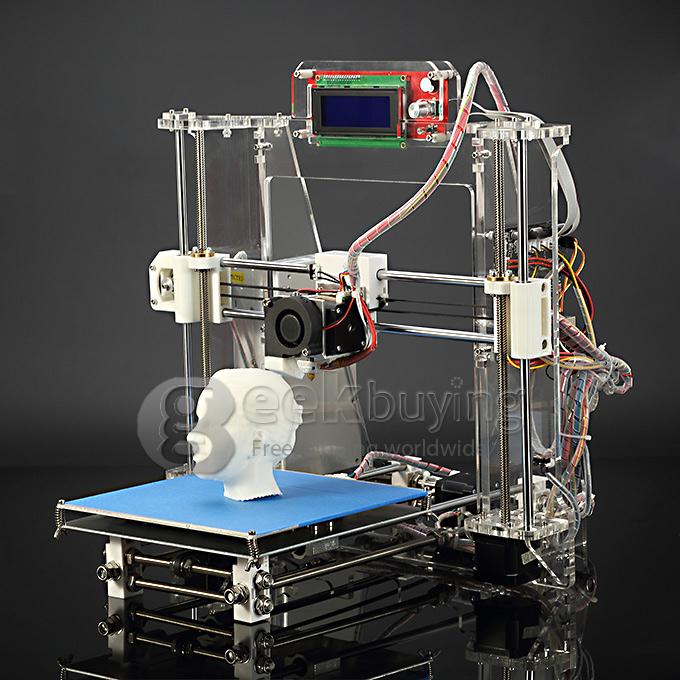 The hotel room was designed by Lewis Jakich, hotel owner and materials engineer, in collaboration with 3D printing specialist Anthony Rudenko. They created a massive 3D printer that prints sand and concrete based on volcanic ash. The room was printed in 100 hours.
5. Two-story mansion in Beckum, Germany
Two-story mansion in Beckum, Germany
The first 3D-printed residential building with an area of ​​​​about 80 square meters - the brainchild of the German construction company PERI GmbH and the architectural design bureau MENSE-KORTE ingenieure + architecture. A BOD2 3D printer was used to print one square meter of double wall cladding in 5 minutes. The building is a structure with three-layer hollow walls filled with insulating mass. Installation of hollow pipes and connections during printing was carried out manually.
3D printing in construction seems really impressive, but what are the real benefits of such technology?
How can 3D printed designs be useful for construction companies?
Proponents of 3D printing houses and commercial offices point to several advantages of this construction method:
In the UK, almost a third of the waste comes from the construction industry.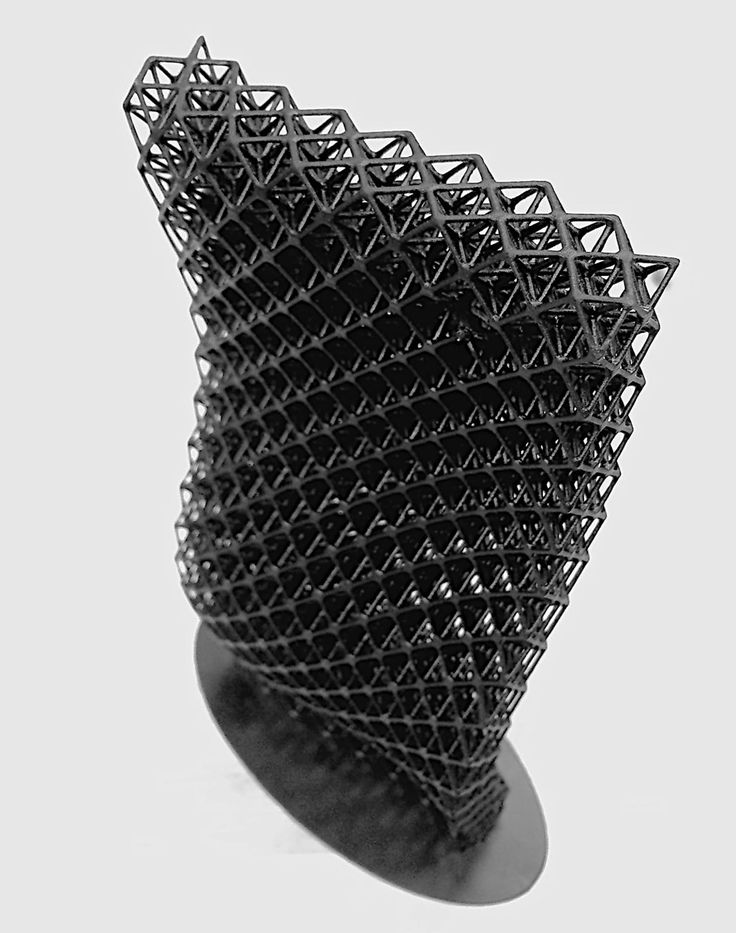 According to the Transparency Market Research Group, the construction industry worldwide will produce 2.2 billion tons of construction waste by 2025. And although most of the waste is related to the demolition of buildings, the construction sites themselves produce a lot of waste.
Conversely, 3D printing can reduce waste to almost zero. A 3D printer uses a well-defined amount of material that is required to print a design - no more, no less. This can be a big savings.
Reduced energy consumption
3D printing in construction encourages the use of locally available materials and natural ingredients. This practice can reduce energy costs in transportation, construction and manufacturing, as most local materials require less energy to process or install. If traditional materials with toxic chemical impurities are replaced with natural ones, then the toxicity of the entire construction can be reduced. In addition, local materials are often better suited to local climates and can reduce a building's heating or cooling load, which also reduces construction costs.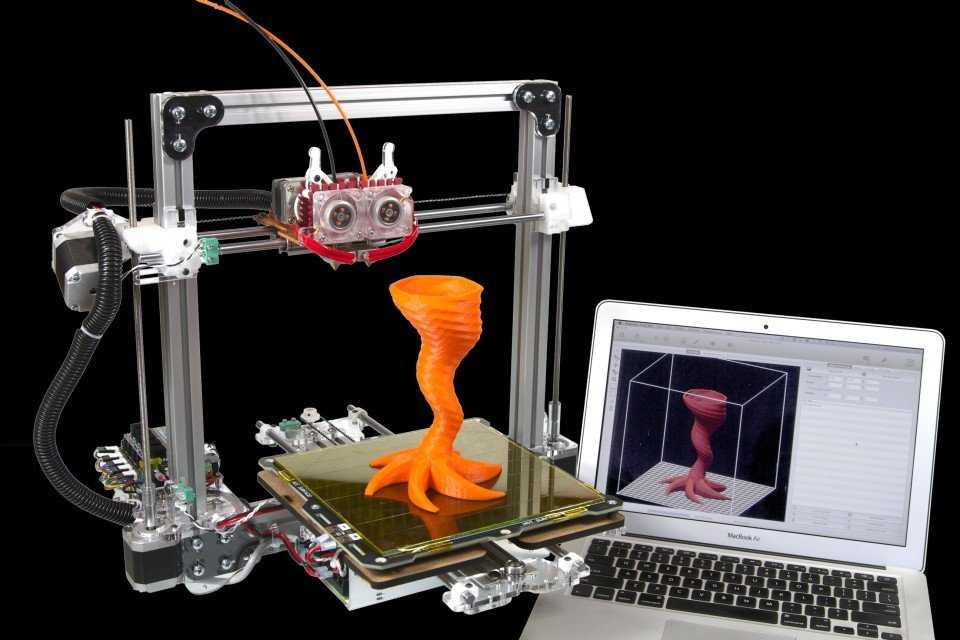 As with AI in construction, a 3D printer can run 24 hours a day, 7 days a week. This means construction projects have the potential to be completed much faster and a number of low-skilled labor costs can be avoided. What's more, 3D printing eliminates the need for temporary structures, such as formwork and scaffolding, that are commonly used in traditional construction. Studies of 3D printed concrete structures have shown a significant reduction in formwork requirements, reducing costs by 35-60%.
Can realize unusual design shapes
One of the most attractive characteristics of 3D printers is their ability to create complex and unusual design designs, including a single, unique one. Since the job of a 3D printer is to layer the material, they can be programmed into absolutely any unusual shape that would be much more difficult to create with traditional techniques.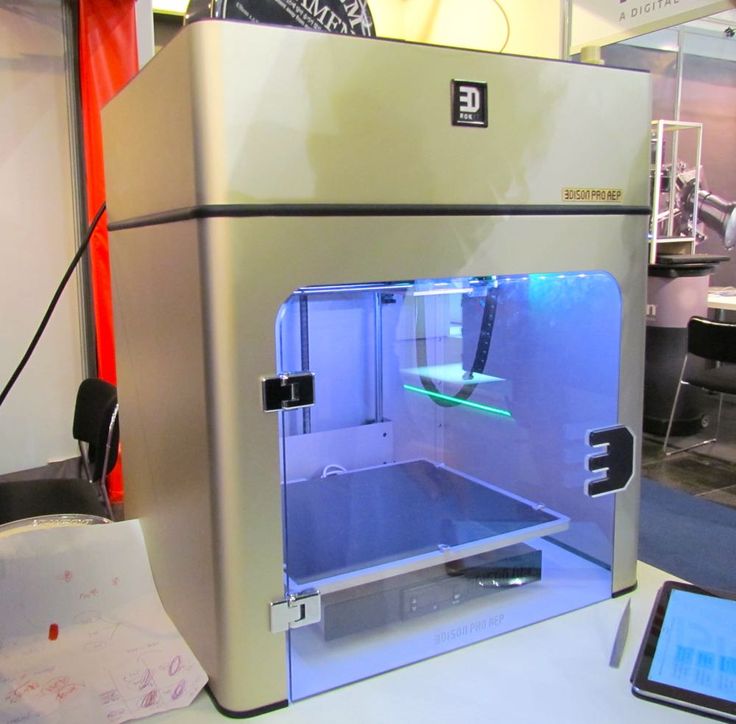 Minimize human error and improve safety
The published injury statistics at the workplace by the American agency BLS in 2020 indicates that construction is one of the most traumatic areas and a high incidence of diseases. Every day, about 5333 workers die on the construction site. And with the advent of 3D printing, the number of work injuries and fatalities will obviously decrease, as it makes construction more programmable and automated. Robotic construction requires standardized, accurate and complete digital building information, making this technology more accurate and efficient, with minimal rework due to human error or any information inconsistencies. The usual problems with materials and components that need to be stored somewhere, protected from damage are leveled out, problems with installation and work in progress due to damage also disappear - 3D elements are created as they are built, they do not need to be moved and stored.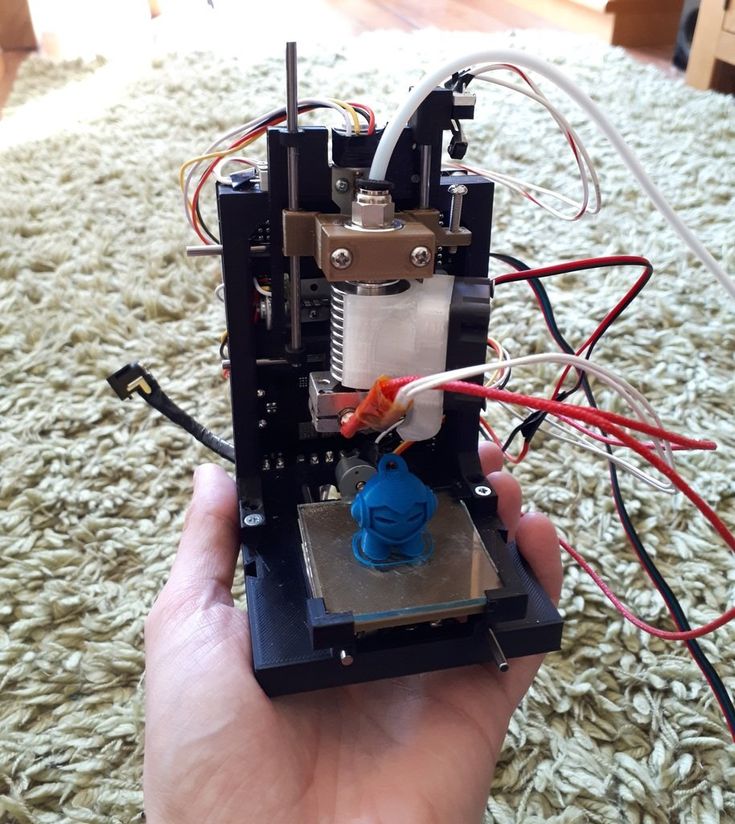 The use of a 3D printer also allows construction companies to enter new market sectors that were previously inaccessible to them. And for start-up companies, having a 3D printer will be a competitive advantage. What's more, 3D printing is a brilliant way to elevate or improve the reputation of a construction company's brand among those who believe that concrete production has an impact on the planet's environment.
Distribution of structural 3D printing
3D printing for structural reinforcement, small scale components and structural steel could revolutionize design, construction and space exploration. In addition, the European Space Agency (ESA) believes that using 3D printed metals to create high-quality complex shapes can significantly reduce their cost, and they will become very common.
ESA has developed a project with the European Commission to improve the printing of metal components that can be used in space.
In total, 28 European partners have united for the joint project AMAZE (Additive Manufacturing Aiming Towards Zero - layer-by-layer 3D printing for zero waste from production and efficient production of high-tech metal products).
Almost everything can be designed on a computer, so AMAZE plans to install a 3D printer on board the spacecraft, and as soon as an astronaut needs any part, a tool, he can simply print it.
Structural 3D printing
Civil engineering 3D printing
Civil engineering 3D printing has been gaining popularity over the past decade, as has the aerospace and biomedical industries. This revolutionary manufacturing technique is based on its unique ability to create any geometric shape without any formal restrictions, minimizing waste but increasing productivity and results. The construction industry's push towards automation has recently reached important milestones, including the creation of the first structures using robotic "arms" and 3D printing technology.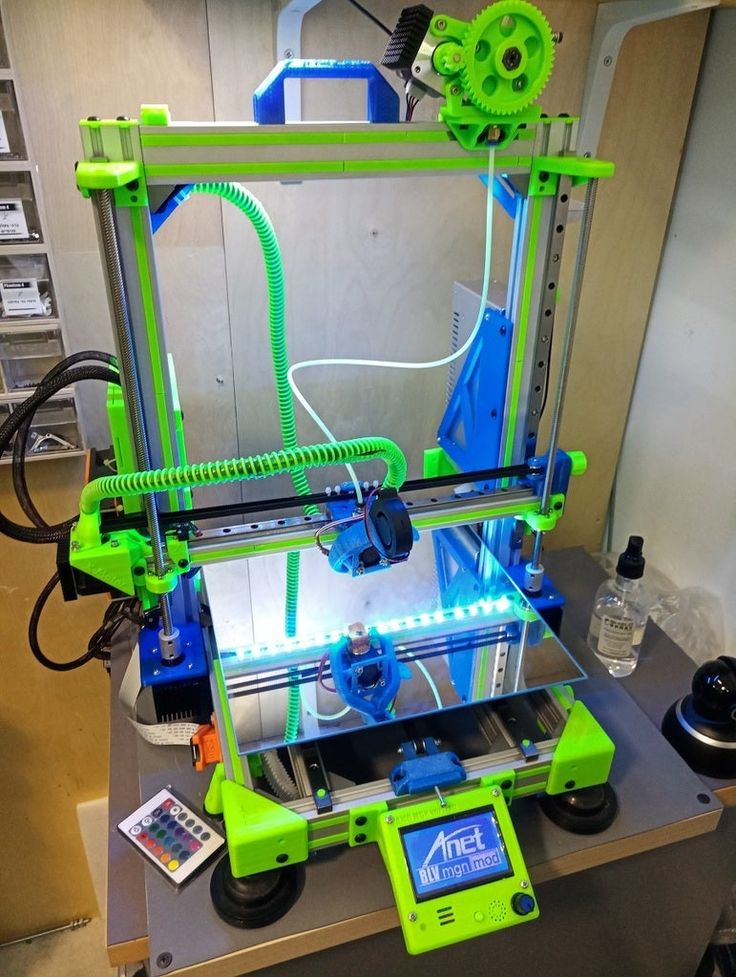 The use of 3D printing in the creation of structural elements from polymer materials, concrete and metals is becoming more common.
These civil engineering technicians can create freeform and innovative architectural designs using CAD-integrated software.
However, despite considerable research in the aerospace and bioengineering industries to evaluate and analyze this mechanism, there is still a lack of understanding of its use, the impact of 3D printed materials in civil structures, both in terms of material properties and structural response.
Imperial College London
Read also: Best Building Apps in 2021
WIKI HOUSE - 3D printing in construction: what is the concept behind
Wiki House is an innovative project created by a small group of architects in London in 2011 . It offers an open source digital house design system that allows users to create, upload and share designs and print their own houses.
The kit does not require any special knowledge and training and can be created in 1 day.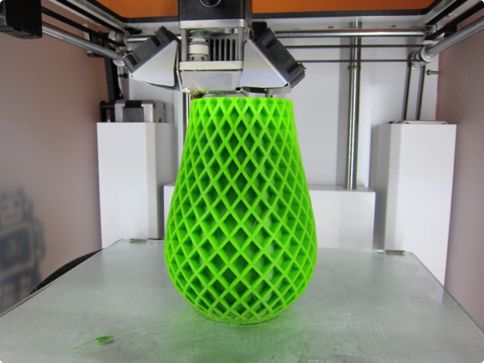 Elements are digitally cut from ordinary sheet material, like plywood, using a CNC machine. And it's much faster, less costly, and doesn't require the involvement of experts, as in conventional traditional construction.
A standard two bedroom house can be built for less than £50,000 and additional components such as cladding, insulation, windows and more can be added to the main frame of the structure. The first house that was built on the basis of the open source Wiki House technology was a two-story building. The 3D printed house was presented at the London Design Festival in 2014.
The Wiki House movement was spearheaded by Alastair Parvin, whose TED presentation "Architecture for People, Built by People" talked about the promise of 3D printing in construction. The creator of this project believes that Wiki House can help solve the housing problem, especially in emergency situations such as earthquakes (there is already evidence that 3D-printed houses can withstand shocks up to magnitude 8).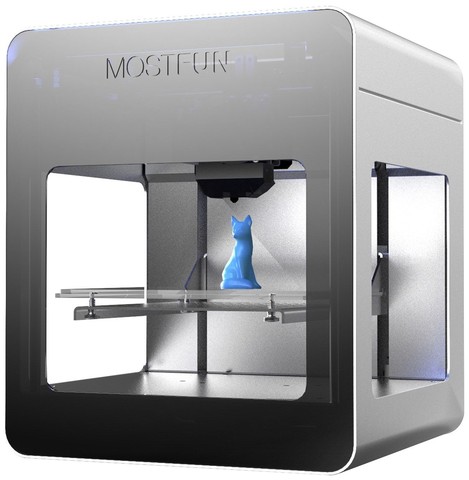 In the future, this could become a real alternative to low-cost houses, while allowing the customer to control the design of the project.
3D building built using Wiki House
Will 3D printing be the sustainable future of building?
3D printing has the potential to revolutionize the supply chain and structure through a new method of design and manufacturing. According to the study, 3D printing can help the construction industry become more economical, more efficient and greener.
Saxon University of Applied Sciences scientists Ivo Kotman and Neils Faber claim that 3D printing technology will be a "game changer". They explored the possibilities of 3D printing concrete, and their conclusions are:
3D printing shortens the supply chain and the entire design process. 3D printing right on the job site eliminates time-consuming steps in the design process. The architects, engineers, contractors, clients, and executives who normally have to be actively involved in a project are no longer needed in 3D printing. Since all tasks can be combined in one figure of the architect, who uses the modeling method and reproduces the exact holistic designs.
Pipe fitting and electrical wiring become easier and more efficient. Heating systems, insulation, plumbing and electricity all require the laborious on-site installation of conventional construction. However, in 3D printing, some of these features can be incorporated into the 3D printing process. Cavity wall printing is less resource intensive, improves insulation, and allows the use of 3D-printed hot or cold water channels. Moreover, the need for on-site installation is eliminated, which directly affects the reduction of waste.
The best logistics. 3D printing eliminates 3 logistics and shipping issues. Firstly, a lot of materials and elements often deteriorate upon delivery, and if everything is printed on site, then damage is minimized
Secondly, in order to withstand transportation, the parts must be with increased technical characteristics, which by default increases the cost of them, and therefore the entire project.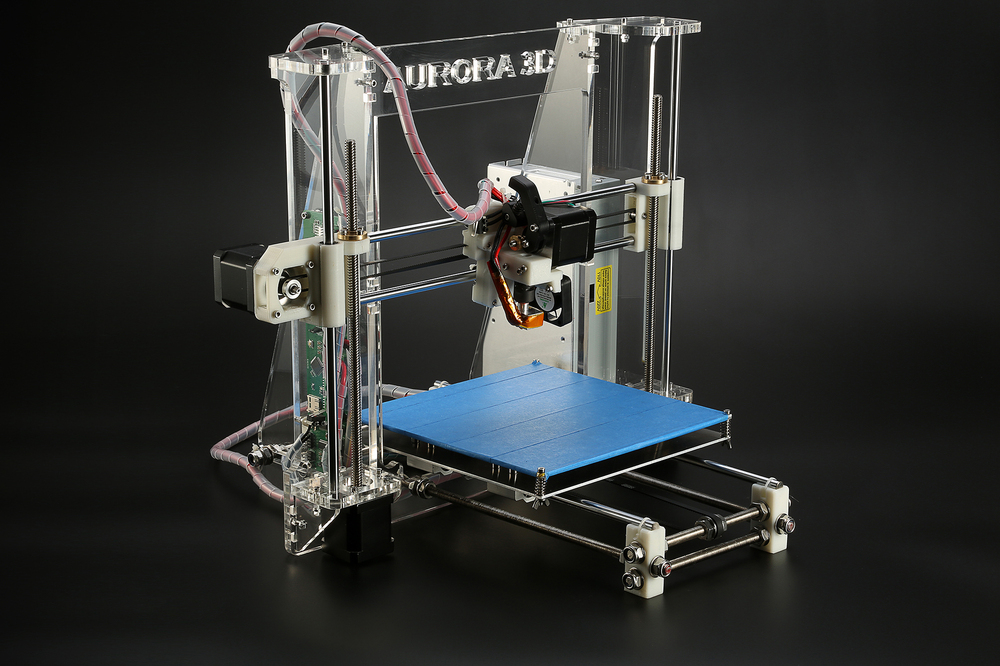 3D printing right on the construction site will help to avoid such additional costs.
Creation of individual house designs available to the general market. Usually, building a house with the involvement of an architect is an expensive pleasure for most consumers. But with concrete 3D printing, you don't have to worry about the chosen shape, it won't cost more. In fact, this means that in the future, more people will be able to buy houses of their own design, according to their individual needs
Reverse side of the coin
While 3D printing is definitely attractive, it's still important to look at it impartially, removing some of the promotional stimulus.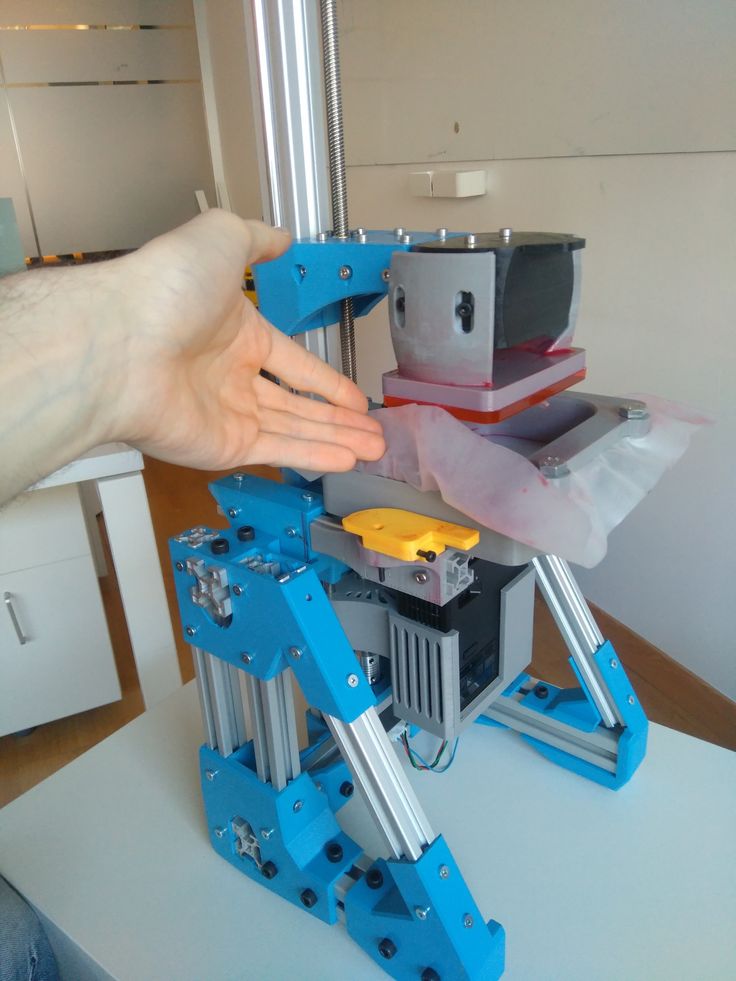 Skeptics note several disadvantages of this technology.
Research and development costs
Most construction companies operate with relatively low profitability. To start using 3D printing everywhere, significant investments will be required.
Will consumers see this as a marketing ploy?
3D printed houses, offices, shops and other infrastructure are often impressive. But do most people really want to live or work in one? For most people, brick houses are much more familiar and attractive. Other technologies such as prefabricated houses also seemed like an attractive technology of the future for some time, but have not been widely adopted, despite the fact that in many cases they were cheaper than traditional ones.
Difficulty integrating with other components
3D printers can create unique and interesting designs. However, if you need a building that will use different materials or different elements that will not be suitable for 3D printing, then it will be a challenge to include a 3D printer for the building process.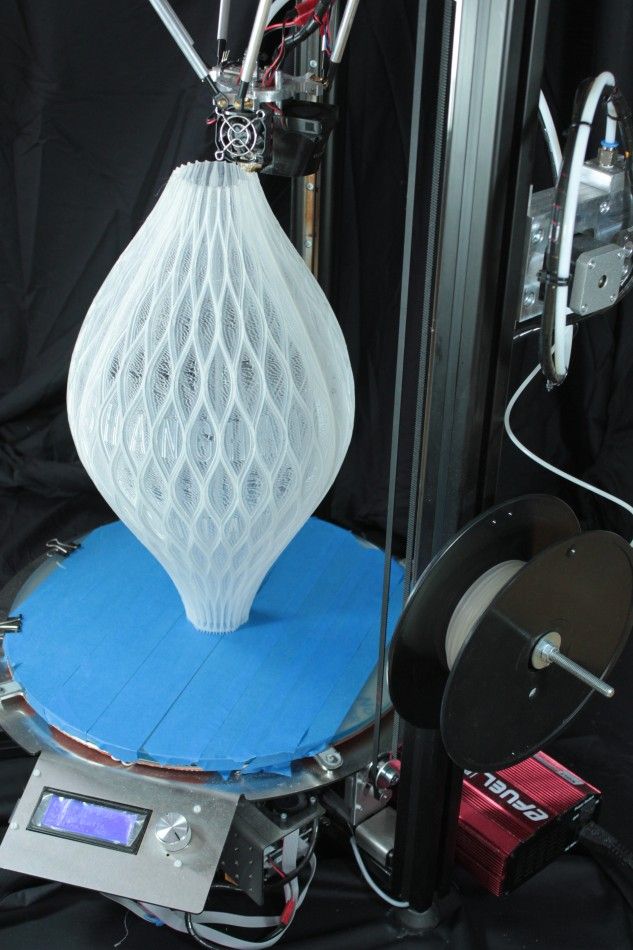 With the current problem of a shortage of skilled labor in the construction sector as a whole, 3D printing will require an even larger set of specialized knowledge and skills, which will have to be selected from an already small niche of candidates. So finding specialists to work in 3D printing for construction may be another difficult task in the future.
Construction quality control
Weather conditions can slow down the traditional building process, but things are even worse for 3D printing. The environmental factor for commercial construction may reduce the demand for 3D printing. What's more, quality control can be a much more serious task, requiring constant monitoring of the process by real people at the construction site.
No standards and regulations
Despite the regular mention of 3D printing in the media, it still has not had a significant impact on the construction sector.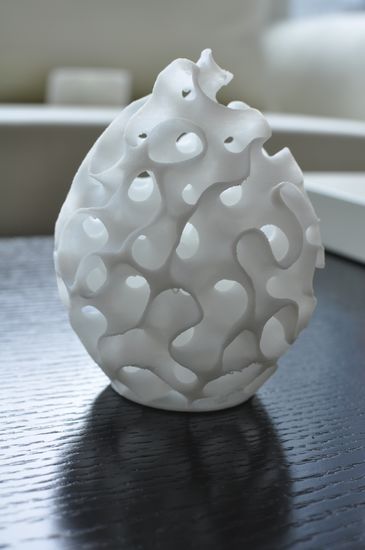 There is an obvious liability issue when using these printers, even more so than human liability when doing some construction work. And quite a few other ambiguities regarding this technology. So until norms and standards are established, as well as rules in this area, 3D printing is unlikely to become mainstream in the construction industry.
Read also: New technologies in construction 2021
How can 3D printing be integrated with construction?
At the moment there is strong evidence that 3D printing is worthy of attention and can be applied in the construction segment, and most likely that this technology will be used more in the coming years. True, it is not known how widely these devices will be used on the construction site, or whether they will remain only a tool for the manufacture of block elements for prefabricated structures. But for certain projects, it is reasonable to assume that 3D printers and this technology in construction will be a must-have tool in the arsenal of builders.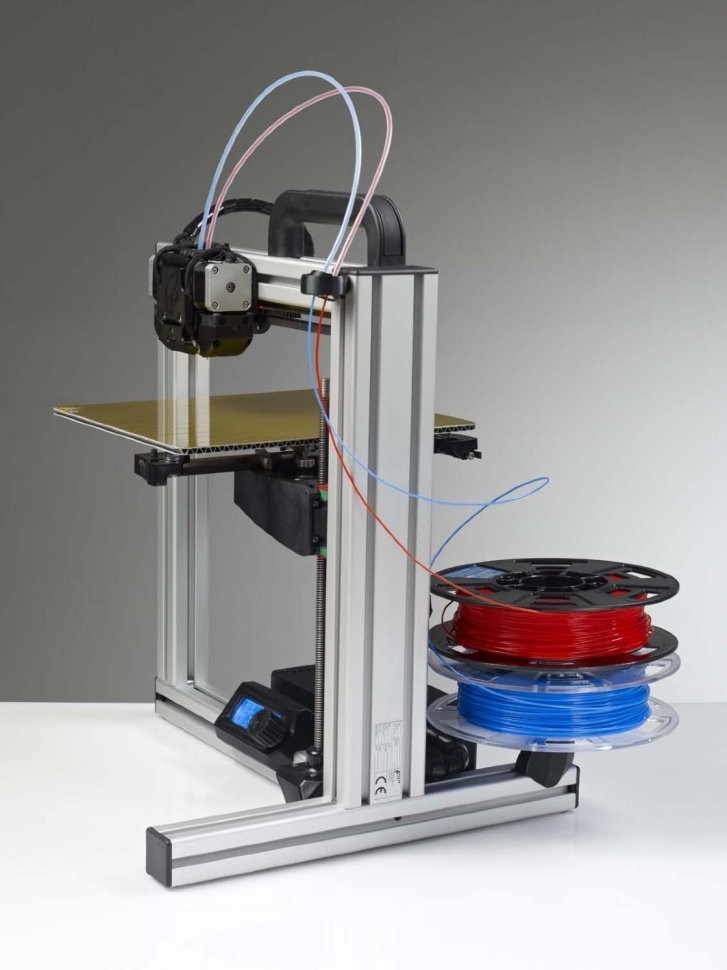 ABOUT PLANRADAR
PlanRadar was founded in 2013 and provides an innovative mobile software solution for construction and real estate. Our app is available on all iOS, Android and Windows devices and has already helped over 13,000 customers digitize their workflow in over 55 countries. Find out more about the app here.
Alcom | History of 3D printers
May 13, 2018
Since the beginning of the new millennium, the concept of "3D" has firmly entered our daily lives. First of all, we associate it with cinema, photography or animation. But there is hardly a person now who has not heard about such a novelty as 3D printing at least once in his life.
What is it and what new opportunities in creativity, science, technology and everyday life bring us 3D printing technologies, we will try to figure it out in the article below.
But first, a little history. Although there has been a lot of talk about 3D printing in the last few years, in fact, this technology has been around for a long time.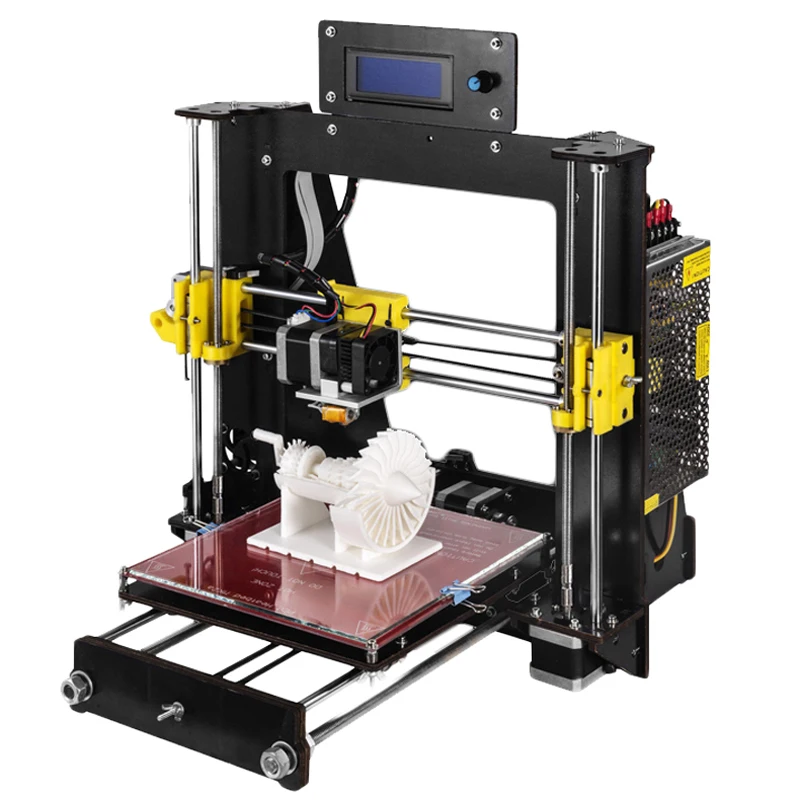 In 1984, Charles Hull developed a 3D printing technology for reproducing objects using digital data, and two years later named and patented the stereolithography technique.
At the same time, this company developed and created the first industrial 3D printer. Subsequently, the baton was taken over by 3D Systems, which developed the SLA-250 printer model for 3D printing at home in 1988.
In the same year, fused deposition modeling was invented by Scott Grump. After several years of relative calm, in 1991 Helisys develops and markets a technology for the production of multilayer objects, and a year later, at 1992, DTM introduces the first selective laser soldering system.
Then, in 1993, Solidscape was founded, which began mass production of inkjet-based printers that are capable of producing small parts with an ideal surface, and at a relatively low cost.
At the same time, the University of Massachusetts patents a 3D printing technology similar to conventional 2D inkjet technology.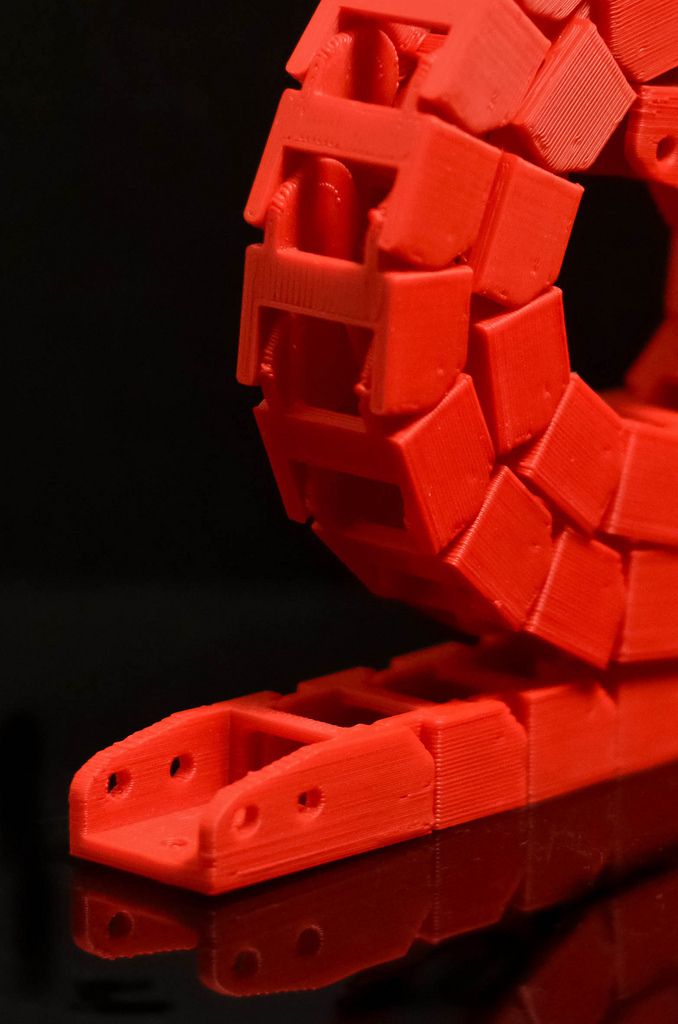 But, perhaps, the peak of development and popularity of 3D printing still fell on the new, 21st century.
In 2005, the first 3D printer capable of printing in color appeared, this is the brainchild of Z Corp called the Spectrum Z510, and literally two years later the first printer appeared that could reproduce 50% of its own components.
Currently, the scope and scope of 3D printing is constantly growing. Everything turned out to be subject to these technologies - from blood vessels to coral reefs and furniture. However, we will talk about the areas of application of these technologies a little later.
So, what is printing on a 3d printer?
In short, this is the construction of a real object according to a 3D model created on a computer. Then the digital three-dimensional model is saved in the STL file format, after which the 3D printer, to which the file is output for printing, forms a real product.
The printing process itself is a series of repetitive cycles associated with the creation of three-dimensional models, applying a layer of consumables to the desktop (elevator) of the printer, moving the desktop down to the level of the finished layer and removing waste from the surface of the table.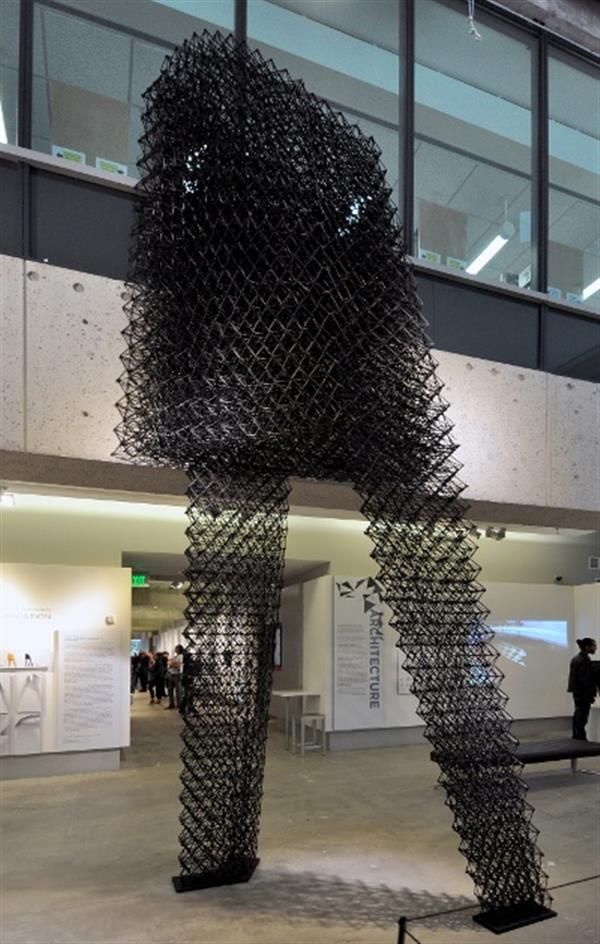 The cycles follow one after another continuously: the next layer of material is applied on the first layer, the elevator is lowered again and so on until the finished product is on the working table.
How does a 3D printer work?
The application of 3D printing is a serious alternative to traditional methods of prototyping and small-scale production. A three-dimensional or 3D printer, unlike a conventional one that prints two-dimensional drawings, photographs, etc. on paper, makes it possible to output three-dimensional information, that is, to create three-dimensional physical objects.
At the moment, this class of equipment can work with photopolymer resins, various types of plastic filament, ceramic powder and metal clay.
What is a 3d printer?
The principle of operation of a 3d printer is based on the principle of gradual (layered) creation of a solid model, which, as it were, is "grown" from a certain material, which will be discussed a little later.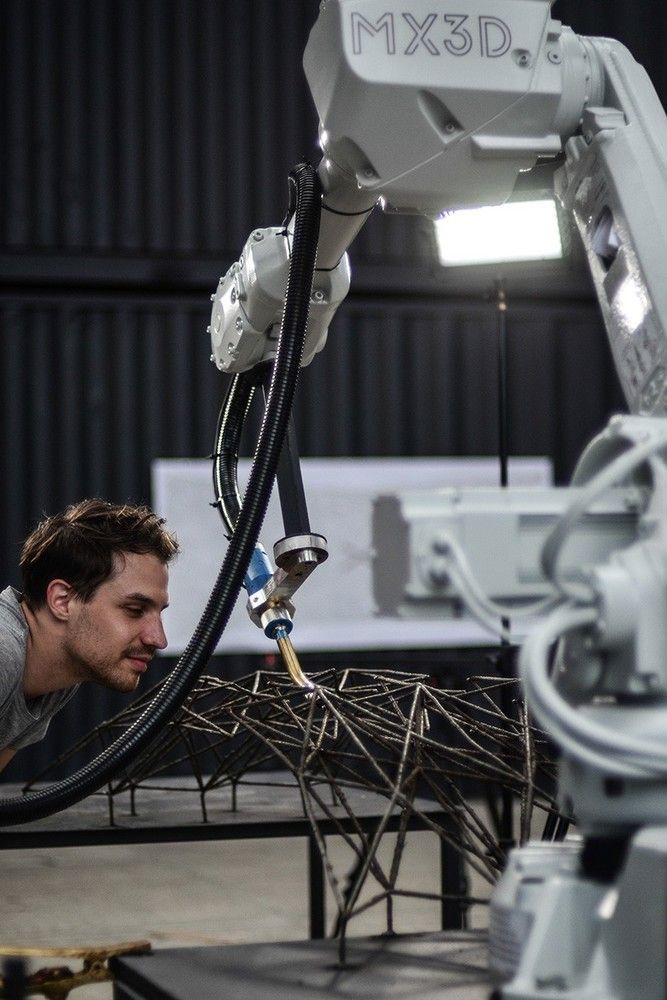 The advantages of 3D printing over the usual, manual methods of building models are high speed, simplicity and relatively low cost.
For example, to create a 3D model or any part manually, it can take quite a long time - from several days to months. After all, this includes not only the manufacturing process itself, but also preliminary work - drawings and diagrams of the future product, which still do not give a complete vision of the final result.
As a result, development costs increase significantly, the period from product development to its mass production increases.
3D technologies, on the other hand, allow you to completely eliminate manual labor and the need to make drawings and calculations on paper - after all, the program allows you to see the model from all angles already on the screen, and eliminate the identified shortcomings not in the process of creation, as is the case with manual production, but directly during development and create a model in a few hours.
This virtually eliminates the possibility of manual errors.
What is a 3d printer: video
There are various 3D printing technologies. The difference between them lies in the way the product layers are applied. Let's consider the main ones.
The most common are SLS (selective laser plexus), HPM (molten material overlay) and SLA (stereolithiography).
The most widely used technology due to the high speed of building objects is stereolithography or SLA.
SLA Technology
The technology works like this: a laser beam is directed onto a photopolymer, after which the material hardens.
The photopolymer is a translucent material that deforms when exposed to atmospheric moisture.
Once cured, it can be easily glued, machined and painted. The working table (elevator) is in a container with a photopolymer. After the laser beam passes through the polymer and the layer hardens, the working surface of the table moves down.
SLS Technology
Sintering powder reagents under the action of a laser beam - it is also SLS - the only 3D printing technology that is used in the manufacture of molds for both metal and plastic casting.
Plastic models have excellent mechanical properties, which make them suitable for making full-featured items. SLS technology uses materials that are similar in properties to the brands of the final product: ceramics, powdered plastic, metal.
The 3D printer device looks like this: powder substances are applied to the surface of the elevator and sintered under the action of a laser beam into a solid layer that corresponds to the parameters of the model and determines its shape.
DLP Technology
DLP technology is new to the 3D printing market. Stereolithographic printers are positioned today as the main alternative to FDM equipment. This type of printer uses digital light processing technology. Many people wonder what the 3d printer of this sample prints with?
Instead of a plastic filament and a heating head, photopolymer resins and a DLP projector are used to create three-dimensional figures.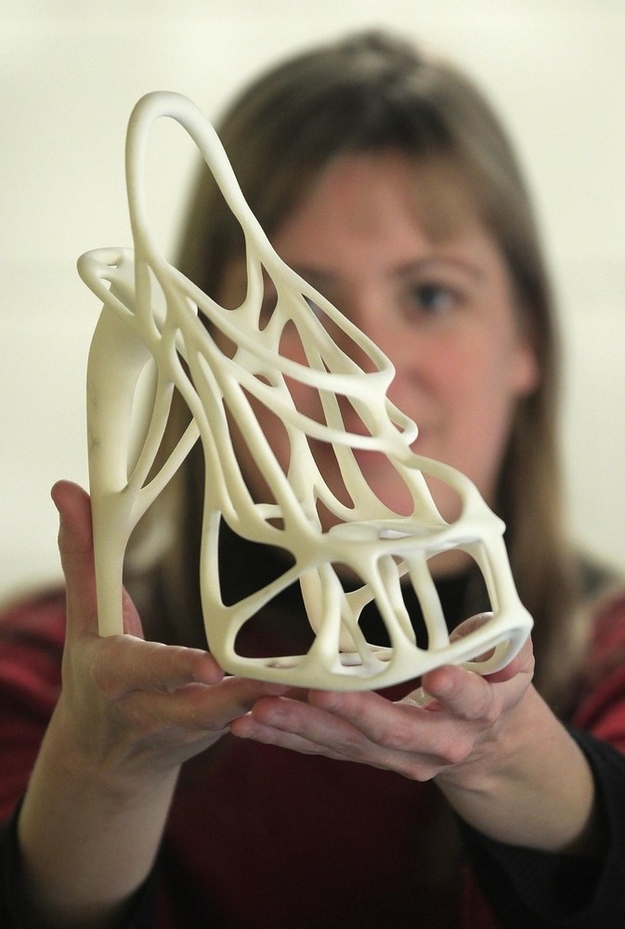 Below you can see how the 3d printer works video:
Having heard about a DLP 3d printer for the first time, what it is is a completely reasonable question. Despite the intricate name, the device is almost no different from other desktop printers. By the way, its developers, represented by
QSQM Technology Corporation, have already launched the first samples of high-tech equipment into a series. It looks like this:
EBM Technology
It should be noted that SLS/DMLS technologies are far from the only ones in the field of metal printing. Currently, electron beam melting is widely used to create metal three-dimensional objects. Laboratory studies have shown that the use of metal wire for layer-by-layer deposition in the manufacture of high-precision parts is ineffective, so engineers have developed a special material - metal clay.
The metal clay used as ink during electron beam melting is made from a mixture of organic glue, metal shavings and a certain amount of water.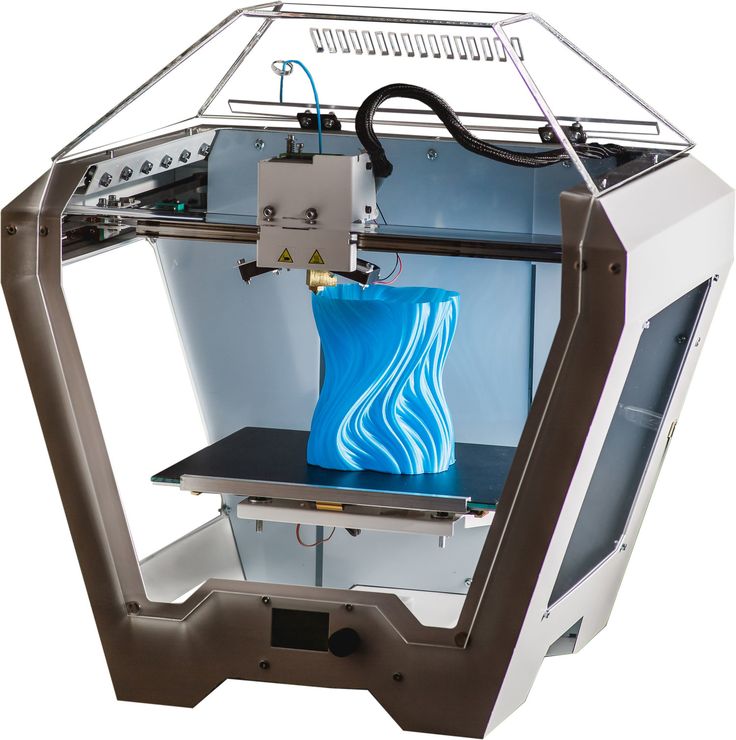 In order to turn the ink into a solid object, it must be heated to a temperature at which the glue and water will burn out, and the chips will fuse together into a monolith.
EBM 3d printer: how
works
It is noteworthy that this principle is also used when working with SLS printers. But unlike them, EBM machines generate directed electron pulses instead of a laser beam to melt metal clay. I must say that this method provides high print quality and excellent drawing of small details.
Today, only industrial printers using EBM technology are sold. Here is what one of them looks like:
The video below demonstrates the capabilities of a 3d printer adapted for electron beam melting:
HPM Technology (FDM) HPM
Allows you to create not only models, but also final parts from standard, structural and high-performance thermoplastics. It is the only technology that uses production grade thermoplastics to provide unparalleled mechanical, thermal and chemical strength to parts.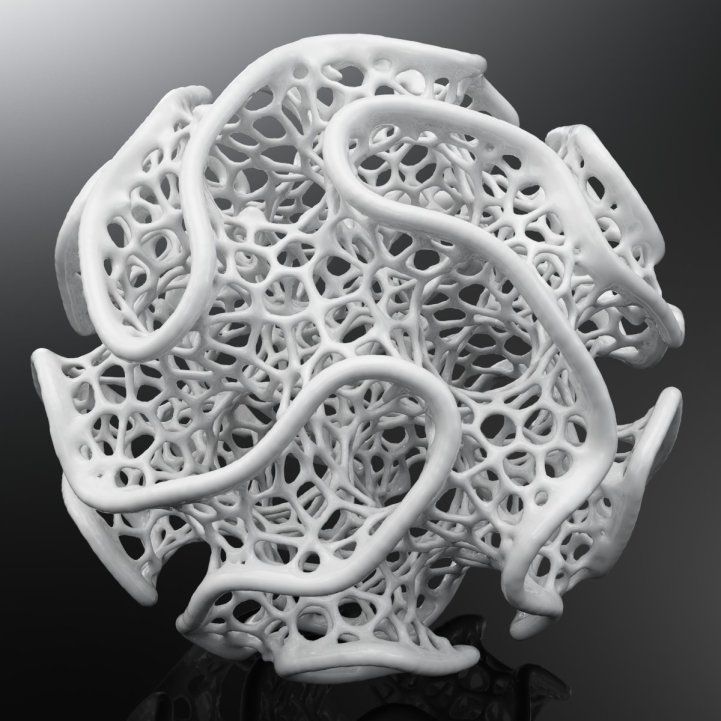 HPM Printing stands out for its cleanliness, ease of use and suitability for office use. Thermoplastic parts are resistant to high temperatures, mechanical stress, various chemicals, wet or dry environments.
Soluble auxiliary materials allow the creation of complex multi-level shapes, cavities and holes that would be problematic to obtain with conventional methods. HPM 3D printers create parts layer by layer by heating the material to a semi-liquid state and extruding it according to computer-generated paths.
HPM printing uses two different materials - one (main) will consist of the finished part, and an auxiliary, which is used for support. The filaments of both materials are fed from the 3D printer bays into the print head, which moves based on changes in the X and Y coordinates and fuses the material, creating the current layer, until the base moves down and the next layer begins.
When the 3D printer has finished creating the part, it remains to separate the auxiliary material mechanically, or dissolve it with detergent, after which the product is ready for use.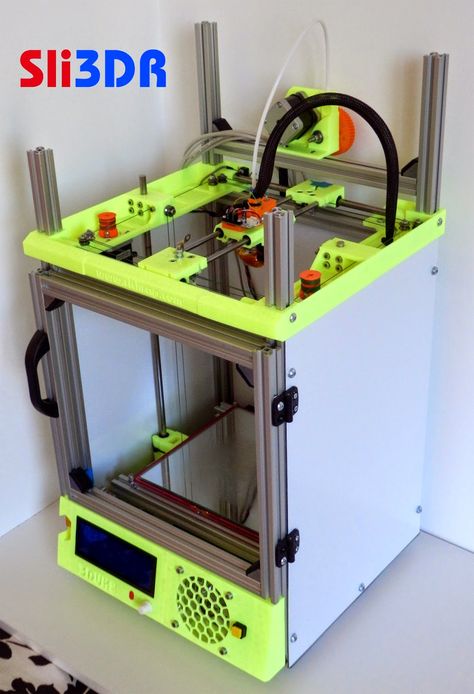 Interestingly, not only automatic desktop HPM printers are popular these days, but also manual printing devices. Moreover, it would be correct to call them not printing devices, but pens for drawing three-dimensional objects.
Pens are made in the same way as printers using fusing technology. The plastic thread is fed into the pen, where it melts to the desired consistency and is immediately squeezed out through a miniature nozzle! With proper skill, these original decorative figures are obtained:
And of course, just like technologies, printers themselves differ from each other. If you have a printer that works according to SLA, then it will be impossible to apply SLS technology on it, i.e., each printer was created only for a certain printing technology.
3D printing applications
3D printing has opened up great opportunities for experimentation in areas such as architecture, construction, medicine, education, fashion design, small-scale production, jewelry, and even in the food industry.
In architecture, for example, 3D printing allows you to create three-dimensional models of buildings, or even entire neighborhoods with all the infrastructure - squares, parks, roads and street lighting.
Thanks to the cheap gypsum composite used, the cost of finished models is low. And more than 390 thousand CMYK shades make it possible to embody any, even the most daring, imagination of an architect in color.
3d printer: construction application
In construction, there is every reason to believe that in the near future the process of erecting buildings will be much faster and easier. Californian engineers have created a 3D printing system for large objects. It works on the principle of a construction crane, erecting walls from layers of concrete.
This printer can build a two-story house in just 20 hours.
After that, the workers will only have to carry out finishing work. 3D House 3D printers are gradually gaining a strong position in small-scale production.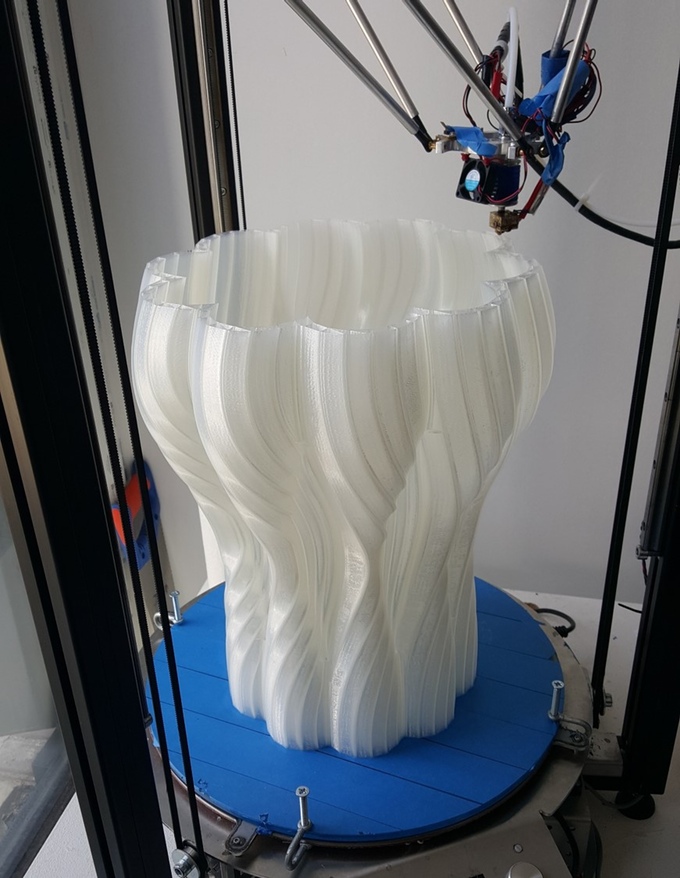 These technologies are mainly used for the production of exclusive products, such as art, role-playing game characters, prototype models of future products or any structural parts.
In medicine, thanks to 3D printing technologies, doctors have been able to recreate copies of the human skeleton, which allows them to more accurately practice techniques that increase the guarantee of successful operations.
3D printers are increasingly being used in the field of prosthetics in dentistry, as these technologies allow much faster production of prostheses than with traditional manufacturing.
Not so long ago, German scientists developed a technology for obtaining human skin. In its manufacture, a gel obtained from donor cells is used. And in 2011, scientists managed to reproduce a living human kidney.
As you can see, the possibilities that 3D printing opens up in almost all areas of human activity are truly endless.
Printers that create culinary masterpieces that reproduce prostheses and human organs, toys and visual aids, clothes and shoes are no longer a figment of the imagination of science fiction writers, but the realities of modern life.