3D printer christmas decorations
The Best Holiday Decorations to 3D Print for Christmas
Published on December 9, 2021 by Jamie D.
Christmas is a magical time for children and those who are young at heart and still believe in the magic of the season. Everyone gets in the holiday spirit when the garland goes up and the Christmas lights twinkle on every street. So, if you're in the mood to create your own personalized 3D printed Christmas decorations and have access to a 3D printer, we have a bountiful list of holiday figurines and decoration print files available for download from MyMiniFactory,  Thingiverse and Cults3D,. We've made our list, feel free to check it twice. Enjoy the holiday season! 
Multi-Part Christmas Tree
We all know the saying, the more the merrier. So, for the happiest season of all, why settle on just one Christmas Tree when you can have multiple? Thanks to Gallaghers Art's Multi-Part Christmas Trees, this is possible. With 3 or more parameter layers integrated into the files, users can print a Christmas Tree as well as decorations, gifts and space to put lights within the tree itself.
These many print options mean that users can print many different, distinct-looking trees using the same files in ways that suit their fancy for the holiday season for some truly festive decorations. For ease of printing, Gallagher Art specifies the colors and brands of ABS filament used and the different parameters.
You can download the files for free on Thingiverse HERE.
Christmas Cookie Cutters
Cookies are an absolute must at Christmastime. So why not start a crafty tradition of making cookies using 3D-printed cutters? It's possible thanks to 3D printing! All you have to do is imagine the shape you would like to give to your holiday treat: a tree, a star, Father Christmas, so many possibilities. In our case, we have chosen the festive Christmas stocking in which all knick-knack gifts are slipped. Don't hesitate to go to Thingiverse to find a myriad of shapes and models.
You can download the model these Christmas cookie cutter files on Thingiverse HERE
Personalized Tree Ornaments
The perennial holiday question: Buy new decorations for the Christmas tree, or not? This year we have the solution: you can 3D-print your own personalized tree ornaments.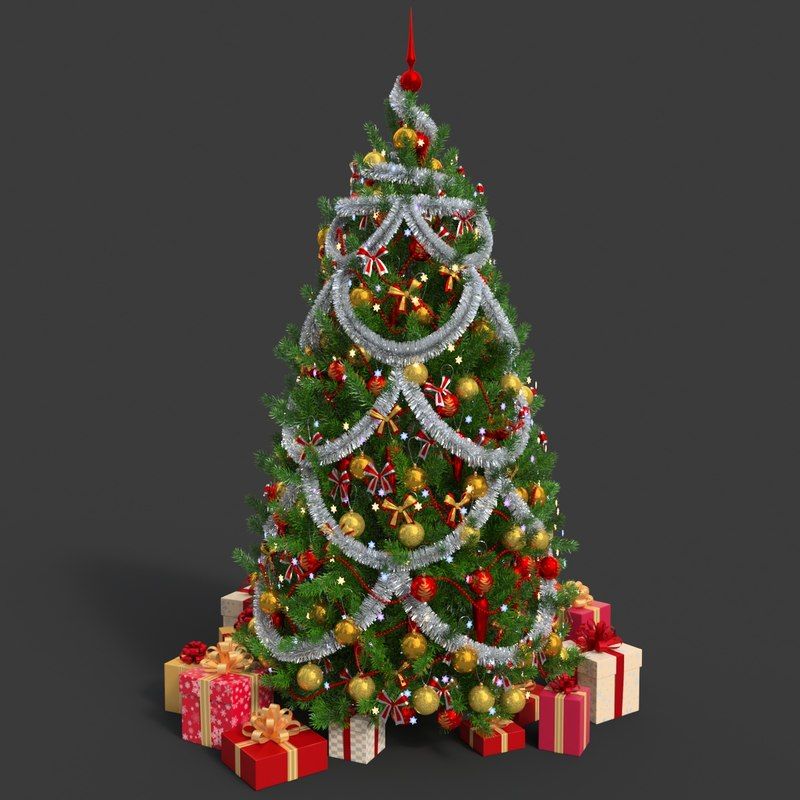 You have several Christmas designs and models available. All you need is a 3D printer. On cults3d.com you will find different models, we offer you the most varied and affordable one. After printing, we recommend that you paint and decorate them with color and glitter.
You can download these tree ornaments file on Cults3D HERE.
The Grinch Figurine
The Grinch is a hairy, green, meany that lives alone in a cave on a mountain and detests everything Christmas. This classic holiday character is sure to bring smile of holiday cheer end of the year. So why not print a 3D miniature version of this character? You can then paint it to give it its classic colors.
You can download this Grinch figurine file on Thingiverse HERE
Large-Scale Multi-Piece Snowman
Why wait for first fluffy snowfall of the season to create your own snowman? If you live in areas where this meteorological phenomenon is not very common, or too inconsistent to create snow figures, here's a solution.
Just 3D-print your very own large-scale frosty figure! All you will need are filaments in the right colors, so you don't have to paint it later, and a 3D printer with a build volume large enough to create each part. According to the author of the design, once all the pieces have been printed and assembled correctly, the snowman measures 316 mm high and 175 mm wide at the base. What are you waiting for to start creating yours?
You can download the files for this snowman on Thingiverse  HERE
Christmas Reindeer
For the fifth year in a row, find the files you need in order to 3D-print your own Christmas deer ready to download from Thingiverse. So, holiday lovers, you can't leave them out of this year's decor! Once again proposed by the designer yeg3d, he explains having used a 3D printer based on the FDM process to manufacture them. And in order to simplify the process, it also clarifies that printing does not require any media. The designer adds that at a print speed of 88mm / s, printing took 6 hours and 49 minutes.
Finally, to get a colorful and shiny final piece, he recommends using metallic paint as well as glitter paint. All that remains is to place the 3D printed deer at the foot of the tree!
Star Tree Topper
In the biblical story of Jesus, the Star of Bethleham guided the Magi to the manger where Mary had just given birth to Jesus. The star has become an enduring symbol in Christianity, commonly featured in Christmastime Nativity scenes. During the holiday season, you can often find a star placed atop a Christmas tree and prominently displayed as holiday decor. We offer you this tree topper that can be 3D-printed using PLA. In addition to working as a tree topper, this design also works well displayed on a tabletop or any flat surface. 
You can download this tree topper on MyMiniFactory HERE
Window Decorations
Who doesn't like to admire the decorated windows at Christmas time? Or shop windows? Adhesive photos, stickers, glitter, artificial snow, light: everything is good for enhancing the room! We therefore offer you some Christmas decorations printed in 3D to be stuck directly on your windows.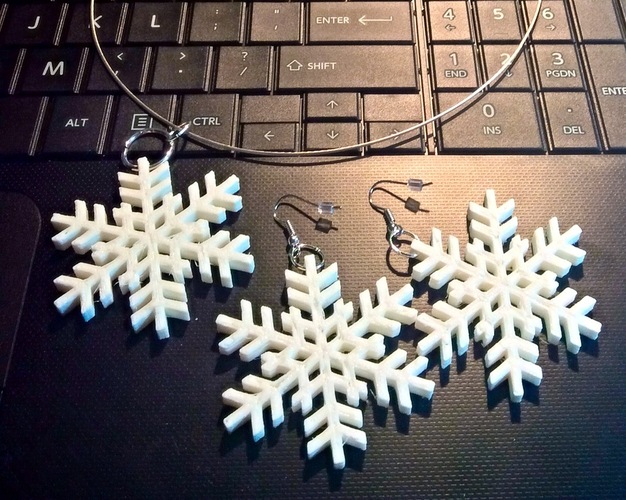 By using flexible TPU, you won't have too much trouble creating original objects and placing them on all your windows. You can of course paint your creations once they are out of the 3D printer!
You can download this tree topper on MyMiniFactory HERE
Christmas Snowflake
This object is quite playful to make as it is a flake in kit form. You print the whole thing flat and then detach each part of the print to make a nice snowflake. This clever model was created by Ysoft Be3D. If you don't have snow on Christmas day, you can print a nice decoration!
You can download this snowflake file on Cults3D HERE
Little Christmas Village
For anyone who adores decorating their home for the holiday season, you can't miss this 3D-printed little village! Designer yeg3D provides models of quaint mini houses that will immerse you in the Christmas spirit. He used a classic FDM 3D printer and advises using white PLA. In fact, you can place LED lights inside to illuminate everything.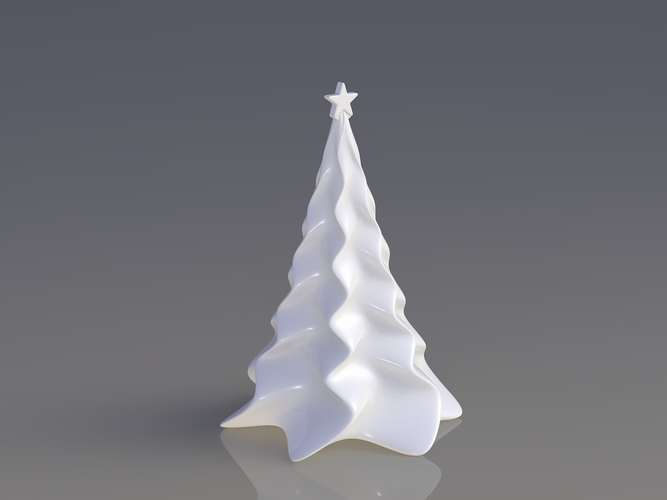 Plus, you won't need any printing media which will make the printing process much easier! Different models of these adorable maisonettes are available, making it possible to create a fully personalized village. The designer regularly publishes updates so that you can gradually expand your village: this is a great decoration idea that will serve you for many years to come!
You can download this Christmas village on Thingiverse HERE.
Have you already 3D printed Christmas decorations? Let us know in a comment below or on our Linkedin, Facebook, and Twitter pages! Don't forget to sign up for our free weekly Newsletter here, the latest 3D printing news straight to your inbox! You can also find all our videos on our YouTube channel.
3D Print Christmas Ornaments, Decorations, Gifts, 3D Model STL
Time is too fast. You have just 3D printed some awesome Halloween costumes and decor and Thanksgiving 3D printing models, when you see winter holidays around the corner. You can 3D print Christmas ornaments, gifts, cards, nativity scenes, figurines and find many other fantastic ideas and decor trends 2021 to recreate.
Such DIY projects bring many moments of joy and happiness to any family with an affordable 3D printer at home.
Gambody – Premium 3D printing marketplace has updated the list of Christmas STL files in October 2021. Enjoy the most fantastic ideas found online, including impressive 3D printed Christmas ornaments, Merry Christmas cutouts, decorated trees, figurines of Santa Claus and other famous characters.
Christmas 3D Models
Putting self-made 3D printed Christmas ornaments on your tree, decorating your house with beautiful Merry Christmas cutouts, wall and door decorations, making various accessories is fantastic. It becomes extra comfortable and quick when you have a 3D printer at home.
Now it is time to look into Christmas decorations and ornament trends and ideas 2021 and pick up the projects for this holiday season. Your DIY figurines, ornaments, Santa Claus, Home Alone figure, Gremlins and other characters associated with the most popular winter holiday will surely impress your family and friends because you can download highly detailed STL files and turn them into real masterpieces in time for the holiday.
3D Printed Christmas Decorations
Gambody has divided Christmas STL files into groups. This way, you can choose your theme much quicker and begin 3D printing right away.
It is time for some festive pleasure and fun projects that can unite the whole family, inspire for new creations and help to make your house unique and your mood impressive.
1. 3D Print Santa
As always, 3D printed Christmas decorations 2021 include a figurine of Santa Claus. It is impossible to imagine the main winter holiday of the year without a character in the red-and-white outfit which carries a huge bag of gifts for children.
Maker: Stephen Wilson
Gambody – Premium 3D printing marketplace offers Santa Claus STL files to 3D print this fairy-tale personality. The model designed by Richard Swika includes a fantastic deer-styled car-like sleigh. It has a base for a simple display, and it can be a perfect decor for your home this year.
There are other ideas you can craft at home.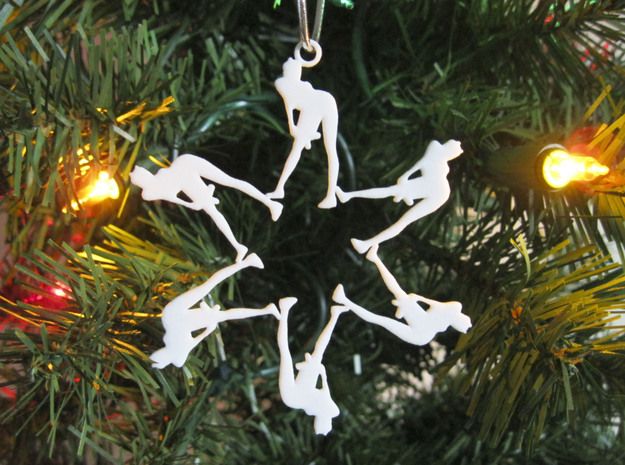 You can 3D print Santa Claus in the chimney or with a bag of gifts. These ideas look stunning and worth making:
Image source: Cults
2. 3D Printed Christmas Tree
Cute STL files with various decorations, ornaments and tree ideas can help you make your home cosy. You can decorate the walls with reindeer cutouts, hide little gifts inside a lockable gift-box, place candles inside a 3D printed Christmas tree frame, etc.
Image source: Thingiverse
Among 3D printed Christmas ornaments, there are also souvenirs and figurines to put above your fireplace and glitter reindeer figures to display on a shelf.
Image source: Thingiverse
If you are not a fan of massive trees, you can download STL files with a decorative tree frame and use such a 3D printed Christmas tree to hang your favourite ornament and get into the holiday spirits this year.
You can also 3D print a classic evergreen tree to decorate your home for the winter holidays. There are many cute Chrismast tree STL files on the web, which you can download and turn into lovely decorations.
Images: Thingiverse and Cults
3. 3D Printed Christmas Tree Topper
If you lack ideas of which tree trends to follow in 2021, look at some fantastic photos discovered by Gambody. These are impressive projects designed for 3D printing at home.
Image source: Cults
You can place a cute 3D printed Christmas tree star filled with confetti on the top of your holiday tree: download tree topper STL files and 3D print this vital yet straightforward ornament.
Image source: Thingiverse
You can also get fantastic winter holiday house STL files to put on a tree, 3D print miniature Christmas tree figurines and various pine tree styles.
4. 3D Print Christmas Ornaments
Anyone who is putting up a real pine tree can craft beautiful ornaments on a 3D printer using the best STL files found online.
Mass-market ornaments are beautiful, but they lack that personal feeling of honour you get when you 3D print something yourself.
Image source: Cults, Thingiverse
For example, you can download snowflakes STL files to create this winter symbol.
A 3D printed snowflake looks beautiful on walls, doors and trees. Or you can get ornaments STL files with a collection of holiday-related projects (gift boxes, candies, bells) as well as craft a sweet little angel to hang on a tree.
Adorn these fantastic 3D printed snowflake ornaments. They have a minimalistic look, but the sparkling paints add a special touch and bring us into the holiday spirits.
Images: myminifactory.com
5. 3D Print Toys for Christmas
Decor trends in 2021 include children's toys. Various holiday-related figurines and miniatures can be 3D printed without problems.
Image source: Cults
The best part about such DIY projects is that your child can pick up the 3D printing model to turn it into life. It is easy to download STL files with a jointed reindeer, create articulated Christmas toys, Santa Claus miniature, etc. Many of these 3D printed toys have a hole you can use to hang them as your Christmas ornaments.
Image source: Thingiverse
You can even download advent calendar STL files and craft a Santa Claus themed toy to count the 24 days left until Christmas.
6. 3D Printed Christmas Cookie Cutters
Baking is a fun tradition that can turn any holiday into a festive event. If your wife, second half, children or you enjoy baking, you can make fantastic 3D printed Christmas cookie cutters.
Such simple projects can help you shape your holiday sweets as a snowman, holiday tree, Santa Claus or another character.
Image source: Cults
You can download STL files with reindeer head and candy cane shapes. Create beautiful shapes from the dough and bake delicious meals for your holiday dinner.
Also, you can work on a cute gnome 3D print. This 3D printing dwarf model is not an ordinary Christmas ornament. It is a container you can use for your holiday cookies or small gifts.
Images: myminifactory.com
7. 3D Printed Nightmare Before Christmas
Fans of Disney's Nightmare Before Christmas animated film might like to 3D print their favourite characters to use as ornaments or home decorations.
Image source: Thingiverse
It is easy to get STL files to recreate The Nightmare Before Christmas diorama, make a cute silhouette cutout, or a bookmark styled as Jack's head.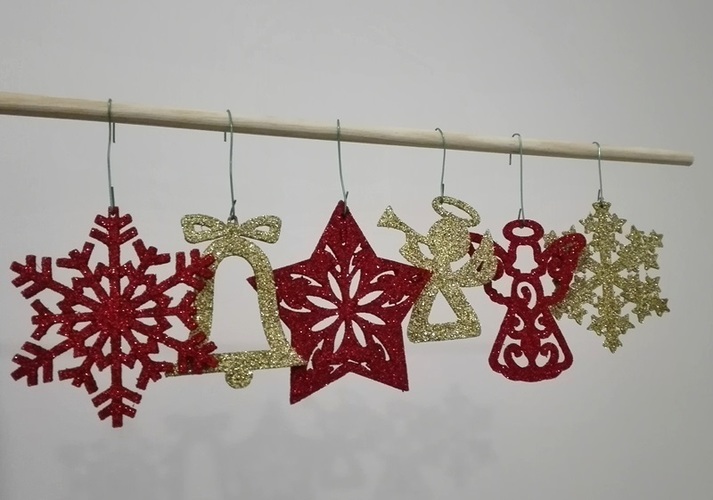 Image source: Thingiverse
You can also craft Zero figurine, a statue of Jack Skellington. Or download Jack Skellington bust STL files and a cute 3D printing diorama with Zero and Jack.
Adding a stunning bust of Jack Skellington to your collection of 3D printed Christmas ornaments and decor is a must. This model is an authentic tribute to the iconic movie character. It can decorate your shelf or table.
Maker: Emmanuel Darragon
Explore even more details in a 3D printed Nightmare Before Christmas diorama. It features both the Pumpkin King and his beloved pet, ghost-dog Zero. Jack dreams of substituting Santa Claus himself while sitting on the doghouse, and this dreamy scene can adorn your holiday-styled fireplace or space under the decorated tree.
Makers: Emmanuel Darragon and Donald Price
By the way, you can 3D print Zero in the glow-in-dark filament. This way, your 3D printed Nightmare Before Christmas scene will glow at night.
Maker: Richard Turnbull
8. Low-Poly Nutcracker and Snowman STL Files
Some people love low poly 3D printing models.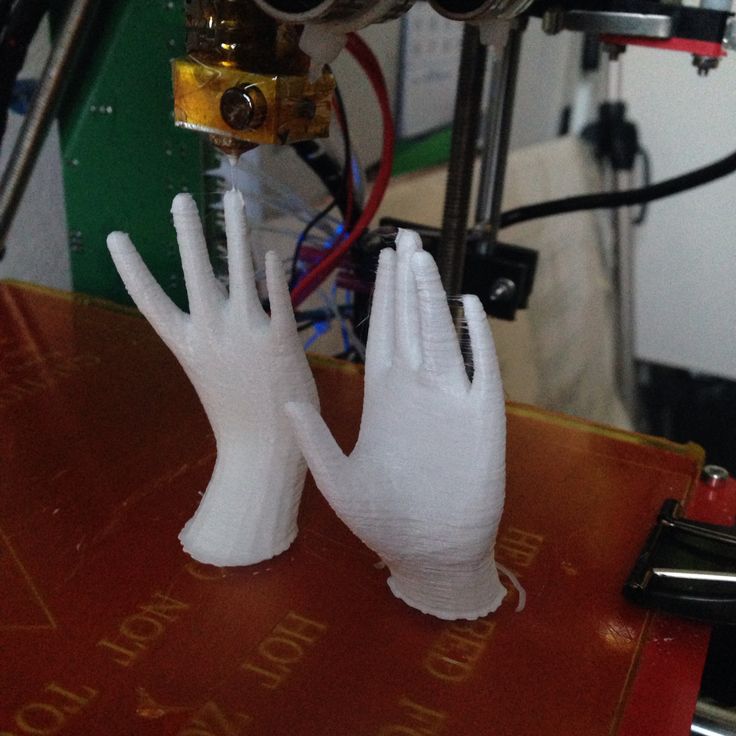 Such projects can turn into beautiful holiday ornaments or toys.
You can download low poly STL files with a snowman or Nutcracker and let your child paint either or both figurines.
Image source: Cults
The result will be cute, and the whole family can take part in turning such ideas into unique decorations for Xmas.
9. 3D Printed Christmas Village
There are many brilliant ideas and trends to enjoy in 2021. You can find STL files with gorgeous and exclusive Christmas 3D model you'll love.
For example, it is now easy to print winter landscape and place it inside a homemade snowglobe. You can use any glass bottle or jar for this idea.
Image source: Cults
Or you can build a winter castle with unique railroad models. Any child would be happy to find such a statue among gifts or build a 3D printed Christmas village. Think of a fairy-tale village with little inhabitants and decorated houses. You can 3D print your dreamland using various holiday ideas found online.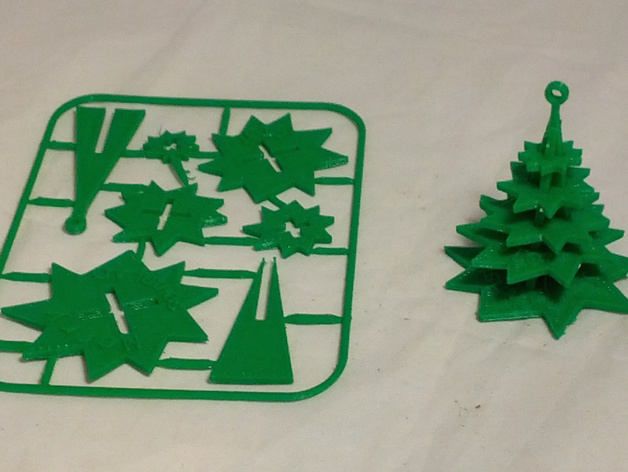 Images: MyMiniFactory and Cults
Some other ideas are cute-looking Christmas tree shaped candles, and a fantastic candy dish styled like an ornament.
Image source: Cults
10. 3D Printed Christmas Cards and Accessories
The main winter holiday is not only about house decor and cooking. It is a fun time to dress up into something cute, and, incredibly, you can easily 3D print some accessories for your kids and friends.
Image source: Cults
Some ideas and trends for 2021 are STL files of a reindeer headband, deer horns accessory for a human or dog's head, and a cute Santa Claus bookmark for book readers.
Image source: Thingiverse
Other ideas are 3D printing cute Christmas-styled coasters and a beautiful holiday frame for photos or wall display. You can turn both projects into one-of-a-kind 3D printed Christmas cards and wall decorations.
A simple nativity scene silhouette could also become a fantastic door ornament and wall art. Or you can 3D print a Christmas card featuring the holiday scene outlines for all relatives and friends.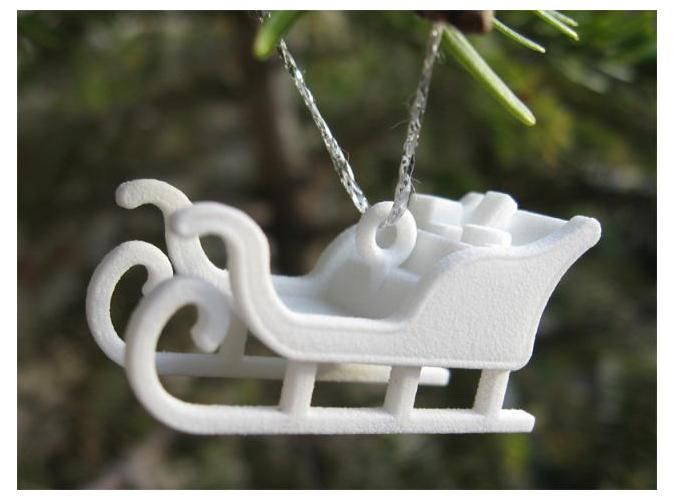 Only think how happy they will be to receive such a unique plastic card!
Image: myminifactory.com
11. Free Printable 3D Christmas Ornaments with Lights
Can you imagine real Xmas without lights? They become the main decor across the house, around the pine tree, on windows, tables, etc.
Gambody wishes to share some fantastic ideas of 3D printing projects you can craft. If you can make them glow, your holiday will be unforgettable.
Image source: Thingiverse
There are many free 3D printing STL files for making gift-boxes that can glow, sparkling Christmas trees, Elf-town lamp, and beautiful lighted star tree topper. You can get the files and let your 3D printer recreate any simple shape for you to introduce LEDs and create magic. The shining effect will wow everyone!
12. Merry Christmas Cutouts STL Files
It is nice to observe custom ornaments and decorations on windows during the winter holiday season. Christmas cutouts are simple to 3D print and use for various occasions.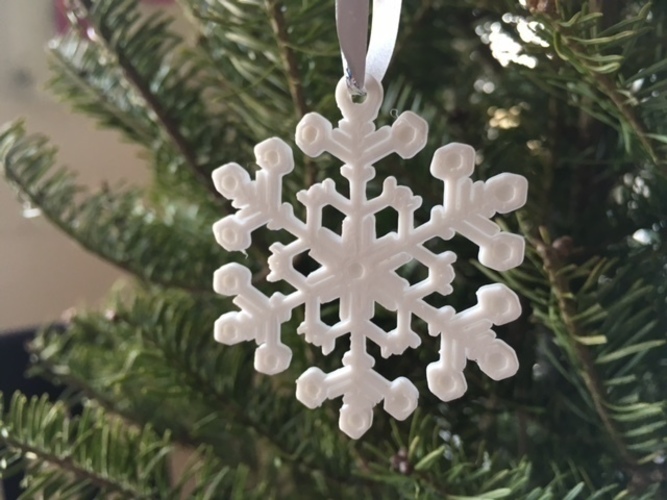 These decor pieces can be used in cards, on windows, walls, doors, as table coasters, cake toppers, etc.
Image source: Thingiverse
You can also use simple, yet cute Merry Christmas cutouts as a holiday wish for your family and friends. Such custom 3D printed ornaments look unique and can have an individual touch to them. You can create custom signs and shapes to impress people you love.
13. 3D Printed Christmas Presents
The best winter holiday cars for boys are the Santa Claus sleigh and Xmas train. Such toys are always on Christmas wish lists among many children. And now your 3D printed Christmas presents can include your child's dreams.
If you have a son or love to follow holiday traditions, you can download STL files to 3D print a lovely train or make a sleigh with a couple of reindeer.
Image source: Thingiverse
Each project looks unique and impressive to craft.
14. Grinch Ornaments STL
The story of a Christmas thief, The Grinch, gives even more ideas for holiday ornaments and decorations.
It is another popular tradition among 3D printing enthusiasts to download STL files with Grinch-related projects.
Image source: Thingiverse
You can make nearly anything with this well-known cynical grump, from holiday ornaments for your tree and the Grinch toys to cute gift card holders and unique cookie cutters.
15. 3D Print Nativity
Many cute holiday characters look amazing on the shelves, table, and across the house.
Besides crafting a figurine of Santa Claus, his sleigh with deer, train toys with a railroad for kids, cute decorated trees and ornaments, you can turn your attention towards amazing nativity scenes.
Fans of the Mandalorian TV series can 3D print the most impressive Christmas ornaments and decorations. Introducing the cute Baby Yoda in a fantasy Nativity scene where a manger is substituted as an alien crib is easy. Adding more 3D printed Star Wars characters to protect The Child will complete this holiday diorama. And your spirits will undoubtfully rise while you are working on this unusual project.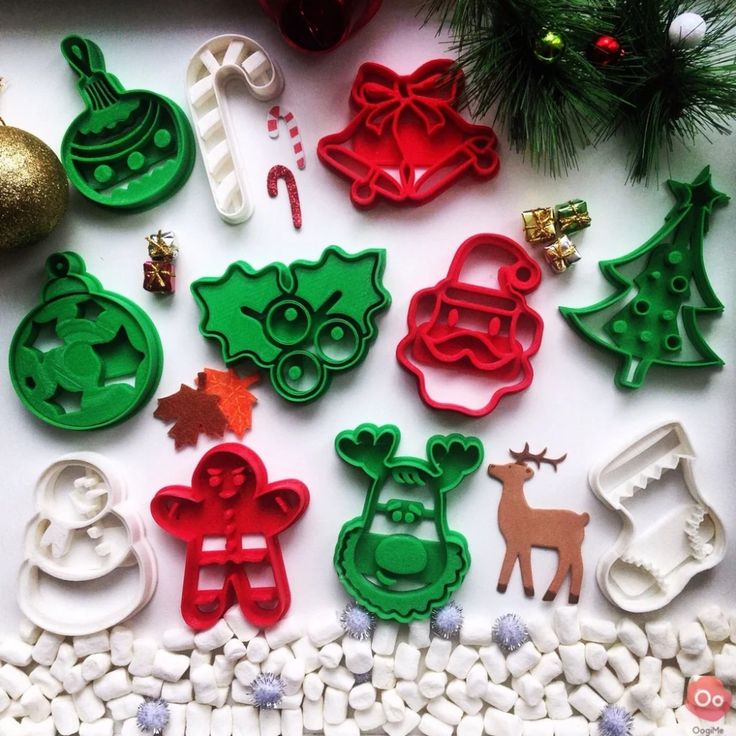 Maker: Calrais (Thingiverse)
Abstract nativity puzzle you can 3D print can fit into a pocket. It could be an incredible 3D printed toy for your child who learns about Christmas traditions and plays the stories in his head. Such a minimalistic 3D printed decor piece has abstract "stable" that serves as a storage box and fits all the figurines as puzzle pieces. Still, it has its personal touch.
Images: prusaprinters.org
Also, download beautiful Christmas angel STL files and little garden elf figurines to decorate your door and walls.
Image source: Thingiverse
3D print Nativity ornaments and make a lovely gnome in Santa hat. These are also some of the trends 2021 you can make on a 3D printer at home. Your gnome 3D print could go under your pine tree or sit on your window still.
16. Christmas STL Files
Once you 3D print Christmas ornaments and decorate your holiday tree, you might wish to recreate figurines from your favourite Xmas movies. Home Alone and Gremlins fans might be happy to add lead characters from these films under their Christmas tree.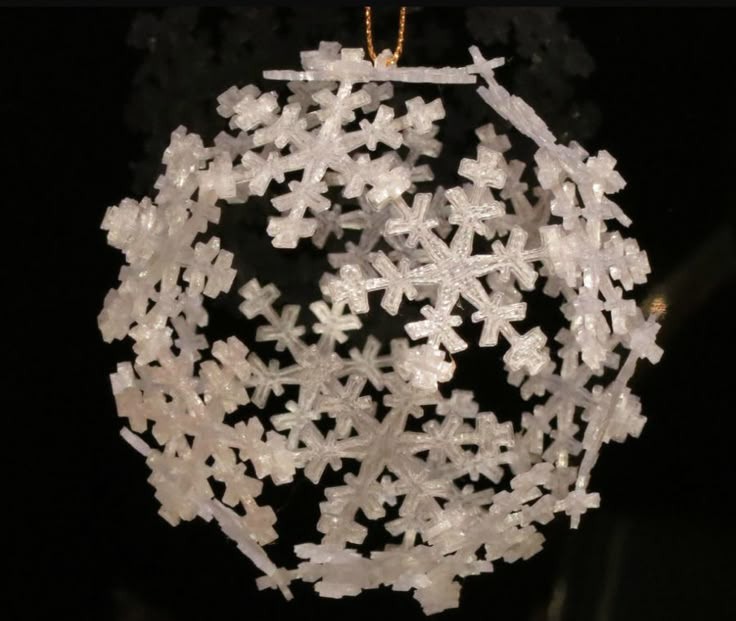 On Gambody marketplace, you can download STL files of both Home Alone Kevin McCallister 3D printing figurine and Evil Gremlins 3D model.
Images: gambody.com
The eight-year-old boy from a timeless holiday classic has prepared all the comical traps for the burglars. He is holding an iron, a hairdryer and has a BB gun behind his back. You will love to 3D print a Christmas tree and gifts to complete your Home Alone diorama.
Images: gambody.com
As for Gremlins, these creatures come in pairs. Thus, you can complete your 3D printed Christmas ornaments and decorations with two versions of Gremlins leader Stripe. In one 3D model, he is sculpted with a skateboard. And in the other model for 3D printing, he comes with a chainsaw.
---
These are amazing printable decoration ideas you can implement at home with the help of a cheap 3D printer. Be creative, 3D print Christmas ornaments and decorations. Then post photos of your holiday prints to Gambody Facebook group. Have a very Merry Christmas! Xo Xo Xo!
(Visited 16,674 times, 1 visits today)
Author
3D printed Christmas decorations (+ video)
Checkers with candies
There is always something to do during the holidays - spend time with family, eat traditional dishes, unpack gifts, watch movies or play games in games.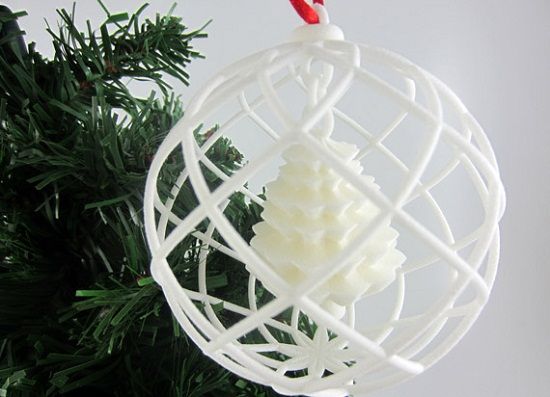 Board games are often given away for the new year, and Giuseppe Finizia's 3D-printed candy checkers are a great option. You only need to 3D print the checkers themselves, and then put small candies into them, for example, Smarties, M&Ms, Skittles. The developer himself used a Zortrax M200 3D printer, but any such personal model should work. 3D printing does not require support elements.
Snowflakes in various shapes
Traditional Christmas snowflakes can also be transformed with a project by Laura Talman, aka mathgrrl. She developed the Snowflake Machine program, which automatically generates unique snowflakes based on mathematical algorithms, code, and some variable parameters. Talman's Thingiverse page features over 45 types of snowflakes created with the Snowflake Machine. Simply install the program to get access to an almost unlimited number of unique snowflakes.
Cookie molds
Any cookie will benefit from interesting shapes, especially during the holiday season.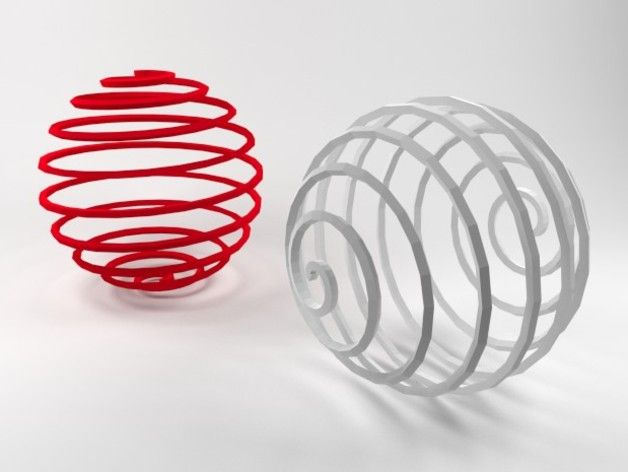 Moreover, thanks to innovations, there is no need to storm stores - with the help of 3D printing, you can make any cookie shapes at home. In addition to their own models, there are many interesting free options available on the Internet, among them are bells, Santa Claus and reindeer from OogiMe. The already mentioned Snowflake Machine by Laura Talman has also been redesigned for 3D printing cookie cutters, thanks to Matthias Peschek. Cookies in the form of different snowflakes will definitely decorate a festive dinner.
Movable Christmas toys
bqLabs cute toys - reindeer, Santa Claus and elves - not only print as a single unit, but also feature moving arms and legs. Support elements are needed during the 3D printing process, but the developer notes that they are easy to remove by simply pulling. These adorable toys can be further painted and finished to enhance the festive effect.
Santa Claus reindeer
A couple of years ago, Canadian 3D designer Yeg3D published a free model of a holiday deer.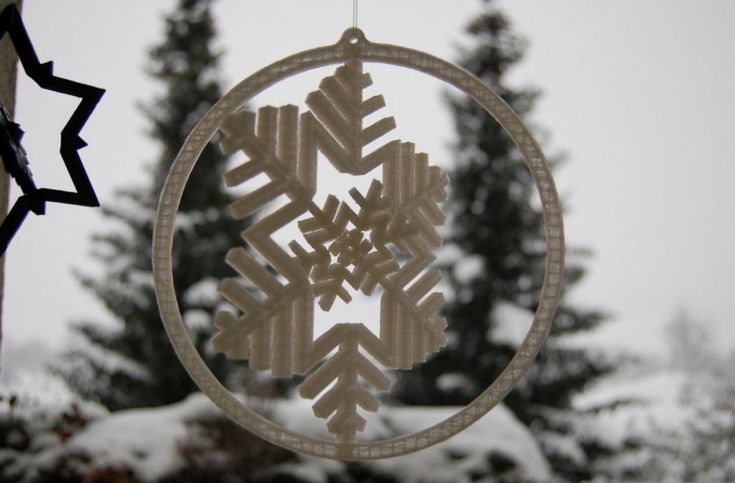 The figurine printed on a 3D printer is worthy of serving as a Christmas decoration in itself, but if desired, it can be painted, as the author did. In addition, the deer can be decorated with bows, bells and any other traditional accessories - it will definitely become a favorite of the whole family.
Christmas tree-snowflake
This project combines two main themes: at first glance, the 3D printed decoration looks like an ordinary Christmas tree, but from below you can see an unusual snowflake. The 3D model can be downloaded for free from Genapart's author page on Thingiverse. The author presented four options for decoration: with and without a hole for hanging, curved and straight wood. Several users of the site have already reported that they have successfully printed an unusual Christmas tree.
Minimalist decorations
Thingiverse user Marten Curver has presented stylish, minimalist 3D printed Christmas decorations.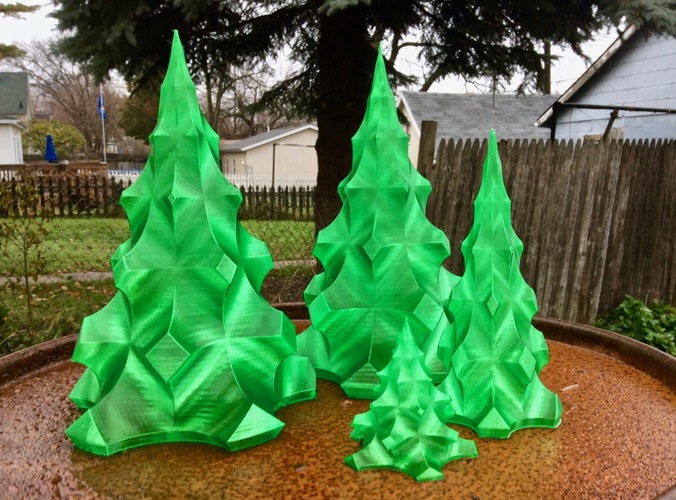 The author notes that to create one ball, you need to print the main files eight times, and the top and bottom once. These pieces can be assembled into a piece of jewelry by gluing them together or connecting them with a 3D printing pen, as Curver did. The range of decorations is amazing - it's easy to imagine how beautiful such a Christmas tree will be.
Christmas Reindeer Card
One of the more interesting postcards is the version with the deer head model kit included. A flat postcard can be put into any envelope, and the details of the model are easily separated from the sheet and assembled according to the instructions. Of course, given that the model is flat, you may need to change the 3D printing settings. Model designer Tony Short suggests printing at 100% infill and 0.2mm resolution, printing the bottom layer slower than usual. In addition to 3D printing models, Short included files to create a postcard using laser cutting.
Small holiday lamps
It is difficult to imagine the New Year without festive lighting.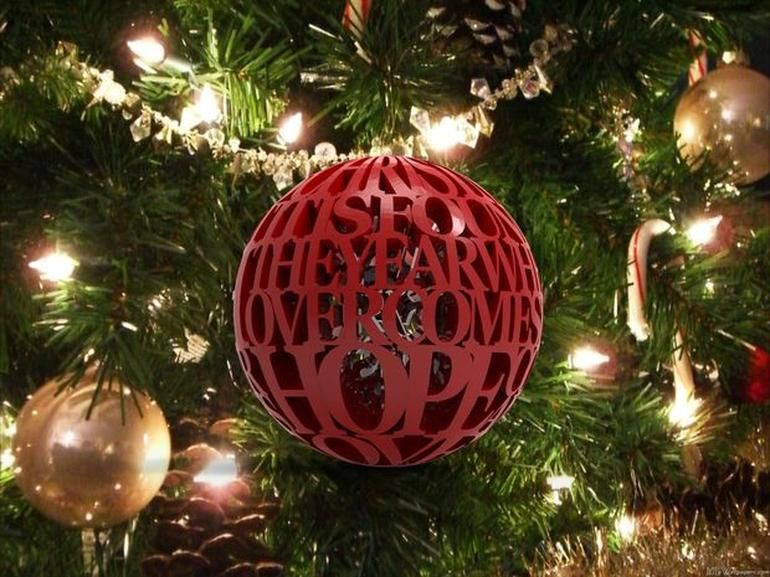 One example is small lamps that can be 3D printed. They will also require a CR2032 battery, a 5mm LED, a switch and a soldering iron to assemble. Following simple instructions, you can assemble a glowing base, which includes several 3D printed parts. The finished base can be combined with several 3D-printed "caps", including a snowman, a Christmas tree and a candle. Of course, everyone can create their own versions of the top of the lamp.
Glass Christmas Tree
Glass 3D printing startup MICRON3DP decided to showcase its achievements with a Christmas tree model created by Russ Taber. Of course, making a glass Christmas tree on a personal 3D printer will not work, but you can make a copy of an unusual plastic decoration. You need to print the Christmas tree without the bottom layer so that you can add a lamp.
We wish you all happy, interesting and creative holidays!
10 Christmas decorations on a 3d printer
Christmas decorations like nothing else create a festive atmosphere at home.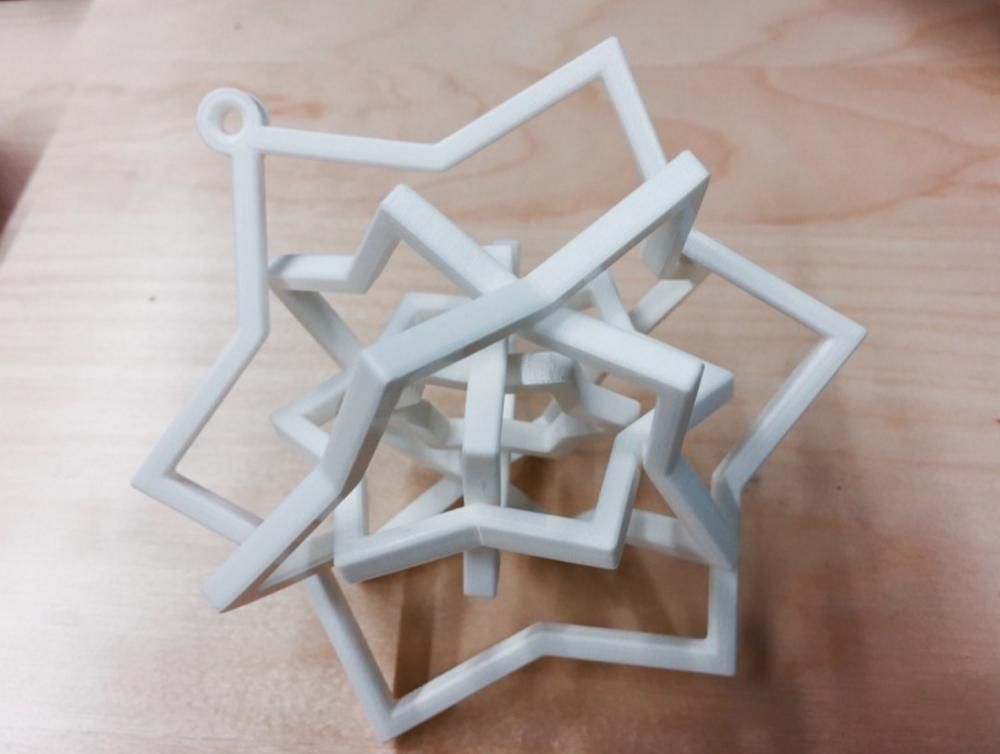 Christmas tree toys are a kind of clothing, and having even the simplest 3d printer, you can make this tree "fashionable" and unique. This year, a lot of ready-made projects have appeared on the Internet, which you just need to download and print. Most of them are classic Christmas tree decorations, but some have approached the decoration process with all the creativity they could muster. Let's look at ten of the most unique and interesting Christmas toys that can be printed using a 3d printer.
Gyroscopic star
A star is an essential attribute of a Christmas tree, but what if you take several celestial bodies and combine them into one product? That's right - you get something completely incredible, and even mobile. The gyroscopic star in the assembled state looks like an ordinary, unremarkable decoration, but it is worth turning each part a little along its axis, and you will get a unique geometric figure, which, by the way, will already look more like a snowflake.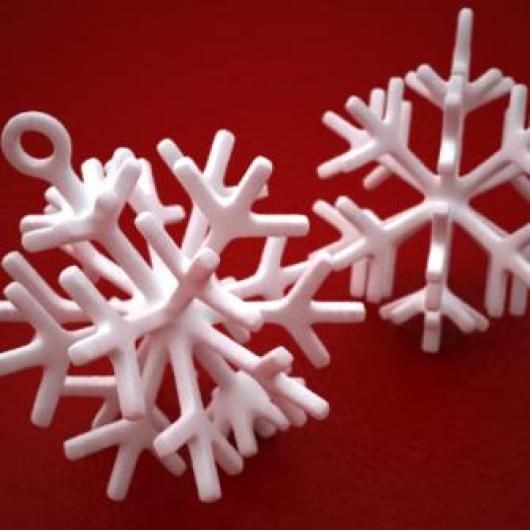 In addition, each element can be painted in different colors or printed with multi-colored plastic.
Download - Thingiverse
Gyroscopic snowflake
Continuing the previous decoration, the gyroscopic snowflake is made in the same way. Several elements can freely rotate around their own axis, and the designer has created several options for jewelry that will appeal to everyone. To make such a snowflake unique with paints or varnish.
Download - Thingiverse
3d garland
Not all garlands need to glow to look beautiful. The creators of this decoration came up with a great way that will allow you to create almost dimensionless products that can be placed on Christmas trees of any size. Each element of such a garland is printed separately and fastened to each other with a special latch. The user only has to stock up on material for a 3d printer in advance, since it is very easy to get carried away with the production process.
Download - Thingiverse
Your own Santa
What new year can do without Santa Claus, Father Frost or other masters of winter? Now you have the opportunity to decorate the Christmas tree with your own Christmas spirit. 3d printable Santa will deftly stay on top of the Christmas tree. The only drawback is that the figure will have to be processed after printing, since it is printed in one piece.
Download - MyMiniFactory
Poinsettia
Although Olivier salad is considered the best decoration of the New Year's table, no one forbids diversifying the holiday with flowers. Poinsettia is another symbol of the New Year, which in importance can be compared with a Christmas tree or a pine tree. In order not to run around the market in search of a living flower, you can download a project for 3d printing and decorate the table with a beautiful product that is not "afraid" of pets and careless movements. The model can be painted both during printing and using multi-colored plastic.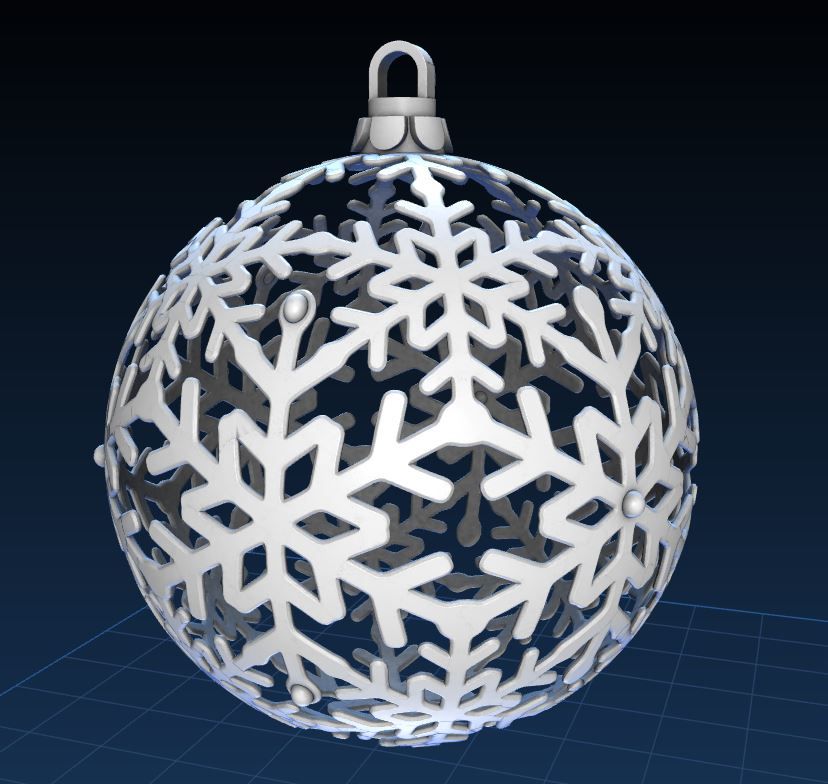 3d Poinsettia consists of 2 independent parts, so the decoration process will not be difficult.
Download - Thingiverse
Japanese style lantern
New Year is celebrated all over the world, including in Japan. In this country, the traditions of the holiday changed quite often, but regardless of the changes, the Japanese lantern remained a symbol. Such a product can be printed in any color, a garland can be drawn through it, a light bulb can be connected inside and left to glow on the Christmas tree.
Download - Thingiverse
Snowflake Ball
The main task of New Year's toys is to create a festive atmosphere. Not all decorations should be bright and warm, especially considering that the New Year is celebrated in winter, and a ball with a snowflake ornament is a vivid confirmation of this. Each snowflake is printed separately and connected to each other using special fasteners. They can be decorated, but even the standard version looks stylish and attractive.
Download - Thingiverse
Christmas Tree Heads for Garlands
If you want to decorate the holiday with an exclusive garland, then it's time to download and print 3d Christmas tree garland attachments. A flimsy Christmas tree is unlikely to cope with the weight, but decorating a pine tree or a house with their help is a great solution. It is better to print these nozzles from a translucent material, since ordinary PLA plastic will not let light through.
Download — Thingiverse
Christmas Flame
Not only a star or a cone-shaped ball can flaunt on top of the Christmas tree, but also a real Christmas flame. It is better to print it from orange or yellow material, and you can easily fix the product using a special nozzle, which can also be found in the project. It is desirable to place an LED inside the product so that the flame not only decorates, but also glows.
Download - MyMiniFactory
Christmas tree in a minimalist style
If there is no way to install a large Christmas tree at home, then you can easily download and print the desktop version.