3D printing for model railways
3D printed railway models, part II: Trains and buildings
In the previous article, we showed how to create a basic landscape suitable for model railways. However, what about trains, buildings, people and other details that bring the landscape to life? Let us show you how to enhance your model railway with some great techniques and 3D prints.
3D printed trains
Trains are the most important part of every model railway. It doesn't matter if you're already completing the tiniest landscape details or just starting to build the basics, the trains are always number one. Almost everyone (including us) is usually eager to place their train models on the tracks even without finishing the landscape. It's also useful in determining whether the tracks are positioned correctly – that should be done before we glue them to the landscape.
To test our tracks, we printed several models of locomotives and passenger cars.
Some of them are printed with our Original Prusa SL1 printer and others using the Original Prusa i3 MK3S. Let us introduce you to these models with brief instructions on how to print them.
Locomotive 742 from the Mashinky game
The first and the most detailed model, frequently used in the Czech Republic, is a locomotive 742 also called "Kocour" ("tomcat" in English). The model itself comes from the Mashinky game by Jan Zeleny. It is an intricate and very entertaining computer strategy game, in which players build their own railway empire. This model is impossible to print at an H0 scale using FFF/FDM printers because it contains a lot of tiny details. It is necessary to use the qualities of MSLA printers. We achieved the best results using the Original Prusa SL1 printer with Prusa Orange Resin at 0,05mm layer height. The locomotive can be printed as a static model, however, you can easily modify it and place the electronics inside.
The locomotive 742 is small enough to be placed in the printing area without the need to cut the model. It is better to print these models as a whole: cutting the model and gluing it later requires extra effort (e.g. to hide the seam) and doesn't bring any real benefit.
When you print train models, we don't recommend using the automatic supports generation. Instead, place the support points manually. This way you can be sure that all the overhanging parts are supported and there are no unnecessary supports created in places where we don't want them. It is important to support all of the edges to avoid warping or peeling. Use 0,3mm support heads for tiny and thin parts of the model. Removing supports with 0,4mm diameter might lead to damage to some delicate details. If you are not sure, look at our model (see the photo below). The wheels need to be printed perpendicular to the print platform to make them as round as possible.
When the print job is done, wash the model with isopropyl alcohol, but do not cure it with UV light! First, remove all the support structures using a very sharp knife or scalpel.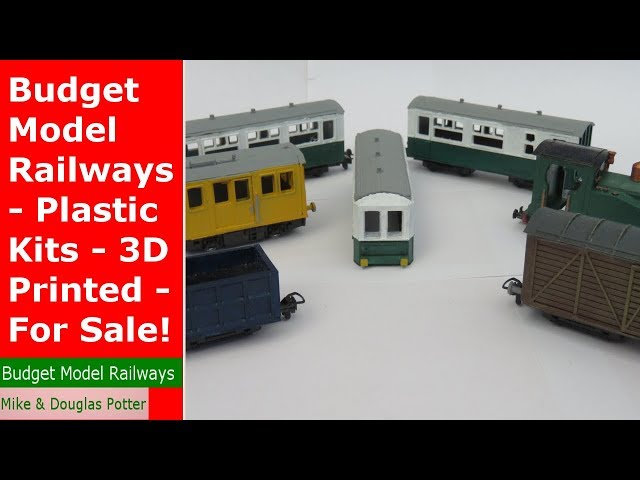 Once all of the support material is removed, cure the model with UV light. Next, smooth out the supported spots with a rasper or sandpaper and confirm that everything fits properly. If so, the model can be assembled and painted now. The locomotive 742 can be seen in various colors, we chose the most common red base color with a beige stripe.
"Kocour" is finally complete and ready to go. You can see for yourselves that the locomotive looks quite authentic – our thanks go to Tomas Krakora, Jan Zeleny and his game Mashinky for such an amazing model.
You can download the model from PrusaPrinters.org.
EAS freight car
The locomotive itself is really nice, but it should have some cars, too! Let's print some type EAS freight carriages, also used commonly throughout the Czech Republic for transportation of wood or coal. This miniature is much easier to print thanks to fewer details. This model is also possible to fit inside the printing volume of our Original Prusa SL1 in one piece.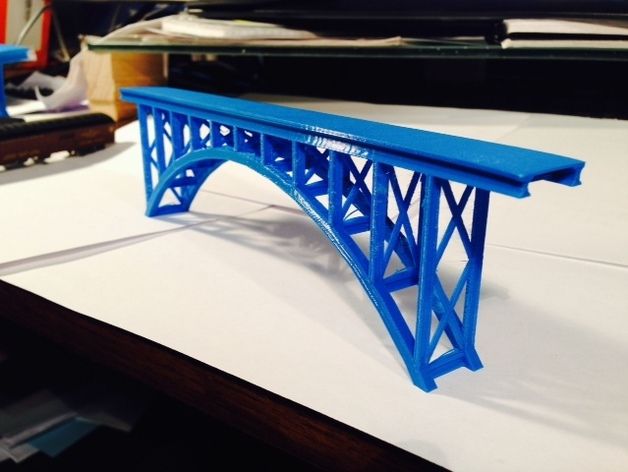 It is better to rotate the cargo space part upside down. The chassis and wheels should be printed separately and oriented perpendicularly to the print platform to achieve a perfectly round shape that prevents the car from falling off of the tracks. You can buy the wheels and fit them into the chassis if you don't wish to print them. The assembly is very easy and intuitive – you need only a few drops of super glue and proper couplers. The EAS cars are usually colored red but nowadays they are mostly corroded and dirty.
The EAS car can be printed not only using the Original Prusa SL1 printer but also the Original Prusa i3 MK3s. However, you should keep in mind that you have to use a 0,25mm nozzle and expect that some details will be lost.
You can download the model from PrusaPrinters.org.
Motorized carriage 810
The freight train is ready to go but how do we transport the passengers? Let's use the legendary "motorák", also frequently used on the Czech tracks.
We designed two versions for you: A simple motorless carriage (you need only 2 couplers and 2 axles if you don't want to print them) and a motorized unit with a hole for the Bramos carriage. Keep in mind that the carriage can be bought in the Czech Republic and it might be challenging to find them abroad, though.
This model contains more tiny parts and details than the previous one. We recommend to print it with the Original Prusa SL1 printer. The print and support generation process is the same as for the locomotive 742. Choose the support head diameter according to the detail, manually place the support points and print the model using 0,05mm layers. Windows should be printed with transparent resin and with the flat side facing the printer platform (don't use supports and pad).
Wash the parts with isopropyl alcohol but do not cure them with UV light! Carefully remove the support material using a scalpel or sharp knife and cure the parts only after this is done. Sand the rest of the support material and confirm that everything fits.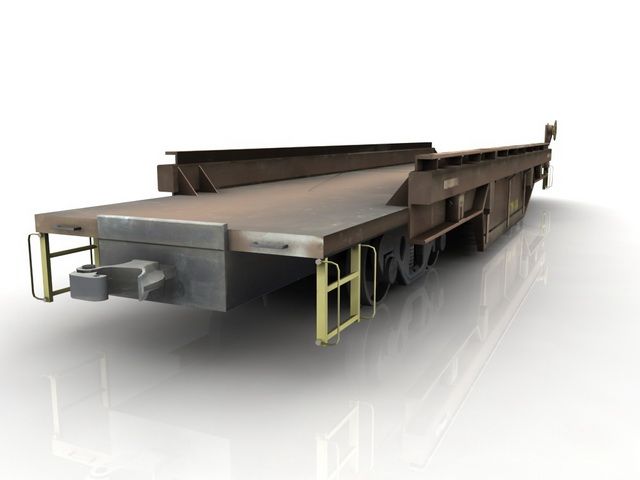 Sand the windows with wet and very fine sandpaper (roughness 1500 and higher) and spray them with glossy acrylic clear coat. This way, the windows will be transparent enough so you can see the interior of the carriage. Don't forget to color the parts before you insert the windows and glue everything together. The motorized carriage 810 is usually colored red with a beige stripe, but reconstructed units can be seen in blue with a white stripe.
You can download the model from PrusaPrinters.org.
Carriages and locomotives for FFF 3D printing
We understand that not everyone has an SLA 3D printer, so perhaps you would like to use your Original Prusa i3 to print some railway models. Fortunately, there are models designed for FFF 3D printing, which are also compatible with MSLA printers. Printing these models is quite easy – in fact, all the pictured models can be printed using a 0,4mm nozzle and 0,15mm layer height.
Models shown above can be downloaded here:
Steam Locomotive T3 scale "0":
https://www.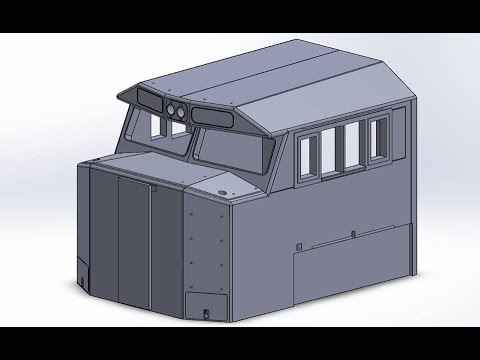 thingiverse.com/thing:1069482
T334 – diesel train engine – H0 (1:87) scale model:
https://www.prusaprinters.org/prints/5500
Cement train car – H0 scale (1:87):
https://www.prusaprinters.org/prints/5503
H0 scale old time baggage train car:
https://www.prusaprinters.org/prints/5501
Old railway passenger wagon in scale H0:
https://www.thingiverse.com/thing:1112510
Old tank car 1:87 (H0):
https://www.thingiverse.com/thing:3199283
Russian Passenger Car – Scale H0:
https://www.thingiverse.com/thing:2742465
SZHD/RZHD boxcar 1:87 (H0):
https://www.prusaprinters.org/prints/5512
Buildings and small detailed parts
The trains are printed and ready, so now it's time to print the static models. This means human figures, buildings, cars, furniture and an endless number of other models that will give the landscape an authentic appearance.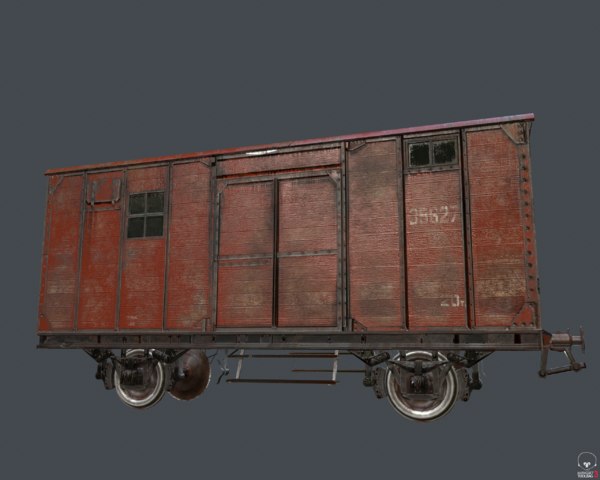 Large static models (buildings) have one great advantage: they can be easily printed using classic FFF/FDM printers. We've selected a couple of buildings (see below) and printed them using Prusament PLA Galaxy silver with 0,4mm nozzle and 0,15mm layer height. However, it doesn't matter what color does your filament have, everything will be printed. On the other hand, various filament colors can be used in a variety of smart ways – e.g. unpainted Prusament PLA Silver can represent cement between bricks. 
All models are available at Thingiverse or PrusaPrinters:
Girder Bridge:
https://www.thingiverse.com/thing:3463147
Cattle shed:
https://www.thingiverse.com/thing:3270540
H0/HO Coal Bunkers / Kohlebansen / Lagerplatz:
https://www.prusaprinters.org/prints/5489
H0 model train platform:
https://www.thingiverse.com/thing:2656062
H0 Train station model:
https://www.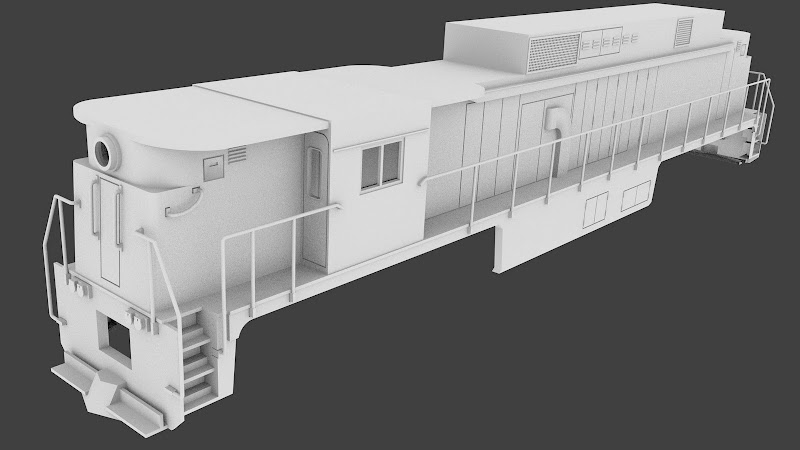 prusaprinters.org/print/5470/
Tiny models are a bit more complicated. Small, highly-detailed objects such as human figures, furniture, lamps and objects necessary to complete an authentic landscape appearance need to be printed with SLA printers. 
Here's a selection of several models to get you started:
Customizable woman with coat 1/87 scale (H0):
https://www.thingiverse.com/thing:2863048
Customizable woman with long coat 1/87 scale (H0) – selfie:
https://www.thingiverse.com/thing:3063503
Bike H0 / HO scale (work in progress!):
https://www.thingiverse.com/thing:3131722
(The bike size should be increased by 20% to the sides for printing all the detailed parts. The support head diameter should not be higher than 0,2mm.)
Canoe H0 scale remix:
https://www.thingiverse.com/thing:2993121
Sawhorse H0 scale:
https://www.thingiverse.com/thing:2993130
Outdoor furniture set H0 scale:
https://www.
thingiverse.com/thing:2994789
Park bench set H0 scale:
https://www.thingiverse.com/thing:2998944
Playground H0/HO scale:
https://www.thingiverse.com/thing:3067351
HO scale container 20ft (piko-compatible):
https://www.thingiverse.com/thing:3372971
Tree:
https://www.thingiverse.com/thing:1196196
Model railways and 3D printers are an amazing combination. There are many models available on the internet – and often for free! All you need to do is to take your time choosing the right ones. And if you don't find any suitable model, you can always make your own and share it with the community. Another great thing is that even with the costs for the printer and materials included, you can still save a good amount of money when you decide to 3D print the assets instead of buying them. Plus, you're getting that amazing sense of accomplishment when you create something cool entirely from scratch!
🚂 Best train 3D models・Cults
🚂 Best train 3D models
Train modeling for 3D printer
On this page you will find a large number of paid or free STL files for model train enthusiasts.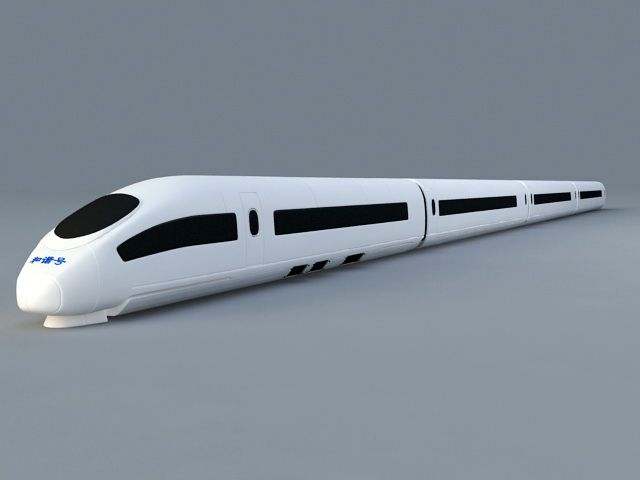 Rails, locomotives, wagons, traffic signs, etc. are 3D objects that you can make with your 3D printer. Download these 3D files then paint when the object has been 3D printed.
HO Scale Lasalle House
Free
Stone Walls and Tunnel | D1
Free
HO Scale 68' Yard Light Tower
Free
Telephonic HO Motorized PDF
Free
HO Scale Bungalow
Free
Thomas the Tank Engine - Thomas & Friends
Free
OpenRailway EMD SW1500 1:32 Locomotive
Free
HO Scale Small Barn and Accessories
Free
HO Scale Water Tower
Free
Mat for SNCF signalling
Free
Passerelle pieton HO
Free
Garden shed 1/87 HO
Free
HO Scale126 ft Steel Arched Truss Bridge
Free
HO Scale Yard Operations
Free
Grue à tour HO
Free
HO Scale 145 ft Steel Arched Truss Bridge
Free
SZHD/RZHD boxcar 1:87 (H0)
Free
HO Scale Curved Bridge
Free
HO Scale Straight Bridge
Free
HO Scale Hand Pump Car
Free
Model Railway Buffer Stop (1:32, OpenRailway)
Free
Ripper's London - The Shops Part 1 - Smiths and Co
Free
Motorhome (N & HO Scale)
Free
Poste d'aiguillage HO
Free
Swing and Slide
Free
Fire hydrant HO
Free
HO Scale Quonset Hut
Free
HO Scale Broadcast Tower and Office
Free
DB wagon with sliding roof 1:87 (H0)
Free
T334 - diesel train engine - H0 (1:87) scale model
Free
EMD GP38/39-inspired freight locomotive for OS-Railway
Free
3-in-1 HO scale 1:87 railroad wagon
Free
3-in-1 HO scale 1:87 railroad wagon
Free
3-in-1 HO scale 1:87 railroad wagon
Free
HO Scale Small Town Station
Free
Dock base
Free
Narrow Gauge Powered Bogie Set
Free
HO Scale Big Red Barn
Free
Vintage Railcar - 36mm gauge
Free
1:87 HO scale train depot with turntable
Free
Container bin for subdivision UPDATED
Free
HO Scale Trackside Warehouse
Free
Swedish house, model (1:87, OpenRailway)
Free
Toy Train Tracks
Free
HO (1:87) Scale Box Wagon with sliding doors
Free
Railroad Track Section - Thomas & Friends
Free
Tank car for caprolactam 1:200
Free
Toy Train
Free
---
3D printing is slowly creeping into a wide variety of sectors.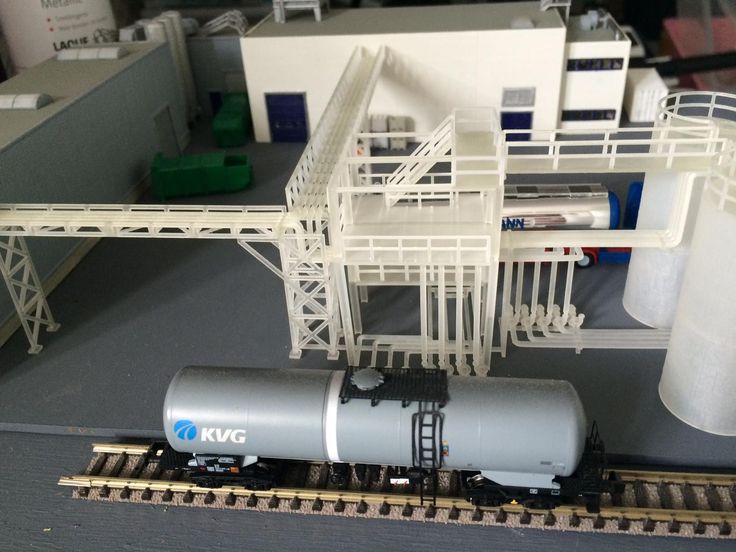 Train enthusiasts can thus find an alternative to their passion by having certain 3D printed parts made that might for example not be available on the market. The 3D printers make it possible to create toys for the kids but also more precise pieces and more faithful to reality for collectors.
In this collection you can download several 3D models of trains' accessories such as rails, traffic signs, stations, buildings, etc. But also several varieties of 3D printable wagons, locomotives or trains. Some files are printable at once, others will require assembly with adhesive. In any case, do not hesitate to spend time on finitions thanks to sanding and painting.
We hope you enjoyed our selection of the best 3D printer files related to train modeling. All these STL files are 3D printable, so just download them, slice them and charge them on your 3D printer. This collection was created by selecting the best 3D models from the 3D object library Cults.
Children's railway: what have we come to
Creativity
First, a joke about how two 3D printers meet:
- Do you know how the Chinese railway differs from the Russian one?
- What?
- Chinese can be printed.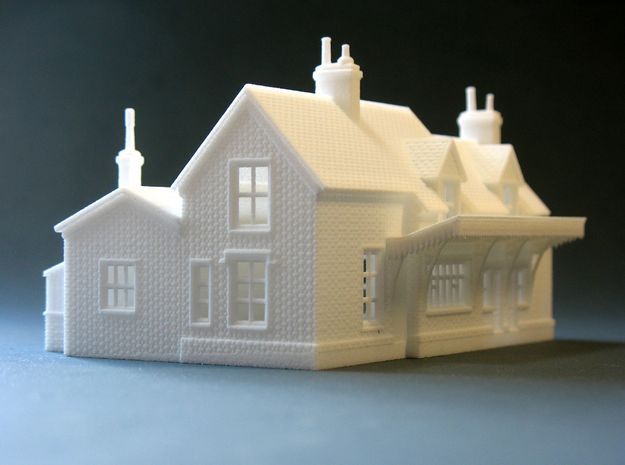 /shovel/
In general, this is not so much an anecdote as the harsh truth of life. Because the 'Thomas the Tank Engine' railway set bought on the occasion on Aliexpress left an ambivalent impression. On the one hand, a pretty good locomotive on a popular traction (only one AA element), very frisky and which, imagine 'out of the box', moved rectilinearly not only on rails, but on laminate.
On the other hand, absolutely terrible polyethylene rails. Thin, with flash and corresponding locks. Plus the length of the path: the standard circle turned out to be such that the superlocomotive with a fresh battery developed such a speed that it strove to fly out of the clearance when cornering.
Like this:
Of course, it would be possible to leave everything as it is, but here's the problem: the rails, in addition to the general curvature, turned out to be rather fragile.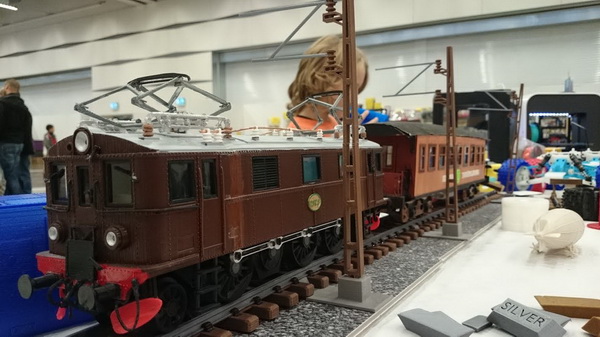 In short, the railroad broke down.
Base rails:
And there was not even such a question: what to do. Of course, print new ones. Fortunately, the geometry of the path is elementary, and it repeats itself in 123d Design quite quickly. Castles could present some problem, but I took the idea from another railway: I scanned its canvas with a regular flatbed scanner (3D is useless here, and I don't have it), I repeated the outline of the castle in Inkskape, scaled it and voila!
At the output, I got just two elements: a straight line segment and an arc. Which printed much more than it was in the standard set. And this is another plus of printing - you make yourself a road of such length as you want.
The peculiarity of the original rails is that for better grip on the track there is a notch, and a reciprocal notch is on the driving wheels of the locomotive. I refused the idea of ​​repeating this design move, considering that during my printing, the surface of the rail would be quite rough anyway.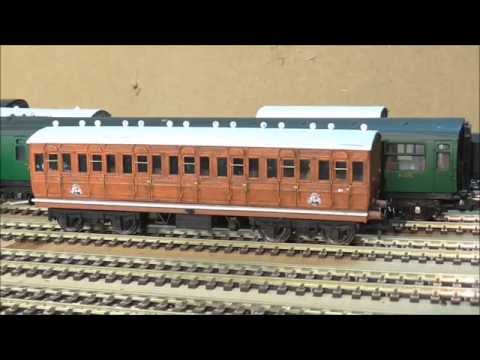 On the one hand, the trick worked, but on the other hand, it didn't quite work: with a short takeoff path and a tight turning radius, the locomotive does not always have enough traction to stretch the entire train without problems. But pulling is the first and second: I printed more rails, so the full road allows the locomotive to accelerate without problems (and demolish the arches and spans from Lego along the way). So in general, I think the design has a right to exist.
And it doesn't warp anymore:
And a bonus track, when you can see that the composition interferes with a good locomotive:
So what am I talking about? Firstly, I boasted, and secondly, I offer models of tracks to everyone.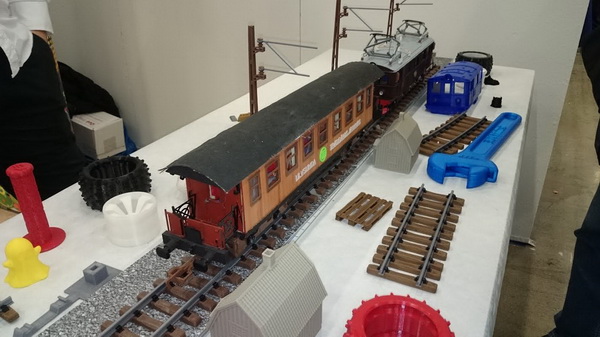 May require some light doping after printing. When I needed it, and when I didn't, so I didn't really go into perfectionism. Moreover, I am no designer and constructor. On this occasion, I apologize to those who will have to work too much with a needle file.
Thank you for your attention!
Follow author
Follow
Don't want
43
More interesting articles
Hagen
Loading
09/20/2022
676
19
Subscribe to the author
Subscribe
Don't want
Greetings to all!
Saying "Long time no see" is almost nothing to say. 1.5 year...
Read more
spc
Loading
04.
10.2022
853
eighteen
Subscribe to the author
Subscribe
Don't want to
It seems that when you start making tanks, there is no going back. You can talk for a long time, but the fact...
Read more
NotJes
Loading
02/22/2017
22007
165
Subscribe to the author
Subscribe
Don't want
Greetings to the readers of the portal! I would like to present another work made by me and my wife, and the co...
Read more
Applications for 3D printing in the railway industry
With a presence in many fields, 3D printing is also becoming a reality in the railway industry. The technology offers many benefits for players in the sector, especially in terms of speed and cost of production.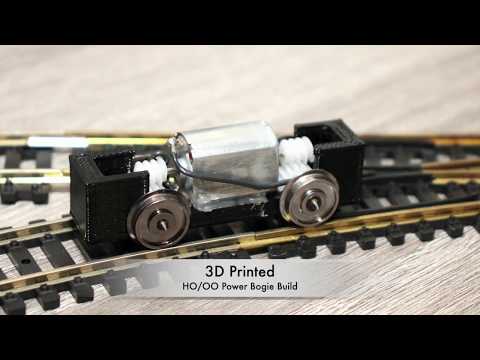 Whether it's designing armrests, seats or other components for trains, additive manufacturing has proven to be more than a viable alternative in many cases. To better understand the various applications of 3D printing in the railway sector, 3Dnatives offers today a look back at some of the most outstanding projects in the industry.
Additive manufacturing for train maintenance
You may have already heard of SNCF, a major player in the French rail industry. The public company has integrated additive manufacturing into its operations to develop spare parts faster and thus avoid long downtimes. Bruno Langlois, director of equipment at SNCF, explains: " To ensure train availability, SNCF must be able to replace a failed component on the same day. However, since trains are made up of a large number of parts, there is a large margin to deal with. With additive manufacturing, we could reduce it by making parts as needed." In 2021, SNCF announced the integration of 3YOURMIND software to identify and qualify 3D printed spare parts.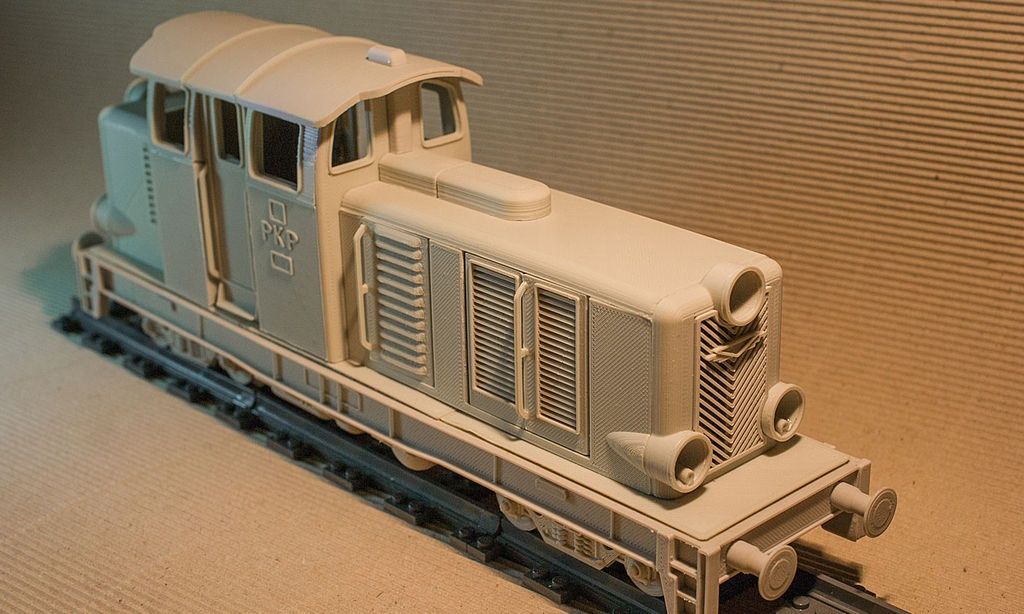 At the time, the solution identified 10.3% of the 3D printed parts that could be made using additive manufacturing from over 30,000 spare parts and reduced delivery times by 85%, and the statistic has certainly increased since then.
Alstom and 3D printed parts
In 2016, Alstom introduced its Industry of the Future program, in which, of course, additive manufacturing plays a big role. The group really believes in the added value of 3D technology in the railway sector, especially when it comes to increasing flexibility and reducing downtime, which can lead to large financial losses. In 2021, a French company presented a concrete example of a tram to the Algerian Setif network. Thanks to its 3D printing center, Alstom was able to develop drain plugs made of TPU 92A to prevent breakage of headlights. A dozen parts were printed in 48 hours, reducing fixed costs by 80%. It usually takes 45 days to get a spare part.
Using 3D printing, Alstom can design more flexible and durable material faster (photo by Alstom)
Polgar and 3D printed seat prototypes
A manufacturer of parts for the automotive industry, Polgar also develops some components for trains.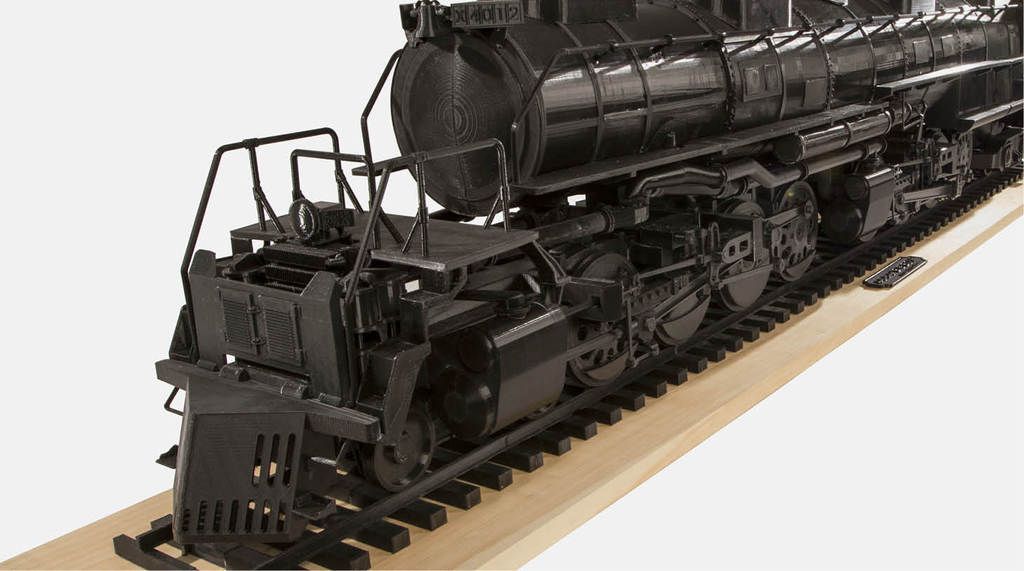 Using an Omni3D Factory 2.0 industrial 3D printer and partnering with scanning company Metris 3D, Polgar 3D printed a seat prototype. The company says it has significantly reduced the cost of prototyping, saving 370,000 euros, or 90 percent value. Polgar adds that she was able to complete the part in just three weeks, compared to 16 weeks with traditional methods. In order to design a relatively large part, the seat was printed from different components before assembly.
3D printed seat prototype (photo Polgar )
Renfe 3 D Prints Spare Parts
Renfe is a leading rail transport company in Spain with a manufacturing and maintenance division that integrates a range of 3D technologies for the development of spare parts. Located in Madrid, the pilot center combines an area dedicated to polymer 3D printing equipment, a section dedicated to post-processing, and another section dedicated to 3D scanning and reverse engineering solutions.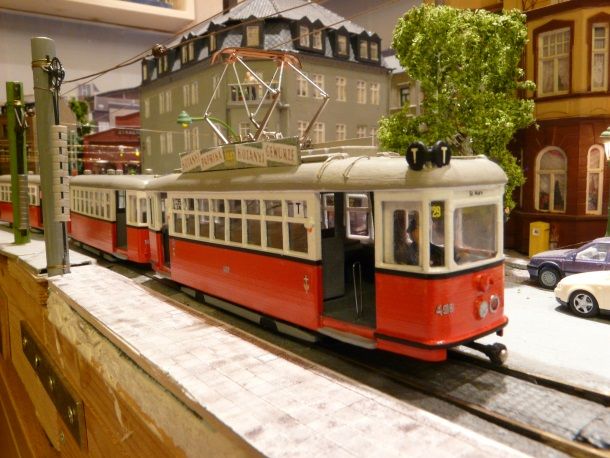 The integration of these new technologies should allow Renfe to create spare parts as well as fulfill orders in small batches and small batches. Among the benefits they were able to observe was cost and time savings in part manufacturing compared to other traditional methods. This implementation is part of their mission to incorporate the most advanced techniques currently available on the market into their business.
Pilot center located in Madrid (photo by Renfe)
Run2Rail project
The European project Run2Rail, launched in 2018 under the leadership of Professor Simon Iwnicki from the Institute for Railroad Research (IRR) at the University of Huddersfield, aims to transform train manufacturing processes. To do this, the researchers want to use 3D printing and carbon fiber to create lighter, safer and quieter trains. The project participants believe that thanks to the composite material and printing technology used, they will not only be able to produce parts of complex geometry with reduced weight, but increased strength.
For example, Professor Simon Iwnicki explains that 3D printing will allow the production of small components such as axle boxes or bearing parts. With no less than 15 European partners, Run2Rail is also committed to reducing the ecological footprint of the European rail industry.
Angel Trains partners with Stratasys
Angel Trains, the UK train rental company, has partnered with ESG Rail and Stratasys to develop some of the details for the interior of the trains. Using 3D technology, the partners want to transform the rail industry and offer faster and, more importantly, cheaper manufacturing solutions. So far, the project participants have designed armrests, handles and folding shelves using Stratasys FDM printers. Regarding the materials used, Angel Trains claims to have used Antero 800 NA thread from an American manufacturer. Material made from PEKK has better properties than traditional thermoplastics.
3D printed tablet (Photo by Angel Trains)
UK HS2 high-speed rail network uses 3D printed concrete
The HS2 project has been developed since 2012 in the UK.
It was conceived as a way to not only improve the country's infrastructure, but also provide travelers with a greener option. Bearing in mind the last point, the reduction of environmental disadvantages and costs was the driving force behind the project. For this reason, London-based tunneling contractor SCS JV (a joint venture between Skanska Costain STRABAG) has turned to 3D concrete printing. Using "Printfrastructure" technology (3D printing of concrete with graphene added for added strength), SCS JV plans to use computer-controlled robots to print concrete, allowing them to create structures on site.
Image of what HS2 might look like when completed (photo by HS2 Ltd)
NS enters the world of 3D technology
Another application of 3D printing in the railway sector is in the Netherlands, notably in Nederlandse Spoorwegen (NS), which has announced the 3D printing of 20 parts for its trains.
And not only is it focused on additive manufacturing, but it has also introduced other types of technology such as 3D scanners and digitization. According to NS, they were able to produce complex and hard-to-reproduce parts, such as dashboard frames. To do this, they scanned old models in 3D and then created new components using additive manufacturing. This NS integration has helped to significantly reduce production time as well as service processes.
An example of a 3D printed part (photo by Nederlandse Spoorwegen)
Partnership Bombardier Transport co Stratasys
Bombardier Transportation is a world-renowned and leading company in the rail vehicle industry. With its core business in the rail sector, the German-based company has been partnering with one of the leading 3D printing companies, Stratasys, for some time now. Stratasys, known for its large-scale additive manufacturing solutions, now allows Bombardier Transportation to produce various prototypes, tools, and finished parts for trains and trams - all with a 3D printer! Through the use of additive manufacturing, Bombardier Transportation can benefit, especially in terms of cost and time efficiency.
Stratasys F9 3D printer00, with a print volume of 914 x 610 x 914 mm, is particularly well suited for Bombardier Transportation to 3D print air ducts, protective covers and cable trays.
The company uses the synergy of additive manufacturing using the Stratasys F900 (photo by Bombardier Transportation).
Mobility goes additive, democratizing 3D printing
Berlin-based Mobility Goes Additive (MGA) has been involved in additive manufacturing for several years. The goal of the MGA is clear: to democratize the use of 3D printing in the railway sector and the mobility sector in general. And she has already been able to celebrate big successes, such as when in 2019The first 3D printed component for the railway sector, a safety-related part, was approved. Specifically, this is a metal brake suspension, which is now used in the subway in Hamburg. For MGA, founded in 2017, the brake component approval was made possible through collaboration with several partners: Siemens Mobility, Deutsche Bahn AG and the Fraunhofer Institute.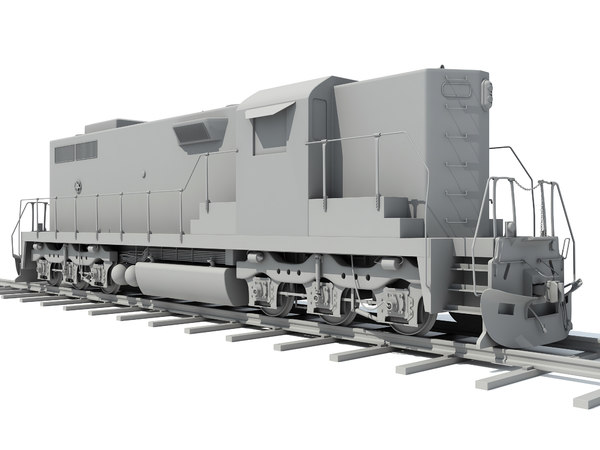 Finally, before the final approval of the 3D printed part, TÜV also carried out the necessary quality checks.
Union Pacific Integrates 3 D Printing
Unlike many other continents, especially Europe and Asia, commercial rail travel is not as popular in the United States. At the same time, railroads still criss-cross the country and are used primarily for freight transportation, playing a critical role in the American economy. Union Pacific's (UP) network is the second longest with 8,300 locomotives over 32,300 miles (51,800 km) in 23 states. Back in 2013, the company began using additive manufacturing to make locomotives safer and more efficient. Although they did not disclose what 3D printing technologies are used, it is clear that the company has made extensive use of 3D printing for prototyping.
Photo of : Union Pacific Railroad Company
CAF uses additive manufacturing for train components
RL Components is a subsidiary of CAF Manufacturing, a Spanish company specializing in the manufacture of trains and railway equipment.
A few years ago, they developed the first light rail vehicle that integrated a series of 3D printed front components. The project, implemented jointly with Zaragoza Tramway, included the development and production of parts for the CAF Urbos car. To do this, they used 3D printed polymers that comply with the rail industry's strictest fire and smoke regulations. In addition, this technology is presented as a competitive alternative for the supply of spare parts. It is worth noting that RL Components has also managed to implement reverse engineering of spare parts using 3D scanning.
Team of project ( photo CAF Manufacturing / Zaragoza Tramway)
Siemens Mobility Services and Fortus 450mc
Siemens Mobility Services has been relying on 3D printing services since 2020. From day one, she has been using the Fortus 450mc 3D printer, developed by Stratasys for innovative manufacturing in the rail industry.
The reason for Siemens Mobility Service's investment is clear: Through additive manufacturing, the company wants to be able to be more flexible and efficient in the production and maintenance of critical components. In particular, the fact that some train models and related spare parts are no longer in production makes repair work much more difficult in some cases. In the production of parts and their profitable sale, 3D printing offers a great advantage.
Siemens Mobility Services uses technology from 3D printing company Stratasys (photo by Siemens Mobility Services)
Deutsche Bahn chooses additive manufacturing
Deutsche Bahn always keeps up with the times. It has and makes heavy use of large-format 3D printers. The German monopoly company uses additive manufacturing primarily to maintain its trains to make them more efficient and faster. Therefore, in addition to tools for repairing trains, individual parts are produced using 3D printers, or rather spare parts made of plastic.