3D printers rapid prototyping machines
Rapid Prototyping Machines | Roland DGA
Home
Applications
Rapid Prototyping
Roland DG provides a selection of 3D printer technology and milling machines that are perfect for rapid prototyping. CNC mills support a variety of materials – including ABS, nylon, wood, non-ferrous metals, chemical woods, styrene and more – while delivering a smooth surface finish, tight tolerances and a low cost of ownership. 3D printer technology from Roland DG prints photopolymer resins for creating smaller, complex prototypes that would typically require deep undercuts.="">
How Rapid Prototyping Works
Rapid Prototyping Workflow
calculate roi
The following items are just some of the rapid prototyping applications that are possible with Roland DG technology.
Metal Parts and Prototypes
Roland DG CNC milling devices enable precision production of prototypes from aluminum, aluminum alloys, brass, zinc, tin and many more non-ferrous metals. Create snap-fit parts, models, tools, electronic parts, product designs and proof-of-concepts for thermal and structural trials.
Wooden Prototypes
With high-precision Roland DG CNC milling technology, you can mill complicated wooden shapes and sculptural forms out of virtually any wood. Perfect for making industrial prototypes, Roland DG milling machines are also ideal for artistic applications, custom décor items, and limited edition toys and models.
Plastic Prototypes
Acrylic, acetal, nylon and ABS are quickly and easily milled with Roland DG desktop and benchtop milling machines. Mill precision fan parts, gears, bearing blocks, tools and thousands more items for accurate proof of concepts. With hundreds of plastics to choose from, you can create limited edition toys, product prototypes, industrial prototypes, electrical parts and casings, models and so much more.
Circuit Boards
Copper clad, punchboard and other circuit board material can be easily milled with Roland DG CNC milling technology. Perfect for FabLab production and educational purposes, Roland DG's compact milling machines provide a quick, cost-effective and easy-to-use solution.
Casts for Parts and Prototypes
For creating multiple parts and short run prototypes, Roland DG milling technology enables the casting of wax, plastic and metal for models, industrial parts, special edition toys, jewelry making, snap fit parts, and more.
3D Made Easy with Included Software
Roland DG milling machines come complete with SRP Player Software to prepare your CAD model for rapid prototype manufacturing, with no programming skills required. Roland DG also provides Player AM software for the monoFAB ARM-10 3D printer, offering simple drag and drop set up of print-ready 3D designs.
Rapid Prototyping Machines
MODELA MDX-50 Benchtop Milling Machine
Case Stories
Glidewell Laboratories
COMPRU
Johnson & Johnson
Lightled
3D Printing for Rapid Prototyping
Product designers and engineers have been using prototypes forever.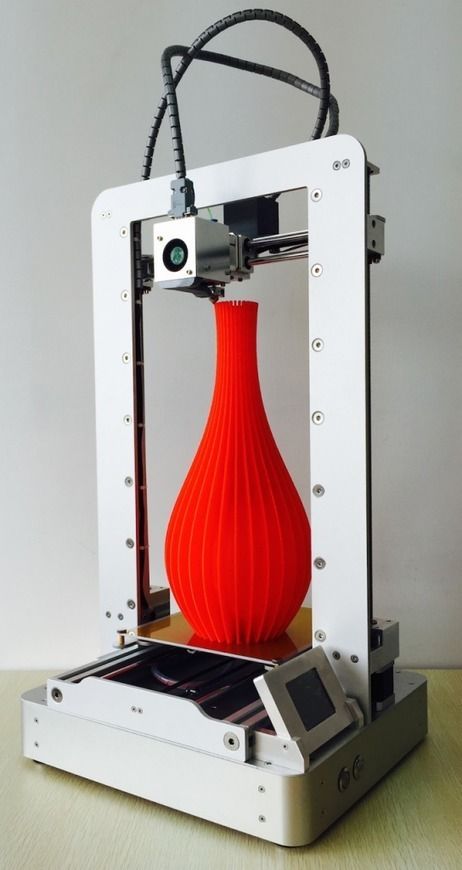 A prototype helps give the product designers perfect a new design before mass production. A digital prototype is a good place to start, but it's much different to hold the parts and see the entire assembly.
Prototypes are often used is the automotive, medical, aerospace industries, and in consumer goods. The purpose of rapid prototyping is to go from a digital design to a physical part or assembly as quickly and efficiently as possible.
In the past 10 years, 3D printing has helped create prototypes easier, faster, and with much greater accuracy. Spex has recently started using our in-house 3D printer to create prototype parts for our customers. In this post, we'll share more about the benefits of 3D printing prototype parts.
What is rapid prototyping?
Rapid prototyping is one of the important steps in the manufacturing process. This is the step when the part goes from a computer design to physical part.
Rapid prototyping is a sped up fabrication of the part while maintaining accuracy.
Where the prototype design is a close match the proposed finished product, it's called a high fidelity prototype. A low fidelity prototype has marked difference between the prototype and the final product.
While manufacturing precision parts, maintaining accuracy is highly important. The final products often need to be held within tight tolerances, within factions of a millimeter. If the prototype part isn't accurate, it's not as helpful to the product designers.
Applications of rapid prototyping
Rapid prototyping with 3D printers supports designers and engineers throughout product development, from concept to initial testing, development, and final part production.
Proof-of-concept (POC)
Proof-of-concept is a low-risk way to validate an idea. The POC helps designers run through physical tests for a new part and product. A physical prototype can also help other team members and potential investors validate or improve the concept.
Functional prototypes
A functional prototype allows engineers and product developers verify an idea.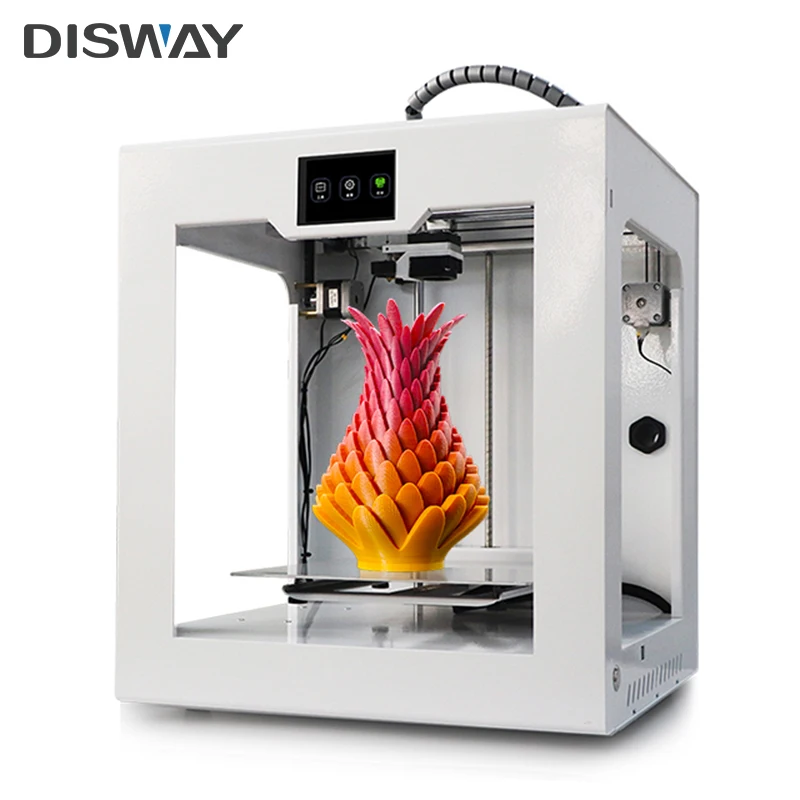 High fidelity prototyping accurately represents the final product. This makes it easier to verify the design, fit, function of the parts and components.
How are rapid prototypes made?
There are various manufacturing processes used to create prototypes. One of the most common processes is 3D printing. This is an additive manufacturing process, unlike a subtractive process such as CNC machining.
3D printers can take a CAD file and quickly create a detailed plastic part. Most 3D printers use nylon, ABS, or resin. This enables a high fidelity prototype to be made at a low cost. These parts can then be tested in a real world environment.
In some cases, other manufacturing processes are used to create prototypes. Processes like traditional machining or casting parts can be used for prototypes. These tend to be slower and more expensive compared to 3D printing, but they can offer more detailed and more accurate prototypes.
The manufacturing process depends on what the prototype part will be used for and the design specifications.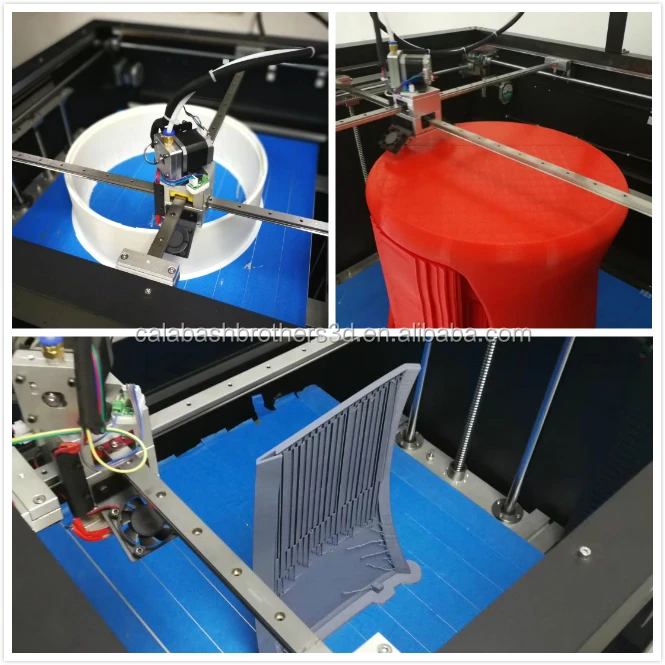 The primary goal of rapid prototyping technology is to create a functional prototype that can be used to ensure it will function as designed. Functional prototypes can be used for product testing and measure the effectiveness of assemblies and a new product.
Benefits of 3D printers
Compared to CNC machines, 3D printing is still a newer technology. In recent years, the popularity and usefulness of 3D printers has significantly increased. You can buy a 3D printer for a few hundred dollars and print out whatever you want at home.
3D printing is also being used more in manufacturing industries. 3D printing is still limited in certain aspects. For example, 3D printers aren't good for mass producing parts, or printing metal parts. They're also not able to match the tight tolerances that CNC machining can reach.
The benefits are significant, and they should be used as much as possible. 3D printers are much faster and easier to setup, which is very helpful during the prototyping cycle.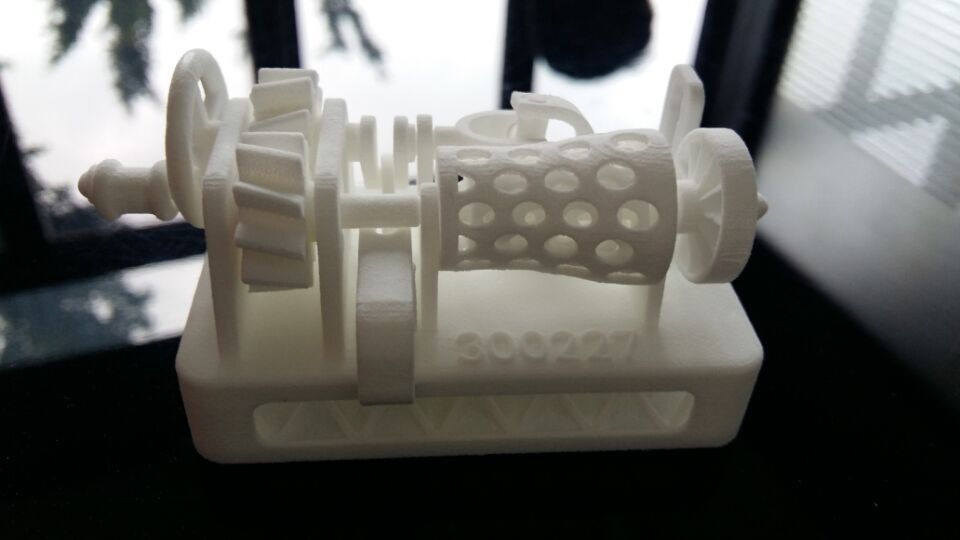 More conventional machines can take 20+ man hours to setup, and make it more difficult to make small part changes.
Currently, 3D printing is the best way to create a cost effective physical prototype. This can help speed up manufacturing workflows and get the final product to market faster. The raw materials for 3D printing is significantly cheaper than CNC machining or milling. This further helps save money during the prototyping process.
3D printing is a great technology that has many benefits during the start of the manufacturing process. The ability to produce quality plastic components helps test and verify the capabilities of new parts.
After a successful rapid prototyping final design, Spex uses different machining methods to manufacture high quantities of parts. Reach out to our team to learn more about our precision manufacturing expertise. We can help bring your next project from idea to full-scale production, and provide the best supply chain management solutions.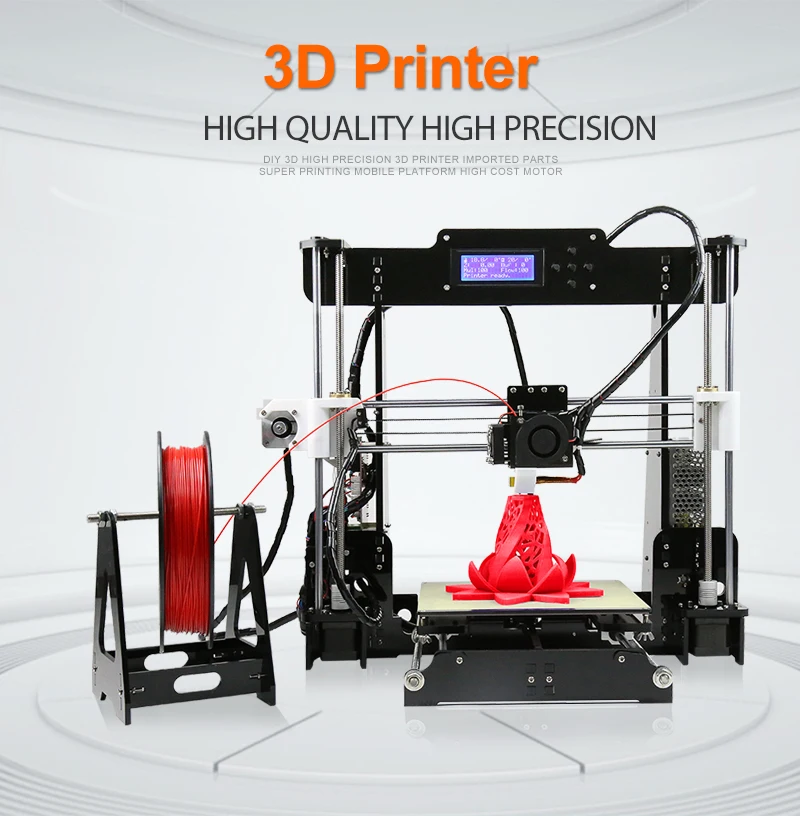 Related content
Creating a sports car prototype on a 3D printer
Implementation stories
Rapid prototyping
Art and design
Author: Nikita Kudryashov
Author: Nikita Kudryashov
Prototype - in 10 days! | Problems | Solutions | Finished model
iQB Technologies has become the exclusive distributor of ProtoFab, a major player in the Chinese 3D printing market. ProtoFab manufactures powerful and cost-effective industrial SLA printers and unique materials to solve the most complex manufacturing challenges, as well as a wide range of 3D printing services. We open a series of publications dedicated to ProtoFab solutions with the story of an interesting project to create a model of a concept car using a photopolymer 3D printer.
Project name: SKANDA concept car model, designed by Liu Yahsin.
Size of models: approx. 1.2 m in length.
Material: ProtoFab Formula L1 photopolymer.
Manufacturing technology: stereolithographic 3D printing.
Equipment: ProtoFab SLA600.
Accuracy: 0.01 mm.
Order execution time: 10 days.
Requirements: dimensional accuracy; smooth, well-defined lines; overall impressive appearance.
3D printed model of the Tension concept car (designed by Peter Lin)
Prototype - in 10 days!
The design team of the Department of Industrial Engineering of Huafan University is a dedicated group of young professionals with a wide range of experience. In the project we are about to share, a team led by its supervisor, Transportation Design Group Director Sean Lee, needed ProtoFab's help to build high-quality sports car models to showcase at trade shows.
Below is a picture of a 4x4 vehicle designed for business customers. The designer decided to use elements of traditional Chinese architecture, and the crisscrossing lines characteristic of this style provided the car with an extremely effective look.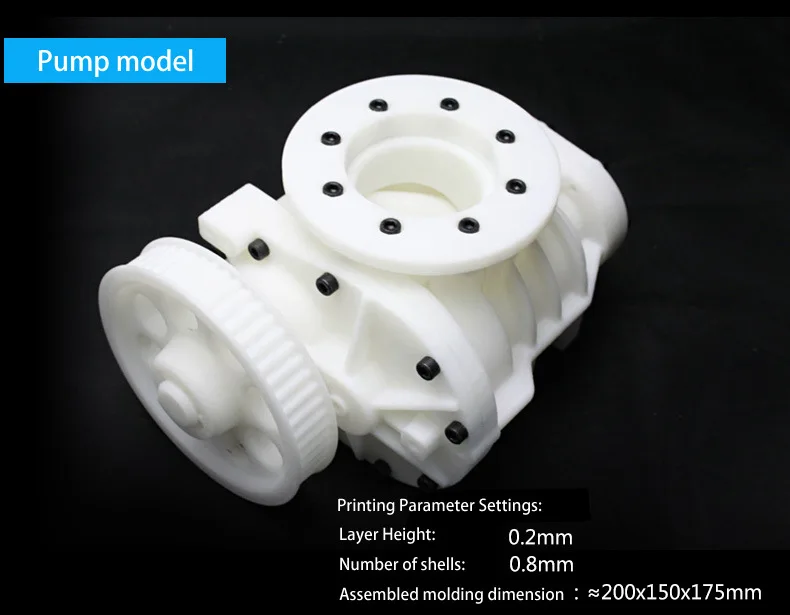 Here is one of the sketches that the customer provided to ProtoFab:
Design sketch of a sports car prototype
Problems
The model was quite large - 1.2 meters in length, which required its assembly from several parts.
Special care was required from post-processing specialists when performing complex and time-consuming polishing and painting operations.
The assembly stage was also extremely difficult due to the need to glue several parts manually. This task became a serious test for the assembly team.
Solutions
1. Considering that the SLA600 3D printer can print objects up to 600 x 600 x 400 mm in size, the model needed to be divided into eight parts. Using the software, we evaluated the feasibility of each individual section of the model and optimized their design for 3D printing. These eight parts are shown in the illustration below, where each is highlighted in a different color. After finishing modeling each of the eight individual elements with the software, we simulated the final design to make sure the assembly operation would go exactly as expected.
Full size prototype scan
2. After printing, we carefully removed the model from the 3D printer, washed it with alcohol and removed the supports. After painstaking post-processing, there were no traces of supporting structures left, and the surface of the model became absolutely smooth. The originally printed object may be slightly rough, with some noticeable surface imperfections.
Polishing parts that just came off the 3D printer
We sanded the model, starting with coarse sandpaper, and then gradually moving to the finest. ProtoFab is famous for its attention to detail, which was further confirmed by the polishing stage. Polishing was carried out in shifts and took longer than usual due to the large size and complexity of the model, as well as due to strict requirements. High demands were made at this stage and to the qualifications of the entire team. As intended, we painted each of the eight parts with a different color and tried to make the finish as shiny as possible.
To ensure that the coating does not lose its luster over time, very high quality paint was used.
After applying the paint, additional polishing is carried out to ensure the best surface quality.
3. The most difficult part of the project was the build phase. All eight printed parts of the model had to be glued together, in accordance with the customer's high requirements for the quality of the finish. To connect the parts, we used gluing, interlacing and other methods. We also filled the inside of the model with foam, causing it to expand slightly. This made it possible to emphasize the design features and gave a more realistic look to the model as a whole.
final assembly
Finished model
Shown below is a 3D printed model of the concept car, as well as several other models made by ProtoFab for the Huafan University design team.
Concept car created on the ProtoFab SLA600 printer
Alpine (designed by Lin Li, Peter Lin, Ricky Ting, Huan Yuanwei)
Metamorphosis - X Evolution (Designer - Cai Chiji)
Gravity (Designed by Ricky Ting)
Pursue (designed by Wan Huaiji)
Maserati Frenesia Concept (designed by Yuan Chen)
Samurai (designed by Huan Yuanwei)
All the designs we made for the students from Huafan University were well received by both the designers themselves and the exhibition visitors.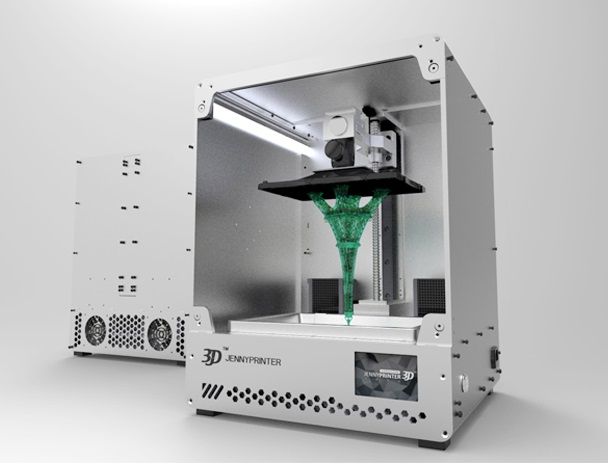 The creation of the concept car model within the framework of this project was completed in 10 days and became a real test for all involved specialists, especially at the final stage. It was great to see the results of our hard work being put on display and receiving such a positive response.
---
Material provided by ProtoFab
---
Learn more about ProtoFab solutions and order a test print here.
---
---
Article published on 04/18/2019, updated on 05/13/2021
Review of popular brands of professional 3D printers-2
The impressive results of 3D printing have turned this technology into a highly demanded process. A separate category is professional 3D printers - machines that are involved in research, the implementation of production projects, and the embodiment of entrepreneurial ideas. These devices are characterized by stability - they can print hundreds of copies of one item, which will turn out to be absolutely identical.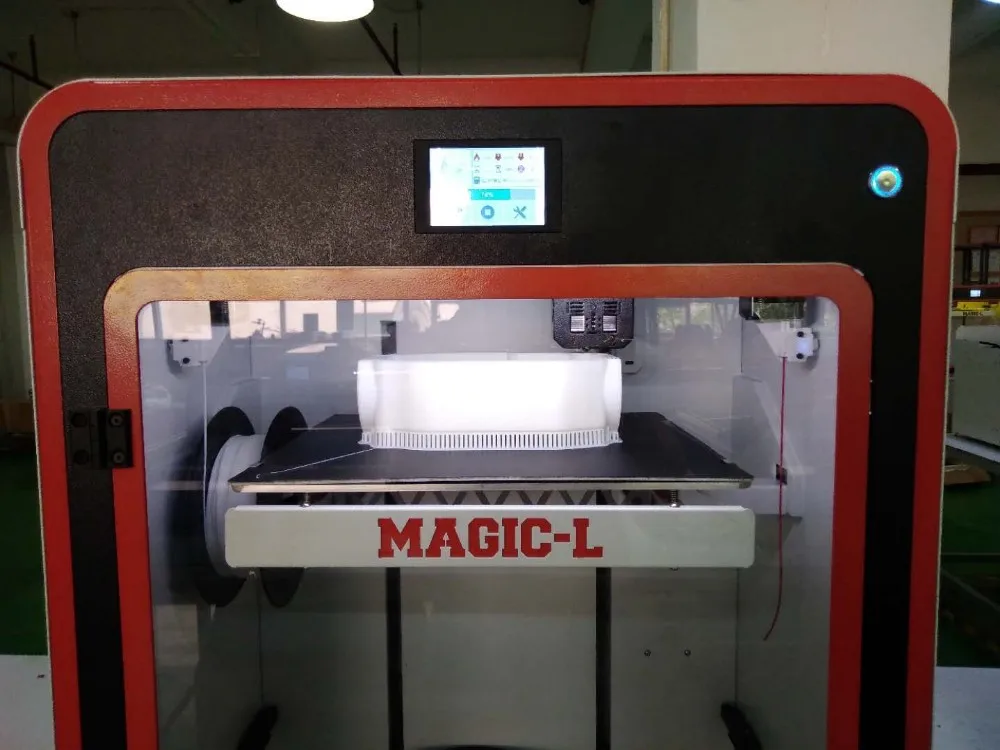 Overview of professional 3D printers
Such models differ significantly from similar desktop machines, demonstrating decent performance: performance, quality, print accuracy, compatibility with a wide range of materials. When choosing professional 3D printers according to their characteristics, it is necessary to take into account the peculiarities of the equipment of each supplier.
3DSystems
The concern is the largest manufacturer of 3D devices in the US and Europe. The brand produces professional 3D printers that work with plaster, photopolymers, metals, plastics or wax. The equipment is distinguished by high performance, accuracy of compliance with the parameters. The brand's equipment is useful in various fields: medicine, the aerospace sector, mechanical engineering. They are actively used in business projects and research environment.
Models in demand:
• Figure 4 Standalone is a high-speed printer for rapid prototyping and small series production.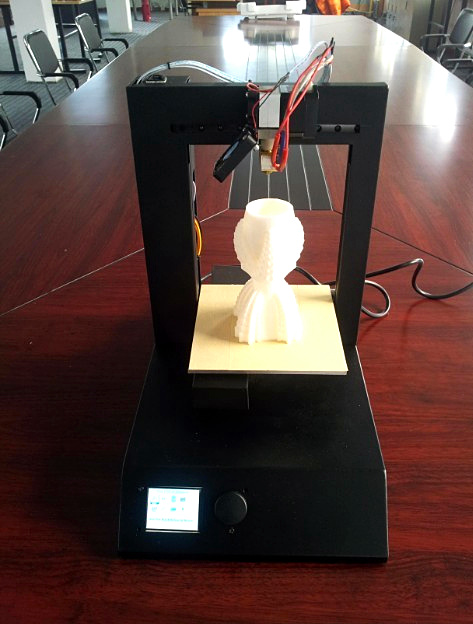 The versatile device "lines" high quality parts for industrial-grade performance. The equipment reduces costs and allows you to get detailed products. An additional plus is the ease of changing materials and an optimized post-processing system that allows you to diversify conceptual modeling.
Photo: 3DSystem
• Figure 4 Jewelry is an ultra-fast solution for jewelry production. The device creates unusual decorations with a unique design. The device provides a high-quality resulting surface, and an ideal resolution. Membrane contactless printing, customized software and MicroPoint support structures enable the production of miniature parts or the development of signature print styles.
Photo: 3DSystem
• Figure 4 Modular – Mass production equipment with the potential to scale. The basic configuration of the printer and controller can be expanded to 24 modules in a single production line. The machine is distinguished by high productivity, compatibility with a wide range of materials, the ability to respond to production volumes.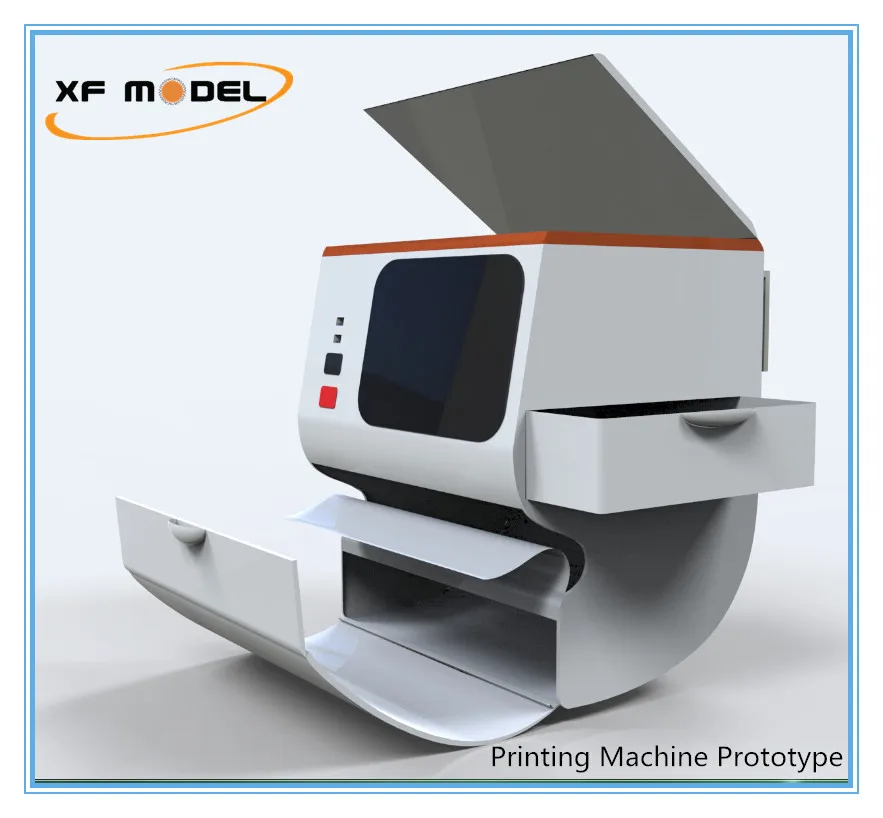 Built-in 3D Sprint software helps you edit objects and generates work statistics.
Photo: 3DSystem
• Figure 4 Production is an industrial grade machine with an end-to-end digital workflow. The modular system allows you to expand production volumes, increase factory capacity. Additive technology Figure 4 combines the part construction procedure with auxiliary technological processes, "grows" objects from a variety of compositions, including biocompatible or hybrid ones. Automatic support placement and optimized software make it easy to set up jobs and manage operations.
Photo: 3DSystem
• The ProJet MJP 2500W is a budget machine with decent performance. The machine adapts to the workflow and is able to produce small batches of products per day or print one large part of a complex configuration. The technique provides printing of products in high resolution, with smooth surfaces and sharp edges. Built-in management tools make it possible to regulate the consumption of raw materials.
Photo: 3DSystem
• ProJet MJP 3600 - equipment for detailed prototyping, production of master models, burnout elements. The technique produces objects that are in demand during assembly testing or functional testing. The technology used provides accurate detailing of printed objects, the ability to build thin-walled samples with the smallest components. Original materials make it possible to produce models with varying mechanical characteristics.
Photo: 3DSystem
• The ProJet MJP 2500IC is one of the brand's latest developments. The modification is designed to produce strong wax parts while maintaining the quality and high resolution of products, but with greater speed and availability of materials. The device is able to work around the clock, which ensures its quick payback and profitability.
Photo: 3DSystem
• The ProJet MJP 2500Plus is an advanced machine from the ProJet MJP line that prints with high precision and detail.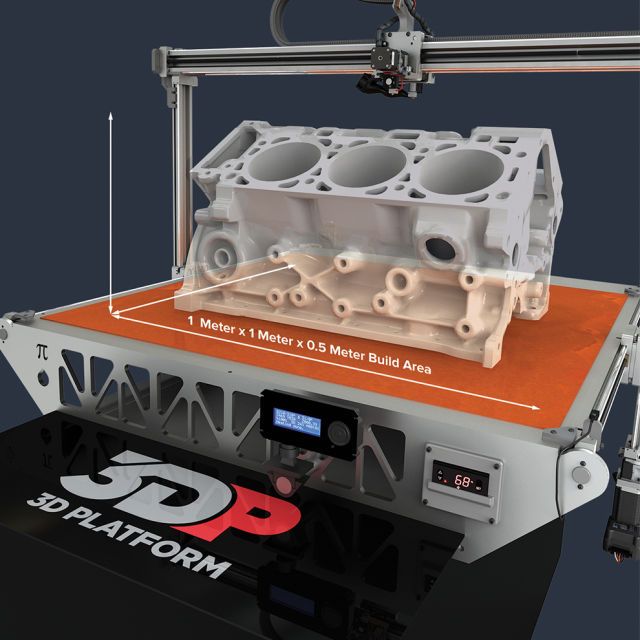 The device surpasses desktop models in performance, does not require specific management skills, and is distinguished by clear navigation and synchronization with a computer. Compatible with a wide range of consumables.
Photo: 3DSystem
Nexa3D
The company is known for its breakthrough projects. The brand regularly presents new products that overtake similar devices in one way or another. Fast machines, unique resolution modifications, upgraded software, safe cartridge changing system - the Nexa3D team always surprises users.
The brand's most popular 3D printer, the Nexa3D NXE400, is ultra-fast, industrial-grade technology available to organizations of all sizes. The impressive size of the working chamber makes it possible to build one large or several small models during the production cycle. The modular structure facilitates replacement of components and modifications. Finished parts are of the same quality as industry standards. Nexa3D technology provides high speed without sacrificing accuracy.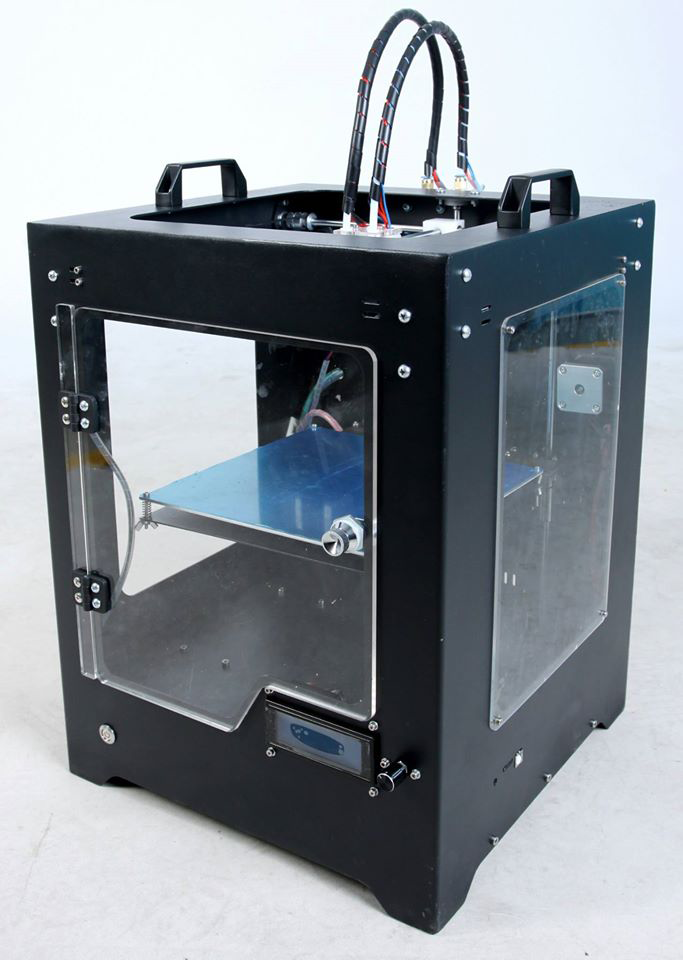 Photo: NEXA3D
Sinterit
The Polish manufacturer offers appliances in the middle price segment. The basic direction of the company's work is the design and creation of 3D equipment operating according to the method of selective laser sintering of the corresponding consumables. The company's scientists correct shortcomings typical for 3D printers, add new options, and come up with a unique design. The brand's equipment is the most affordable solution for obtaining accurate prints without traditional restrictions.
Main models of 3D printers:
• Sinterit LISA is an affordable professional SLS machine capable of building multiple objects in one print cycle without the use of a support system. Manufactured specimens are immediately ready for use after cleaning. The device is compatible with various types of CAD files and has an intuitive interface. The equipment is suitable for small production lines.
Photo: Sinterit
• Sinterit LISA PRO is an upgraded version of the previous unit, the best option among desktop printers in this category.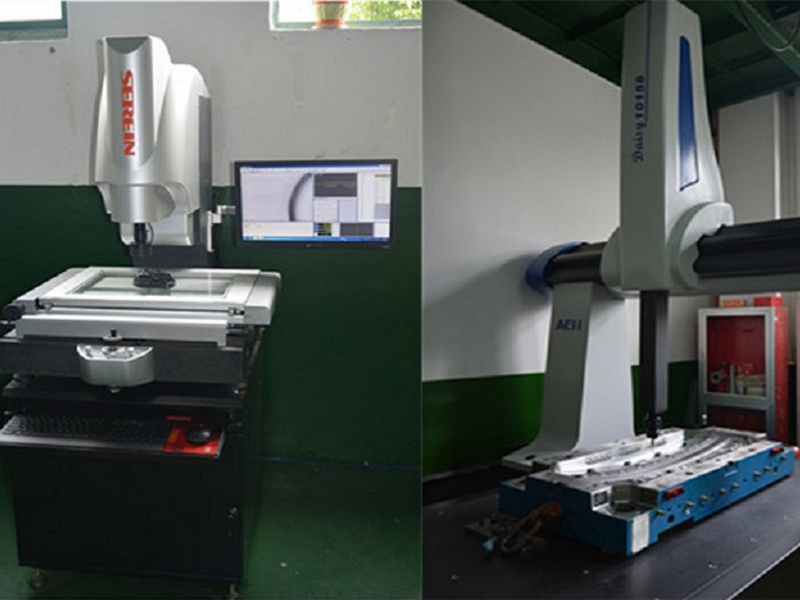 Equipped with a more capacious build chamber and a built-in system for supplying inert gas to the working compartment. This is a reliable, easy-to-use machine that produces quality parts.
Photo: Sinterit
Sintratec
The company is a leading Swiss supplier of premium solutions for additive manufacturing. The company develops SLS printers and consumables for them. Proprietary materials and technologies provide impeccable printing accuracy, the ability to build an object of an extraordinary configuration. Users rated the following 3D printers:
• The SINTRATEC KIT is the perfect solution for functional prototypes. The machine can be integrated into an existing production line. The technique is easy to use and produces samples with complex geometry used in mechanical engineering, research, and medicine. The equipment is compatible with a wide range of polymers, producing durable, heat-resistant products with good detail. The device was designed as a desktop, so it has the appropriate dimensions and design.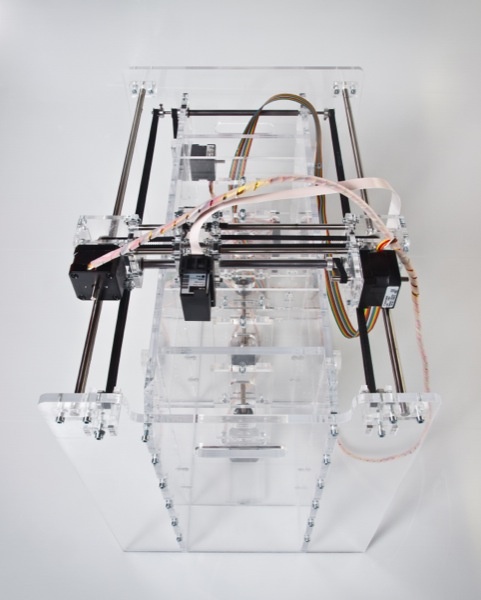 Photo: Sintratec
• The SINTRATEC S2 is a professional device with a scalable structure. The modular design is able to expand, adapt in accordance with the growth of production volumes. The advanced technique offers enhanced prototyping possibilities. The unique semi-automatic system integrates raw material preparation, printing and post-processing into a single closed cycle.
Photo: Sintratec
TOTAL Z
The company is a leading domestic manufacturer of 3D equipment that provides professional design and manufacture of additive equipment for industrial purposes using FDM/FFF technology. The brand's technique solves diverse tasks associated with the development and production of serial samples, prototypes, elements with the smallest details. The company pays a lot of attention to the accuracy of recreating objects, mechanical characteristics, durability, safety. Our own line of materials has been developed based on the results of scientific research and the latest statistics.
Users purchase the following equipment:
• TOTAL Z Anyform 250-G3/G3(2X) - versatile compact equipment for industrial scale. The extruder's modular structure, rigid frame design, closed build chamber, unique control board, and user-friendly interface ensure highly efficient production and convenient machine maintenance. The absence of restrictions in materials allows the use of filaments from various manufacturers.
Photo: TOTAL Z
• TOTAL Z Anyform XL250-G3/G3(2X) is a 3D printer that works with one or two extruders that can be configured for different materials. The heated bed makes it possible to print with elastic or rigid polymers. To process files with 3D models, special software with patented settings is used. The equipment is compatible with different types of plastics and the user is not limited in choice. The model greatly simplifies the process of experimental development.
Photo: TOTAL Z
• The TOTAL Z Anyform 1000-LPRO is a high performance device for ultra-fast printing and large object fabrication.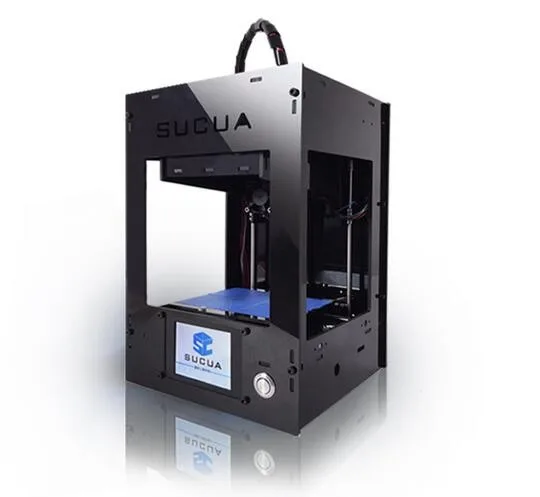 An impressive working chamber, a uniformly heated table ensure the printing of products with exact observance of the parameters. The closed build box allows you to safely work with a wide range of engineering plastics.
Photo: TOTAL Z
Builder
The manufacturer supplies machines designed for the manufacture of really large objects - advertising stands, exhibition displays, full-size models of a person, functional elements of cars. The Dutch company has become known for its interesting technological developments in the field of FDM printing. Modifications are popular in the brand line:
• Builder Extreme 1000 PRO is a universal device that combines the advantages of desktop and industrial devices. The large-sized unit is suitable for printing large-scale prototypes, large tools and layouts. The broken filament detection system and the option to resume operation after a power failure are responsible for the smooth operation and efficiency of the equipment.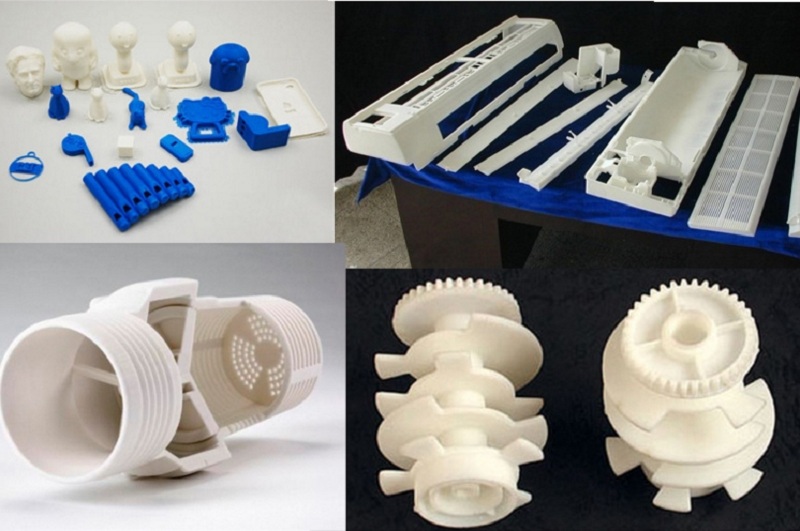 The unit is able to turn any creative idea into a real object, rationally spending resources.
Photo: Builder
• The Builder Extreme 1500 PRO is a widescreen device configured for the office. Built-in wheels make the equipment mobile, and a capacious working chamber involves the construction of large-scale industrial facilities, impressive prototypes, architectural models, and interior items. The model is considered the most reliable in its class. In the event of a power outage, the equipment resumes functioning immediately after it is turned on.
Photo: Builder
• The Builder Extreme 2000 Pro is the world's largest wide-format machine, packed with the tools to print large-scale projects with ease. The 7-inch touch screen helps you control the build process, nozzle temperature, set the backlight, and change the filament. The dual feed extruder can grow two color patterns but is also capable of functioning as a mono extruder.