3D printer restaurant london
The restaurant where everything is 3D printed, from the food to the chairs
The view inside Food Ink's 3D printing pop-up restaurant in Shoreditch.
Image: Food Ink
When diners at London pop-up restaurant Food Ink sat down to dinner last week, they may have been thinking about the fine dining menu of Mediterranean cuisine they were about to enjoy. But their meal was a little different to most served at haute gastronomie events: it was all 3D printed. And it's not only their food that was made locally by 3D printers: the restaurant's fixtures and fittings were too, from the knives and forks the diners used, to the chairs they sat on.
For three days and three special meals, Food Ink took up temporary residence in a Shoreditch side street to showcase the versatility of 3D printing.
During the day, the pop-up was opened as something of an exhibition space for the technology, where the public could see 3D printers and pens at work, and try some 3D printed snacks.
At night, the pop-up became boutique restaurant, where 10 diners per sitting paid over £250 a head for a nine-course menu, printed during the meal while they watched.
Food Ink's 3D printed dessert.
Image: Food Ink
"Since I was a kid I was always interested in science fiction, and where I'm coming from today is really about blurring sci-fi and reality, and 3D printing connects to a lot of people because of that," Antony Dobrzensky, Food Ink's cofounder and director, said.
"I began exploring the idea of doing something with 3D printing that could connect to the public and I came to the conclusion that food, the universal language... was probably the best way to bring what is otherwise an exotic, intimidating, confusing subject to the mainstream."
Dutch startup ByFlow supplies the machines used for printing food, while Barcelona-based BCN3D Technologies' printers make the cutlery, using water-soluble supports to create knives and forks with clean lines and smooth surfaces.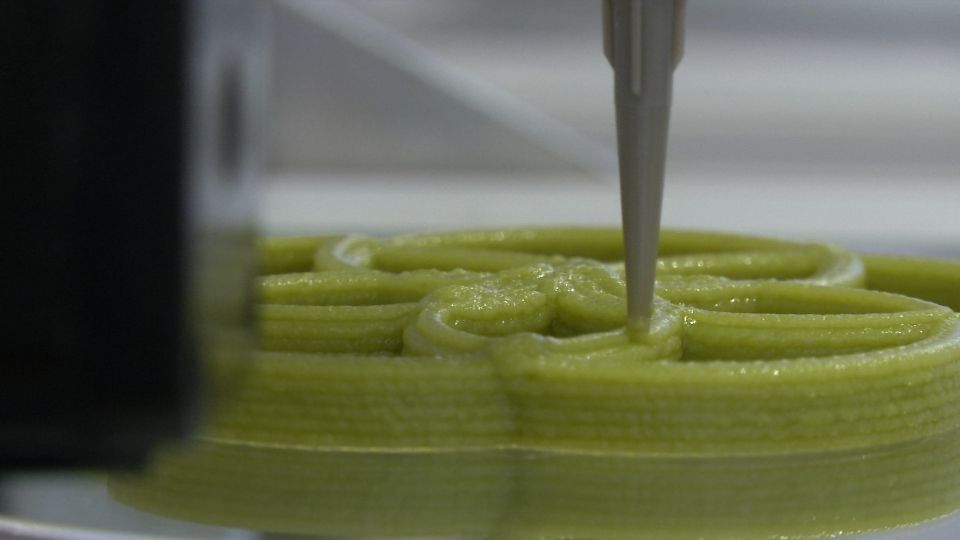 The restaurant's pale, geometric stools and table legs are being created by architects Mamou-Mani, using a custom Grasshopper 3D program written with the furniture in mind and Hypecast's Delta Tower printers.
Food Ink teamed up with Dutch 3D printing startup byFlow to work on the pop-up restaurant after meeting at a tech conference. The family business, based in Amsterdam, had originally been focused on building and selling portable 3D printers. The decision to look at making food came after Floris Hoff, the company's CTO, spent some time experimenting with 3D printing chocolate structures while studying industrial product design at the Dutch research institute TNO.
"We know a lot about technology, we can be innovative about that, but we knew almost nothing about food ... so that was why we needed to search for a good chef," said Nina Hoff, ByFlow's CEO. After Floris spent a week interning with a Michelin star chef and working on a 3D printed dessert -- a globe made of chocolate hiding a segmented interior full of more treats -- the company was able to meet more top chefs.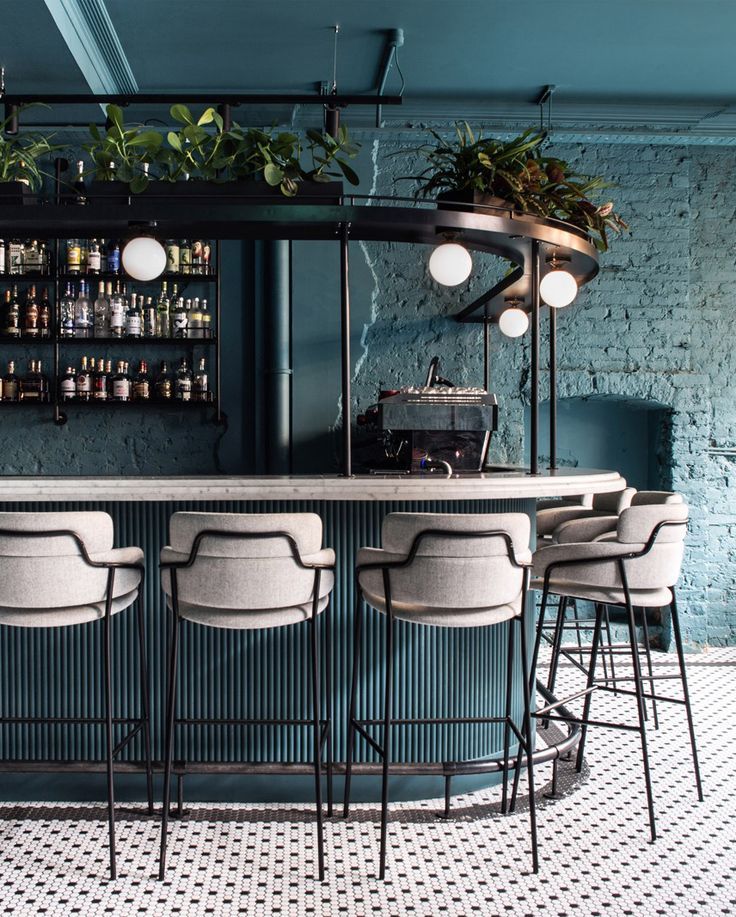 The menu for the three evenings at the Shoreditch pop-up was created by Joel Castanye and Mateu Blanch, chefs at the Catalan restaurant La Boscana, and featured obliquely-named dishes including Cosmic Delight and Tetris Tapas.
First and foremost in their minds was food that tasted good, 3D or no 3D printing, the two chefs said: they wanted to capture the flavours of the fruits and vegetables of Catalonia in 3D printed form.
Their experiences of using food for 3D printing also began with experiments with chocolate, before progressing onto using foods like hummus whose textures lend themselves to being 3D printed.
The chefs and technologists worked together to create the complex designs for the pop-up food. "We know that for food printing you need paste materials -- it cannot be too liquid but it also cannot be too thick, so that's very important. Also we can help with making the designs -- we know exactly how the printer adjusts to what type of designs, it's really a collaboration.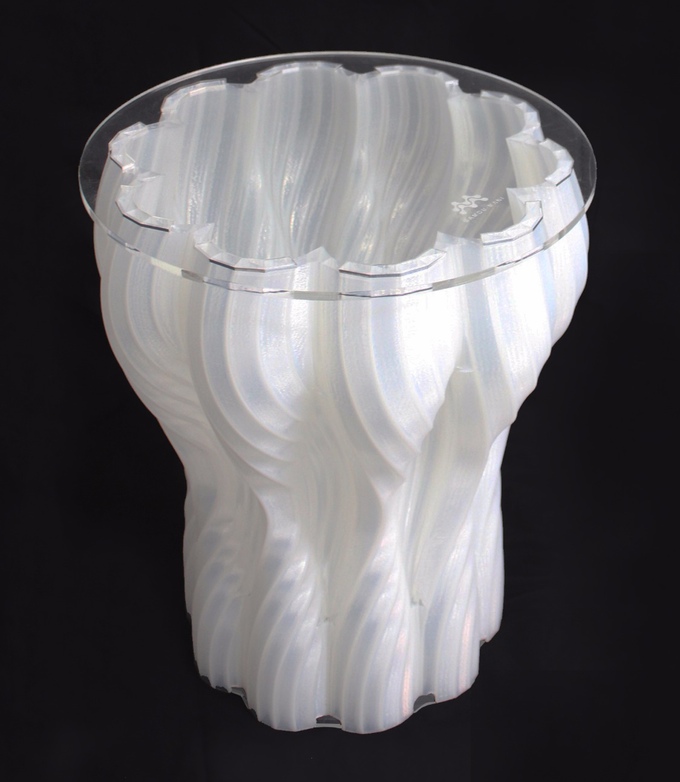 The chefs know about the flavours, we do the technical part," ByFlow's Hoff said.
After opening in London -- because "London is really open-minded and supportive of innovative initiatives in food, technology, and design, and this is at the intersection of the three" according to Food Ink's Dobrzensky -- the pop-up restaurant will be popping up in more cities in the coming months. Food Ink plans to take the pop-up to Amsterdam, Rome, Barcelona, and Berlin in September and October, then making its way to New York before the end of the year.
Food Ink has already had discussions with business from Singapore to Dubai about the possibility of setting up permanent 3D restaurants. Dobrzensky hopes to eventually open a chain of 3D printing concept-dining spots, in the model of themed chains like the Hard Rock Café, or Dans Le Noir.
Chocolate printed at the London pop-up.
Image: Food Ink
The chain may take a while to open its doors, however, thanks largely to the pace of 3D printing technology development.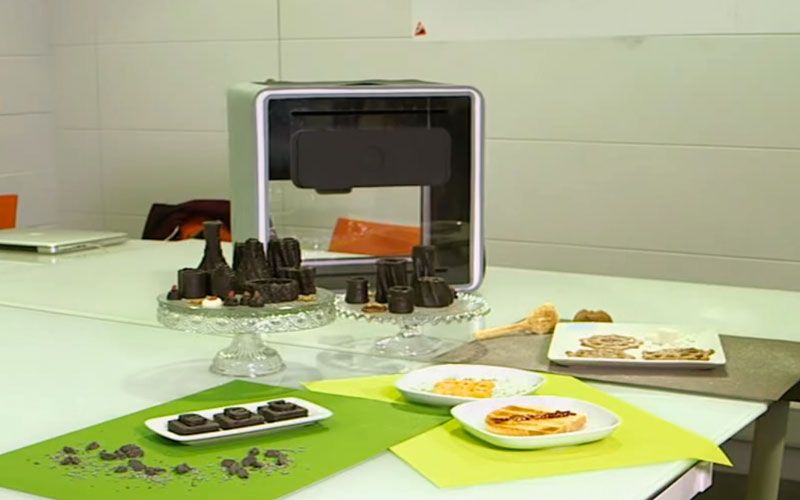 Currently, 3D printing is just too slow and too expensive to allow the opening of a restaurant using the technology which is still accessible to consumers with mid-range budgets.
"It will be some time, perhaps some years, until we see something on the level of a McDonalds that is entirely 3D printed... this technology is amazing and it's improving exponentially, but it's still this first generation, and we're somewhat constrained by the technology in the sense that the speed and the number of printers you can have means it's better to go for a quality over quantity experience," Dobrzensky said. "That's why from the beginning we focused on a Michelin-calibre, many-course, real gastronomy experience."
As the technology improves, the company plans to introducing a more wallet-friendly version of the pop-up nights, as well as continuing to offer 3D printed fine dining like the three nights in London.
Looking back on the first night, Dobrzensky said: "there were many aspects already we know we can improve, but I had been immersed in it for so long, and by team has, that I had become desensitised to it.
I had to take a step back later that night after the last course. I walked outside the restaurant and looked through the window, and I saw nothing but smiles and laughter and excitement."
Read more on 3D printing
Robot restaurants and sci-fi kitchens: How tech is changing the way we eat (TechRepublic)
Spain's 3D food printing lab: Bringing technology to the table
How 3D printed food will move from labs into the mainstream
The killer app of 3D printing: Snacks (CNET)
FOOD INK - 3D PRINTING FOOD RESTAURANT
FOOD INK – 3D PRINTING FOOD RESTAURANT
Rendering of the Food Ink restaurant ©Mamou-Mani
Rendering of the Food Ink restaurant ©Mamou-Mani
The Smoke Stool – 3D Printed using Silkworm GCode 3D Printing Plugin for Grasshopper ©Mamou-Mani
The Smoke Stool Close-Up ©Mamou-Mani
The Interior of the Smoke Table ©Mamou-Mani
General View of the 3D Printed Furniture at Food Ink
Close up on the food on our 3d printed table at Food Ink
Close-up on the Byflow Food 3D Printer at Food Ink
3D Printing process behind the The Smoke Stool – 1kg of PLA bioplastic printed at high speed and high temperature with custom infill ©Mamou-Mani
Example of the custom inner truss generated through the open-source plugin Silkworm for Grasshopper ©Mamou-Mani
Displaying the varying e-values in our Gcode ©Mamou-Mani
DATE  2016
LOCATION LONDON
STATUS COMPLETED
CLIENT FOOD INK
TEAM
Mamou-Mani (Arthur Mamou-Mani, Rishabh Khurana, Ping-Hsiang Chen, NLola Chaine)
Food Ink (Antony Dobrzensky, Marcio Barradas, Mateu Blanch, Joel Castanye, Frits Hoff, Floris Hoff, Jerome Vadon)
Thanks
James Solly, Oliver Fueckert, Florian Horsch, Aaron Porterfield, Andrei Jipa
PRESS
Forbes, Archdaily, 3Ders.
org
Our Smoke Stool has been listed as a 3DPC Finalist 2017 of the Pioneers Challenge 17.
Bringing together architects, artists, chefs, designers and engineers, pop-up restaurant Food Ink. has laid claim to the title of "world's first 3D-printing restaurant." The restaurant utilizes 3D printers produced by Dutch company byFlow to create dishes out of hummus, chocolate mousse, smashed peas, goat cheese or pizza dough – essentially anything that can take the form of a paste.
The paste can then be fed through the extruder to create culinary sculptures. Food Ink.'s mission is to explore the intersection between dining and technology-enhanced user experience. According to their stated philosophy, the team is "putting [to] work most innovative technologies, like 3D-printing and augmented reality, in order to elaborate the most exquisite interactive edible experience.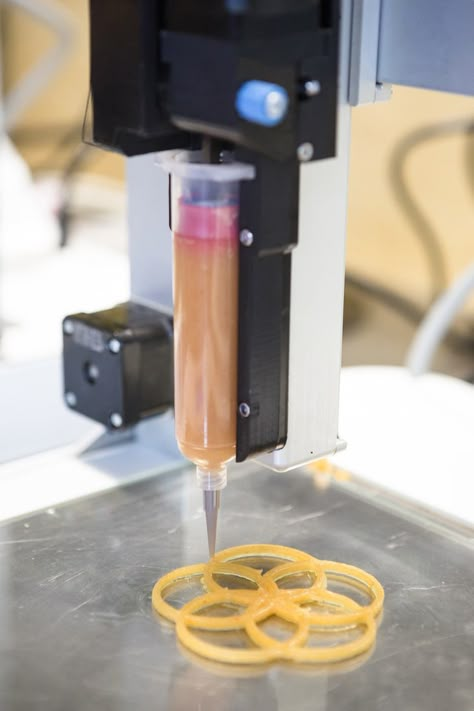 "
In addition to translating geometries into 3D printing pathways, Silkworm allows us to manipulate the internal geometries and structures of his designs to fit desired time, speed, and build constraints. To ensure the stability and strength of the 3D printed stools, Mamou-Mani incorporated a truss structure into its walls, ultimately allowing for a sturdy, hollow, and materially efficient structure that could withstand being sat on.
In designing the whole collection, which consists of a number of different designs, Mamou-Mani and his team generated a matrix of potential chair designs which took into account the desired speed of the print, the angle behind the print, and a number of other factors. The result was a range of design families that fell into these constraints. To account for the height limitations of the 3D printer, some of the pieces were designed with male/female connections for possible extensions.
MORE VIDEOS
A 3D printed restaurant opened in London (photo)
A 3D printed restaurant opened in London (photo)
Main
News
Society and culture
Interesting
3D printed restaurant opened in London (photo)
News
Previous

October 06,
More than two thousand Russians were interested in how to surrender - Ministry of Defense
A Belarusian who fought on the side of the Russian Federation was captured in Donbas
NATO must make it impossible for Russia to use nuclear weapons - Zelensky
Italy is preparing a new package of military assistance to Ukraine - media
Truss made a statement about the negotiations between Ukraine and Russia
North Korea fires two missiles at Japan
Three EU countries prepared military assistance to Ukraine
Some people over 80 years of age may have a unique set of neurons
Nvidia flared up again in Russia
Passports and ID-cards: prices for services for Ukrainians have risen in Poland
Zelensky warned of a difficult winter
In the United States assessed the chances of Ukraine to return the Crimea - media
Tariffs for electricity in Poland: how much the prices increase, and who can compensate for payments
The first newly mobilized Russian who was sent to the war against Ukraine surrendered
Ship grouping of the enemy fleet in the Black Sea - 10 units
As a result of the gradual liberation of the Armed Forces of Ukraine of the Ukrainian territories, the departure of the henchmen of the occupying authorities is noted
The occupiers were beating from MLRS and heavy artillery throughout the Nikopol region all night
Occupiers mined gas pipeline near Balakleya
General Staff of the Armed Forces of Ukraine: as of October 6, the number of liquidated invaders reached 61,330
Armed Forces of Ukraine continue to push back the enemy in the south - General Staff
Air defense forces destroyed 9 Shahed-136 enemy kamikaze drones
Shelling of Zaporozhye: residential buildings were destroyed
Mobilized in the Russian Federation rebelled and refuse to fight - social networks
EU should give Ukraine tanks - European Parliament President
October 05,
The Presidential Office reacted to the expropriation of Zaporizhzhya NPP by Putin
Six settlements liberated in Luhansk region - OVA
Ukrainian Armed Forces liberated three villages in Kherson region - Zelensky
Russia says it doesn't rule out a direct clash with the West
In Izyum, an ex-law enforcement officer was detained, who "surrendered" patriots to the enemy during the occupation
Training exercises for future commanders of the Armed Forces of Ukraine begin in Britain
Zelensky called for the creation of a special tribunal for war crimes in Russia
Blow to Putin's oil revenues: EU agrees on oil price ceiling in new package of sanctions against Russia
Putin may announce a change in the status of "special operation" - RosSMI
Iran denies sending drones to Russia
Ukrainians urged to turn off the light
Another Polish city is preparing apartments for refugees from Ukraine
Pentagon: US invests in munitions to meet Ukraine's needs
Archaeologists in Egypt found a pink granite sarcophagus
A Lviv resident corrected the rocket strikes of the occupiers on the territory of the region
Successful Forex Trading: 5 Best Strategies

Show more
See also
Interesting
Source: ua.
today
All related: London food
News of the world and Ukraine today ua.today, 2016-08-06 16:10
A restaurant has opened in London where everything from food and dishes to furniture is printed using a 3D printer, reports the Daily Mail.
The restaurant offers a 3D-printed nine-course menu.
The institution opened in the capital of Great Britain at the end of July.
Meals cost around £250 per serving.
Related news:
Why can't you drink while eating?
In the Sumy region, a woman bought bread and found a metal nut in it
In England, through a rare eating disorder, a child eats his own diapers, paper and even furniture.
McDonald's is testing the McPlant plant-based burger in the US
Follow ua.today on Twitter and Facebook: in one feed - everything that worth knowing about politics, economics, business and finance.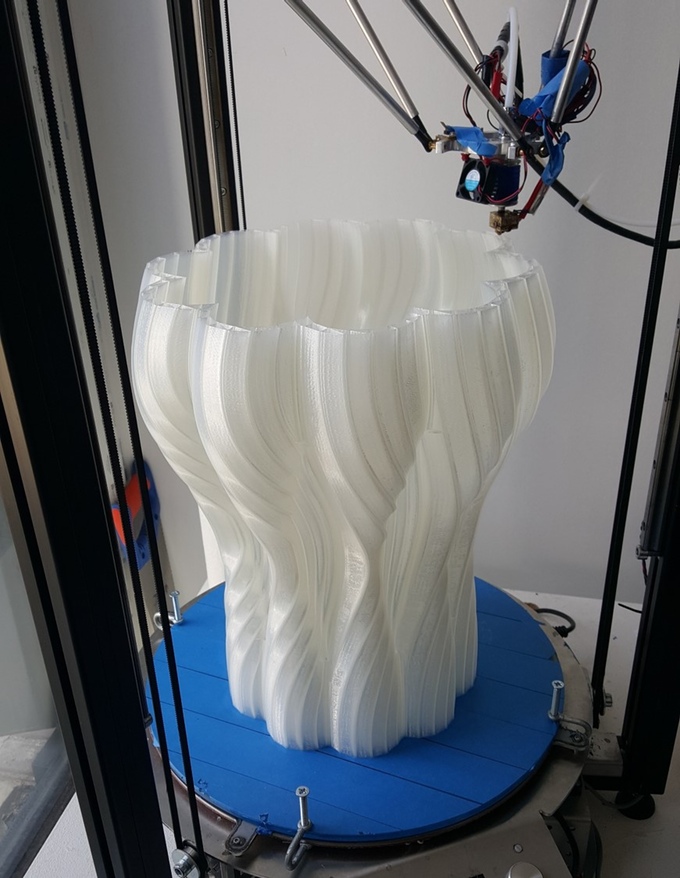 Loading...
News Partners:
Media News2
Loading...
If you notice an error, please highlight the incorrect text and press Ctrl+Enter - this way you will help us improve the site. Thank you!
Error:
Comment:
Submit Close
3D technologies are coming to restaurants
Headings:
Business practices
News and events
Trends
Tags: 3d kitchen, concepts and formats new projects , technology , franchise, chef
Food.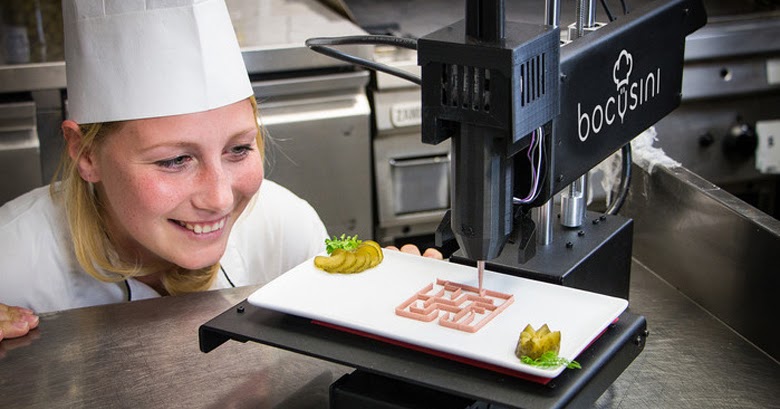 Inc project. opens restaurants where food is prepared using a 3D printer.
Molecular Snack from Food.Inc.
The creators of the Food.Inc. project, who recently opened a molecular cuisine restaurant in London, continue to promote their idea. This time a similar institution opened in Spain.
Founders of the Food.Inc project. open restaurants where food is prepared using a 3D printer. In their opinion, now this direction is becoming widespread: people like to try something unusual and striking their attention. 3D technologies make it possible to prepare dishes that can never be reproduced by the hands of a chef.
London project, Food.Inc pop-up restaurant. appeared this summer. Everyone, residents and guests of London, has already been able to try the dishes that are printed on the printer. By the way, all interior items and even cutlery are also made on a 3D device. According to the British publication EveningStandart, the restaurant is open during the daytime, and guests can watch the pop-up window, see the work in action, and try various 3D printed snacks.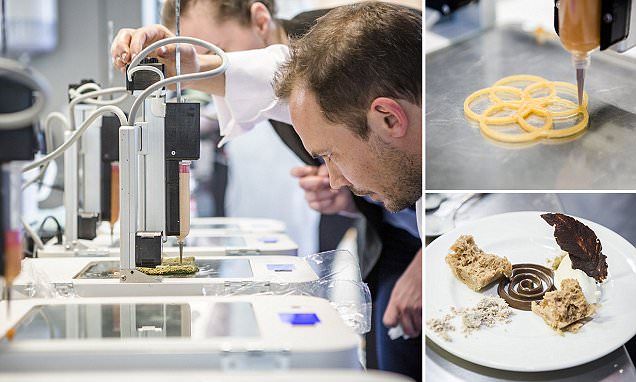 Each dish is prepared with fresh natural ingredients. The printers are provided by Food.Inc. project partners, byFlow Focus. Unusual cuisine is produced by chefs - Matthew Blanch (Mateu Blanch) and Joe Castanye (Joel Castanye), known for the restaurant La Boscana, located in northern Spain. Joe Castagne is also known for his work at El Bulli, a Michelin-starred three-star restaurant near Barcelona.
Dinner in a Spanish restaurant will cost 180 euros, although the creators are ready to make a budget menu as well. By the way, in London, a dinner of nine "printed dishes" costs about 300 euros.
The creators of the project are confident that they are "the first to come up with such an initiative, when in a restaurant each element is printed on a 3D printer, and the food is prepared from a large set of ingredients."
About Food Ink
Food Ink's vision is to create gourmet restaurants where all food, utensils and furniture are entirely 3D printed in an immersive futuristic space.