Shoe sole 3d printing
3D Printed Shoes: What's Available on the Market Today?
Published on March 4, 2022 by Carlota V.
In August 2020, research firm SmarTech Analysis unveiled its second study on the 3D printing and footwear market. According to the report, this industry is expected to generate more than $8 billion in profits by 2030. And it must be said that additive manufacturing offers a number of benefits in footwear production, perhaps the most important being the ability to customize the final product. Consumers are looking for differentiation and uniqueness, and 3D technologies can meet that need. They are also able to offer custom-made products with complex designs, perfectly adapted to each individual's morphology. Thus, thanks to 3D scanning and 3D printing, companies are imagining more efficient sneakers, futuristic shoes for high fashion or comfortable and durable soles. Yes, it should be noted that it is not always the entire shoe that is 3D printed – which is actually quite rare – but rather the upper or the sole for example.
In any case, 3D printing and footwear go hand in hand, and the market certainly is showing a lot of promise! For that reason, we wanted to introduce you to a few of the most impressive 3D printed shoes currently available, whether for sports, going to the beach or just going to work.
Adidas' Range of 3D Printed Shoes
When it comes to 3D printed shoes, we would be remiss if we do not mention the offerings from famed shoe manufacturer, adidas. The company has been using 3D printing since 2017 when it entered into a partnership with Carbon to create new shoes, starting in 2018 with Futurecraft 4D 3D printed shoes, which are still being sold. Since then, they have continued to use additive manufacturing to create unique, sustainable footwear. For example, just last year the company released two new 3D printed sneakers, the 4D Fusion and the adidas 4DFWD, the latter of which was specifically created to improve athlete performance. According to the company 3D printing adds performance thanks to the lattice structure as well as adding a lot of flexibility to its activities, from reducing lead times to offering a shoe that could be completely customized at a reasonable price.
Thanks to Carbon's DLS technology, the adidas 4DFWD has a unique lattice midsole made of 40% bio-based material (photo credits: adidas)
Liquid Speed from Reebok
Reebok is one of the largest and most recognized companies in the footwear industry. That's why, a few years ago, they decided to use additive manufacturing technologies to create soles for one of their athletic shoe collections. While the rest of the shoe was made using traditional methods, the Liquid Speed incorporates a maximum fit sole. Reebok partnered with chemical company BASF, who used a liquid polyurethane material. They used a programmed robot to create the successive layers, bringing the sole to life. In addition to offering better performance and durability, the Liquid Speed has a very original design.
The Liquid Speed's design is original
New Balance Incorporates a 3D Midsole
In a similar vein, New Balance has collaborated with 3D Systems to develop 3D printed midsoles. DuraForm Flex are insoles created with SLS technology from a thermoplastic elastomer material.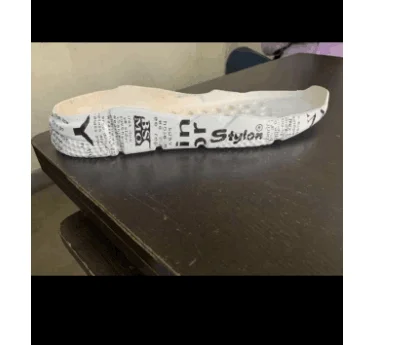 They combine strength and flexibility and provide maximum comfort for the sports shoe. The 3D printing technology allows the production of complex structures that optimize shock absorption while making the shoe lighter. Since then, the American brand has been working with Formlabs and its stereolithography technology on the development of a Triple Cell platform to produce the FuelCell Echo.
The shoe's midsole was 3D printed
ECCO and its customizable midsoles
ECCO is a Danish shoe manufacturer with many years of experience in the industry. In 2019, the company launched its Quant-U service aimed at customizing shoes through 3D printing. Using a 3D scanning process of the feet, it is possible to determine the orthopedic fit required for each person. With this device, ECCO designs 3D printed insoles tailored to the needs of its customers. This part is made from silicone, a material that provides stability as well as an adequate degree of cushioning. In addition, the company says the insoles are easily interchangeable and can be put in the washing machine.
Photo Credits: ECCO Quant-U
Wiivv Goes for Customization
Wiivv is a young Canadian company that specializes in the production of 3D printed soles and flip-flops, entirely adapted to the wearer's morphology. Thanks to a Smartphone application, the user can directly scan his or her foot, send their data to the company and receive a customized solution a few weeks later. Take flip-flops for example: thanks to 3D printing, Wiivv can customize certain elements of the shoe such as the straps or the vertical strap. The objective is of course to offer more comfort to the user. The company is equipped with a machine park in San Diego and the product is made using SLS technology.
Wiivv's flip-flops are fully customizable
Sustainable 3D Printed Shoes
How can you best combine fashionable footwear with a responsible environmental conscience? By using additive manufacturing! Chris Margetts, founder of The Sole Theory and fashion brand Humans Are Vain, uses recycled textiles to make his 3D printed shoes.
He explains, "There is a strong demand for more sustainable products. There is no doubt that there will be consumers who want to buy this type of footwear when we launch it on the market." He is deliberately using the fibers from clothing he once loved to turn into composite materials. This way, they can be used as material for 3D printing to create new shoes. The fibers are ground up and turned into filament for ZYYX Labs' 3D printer.
Photo Credits: The Sole Theory
HERON01, the Fully 3D Printed Sneaker
Attention sneaker fans: the 3D printed HERON01 is sure to be a crowd-pleaser. This shoe was made entirely by additive manufacturing by the American company Heron Preston, named after its founder Heron Preston Johnson. For this model, the founder of Heron01 is particularly focused on the theme of sustainability, as no glue or toxic materials were used in the production process. It was also possible to dispense with the use of seams, which means that the shoe can be completely recycled.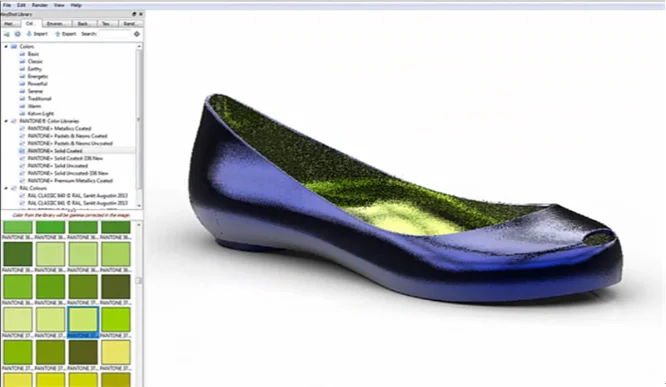 The scraps and waste can eventually be used to make a new product. The design idea that goes beyond traditional shoe making is also reflected in the shoe's features: low ankle cutouts, printed scales and textures, and the bird's foot pattern on the sole.
The HERON01 sneaker (photo credits: HERON01)
Natives Shoes and its 3D Printed Shoes
Canadian manufacturer Native Shoes launched the Liquid Printed Natives project with the intention of developing everyday objects using advanced methods such as additive manufacturing. As part of this, the company used liquid rubber to 3D print shoes. The manufacturer says it used a 50% recycled ethylene vinyl acetate (EVA) material to achieve greater flexibility and a more rubbery appearance. What stands out about Native Shoes' project is the speed of production, with the company explaining that 3D technologies have significantly reduced manufacturing time compared to traditional methods. They also offer consumers a high level of customization.
The shoes would be 3D printed directly into a tray containing a reusable water-based viscous gel formula
Eco-Friendly Sandals
We continue in this trend of 3D printed sandals with the Organic collection, imagined by a young student in fashion design, Lucie Trejtnarová. In collaboration with the material manufacturer Fillamentum, she 3D printed the outer sole of the sandal on which she sewed several organic fabrics made from fibers extracted from pineapple or coconut leaves. The printed sole had to be strong enough to support this fabric, so Lucie chose a TPU that was flexible enough but resistant to abrasion and wear. It also has a recyclable character, a key component for the young woman.
Mycelium Shoe, Futuristic Shoes
Imagined by the design studio Ica and Kostika, the Mycelium Shoe pair is entirely 3D printed on an SLS machine. Rather imposing by its shape, its size and its design, it does not go unnoticed in the street – besides, only 5 pairs were created.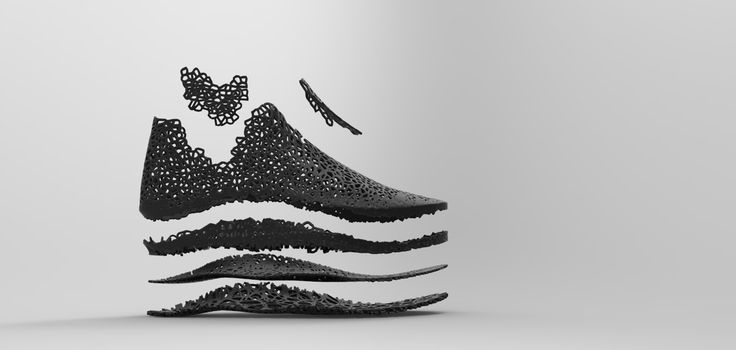 Its designers claim that these 3D printed shoes are very comfortable because they are entirely customized to the person's feet: the 3D file is made from scanned data. It remains to be seen if walking in them is fun!
Only 5 pairs were created
Hilos, The Sustainable 3D Printed Shoe
Portland-based startup Hilos was founded in 2019 and wants to transform the way shoes are made, combining technology and craft. Through additive manufacturing, the company hopes to address environmental issues, while providing quality footwear. Recyclable, this shoe is made through selective laser sintering and is designed from TPU, because of its flexibility and strength. The company confides that, with the help of 3D printing, it is able to bring new product lines to market in just two weeks, compared to the industry average of 12 to 15 months.
ATHOS, 3D Printed Climbing Shoes
Developed by a group of students in Barcelona, ATHOS climbing shoes are gaining in popularity.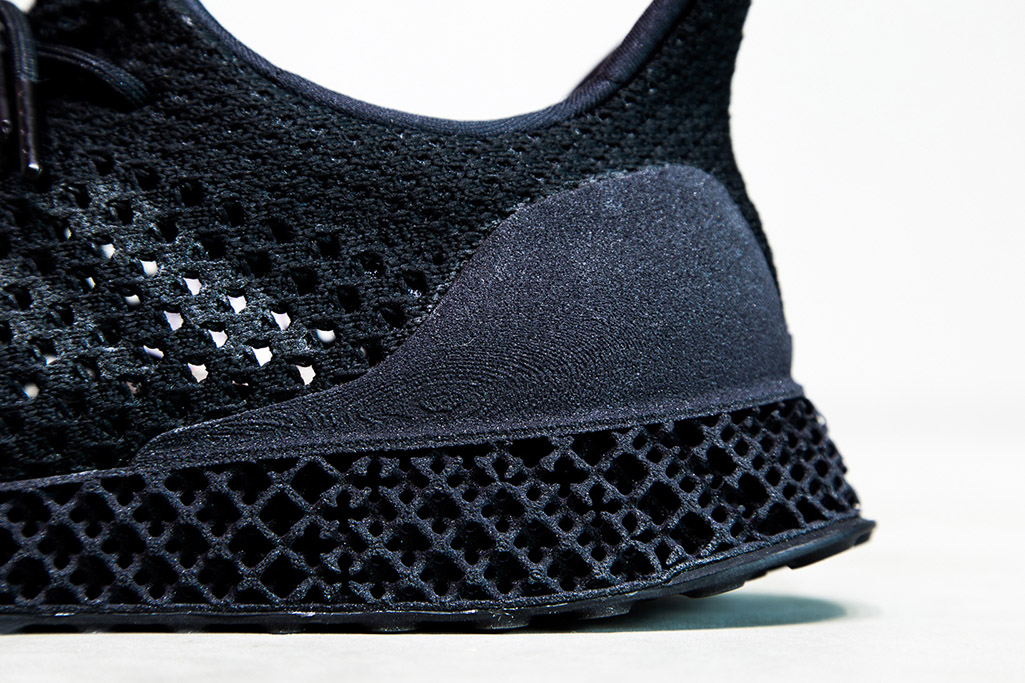 Also known as "climbing shoes", this type of shoe must fit the athlete's foot perfectly to improve grip and prevent slipping. Usually, to make sure they have a good fit, athletes wear climbing shoes that are smaller than theirs, which causes pain and deformity of the foot. This is why the team behind ATHOS wanted to create custom-made climbing shoes that meet the needs of each climber. To do this, they use HP's MultiJet Fusion 3D printing technology and BASF's TPU material. The process to get the ATHOS shoes is very simple: just scan your feet with 3 photos, customize the shoes to your liking, and once you get them home, you can start climbing!
Photo Credits: ATHOS
Pleko, the Carbon Fiber Shoe for Running
The brainchild of Italian middle-distance runner Miro Buroni and the Diadora company, the Pleko is a shoe made up of many 3D printed components. The 3D printed parts include the insole, outsole, spikes and ribs. Designed from composite materials, carbon fiber to be precise, and with the help of the powder sintering process, these different elements have made it possible to manufacture a shoe that is flexible, resistant to wear and tear and above all customizable.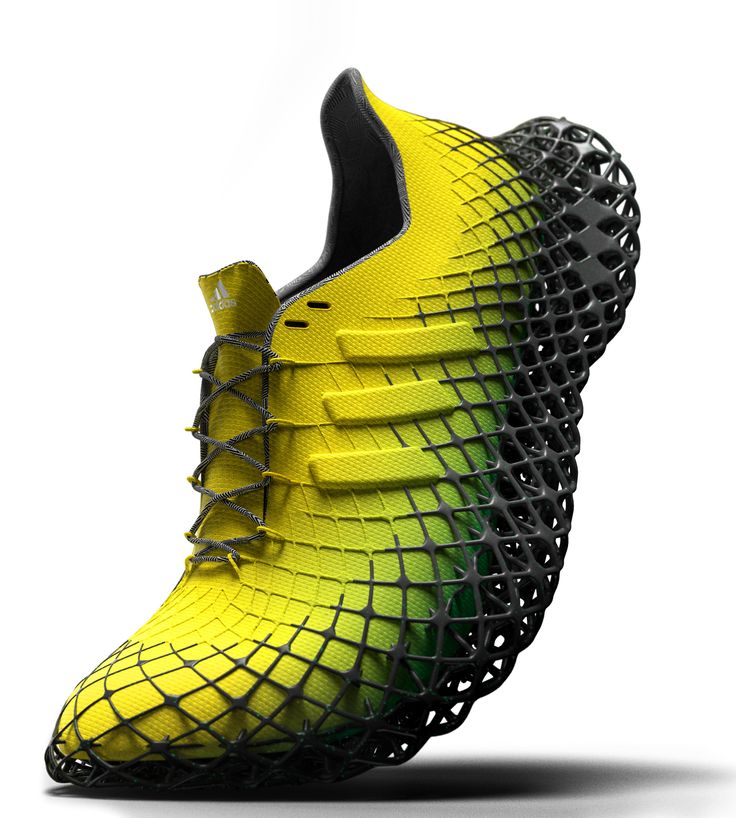 Indeed, thanks to 3D scanning and software that simulates the movements during a race, the teams behind the shoe are able to offer a durable and comfortable solution to athletes.
Photo Credits: CRP Technology
A 3D Printed Shoe for Dance
The Purmundus Challenge 2021 competition was won by Act'ble, a start-up company that collaborated with top athletes to develop a new pointe shoe. Intended for classical ballet and contemporary dance, the shoe is called "New Pointe Shoe Sole". Expected to last five times longer than traditional pointe shoes, the shoe was designed to significantly reduce the physical pain dancers experience during ballet. To make the shoe, the team 3D printed the sole, but did not specify what process they used or the materials that make up the shoe.
Photo Credits: Act'ble
The Parametriks Print 001, a Shoe Entirely Printed from a Single Material
Earlier this year, designer Nathan Smith unveiled the Parametriks Print 001 sneaker, a 3D printed shoe designed using parametric design.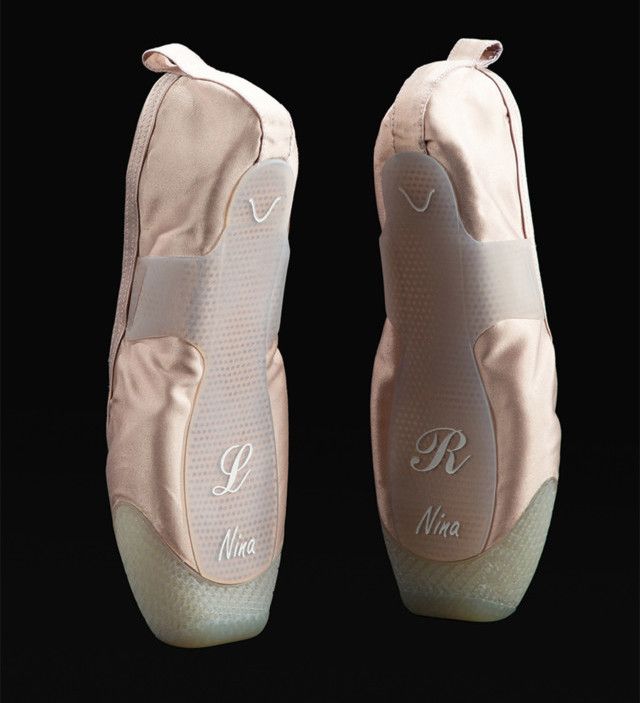 This method, using design and material science to engineer parts, resulted in a shoe that stands out from the crowd for its comfort. To develop the Parametriks Print 001, Nathan Smith says he used Grasshopper, a plug-in included in Rhinoceros 3D modeling software. As for the manufacturing of the shoe, the designer explains that he relied on SLA machines and used TPU.
Photo Credits: Parametriks
What do you think of these 3D printed shoes? Let us know in a comment below or on our Linkedin, Facebook, and Twitter pages! Don't forget to sign up for our free weekly Newsletter here, the latest 3D printing news straight to your inbox! You can also find all our videos on our YouTube channel.
3D Printed Shoe Soles Cut CO2 Emissions by 48%, Study Says - 3DPrint.com
According to a study published in February 2022 titled "The First Environmental Evaluation of 3D-Printed Footwear," the current standard production process involved in footwear manufacturing leads to "an industry where one out of every five shoes made goes unsold.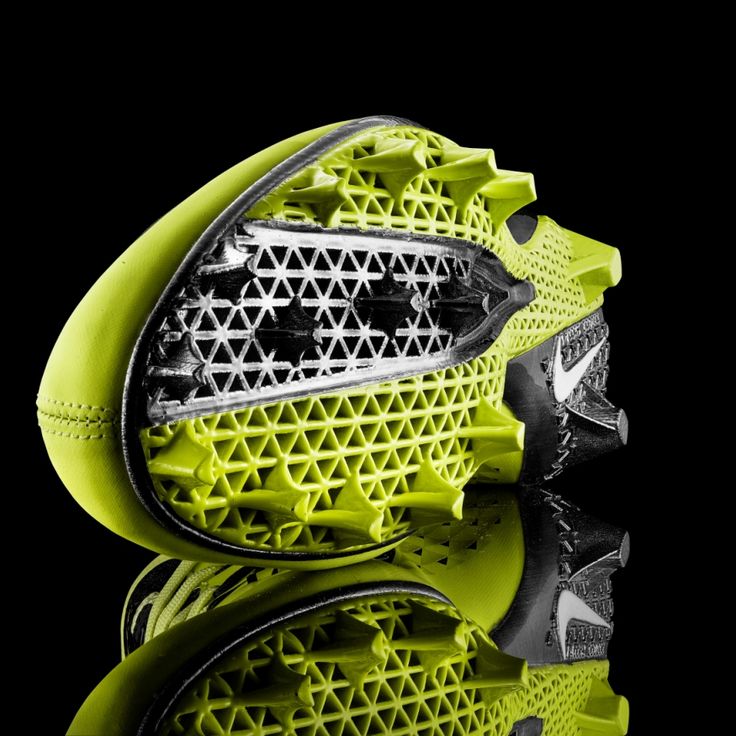 " In a way, it's almost surprising the percentage isn't higher, given the wastefulness of the fashion industry in general. Nonetheless, this fact — and the study as a whole — encapsulates the significant extent to which an industry that has long been rightly criticized for its appalling labor abuses, is also detrimental to the planet in ecological terms.
The study was done by a team of graduate students at Yale's Center for Business and the Environment, with assistance and data from the Portland, Oregon-based 3D-printed footwear startup HILOS, as well as HILOS' supply chain partners, BASF Forward AM, HP 3D Printing, and Additive Manufacturing Technologies (AMT). HILOS uses HP's Multi Jet Fusion to turn BASF Ultrasint TPU filament into platforms for shoes made from veg-tanned leather. "The First Environmental Evaluation of 3D-Printed Footwear" focuses on three central questions:
 "How does 3D-printed footwear compare to legacy shoemaking?"
 "Where does the technology have the potential to deliver the greatest environmental impact?"
 "Where are the greatest opportunities for future improvement, and how do we get there?"
The study compares 3D-printed shoemaking to "legacy" shoemaking in categories such as CO2 emissions, water usage, and parts and labor devoted to the manufacturing process.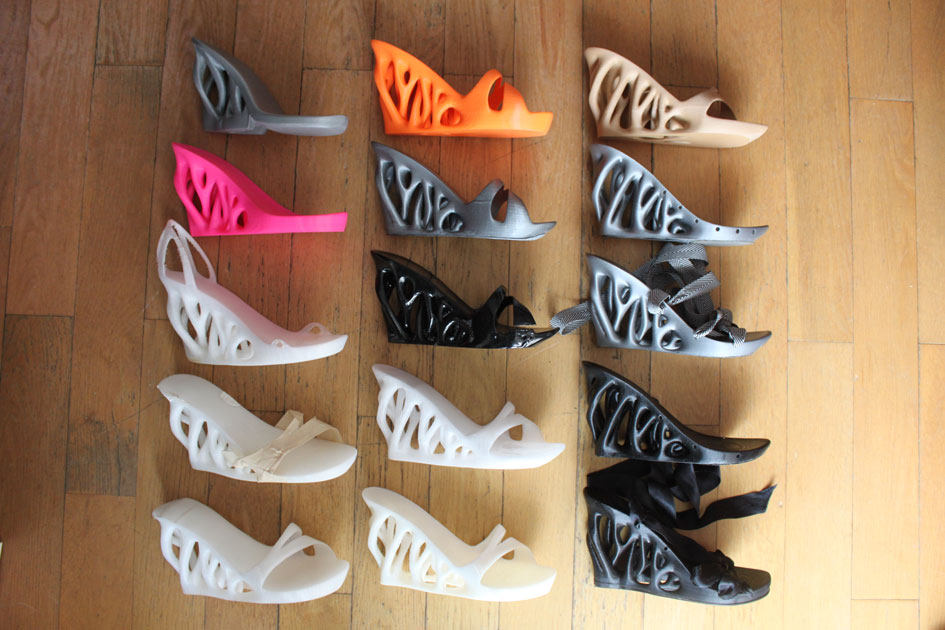 Overall, its most important conclusion is that, at present, the ability to use 3D printing to consolidate the supply chain is the technology's greatest potential advantage for mitigating environmental damage caused by the footwear industry.
As the study's author puts it, "By reducing part count and streamlining product assembly, 3D printing reduces overall emissions by 48% even with lower economies of scale." In addition, 3D printing can help fix the footwear supply chain — and thus, help the industry become more ecologically sustainable — for the simple reason that on-demand production means that just about every pair of shoes made will be sold and worn. The author writes, "Selling the same amount of shoes while actually producing less has an enormous impact on supply chain efficiency across every step of the process, avoiding both the initial material usage as well as the accompanying waste resulting from each step."
As far as life cycle assessments (LCAs) go, this one is pretty readable (if you're into that sort of thing), and the main points it brings up elucidate factors that would be relevant to researchers working on any LCA related to 3D printing.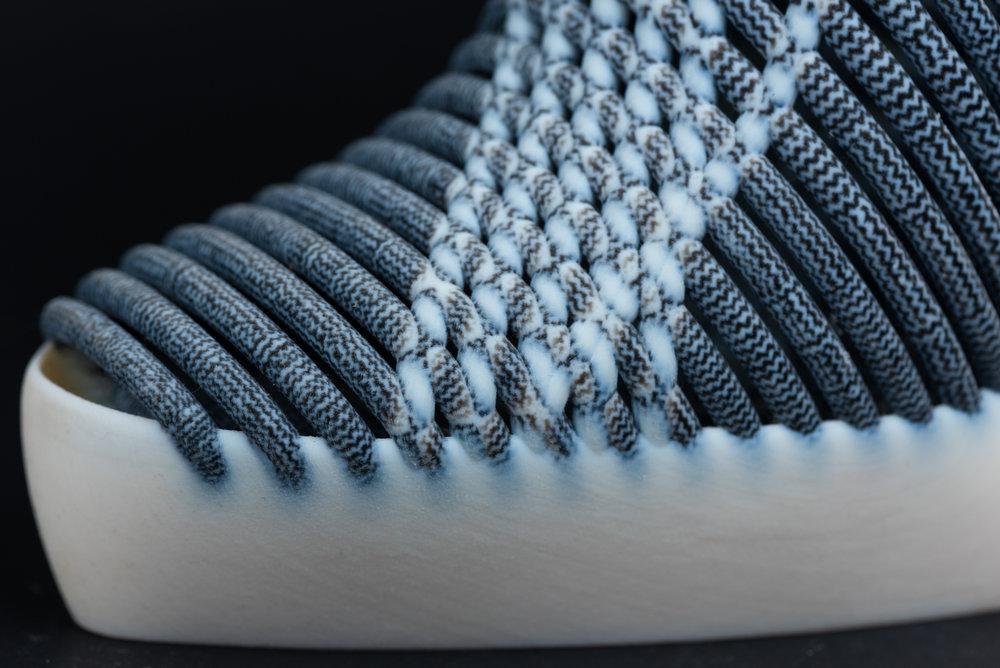 Especially impressive is the grasp of prioritizing HILOS displays in its understanding of the elements at stake here. For instance, while noting the advances HILOS has already made in the area of economic circularity, the company also concluded that any current progress that could be made with 3D printing in terms of the renewability of materials and recycling don't come close to the progress that would be achieved by minimizing the carbon emissions of the supply chain.
Thus, instead of trying to solve every problem at once, HILOS endorses an approach of focusing on the digital supply chain first, and then using the success hopefully attained on that front to start addressing other areas. Once 3D printing has succeeded at reducing costs and emissions associated with the inefficient supply chain of legacy shoemaking, companies can then "reinvest this margin back into manufacturing, in turn increasing the quality, durability, and longevity of product delivered and further reducing returns.
" 
Fortunately for HILOS, it has so far been successful in pushing its brand. The startup just won Best in Show at SXSW. With this momentum, hopefully it can achieve that vision. This type of thinking shows the type of strategic foresight that every company in the 3D printing sector should be striving for.
Stay up-to-date on all the latest news from the 3D printing industry and receive information and offers from third party vendors.
Tagged with: 3d printed fashion • AMT • basf • footwear • Forward AM • HILOS • hp • life cycle assessments • MJF • multi-jet fusion • post processing • sustainability • Yale Center for Business and the Environment

Please enable JavaScript to view the comments powered by Disqus.
3D printing in footwear
We recently talked about the use of 3D printing to create orthopedic insoles, which was brought back from Formnext 2017, and there we also saw a prototype Adidas sneaker with a 3D printed sole.
This is an interesting topic, let's delve into it a little more.
Major sports shoe manufacturers are investing considerable time and money into developing ways to apply 3D printing to the footwear industry. Companies like Reebok, Under Armor, Adidas, Nike and New Balance are showing that they see 3D printing as the future of the footwear industry.
What is it, advertising and PR on the hype raised around additive technologies, or a sober calculation and a look into the future?
Let's try to figure it out.
Under Armor
3D printing company EOS North America Inc and Under Armor have joined forces to develop the commercial production of 3D shoes.
EOS North America and Under Armor partner to help Under Armor scale their 3D printed footwear business.
The use of laser sintering technology, as well as the use of EOS's experience in industrial 3D production, will help develop the Under Armor shoe business.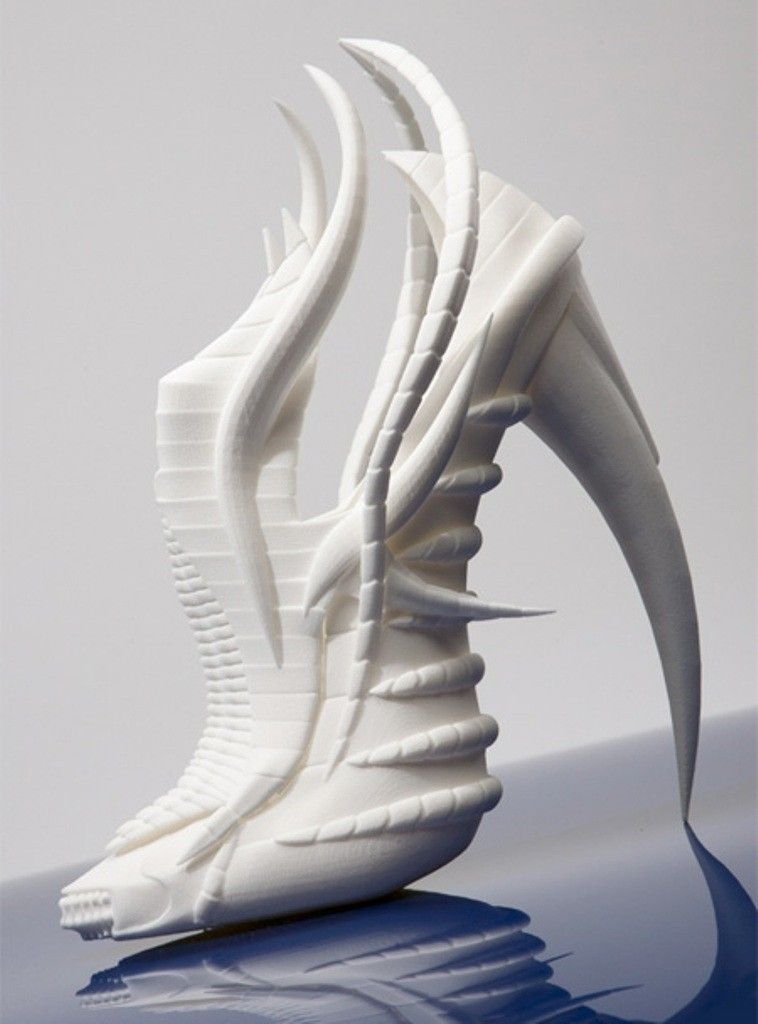 Together they intend to work on the composition of new powders and the development of sintering technology.
Under Armor plans to use EOS technology to 3D print shoe parts from powder.
To highlight their partnership, at Formnext 2017, the companies showcased UA's new ArchiTech Futurist footwear together.
Nike
Nike also designs shoes using 3D printing technology. In 2017, Footwear News wrote:
"Prodways' 3D printed shoe parts, insoles and soles made from thermoplastic polyurethane (TPU) are being used to speed up the production of running shoes and improve their performance.
While Nike has yet to announce mass production of 3D printed shoes, Nike executives appreciate the potential of Prodways' materials and 3D printers to improve shoe quality and increase production speed."
Nike is using 3D printing in prototyping with French company Prodways.
Nike has already created 3D printed shoes, although they were off-the-shelf products for professional athletes.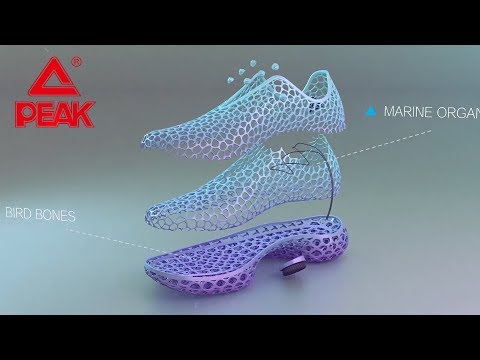 For example, in 2013 the company introduced and in 2014 released 3D printed football boots and running shoes.
New Balance
New Balance launched a running shoe in 2016 with a fully 3D printed Zante Generate sole.
Zante Generate is a New Balance running shoe with a fully 3D printed outsole, created in collaboration with 3D Systems.
Working with 3D Systems, NB used DuraForm TPU powder to 3D print sneaker parts. The soles were printed using SLS technology, a trial batch consisted of 44 pairs.
Reebok
Reebok is no stranger to 3D printing, back in 2016 the company introduced its new Liquid Factory 3D technology.
Reebok's first 3D printed sneaker was called the Liquid Speed.
The Reebok Future team, which is responsible for introducing new technologies at Reebok, has partnered with the chemical giant BASF, which developed the 3D printing resin used by the company.
Head of Reebok Development Bill McInnis says:
With this process, we can create an entire shoe by programming a robot to draw it, layer by layer, from a high-strength liquid material. This results in a sole with completely new properties, much more resilient than traditional sneaker rubber soles, and transmitting momentum more precisely. Liquid Factory creates a shoe that stretches and wraps around the foot for 3D support.>>
The company didn't stop there. Together with the Modla design studio, they developed the Modla X Reebok 3D, a 3D printed training mask for athletes.
The polymer part of the mask, which was designed using Ultimaker 2 FDM printers for prototyping, is produced using EOS 3D printers using SLS technology.
The inner parts, silicone, and soft part of the mask, made of Flexweave material, were laser cut.
The mask is designed to limit the access of air, which increases the load on the lungs and contributes to the endurance training of the body as a whole. The load is adjusted by turning the front of the mask, which switches the silicone valves inside.
The following functionality is not announced, but we think that with some minor modifications, the mask will also serve as a respirator from urban dust, which is so much in the air in hot weather.
Adidas
In 2017, Adidas announced a partnership with Silicon Valley-based Carbon.
One of the leading brands in the advancement of 3D printing in footwear, Adidas, has partnered with Carbon to apply a 3D printed outsole made with their Digital Light Synthesis (DLS) technology to a Futurecraft 4D model.
Together they created the Futurecraft 4D 3D printed insole.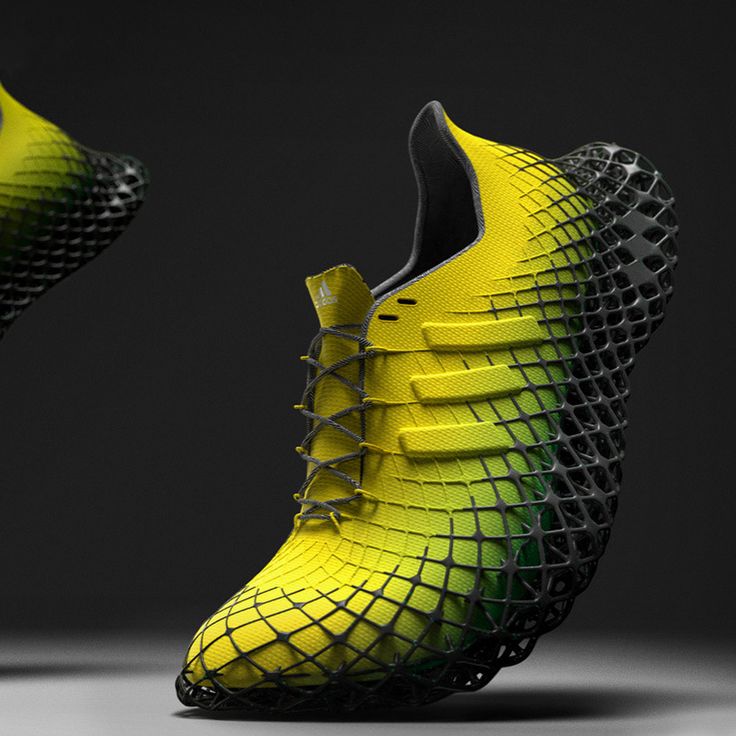 This is not only an interesting technical solution, but also a hot topic - the number of mentions on Instagram is growing.
Marvel comic book hero Black Panther
Canadian model Adrianna Ho
Sneakers on sale from mid-February, cost about $300.
Digital Light Synthesis is a Carbon process that uses breathable optics, digital projection and pre-set photopolymer resins to produce durable polymer products. Futurecraft 4D is Adidas' first application of DLS technology.
DLS gives products strength and elasticity.
Carbon says their unique technology will provide never-before-seen durability, strength and resilience to 3D printed products. Adidas is aiming to release 100,000 pairs of shoes using this technology by the end of 2018.
This is not Adidas' first experience with additive manufacturing. A few years ago, the company collaborated with Shining 3D to design the Springblade sneaker.
The management of Adidas was quite an experiment and was going to continue cooperation with Shining 3D, but something didn't work out - we didn't hear about their joint activities anymore, there was only a mention of Adidas on the Shining 3D website, among partners.
Do it yourself
Some simple types of shoes can already be printed by any owner of a conventional FDM-3D printer. For these purposes, even the simplest Prusa is suitable, as you can see in this video:
Slippers, shoe soles, uppers for costume shoes (for cosplay or carnival). Thingivers and other 3D sharing resources are full of such projects.
https://www.thingiverse.com/thing:980191
https://www.thingiverse.com/thing:597498
https://www.thingiverse.com/thing:1178775
https://www.
thingiverse.com/thing:2314052
https:/ /www.thingiverse.com/thing:1587947
There are also real works of art.
Of course, the strength and convenience of such homemade products is a big question, but this is only the beginning.
Conclusions
As you can see, despite the raised advertising hype, quite working models are created, which often surpass shoes made by traditional methods, not only in terms of consumer properties, but also in terms of manufacturability in production.
3D printing in shoe production gives less weight to shoes, more opportunities to change elasticity and stiffness, due to the complex internal structure of the print, plus the widest field for designing and inventing new forms that would be impossible to create using traditional methods.
Considering that the main players in the sports footwear market have been developing in this direction for several years, we can hope that 3D-printed shoes will become available to the public very soon.
You can order 3D printing at Top 3D Shop — rich experience, a wide choice of materials and a large fleet of equipment allow us to fulfill any order.
Want more exciting news from the world of 3D technology?
Follow us on social. networks:
Facebook
VK
Instagram
YouTube
TOP 3D Shop - Your expert in the 3D technology market
3D Print
Sign up to
9000
9
The most notorious example of 3D printed shoes was by Adidas in 2015. Then they released the first sneakers with a printed sole - Futurecraft 3D. Around the same period or a little earlier, on popular portals with 3D models, you could download and print your own sandals, of course, more for fun. Those. 3D printers have been used in shoe manufacturing for a long time. But few people know how things are in the real Russian shoe production and how long 3D printing technologies have been used.
RALF RINGER is a Russian company specializing in the production and sale of men's, women's and children's shoes under the brands Ralf Ringer, Piranha and Riveri.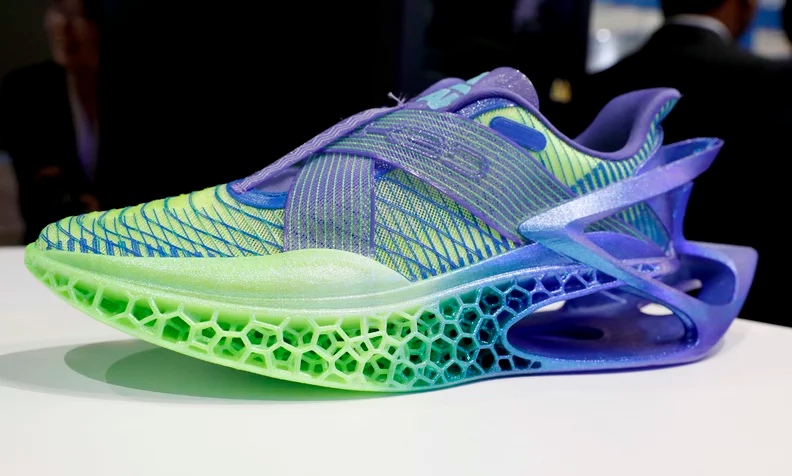 Production facilities are located in Moscow, Zaraysk and Vladimir.
RALF RINGER acquired its first 3D printer back in 2017.
Manufacture of the sole is a complex technological process, which includes the manufacture of expensive aluminum tooling, in other words, molds. The cost of a mistake is about 10,000 euros. Therefore, to reduce risks, it is important to make the most accurate layout possible. Previously, RALF RINGER carried out this process on 6-axis CNC machines, or on powder printers. Both methods did not suit them: in the first case, it was expensive equipment, in the second, expensive materials.
RALF RINGER bought a HERCULES STRONG 3D printer in 2017 to make sole models.
The cost of making a model immediately decreased by 15-20 times, and the manufacturing time was reduced to a day.
Then heels began to be printed. It is very important for the heel to "stand" correctly on the plane, the comfort when walking depends on it.
All the main elements, such as the heel itself, the main insole / half insole, arch support, hard heel counter, must be perfectly fitted. It is important to note that the feel of the foot - depending on the deflection - changes significantly for every millimeter of values. Therefore, in addition to aesthetics, functional indicators were selected - material, filling density, wall thickness.
Now, before opening the molds for the RALF RINGER heel, they print a functional model of the heel, attach it to the shoe and carry out all the necessary fitting and technological operations before the mass launch.
Having received a functional heel model, they thought about obtaining a functional flexible sole model. For the production of such a functional model, it was decided to print molds with a short life cycle .
The RALF RINGER team developed special technologies for designing and printing molds, selected materials and technological modes of casting.
As a result, they received polyurethane and fully functional soles prior to mold making.
The main challenge for RALF RINGER today is to improve sole manufacturing accuracy and extend the life cycle of molds.
In addition, the company has its own large-scale production and equipment mainly of Western assembly, so the question of spare parts and tooling regularly arises.
With the help of 3D printing, the company learned how to produce some technical parts of machines, which allows saving on maintenance and quickly responding to wear parts.
________________________________________
Subscribe to our social networks and get the latest information:
Our website - https://imprinta.ru/blog
VK - https://vk.com/imprinta
TG - https ://t.me/imprinta_llc
More interesting articles
2
Subscribe to the author
Subscribe
Don't want
In January of this year, Professor Matthew Brooks of the University of Nottingham received a scientific award for pro.