Phrozen transform 3d printer
Phrozen Transform Resin 3D Printer Phrozen Technology|Desktop LCD 3D Printer|8K High Resolution
Regular Price

$2,699.99

Sale Price

$2,699.99

Regular Price

$1,999.00

Sale Sold Out

Unit Price

/per 
Style: Fast - Available in USA - ULTIMATE <Buy Here>
Quantity
- +
Fast: Available in ULTIMATE (US Only) 
<Buy Now>
Meet Phrozen's Transform 3D printer, the largest printer we have! This customizable printer consists of 13.
3" & dual 5.5" changeable LCD panels that allow you to print super large models (up to 40cm in height) with convenience and ease.
The fast version comes with a monochrome LCD that works to print models with extreme speed.
Transform also provides a smooth printing experience using an ultra-stable 40cm Z-axis, nearly twice as long as other similar printing devices.
Benefits
Changeable Panels: 13.3" & Dual 5.5" LCD panels
Build: 13.3" 4K display with the large build volume
Ultra-Stable Z-axis: Provides a stable platform for printing
Efficiency: Saves time by allowing you to print several prints of the same model at the same time
Multi-Resin Compatibility: Works best with Phrozen's resins, also compatible with 3rd party resins
Specs
XY Resolution (13.3"): 76µm
XY Resolution (Dual 5. 5"): 47µm
Maximum Printing Speed: 40mm/hour   
LCD Panel:   Fast: 13.3" Mono LCD   
Z-Axis: 40cm
Printer Size: 14.9 x 13.7 x 24 in
Print Volume: 11.5 x 6.5 x 15.75 in
Shipping & Tariff
Lead Time: Immediately
The purchase price does not include tariffs and shipping costs. Please note that we WILL NOT be providing a refund if a customer refuses to collect (or returns) their product(s) due to customs fees/duties and/or other related costs.
Customers will be responsible for customs clearance in all countries except Thailand and Brazil. For customers in those countries, we are going to charge you in advance and pay on your behalf for any duties and taxes that are due on products purchased.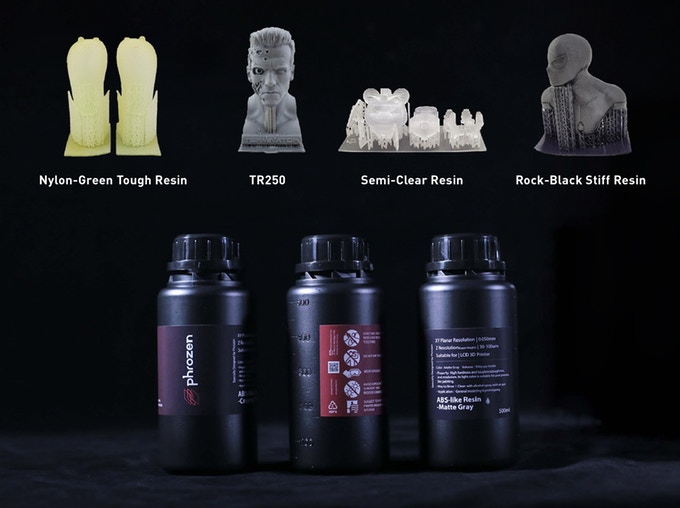 Please note that the shipping cost will vary from country to country, please view our check-out page for the exact cost. 
For more information, please refer to our Shipping Policy page, or contact us at [email protected]. 
Return & Warranty
Products can be returned within 14 calendar days from the date received. Product(s) can be exchanged within 30 calendar days from the date you received it if there is a manufacturing defect. To be eligible for an exchange, your item(s) must be unused and in the same condition as received with the original packaging. For more details, please refer to our Returns & Refund policy page.
All products purchased from the official website of Phrozen are warranted under different terms. Phrozen offers a one-year warranty for all our products except consumables and components; this includes the paraLED UV lights, LCD screen, FEP film, and build platform. All LCD screens for the Sonic Mini, Sonic Mini 4K, and Sonic 4K are covered under a 3-month warranty.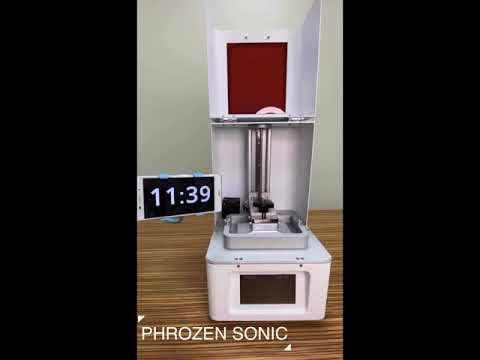 For more details, please refer to our Warranty page.
Phrozen Transform Fast - FEPshop
€1.999 NL VAT Incl. 21%
Shipping next working day
Phrozen Transform Fast quantity
SKU: 77943
Product description
Product specifications
Downloads
Phrozen Transform Fast 4K - The large format LCD 3D Printer that lets you dream BIG & FAST
The Phrozen Transform's quick and easy change LCD panels combined with an ultra-stable 40 cm Z-axis will let you print Big, Precise and Fast. The Phrozen Transform is the versatile printer for models, toys, dentistry, jewellery and prototyping.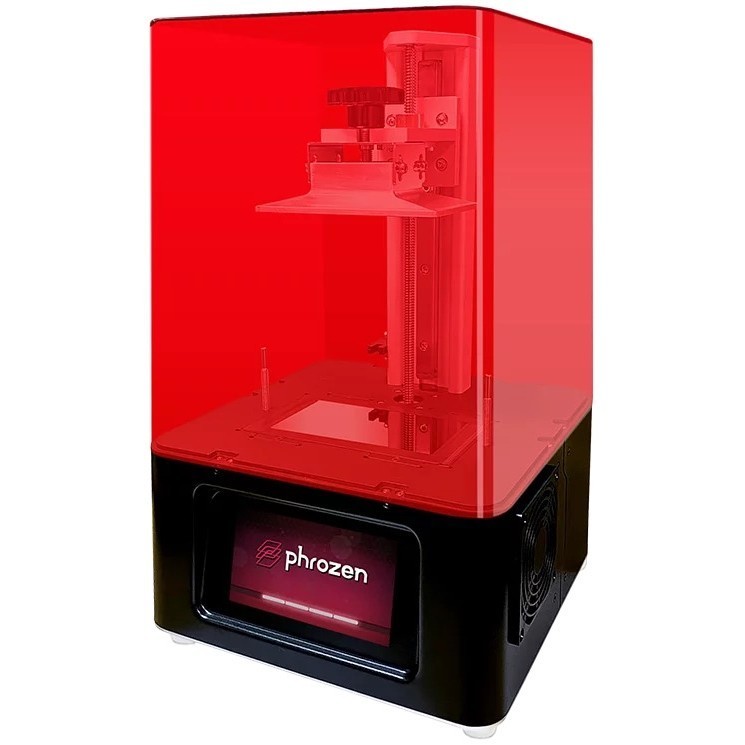 All on one versatile machine. Phrozen Transform Fast monochrome 13.3" LCD and 40 cm print height guarantees you can finish Big projects Fast.
Phrozen Transform Fast 4K Fast highlights
High speed 3D Printing, 2 to 3 times faster compared to standard Transform 4K
With monochrome LCD, more reliable then standard LCD
Faster and larger build space then Form3
ParaLED 2 for optimal even light distribution.
405 nm UV-LED. Works with most commercially available resin
Superb Z-axis design for extra stability
Large 5" high resolution touchscreen for easy control
Easy setup WIFI connection
Phrozen OS on printer
Supported by Phrozen Desktop Slicer
Air filter with activated Carbon or Silica a
1 year warranty¹
Technical Specification
LCD Panel: 4K Monochrome LCD panel
LCD Size: 13. 3″
XY Pixels: 3840 x 2160
XY Resolution:  76 micron
Z Resolution: Upto 10 micron
LED Array: ParaLED 2.0
Z-Axis: Dual Linear Rail, Ball Screw, 100% Aluminum CNC Structure
Touchscreen: 5" IPS High Resolution Touch Panel
Cooling: Multi fan cooling
Build volume: 292*165*400mm
OS: Phrozen OS
Slicer: Supported by Phrozen Slicer
Wifi: Yes
USB: Yes
Ethernet: Yes
Power: 200W
Voltage: 110-240V
Printer size: 38*35*61cm
Printer weight: 27,5KG
Printer package size: 46*50*75cm
Printer package weight: 29KG
In the box
Phrozen Transform with 13.3" 4K LCD
Resin vat with fep film pre-mounted
Buildplate
EU Power Cable
Wifi adapter
Starter Kit (Gloves, Wiper/Scraper, Funnel, Etc. )
No resin included, don't forget to buy some to get started quickly
OptionalNote
Before you start printing
Warranty
FEPshop is official Phrozen Distributor for Europe
1 year warranty (Inside EU, special conditions apply outside EU and remote areas)
Excluded from warranty are consumable parts: LCD display, Buildplate, FEP Film, SD Card and ParaLED
Downloads
Phrozen Transform Resin Profiles
Phrozen Transform - Operating Instructions
How to control the printer from a browser
Phrozen Transform 13,3" OS Image
Phrozen Transform Dual 5.5" OS Image
PZSlice Setup V1.1.0 (Windows)
Compatible Slicers
PZSlice Setup V1. 1.0 (Windows)
Phrozen PZslice Pro (Windows/Mac)
ChituBox
Formware (Windows)
Chitu BoxSettings
You use the Transform with Chitu box by adding the following settings
Size X: 288mm
Size Y: 162mm
Size X: 400mm
X resolution: 3840px
Y resolution: 2160px
mirror: normal
Support
| | |
| --- | --- |
| Brand | Phrozen |
| Product State | New |
| Country Of Origin | Taiwan |
| 3D Printer Types | Resin Printers |
| Build size | Large |
| 3D Printer UV Bandwidth | 405nm |
| Print Resolution | 76 |
| Projection technology | LCD Mono |
| Max. print speed (mm/hour) | 40 |
| Technology | mSLA(LCD) |
| 3D Printer Serie | Phrozen Transform |
| 3D Printer Model | Transform Fast |
| 3D Printer Application | Manufacturing, Prototyping |
| Expert level | Industrial, Professional |
| Product Size (WxDxH) | 380mm x 350mm x 610mm |
| Manufacturer EAN | 9504546255463 |
| Product Weight (g) | 27500. 00 |
| Minimal layer height | 10.00 |
| Build volume width | 292.00 |
Product summary
| | |
| --- | --- |
| SKU | 77943 |
| Brand | Phrozen |
| Industries | Manufacturing, Prototyping |
| Technologies | mSLA(LCD) |
Product downloads
Phrozen Transform Review 3D Printer Specifications
The Phrozen Transform is the photopolymer 3D printer that made a splash on Kickstarter.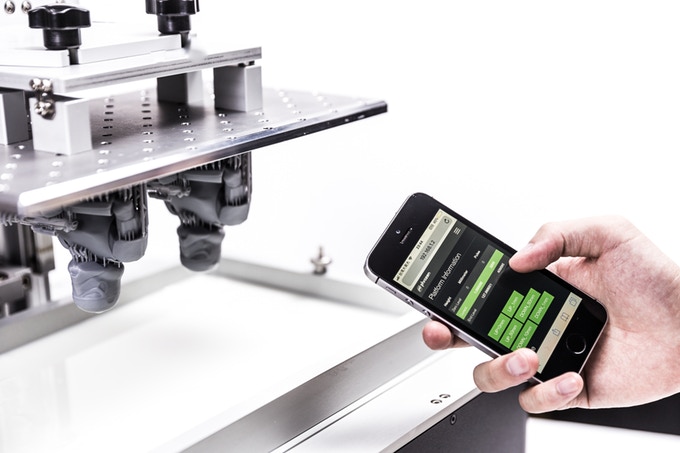 It boasts an interchangeable 13.3" or dual 5.5" die and a super stable 40cm Z-axis. Let's explore.
Contents
Features
Replacement die
Stability and strength
Specifications
Print quality
Where to buy
Video
Replicating the evolution of FDM technology, the desktop resin 3D printing market is showing steady growth in the low cost category.
This space used to be occupied mostly by Formlabs imitations, but times are changing and vendors have figured out how to implement SLA and DLP processes in a more affordable way.
How? Through LCD technology, which is almost identical to DLP in that it uses projected radiation to cure the polymer layer by layer and form the 3D object. However, the main difference is that in LCD 3D printers the mask is irradiated with a block of UV LEDs, while DLP 3D printers use an array of micromirrors that selectively reflect light to form a mask.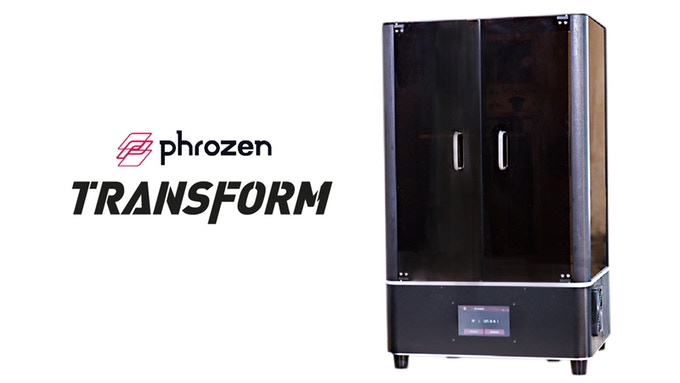 A cheap resin 3D printer was first introduced with the Anycubic Photon, and now there are more and more of them. One of the most successful here is the Taiwanese company Phrozen.
Source: Facebook
Since its founding in 2013, this manufacturer has produced quite a few resin 3D printers, including the Phrozen Make, Phrozen Shuffle and the larger Phrozen Shuffle XL.
The
Phrozen Transform is different from most LCD 3D printers we've come across. It has an interchangeable 13.3″ or two 5.5″ die, which allows you to sort of double the performance, as well as an ultra-stable 40cm Z-axis, which is very solid.
Let's take a look at the features and specs to see if the Phrozen Transform is worth the hype.
Features
Source: Kickstarter
Billed as an "LCD SLA printer" by the manufacturer, which is technically incorrect, the Phrozen Transform is likely to boil the indignant mind of some precision junkies. Phrozen Transform does not use SLA, a well-documented 3D printing technology in which a polymer is cured by a powerful laser.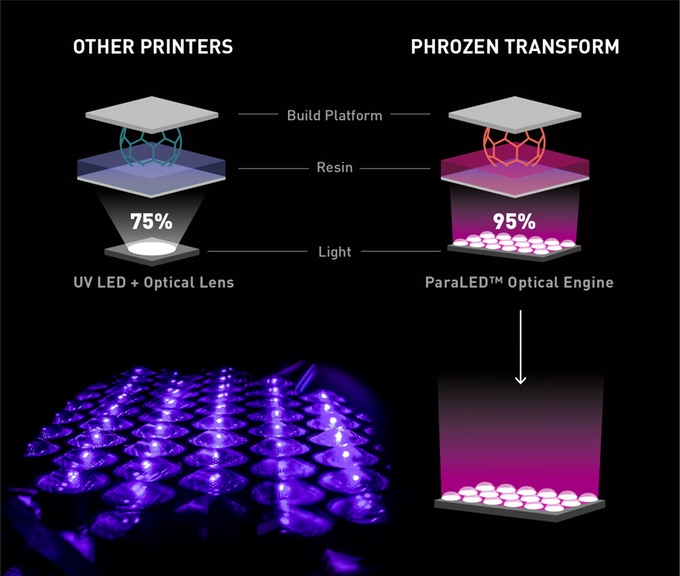 Yes, it's an empty marketing gimmick, but Transform does have intriguing features that could usher in a new era in resin 3D printing.
Interchangeable Die
As we've said twice, the Phrozen Transform features an interchangeable 13.3" and two 5.5" dies. That is, you can print on two matrices at the same time, effectively cutting the print time in half.
While most LCD and DLP 3D printers have only one matrix, the ability to work with two really sets the Phrozen Transform apart in the budget printer market. Moreover, the manufacturer claims that the printer has a kind of "fast LCD adapter" that allows you to change matrices in just 30 seconds.
Source: Kickstarter
Users will be able to use a large working volume with a 13.3″ die or install a dual die, which is ideal for models with fine details such as jewelry.
In addition, the Phrozen Transform has a 40 cm Z axis, which allows you to print quite tall objects. This is also due to the 13.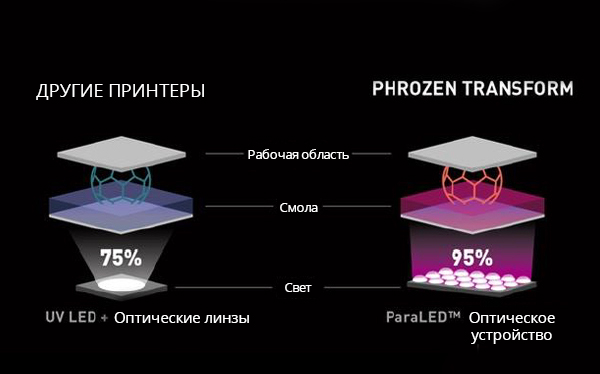 3″ matrix, which is significantly larger than the market standard for LCD 3D printers, which, according to the manufacturer, is usually somewhere around 8.9″. The total displacement of the Transform is 29.2 x 16.5 x 40 cm.
In addition to the dual die and impressive displacement, the Phrozen Transform is designed to be highly efficient and accurate. In terms of print quality, Phrozen says its new machine delivers XY resolution of 76µm on a 13.3″ sensor and an even higher resolution of 47µm on a dual sensor.
Stability and strength
Stability and strength is also about Phrozen Transform. The Z-axis assembly is made of thick aluminum alloy and has a double rail with ball-screws, which is not the case with budget resin 3D printers. It is claimed that the guides eliminate any fluctuations during operation, and at the same time it is easy for the user to adjust the speed of the printer.
Another intriguing feature of the Phrozen Transform is the ParaLED Optical Engine, an optical system that keeps the source beams parallel.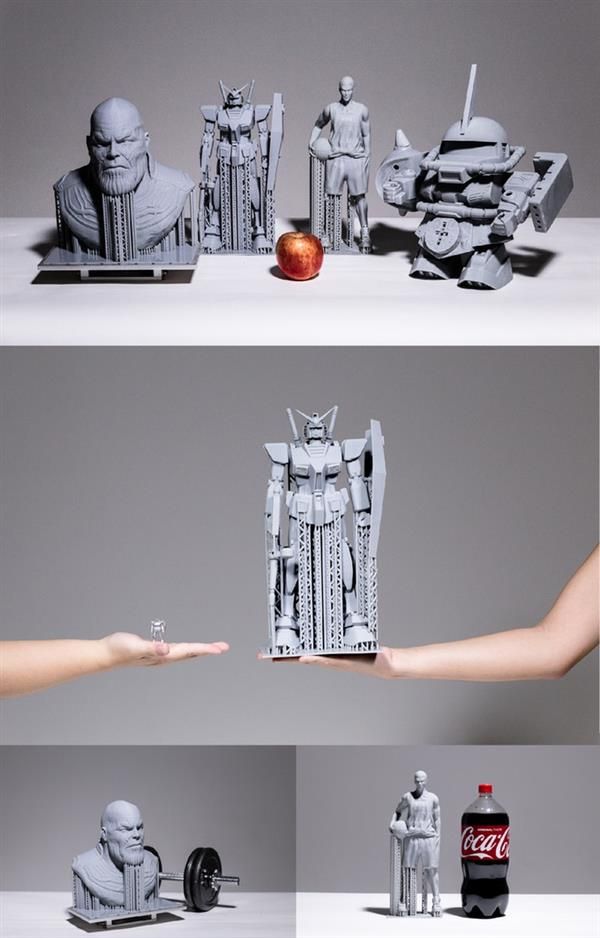 This Phrozen-exclusive mechanism improves the efficiency of light passing through the sensor.
Source: phrozen3d.com
"ParaLED Optical Engine works as follows. The LED array has the same dimensions as the LCD matrix. The trajectory of the rays is corrected so that when they fall on the matrix, they are almost parallel to each other and, accordingly, pass better. It turns out uniform irradiation 95% surface area," Phrozen wrote as they promoted their Kickstarter campaign.
Other features of the Phrozen Transform are the Wi-Fi interface and the ability to work with non-native polymers. The manufacturer also offers its own line of 3D printing resins, including:
Phrozen Rock-Black Stiff Resin for very high structural strength;
Phrozen Wax Pro Castable Resin - durable material for highly detailed objects;
Phrozen Nylon-Green Tough Resin for increased impact resistance;
very clear Phrozen Semi-Clear Resin
and heat-resistant and durable Phrozen TR250 without shrinkage.
Print quality
Facebook
year on Kickstarter.
3D PRINT SPECIFICATIONS
Displacement

13.3" 4K: 11.5" x 6.5" x 15.75"
Two 5.5" 2K: 4.97" x 2.68" x 15.75" per sensor

XY approval

13.3″ 4K: 76 microns
Two 5.5″ 2K: 47 microns

Z-approval

13.3″ 4K: 10 micron
Two 5.5″ 2K: 10 micron

Print speed: up to 200 layers per hour
Optical uniformity: uniform intensity distribution over more than 95% of the surface area
HARDWARE SPECIFICATIONS
Dimensions: 15.16 x 14.02 x 24.29 inches
Weight: 72.75 lbs
Z-axis travel: ball screws / double linear guide
Light: 405 nm UV-LED – ParaLED Matrix
Sensor: optical end Omron
Construction: integrated metal with CNC machined parts
Cooling system: multi-fan
Slicer: ChiTu Box
SOFTWARE
Operating system: Phrozen OS 1. 0
Computer system: any
Mode indicator: 5" touch panel
Interfaces: Wi-Fi, USB, LAN
HARZ Labs - Support
The table shows the approximate exposure time of HARZ Labs photopolishers for Phrozen Transform. Use our calibration test to accurately calibrate your exact printer instance.
Photopolymer

Exposure 50µm
(Exposure base)

Exposure 100µm
(Extract base)

Raise/lower speed

Delay before printing

Dental Sand A1-A2

7.7-9s
(80s)

11. 3-13.2s
(120s)

100mm/min
1.7mm/s

1s

Dental Sand A3

7.8-9.1s
(90s)

11.4-13.3s
(120s)

100mm/min
1.7mm/s

1s

Dental Bleach

7.5-8.8s
(80s)

11.1-13s
(120s)

100mm/min
1.7mm/s

1s

Dental Yellow Clear

5.5-6.5s
(60s)

8.3-9.7s
(90s)

100mm/min
1.7mm/s

1s

Dental Clear

8.3-9.7s
(90s)

11.9-13.9s
(130s)

100mm/min
1. 7mm/s

1s

Dental Peach

6.8-8s
(70s)

9.9-11.6s
(110s)

100mm/min
1.7mm/s

1s

Dental Pink

6.6-7.7s
(70s)

9.5-11.1s
(100s)

100mm/min
1.7mm/s

1s

Dental RO

7.7-9s
(80s)

11.3-13.2s
(120s)

100mm/min
1.7mm/s

1s

Dental Cast Cherry

17.3-20.2s
(190s)

-

50mm/min
0.8mm/s

1s

Dental Cast Red

17. 3-20.2s
(190s)

-

50mm/min
0.8mm/s

1s

Model Black

8.3-9.7s
(90s)

-

200mm/min
3.3mm/s

1s

model blue

6.1-7.1s
(70s)

8.9-10.4s
(100s)

200mm/min
3.3mm/s

1s

Model Cherry

8.9-10.4s
(100s)

-

200mm/min
3.3mm/s

1s

Model Clear

8-9.4s
(90s)

11.3-13.2s
(120s)

200mm/min
3.3mm/s

1s

Model Gray

8. 9-10.4s
(100s)

13.1-15.3s
(140s)

200mm/min
3.3mm/s

1s

Model NC

5.9-6.9s
(60s)

8.9-10.4s
(100s)

200mm/min
3.3mm/s

1s

Model White

7.3-8.5s
(80s)

13.3-15.5s
(140s)

200mm/min
3.3mm/s

1s

ART Glow

6.5-7.6s
(70s)

9.5-11.1s
(100s)

100mm/min
1.7mm/s

1s

Basic Red

7.1-8.3s
(80s)

10.7-12.5s
(120s)

100mm/min
1.