3D printing insurance
Preparing for the Risks of 3D Printing in Manufacturing
In applications ranging from the automotive and aerospace industries to healthcare, food and consumer goods, 3D printing can shorten development cycles, lessen time-to-market and lower the cost of traditional manufacturing. By 2024, the reach of global 3D printing is estimated to be $34.8 billion.1
But while the technology's potential to revolutionize manufacturing has been well documented, the risks are not as well defined. In some cases, 3D printing, also known as additive manufacturing, brings uncharted risks including cyber and intellectual property risks. Every party in a global supply chain should understand the liabilities involved in 3D printing and be prepared to minimize them.
"Should a 3D printed part or food cause injury or illness, it could result in a financially devastating lawsuit," says Mike Thoma, Global Technology Chief Underwriting Officer at Travelers. "Therein lies the challenge: The field is so new, no one is sure how liable they really could be.
"
Following are four key risk categories for 3D printing that technology companies should understand, and an illustrative risk scenario for each category.
Property Damage Risk
If a 3D printed object causes property damage due to a defect or a failure to function as intended, it could lead to a lawsuit. Any company or individual involved in the product's manufacturing or distribution chain could find themselves named as a defendant.
In a real-world scenario to illustrate this risk, a medical device company in a leased manufacturing space 3D prints orthopedic appliances they intend to ship to distributors. But, a band holding several wires within the printer breaks, causing the wires to fall too close to the printer's heat source, and ignites. The ensuing fire causes smoke damage to other tenants' property.
Bodily Injury Risk
Although few bodily injury cases involving 3D printed products have gone to court, it is likely that liability would fall upon any of three possible parties: the product designer, the manufacturer who printed the product, or the raw material (feedstock) supplier.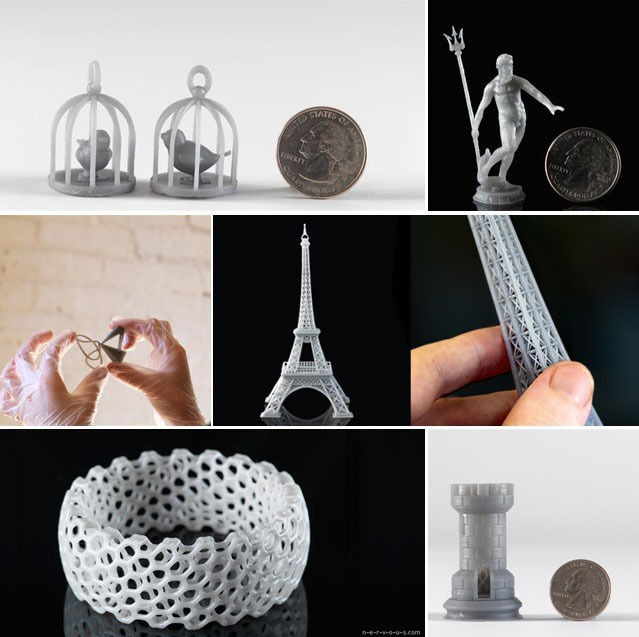 The following scenarios could form the basis of liability in a lawsuit if bodily injury results:
Defective design: If a 3D printed product is poorly designed or the designer engineered the product in a substandard way, an allegation of defective design could be made. For example, a patient with a prosthetic leg fell down a flight of stairs and was injured. An investigation revealed that a 3D printed part of the knee assembly broke due to production defects before it left the factory. The patient sued the device manufacturer.
Defective manufacturing: If a product was manufactured improperly, or was damaged during the manufacturing process in a way that deviates from its design and prevents its safe use, an allegation of defective manufacturing could be made. Defective manufacturing could also occur if the 3D printer feedstock contaminated the product.
Defective marketing (failure to warn): If the product was designed and manufactured properly but the user wasn't properly instructed on how to use the device or they weren't warned about the dangers of using it improperly, an allegation of failure to warn could be made.
Cyber and Intellectual Property Risk
A 3D printed product is designed using computer-aided drafting (CAD) software, which produces files that may contain proprietary information. The loss or theft of those files could be disastrous for companies, potentially leading to digital sabotage or design theft.
An example of a cyber risk scenario is a cloud data breach of a medical device company's design files. A skilled hacker penetrated one of the remote sites' firewalls and stole the technical design files. "Look-alike" products were then released to the market at a cheaper price. The medical device company sued the cloud data provider, the manufacturer and 3D printer maker.
Technology Errors and Omissions Risk
If the printed product fails to work as intended, a company can be held liable for another company's economic loss, when due to an error, omission or a negligent act. In addition to the risk of a lawsuit, product failures can interrupt a customer's business continuity and damage the printer maker's reputation.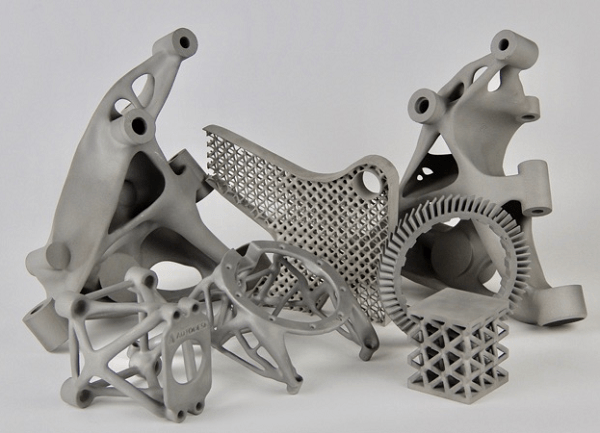 In one example of technology errors and omissions risk, an e-commerce retailer invests in web servers built with 3D-printed circuit boards. Several of the boards fail during the holiday season due to heavy customer traffic, causing service outages and lost revenue. The retailer sues the server vendor, the printer maker and the chip designer for seven-figure losses.
Reducing Risks of 3D Printing
While the possibilities of 3D printing may seem almost limitless, a note of caution is important as the risks also continue to evolve. All parties in a supply chain need to be prepared to minimize their exposure to the key risk categories of 3D printing, and they should make sure that their 3D-printed products and components meet the same rigorous testing requirements as traditionally manufactured products.
Source:
1 https://www.marketsandmarkets.com/Market-Reports/3d-printing-market-1276.html
Learn More About Insuring Innovation for Technology Companies
3D Printing Risks and Insurance Considerations | Insights
The 3D printing industry, also known as stereolithography, dates back to when the world adopted the term technology for the first time.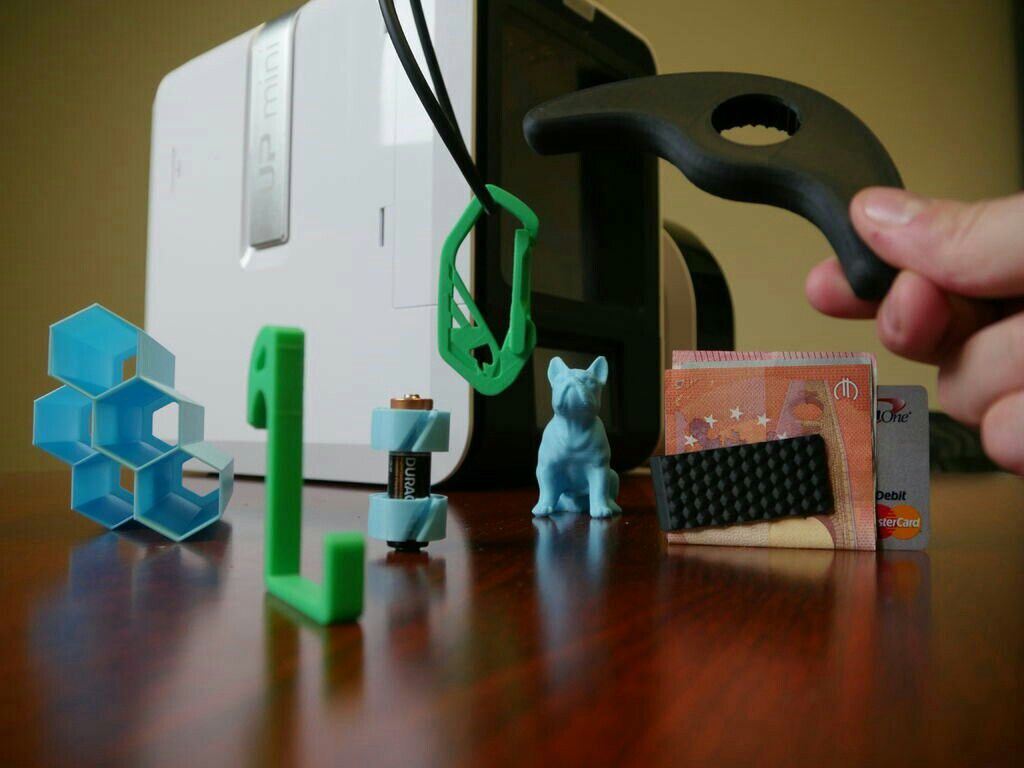 In fact, the first off-the-shelf machines capable of printing was patented in 1984, however, the Japanese are credited with with some of the first machines. Long before it was possible, peoples minds thinking about creating products automatically with machines. Over the past few years, software and hardware have developed enough to make everyone's dreams come true.
‍
The health industry is fond of 3D printing because it can enrich the industry with cost-efficient yet quality prototypes. Although the 3D printing industry announces our future, recreating objects isn't far from misusing the power to recreate weapons.
‍
Still, many businessmen are devoted to prototyping or recreating certain items because they see a promising business idea, hence the fight for its legalization. In the meantime, businesses in the sphere of 3D printing identify several issues they face as owners.
‍
3D printing businesses are generally dependent on a constantly evolving technology, with no proper coverage behind their backs while the cyber risks pile up by the day.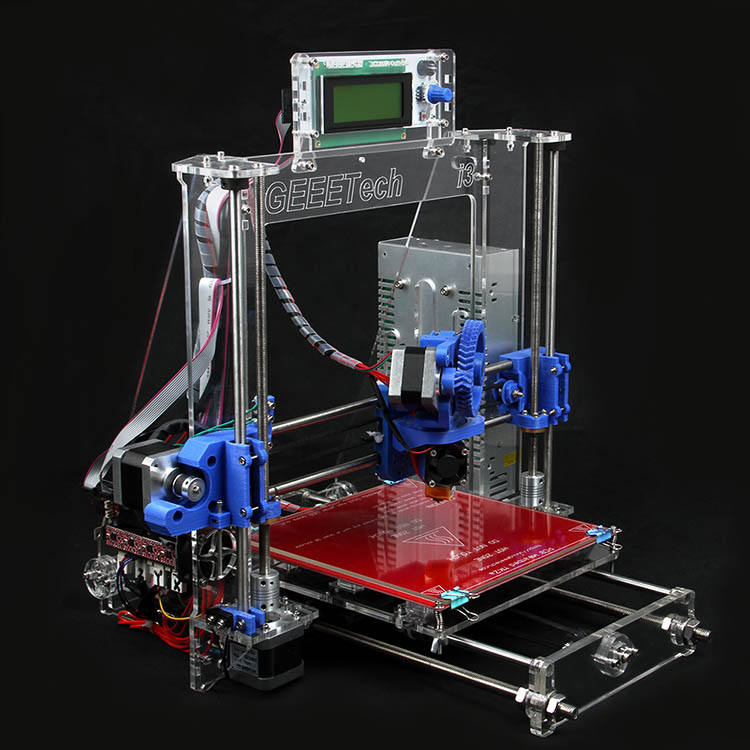 ‍
‍
The Possible Risks For 3D Printing Business 
‍
3D printing involves recreating any geometrical and asymmetrical shape in 3 dimensions, and the material used to recreate an object is controlled by a computer. 3D printing also appears as Additive Manufacturing. 
‍
Although many industries are fond of 3D printers as they can recreate prototypes, there's still a threat of misuse of the business for terrorist purposes. For that mere reason, the United States dispute the legalization of the business, and owners struggle to find suitable insurance for their already existing businesses.
‍
In fact, owners find it crucial to have their businesses insured with an adequate coverage plan, as both the industry and technology for this business are constantly developing. Hence, the risks are continually piling up. The 3D Printing Industry, just like any other business sector, needs General Liability insurance, Workers' Compensation Liability, Commercial Property, Employee Practices Liability, and Cyber Coverage, to name a few.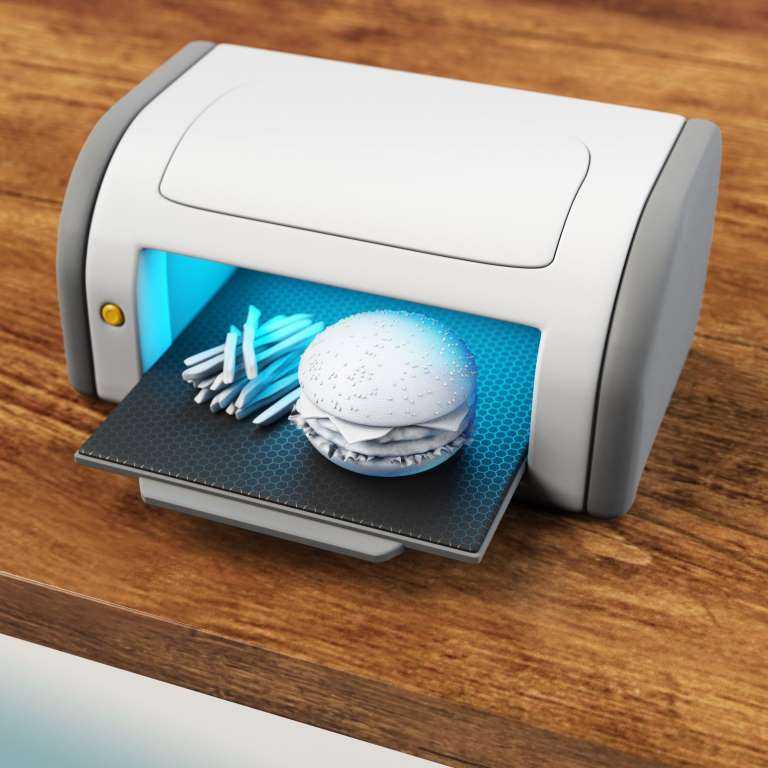 ‍
3D printing business owners demonstrate the need for 3D Printing Business Insurance Considerations through a few practical issues. Take a look below.
‍
Problem:
Undefined Cyber Liability Coverage Limits
‍
Cyberattacks pose a severe threat to this industry as it's heavily dependent on the internet. It is so because hackers can easily erase all business data, alter information, breach employees' confidential information like transaction cards and business secrets, including client information, and cause financial leaks. These perils are only the tip of the iceberg.
‍
Hackers can seamlessly unplug the entire company without leaving any trace of the action. Being without insurance, owners can only bid farewell to their company.
‍
Solution:
Detailed Cyber Insurance Program
‍
Hackers have access to almost everything since the majority of the businesses are present online. Plus, the profit of most businesses remains online, so the cyberattacks pose a serious risk that any business owner takes on once they start their business.
‍
However, there is a solution that can solve these problems, and that's an all-encompassing, detailed cyber insurance plan that includes:
‍
Reputation coverage;
Network interruption;
Contingent business interruption
‍
According to experts, the issue with the insurance policies for the 3D printing industry lies in the exclusion of 'all loss' bodily or property damage. By adding this to the coverage plan, the insurants will be financially safe from any physical or property damage caused during a 3D printing malfunction.
‍
Cyber Liability insurance doesn't cover spotting a company's reputation or any kind of business or network interruption damage during a work shift.
‍
Problem:
Management of Liability Risks
‍
Due to the industry's downsides, 3D printing businesses are prone to being on the receiving end of legal issues addressed to the management of a company, like executives and directors.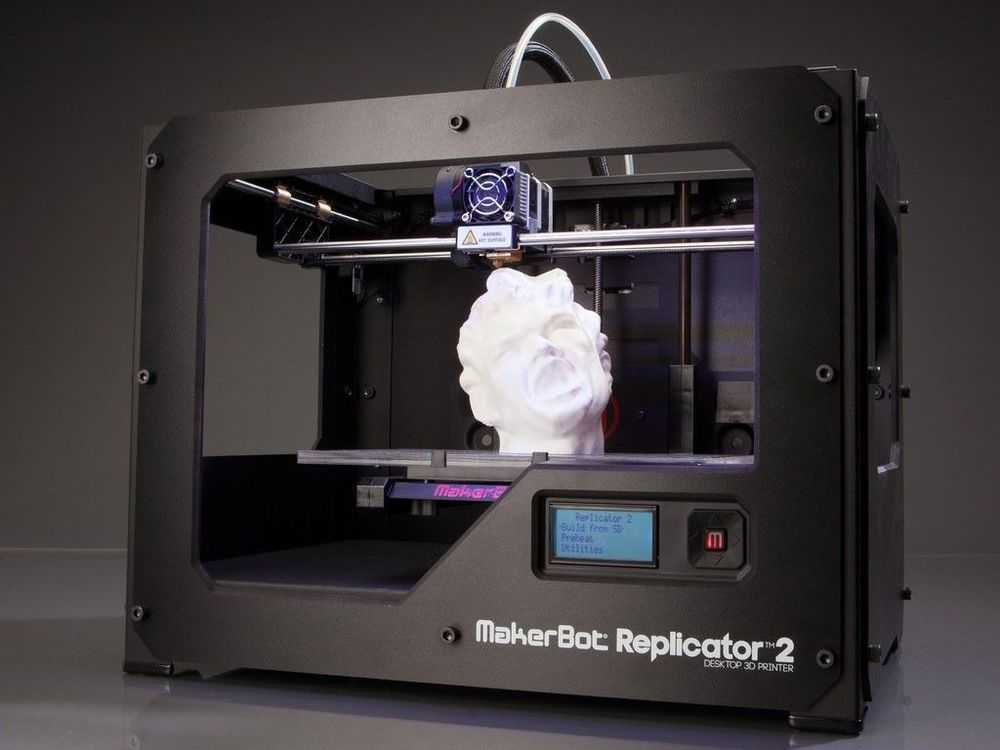 As much as 3D printing helps recreate essential tools like relevant medical instruments, it can also be misused to recreate weapons or other illegal items.
‍
Nowadays, 3D printing insurance policies cover directors' and officers' coverage only, but business owners and executives most frequently ask for entity-level insurance.
‍
Since the legalization of the 3D printing industry is currently in the gray, policy holders need to have extensive coverage for all the lawsuits, criminal proceedings, inspections, investigations, or any other legal or administrative action taking place at the property of a given 3D printing business against a member(s) of the management board. 
‍
Solution:
Close Analysis of the Coverage Plan
‍
It's a no-brainer that 3D printing businesses fall into the category of emerging technology businesses; on the other hand, those businesses are offered only a limited selection of cyber attack insurance that doesn't always correspond with trending problems.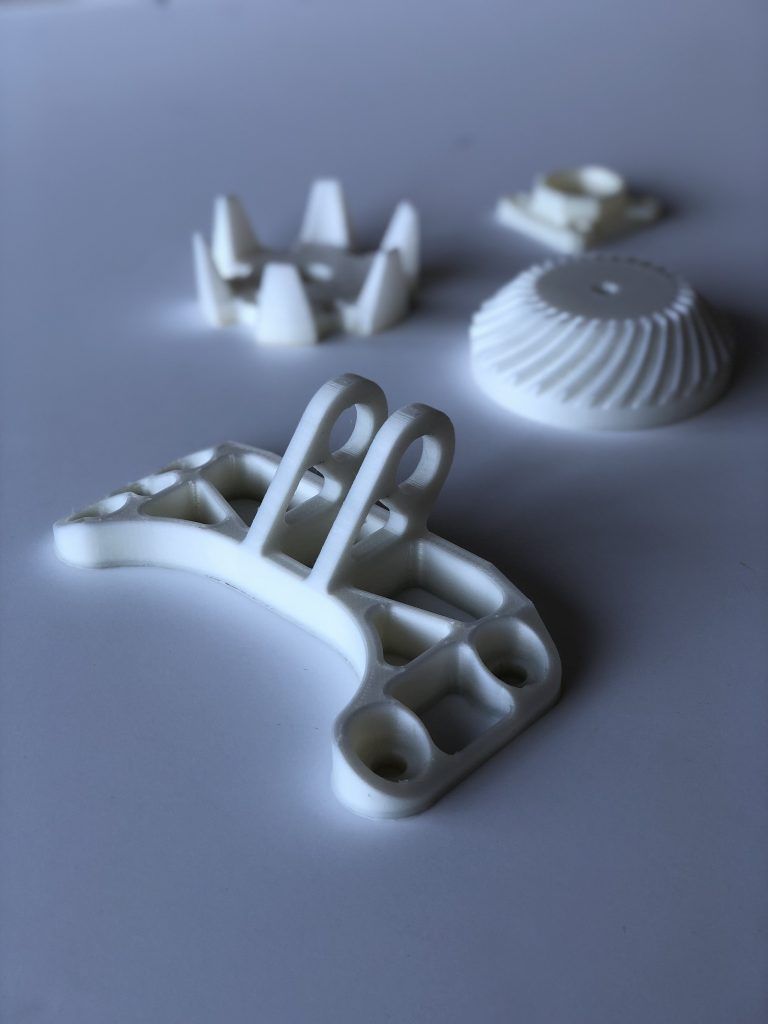 ‍
Experts advise that the best solution to this problem is to look for an experienced and well-informed broker who understands such industries' perils and can further direct you to find an updated and adequate coverage plan.
Also, always prepare a risk profile with previously estimated and predicted risks that your business can face, and that's the ultimate way to find a fitting insurance policy.
‍
‍
3D Printing Insurance Response to Liabilities
‍
The insurance industry recognized the emerging problems that the 3D printing businesses face, but only a few insurance companies succeeded in creating appropriate coverage plans.
‍
Essentially, some insurance policies offer coverage plans that involve profound risk and liability evaluation during recreating products, such as:
‍
Design faults;
Accidents;
Injuries;
Respiratory problems
‍
So, that's what the Employee and Product Liability insurance plans cover.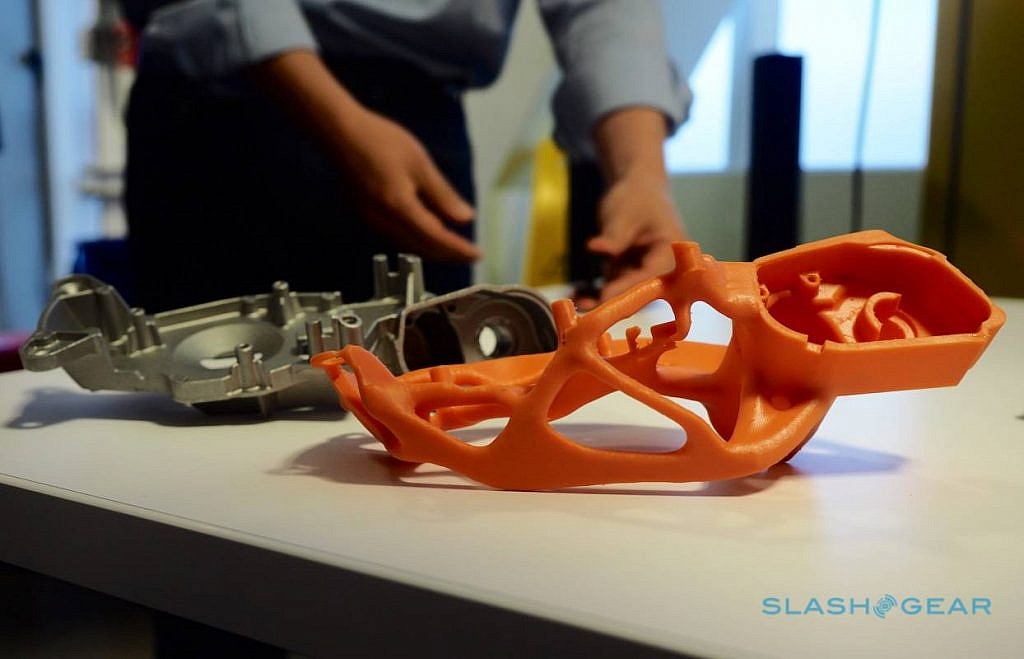 However, there's the Intellectual Property coverage, which is crucial for 3D printing businesses because it covers:
R&D;
Design;
Patent;
Copyright issues;
Material matter;
Quality and testing
‍
Intellectual Property coverage is the best protection against any legal lawsuit that might attract your business or product. Plus, always check if the packages offer Professional Indemnity coverage. Until the 3D printing business becomes legal, ensure you're fully protected because any company in the gray is an easy target to many.
‍
3D Printing Business Insurance Costs
‍
Any 3D printing business insurance costs vary from one provider to the other. Below is an overview of the most common policies and their corresponding prices:
‍
General Liability & Product Liability: pricing depends on the products and annual sales - expect to pay at least $2,000 a year
Commercial Property: pricing depends on the replacement value of the property - expect to pay $1,000 per $100,000 of property
Cyber Liability & Data Breach: pricing depends on the annual sales and cyber security measure - expect to pay $2,000 to $5,000 per year
Workers Compensation: pricing depends on the annual payroll and types of workers - expect to pay at least $2,000 a year
‍
Insurance is not a one-size-fits-all kind of thing.
Premiums are based on numerous figures, so it's best to speak with an advisor about your business.
‍
3D Printing Insurance: Should I Get It?
‍
As the 3D printing industry depends on technology, it's clear that advancements await since technology is rapidly shifting limits. 
‍
However, while the legalization of the 3D printing business is still pending, it makes it easier for your competitors to cause damage to your business and eventually lead you to call it quits. 
‍
Therefore, it's advisable for any 3D printing business owner to get their insurance policy as soon as possible, regardless of whether it is a small or big 3D printing business.
‍
5 Innovative Medical Applications for 3D Printing
Personalized and precise medical solutions are gaining popularity. New tools and advanced technologies bring doctors closer to patients by providing treatments and devices that meet the needs of each individual.
The expansion of 3D printing technology in healthcare has made a huge contribution to improving the quality of medical services.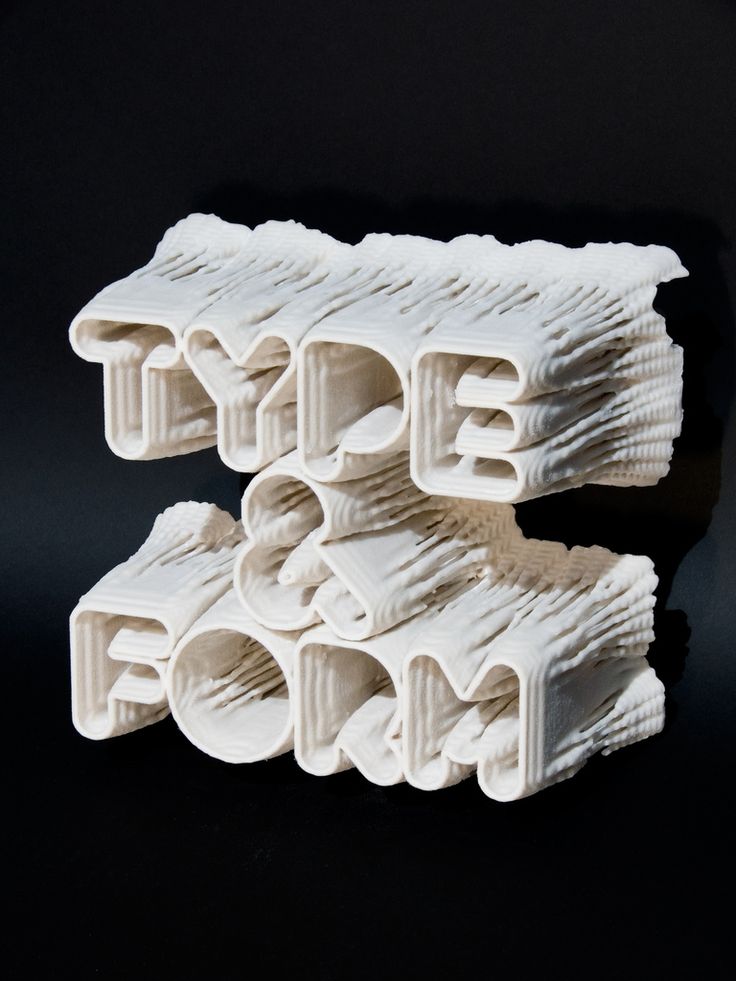 With new tools and treatment approaches developed using 3D printing, patients feel that their treatment becomes more comfortable and personal. For physicians, the new technology available allows them to better analyze complex cases and provides new tools that can ultimately raise standards of care.
Later in this article, you'll learn about five areas, from models for surgical planning to vascular systems and bioreactors, in which 3D printing is used in healthcare, and why many healthcare professionals see great potential in this technology.
In today's medical practice, 3D printed anatomical models based on patient body scans are becoming more indispensable tools, as they provide more personalized and accurate treatment. As cases become more complex and standard case times become more important, visual and tactile anatomical models are helping surgeons to better understand their task, communicate more effectively, and communicate with patients more easily.
Medical professionals, hospitals and research institutions around the world use 3D printed anatomical models as a reference tool for preoperative planning, intraoperative imaging, and for sizing medical instruments or presetting equipment for both standard and very complex procedures, which is reflected in hundreds of scientific publications.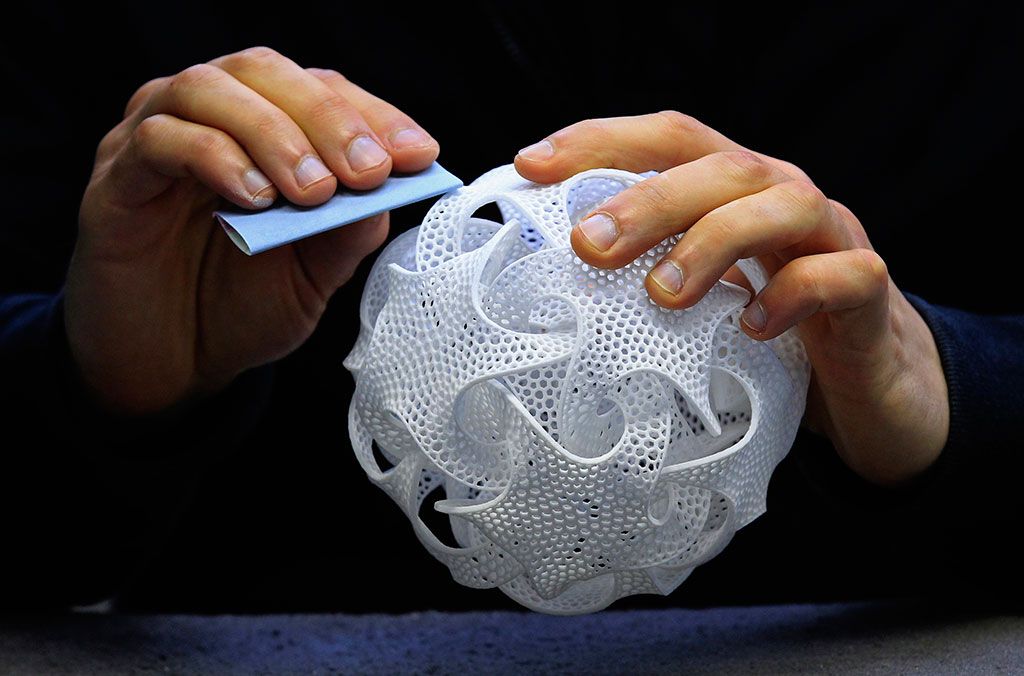 3D printing makes 3D printing affordable and easy to create customized patient anatomical models based on CT and MRI data. The peer-reviewed scientific literature demonstrates that they help clinicians better prepare for surgery, resulting in significant cost and time savings. At the same time, patient satisfaction is also increased through reduced anxiety and reduced recovery time.
Physicians can use individual patient anatomical models to explain the procedure to the patient, making it easier to obtain patient consent and reduce patient anxiety.
Preparation for surgery using preoperative models can also affect the effectiveness of the treatment. The experience of Dr. Michael Ames confirms this. After obtaining bone replications from the young patient's forearm, Dr. Ames realized that the injury was different from what he expected.
Based on this information, Dr. Ames chose a new soft tissue procedure that was much less invasive, reduced downtime, and resulted in much less scarring.
Using imprinted bone replication, Dr. Ames explained the procedure to the young patient and his parents and obtained their consent.
Physicians can use patient-specific surgical models to explain the procedure beforehand, improving patient consent and lowering anxiety.
Result? The operation lasted less than 30 minutes instead of the originally planned three hours. With this reduction in operating time, the hospital avoided a cost of about $5,500 and the patient recovered faster.
According to Dr. Alexis Dang, Orthopedic Surgeon at UC San Francisco and Veterans Affairs Medical Center San Francisco: "All of our full-time orthopedic surgeons and nearly all of our full-time surgeons part-time, used 3D printed models to treat patients at a Veterans Medical Center in San Francisco. We could all see that 3D printing improves the efficiency of our work."
The advent of new biocompatible medical polymers for 3D printing has opened up opportunities for the development of new surgical instruments and techniques to further improve clinical operating procedures.
These include sterilizable trays, contoured surgical guides, and implant models that can be used to determine the size of an implant prior to surgery, helping surgeons reduce time and improve accuracy in complex procedures.
Anatomical model of a hand with elastic resin skin for 3D printing.
Todd Goldstein, PhD, lecturer at the Feinstein Institute for Medical Research, is unequivocal about the importance of 3D printing technology to the work of his department. He estimates that if Northwell used 3D-printed models 10-15% of the time, it could save $1,750,000 a year.
"Whether it's prototyping medical devices, complex anatomical models for our children's hospital, designing training systems, or making surgical templates for dental clinics, [3D printing technology] has increased our capabilities and reduced our costs in a variety of areas. In doing so, we were able to produce instruments for treating patients that would be almost impossible to recreate without our sought-after stereolithography 3D printer," says Goldstein.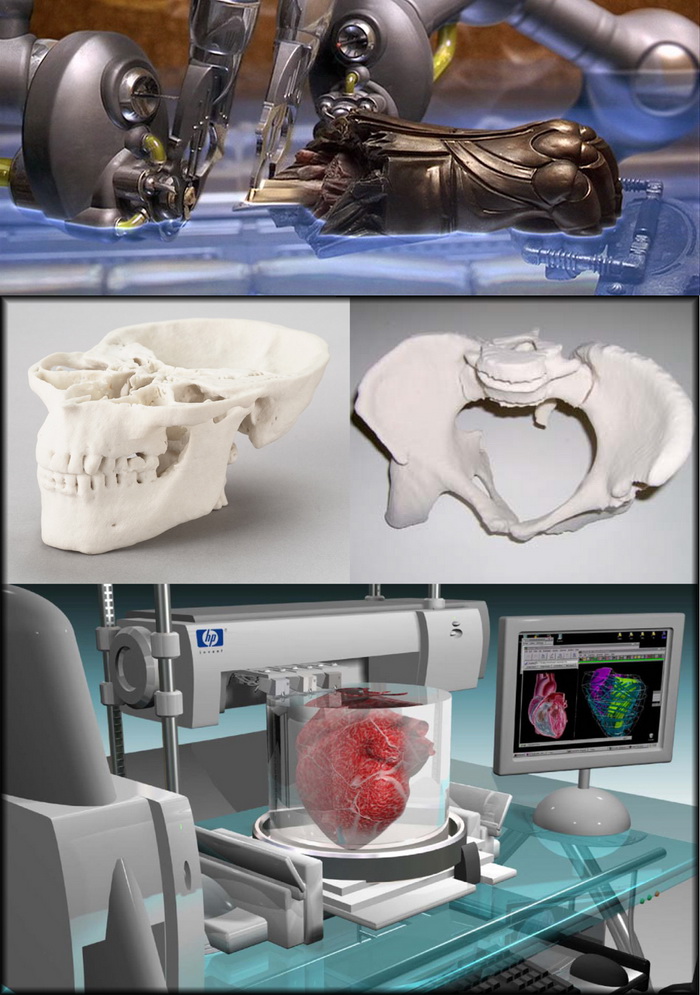 3D printing has become virtually synonymous with rapid prototyping. The ease of use and low cost of 3D printing in-house has also revolutionized product development, with many medical instrument manufacturers adapting the technology to produce entirely new medical devices and surgical instruments.
Over 90 percent of the top 50 medical device companies use 3D printing to create accurate medical device prototypes and fixtures and fittings to simplify testing.
According to Alex Drew, Principal Mechanical Engineer at DJO Surgical, an international medical device supplier, "Before DJO Surgical purchased [Formlabs' 3D printer], we printed nearly all of our prototypes outsourced. Today we are working with four Formlabs printers and are very pleased with the results. The speed of 3D printing has doubled, the cost has been reduced by 70%, and the level of detail allows you to effectively coordinate designs with orthopedic surgeons.
Medical companies such as Coalesce are using 3D printing to create accurate medical device prototypes.
3D printing helps speed up the design process by allowing complex designs to be iterated over in days instead of weeks. When Coalesce was tasked with building an inhaler device that could digitally evaluate an asthma patient's inspiratory flow profile, outsourcing would result in a significant increase in production time for each prototype. Before sending the project files to a third party company for the physical implementation of the project, they would have to be carefully developed and carried through various iterations.
Instead, desktop stereolithographic 3D printing allowed Coalesce to handle the entire prototyping process in-house. The prototypes were suitable for use in clinical trials and looked just like the finished product. Moreover, when the company demonstrated the device, its customers mistook the prototype for the final product.
Overall, the introduction of in-house manufacturing resulted in an exceptional reduction in prototyping time by 80–90%.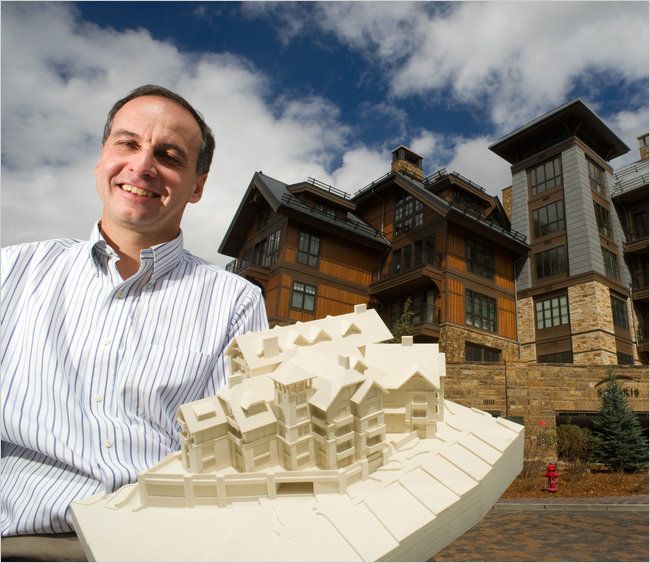 In addition, the models took only eight hours to print and were finished and painted in a matter of days, while outsourcing the same process would take a week or two.
Hundreds of thousands of people lose limbs every year, but only a fraction of them are able to restore limb function with a prosthesis.
Conventional dentures are only available in a few sizes, so patients must adjust to what fits best. On the other hand, custom bionic prostheses that mimic the movements and grips of a real limb based on the impulses of the surviving limb muscles are so expensive that they can only be used by patients living in developed countries with the best medical insurance. In the case of children's prostheses, the situation is aggravated even more. Children grow up and inevitably outgrow their prostheses, which, as a result, require costly modifications.
The difficulty lies in the lack of manufacturing processes that would allow for individual orders at an affordable price.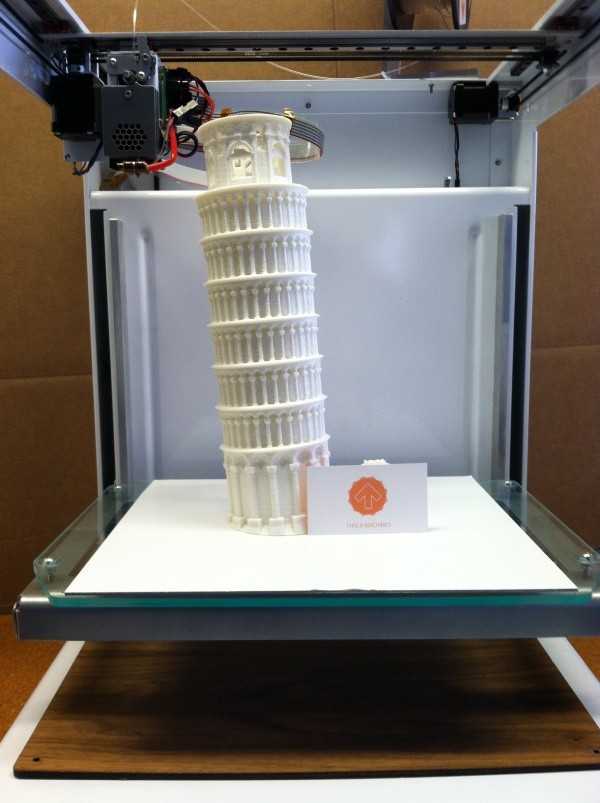 But increasingly, prosthetists are looking to reduce these high financial barriers to rehabilitation with the flexible design capabilities of 3D printing.
Initiatives like e-NABLE allow people around the world to learn about the possibilities of 3D printed prostheses. They are driving an independent movement in the prosthesis industry by offering information and free open source projects so that patients can get a custom-designed prosthesis for as little as $50.
Other inventors, such as Lyman Connor, go even further. With only a small fleet of four desktop 3D printers, Lyman was able to fabricate and customize his first mass-produced prostheses. His ultimate goal? Create a customizable fully bionic arm that will cost incomparably less than similar prostheses that retail for tens of thousands of dollars.
Researchers at the Massachusetts Institute of Technology have also found that 3D printing is the best method for making more comfortable prosthetic sockets.
In addition, the low cost of manufacturing these prostheses, as well as the freedom that comes with being able to design custom designs, speak for themselves.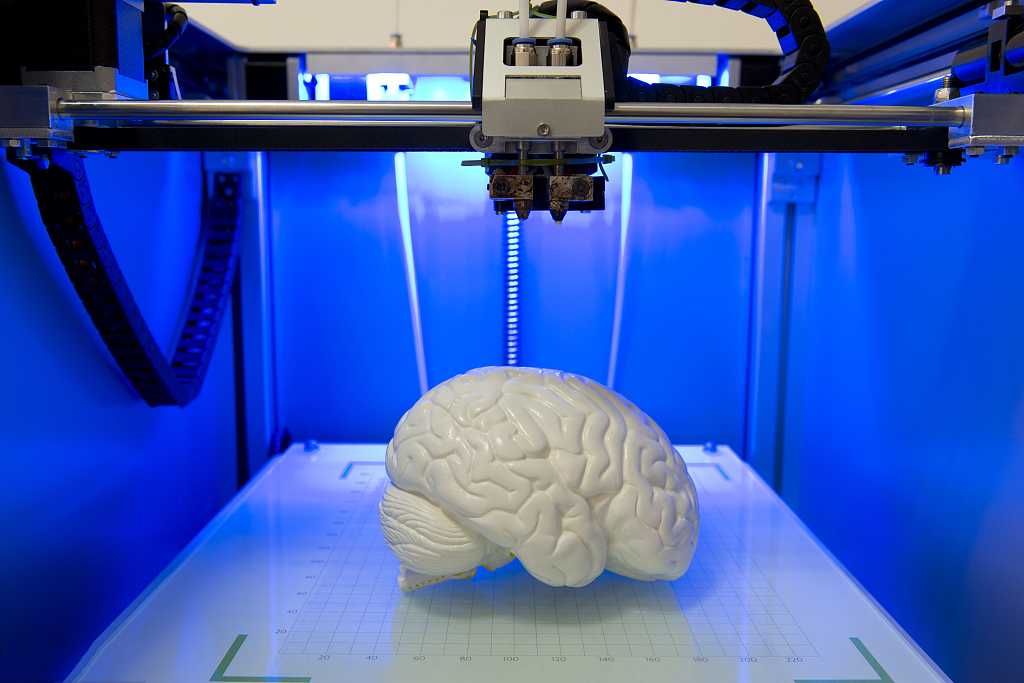 3D printed prostheses have a lead time of just two weeks, and then they can be tried and serviced at a much lower cost than traditional counterparts.
As costs continue to fall and material properties improve, the role of 3D printing in healthcare will no doubt become more important.
The same high financial barriers that are seen in prosthetics are common in orthoses and insoles. Like many other patient-specific medical devices, custom-made orthoses are often not available due to their high cost and take weeks or months to manufacture. 3D printing solves this problem.
Confirmation is the example of Matej and his son Nick. Nick was born in 2011. Complications during preterm birth led to the fact that he developed cerebral palsy, a pathology that affects nearly twenty million people worldwide. Matei was delighted with how determined his son was to overcome the limitations of his illness, but he was faced with a choice between a standard, off-the-shelf orthosis that would be uncomfortable for his son, or an expensive custom solution that would take weeks or months to manufacture and ship.
, and from which the child would quickly grow.
He decided to take matters into his own hands and began to look for new ways to achieve his goal. Thanks to the opportunities provided by digital technologies, in particular 3D scanning and 3D printing, Matei and Nika's physiotherapists were able to develop a completely new innovative workflow for the manufacture of ankle orthoses through experiments.
The resulting 3D-printed, custom-fit orthosis that provides support, comfort, and motion correction helped Nick take his first steps on his own. This non-standard orthopedic device reproduced the functionality of the highest-class orthopedic products, at the same time it cost many times less and did not require any additional settings.
Professionals around the world are using 3D printing as a new method of manufacturing custom insoles and orthoses for patients and clients, as well as a range of other physiotherapy tools. In the past, undergoing a course of physiotherapy with the use of individual physiotherapy instruments carried many difficulties.
Often there was a situation when patients had to wait a long time for a finished product, which at the same time did not provide proper comfort. 3D printing is step by step changing this status quo. Data confirms that 3D printed insoles and orthoses offer a more precise fit and lead to better therapeutic outcomes, which means greater comfort and benefit for patients.
The usual treatments for patients with severe organ damage today are autografts, transplantation of tissue from one area of ​​the body to another, or transplantation of a donor organ. Researchers in bioprinting and tissue engineering hope to expand this list soon with on-demand fabrication of tissues, blood vessels, and organs.
3D bioprinting is an additive manufacturing process that uses materials known as bioink (a combination of living cells and a compatible substrate) to create tissue-like structures that can be used in medicine. Tissue engineering combines new technologies, including bioprinting, which make it possible to grow replacement tissues and organs in the laboratory for use in the treatment of injuries and diseases.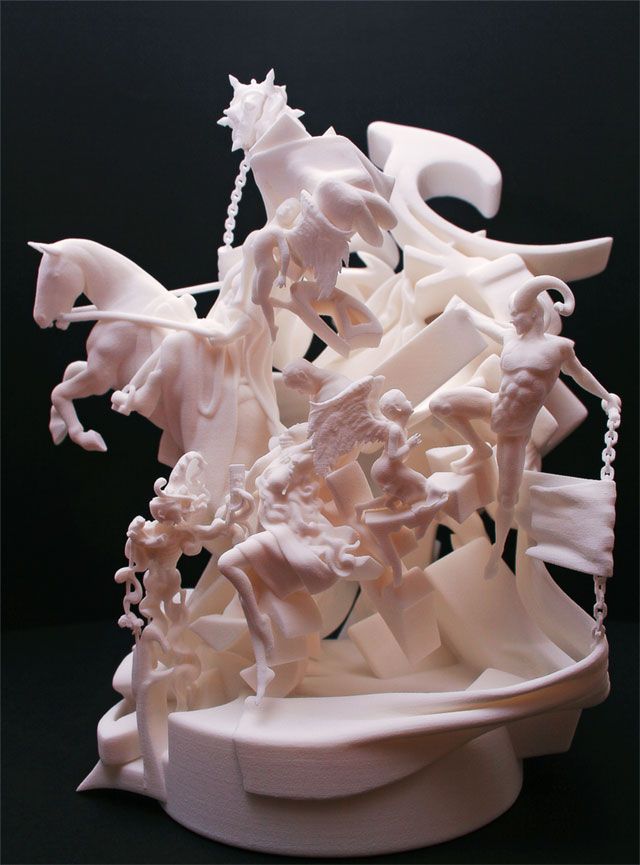 Using high-precision 3D printing, researchers such as Dr. Sam Pashne-Tala from the University of Sheffield are opening up new possibilities for tissue engineering.
In order to direct cell growth to form the necessary tissue, Dr. Pashne-Tala grows living cells on a laboratory scaffold that provides a template of the required shape, size and geometry. For example, to create a blood vessel for a patient with cardiovascular disease, a tubular structure is needed. The cells will multiply and cover the scaffold, taking on its shape. Then the scaffold is gradually destroyed, and the living cells take the form of the target tissue, which is cultured in a bioreactor - a chamber that contains the cultured tissue and can reproduce the internal environment of the body so that the cultured tissue acquires the mechanical and biological characteristics of organic tissue.
3D printed bioreactor chamber with tissue engineered aorta miniature inside. The tissue is cultured in a bioreactor to acquire the mechanical and biological characteristics of the organic tissue.
3D printed bioreactor chamber with tissue engineered aorta miniature inside. The tissue is cultured in a bioreactor to acquire the mechanical and biological characteristics of the organic tissue.
This will allow scientists to design patient-specific vascular grafts, expand surgical care, and provide a unique platform for testing new vascular medical devices for people suffering from cardiovascular disease, which is currently the leading cause of death worldwide. The ultimate goal is to create blood vessels that are ready for implantation in patients. Since tissue engineering uses cells taken from a patient in need of treatment, this eliminates the possibility of rejection by the immune system, which is the main problem of modern transplantation.
3D printing has proven its ability to solve the problems that exist in the production of synthetic blood vessels, in particular, the difficulty of recreating the required accuracy of the shape, size and geometry of the vessel.
The ability of printed solutions to clearly reflect the specific characteristics of patients was a step forward.
According to Dr. Pashne-Tal: "[Creating blood vessels using 3D printing] makes it possible to expand the possibilities of surgical care and even create designs of blood vessels for a specific patient. Without the existence of high-precision affordable 3D printing, the creation of such forms would not be possible."
We are witnessing significant advances in the development of biological materials that can be used in 3D printers. Scientists are developing new hydrogel materials that have the same consistency as organ tissues present in the human brain and lungs, which can be used in a range of 3D printing processes. Scientists hope that they will be able to implant them into the body as a "scaffold" for cell growth.
Although bioprinting of fully functional internal organs such as the heart, kidneys and liver still looks futuristic, hybrid 3D printing at very high speed opens up more and more new horizons.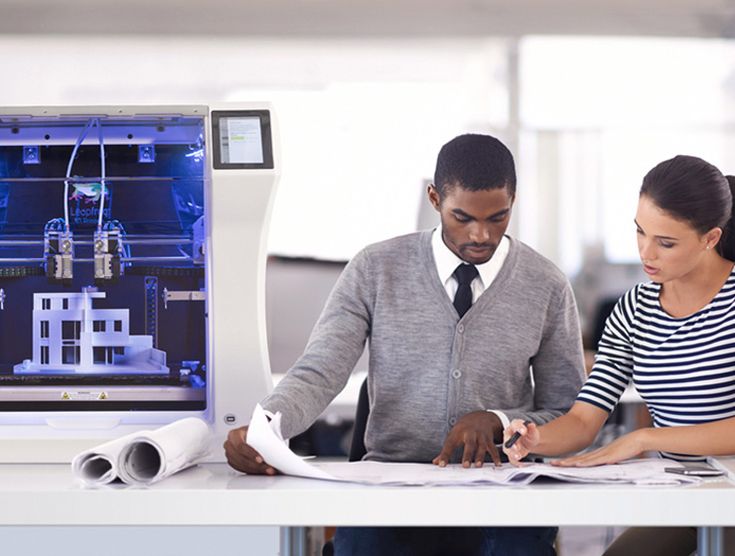 It is expected that sooner or later the creation of biological matter on laboratory printers will lead to the generation of new, fully functional 3D printed organs. In April 2019, scientists at Tel Aviv University 3D-printed the first heart using biological tissue from a patient. A tiny copy was created using the patient's own biological tissues, which made it possible to fully match the immunological, cellular, biochemical and anatomical profile of the patient.
"At this stage, the heart we printed is small, about the size of a rabbit heart, but normal-sized human hearts require the same technology," says Prof. Tal Dvir.
The first 3D bioprinted heart created at Tel Aviv University.
Precise and affordable 3D printing processes, such as desktop stereolithography, are democratizing access to technology, enabling healthcare professionals to develop new clinical solutions and quickly produce medical devices with individual characteristics, and doctors around the world to offer new types of therapy.
As 3D printing technologies and materials improve, it will continue to expand personalized treatment and deliver high performance medical devices.
Learn more about 3D printing applications in healthcare
3D printing for dummies or "what is a 3D printer?"
1 3D printing term
2 3D printing methods

2.1 Extrusion printing
2.2 Melting, sintering or bonding
2.3 Stereolithography
2.4 Lamination

3 Fused Deposition Printing (FDM)

3.1 Consumables
3.2 Extruder
3.3 Working platform
3.4 Positioners
3.5 Control
3.6 Varieties of
FDM printers

4 Laser stereolithography (SLA)

4.1 Lasers and projectors
4.2 Cuvette and resin
4. 3 Varieties of
Stereolithography Printers
The term 3D printing
The term 3D printing has several synonyms, one of which quite briefly and accurately characterizes the essence of the process - "additive manufacturing", that is, production by adding material. The term was not coined by chance, because this is the main difference between multiple 3D printing technologies and the usual methods of industrial production, which in turn received the name "subtractive technologies", that is, "subtractive". If during milling, grinding, cutting and other similar procedures, excess material is removed from the workpiece, then in the case of additive manufacturing, material is gradually added until a solid model is obtained.
Soon 3D printing will even be tested on the International Space Station
Strictly speaking, many traditional methods could be classified as "additive" in the broad sense of the word - for example, casting or riveting.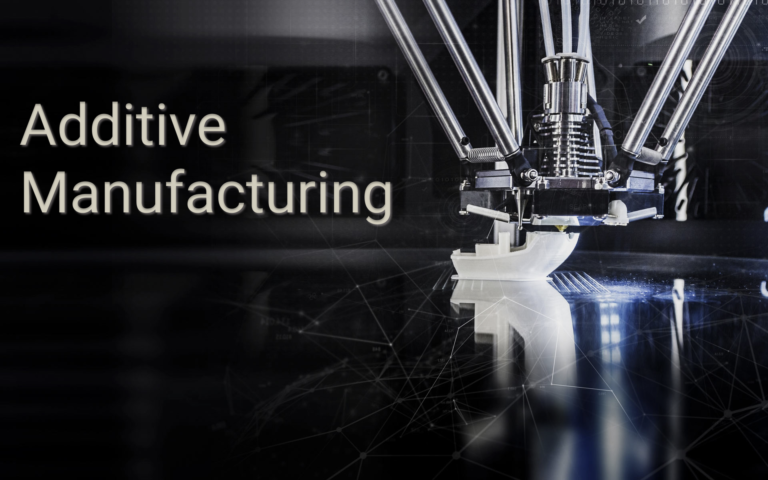 However, it should be borne in mind that in these cases, either the consumption of materials is required for the manufacture of specific tools used in the production of specific parts (as in the case of casting), or the whole process is reduced to joining ready-made parts (welding, riveting, etc.). In order for the technology to be classified as "3D printing", the final product must be built from raw materials, not blanks, and the formation of objects must be arbitrary - that is, without the use of forms. The latter means that additive manufacturing requires a software component. Roughly speaking, additive manufacturing requires computer control so that the shape of final products can be determined by building digital models. It was this factor that delayed the widespread adoption of 3D printing until the moment when numerical control and 3D design became widely available and highly productive.
3D printing techniques
3D printing technologies are numerous, and there are even more names for them due to patent restrictions.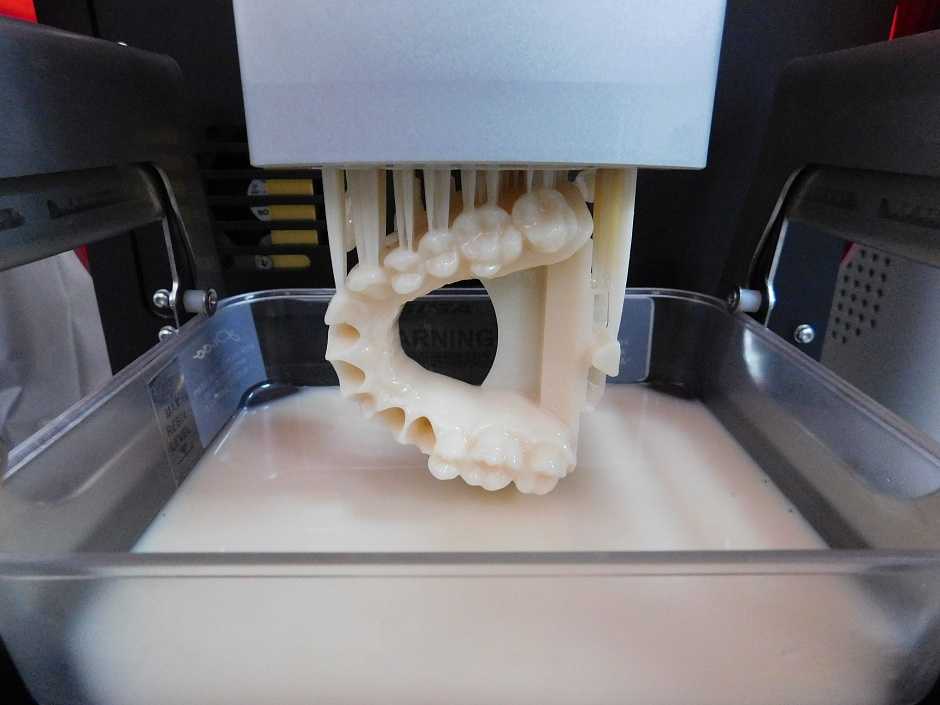 However, you can try to divide technologies into main areas:
Extrusion printing
This includes methods such as deposition fusion (FDM) and multi-jet printing (MJM). This method is based on the extrusion (extrusion) of consumables with the sequential formation of the finished product. As a rule, consumables consist of thermoplastics or composite materials based on them.
Melting, sintering or bonding
This approach is based on bonding powdered material together. Formation is done in different ways. The simplest is gluing, as is the case with 3D inkjet printing (3DP). Such printers deposit thin layers of powder onto the build platform, which are then selectively bonded with a binder. Powders can be made up of virtually any material that can be ground to a powder—plastic, wood, metal.
This model of James Bond's Aston Martin was successfully printed on Voxeljet's SLS printer and blown up just as successfully during the filming of Skyfall instead of the expensive original
sintering (SLS and DMLS) and smelting (SLM), which allow you to create all-metal parts.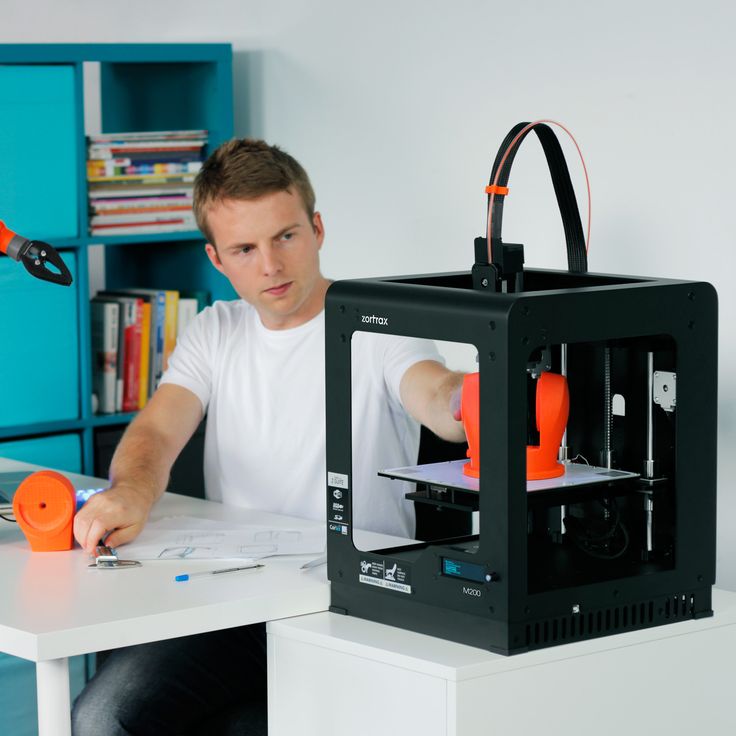 As with 3D inkjet printing, these devices apply thin layers of powder, but the material is not glued together, but sintered or melted using a laser. Laser sintering (SLS) is used to work with both plastic and metal powders, although metal pellets usually have a more fusible shell, and after printing they are additionally sintered in special ovens. DMLS is a variant of SLS installations with more powerful lasers that allow sintering metal powders directly without additives. SLM printers provide not just sintering of particles, but their complete melting, which allows you to create monolithic models that do not suffer from the relative fragility caused by the porosity of the structure. As a rule, printers for working with metal powders are equipped with vacuum working chambers, or they replace air with inert gases. Such a complication of the design is caused by the need to work with metals and alloys subject to oxidation - for example, with titanium.
Stereolithography
How an SLA printer works
Stereolithography printers use special liquid materials called "photopolymer resins".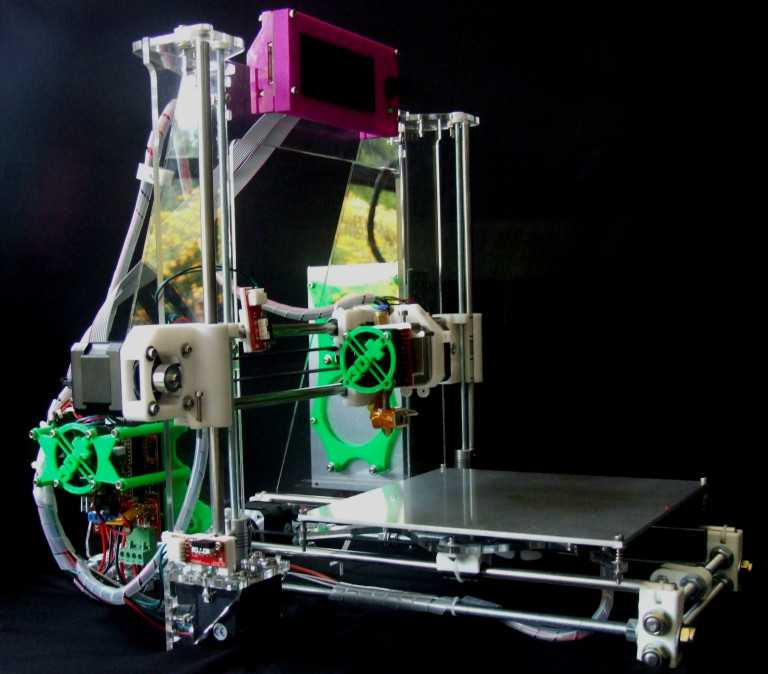 The term "photopolymerization" refers to the ability of a material to harden when exposed to light. As a rule, such materials react to ultraviolet irradiation.
Resin is poured into a special container with a movable platform, which is installed in a position near the surface of the liquid. The layer of resin covering the platform corresponds to one layer of the digital model. Then a thin layer of resin is processed by a laser beam, hardening at the points of contact. At the end of illumination, the platform together with the finished layer is immersed to the thickness of the next layer, and illumination is performed again.
Lamination
Laminating (LOM) 3D printers
Some 3D printers build models using sheet materials - paper, foil, plastic film.
Layers of material are glued on top of each other and cut along the contours of the digital model using a laser or a blade.
These machines are well suited for prototyping and can use very cheap consumables, including regular office paper.
However, the complexity and noise of these printers, coupled with the limitations of the models they produce, limit their popularity.
Fused deposition modeling (FDM) and laser stereolithography (SLA) have become the most popular 3D printing methods used in the home and office.
Let's take a closer look at these technologies.
Fused Deposition Printing (FDM)
FDM is perhaps the simplest and most affordable 3D construction method, which makes it very popular.
High demand for FDM printers is driving device and consumable prices down rapidly, along with technology advances towards ease of use and improved reliability.
Consumables
ABS filament spool and finished model
FDM printers are designed to print with thermoplastics, which are usually supplied as thin filaments wound on spools. The range of "clean" plastics is very wide. One of the most popular materials is polylactide or "PLA plastic".
This material is made from corn or sugar cane, which makes it non-toxic and environmentally friendly, but makes it relatively short-lived. ABS plastic, on the other hand, is very durable and wear-resistant, although it is susceptible to direct sunlight and can release small amounts of harmful fumes when heated. Many plastic items that we use on a daily basis are made from this material: housings for household appliances, plumbing fixtures, plastic cards, toys, etc.
In addition to PLA and ABS, printing is possible with nylon, polycarbonate, polyethylene and many other thermoplastics that are widely used in modern industry. More exotic materials are also possible, such as polyvinyl alcohol, known as "PVA plastic". This material dissolves in water, which makes it very useful for printing complex geometric patterns. But more on that below.
Model made from Laywoo-D3. Changing the extrusion temperature allows you to achieve different shades and simulate annual rings
It is not necessary to print with homogeneous plastics.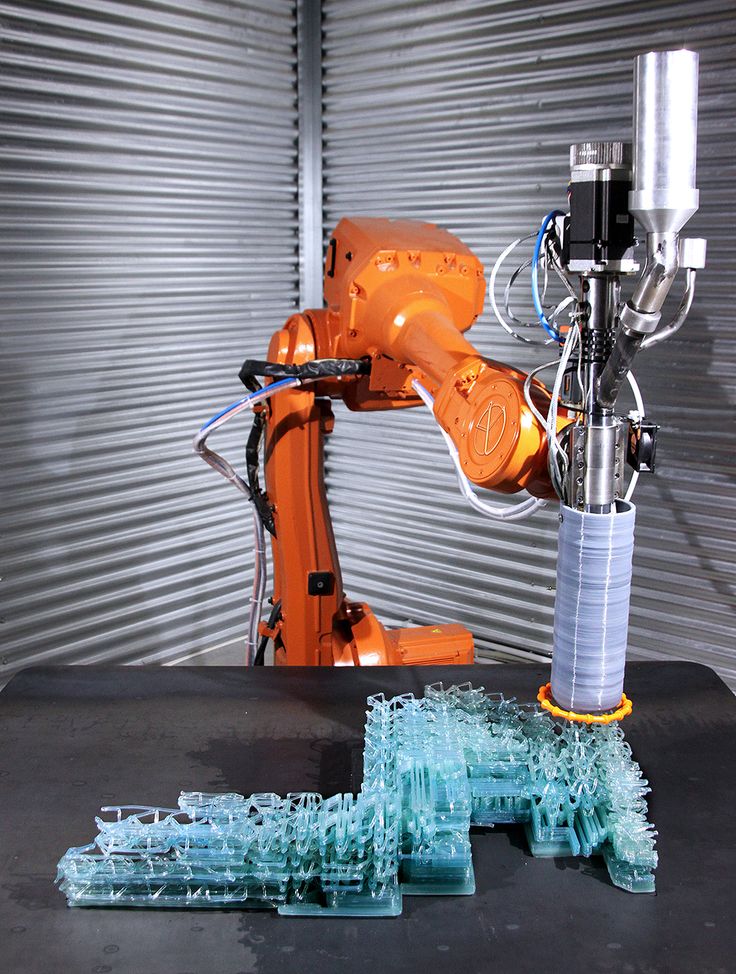 It is also possible to use composite materials imitating wood, metals, stone. Such materials use all the same thermoplastics, but with impurities of non-plastic materials.
So, Laywoo-D3 consists partly of natural wood dust, which allows you to print "wooden" products, including furniture.
The material called BronzeFill is filled with real bronze, and models made from it can be ground and polished, achieving a high similarity to products made from pure bronze.
One has only to remember that thermoplastics serve as a binding element in composite materials - they determine the thresholds of strength, thermal stability and other physical and chemical properties of finished models.
Extruder
Extruder - FDM print head. Strictly speaking, this is not entirely true, because the head consists of several parts, of which only the feed mechanism is directly "extruder". However, by tradition, the term "extruder" is commonly used as a synonym for the entire print assembly.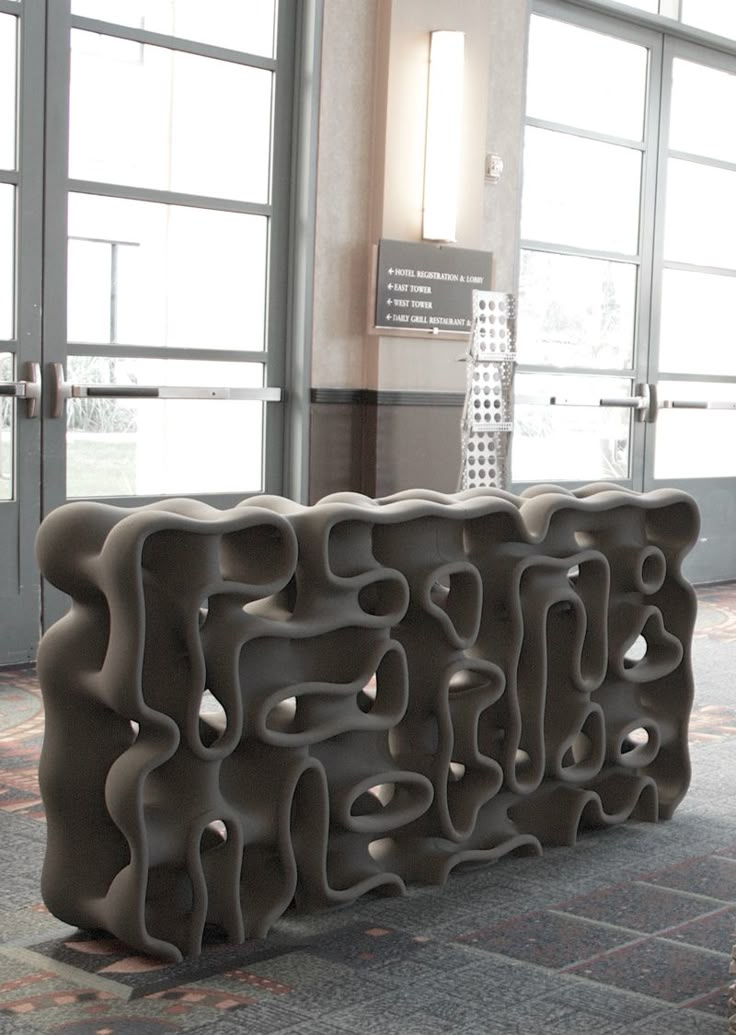 FDM extruder general design
The extruder is designed for melting and applying thermoplastic thread. The first component is the thread feed mechanism, which consists of rollers and gears driven by an electric motor. The mechanism feeds the thread into a special heated metal tube with a small diameter nozzle, called a "hot end" or simply a "nozzle". The same mechanism is used to remove the thread if a change of material is needed.
The hot end is used to heat and melt the thread fed by the puller. As a rule, nozzles are made from brass or aluminum, although more heat-resistant, but also more expensive materials can be used. For printing with the most popular plastics, a brass nozzle is quite enough. The "nozzle" itself is attached to the end of the tube with a threaded connection and can be replaced with a new one in case of wear or if a change in diameter is necessary. The nozzle diameter determines the thickness of the molten filament and, as a result, affects the print resolution.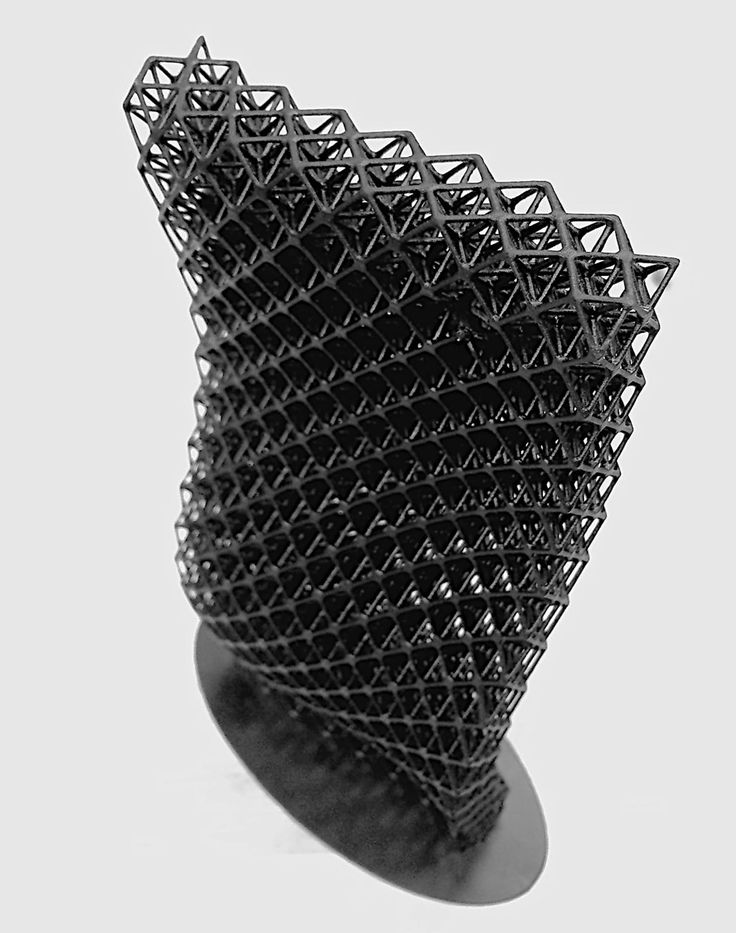 The heating of the hot end is controlled by a thermistor. Temperature control is very important, because when the material is overheated, pyrolysis can occur, that is, the decomposition of plastic, which contributes both to the loss of the properties of the material itself and to clogging of the nozzle.
PrintBox3D One FDM Extruder
To prevent the filament from melting too early, the top of the hot end is cooled by heatsinks and fans. This point is of great importance, since thermoplastics that pass the glass transition temperature significantly expand in volume and increase the friction of the material with the walls of the hot end. If the length of such a section is too long, the pulling mechanism may not have enough strength to push the thread.
The number of extruders may vary depending on the purpose of the 3D printer. The simplest options use a single printhead. The dual extruder greatly expands the capabilities of the device, allowing you to print one model in two different colors, as well as using different materials.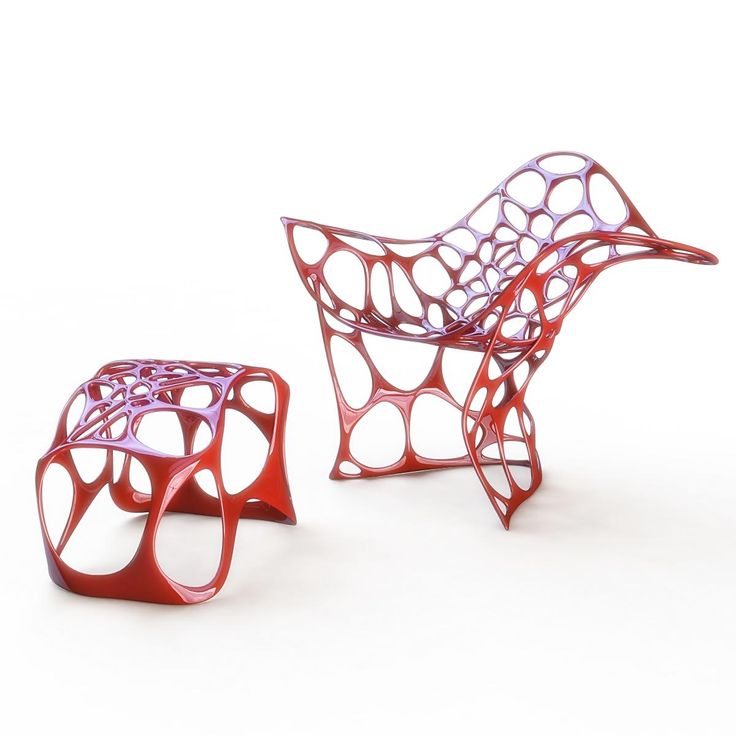 The last point is important when building complex models with overhanging structural elements: FDM printers cannot print "over the air", since the applied layers require support. In the case of hanging elements, temporary support structures have to be printed, which are removed after printing is completed. The removal process is fraught with damage to the model itself and requires accuracy. In addition, if the model has a complex structure with internal cavities that are difficult to access, building conventional supports may not be practical due to the difficulty in removing excess material.
Finished model with PVA supports (white) before and after washing
In such cases, the very water-soluble polyvinyl alcohol (PVA) comes in handy. Using a dual extruder, you can build a model in waterproof thermoplastic using PVA to create supports.
After printing, PVA can be simply dissolved in water and a complex product of perfect quality can be obtained.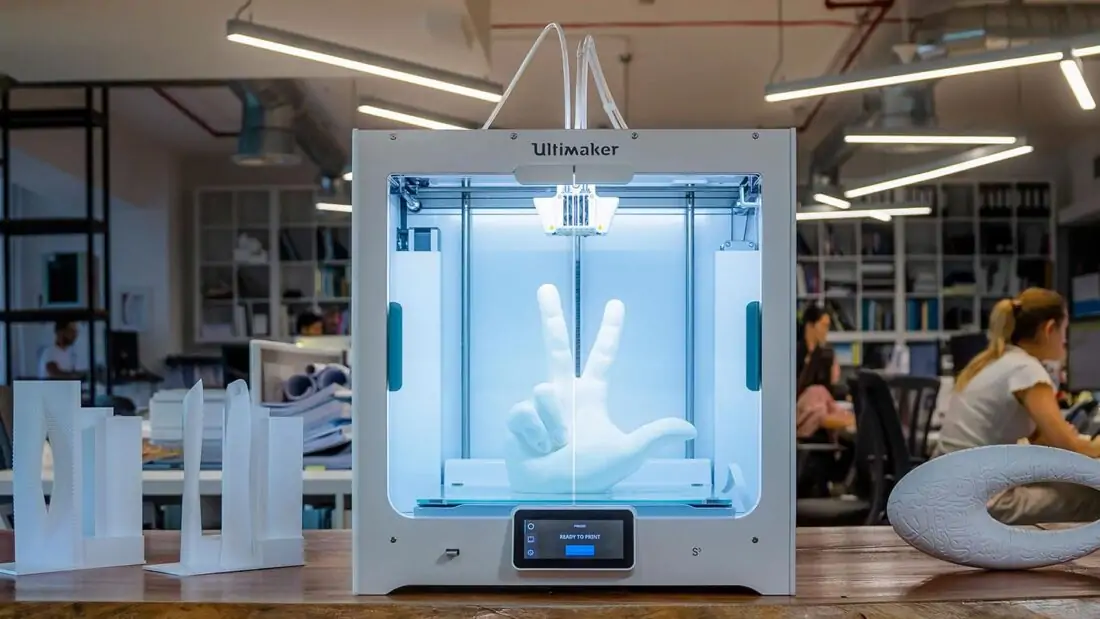 Some FDM printers can use three or even four extruders.
Work platform
Heated platform covered with removable glass work table
Models are built on a special platform, often equipped with heating elements. Preheating is required for a wide range of plastics, including the popular ABS, which are subject to a high degree of shrinkage when cooled. The rapid loss of volume by cold coats compared to freshly applied material can lead to model distortion or delamination. The heating of the platform makes it possible to significantly equalize the temperature gradient between the upper and lower layers.
Heating is not recommended for some materials. A typical example is PLA plastic, which requires a fairly long time to harden. Heating PLA can lead to deformation of the lower layers under the weight of the upper ones. When working with PLA, measures are usually taken not to heat up, but to cool the model.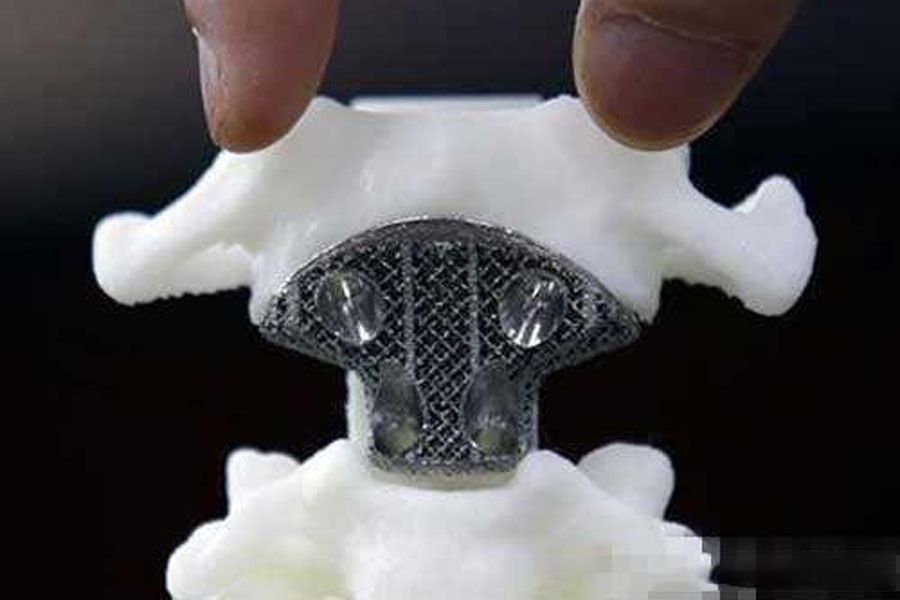 Such printers have characteristic open cases and additional fans blowing fresh layers of the model.
Calibration screw for work platform covered with blue masking tape
The platform needs to be calibrated before printing to ensure that the nozzle does not hit the applied layers and move too far causing air-to-air printing resulting in plastic vermicelli. The calibration process can be either manual or automatic. In manual mode, calibration is performed by positioning the nozzle at different points on the platform and adjusting the platform inclination using the support screws to achieve the optimal distance between the surface and the nozzle.
As a rule, platforms are equipped with an additional element - a removable table. This design simplifies the cleaning of the working surface and facilitates the removal of the finished model. Stages are made from various materials, including aluminum, acrylic, glass, etc. The choice of material for the manufacture of the stage depends on the presence of heating and consumables for which the printer is optimized.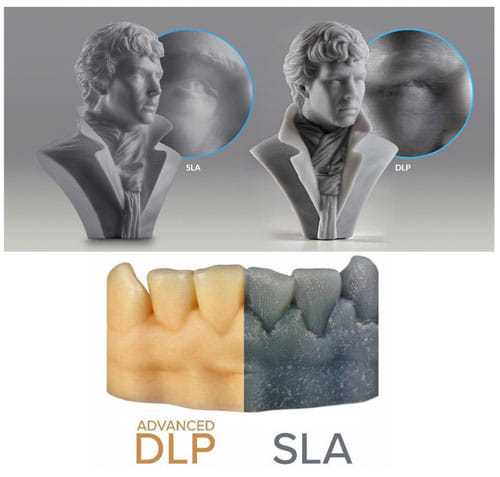 For a better adhesion of the first layer of the model to the surface of the table, additional tools are often used, including polyimide film, glue and even hairspray! But the most popular tool is inexpensive, but effective masking tape. Some manufacturers make perforated tables that hold the model well but are difficult to clean. In general, the expediency of applying additional funds to the table depends on the consumable material and the material of the table itself.
Positioning mechanisms
Scheme of operation of positioning mechanisms
Of course, the print head must move relative to the working platform, and unlike conventional office printers, positioning must be carried out not in two, but in three planes, including height adjustment.
Positioning pattern may vary. The simplest and most common option involves mounting the print head on perpendicular guides driven by stepper motors and providing positioning along the X and Y axes.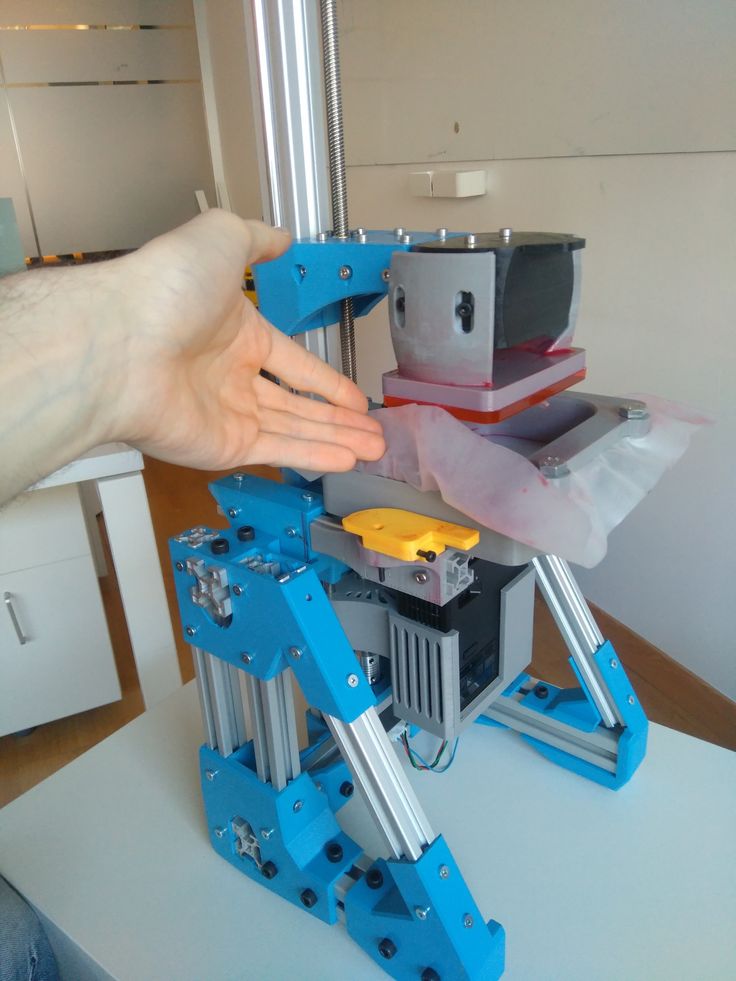 Vertical positioning is carried out by moving the working platform.
On the other hand, it is possible to move the extruder in one plane and the platforms in two.
SeemeCNC ORION Delta Printer
One option that is gaining popularity is the delta coordinate system.
Such devices are called "delta robots" in the industry.
In delta printers, the print head is suspended on three manipulators, each of which moves along a vertical rail.
The synchronous symmetrical movement of the manipulators allows you to change the height of the extruder above the platform, and the asymmetric movement causes the head to move in the horizontal plane.
A variant of this system is the reverse delta design, where the extruder is fixed to the ceiling of the working chamber, and the platform moves on three support arms.
Delta printers have a cylindrical build area, and their design makes it easy to increase the height of the working area with minimal design changes by lengthening the rails.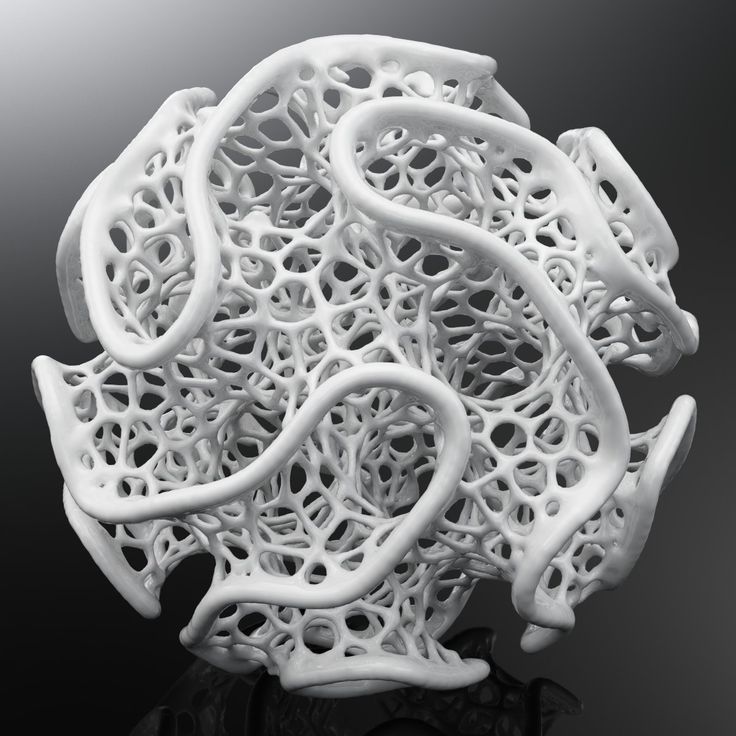 In the end, everything depends on the decision of the designers, but the fundamental principle does not change.
Control
Typical Arduino-based controller with add-on modules
FDM printer operation, including nozzle and platform temperature, filament feed rate, and stepper motors for positioning the extruder, is controlled by fairly simple electronic controllers. Most controllers are based on the Arduino platform, which has an open architecture.
The programming language used by printers is called G-code (G-Code) and consists of a list of commands executed in turn by the 3D printer systems. G-code is compiled by programs called "slicers" - standard 3D printer software that combines some of the features of graphics editors with the ability to set print options through a graphical interface. The choice of slicer depends on the printer model. RepRap printers use open source slicers such as Skeinforge, Replicator G and Repetier-Host.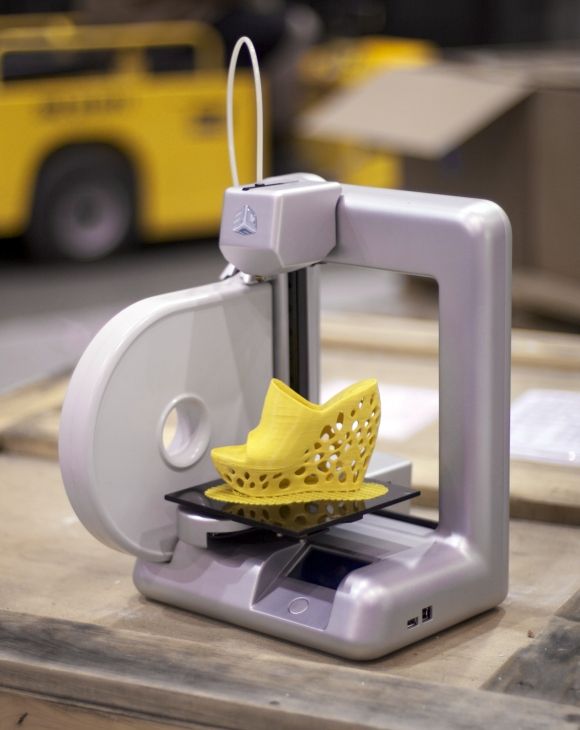 Some companies make printers that require proprietary software.
Program code for printing is generated using slicers
As an example, we can mention Cube printers from 3D Systems. There are companies that offer proprietary software but allow third-party software, as is the case with the latest generation of MakerBot 3D printers.
Slicers are not designed for 3D design per se. This task is done with CAD editors and requires some 3D design skills. Although beginners should not despair: digital models of a wide variety of designs are offered on many sites, often even for free. Finally, some companies and individuals offer 3D design services for custom printing.
Finally, 3D printers can be used in conjunction with 3D scanners to automate the process of digitizing objects. Many of these devices are designed specifically to work with 3D printers. Notable examples include the 3D Systems Sense handheld scanner and the MakerBot Digitizer handheld desktop scanner.
MakerBot Replicator 5th Generation FDM Printer with built-in control module on the top of the frame
The user interface of a 3D printer can consist of a simple USB port for connecting to a personal computer. In such cases, the device is actually controlled by the slicer.
The disadvantage of this simplification is a rather high probability of printing failure when the computer freezes or slows down.
A more advanced option includes an internal memory or memory card interface to make the process standalone.
These models are equipped with control modules that allow you to adjust many print parameters (such as print speed or extrusion temperature). The module may include a small LCD display or even a mini-tablet.
Varieties of FDM printers
Professional Stratasys Fortus 360mc FDM printer that allows printing with nylon
FDM printers are very, very diverse, ranging from the simplest homemade RepRap printers to industrial installations capable of printing large-sized objects.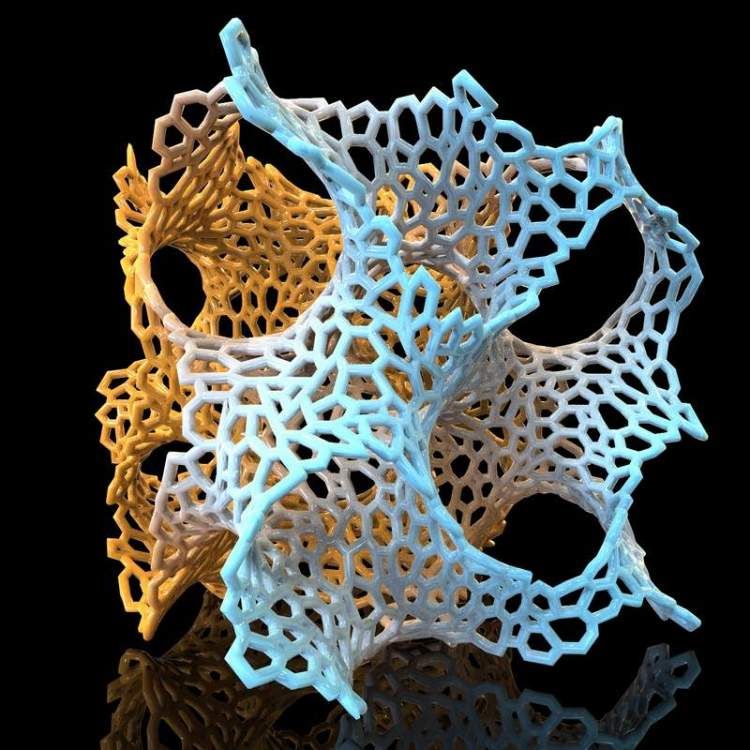 Stratasys, founded by FDM inventor Scott Crump, is a leader in industrial plant manufacturing.
You can build the simplest FDM printers yourself. Such devices are called RepRap, where "Rep" indicates the possibility of "replication", that is, self-reproduction.
RepRap printers can be used to print custom built plastic parts.
Controller, rails, belts, motors and other components can be easily purchased separately.
Of course, assembling such a device on your own requires serious technical and even engineering skills.
Some manufacturers make it easy by selling DIY kits, but these kits still require a good understanding of the technology.
A variant of the popular late 3rd generation Prusa RepRap printer
If you like to make things with your own hands, then RepRap printers will pleasantly please you with the price: the average cost of the popular early generation Prusa Mendel design is about $500 in a complete set.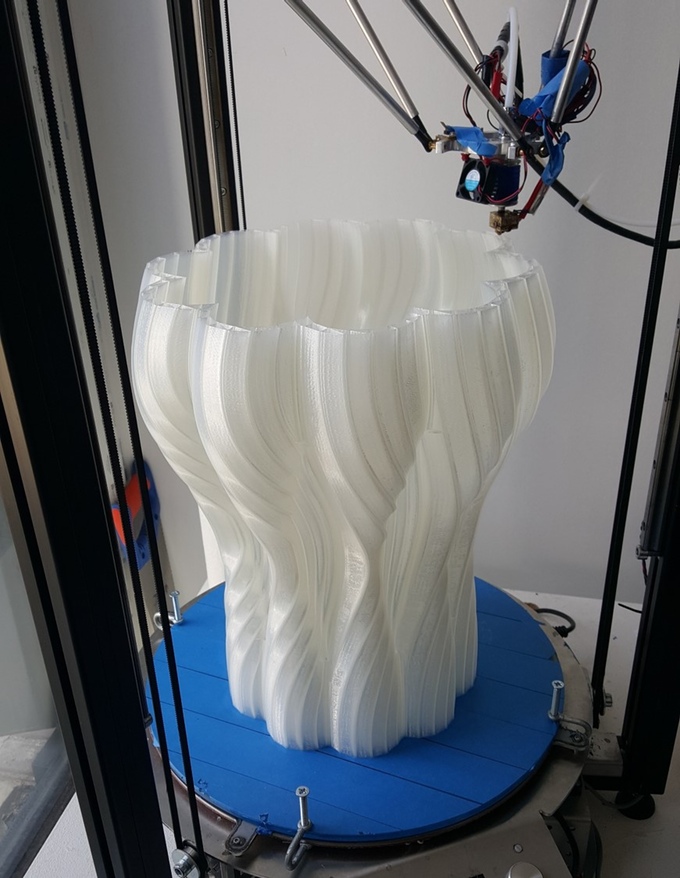 And, despite their "homemade nature", RepRap printers are quite capable of producing models with quality at the level of expensive branded counterparts.
Ordinary users who do not want to delve into the intricacies of the process, but require only a convenient device for household use, can purchase a ready-made FDM printer.
Many companies are focusing on the development of the consumer market segment, offering 3D printers for sale that are ready to print "straight out of the box" and do not require serious computer skills.
3D Systems Cube consumer 3D printer
The most famous example of a consumer 3D printer is the 3D Systems Cube.
While it doesn't boast a huge build area, ultra-fast print speed, or superb model build quality, it's easy to use, affordable, and safe: This printer has received the necessary certification to be used even by children.
Mankati FDM printer demonstration: http://youtu.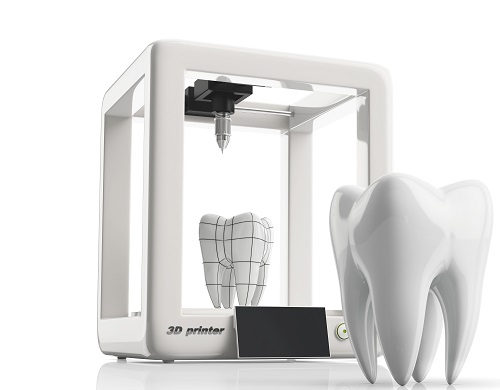 be/51rypJIK4y0
Laser Stereolithography (SLA)
Stereolithographic 3D printers are widely used in dental prosthetics
Stereolithographic printers are the second most popular and widespread after FDM printers.
These units deliver exceptional print quality.
The resolution of some SLA printers is measured in a matter of microns - it is not surprising that these devices quickly won the love of jewelers and dentists.
The software side of laser stereolithography is almost identical to FDM printing, so we will not repeat ourselves and will only touch on the distinctive features of the technology.
Lasers and projectors
Projector illumination of a photopolymer model using Kudo3D Titan DLP printer as an example
The cost of stereolithography printers is rapidly declining, due to growing competition due to high demand and the use of new technologies that reduce the cost of construction.
Although the technology is collectively referred to as "laser" stereolithography, most recent developments use UV LED projectors for the most part.
Projectors are cheaper and more reliable than lasers, do not require the use of delicate mirrors to deflect the laser beam, and have higher performance. The latter is explained by the fact that the contour of the whole layer is illuminated as a whole, and not sequentially, point by point, as is the case with laser options. This variant of the technology is called projection stereolithography, "DLP-SLA" or simply "DLP". However, both options are currently common - both laser and projector versions.
Cuvette and resin
Photopolymer resin is poured into the cuvette
A photopolymer resin that looks like epoxy is used as consumables for stereolithography printers. Resins can have a variety of characteristics, but they all share one key feature for 3D printing applications: these materials harden when exposed to ultraviolet light.
Hence, in fact, the name "photopolymer".
When polymerized, resins can have a wide variety of physical characteristics. Some resins are like rubber, others are hard plastics like ABS. You can choose different colors and degrees of transparency. The main disadvantage of resins and SLA printing in general is the cost of consumables, which significantly exceeds the cost of thermoplastics.
On the other hand, stereolithographic printers are mainly used by jewelers and dentists who do not need to build large parts but appreciate the savings from fast and accurate prototyping. Thus, SLA printers and consumables pay for themselves very quickly.
An example of a model printed on a laser stereolithographic 3D printer. In this case, the printer uses a leveling device to flatten the thin layer of resin covering the platform just prior to irradiation. As the model is being made, the platform, together with the finished layers, is "embedded" in the resin. Upon completion of printing, the model is removed from the cuvette, treated with a special solution to remove liquid resin residues and placed in an ultraviolet oven, where the final illumination of the model is performed.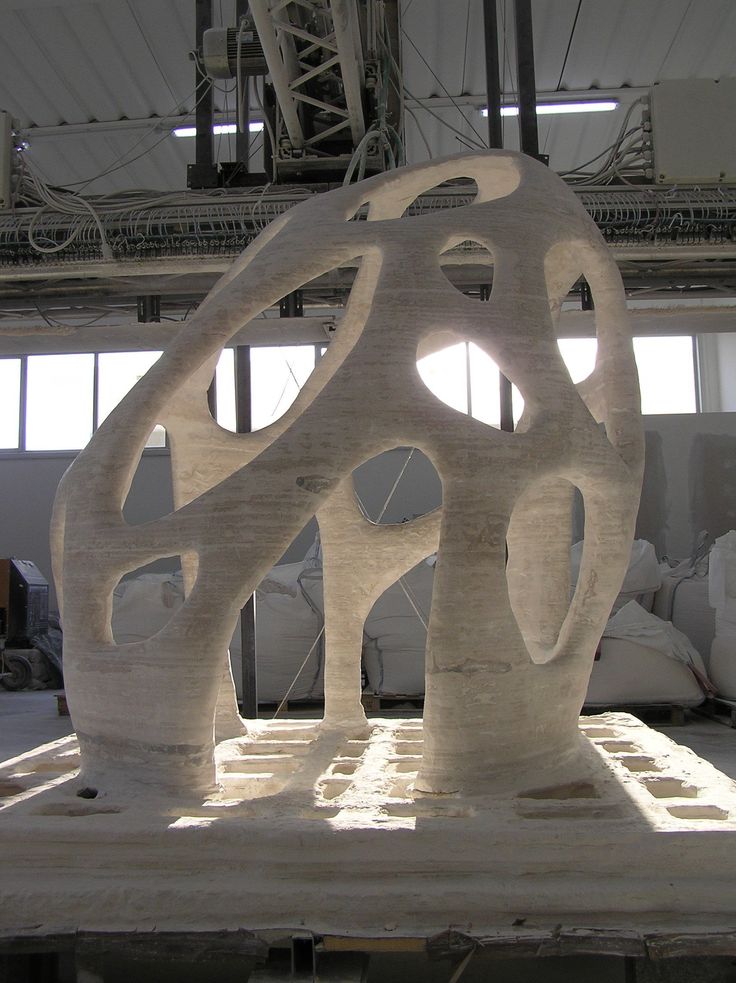 Some SLA and DLP printers work in an "inverted" scheme: the model is not immersed in the consumable, but "pulled" out of it, while the laser or projector is placed under the cuvette, and not above it. This approach eliminates the need to level the surface after each exposure, but requires the use of a cuvette made of a material transparent to ultraviolet light, such as quartz glass.
The accuracy of stereolithographic printers is extremely high. For comparison, the standard for vertical resolution for FDM printers is considered to be 100 microns, and some variants of SLA printers allow you to apply layers as thin as 15 microns. But this is not the limit. The problem, rather, is not so much in the accuracy of lasers, but in the speed of the process: the higher the resolution, the lower the print speed. The use of digital projectors allows you to significantly speed up the process, because each layer is illuminated entirely. As a result, some DLP printer manufacturers claim to be able to print with a vertical resolution of one micron!
Video from CES 2013 showing Formlabs Form1 stereolithography 3D printer in action: http://youtu.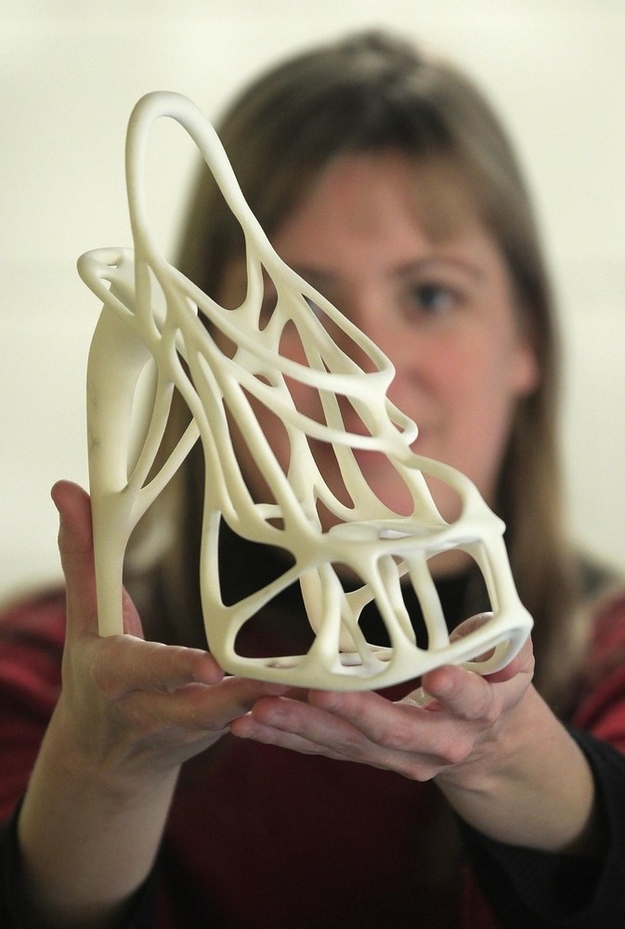 be/IjaUasw64VE
Stereolithography Printer Options
Formlabs Form1 Desktop Stereolithography Printer
As with FDM printers, SLA printers come in a wide range in terms of size, features and cost. Professional installations can cost tens if not hundreds of thousands of dollars and weigh a couple of tons, but the rapid development of desktop SLA and DLP printers is gradually reducing the cost of equipment without compromising print quality.
Models such as the Titan 1 promise to make stereolithographic 3D printing affordable for small businesses and even home use at around $1,000. Formlabs' Form 1 is available now for a factory selling price of $3,299.
The developer of the same DLP printer Peachy generally intends to overcome the lower price barrier of $100.
At the same time, the cost of photopolymer resins remains quite high, although the average price has fallen from $150 to $50 per liter over the past couple of years.