Pegasus sla 3d printer
FSL3D Pegasus Touch - Laser 3D Printer
FSL3D Pegasus Touch - Laser 3D Printer
You need to enable Javascript.
Home / FSL3D Pegasus Touch - Laser 3D Printer
This product ships free to the USA!
$2,999.00
Quantity:
Add to Cart
Finally, dive into the SLA experince with FSL3D's affordable, fast, and easy Pegasus Touch-Laser 3D printer. The Pegasus Touch boasts outstanding laser precision that ensures high quality prints you'll have to see to believe! 3D Print with liquid resin to your heart's content at crazy high detail.
The Pegasus Touch is truly the bees knees. Not only does this printer have an insanely large print volume but, it also comes with a built-in touch screen computer that works with either ethernet connectivity or WiFi. This built-in computer comes equpit with a 3D App store and strong desktop software that includes support and slicing capability.
The Pegasus Touch is truly SLA printing made easy. 
Weight & Dimensions
Build Area: 7" x 7" x 8.5" (177 x 177 x 228 mm)
Machine Dimensions: 11" x 14" x 22.5"
Weight: 29lbs (63.8kg)
Printing
Material: Resin
Technology: 405nm solid state diode laser cured liquid resin
Laser Beam Spot Size: ~80u FWHM
XY Position Control: 16 bit Digital to Analog Converter (DAC) to closed loop galvanometer (3 micron positioning resolution)
XY Draw Speed: 3000mm/sec laser draw speed
Z Motor Control: Leadscrew driven stepping motor (5 micron step resolution)
System
Computer: 1GHz processor with 512MB SDRAM for on board processing, 2GB internal storage, 8GB microSD external storage
Display: 4.3" LCD Color Touchscreen
Interfaces: USB, Ethernet, WiFi (requires optional dongle), USB Flash Drive
Power: 24V 2.5Amp external power brick (<75w total power draw)
Please enable JavaScript to view the comments powered by Disqus.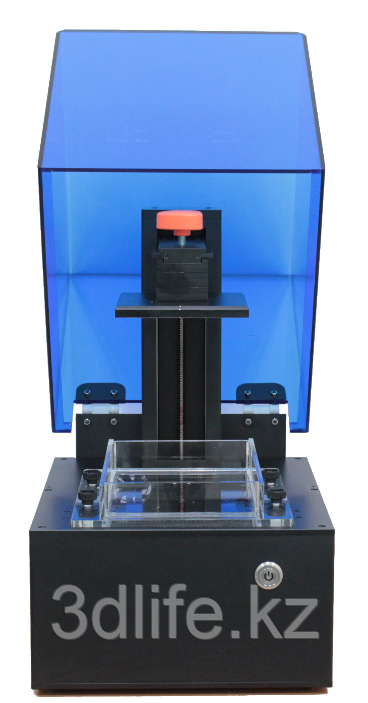 Customer Care
About Us
Contact Us
Track Your Order
Shipping & Returns
Frequently Asked Questions
Privacy Policy
Terms & Conditions
My Account
My Cart
Checkout
My Orders
My Personal Info
My Shipment
Say Hello
Printer Playground is an online retailer focused on one thing — bringing you the finest 3D printers, materials and accessories available.
We specialize in top-quality PLA, ABS, specialty filament and resin for your 3D printer. Whether it's colored, flexible, metal or wood filament, we've got you covered. We want to see what you can create, so stretch your imagination & CREATE SOMETHING AMAZING™!
© 2015 Printer Playground - Powered by Warhead.
Our website uses cookies to make your browsing experience better. By using our site you agree to our use of cookies.
Learn More I Agree
× What Are Cookies As is common practice with almost all professional websites this site uses cookies, which are tiny files that are downloaded to your computer, to improve your experience. This page describes what information they gather, how we use it and why we sometimes need to store these cookies. We will also share how you can prevent these cookies from being stored however this may downgrade or 'break' certain elements of the sites functionality. For more general information on cookies see the Wikipedia article on HTTP Cookies. How We Use Cookies We use cookies for a variety of reasons detailed below. Unfortunately in most cases there are no industry standard options for disabling cookies without completely disabling the functionality and features they add to this site. It is recommended that you leave on all cookies if you are not sure whether you need them or not in case they are used to provide a service that you use.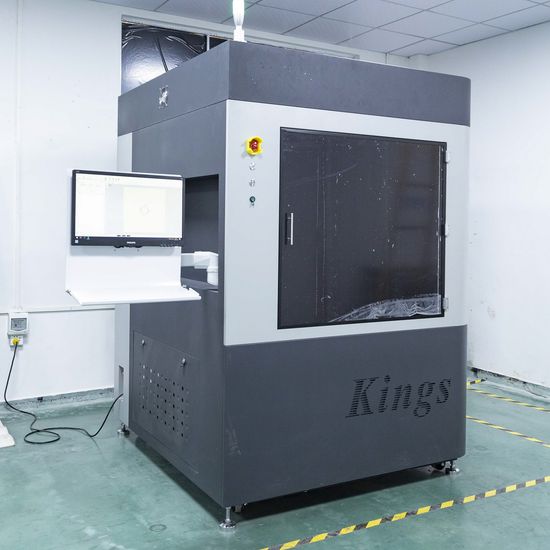 Disabling Cookies You can prevent the setting of cookies by adjusting the settings on your browser (see your browser Help for how to do this). Be aware that disabling cookies will affect the functionality of this and many other websites that you visit. Disabling cookies will usually result in also disabling certain functionality and features of the this site. Therefore it is recommended that you do not disable cookies. The Cookies We Set
Account related cookies If you create an account with us then we will use cookies for the management of the signup process and general administration. These cookies will usually be deleted when you log out however in some cases they may remain afterwards to remember your site preferences when logged out. Login related cookies We use cookies when you are logged in so that we can remember this fact. This prevents you from having to log in every single time you visit a new page.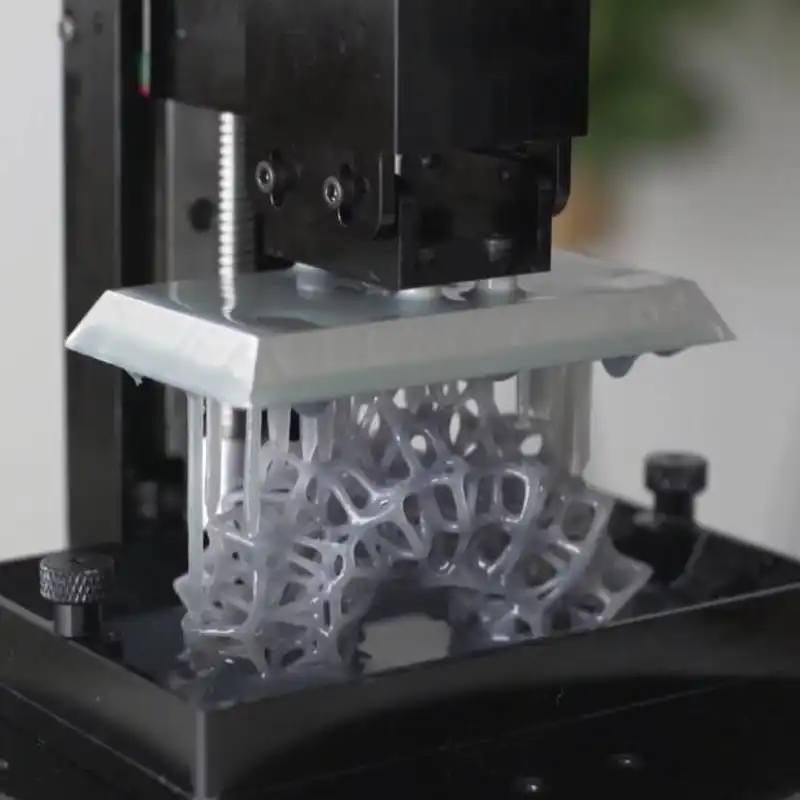 These cookies are typically removed or cleared when you log out to ensure that you can only access restricted features and areas when logged in. Form related cookies When you submit data to through a form such as those found on contact pages or comment forms cookies may be set to remember your user details for future correspondence. Site preference cookies In order to provide you with a great experience on this site we provide the functionality to set your preferences for how this site runs when you use it. In order to remember your preferences we need to set cookies so that this information can be called whenever you interact with a page is affected by your preferences.
Third Party Cookies In some special cases we also use cookies provided by trusted third parties. The following section details which third party cookies you might encounter through this site.
This site uses Google Analytics which is one of the most widespread and trusted analytics solution on the web for helping us to understand how you use the site and ways that we can improve your experience. These cookies may track things such as how long you spend on the site and the pages that you visit so we can continue to produce engaging content. For more information on Google Analytics cookies, see the official Google Analytics page. We also use social media buttons and/or plugins on this site that allow you to connect with social network in various ways. For these to work, the social networks may set cookies through our site which may be used to enhance your profile on their site, or contribute to other purposes outlined in their respective privacy policies.
New Pegasus Touch Laser SL 3D Printer Exceeds Funding Goal on Kickstarter in 1 Day
0Shares
When Full Spectrum Laser launched a Kickstarter campaign for it's Pegasus Touch Laser SLA 3D printer they were only asking for $100,000.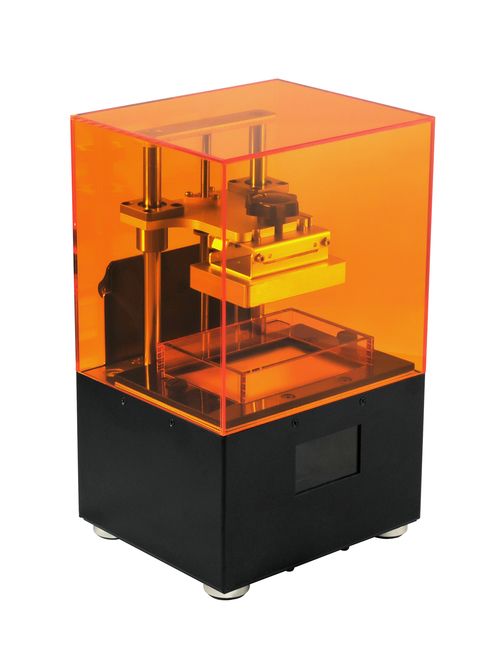 They reached that goal in a single day. After just a week they're well on their way to tripling that. Let's crack this Kickstarter open and see what's inside, shall we?
Price is most certainly a major reason behind its meteoric success. The first 10 backers get a printer for $1,750, the next 25 for $2,000, and the next 25 at $2,249. The retail cost is estimated to be $3499, so early adopters are getting quite a bargain, especially when you compare specs between the Pegasus Touch and the Form 1, last year's 3D printing Kickstarter darling.
Like the Form 1, the Pegasus Touch Laser 3D printer uses stereolithography, a process of printing solid objects by using high-powered ultraviolet lasers to cure and solidify liquid resin. A platform will be held upside down in the resin while a powerful ultraviolet laser cures it layer by layer. As you would expect from a company known for building them, the Pegasus Touch is using top of the line lasers that promise to print up to six times faster than other SL printers.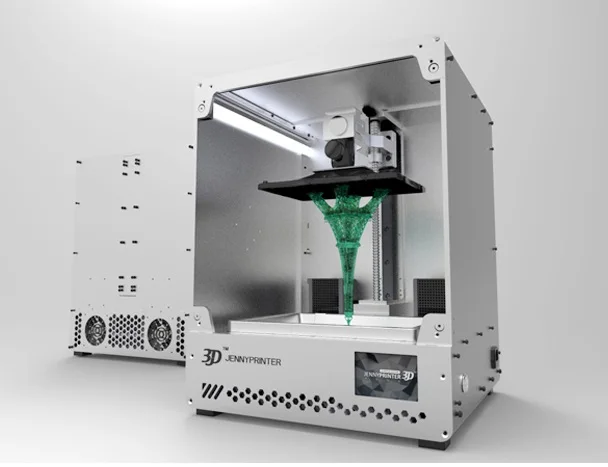 Because it can pulse its laser source at over 500kHz while moving the laser at a lighting quick 3000mm/sec, the 8 inch Eiffel Tower model pictured here took only five hours to print.
But speed isn't the only thing that is being brought to the table. An integrated Internet Connected 3D Printer App Store with touch screen interface will give the user access to high quality 3D models formatted to work perfectly with the Pegasus Touch. Full Spectrum Laser even suggested that in the future they may be able to let users sell designs to each other directly through their app store, virtually eliminating the need for an external computer. And of course the comparatively massive print size of 7 x 7 x 9 inches is pretty sweet. Larger single print objects and less parts to multi-print objects is never a bad thing.
As with anything on Kickstarter, there are some possible downsides. This is Full Spectrum Lasers first 3D printer, so while they may have a solid background in design and manufacturing, this is still new technology for them and they've only hand-assembled prototypes to date.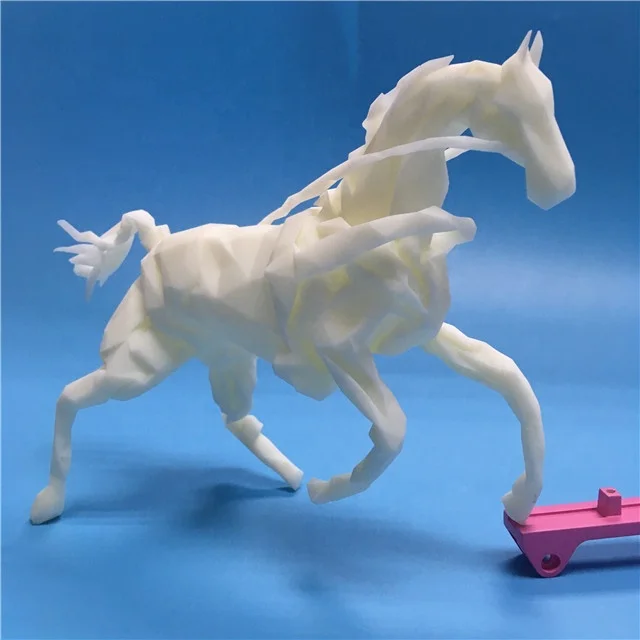 In addition, the Pegasus Touch is only optimized for use with their own resin. The designers state that it is necessary to use their specific formula in order to maintain the speed and quality that they promise. They have mentioned the possibility of adding support for different brands or open sourced products in the future, but for the time being you're stuck buying proprietary resin — an all too familiar story.
There is almost a month left for their Kickstarter campaign, so expect Full Spectrum Laser to add a lot of additional information and updates as well as new funding goals. They've already floated a few possible future goals in the comments section, where they are being quite active. And of course if you are at CES this week, head to Booth #32027 and see the printer and prints for yourself! You may even bump into Mike who will definitely be stopping by, he tells me.
Printer Specs:
3D Technology: 405nm scanning galvo laser liquid resin stereolithography
Build area: up to 7"x7"x9" (177x177x228mm)
Case Footprint: 11″x14″x22. 5″ (280x360x571mm)
Processor: Built in 1GHz Linux computer with 512mB memory and 4.3" Touch Screen LCD Interfaces: Ethernet, USB, WiFi (requires optional USB dongle)
On Board Software: Built in onboard Internet Connected 3D Printer App Store (no computer required)
Desktop Software: Tightly integrated multi-touch capable desktop software with automatic slicing and automatic breakaway support generation with manual editing support for Windows PC (Mac coming soon)
Speed: up to 3000mm/sec (>10x faster than most FDM, up to 6x faster than other SLA)
Focused Laser Spot Size: ~250 microns
XY Positioning Resolution: 16bit precision, ~3 micron
Z Motor Resolution: ~5 micron (typical layer thickness 25-100 micron)
Scott J Grunewald
Scott J Grunewald often writes about comics, pop culture, technology and social issues and has a keen interest in what happens when the needs of commerce, art and science inevitably intersect.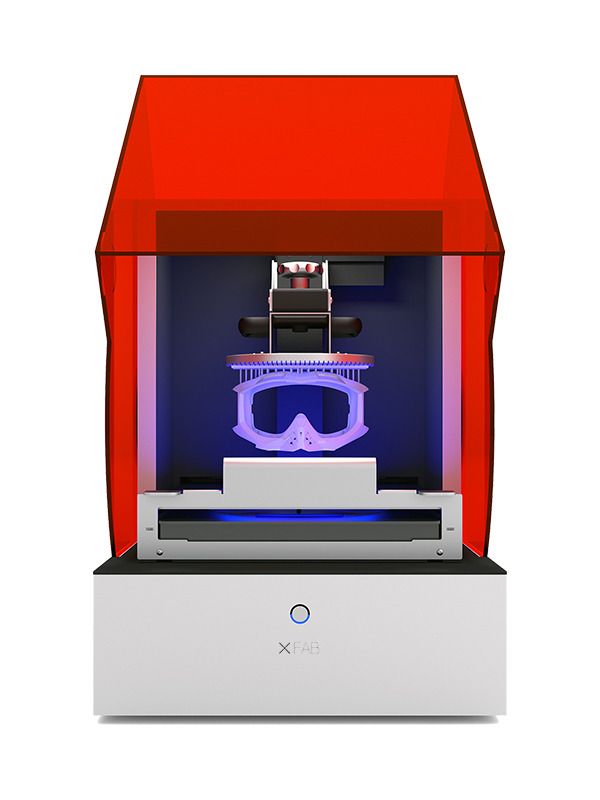 He also likes writing about bacon. This isn't the greatest bio in the world. This is just a tribute.
SLA Technology. How SLA 3D printing works.
Hello everyone, 3DTool is with you!
Today we will look at the basic principles of technology SLA . After reading this article, you will understand the main points of the printing process using this technology, the advantages and disadvantages of this method 3D printing .
On our website, you can find a list of 3D printers working on SLA technology, at this link: Catalog of 3D printers printing on SLA / DLP technology
Technology 3
D
printing
SLA
Stereolithography (SLA) is an additive manufacturing process that achieves the result by means of resin polymerization. In SLA printing, the object is created by selectively curing a polymer resin, layer by layer, using an ultraviolet (UV) laser beam.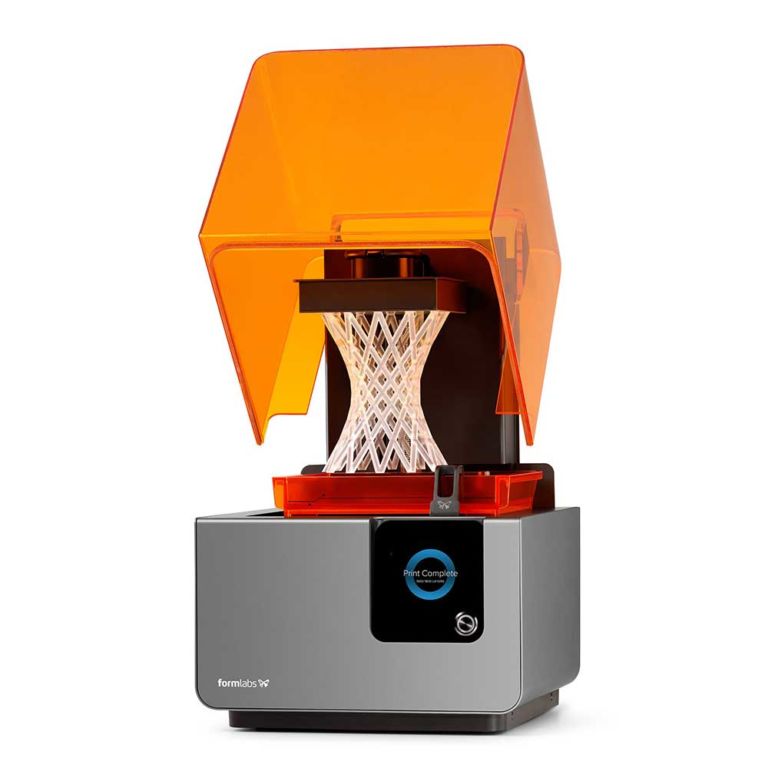 The materials used in SLA printing are photosensitive thermoset polymers that are available in liquid form.
SLA is known as the first 3D printing technology : its inventor patented this technology back in 1986 . When you need to print parts with very high precision or a smooth surface, the SLA comes to the rescue. In this case, it is the most cost-effective and efficient technology 3D printing . The best results can be achieved only if the operator of the equipment on which the printing process takes place is familiar with the technology and some of the nuances. That is, he has the necessary qualifications.
SLA shares many characteristics with Direct Light Processing (DLP ), another photopolymerization technology. For simplicity, both technologies can be considered equal.
SLA printing process
1) 2) 3)
1) A platform is placed in the tank with liquid photopolymer, at the same height from the resin surface.
2) The UV laser then selectively cures the required areas of the photopolymer resin according to a predetermined algorithm.
The laser beam is focused on a given path using a set of mirrors called galvos. Then the entire cross-sectional area of ​​the model is illuminated. Therefore, the resulting part is completely solid.
3) When one layer is finished, the platform moves to a safe distance and the mixing foot inside the tub mixes the resin.
This process is repeated until the part is printed. After printing, the part is not fully cured and requires further post-processing under the UV lamp . At the end of UV illumination, the part acquires very high mechanical and thermal properties.
The liquid resin solidifies through a process called photopolymerization: during solidification, the monomer carbon chains that make up the liquid resin are activated by an ultraviolet laser and become solid, creating strong, inextricable bonds with each other.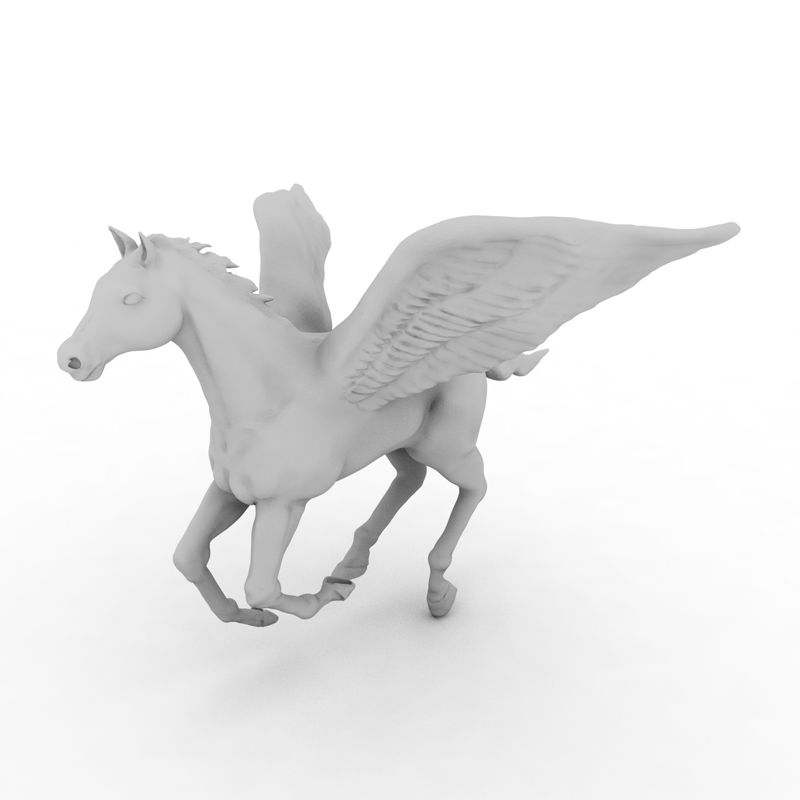 The photopolymerization process is irreversible, and there is no way to convert the resulting parts back into a liquid state. When heated, they will burn, not melt. This is because the materials that are produced by SLA technology are made from thermoset polymers, as opposed to the thermoplastics that FDM uses.
Operation scheme
SLA
printer
Specifications
SLA
printer
On SLA systems, most print settings are set by the manufacturer and cannot be changed. The only inputs are the layer height and the part orientation ( last, locates the supports ).
The typical layer height in a SLA print ranges from 25 to 100 micron .
The lower the layer height, the more accurately the complex geometry of the model will be printed, but at the same time the printing time and the likelihood of failure will increase.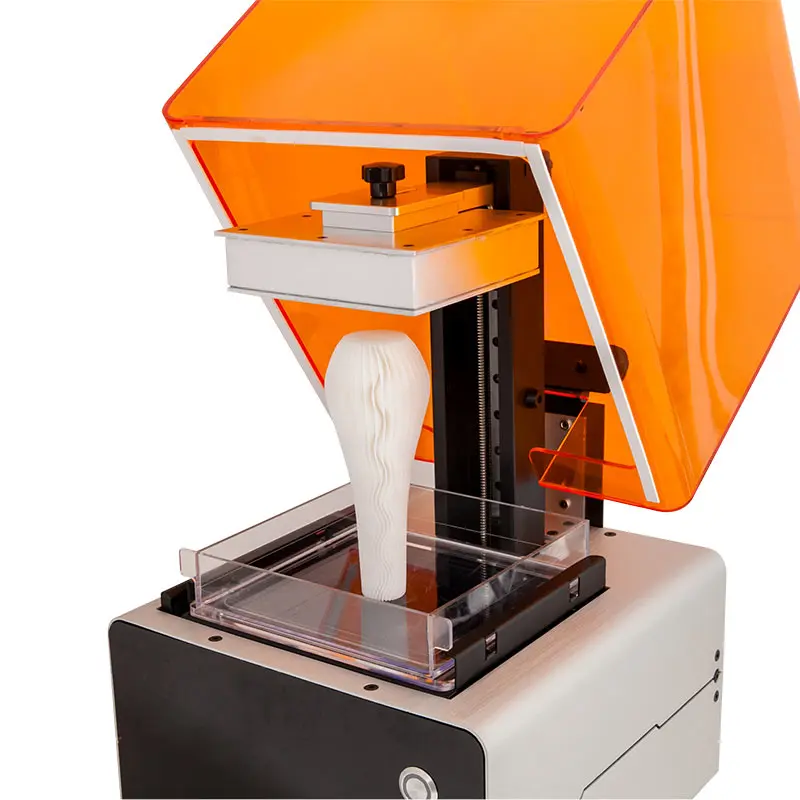 A layer height of 100 microns is suitable for most common geometries and is the golden mean.
Another important parameter for the operator is the size of the platform. It depends on the type of SLA printer. There are two main types: orientation top to bottom and orientation from bottom to top .
In the first case, the laser is above the tank, and the part is face up. The platform sits at the very top of the resin vat and moves down after each layer is sintered.
Schematic
SLA
top-down printer
In " bottom up " layout on SLA printers , the light source is placed under the resin tank (see picture above) , and the part is built upside down.
The tank has a transparent bottom with a silicone coating that allows the beam of light to pass through but prevents the cured resin from sticking. After each layer, the cured resin separates from the bottom of the tank as the platform moves up.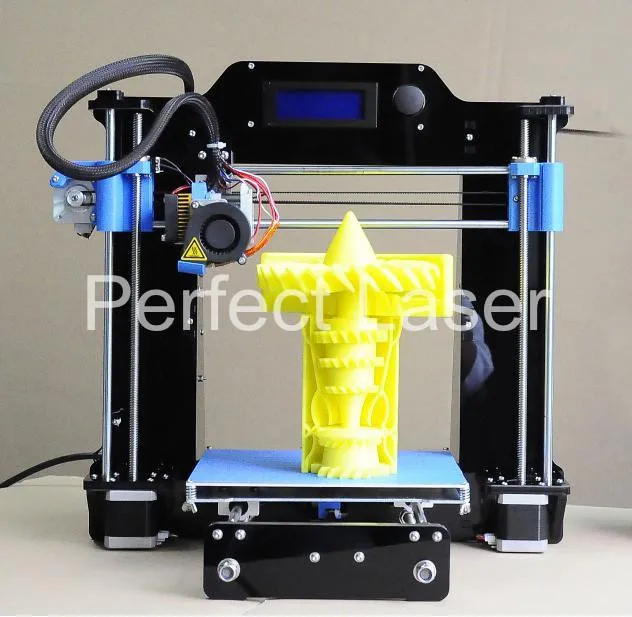 This is called the sintering step.
Schematic
SLA
bottom-up printer
The orientation " bottom to top " is mostly used in desktop printers like Formlabs. The " top - down " orientation is used in the industrial SLA printer .
Printers SLA " bottom-up " are easier to manufacture and operate, but the size of the possible print will be smaller, since the forces applied to the part during the sintering stage can cause printing to fail.
Top-down printers, on the other hand, can print very large parts without much loss in accuracy. The wide possibilities of such systems naturally cost more.
The following are the main characteristics and differences between the two orientations:
"Top down "

Pros:

lower cost

Wide market availability

Minuses:

Small platform size

Smaller range of materials

Requires additional post-processing due to extensive

use of supports
Popular brands:

FORMLABS
Printable area: Up to 145 x 145 x 175 mm
Typical layer height and print accuracy: 25 to 100 µm and ± 0.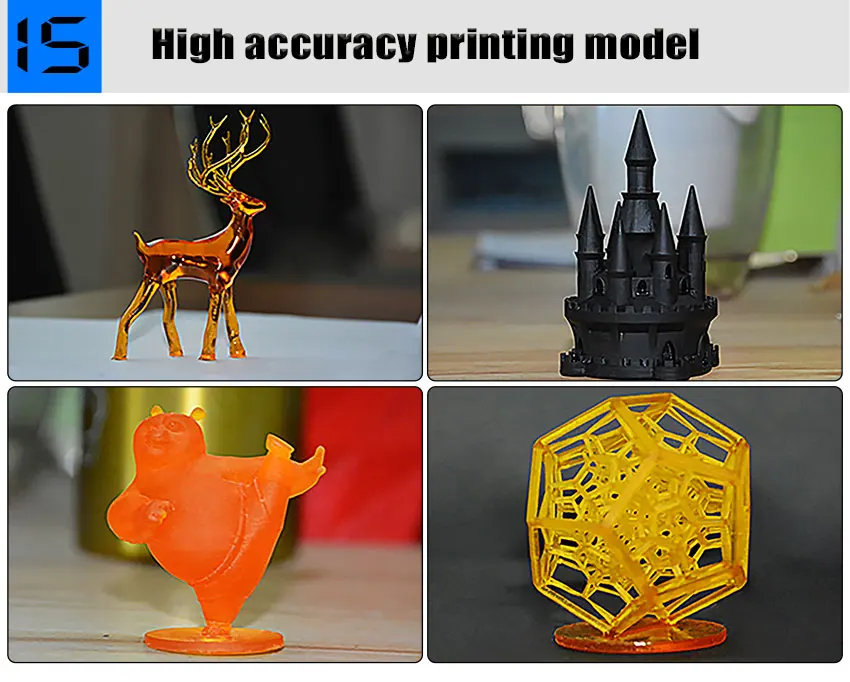 5% (lower limit: ± 0.010 to 0.250 mm) respectively
"Upwards"

Pros:




Very large platform

Faster Print Time

Minuses:

High price

Qualified operator required

Material change involves emptying the entire tank
Popular brands:
PRISMLAB
Print area size: Up to 1500 x 750 x 500 mm
Typical layer height and print accuracy: 25 to 150 µm and ± 0.15% (lower limit ± 0.010 to 0.030 mm) respectively
Support during printing 3
D
Supports are always required at Print SLA .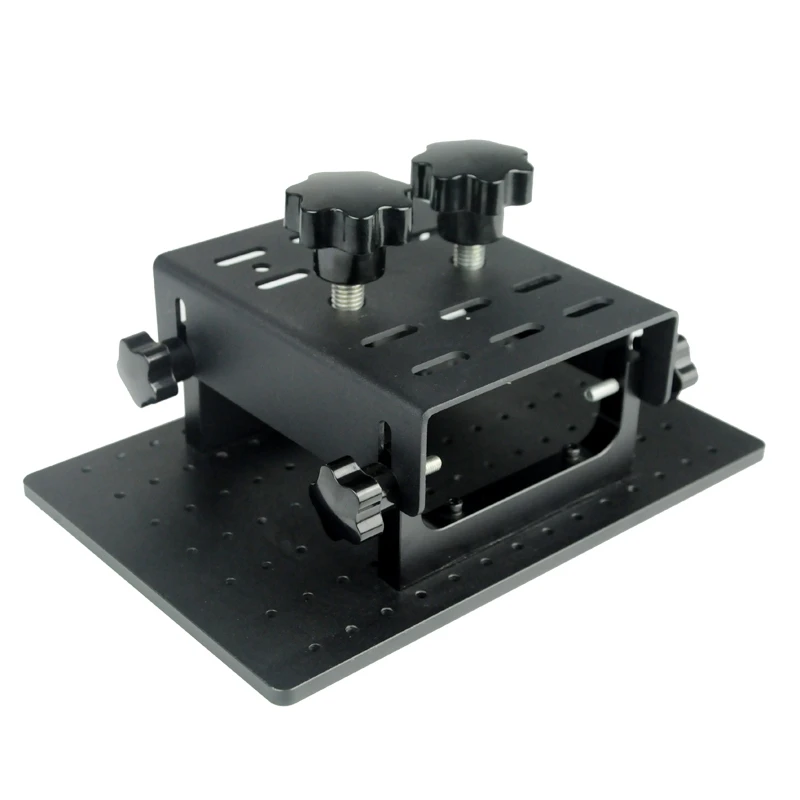 Structural structures are printed from the same material as the part and must be manually removed after printing.
Part orientation determines the location and amount of supports. It is recommended that the part be oriented so that surfaces that require maximum quality do not come into contact with supports.
In different types of SLA printers, support is used in different ways:
For top - down printers , support requirements are the same as FDM . They are essential for accurate printing of overhangs and bridges ( the critical overhang angle is typically 30 degrees ).
The part can be oriented in any position and is usually printed flat to minimize the number of supports and the total number of layers.
In printers like " from bottom to top " everything is more complicated. Overhangs and bridges also need to be supported, but minimizing the cross-sectional area of ​​each layer is the most important criterion.
Forces applied to the part during the sintering step can cause it to come off the platform. These forces are proportional to the cross-sectional area of ​​each layer.
For this reason, the parts must be oriented at an angle, and minimizing supports here is not a primary concern.
On the left - a detail oriented on the SLA printer "from top to bottom" (support minimization).
On the right is a part oriented on the SLA printer "from the bottom up" (minimizing the cross-sectional area).

Removing supports for an SLA printed part

Curl
One of the biggest problems with the accuracy of parts made with SLA is curling. This problem is similar to the deformation in FDM when materials shrink.
During curing, the resin shrinks slightly when exposed to the printer's light source. When shrinkage is significant, large internal stresses develop between the new layer and the previously cured material, causing the part to twist.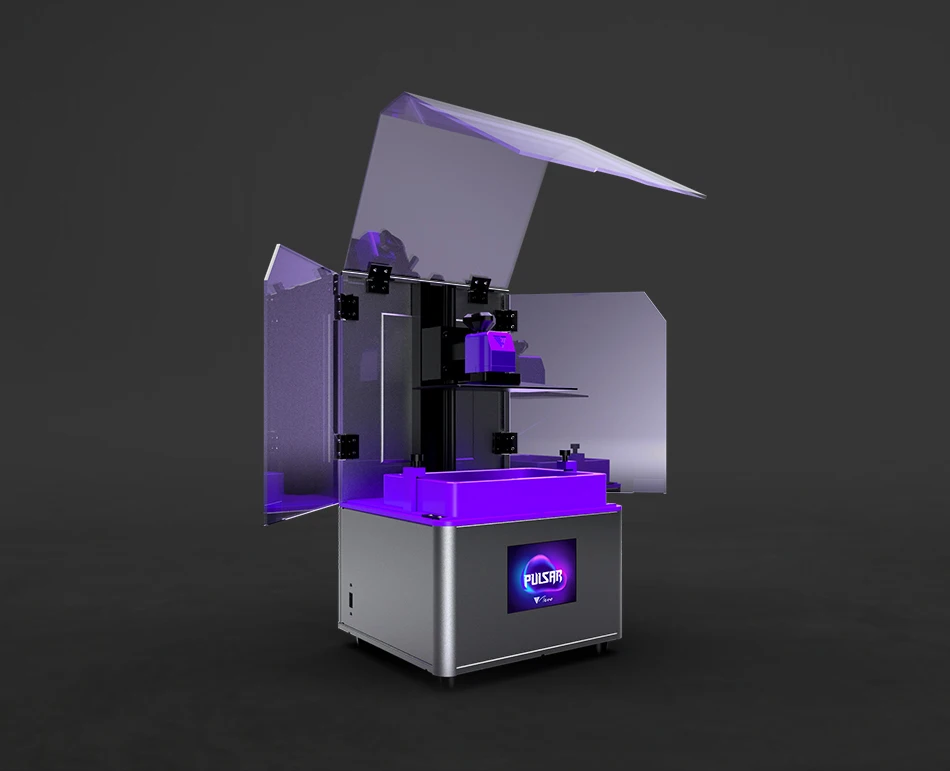 Adhesion (sintering) between layers
SLA printed parts have isotropic mechanical properties. This is due to the fact that one pass UV beam is not enough to completely cure the liquid resin.
Further passes help the previously hardened layers to fuse together. In fact, in the SLA of printing, curing continues even after the printing process is complete.
To achieve the best mechanical properties, parts printed using this technology should be post-cured by placing them in a chamber under intense ultraviolet radiation ( and sometimes at elevated temperatures ).
This greatly increases the hardness and heat resistance of SLA , but does not make it stronger. Rather the opposite.
For example.
Test specimens printed with standard clear resin on a SLA desktop printer have almost 2 times tensile strength after curing ( 65 MPa compared to 38 MPa).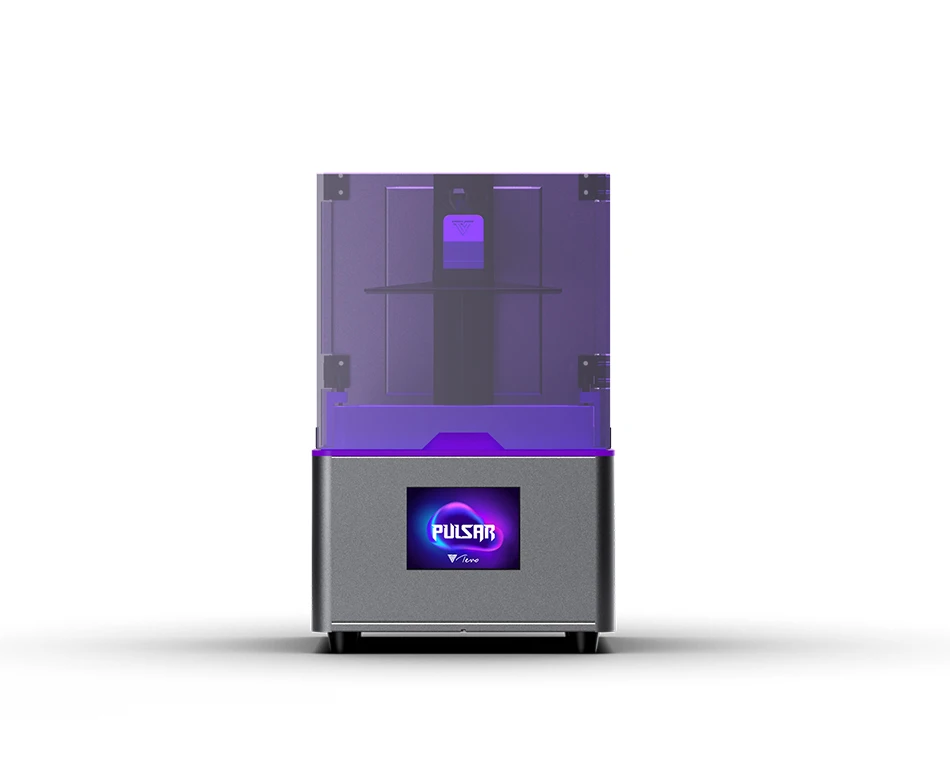 Can operate under load at higher temperatures ( 58 degrees Celsius, compared with 42 degrees ), but their elongation at break is half as much ( 6.2% compared to 12% ).
If you leave the part in the sun, then nothing good will come of it.
Prolonged exposure to ultraviolet radiation has a detrimental effect on physical properties and appearance. The part may curl, become very brittle, and change color.
For this reason, before using the part, it is recommended to apply a spray of transparent acrylic paint resistant to UV .
SLA media
SLA Printing Materials is available in the form of a liquid resin. Price per liter of resin varies greatly - ranges from $50 for standard material to $400 for specialty materials such as casting or dental resin.
Industrial systems offer a wider range of materials than desktop systems SLA printers, which give the designer more control over the mechanical properties of the printed part.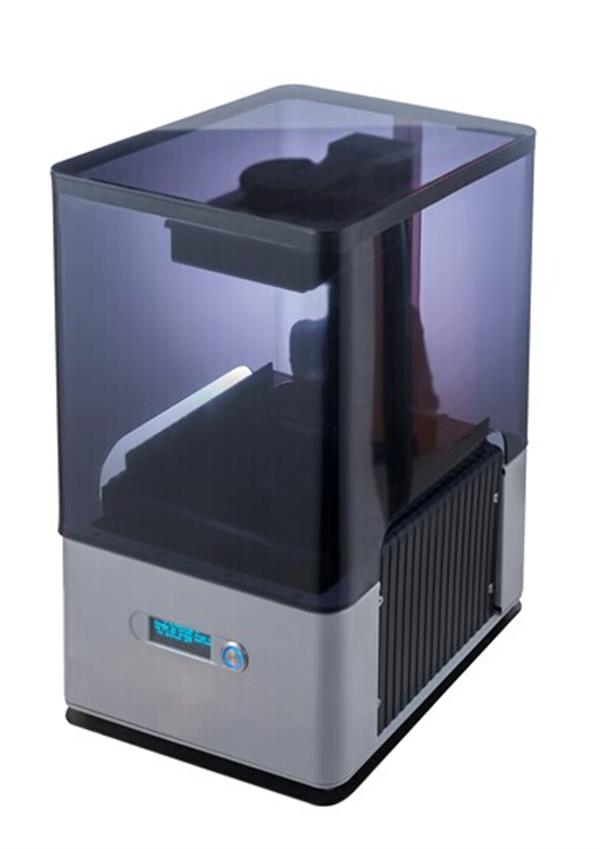 SLA materials ( thermosets ) are more brittle than materials made using FDM or SLS ( thermoplastics ) and for this reason SLA parts are not typically used for functional prototypes that will be subjected to significant stress. However, new advances in materials development may change this in the near future.
The following table lists the advantages and disadvantages of the most commonly used resins:
Material

Features

Standard resin

+ Smooth surface

Relatively fragile part

transparent resin

+ Transparent material

- Requires post-processing for Presentable appearance

casting resin

+ Used to create mold templates

+ Low ash after burnout

Rigid or durable resin

+ ABS-like or PP-like mechanical properties

- Low thermal resistance

High temperature resin

+ High temperature resistance

+ Used for injection molding

· - High price

dental resin

+ Biocompatible

+ High abrasion resistance

· - High price

Rubber-like resin

+ Rubber-like material

- Poor printing accuracy
Post-processing SLA 3D printing
Parts printed with SLA technology can be processed to a high quality using various methods such as sanding and polishing, staining and mineral oil treatment.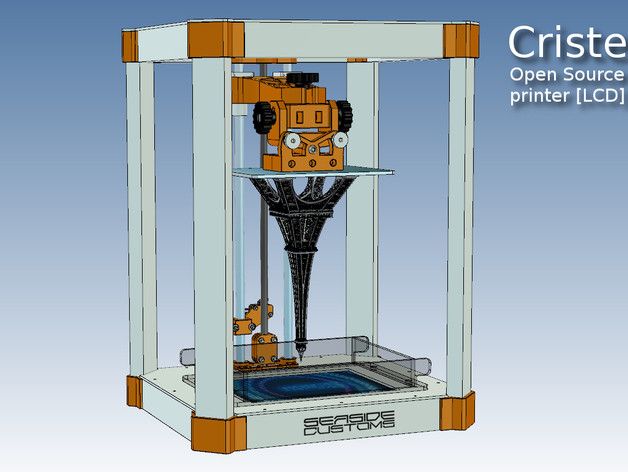 Widely developed articles about post-processing can be found on the Internet.
Transparent resin housing cover for electronics in various finishes. From left to right: removal of the main support, wet sanding, UV irradiation, acrylic and polishing

Advantages and disadvantages of SLA
Pros:
SLA 3D printers can produce parts with very high dimensional accuracy and complex geometries.

The parts will have a very smooth surface, making them ideal for visual prototypes, for example.

Special materials are available such as clear, flexible and cast resins.
Cons:
Parts printed using SLA technology tend to be fragile and not suitable for functional prototypes.

The mechanical properties and appearance of these parts deteriorate over time. They are adversely affected by exposure to sunlight.

Supports and post-processing when printing are always required.
The main characteristics of the SLA are shown in the table:
materials
Photopolymer resins (thermosetting
materials)
Dimensional accuracy
± 0.5% (lower limit: ± 0.10 mm) - domestic
± 0.15% (lower limit ± 0.01 mm) - industrial
typical size
print area
Up to 145 x 145 x 175 mm - for desktop printers
Up to 1500 x 750 x 500 mm - for industrial
Total layer thickness
25 - 100 µm
Support
Always required
(Needed to make an accurate part)
Total
SLA print is best for producing visual prototypes with very smooth surfaces and very fine detail.

Desktop SLA 3 D The printer is ideal for making small, about the size of an adult's fist, injection molded parts. Moreover, such a printer can be purchased at an affordable price.

Industrial SLA 3 D printers can produce very large parts (up to 1500 x 750 x 500 mm)
Well, that's all we have! Thank you for being with us, see you soon. Further it will be more interesting!
You can purchase the 3D printers mentioned in the article , consumables for them, ask your question, or track the order, you can
By phone: 8(800)775-86-69

E-mail: [email protected]

Or on our website: https://3dtool.ru/
Don't forget to subscribe to our YouTube channel:
And to our groups in social networks:
INSTAGRAM
In contact with
Facebook
What makes 3D resin printing different
3D basics
Rapid prototyping
Experts recommend
3D printers
Author: Aleksey Chekhovich
Author: Aleksey Chekhovich
SLA: laser stereolithography | DLP: Digital Light Processing | LCD: photopolymerization with LCD screen | The main differences between the three technologies | Print Quality Comparison | Comparison of 3D printers | Comparison of photopolymers | Print speed | Conclusion
SLA, DLP and LCD are three similar technologies for stereolithographic 3D printing, and users often have a question: which method to choose for additive manufacturing tasks?
All three technologies are based on the use of a photopolymer resin that is layer-by-layer cured during printing in a special tank of a 3D printer, in other words, on the process of photopolymerization in a bath.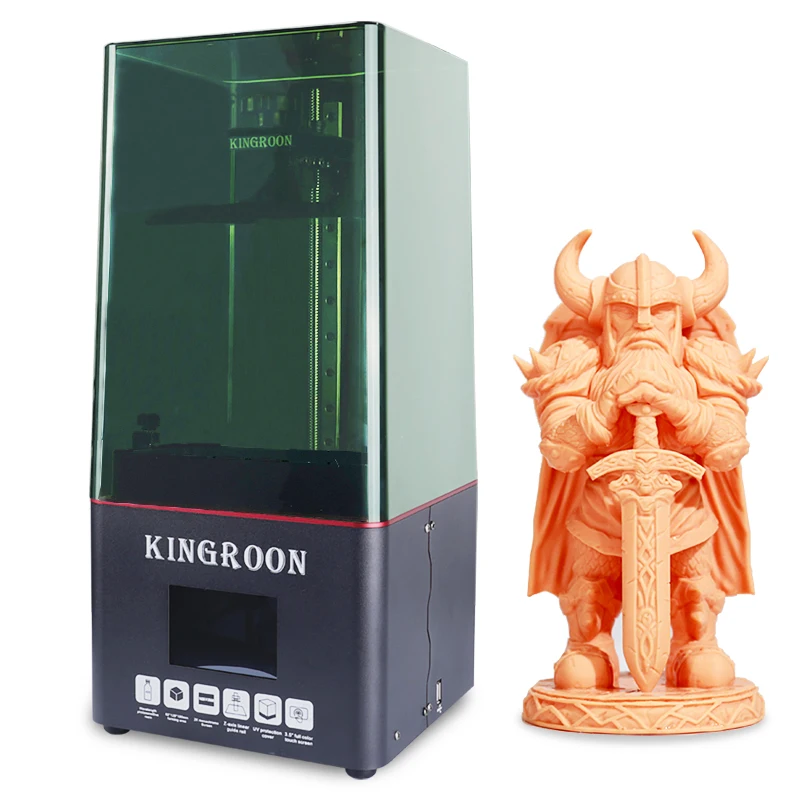 Let's look at the differences to consider when buying a 3D printer (SLA, DLP or LCD) or when using a 3D service.
---
We will select a 3D printer for your production tasks! Call +7 (495) 223‑02‑06 or leave an online request for a free consultation:
Book a consultation with 3D experts
---
SLA: Laser Stereolithography
SLA (Stereolithography Apparatus) is the oldest additive technology. It was introduced in the mid-1980s by 3D Systems. The invention of SLA more than thirty years ago marked the beginning of 3D printing, which has changed millions of lives.
SLA printers use a laser. It selectively illuminates the photopolymer resin in the printer's tank. The laser beam shines on the bottom of the tank and is guided by mirror galvanometers to the precise area to be cured.
This continues until the layer is completely cured, then the build platform is raised one layer, and the process is repeated until the model is printed.
---
iQB Technologies experts recommend the article Affordable 3D services for business: an industrial SLA printer is being mastered in Krasnodar
---
DLP: Digital Light Processing
The DLP (Digital Light Processing) method was invented somewhat later - at 1987 by Larry Hornbeck of Texas Instruments, though not for additive manufacturing, but for film projection, where this technology has found wide application.
DLP printing uses a projector rather than a UV laser like SLA. The projector emits light at once on the entire layer of resin, selectively curing the part with the help of thousands of tiny mirrors, called digital micromirror devices (DMD), directing the light projection.
These projectors use pixels to create images and layers are made up of voxels, just like conventional 2D or 3D cameras.
LCD: photopolymerization with LCD screen
Recently, inexpensive LCD printers have become popular, offering better quality than FDM machines at the same price.
This type of photopolymer printer uses LED-backlit liquid crystal panels to cure the resin, similar to DLP-based equipment.
As in the case of DLP, LCD printing consists in the simultaneous illumination of entire layers to cure the photopolymer, but without the use of mirrors. Instead, powerful LCD panels emit light onto the model using LEDs. The LCD panel blocks backlight in areas that cannot be cured.
The LCD screen only allows light to pass through the areas to be cured onto the finished part, simplifying the process and eliminating the need for any mirrors or galvanometers.
Key Differences Between SLA, DLP and LCD
Although SLA, DLP, and LCD technologies are similar in many ways—they are all based on the layer-by-layer curing of photopolymer resin—there are a few key differences between them.
The main difference between SLA and DLP/LCD is the method used for photopolymerization.
DLP uses a projector, LCD uses an LCD screen, and SLA uses a UV laser to mark the dimensions of the printed model. DLP and LCD printers are faster than SLA machines because they can create entire layers at the same time, while laser stereolithography requires manual tracking of the dimensions of each layer with a laser.
The RAYSHAPE Shape 1+ Professional DLP Printer is a compact solution ideal for a dental or manufacturing lab
There is another less significant but noteworthy difference: DLP printers usually have smaller resin tanks. If you want to save money, then this will be an advantage: the consumption of unused expensive resin will decrease.
---
Read the article Post-curing products in SLA printing: how to increase strength and quality in the blog
---
Print Quality Comparison
Resin 3D printing is known as one of the most precise additive processes, and even budget LCD printers are capable of creating complex geometries that technologies like FDM simply cannot match.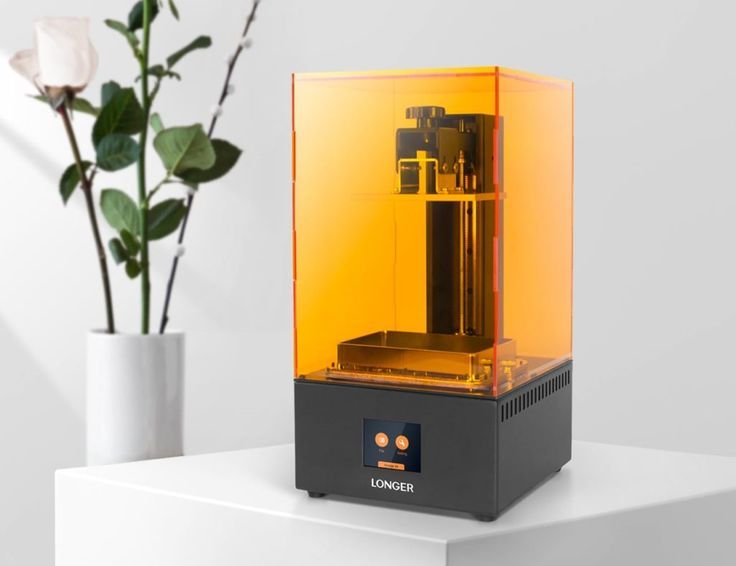 An example of LCD printing of industrial parts
The print quality of an LCD printer compared to a DLP/SLA printer depends on the specific hardware. An expensive SLA machine is expected to be much better than a budget DLP due to higher quality components and better resolution and accuracy.
The technologies themselves are similar in their ability to create accurate models, and it is execution that affects quality.
Comparison of 3D printers
Do you hesitate between SLA and DLP printers? Analyze your 3D printing priorities.
If print speed is most important to you, choose a DLP solution, in most cases it will provide significantly better performance.
If you value reliability, choose a brand known for print quality.
To reiterate, the differences in technologies are not so great as to make a choice between them; choose a printer based on your individual requirements.
Likewise, if you're making molds for jewelry or dental models, choose a 3D printer that's designed for those tasks.
Printing Dental Products with the Wiibox 280 Plus LCD Printer at 5K Resolution
If you're looking for a cheaper printer that can print usable prototypes at home and are satisfied with slightly worse print quality, get an LCD printer.
Photopolymer comparison
Some photopolymer resins are suitable for both DLP and SLA installations, as well as for DLP and LCD printers. But this is not always the case. Some equipment manufacturers provide an open material system (i.e. use any third-party photopolymers), while others restrict their use to their proprietary materials.
The choice of photopolymer depends on the goals you want to achieve with SLA, DLP, or LCD printing.
There are basic resins for hobbyist projects, and there are specialized resins for 3D printing casting models, dental, engineering or jewelry.
Photopolymer resin in containers and products created by DLP printing
Higher-quality industrial and professional grade photopolymers cost more. Budget materials, in turn, will not provide the same level of quality in production, even on high-end printers.
When choosing a photopolymer, you need to find out the wavelength of the printer's light source. It is also indicated on the consumable. The most popular SLA/DLP/LCD printers on the market today use 405nm illumination and related resins.
Print speed
In the SLA machine, the laser passes through every part of the cured part, while DLP and LCD-based equipment can instantly cure entire layers. Thus, DLP and LCD technologies provide faster printing than SLA.
When comparing the speed of DLP and LCD printing, it depends on the 3D printer.