Monoprice mini v2 3d printer
Monoprice Select Mini Review 2022
We reviewed and tested the Monoprice Select Mini 3D printer, and here's why we liked it so much! You'll want this budget 3D printer too after reading this!
By Justin Evans
4
See Price
Let's say you're in the market for a budget 3D printer. It's tough: there are models that are vastly overpriced, models that have to be manually assembled from parts, and some that simply aren't good enough to justify even a very low price. What if you saw a printer far less expensive than the rest? Would you trust it?
Maybe you should. We're talking, of course, about the Monoprice Select Mini. It's an absolutely tiny printer designed for people looking to explore the world of 3D printing, without breaking the bank. So how does it hold up? Let's find out!
| | |
| --- | --- |
| Filament Diameter | 1. 75mm |
| Extruders | 1 |
| Supported Materials | PLA, ABS, HIPS, PVA, TPU |
| Connectivity | USB, SD Card |
| Printing Speed | 55mm/s |
| Build Volume | 4.7 x 4.7 x 4.7" |
Table of ContentsShow
Design
This printer's design is about as simple as they come. It has a single extruder, and prints onto a heated bed. The build area is, as you'd expect, fairly small – roughly the size of a can of Coke. Still, this is about average for a printer in this price range, so there are no complaints on this front.
Since this printer is designed for beginners, we were pleased to see that it ships fully assembled and pre-calibrated. In fact, thanks to the four-post leveling system, you shouldn't have to calibrate it too often. Instead, you can focus on the fun part: actually printing things.
You can control this printer either with a PC or directly, using the built-in screen to select models for printing. There's also a USB port and SD card slot, and the printer actually includes a USB stick with models so you can get printing right away.
Printing
The first thing you should know is that the Select Mini is slow. Its top speed is about half as fast as its rivals, and worse, it tends to fail when running even at that. You'll be far better served with a slow and steady approach. This seems to create the most consistent, high-quality models.
Now, bear in mind that this is a budget 3D printer. Despite this, we found its prints come out looking pretty good! Sure, you can still see the layers, and intricate details aren't replicated all that well, but with a little patience (and post-processing), you'll find you can actually do quite a lot with the Select Mini.
Budget 3D printers tend to have one characteristic in common: lack of versatility. You can expect to print with PLA, maybe ABS too, at best.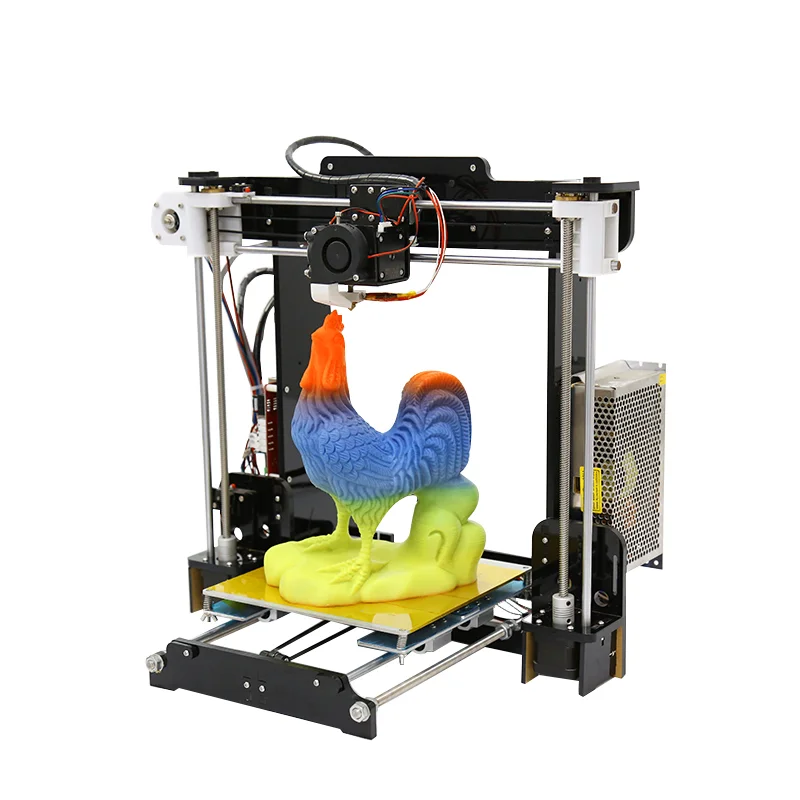 Incredibly, the Monoprice Select Mini supports both of these materials, as well as HIPS, PVA, and TPU. It's not even limited to using a proprietary filament, so you can really go wild.
Features
Part of this printer's appeal is its simplicity. As such, it doesn't have many advanced features to speak of. Rather, it tries to make things as easy for new users as possible. Take software, for instance: it works with Cura, Repetier, Simplify3D, and most other popular modeling or slicing programs.
As you grow more comfortable using a 3D printer, you might want to add some upgrades. The Select Mini is perfect for this, since its inner workings are easily accessible, and its firmware easily flashed. In fact, we've found guides for everything from changing the hot end to adding wireless functionality.
If you've used a 3D printer before, it's unlikely that this model will blow you away. It's aimed at beginners and has a price point to match, after all. However, if you're completely new to printing and just want something to tinker with as you learn, there are a few models better than this one.
Cost
So how much do you think this printer costs? Brace yourself – it actually retails for around $190, making it among the cheapest 3D printers we've seen. Now, it's not available directly from Monoprice anymore since they've released the Mini v2 for the same price. However, it can still be picked up by third-party retailers.
The freedom to use third-party filament means you can keep your material costs down. Evidently, if you want to print often, this will increase to some degree, but since there's no support for exotic filaments, things shouldn't get too out of hand.
This printer is perfectly priced and has enough versatility to corner the low-end market. Frankly, we're amazed that this isn't the go-to recommendation for people looking to get into 3D printing for the first time.
Support
Despite its low prices, Monoprice offers a 30-day money back guarantee on all its printers. Once you've committed to keeping the unit, a year-long limited warranty takes effect.
This is pretty good coverage, especially since there's no risk of breaking anything during assembly.
On the other hand, Monoprice only offers basic troubleshooting tips and 3D printing tutorials in its support section. You can use the ticket system, email, phone, or live chat to get more detailed help. Our only issue is that the returns link only works on some pages, throwing an error on others.
Honestly, this level of support was unexpected. Too often, low-end 3D printers try to sell their product and then wash their hands of it. That's clearly not the case with Monoprice, and for that, we applaud them.
B9 Creator Review
Select Mini V2 3D Printer – Monoprice Europe
The World's #1 Selling 3D Printer*
Too often, getting a low-cost 3D printer means getting a box of ill-fitted parts with poorly written and incomplete documentation. You end up spending hours on the internet, searching forums and asking for help to get the printer assembled and operating properly.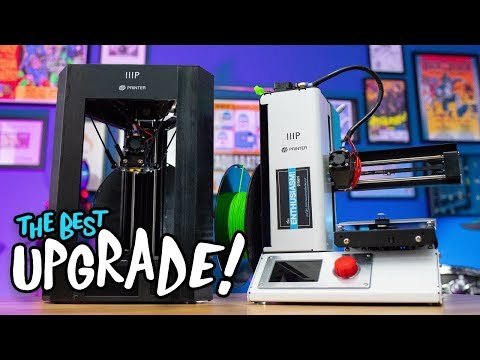 That isn't how Monoprice operates and this 3D printer is a perfect example! This printer not only comes fully assembled, it has already been calibrated at the factory. All you have to do is perform a quick check to verify that the print bed is still leveled, in case it shifted during shipping, then load the included MicroSD™ card, load some filament, and start printing the preloaded model. Nowhere else will you find a 3D printer ready to print out of the box at such a low price!
*Q1'17 according to CONTEXT
Open Source
Best in Class
Ready to Print
Open Source: The heated build plate and wide range of extruder temperatures allow this printer to work with any type of filament from any manufacturer.
Additionally, the ability to use free, open-source software allows you to tailor your 3D printing experience to your personal tastes.
Best in Class:  An improved version of the best selling and best community rated 3D printer in the world, it is also the best community rated 3D. It features an all metal nozzle, insulated heated built plate, upgraded cooling, 3.7" IPS color screen, and wireless, Wi‑Fi® connectivity.
Ready to Print: Unlike most other low-cost 3D printers, this printer ships fully assembled and has already been calibrated at the factory. We even include sample PLA filament and a microSD™ card with preinstalled models, so you can start printing right out of the box!
Features
---
Fully assembled and factory calibrated so you can start printing right away
Insulated and heated built plate with pre-installed build mat
Nozzle cooling fan and main board cooling fan
Includes accessory kit
All-metal nozzle
Wi‑Fi®, microSD™ card, and USB connectivity
3. 7" IPS color screen
Windows® and Mac® compatible
Compatible with Cura, Repetier, and other software
What's in the box
---
1x MP Select Mini 3D printer
1x Filament holder
1x AC power adapter
1x AC power cord
1x Micro USB cable
1x MicroSD™ card
1x Plastic bed scraper
1x Bed leveling hex wrench
1x Sample PLA filament
| | |
| --- | --- |
| Extruder Type | Single Extruder |
| Printing Technology | FFF |
| Supported Filament Size | 1. 75mm |
| Supported Filament Types | ABS, PLA, Wood Fill, Metal Fill, and others |
| Max Extruder Temperature | 482°F (250°C) |
| Max Platform Temperature | 140°F (60°C) |
| Nozzle Diameter | 0.4mm |
| Max Printing Speed | 55mm/sec |
| Layer Resolution | 0.1mm |
| Build Area | 4.7" x 4.7" x 4.7" (120 x 120 x 120 mm) |
| Build Volume | 103. 8 cu-in (1728 cc) |
| Connectivity | Micro USB, MicroSD™ card |
| Offline Printing | Yes, with MicroSD card |
| Supported File Formats | .stl and .obj |
| Supported Operating Systems | Windows® 7 and later, Mac® OS X®, Linux |
| Supported Software | Cura, Repetier-Host |
| Display Type | Wide viewing angle color LCD screen |
| Max Power Consumption | 120 watts |
| AC Adapter Input Power | 100 ~ 240 VAC, 50/60 Hz |
| Input Power | 12 VDC |
| Dimensions (H x W x D) | 13. 5" x 11.3 x 7.5" (343 x 287 x 190 mm) |
| Weight | 9.9 lbs. (4.5 kg) |
Support Files:
User's Manual  (Oct 12, 2018)
Manuel d'Utilisateur (Français)  (Jun 22, 2018)
Benutzerhandbuch (Deutsch)  (Jun 22, 2018)
Manuale Utente (Italiano)  (Jun 22, 2018)
Manual de Usuario (Español)  (Jun 22, 2018)
Software Package (Cura and Repetier)  (Jun 15, 2016)
Updated profiles for the latest version of Cura  (Oct 26, 2017)
Updated firmware version 30 for the V1 version of the printer with firmware version less than v30  (Feb 9, 2018)
Updated firmware version 40 for the V2 version of the printer with firmware version greater than v34  (Feb 9, 2018)
Updated firmware version 41 for the V2 version of the printer with firmware version v40. If not already at V40, upgrade to v40 first.  (Mar 1, 2018)
Refer to the following link for detailed firmware update instructions:
https://mpselectmini.com/firmware/motion_controller
SD™ and microSD™ are trademarks or registered trademarks of SD-3C, LLC in the United States, other countries, or both.
Wi‑Fi® is a registered trademark of Wi‑Fi Alliance.
Microsoft® and Windows® are registered trademarks of Microsoft Corporation in the United States and/or other countries.
Apple®, Mac®, and OS X® are trademarks of Apple Inc., registered in the U.S. and other countries.
How long will it take for my order to arrive?
After the order has been placed, shipping takes about 5-7 business days. Our warehouse is located in the Netherlands.
How much do I have to pay for shipping?
Shipping costs to Finland, Greece, Ireland, Portugal, Spain, Sweden, Austria, Belgium, Bulgaria, Croatia, Czechia, Denmark, Estonia, Hungary, Italy, Latvia, Liechtenstein, Lithuania, Luxembourg, Monaco, Netherlands, Poland, Romania, Slovakia, Slovenia, Andorra, San Marino, Vatican City, France:
Orders above 30€: Free Shipping
Orders below 30€: 3,79€
For deliveries to Cyprus, Malta, Norway, Switzerland, shipping costs vary by weight:
10kg – 4. 99 kg: 7,68 €
5kg – 9.99 kg: 8,79€
10kg – 19.99 kg: 11,33€
20kg – 29.99 kg: 11,67€
30kg – 39.99 kg: 19,91€
What are the returns policy?
You can return your items to us for free within 30 days without giving a reason. 
How does the return work?
If you do not like an article, you can return it to us within 30 days of delivery. Please contact us at [email protected] to receive a free return label. Please print the return label, stick it on the carefully sealed package and hand it over to your local post office. Please keep the document with the tracking number carefully.
Join our newsletter
... and get 10€ OFF your next purchase.
Overview of the budget 3D printer Monoprice Select Mini
3DPrintStory &nbsp &nbsp Reviews &nbsp &nbsp Overview of the budget 3D printer Monoprice Select Mini
Prices for desktop 3D printers continue to fall.
There were times when a $600 3D printer was a delight and a desire to order it as soon as possible, but technology does not stand still, and developers and manufacturers are looking for new options to lower the price even lower. This review is dedicated to one of the budget 3D printers costing about $200 - Monoprice Select Mini.
It is worth noting that this inexpensive model breaks established traditions and did not start with Kickstarter, unlike others like M3D Micro, Tiko, OLO / ONO and Trinus, which attracted the attention of consumers and investors thanks to crowdfunding platforms (by the way, this is really an effective development strategy for small startups, but there is often a mismatch between expectations and the final product).
Monoprice is different. This is an American company that did not particularly bother with the development and production of its own 3D printer, but simply imported the Malyan M200 from China, hung its logo on it and put an attractive price of $199.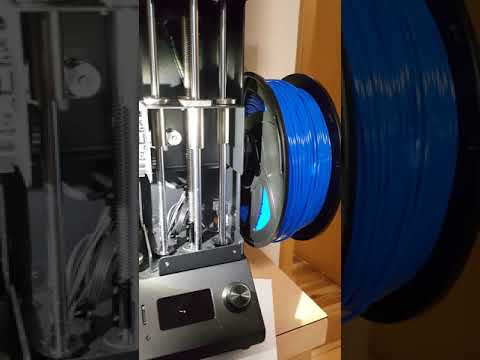 What if you got a defective 3D printer? No problem, send it back and they will replace it for you.
A reasonable question arises: can such a cheap 3D printer compete with Ultimakers or Printrbots? And is it even worth comparing? We will try to answer these and other questions in the review below.
Features Monoprice Select Mini
Available;
Robust design;
Easy to use;
Predictable 3D printing at low speed;
Works with any slicing software and standard 3D printing materials;
Amenable to improvements and upgrades;
I think we already mentioned the price?
Disadvantages Monoprice Select Mini
Difficult to calibrate;
Prints poorly at high speeds;
Print table not protected;
Faulty power supply;
WiFi module not active;
Unstable nozzle temperature;
Strange quirks...
Short Verdict
The Monoprice Select Mini is a great 3D printer for the price.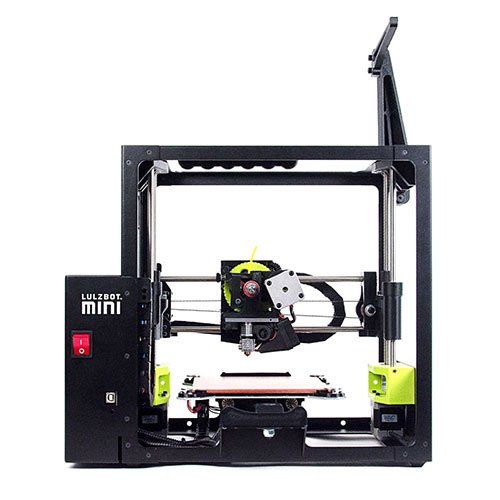 There is a heated table, easy to operate if you do not use high speeds, stable 3D printing quality.
Naturally, there are disadvantages. During operation, the temperature of the nozzle may change, and at high speeds, 3D printing errors occur. The calibration process takes a lot of time and the first time you have to tinker. Well, the most interesting thing is that the power supply burned out after 12 hours. But the latter, incorrect, can be attributed to an accidental marriage.
Despite all the shortcomings, the Monoprice Select Mini is a wonderful little 3D printer with many great features. In general, it performs in accordance with the information in the technical specifications, and the quality of the 3D printing even exceeded our expectations.
If you are not afraid to take it apart / put it back together, then you can do a few upgrades. The first thing to do is to replace the hotend and update the firmware to activate the WiFi module ( be careful! These upgrades have not been tested as part of this review and may damage your 3D printer! ).
You can install the glass on the print table. Even with these upgrades, the price will still remain acceptable.
Would you recommend the Monoprice Select Mini as your first 3D printer? Yes, definitely.
Specifications and features Monoprice Select Mini
Monoprice Select Mini workspace 120 x 120 x 120 mm. The maximum resolution of 3D printing is 100 microns. Heated table. The 3D printing speed is 55 mm/s.
You can upload your 3D model via micro SD card or USB. The manual states that compatible slicing programs are Cura, Repetier-Host, ReplicatorG, and Simplify3D. This means that the Monoprice Select Mini recognizes the standard G-code, and this 3D printer is not tied to any particular software. Cura was used during testing for this review.
Monoprice Select Mini doesn't limit your media usage. You can print with any standard 1.75 filament using PLA or ABS thermoplastics. In our case, PLA plastic from ColorFabb was used.
These two points - the freedom to choose software and filament - are very important in this price range, because manufacturers such as M3D Micro and XYZprinting, which are Monoprice's main competitors in this niche, tend to use proprietary software and their own materials for 3D printing .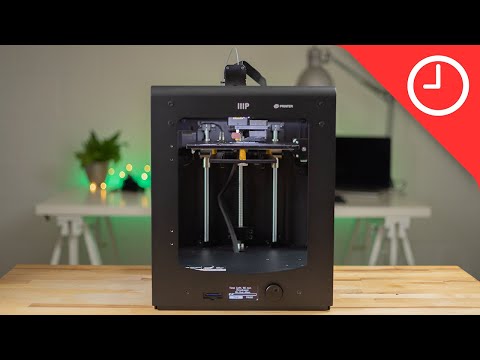 Unpacking and installation of the Monoprice Select Mini
Installation of the Monoprice Select Mini is quite simple. You can start typing within 20 minutes.
Inside the box you will find a 3D printer, a power supply, an imbus wrench for calibrating the table, a plastic spatula to scrape off the rest of the material from the table after printing, a 256 MB micro SD card and a micro USB cable.
One piece of paper contains a basic instruction and a link to a website where you can download the full version.
You will also find a rectangular steel sheet, the purpose of which is not clear at first. It turns out that this is a coil holder that is attached to the side of the main unit.
It is important to note that the Monoprice Select Mini kit does not include media test samples. So stock up on filament with a diameter of 1.75 mm.
You can use the wheel to adjust. The menu is well structured and easy to understand. You can start the calibration process, preheat the extruder and feed the filament.
Calibration can be somewhat difficult. In theory, it should be carried out even before shipment, in production, and you should have a piece of paper between the nozzle and the printing table. If it doesn't work, then hex keys will come in handy here. It will be necessary to try and tighten the screws at the corners of the table so that the sheet still passes.
At this stage, the first important shortcoming of this model becomes clear. The printing table is made of aluminum and does not have a special protective film or coating on it. So stock up on blue 3D printing tape or install glass right away. Otherwise, the table will wear out very quickly and you will have to change it.
Well, one more bug that got out in our particular case. The power supply burned out after 12 hours of use. Foaming it was not difficult, but it was very unpleasant. You can probably throw it off for marriage, but in any case, be prepared for a similar turn of events.
Design and build quality of the Monoprice Select Mini
Very pleased with the build quality of the Monoprice Select Mini.
The construction is strong, reliable, with a steel sheet metal case that hides all the electronics. So don't worry about shipping damage.
This 3D printer uses deposition modeling technology. The classical Cartesian coordinate system is used. The design is similar to Printrbot Simple. One cooler is used to cool the nozzle. It is likely that problems may arise during 3D printing with unusual materials.
The extruder has a diameter of 0.4 mm and can be heated up to 230°C. We have not been able to test how easy it is to change, but in the long run this is an important factor as the nozzle will still need to be changed over time.
Monoprice Select Mini Print Quality
Pre-loaded models will already be on the micro SD card. They are supposed to be optimized for 3D printing on the Monoprice Select Mini. So before uploading our own models, we printed test ones.
The cat was printed first. The resolution was 200 microns. Everything went well until the last layers.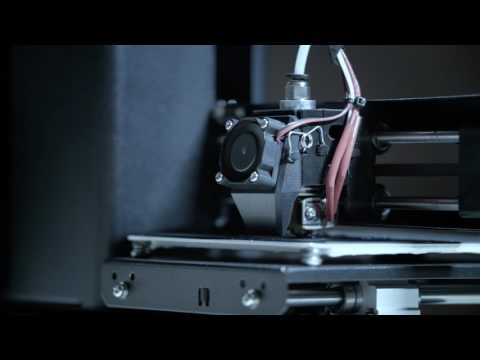 The upper part of the paw and ears could not be printed even once. There were 3 attempts in total.
G-code analysis in Simlify3D showed that the table accelerated up to 55 mm/s during the printing of the last layers. That is why the error was repeated. Quite a strange decision of the company - to provide a test model, which a priori will be printed with errors...
The second model that we printed is a test elephant. The resolution was also 200 microns and 10% infill. There were no problems! The result is excellent and you can see it in the photo below.
Next we moved on to our own models. We used Cura for slicing. This article reveals the excellent Cura settings for 3D printing on the Monoprice Select Mini and we used them.
We printed a classic 3DBenchy and Graphica model: a MEGA Ghost with 200 micron resolution and 10% infill, a V29 whistle with 200 micron resolution and 100% infill, and another 3DBenchy model with 100 micron resolution and 10% infill.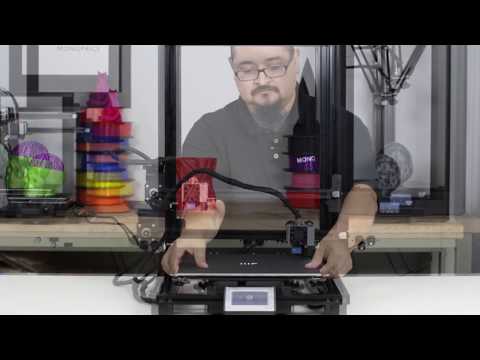 The simple 200 micron models worked well. There are no special problems with small protrusions and holes, although there are sagging. The layers are laid evenly along the X and Y axes.
The V29 whistle sounds as loud as intended, which means the partitions were printed correctly. The Graphica Mega Ghost with its long tongue also printed correctly. The hinge glided smoothly. The
3DBenchy at 100 microns worked well too. When you look at the photo, don't forget that this is a $19 3D printer.9.
We have noticed that most errors in 3D printing occur when the spool of filament clings or there is not enough adhesive coating on the printing table. This cannot be attributed to the shortcomings of the Monoprice Select Mini itself, since this is a global problem for all FFF printers.
During operation, the print table may block access to the control wheel. This point is implemented in the design is not very ergonomic.
Another disadvantage is that the nozzle temperature has an error in the region of 5°C.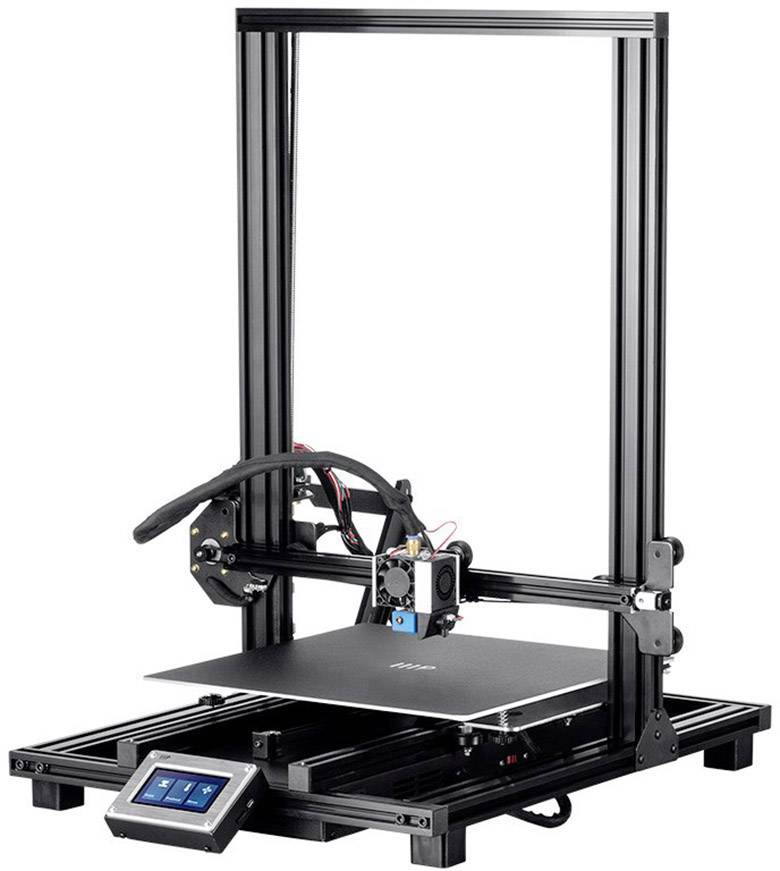 For example, when the 3D printing temperature is set to 215°C, it jumps between 213°C and 217°C on the control panel.
This does not particularly affect printing with PLA plastics, but may have a negative effect during 3D printing with materials that are more sensitive to temperature changes.
Finally, we printed a Low Poly Moai bust. We scaled the model by 50% and printed with 100 micron settings and 30% infill. It turned out well on the whole, the only small marriage is the influx of material on the chin. By the way, we observed the same effect when printing 3DBenchy with resolution settings of 100 microns.
Life hacks and upgrades Monoprice Select Mini
A few words about upgrading the Monoprice Select Mini 3D printer. There are no official upgrades! But here are a few options that you can try to implement on your own.
In our opinion, it is necessary to deal with the temperature of the extruder, make it more stable. For example, you can implement a PID temperature controller.
You can activate the WiFi connection by downloading the original Malyan M200 firmware. But be careful! This option has not been tested and there is a possibility that you may damage your 3D printer!
Monoprice Select Mini Summary
After testing the Monoprice Select Mini, this is one of the best 3D printers you can buy for $200.
But it's important to realize that the print quality can't be compared to the Original Prusa i3 MK2 or LulzBot Mini. Not to mention the more expensive models.
If you're looking for a small business 3D printer or just high-quality 3D without bugs, then the Monoprice Select Mini is not for you. In addition to the print quality, you will obviously not be satisfied with periodic bugs and a small workspace.
But if you are just starting to explore the world of 3D printing, then this is a great choice and a good alternative to the Chinese Anet A8 3D printer.
The Monoprice Select Mini has some drawbacks, but it's still a great option for learning and just having fun.
It's easy to use and print quality rivals more expensive models.
Answers to questions about monoprice select mini
Questions using this tag must be about a 3D printer manufactured by Monoprice called MP Select Mini 3D Printer v1/v2/pro.
---
This low cost 3D printer cantilever not only comes fully assembled, it is factory calibrated. All you have to do is do a quick check to make sure the build plate is level, then load the model from the included micro SD card, load some filament and start printing the loaded model.
The Z-axis zero/start position is above the actual print start position I'm having a problem with my very first Monoprice Select Mini V2 printer. After making about 20 successful prints on it, the Z-axis suddenly began to behave very strangely. When I "go home" the Z axis and…
Monoprice Select Mini v2 does not eject filament and it is not a nozzle My Monoprice Select printer does not eject filament. I'm using the filament that comes with the printer and I know it's not a nozzle. Tried to remove the metal piece that comes from the connector...
Reconfiguring a very thin and complex print after print failure Monoprice Select Mini I recently leveled the table on my Monoprice Select Mini v2 and tried to print this object with my family: Pentagonal Hexacontahedron Bracelet mathgrrl - Thingiverse https://www.thingiverse...
What are the "magic numbers" on the Monoprice Select Mini? What are the "magic numbers" people are referring to regarding print resolution on the Monoprice Select Mini?
Monoprice MP Select hotend printer design I'm not an expert and may be using slightly incorrect terminology here. Please assume I've used the wrong term if something I'm saying doesn't quite add up. I have…
Print menu won't load on Monoprice MP Select Mini V2 I have an MP Select Mini V2 and when I turn on the printer and select the "print" menu it freezes saying "please wait" instead of listing the . gcode files stored on the SD card. …
Filament consistently stuck/clogged in Bowden tube on MP mini 3 I've had this MP Select Mini III for years. Recently, it has been constantly wedged / clogged somewhere between the hot end and the PTFE tube - but not immediately, but often when it starts ...
Bad adhesion on new layer - Monoprice mini select My Monoprice Mini Select v2 has poor adhesion when the printhead goes to put a new layer on the table as seen in the photo. Does anyone have a solution for this?
Monoprice select mini under extrusion? Can someone please look at the picture and tell me what to try to fix, the threads are full of little gaps. Layers that are solid below the threads have a tiny...
2x zoom Monoprice Mini Select v2 Firmware v30.50b after factory reset? About a year ago a bad print encased my hotend in PLA and I broke the wires due to my impatience trying to get the PLA ball off. I don't remember the details of printing the disaster, but in general the printer is...
Recommendations for a 3D printer that can print fidget? I'm looking for a cheap 3d printer that can print this: https://www.thingiverse.com/thing:1307100 and hopefully under US$200 like Creality Ender 3, Monoprice Select Mini Pro and V2,…
Monoprice Select Mini V1 restarts when trying to preheat table or nozzle Just received this machine and I am currently running firmware version 29.39. The printer will move with no problem, but when I try to heat up the table or nozzle, the printer immediately...
Monoprice select mini V2 displays "999" degrees for build plate temperature . It currently shows 999 degrees for building plate temperature. This is a glitch and I don't know how to fix it.…
Monoprice Select Mini - Free standing $200 Monoprice Select Filament Feed Fitting is inexpensive but also cheap, so the experience I've seen seems to include many repairs. Regardless, I bought one because I can…
Monoprice Select Mini v2 clogged boden tube connection I've had the Monoprice Select Mini v2 for about two weeks now and I hear a click on filament insertion on some prints. And when I check it after a few minutes, I see that it does not squeeze out and ...
What is the largest microSD card that the Monoprice Select Mini can read? I have a Monoprice Select Mini v2 and it comes with a 256MB SD card. I have a bunch of 16GB cards. I made sure the new SD card is FAT32 file system. I copy the gcode file to this one...
reattaches the boden tube to the feedhead I have a Monoprice Select Mini v2. The Bowden tube came loose from the filament feed head... it was actually pushed out by the filament (175 PLA) as it was being fed. Apparently, he was holding back…
What makes the walls of my prints separate? I had a problem with parts of the walls of some engravings being separated from the rest of the model. It comes with smooth vertical edges. In particular, this model, holder…
Cura cut gaps for Monoprice Select Mini V2 Why does this happen (circled in red), and how can I fix it? This makes my prints look terrible. This is not shown in the picture, but the "Road forward" option was enabled: Rolling volume 0.064…
Monoprice Select Mini V2 retraction/stringing problem I have a Monoprice Select Mini V2 and lately I have been having problems with small thick and strong strings sticking out of the models: I used Ultimaker Cura v3.4.1,…
Monoprice Select Mini v2 - Some Prints Freeze I had a problem where some prints I downloaded from thingiverse caused my printer to freeze in the first minute of printing. Printhead stops, ejects...
How to format the SD card for Monoprice Select Mini V2? I bought a 32 GB SDHC (Sandisk) which I would like to use for my Monoprice 3D printer. I booted up the partition wizard and partitioned the 2GB main partition formatted as FAT and it.