Da vinci junior 3d printer
XYZprinting da Vinci Jr. 1.0 A Pro Review
It's easy to imagine a 3D printer as something of a magic cube in which all sorts of wonders are created. The $449 XYZprinting da Vinci Jr. 1.0 A Pro does its best to evoke this: a translucent-orange box that takes plastic filament and turns it into innumerable objects, practical and decorative by turn. This romanticized perspective of 3D printing, or some variation on it, doubtless runs through the heads of many of the newbies and students for whom the da Vinci Jr. 1.0 A Pro is intended, and this moderately priced 3D printer delivers an experience that should capture the imagination of young users, while offering add-ons to help stave off obsolescence for more experienced ones. Only a balky filament-feeding system encountered in our testing prevents it from earning a top pick.
---
A Newbie-Friendly Focus
The da Vinci Jr. 1.0 A Pro is a closed-frame 3D printer with a boxy shape, rounded corners, and angled top edges. In front is a door that swings upward, below which is an LCD for easy control of functions such as filament loading/unloading and setting the extruder the proper distance above the print bed (Z-axis alignment).
The 1.0 A Pro's closed frame reduces both noise and the potential for accidental burns from its hot extruder. Its primary supported kind of filament, polylactic acid (PLA), is easy to work and odorless. These factors make the da Vinci Jr. 1.0 A Pro a good choice for 3D-printing beginners, (supervised) children, and classrooms. 
The da Vinci Jr. 1.0 A Pro combines elements from both XYZprinting's Junior and Pro series. Junior models are customizable, supporting add-ons such as—in the case of the printer under review—a laser engraver module (a $200 option) and a hardened-steel nozzle extruder (see the image below) that supports printing with XYZprinting's carbon-fiber filament as well as metallic PLA. (XYZprinting often sells the hardened-steel extruder as part of a bundle with the 1.0 A Pro, which costs little more than the printer alone). Both the aforementioned accessories were sent to us with our test unit.
The company also describes its Junior printers, geared to the classroom, as small enough to fit on a desktop.
I suppose that depends on whether you need to use that desk for anything other than 3D printing; the 1.0 A Pro measures a sizable 15 by 16.5 by 16.9 inches.
Similar Products
4.0
Excellent
XYZprinting da Vinci Mini
4.0
Excellent
XYZprinting da Vinci Jr. 2.0 Mix
3.5
Good
Flashforge Finder 3D Printer
3.5
Good
Monoprice Cadet 3D Printer
3.5
Good
Polaroid PlaySmart 3D Printer
3.0
Average
Monoprice Voxel 3D Printer
The 1.0 A Pro's jumbo frame does allow for a large build area (6.9 inches in each dimension). That is slightly larger than the XYZprinting da Vinci Mini's 5.9 inches and considerably larger than the Monoprice Cadet (4.1 by 3.9 by 3.9 inches) and Polaroid PlaySmart 3D Printer (4.7 inches in all dimensions).
Like the printers in the Junior series, da Vinci Pro models support add-ons and also allow for the use of third-party filaments and software.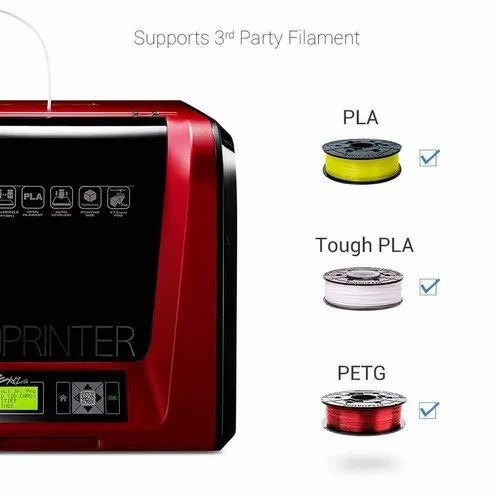 The da Vinci Jr. 1.0 A Pro is an upgraded version of the da Vinci Jr. 1.0 A. I had reviewed an even earlier model, the XYZprinting Da Vinci Jr. 1.0, in 2015, and the printer under review here is a marked improvement over it, with a larger build area and better software, among other advancements.
---
Care and Feeding of Filament (and Feeders)
After removing a copious supply of tape, clips, cardboard, and foam-rubber spacers—in place to prevent the 1.0 A Pro from being damaged in shipping—you install the XYZware suite of software, either from an included SD card or from XYZprinting's website. (To run it, you will need to set up and log into a free account with XYZprinting.) Next, you will cover the print bed with a square sheet of what resembles masking tape. Objects adhere to the sheet during printing, yet they can be pulled off with a minimum of effort when printing is complete.
The trickiest part of the printer's setup is in getting the filament to feed properly from the spool to the extruder.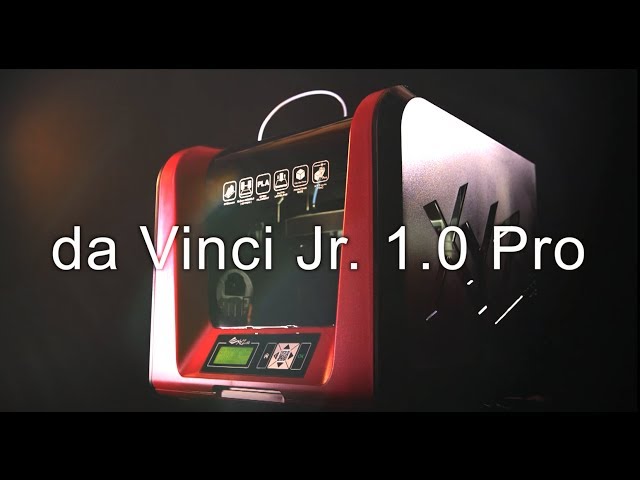 Much of this involves correctly seating the filament-feeding guide tube—a so-called "Bowden tube," whose inner diameter is just larger than a strand of 1.75mm filament—that runs from the top of the filament feeder into the extruder assembly.  You have to jab one end of the tube into a small hole on top of the filament feeder, and the other end into the top of the extruder assembly.
To get the tube to stay in place required surprising force. It was helpful to press downward with the index and middle finger of my free hand on the sides of a tiny black gasket located on top of each hole while inserting the tube with the other hand. This was relatively easy to do for the extruder assembly, but harder for the less-accessible filament-feeder top. Even when the tube was in place, I learned to give it a gentle tug to make sure it was securely fashioned. (Left to its own devices, one end of the tube popped out a couple of times during printing, scuttling my print jobs.)
Once the feed tube is in place, you can add a filament spool to the spool holder located on the left side of the printer's interior.
You then feed the free end of the filament into the bottom of the filament feeder, pressing down on a lever to clear its path upward into the guide tube. You can then run the loading routine from the printer's LCD, in which the extruder is heated up, and the filament gets pushed through the guide tube into the extruder.
The print bed is unheated, limiting the filament types that the 1.0 A Pro will support. XYZprinting sells 600g filament spools of standard PLA for $22.95, carbon-fiber ones for $29.95, and metallic PLA for $34.95. (The latter two require the hardened-steel extruder nozzle.)
You can use compatible third-party filaments, though they lack the RFID chip of XYZprinting's own spools, and you'll have to enter some settings in the software. You can also use larger filament spools, though you'd have to print your own external spool holder to support them.
---
Connectivity and Software
Connectivity is twofold. For standalone printing, you can process a file and save it to an SD card, which you then insert into the printer's card slot.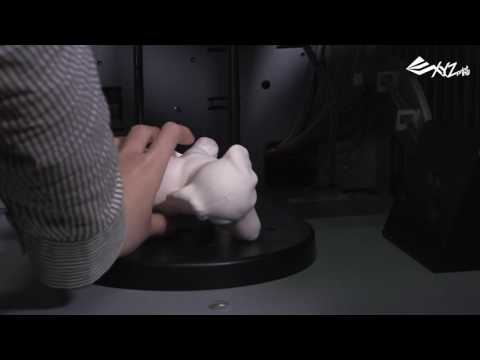 You can then view the files on the SD card on the LCD and access the one you wish to print. Alternatively, you can connect the da Vinci Jr. 1.0 A Pro to a computer via an included USB cable. I did all of my printing over a USB connection, first loading a file in XYZware's XYZprint program, processing (resizing, and so on) the object to be printed, which you can monitor on a representation of the build plate onscreen.
You then "slice" the file (the software breaks it into layers for printing), choose the type of filament to print with, and launch the print. XYZprint is adequate, although it lacks the range of settings found in the open-source program Cura(Opens in a new window), which many 3D printer manufacturers use as the basis of their software. Although Cura isn't included with the da Vinci Jr. 1.0 A Pro, you can print files created in Cura and saved to SD card on the printer.
The nine test prints I completed showed average overall print quality. The only misprints were from two cases in which the feed tube became detached from the filament feeder as described above.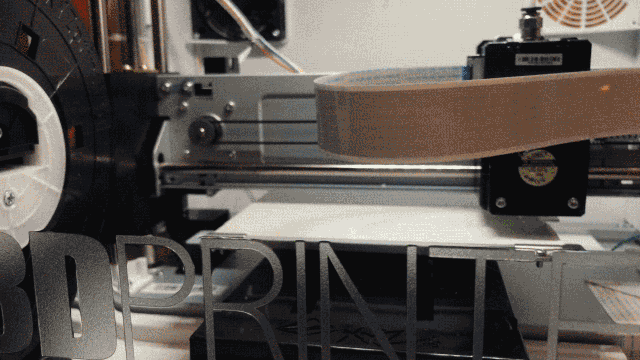 I did eight of the prints at Normal (200-micron) resolution, and one at High Detail (100-micron). I noted a slight improvement at the latter resolution, but not enough to warrant the extra time consumed in high-resolution printing, except in cases where the best print quality is paramount.
The da Vinci Jr. 1.0 A Pro did well with a test object in which a variety of geometric shapes, as well as raised text, are printed at a steep angle—nearly all of the shapes were well formed. A couple of test prints looked a bit rough-hewn, with obvious layering, but most looked decent.
---
Verdict: Good for Beginners
The biggest selling point for the da Vinci Jr. 1.0 A Pro is its spacious build volume, which allows users to print considerably larger objects than they can with most open-frame budget 3D printers. (A related downside is that this makes it larger than many competitors.) The difficulty in securing the filament feed tube was an annoyance, but once firmly in place, it should stay secured (except, perhaps, if you get the hardened-steel nozzle and frequently change extruders).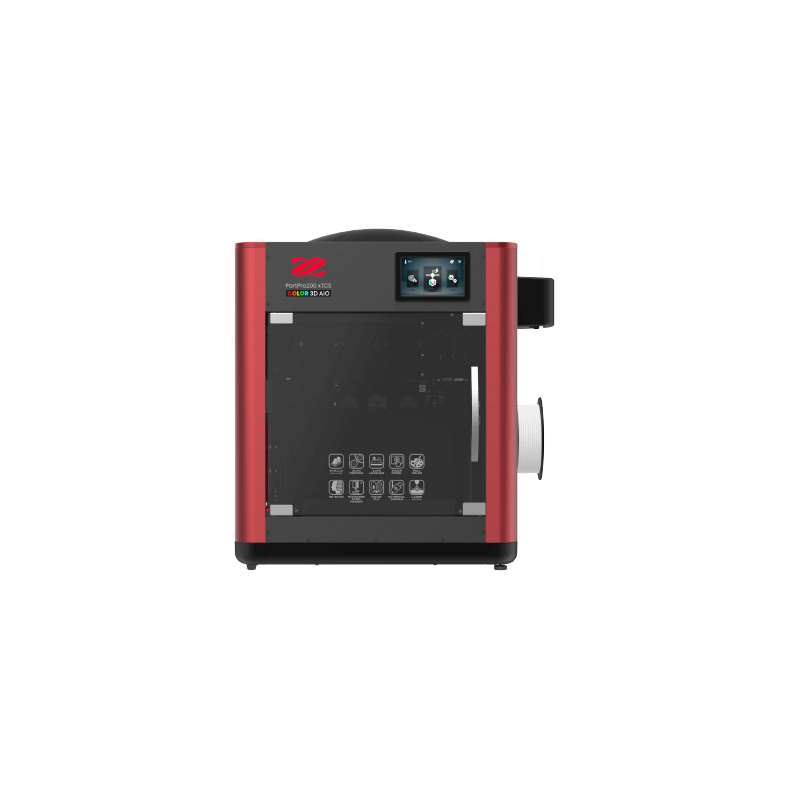 On the whole, though, the XYZprinting da Vinci Jr. 1.0 A Pro's closed frame and its PLA-centric bent are ideal for newcomers (either at home or in a classroom), while it offers enough versatility and accessories to keep intermediate users happy.
XYZprinting da Vinci Jr. 1.0 A Pro
Pros
Spacious build area

Works with third-party filaments

Self-leveling print bed
Cons
Build plate is not heated

Limited to PLA- and PETG-based filaments

Guide tube is prone to detaching
The Bottom Line
The XYZprinting da Vinci Jr. 1.0 A Pro is a moderately priced closed-frame 3D printer with a large build volume and overall good performance, but a potentially balky filament-feeding system.
Like What You're Reading?
Sign up for Lab Report to get the latest reviews and top product advice delivered right to your inbox.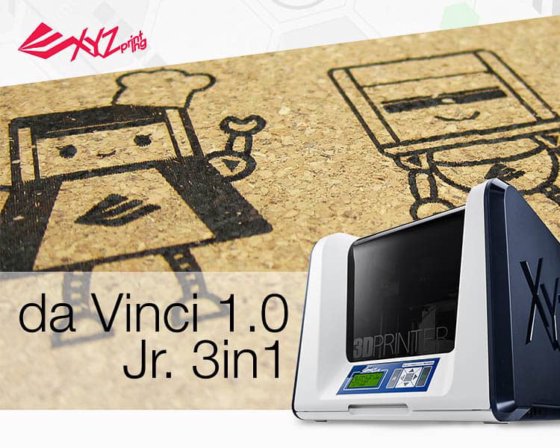 This newsletter may contain advertising, deals, or affiliate links. Subscribing to a newsletter indicates your consent to our Terms of Use and Privacy Policy. You may unsubscribe from the newsletters at any time.
Thanks for signing up!
Your subscription has been confirmed. Keep an eye on your inbox!
Sign up for other newsletters
Review: da Vinci Jr. 2.0 Mix 3D printer produces good quality, multi-colored objects
Review
XYZprinting still needs to consider a heated print platform for better model adhesion.
By Lucas Mearian
Senior Reporter, Computerworld |
Lucas Mearian/IDG
XYZprinting has led the way in low-cost 3D printers by offering a variety of models that undercut higher-priced machines with similar capabilities.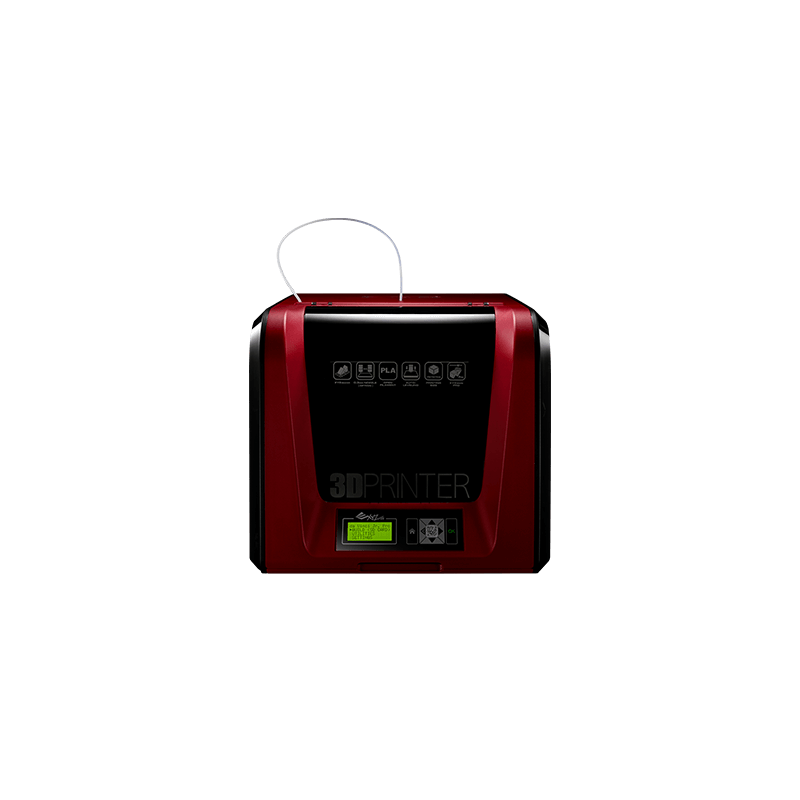 There are machines that print using using liquid resin (stereolithography) and professional-grade machines for rapid prototyping.
Typically, XYZprinting's machines fall short on producing high quality builds, but the resolution and accuracy of their models are more than proportionate to the cost of the printers.
The company's latest 3D printer, the da Vinci Jr. 2.0 Mix, allows makers to print with two different colored filaments at the same time -- once again demonstrating XYZprinting's ability to offer special capabilities with a desktop printer at cut-rate pricing.
At $450 (Amazon price), the da Vinci Jr. 2.0 Mix carries a hefty price premium over its predecessor -- the da Vinci Jr. 1.0, which retails for $200 (Amazon price). In the overall scheme of things, however, XYZprinting's machines are far less expensive than most 3D printers of comparable functionality.
For example, I recently reviewed the Ultimaker 3, a machine from Dutch 3D printer company Ultimaker BV that is highly rated by the user community.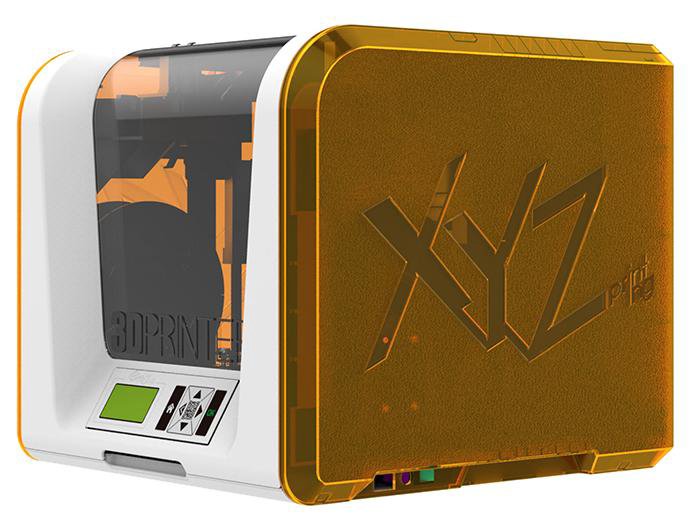 The Ultimaker 3 also has dual extruder capability, though it cannot mix colors because it prints from two separate heads. While I found the machine's resolution to be outstanding, it was problematic both in its ability to print multiple colors and its automatic leveling feature. At $3,495, the Ultimaker 3 is also vastly more expensive.
Separate layers or mixed colors
The da Vinci Jr. 2.0 Mix uses a new dual-feed system to send two filaments to a single extruder module to create a print that either gradually changes color, creates separate layers of two colors or mixes two colors to create a third one.The filament meets at the tip, extruding and retracting when necessary based on the settings in XYZware slicer software.
Using that software, users can experiment with different filament color types and can choose from Multicolor Mode or Mixer Mode.
Multicolor Mode allows users to choose two colors with which to print and the software then proportionally mixes them in varying tones.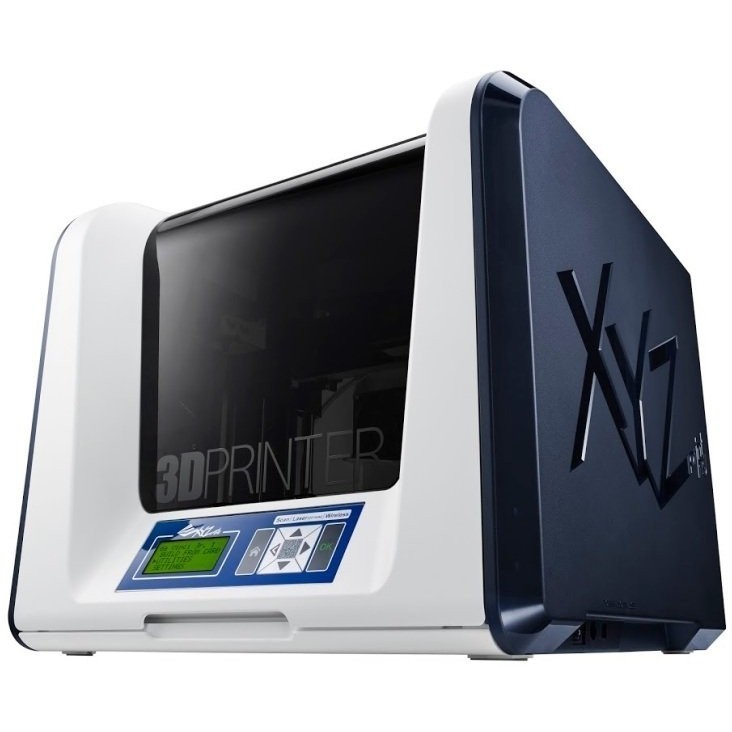 IDG/Lucas Mearian
A Pokemon-style chess piece printed using XYZware's "Mixer Mode," which allows makers to change colors throughout the model.
Mixer Mode splits color blocks according to height, with each block containing a single color or a set of graduated color blocks. In other words, you can print using two distinct colors or print a gradient between the colors to create a third color, such as using blue and yellow to produce green. XYZprinting offers five different colors and one transparent PLA filament with which to print (the printer only uses PLA filaments).
The Mix is a substantial machine measuring 16.54 x 16.93 x 14.96 in. While at 37.47 lbs. it's not heavy, it will eat a good amount of desktop space. 
It has a maximum build volume of 5.9 in. x 5.9 in. x 5.9 in., relatively typical of desktop printers.
IDG/Lucas Mearian
The pendant heart displayed how gradually the da Vinci Jr. 2.0 Mix adds in a second color, i.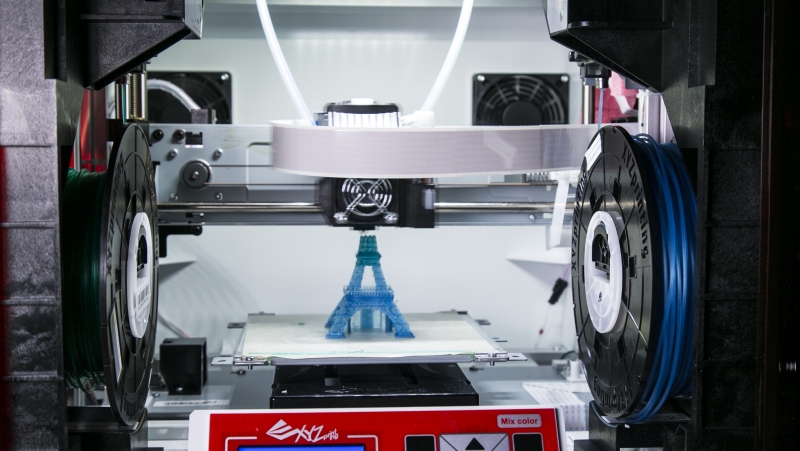 e., the transparent filament at its center.
The printer has a resolution of .2 millimeters, or 200 microns, which is respectable though not remarkable. As with other XYZprinting 3D machines, the Mix comes with a 2.6-in. LED screen and cursor pad that allows you to browse a menu of commands, from loading and unloading filament to printing from the SD card.
Getting this printer up and running, however, is extremely simple and shouldn't take anyone more than 15 to 20 minutes.
One attribute I like about the da Vinci Jr. 3D printer lineup is that it employs a 9-point automatic calibration detection system that accurately determines the distance between the extruder and the print bed. This ensures that you can start printing right away without any manual calibration, as is required even in some more expensive 3D printers.
Printing
For my first job, I used XYZprinting's included SD card to print a preloaded model that used the Mixer Mode. The model, a 2-in.-wide, 0.
5-in.-high heart pendant, printed without issue and with decent resolution. The pendant went from a dark green gradient at its base to transparent at its center, which was a nice effect. The pendant was estimated by the printer to take 43 minutes to print. It printed in 35 minutes -- a pleasant surprise.
IDG/Lucas Mearian
The 5.5-in. tall model of the Eiffel Tower against the backdrop of the XYZware software used to slice it prior to printing. On the right side of the laptop screen you can see how the slicer software allows makers to mix filament colors.
Next, I printed a Pokemon-style chess piece that contained some pretty good detail. The piece was estimated to take 38 minutes but took 48 minutes. Using XYZware, I chose to start the chess piece with a transparent filament and gradually increase the color to green at the top. It printed with good accuracy but average resolution.
Next came my benchmark test for every 3D printer: the Eiffel Tower. The model is roughly 5.
5-in. tall with a 2.25-in. base. It's a difficult test for any 3D printer to accomplish.
IDG/Lucas Mearian
A closer look at the Eiffel Tower build.
This time, however, I was printing the tower with two filaments at the same time: Green filament at the base that was set up to gradually transform to blue at the top. Curiously, the XYZware software reversed that process and printed with blue at the bottom and green at the top. No matter -- the model came out as a decent representation of the Eiffel Tower. Upon closer inspection, the lattice work was muddled, likely due to the average resolution capability of the printer. However, a railing around a pedestrian crosswalk -- one of the more difficult elements to replicate on a 3D printer -- came out with impressive accuracy. The Eiffel Tower took roughly four hours to print.
By comparison, a Makerbot Replicator+ 3D printer, which sells for $2,499 (Amazon price) took five hours to print a 6.5-in. version of the Eiffel Tower.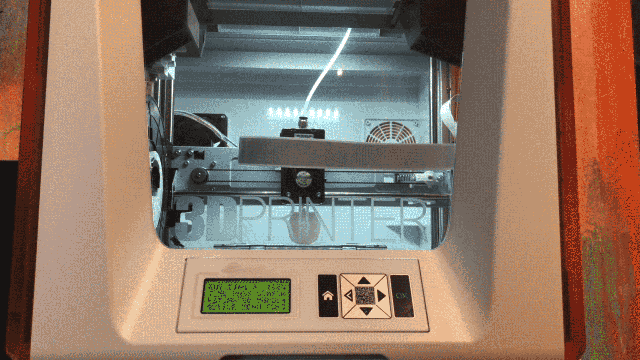 (Note that the Replicator+ has a larger build area, and therefore was able to print a taller tower.)
All in all, the XYZprinting da Vinci Jr. Mix was successful at printing a difficult object, and more importantly, did it on a system that costs one-fifth that of Makerbot's machine and with two different colored filaments.
After experiencing the problems with getting the color settings in the XYZware right, I contacted XYZprinting and they suggested downloading a fresh version of their slicer software. I did that, and the very next model I printed -- another Pokemon chess piece -- came out with the correct color mix.
Lastly, I attempted to print a two-piece model of a Smurf figurine. The figurine should have measured about 3 in. high and the two pieces should have had two separate colors (red and blue). Unfortunately, I had adhesion issues and one part of the model detached, ending the print job for the upper half of the model; the lower half, however, printed successfully.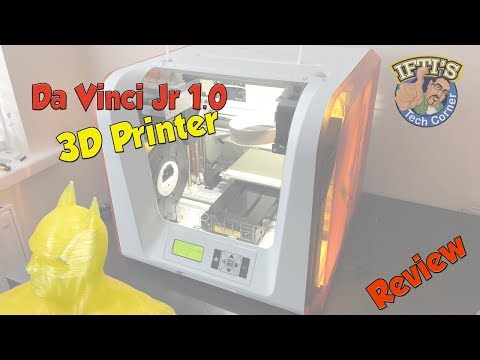 Adhesion problems
Speaking of adhesion: One shortcoming of the lower-end da Vinci 3D printers is their print beds, which are not heated. Heated print beds enable the plastic object being printed on them to adhere better. In the absence of a heated print bed, XYZprinting suggests that users cover the surface with masking tape for better adhesion (they supply three square sheets of masking tape for starters).
As with other XYZprinting machines, however, masking tape alone doesn't solve the adhesion issue. My first attempt at an Eiffel Tower print failed because it detached a few minutes into the job.
XYZprinting also recommends you slather the masking-taped surface with a glue stick to increase adhesion. With all that, some models still tend to break away during a print, which is disappointing when a job is nearing completion after hours of printing. In one case, a model adhered too tightly and ended up taking masking tape with it when I detached it. But using the correct combination of tape and glue does tend to solve the adhesion issue in most cases.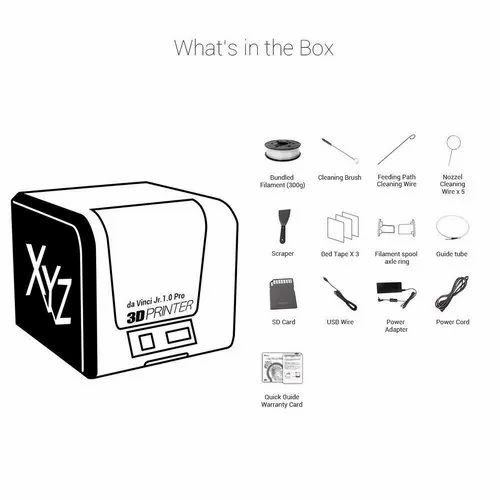 One other annoyance is the way the 3D printer loads and unloads filament. You have to do both spindles at the same time. It would be better to be able to load or unload one or the other.
Lastly, in terms of loading .STL model files into the XYZware slicing software, every single time I did it I received a pop-up telling me there was a problem found with the model and would I like to use "auto repair." It was a minor inconvenience as the auto repair function did seem to fix whatever issue was present with every model I printed.
Bottom line
XYZprinting's da Vinci Jr. Mix is a low-cost, 3D printer suited for beginner and intermediate makers. The quality of this machine for the price is outstanding. Will you be making accurate prototypes for developing new products for your corporation? No. But, can you enjoy being creative in playing with various color plastics to make objects that few other machines can produce for the cost of this machine? Yes.
I don't often recommend desktop 3D printers because they either fail in the execution of a job or they downright fail to live up to printing high-quality models based on the high price of the machine.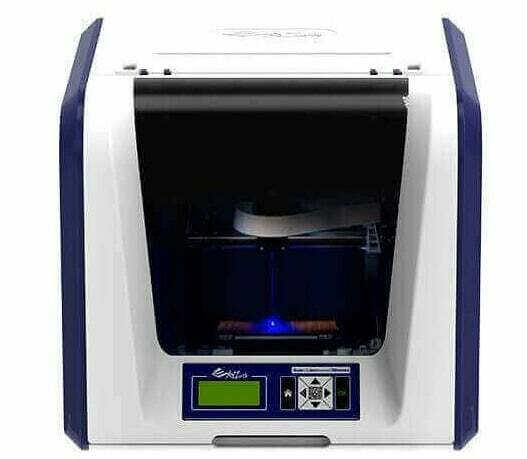 With that said, I can recommend the da Vinci Jr. Mix based on its ability to accurately create highly detailed print jobs with decent results, and perform those print jobs in multiple colors.
Related:
3D Printers
Computers and Peripherals
Emerging Technology
Senior Reporter Lucas Mearian covers Windows, Future of Work issues, mobile, Apple in the enterprise, and healthcare IT.
Copyright © 2017 IDG Communications, Inc.
7 inconvenient truths about the hybrid work trend
Best 3D Printer for Beginners (Updated 2020)
Have you been looking for a new 3D printer but new to the craft? If so, check out our list of the best 3D printers for beginners in 2020.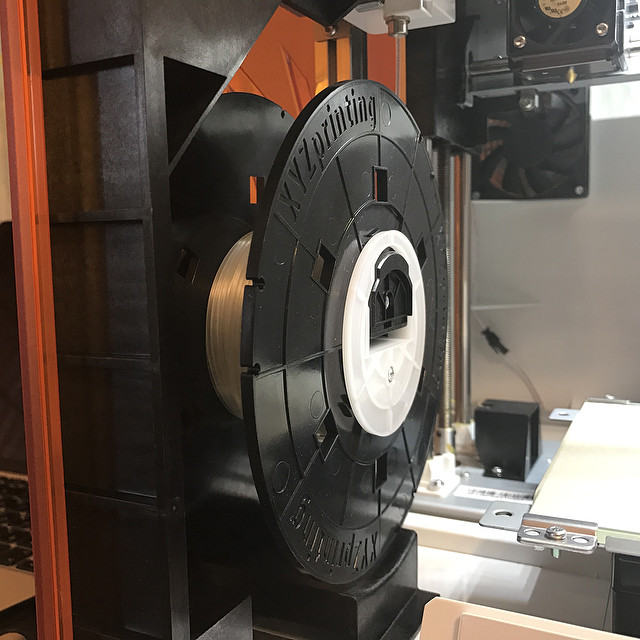 shareinch
Print speed 300 mm / s
Materials used Plastic
Comgrow Crealy Ender 3 cm. On the Amazon
8.6 x 8.6 x 9.8 inch
Print Speed ​​ 200mm/s
Materials Used Plastic
Editor's Choice FlashForge Pro 9 3D Printer Creator0016 See on the Amazon
Assembly volume 8.9 x 5.8 x 5.9 inch
Print speed 90 mm / s
Plastic Plastic
DREMEL DIGILAB cm. At Amazon
Build Volume 9.0 x 5.9 x 5.5 inches
Print Speed ​​ 100mm/s
Materials Used Acyl

7

70003 Best Ratio Da Vinci Mini 3D Printer See on Amazon

Build Volume 5.9 x 5.9 x 5.9 inches
Print Speed ​​ 120mm/s
3 Resin Materials Used
Summary List
9. 50 / 10 1. Editor's Choice: FlashForge Pro 3D Printer Creator
2.40 Premium Choice:Ultimaker 3
8.65 / 10 9. LulzBot Mini
8.15 / 10 10. Da Vinci Nano
The earliest recording of the technology was made in 1981 by Japanese inventor Hideo Kodama. The scientist made a bet on a product in which additive technology was used to create solid polymers. The printing technology was based on early stereolithography (SLA) processes.
Since then, 3D printing technology has accelerated at a fantastic rate, and new printing technologies have been invented. Some of these include Fused Deposition Modeling (FDM) and Selective Layer Sintering (SLS). Consequently, the technology has become cheaper for beginners.
The best 3D printer for beginners should be documented, easy to build and use, and should produce excellent print quality.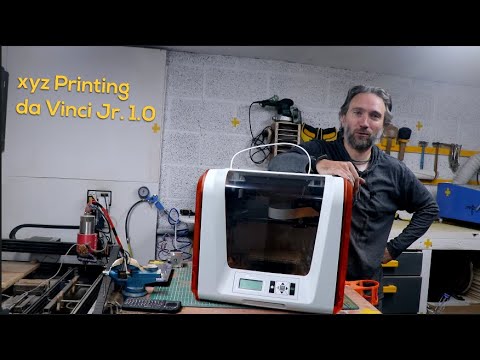 Many people who choose to 3D print are experiencing this technology for the first time. They need a smooth learning curve to pick up good production habits early enough.
3D printing is one of the leading technologies in the consumer electronics market of the 21st century. Manufacturers have managed to find a balance between providing new customers with advanced and user-friendly technologies. Here is an overview of the best 3D printer for beginners.
Editor's Choice
1. FlashForge 3D Printer Creator Pro
9.50/ 10 Read more reviews Read more reviews Read more reviews See Amazon models and other production needs with high speed and high quality. The printer is designed with professional needs in mind, which means that the products are designed for creative professionals such as engineers and architects. Students and DIY enthusiasts can also take advantage of this printer's capabilities at home.
The manufacturer understands that many consumers will use FlashForge 3D Printer Creator Pro as their first 3D machine.
This explains why a full warranty is provided as part of the overall package. During this period, you will also receive free email support from the manufacturer's technicians to help you get the most out of their printer.
Design aspects of FlashForge 3D Printer Creator Pro do not affect product quality. The accessory has a durable metal frame that is more stable than most of the alternatives you will find in other 3D printers. You'll be pleased to know that this printer is easy to handle and is unlikely to suffer in an office environment for several years. The printer will not fall apart quickly if you are relatively gentle with it.
One area that stands out in the design and functionality of the FlashForge 3D Printer Creator Pro is the plate. The device comes with an aircraft-grade aluminum plate thick enough to ensure it doesn't warp when heated. You should consider purchasing the FlashForge 3D Printer Creator Pro printer today, especially if you're into CAD modeling.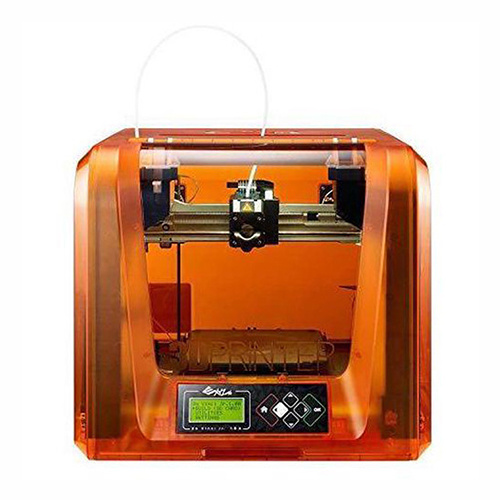 Read more
Key feature
9Olo Materials used: Plastic
Brand: FlashForge
Pros
Quality output
Easy to assemble
Sturdy build
Cons
Buy this product
FlashForge Pro 3D printer creator
amazon Shop Premium choice
2. Ultimaker 3
Amazon
Among the many 3D printer options for beginners, the Ultimate 3 printer is one of the best because it produces quality prints and is easy to use. His consistency and precision in delivering high quality work is second to none. This printer is designed to provide better print quality than other 3D printers. A printer equipped with two filaments can print on two different materials at the same time.
Ultimaker 3 withstands very high temperatures. The extruder can be heated to a maximum of 280 degrees Celsius, and the print platform can be heated to 100 degrees Celsius.
This printer, unlike other brands, does not limit the use of materials. However, it does not support the use of certain flexible materials.
This printer is easy to use for the beginner as it is pre-assembled. It is easy to assemble and does not require special equipment to set up. The Ultimaker 3 is also versatile in that it can accommodate a wide range of print media. It can also reach a maximum print size of 8.5 x 8.5 x 7.9inches.
The Ultimaker 3 comes with a Wi-Fi interface that makes it easy to use without connecting to your personal computer. Using your 3D printer is made easier with the Ultimaker app that you can launch from your smartphone. The app also allows you to manage your printer and printouts from your phone.
Read more
Key feature
High quality prints
Wi-Fi supported
Uses FMD 9 technology0004
Characteristics
Build volume: 8.5 x 8.5 x 7.9 inch
Print speed: 300 mm / s
Used Materials: Plastic
Mark: Ultimaker
Pros
Quality print
Pre-assembled
Dual print
Self cleaning
Cons
004
Buy this product
Ultimaker 3
amazon Shop Best value
3.
Da Vinci mini 3D printer 9.25/ 10 Read more reviews Read more reviews Read more reviews See Amazon
Da Vinci Mini 3D is A compact yet powerful 3D printing machine built for beginners, advanced modellers and other creative professionals. The printer has many features that a professional needs to quickly and efficiently create various models and objects. The design of the printer ensures that it is one of the easiest 3D machines to carry around without worrying about damage.
Compared to other designs from the company such as the Da Vinci Junior 1.1, the Da Vinci Mini 3D is 30% smaller, making it easy to install in smaller spaces such as home offices and study rooms. However, this does not mean that the printer is not capable of doing professional work. The device has an aluminum printer platform for larger and more detailed prints.
If you're looking for a 3D printer equipped with the latest in network technology, you can't go wrong with the Da Vinci Mini 3D. The printer is equipped with a Wi-Fi card so that you can connect it to your home network.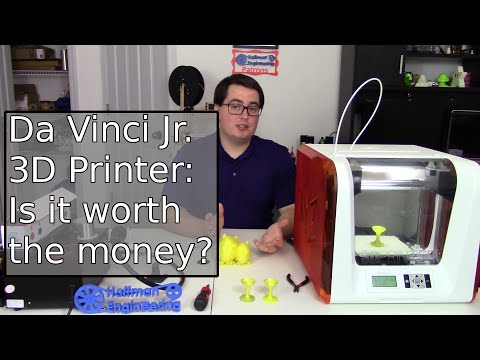 Sending models and drawings to a 3D printer from your computer or tablet will be faster and more efficient than using external storage devices or data cables.
Unlike other entry-level 3D printers that use petroleum based plastic for printing, the Da Vinci Mini 3D uses PLA plastic made from cornstarch. By using this printer, you will contribute to a greener environment. The Da Vinci Mini 3D is the ideal printer for the home and small office.
Read more
Key feature
XYZmaker 3D free software
Wi-Fi interface 802.11
USB 2.0 port
Characteristics
Build volume: 5.9 x 5.9 x 5.9 inch
Print speed: 120 mm / s
Materials used: Smol
Marka: XYZPARITARY
Pros
Ready to go out of the box
Intuitive software
Detailed documentation
Cons
Wi-Fi4 weak

007

Buy this product Da Vinci Mini 3D printer amazon Store

4.

Comgrow Creality Ender 3 9.65/ 10 Read more reviews Read more reviews Read more reviews See Amazon

Comgrow Creality Ender 3 3D printer - It is a versatile modern printer for entry-level and intermediate level designers. The printer has several features that make it stand out from the crowd in terms of modeling and office production.

If you're looking for a 3D printer with a removable surface plate, the Comgrow Creality Ender 3 printer is perfect for you. The surface plate provides good protection for the printer. The plate also distributes heat throughout the structure, making it easy to remove models after they have cooled down.

One of the main concerns many consumers face when purchasing their first 3D printer is whether it can handle power and temperature efficiently. You need a 3D printer that is safe from power surges. The Comgrow Creality Ender 3 printer is UL certified to ensure that power surges do not affect its performance and that the hearth temperature does not exceed 110 degrees Celsius.

The Comgrow Creality Ender 3 printer has unique features you won't find anywhere else. For example, a power outage will not affect the quality of your work because the printer has a resume feature that allows the Comgrow Creality Ender 3 printer to record the last extruder position before interruption. You are guaranteed high quality work, even if you do not have a backup power plan at home or in the office.

The printer is easy to assemble and disassemble, making it ideal for beginners who want to do quality work and learn how 3D printing works. Consider purchasing the Comgrow Creality Ender 3 Printer today for all your modeling work.

Read more Key feature

Semi -collapsed set
Frame on the Y 40x40
axis, Meanwhile, Power Protocol

Characteristics

Assembly volume: 8.6 x 9.8 inch
Print Speed: 200mm/s
Materials Used: Plastic
Brand: Comgrow

Pros

Quality Output
Quick speeds
Excellent support for the product

Minuses Buy this product COMGROW CREALITY ENDER 3 Amazon Shop

5.

Dremel Digilab 9.00/ 10 Read more more reviews See at Amazon

The Dremel 3D20 is a high precision 3D printer that is easy to operate. This printer is equipped with a full color LCD touch screen that you can use to make print settings. The new interface allows you to search for files if necessary and print without problems.

The enclosed nature of the printer also increases the likelihood of printing success as the temperature stabilizes. Similarly, the outer casing keeps children from disturbing the printable area.

Unlike most printers, the Dremel 3D20 uses PLA filament, which is recyclable, non-toxic and plant-based. This thread type is safe for all environments. PLA is also engineered for consistent and optimal printing resulting in high quality finishes.

This printer is equipped with free cloud slicing software to help you complete your print job. Use this cloud service to download models for printing as part of your training. The 3D20 is a highly rated, reliable printer that has gone through rigorous quality checks.

The Dremel 3D20 has a wide range of compatibility making it suitable for hobbyists and DIYers as well as home users. All components are pre-assembled and come with a detailed printer manual.

The printer also comes with a one year warranty. If something goes wrong, contact the manufacturer and the problem will be fixed in record time. The best part about this is that the support team responds in the shortest possible time. With stable printing, safe filament and easy operation, the 3D20 printer is a good choice for a beginner.

Read more Key feature

Uses PLA filament
LCD touch screen
Cloudy software
World -class support

Descriptions

Build volume: 9.0 x 5.9 x 5.5 inches
Press speed: 100 mm / s
used materials: Acyl
Brand: Dremel

Pros

One Year Warranty
Quick and Easy to Use
Reliable
Fully Enclosed

Bessions

Construction alignment is manually performed by manually

Buy this product DREMELB Amazon Shop

6.

Flashforge Adventurge Advent Read more Read more reviews Read more reviews. 3 is an efficient, quiet and easy to use 3D printer suitable for beginners. Firstly, it is closed and has a heated bed. The printer is easy to set up and does a great job of printing most objects. It also comes with a webcam which can be useful for checking when the user is away from home for printing long photos.

The printer control screen is clear and easy to navigate. Filament loading is simple and bed leveling is automated, making it easy for beginners to use. Adventure 3 delivers high quality prints without any issues as long as the nozzle is properly calibrated and the printer is level. The included printer has a 150mm cube printable area, which is suitable for most jobs.

The featured slicing software supports many formats and the camera works well in a lot of light. The camera is built in and has two million pixels and HD WiFi for remote monitoring. The removable nozzle makes it easy to clean the printer. The printer nozzle quickly heats up to 200 degrees Celsius in 50 seconds.

In addition, FlashForge has a removable heated build plate that makes it easy to remove printed objects. Beginners can easily read and operate the printer status from the 2.8-inch touch screen.

In addition, printer build plate alignment is not required. The automatic filament loading system stops printing when the filament is broken and resumes printing when filaments are detected.

Read more Key feature

Removable nozzle
Flexible working plate
Built -in Camera HD
Heated plate

Characteristics

Build volume: 15.3 x 13.4 x 16 inches
Print speed: 9004 9000
Materials used: Polycarbonate
Brand: FlashForge

Pros

Printable on wood-based materials
Ultra-quiet
Build platform already marked
Auto filament detection

Cons

Plate may need to be calibrated.

Buy this product FlashForge Adventurer 3 amazon Store

7. QIDI X-one2 technology

9.10/ 10 Read more reviews Read more reviews Read more reviews See Amazon

If you are interested in heated touch screen 3D printer precision printing platforms, no doubt you will love the QIDI X-one2 technology. The 3.5" touch screen is very sensitive and can be used to adjust several important settings. The LCD screen also creates a user-friendly 3D interface.

The X-one2 uses deposition modeling technology to enable high-precision 3D printing. Single extruder and injection mold make the printing process easy and stable. The printer is also equipped with a good ventilation system for efficient printing.

Besides modeling technology, this printer is linked with QIDI Print Slicer, which is a professional tool for slicing and stable printing. The printer also comes with a 6-month warranty.

This printer is also associated with a very friendly customer service. In case of questions, the support service will respond within 12 hours. However, with the manual that came with the printer, you are unlikely to need support services.

X-one2 is strong and well built. The frames are made of metal, making it impact resistant. The printer is also easy to assemble because all instructions are in the manual. The closed nature of the printer also creates favorable conditions for seamless printing. In addition, there is an SD card that has some videos to guide you through the printing process. With two technologies combined with a 3D interface, the X-one2 is indeed a good starting point.

Read more Key feature

Heated printed form
Modeling Modeling S contain
3.5-inch touch screen
Press Slice QIDI

Characteristics 9000
Build volume: 5.5 x 5, 5.5 x 5, 5.5 x 5, 5 x 5.5 inches
Print Speed: 150mm/s
Materials Used: Plastic
Brand: R QIDI Technology
Plus
Sets with a 6-month endless support of customers
A high-accuracy of
has a good ventilation effect of
ESTAING
Lessine 9000
Small building area
Technology QIDI X-one2 amazon Store
8.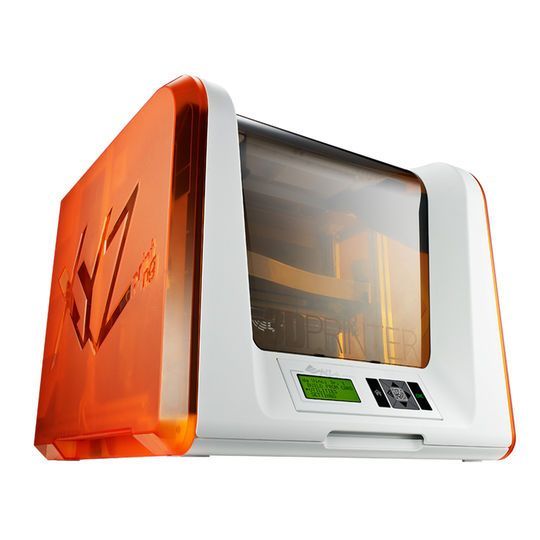 Monoprice 121711 8.80/ 10 Read more reviews Read more reviews Read more reviews Watch on Amazon 9The 0008 Monoprice 3D is a beginner-friendly printer that gets you up and running in no time. The printer has all the tools and features you need in an entry level 3D printer. You can print all your models with ease and learn a lot about how modern 3D technologies work, which will help you set up your device for best results.
If you're looking for a 3D printer that doesn't compromise on quality, Monoprice is a good choice. The printer has universal compatibility with various types of filaments. A heated build plate and a wide temperature range ensure that PLA and ABS filaments work flawlessly. In addition, it will work with more complex types of materials.
The printer features a compact desktop design that provides a small footprint and open bezel, perfect for any home or office desk. It will be easy for you to make room for your Monoprice printer as soon as you receive it at home or at work.
You can compare this to larger 3D printers, which often require you to rent out additional space or completely rearrange existing spaces.
Unlike other entry-level 3D printers, Monoprice comes ready to go. You don't have to assemble the 3D printer yourself before you get started. Plus, the printer is pre-calibrated at the factory, so you only need a few settings to get started. The Monoprice 3D Printer is the ideal machine for producing home and office models.
Read more
The key feature
has a Microsdtm
card compatibility with MAC and PC
Free thread PLA
Characteristics
Build volume: 4.7 x 4.7 inch
Print speed: 40mm/s
Materials used: Plastic
Brand: Monocene
Pros
Excellent build quality
High -quality conclusion
Compact design
Bessions
Buy this product
Monoprice 121711
Amazon Shop
9.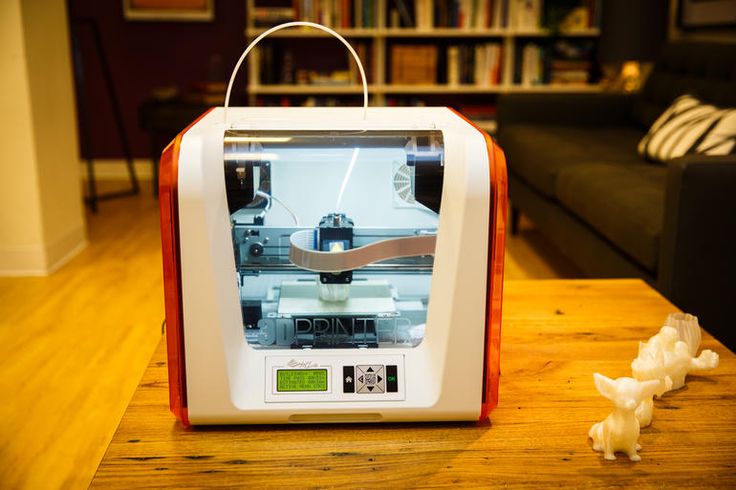 Lulzbot Mini 8,65 Look at Amazon
If you want to buy a 3D printer that is easy to use, especially for beginners, LulzBot Mini is one of the best options. With a maximum print size of 6.3" x 6.3" x 7.08", the printer is portable and easy to understand as it is free from complex features. The ease of use of this printer makes it one of the best options for those new to printing. With this printer, you will learn how to print without much experience.
LulzBot Mini features a borosilicate glass print surface and a 50mm nozzle head, making it compatible with both rigid and flexible media. The flexibility of the LulzBot Mini gives it a competitive edge over other 3D printers. This versatility allows the LulzBot Mini to reach a maximum temperature of 290 degrees Celsius. Its heated print platform can reach a maximum temperature of 120 degrees Celsius.
After purchasing LulzBot Mini, the company provides technical support for a year, both by e-mail and by phone. In this way, they ensure that in case of any problems you can ask for help.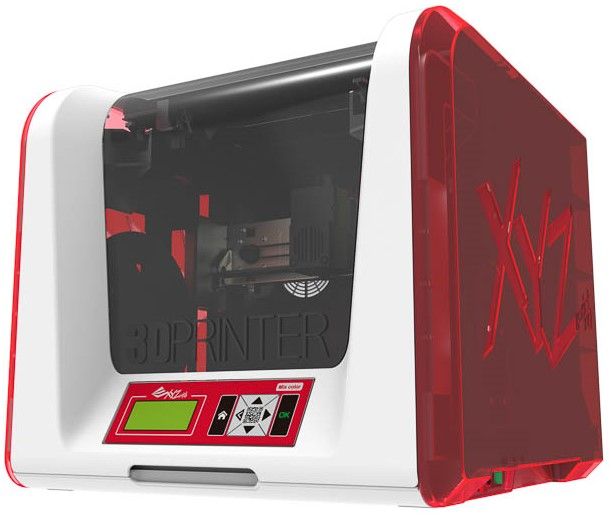 LulzBot Mini is not wireless and comes with a USB cable to connect to your personal computer. However, it comes with a beginner's guide to the software.
LulzBot Mini end products are of high quality with a durable and smooth surface. In addition to calibrating, it is also self-cleaning and removes all previous residue before printing new material.
Read more
Key Features
Uses FMD Technology
Maximum Temperature 290°C
Heated Borosilicate Glass Print Bed
Specifications
0015 Build volume: 6. 3 x 6. 3 x 7. 08 inches
Print speed: 275 mm / C
Materials used: Plastic
Mark: : Lulzbot
Pluses
222
Can use both flexible and rigid material
Easy to use
Quality printing
Cons
Buy this product
LulzBot Mini
amazon Store
10.
Da Vinci Nano 8.15/ 10 Read more reviews Read more reviews Read more reviews See Amazon
If you're looking for an easy-to-use 3D printer for the beginner, the Da Vinci Nano 3D printer - one of the best. It can print material right out of the box as it is specifically limited to only fibers from its parent company. You don't need to change any settings to start printing your job. With a maximum print size of 4.7 x 4.7 x 4.7 inches, this printer performs just like a larger printer.
This 3D printer is compact and space efficient. The Da Vinci Nano 3D printer is the ideal printer for educational institutions.
Most 3D printers get very hot, and this printer is no exception. Thus, the safety aspect is important, especially when it comes to a beginner. The Da Vinci Nano 3D Printer is safe to use for beginners as all of its heated parts are covered. The print platform used in this printer is also safe as it does not get hot and is removable.
The printer comes with easy-to-use software that requires no management skills from you.
The software gives you many options for slicing your material before printing, including the easy-to-use Cura slicer for model preparation.
The
Da Vinci Nano also includes a simple user interface design that guides you from the very beginning as you model through to the final print of your material. This way, using the printer will be a breeze throughout the entire process.
Read more
key feature
Great print quality
Connect and print
Relative print
Characteristics
Build volume: 4.7 x 4.7 x 4.7 inch
Speed ​​speed speed speed printing: 70 mm / s
Materials used: Plastics / Durable plastic
Brand: XYZ printing
Pros
High-quality printing
Easy to work
Self-cleaning
Wireless work
Cons
Used only a certain thread
Buy this product
Da Vinci Nano 9000 use them for home or office.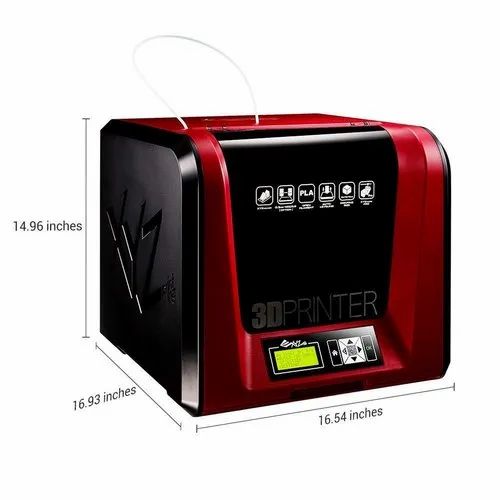 Regardless of your specific needs, you need to make sure the printer provides everything you need while being beginner-friendly. 3D printing will allow you to create beautiful models such as cosplay materials, phone cases, musical instruments or figurines.

The world of 3D printing is relatively complex, as this branch of the computer industry has been around for less than three decades. Understanding what makes an entry-level 3D printer great is essential to making the right decision. Be aware that entry-level 3D printers will have cut down features and are likely to be more economical.

The 3D printing technology the printer uses determines its suitability for beginners. The most popular 3D printing technology is Fused Deposition Modeling (FDM). This approach uses additive technology, where the plastic is continuously heated and extruded. On the other hand, stereolithography uses ultraviolet light to harden a model made from a photosensitive liquid.

SLS 3D printing is similar to stereolithography except for the materials used.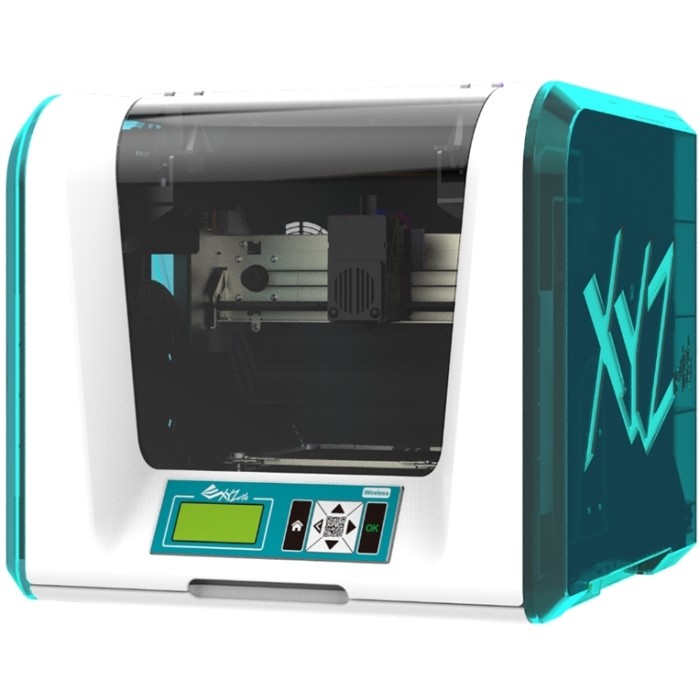 SLS printers use laser beams instead of UV and powders instead of photosensitive liquid. With a few exceptions, most beginner-friendly 3D printers are based on FDM technology. Most printers using the other two methods are usually larger and more expensive. You are likely to find them in larger organizations and production environments.
The materials used in a 3D printer will go a long way in determining if the final product is right for your needs. The most typical raw materials for 3D printing are polylactic acid (PLA) and acrylonitrile butadiene styrene (ABS).
Your choice of the most suitable print media will depend on several factors. You need to consider the final product, the level of detail, and the estimated budget.
Polylactic acid is a special plastic derived from corn. The material is great for beginners, as it is easy to create simple office and household items from it. Other benefits of PLA include environmental friendliness, faster cooling, and the availability of multiple colors.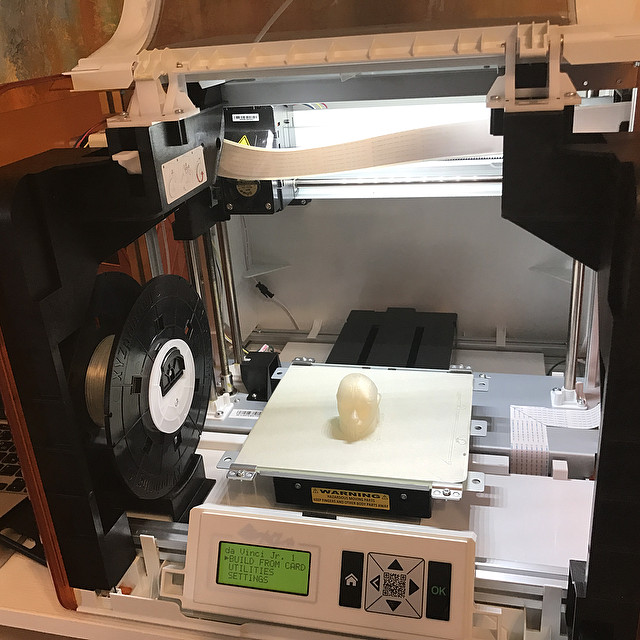 On the other hand, ABS is made from petroleum-based plastics. The material guarantees great strength and durability. ABS has a high melting point which makes it suitable for printing harder models.
A newbie to 3D printing should think about equipment safety. Smoke, heat and plastic will become common materials in your office. The best printers for beginners come with the necessary safety instructions and warranties. Apart from the tips discussed here, these reviews of the best 3D printer for beginners will help you decide.
We hope you enjoy the items we recommend! Screen Rant has partnerships so we get a share of the revenue from your purchase. This will not affect the price you pay and will help us offer better product recommendations.
Share this guide for buyers
The All-Russian Festival NAUKA 0+ was held at the Ufa Oil University
The festival program included master classes with a demonstration of 3D equipment, from a helmet and virtual reality glasses to 3D pens, an exhibition of creative projects FabLab of the Youth Technopark and Futurika CMIT, interactive lectures from students and teachers of UGNTU, professional tests with the ability to independently write code or make a 3D model, participate in writing your own element for a VR simulator under virtual reality glasses, understand what software is code, understand how a 3D scanner works and get a 3D model of yourself!
Yegor Zhidyaev, the winner of the regional stages of World Skills Junior, a student of the Institute of Oil and Gas Engineering and Digital Technologies (INICT) of USPTU, by his own example, told how to go from a curious fifth-grader to a student and future engineer, winner and prize-winner of numerous engineering competitions, passionate about mechanics and modern 3D technologies.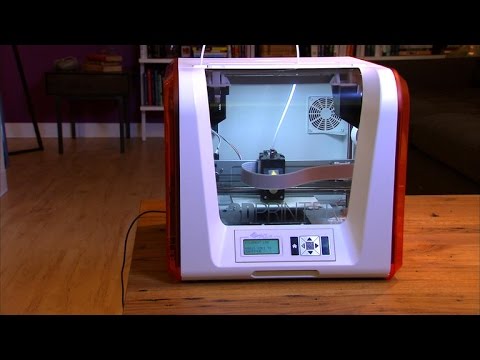 Ilnur Nugumanov, the brain and scientific director of the FabLab of the Youth Technopark of USPTU, the developer of virtual reality, the scientific director of the Futurika CMIT, the WSR Junior regional expert in the Prototyping Competence, who trained 6 winners of national championships, winners and prize-winners of regional stages, explained to the children the very essence of modern engineering, how 3D printers work, and the essence of the Prototyping competency.
Futurika's mentor Roman Shagaliev involved the children in virtual reality, development of VR applications, construction of virtual scenes and game logic.
The youngest mentor of the Youth Technopark is a student of the 9th grade of the engineering lyceum No. 83 named after. M. Pinsky UGNTU Enzhiya Nugumanova, the winner and prize-winner of the regional and final stages of WSR Junior, explained to schoolchildren the principle of work and construction of 3D 3D models, which can be used in various industries, for example, in design, art and architecture.
Partners of the Youth Technopark of UGNTU "Sciencely.Smart Ufa" prepared master classes in medicine and chemistry and announced the program for the next semester.
UGNTU MT mentors Tatyana Ogneva and Violetta Takhavieva, yesterday's graduates of the Rosneft class, today's chemistry students of the Faculty of Technology, proved to schoolchildren with the help of chemical experiments why chemistry is the most interesting science, and curiosity about the world around is the first step towards a scientific approach.
Albina Balchugova, head of programming at the Youth Technopark, teacher at Yandex Lyceum, developer of educational programs, specialist in the development of computer games for schoolchildren, expert and mentor of winners and prize-winners of competitions in robotics and programming, showed a wide range of the concept of "Information Technology" : this is both a future profession, and digital literacy skills in the modern world, and science. For schoolchildren who have a basic understanding of programming, she presented a new educational course on the development of computer games.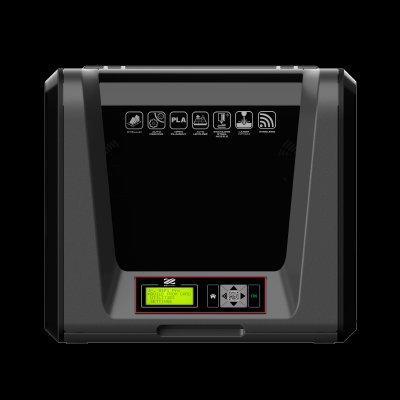 Eduard Shakiryanov, lecturer at the Department of Digital Technologies and Modeling, and Danil Petrov, a student, are among the most popular mentors of the Youth Technopark. They specialize in teaching schoolchildren the basics of robotics and working with electronic components. Adepts of "smart" technologies held a master class on working with Arduino and Lego. Traditionally, this is one of the most visited modules - robots are our future, robots are among us, but this is not certain!
One of the most visited venues of the festival was the presentation of the Tesla coil, one of the famous inventions of the great scientist Nikola Tesla. It was collected by Ratmir Aflyatunov, while still a student of Neftyany. Today Ratmir is a graduate student, research engineer, young scientist, participant of various scientific communities, accelerators and competitions for young scientists. He developed an educational course for high school students, which allows them to gain practical and theoretical knowledge of physical laws and phenomena.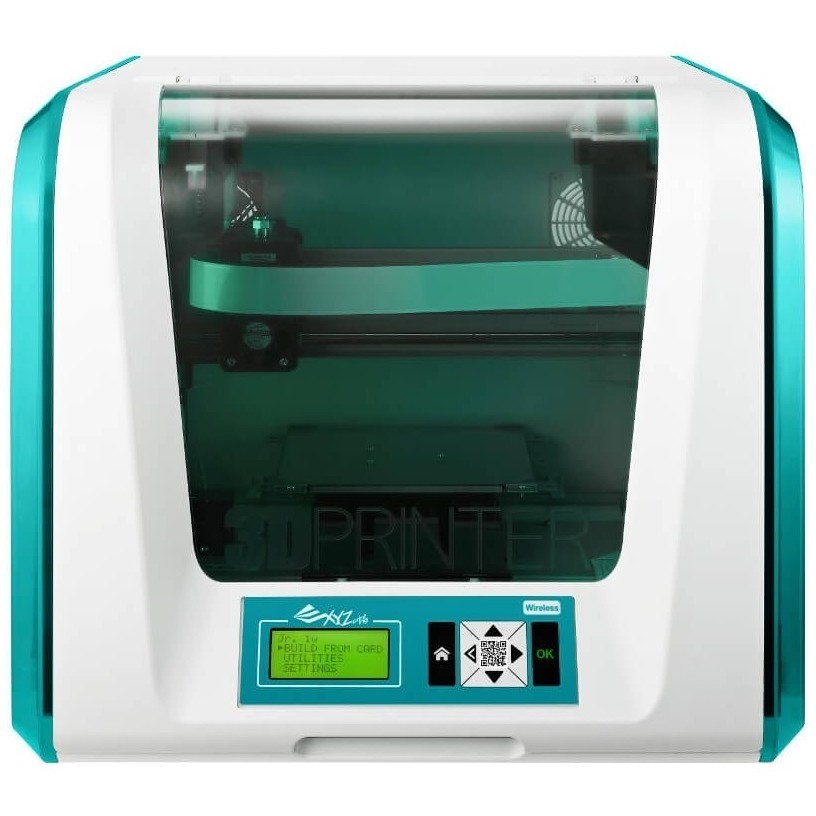 As a result, future physicists will be able to assemble such a unit themselves, as well as gain professional skills and experience in the development and creation of electrical devices, which, given the global trends in the field of electronics, can be safely called the industry of the future.
And, of course, there was the topic of oil and gas. The master class and interactive technology lesson were conducted by a graduate of the Rosneft class, a student of the Faculty of Technology Oleg Voronin, who himself, being a schoolboy, studied the basic principles of the oil and gas business and decided on his future profession. He was able to captivate the guys with an interesting approach and the game "Black Gold. How to extract oil, and what can be obtained from it.
Everyone could listen to the mentors, ask them questions from different areas of science and technology - at least 500 people went through all the venues, recharged with science and the enthusiasm of the mentors!
The All-Russian Science Festival NAUKA 0+ is one of the largest social projects in the field of popularization of science.