Idex 3d printer
Home - Ender IDEX
Convert your Ender 3 into the ultimate printing machine.
Buy on 3D.Plus
+ »
Watch the setup video
Supercharged Productivity
Double Your Output
Print duplicate models at the same time, side by side. The kit adds just 6cm width to your printer, so more output in less space.
Mirror Mode
Print matching models (e.g. left and right versions) at the same time, as the 2 heads mirror each other perfectly. 2 symmetrical models produced in the time it it takes to print one.
50% Faster
Split larger symmetrical models in half and print both halves at the same time (in mirror mode). Reducing print time by up to 50%.
Buy on 3D.Plus
+ »
A growing community of users worldwide
Limitless Creativity
2 Colours
Print multi colour models faster, cleaner and with less waste (no purge block required)
2 Materials
Take your creations to the next level.
Print in PLA & PETG, PETG & ABS, PVA & PLA…the combinations are endless.
2 Temperatures
Tune each hotend to the ideal temperature for that material and brand without affecting the other.
Buy on 3D.Plus
+ »
See the Ender IDEX in the wild
Hyper Functional
Instant nozzle change
Install a different nozzle size on your second hotend (e.g. 0.2mm or 1mm) and choose a nozzle size by selecting an extruder in your slicer.
Dynamic nozzle printing
With 2 different nozzle sizes you can print your shell with a 0.2mm and infill with a 0.4mm, or print the shell with a 0.4mm and infill with a 1mm nozzle. The ultimate balance of detail and speed.
Instant filament change
Feed your two favourite filaments into the hotends and print with either by just selecting the an extruder. This includes switching between PLA and PETG or ABS.
Much much more:
Whether it's different temperatures, flow rates, retraction settings, cooling or more.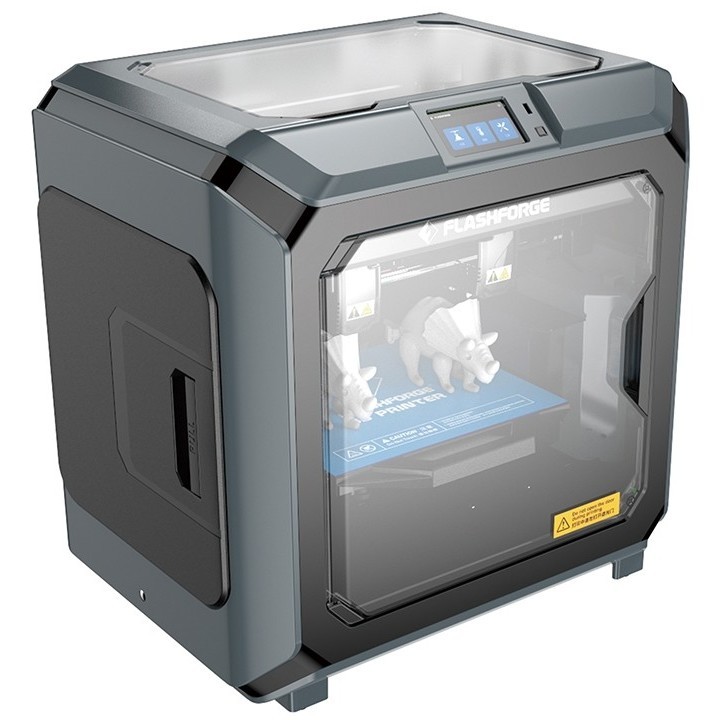 Independent hotends enable you to change the settings for each at the same time on the same print.
Buy on 3D.Plus
+ »
Frequently Asked Questions
Does the BL Touch work with IDEX?
In short, yes!
You can install the BL Touch to hotend 1 like normal and probe the bed before an IDEX print. The main difference is that you will have 2 Z-offset values, one for each hotend.
The kit documentation area for owners also includes pre-compiled firmware for a BL Touch setup as well as a guide on installation.
However, in duplicate or mirror mode prints you will still need a manually levelled bed. This is because 2 hotends touch the bed at 2 points at the same time and the Z-axis is unable to compensate. This is true of any IDEX machine.
The Ender IDEX may also be compatible with other ABL sensors but this will depend on the exact sensor and hot it is connected to the motherboard.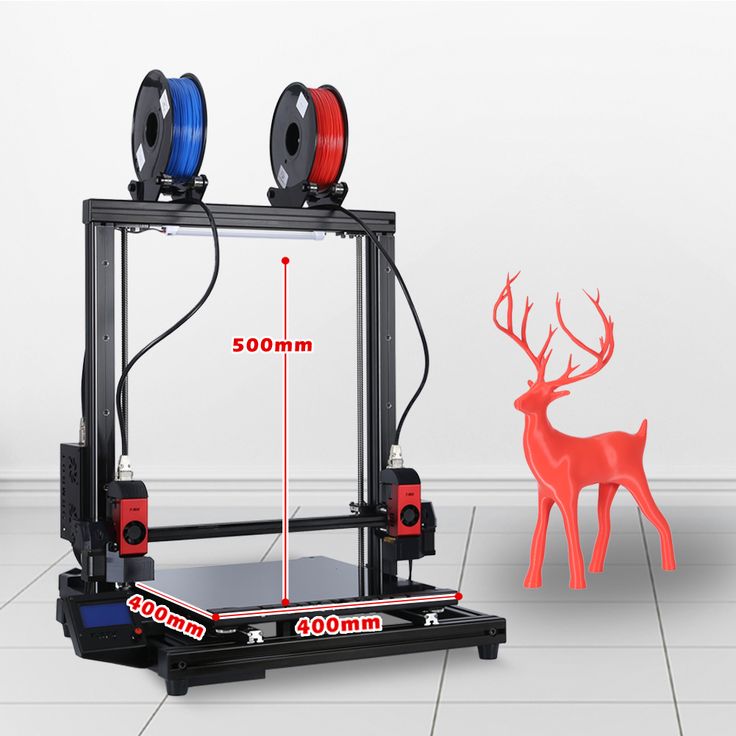 Can I print with dissolvable PVA filanment?
Yes, any filament that could be printed with a stock Ender 3 can be printed with the Ender IDEX.
PVA filament is quite different from PLA or PETG and so may require some tuning and tweaking to work as you desire but provided it can be printed at 240°C or less, then it is possible.
As it is also an expensive filament you can also choose to only print the "interface" layers in PVA and the rest of the support in cheaper hotend 1 material.
It is also possible to mix other materials. For example PLA and PETG do not stick together very well. So a PETG model with PLA support can be printed much closer together, can be removed easier and will leave a much nicer finish without the complication or cost of dissolvable PVA.
Does the kit work with Ender 3 V2?
Yes, however you will need to purchase the Ender 3 V2 version of the kit available here in the alternative kits section: https://3d.
plus/buy/ender-idex/#IDEX-alternative-kits
The main differences are:
1. Includes a TFT35 E3 screen as the Ender 3 V2 screen is not compatible.
2. An X-axis belt tensioner as the V2 version is too big.
Is the kit compatible with the CR-10
This will depend a lot on your specific model of CR-10
The CR-10 V2 is the best model to convert. It is 24V, includes a standard LCD and standard cabling.
Some older models of CR-10 run on 12V. You would either need to upgrade the printer and existing hotend, fans etc. to 24V or build a custom IDEX setup with 12V components.
New models like the CR-10 Pro V2 come with a non standard screen and custom ribbon cables. In this case you will likely need to replace more cables than standard and also the screen for one compatible with a standard Marlin setup.
Reach out if you have more questions and if you'd like to buy the CR-10 version of the kit you can find it here: https://3d.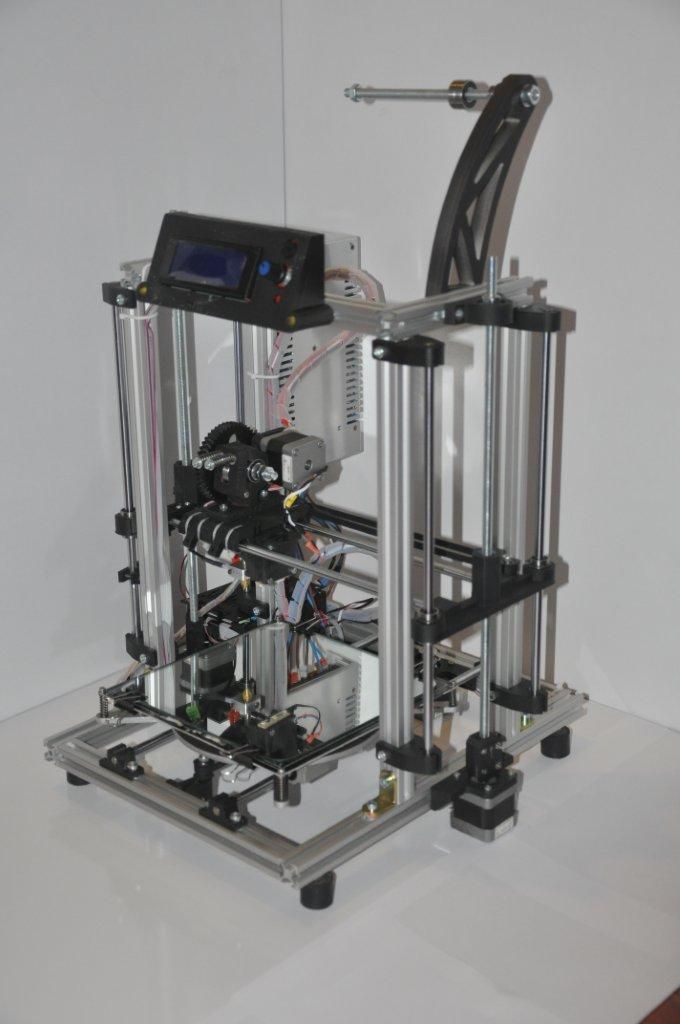 plus/buy/ender-idex/#IDEX-alternative-kits
Cutting-Edge Innovation
Equal Print Volume
Despite adding a second X-axis there is no loss of print volume for extruder 1.
Custom components
The kit includes more than 7 unique parts designed and printed specifically for this kit. All printed in PETG and ABS for optimal performance.
Plug and Play install
No soldering, coding or specialist tools. You won't find an easier kit that delivers so much.
Easy dual head levelling
Our custom second hotend can be levelled by simply turning a single screw.
Pre-baked Firmware
We have done the heavy lifting, Marlin 2.0 is configured and loaded, so no coding required at all.
Buy on 3D.Plus
+ »
Supercharge your 3D Printing
32-Bit BTT Octopus V1.1
Powerful:
One of the most powerful 3D printer boards available. You will never have to worry about processing power.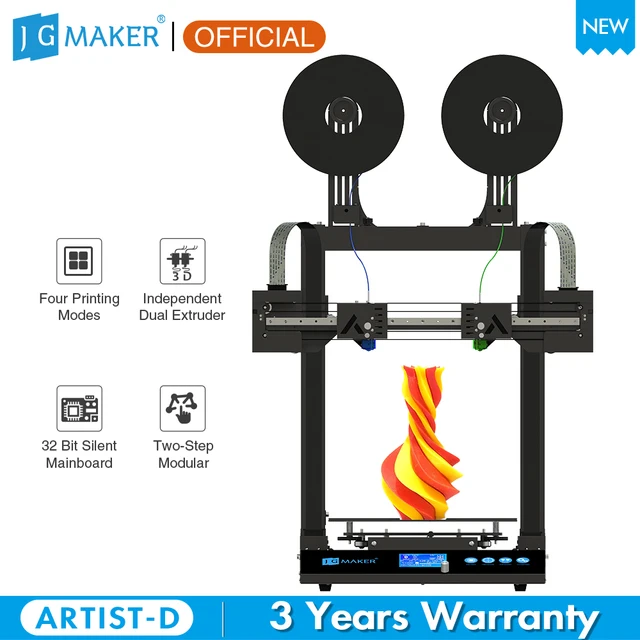 Upgradable:
With so many expansion ports and pins it's easy to add a touch screen, wifi, BL touch, filament runout sensor, second z motor and more.
Custom stepper drivers:
Easily swap out the provided stepper drivers of any of your choice.
Marlin 2.0
More features:
Unlock all of Marlin 2.0's features. No more space and processing power limitations. The limit now is your imagination.
Easy to update:
A single files on your SD card is all it takes to update the firmware. Plus you can download the pre-compiled updates from us.
Easy & Helpful
Expert support:
No matter how big or small the problem we're here to help. The same person that designed and built the kit will help you solve any problems.
Easy Install
We pre-assemble everything we can before you get the kit. Including the hotend, motherboard, wiring and extruder
Video Guide & Documentation
We have an exhaustive video guide which takes you through each step of the installation.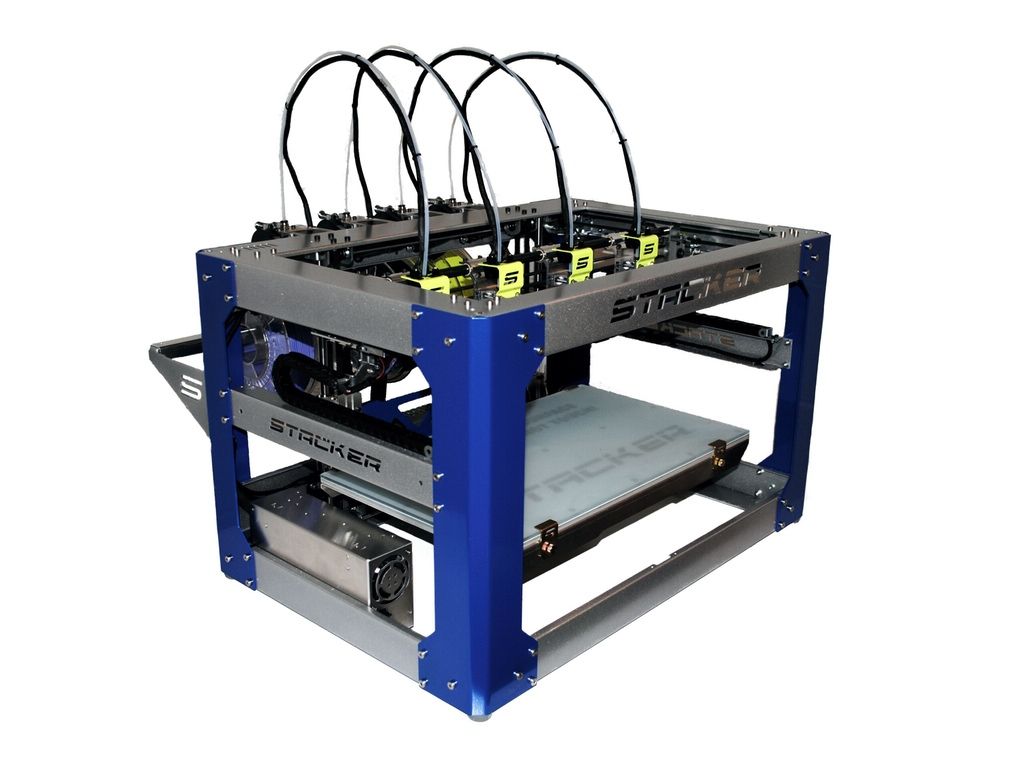 This is accompanied by extensive documentation, downloads and advice.
Downloads:
You can download all of our preconfigured firmware files, slicer profiles, calibration gcode and more.
Buy on 3D.Plus
+ »
Support a Creator
SEN 3D is a small business started by me, Kane (and it's just me so far). I'm based in the UK and a huge 3D printing enthusiast, just like you.
The Ender IDEX kit is my first product and I've spent many months working tirelessly to make it the best it can be. After 100's of iterations and prototypes, as well as many 100s of hours of testing I'm confident you're going to love what the Ender IDEX can do.
By buying from me you're supporting my work as well as helping me develop more exciting kits and products (I have lots of ideas in the pipeline).
Plus, I can guarantee you will get a customer service second to none. Where else can you buy a product and get 1-to-1 help from the person that created it.
I'd really love to hear what you think, what you like and what can be made better. My goal is to make 3D printing bigger and better for as many people as possible.
Let's keep in touch...
Join my personal mailing list and be the first to hear about: my new products & innovations, discounts   & offers, my 3D printing experiments and much more…
I will never share your email with anyone else.
©2021 SEN 3D All rights reserved
22 IDEX High-Temp 3D Printer – Vision Miner
MADE FOR ADVANCED USERS:
OPEN SOURCE EXPERIENCE HIGHLY RECOMMENDED
With dual independent extruders capable of 500ºC, an actively-heated chamber reaching 90ºC, and a triple-motor, true-self-leveling 200ºC bed, coupled with the fully open material system, the 22 IDEX is unlocking the potential of in-house additive manufacturing, at a price that disrupts everything the industry has seen before.

Current wait list: approximately 6 months
CALL FOR PRICING
QUICK SPECS:
NOZZLE
350 x 350 x 450mm

BUILD VOLUME

DUAL-GEAR, DIRECT DRIVE
INDEPENDENT DUAL EXTRUDERS

BUILD PLATE

AMERICAN SUPPORT

FROM VISION MINER

TRIPLE MOTOR
TRUE SELF-LEVELING
HEATED CHAMBER

500mm/s

MAX PRINT SPEED

ANY SLICER
ANY MATERIAL
MANUFACTURED IN EUROPE
Click here for full specs
DESIGNED FOR
PERFORMANCE MATERIALS
UNLIMITED FILAMENT OPTIONS
Independent Dual-Extruder Hotends
Maximum temperatures give you the ability to print any Performance Thermoplastic on the market, from PLA to PEEK, PEKK, ULTEM™ , PPSU, and more.
Unlike other machines, BOTH hotends reach the full 500ºC, enabling multi-material, copy mode, mirror mode, and full use of supports - soluble and otherwise.

True Self-Leveling Build Plate
Never manually level your bed again. Triple Z-Axis motors enable true self-leveling of the build platform, combined with 128-point+ mesh leveling (technically unlimited points), so the hotends will compensate for any variation in the build surface. On top of that (literally), the QUAD-motor XY gantry squares itself -- your parts will maintain accuracy over time, without having to constantly recalibrate.

Actively Heated Chamber
Performance thermoplastics are next to impossible without a heated build environment - the 22 IDEX heats up to 90ºC, enabling functional high-temp materials with solid mechanical properties. 

QUALITY CONSTRUCTION
MADE USING TOP-OF-THE-LINE COMPONENTS
LINEAR RAILS
Genuine Hiwin Linear-Rail Motion System
We were tired of poor construction and cheap components - when building the 22 IDEX, we ensured it was constructed only with the highest quality components, giving you the precision of an industrial machine on your desk.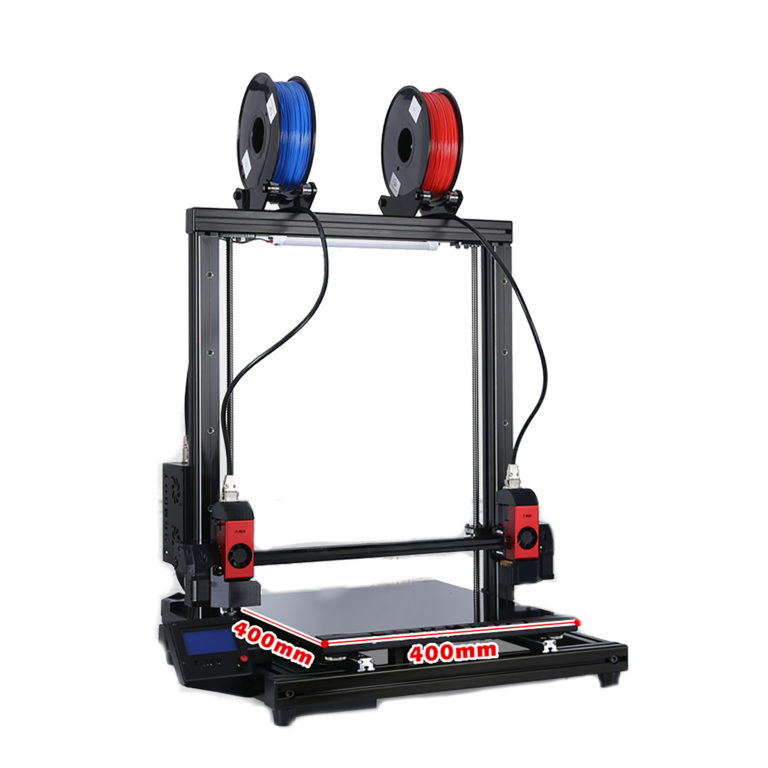 Robust high-temp stepper motors, linear rails, German wiring and industry-leading electronics means you get consistent print quality and accuracy, while minimizing overall system maintenance. Using genuin rails and extra-wide Kevlar Belts, the 22 IDEX stays in-spec with ease.

TRIPLE MOTOR Z-AXIS
True Self-Leveling Build Platform
Most printers require manual leveling, in addition to planar-offset or mesh-leveling. Not so, with the 22 IDEX - we've integrated three Z-Axis motors to physically level the build platform before each print, combined with a 128-point mesh leveling process to eliminate all guesswork. This means that your prints will start at the perfect height, every single time. It's a game-changer.

NON-PLANAR READY
6 Independent Axis and 5 Degrees of Freedom
The self-leveling bed and auto-squaring XY gantry not only makes great prints, but enables non-planar printing to an entirely new level -- you're not just buying any other 3D Printer, the 22 IDEX is prepared to take on a whole new world of multi-axis 3D Printing.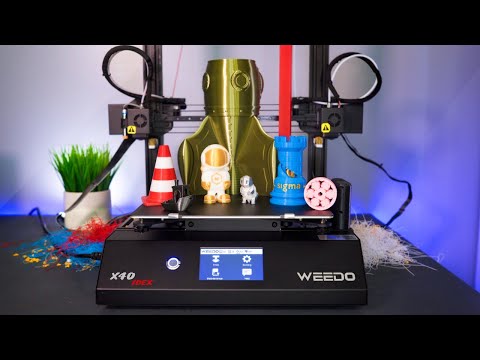 All 6 axis are independent, giving you a full 5 degrees of freedom, meaning your machine is already prepared for the next generation of non-planar printing and slicing software, once it becomes available.

INDUSTRY-LEADING FEATURES
Built-in Automatic Filament Drying System
The filament on the 22 IDEX is stored inside the chamber while printing -- this means that when using the heated chamber with hygroscopic filaments (read: most filaments), the filament is kept dry, eliminating much of the oozing, blobbing, and poor surface finishes due to moisture.

Auto Shutoff and Safety Systems, with Power Loss Recovery
Safety is paramount, in the workplace and workshop. That's why we've insured extreme measures to protect the safety of you and your team - the printer will automatically shut down if it senses overheating, thermal runaways, or electrical errors. High-quality Solid State Relays and German wires are just a fraction of the safety features designed into the machine, from the ground up.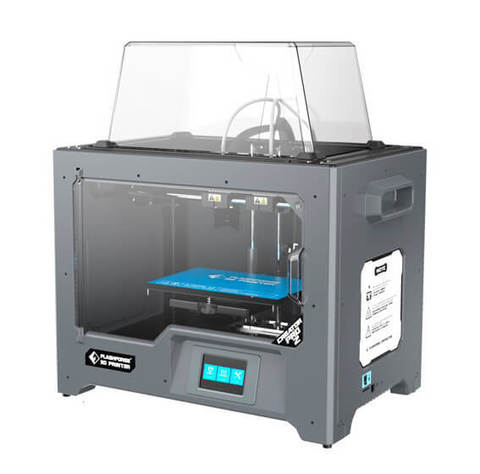 Dual-Geared Direct Drive Extruders on both Hotends
Want to print Flexible materials? Go for it! Carbon Fiber and Glass Fiber filaments? No problem! These powerful extruders can handle not only the toughest filaments, but the softest ones too. On top of that, the 22 IDEX comes with hardened steel nozzles, standard. This means you can produce parts in CF Nylon, CFPEEK, or any other abrasive composites, straight out of the box.

AMERICAN SERVICE & SUPPORT
We're here to help you -- that's our promise, becuase if you win, we win.
We cross-train our team to use everything we sell -- there's a good chance that whoever answers your phone call, can also solve your technical problems, should any occur. In the rare event you need an expert, we staff passionate additive manufacturing techs to help you.

No time zone differences. No language barriers. No more total-lack-of-communication-for-months-at-a-time only to be sent to a new rep in another country.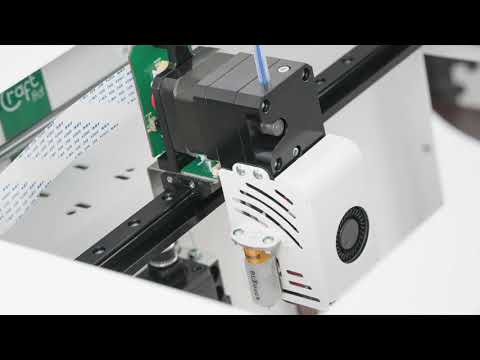 Nope, none of that. You'll be speaking with a real person, someone who knows the industry and can help solve real-world problems.

The guys working in the shop are the ones taking your call, to help you figure out your challenge. Not some trainee with step-by-step FAQ's you could find online (did we mention our extensive documentation and video tutorials? Most situations are easily resolved with a quick search, before you even pick up the phone)
No scripted auto-attendant generic answers, just real people with real problem-solving skills. We work via phone, email, and video conferencing to ensure whatever your problem is, we get you back up and into production time as quickly as possible.

INDUSTRY-PROVEN TECH
MADE USING CUTTING-EDGE PARTS
HIGH-FLOW HOTEND
Extra-Large Heat Block with Titanium Heat Breaks
Crank out more parts in less time, with one of the highest-flowing hotend designs available.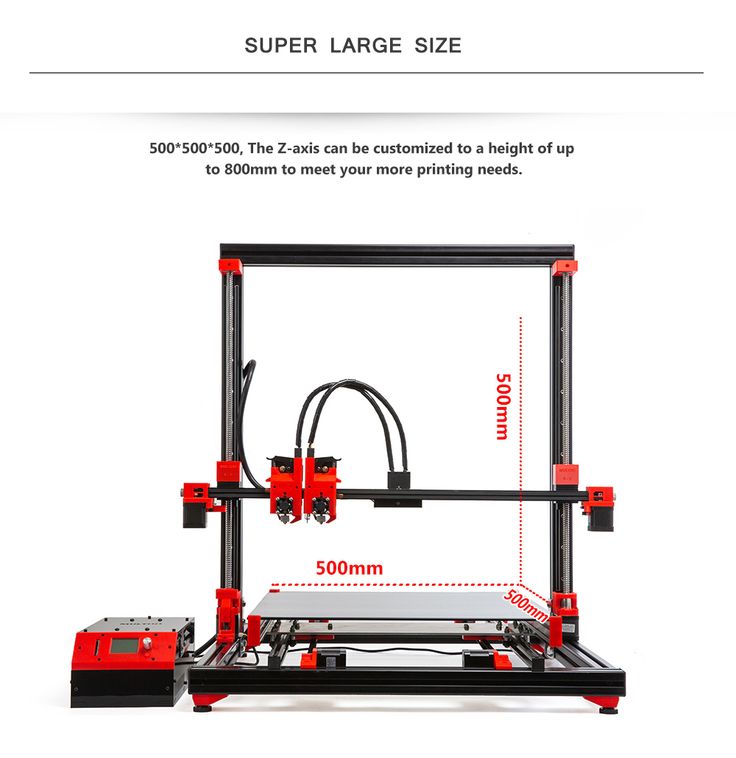 OPEN-SOURCE FIRMWARE
Duet 2 RepRap Firmware, Silent Trinamic Stepper Drivers
Unlimited extensibility with industry-standard electronics -- add a Raspberry Pi, more motors, other features -- plus, you can use any slicer you want, on any system - Windows PC, Mac, or Linux. Modify to your heart's content.

ANY SLICER, ANY COMPUTER, ANY MATERIAL
Duet 2 web interface means: your computer will work, as-is.
The Integrated WiFi (or ethernet, for our DOD customers) web interface and standard RepRap firmware makes the machine easy to control, from anywhere in the shop. Use your workstation, laptop, tablet or phone to control the printer -- using macros, or custom configurations you develop for your own needs.

DETAILED SPECIFICATIONS
Printing Technology
Fused Filament Fabrication, or Fused Deposition Modeling (FFF, FDM)
Build Volume
• 350 x 350 x 450 mm
• 13.
3

Build Platform Material
• Hot-Swappable Hardened  Textured Glass + Optional Coatings
• Optional High-Temperature • Carbon Fiber
• Optional PEEK+CF Composite Buildplate

Motion System

• HIWIN Linear Rails
• Ultra Wide 12mm Kevlar Belts
• High-Temp Stepper Motors
• 6 Independent Axis and 5 DoF
• Silent Trinamic Stepper Drivers
• Quad X/Y-Axis Motors
• Triple Z-Axis Motors
• Self-Squaring X/Y Gantry

Build Platform Leveling
• True Automatic Mechanical Bed Leveling with 3 Z-axis Motors
• Adaptive 128-point+ mesh leveling (BLTouch)
• MAJOR UPDATE COMING

Tool Heads
• Independent Dual-Geared Direct-Drive Dual Extruders
• Volcano Style Heat blocks
• Titanium Heat Breaks
• MAJOR UPDATE COMING

Layer Resolution
• 0.005" (125 micron, all Axis, real-world application - remember, you are using a round nozzle orifice - higher accuracy is achievable)
• 50-500 Micron Standard Layers

Speeds
• Travel Speed: 500mm/s 
Printing speeds depend on material.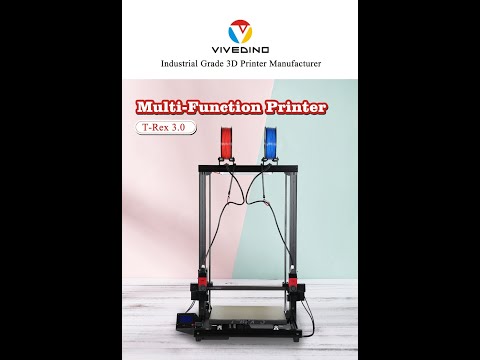 300mm/s is stable in PLA, 500mm/s is possible. Most high-temp polymers print from 30-100mm/s. 
Filament Diameter
Standard 1.75mm Filament
Fully Open Material System
Nozzles

Included:

• Hardened Steel 0.4mm

Available Options:

Hardened Steel:
• 0.2,0.4,0.6,0.8, 1.0, 1.2 mm
Brass:
• 0.4, 0.6, 0.8, 1.0, 1.2 mm
Nickel-Plated Copper:
• 0.4, 0.6, 0.8, 1.0, 1.2 mm
• Integrated Nozzle Wipers
Position Accuracy
• X/Y: 10 μm
• Z: 7 μm
Regulatory Compliance
• CE, CSA/UL available upon request

Warranty
• Standard 1-year Limited Warranty
• Premium and Extended Warranties Available• 

Operating Temperatures

• Operating: +64 - 86ºF (+18 - 30ºC)
• Storage: +50 - 113ºC (+10 - 45ºC)

Fume Extraction / Filtration

• Optional Integrated inlet/outlet for external fume extraction  (purchased separately)
• Optional HEPA + Active Carbon Filter

Extruder Temperature
Build Plate Temperature
Chamber Temperature
90°C
Active Convection Heating

Input File Type
Standard G-code, RepRap based
Compatible Slicers

Any RepRap-Compatible  slicer:

Cura

Simplify3D
Slic3r
Predefined Profiles Available

Operator Interface

• Complete Web Interface
• Full Remote Access
• Voice Control
• Integrated Wifi (Standard)
• Ethernet (optional)
• USB Connection

Internal Storage

16GB (expandable)

Supported Computer OS

Windows, MacOS, Linux, Android,  iOS

Power Consumption
• 110V AC, 50/60Hz, 
• Standard USA Plug
• 240V version available
Machine Dimensions
Machine Dimensions:
580 x 560 x 740 mm
23" x 22" x 29"

Recommended Footprint:
1000 x 600 x 1000 mm
40"x 24" x 40"

Machine Weight:

160lbs
73kg

Shipping Weight & Dimensions
Export-Compliant Crate

180lbs / 82kg

Materials
Any 1.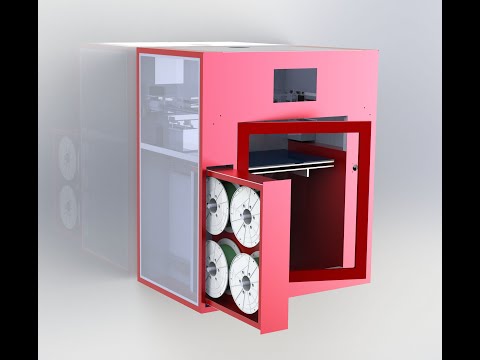 75mm Filament:

PEEK, PEI, PEI Blends, PPSU, PA/CF, Nylon (PA66, PA6, PA12, etc), PC, PC Alloys, PA, ABS, ASA, Carbon Fiber-Filled, Metal-Filled, Glass-Filled, Nylon, PETG, ESD Materials, HIPS, TPU, PLA, PVA, and more

Carbon fiber and glass-filled variants of the above + Various soluble and break-away support materials, 100% Open Material System
Materials / Filament Storage

Integrated Heated Storage
Filament rests inside the heated chamber while printing, preventing moisture uptake, enabling ultra-long print times with hygroscopic polymers

Safety

• Auto Shutoff
• Overheat & Thermal Runaway Protection
• German-manufactured Wiring
• High-Quality Components

JGMaker Artist-D Pro Review - IDEX 3D Printer - CNXSoft - Android Set-Top & Embedded Systems News
Another review of Carl's new 3D printer. Today we are going to take a look at JGMaker Artist-D Pro.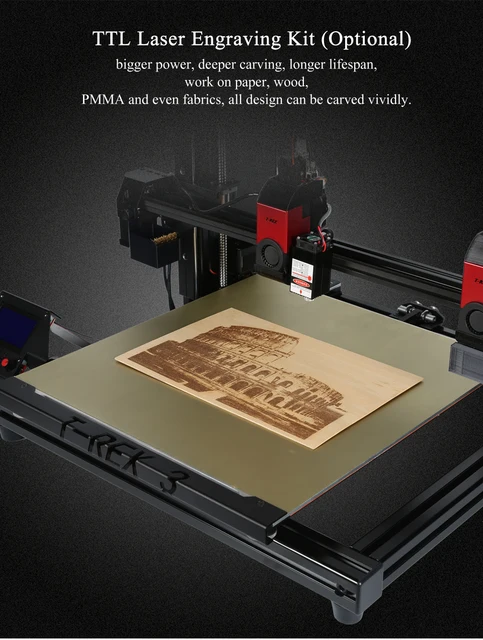 The Artist-D Pro is the successor to the non-professional version that debuted on Kickstarter and is an IDEX printer. IDEX is an acronym for Dual Independent Extrusion Printing Technology, and it's a fancy way of saying that a device has two full hotend nodes. From Carl's point of view, Artist-D was presented with great fanfare. But Carl didn't see much value in it. In his opinion, it will be just another printer that can print two different threads. Carl has reviewed printers with similar capabilities before. But... He quickly realized one aspect that no one talks about is speed during production runs.
Unpacking, Assembly and Calibration
The Artist D Pro comes mostly assembled and comes with pretty good instructions. It doesn't take long to assemble such a mostly assembled machine. Carl still remembers his first kit, which took him about 8 hours to assemble and then another 2 hours to connect. In this case, with just a few bolts, electrical connections, and a few extra parts, the assembly is complete.
Mills manufactured in USA
After making any printer with an aluminum profile and wheels, Carl tightens the eccentric nuts, tightens the belts, etc. This time, in addition to the usual steps, Carl had to tighten the 2 profiles on which the bed moves. He moved the platform back, loosened the 2 bolts holding the extrusion in place and pushed them apart. Then tightened the bolts again. the same is done with the two rear bolts. He tweaked the eccentric nuts and that solved the platform problem. Then he pushed the bed to the first nozzle.
1 more item left. The printer nozzle offset has not been set at the factory. Carl suggests that this is done on purpose. The offset is necessary to ensure perfect alignment of the two nozzles in 3D space when both nozzles are used for single prints. Setup instructions are in the manual. In the calibration process, there are 2 models on the USB stick. As soon as Carl saw the models and read the instructions, he immediately resized the models to the right size.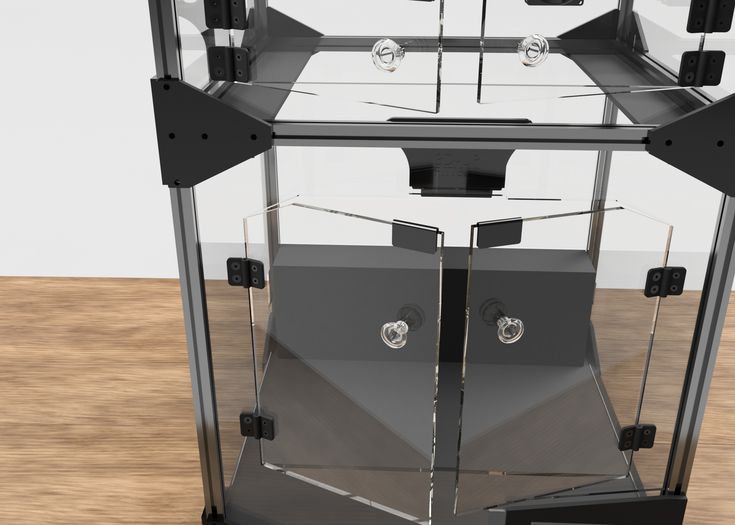 He reduced the thickness to 1 mm. They were about 10mm thick. No need to waste so much energy and time. It took Carl 4 attempts and about an hour. He misinterpreted the manual and went the wrong way on the x and y axes the first time. It turned out that the device is relatively easy and painless to calibrate. You can see Carl's error on the x and y axes.
Carl lied, he has one more thing to do. He used his calibration tool to find the best retraction settings. He got several messages in the Facebook group with unreadable results and couldn't figure out why it sometimes didn't work. Finally, he got a printer whose default settings don't work out of the box. Karl did not get the desired results and concentrated his attention on the temperature. He repeated the test 10 degrees lower to get readable results.
JGMaker Artist-D Pro Disassembly
MKS Robin Board. It's very neat here. According to Carl, this is the neatest board he has ever seen.
Hot end assembly is unique.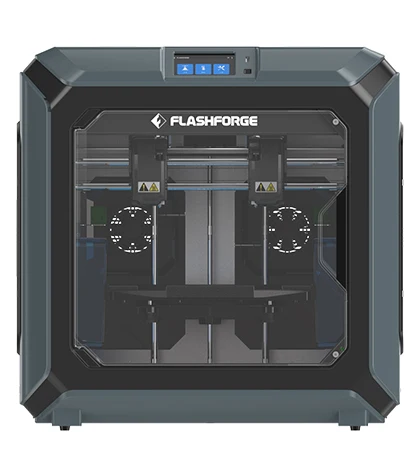 They have a patented nozzle system that allows you to quickly change nozzles. Carl bought larger nozzles but hasn't used them yet.
Production machine
Carl has been 3D printing for quite some time and uses the printer as a tool almost 100% of the time. He is no longer interested in printing in 2 colors. But what if Carl told you that this printer could print twice as fast as most other printers.
One shortcoming that has not been fixed in the non-professional version is the placement of the cleaning element ( purge buckets
)
Above you can see the nozzle in its original position. It rests directly on the metal bristles, and it is possible to get dirty due to the hot nozzle lying in the bristles with the thread leaking inside. Carl was right, and it ended up with thin tufts of thread between the cleaning element ( purge buckets ) and the printed model. Karl went to the faithful old Thingiverse and found that one of the users had already created a spare cleaning element.
He only modeled the left side, and Carl was able to use one of the first special IDEX printer modes. This is mirror mode. There is a place in the printer menu to select the desired mode. In mirror mode, whatever you set to print with extruder 1 will be mirrored on extruder 2. Carl simply moved the model to the left side of the build plate in his slicer. He went a little further than he needed to, but was careful. Carl started printing at 60mm/s and he was essentially printing twice as fast because both nozzles were running at the same time. There is a trick to this. If you remember, the nozzles are not perfectly aligned on the z-axis. To account for this, Carl had to lower the left side of the platform. At first it went down too low, as you can see in the picture.
Interesting print
After installing the new cleaning element, Carl noticed something special that was perfect for the print. Previously, when he saw this, he thought it was just a model... or the slicer did something wrong.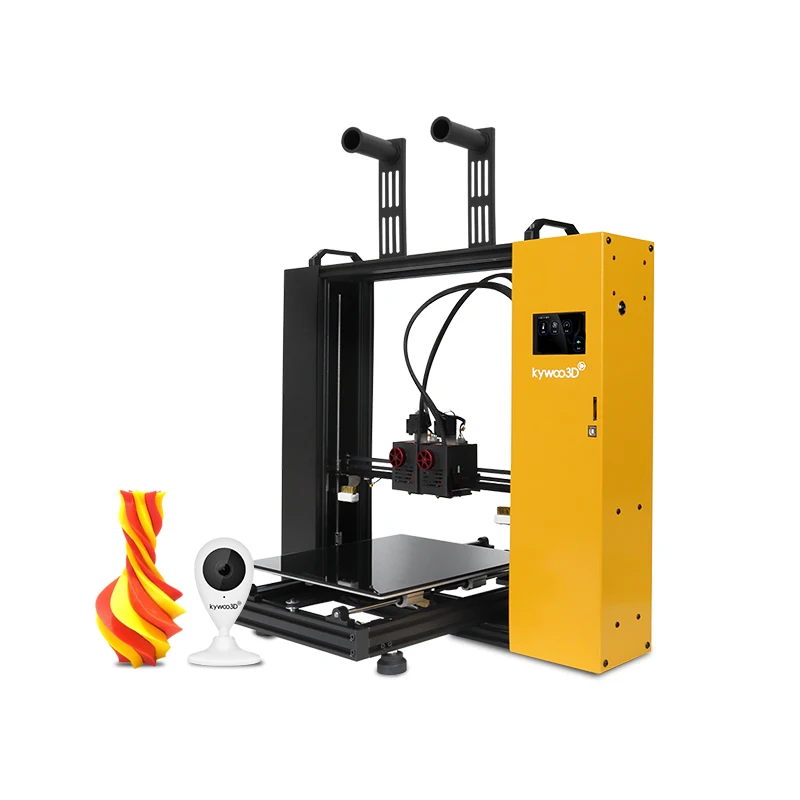 After a bit of troubleshooting, it turned out that the extruder stages were not calibrated. And that became a problem. The extruder is unstable. When calibrating steps, repeatability was a problem. When testing and telling the extruder to extrude 100mm of filament, the delta was +/-5mm.
Artist-D Pro Print Samples
Carl was looking for something to print and his son showed him a video of finding a contraption. Carl was curious to see if anyone had done a similar print, and once again Thingiverse came to the rescue.
This is not a functional but neat little toy.
Karl printed this tree frog again. It turned out okay. Definitely the fastest copy he ever printed. There is no need for a cleaning unit with IDEX.
A few more random prints. It prints fine prints well.
Final Thoughts
IDEX Carl liked it. He sees great potential in this. Of course, any printer with two nozzles can run into serious problems. It's much more difficult here.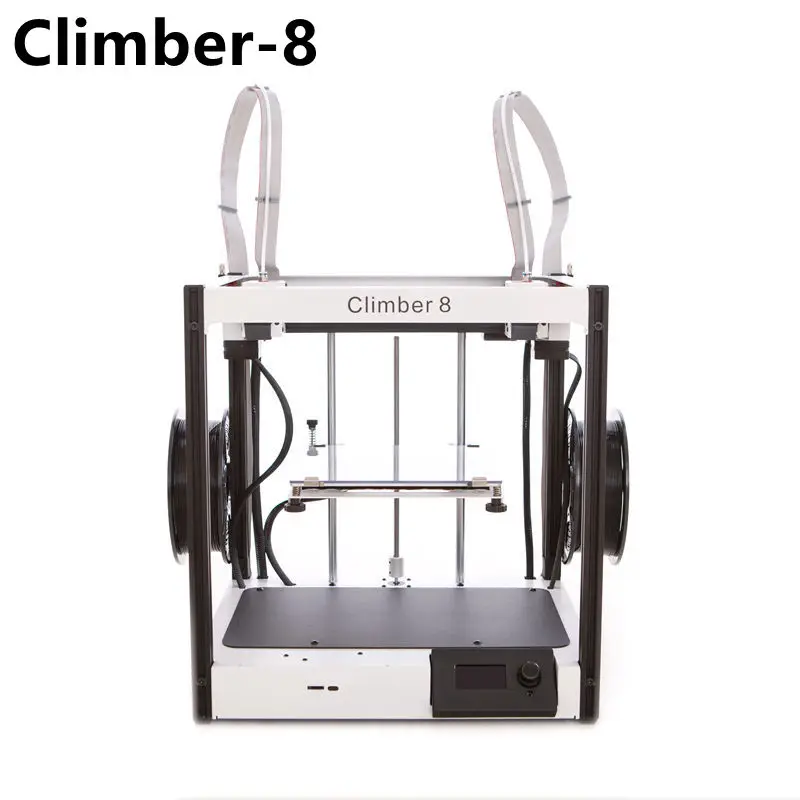 But his opinion is ambiguous. Carl had a desire to have a printer with 4 nozzles for fun. Not completely independent like IDEX. These printers are used in printer farms. If a printer could make a Benchy boat that takes 45 minutes for a regular 3D printer, it would take him 11.25 minutes... Which is quite impressive. See Speedboat Challenge.
Carl is a little disappointed and hopes more fixes will be made before the new version is released. Carl isn't the only one with this problem. Therefore, he always recommends joining a Facebook group at least for a while before making any decisions. On the other hand, you must keep an open mind. There are always more negative reviews.
Carl would like to thank JG Maker for sending the Artist-D Pro for review. The printer can currently be found on Amazon for $600, but there is a $60 coupon. Or directly from JG Maker, where it costs 529dollars.
We express our gratitude to the source from which the article was taken and translated, the site cnx-software.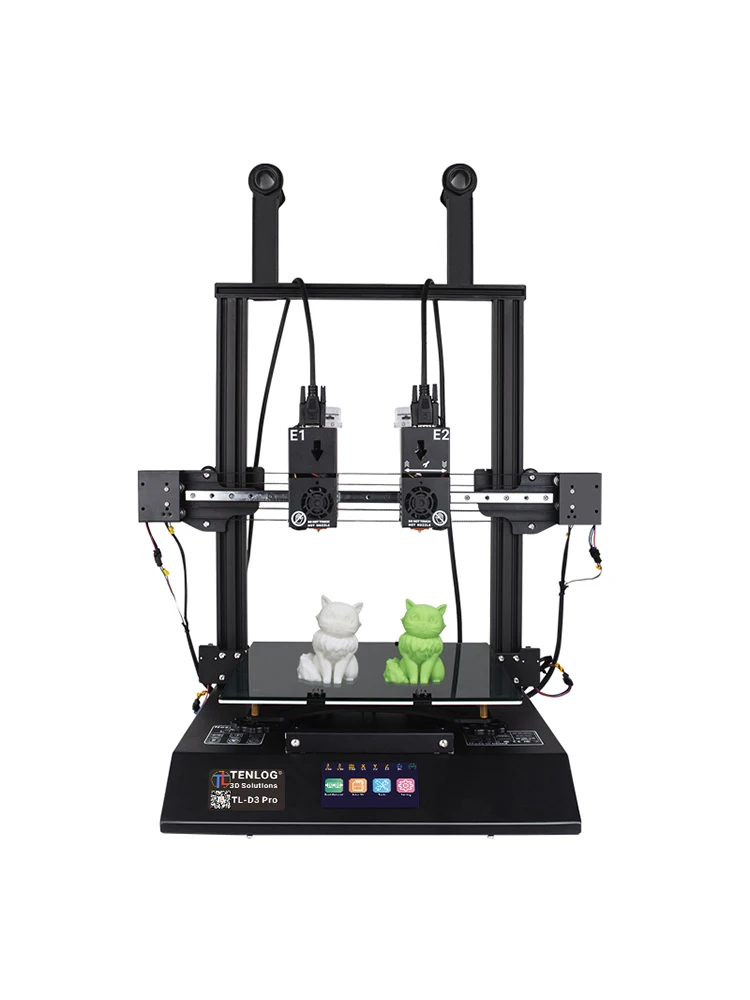 com.
You can read the original article here.
F2 Pro Industrial 3D Printer
F2 Printing Technology

Ultra-fast 3-second heat-up of
extruders, quick cartridge change system with different diameter nozzles
Chamber
0003
In-house electronics and intuitive development interface
F2 innovations
•Industrial FFF/FDM 3D printer, in-house production
F2 innovations.
• Printer for printing large and non-standard products.
Get detailed specifications
It's faster, more powerful, smarter, and most importantly, bigger.

F2 Pro is an industrial 3D printer ideal for printing large and non-standard products (print area 1000*600*1000).

Two high-temperature extruders (up to 550°C) allow you to print not only standard polymers (ABS, PLA, PP, etc.), engineering polymers (ASA, PC, ABS+CF, etc.
), but also high-temperature polymers such as PEEK, PEKK, Ultem, PEEK+CF, etc.

F2 printing technology provides ultra-fast heating of the extruder to operating temperature in 3 seconds, the accuracy of maintaining the melt temperature up to 3 ° C, and the quick-change cartridge system with nozzles of different diameters makes the printing process simple and fast.
To store the filament, the printer has independent heated (up to 70°C) cells for two spools weighing up to 5 kg.

F2 Printing Technology
We developed FFF/FDM 3D printing technology to open up new possibilities for additive technologies in any industry, making 3D printing with any materials fast and high quality for every manufacturer.


F2 Print Technology
We have developed FFF/FDM 3D printing technology to open up new possibilities for applying additive technologies in any industry, making 3D printing with any materials fast and of high quality for every manufacturer.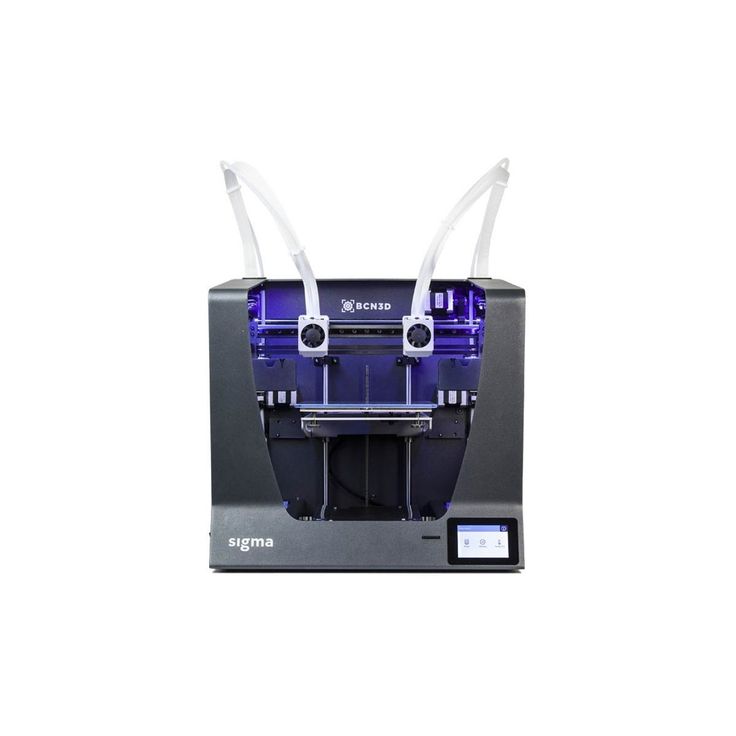 more *1000 mm

Heated Platform

Heated up to 140 ° C with a car accident
(optionally up to 160 ° C)
9000 0002 User Interface

Own Electronics and Intuitive Intuitive Interface

of the Higher Supervarre C)

Nozzle diameter

0.15 - 1 mm

Print chamber

heating up to 80°C with convection
(optional up to 160°C)

Press area

1000*600*1000 mm


Heated Platform

Rapid -free heated up to 140 ° C with a car row of
(optionally up to 160 ° C)
9000 9000 9000 9000 9000 9000. clear interface

Extruders

two high temperature (up to 550°C)

Order

User Interface

Own electronics and intuitive interface

Minimal training is required to operate the printer, by looking at the interface you will immediately understand how to operate it.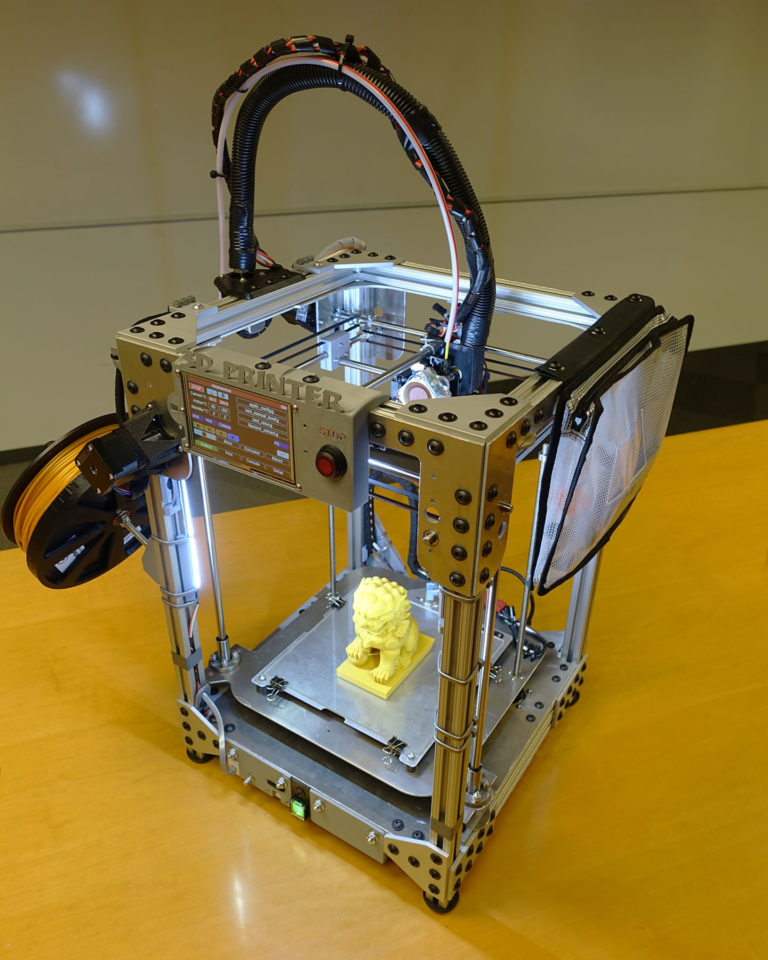 User Interface
Proprietary electronics and intuitive user interface
Minimal training is required to operate the printer, by looking at the interface you will immediately understand how to operate it.
Print chamber
80°C heated chamber with convection
(optional up to 160°C)
Forced convection of the chamber and uniform heating allows printing large parts with high interlayer adhesion.
Parts do not delaminate or deform.
Print chamber
80°C heated chamber with convection
(optional up to 160°C)
Forced convection of the chamber and uniform heating allows printing large parts with high interlayer adhesion.
Parts will not delaminate or deform.
Extruders
Two high-temperature extruders allow you to print the entire range of available materials
F2 printing technology provides ultra-fast heating of the extruder to operating temperature in 3 seconds.
with high melt temperature accuracy
Extruders
Two high-temperature extruders allow you to print the entire range of available materials
F2 printing technology provides ultra-fast heating of the extruder to operating temperature in 3 seconds. with high melt temperature accuracy
Built-in filters
Built-in air filtration system traps all unwanted particles
When heated, some plastics can release harmful substances, for example, vapors of styrene derivatives, hydrocyanic acid, acetaldehyde.
Built-in high temperature filters block not only harmful particles but also unpleasant odours.
Built-in filters
Built-in air filtration system traps all unwanted particles
When heated, some plastics can release harmful substances, such as fumes from styrene derivatives, hydrocyanic acid, acetaldehyde.
Built-in high temperature filters block not only harmful particles but also unpleasant odours.