Heroscape 3d printer
3D Printed Heroscape Terrain - The 9 Best Heroscape 3D Print Files
Affiliate Disclaimer: Some of the product links on this page are affiliate links. We may recieve commission if you purchase something after using one of these links, but using these links will never affect the price you pay.
First, a quick introduction to Heroscape
Heroscape 3D Print Files
The best Heroscape compatible 3D print files
Overview
Heroscape is a turn-based, tabletop game published by Wizards of the Coast up until 2010, when production stopped.
The game itself utilises a series of highly-detailed 3D terrain pieces, which all interlock to create a unique and bespoke playing surface. These tiles feature a hexagonal design, and can be interlinked in a variety of ways, as well as being stacked to create elevation across the playing surface.
With the game being officially discontinued in 2010, many players turn to purchasing pre-owned terrain pieces.
But there are many dedicated fans who have gone through the effort of creating many Heroscape compatible terrain pieces which can be 3D printed using a home 3D printer.
These 3D print Heroscape terrain pieces come in a variety of appearances, as well as quality. As a fan of this classic game myself, I've gone through and found the absolute best terrain pieces that you can download today. And the best news is that all of these 3D print files are completely free!
Heroscape 3D Print Files
As mentioned above I have spent years playing Heroscape. It's always been one of my go to tabletop games. But terrain pieces can be expensive, increasingly so as official production terrain pieces are becoming rarer to find.
This led me to explore the 3D print options, and I was surprised with just how many different terrain pieces I could find. There are a few dedicated community members who have created a wide selection of terrain.
Designers like Arthur Schlauch, have created a whole host of free downloadable 3D print files.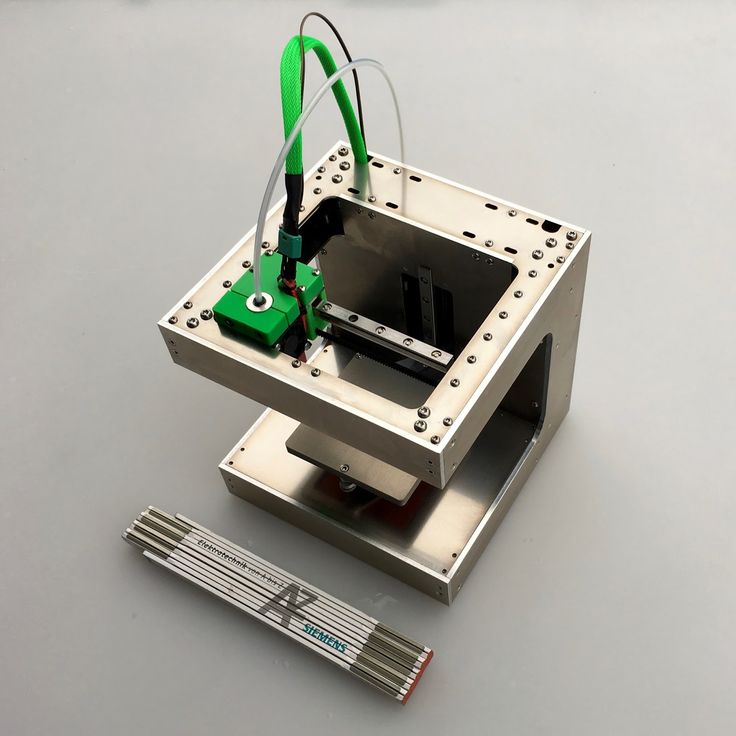 Some of Arthur's designs include custom designed miniatures, as well as complex and original looking terrain models.
The best Heroscape compatible 3D print files
Classic Hex Terrain
When it comes to the first port of call for 3D printing custom Heroscape terrain pieces. Your first stop should always be the classic hex terrain pieces. These hexes make up the majority of any Heroscape play surface, so having more of these to play with, the better. You can layout bigger, higher and more complex custom landscapes.
These hexes were created by Arthur Schlauch and can be printed in a variety of PLA colours to form different terrains.
There are multiple different forms of hex included in this batch of files. You'll find classic road hexes, water and glacier bases, and the classic grass and rock files. There are different sizes included as well, including single hexes through to 7 hex groups.
As a bonus, there are also bridge sides included in this 3D print file bundle, allowing you to start to build more complex landscapes.
I've printed a fair few of these files, and they do fit very well with original pieces. There is a little bit of a loose feeling, but not enough to worry about once they're locked in.
Download files here
Locking Hex Terrain Stone Path
These stone path 3D models are great for adding a little different texture to your landscapes. They feature a gridded stone path texture on the top surface, which allows you to differentiate them from regular path tiles. Once printed and painted they make for some really nice decorative paths.
This file bundle also includes a variety of other terrain pieces. These include a tree stump, broken rock, and groups of hexes with part walls built in to them.
This bundle of Heroscape terrain 3D prints is a must for anyone looking to add a little variety to their landscapes.
Download files here
Locking Hex Terrain Wood Path
This bundle of files is from the same creator as the stone path bundle above.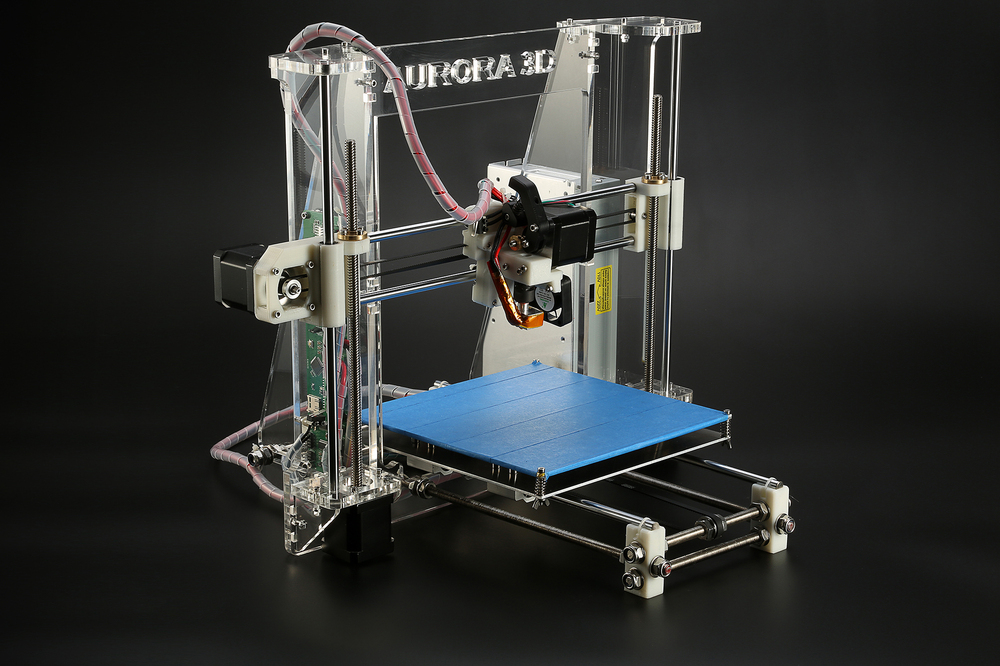 It features a stone path textured locking hex tile in a variety of sizes and configurations.
You'll find single hexes through to clusters of wood path hexes. There are also wood path hexes which feature an additional wall to some of the edges. These 3D print models can easily piece together to form enclosed rooms across a map.
These wooden floor terrain pieces add another level of variety to any landscape, especially when paired with other hex styles from this list.
Download files here
Water or Lava Tiles
This next model is a super simple one, but adds extra variety to your game space. These inverted tiles lower the landscape by adding a liquid such as water or lava. You could print it in a variety of colours to add other elements such as a frozen lake or muddy swamp.
Download files here
Evergreen Trees
These evergreen trees are another great model from Arthur Schlauch and make for a great decorative addition.
When printed with a green PLA, or painted green they can be grouped to form a larger forest, or dotted around a landscape to provide elements of cover.
Download files here
Half Tiles / Edge Tiles
Another great utility tile to have and be able to print is the half tile, or the edge tile. These are great for creating a smart edge to your battlefield, or for creating some interesting landscaping features.
There are two versions of this tile included, one with a smooth edge, and the second with a connection point to allow for additional tiles to be attached.
Download files here
Hex walls
These walls are good to have around to slot on top of other landscape hexes. They can add verticality as well as decoration and variety to any Heroscape landscape. They are actually modified versions of the original Heroscape bridge walls.
Download files here
Large 7 hex Crystal terrain
Who doesn't like a crystal? This terrain piece sits on locking hex tiles and features a large cluster of crystals.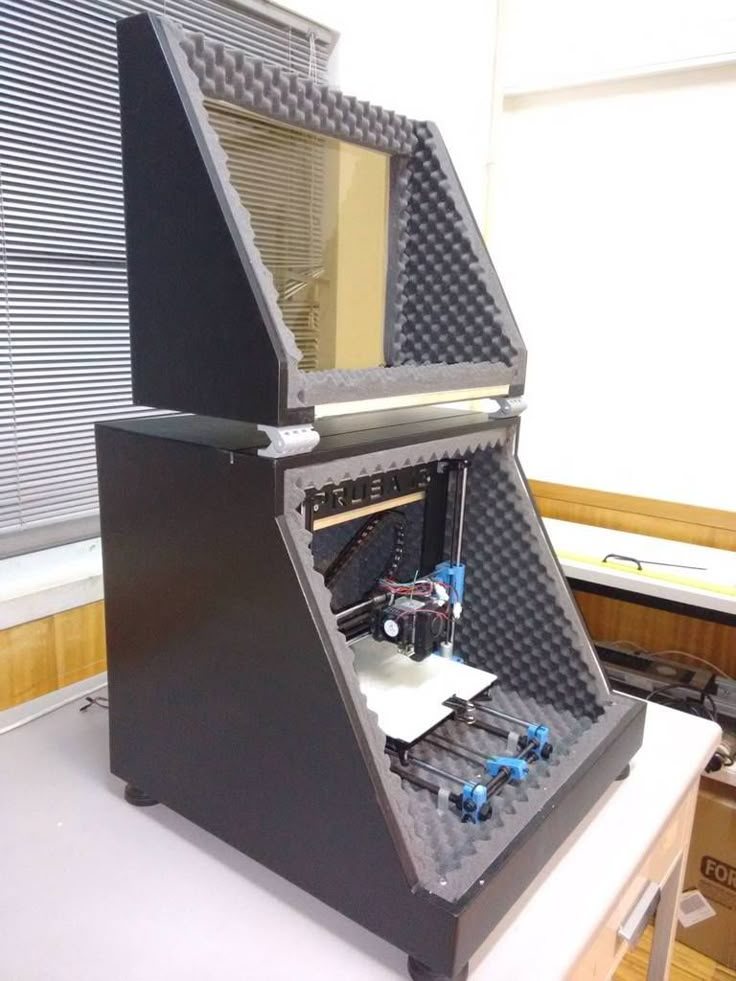 If printed in a translucent 3D print material, these crystals add a little magic to your landscape.
They easily bring an exotic touch to your landscape as well as element of height, which can be crucial in any game of Heroscape.
Download files here
Arena of The Planeswalkers Zendikar Hedron Terrian
This next model is one for fans of the spin-off game, Arena of The Planeswalkers. This model is a Zendikar Hedron, and it earns a place on this list as it is such as well designed model. It has some really nice intricate details and would make for a great standout terrain addition to either Heroscape or Arena of The Planeswalker.
Download files here
Overview
These Heroscape terrain 3D print models make up some of my favourite terrain pieces that I've printed across the years. I have printed and still use many of the models on this list, and all of them look great.
Every single one of the models on this list can be downloaded for free.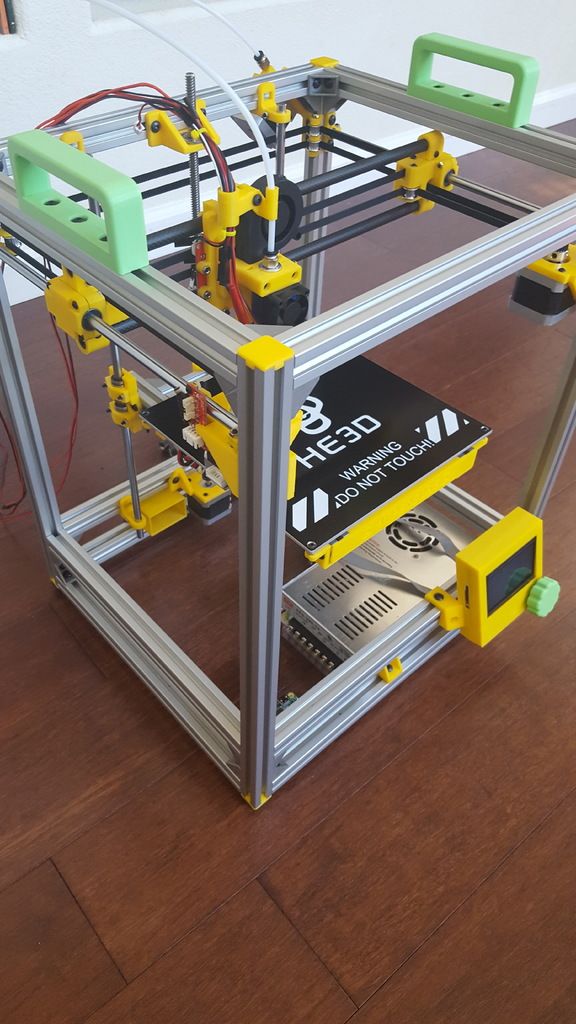 But if you really enjoyed any of these models, feel free to tip the designer via Thingiverse. I'm sure they would really appreciate it!
▷ heroscape 3d models 【 STLFinder 】
Heroscape glyphs
thingiverse
Heroscape and Batman C3G glyphs. Dimensions are in inches. ... Scale x25.4 (2540%) Created in Blender
Heroscape Portals
thingiverse
Portals, I have no idea what rules you can use with these..... ...come up with something crazy :)
Heroscape Soulbourg
thingiverse
This thing was made with Tinkercad.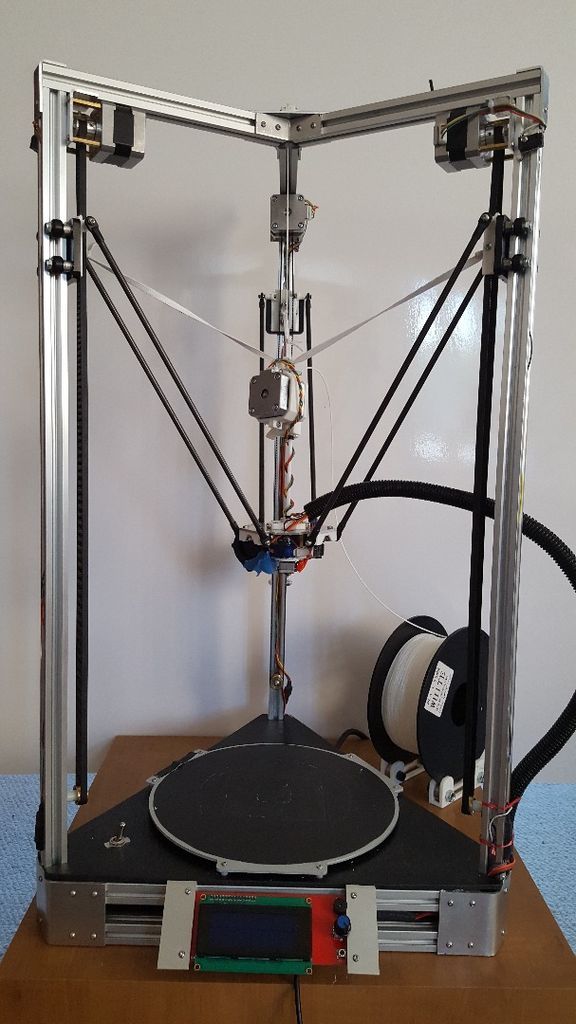 ...Edit it online https://tinkercad.com/things/dK5as4gABsS
Heroscape Tiles
thingiverse
Totally untested.
Heroscape Oberlisk
thingiverse
I remixed 2 items into one for heroscape. Just adds to the battlefield. I used 5% infill I believe. ... Enjoy
Heroscape Rocksides
thingiverse
This is a remix of the original glacier. It can be put alongside a pile of tiles or the Pillbox (See my other designs) It can be printed without supports.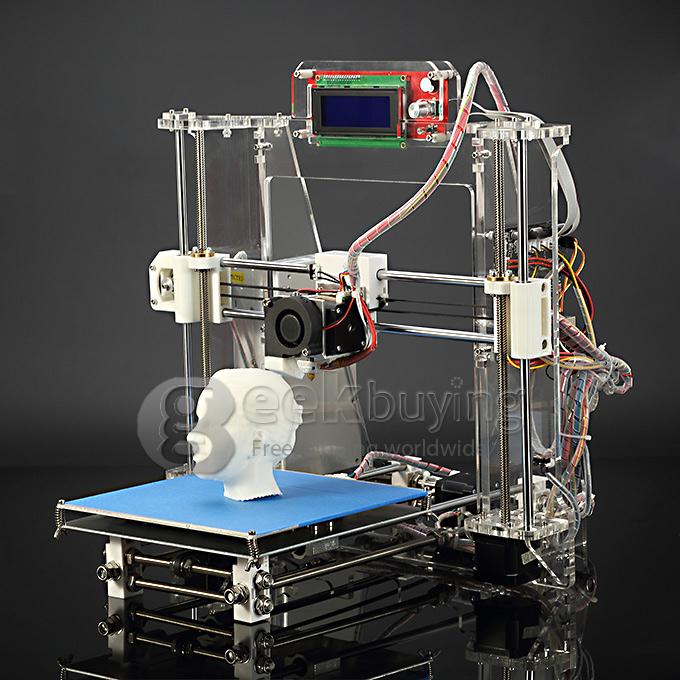 ... You can use it to make your setup more vivid, use it as a cover or to make a secret...
Marro Heroscape
thingiverse
This is a Marro Drudge from Heroscape. There are a few versions added they are all very similar however some have been post-processed a little. prints well on FDM Ender 3 finer layers are better. ...
Heroscape bases
thingiverse
Various bases for Heroscape
Link for heroscape
thingiverse
So we needed some characters for heroscape, and link, hopefully its the right size and everything.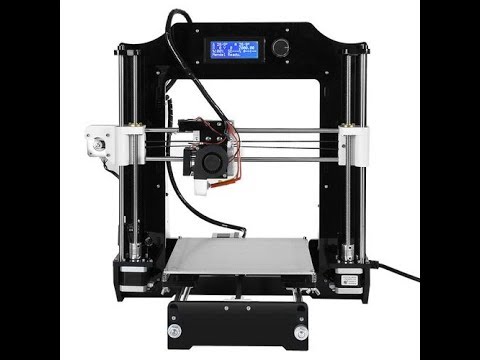 ...sent to from my friend micha
Heroscape hollow hex
thingiverse
A group of hollow hexes optimized to print cheaply in strong and flexible on shapeways. Fits over the top of a heroscape hex (after they are cut apart), perfect to glue trees to for battletech. ...Update 01/12/19 Seen more people downloading this file...
Heroscape Glacier (4 Hex)
thingiverse
This is a replacement Heroscape Glacier (4 Hex) from the Thaelenk Tundra expansion. It was created using a Rock Outcrop sourced from [Heroscapers Index of 3D Printed Stl Files](https://www.heroscapers.com/community/showthread.php?t=52903) and.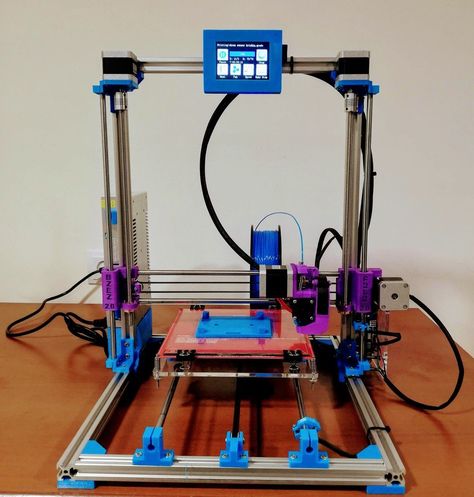 ..
Heroscape Water Tile
thingiverse
This is a Heroscape Water Tile which can be used for Water, Lava, Swamp, Ice or Shadow hex tiles. ... This particular water tile has been updated to interlock adjacently with and stack tightly on top of other Heroscape hex tiles.
Heroscape Glacier (6 Hex)
thingiverse
This is a replacement Heroscape Glacier (6 Hex) from the Thaelenk Tundra expansion. It's over 151mm in length and 130mm tall, so it's a little large for the average printing bed, but I have created both a slightly-scaled version that can be...
Death Spikes for Heroscape
thingiverse
Getting this out of the way, the reason I tagged this as Non-Commercial is because I want to respect the fact that the original creator of this tagged it as such.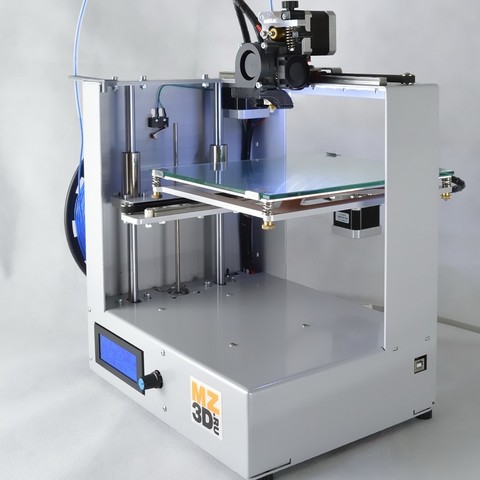 Not to say "your not allowed to make this at all," HE didn't even imply this. Now,...
heroscape low level tile
pinshape
I have made this design to work with Heroscaple tiles.  I have printed using SLA 3D Printer the details are very fine and might night work well using FDM printers. I made them a little on the loose side to prevent damage to your existing tiles. ...0
Proxy Calibrax ( C3V Heroscape)
thingiverse
Proxy Calibrax. There are two files, They have different legs. print whichever one you like best :) Enjoy! ... Long Live Heroscape!!!
Hex Tile for Heroscape
thingiverse
I was annoyed that the original file had blocky teeth that made pairing with other hex pieces impossible.
Modified so that teeth actually "lock" with original hex board pieces. Make sure your printer prints perfect calibration cubes before...
Heroscape cavern (pilot)
thingiverse
Remixed: https://www.thingiverse.com/thing:2000317 (stretched the model) https://www.thingiverse.com/thing:4397008 (Wall Torch) https://www.thingiverse.com/thing:2759913 (rocks) It's a pilot and I want to tune up things and make more...
Complete package HeroScape RISEN
thingiverse
--NOTE: Check also https://www.thingiverse.com/thing:4778315 from Aschlauch as a top piece for the pillbox.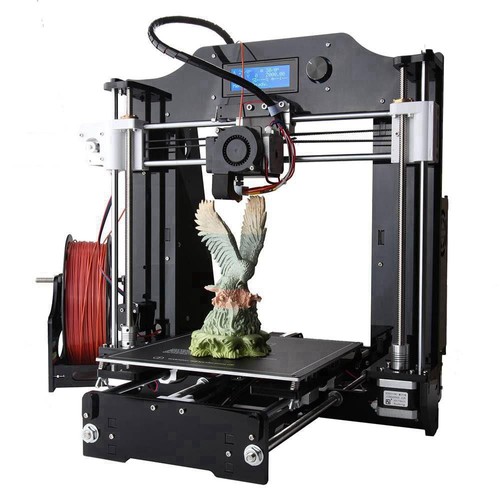 -- ...The thing started with an idea of making Heroscape more suitable for RPG/ DND by making rooms/ caverns/ ruins/ vaults etc. I will...
HEROSCAPE MAP WRECKAGE HEX
thingiverse
Wrecked building hexes for use on the heroscape map hexes, perfect for a certain stompy mech game ;)
Heroscape: The 4 Musketeers
thingiverse
The Four Musketeers. I have never printed these, so I don't know how they will turn out. ... Try scaling them in MM at 460% to start with.
Heroscape: Musketeer Squad
thingiverse
A squad of musketeers.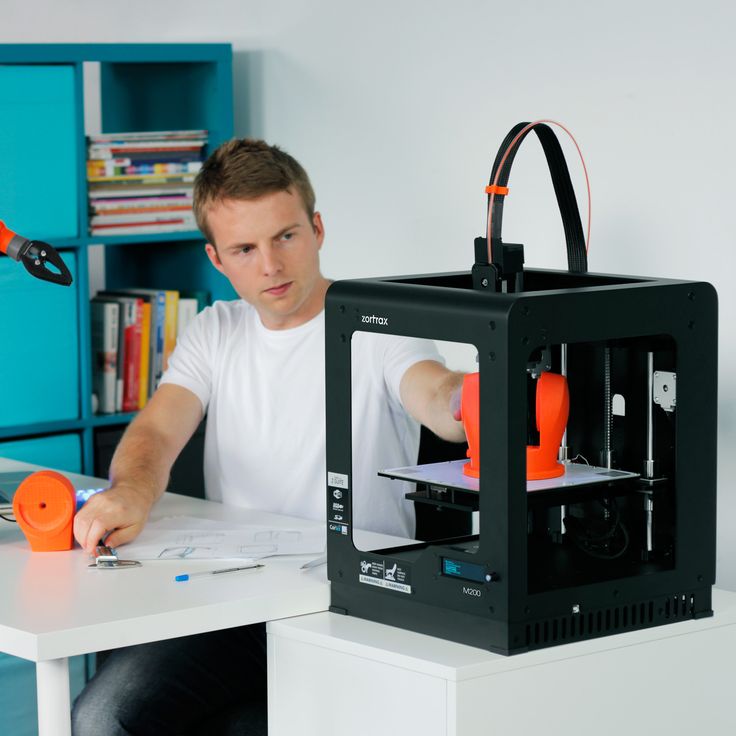 I have never printed these, so I don't know how they will turn out. ... Try scaling them in MM at 460% to start with.
Heroscape Avengers Marker
thingiverse
Heroscape damage counters remixed as "Avenger Markers" for C3G custom Marvel characters.
Heroscape: The 4 Musketeers
thingiverse
The Four Musketeers. I have never printed these, so I don't know how they will turn out. ... Try scaling them in MM at 460% to start with.
Heroscape: Revolutionary War Soldiers
thingiverse
These were test proxies, for the 10th Regiment of Foot that I never finished in Desktop Hero V1.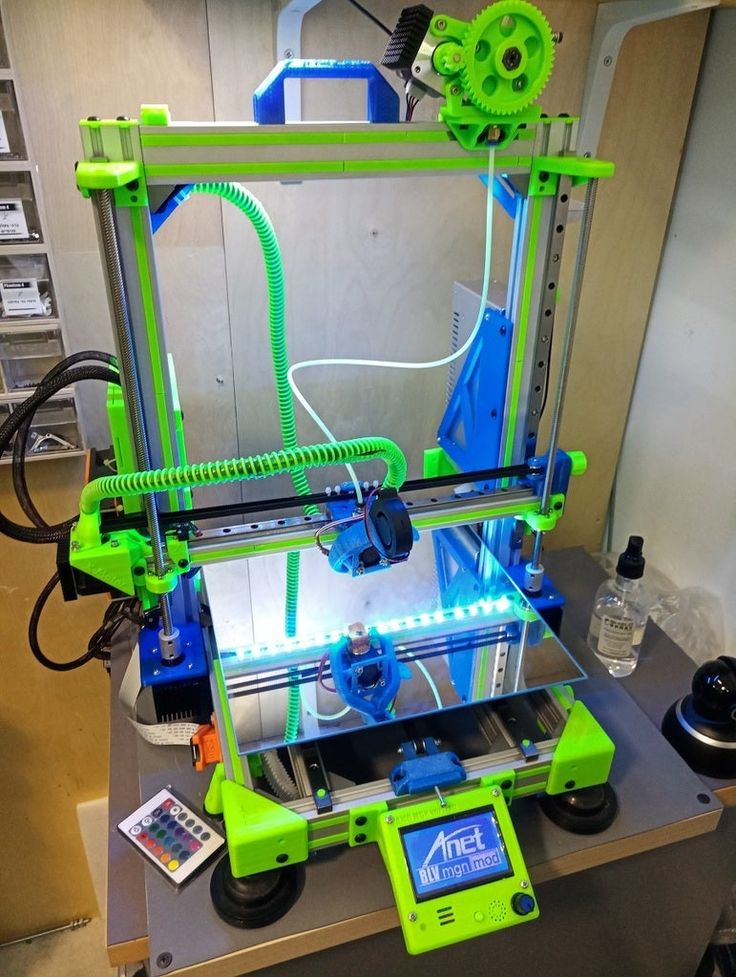 ... I am not sure on scale for printing these but I think I scaled them in millimeters at 460% in Cura.
Heroscape: Cobra Squad
thingiverse
Some old Cobra Troops I created in DesktopHero1, but never finished because they didn't have any guns I liked. I quickly modeled a AK in Blender and got them armed up. I have never printed these with weapons, so I don't know how they will turn...
Pumpkin Bomb for Heroscape
thingiverse
Spiderman the Green Goblin villain pumpkin bomb pumpkinbomb powerup power up glyph fruit. Made from bermantdesigns's "Remastered Pumpkin Bomb" (https://www.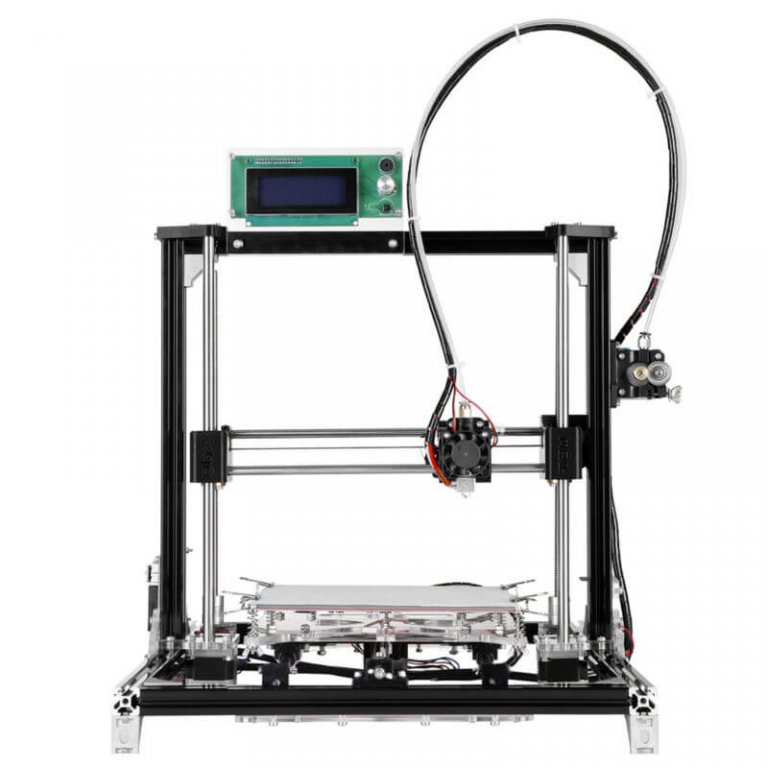 thingiverse.com/thing:284416), and a base I made, combined in tinkercad. ... Easy print.
Heroscape Damage Counters
thingiverse
Fits great. ...The darker ones in the picture are the 3D-prints.
Dr. Manhattan for Heroscape
thingiverse
Made from Silverback88's "Dr. Manhattan" (https://www.thingiverse.com/thing:3462455) and a base I made. In Simplify3D when printing the base, click Mesh>Separate Connected Surfaces, then print as usual. ... I colored him with a Sky-Blue Fine-Tip...
Azazel for Heroscape V2
thingiverse
Made from Artistwings's "Undead Pharao bust" (https://www.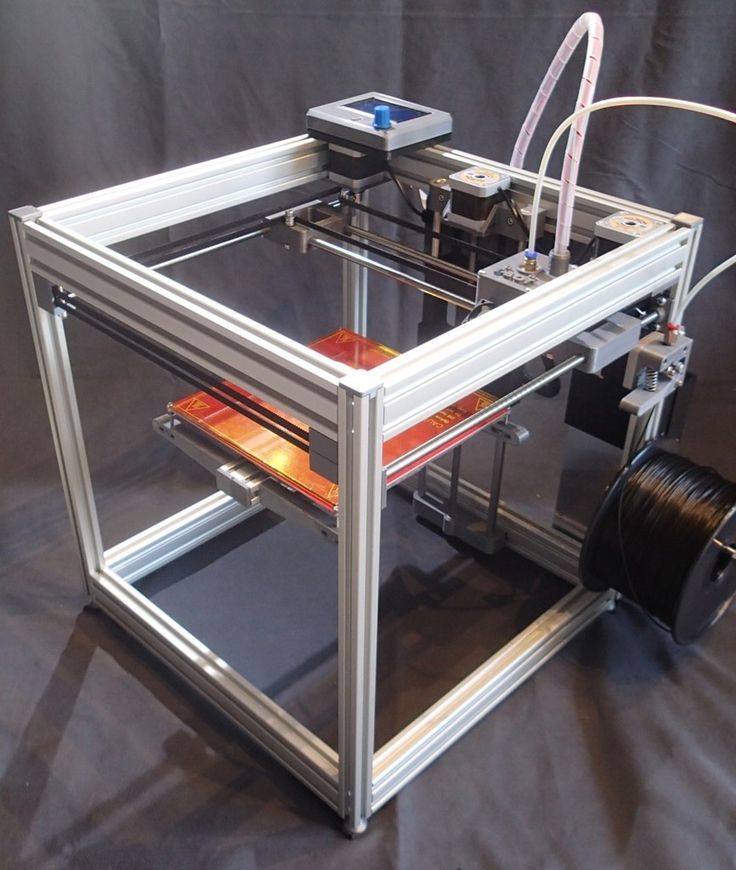 thingiverse.com/thing:2730710), and dutchmogul's "Sculptris OBJ Bits: Wings and Tails" (https://www.thingiverse.com/thing:2450368), and thecardbazaar's "Orc Swordsman - Type 2 (See...
e-NABLE and Marvel help kids build 3D printed superhero prostheses
News
Needless to say, the e-NABLE community, which helps designers and engineers make affordable prosthetics for young children, is one of the best examples of 3D printing technology in the world. In addition to classic prostheses, community members sometimes manage to make themed prosthetics in the style of comic book characters or Star Wars.
Just last week, six young superheroes from Dallas, Texas, USA got the chance to meet members of the e-NABLE community and the cast of Marvel Universe LIVE! and participate in the process of making prostheses. Hudson, Mia, Abby, Jax, Jackson and Kinley were able to watch the 3D printing process and then assemble the prosthetics themselves with the help of the e-NABLE team and Marvel Universe LIVE!.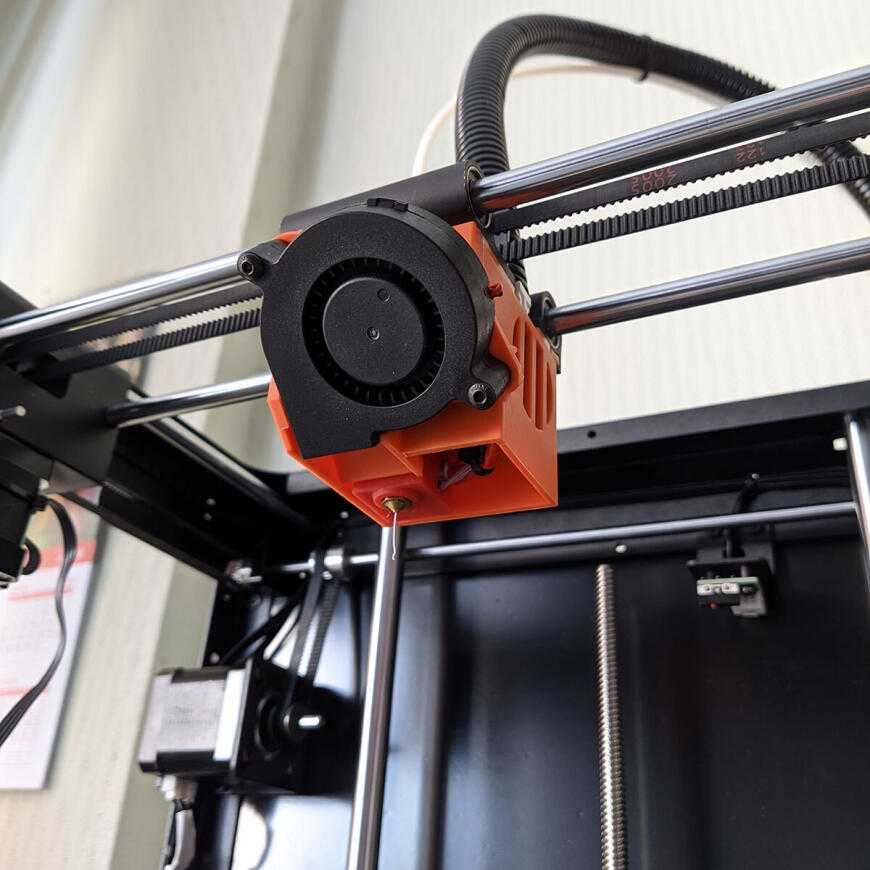 Not only was this event a great get-together for all superheroes, it also allowed the Marvel Universe LIVE team! see the huge impact 3D printing technology has on the production of prostheses. Now children can not only get an inexpensive prosthesis, but also choose the image of their favorite superhero.
"When you become a part of history, you experience amazing feelings. I didn't just help kids make prostheses, I was honored to see 3D printing technology at its best!" says Romeo, who plays Nick Fury.
"Being a part of something bigger than yourself is a shock, especially when you work with children… The experience was a revelation for me," adds Chelsea, who plays Storm.
Although the event was all about assembling 3D printed prosthetics, the plethora of games and competitions - not to mention the presence of superheroes - turned it into a crazy party.
"From the moment we met all the participants in this event, the smile never left our faces," says Vincent, who plays the role of the Green Goblin.
"All of the prostheses are unusual and unique...reflecting the personality of the children who made them."
Instead of thinking about their inferiority, the children instantly felt like superheroes and tried out new prostheses in practice, chasing each other and using various abilities of their pets.
Perhaps the main purpose of this event was to show how easy it was to solve a problem that had been a headache for parents for decades. If a couple of years ago you were invited to a party dedicated to the manufacture of heroic prosthetics, you would look at this person as a psycho. Today, such a party has become possible, and all thanks to 3D printing technology.
Subscribe to the author
Subscribe
Don't want to
4
More interesting articles
eleven
Subscribe to the author
Subscribe
Don't want
The results of the first experiments on 3D printing with polymer materials in microgravity, pro.
..
Read more
eight
Subscribe to the author
Subscribe
Don't want
New intervertebral cages from the Russian company Pozvonoq, used to solve the problems of stabilization...
Read more
82
Subscribe to the author
Subscribe
Don't want
Collaboration 3D
We are pleased to present you our joint development with Speci...
Read more
what rails and a rigid frame can do in a budget model
If you want quality printing out of the box, as well as a solid construction, then Kywoo3D Tycoon Max is what you need. This printer attracted me with interesting features at a low price. And most importantly, what attracted me is a very reliable design.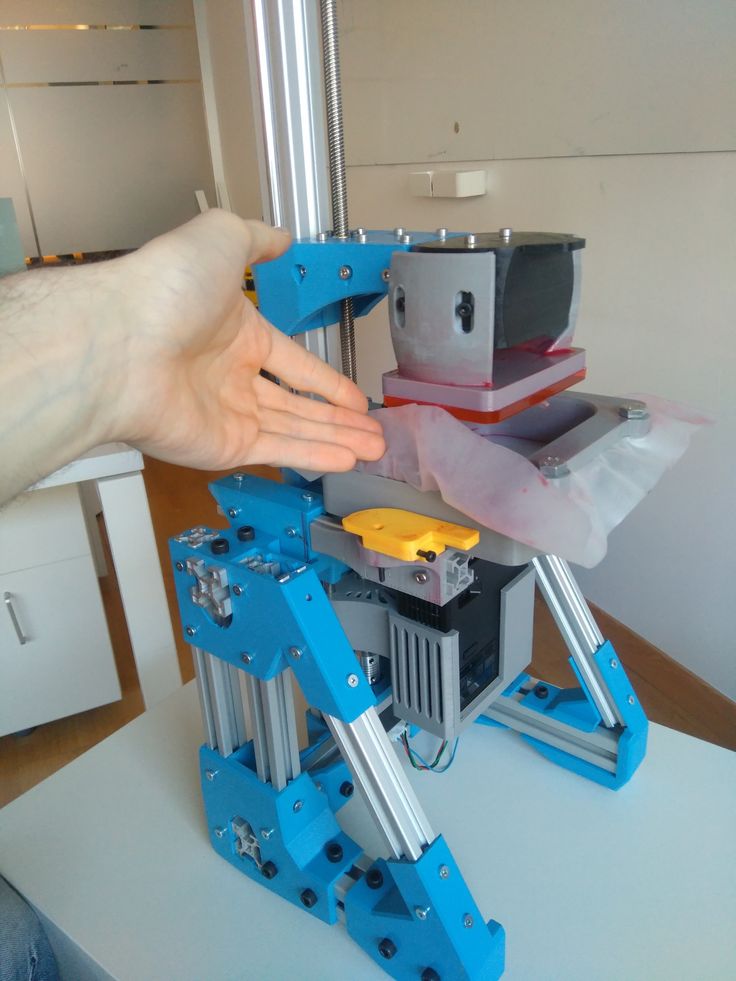 After all, it is she who affects the quality of the print.
I found the first mention of this manufacturer and printer on Kickstarter, and then on local sites. Then the model was simply discussed, but there were no real owners. But then the first reviews appeared, and to be honest, the printer was not praised in them. Despite the thoughtful design, the printer had problems with airflow and buggy firmware. Therefore, when I needed a 3D printer, I took myself Anet ET4 Pro. But then there was a need for another printer, so I, again returning to the question of choice, decided to take myself a Tycoon Max. And now, having used the printer for several weeks, I realized that I made the right choice. The printer for its price really gives excellent print quality, and if necessary, also a very fast print speed comparable to deltas. Specifications of Kywoo3D Tycoon Max:
Well, I will add that in the table what is not in the table:
Press area: 300*300*230mm
Press type: FDM
Extruders: 1
t Press: 0. 1-0.4mm
nozzle: 0.4mm
Management: USB, Microsd Map, Wi-Fi
Power: 350W
Maximum table temperature: 100s
The maximum temperature of the extruder: 260C
The maximum print speed: 80-100mm/s (personally checked up to 140mm/s, and it normally prints )
Additional about the design:
Rigid aluminum profile frame.
X-axis rails, Y-axis shafts.0093
3.5 inch touch screen to control the printer and the printing process
Convenient threading of the filament using the ring on the extruder
Now let's talk about the printer itself. It was ordered from a warehouse in the Russian Federation, and the delivery time to Kostroma took 5 days. A huge box weighing 16 kg was received in the mail:
Inside the box is a printer disassembled into two parts. Everything lies in layers, which are laid with foam material.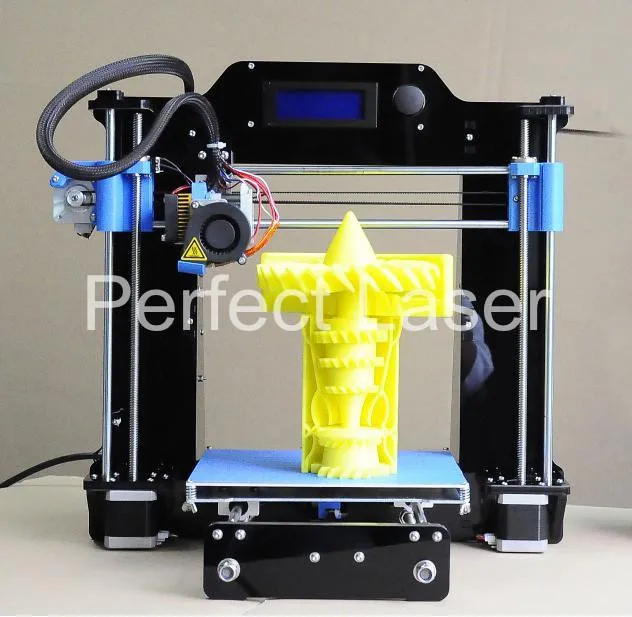 So it is unlikely that anything could be damaged along the way. When I opened the box, the first layer I saw was the bottom frame of the Y-axis with a heating table and an ultra-base:
Below, the next layer is the main frame of the Z axis, a spool of PLA test plastic, a box with accessories:
I'll tell you right away about the complete plastic. It has a weight of 500g, wound on a plastic reel, sealed in a vacuum bag. I printed part of the coil during the tests, and I liked the plastic.
As for complete accessories, everything is relatively standard. Inside the box are a spatula, a set of hexagons in a convenient case, several spare ties, wire cutters, clamps for the ultrabase, four screws for assembling the printer, a Phillips screwdriver, a piece of heat pipe, a spare 0.4mm nozzle, a needle for cleaning the nozzle, a wrench for unscrewing the nozzle, spare limit switch, USB cable, reel mounting stand. Also included is a card reader and a MicroSD 8Gb flash drive made by Netac (a good manufacturer, I have several flash drives from this company and they work well)
The printer is powered by a detachable European-style cord.
If necessary, it can be replaced without any problems:
Also included with the printer is an assembly and configuration manual. It is made on high-quality printing, but, in fact, there is no great benefit from it:
Now let's consider ultrabase glass. It has dimensions of 305*320mm and a thickness of 4mm. On the edge there is an inscription with the manufacturer's logo:
Having already printed a sufficient number of parts, I can say that the quality of the ultrabase is excellent. It is strong, there are no problems with plastic sticking, it heats up evenly. And at the end of printing and cooling, the parts come off without problems.
The ultrabase is attached to the heating table with 4 stationery clips (they are included). The heating table itself is made of metal, and is attached to the frame on shafts through plain bearings. By the way, in order to reduce weight and inertia during movement, the manufacturer made the table itself with holes that do not affect rigidity.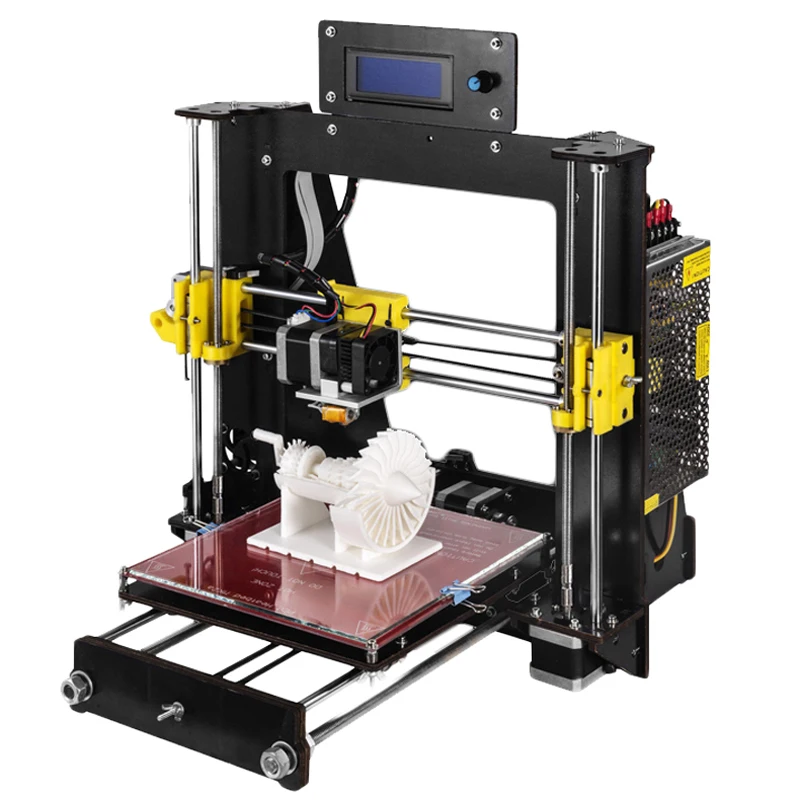 By the way, the table is connected to the control board via the XT60 connector. This is the first time I see such a solution, but logically, this is a fairly reliable connection.
From the additional thing I want to note on the table frame and the X axis, this is the presence of good legs that can be adjusted in height. This is useful if the printer is not standing on a completely flat surface, and correct adjustment will avoid unnecessary movement of the frame when printing.
Now let's move on to inspecting the frame along the YZ axes. It also contains the control board and power supply. It also has an extruder. This is how it looks like:
The first thing I want to pay attention to is the overall rigidity of the frame. It uses a double frame made of aluminum profile, on which there is a metal box on top. This box serves two purposes: hiding the interior of the printer and adding rigidity to the frame. And it has a very good effect on the quality of the print.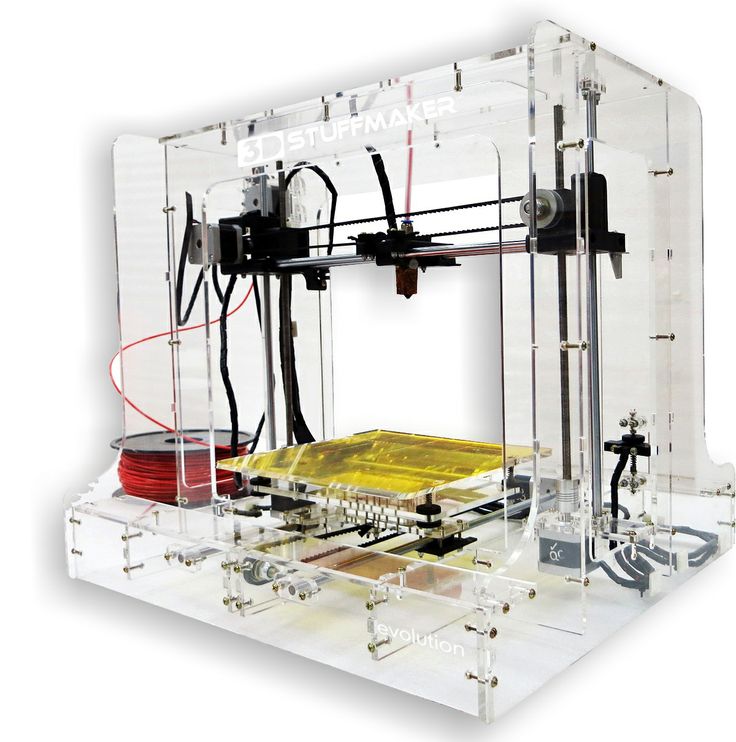 The Z-axis of the printer is fixed on the frame through two shafts rigidly fixed to the frame itself and a closed plain bearing, and for moving there are two studs with stepper motors on both sides. In addition, the manufacturer added a belt that synchronizes the operation of these stepper motors: Rails are installed on the printer to move the extruder. They are quite high quality, and during the work I personally did not have any problems with them. For better sliding, the rails are immediately lubricated from the factory, and the rails themselves also have holes through which this lubricant enters the rails. Also, through these holes, the rails were fastened along the entire length of the frame.
As for the extruder, the manufacturer did not reinvent the wheel, and equipped the printer with a proven solution. This is MK10, but with some modifications. First, it adds an iron frame that looks good while protecting the user from contact with hot extruder elements. I would like to think that this frame also serves as an additional radiator, but if you look at how it is fixed, it immediately becomes clear that there is not much heat coming to it.
And the second addition is a special lamb for scrolling plastic when refueling. And this is a really handy feature. When refueling, you do not need to press anything, as in other printers. We simply pull the plastic through the plastic sensor, point it into the hole of the extruder and turn the lamb. Plastic itself immediately clings and is pressed through. A simple and elegant solution that is sorely lacking in other printer models.
Also immediately above the extruder is a low filament sensor. This is also a pretty good solution, since the distance between the sensor and the extruder is minimized here. And this means that you don't have to throw out 20-30cm filament bars that simply cannot be pushed into the printer. The amount of waste here is minimal.
As for blowing, a fan with an impeller is used here, which is mounted near the nozzle. Fan model pb04010ms4. The airflow itself is realized through a wide slot. I personally did not notice any problems with blowing during printing, there is enough blowing, and it blows directly on the model.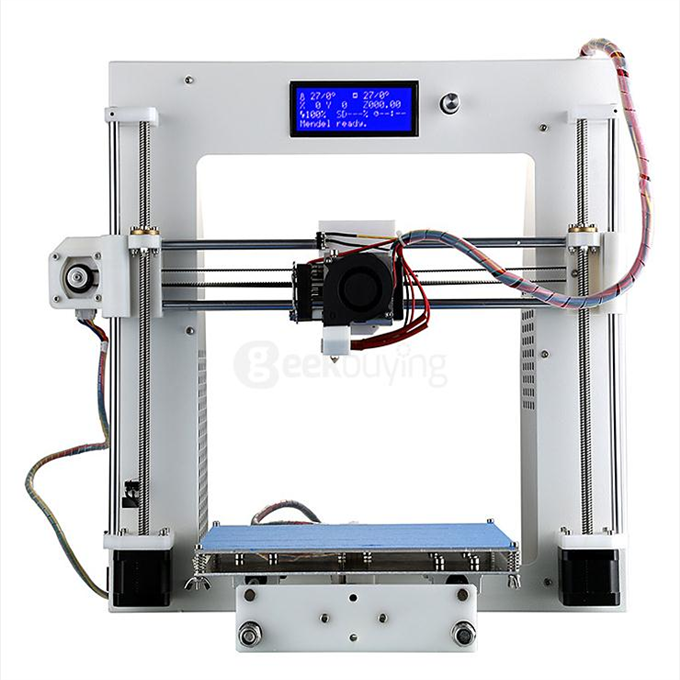 The blowing speed can naturally be adjusted both during the cutting of the model, and already directly during printing, the fan has speed control. I also once had to disassemble the extruder to replace the nozzle during printing. What was in the kit, I managed to score on my own stupidity, alternating types of plastics without changing the temperature. Therefore, I will show the extruder disassembled:
But if anything, it is not necessary to disassemble the entire printer to replace the nozzle. I also did this in order to see and photograph the filling.
I would also like to draw your attention to the fact that the printer has a table auto-calibration function. For this, a BL Touch sensor is installed here. More precisely, there is not the original 3D Touch with a plastic plug.
But by the way, I have no complaints about his work. The table calibrates perfectly, and even if there is a misalignment of fractions of millimeters, everything is taken into account and there are no problems with printing.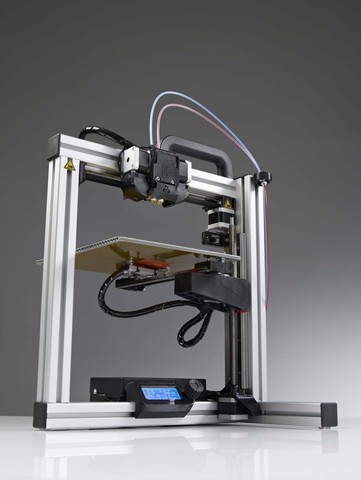 The table itself is calibrated using 36 points (6*6) and looks like this:
Also, in addition, I can also note the presence of a silicone lining on the hotend, so that the temperature is more stable:
Well, after we have examined both halves of the frame, we can start assembling the printer. She's very simple. The existing 4 screws are screwed through the grooves, and we stretch harder.
Additionally, you need to connect the connector to the table and connect the motor along the X axis. By the way, in the printer, all the wires are laid right away, and where they can be fixed with ties. Therefore, nothing dangles here, does not hang down and is as neat as possible:
That's it, the assembly is finished. This is what the assembled printer looks like, well, with the exception of the ultrabase and the bracket for installing the filament spool.
The bracket itself, by the way, is standard, like most printers in this price range.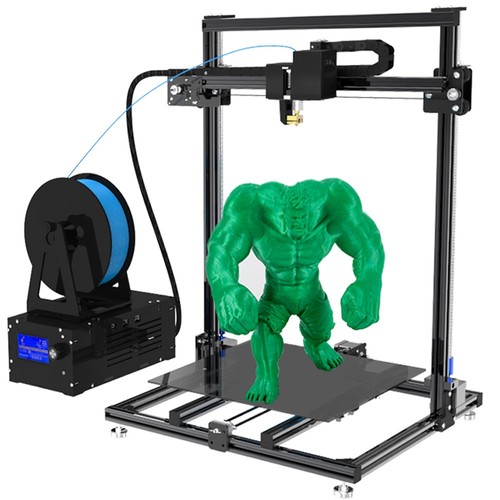 Metal profile and plastic tube. The bracket is installed at any point of the aluminum profile, through two spacer nuts:
Well, once the printer is assembled, you can consider the rest of the design elements. If you look at the back of the printer, you can see the power button and the port for connecting the power cord:
On the other hand, there is a sticker on the frame with information about the printer:
Separately, I would like to note one more convenient feature of this particular printer, which I have not seen anywhere else. These are convenient carrying handles:
They are metal and rigidly fixed to the frame, you can safely lift the entire structure with them and not worry that something will break. For me, this is very important, since my printer can be transferred to different points around the room, and even between rooms. Depending on how long the print is placed. If you look at the printer from the right side, then you can see a slot for a MicroSD card through which a model for printing is thrown onto the printer.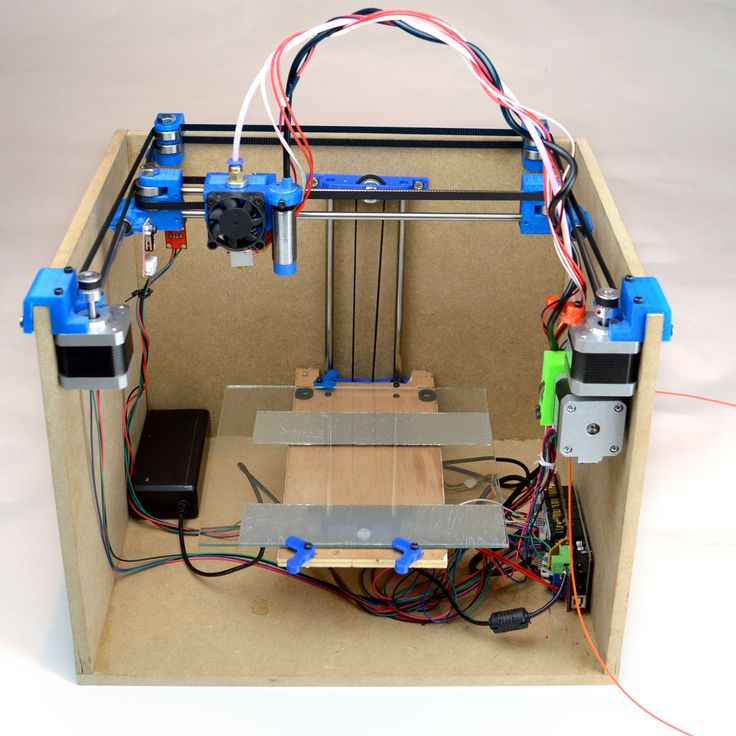 There is also a MicroUSB port for connecting to a computer (does anyone use this method of printing?) And another slot for SD cards, the purpose of this slot has remained a mystery to me: Well, now the most interesting. It is, of course, a touch screen. When you turn on the printer, we first see a splash screen with the manufacturer's logo, and then the main desktop, from which you can get to different settings:0003
All items on the desktop are interactive. Management is implemented by clicking on the desired element. For example, by clicking on the ruler of XYZ axes, we get to the axis calibration menu:
And if you click on the flash drive icon, the files for printing located on the flash drive are opened:
The printer sees folders and subfolders without problems, but there are Russian file names Problems. In the current firmware, the Cyrillic alphabet looks like unreadable krakozyabry ( fixed in the latest version of firmware ) If you click on the gear icon, then naturally we get into the settings menu.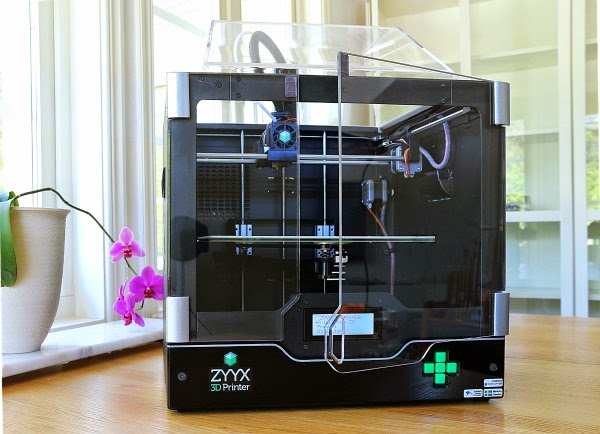 Here you can select the temperature of the preheating of the table and extruder, change the filament during printing or in idle time. Find out information about the firmware, configure Wi-fi and select the interface language ( there is no Russian language in the photo, but has already been added to the latest firmware)
By the way, the printer has a built-in Wi-fi module, and it can be run in point mode access or connect to your home wi-fi network.
In the first case, you can connect to the printer and use an additional plug-in in Cura to send files for printing over the air, as well as monitor the status of the printer:
True, the wi-fi module has one minus. It stands inside a metal case, and it dampens the signal very noticeably. If the printer is in the next room, then I can no longer connect to it because the signal level is too weak. In fact, the range of the access point is about 5-6 meters maximum. But back to the screen. Despite the modern 32-bit processor, another disadvantage that I want to point out is the lack of model previews.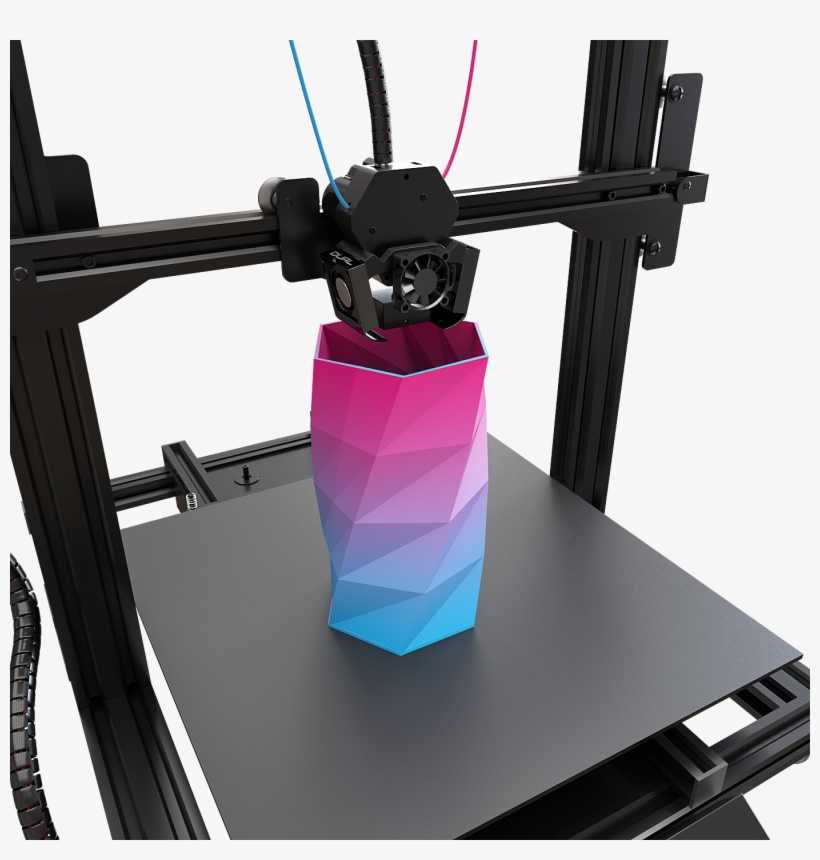 This option is already firmly in use, and I would like to hope that it will also appear in future firmware. But so far the interface looks pretty simple. By the way, this is also visible during printing, when progress is displayed simply as a blue bar with a percentage of completion. But in general, the management here is really convenient. You can change the Z-axis gap on the fly, change the speed of the blower fan and the temperatures of the table and extruder.
Well, I also want to show the inside of the printer without disassembling it. How could I get the camera. The printer is powered by the built-in Mean Well LRS-350-24 power supply. Already by the name it is clear that this power supply produces 24v / 350w.
In the future, I plan to crawl up to this PSU and add a backlight tape to the printer frame so that you can see the printing process.
The brains of the printer are located in the upper part of the case, it is already much more difficult to crawl up there with the camera: But since the board is sold separately, I'll just add a photo from the manufacturer here:
True, in this photo it is not clear which processor is used in the board.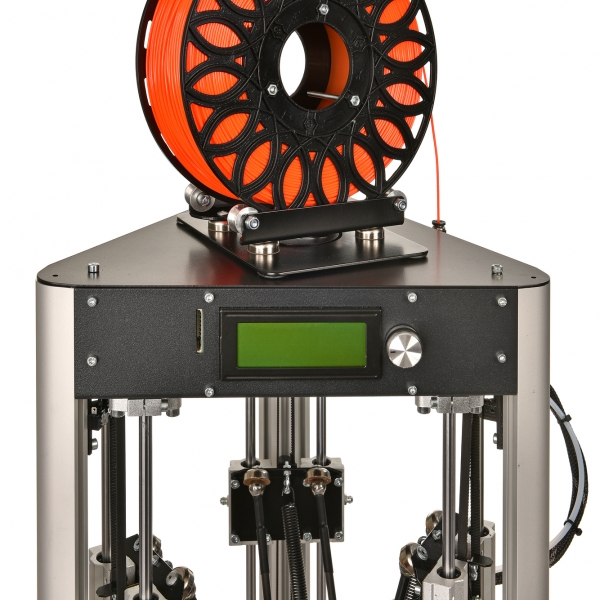 But let's hope it's good enough.
In general, if we talk about the assembly, then it did not raise any questions for me. The frame here is well thought out and very rigid. All axles run smoothly and there is no backlash. The printer is large, solid and heavy. And gravity, as we know from the words of Boris Razor, is good and reliable.
Now it's time to talk about the printing process and the models I have printed
The first thing I decided to do was check the speed characteristics of the printer. The specifications indicate that its maximum speed reaches 150mm / s. Therefore, I printed a test cube at this speed: I shot with a macro lens so that the flaws in the layers were immediately visible. And they are here, since my plastic is not the best, besides, it's also old, taken from the remnants. Then I printed the same cube, but at a speed of 180 mm / s, and put it next to the first cube: Try to guess from the photo which of these two cubes was printed at what speed.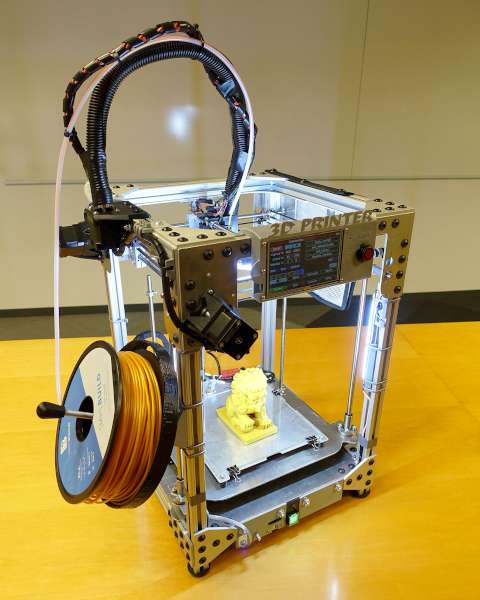 I'll give you a hint. On faster printing, at 180 mm/s, the plastic from the nozzle no longer has time to come out and lay down evenly, so the layers appear thinner, and there are gaps between the layers. And yes, on the left is a cube printed at 180mm/s and on the right it was 150mm/s.
And this is not a draft part, but a complete one, for a commercial order. Here is what I printed, the size of this medal is 22 centimeters:
If you look at macro photography, you can appreciate both the detail and the level of stacking layers at this print speed:
By the way, as you can see, the medal was printed in two colors of PLA plastic. This type of printing is not difficult, just at a certain moment of printing, you can pause the printer and replace the filament. But I want to add that Cura has a handy plugin that allows you to precisely set the pause on the desired layer.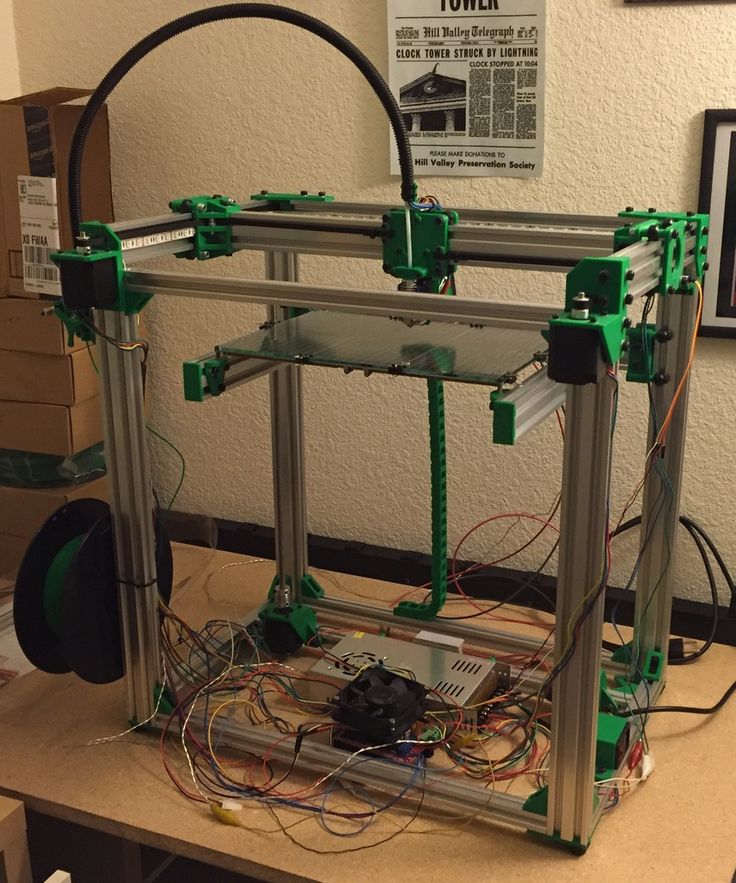 To do this, go to the plugins, and select the "Filament Change" function in the post-processing plugins, in which we simply set the layer on which the pause will occur. The printer will stop printing at the right moment, move its head to the extreme left side in front and squeak loudly, calling for a replacement of the filament:
Through this plug-in, you can set the replacement of the filament at least on each of the layers, which is very convenient and allows you to achieve interesting effects when printing art objects. I hope my advice will be useful to those who are fond of 3D printing.
I also printed an axolotl toy for kids, which consists of closed links: Printing was carried out at a speed of 120mm / s, and could have been more successful if I had not forgotten to remove the automatic supports in Cura. But since there were supports, I had to spend time post-processing and separating the supports, as well as cleaning up excess plastic in the links. This is what this axolotl looks like on a macro shot:
Layer height 0.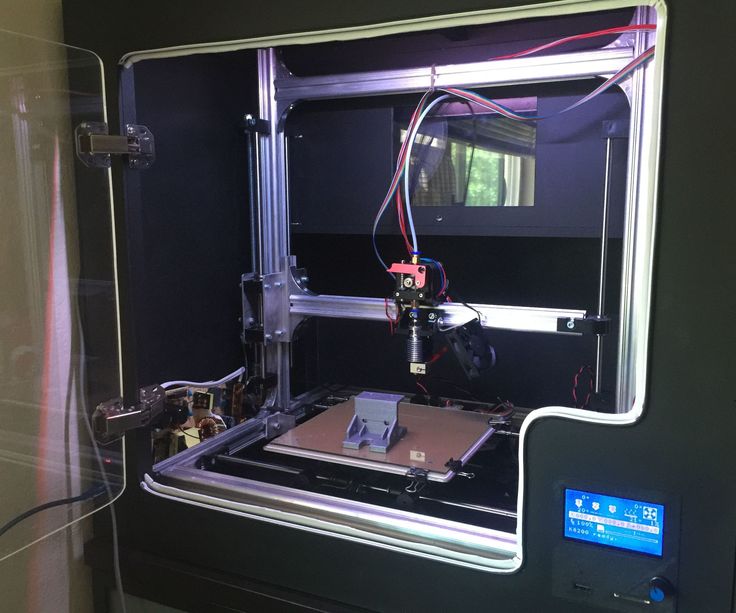 25mm, travel speed 120mm/s, table temperature 60 degrees, extruder temperature 220 degrees. The next model was among the models on the flash drive available with the printer, this is a ghost keychain. By the way, I want to add a macro photo of the substrate that remained after printing, so that you can evaluate the uniformity of laying layers and tracks:
sponges, for cleaning plastic from dust, which is very visible on white parts. Some print different boxes and cases, but I just took a piece of dish sponge and pierced it with a filament, which I then moved on. After that, the parts became noticeably cleaner.
Another custom-printed detail. Steering shaft bushings for Nissan Qashkai. Designed to eliminate the runout between the shaft and the tube in the steering reach adjustment mechanism: Another model. Decepticon logo overlay for standard Mazda car logo:
Spinner gear. A toy that I printed to test the possibility of printing gears:
Stand legs for Sony PlayStation 4 Slim:
Well, there were many other models that were printed to order, but I did not have time to take high-quality photos.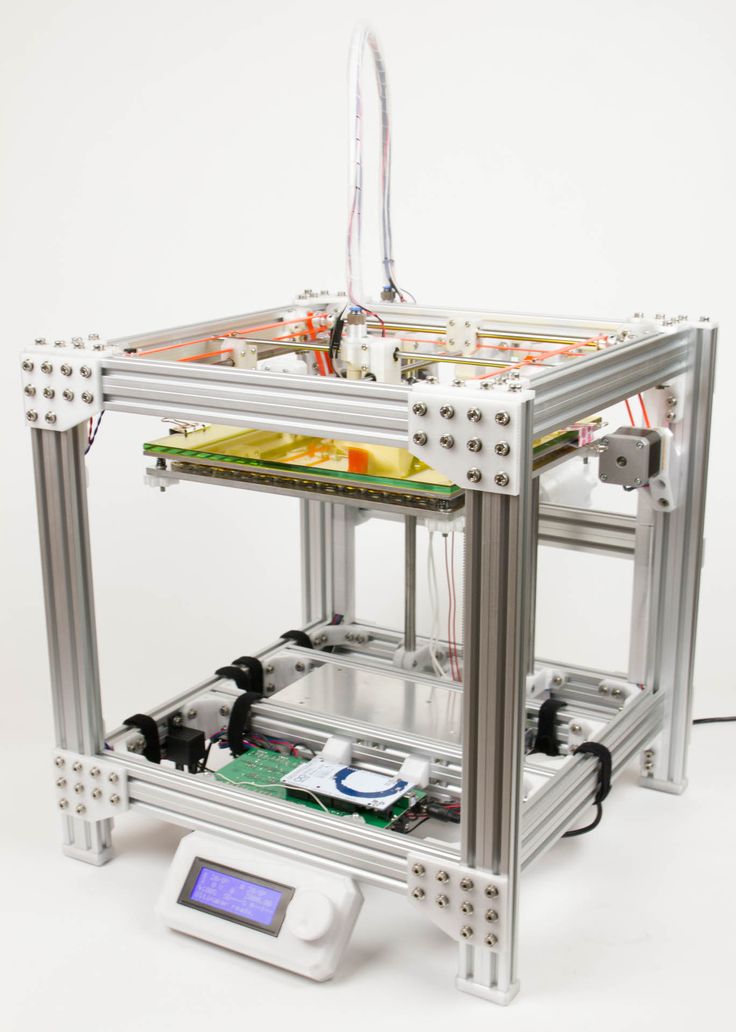 I mainly use PLA and Petg plastics when printing. Well, a little ABS, which I really dislike because of its capriciousness to ambient temperature and drafts. And as you can see from the photo, there are no problems with printing. The only problem I've encountered is changing different types of plastic during printing and clogging the nozzle as a result. But it's my own fault, I shouldn't have experimented.
Conclusion:
As you can see from the review, I really liked the Kywoo3D Tycoon Max 3D printer. It is definitely worth the money, here it is clear that the manufacturer did not save on everything and everyone, as is the case with other manufacturers.
I'll try to identify the advantages that the buyer receives:
Reliable construction and rigid frame. A double profile and a metal frame are assembled into a single design that is reliable and does not give any backlash. This has a positive effect on detail and print quality, as well as on the maximum print speeds.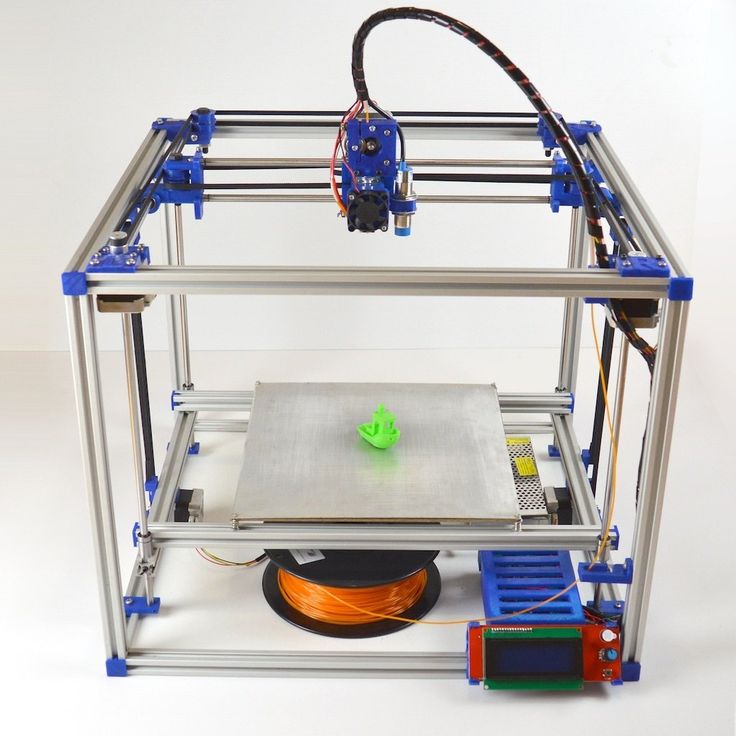 Also, all cables and wires are correctly laid in the printer immediately from the factory. And the heating table is attached through the XT60 connector, which has long proven its reliability. Shafts along the Z and X axes. The presence of shafts and plain bearings also has a positive effect on the accuracy of printing and the reliability of the design as a whole. Since they are less subject to wear and play, unlike wheels that drive along a profile. Rails along the Y axis. The advantage of rails over conventional wheels, I think, is not even worth discussing. This is a more accurate movement of the extruder, and the absence of backlash, and durability. Of course, it would be better to have rails on all axes, but this will significantly increase the price of the printer, and it will no longer be so interesting.
Convenient filament loading with scroll knob. Here I will attribute this not only to pluses, but directly to huge pluses. Such a trifle like, but very much affects the work with the printer, especially if you print a lot and often change the filament.
Extruder MK10 with short feed. Allows you to safely print any type of filament, including flex. In addition, unlike Bowden, plastic is saved here. The retract works more adequately. In general, I personally prefer Direct extruders, although I have a printer with a bowden system. The presence of a Wi-fi module. Let it be weak, and not everyone needs it. But for some it will be very useful and necessary.
Synchronization of the motors along the Z axis. Another little thing that many manufacturers neglect. Meanwhile, this little thing affects the accuracy of printing. And many people customize their printers by adding a belt to the Z axis.
Auto Level. The printer builds a table map using 36 points and then takes into account all the irregularities during printing. Which is very good for the adhesion of the base layer. Well, of course, there are no dances around the printer with a leaflet for an exact fit. To be honest, this process is what I dislike the most during printing.
Print field 300*300*230mm. With such dimensions of the printed area, you can print a much larger number of details than with the usual 220 * 220mm in most models. True, as a minus, the dimensions of the printer themselves are already acting here. Under it, you need to prepare a surface with dimensions of 62 * 62 centimeters, and not every table is suitable here. But to be honest, I did not find any cons for the printer. Well, except perhaps the dimensions and the weak signal of the Wi-fi module. But I already wrote about this above. Well, perhaps the relatively simple firmware can be attributed to the minuses, although it does not affect the print quality, it's just an interface. At the moment, the Kywoo3D Tycoon Max 3D printer is my main 3D printer, on which I print most of the models. For yourself and to order. Print field 300 * 300 * 230mm allows you to print large enough parts or batches of parts, which suits me completely. I also liked the robust, well-thought-out and monolithic design of the printer, as well as the speed of its operation.