Fiber reinforced nylon 3d printing
FibreX™ Nylon+GF30 3D Filament | Glass Fiber Reinforced
$78.00 – $185.00
4 interest-free payments with  Learn More
FibreX™ PA6+GF30 glass fiber reinforced nylon copolymer is an engineering-grade material that has excellent mechanical and thermal properties [HDT of 170°C] while offering ease of printing in a wide array of desktop printers. This material is a must-have when printing functional prototypes and production parts.
[yith_wcwl_add_to_wishlist]
SKU: Select options above Brand: FibreX™ Categories: Glass Fiber Nylon, Nylon Family, Glass Fiber Filaments
Description
Reviews
Questions & Support
FibreX™ Nylon+GF30 30% Glass Fiber Reinforced Nylon
Our Nylon+GF30 glass fiber reinforced Nylon 6 Copolymer (PA6) is nothing less than an industrial-grade beast! Formulated to be exceptionally stiff and strong, all without being brittle.
Polyamides (PA) are the work horse of the plastics industry the world over thanks to their excellent mechanical, chemical, and thermal resistance. The addition of heavy glass fiber reinforcement takes it to the next level.
Gearbox HT2™ 3D Printer:
Print industrial-grade parts using our Nylon+GF30 and more with the new Gearbox™ HT2 High-Temp 3D Printer.

Extruder Temp
260-280°C
Bed Temp
60-75°C
Heated Chamber
Not required
Nozzle Specs
0.4mm diameter minimum
Hardened Steel Nozzle
Bed Adhesion
Magigoo Bed Prep
Layer Height
0.25mm or higher
Drying Specs
90°C for 4 hours
Supports
X1 USM Water Soluble Support
Benefits of Nylon+GF30 Include:
Printable on practically any 3D printer with a heated bed
Ideal for structural engineering-grade applications
Exceptionally stiff and strong, without being brittle
Excellent chemical resistance makes it suitable for automotive and industrial applications
Resists fuels, lubricants, heat, and mechanical loading
High thermal properties keep it strong up to 170°C in use, depending on printing and mechanical loads applied
Glass fiber reinforcement improves dimensional stability, reduces shrinkage, lift, and warp
Very strong layer bonding
Filament Specifications:
1.
75mm and 2.85mm +/- 0.05mm in diameter
Recommended Print Settings:
Extruder: 260-280°C
Bed Temp: 60-75°C
Nozzle: We currently recommend a hardened steel nozzle with a minimum diameter of 0.4mm
Other: Ideal layer height is 60% of nozzle diameter. We do not recommend printing layers smaller than 0.25mm with glass fiber reinforced filaments
Bed Prep: Magigoo Bed Prep or 3DXTECH Polyimide Tape gives us the best results
Heated Chamber: Not required, but a 30-80°C chamber does improve layer bonding and finished part mechanical properties
Supports: AquaTek™ water soluble X1 USM Universal Support Material works ideal for complex parts.
Drying Instructions: 90°C for 4 hours.
Glass Fiber Reinforced Filament
What Is It?
Fibers made of glass reinforced into the polymer during manufacturing and aligned along the axis of filament.
This, along with their physical makeup, give this material enormous strength and mechanical properties.
What Does It Do?
Glass fiber reinforcement gives material a lot of desirable properties:
High strength
High stiffness
High chemical resistance
Low thermal expansion
How Does It Work?
Reinforcing plastic with glass fibers produces a 3D printing filament which exhibits the best properties of both fiberglass and the plastic of choice.
What Is It Good For?
Ideal for any applications which require strength and rigidity.
For these reasons, glass fiber reinforced filament is very popular in automotive, mechanical, civil engineering, and research industries.
What Is It?
Fibers made of glass reinforced into the polymer during manufacturing and aligned along the axis of filament.
This, along with their physical makeup, give this material enormous strength and mechanical properties.
What Does It Do?
Glass fiber reinforcement gives material a lot of desirable properties:
High strength
High stiffness
High chemical resistance
Low thermal expansion
How Does It Work?
Reinforcing plastic with glass fibers produces a 3D printing filament which exhibits the best properties of both fiberglass and the plastic of choice.

What Is It Good For?
Ideal for any applications which require strength and rigidity.
For these reasons, glass fiber reinforced filament is very popular in automotive, mechanical, civil engineering, and research industries.
Abrasive Material
This material is particularly abrasive among 3D printing filaments. Users may find standard brass nozzles are chewed through very quickly compared to standard wear and tear. When worn through, the nozzle diameter will widen inconsistently and the printer will experience extrusion issues.
Because of this, it's strongly recommended this material be printed through a hardened steel nozzle rather than a softer metal. Hardened steel nozzles can often be inexpensive and easily installed depending on your printer manufacturer's instructions.
Questions?
Send us a message and we'll reach out as soon as we can!
Please enable JavaScript in your browser to complete this form.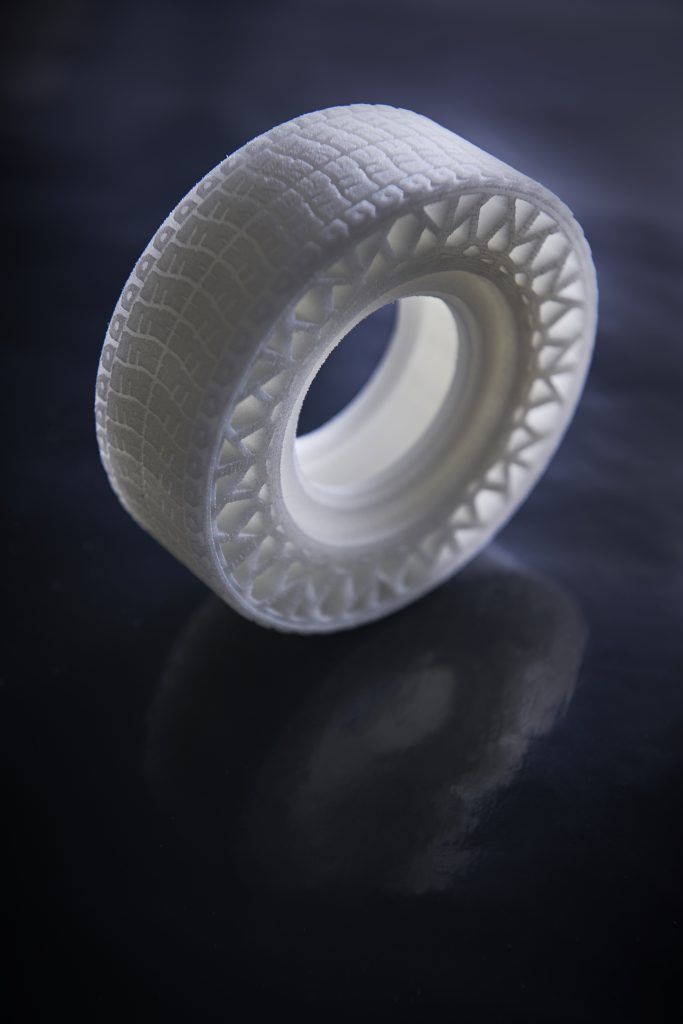 Name *
Business / Organization
Email *
Phone
What can we help you with? *
Newsletter Signup
Sign me up for the 3DXTECH newsletter
Carbon Fiber Reinforced Nylon Filament Review
Ready to find out more?
Drop us a line today for a free quote!
Click Here
What is Carbon fiber reinforced Nylons?
Nylons are a family of synthetic polymers composed of polyamides and are the material of choice for many demanding additive manufacturing applications. Nylons tend to be semi-crystalline and are available in different grades (PA6/6, PA6, PA12, etc.) when good mechanical strength, good stability under heat, and/or chemical resistance are required. Chopped carbon fiber may be added to Nylon in order to improve the materials properties, including strength, stiffness, and performance at elevated temperatures.
Carbon fiber reinforced Nylons have become popular for 3D printing professionals wanting to make functional parts.
What can you use Carbon Fiber Reinforced Nylon for?
Carbon fiber reinforced Nylons are great for 3D printing durable, structural parts with high dimensional stability. They can be ideal for a broad range of demanding applications, including:
Industrial applications - masking fixtures, conveyor system components
Orthotics and Prosthetics - Braces, sockets, inserts
Transportation (Automotive, Off-road vehicle, motorbikes) – lever arms, air management components (ducts, tubes)
Manufacturing jigs and fixtures
Lightweight applications
Protective and supporting sports gear and equipment
Robotic tooling and end-of-arm tooling
 Nylon CF PERFORMANCE FEATURES
Key benefits and properties of carbon fiber reinforced Nylon filament include:
Low warpage compared to unfilled Nylon
Durable parts with good mechanical properties and inter-layer strength
Improved strength, stiffness, and heat resistance compared to unfilled Nylon
 Nylon CF Material Properties
The following information is provided by Covestro (formerly DSM Additive Manufacturing) for 3D printed test samples of Novamid® ID 1030 CF10 (carbon fiber reinforced Nylon 6/66):
Tensile modulus (X-X Direction): 7,625 MPa
Stress at yield (X-X Direction): 112 MPa
Strain at yield (X-X Direction): 2. 5%
Stress at break (X-X Direction): 110 MPa
Strain at break (X-X Direction): 2.2%
Tensile modulus (X-Y Direction): 2,720 MPa
Stress at yield (X-Y Direction): 63 MPa
Strain at yield (X-Y Direction): 3.0%
Stress at break (X-Y Direction): 58 MPa
Strain at break (X-Y Direction): 4.5%
Comparing molded test samples of Novamid® ID 1030 CF10 with it's unfilled counterpart, you can see how the properties are improved by the inclusion of carbon fiber:
Yield Stress (MPa):
Novamid® ID 1030 CF10 = 110
Novamid® ID 1030 (unfilled) = 72
Yield Strain:
Novamid® ID 1030 CF10 = 2.8%
Novamid® ID 1030 (unfilled) = 4.5%
Heat Deflection Temperature (0.45 MPa):
Novamid® ID 1030 CF10 = 184℃
Novamid® ID 1030 (unfilled) = 84℃
Disclaimer: The above information is provided in good faith. JuggerBot 3D assumes no obligation or liability for the accuracy or completeness of the information supplied in this document.
It is solely the customers responsibility to determine if the product and information in this document are appropriate for the customers end use. Responsibility for the use, storage, handling, and disposal of the products herein is that of the purchaser or end user.
Printer Requirements and Settings for Carbon Fiber Reinforced Nylon
In order to prevent moisture absorption, filament should be kept closed in undamaged packaging supplied. Partially used spools should be sealed before storing. Filament should be dried before use, and kept dry during jobs for best results. A heated chamber is recommended to achieve better dimensional and mechanical properties.
JuggerBot 3D's printers are stand-alone and self-contained, incorporating a material dryer, an independently controlled loading bay, and environmentally controlled build chambers. Learn more by visiting our product page!
3D Printing with Nylon CF- the procedure
Covestro,formerly DSM Additive Manufacturing, provides suggested process guidelines for Novamid® ID1030 CF10, a carbon fiber-reinforced PA6/66 filament.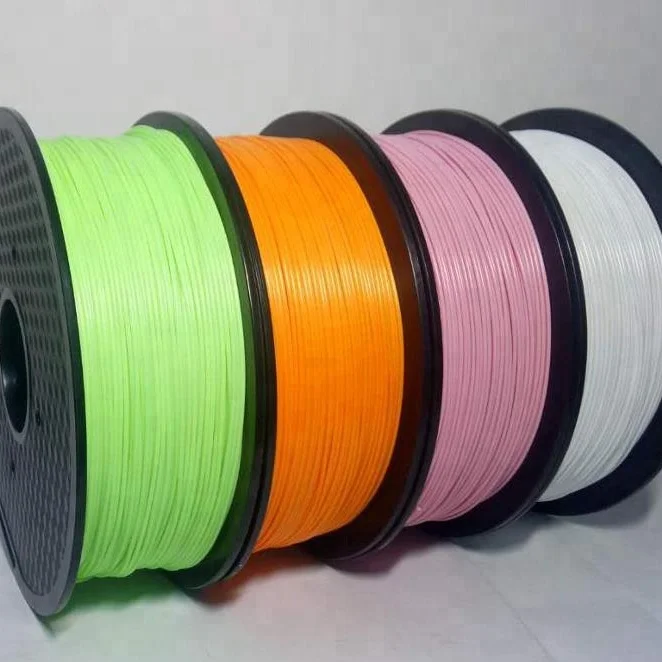 For best results, operators should refer to the following:
Drying: Use a desiccant dryer for 4 hours at 80°C / 176°F
Extrusion: Extruder temperature should be between 260 - 285°C / 500-545°F.
Heated print bed: Heated print bed (>100°C / >212°F), the optimum is 110°C / 230°F. Ensure good bed adhesion at time of print.
Build chamber: A heated build chamber reduces the warpage and helps the fusion of the layers during printing. In this way the force is reduced and delamination from the build plate is less likely.
Startup/shut down: Production has to start with a clean machine. Starting the machine, extrude at least 50 mm of new filament through the nozzle.
Contributor's Bio:
Greg Costantino is the New Business Development and Application Specialist at DSM Additive  Manufacturing, a business unit of Royal DSM, NV. He is responsible for developing and executing the  strategy for business development in the N. America region.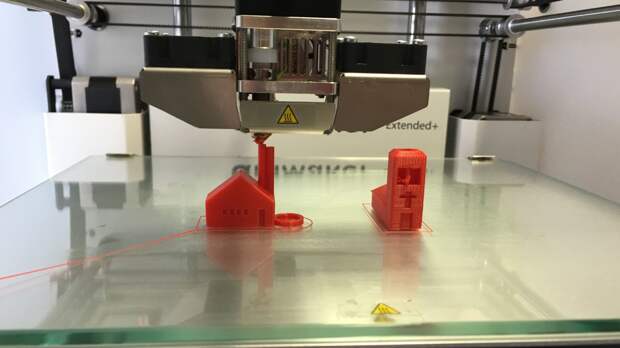 Some of his key responsibilities are  identification and analysis of markets for growth, strategic planning, project management and  coordination of new product development.
Greg Costantino | New Business Development & Application Specialist  | DSM Additive Manufacturing
DSM – Bright Science. Brighter Living.™
Royal DSM is a global science-based company active in health, nutrition and materials. By connecting  its unique competences in Life Sciences and Materials Sciences DSM is driving economic prosperity,  environmental progress and social advances to create sustainable value for all stakeholders. DSM  delivers innovative solutions that nourish, protect and improve performance in global markets such  as food and dietary supplements, personal care, feed, pharmaceuticals, medical devices, automotive,  paints, electrical and electronics, life protection, alternative energy and bio-based materials. DSM's  23,500 employees deliver annual net sales of around € 9 billion.
The company is listed on NYSE  Euronext.
More information can be found at www.dsm.com.
Learn more
To learn more about Nylon CF please contact Dan at [email protected]
Nylon 3D Printing Technology Features
Nylon is known as a durable, versatile material. It is a synthetic composition formed from polyamides, which are polymers linked by amide bonds. When it comes to 3D printing, Nylon is often considered an "advanced" resource as it requires certain skills and equipment to work with. For printing on a 3D printer, the material is taken in the form of a powder or thread.
Physical properties of nylon
Nylon is a popular choice in industrial 3D printing because of its durability and abrasion resistance. If the surface printed with Nylon is thin enough, it can show good flexibility while maintaining strength.
The compound's low coefficient of friction means it is well suited for making moving parts.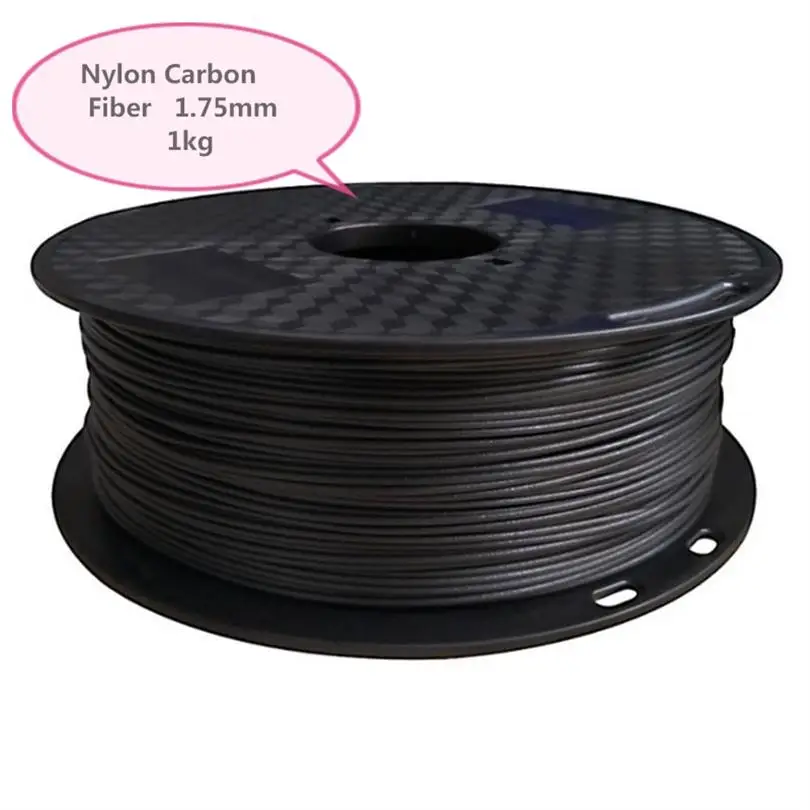 Nylon is often used to create functional prototypes, hinges, gears and similar parts.
Chemical Properties of Nylon
To fully understand nylon 3D printing, it is important to consider other characteristics as well. The filament has a high melting point and is hygroscopic, that is, it absorbs moisture well. The latter property can be both an advantage and a disadvantage. The advantage is that the surface of the printed part lends itself well to coloring. Minus - the thread absorbs moisture from the air, which affects the printing process and the characteristics of the finished part.
Choice of technology
3D printing with nylon on a 3D printer has its own peculiarities - it can be realized by the method of layer by layer deposition (FDM) using a nylon filament, by means of selective laser sintering (SLS) or by the method of multi-jet fusion (MJF) using a powder.
FDM
Using Nylon for 3D printing was an expensive procedure because MJF and SLS printers are expensive and FDM printers have become a cheap alternative.
Today, you can use an FDM printer and a special nylon filament that is melted down and then extruded through a nozzle onto a build platform in layers until the part is complete. Although nylon 3D printing on FDM equipment is much more affordable than SLS or MJF, the quality of the printed object is not as impressive.
Also, not all FDM machines can handle nylon filament. It is important to have a quality (all-metal) hot end that can withstand temperatures above 250°C. Nylon is also prone to warping, so traction becomes a separate issue.
Nylon thread is available in various grades, the most common of which are PA 6 and PA 66. Both options have standard strength, abrasion resistance and low coefficient of friction, but have one significant drawback - high moisture absorption.
Fiber formula of anide (nylon-66) and nylon (nylon-6).
Photo: en.wikipedia.org
Storage and Nylon Printing
The hygroscopicity of the material may adversely affect the filament.
The thread begins to lose its properties, decompose within a few hours. To prevent such a scenario, proper storage is of fundamental importance.
A simple plastic sealed container is a good solution when not using filament, but what about when printing? The ideal output is a moisture controlled storage unit that also feeds the filament to the extruder. If the material on the coil has absorbed a lot of moisture, then it can be dried in a special chamber or oven.
SLS
The selective laser sintering method uses a laser to sinter the powder layer by layer. Most of these 3D printers are focused on polymers.
One of the main materials used in this equipment is Nylon, specifically PA 11 and PA 12 nylon powders. There are also powdered versions of reinforced polyamide, known as nylon composites, which, in addition to Nylon, usually contain particles of glass, aluminum or carbon fiber.
Sinterit
Photo: Sinterit
Characteristics:
| | |
| --- | --- |
| Category | Powder for SLS printing |
| Material type | Nylon 11 |
| Packaging | Plastic bottle |
| Color | Gray |
| Elongation at break | 27% |
| Tensile strength | 46 MPa / 50 MPa (primary powder) |
| Shore hardness D | 76 |
| Material refresh rate | 60 [%] - to reuse the remaining PA11 powder, add 60% FRESH powder |
| Designed for | Lisa Pro |
Photo: Sinterit
Characteristics:
Category
Powder for SLS printing
Material type
Polyamide 12 Powder
Packaging
Plastic bottle
Granulation
18 - 90 [µm]
Color
Dark gray / anthracite
Elongation at break
10%
Tensile strength
32 [MPa]
Softening point (Wick method, type A50 / B50)
172/155 [°C] | 342/311 [°F]
Thermal deflection temperature B 0. 45 [MPa]
143[°C] | 289[°F]
Hardness on Shore scale D
74
Modulus of elasticity / Young E
1029 [MPa] | 148 [thousand pounds / sq. Inch]
Material refresh rate
26 [%] - to reuse the remaining PA12 powder, add 26% FRESH powder.
Designed for
Lisa Pro
43 J / M *
Elongation at Break
8% *
Heat deflection temperature
177°C
Flexible Force
47 MPa *
Maintained wall thickness
min. 0.5 mm
Designed for
Sintratec S2
Sintratec KIT
3D printer Sintratec S2 nylon
Photo: Sintratec
Characteristics:
| | |
| --- | --- |
| Country | Switzerland |
| Power supply | 230 V | 11 A max. | 50-60 Hz |
| Print material | nylon |
| Print Technology | SLS |
3D printer Sintratec Kit
Photo: Sintratec
Characteristics:
| | |
| --- | --- |
| Country | Switzerland |
| Maximum Printvolume | 110 x 110 x 110 mm |
| Recommended print volume | 90 x 90 x 90 mm |
| Laser speed | 5-20 mm/s * |
| Layer height | 100 - 150 micrometer * |
| Temperature | 80 - 150 ° C * |
When completed, objects are completely surrounded by unspent powder, which serves as a support for printed models. SLS machines can reuse up to 50-70% of the remaining material for future print runs. In terms of rationality, this is an advantage over FDM, since any resource used as supports is usually not converted back into a thread for reuse.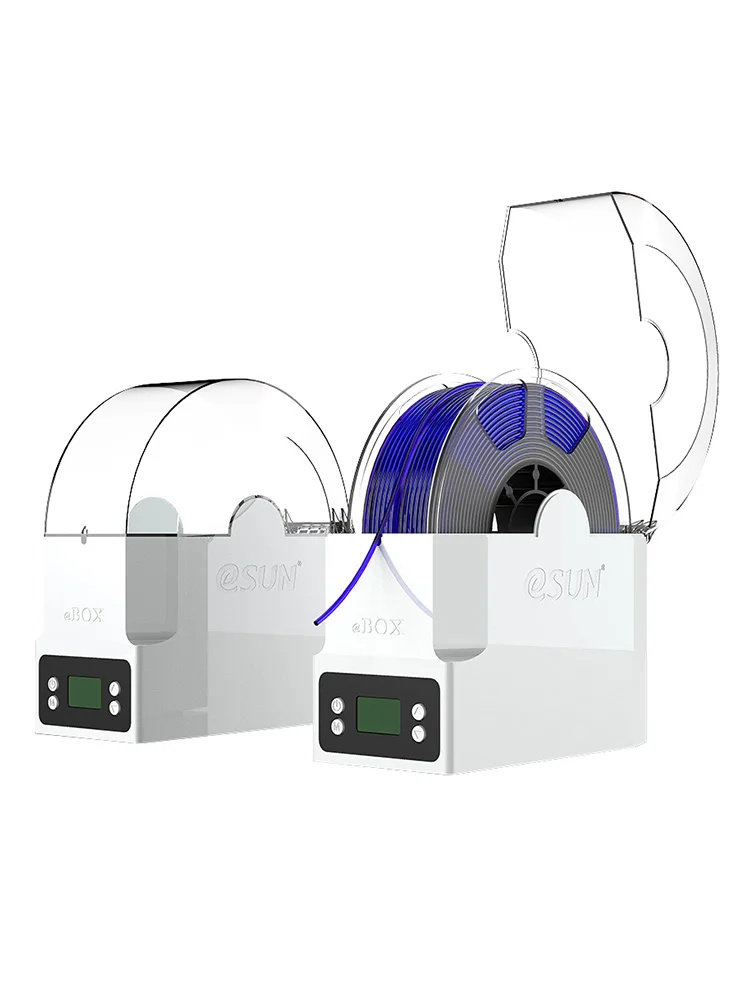 Nylon is excellent for making functional parts, and selective laser sintering technology helps create complex configurations.
The downside of this method is the cost. Industrial SLS printers sell for over $200,000. However, more affordable solutions have recently appeared on the market, such as the Fuse 1 desktop SLS machine from Formlabs, priced at about $10,000. You will have to pay at least $60 per kg for the powder.
MJF
Multi Jet Fusion is a unique powder sintering technique developed by Hewlett Packard. The technology is similar to the previous one, but also has something in common with the method of jet application of the binder.
MJF and SLS start the Nylon printing process in the same way. Before sintering begins, a layer of powder is spread onto the assembly platform. However, while with SLS the laser would start sintering, MJF introduces an additional step into the printing process in the form of adding chemical agents.
A chemical compound is sprayed on top of each fresh powder layer where future layers will be sintered to help the substance absorb energy from the printer's heat source.
When SLS uses a laser, MJF relies on powerful infrared light, which, in combination with the fuser, speeds up the sintering process, making the print go faster.
While both technologies produce phenomenal detail, MJF is ahead of SLS when it comes to detail. This is partly due to the agent used, which helps to make the edges as sharp as possible, slightly reducing the intensity of fusion at the edges of the object.
After printing is completed, the green powder can be disposed of. However, MJF allows up to 80% of the material to be reused, although this largely depends on the specific machines. The MJF technique is comparable in price to industrial SLS machines, but has faster print speeds with potentially better detail.
Source
Tags:
Nylon, 3D printing, Nylon, 3D printer, MJF and SLS printers, FDM printer, Sinterit LISA PRO professional 3D printer, PA12 polyamide (nylon) powder, 3D printer SINTRATEC S2 nylon, 3D printer Sintratec KIT
Nylon for 3D printing with Kevlar, glass and carbon fiber content will allow you to print even body armor
News
0003
5
Everyone knows that advances in 3D printing technology are entirely dependent on advances in 3D printing materials.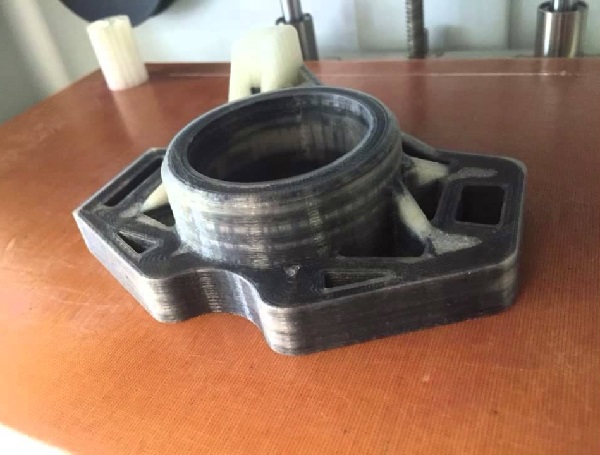 If we talk about industrial production, the choice is huge here: metal, wood, ceramics, etc. But for ordinary people, the situation is rather deplorable, because they only have different types of plastic at their disposal. But a celebration has come on their street too: the worldwide network of 3D printers 3D Hubs, in collaboration with Markforged, has released a new series of nylon materials reinforced with Kevlar, glass and carbon fiber.
Developers of unique advanced materials aim to enable users to create 3D printed products that are as strong as metal and as cheap as plastic. In numbers, fiber-reinforced materials have a higher strength-to-weight ratio than 6061-T6 Aluminum, plus products are 24 times stronger and 27 times more resilient than ABS.
New items will be presented at 17 certified 3D Hubs dealers in Europe, USA and Canada. These materials are ideal for manufacturing factory parts, live prototypes and equipment. True, representatives of 3D Hubs specify that these materials are of little use for the production of small products with fine details.
As mentioned above, 3D Hubs has developed new materials in collaboration with 3D printer manufacturer Markforged, so the new materials are suitable for use on the Mark Two industrial 3D printer and are compatible with the patented Continuous Filament Fabrication (CFF) system. 3D Hubs said in a press release: "Adding fibers in the 3D printing process is a complex procedure and requires the presence of a specially trained operator. Through our network of vendors, we have been able to make this technology more accessible to everyone."
Of course, the new materials are slightly different from each other. Carbon fiber reinforced nylon has a higher strength to weight ratio than 6061 Aluminum and the highest thermal conductivity of the three. Nylon reinforced with Kevlar has the highest abrasion resistance. In addition, it is the most flexible, so it is a great option for making impact-resistant and durable products. Fiberglass-reinforced nylon is perhaps the most budget-friendly of all, but it still has the same strength as carbon-reinforced nylon.
However, it is 60% stiffer and twice as heavy as the latter.
3D Hubs staff has prepared useful tips for those who decide to try their luck with new products. Firstly, these materials are not intended for the production of small and oversaturated objects with details (the minimum part size should be 0.8 mm). The minimum size of the product should not be less than 3 mm, while for products made of pure nylon, the allowable minimum is 1.6 mm.
With regard to the production of movable and interlocking products, make sure that there are gaps of at least 0.5 mm so that the products can be separated from each other at the end of the print session. The wall thickness corresponds to the minimum value of the product, i.e. for reinforced nylon this is at least 3 mm, while for pure nylon it is only 1.6 mm.
Fibre-reinforced nylons require a continuous fiber technology that is based on deposition modeling technology, but requires a second printhead that infuses the nylon with "filaments of carbon, kevlar, and fiberglass between layers.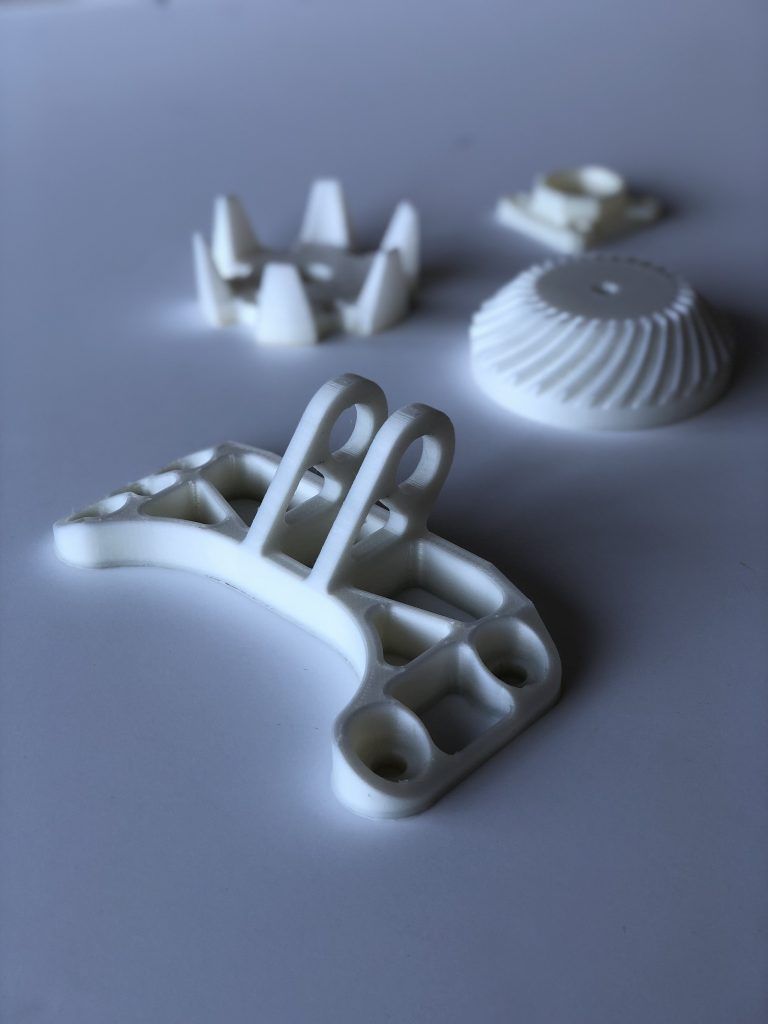 " As the 3D Hubs website says, "These long filaments take all the load, resulting in strong products with properties comparable to those made of composite materials."
If you are looking to order a new Reinforced Nylon product from 3D Hubs and Markforged, please follow this link to the 3D Hubs website.
Source
Follow the author
Follow
Don't want
5
Even more interesting articles
13
Subscribe to the author
Subscribe
Don't want
Last Saturday, September 24, the third 3D-printing festival 3Dtoday Fest took place in St. Petersburg...
Read more
5
Subscribe to the author
Subscribe
Don't want
Researchers from Peter the Great St.