Due 3d printer board
Duet3D Duet 2 Ethernet 3D Printer Controller Board
Home
Store
3D Printer Accessories
3D Printer Controller Boards
TMC2660 Equipped Controller Boards
The Duet 2 3D printer controller board combines some of the best components available into an incredible all-in-one controller. Don't sweat which drivers to get - the TMC2660's come baked in and an onboard WiFi or Ethernet connection enables networked printing from anywhere on your LAN.
Current Version: v1.04
Tagged: 1"> and ,
Product No. loading...
Notify me when this item becomes available Success You will be notified when
...
becomes available.
Everything you need in a controller
The Duet 2 provides fast motion and quick processing via a 32 bit processor.
All that processing power means you can also expand your machine to include many more stepper drivers. (additional expansion boards may be required) Firmware is stored locally on a Micro SD card and can be accessed via the web interface for easy modification. Connections to all other hardware components is easy with vertical molex connectors or screw terminal block for secure connectivity.
And everything you want!
The Duet 2 includes a baked-in network chip for easy machine control from any device on your network. From desktop computers to tablets and smartphones, printer control is available across the board. Having stepper drivers baked in is great - but they aren't just any old drivers. The TMC2660 drivers are crazy quiet and capable of up to 256th microstepping for smooth and precise machine motion.
Technical Specifications
Processor: Atmel SAM4E8E

32 Bit
120MHz ARM Cortex-M4

Network Connectivity: WiFi or Ethernet
Stepper Drivers: Integrated TMC2660
Micro SD Card slot for firmware
Support from two extruders and heated bed
Max current per stepper driver: 2. 4A (software limited)
Supports all standard 3D printer geometries
Full Wiring Diagram
Hardware Overview
What's in the box?
Duet2 Wifi controller board v1.04b - for more information on PCB history
USB A - USB Micro cable
DIY cable connectors - build you own cable ends in case your motors don't connect
List Price:
$ (with add-ons)
Price:
$ (with add-ons)
Sale Price:
$ (with add-ons)
— Available for Pre-order —
Availability:
...
Est. In Stock: ...
Order Now:
Processed Immediately

Ships = 3500"> Free U. S. Shipping

Arrives after Christmas. Need something sooner?
Shop Gift Cards that are digitally delivered instantly.
This item cannot be shipped to a PO Box or APO/FPO/DPO address.
This item takes longer to ship due to its size and/or weight.
Qty
Checkout
Notify me when this is available
Duet3D Duet 3 6HC 3D Printer Controller Board
Home
Store
3D Printer Accessories
3D Printer Controller Boards
TMC5160 Equipped Controller Boards
The Duet 3 6HC Mainboard is the heart of a fully-featured and expandible 3D printer control ecosystem.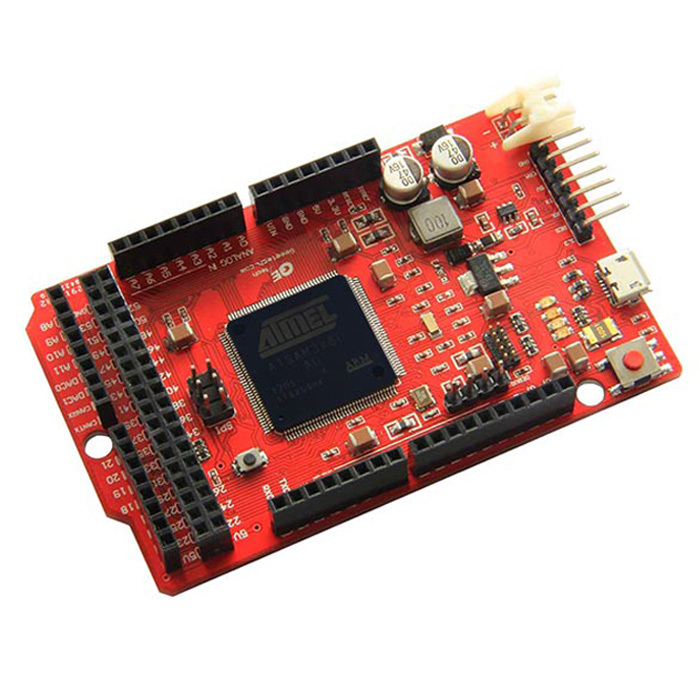 With support for up to six stepper motors, four temperature sensors, and ten PWM outputs, this 3D printer controller is a great choice for full DIY builds or as an upgrade to existing hardware. Ethernet connectivity means you can connect the printer to your local network for web-based control, calibration, and firmware updates. Duet 3D is hard at work developing expansion boards that will connect via the onboard CAN bus and continue to add value to this board into the future. If you are looking for a cutting-edge, fully-featured 3D printer controller, the Duet3 may be the board for you.
Tagged: 3D Printer Controller Boards, 6+ Stepper Controller Boards and RepRap Firmware Controller Boards
Product No. M-1X8-786S
Available Add-ons (2)
Show More Addons
List Price:
$255.00
Price:
$255.00
Price:
$...
Order Now:
Ships calculating. .. Free U.S. Shipping
Add a multitude of powerful features to your 3D printer with the Duet 3 Mainboard
Anytime you set out to upgrade the capabilities of your 3D printer, you have a specific goal in mind. Whether it be 32-Bit operation, the ability to add a second hotend, quieter motion control, or network connectivity, there are many great 3D printer features that don't come standard on each and every machine. The Duet3 6HC Mainboard supports everything listed here and more, making it a great choice for your upgrade build, no matter the base machine. Running RepRap firmware just like the other Duet boards before it, those familiar with the Duet3D family of products will be right at home with this mainboard.
Everything your 3D printer needs, all in one controller
Trinamic Stepper drivers with quality of life and functional capabilities for a top-of-the-line experience
The Duet3 is built with Trinamic 5160 stepper driver boards built into the mainboard for seamless integration with your system.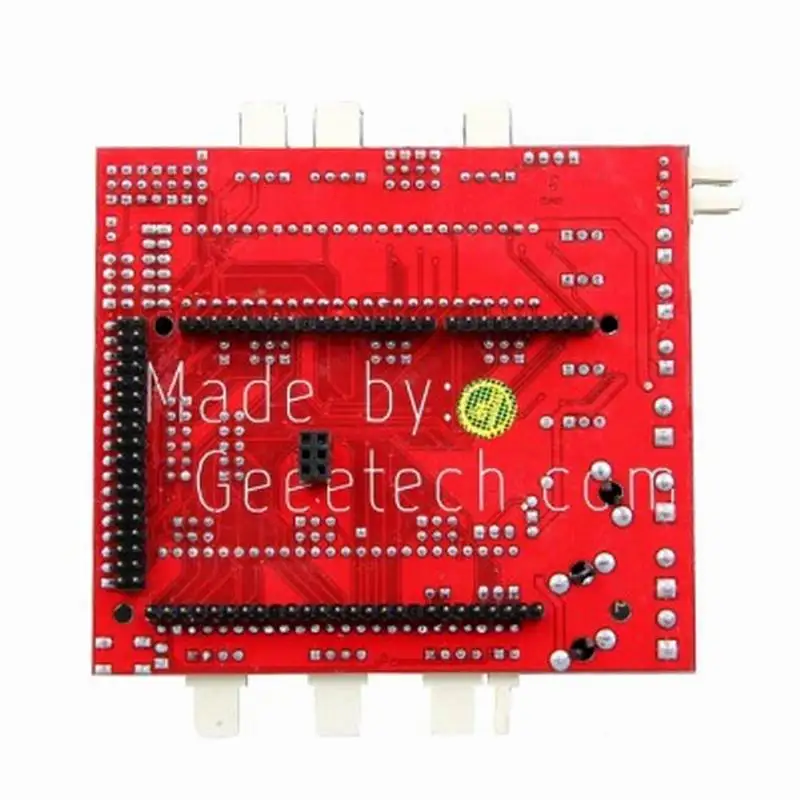 As the link between your Gcode and machine movement, stepper motor drivers are a very important aspect of any 3D printer or CNC machine. TMC5160's include the StallGuard 2 function for switch-less endstops, allowing your printer to simply butt up against the frame to have motion limits established. When this happens, the stepper drivers can detect a change in motor current, triggering the endstop. Also included is StealthChop2, one of our favorite Trinamic technologies here at MatterHackers. StealthChop2 creates virtually silent stepper motor movement, making your 3D printer quieter than ever before. Pair these driver boards with some stepper motor dampers and a well-lubricated axis for a 3D printer that you will have to watch to know it's even moving.
Powerful 32-bit process for smooth, high-quality operation
The Duet3 is built to be a premium experience today, but also to welcome continued expansion boards in the future
The Duet3 mainboard is all about forward motion, learning, and growth.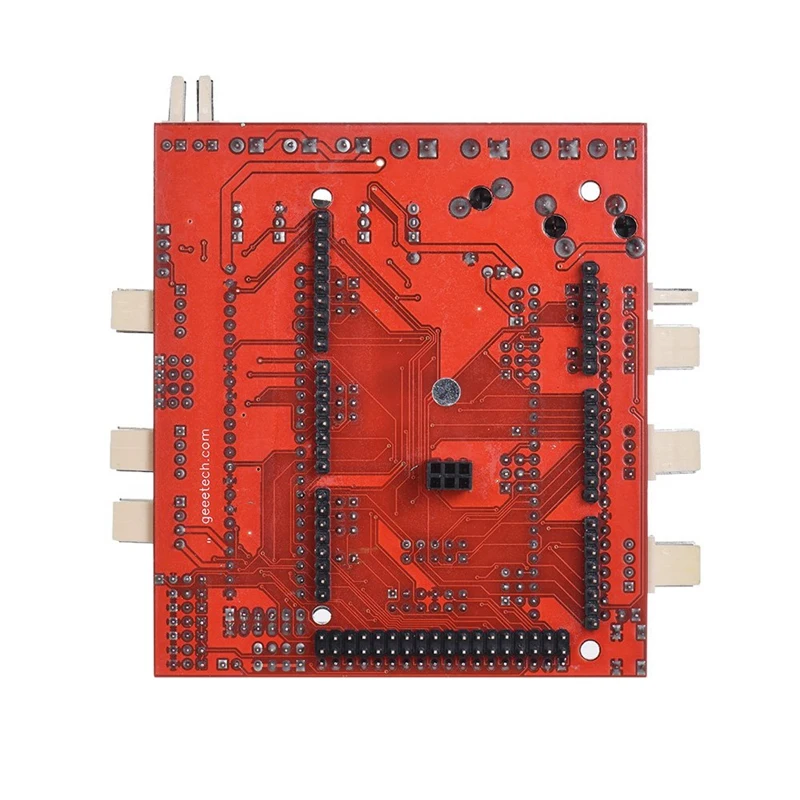 Out of the box, this mainboard has everything required for a premium experience with any 3D printer geometry but also includes expansion ability for future development as well. A dedicated high-speed bus for a single-board computer such as the Raspberry Pi opens up a new world of customization by leveling your 3D printer up into a full-on computer. Nine I/O headers for connecting endstop switches, probes, filament detectors, or any other sensors you can think of gives you the space for everything required today with room for future growth. Temperature sensor support is up to four thermistors or PT100's and in the event more connections are needed the onboard CAN bus is future-proofing at it's best. The Controller Area Network connection will allow for connection to Duet3 specific expansion and tool boards.
Ethernet connection as well as I/O and PWM outputs everywhere
Technical Specifications
Hardware Version: 1.01
ARM Cortex M7 running at 300Mhz 32 bit processor
6 on-board TMC 5160 stepper driver boards

StallGuard 2
StealthChop 2
4. 45A RMS & 6.3A Peak current
256th Microstepping

Dedicated SBC (Single Board Computer) connection
2 CAN busses for future Duet 3D expansion boards
10 PWM outputs
9 I/O ports
4 Temperature sensor inputs

Thermistors or PT100's with the use of optional daughterboards

Ethernet connectivity for network control
Firmware: RepRap
What's in the Box?
Duet 3 6HC MB
SBC Ribbon Cable
Custom connector parts - Build connectors to enable usage with any stepper motors
Sticker - To display your pride in using a Duet 3 board.
Everything included with the Duet3
Board for a 3D printer: choosing a control motherboard
When buying or assembling a 3D printer with your own hands, special attention should be paid to the device's motherboard. Since this component is responsible for printing products in general.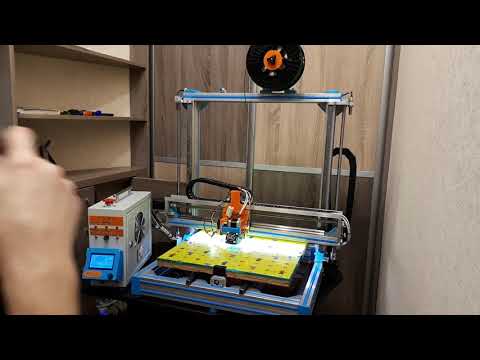 Consider what functions the motherboard performs, what types of this component exist, and what parameters you need to pay attention to when choosing it.
3D printer motherboard
The controller motherboard is the main control element for the extruder, motor, sensor and heated filament bed in any 3D printer.
Motherboard is executing user-specified commands. After the internal set of microchip elements converts electrical impulses into mechanical movements of stepper motors. As a result, a three-dimensional computer model will be printed layer by layer on the working surface of a 3D printer.
Choosing a control board
Among the most popular motherboards for 3D printers, there are five models:
Arduino Mega 2560 + Ramps 1.4.
Melzi.
Lerdge X.
Duet.
Rumba.
Let's take a closer look at the features, pros and cons of each board.
Arduino Mega 2560 + Ramps 1.4
Board with Ramps 1.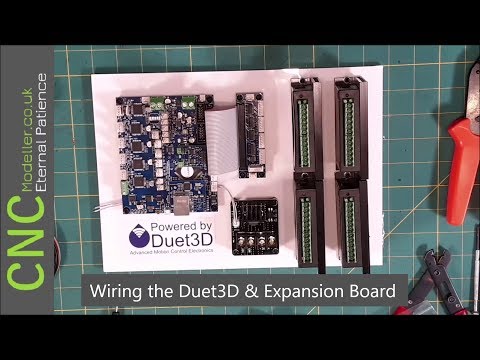 4 component operates from 5 V. It is equipped with five slots for installing stepper motors. At the same time, three slots allow the motors to control the axes of the printer, and the other two to drive the extruders. In addition, the board contains many additional pins for controlling various elements, such as a table auto-level sensor, axle limit switches, servos, etc.
To control all the printer's built-in electronics, the board contains contact pads into which the Ramps shield component is inserted.
The three main advantages of the board are:
low price;
a wide range of interchangeable components that can be replaced in the event of a breakdown;
additional pins for controlling various printer components.
The board has only one significant drawback - its bulky design.
Melzi
The Melzi motherboard is equipped with four stepper motor controllers, three of which are located on the XYZ axis and one on the extruder.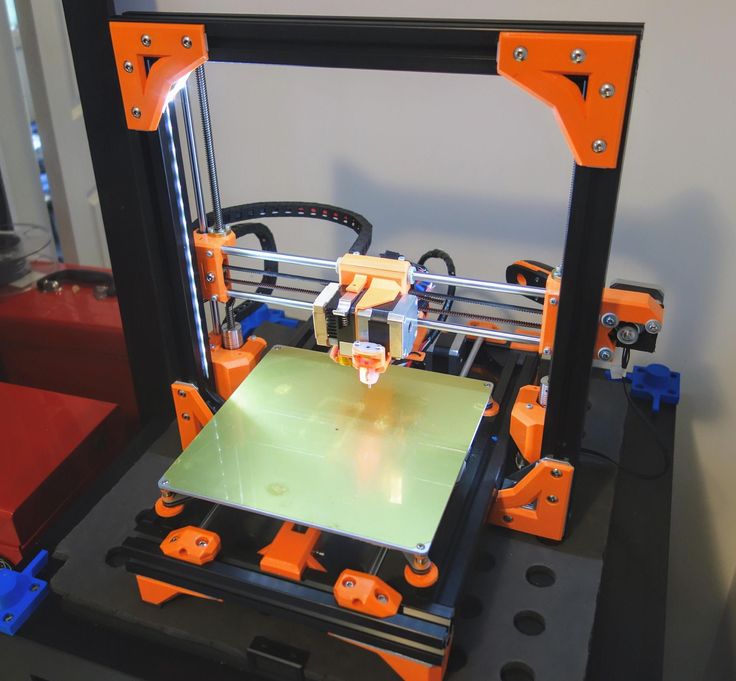 This model is sold already with customized firmware. Therefore, the user only needs to correctly connect the wires to the output connectors.
You can print 3D objects using a memory card via a micro-USB connector or by connecting the card directly to a computer.
The Melzi board is ideal for the beginner building a printer for the first time. Since it does not require additional calibrations and can be used immediately after purchase. However, the motherboard also has significant drawbacks:
no display can be connected to the board;
You can reflash the motherboard only through the ISP port, but this will take a lot of time and a layer of special knowledge;
If the motor controller fails, it cannot be replaced.
Lerdge X
Lerdge X is a motherboard with a 32-bit STM32F407 chip that allows you to quickly read lines of code. The device is additionally equipped with four drivers and a color display with touch control.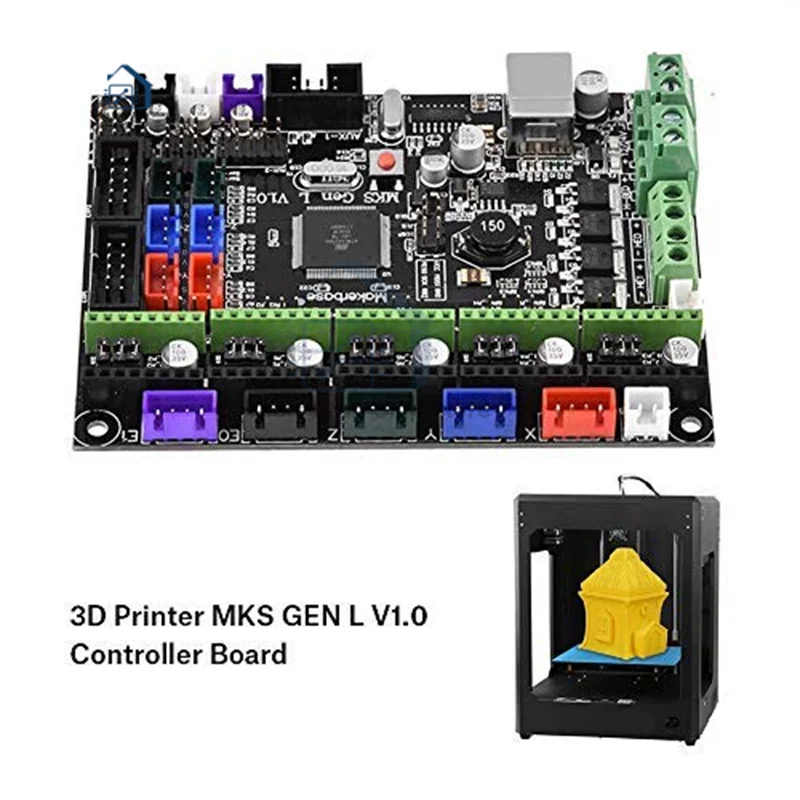 The board supports only one extruder and it is not possible to install a second one if necessary.
Before using the board, you need to calibrate it, set the dimensions of the working area, adjust the temperature sensors of the extruder and table, and set the speed parameters of each motor.
You can print files using a flash drive, memory card or via a computer.
Pros of using the Lerdge X board:
motherboard fits any type of printer;
board chip supports various kinds of popular slicers;
built-in display with touch screen.
The disadvantage of using the board is that only one extruder can be used.
Duet
The Duet board is equipped with its own open source firmware, which is available for free to any user on Github.com. The 32-bit Atmel SAM3X8E chip is responsible for the stable operation of the motherboard.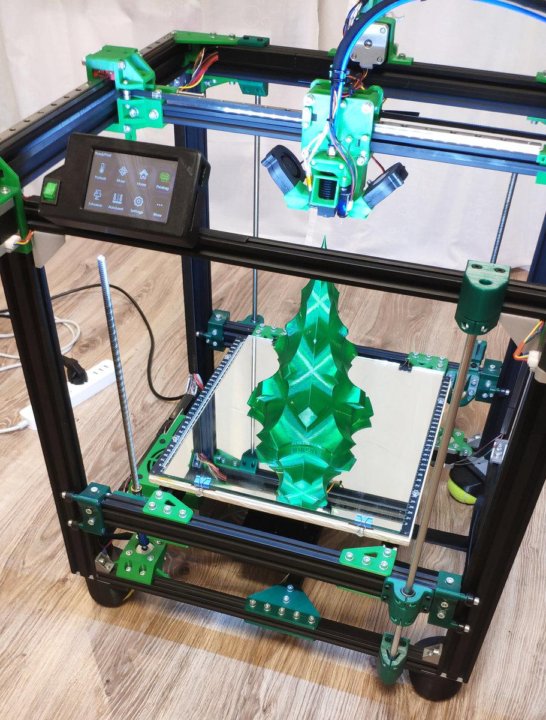 Built-in device drivers allow four extruders to print simultaneously. For more convenient control, the user can install a touch screen with a diagonal of 4.3, 5 and 7 inches.
Pluses of the board:
free firmware;
four extruders available at the same time;
two board configurations to choose from (Ethernet or Wi-Fi).
Duet motherboard cons:
Before installing the board, it requires full configuration and firmware.
Rumba
The Rumba 8-bit motherboard allows the 3D printer to use three extruders at the same time. However, installing them separately will not work, but you can only install a Diamond Hotend multi-extruder with support for three filaments.
This type of board is based on the Arduino processor. It comes with Marlin firmware installed. If the user needs to reflash the board, then for this you can use the standard mini-USB connector.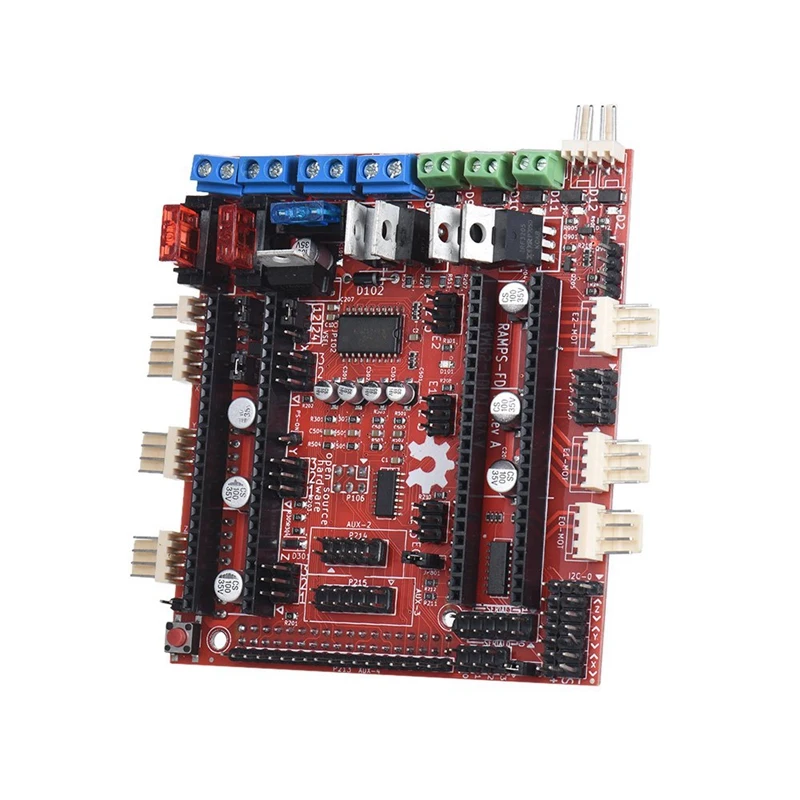 Among the advantages of Rumba are:
the presence of connectors for connecting a display and a slot for a memory card;
removable motor drivers that can be easily replaced if broken;
simple flashing if necessary.
The main disadvantage of the motherboard is that for printing with multiple filaments, you will need to purchase an additional multi-extruder.
What to look for when choosing a 3D printer board?
When choosing a motherboard for installation in a 3D printer, the user is advised to pay attention to six device parameters:
The number of supported extruders. Ideally, there should be four or more. In this case, full color printing will be available.
Integrated or plug-in drivers. It is desirable that the drivers in the board are removable. Since in the event of a breakdown, they can be easily removed and repaired or replaced in the event of a complete malfunction.
Number of engines. It is recommended that the board has at least four motors, ideally six.
Wi-Fi available. The built-in module will allow you not to constantly connect the printer to the computer each time you print.
Firmware support. It is desirable that the board supports various types of firmware. Both paid and free.

Help. Each specific type of board can support one or more types of firmware. Their number depends on the board manufacturer. For example, Arduino boards support Marlin, Marlin Kimbra, Marlin RichCattell, Repetier-Firmware, Teacup, Aprinter, Sprinter firmware. Arduino Due motherboards can work with Marlin4Due, Marlin Kimbra v4.2.x, Repetier-Firmware, RepRap Firmware. And 32-bit ARM processors are compatible with Smoothie Project and Redeem firmware.

The presence of protection against incorrect inclusion of elements.
In this article, we have listed only the most popular motherboards for 3D printers.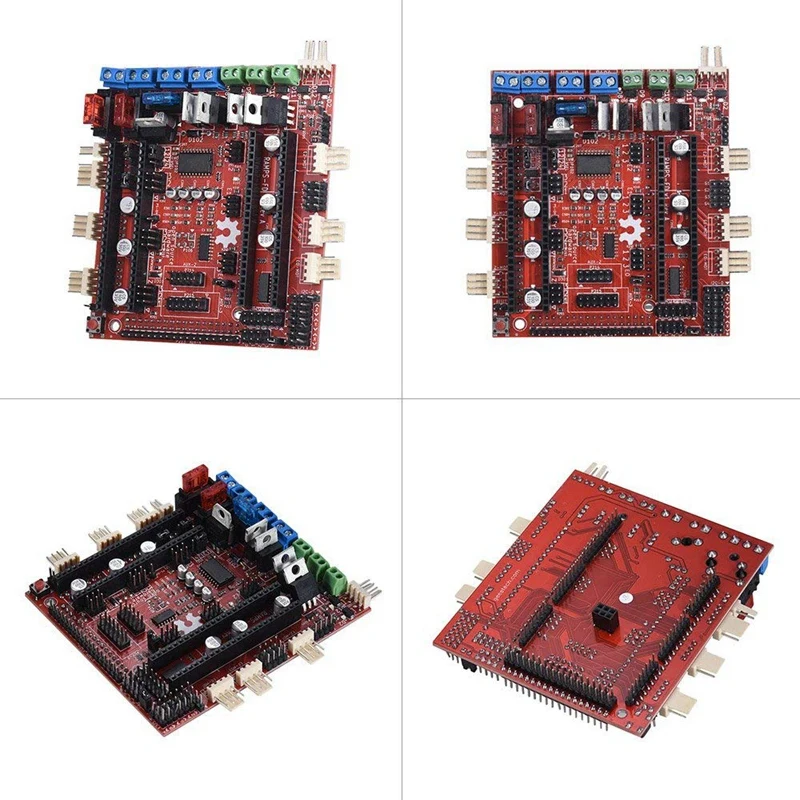 However, on the electronics market there are boards for any user requests, the choice of which can be guided by the recommendations presented above.
Get expert advice
32-bit 3D printer boards
32-bit 3D printer boards
The controller board is the heart of any 3D printer and controls components such as the extruder, heated bed, motors and sensors. The rapidly evolving 3D printer controller boards are expanding to offer incredible possibilities.
Duet Wifi
These 3D printer boards are usually powered by RepRapFirmware. The entire Duet family can be controlled through the Duet Web Control , but they also support the PanelDue touch screen. All of them have a slot for an expansion board. drives 5 independent stepper motors with built-in Trinamic TMC2660 drivers and I/O circuit - DueX4 for Duet 0.6 and 0.8.5, and DueX2 and DueX5 for Duet WiFi and Duet Ethernet.

Duet board family firmware is open source, but most users do not need to modify the firmware itself, working only with settings stored on the internal SD card. However, it's a good idea to update your Duet to the latest stable firmware.
Replicape BeagleBone Black

Replicape is a fast 3D printer board. It works with a BeagleBone Black, with a 1GHz processor and two 200MHz PRUs.
It is extremely versatile. The control can support two to five 2A stepper motors, two servos and four fans. Uses the best TMC 2100 stepper motor drivers, which have an incredibly low noise level. And also interacts with the printer through the browser, while printing.
Re-ARM for RAMPS, simple 32-bit upgrade
The Re-Arm microcontroller board is more powerful and equipped with a faster 100MHz processor, which provides a high feed rate for the 3D printer. The board has an SD card slot for firmware and configuration files, but a second SD card is also supported, connected via the LCD screen for file uploads.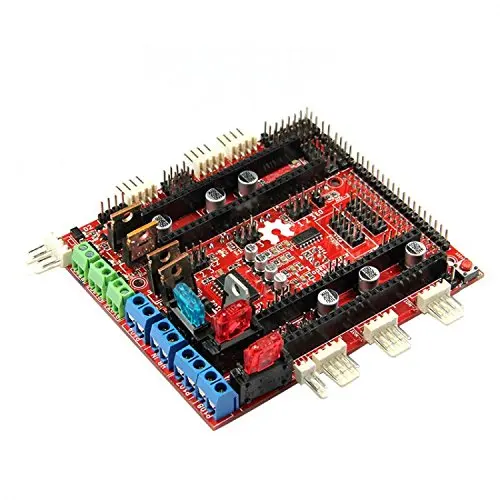 Having a separate configuration file outside of the firmware makes setting changes much easier than other boards that require new firmware for any setting changes. The configuration is a text file that allows you to easily and quickly make changes from your computer.
Arduino DUE with RADDS 1.5

V The RepRap Arduino-Due Driver Shield is a daughterboard for the 32-bit Arduino Due. Although it looks like an 8-bit RAMPS board, it provides much more processing power and allows your 3D printer to print faster and with greater accuracy.
The 12-bit ADC (analogue-to-digital converter) has been upgraded from 10 to 12 bits. The temperature calculation is now performed over 4096 measurement points instead of 1024. This gives 4 times better temperature resolution and improves the accuracy of temperature readings.
In addition to better temperature resolution, the new firmware includes an algorithm that uses 660 measurement points to extrapolate results.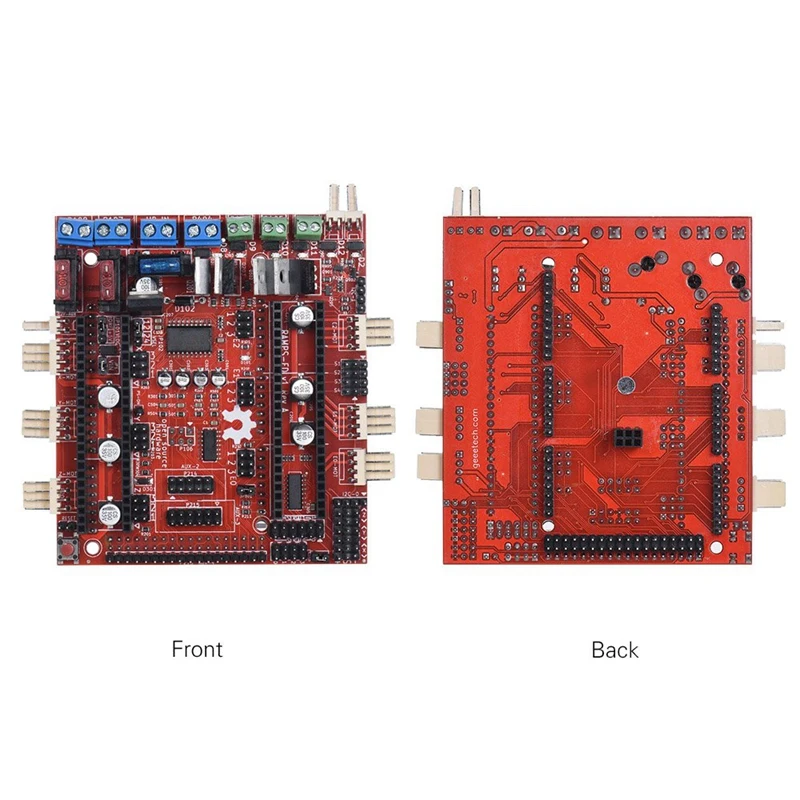 This takes RADDS to the next level of temperature control for RepRap 3D printing.

Smoothieboards 4x

Smoothieboards is a controller board for digital machines. It is designed for use in 3D printers ( Reprap ), laser engravers and CNC machines, developed by a community of volunteers to run the open source Smoothieware firmware They come in many varieties, with different sets of features and benefits.
All Smoothieboards are designed to run on the most powerful machines in their price range. They are designed to be easily extended, developed and used by general users.
Smoothieboard v1 was the first Smoothieboard released and received several updates. It has gone from a pilot project to a widely used and recognized system. The board comes in 3 versions, 3X, 4X and 5X, with different sets of peripherals.


Archim 1.0
This is Archim v1.0a. The Archim Rambo 1.0 board is a versatile 3D printer motherboard.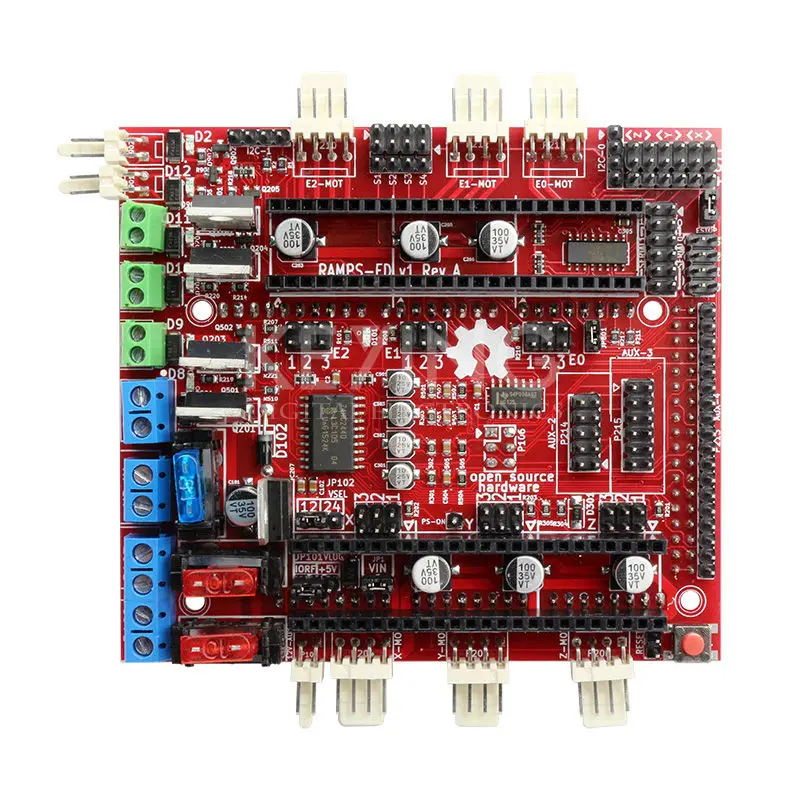 This is an original RAMBo style design with an Atmel SAM3X8E processor (same as the Arduino Due) and DRV8825 stepper drivers on one integrated PCB. Archim is named after the mathematician Archimedes.
Key Features - 5 built-in 1/32 micro stepping motor drivers, 6 full PWM Mosfet outputs, 4 thermistor inputs, PWM motor current control (no tiny knobs to adjust), SMPS supports hostless printing at supply voltages from 10-24VDC , 3 independent power rails with ATC fuse protection, built-in full speed USB protected by ADUM isolator, high quality connectors. It is supported by the Arduino IDE using a third party URL board feature to simplify firmware development.


MKS SBASE 1.3
MKS SBASE is a multifunctional electronic solution for Reprap and other CNC machines. It features an embedded ARM-Cortex M3 LPC1768. Its five motor outputs are powered by DRV8825 stepper drivers. The board can use the same firmware as Ramps1.4. MKS SBASE is designed with flexibility in user's power supply selection, allowing any power supply from 12V to 24V to be used.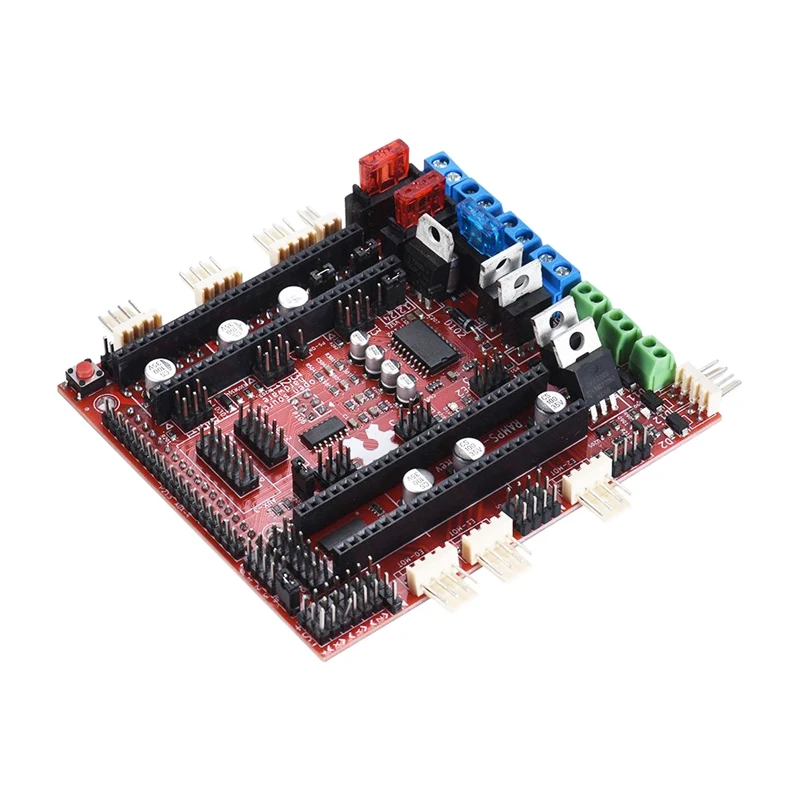 MKS SBASE is suitable for mass production 3D printer manufacturers and used as the main control board. Relative to Ramps1.4, this adds the heat output of E1. MKS SBASE is suitable for dual extruder machine.
Arduino DUE with RAMPS-FD

The only secure version of Ramps-FD is V2.A released February 2014. Previous versions carry a high security risk. Unfortunately, the only Ramps-FD available on the market (February 2016) is version 1.2, while its manufacturer has repeatedly warned that the only safe version is 2.A. Beware of confusing wording and lack of clear mention of fee revisions from sellers. Thus, until version 2.A is released, the Ramps-FD board should be avoided.
The Arduino Due is a new Arduino board using the ARM Cortex M3 processor. The Atmel SAM3X8E chip used in the Due operates at 3.3V and is not compatible with 5V. Therefore, the RAMPS shield will not work with the Due, and worse, applying 5V to the Due's inputs may damage the chip.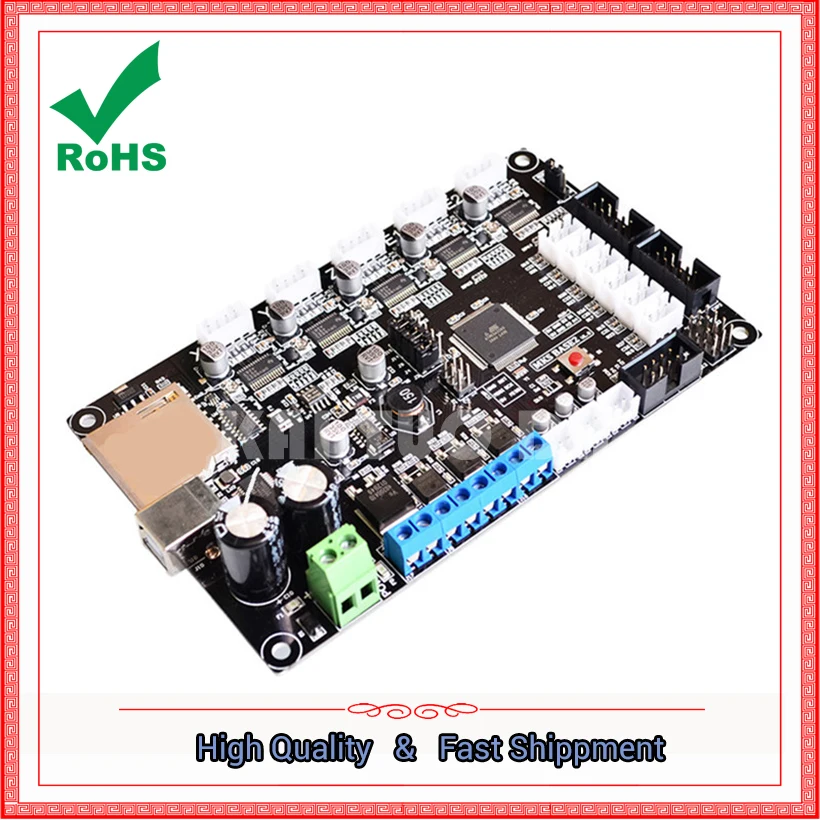 Therefore, there are several options: create a new version of RAMPS that is compatible with the Due.
Lerdge-X

Among Lerdge 3D printer boards, Lerdge-X is a highly integrated control board designed for small 3D printers, educational 3D printers and entry-level 3D printers. The motherboard uses 32-bit CoreTX-M4 Core control unit, high and stable performance, feature-rich, price concessions. With a 3.5 inch full color IPS LCD touch screen, it provides simple and smooth operation. The motherboard uses an open interface and can match a variety of motor drive modules (A4988, DRV88225, LV8729, TMC2100 and external driver, etc.) The motherboard optimizes the connection of limit switches and adopts a comprehensive line protection design.


Panucatt Azteeg X5
X5 mini WIFI is an ARM based 32-bit motion controller for 3D printers, CNC machines and laser cutters. X5 mini runs on Smoothieware firmware and is based on the Smoothieboard.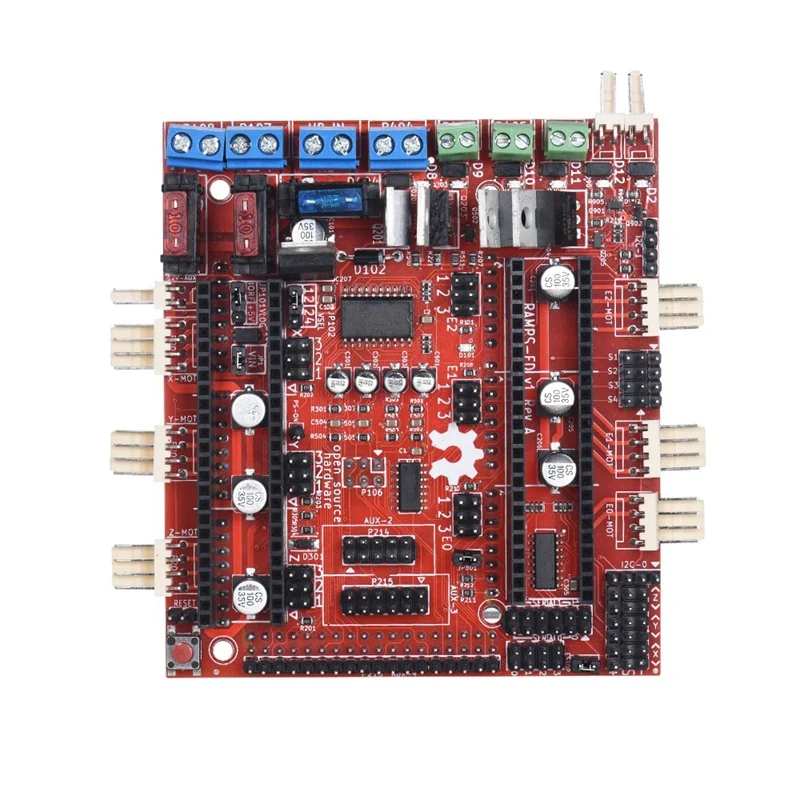 X5 mini WIFI uses powerful 32bit 120MHz ARM NXP LPC1769 chipcapable of faster calculations for quick and fluid movements.
Configuration is made easier with a text-based configuration file loaded onto the SD card, no need to download the firmware every time you make a change. Just edit the config file from your PC, then reboot the board with the new config and you're done.
The Wi-Fi module has its own web page for remote control of the printer. You can transfer files directly to the main SD card and edit the configuration file on any PC, phone or tablet using Wi-Fi. Web Control can also display video when using an IP camera.
BIGTREETECH SKR V1.1
BIGTREETECH SKR V1.1 - from Shenzhen Bigtree Technology Co., Ltd. introduced a simplified open source 3D printer control board. It is especially suitable for small and medium printers.
Greatly improved the performance of LPC1768 series ARC-class Cortex-M3 master chip with 32-bit 100M main frequency, equipped with high-modulus smoothieware open source firmware, convenient for DIY and secondary development users, don't worry about not being able to master the main worries code.