Battletech 3d print
A Guide for those who are interested in 3D printing : battletech
My Personal Guide to 3D Printing Battletech Minis
FIRST AND FOREMOST: If you decide to 3D print, STILL SUPPORT CATALYST / IRON WIND METALS - they are the reason this game still exists! (and if you can spend $ on a 3D printer, you can buy some box sets / minis.)
SECONDMOST: This process requires a few things to be a viable endeavor:
A degree of technical ability - you will need to use basic hand tools (allen wrenches, screw drives, craft knives, etc)

A willingness to work with (somewhat) hazardous materials - you won't be handling spent nuclear fuel rods or uncleaned medical testing equipment from a foreign virus lab (wink wink), but you will be handling concentrated isopropyl alcohol, and resin that can be very irritating to skin / eyes. Gloves are a must, goggles / mask strongly encouraged.

Some spending money - I've spent about $500 (USD) so far, though it CAN be done cheaper (printers have gone down a lot recently, and a lot of things I bought are optional or you may already have. ) The actual cost of materials per mini is about $0.25-0.50, most of the cost is setup.
So onto the guide!
There are many great general guides to 3D printing, and r/3Dprinting has an awesome beginners guide. So I won't repeat them here. Instead, I will provide insights specific to Battletech.
There are two main types of 3D printers available to hobby-level consumers: Filament (FDM), and Resin (SLA/DLP). For Battletech (or any tabletop miniature, really) Resin is better - higher resolution and clarity of details. See: https://www.windowscentral.com/resin-or-filament-3d-printing-which-best-you for more in-depth info.
There are many great resin printers available for under $300. I personally bought an AnyCubic Photon Mono (not the X or the SE, just plain mono - their product naming kind of sucks) which is a great deal for the $.
MY PROCESS:
Begin with the "Seven P's": "Prior Proper Planning Prevents Piss Poor Performance" - setting up a semi-permanent workspace, and doing all your design work ahead of time.
STEP 1 - ACQUIRE STUFF
You will need:
A 3D printer (duh)

Liquid resin (I prefer Elegoo to AnyCubic, there are a lot of posts about this debate, but the Elegoo Standard Grey works fine for BT minis.)

Isopropyl Alcohol (most sites say use 99%, I've been using the 91% available at Walmart. Works well.)

Safety Goggles / Mask (optional, but strongly recommended)

Medical Gloves (Nitrile are the best, about $20/box, nylon are ok, but can't really be reused. Haven't tried latex, some people are allergic.)

A UV-lamp (optional, but recommended. The "official" ones are like $100, I bought a cheap one with a rotating stand for like $20. Or you can use sunlight, but it takes a while and winter is coming.) (Second note: UV barely travels through glass, so can't be indoors, that why you don't get a tan through the window.)

A LOT of paper towels (there are some things you shouldn't use these on, but for everything else…)

A few microfiber rags (for the stuff you can't use paper towels on. )

Some paint filters and funnel (most printers come with a few, and if you follow this guide, you won't need a ton.)

A plastic pickling container with strainer (completely optional, but makes cleaning models a lot easier)

X-acto / craft knife.

"Nippers" (precision wire cutters.)

A level workstation away from kids / pets / other disturbances.
STEP 2 - ACQUIRE MORE (digital) STUFF
Before you print something, you need a blueprint. For 3D printing, they use files called STLs. If you have 3D modeling experience you can design your own. But for the rest of us:
Piranha Games has made the 3D models used for Mechwarrior Online open source, this has created some great opportunities with a few caveats: They are free for PERSONAL USE, you CANNOT SELL BATTLETECH prints.
Some great places to search for .stl files are MyMiniFactory.com, and Cults3D.com. Thingiverse is the biggest repository of STL files, but has had some issues.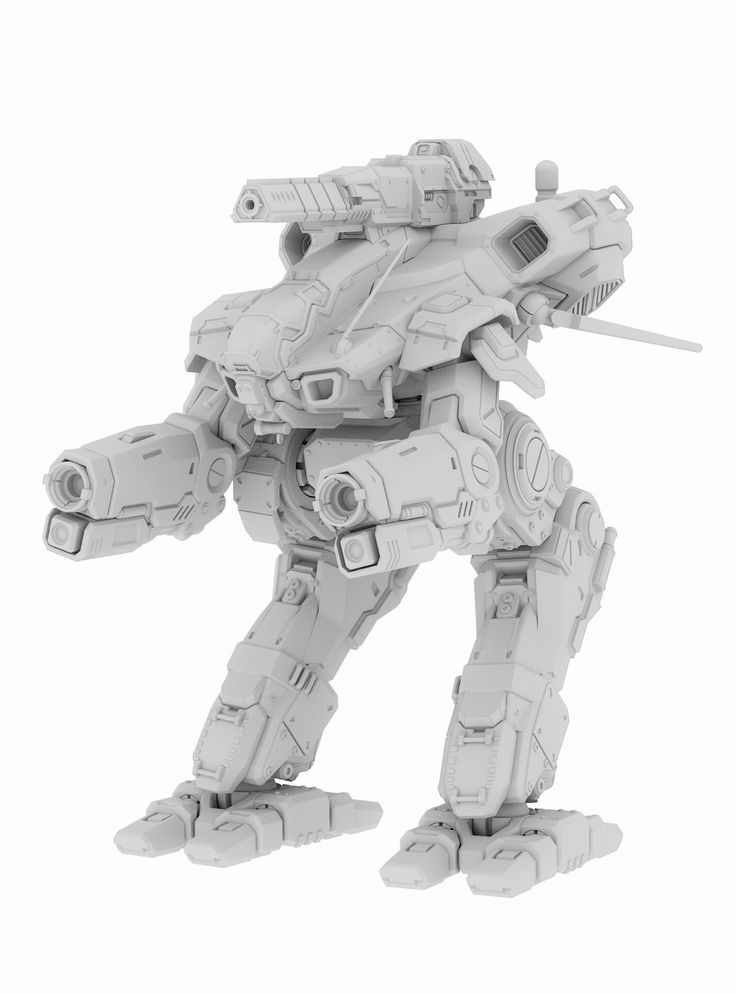 Search for "American Mecha" if you are having trouble finding what you want. You will have to find hex bases separately. The official bases are 29.5mm across. Most files are about 50mb. I downloaded a LOT of them :)
You also need the software to edit / slice them. Anycubic printers come with a software that has a few very useful features, but isn't the best overall. Personal I use three different programs for each mini: Anycubic Photon Workshop (comes with printer, also avail free), PrusaSlicer (free version), and ChituBox (free).
STEP 3 - GET EVERYTHING READY
Setup your printer according to instructions. If you want some how-to videos, I found "3D Print Farm" on youtube especially helpful. My setup is pictured here: https://imgur.com/a/NEKjzBx
For the mini's STL files: Firstly, I open the STL in ChituBox and before anything, "slice" it. (there are lots of guides on what this means, and should show up in your instructions also.) This isn't to print, but to find out the volume of the mini.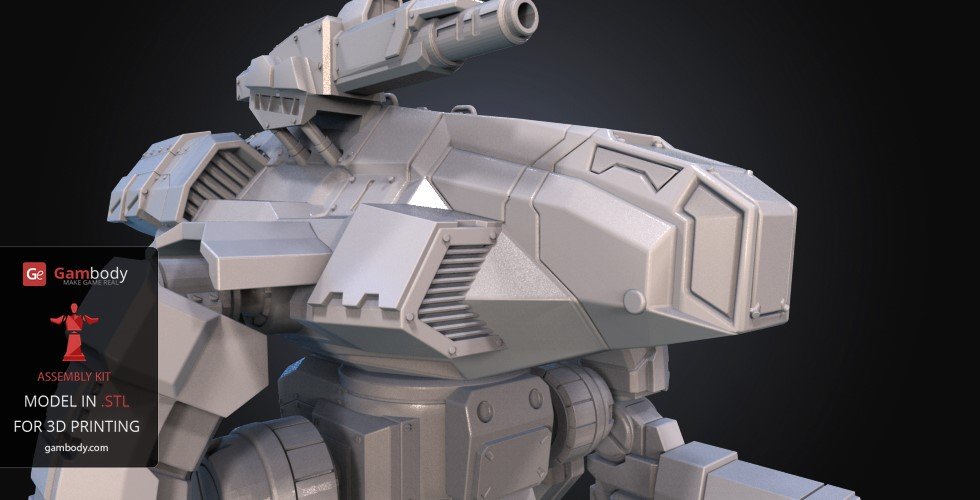 While almost all the minis I've found are 'good enough' size wise, I wanted more, and using the Wolverine WVR-6R as a baseline (Because I have the 3rd edition, beginner box, and Syllogy's STL to compare) reached the conclusion that models should be almost exactly .1ml per ton (the 55-ton WVR is 5.49ml).
I included a comparison image here: https://imgur.com/a/NEKjzBx
You can use a volumetric formula to figure out exactly how much to increase or decrease size to get to that, but trial and error works for me. A discussion on this from a few years ago is available here : https://www.reddit.com/r/battletech/comments/9w2kyd/battletech_miniature_sizes_3d_printing_need_help/
Then using ChituBox I added the base, and save the file as an STL (NOT save project).
Then I open it with Anycubic Photon Workshop software, because it has a very convenient feature to add text. I found that font size 2 (if you type 2, it will default to 20, so you have to fix it) and font height of .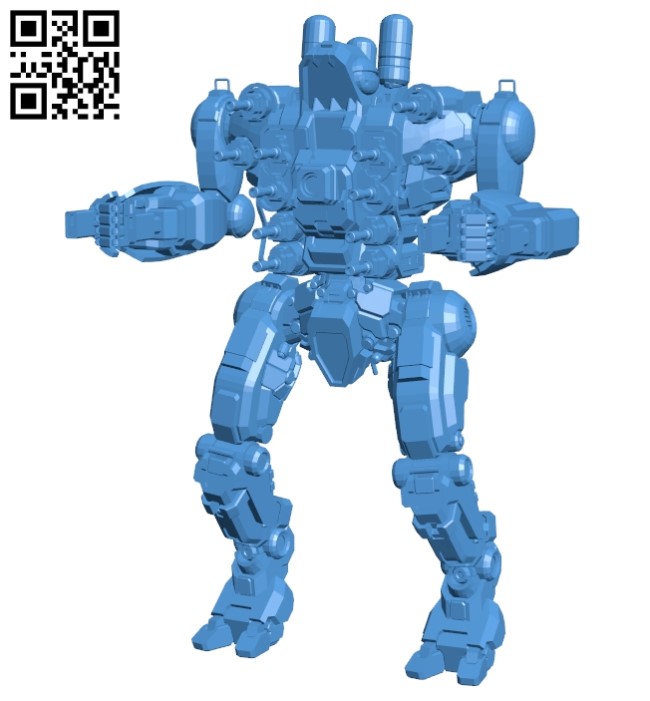 5 works perfect to type on the bases. Re-save the file.
Next I open it with Prusa Slicer, because it has the best (and frankly only good) auto-support tool. This guy has a great 10-min video about it: https://www.youtube.com/watch?v=S4KRazqrMjE
Export the STL with supports, and save (I save using a different filename in case I don't like the job the auto-supports did.)
Finally, I open the supported STL back with ChituBox. I have found that, to save time, I could fit THREE mechs on my printer at a time, and since it only matters how tall the print is, not how much material it uses, this saves a TON of time (and wear on the printer.)
STEP 4 - SLICE IT AND PRINT IT!
Do what step 4 says.
There's a bunch of post printing clean-up, and touch-up stuff, but that should be covered easily in the instructions, and other beginner guides.
Pro Tip: plan to print en masse - my printer takes about 2.5-3 hours per print (at three mechs per), you don't have to stand over it, just be ready with the files to start the next one each time.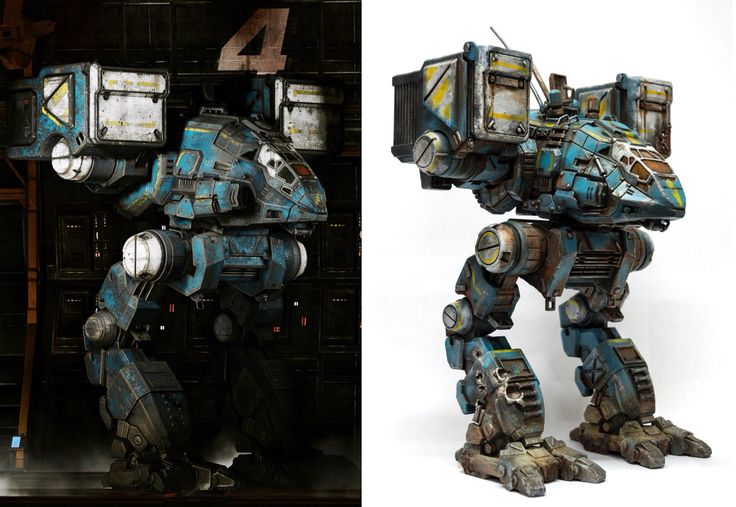 As long as the resin in the printer keeps getting topped off, you don't have to worry about filtering it back, or having it separate from sitting too long. Filter and clean the VAT only when it's going to sit unused for several days.
STEP 5 - PRIME, PAINT, SEAL
I am still working on painting techniques, but it seems like this community already has that part down!
STEP 6 - FIND FRIENDS AND PLAY!
Thank you guys for reading this! I will keep this updated with any feedback or corrections people have!
Happy Hunting!
-DaCrazyJamez
3D Printed BattleTech Models: Miniatures and Large-Scale Mechs
Fans of tabletop gaming enjoy numerous war games that could feature 3D printed BattleTech warriors. From Warhammer 40K to the original BattleTech and D&D, the rules might be different. Still, the characters can easily intersect with each other. Thus, you can 3D print your most beloved BattleTech miniatures and large-scale models and prepare your mechs for armoured combat on a battlefield.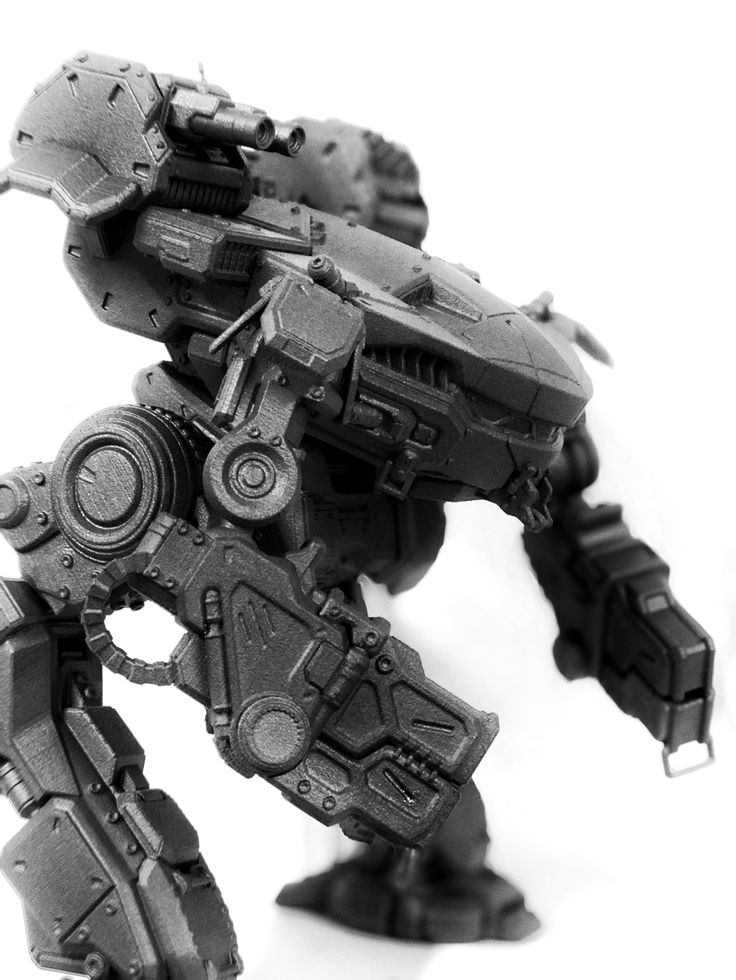 3D printing has already revolutionized both miniature sculpting and large-scale models' creation. With a 3D printer, it is possible to build multiple highly detailed BattleTech models that could replace figurines in your tabletop game or decorate your shelf. All you need are premium 3D printing files, your 3D printer, some creativity, some painting skills and some free time for your hobby.
BattleTech 3D Models with Files for Your 3D Printer
You will find many great MWO BattleTech 3D models with STL files on Gambody – Premium 3D printing marketplace. The impressive level of detail will show off in all 3D printed large-scale BattleTech models, as seen on numerous images of finished mechs shared by talented enthusiasts from across the world.
You can also 3D print BattleTech miniatures for your tabletop games and surprise your friends with a unique mech team ready to battle. So, get inspired by the 3D printed mechs and turn the best 3D models into real masterpieces.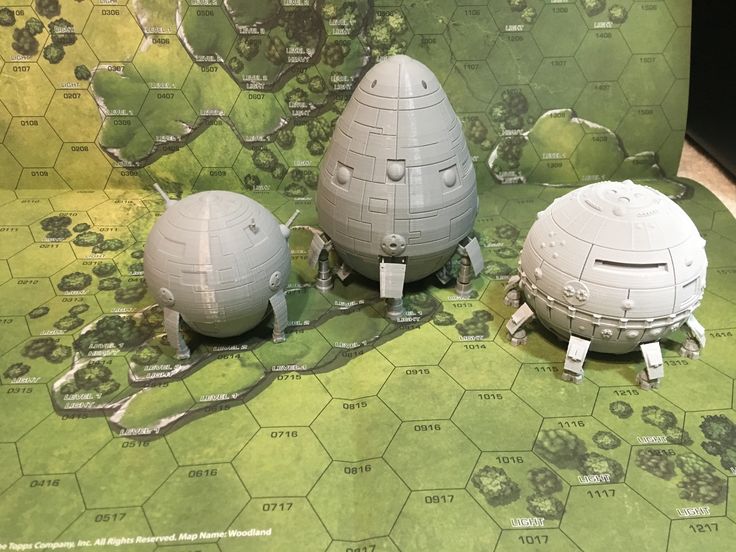 Large-Scale BattleTech Models
Fans of large-scale BattleTech models will find many impressive mechs for 3D printing on the Gambody marketplace. The level of detail and remarkable likeness of each piece to the original character will genuinely impress every 3D printing enthusiast.
Hobbyist Chris Corsello, for example, used silver PLA to 3D print Cyclops on his Anycubic i3 Mega 3D printer. This action assembly model boasts many impressive details as well as movable parts. Would you also like to add one to your collection? Download the Cyclops STL files for 3D printing on Gambody marketplace.
Cyclops model 3D printed by Chris Corsello
Timber Wolf is one of the most iconic characters in the BattleTech universe. This mech is very aggressively looking. The model has a twisting body and movable arms and legs, making the Timber Wolf STL files a candy for every 3D printing hobbyist, including Darren Hadland. This maker added life-like rockets with the wow FX effects.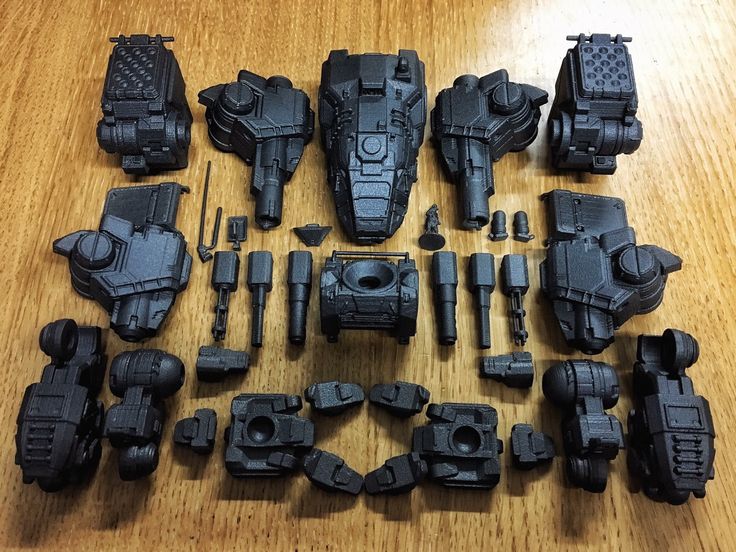 Life-like 3D printed Timber Wolf model made by Darren Hadland
A popular bipedal vehicle from the BattleTech universe, MWO War Hammer, is another example of an impressive mech with armour and deadly weaponry. Maker Thomas Cate showed how detailed the 3D printed War Hammer is even without paint. And hobbyist Keith Kosmal chose grey and bright yellow colours to complete this model. You can 3D print it as well after downloading the BattleTech War Hammer STL files.
War Hammer models made by Thomas Cate and Keith Kosmal
Enthusiast Scott Murphy 3D printed a large-scale BattleTech model UrbanMech on his Creality Ender-3 using UrbanMech STL files. He made sure to paint the mech with bright green decor over a metallic body. In addition, the maker showed the BattleTech mech next to miniatures to demonstrate the impressive model's size.
Large-scale BattleTech UrbanMech model 3D printed by Scott Murphy
Besides, Scott Murphy recreated Jenner Oxide. He modified the original Jenner STL files and added some tubes and armour parts to the national pride of the Draconis Combine.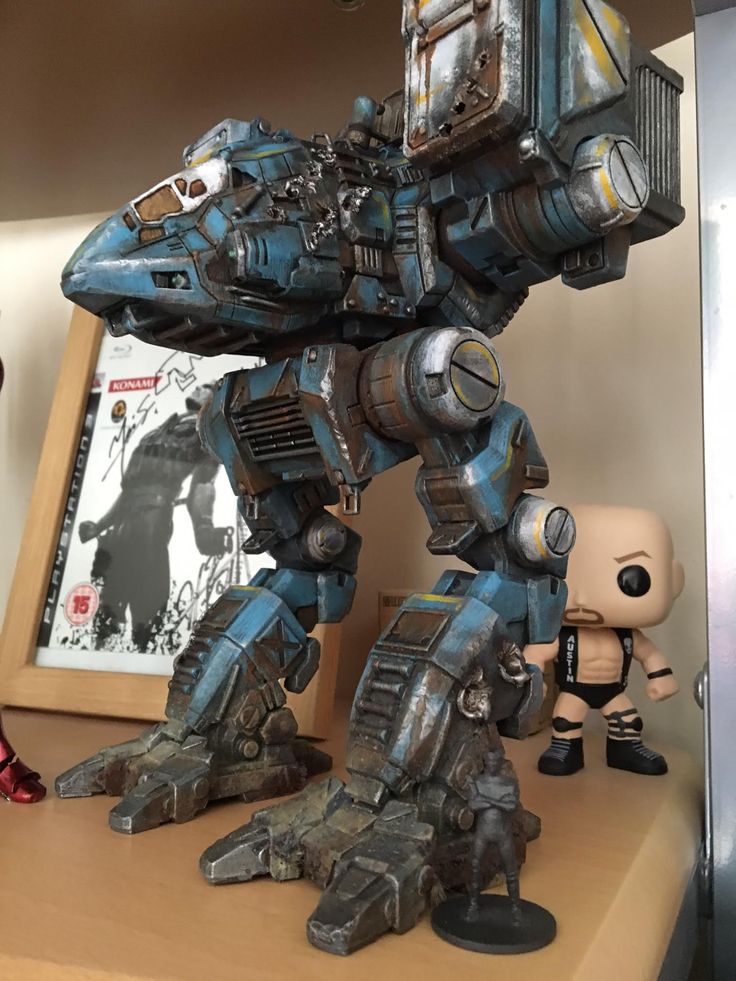 Jenner Oxide created by Scott Murphy
Matthias Schotten 3D printed a mighty BattleTech Shadow Hawk model. Then he planned to sand and paint it, but even unpainted, his project wows with a high level of details. Moreover, all the limbs are movable; thus, the maker can pose his mech. You can do this as well after getting the Shadow Hawk model STL files for 3D printing.
Shadow Hawk made by Matthias Schotten
3D printing is not only about bringing to life your most beloved characters. It is also about creativity. Different hobbyists make different versions of the same model and amaze with stunning ideas.
Fans of BattleTech models will enjoy the large-scale Archer mechs 3D printed and painted by Tony Adkins and Scott Murphy. These two machines impress with one-of-a-kind looks, and you can fantasize too once you download the Archer STL files.
Archer mechs 3D printed by Tony Adkins and Scott Murphy
Gambody hobbyists created many fantastic BattleTech Catapult 3D prints. Still, the work by Alexei Bruton truly stands out and is a must-see.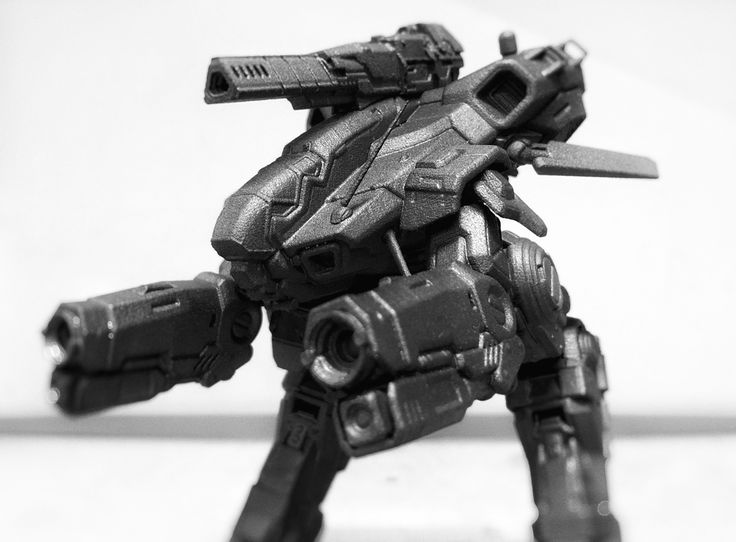 The maker recreated the mech in 1/64 scale and showed how giant this large-scale project appears when compared to the 28mm miniatures standing next to it. You can also further extend your BattleTech universe by 3D printing the Catapult STL files.
Catapult made in 1/64 scale by Alexei Bruton
Enthusiast Nawaf Bunashi presented his version of a 3D printed BattleTech Mad Cat MkII model. The creative maker added a shark smile to the bottom of the mech's cabin. Therefore, this piece of art looks unique and can decorate your shelf as well. Of course, you would need to download the Mad Cat MkII STL files to 3D print this project in its original 1/60 scale or at a larger size.
Mad Cat MkII model 3D printed by Nawaf Bunashi
Hobbyists know how incredible it is to finish 3D printing all the parts of the project. And many believe that it is equally essential to paint 3D printed models. Still, not everyone has enough time to complete this task right after 3D printing.
Luckily, the large-scale BattleTech models you can find on Gambody have many intricate details and features.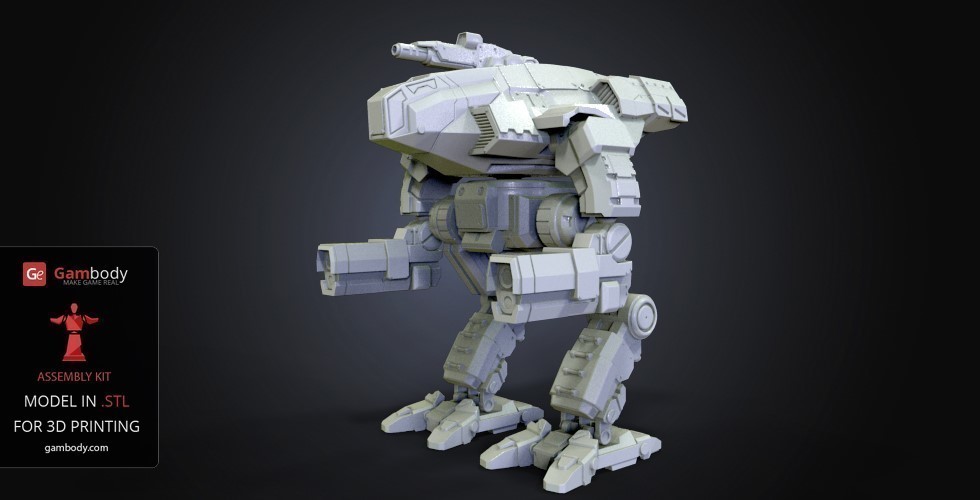 Therefore, your mech will look stunning even without paint, just like the Hellbringer made by Buddy Magsipoc. You can get the Hellbringer model STL files to 3D print this mech warrior for your collection.
Hellbringer made by Buddy Magsipoc
Talented Buddy Magsipoc also painted his Hellbringer mech and brought to life the BattleTech Raven model (which STL files are available here). Both mechs look like real masterpieces.
Hellbringer and Raven models 3D printed by Buddy Magsipoc
The stunning BattleTech Mad Dog model can also inspire every fan of mechs for new creations. Hobbyists McGuigan Michael and Greg Mason have already built these spectacular machines. You might wish to download Mad Dog STL files to add this 3D printed mech to your backyard scene or shelf display too.
BattleTech Mad Dog model 3D printed by Greg Mason and McGuigan Michael
Enjoy the photos of 3D printed large-scale BattleTech models and get MWO STL files for recreating the best projects on your 3D printer.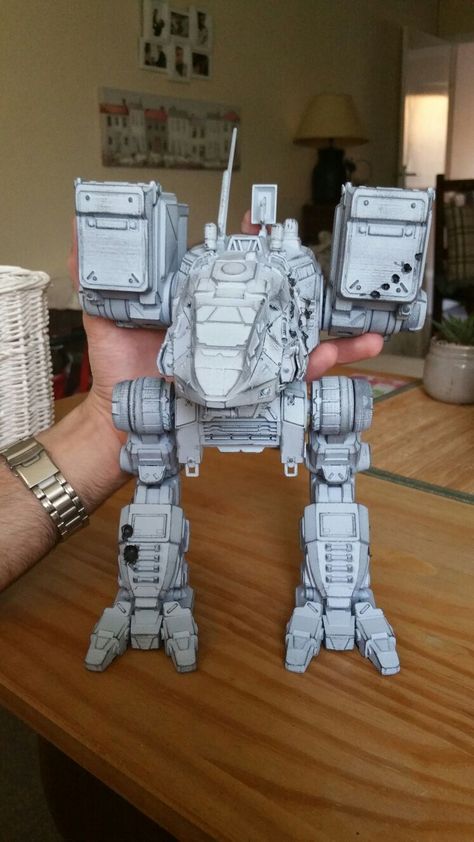 Read also: Fantastic MechWarrior 3D Print Collection of 25 Models
3D Printed BattleTech Miniatures
Usually, the large-scale BattleTech models are offered at 1/60 scale, or you can make them way bigger. But you can also 3D print BattleTech miniatures in 1/144 scale if you love MWO games or 1/285 scale if you are a fan of BattleTech games. You can find many mini-versions of war machines online.
Of course, the size of the 3D printed BattleTech miniatures mainly depends on the size of the terrain you are using for tabletop games. Some hobbyists love to build giant terrains where even 1/100 scale mechs would look relatively small.
This stunning 16-cm BattleTech Rifleman, for instance, was made in 1/100 scale on an Anycubic Photon Mono X 3D printer by Nicolas Reiser. Adore all the beautiful details and download the Rifleman STL files to do a similar project.
Rifleman model 3D printed by Nicolas Reiser
Hobbyist Alan Murray built an impressive collection of 1/100 scale resin 3D printed BattleTech models.
His every project adores eyes with bright colours, great details and fantastic paint job. As for you, it is easy to find all these and many more BattleTech models for 3D printing on the Gambody marketplace.
Cataphract, Marauder, Stalker and Shadow Cat 3D prints by Alan Murray
Alan also 3D printed Locust models and shared a photo that allows comparing the 1/60 scale DLP 3D print and 1/100 scale resin mech.
Locust models in 1/60 and 1/100 scale made by Alan Murray
But if you are a big fan of 3D printed BattleTech miniatures, you can make even smaller mech models of 40mm, 35mm, 28mm and less using your 3D printer. Such tiny projects will fit on your palm. In addition, you can use them in your tabletop and board games.
Below are great examples of small 3D printed mechs. You can also 3D print BattleTech miniatures at a bigger scale than the 'standard board' size as done by Thingiverse makers hungryspacelizard and clandaith.
3D printed BattleTech miniatures by clandaith and hungryspacelizard
Or you might wish to design your one-of-a-kind 3D printing BattleTech models in 1/144 or 1/285 scale making the tiny 6mm-10mm figurines for a standard terrain.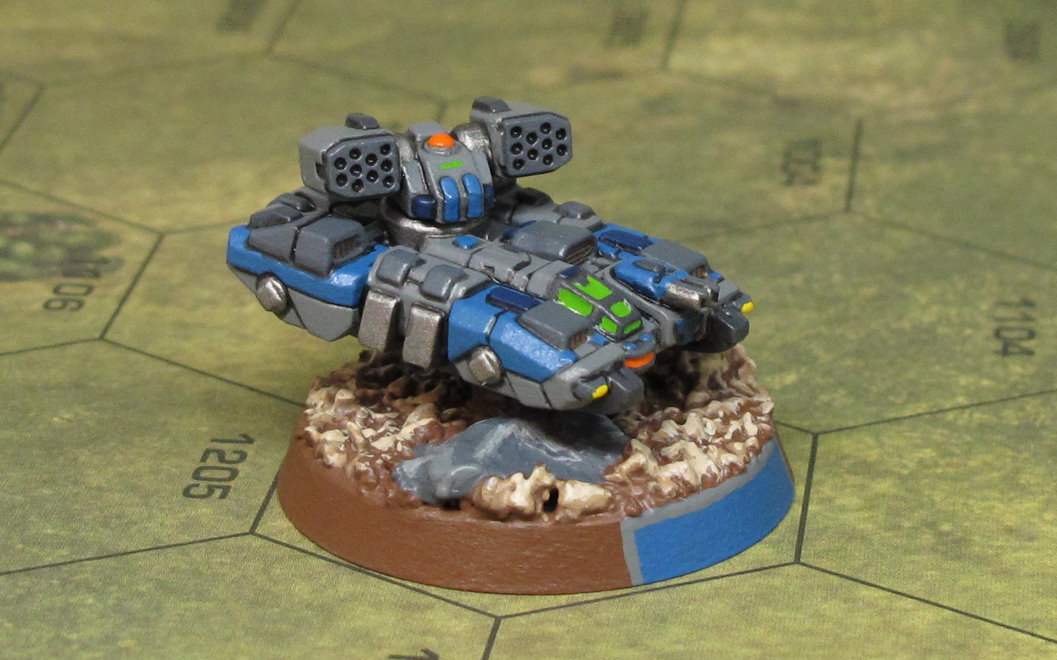 ---
It is now time to 3D print BattleTech miniatures and large-scale mech models. Build your machine army using a 3D printer, and join Gambody 3D Printing Community to showcase your stunning 'iron' warriors. May your 3D printed mechs encourage other creators for new activities.
(Visited 12,974 times, 1 visits today)
Author
3D printers in military service / Sudo Null IT News
The military industry has always been at the forefront of progress: many inventions either began their life as military or dual-use products, or, in the very first years after their appearance, were involved in this area. In this age of digital technology, this fate has not escaped 3D printing.
3D printers are actively used by military contractors and direct employees of all branches of the military.

Contents:
In Russia
Worldwide
– Aviation
— Fleet
– Ammunition and small arms
– Outfit and protection
– Construction
– Self-sufficiency
– Electronics
Concepts
Conclusion
In Russia
JSC "Federal Research and Production Center "Titan-Barricades", which develops missile systems and military vehicles, has bought and uses in prototyping a kit based on the XJRP SPS450B 3D printer.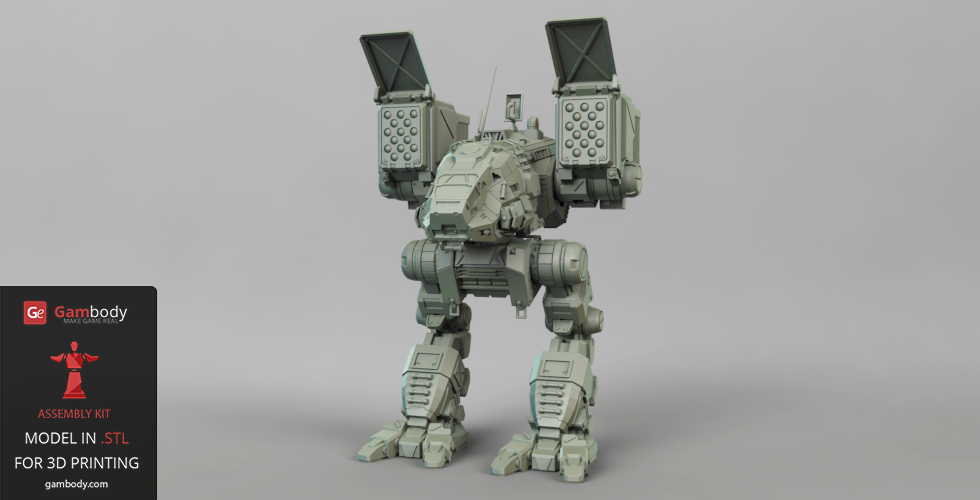 The kit consists of two devices: directly a 3D printer with a large print area, working on SLA technology, and a polymer curing chamber.
XJRP SPS450B 3D Prototyping Kit.
Source: pechat3d.ru
The 3D printer is planned to be used to create miniatures of future parts, cases or mechanism assemblies. The first product made on this 3D printer was a prototype wheel with a tread.
Ilyushin specialists plan to produce some simple parts for the Il-112V military transport aircraft using 3D printing.
Model of the Il-112V transport aircraft.
Source: ITAR-TASS
Together with specialists from the Voronezh Aircraft Plant (VASO), PJSC Il specialists use 3D-printed parts as test samples, which will be replaced with originals made by the classical method before departure. But in the future, it is planned to master the printing of simple components that will be installed on mass-produced aircraft.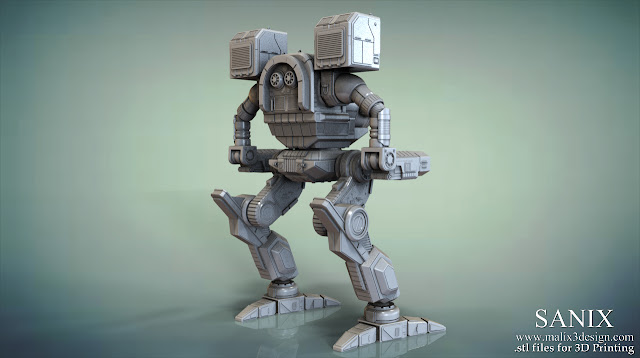 Pavel Chernikov, First Deputy General Director of PJSC Il, said: "The IL-112V is being created from scratch, and many parts and components need to be improved during installation on the aircraft. We started using a 3D printer to see how right or wrong our calculations were. Such technologies make it possible not to interrupt the finalization of finished products, which, in turn, significantly reduces the installation time of equipment and reduces the cost of the production process."
Research and Production Corporation "Uralvagonzavod" named after F. E. Dzerzhinsky purchased a 3D printer S-Max manufactured by ExOne.
Source: 3dtoday.ru
This printer is designed for making sand molds. Molds are used for casting metal blanks. As the deputy chief metallurgist of NPK Uralvagonzavod said: "We will no longer have to manufacture expensive foundry equipment for experimental, new products and complex castings of small series.
It will be enough for the designer to develop a 3D model of the required casting, according to which, also in 3D, the mold will be designed and manufactured. Finished rods will go to the foundry. In addition, to solve the problems of the corporation, they can be transported to any distance."
Source: 3dtoday.ru
This is not the first professional 3D printing system used by Uralvagonzavod. In 2015, the company purchased a Fortus 400mc 3D printer manufactured by Stratasys Corporation. This printer is used in the production of parts for the T-14 "Armata" tank and other vehicles manufactured by Uralvagonzavod.
Tank T-14 ("Object 148") on the "Armata" platform.
Source: OJSC NPK Uralvagonzavod
Representatives of the company note that the introduction of 3D printing saves time and production resources. It is not required to spend forces on turning metal samples. If a part doesn't fit, it's easier to reprint it than remake it.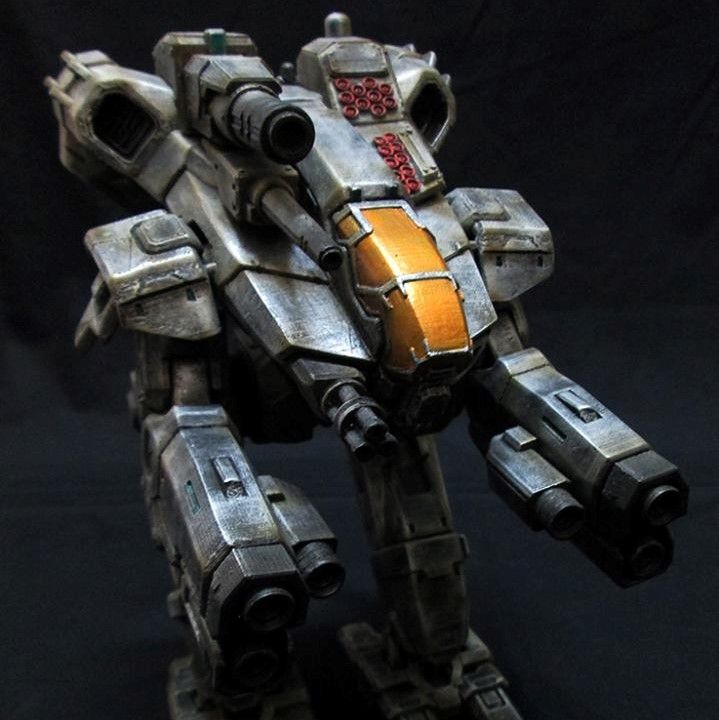 Russian Helicopters Holding, according to its CEO Andrey Boginsky, plans to 3D print about a hundred parts for rotorcraft by 2020.
Andrey Boginsky
Source: Yuri Smityuk/TASS
In 2018-2019, it is planned to conduct a series of bench tests in order to obtain all the necessary certificates for printed parts by mid-2020. In total, it is planned to test about a hundred parts and assemblies.
Compared to traditional parts, 3D-printed parts are lighter and their production will be deployed at the Kazan Helicopter Plant. As a result of the use of parts obtained by 3D printing, the holding plans to reduce the cost of products.
Worldwide
The road to military 3D printing is not paved with roses. When we hear about cool 3D printed military projects, we have to consider some of the challenges that come with doing them.
Soldiers get to know FORTUS.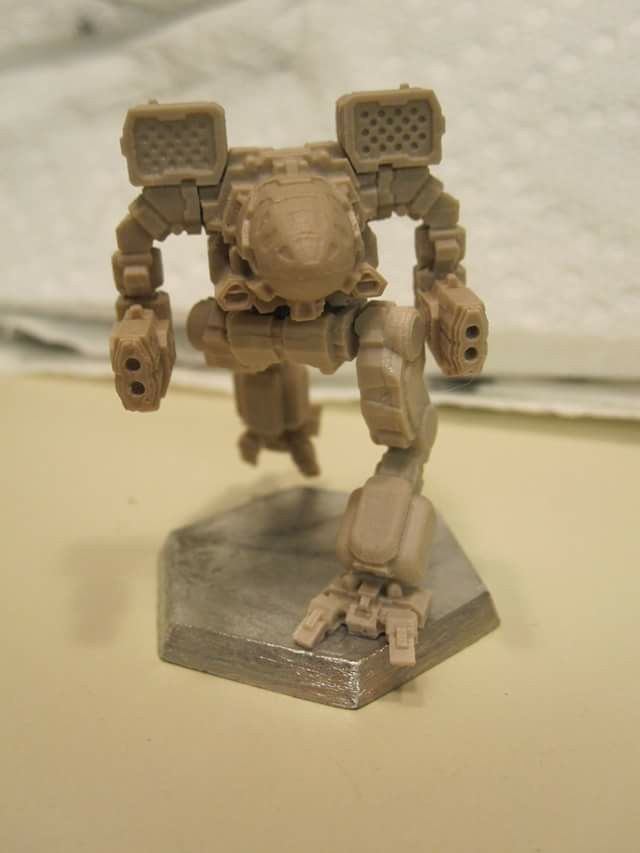 Source: all3dp.com
The problem of quality certification. Many things that the army is supposed to produce using 3D printing are designed for harsh operating conditions, they are subject to high requirements for compliance with dimensions, geometry and quality, and an unsuccessfully printed part can lead not only to monetary losses, but also to the death of soldiers . This issue will most likely be resolved by certification of the 3D printers themselves.
Insufficient printing speed for the army. Even the most expensive 3D printer is not fast enough. There are also issues of privacy/security, copyright, and many other little things that are not obvious at first glance.
While these issues are being addressed, the US Department of the Navy has decided to host a 3D printing hackathon. 12 organizations were invited to participate, which showed their developments in the field of 3D printing for the Navy. According to the participants, fully or partially printed inventions: "Allow to improve the ability to maintain combat readiness.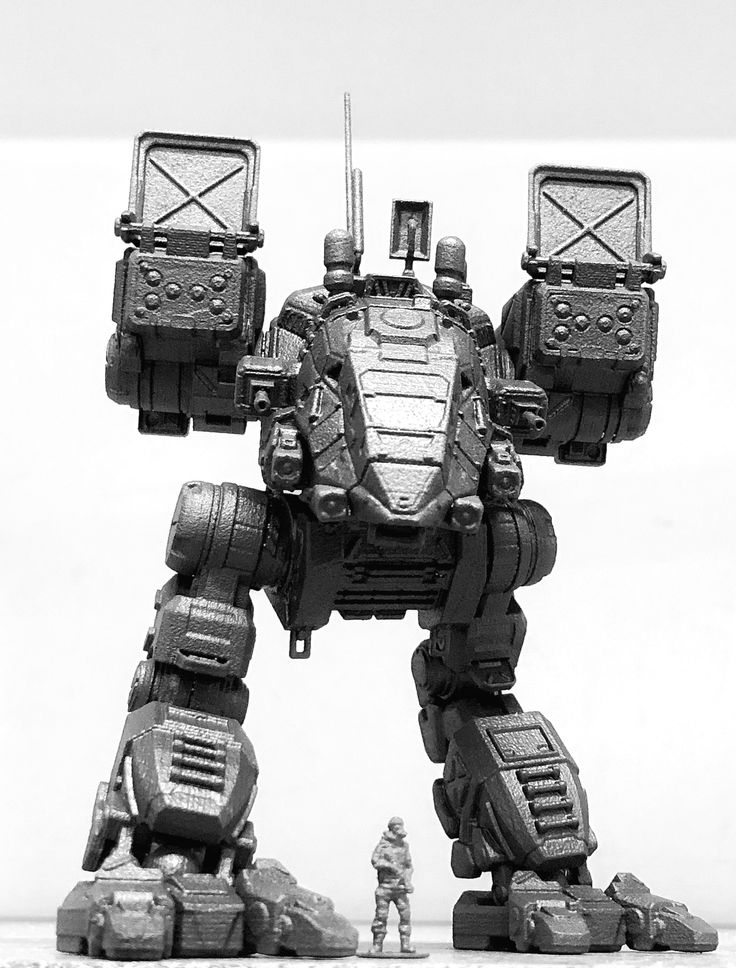 "
One of the new and memorable developments was the four-legged transporter robot (MeRlin). It turned out to be quite compact and can run, jump and walk up and down stairs. Three-dimensional printing made it possible to create, right in the supporting frame of the robot, a hydraulic manifold that serves to transfer energy to the robot drives. Those interested in robotics will find Merlin similar to the transport robots of Boston Dynamics.
Robot device "Merlin".
Source: all3dp.com
Aviation
A 3D-printed drone was launched from one of the British Royal Navy ships at sea, HMS Mersey. The device was created in collaboration with the University of Southampton.
EOS 3D printed drone launch.
Source: all3dp.com
The case is made of nylon, using laser sintering technology. With a wingspan of one and a half meters, the drone weighs only three kilograms.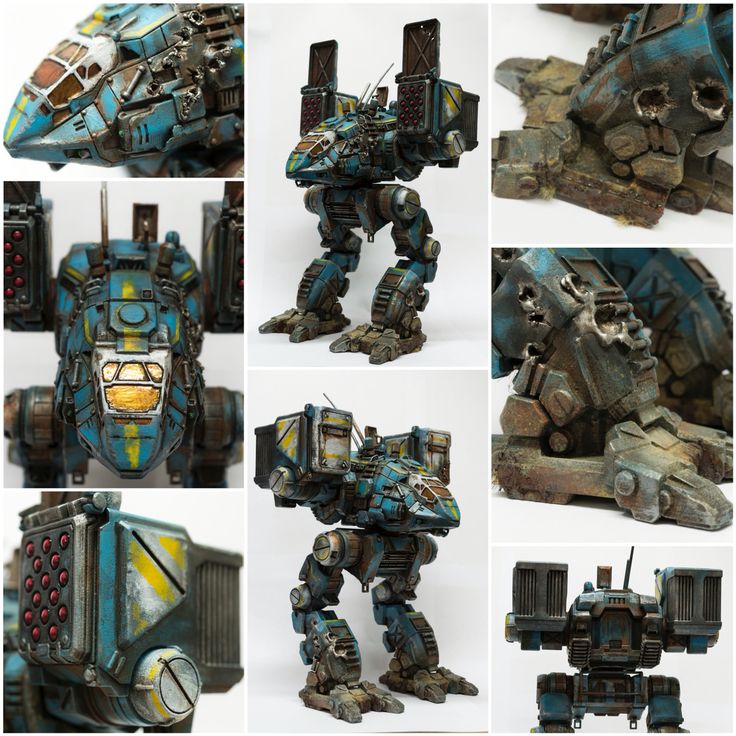 The main task of this project was to create a small drone for exploring the surroundings, which can be quickly printed on board the ship.
The drone, named SULSA, was equipped with a small video camera. Management was carried out by researchers from Southampton using video cameras. The flight, with a range of 500 meters, lasted only a few minutes, but proved that 3D printed drones could be launched from the sea.
SULSA drone route during test flight.
Source: southampton.ac.uk
3D printing will solve the problem of ships' limited capacity by allowing equipment to be printed at sea as needed. The only thing you need to have on board to print a drone is a 3D printer and a supply of nylon, which is disproportionately cheaper than a case made using traditional technologies, and takes up much less space.
The only drawback is the print speed, but it is expected to improve in the near future. Engineers from the American Army Research Laboratory (ARL) are trying to fight this shortcoming.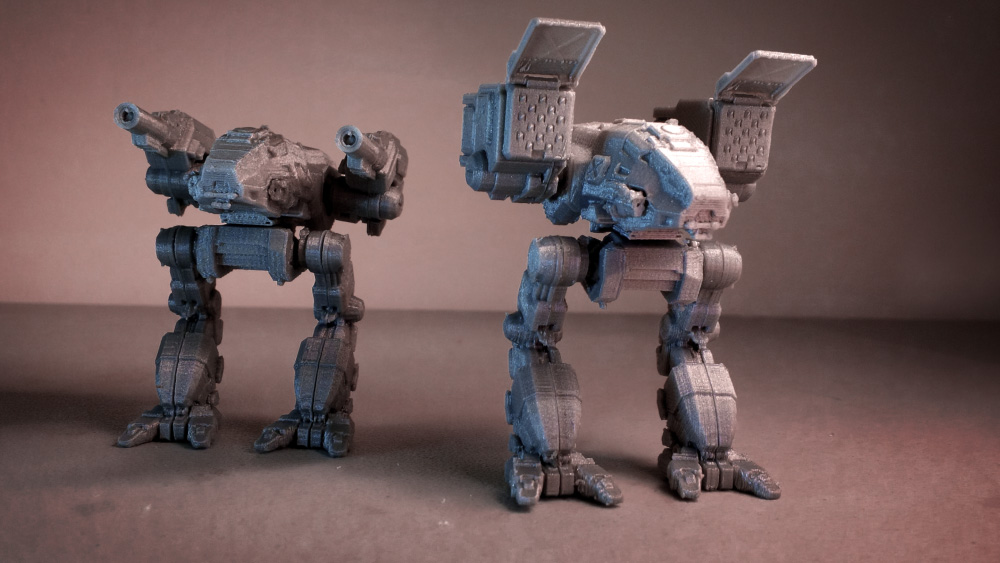 They are developing drones that can be made within a day. Engineers are building drones that can be used to assist soldiers in communication, delivery, and aerial surveillance.
Eric Sopero demonstrates his drone to US troops.
Source: all3dp.com
Drones are made using off-the-shelf motors and propellers, but their body is almost entirely 3D printed. The maximum speed of the drone is 55 miles per hour. Drones can either be controlled by the operator from the remote control or operate in a completely autonomous mode. Work continues to reduce noise and increase flight range, maneuverability and payload.
The US Army is partnering with the Marine Corps to develop an unmanned vehicle parts catalog that can be downloaded to an employee's tablet. The software of this catalog allows you to order or 3D print a product directly from it.
US soldier with drone.
Source: all3dp.com
In addition to experiments with drones, 3D printing is also used in "big" aviation.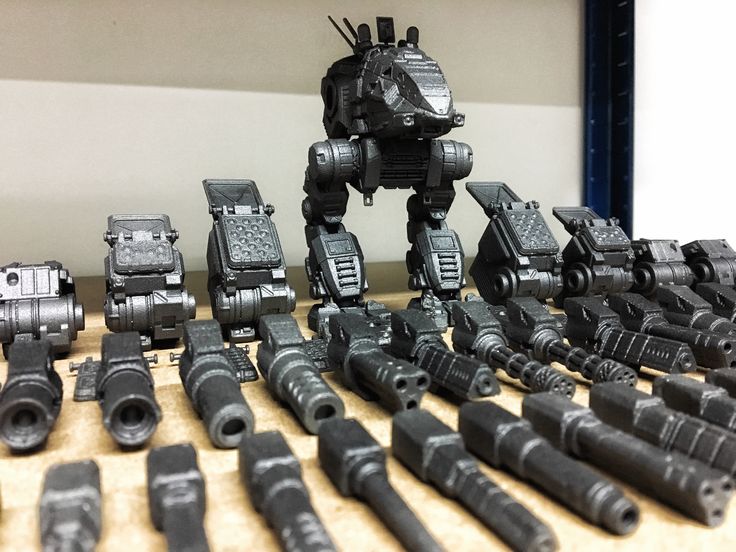 For example, the US Air Force has announced that it will 3D print the toilet seats of military transport aircraft. The announcement comes after a scandal erupted when it was reported that each toilet seat cost the Air Force $10,000 to replace.
Airplane seat for $10,000.
Source: all3dp.com
The public, which already believed that the government did not always save on military spending, was extremely outraged. After an investigation initiated by one of the senators, the military department announced that it would print toilet seats on 3D printers.
Why is the toilet lid so expensive? These covers were mass-produced by Lockheed Martin, and in 2001 this giant of the military industry stopped their production. In addition, the military department explained that the C-5 toilet seat is not only a cover, but also part of the lavatory wall, which is designed to protect the body of the aircraft from corrosion that can be caused by urine.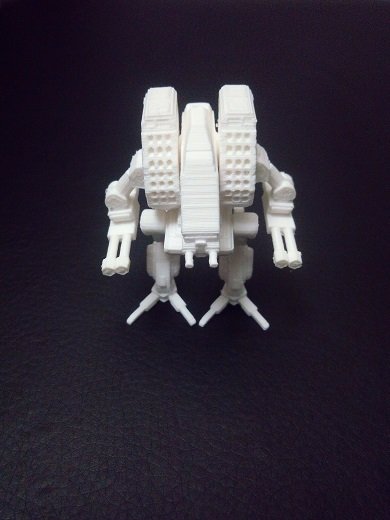 According to the manufacturer, its high cost is due to the need to suspend the production of other goods. In the case of independent production of the Air Force, the spare part will cost only $300.
The manufacturer now claims that the US Air Force does not own the copyright to this cap. It is not known how this lawsuit will end, but the Air Force says that they will no longer buy this spare part, because they can make it themselves much cheaper.
As stated in the department: "The use of 3D printing allows us to create parts that are no longer produced, which leads to a significant reduction in costs."
C-5 transport aircraft.
Source: all3dp.com
Another example of 3D printing was demonstrated by the Maryland Marines. Using 3D modeling and 3D printing, they made a $70,000 F-35 fighter jet part for just 9 cents. The Marines were assisted by Sam Pratt, a mechanical engineer in the design office of the Carderock Additive Technology Factory.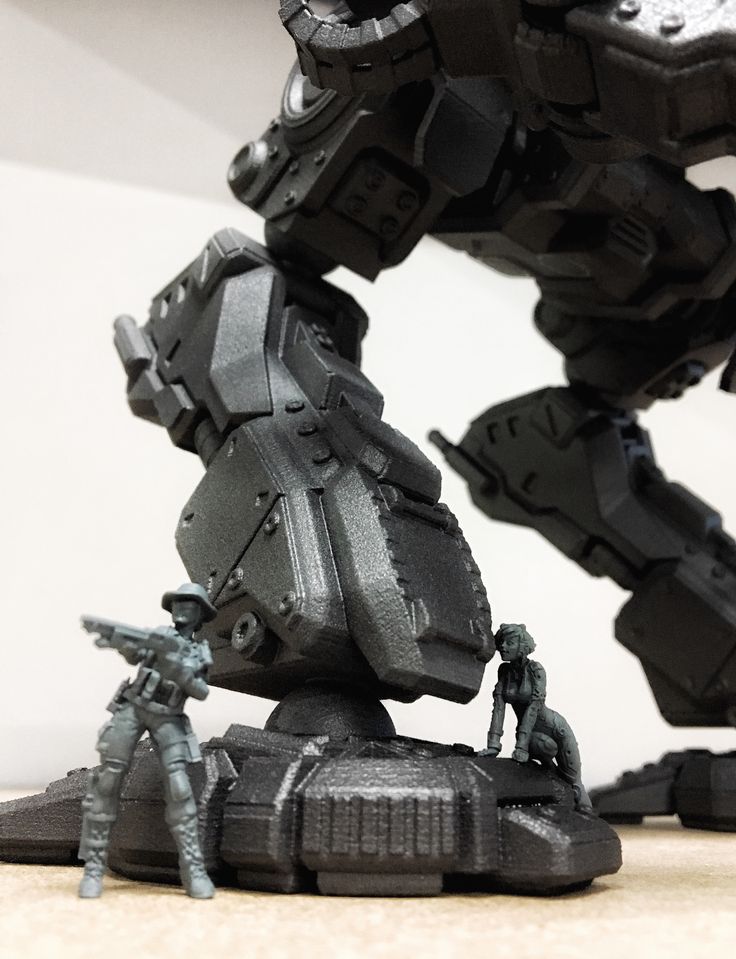 Sam revealed that he was with a support platoon in South Korea teaching CLB-31 Marines how to design 3D models and how to use 3D printing. His main task was to test the performance of 3D printers on marine vessels. He also taught employees how to use Solidworks CAD.
Sam Pratt teaches Marines about 3D printing.
Source: all3dp.com
When there was a problem printing a part needed to repair an F-35, a Marine officer offered to team up to cooperate. It turned out that the employees had already developed this part, but could not find the right dimensions. The fact is that they used a hobby-grade 3D printer and the free 3D editor Blender - Blender is ideal for implementing art projects, but it is difficult to create engineering products in it.
US Marine at the 3D printer.
Source: all3dp.com
Pratt helped with modeling and printing issues, the part was printed in PET-G.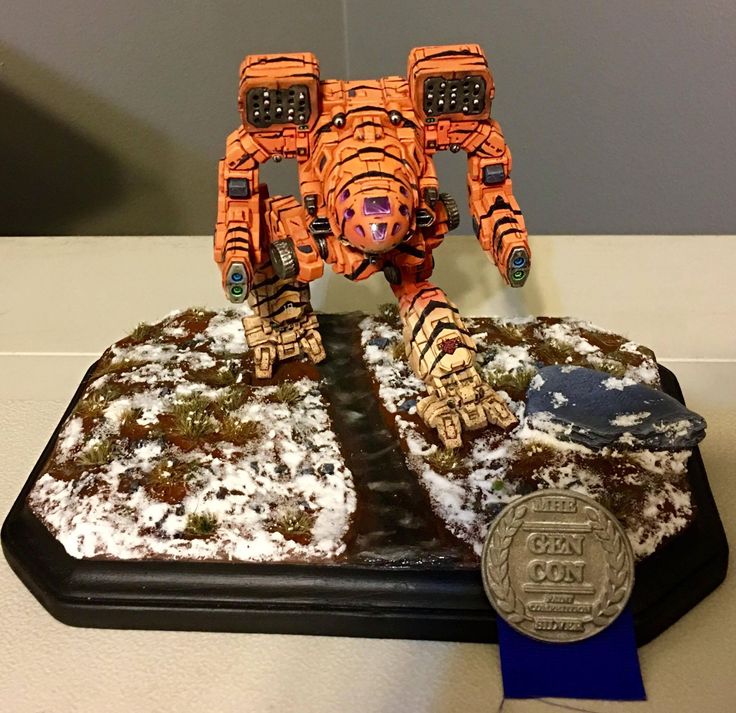 Currently there are about 90 parts for ground vehicles that are approved for 3D printing in the military, you can download one of these parts and print it.
Large manufacturers are also moving forward and mastering 3D printing technologies. Thus, the giant of the aviation and military industry Lockheed Martin is actively investing in 3D printing.
Lockheed Martin uses 3D printing in its manufacturing processes, with over a hundred 3D printers in its arsenal for prototyping, tooling and printing finished products.
Lockheed Martin uses 3D printing for several reasons: up to 80% reduction in production time, up to 40% reduction in part weight, proven part reliability in challenging environments, and most importantly, the ability to further increase production in the near future.
For example, the manufacture of fuel tanks for spacecraft using traditional technologies takes 18 to 20 months. The production of such a tank by 3D printing takes two weeks.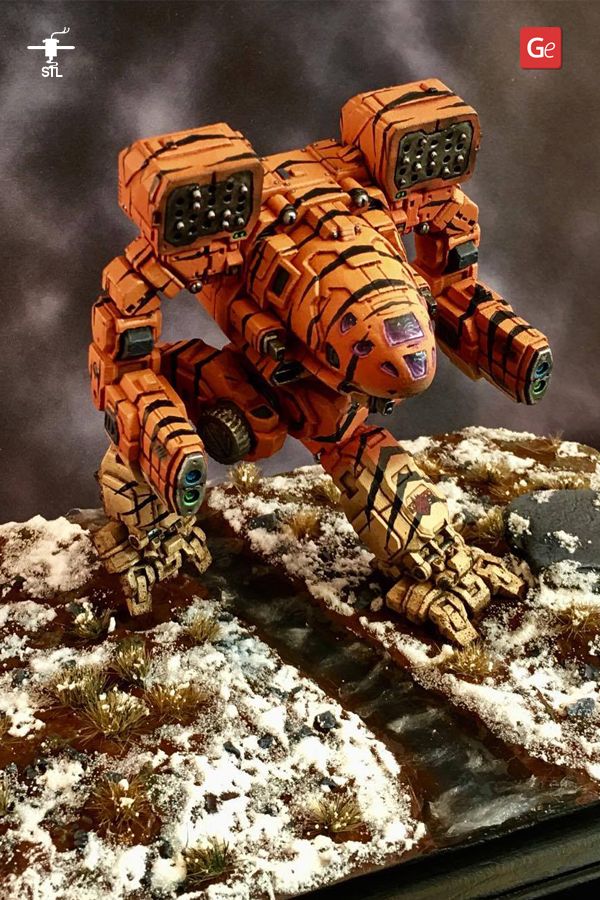 In this case, a better uniformity of the structure of the tank elements is achieved. The tanks are manufactured using a Sciaky printer using EBAM (Electron Beam Direct Manufacturing) technology, in which a bar of metal material is heated by an electron beam.
Source: all3dp.com
Lockheed Martin's 3D printed products have already passed the lab testing stage and are in active use. Some of them travel around our solar system: the Jupiter-exploring Juno satellite has eight 3D-printed brackets, and the Orion spacecraft uses printed high-pressure valves.
Navy
In South Korea, loudspeaker grilles for aircraft carriers are being 3D printed. Shipping these gratings from Europe took up to seven months and cost $612 each. The printed part is made in 4-5 hours and costs about $35. Printing parts reduces their cost and production time, and localization of production reduces dependence on foreign supplies, which may be delayed or become unavailable for various reasons.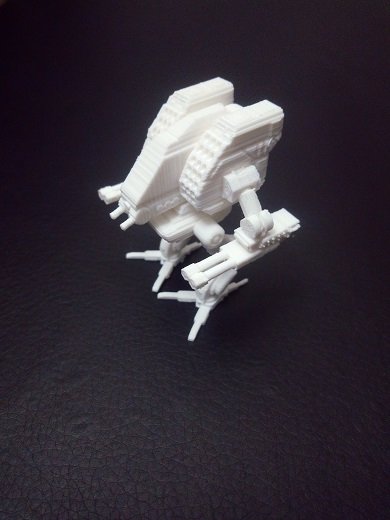 General Electric has contracted with the US Navy to develop software for rapid 3D printing of spare parts for ships, aircraft and other critical military installations. The contract, worth nine billion dollars, is designed for four years and provides for the creation of technology "digital duplicates" - a complex of software, base models and hardware. This technology will be used both for those spare parts that are no longer manufactured, and for new parts of ships and aircraft.
Designed with a ConceptLaser 3D printer. Source: all3dp.com
The project is being implemented in two stages: at the first stage, software and hardware parts will be developed, at the second they will be combined into a complex capable of quickly creating the necessary products using laser metal melting technology (DMLM).
Ammunition and small arms
The US Army has designed and 3D printed a fully functional grenade launcher called the "R.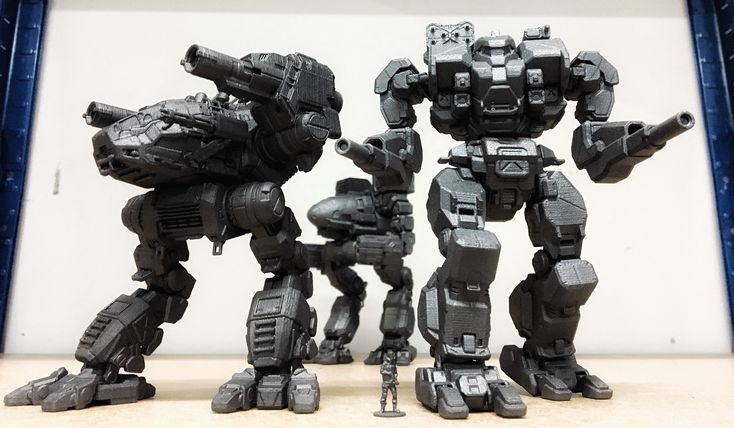 A.M.B.O." The development of the grenade launcher took about six months. He shoots grenades also made using 3D printing.
R.A.M.B.O.
Source: all3dp.com
The grenade launcher consists of 50 parts, all of which, with the exception of springs and hardware, are 3D printed.
3D printed grenade launcher parts.
Source: all3dp.com
R.A.M.B.O. demonstrated characteristics similar to the M203 underbarrel grenade launcher made in the traditional way.
A US Marine team is 3D printing and testing small explosive containers that can be used on the battlefield.
3D printed container for explosives.
Source: all3dp.com
The development of light small arms began in the private sector, with the most primitive pistols. On the Internet, you can find drawings of products such as the sensational Liberator. The first 3D printed pistol was printed on a professional Stratasys Dimension SST printer.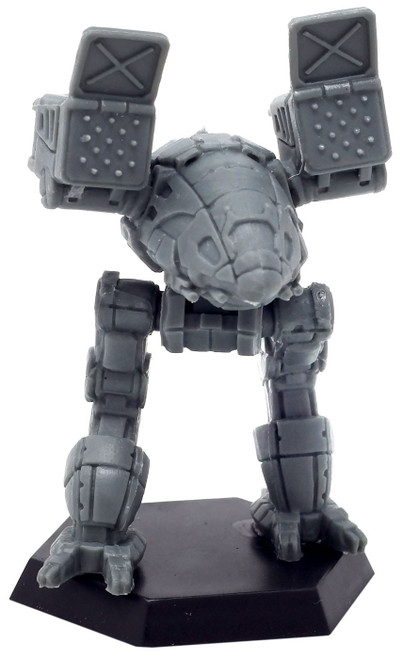 The pistol is chambered for 9mm cartridges and is loaded during assembly.
Liberator pistol test.
Source: YouTube
The very possibility of obtaining weapons using 3D printing so excited the public that the drawings of the "Liberator" were withdrawn from public access, and a ban on 3D-printed weapons was introduced in the United States.
Solid Concepts has created a replica of the .45 Browning M1911 pistol, the Solid Concepts 1911 DMLS, using selective metal laser sintering. The first sample withstood 50 shots, later ones are capable of firing 600 shots without visible damage.
Solid Concepts 1911 DMLS.
Source: Solid Concepts Inc.
The ban on the distribution of 3D printed weapons was recently lifted by a court decision. So, it is now possible to print weapons in the USA, with some restrictions: they can be no more than 50 mm in caliber and models cannot be freely available.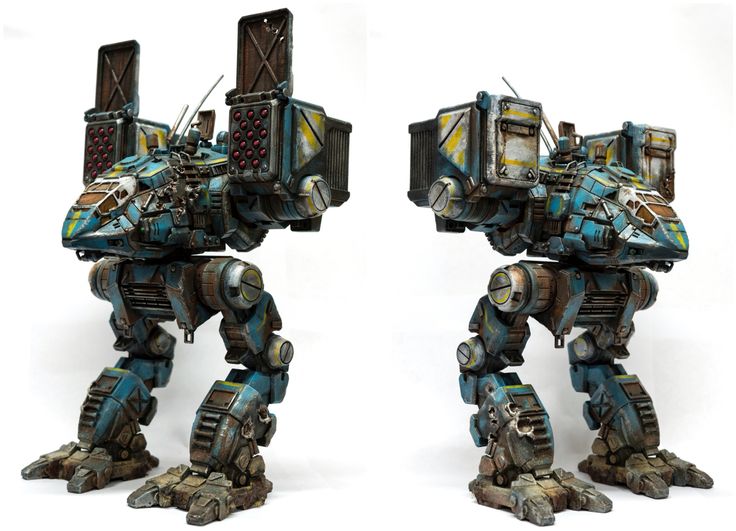 This ban was easily circumvented by Defense Distributed, which posted models of their rifle for sale on one of the online services.
Source: depositphotos.com
"Our models are not freely distributed, as buyers pay money for them," a company representative said.
Equipment and protection
The Vatican decided to use 3D printing technology for the production of traditional headdresses of the Swiss Guard.
Swiss Guard.
Source: all3dp.com
The Swiss Guard is the personal guard of the Pope. From time immemorial, their form was made of metal, but now they have decided to keep up with the times. A 3D printed helmet will be significantly cheaper and, more importantly, lighter.
3D printed helmet prototype.
Source: all3dp.com
The helmets are made of PVC and bear the coat of arms of Pope Julius II, who founded the Swiss Guard in 1506.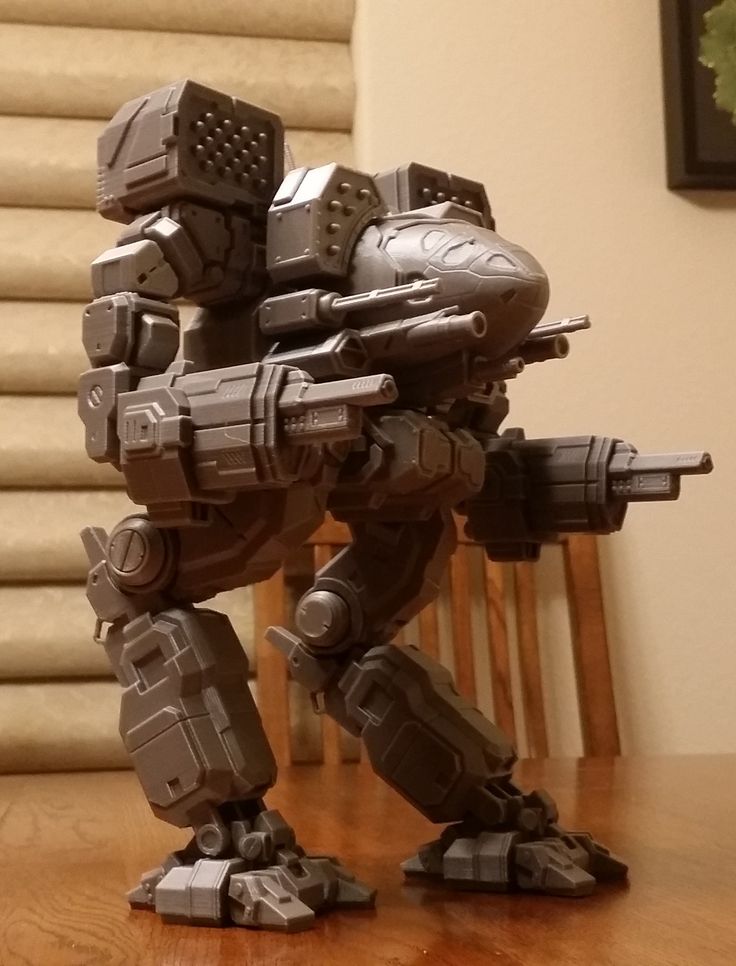 The US military turned to the creators of the Iron Man costume, a movie character, for help in creating uniforms for the soldier of the future. The military commissioned Legacy Effects to develop and print the prototype components for the TALOS Special Outfit Kit.
TALOS will contain a cooling system to maintain a comfortable temperature in the suit, a tactical display and an integrated exoskeleton.
Uniform concept of the future.
Source: 3dprintingindustry.com
The studio team will join the large team already working on the project, which includes bioengineers, combat veterans and technologists.
Construction
The US Army Research Engineering Team printed the large building in just 21 hours. The area of ​​the building is 47.5 square meters. The barrack-style building is the result of a three-year US Army Construction Engineering Research (ACES) program with a laboratory in Champagne, Illinois.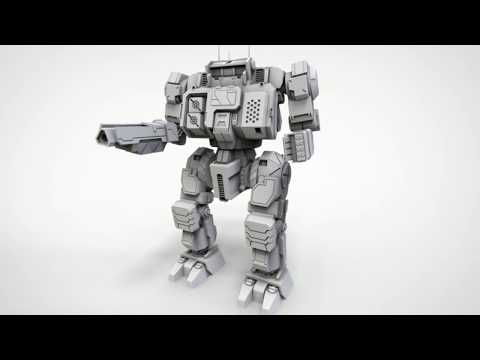 3D printed barracks.
Source: all3dp.com
Such a short construction time means that such temporary structures will become more affordable with the development of 3D printing. These buildings can be used as housing for refugees or temporary housing in case of natural disasters.
The process of a construction 3D printer.
Source: all3dp.com
The building looks like an ordinary house, but in the future such buildings can be given any look. Such buildings are also more energy efficient than traditional ones - they require less energy for heating and cooling.
ACES cuts building materials in half and allows printing with local materials. Reducing the need for labor is 62%, compared with the construction of plywood structures.
Concrete placement with a 3D construction printer.
Source: all3dp.com
Self-support
A collaboration between the US Army Research Laboratory and the Marine Corps has led to the development of a technology to make 3D printed PET filament from plastic waste such as water bottles.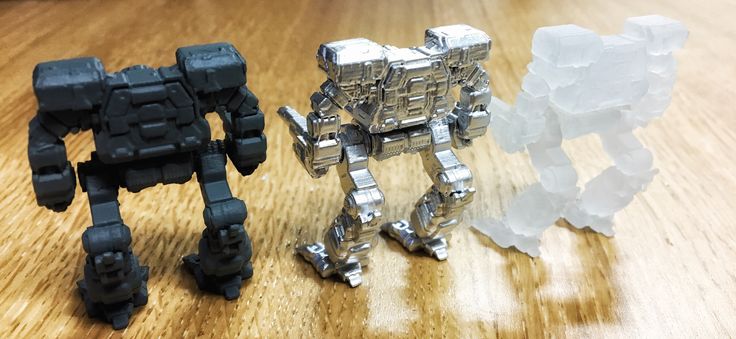 According to the military, water bottles and plastic packaging are the most common litter on the battlefield. Both US and allied forces produce large amounts of this waste, and the ability to recycle it will reduce the cost of transporting raw materials. The filament obtained from recycled materials, provided that it is properly cleaned and dried, is completely equivalent in tensile strength to its analogue from primary raw materials.
Source: all3dp.com
A plant is being developed, housed in a standard shipping container, that will allow the production of filament from waste.
The US Army is also developing food printers. Their advantages are obvious: the possibility of reducing the cost of food, compared with the traditional delivery of rations from abroad; the possibility of compiling an individual menu, in accordance with the preferences of each soldier; the possibility of individual balancing of the diet, depending on the dietary needs of each soldier.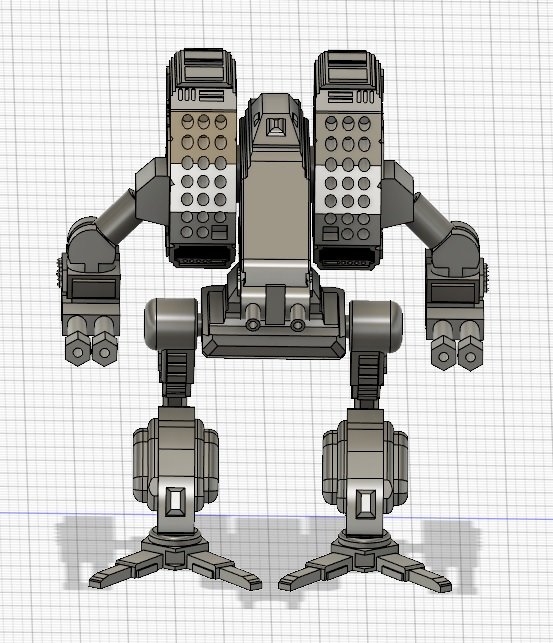 The printer, like classic 3D printers, stacks components in layers.
3D printed food.
Source: all3dp.com
The printer uses an ultrasonic agglomeration method to 3D print small snacks.
Electronics
Researchers at the University of Massachusetts Lowell have developed a new way to 3D print conductive components for radar systems. They have created a new type of ink that allows radars to be made using 3D printing.
3D printed electronic components.
Source: all3dp.com
The development was sponsored by Raytheon, one of the defense industry companies.
According to the developers: "The use of this technology makes it possible to obtain cheaper and more versatile systems than those obtained by classical methods. This technology has obvious advantages in the military sphere, but it can also be used in civilian industry, for example, in the production of weather stations or unmanned vehicles.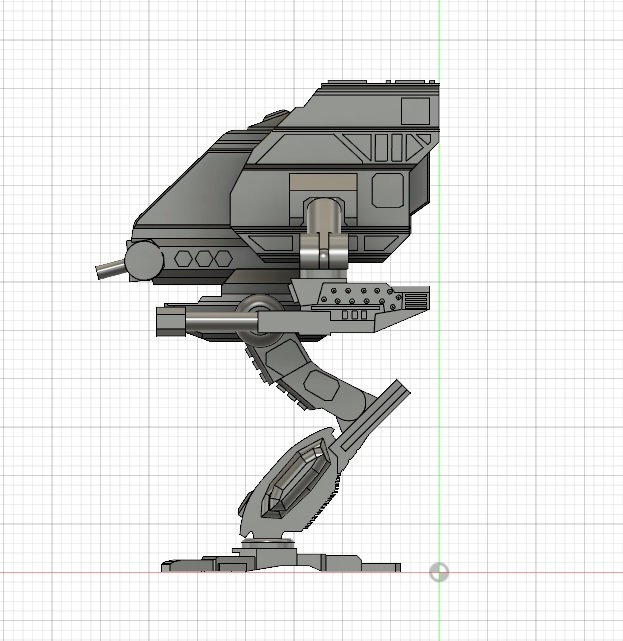 The main problem was obtaining ink with desired properties, capable of working with high-frequency radiation."
Applying ink to a plastic plate.
Source: all3dp.com
Two heads with different operating principles are installed on a 3D printer. One applies the ink by spraying, the second fixes them by microvibration. Radar system components such as a voltage controlled capacitor (varicap), phase shifter (for electronic control of phase array radar systems) and frequency filters can be manufactured using this technology.
The ink material is based on nanoparticles that can be injected into molten plastic and then solidify with it, creating conductive structures.
The US Air Force Research Laboratory teamed up with American Semiconductor to create a silicon-polymer memory chip.
Using 3D printing technology, they have developed a new ultra-flexible chip with built-in sensors.
Dan Berrigan holding the new flexible chip.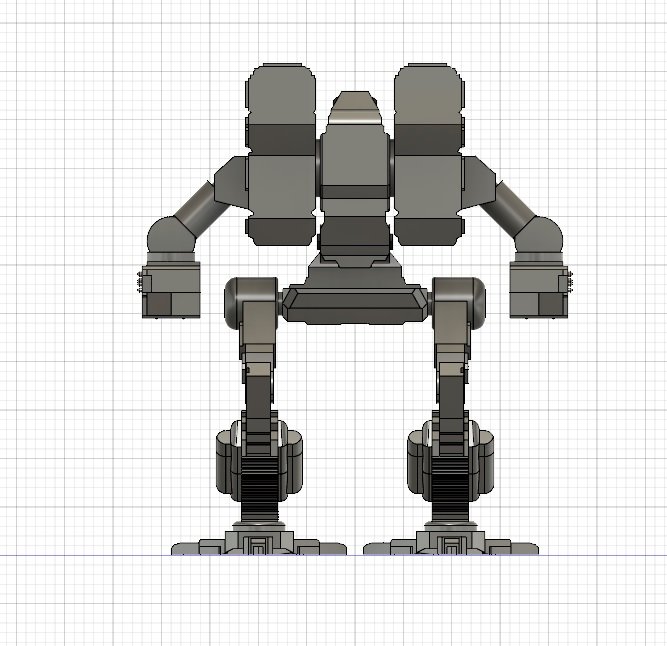 Source: all3dp.com
According to American Semiconductor, the thickness of the silicon wafer is 2000 angstroms. This tiny chip can measure humidity levels, temperature, muscle fatigue, and so on. This makes it ideal for use in new technologies for monitoring the well-being of wounded soldiers or the elderly.
Flexible electronics technology is being developed not only by research laboratories, but also by industry giants.
Apple, Boeing and the Massachusetts Institute of Technology formed an alliance to collaborate with the US Department of Defense in the field of flexible electronics. The goal of the alliance is to have high quality flexible electronics by 2020.
The Department of Defense plans to provide a consortium called the FlexTech Alliance with $75 million over 5 years and raise $96 million in additional funding.
Smart clothes.
Source: all3dp.com
The consortium includes 96 companies, 11 specialized laboratories, 42 universities and 14 state and regional organizations.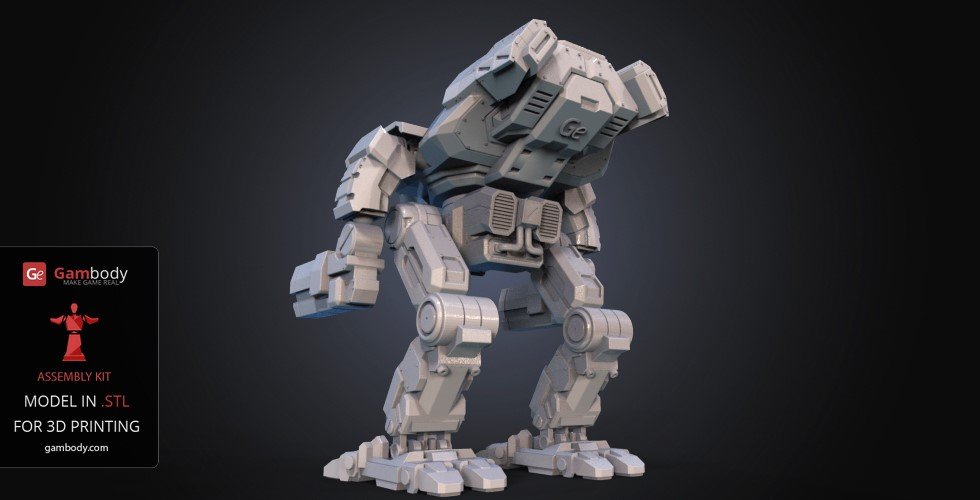 The key partners of the consortium are Apple, Boeing, General Electric, General Motors, Lockheed Martin, Motorola Mobility, Qualcomm and many others. Partner universities include Cornell, Harvard, Stanford, New York University and the Massachusetts Institute of Technology.
Practical applications will be primarily focused on military targets, such as uniforms with vital sign monitors. Pressure sensors can also be installed on vehicles to monitor deformation in key areas.
The civilian application of such microcircuits will help athletes control body function and improve performance, and people suffering from cardiovascular disease, control and prevent seizures. This technology will allow hospitals to monitor their patients en masse.
Concepts
British scientists and engineers are working on growing military drones using chemical technology.
Hydroponic Chemputer.
Source: all3dp.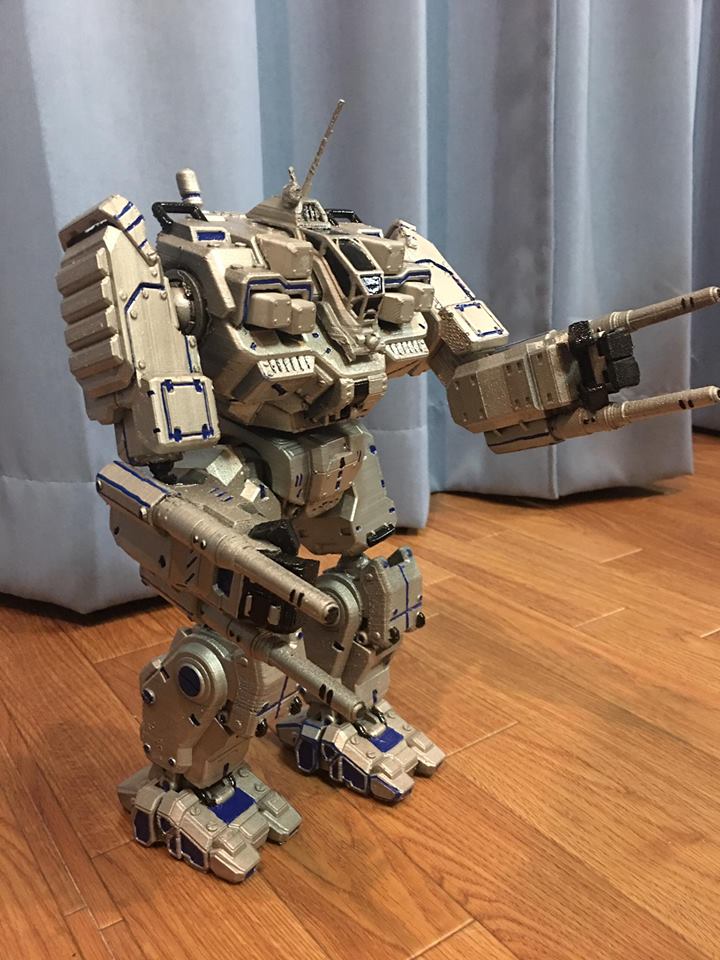 com
Military developers explore all possible and impossible technologies. In this case, they are working on a "chemcomputer". "Chemputer" is a registered trademark of BAE Systems. The technology is being developed by Professor Lee Cronin of the University of Glasgow and is a 3D printing of biomaterial drones and aircraft.
Unlike classic 3D printers, a chemputter performs chemical reactions at the molecular level, creating everything from electronics to wings.
Drone prototypes.
Source: all3dp.com
While British scientists are inventing new printing technologies for the military, simple makers are creating weapons of the future using conventional 3D printers.
So, David Wirth created a hand railgun in his workshop.
David Wirth with his railgun.
Source: all3dp.com
Possibly inspired by the computer game Quake, he created this weapon using CAD, a 3D printer and an Arduino platform.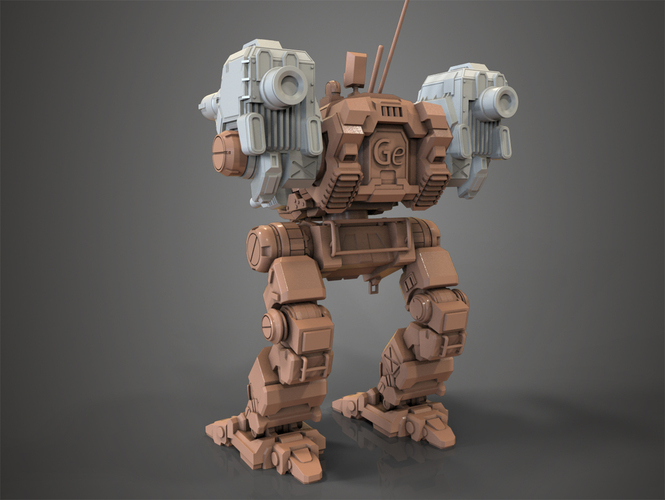 The railgun can use aluminum or graphite bullets as ammunition, firing them at a speed of 250 m/s. The design is based on six huge capacitors, which, with a total weight of about nine kilograms, store more than 1800 joules of energy for each shot. The railgun also consists of batteries, two parallel contact rails and a pneumatic ammunition supply system.
Railgun diagram.
Source: all3dp.com
Tests have shown that the railgun is inferior to a conventional pistol in terms of shot energy, but can penetrate a centimeter sheet of plywood. For comparison: stationary military railguns accelerate the projectile to a speed of 13,000 miles per hour in 0.2 seconds, the speed of a projectile from the Wirth apparatus is 560 miles per hour.
Conclusion
3D printing technology is increasingly being used in the military. The main role in its promotion is played by the need to reduce costs. On-site 3D printing of parts helps to solve the problems of logistics and supply, allowing you to save time and money on delivery, which is important for the army and aviation, and even more so for the navy - it is impossible to foresee ashore and take with you everything that you might need, and delivery boarding at sea is expensive.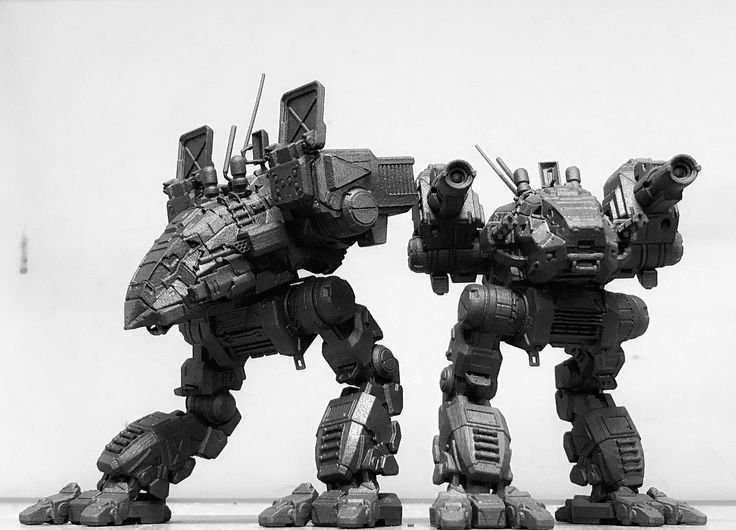 We have given as examples only a small part of the cases on the stated topic - it is impossible to describe in one article all the prospects for the use of 3D printing in the military industry. And most of the solutions used by the military in production are also relevant for the civilian sector.
You can buy a 3D printer for production in Top 3D Shop — our experts will help you choose the best equipment for solving any tasks.
Want more exciting news from the world of 3D technology?
Follow us on social media networks:
is it possible to print pneumatic and firearms
Is it possible to make a gun on a 3D printer and is it legal?
Today's 3D printers offer enormous possibilities. They can print products of almost any complexity. Until quite recently, it was difficult to even imagine that a plastic weapon could shoot. However, it is already possible to make a pistol on a 3D printer, which, although not reliable, still fires live ammunition.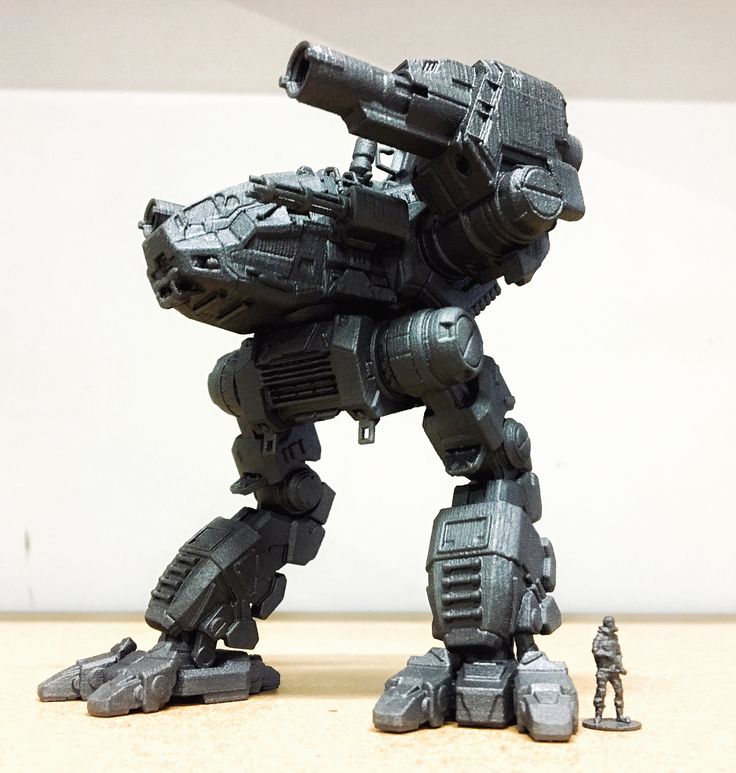 Can firearms be 3D printed?
As far back as 2013, a young American activist for the free sale and distribution of weapons proved that plastic weapons can be printed on a 3D printer. He was the first in the world to make a pistol in this way, in which only the striker was made separately from metal. All other parts were printed on an FDM printer.
Today's 3D printers are capable of printing any CAD model, and these models of firearms have been available for over 10 years. If in previous years their printing required professional skills, now almost any user can master them. With a 3D printer and a finished model, it became quite possible to print a gun. Another thing is that such "creativity" is punishable by the laws of most countries.
The evolution of 3D printed weapons
Despite all the prohibitions and restrictions, the evolution of 3D printed firearms is moving at a great speed. The beginning was laid by the single-shot plastic pistol Liberator by American K.

Wilson, which appeared in 2013. It had a simple design and was chambered for 380 ACP. Already after 10-12 shots, this weapon became unusable. However, the very possibility of printing firearms served as an impetus for the development of the idea. The author of the first pistol himself founded the Defense Distributed company, which began to actively improve the technology.
One of the ways to increase the durability of weapons was to increase the number of their barrels. At the beginning of 2014, the Japanese Y. Imura makes a 38 caliber Zig Zag pistol. He was able to fire up to 6 shots non-stop. The author of the weapon was recognized as a criminal and convicted.
The next step was the production of a six-shot revolver by J. Patrick in 2015. The PM522 Washbear has been shown in action on YouTube. The weapon was noticeably safer for the shooter compared to previous versions, but still allowed to fire only a few dozen rounds.
The first semi-automatic pistol for a 9 mm bullet appeared in 2016 under the name Shuty-MP1.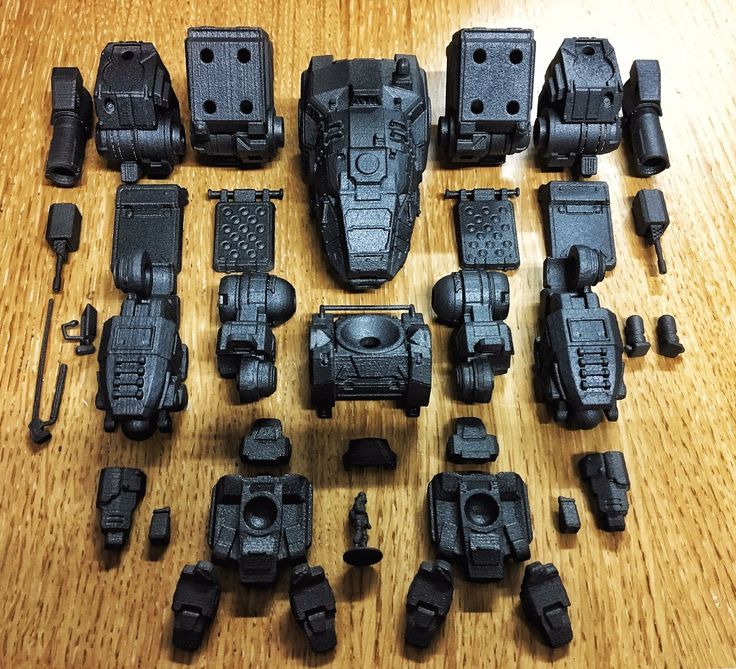 It was developed by a handicraft gunsmith who hid under the pseudonym Derwood. It wasn't exactly a plastic weapon. The author used some metal parts from factory pistols - a barrel, a firing pin, a bolt and several springs. This made it possible to ensure a rate of fire of more than 46 rounds / min. However, when changing the store, the plastic case had to be cooled. In 2017, the same master proposed an improved model - Shuty AP-9.
The main contribution to the development of 3D printed weapon printing technology was made by Defense Distributed, which brought together a group of like-minded activists. First, these enthusiasts won legal proceedings in the United States and obtained permission to 3D-print weapons, which greatly expanded their capabilities. Secondly, they were able to set up a professional business with product testing and quality control. As a result, in 2018–19 they developed numerous models of a variety of firearms - from pistols to carbines. They posted over 30 files for printing original gun parts.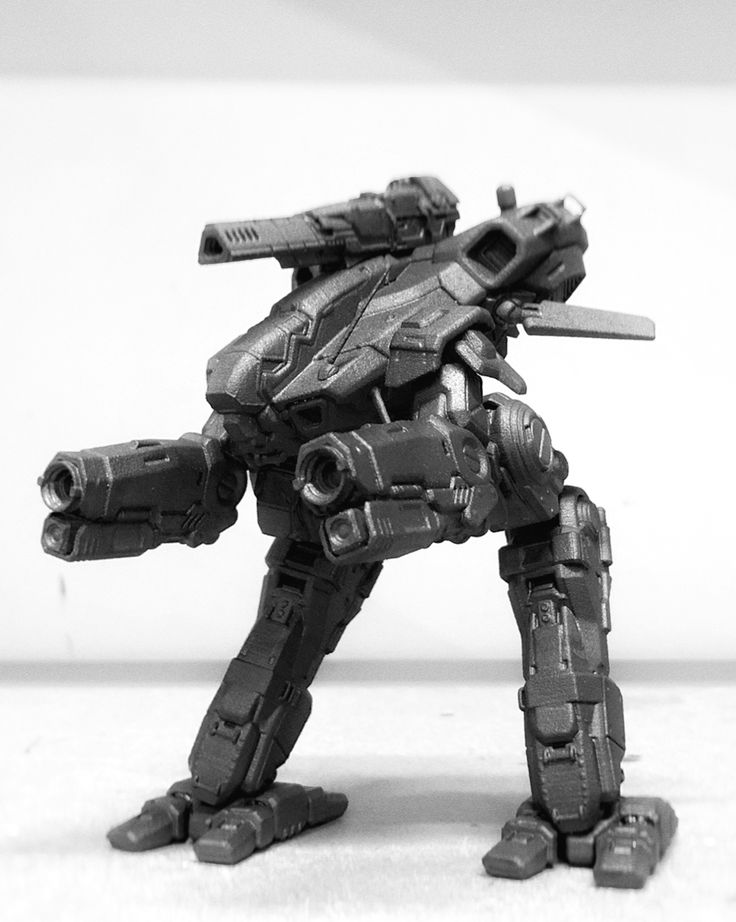 Most of them were plastic, and the metal parts were not made from purchased, ready-made elements, but from simple metal profiles (tubes, strips, etc.), which are sold in ordinary hardware stores. This made it possible to exclude the use of parts patented by gunsmiths.
At the moment, the semi-automatic carbine FGC-9, developed on the basis of the Shuty AP-9, has become the pinnacle of "creativity" of Defense Distributed. At the same time, there is not a single factory part in it. The barrel for the 9 mm cartridge is made of steel pipe using electrochemical processing.
Where can I get drawings and what should I look for?
Gun manufacturing bans make it much more difficult to get blueprints and models of guns for 3D printing. The right to free placement of information was achieved only by Defense Distributed. Their website provides free access to drawings, models and technologies. Other information can be found on the Internet, but they are usually illegal.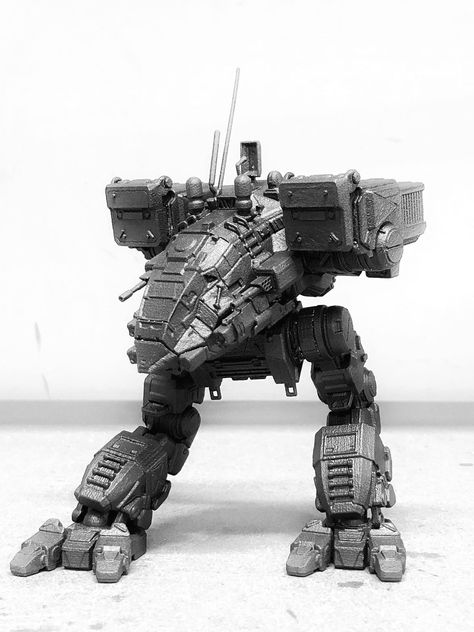 When choosing a model, pay attention to the following information:
material used;
cartridge for which the model is designed;
number of cartridges in the magazine, rate of fire;
operating time before failure.
It is important to clarify which metal parts will need to be purchased separately, in addition to plastic for printing on a printer.
What does the law say in different countries?
The only country where firearms can be 3D printed is the United States. Gun Control Act 19 applies here68, giving Americans the right to make weapons, but only for personal use. Only one limitation is put forward: it must be determined by metal detectors, that is, it must have a metal element. In virtually all other countries, homemade manufacture and repair of weapons for any purpose is prohibited by law. In Russia, printing it on a 3D printer falls under the Criminal Code of the Russian Federation and is punishable by imprisonment.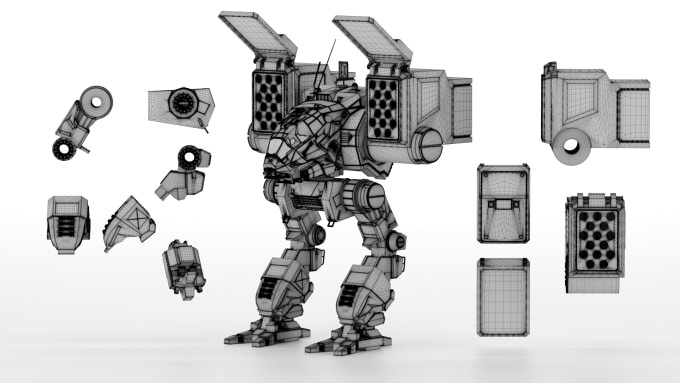 Should we be afraid of plastic weapons?
The question of how dangerous a weapon printed on a printer is becoming increasingly important. Despite all the prohibitions, it is extremely difficult to control the spread of technology around the world. The availability of 3D printers and the increase in their functionality make it possible to master the production of plastic guns at home. How dangerous is such a weapon?
Most experts agree that currently printed weapons are more of an interesting toy. It is quite expensive and is designed to carry out only a few dozen shots. Moreover, such pistols are quite dangerous for the shooter himself with live ammunition, because they can explode in their hands.
However, the danger cannot be underestimated. It is easier and cheaper for a "serious" criminal to buy illegal military weapons than to make them on a printer. At the same time, there may be "enthusiasts" who, for their own interest, can make a pistol and try it out in action.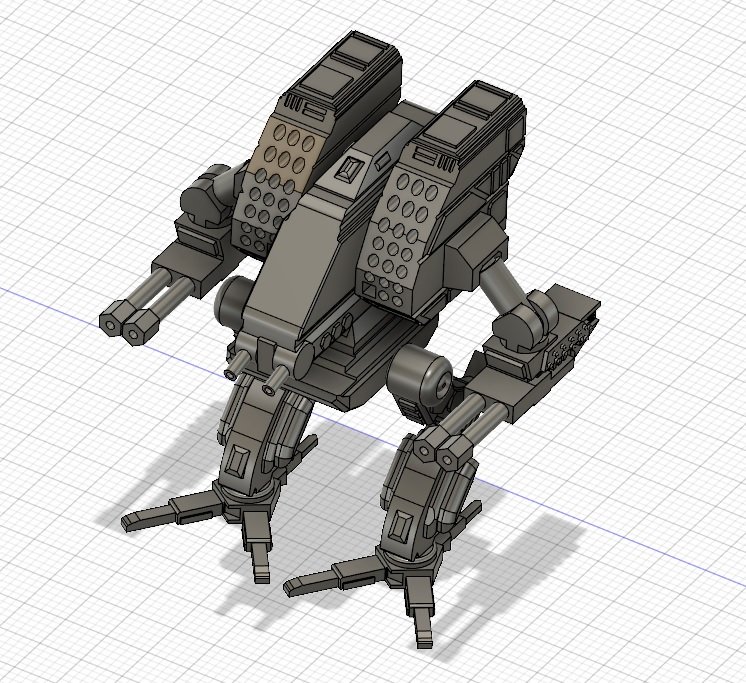 Such inadequate people represent an undoubted danger. In addition, the temptation is great for terrorists. Metal detectors do not detect a plastic gun, which means that it is easier to carry it, for example, on an airplane.
Important! Plastic weapons have a very small resource. At the same time, sometimes just one shot is enough to kill a person.
3D printed firearms have the following advantages:
the ability to make military weapons at home;
light weight;
availability of materials;
Ability to copy famous weapon models.
Always remember that there are significant disadvantages:
illegal production;
high cost of weapons;
very small resource and limited rate of fire;
danger to the shooter himself.
Currently, plastic weapons have more disadvantages than advantages, and most importantly, you can get a real prison term for making them.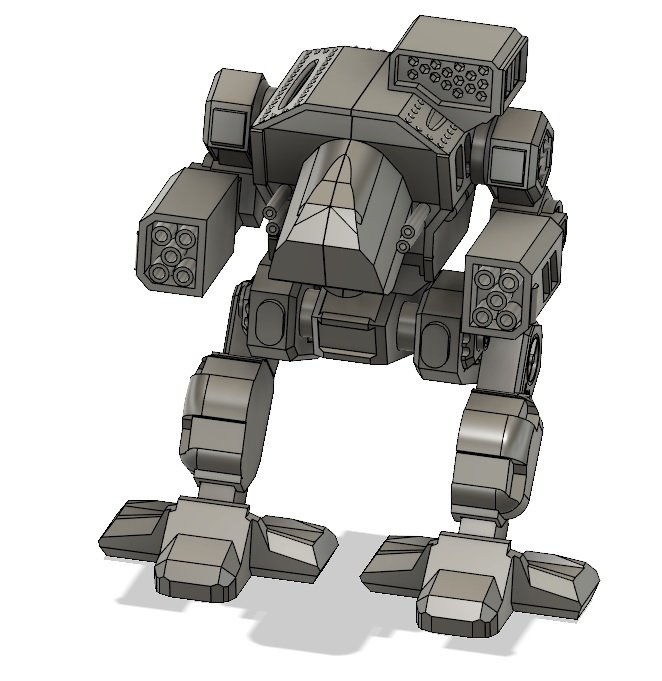 Prospects for printing weapons
The development potential of 3D printing of firearms is far from exhausted. The expansion of equipment capabilities and the development of innovative materials indicate that in the near future such weapons may approach military weapons in terms of characteristics. In the future - a significant increase in the resource and the provision of automatic firing.
Significantly increases the reliability of printed pistols and carbines SLS technology using metal powder. Such weapons already differ little from the factory metal models. While it is very expensive, which significantly limits the application. However, over time, the material will become cheaper, which means it will become more affordable.
Printing firearms on a 3D printer has become a reality. Despite its extremely low performance and reliability, interest is growing in it. Experts predict that the printing of weapons will become widespread, and it is impossible to stop such production.