500 dollar 3d printer
Best 3D Printers Under $500 in 2022
Just a few years ago, finding a 3D printer under $500 would have been almost impossible. Now there are dozens to choose from. This brings 3D printing within the reach of modelers, hobbyists, and small businesses.
Of course not every cheap 3D printer has the same capabilities. They produce different-sized models with varying levels of detail. Many are filament models, but several resin printers also come within this price bracket. Getting the right balance between cost and performance can be difficult, and the technology can be confusing.
This article demystifies the jargon, and finds the best 3D printers under $500 for whatever kind of model making appeals to you.
— Best Overall: Anycubic Photon Mono X 4K Resin 3D Printer
— Best Budget: ELEGOO Neptune 2 FDM 3D Printer
— Best for Beginners: Creality Ender 3 3D Printer
— Best Dual Extruder: QIDI TECH X-Pro 3D Printer
— Best Large Volume: Artillery Sidewinder SW-X2 3D Printer
How We Picked the Best 3D Printers Under $500
We imposed a price ceiling of $500 to ensure each of our picks fell within what could be expected as a reasonable price for those buying their first 3D printer.
The result is some of the best budget 3D printers currently available. However, price was far from the only consideration.
Build Volume: Many 3D modelers focus on small projects, or create complex assemblies from a number of small components. Others want to go big as soon as possible. Fortunately, buying a low cost 3D printer doesn't necessarily limit the scale of your ambitions. We sought a range of alternatives to cover all potential users.
Set Up and Ease of Use: The best resin 3D printers within our price bracket come ready to use, but many filament models require some assembly. How easy they are to operate also varies. Our picks illustrate this variety, allowing buyers to choose a model that is appropriate to their experience level.
Value: Price doesn't always equate to value. Despite the relatively low cost of our top picks, these are not always the cheapest 3D printers on the market. However, one we selected comes from a brand recognized for their expertise and quality.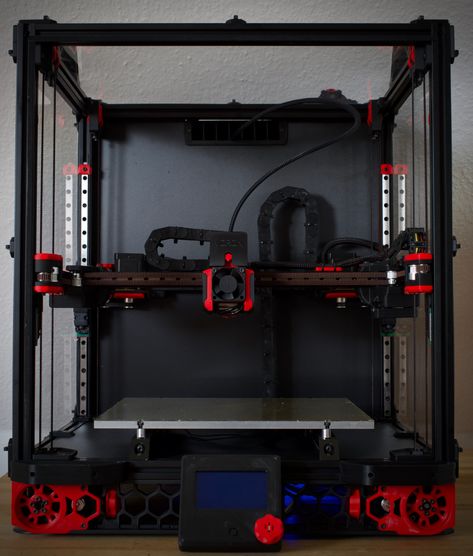 As a result they should offer long-term reliability.
Best 3D Printers Under $500: Reviews and RecommendationsBest Overall:
Anycubic Photon Mono X 4K Resin 3D PrinterHighly Detailed 3D Prints.
ANYCUBIC
Why It Made The Cut: By any standards, the Anycubic Photon Mono X 4K is a high quality 3D printer. To find it priced below $500 makes it terrific value.
Specs:
— Type: Resin
— Built Volume: 7.55 inches L x 4.72 inches W x 9.84 inches H
— Speed: 1.97 inches per hour
Pros:
— Highly detailed prints
— Durable, stable all-metal chassis
— Easy setup and use
Cons:
— No direct computer connection
— Gimmicky WiFi
Anycubic has long been one of the leading names in 3D printers with a wide range of innovative, high-quality machines. The Anycubic Photon Mono X 4K set new standards for speed and detail when introduced, and while larger, faster models are now available, few can challenge this model in the under $500 bracket.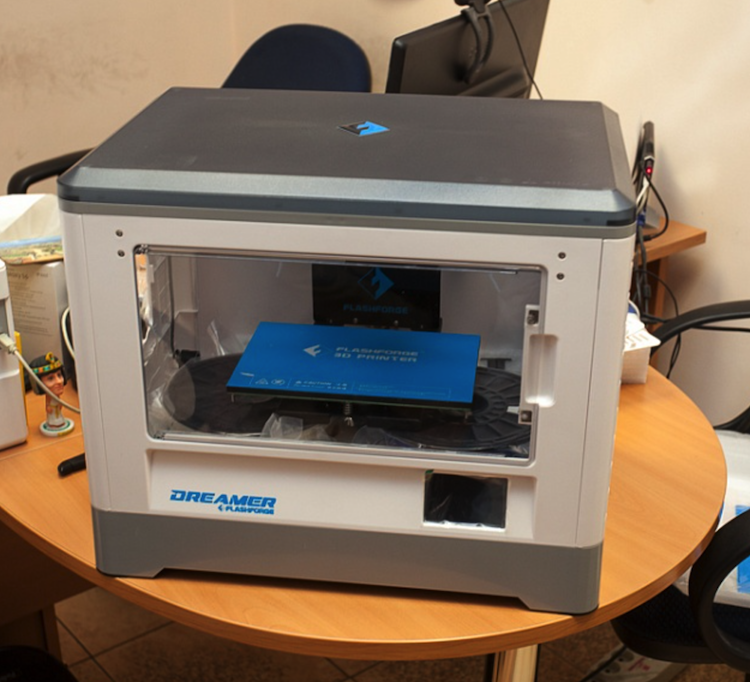 With resin printers like this, screen resolution has a big impact on the detail provided. This one has an 8.9-inch 4K LCD, resulting in 3,840 x 2,400 pixels per inch. It's capable of printing layers at just 50 microns (0.0019 inches) thick, and at almost 2 inches per hour, it is also one of the fastest resin printers in its class.
The general structure of this 3D printer has the solidity necessary for consistent results and its built-in fans keep things at a constant temperature. The setup is somewhat time consuming, though more straightforward than most filament models. A 2.8-inch touch screen accesses many functions, but files have to be input via a USB stick. There is a WiFi app but its functions are limited and setting it up can be frustrating, so many independent testers consider it not worth the effort. The Photon Workshop software also has its critics, though popular alternatives are available from ChiTuBox and Lychee.
When introduced, the Anycubic Photon Mono X 4K was around 30 percent more expensive than it is today.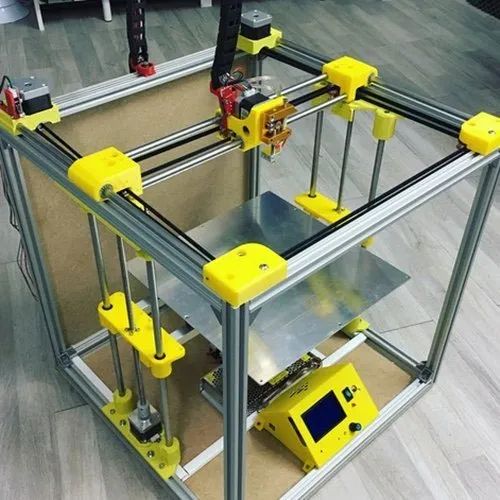 It has dropped into our price range mostly because 6K and 8K versions now exist. At the moment, we think the Anycubic Photon Mono X 4K is the best 3D printer under $500 on the market.
Best Budget:
ELEGOO Neptune 2 FDM 3D PrinterGreat Value for Money.
ELEGOO
Why It Made The Cut: There are plenty of cheap 3D printers on the market, but none come with the clear instructions and high print quality of the Elegoo Neptune 2.
Specs:
— Type: Filament
— Built Volume: 8.66 inches L x 8.66 inches W x 9.84 inches H
— Speed: 1.97 inches per second
Pros:
— Clear assembly instructions
— Good print quality
— Low cost
Cons:
— Manual leveling
— Poor interface
The entry-level Elegoo Neptune 2 comes in at well under half our $500 price limit, making it the best budget 3D printer in purely monetary terms. That alone would make it attractive to those thinking of trying 3D printing for the first time, however, the Elegoo Neptune 2 has more to offer than just low cost.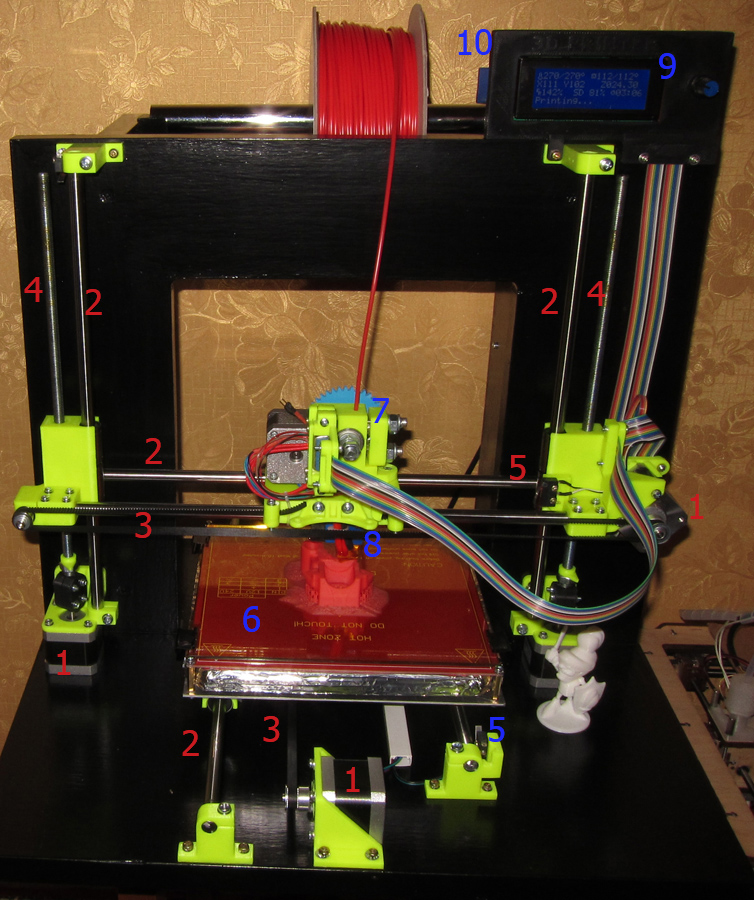 The majority of 3D filament printers come as self-assembly kits. Care is necessary because errors can impact performance later on. Fortunately, the Elegoo Neptune 2 comes with clear instructions, and obvious components, so setup is comparatively simple. It's not quite all plain sailing though, as bed leveling is a key feature for accurate prints, and this needs to be done manually. Getting it right can be time consuming which may be frustrating for complete beginners. Also, while the touch screen display provides a lot of information, much of it can be unclear and confusing. Fortunately, the provided Cura software is very good, and helps enormously.
Mechanically and functionally the Elegoo Neptune 2 is a very good 3D printer for the money, though sadly the interface lets it down. There are plenty of online sources that can help resolve problems, and results will be worth it, but getting the best from the machine will require patience.
Best for Beginners:
Creality Ender 3 3D PrinterAn Excellent Learning Resource.
Comgrow
Why It Made The Cut: Creality was one of the first to produce high-quality, budget-friendly 3D printers. The Ender 3 has become hugely popular and has outstanding learning resources.
Specs:
— Type: Filament
— Built Volume: 8.66 inches L x 8.66 inches W x 9.84 inches H
— Speed: 7.9 inches per second
Pros:
— Excellent component quality
— High-quality output
— Outstanding customer support
Cons:
— Manual bed leveling
— Assembly instructions could be improved
At first glance the Creality Ender 3 looks a lot like a whole bunch of other low-cost 3D printers. In fact, Creality is renowned for 3D filament printers that combine quality components with competitive pricing, and as a result, there are many copies.
The Creality Ender 3 can produce layers at 100 microns (0.0038 inches) thick, which, while not as high as resin printers, is good for a budget 3D printer and results in smooth models.
Unlike many cheap rivals that only use PLA filament, the Creality Ender 3 can use ABS, PETG, and TPU. The machine is very quiet, heats up quickly, and the user interface is clear and informative.
It isn't a particularly easy machine to assemble. Creality says it takes two hours, but we feel that's optimistic and the instructions could certainly be improved. So if that's the case, why do we recommend this as one of the best 3d printers for beginners?
The main reason is the incredible support network, and the potential for multiple machine upgrades. Not only is Creality's own customer support very responsive, but the popularity of the Creality Ender 3 means there are dozens of videos and other resources available online. After mastering the basics of 3D printing, add-ons are available so that those who want to improve their knowledge don't need to buy a whole new machine. It is an excellent introduction to 3D printing, and for the money, there is no better learning platform.
Best Dual Extruder:
QIDI Tech X-Pro 3D PrinterPrint Two Colors Together.
R QIDI TECHNOLOGY
Why It Made The Cut: The QIDI Tech X-Pro provides outstanding versatility for those who want to up their game from single-color models or even experiment with multiple filaments.
Specs:
— Type: Dual Filament
— Built Volume:  5.9 inches L x 5.9 inches W x 9.1 inches H
— Speed: 5.9 inches per second
Pros:
— Minimal assembly required
— Can print two colors
— Compatible with multiple filaments
Cons:
— Modest build size
— Poor documentation
The QIDI Tech X-Pro has one key feature that sets it apart from other sub-$500 3D printers: the ability to create two-color models in a single process. It is also possible to combine different filament materials, building the majority of a model from PLA, for example, then adding a TPU base for elasticity or ABS for greater strength.
This is an area that can require considerable research and experimentation to achieve success, but can be fascinating for those who want to increase their knowledge of what's possible with 3D printing on a modest budget.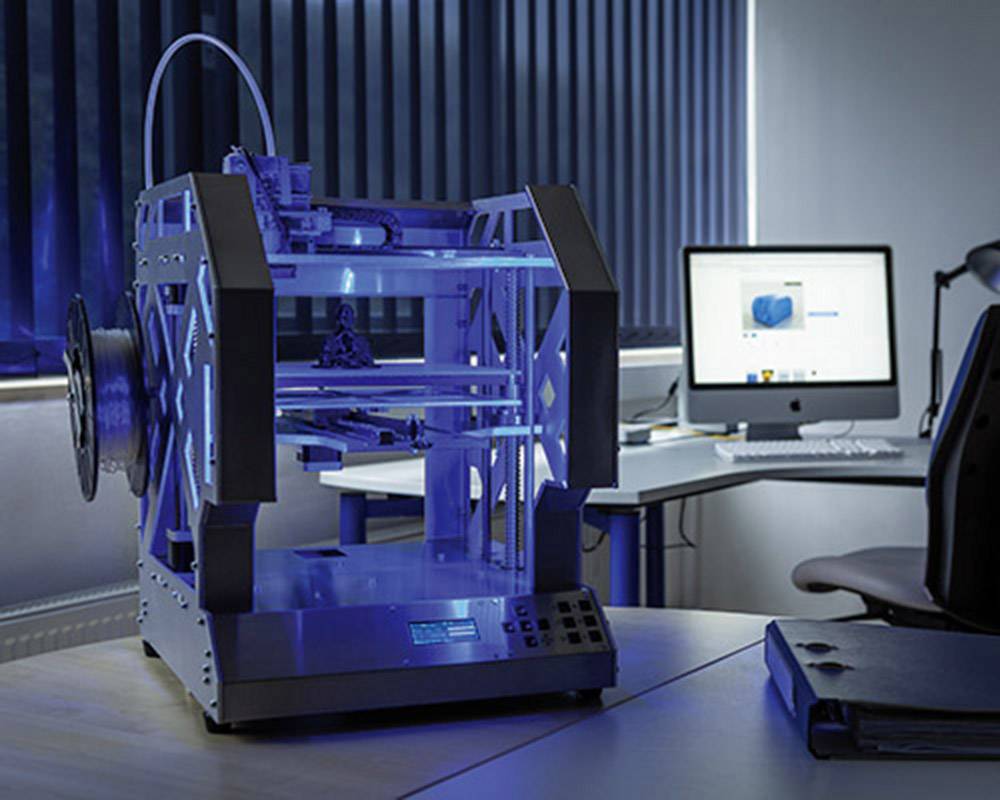 The QIDI Tech X-Pro comes almost complete, with just the fans needing to be added and the bed leveled. The fully enclosed structure reduces the chances of drafts spoiling the model (ABS is particularly susceptible). The touch screen interface is easy to use, though the manufacturer's guide is poorly written, which can be a little frustrating at first.
With a 50-micron layer capability, resolution is theoretically as high as our top resin choice, though actual output is not as smooth. The build volume is smaller than many, and it isn't particularly fast. However, as far as we know, this is the cheapest dual extruder 3D printer available, and many buy it for that function alone.
Best Large Volume:
Artillery Sidewinder SW-X2 3D PrinterImpressive Build Volume.
Artillery
Why It Made The Cut: The Artillery Sidewinder offers an impressive build volume for a printer at this price, and doesn't compromise on quality or user-friendly features.
Specs:
— Type: Filament
— Built Volume: 11.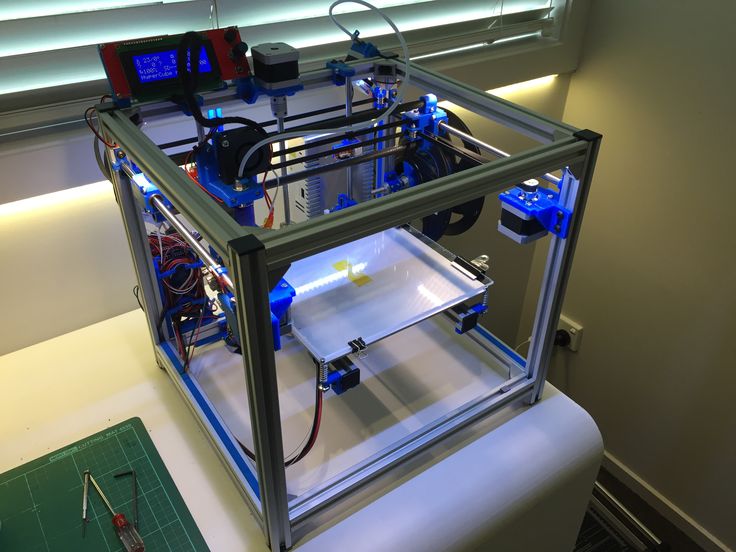 8 inches L x 11.8 inches W x 15.75 inches H
— Speed: 5.9 inches per second
Pros:
— Large build volume
— Arrives 95 percent assembled
— Auto bed-leveling
Cons:
— Filament holder could be improved
— Poor customer support
With its impressive print volume, the Artillery Sidewinder is definitely the best affordable 3D printer for creating large models. It would be no surprise if the company had cut corners elsewhere in order to offer a machine of this capability for the money, but that doesn't seem to be the case. While there are a couple of areas that could be improved, issues are minor.
The Artillery Sidewinder is not particularly fast, but can create layers of 100 microns (0.0038 inches) each, so quality is comparable with many smaller devices. It comes almost complete, just needing ribbon cable and the spool holder assembled. The quality of the latter isn't the best, resulting in occasional feed errors, but the printer will restart from the same point if interrupted.
The touch screen controls are also very easy to use.
Unusually for a cheap 3D printer, the Artillery Sidewinder has auto-leveling, which saves time and frustration. The glass bed heats up in around two minutes, so it's ready to print quickly, and very quietly. It can take a while to get the Artillery Sidewinder working at its best, but that's not unusual with budget 3D printers. In general, the machine is very reliable, though owners have been critical of customer support when problems have occurred.
Things To Consider Before Buying A 3D Printer Under $500
There are so many good machines available today that choosing a 3D printer under $500 presents few restrictions. However, there are a few key points that need some thought.
Build Volume
The size of the projects a 3D printer can create will have a big impact on most people's choice, but this is just one aspect. It's a good idea not to be focused on size alone, as this can result in weaknesses in other areas.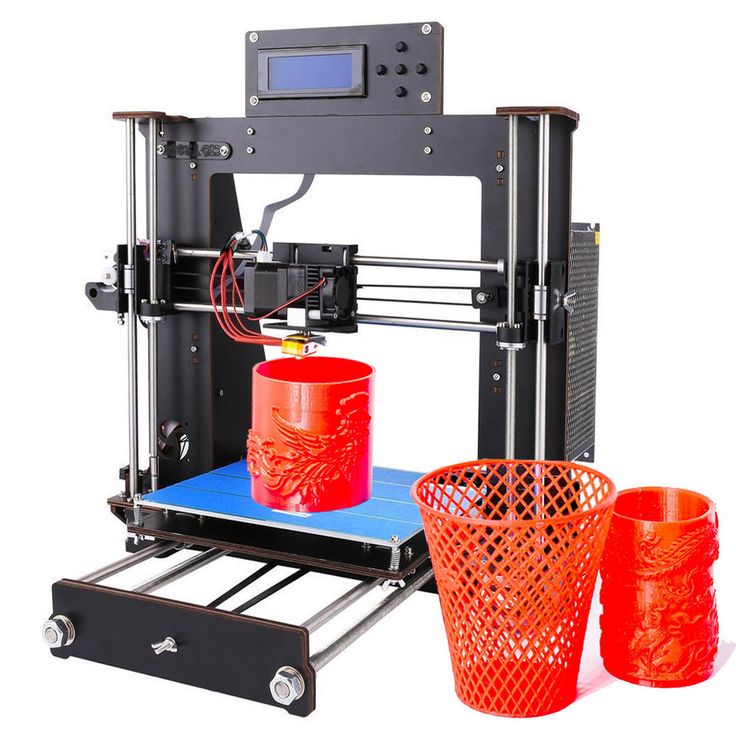 Resin or Filament
Resin 3D printers tend to be more expensive than their filament counterparts, but often create more detailed models. On the other hand, filament tends to produce a stronger model. The type of filament can make a big difference and is worth looking into further if you are unaware of how each performs. Bear in mind while the best 3D printers can use a wide variety of materials, sub-$500 models may have more limited choices.
Speed
Most people are understandably impatient to see their 3D object finished, and print speed can vary considerably. Filament printers are usually much faster than resin. However, figures can be confusing because resin 3D printer speeds are given as the height of model created per hour, whereas filament 3D printer speeds are how fast the nozzle travels. Neither give a very accurate indication of how long a particular model will take, but they can be used for comparisons.
Also bear in mind with filament printers the maximum speed may seldom be used.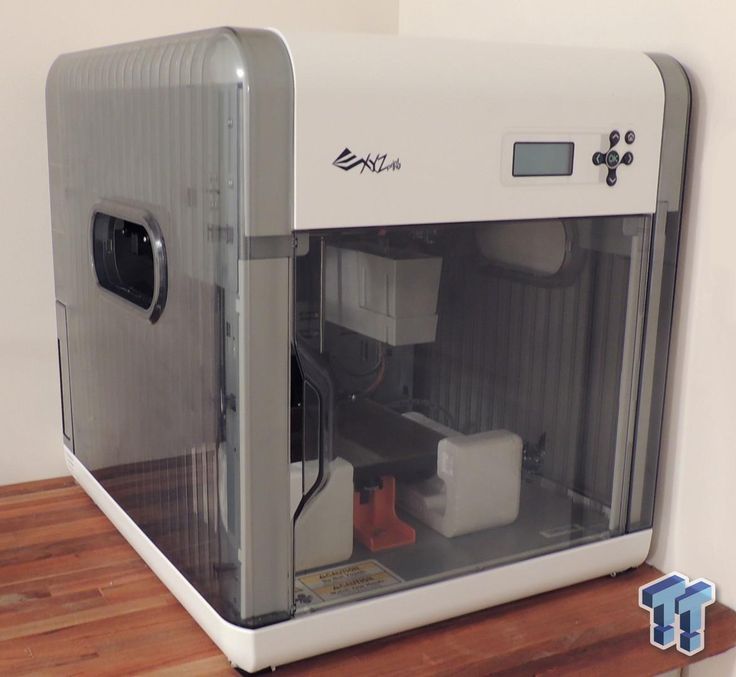 For instance, our best budget 3D printer can run as fast as 7 inches per second, but for common filaments like PLA, the optimum speed is only around 2 inches per second.
FAQsQ: Are 3D printers illegal?
3D printers are completely legal. What is illegal is the copying and sale of patented or copyrighted objects. Making popular games figures for your own use, for example, is okay, but. trying to sell them is not, and may bring a lawsuit from the rights owner.
Q: Are cheap 3D printers worth buying?
Absolutely. In the last few years prices have dropped considerably, so today's best 3D printers under $500 are very capable, great fun, and can also be very educational.
Q: What can I create with low cost 3D printers?
What you can print with low cost 3D printers largely depends on print volume. Toys, models, figurines, and jewelry are popular. Credit card holders and phone cases are possible, as are plant pots and other containers.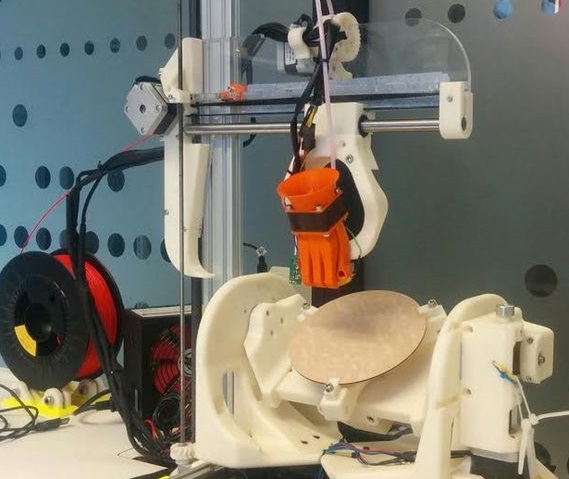 There are hundreds of free-to-download files available, or you can create your own.
Q: Do all cheap 3D printers use PLA?
Not all cheap 3D printers use PLA, although many do. Some can also use ABS or TPU (thermoplastic polyurethane). Our pick for best 3D printer under $500 is a resin model, which is liquid plastic rather than PLA, which is a filament.
Q: Can 3D printers under $500 work with any software?
A great deal of software works with 3D printers under $500, but there are some restrictions. It's important to check before purchasing, particularly if you have a particular package in mind.
Q: Do I need a good computer for a cheap 3D printer?
Whether you need a good computer depends on the 3D models you intend to produce. Most of the standard SLA files that are available online are quite small, and don't need a lot of computing power to process. However, if you intend to create your own unique models, the software required can be memory- and processor-intensive.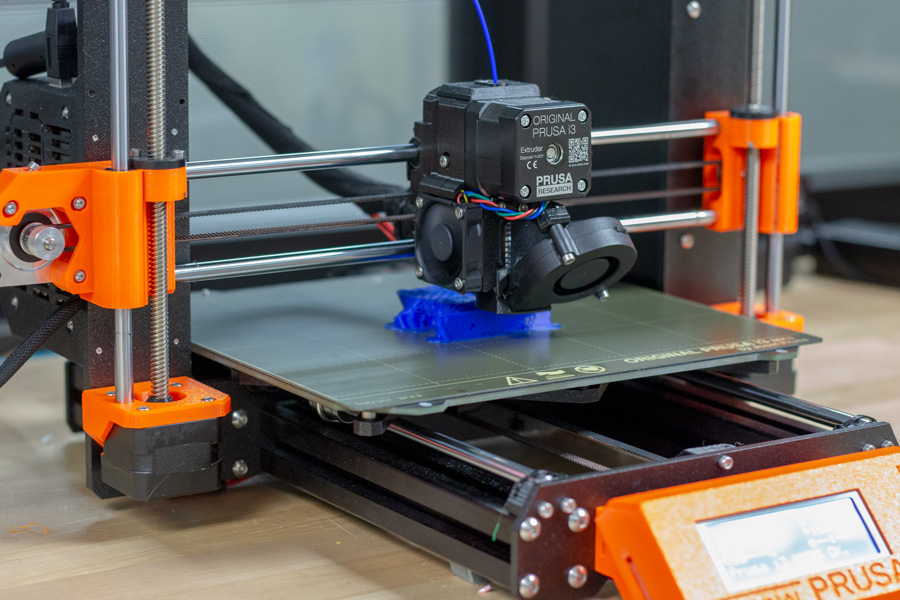 In that case, using a budget computer might prove limiting.
Final Thoughts on 3D Printers Under $500
The ANYCUBIC Photon Mono X is an excellent 3D printer, and no other machine currently available under $500 can match the output quality. Unfortunately, resin printers produce toxic fumes so it's very much a tool for a well-ventilated garage or workshop.
The Elegoo Neptune 2 is great value. It takes a while to set up but instructions are excellent, and many 3D printing enthusiasts feel it's optimal to know the ins and outs of their machine. Unfortunately, the horrible interface detracts from what is otherwise a good entry-level device. Solutions are readily available, though.
This post was created by a non-news editorial team at Recurrent Media, Futurism's owner. Futurism may receive a portion of sales on products linked within this post.
Share This Article
Top 10 Best 3D Printers Under $500 in 2022 (All Uses)
Just a decade ago the thought of desktop 3D printers that could print reasonably sized models in basic filaments like PLA and ABS without much issue was unthinkable.
Your own personal 3D printer, for $500?
But now, not only do they just about get by, but in fact the best 3D printers under $500 offer great printing results, with good reliability, range of printable materials, and precision and accuracy.
I'm sure you're interested in finding out more about these low cost 3D printers. But first, here's what you should expect in buying a sub-$500 3D printer.
| Name | Build Volume (mm) | Price | Where to buy | Alternative purchase option |
| --- | --- | --- | --- | --- |
| Creality Ender 3 V2 | 220 x 220 x 250 | $249 | Creality Store here | Amazon here |
| Anycubic Photon Mono 4K | 132 x 80 x 165 | $299 | Anycubic Store here | Amazon here |
| Ender 5 Pro | 220 x 220 x 300 | $399 | Creality Store here | Amazon here |
| Prusa Mini+ | 180 x 180 x 180 | $399 | Prusa Store here | |
| Creality CR-6 SE | 235 x 235 x 235 | $429 | Creality Store here | Amazon here |
| Qidi Tech i-Mate S | 260 x 200 x 200 | $449 | Amazon here | |
| Anycubic Mega X | 300 x 300 x 305 | $469 | Anycubic Store here | Amazon here |
| Elegoo Saturn | 192 x 120 x 200 | $499 | Elegoo here | Amazon here |
| Creality CR-10 V3 | 300 x 300 x 400 | $499 | Creality Store here | Amazon here |
What to expect in a 3D printer under $500?
More affordable 3D printers naturally sacrifice some of the advanced features commonplace on industrial 3D printers above $10,000.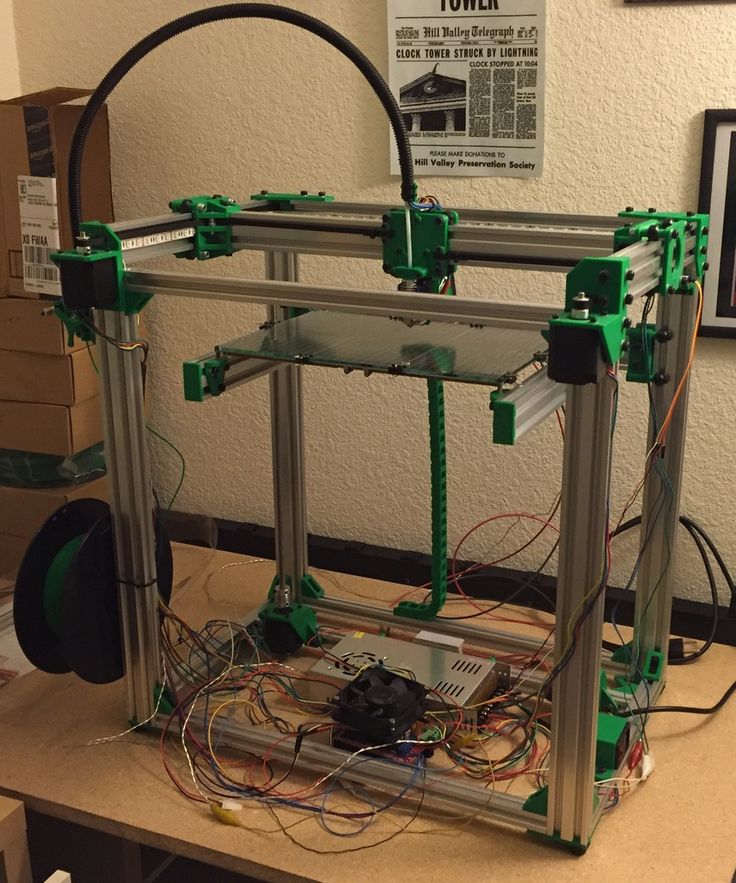 You also can't expect the same flawless quality, speed, or reliability that professional 3D printers offer.
But, at this price range you can expect good quality FDM prints in PLA and perhaps a few other filaments.
See also: our complete cheap 3D printer (under $200, $300, $1,000) buyer's guide.
Most of the best 3D printers under $500 should be able to print ABS, though many are not enclosed 3D printers which can cause difficulties with warping. You should expect reasonably quality: 100- or 50-micron minimum layer height maximum precision, and in the event of a power outage or other problem, your printer should be able to resume where it was stopped.
Best 3D Printers Under $500 2022
Based on this criteria for the best 3D printers under $500, these are the printers we recommend:
3DSourced is reader-supported. When you buy through links on our site, we may earn an affiliate commission. Learn more
Creality Ender 3 V2 — for under $300
Price: $279 — Available on Creality Official Store here / Available on Amazon here
Build volume: 220 x 220 x 250 mm
Some more expensive 3D printers nearer the $500 mark may outperform it in raw power and quality, but for the price the Ender 3 V2 offers unbeatable value.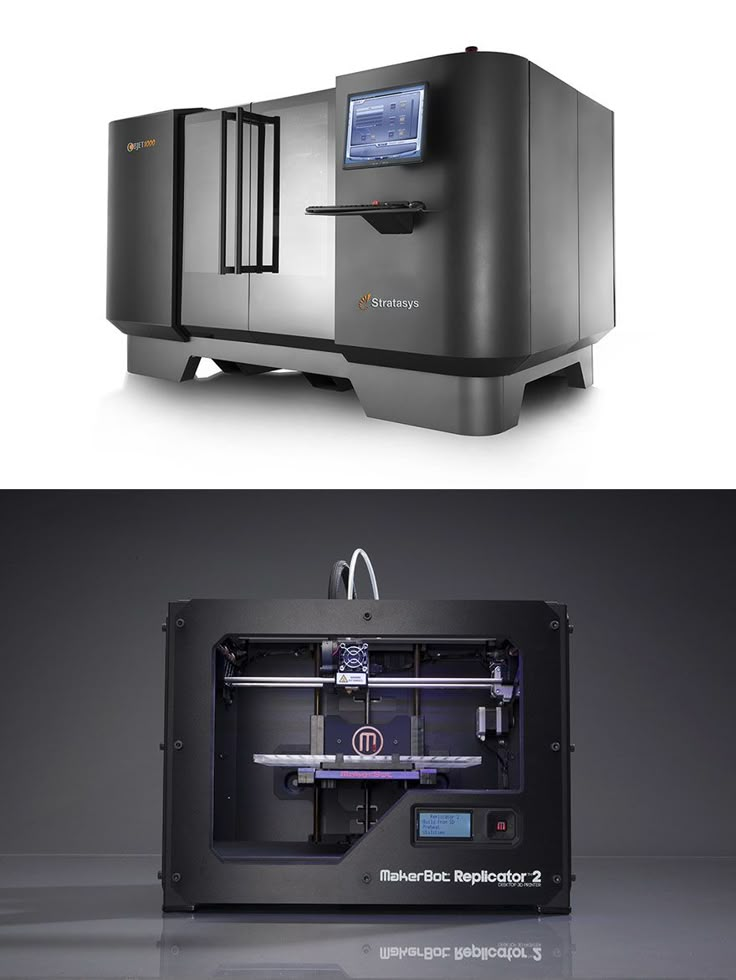 That's why it's currently the world's most popular 3D printer.
The Ender 3 V2 is fairly similar to the original Ender 3, just with improved and upgraded firmware, an improved filament feeding system, a carborundum build plate, as well as an HD color screen.
This helps improve your overall printing experience, able to print precisely, consistently, and simply, with the carborundum glass build plate improving adhesion, heating up quickly, and making it easier to remove prints after.
For $279 you get a high-quality printer that prints reliably — it's a sturdy machine. For that reason, we recommend it as it's great value — though if you have $500 for a 3D printer other options may outperform it overall.
Anycubic Photon Mono 4K
Price: Check on Anycubic Official store here / Amazon here
Build volume: 132 x 80 x 165 mm
Developed as a high-resolution counterpart to the popular Anycubic Mono, the Anycubic Photon Mono 4K ranks among the best sub $500 resin printers.
One of the main reasons we rate the Anycubic Photon Mono 4K is the 6.23-inch 4K monochrome LCD, capable of a layer height of 35 microns. Coupled with a 132 x 80 x 165 mm build volume, the Anycubic Photon Mono 4K is at home printing all manner of small detail-heavy parts, decorative pieces, and models.
The print results consistently display stellar textures and finish. Imperfections and blemishes are few and far between. The Anycubic Photon Mono 4K even holds its own printing articulated features. With a 1-2 second layer cure time, the Anycubic Photon Mono 4K's print speeds are perfectly reasonable for a 3D resin printer, too.
The fact we've also recommended the Elegoo Saturn begs the question: why choose the Anycubic Photon Mono 4K over the Saturn? Multiple reasons, all of which make the Anycubic Photon Mono 4K a better pick for beginners.
Most pressingly, Anycubic Photon Mono 4K commands a price tag roughly half that of the Elegoo Saturn, making it far more accessible to newbies on a tighter budget.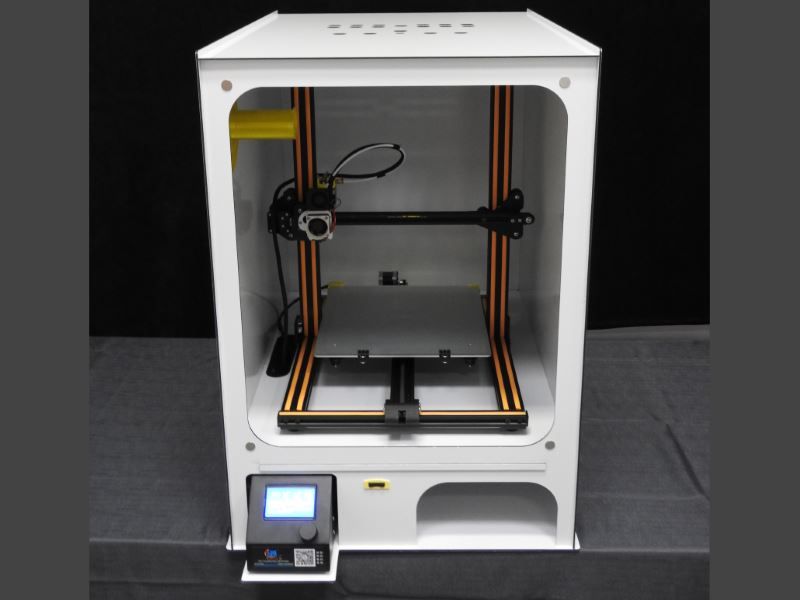 A small build volume is a trade-off here, but for those without plans for batch prints or medium-to-large models, the Mono 4K still offers plenty of volume to play with and best that learning curve.
Anycubic has also gone to lengths to simplify the printing process for beginners. Fully-assembled shipment, minimal setup, and an intuitive slicer in Anycubic's in-house Photon Workshop should see you printing impressive models in no time at all. Should you want to expand your horizons with advanced tinkering features, the Anycubic Photon Mono 4K also plays nice with third-party resin slicers like Lychee and ChiTuBox.
If you need a small form factor resin 3D printer at a competitive price, you can't beat the Anycubic Photon Mono 4K, in our opinion.
Creality Ender 5 Pro
Price: $399 — Available on Creality Official Store here / Available on Amazon here
Build volume: 220 x 220 x 300 mm
Despite the large size, the Ender 5 Pro's upgraded mainboard keep it quiet — it won't wake you up from the next room along with its loud roaring.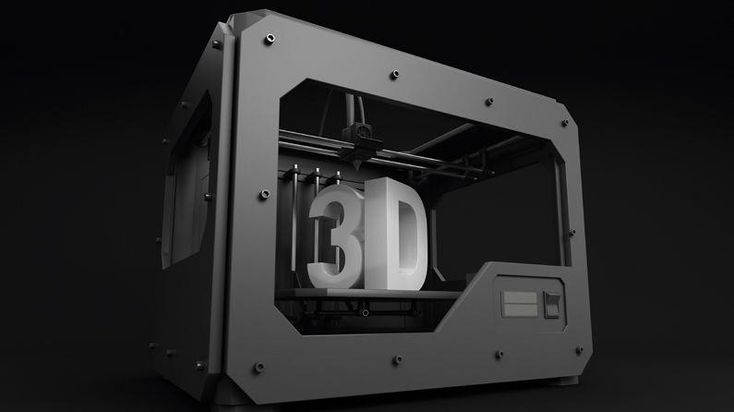 Featuring Creality's upgraded and new metal extruder, the Ender 5 Pro offers even better precision as the added strength makes for better-targeted deposition and more precise forces to exert on filament during the extrusion process. The quieter mainboard and upgraded metal extruder are two crucial and underrated upgrades the Ender 5 Pro offers over the standard Ender 5.
As with all Creality 3D printers it's easy to assemble, and shouldn't take even beginner makers more than an hour. And in the event you do run into any trouble, you can contact Creality's support team who will gladly help.
The cube structure makes it a stable, sturdy, and anchored-down 3D printer. This benefits your printing experience as the stability prevents any vibrations or any other forces from creating shaky prints with imperfections, leaving you with smooth and accurate prints every time.
The large size will be important to those looking to print big structures, or parts of even larger sculptures, characters or large-scale prototypes.
Overall, the Ender 5 Pro is a great 3D printer under $500 with its size, accuracy, and consistency.
Prusa Mini+
Price: $399 — Available on Prusa Store here
Build volume: 180 x 180 x 180 mm
The mini version of the incredibly successful Prusa i3 range, if you want the reliability and workhorse-like ruggedness of the Prusa in a bite-sized package, this one's for you.
Available either for $399 in a simple 3-piece assembly, or as a DIY kit if you want to save $50, it's an ideal 3D printer for beginners looking to print straight away, as well as for seasoned makers or businesses looking to get printing or prototyping.
The full-size Prusa i3 MK3S is also available if you've got the budget — Available on Prusa Store here
The color LCD screen makes it easy to navigate with clear color icons, and includes Prusa's flexible print sheets that make removing finished prints easier than ever. It can't reach the same temperatures as the i3 MK3S, but for a 3D printer under $500 you can't expect industrial-level material printing.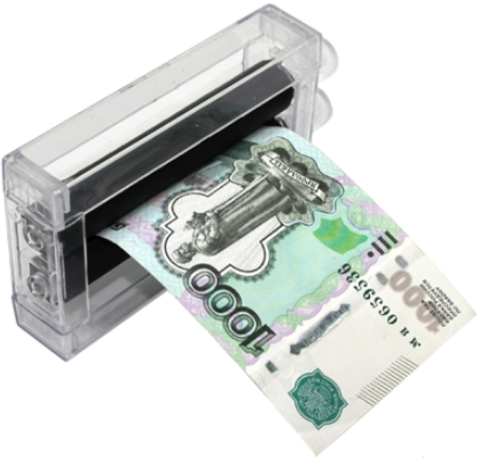 The Prusa Mini+ is compact, and can fit neatly on the side of a desktop (or if you're looking to put together a print farm, several can sit together without taking too much space), and you of course get Prusa's signature reliability. Overall, as a small-ish 3D printer under $500, it's one of the best out there.
Creality CR-6 SE – Top Pick for Convenience and Ease-Of-Use
Price: Check on Creality Store here / Amazon here
Build volume: 235 x 235 x 250 mm
An ill-fated Creality CR-6 SE Kickstarter campaign saw Creality hemorrhage goodwill among backers, with dodgy power switchers, scorched boards, and shipping delays, among other issues.
However, Creality got to work and remedied all these initial teething issues, public apology in tow, and any Creality CR-6 SE purchased now ships with all these issues fixed. As it stands, the Creality CR-6 SE is a potent 3D printer that justifies its under $500 price tag.
There's very little to differentiate the Creality CR-6 SE from Creality's excellent budget Ender 3 V2 in both looks and print quality.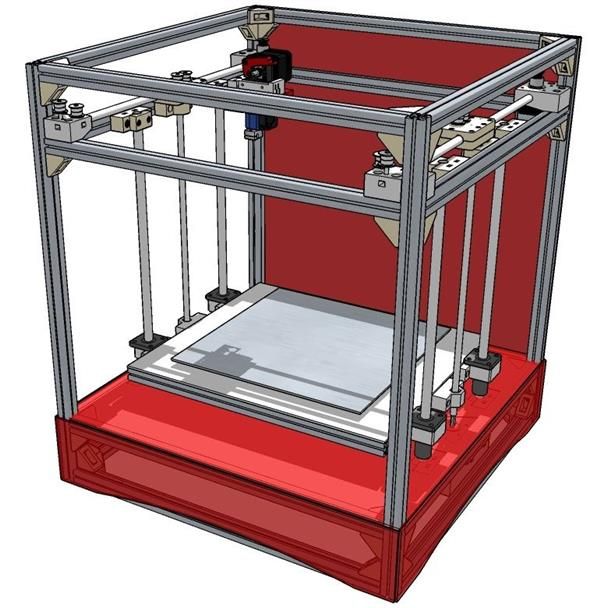 So, if the Creality CR-6 SE is so similar to the Ender 3 V2, why spend that extra $100? It all comes down to a nifty set of features and parts that scream ease of use.
Leading the Creality CR-6 SE bid as a worthy alternative to the Ender 3 V2 is an automatic bed leveling system. The hot end acts as a strain gauge that determines the adjustments needed based on recorded resistance at 16 points on the bed – no more time lost with pesky paper-led manual leveling.
Few other best 3D printers under $500 deliver automatic bed leveling. Let alone in the same consistent, hassle-free way as the Creality CR-6 SE. In our experience, the printer provides a perfect first layer without fail.
A new 4.3-inch HD color touch screen affords intuitive and responsive controls, miles better than the approximate dial on the Ender. The Creality CR-6 SE also upsizes the Ender's build volume by a few millimeters to 235 x 235 x 250 mm. That's enough to tackle the overwhelming majority of hobbyist projects out there, from functional household items to decorative pieces, by way of modest same-part batch printing.
Creality CR-6 SE houses several other, more technical changes over the Ender 3 V2, such as dual drive Z-axis stepper motors, a new sophisticated extruder design, and a photoelectric filament sensor. Sleek, and a talking point, but they don't necessarily translate to better print results. It performs identically to the Ender when using PLA, which means smooth layer lines, small detailed features, and an overall, consistently excellent quality prints.
Overall, Creality CR-6 SE offers just enough to make it an attractive choice over the Ender 3 V2. If the hands-on approach of the Ender 3 V2 doesn't sit well with you, the Creality CR-6 SE's convenience and ease of use features come highly recommended for beginners and thrifty makers alike.
Qidi Tech i-Mate S — best 3D printer under $500 with enclosure and dual extruder
Price: $449 — Available on Amazon here
Build volume: 260 x 200 x 200 mm
We previously featured the Qidi Tech X-Pro on this list, and have consistently rated it as one of the best 3D printers under $500 with an enclosure.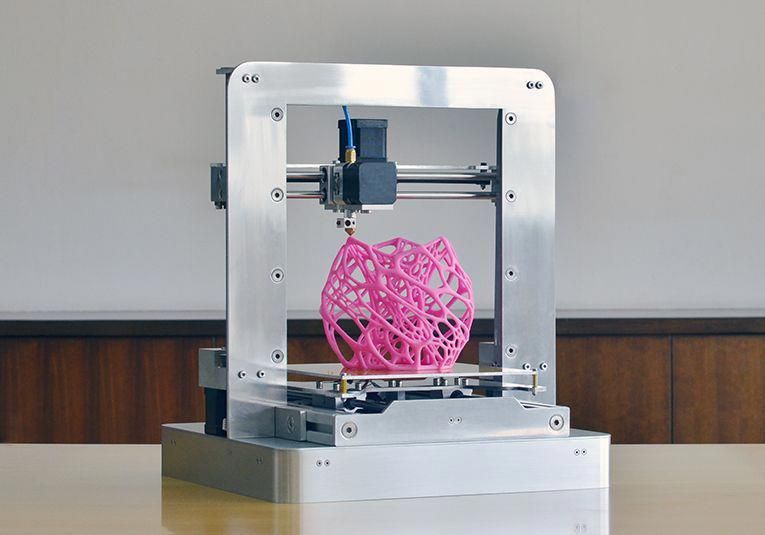 However, technology moves on, and Qidi have now released its heir apparent, the Qidi Tech i-Mate S.
It's sturdily and robustly built with a full metal frame that fully encloses the build area, so you can far better print ABS in the closed chamber and better maintain the temperature to prevent warping. The metal frame also anchors the printer down, preventing vibrations from affecting your print quality.
If you're looking for a 3D printer under $500 for 3D printing miniatures, this might be the printer for you. Qidi Tech ship the i-Mate S with a 0.2mm nozzle, rather than the standard 0.4mm nozzle (though a 0.4mm also comes with the printer), for printing intricate prints more accurately and nailing the detail on intricate models.
Overall, it's a 3D printer that comes assembled, has an enclosure, and great build volume, at an affordable price.
Anycubic Mega X — best 3D printer under $500 for large prints
Price: $469 — Available on Anycubic Official Store here / Available on Amazon here
Build volume: 300 x 300 x 305 mm
A big 3D printer capable of much larger 3D printing projects, cosplay parts, or printing multiple smaller objects at the same time, the Anycubic Mega X offers a lot of bang for your buck.
It is a 3D printer kit, though even beginners shouldn't be intimidated — you just need to assemble the parts with 12 screws and a few cables before you're ready to print.
The Mega X features the same Ultrabase patented heated bed as the cheaper Mega S that features in our best 3D printer under $300 ranking, able to reach up to 90C temperatures for printing most filaments. The material makes for much better adhesion during printing, and easier removal after you're done. 
As with most $500 3D printers, the Mega X lets you resume printing from where you left off such as after a power outage, and features a 3.5-inch touchscreen for a simple 3D printing workflow.
The metal frame is sturdy and heavier, anchoring the 3D printer down to prevent any shakiness or vibrations from printing affecting your model's print surface or leaving any imperfections. Anycubic's new Y-axis improvements make for better precision, in addition to a number of other changes that generally improve your printing experience.
Overall, the Mega X is a consistent, large and workhorse 3D printer that you can rely on to print for hours on end at home.
Elegoo Saturn – Best for Large Part Resin Printing
Price: Available at Elegoo official store here / Check on Amazon here
Build volume: 192 x 120 x 200 mm
A souped-up, super-sized complement to Elegoo's ever-popular and rightly lauded Mars printers, the Elegoo Saturn is a hulking MSLA resin printer.
The Mars was always a tough act to follow, but Elegoo went the extra mile to offer a mid-to-large build volume without compromising speed or quality. On the contrary, an upgrade to an 8.9-inch 4K monochrome LCD guarantees virtually the same level of detail (3 tiny microns in the Elegoo Mars' favor) while offering print speeds flirting with 1 second per layer. That equates to roughly 60% faster than the Mars 2 Pro.
These improvements allowed Elegoo to balloon the build volume to 192 x 120 x 200mm, three times that of the Mars 2 Pro.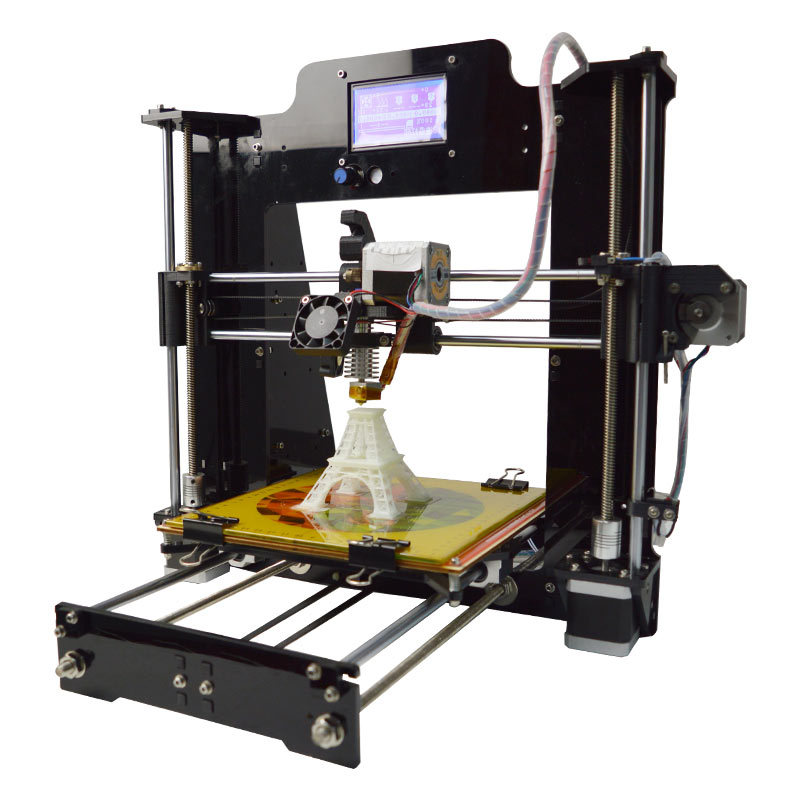 Best of all, Elegoo finds a special berth in the resin 3D printer space with a machine boasting a reasonably large build volume that doesn't cost an arm and a leg.
The print quality stacks up on par with the Mars printers. You get all the lovely detail and precision you'd expect from a quality resin printer on both small and larger parts. Smooth setup and consistent results will see you printing within minutes. Even the manual bed leveling process is, dare we say, easy.
So, who's best served snapping up an Elegoo Saturn? Those partial to bringing larger, complex custom miniatures and figurines to life with buckets of detail to boot, or multiple copies of the same detailed part in one sitting.
For us, the Elegoo Saturn is also an interesting proposition for small businesses looking for a cost-effective, fine detail prototyping rig that's fast and reliable, or a machine to add to a high-productivity small-scale printing farm.
The asking price may be a little steep for first-timers, likely better served with a $200 to $300 entry-level printer.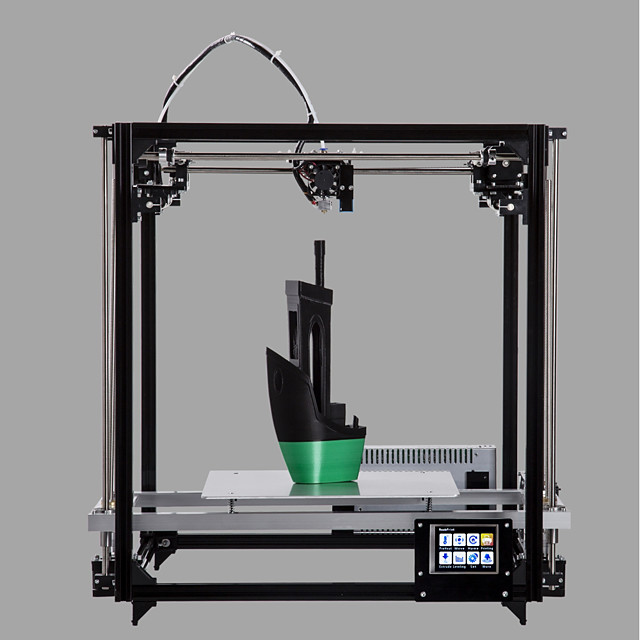 But, it's a top option for those looking for a second printer or a first, pain-free dip into high-res resin printing after cutting their teeth on an FDM printer.
Creality CR-10 V3
Price: Check on Creality Official Store here / Amazon here
Build volume: 300 x 300 x 400 mm
A successor to the Creality CR-10 V2, the Creality CR-10 V3 is upgrades galore, with Creality pinpointing several areas ripe for improvement and delivering.
Leading the upgrade charge is a Titan direct drive extruder, transforming filament loading and retraction doddle, which translates to less unwanted stringing and clogging. Alongside, an improved all-metal frame and sturdy cross brace give the Titan extruder all the rigidity to tame wobble.
The V3 also has all the great features found on the CR-10 V2. Among them is a hefty 300 x 300 x 400 mm build volume. The bed size outclasses most sub $500 3D printers and delivers enough printing real estate for even the most towering hobby projects.
We found little in the way of complaints regarding the Creality CR-10 V3's print quality. The machine fares equally well with PLA and TPU, with consistency a real highlight from one print to another. Decorative pieces, models, and figurines all come out great on Creality CR-10 V3.
Despite ticking a lot of boxes, there's still room for improvement. The rotary knob controls feel outdated at this point, especially with other Creality CR printers sporting touch screens. The gnarl of cables linking to the control unit, which requires careful placement to avoid disrupting the printing process, can prove tedious. Finally, Creality weaved in all that's needed to upgrade to automatic bed leveling with a BL Touch sensor, but not installing one from the get-go borders on a teasing slight.
If the comparatively stingy build volume of other $500 3D printers is likely to cramp your printing style, and you don't mind minor convenience drawbacks, the Creality CR-10 V3 will serve you well.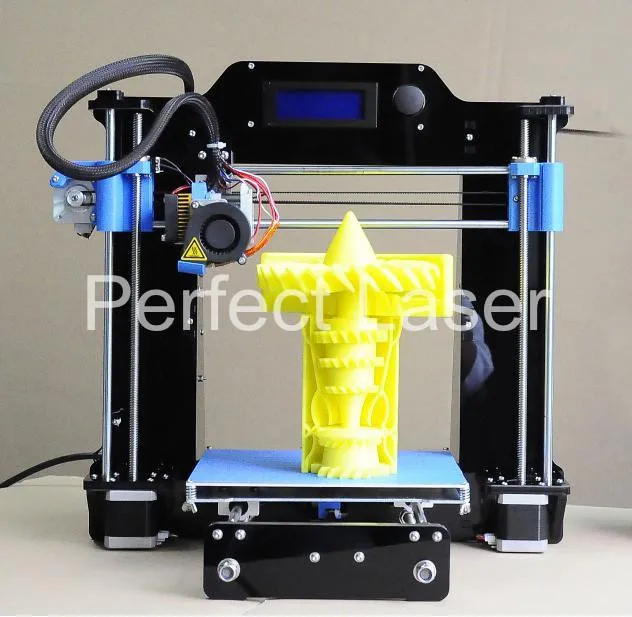 Buyer's Guide – Things To Consider For a 3D Printer Under $500
While $500 gets you a good home 3D printer these days, you probably won't get everything you ever want in this price range.
But, if you prioritize a certain factor, for example a pre-assembled, beginner-friendly 3D printer you can start right away with, or a large build area, you can have those in a sub-$500 3D printer.
Assembly
3D printers are available either fully assembled, semi-assembled, or in kits. In the under $500 range, you'll likely sidestep kits entirely and land a semi-assembled printer, perfect if a lengthy assembly process sounds too daunting. Resin printers under $500 ship almost exclusively fully assembled, while you're unlikely to find a fully-assembled FDM, if only for the complexities and cost of shipping a fully raised printer.
Printing Technology
$500 limits you to two printing technologies: FDM and resin. FDM, or fused deposition modeling, is the classic printing technique whereby an extruder heats filament then deposits it in layers to form a 3D model or part.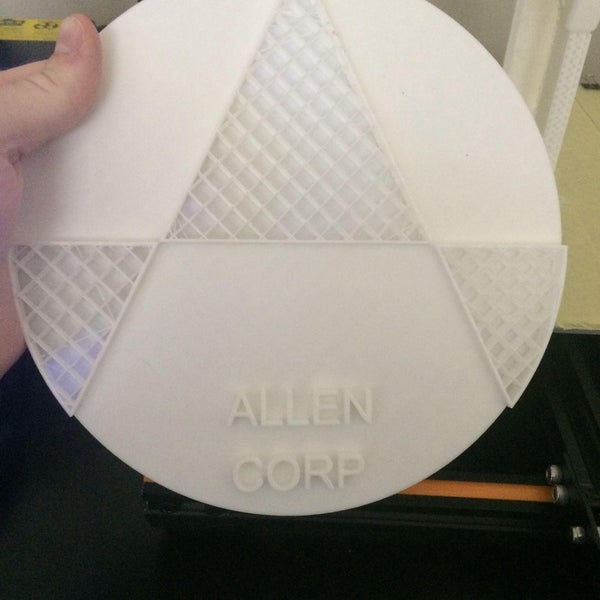 On the other hand, resin uses a light source to cure liquid resin layer by layer into a finished print. Makers favor FDM for its low-cost and resin printers for their ability to create high-resolution, detailed prints.
Enclosed or Open Design
Opting for an open or enclosed 3D printer under $500 depends on what type of filament you hope to use. For PLA, we recommend an open design, while for ABS, you're better served with an enclosed chamber due to the need for a stable thermal environment. As we near $500, we tend to find a few more enclosed options than budget printers, but most likely have open designs.
Build Volume
Build volume is the size and scope of prints a printer can conceivably make. There's no ideal build volume per se; it comes down to what type of printers you have in mind. The logic is clear: a larger build volume gives you more possibilities for bigger-sized parts or even printing larger quantities of the same part. For $500, you'll find both medium and large build volume printers, so buy according to your needs.
Connectivity
Connectivity determines how you feed a printer with the required sliced file to complete a print. SD card readers are par for the course at $500, and you'll also find printers extend connectivity to USB. A few outliers offer Wi-Fi, but this is by no means standard at $500, so double check before buying if wireless connectivity is essential.
Bed Leveling
Bed leveling is a crucial part of the printing process, giving a printer a precise lay of the land to deliver a consistent and stable first layer, and by extension, a quality print. A printer with automatic bed leveling is rare at this price point, but they do exist, such as the Creality CR-6 SE.
Don't let manual bed leveling put you off, though: manufacturers go to length to make the process straightforward. Our picks for the best 3D printer under $500 are unlikely to pose any issues, even for beginners.
Read more: the best auto-leveling 3D printers
What Not To Expect in a 3D Printer Under $500
$500 printers are firmly aimed at the hobbyist market with leeway for small business and educational applications.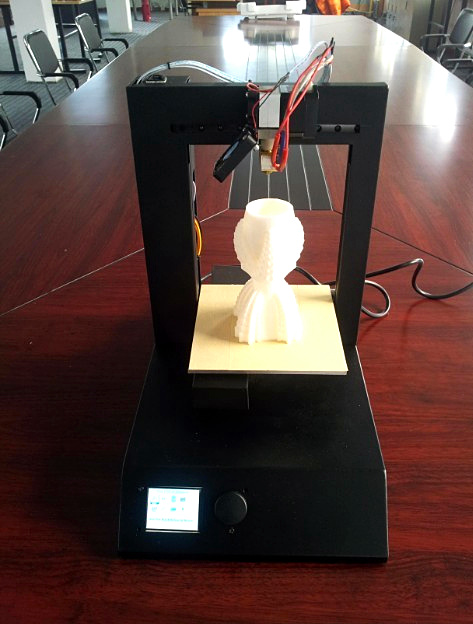 These are designed to quickly create the most detailed or flawless prints, so it's important to shape your expectations accordingly. These are not professional-grade printers, nor do they pretend to be.
This also extends to features. Automatic bed leveling, enclosed chambers, Wi-Fi connectivity are all rarities at this price point. The same applies to compatible filaments. At $500, you are very much limited to PLA, resin, TPU, and possibly ABS if a closed chamber is involved. Don't expect to print using exotic filaments.
3D Printer Under $500 Applications
Home Use Applications – models, miniatures, figurines, decorative and displays pieces, functional household items (vases, pen holders, cable holders, containers, etc.).
Small Business Applications – inexpensive prototyping, high-tolerance batch printing, small-scale printing farms.
Schools and Educational Applications – low-cost, reliable learning machines.
What you can't print for under $500 – professional, highly detailed printing for fields such as dentistry, biomedicine, and other tight-tolerance applications.
Other price ranges you may be interested in:
Best 3D printers under $200
Best 3D printers under $300
Best 3D printers under $1000
Best 3D printers under $2000
Top 5 3D printers under $500
3D printing technology is gradually changing the production of various products that we use on a daily basis. They work by adding materials layer by layer. According to one of the videos from the Mashable channel, these machines not only allow the creation of complex parts, but also reduce the time and cost of production.
These printers, which were originally only available for industrial production, are now offered in highly consumer-friendly forms to bring the technology closer to all types of people. For just $500, anyone can now own a unit for personal and small business purposes.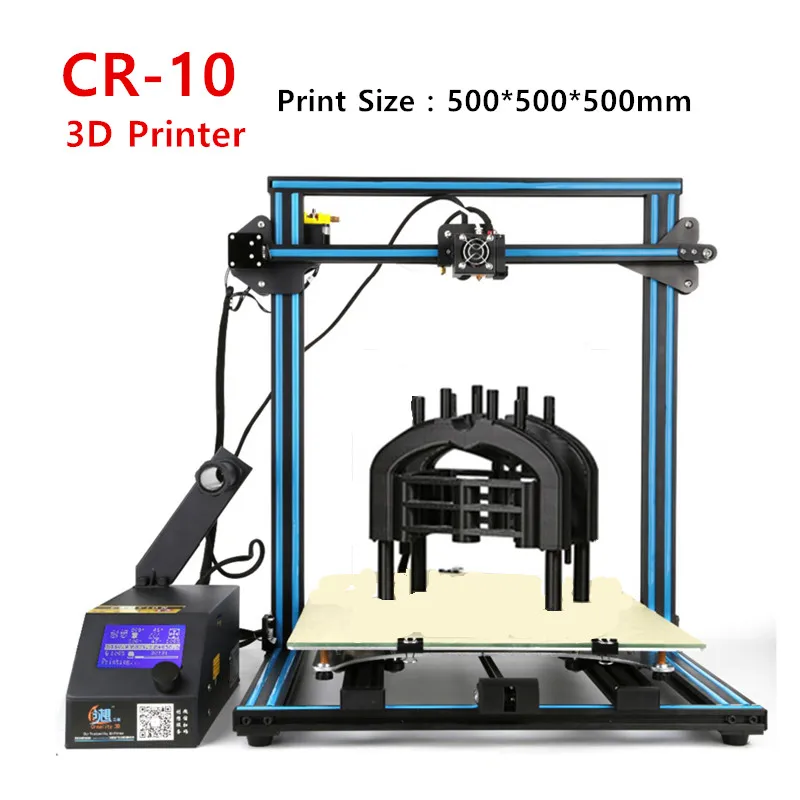 In the price range shown, the most common type you will come across is FDM or FFF. This will allow the use of durable thermoplastic materials such as PLA, ABS and PET. The most common applications for FDM printers include, but are not limited to, electrical housing, design and fit testing, fixtures and fittings, and investment casting patterns. It's not as precise and complex as the SLA printers we love too, but FDM seems to be great for printing large and simple parts.
Printers under $500 may be too limited when it comes to the features they can offer. However, most of them are making cutbacks, which means they are still quite capable of doing their job.
Whenever you're looking for one, you should pay attention to the key features of the printer. This includes the machine's print speed, build volume, and compatible fibers. The Creality Ender 3 Pro printer model will fit most of your needs with its quality build and great features.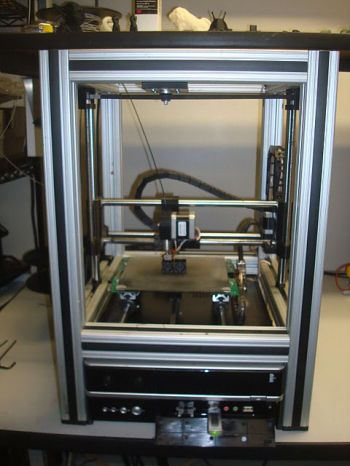 Some of them are a removable heated magnetic bed and significant improvements in the Y-axis.
There are other amazing options on the market, such as models made by top brands such as Anycubic, FlashForge and Monoprice. However, choosing a 3D printer under $500 can be a daunting task. So, to help you make a purchase, we have provided five of the best 3D printers under $500 to provide you with the most helpful information before you buy. Here is a list of their latest sales on Amazon. Just click the buttons below and get the best prices we've been looking for!
The best 3D printers up to $ 500 in comparison and rating
3D printers up to $ 500

9000 900-3DILOTRIA 1. 3DROMEN Ender 3 Pro

New Y Frame Design 40*40

Maximum Print Speed ​​at 200mm/s


Magnetic Print Bed0003

2. 3D printer Anycubic Mega S

Sensor sensor

Suspended bush added to the 3D printer

9, more than a fiber

3. 3D printer Crealy Ender 3

The unique design of the system

Shtepsel fork with a fuse to avoid thermal drainage

220 x 220 x 250 cu. Mm

Print speed

≤ 180 mm / s, normal 30-60 mm / s with a maximum print speed of 200 mm / s

Compatible materials

ABS, PLA, wood
performance and print quality
build quality
features
EASY AND CONVENIENT USE
Pros :
The most outstanding 3D printer under $500.
Has a removable and upgraded surface layer that protects the 3D printer build plate from all sides, maintains a constant temperature and easily removes the printed model when cooled.
Has a more stable print bed thanks to a new 40 * 40 Y frame design.
Excellent energy performance.
Offers great room for improvement due to its open source nature.
Cons:
For a beginner, leveling the bed can be a challenge. For convenience, you will need to buy a tempered glass tablet as well as an automatic leveler.
Final take:
The Creality Ender 3 Pro is the most outstanding 3D printer for its price. It features an updated version of the legendary Creality Ender 3 budget printer with some tweaks to improve its reliability. It boasts its new C-Mag magnetic print bed, which offers more flexibility. It has a textured surface that helps to adhere the first layer to the base and helps to remove the final product immediately after cooling. It provides a sufficient temperature of 110°C so that the material does not become too soft and brittle.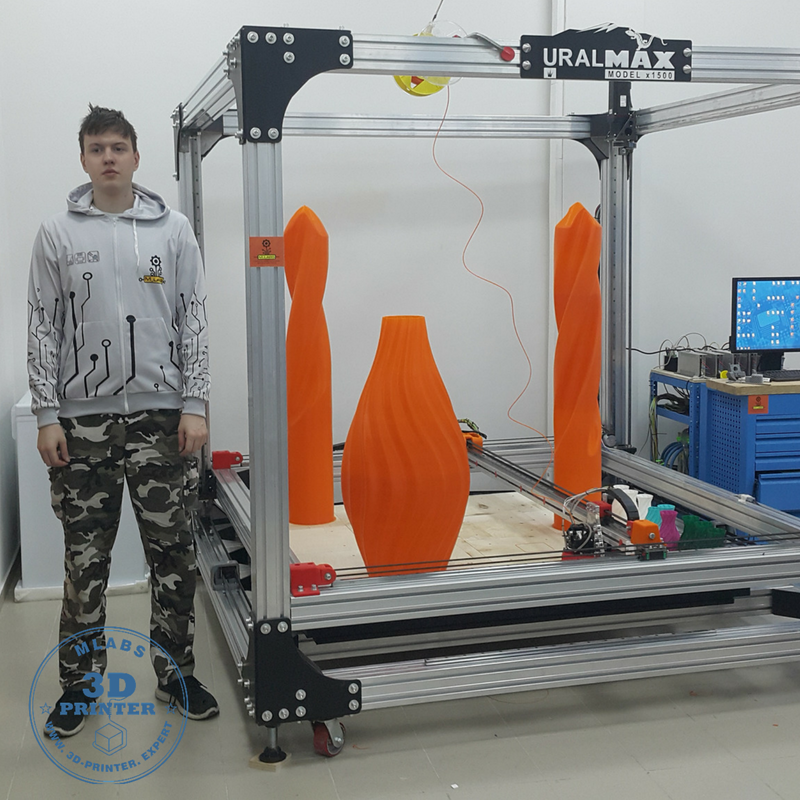 Another great thing about Ender 3 Pro is that it's a completely open source system that allows great updates and tweaks to be made and distributed to a wider user community. It also offers a useful resume printing feature that allows users to easily resume printing immediately and from the last registered point in the event of a power failure or any other disturbance. Thanks to Meanwell proprietary power supply. This is a UL recognized power supply targeting the standard SPS market. Therefore, this printer is protected from sudden power surges.
With a decent printer build volume, detachable heated magnetic stand and power recovery mode, the Real Ender 3 Pro is an extremely phenomenal and versatile 3D printer at a very affordable price.
Check Price
2. 3D printer Anycubic Mega S
Technical characteristics:
98% only
9000 9000 9000

ANYCUBIC0027

build Volume

210 x 210 x 205 cu. Mm

Print speed

20-100 mm / s (recommended 60 mm / s)

, ABA HIPS, PETG, wood
performance and print quality
build quality
features
EASY AND CONVENIENT TO USE
Pros :
Very convenient to use.
Emphasizes overall mechanical design compatibility with most filaments.
Offers a 3.5" TFT touch screen interface.
Features a patented microporous coating on the print platform for excellent adhesion during printing.
Supplied pre-assembled and easy to install.
Cons:
Not ideal for beginners as it needs to be set up before use, especially when it comes to cable routing and bed alignment.
Final take:
The Anycubic Mega S is one of the brand's newest models, which reflects almost the same features as the Anycubic i3 Mega. It is equipped with a sensor-detector that alerts you when your spool runs out of thread. It is smart enough to prevent interruptions in the printing process.
A hanging spool holder has been added to the side of the 3D printer for ease of use. It also features a powerful mechanical design filament drive that is compatible with most filaments, reducing clogging and improving print accuracy.
To complete the 3D printing process, it includes a Titan extruder to help you with reliable extrusion.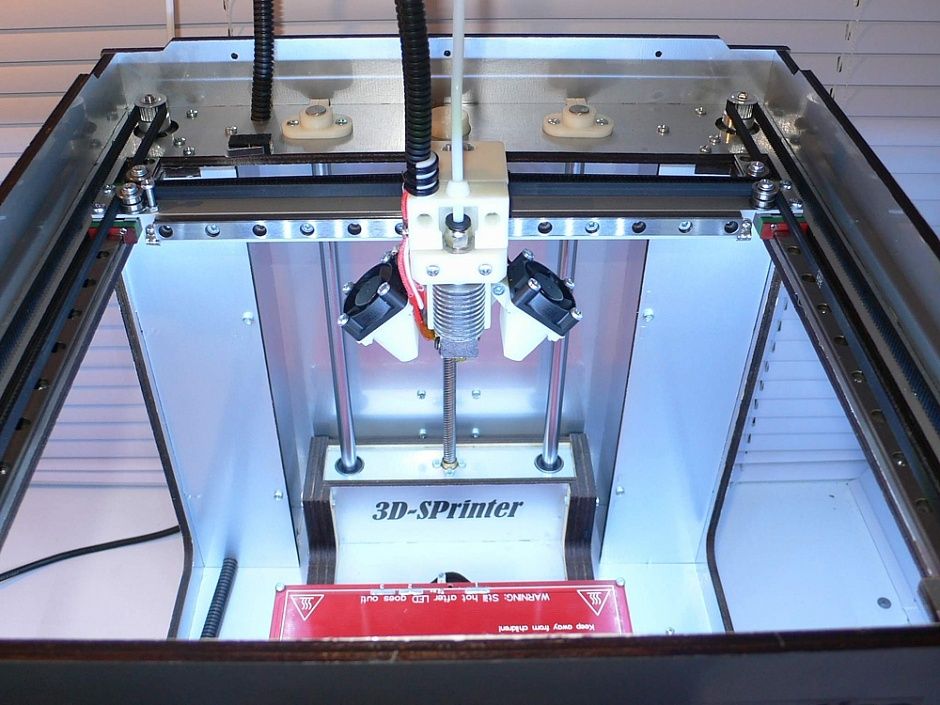 Best gear ratio 3:1 for the best combination of speed and accuracy. This update makes this model more compatible with flexible filaments such as TPU. In addition, the device includes a printing surface coated with a patented microporous layer that provides good adhesion.
Speed ​​at 200 mm / s)
Compatible materials
PLA, TPU
Printing
Fun. EASY TO USE
Pros :
Has a unique motion system design.
Supplied with fused plug to avoid heat drip.
Features a V-shape and redesigned wheels that allow it to move quietly, smoothly and steadily.
Allows you to print models with high precision.
Includes a resume print feature that can be extremely useful in the event of repeated power failures.
Its semi-assembled 3D printer kit is really convenient to use.
Cons:
For those who are not experienced in assembling small CNC style devices, the instructions will be difficult to complete the task.
Final take:
The Creality Ender 3 boasts great features. Some of the things that deserve attention are its split design, industrial PCB and linear pulley system.
Compared to other 3D printers, the Creality Ender 3 offers a unique motion design among 3D printers under $500. Its X, Y, and Z axes are supported by small wheels that rotate as the printer moves. The movement is impeccable. This results in smoother, quieter printing, and this is where this machine excels.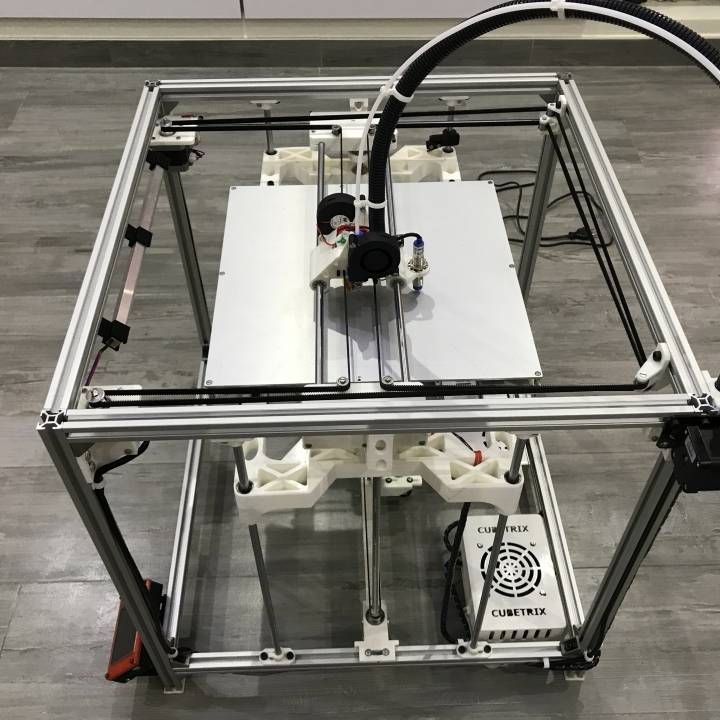 As for other features, technological advances in the extruder reduce the risk of clogging and ensure consistent and uniform extrusion during the printing operation. It also has a fast heating layer that reaches approximately 110°C in just five minutes, which is useful for printing on PLA materials. Combined with a printer nozzle temperature of 250°C, the PLA filament will remain smooth.
That being said, there is no doubt that the Creality Ender 3 offers class, distinction and several equivalent alternatives comparable to expensive 3D printers.
Offers more secure wireless file transfer with Wi-Fi 2nd generation.
Supports the 3D Cloud function, which allows you to store, edit, upload and print the status online, and create a large database of models.
Supplied with an easy to use calibration detection device to aid in alignment.
Its 3.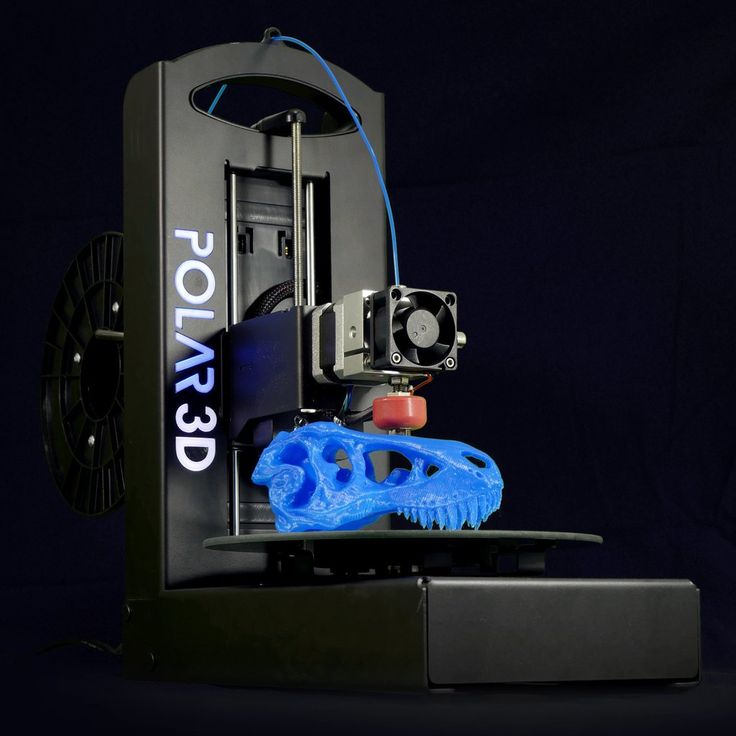 5 inch full color touch screen provides easy operation with intuitive icons.
Cons:
Only uses PLA filament.
Not suitable for 1 kg thread spools.
Final take:
For young enthusiasts, students and newcomers to 3D printing, the Finder is best purchased as an initial investment. At a low cost, compact and smooth printing is achieved thanks to the best performance of the machine.
It features a 3.5-inch DH IPS full color touch screen with an intuitive smartphone interface. Through the screen, a number of settings can be made - from resetting to the origin, preheating the extruder, loading / unloading the filament, to the point of control and printing. It's also safe for kids to use due to its cool build plate, non-toxic PLA, and sealed print area.
The FlashForge Finder 3D Printer also features a retractable build plate that makes it easy to remove completed 3D prints from the printer.
It has an easy to use calibration detection system that helps with alignment. All you need to do is tighten or loosen the adjustment screws until the beep clicks, which indicates that it has detected a difference between the nozzle and the worktable and made sure the alignment is in the right place. Once the first point is aligned, the same operation is applied to the next two screw points. The printing operation is made easy thanks to the fact that clear instructions on the touch screen will guide you throughout the operation.
Compatible materials
Metal, ABS, PLA, Wood, Steel, Polyvinyl alcohol
COMMUNITION and PRICIPTION 9000 9000 9000 9000 9000 USES
Advantage :
Wide extruder temperature range and heated build plate.
Any form of filament can be used, including ABS and PLA, as well as more advanced materials.
Light enough for any table; It has a small footprint and a simple open frame design.
Compatible with Cura, Repetier and other applications on PC and Mac.
Includes USB connection and microSD slot for file transfer.
Features a 3.7" IPS color screen.
Cons:
The calibration procedure is slow and tedious. However, it will deliver great print quality if you don't spin it all the way up.
Final take:
Monoprice 121711 Select Mini 3D Printer V2 comes fully assembled, tested and adjusted by the manufacturer. Right out of the box, you just need to carefully evaluate if your print platform is already level, reload the included microSD card, fill in any filament, and start printing the pre-configured template.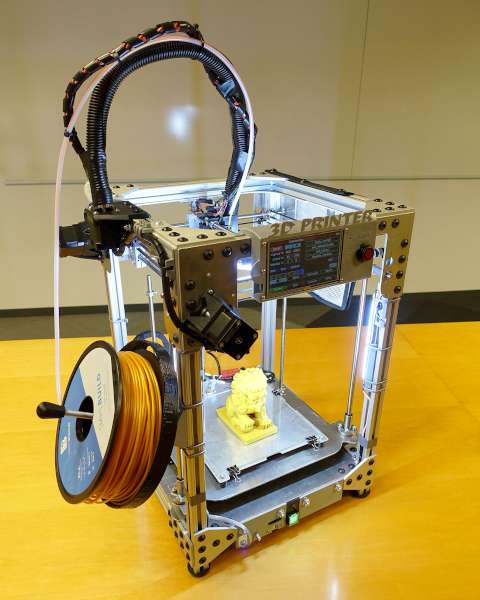 You won't find a ready-to-use 3D printer right out of the box at such an affordable price anywhere else. In addition, it comes with an all-metal nozzle, an insulated heated build plate, an advanced nozzle and motherboard cooling system, a 3.7-inch color screen, and Wi-Fi compatibility.
What's more, it's incredible that such a 3D printer exists for under $500 due to the wide range of materials compatible with the Monoprice Select Mini Version 2. All of this is possible thanks to the wide temperature range of its extruders, allowing the use of conductive PLA, wood and metal composites, soluble PVA and more complex yarns. Really impressive for its price and, above all, size!
Check Price
Top 10 Beginner 3D Printers Under $500
Modern 3D printers are easier to use than ever. In addition, they are much more productive and reliable than early hobbyists and even commercial models. Perhaps most importantly, they are now installed in such a way that anyone can afford it.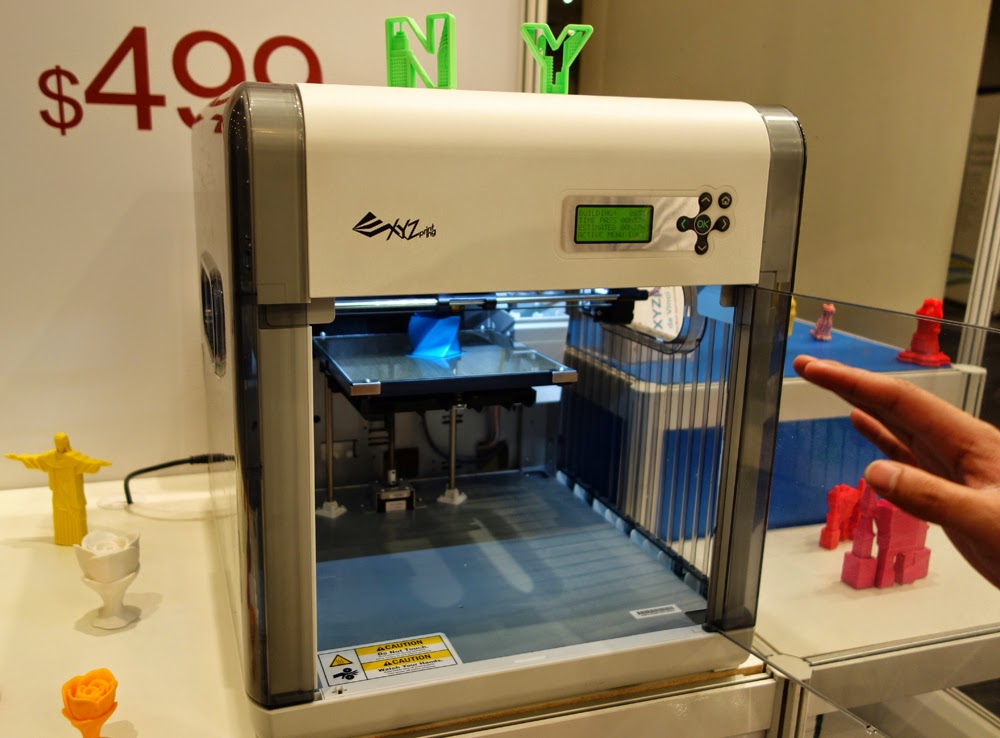 We've rounded up the top 10 3D printers under $500. Each one is highly acclaimed by a decent amount of real customers and has one or two features that set them apart from the hundreds of other 3D printers on the market.
If you're not already familiar with the jargon of 3D printers, we highly recommend you read HDG Explains: How Does 3D Printing Work? before continuing! Please note that this article contains affiliate links whose sales help us create great content!
Windows programs, mobile apps, games - EVERYTHING FOR FREE, in our closed telegram channel - Subscribe :)
The "biggest" problem with affordable 3D printers is that they are too small. This means that if you want to print designs larger than the figure, you'll have to shell out a hefty wad of money for the privilege. 9The 0003
Creality CR-10 V2 is at the high end of our budget for this list and offers a very large build volume of 300x300x400mm. This V2 model boasts a number of upgrades over the original CR-10, not least of which include improved build materials, quieter operation, and a print resume feature if build must be stopped for any reason.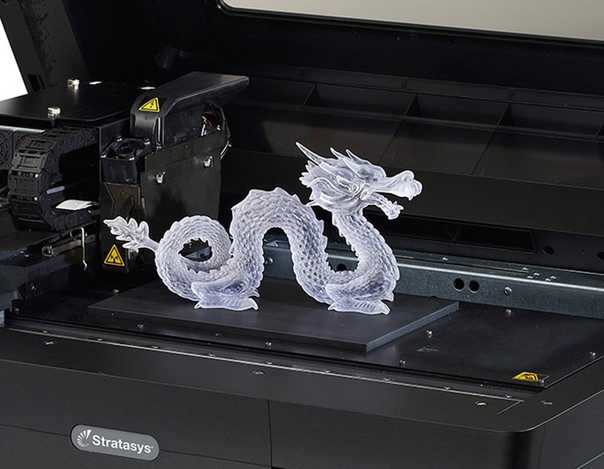 If you want big, quiet, reliable printing at $500, there doesn't seem to be much competition for this newly upgraded big boy printer from Creality.
Budget printing on two materials: QIDI TECH X-Pro
Most 3D printers have a single material extruder, which means you can only print your project using one type of filament and one color. X-Pro offers a $500 dual-extruder printer that can print on a variety of materials as well as two colors at the same time.
This dual extruder system allows you to create really complex 3D prints. For example, you can print a model that uses both rigid and flexible materials. This is obviously more difficult than printing on a single material, but having a printer that can print using two independent materials at this price is a big deal.
The X-Pro has some smart features. For example, a bed with a magnetic fastening and side panels. It also has a decent build volume and since it's closed you should have good temperature stability while printing.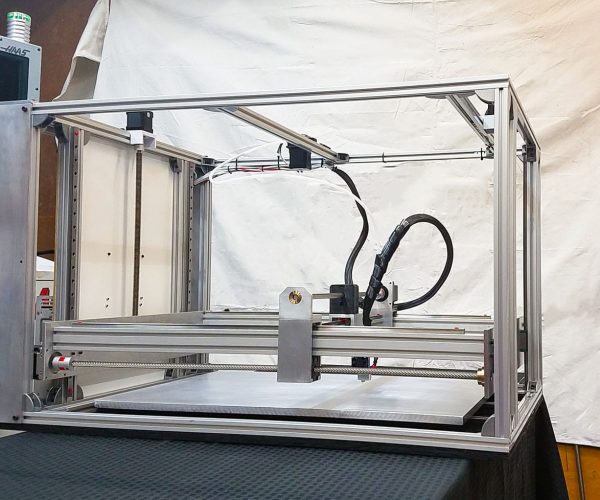 If you're looking to get into multi-material printing, this is the cheapest option we know of.
Most 3D printers on the market, especially in the budget segment, are Cartesian printers. That is, they use a three-axis printhead with XYZ coordinates in the assembly volume. Delta robot printers such as the FLSUN Mini Delta use a different method to move the printhead to a desired location within the build volume.
The printhead is attached to three arms that move up and down on independent vertical guides. By changing the height of each arm, the head can swing freely in the build space.
These Delta robotic printers are faster than Cartesian printers, can print tall models that would require slicing on Cartesian printers, and can better print curved surfaces. The downside is that they cannot achieve the same level of resolution and precision as the Cartesian equivalents.
The Mini Delta is fantastically priced, takes up little space compared to the total build volume, and offers a stylish all-metal design.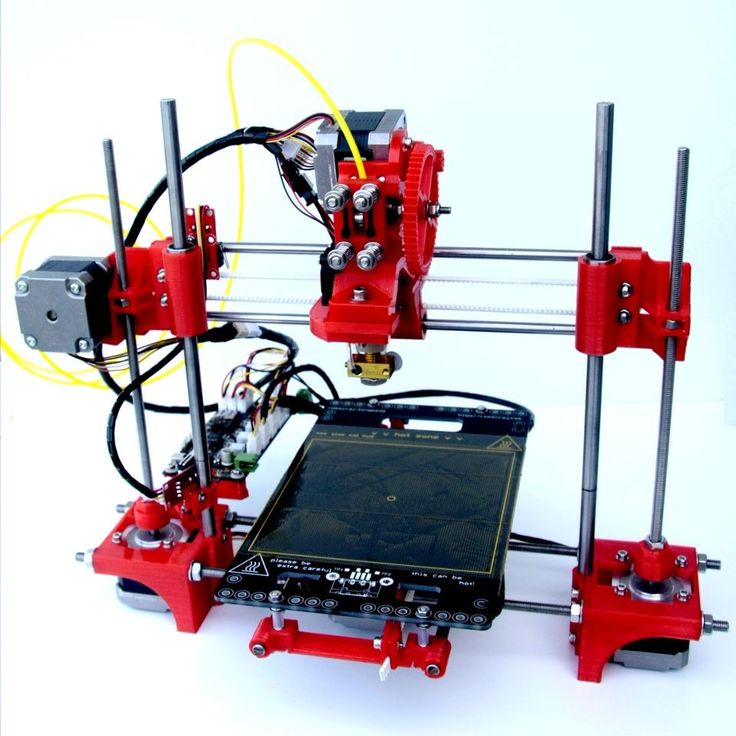 If you want the special benefits of a delta robot design, this is a good budget option.
Best Budget Hi-Res Resin Printer: LONG Orange 30
Not too long ago, resin printing was reserved for multimillion-dollar engineering structures. Now resin printers are firmly established in the consumer space and the Orange 30 is one of the best affordable models we've seen.
The precision and fine print detail that is possible with Orange 30 is incredible. It uses a 2560×1440 LCD screen to mask each of the print layers, allowing you to create complex structures and stunning prints. It also uses a UV LED array for curing, ensuring an even level of UV light on the LCD screen.
LCD-based SLA (Stereolithography) is a new approach to traditional industrial rapid prototyping that has been used for decades. It's a smart way to use existing consumer technology to achieve something new. If you don't want to build structural models and care mostly about aesthetics, this should be at the top of your list.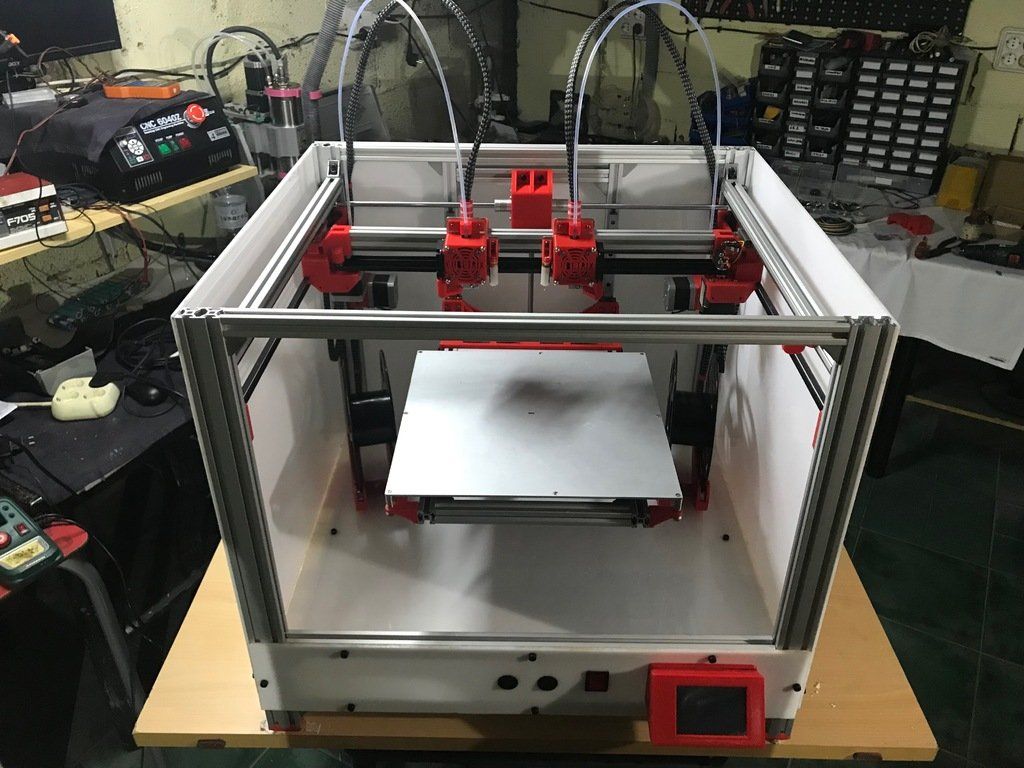 The first 3D printers that could be bought for home use were not intended for the average user. They needed serious assembly, tuning and maintenance. Over the years, we have had to build a significant proportion of 3D printers, and this is a key reason why they have not been popular for so long.
FlashForge Finder offers a simple and user-friendly interface for printing. It's also designed to be safe to use, with rounded corners and extensive use of plastic where needed. The printer is controlled using a color touch screen with a user-friendly graphical interface. It's quiet, supports leveling, and works with Wi-Fi so you can put it anywhere. This is an almost perfect entry-level 3D printer.
The Phrozen Sonic Mini uses the same LCD clamping system as the Longer Orange 30, but is priced significantly lower. The biggest trade-off is a reduction in print resolution, but the Sonic Mini can still achieve fine detail better than any extrusion printer in this price range.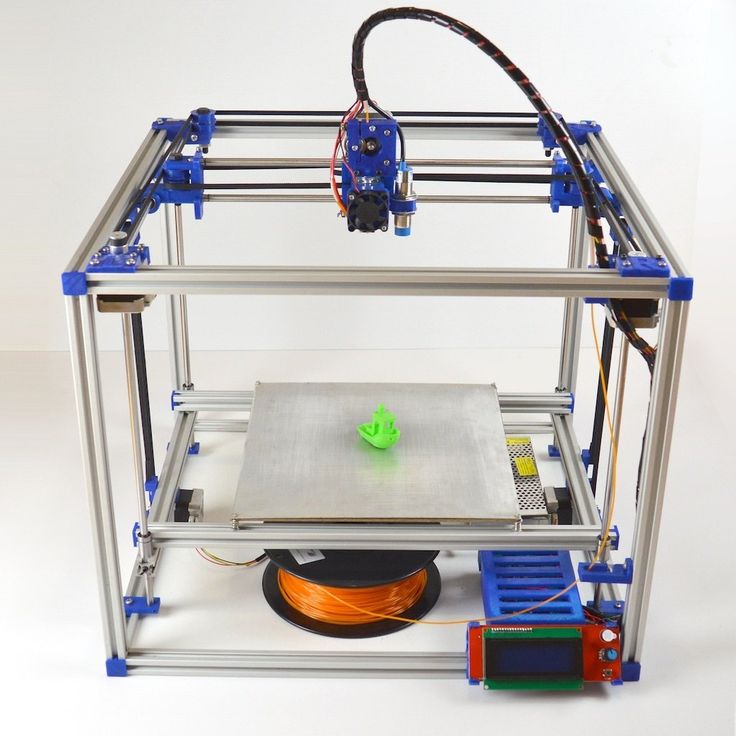 One very cool feature of the Sonic Mini is its wide resin compatibility. You don't have to use first batch resin or even LCD resin. This printer will even work with DLP projector printer resins! PHROZEN rates its LCDs at 2,000 hours, so you can also expect years of service from this entry-level machine if you don't decide to upgrade for other reasons.
Creality Ender 3 is the definition of "good enough" when it comes to 3D printers. It is an open design machine that has all the most important features that an extrusion type Cartesian printer should have.
This is an open source machine, which means that those who like to tinker and tweak can really get into the machine's software or benefit from community mods. Although it's partly assembled to cut costs, the build seems to be so easy that they recommend it as a project for kids.
The build volume is more than decent, and you get traditionally premium features like resume printing at a great price.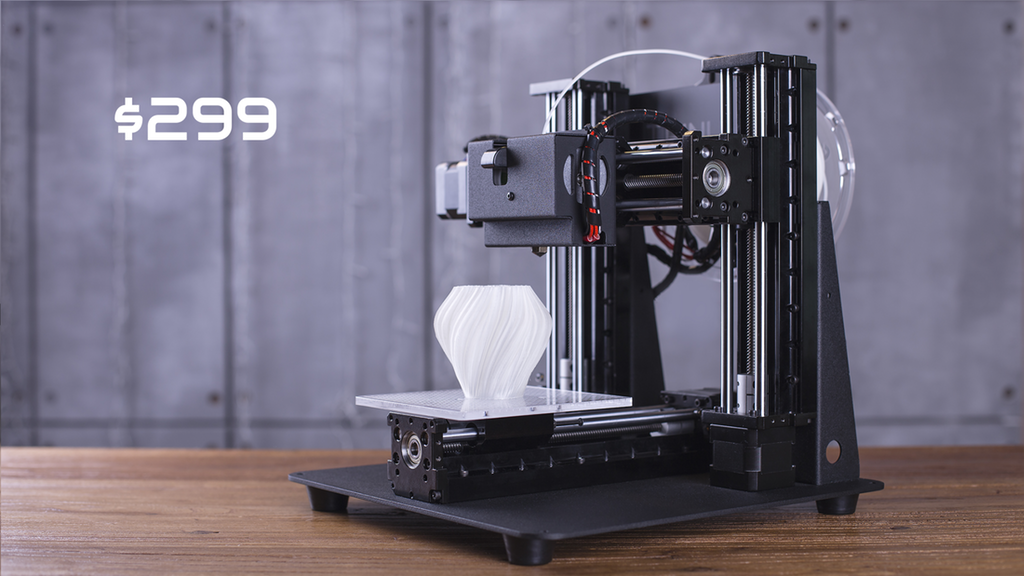 If you're interested in learning about 3D printing and want a good first experience with a fundamentally solid machine, the Ender 3 looks like the way to go.
Best for hobbyists on a budget: JGMAKER Magic
This sub-$200 3D printer from JG Maker sits on the edge between a hobby printer and more serious equipment. It has an open design and decent build volume, so you'll be able to print the most useful items, not just small curiosities. Most importantly, it has a filament runout sensor and allows you to resume printing. Fantastic features for the price!
You can also print models from an SD card, which means that your printer and computer do not have to be next to each other. Wi-Fi would be a nice feature, but having a snickernet solution is better than being forced to tether your car to a PC.
Adding $100 to your budget will result in a significant increase in performance, build volume, noise levels and overall experience. If that's too rich for your blood, Magic is a great choice.
Available in kid-friendly red or yellow truck designs, the CR-100 Mini is sized for the classroom or bedroom of any precocious young engineer. This printer requires no assembly, it has automatic bed leveling and low build volume. Not the kind of printer you could do practical things with, but it's perfect for building toy models and teaching toddlers the technology they'll almost certainly have to use as adults.
It's small enough to be hand-locked without supervision, and cheap enough to buy in bulk from schools.
The shadow does not require much explanation. It is a machine with high resolution and low build volume. It is ideal for those who want to create detailed figures and other models or prototypes that do not need to be load-bearing or durable.
At this price, it's good for an impulse buy, but it outperforms most extruder-type printers at many times the price. If you want to take your Dungeons & Dragons hobby to the next level, this is the best you can get!
Real replicators?
While we're not quite there yet when it comes to actual replicators like the ones you've seen in Star Trek, it's still mind-boggling that you can buy what amounts to desktop production equipment from these top 3D printers.