Ender 3 3d printer specs
Creality Ender 3 Review: Specs, Upgrades, Software and More
Hi everyone! In this review, we will talk about the Creality Ender 3, a low budget FDM 3D printer produced by the Chinese manufacturer Creality. Well-known for its incredibly low price, this open-source cartesian-style 3D printer is one of the best and most affordable 3D printer kits currently available on the market. Open-source and easy-to-assemble, it supports virtually unlimited upgrades, which can make it capable of printing high-quality parts with ease.
Although the manufacturer has released two updated versions of their flagship model, the Ender 3 Pro and Ender-3X, the Creality Ender 3 keeps being a chart-topper.
In this Creality Ender 3 3D printer review, we will analyze the specs and features of this budget printer, trying to find out why it is so popular.
Source: www.creality3dshop.eu
Is the Creality Ender 3 good?
Wallet-friendly, infinitely hackable, and decently accurate, the Creality Ender 3 might sound too good to be true.
That's why lots of newbies frequently ask themselves: where is the catch?
Well, we can say it loud. There is no catch at all. The Creality Ender 3 is extremely good value for the money. It is a well-built, safe device that can produce good quality outputs with almost no effort. It benefits from quality-of-life features, including a power recovery function, a tight filament pathway, and a heated bed with a viscose surface sticker similar to the BuildTak one. Also, it offers a decent build volume of 220 x 220 x 250mm, which lets you easily print large parts in one go.
The machine prints well with a variety of filaments, including PLA, PETG, and ABS.
Source: amazon.com
Of course, it isn't all puppies and rainbows. Indeed, the Creality Ender 3 does have some flaws, but none of them are insuperable. For example, it might experience some warping or adhesion issues when printing with ABS-type materials. Its irregular base could generate some wobbles. Also, it does require manual bed leveling.
By the way, spending a little bit of time tweaking lets you solve almost any issue.
In short, considering its low price, the Creality Ender 3 is one of the best budget 3D printers you will ever put your hands on so far. No wonder that so many people have already chosen it.
Ender 3 specs and features
Let's start with a brief overview of Creality Ender 3's technical specifications.
Technical specs
Technology: FDM (Fused Deposition Molding)
Assembly: DIY Kit
Frame: Aluminum
Mechanical arrangement: Cartesian XZ-Head
Layer height: 100 - 400 Microns
Max. print speed: 200 mm/s
Print precision: +/- 100 microns
Extruder type: Single
Feeder system: Bowden
Max extruder temperature: 491 °F / 255 °C
Nozzle size: 0.4 mm
Filament: 1.75mm - PLA, PETG, ABS, TPU
Print bed: Magnetic, removable heated bed with viscose surface sticker
Max hot bed temperature: 110°C
Bed leveling: Manual
Print area: 220 x 220 x 250mm
Connectivity: SD card, USB
Display: LCD screen
Additional features: Print recovery
And now, let's dive into them to better understand their meaning.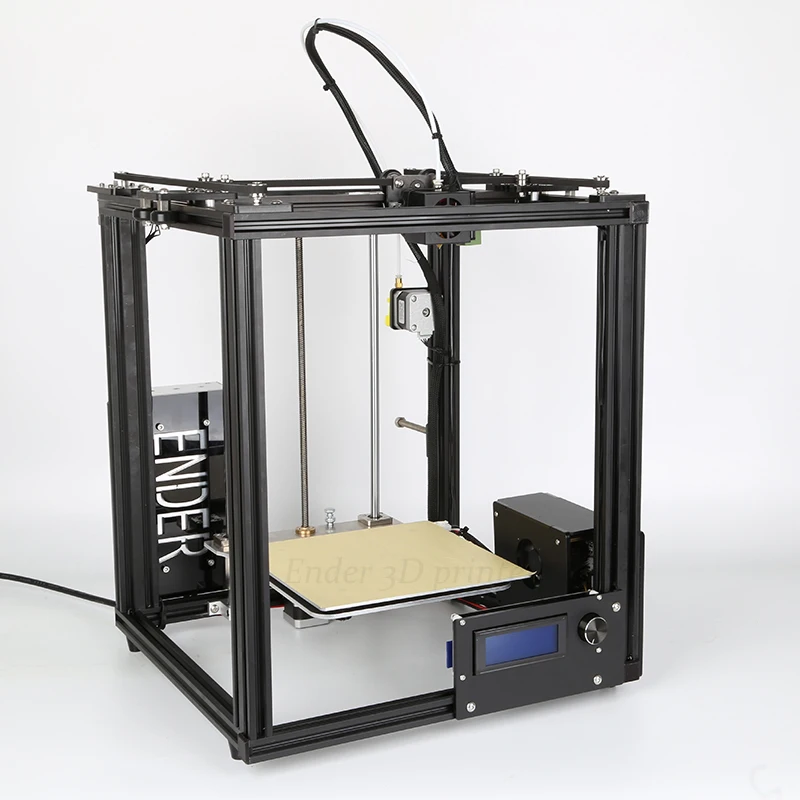 The Creality Ender-3 is an FDM 3D printer. This means it prints parts by melting and extruding a thermoplastic filament through a heated single extruder equipped with a Bowden feeder system. The extruder module has been designed for printing with generic 1.75mm filaments, no matter the brand. The pathway between the Bowden extruder and the hot end is tight and narrow, this might help when printing flexible filaments but might cause some difficulties when trying to insert the consumable into the route.
Also, to effectively print with flexible materials, upgrading to an all-metal extruder, or switching to a Direct Drive system is preferable.
Source: creality3dshop.eu
Like in all the Cartesian-style printers, the Ender 3 print head moves along two axes, the X and Z axis, while the bed moves along the Y-axis. During its path, it gradually deposits the melted filament layer by layer. Depending on the height of each layer, you will get parts with a different level of detail.
In particular, depending on your printing requirements, you can set the layer height between 100 to 400 microns. The lower the height, the higher the resolution.
The device can print parts at a maximum speed of 200mm/s.
Source: www.creality3dshop.eu
The Ender 3 consists of a metal structure. Both the frame and the Z-axis single leadscrew are made of aluminum. This results in a decently stable construction with reduced vibrations.
Credit: Instagram.com
The build volume of the printer is 220 x 220 x 250mm. The machine comes with a heated aluminum bed covered with a BuildTak-like sticky surface, which should make almost any print stick well to the bed without the need for hairspray or glue sticks.
However, switching from the stock bed to a glass or a magnetic flexible one seems to grant way better adhesion and low warping.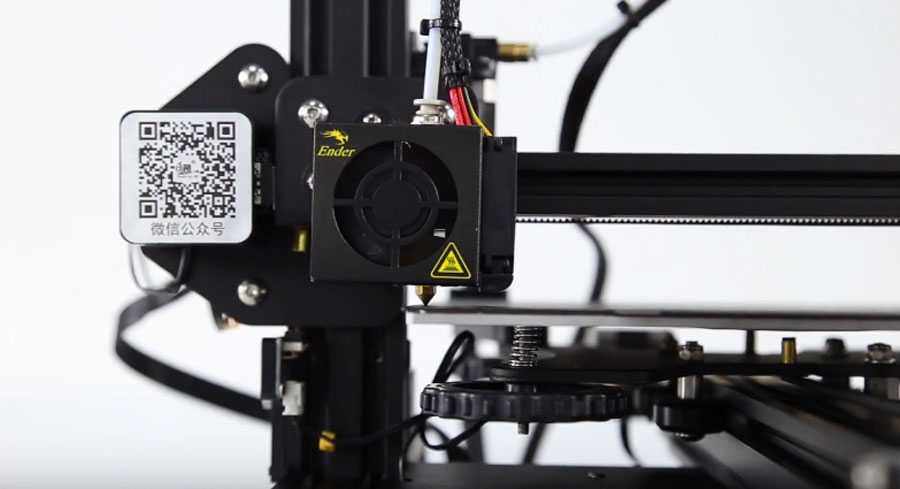 No wonder that replacing the print bed is one of the most common Ender 3 upgrades.
Source: www.instagram.com
Ender 3 features
One of the main features that make this printer stand out from the competition surely is its low price tag. Some additional noteworthy features are the fully open-source system and the print recovery function.
The open-source system lets you conveniently mod the printer replacing its components or adding extra accessories leaving room for lots of upgrades and hacks.
Source: www.instagram.com
For example, one user hacked his Ender 3 revising the cooling fan shroud, adding a Raspberry Pi with Octoprint and a camera to always keep an eye on the printer. It also replaced the Bowden extruder with a Direct Drive kit.
With the right improvements, you will get a reliable 3D printer capable of producing high quality parts while granting stable performance over time.
Source: www.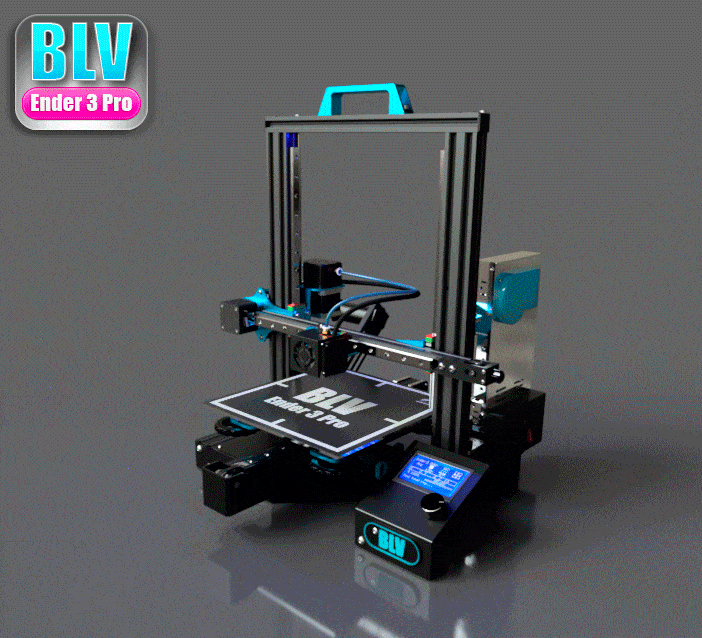 reddit.com
The print recovery feature prevents print failures due to power loss or accidental disconnection. It has been designed to immediately save the printing progress to let you restart the print job in a different moment, exactly from where it left off. A great feature for a budget device.
Ender 3 assembly: parts, manual and instructions
The Creality Ender 3 is a pre-assembled kit that ships flatpack. Some of its parts, such as the base unit and the hot end, come already assembled streamlining the assembly process. Indeed, to get the printer up and running you'll only need to screw the main components together and plug some wires.
List of parts
The package contains all the necessary parts to set up the printer and some extra elements. It includes:
frame components
printer unit base
LCD screen with a rotary knob
spool holder
USB power cable
AC power cord
Source: iam3dpro.
com
Besides the essential components required to assemble and operate the printer, the package also contains a sample of PLA filament, a USB stick with the user manual, the assembly instructions, a set of tools to build the device, a spatula for removing the prints from the bed, a needle for cleaning the nozzle, some useful spare parts (eg. spare nozzles), and an SD card with a card reader.
Unboxing, assembly, and first impression
Setting up the printer is not so difficult but requires some time. The shipping box includes an assembly manual that will guide you through the process. The Ender 3's assembly instructions are broken down into 12 steps. Unfortunately, some of them are missing detailed explanations. This makes the setup slightly longer than expected.
All the components of the kit correctly fit together, without gaps. This reduces the odds of play. By assembling the printer on your own, you'll get solid knowledge of all its parts and how they interact together.
This will streamline the upgrading process, giving you the possibility to modify the printer to fit your imagination.
The Creality Ender 3 manual is more than enough to successfully assemble the printer. However, to facilitate your work, have a look at this great step-by-step video tutorial. It will guide you through the entire assembly process letting you save some time.
Creality Ender 3: build quality and design
The Creality 3D Ender 3 is an open-frame all-metal 3D printer. The structural components are made of extruded aluminum. This makes the device stiff and sturdy resulting in stable performance. Thanks to its rigid base, you can comfortably move the machine around without the need for re-calibration.
The printer adopts V-slot aluminum channels and POM wheels for precise positioning and smooth motion. It features a single Z-axis leadscrew that relies on angled bearings.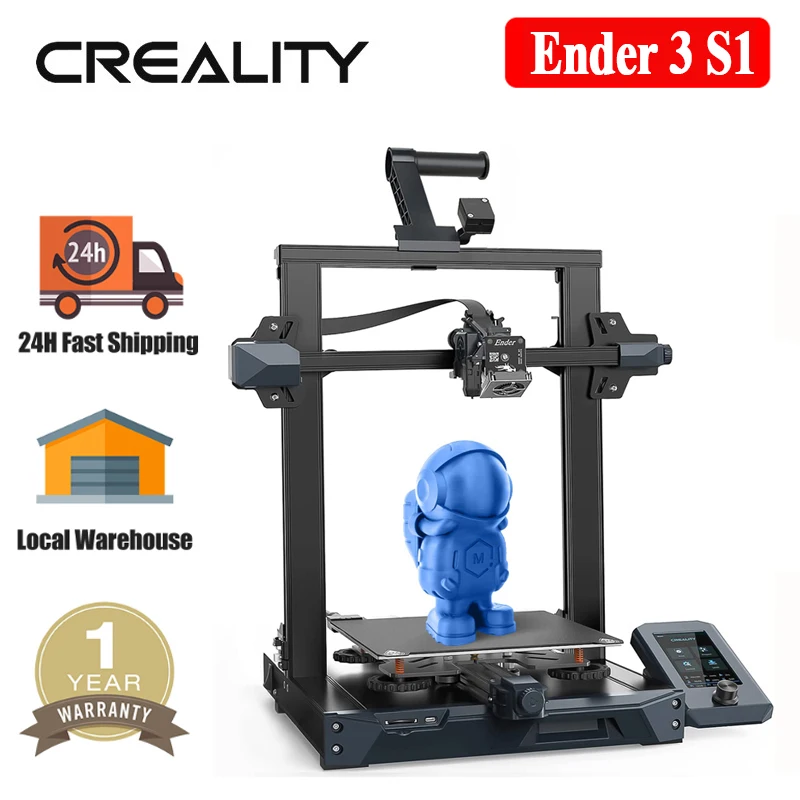 This system lets it keep the horizontal support perpendicular to the vertical one. The Ender 3 is engineered with a Bowden-style extruder with an aluminum channel. This results in greater rigidity and better print quality.
Source: letsprint3d.net
The base unit comes in one piece, housing both the power supply unit and the mainboard. This gives a compact and sleek look to the entire construction. The printer build platform is placed upon the base unit, making for more stability.
Unfortunately, the printer base is uneven. This might cause some wobble while printing. To solve the issue, you can place a small paper wedge or the black foam padding the printer comes with under the device. This will help reduce both vibrations and noise.
Source: www.reddit.com
The bed is manually calibrated. The leveling process can be performed using the large dials placed under each corner of the bed. Thanks to their large size, the knobs are extremely easy to turn, streamlining the overall calibration process.
To check if the bed is properly leveled, you can move both the X and Y-axis to the corners using the integrated LCD control display.
Like in most Creality 3D printers, you will find the LCD display with a rotating knob on the right side of the machine. The screen is attached to the device. Easy to navigate, the control display lets you manage a variety of settings and keeps you updated on the printing progress.
The machine has a small footprint being a good fit for almost any tabletop. Its external dimensions are 439 x 409 x 465 mm. It only weighs 6.9 kg.
Software, firmware, and driver
Ender 3 slicing software
The Ender 3 is compatible with most of the common slicers available on the market, including Cura and Slic3r. 
Source: additivenews.com
Using the popular Cura Slicer streamlines your 3D printing experience. This free and open-source program gives you wide control over the printing settings. It features ongoing upgrades and provides over 400 settings to fine-tune your print model and get optimum printing results.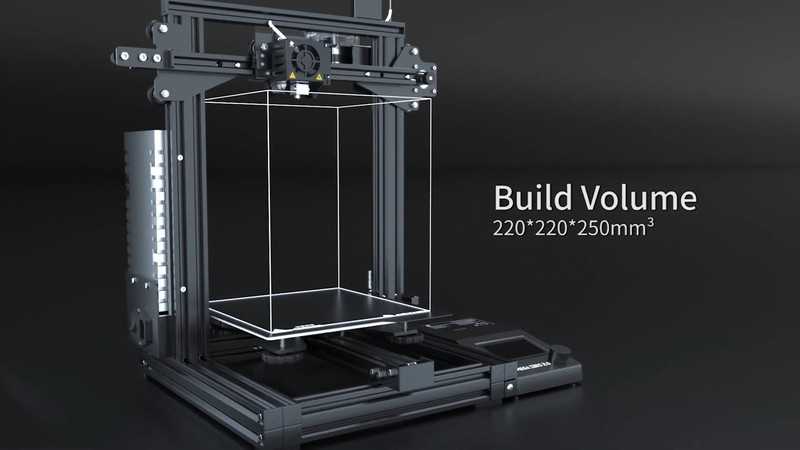 Also, it includes a perfectly working pre-set Ender 3 printer profile. We will talk about it later in this review.
Creality Ender 3 software for 3D modeling
Before slicing your 3D model, you need to generate it. How to do that? Well, you need a 3D modeling software that lets you edit and sculpt watertight models suitable for 3D printing.
Meshmixer, Tinkercad, and Fusion 360 are some of the most common programs used by the 3D printing enthusiast community. 
If you are a beginner, we suggest starting with Tinkercad, a browser-based 3D modeling software. Thanks to its ease of use, it is considered one of the best entry-level 3D modeling programs.
Source: chrome.google.com
In any case, you are free to use any other software capable of exporting watertight 3D models suitable for printing (STL, OBJ, etc.).
Ender 3 laser engraving software
If you are planning to upgrade your Ender 3 by installing the laser engraver upgrade kit, IMG2GCO might come in handy.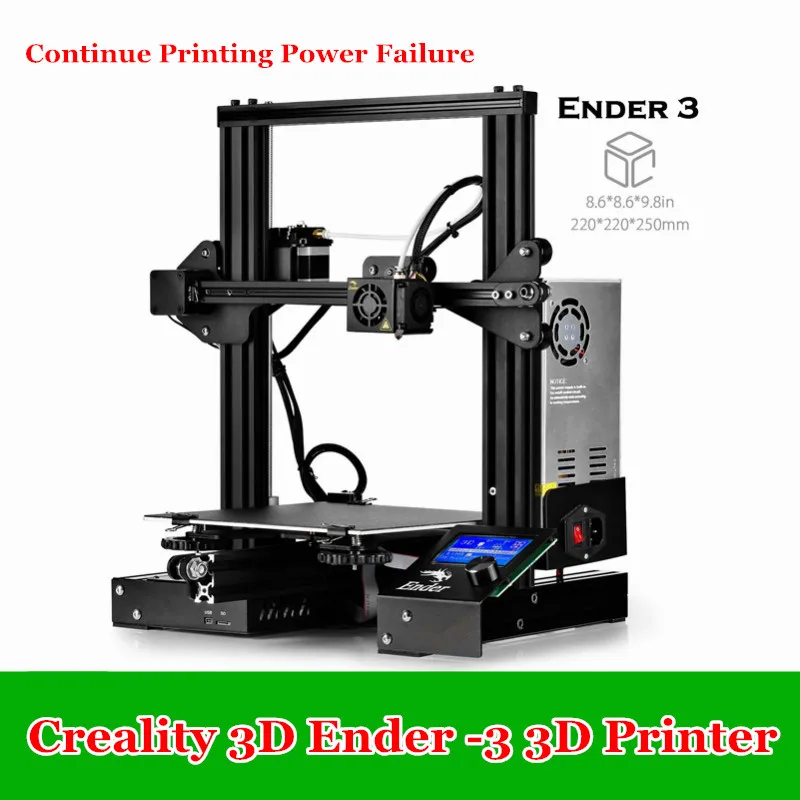 IMG2GCO is a script generator designed to control and use the laser engraving head, letting it move in a pattern. It doesn't include any safety feature, that's why it should be used only by expert users.
Creality Ender 3 OctoPrint
Last but not least, let's talk about OctoPrint. It is one of the most recurring Creality Ender 3 upgrades. OctoPrint is an open-source, easy-to-install 3D print controller app. It enables Wi-Fi connection, giving you the possibility to remotely control your prints.
Source: https://octoprint.org
Creality Ender 3 firmware
The Creality Ender 3 comes stock with the popular Marlin firmware. Multiple Ender-3 reviewers suggest upgrading the stock firmware to get the most from your printer. Indeed, doing that will let you benefit from some extra features, including thermal runaway protection, manual mesh leveling, or BLTouch auto bed leveling.
If you are a tinkering type, you can easily update the Ender-3 Marlin firmware to benefit from some of these advanced features.
Online you will find a lot of useful videos explaining the entire procedure.
If you need to restore the stock firmware, you can simply do that by downloading the original file on the Creality 3D official website.
Ender-3 driver
The Ender 3 features a mini USB port and an SD card reader. This lets you operate the printer from a USB-tethered computer or independently via a USB stick or an SD card.
Operating the printer via a USB-tethered is quite simple. You'll only need to connect the machine to the computer via a USB cable. The printer uses an FTDI USB to Serial adapter chip driver, which automatically enables USB connection between the devices.
However, if the computer doesn't recognize the printer, you might need to download and reinstall the driver to restore the connection.
What filament does the Creality Ender 3 use?
The Ender-3 is an open-source printer. It comes with a Bowden extruder that adopts PTFE tubing. For this reason, its hot end can only heat up to 255°C.
Its operating temperature is ideal for printing with PLA, ABS, TPU, PETG, flexible and exotic filaments.
The brass nozzle makes for great printing performance with almost any consumables, except abrasive ones. The heated bed reaches a temperature of up to 110°C, making the printer compatible with ABS-type materials.
Thanks to its open nature, the Creality Ender 3 can print with almost any 3rd-party 1.75mm filament, providing you with a broad range of material choices. This results in high design flexibility.
Cura settings for the Ender 3
If you are planning to use your Ender 3 with the Cura Slicer, here you can find some useful info. 
As already mentioned, the Cura library includes a default Ender 3 printer profile with pre-set values. The profile works really well, that's why we strongly suggest loading it before launching your first print.
Follow these instructions to load the profile in your slicer:
launch the program
open the Settings menu
click on Printer and then on Manage printer
Source: www.
emcu.eu
in the preferences window, click on add and, then, add a non-networked printer
select Creality and then Ender 3
Source: www.emcu.eu
The profile includes all the main settings ideal for printing with the Ender 3 3D printer.
Ender 3 PLA, ABS, PETG settings
Here are some recommended settings for successful PLA, ABS, and PETG printing on your Creality Ender 3.
PLA settings
Printing Temperature: 200 °C
Bed Temperature: 50 °C
Speed: 60 mm/s
Layer height for fine detail: 0.12 mm
Retraction: 6 mm @ 25 mm/s
Infill for decorative parts: 10%
Infill for standard parts: 20%
Infill for functional parts: 40%
Initial Layer Speed: 20 mm/s
Number of slow layers: 5
Initial Fan Speed: 0%
ABS settings
Printing Temperature: 230 °C
Bed Temperature: 110 °C
Speed: 60 mm/s
Layer height for fine detail: 0. 12 mm
Retraction: 6 mm @ 40mm/s
Infill for decorative parts: 10%
Infill for standard parts: 20%
Infill for functional parts: 40%
Initial Layer Speed: 20 mm/s
Number of slow layers: 5
Initial Fan Speed: 0%
PETG settings
Printing Temperature: 240 °C
Bed Temperature: 70 °C
Speed: 40 mm/s
Layer height for fine detail: 0.12 mm
Retraction: 4 mm @ 25 mm/s
Infill for decorative parts: 10%
Infill for standard parts: 20%
Infill for functional parts: 40%
Initial Layer Speed: 20 mm/s
Number of slow layers: 5
Initial Fan Speed: 0%
Source: www.emcu.eu
Add them into Cura to start printing with your preferred filaments flawlessly.
How to improve print quality: Ender 3 upgrades and mods
The Creality Ender 3 is a great printer capable of producing good quality parts out of the box.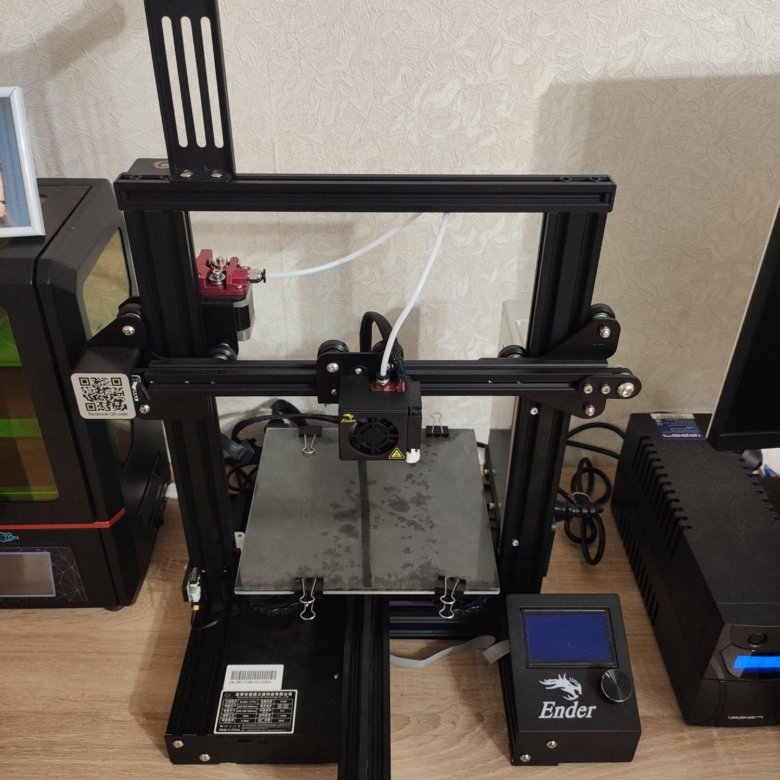 Being an open-source device, it leaves room for lots of hacks that might improve its functionality and performance.
Ender 3 upgrade kits
Some upgrade kits are available directly on the official Creality 3D store, others might be available from 3rd-party vendors.
If you are interested in them, here is a short list of the upgrades you should have a look to:
Marlin firmware
Octoprint
PEI magnetic build plate
Tempered glass bed
Cmagnet removable build surface plate
Glossy silver PET sticker
Ender 3 enclosure
Silent mainboard
BLTouch auto bed leveling sensor
Raspberry Pi3 for OctoPrint
Laser engraving kit
MK8 assembled extruder hot end kit
E3D Titan Aero Extruder
Capricorn Bowden tube
A2 hardened tool steel plated nozzle
3D printable Ender 3 upgrades
Besides paid improvements, there are a lot of upgrades that can be self-produced directly on your Ender 3.
Petsfang duct: it is an upgraded duct designed to improve the airflow from the extruder to the printed model. 
Board fan guard: this guard protects both the board and the fan from dust and debris.
Cable chain: this improvement has been designed to keep wires and cables in order to prevent snags during bed movement.
Filament guide: it keeps the consumable away from the feeder, making for smoother extrusion.
Display PCB cover: it is ideal to protect the Printed Circuit Board from outside damage.
Belt tensioner: it lets you adjust the tension of the belts of both X and Y axes.
Bowden tube pressure fitting fix: it holds the Bowden tube in place while printing.
Beeper silencer: it reduces the volume of the LCD display clicks.
You can find most of these printable upgrades using our 3D printer files search engine. Just type the name of the part in the search bar and browse the results.
What is the difference between Creality Ender 3, Ender 3 Pro and Ender-3X?
As already mentioned, Creality 3D released a couple of upgraded versions of the Ender 3, namely the Ender 3 Pro and the Ender-3X.
Unlike the original Ender 3, the Creality Ender 3 Pro features an improved 40x40 aluminum extrusion for the Y-axis. It makes the printer more rigid and stable, enhancing print quality. 
Source: www.creality3dshop.eu
It replaces the standard metal bed with a magnetic print bed, the C-Mag. Detachable and flexible, this print bed facilitates print removal. In the 3 Pro, the board fan is placed at the bottom of the printer. Last but not least, the Ender 3 Pro is equipped with an improved Meanwell Power Supply Unit, which is thinner and quieter than the one used on the Ender 3.
The Ender-3X comes with a tempered glass bed, which is also considered a must-have upgrade for the standard Ender-3. The glass plate enhances printing adhesion while facilitating the removal of the printed parts.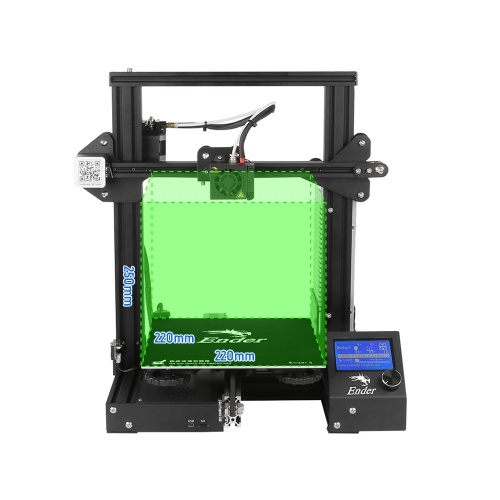 The 3X also includes an MK-10 extruder, a V-slot with POM wheels, and a set of 5 additional nozzles.
Source: www.creality3dofficial.com
Considering the features and the prices of the three models, purchasing an Ender-3 and upgrade it seems to be the best bang for the buck.
Pros and Cons
Pros:
Open-source
Highly upgradable
Decent price point
Cons:
Prints can be difficult to remove from the plate
Might need some tinkering
Print examples
The Creality Ender 3 can boast decent accuracy, especially after a lot of tinkering. Take a look at these models and check out their good surface finish:
Source: www.instagram.com
Source: www.instagram.com
Source: www.instagram.com
Source: www.instagram.com
Conclusion
The Creality Ender 3 is a valuable Do It Yourself 3D printer.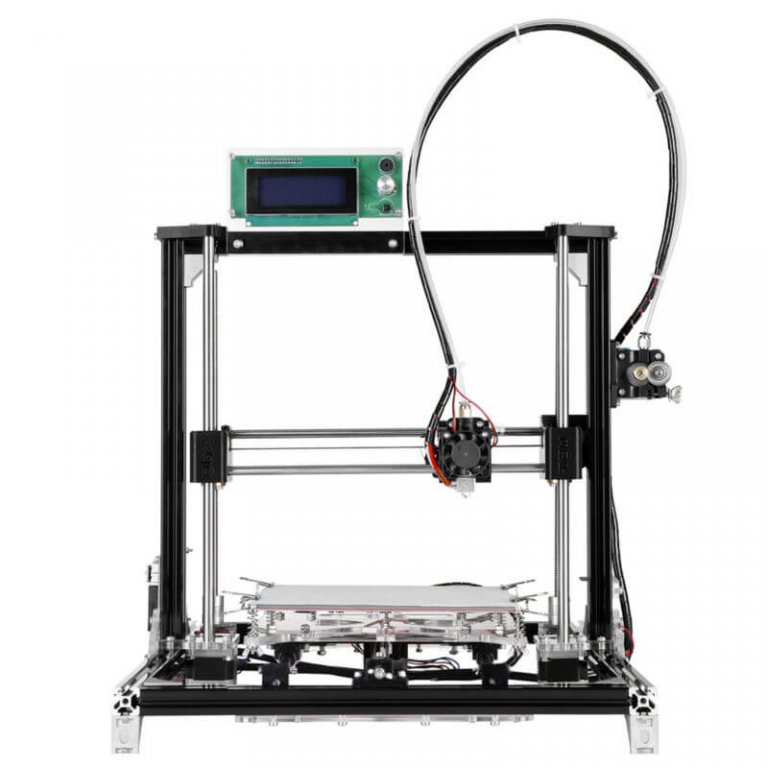 Sold at an incredibly low price, it includes a set of quality features generally found in more expensive FDM printers. Its open-source nature gives you the opportunity to turn into a real workhorse. The upgradability, quality, and compatibility with several materials make it worth its price.
The Creality Ender 3 is a great choice for both newbies who love making their hands dirty and tinkerers. You can purchase it on Top3DShop.
Creality Creality Ender 3 3D Printer
| | |
| --- | --- |
| Brand | Creality |
| Machine type | 3D Printer |
| Technology | FDM (Fused Deposition Modeling) |
| Materials | PLA, ABS, Nylon, Wood PLA, ASA, Rubber-like (TPU), Chameleon PLA (Thermochromic), PETG , Carbon Fiber, SBS, PLA+, nGen Amphora AM3300 (PET-G), PLA-CF, woodFill - PLA/PHA + fine pinewood , PLA 3D870 (APLA), Marble PLA, PETG-CF, Heat Treatable PLA (HTPLA), PLA/PHA, Elixir PLA (Extra Shiny), UV Color Сhanging PLA, Wax Filament (MoldLay), PolyCast, PLA-Recycled, ecoPLA, Bio-based TPU |
| Website | https://www. creality.com/goods-detail/ender-3-3d-printer |
| Average Price | $189.00 |
About Creality Ender 3
Creality Ender 3 can be called a little version of the Creality CR-10, it provides the same quality, but has a smaller print area - 220 x 220 x 250 mm. The manufacturer claims that it will take only 10 minutes and 20 screws before the first 3D print. Creality also released an improved version of this 3D printer called Ender 3 Pro. It is more expensive but has some improvements like a detachable magnetic heat bed and a sturdier Y-axis.
Features:
Printing resume function;
Self-adhesive build plate;
SD card and USB connectivity;
Easy assembly;
Tight filament pathway;
Larger bed leveling knobs;
LCD display;
Open-source.
The way Creality Ender 3 is designed provides a room for upgrades and modifications without decreasing the print quality. Thanks to the affordable price tag of the machine, there are many Ender 3 owners and a wide range of community-driven mods.
Check price on Affiliate
Amazon
Creality Ender 3 vs Ender 3 V2
On top of the Pro version, the manufacturer developed a V2 of the original printer. So, what is the difference between two versions? Both of these machines are notable for being an affordable choice for 3D printing enthusiasts equipped with key features needed fpor successful printing. They have the same frame design and overall look quite similar. V2, though, includes a textured glass printing bed (while Ender 3 only has a self-adhesive one), which has a longer lifespan and better performance. V2 also has slight design changes such as toolbox under the print bed and a 4.3" HD color screen along with a more useful XY-belt tensioner.
Despite the new touches do add to the machine value, both versions stand pretty close and will print decently. You can also compare Ender 3 with Pro version here.
Popular Creality Ender 3 upgrades
BLTouch sensor for Auto-Leveling - a handy modification to reduce calibration and bed leveling time. It will also require a microcontroller and some installation but the result is worth it as the printer typically requires re-calibration every 3-5 runs. Check the guide from dannyw281 for more information.
Glass/Mirror/PP/Magnet built plate. Despite Ender-3 features buildtak alike plate, users are still having adhesion issues with some materials. Upgrading to a different build plate can increase the printing quality and material possibilities allowing a better grip for tougher plastics. Glass and mirror plates will also make bottom layers of prints shiny if you are into that.
Different printing bed springs are mentioned by quite a few owners or Ender-3 as well.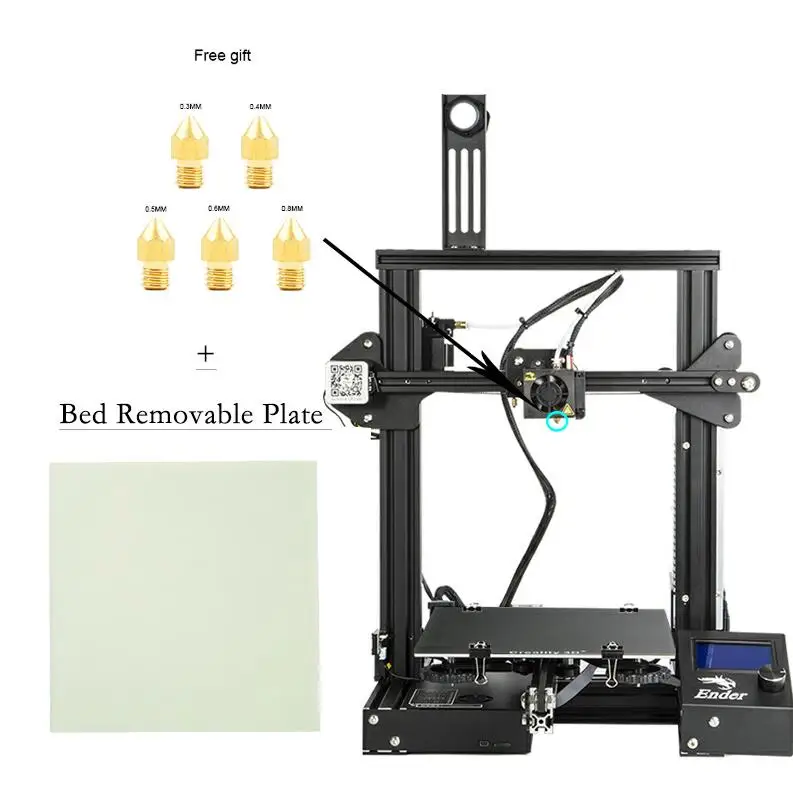 The original springs work fine but tend to require recalibration more than the tougher third-party springs. Replacements help reduce wobbling of the build plate along with longer life.
Check printing bed springs on Affiliate
Amazon
Better fan duct for uniform cooling like the one from dpetsel. Reviews of the original cooling system of Ender-3 tend to mention that airflow isn't always enough to cool down prints, especially from filaments like ABS.
A more comfortable extruder arm to reduce pain during filament replacement. This model from Coolcrawler helps to deal with the tough spring that Ender-3 extruder has.
Reviews 4.3
26 reviews
Print Quality
Reliability
Ease Of Use
Failure Rate
Running Expenses
Software
Build Quality
Customer Service
Community
Show reviews Hide reviews
Oct 10, 2022
Very great and reliable printer.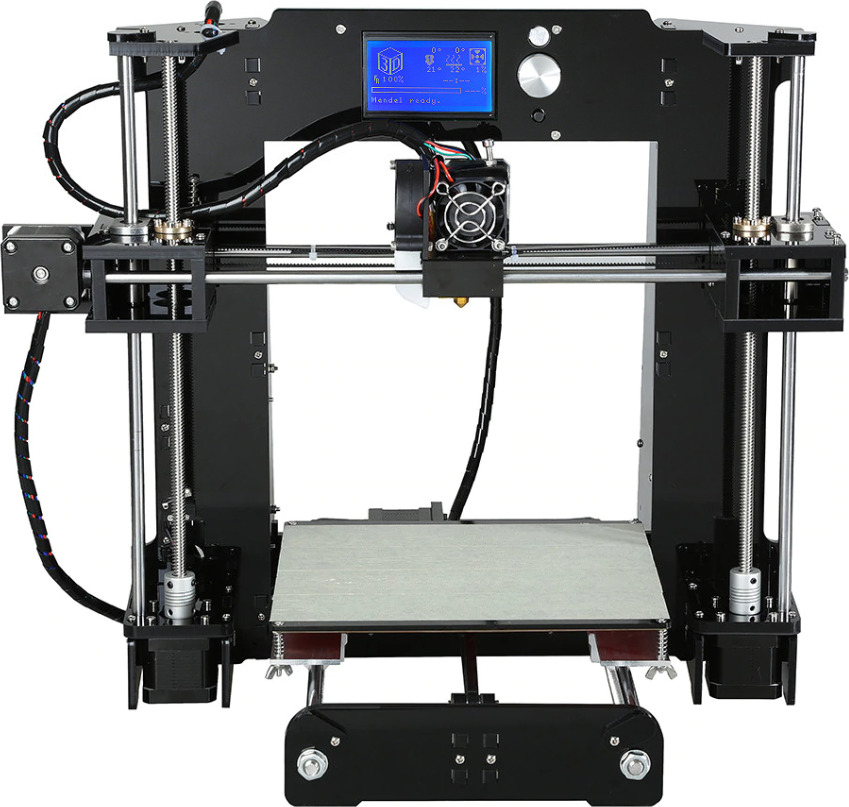 Very upgradable for better parts.
Sep 13, 2022
The Ender-3 V2 is an extremely easy to use, accurate, and reliable 3D printer.
Aug 30, 2022
You have to build it your self, which is good for beginners
Apr 3, 2022
Really impressed with this machine
Apr 2, 2022
Ender 3 are tried and true workhorse machines.
Mar 1, 2022
It's a great printer after some tinkering a modifying. Out of the box they leave a bit to be desired, but they're great for printing functional parts, especially when modified to work with higher temp materials like Nylon and Polycarbonate.
Feb 23, 2022
Great Accuracy.
Dec 1, 2021
La mejor impresora casera y de uso ligero sin rajar se cuando el trabajo crece.
Nov 12, 2021
Excellent printer
Oct 7, 2021
Great Printer out of the box, but gets way better with a little love. <3
Sep 2, 2021
The ender 3 will work wonders for you for sure, but it is kind of a bear to set up.
That being said, the Ender 3 is a fantastic printer for beginners because since it needs to be assembled when you purchase it - you get to learn about every single part of the printer and what everything does.
Once properly set up and trammed, the failure rate is extremely low, and the print quality is excellent for a sub $300 printer. The included software with this printer is just a rebranded slicing software from Cura, which is already free and open source.
The upgradability for this printer is absolutely endless as well. Nearly every part can be upgraded, and you can even 3D print some parts and upgrades for this printer.
Jul 23, 2021
Good printer if you build properly coustomer service not the best
Jul 15, 2021
Great community, sub par manufacturer documentation.
Jun 17, 2021
To get it printing at the quality it does now, our team needed to spend a decent amount of time troubleshooting and outfitting it with upgrades such as a BLtouch.
For the price we bought it for though, it was worth it in the end.
Jun 9, 2021
Great entry level workhorse. There are a lot of inexpensive upgrades as well. For the price you can't go wrong
May 12, 2021
Couldn't have asked for anything better
Apr 14, 2021
Prints greats. No complaints about it.
Mar 23, 2021
customer service isn't great but the ender 3 is a quality product.
Mar 17, 2021
The best affordable 3D printer
Mar 13, 2021
The ender 3 is an all-around great printer with great features and an overall just a great printer.
Mar 13, 2021
Absolutely amazing printer for price, feels like it should be a 600-800$ printer easily.
Tuning took a little while, but well worth the work.
Mar 6, 2021
Simple to use and best
Feb 26, 2021
Worth of money.
Feb 13, 2021
Never had any real issues, very sturdy machine for the price, if you are careful its failure rate will be very low
Feb 4, 2021
Very nice and affordable Printer
Feb 2, 2021
.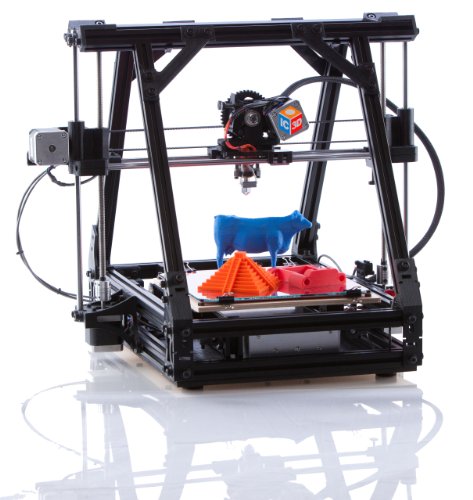 ..
Ender 3, Ender 3 Pro and Ender 3 v2
Chinese manufacturer Creality's Ender 3D printer line is a budget segment of 3D printers that are among the most popular in the world. Their success is due to the availability, ease of use, reliability and good quality of printing out of the box, which fully explains the widest circle of admirers of this line of 3D printers.
Ender 3, Ender 3 Pro and Ender 3 v2 are versatile tools for any application, and their full potential is realized in the competent application of the final 3D printing product.
For those who just want to get acquainted with 3D printing or want to introduce it into their production, educational or research process, this series of printers is the best fit, and all thanks to a whole set of qualities, which we will discuss below.
Let's start with the junior representative of our review - Creality Ender 3:
Creality Ender 3 belongs to the category of starter printers, which is ideal for beginners or for those who are fond of 3D printing at home.
Thanks to the classic sliding table kinematics, the user can easily understand the principle of operation of the printer and the main moving parts, which will simplify its maintenance and operation. Assembling the printer shouldn't be a problem, but it does take some skill to run (if necessary) the connections and do an initial calibration that should also be easy for users familiar with 3D printing.
The Creality Ender 3 printer is supplied for DIY assembly from prefabricated blocks.
Creality Ender 3's main advantages include its low cost with decent print quality and overall rigidity: the printer frame made of machine aluminum profiles with carriage movement on rollers provides a sufficient level of structural rigidity to obtain very good 3D printing results with proper skill. Adjustment of the roller pressure is carried out by eccentrics and allows you to level the output that remains on the rollers as a result of operation, which prolongs the life of the entire structure without loss of print quality.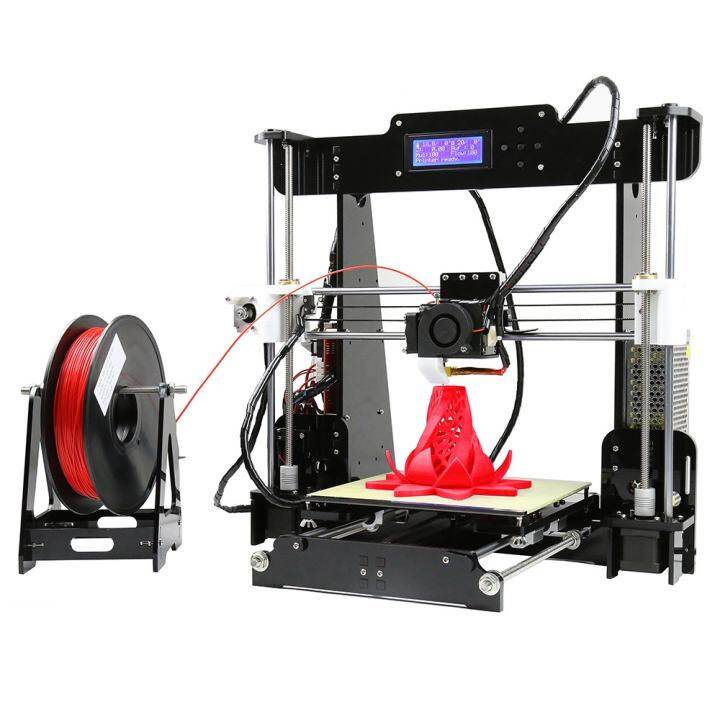 The 24 volt power supply provides good heating and temperature maintenance for both the bed and the extruder.
The printer is controlled by a push encoder and a 3.2" monochrome screen.
The Ender 3 3D printer comes with a roughened table pad for clothespins.
Creality Ender 3 specifications:
Ender 3 Pro
The Ender 3 Pro 3D Printer is an upgraded version of the Ender 3, what are the changes?
Creality Ender 3 Pro is also available for DIY use
The Ender 3 Pro has a smaller form factor power supply and a reinforced Y-axis on a 40x40mm profile for more table stability, which is a positive affects the quality of 3D printing.
The Ender 3 Pro, unlike the Ender 3, has a magnetic, flexible table pad that allows you to remove printed models without unnecessary labor, by bending which you can easily peel off the model.
Specifications Creality Ender 3 Pro:
Ender 3 v2
.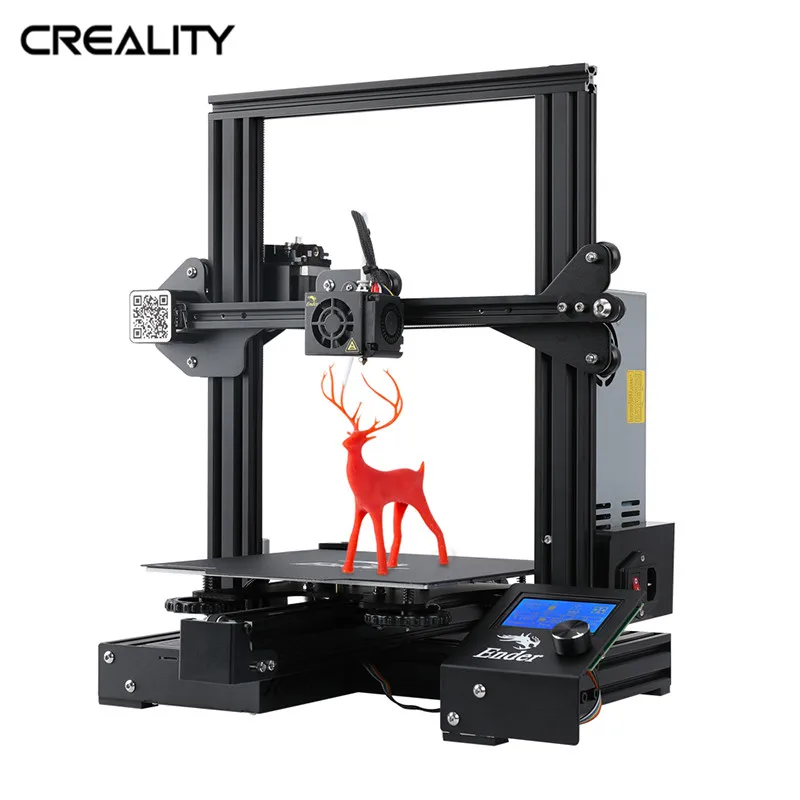 Ender 3 v2 is supplied with carborundum glass, which has better adhesion of parts to the surface and faster heating.
Screw-on belt tensioners installed, power supply tucked into the base of the printer, and a tool box next to it.
The printer is also controlled by a rotary encoder with a button, and the information is already displayed on a graphic color display.
The Ender 3 v2 has a plastic printhead cover instead of a metal printhead cover with a tighter fit that eliminates the thermal barrier cooling fan. In general, the printer has become more solid both in design and design.
Specifications Creality Ender 3 v2:
As you can see, the Creality Ender 3 v2's features make it suitable for a wide range of applications, from education to small-scale production.
In the modern world, additive technologies have taken a strong position, and if we take a large part, and not the entire area of ​​the real sector of the economy, then the lack of competencies and the use of additive technologies puts the industry one step lower and reduces competitiveness, in comparison with similar areas, already integrating 3D printing into their processes.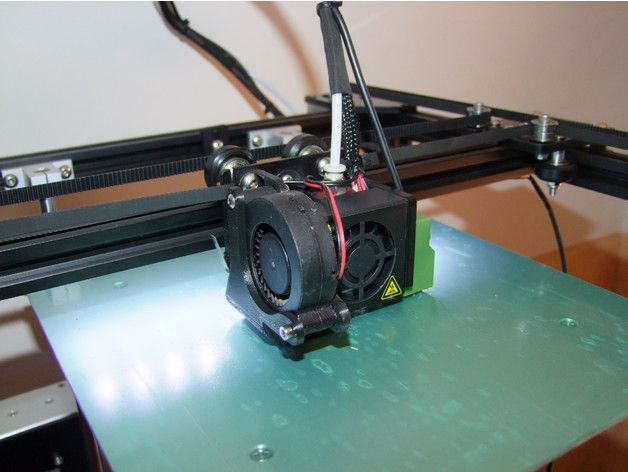 Therefore, it is necessary to start working with 3D printers as early as possible, because the placement of such equipment for teaching children will allow in the future to nurture generations of specialists capable of rapid prototyping, flexible manufacturing and 3D thinking.
Also, 3D printing can be useful in any home, workshop, laboratory, hospital, not only as equipment for commercial use, but also as an auxiliary tool in economic activities, as this will allow you to produce various kinds of devices, tools or spare parts for their repair .
One common use for 3D printers is "3D printing farms" or "3D printing labs" that are prototyping or mass-producing finished products such as electronics cases, and with the power of 3D printing, refocusing on a new product occurs in a matter of hours. Using the Ender printer line allows you to create a truly large 3D printing farm without a huge budget.
We will keep you up to date with the latest news!
Your team IGO3D Russia
Our groups on social networks:
Vkontakte
Telegram
Youtube
90,000 3D printer Ender 3
Home .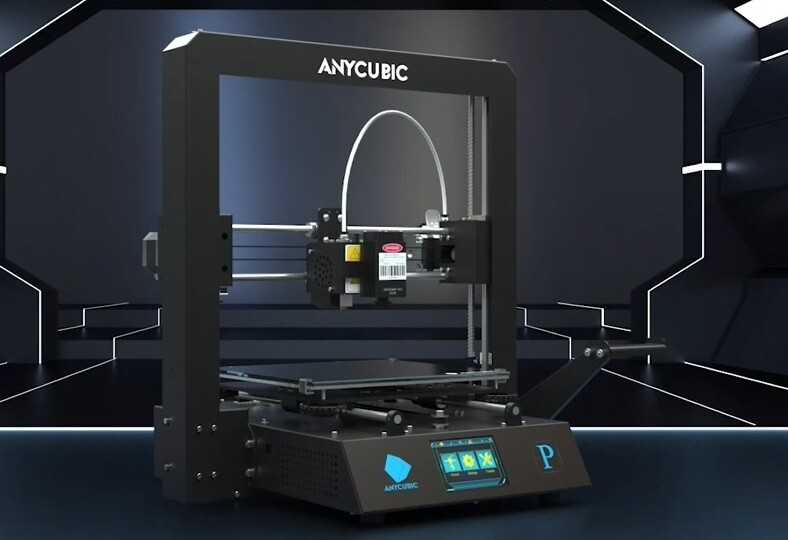 2019
Contents
Packaging and contents
Specifications

Since the launch of the Ender 3 series, subsequent printers have undergone an upgrade, the manufacturer has made certain improvements. An interesting feature of the printer is that Creality3D made the Ender 3 completely open source.

Therefore, do not lament if you did not have time to buy printers of the first echelon, now the Ender 3 model is much more perfect and more reliable.

There are 3 models in the Ender 3 series:

Ender-3 - assembly kit
Ender-3 Pro - assembly kit

The main differences between the Ender-3 Pro and the usual three-ruble note are the presence of a magnetic sticker for better adhesion and a more powerful Meanwell power supply.

Ender-3S is a pre-assembled printer.

Similar to the Pro model, but comes pre-assembled. Suitable for users who do not want to spend time assembling the printer or are not entirely confident in their abilities.

In this review, we will consider the most budgetary and simplest model, or rather an assembly kit, Ender 3.

Packaging and contents

Ender 3 comes in a compact box. All components are fixed with a foam seal, which ensures good safety during transportation.

The contents are as follows:

In addition to printer parts, the kit also comes with:

hex set
small roll of PLA plastic (5 m)
nozzle cleaning wire
spatula, wire cutters and screwdriver
SD card 8 GB and USB adapter for SD card
replacement nozzle
fixing kit and cable tie kit
replacement pneumatic fitting
instructions in Russian in electronic form (assembly and quick start)
warranty card

Among other things, the included SD card contains proprietary software and test models to start the first print.

The bundle was a pleasant surprise, such an abundance is not always found in more expensive models, there is even a replaceable nozzle, an adapter for an SD card and a spare fitting.

Specifications

| | |
| --- | --- |
| Print Technology | FDM/FFF |
| Thread diameter | 1.75 mm |
| Material type | ABS, PLA, others |
| Construction area size | 235x235x250 mm |
| Housing material | steel |
| Number of extruders (print heads) | one |
| Site heating temperature | Max. 110℃ |
| Layer thickness | 0.1-0.4mm |
| Nozzle diameter (mm) | 0.4 |
| Working temperature of the extruder | Max. 255℃ |
| Extruder travel speed | Max. 180 mm/s |
| Display | 3.5 inches |
| Connection interface | SD |
| Software | Repetier/CURA/Simplify 3D |
| Operating Systems | Linux, Mac OSX, Vista, Windows 7.10 XP |
| Supported file formats | STL, OBJ, G-code |
| Energy consumption | 115/230V, 50/60Hz, DC24V, 270W, 15A |
| Weight (without packaging) | 6.6 kg |
| Printing Accuracy | ± 0.1mm |
| Dimensions (without packaging) | 410x420x465 mm |
| Country of Origin | China |

The Ender 3 prints with ABS, PLA, TPU, PETG and other plastics, but given the open housing for ABS printing, it's better to build something like a cap on the printer. There may also be a problem when printing with soft plastics due to the bowden feed. But there are some semi-rigid heads (like the Ninja Cheetah) that won't be a problem even with bowden feed.

Assembling the printer

For those new to 3D printing, assembling a printer can be a daunting task. It took us about 50 minutes to assemble and calibrate. A user who does this for the first time will need about 1.5-2 hours.

The lower part of the frame with the table is supplied already assembled, which makes the task much easier. Also, you do not have to assemble the extruder and the motor along the X axis.

The printer comes with an electronic version of the Russian-language assembly instructions, consisting of 12 steps. Everything is described in sufficient detail and clearly, but there are still a few points that need additional explanation, we will talk about them below.

The first step is to assemble the printer frame: vertical profiles, power supply and display are attached to the bottom.



Everything is simple here, further assembly steps will be somewhat more complicated.

The next step is to install the limiter and the Z-axis motor.

It is very important to set the Z-stop at a distance of 32 mm from the base. Placement lower or higher may interfere with further calibration.

The Z-axis motor must be adjusted in height for the normal movement of the profile on which the extruder is attached. For these purposes, a standard plastic card is ideal:

Next, we proceed to assemble the X axis. The extruder motor, the extruder on rollers, the belt, the belt tensioner and the idle pulley are mounted on the aluminum profile. Some users in their reviews noted that the X-axis belt actually turned out to be a little longer and had to dance with a tambourine to achieve the desired tension. Fortunately, we did not have such a problem, maybe it was a shortcoming of the first batches of printers.
And the matter remains small ...

Fasten the top profile.

Install the spool holder, connect all the tubing and electronics and... the printer is fully assembled.

Another important point: although the table and the bottom frame are assembled at the factory, it is better to tighten the fastening screws for high-quality printing. In any case, you should definitely check them before starting the printer.

Calibration

The platform is calibrated using giant nuts placed at each corner of the platen. Thanks to their large size, they are easy to turn, making calibration as easy as possible.

Calibration takes place in the standard way at the four extreme points of the table using a sheet of paper folded in half.

If there is any doubt that the calibration was successful, it is better to repeat the procedure until you achieve the desired result.

Design and construction features

Design

The assembled printer is simple and concise. The design is standard for budget FDM printers - "pryushchee" kinematics with an open case. Trapezoidal screws are installed along the Z axis. All electrics are located inside the lower frame.

Extruder

The Ender 3 has an omnivorous MK10 extruder with bowden feed, which means that soft plastics will be problematic to print, but such a feed, in theory, will allow you to develop faster print speeds without losing quality.

Display

The small display mounts directly on the base of the printer, unlike the newer and more expensive Creality3D CR-10, where the control box and screen come separately. On the one hand, this is a plus, especially if you plan to periodically move the printer from one place to another. On the other hand, if you close the printer with a case, then the electronics will also be under it and additional heating cannot be avoided.

The display is the simplest and displays basic information, such as set and current nozzle and table temperatures, print time, progress bar, etc. Controlled using a standard knob.

Platform

The Ender 3 has a 235x235mm printbed with a surface reminiscent of the good old Wanhao. In principle, there were no problems with adhesion, sometimes even additional efforts were required to remove the model from the platform. The Ender 3 Pro comes with a more convenient magnetic sticker that improves adhesion and makes it easier to remove.

Software

Creality3D has its own slicer that looks like a slightly modernized CURA. Installation files are supplied with the printer, and advanced users can download the software and firmware from the manufacturer's website.

Printing

Now let's move on to our Ender-3 print results. We used several different types of plastic, and the printer coped with all tasks adequately. There was one failed model with uneven layers, but after adjusting the print settings, there were no more quality problems.

This is Esun gray PLA waiter (however, the trunk suffered a small fiasco and did not finish printing a bit):

The small skull also turned out well:

As it turned out, the printer copes well with both small objects and larger models.

Next we tried PLA-txt 8.2 Magic from North Bridge. It turned out very well.

Transparent plastic Transparent eTwinkling:

Polimaker's Esilk PLA Piggy is not the best, but for such a budget printer it is quite decent.

Results

In conclusion, we can say that the Ender 3 3D printer performed very well in terms of print results, especially for its money. The printed models turned out to be no worse than those created on the most expensive printers. We were also pleasantly surprised by the reliability of the design and the quality of the printer's parts, we expected that it would be a more flimsy device with cheap components.