3D printer made of wood
New wood 3D printing material could be used to create self-assembling flat-pack furniture
0Shares
Researchers at the Hebrew University of Jerusalem have developed a novel wood-based 3D printing material that can morph into pre-designed shapes. 
Made from a mixture of wood flour and plant extracts, the eco-friendly feedstock is able to shapeshift due to the fiber orientations in its wood content, which cause it to warp as it dries. While the team developed their material a few years ago, they recently discovered that by controlling the way it's laid down, they could time how its moisture content evaporates, in a way that allows it to form complex objects. 
Thus far, the scientists have 3D printed their wood-infused ink into saddle, dome and helix-shaped models, but with further development, they say it could be used to create more intricate self-assembling objects such as household furniture. 
Wood's unique morphing potential 
In the natural world, it's well known that certain species of plant and animal life can change shape, appearance or even texture. When it comes to wood, this capability comes from the orientations of its fibers, which cause it to shrink unevenly and warp, as seen in cut down trees. However, warpage may be viewed in 3D printing as a problem that needs dealing with, but the team are now approaching it differently. 
"Warping can be an obstacle," explains Doron Kam, a graduate student who recently unveiled the Hebrew University of Jerusalem's material breakthrough at a meeting of the American Chemical Society (ACS). "But we thought we could try to understand this phenomenon and harness it into a desirable morphing.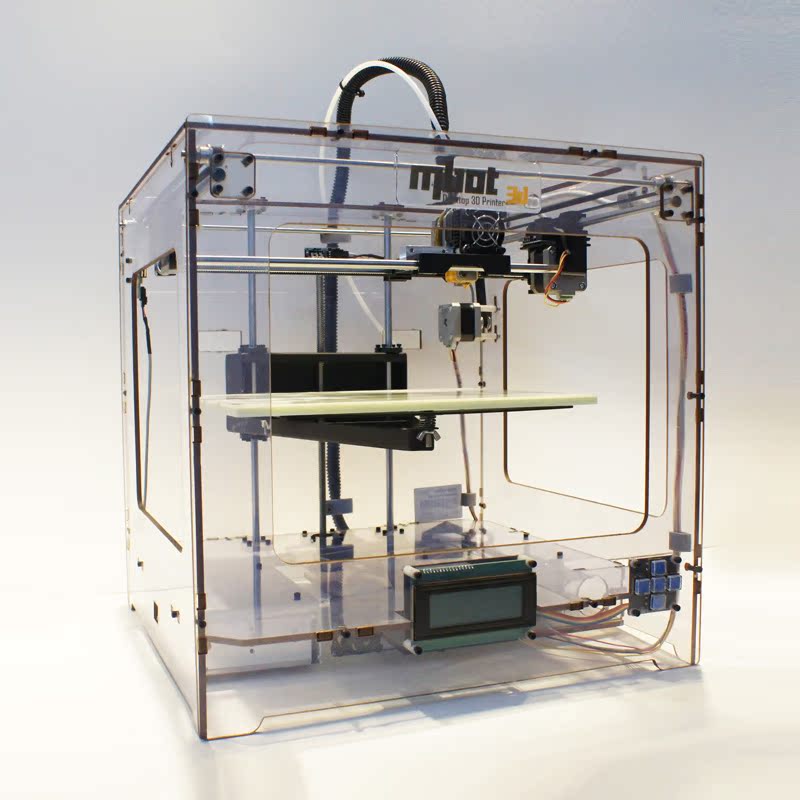 " 
While artificial structures don't generally have the ability to change shape by themselves, scientists have increasingly investigated the potential of materials that can morph when triggered by thermal, pH or moisture stimuli. That said, the Israel-based team claims that research in this area is often limited to the 3D printing of flat sheets from gels and elastomers, which are synthetic by nature. 
One of the researchers' helical prototypes. Photo via Doron Kam, the Hebrew University of Jerusalem.
A future 3D printing rival to IKEA? 
In an attempt to harness wood's natural shapeshifting capabilities, the researchers have now integrated it into a material composed of water as well as cellulose nanocrystals and xyloglucan, natural binders extracted from plants. Essentially, the team has found that the behavior of this feedstock can be precisely controlled by adjusting the speed and print path of the printhead used to deposit it. 
Specifically, it was discovered that any shrinkage was perpendicular to the wooden fibers in the ink, and adjusting the speed of its deposition could change the way these fibers are aligned.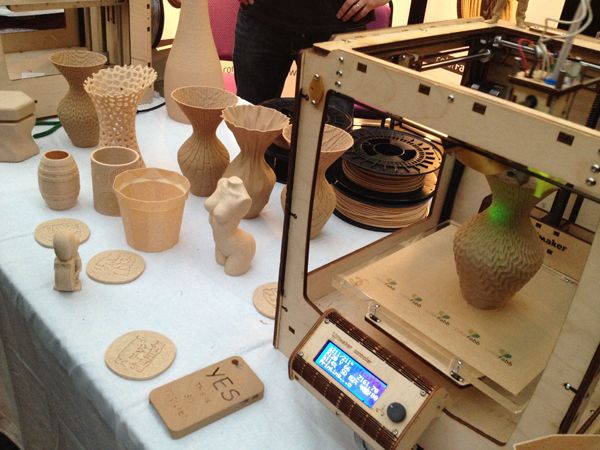 As a result, accelerating the printing process enables the scientists' material to warp in a predictable fashion, while depositing it slowly causes its wood content to become randomly oriented, and shrink in all directions. 
During testing, it has already proven possible to stack two rectangular layers of the feedstock into a helix with different orientations, while adjusting its warpage to control the direction in which it spirals. One day, the team anticipate that their material could be used to 3D print furniture items such as chairs in a flat-packed fashion, which later turn into the products customers ordered upon opening. 
In the near-term, the Israeli Ministry of Science, Technology and Space-backed project is focusing on the potential of making the morphing process reversible. This work will see the researchers develop a means of getting their material to respond to environmental factors such as humidity, which could eventually be used to make it return to its original form.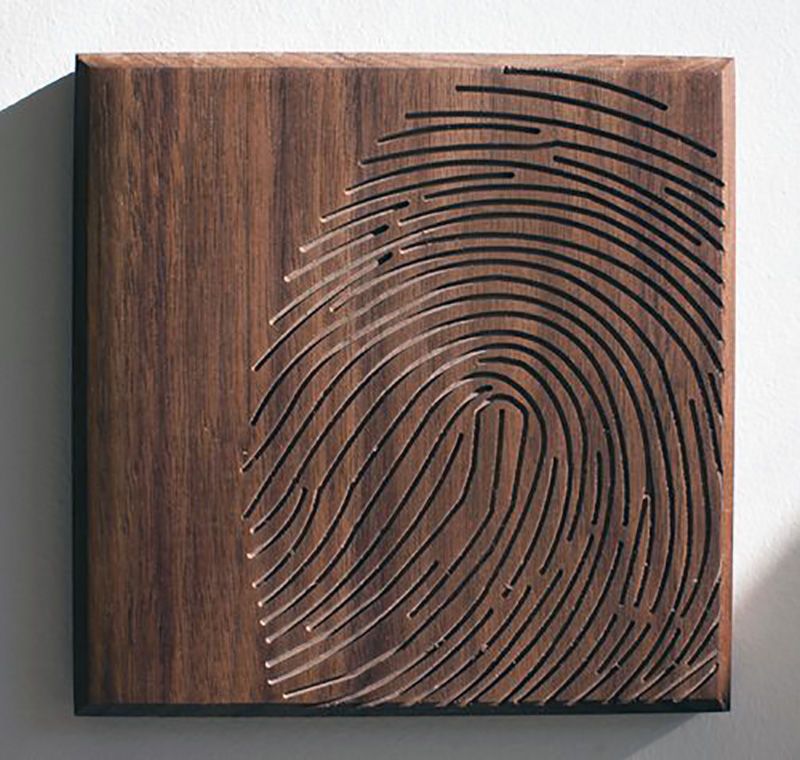 Wood products 3D printed by Forust. Photo via Forust.
Advancing wood's 3D printing viability 
While the Israeli team's shapeshifting discovery is no doubt innovative, their efforts are the latest in a long line of attempts to develop a usable wood-based 3D printing material. In March 2021, it was also predicted that an MIT-developed lab-grown wood would one day be deployed in the 3D printing of eco-friendly furniture.
Similarly, an eco-friendly wood 3D printing material which emerged at the University of Freiburg a few months earlier, has shown potential for use within construction or light industrial applications. Composed of lignin mixed with cellulose balls, the team's biosynthetic polymer is said to be compatible with both Direct Ink Writing (DIW) and Fused Deposition Modeling (FDM) 3D printers. 
On the commercial front, meanwhile, Desktop Metal has moved into this space via the launch of its Forust wood 3D printing brand. Using a material made from sawdust, lignin and a bio-epoxy resin, the firm now binder jet 3D prints decor and luxury architectural products that clientele can buy online.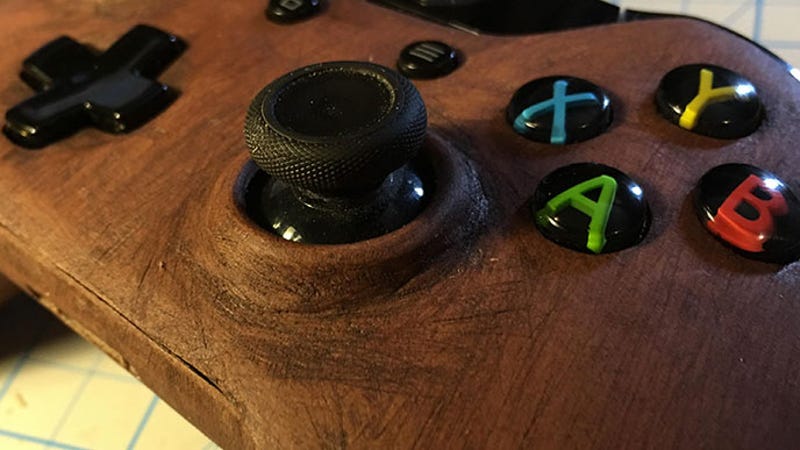 The company also markets the process as a service, for those seeking batch-made wooden parts. 
To stay up to date with the latest 3D printing news, don't forget to subscribe to the 3D Printing Industry newsletter or follow us on Twitter or liking our page on Facebook.
While you're here, why not subscribe to our Youtube channel? featuring discussion, debriefs, video shorts and webinar replays.
Are you looking for a job in the additive manufacturing industry? Visit 3D Printing Jobs for a selection of roles in the industry.
Featured image shows one of the researchers' helical prototypes. Photo via Doron Kam, the Hebrew University of Jerusalem.
Tags American Chemical Society Desktop Metal Doron Kam Forust Hebrew University of Jerusalem Massachusetts Institute of Technology University of Freiburg
Paul Hanaphy
Paul is a history and journalism graduate with a passion for finding the latest scoop in technology news.
3D-Printed Wood Made by Upcycling Wood Industry Byproducts Like Sawdust
toggle
Home > Small Changes > Sustainable Living > What Is Sustainable Living?
Source: Forust
By Sophie Hirsh
May 6 2021, Published 8:00 a.m. ET
Even though 3D-printing naturally produces less waste than other manufacturing processes, it's unfortunately the norm for 3D-printed creations to be made of plastic-derived materials. So to combat that, a startup called Forust is 3D-printing wood products — and its raw material is upcycled sawdust and other byproducts from the wood industry that would otherwise be considered waste.
Article continues below advertisement
"The Forust technology allows us to take something that was previously wood waste and re-materialize it into exquisitely beautiful and useful things," William McDonough, a world famous sustainable architect (who is not involved with Forust, but is a supporter of the technology) said in a statement sent to Green Matters.
"By allowing millions of trees to remain in place in their forests, Forust is launching a highly evolved technology for the circular technosphere that supports and celebrates stewardship of the natural, regenerative, and diverse biosphere, making it not only smart, but wise," McDonough added.
Article continues below advertisement
Source: Forust
Desktop Metal just acquired Forust, a 3D-printing wood startup.
On May 6, 2021, Massachusetts-based 3D-printing manufacturing company Desktop Metal announced that it recently acquired Forust, a Massachusetts-based startup that is 3D-printing wood with a goal of "developing a greener future." 
"Sustainability and reusing waste streams are key objectives of creating Forust," Andrew Jeffery, CEO of Forust, tells Green Matters exclusively via email. "We want to be part of a revolution creating great products using on-demand technologies while also reducing the amount of waste that goes into the atmosphere and landfills.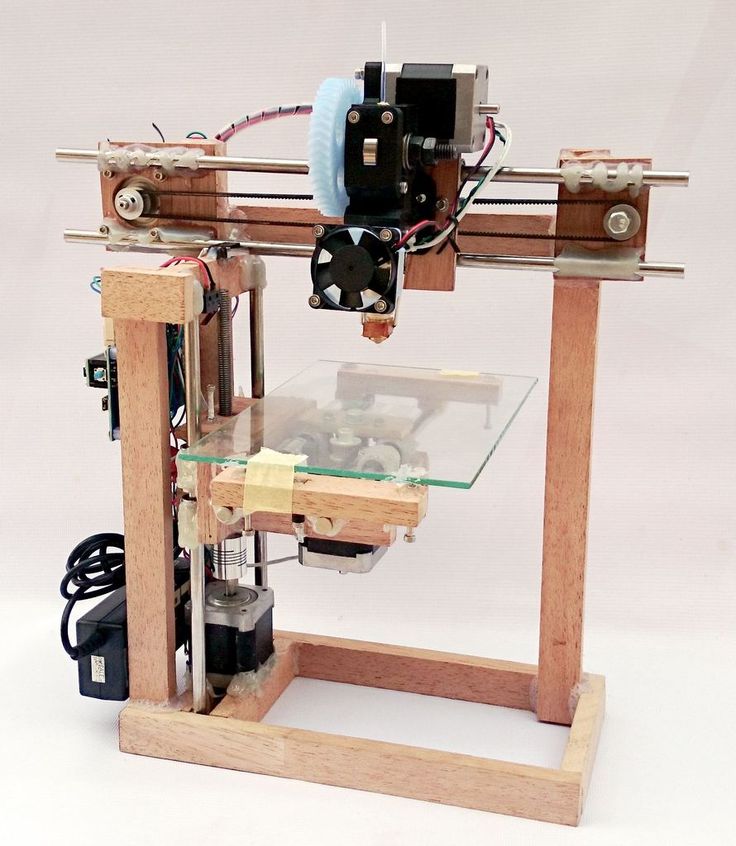 "
Article continues below advertisement
Here's how Forust is 3D-printing wood products from wood waste.
Source: Forust
Here's how Forust's 3D-printing process works, according to press materials shared with Green Matters.
Forust starts with two wood industry byproducts: wood flour (a fine, filtered sawdust) and lignin (a natural polymer found in the cell walls of woody plants). Forust then uses advanced CAD 3D-printing software, proprietary materials, and Desktop Metal's binder jetting mass production platforms to upcycle the wood industry waste into "isotropic, high-strength, sustainable wood parts." 
Specifically, Forust spreads out layers of specially-treated sawdust, which are then treated with a biodegradable and nontoxic binder to turn them into wood. Then, digital grain is printed on every layer of the wood before traditional wood treatments are applied, such as sanding, staining, and dyeing. 
Article continues below advertisement
The parts can then be used to make furniture (including chairs and cabinet doors), luxury interior parts (such as gear shifts and other parts for yachts and homes), various consumer products (such as fruit bowls and flowerpots), and even in architecture.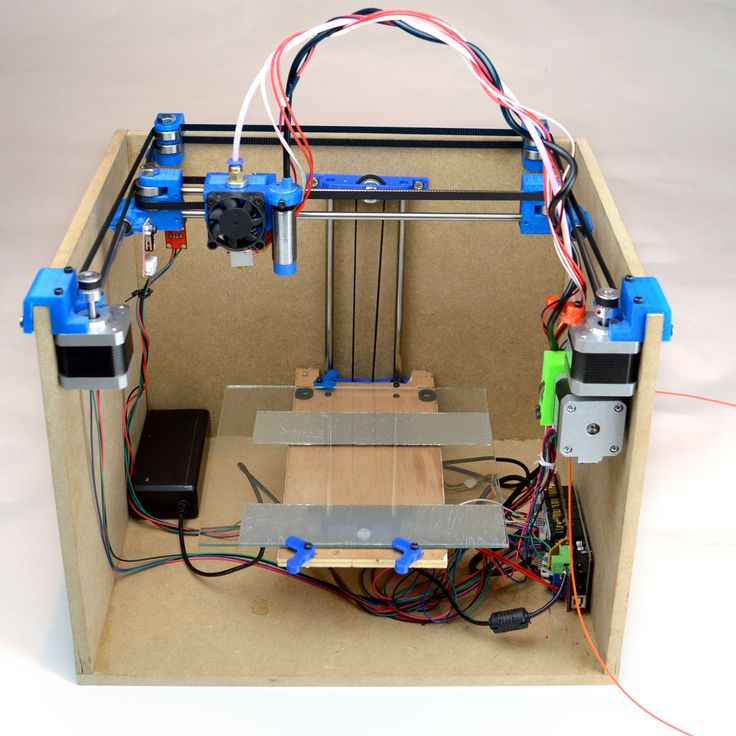 "With the Forust process, we are upcycling sawdust waste and turning it into usable, beautiful products for a number of applications — interior design, buildings, furniture, architectural products, and consumer home goods," Jeffery tells Green Matters exclusively.
Source: Forust
Article continues below advertisement
"The inspiration for Forust was to begin with sawdust and end with forests," Jeffery added. "Our process is based on extensive research conducted over the past decade in the field of hardwood lumber, leading to complex and elegant finished structures." 
Forust claims that its process can emulate nearly any wood grain (including a unique grainless wood), adding that its 3D-printed products are "digitally rematerialized wood, with grain that flows across the entire part and can be sanded and refinished." These products are nothing like particle board, an affordable wood alternative made by pressing wood chips with a synthetic binder (and commonly seen at places like IKEA).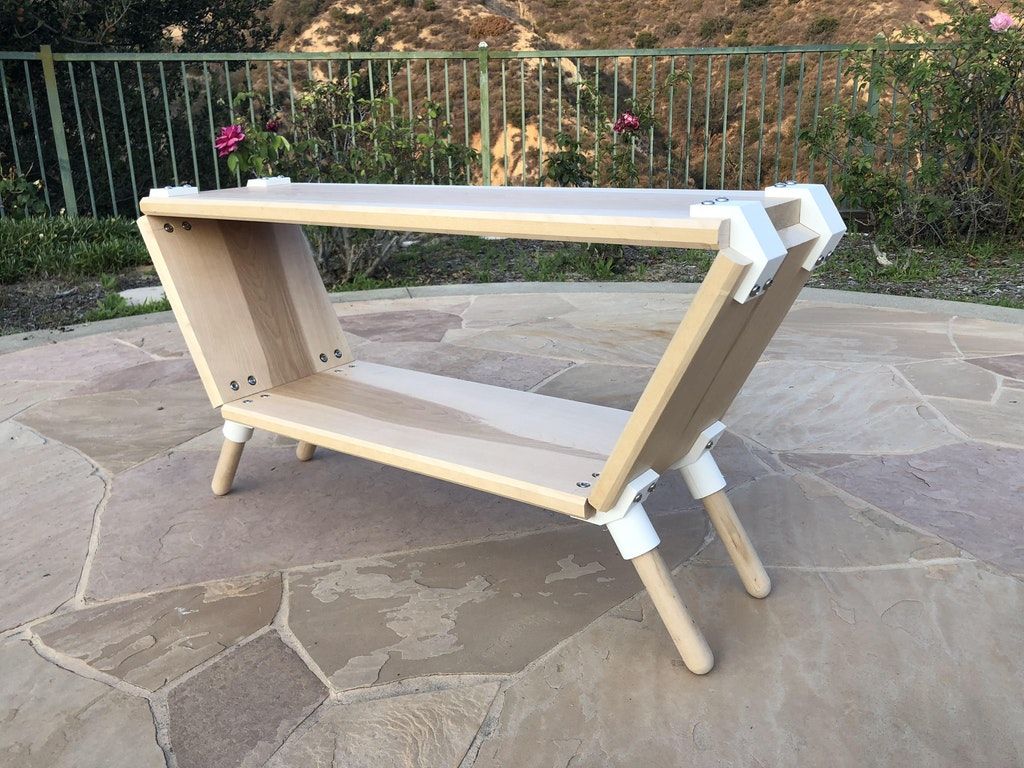 Article continues below advertisement
"Our finished pieces are indistinguishable from traditionally manufactured wood products you would find in a store," Jeffery said. "The additive manufacturing process literally becomes invisible."
Source: Forust
If you want to get your hands on a 3D-printed wood product, Forust has launched a collection of products made with several independent designers and brands. The products are now available for purchase on Forust's website, including a line of wood vases and bowls designed by fuseproject's Yves Béhar. 
Advertisement
More from Green Matters
Latest What Is Sustainable Living? News and Updates
Advertisement
3d wood printing on a 3d printer
Varieties of 3D wood printers: ideas for making money
Wood remains one of the most popular craft materials in various fields of human activity.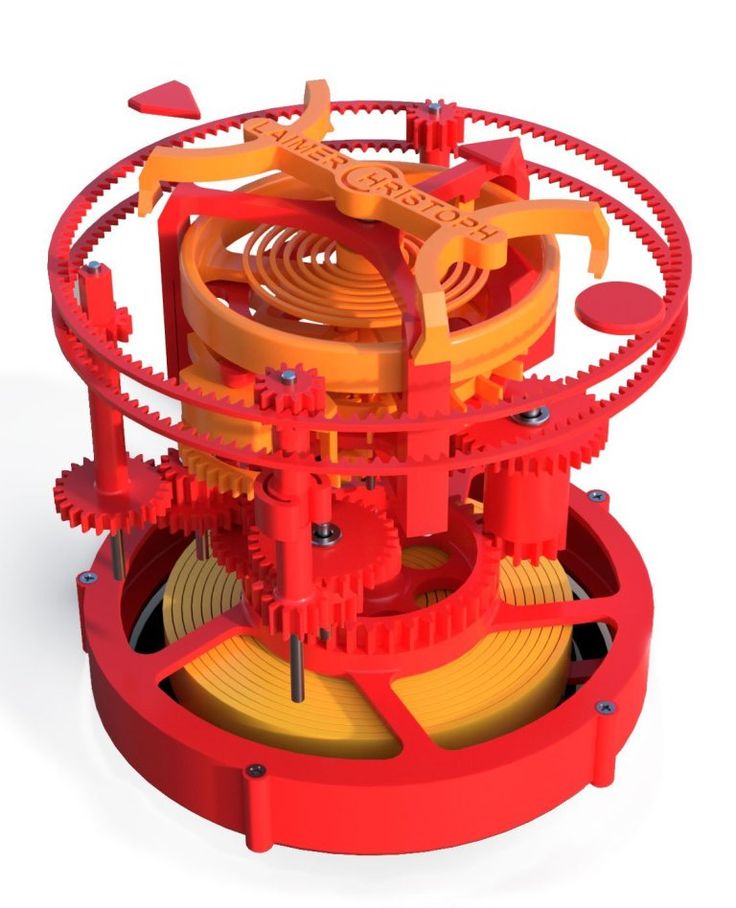 Modern processing devices expand the possibilities of creating wooden masterpieces. One of their best representatives is the wood printer, which deserves special attention.
3D wood printer: what is it?
The wood printer is an electronic device capable of transferring any image directly onto a wood surface from a computer without intermediate steps. Modern models can form a relief pattern, but are not intended for the manufacture of three-dimensional products. In fact, this device is designed to replace expensive hand-painting or woodcarving, while providing high image quality.
When printing with a printer, the composition (ink) penetrates into the surface fibers of the wood, which securely fixes the pattern on the material and increases its durability. A colorful image can be preserved for a long time without fading and without losing color.
3D wood printer capabilities
Wood printers are designed for printing images on solid wood, plywood, chipboard, fiberboard, MDF, furniture boards and other wood materials.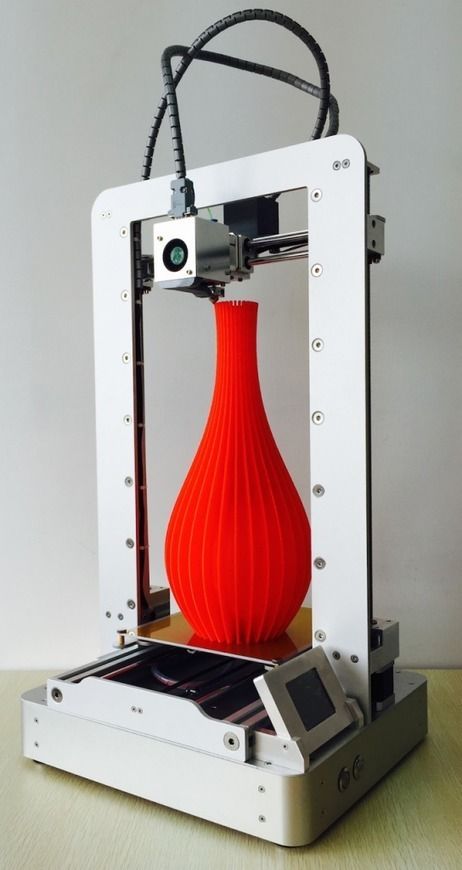 By applying various design solutions, you can unrecognizably transform the interior of a residential or office space, shopping and exhibition halls, beauty salons and restaurants. Prints on furniture fronts turn standard items into exclusive pieces. With their help, highly artistic panels and billboards are created.
A special effect is provided by 3D printers, which are capable of applying any images and multi-color coatings to three-dimensional figures of any complexity. You can provide a special decor not only, for example, on the countertop, but also on the legs of tables, the backs of chairs. This ability expands the possibility of manufacturing exhibition and advertising products. Using printers, you can create a relief pattern by applying the composition in layers.
Which 3D printers are suitable for printing on wood, MDF, chipboard, solid wood and veneer?
There are different types of wood printers:
Laser. A tinting powder is applied to the surface, which is sintered using a laser beam.
Jet. A special paint is squeezed out onto a wooden surface with microdrops, which instantly hardens with slight heating.
Sublimation printer. This is a high performance professional machine. It is much more expensive than the previous varieties, but provides the highest quality, allowing the production of printed products.
The choice of equipment is made on the basis of the intended use, i.e. a realistic assessment of the photographic accuracy of the image. The most important criteria: the size of the working area, resolution, performance, dimensions and cost.
What can it be used for?
The wood printer offers great opportunities for developing your own business. We can recommend the following decorating and design business ideas:
cabinet fronts;
table tops, chair seats and other pieces of furniture;
original, exclusive elements for interior design;
entrance and intermediate doors for residential and office premises;
bar counters;
ceiling and wall elements, partitions for room zoning, false panels;
signboards, banners, posters, information stands and signs, various advertisements and information announcements;
exhibition structures;
various 3D figures, figurines, souvenirs;
panels and paintings.
Woodcarving can be imitated with the printer. It is allowed to transfer any photographic image to a wooden surface. It creates the opportunity to qualitatively repeat the products of folk art, while maintaining a highly artistic style.
Natural wood will never go out of style in interior design. Wood printers empower designers and help create original products at home. It is important to choose the right reliable model and have the desire to express yourself in creativity.
Get expert advice
3D printed wood texture imitation. Papa Carlo Method
In the past year, printouts made of wood-filled plastics were laid out from time to time. Here are a couple of interesting works:
These plastics are designed to imitate wood when printed. But printouts are still more like chipboard.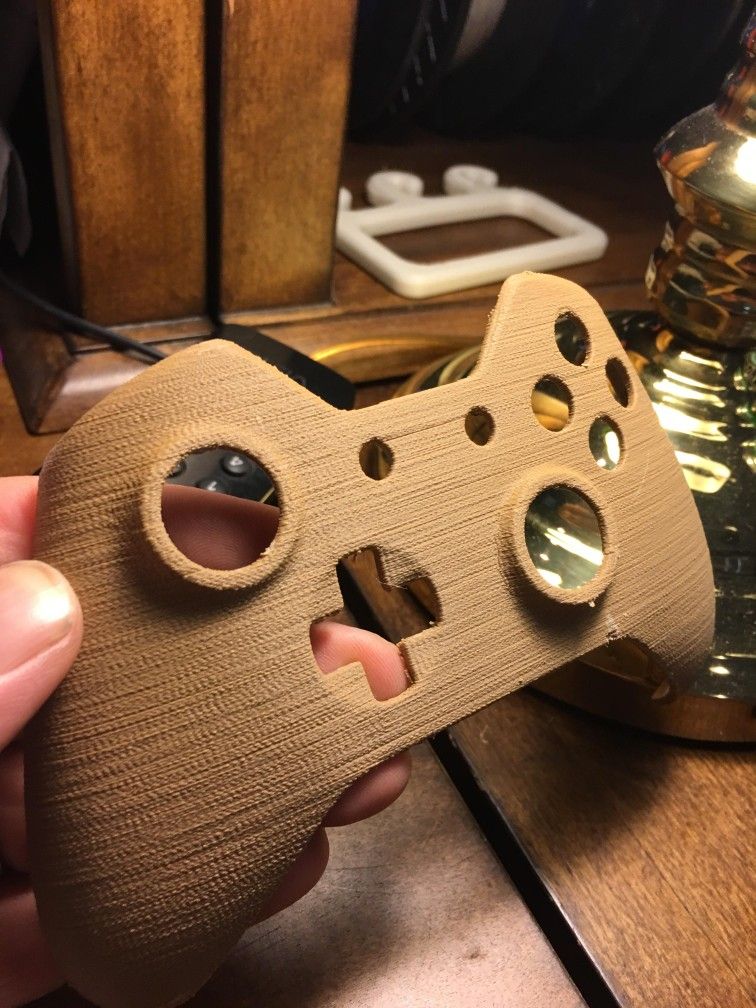 Very plausible end caps for a wooden staircase turned out by comrade eduardo:
Due to the alternation of temperature on different layers with a change in color, a texture was obtained that resembles the annual rings of a tree.
It turns out that in order for the printout to look like a real tree, you need plastic in two colors (light and dark annual rings). And it would be more logical to draw these annual rings in the model itself than to try to get them by changing the printing temperature.
We are trying to depict a product carved from wood. And why not take and draw, as plausibly as possible, a log with its structure of annual rings. And already from the log cut out any Pinocchio we need. This is, of course, a tortuous path, but it promises us an interesting result.
Let's start drawing in Solid Works. I looked a little at how the tree cuts look like:
And I started drawing my sketch:
When drawing, it is better to avoid splines and replace them with arcs, otherwise the program may start to desperately slow down.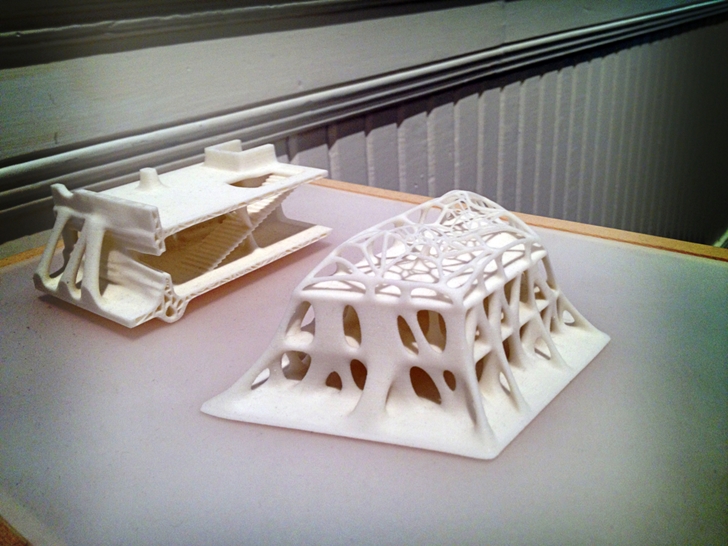 Extrude the boss along the path from this sketch. We take a slightly curved line as a trajectory:
It would be possible, of course, to use an ordinary elongated boss, but then the pattern will turn out to be unnaturally straight when cut.
The result is a part of the log, consisting of light rings:
We extend the dark annual layers using the same boss along the path.
At the same time, we use the sketches of the profile and the trajectory from the previous boss (with light rings).
To do this, you need to make them available. You need to right-click on the thumbnails and select "display" (points):
When extruding the boss, select the areas not occupied by light layers. And an important point. You need to uncheck the "combine results" checkbox:
Otherwise, all layers will merge into a single cylinder.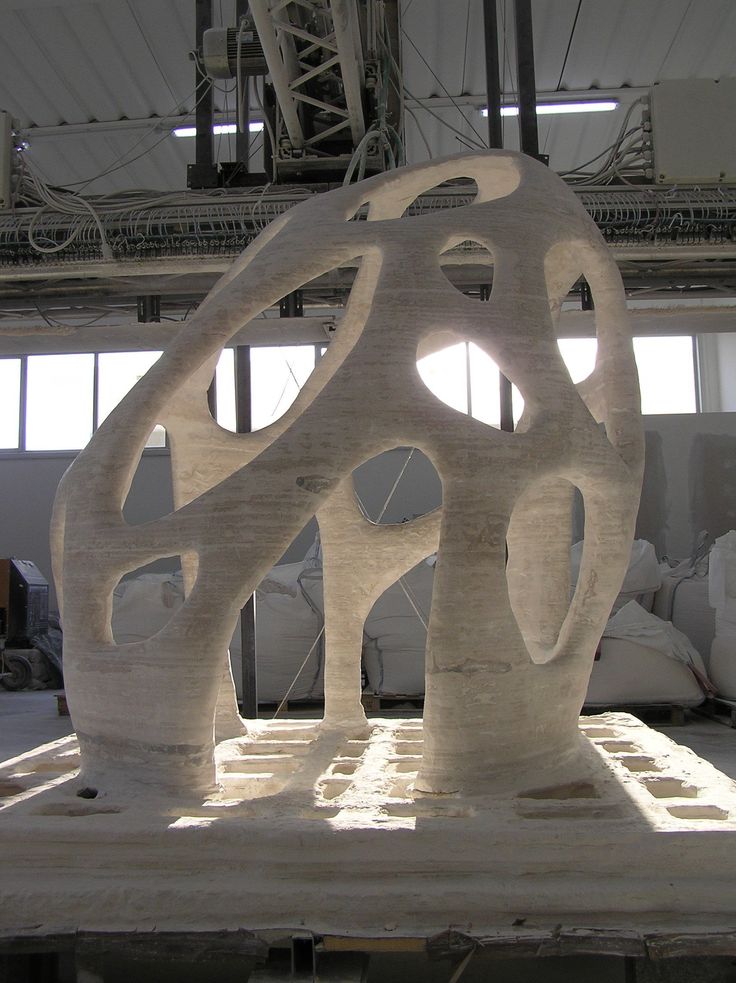 Now we have the same log of light and dark layers, with each layer being a separate body:
Now we can cut any shape out of the log using cutouts.
If you use a regular elongated cutout, you can get a board and even make a sign on it:
Or a dice:
If you use a rotated cutout, you can get rotation figures:
In principle, you can create absolutely any figures using operations subtraction.
The woodgrain effect opens up a wide range of applications. Similarly, you can create models for phone cases, various devices, and even inserts in car dashboards. And everything related to the car can be very promising in terms of modeling and printing to order. Some people love cars more than their wives.
But for printing two-color models, you will need a printer with two printheads with good print quality, such as the ULTIMAKER 3.
But the vast majority own printers with a single print head. Shouldn't it be applied already?
If you are not afraid of post-processing, then you can get by with an ordinary one-eyed Chinese.
I'll show you how:
Let's create something useful... For example, a handle for a door or for a checkpoint.
Like this (one rotated log cutout):
Now let's remove the dark annual rings (bodies) from the model and fill in the resulting voids at a distance of 1 mm from the surface (using a rotated boss):
Save in STL format, slice, print with supports (beige PLA REC):
Now fill the grooves with PLA juice from plastic of a different color. Personally, I smeared with a screwdriver. It is desirable to make the consistency thicker in order to reduce shrinkage after drying. Or we fuse plastic with a 3D pen. PLA juice has the advantage of being able to more accurately match colors by incorporating multiple colors of plastics into the solution.