3D printer davinci
XYZPrinting Da Vinci Mini Review 2022
Heard about XYZPrinting Da Vinci Mini 3D printer? We did as well and decided to test one of them to see if they're worth it. Here are our findings!
By Justin Evans
4
See Price
So you've decided to get into the world of 3D printing. Where do you begin? There are printers for every possible requirement, and there's a lot of jargon floating around that makes it hard to accurately compare different models. Relax – we're here to help.
XYZPrinting is known for creating some of the best entry-level 3D printers around. Today, we'll be looking for any strengths or weaknesses that the Da Vinci Mini might have– it's a small printer, but it's certainly capable. However, is it right for you and your needs? You'll have to read on to find out.
| | |
| --- | --- |
| Filament Diameter | 1. 75mm |
| Extruders | 1 |
| Supported Materials | PLA |
| Connectivity | USB, WiFi |
| Printing Speed | 100mm/s |
| Build Volume | 5.91 x 5.91 x 5.91" |
Table of ContentsShow
Design
The XYZPrinting Mini comes pre-assembled, so there's no need to factor in build time. It's a small-sized unit, perfect for sitting on your desktop, but this does mean that the build area is similarly restricted. Don't get us wrong – you'll be able to print decent-sized models, but nothing too huge.
Notice how there's no enclosure? This means that it'll be a little louder when you print, but all things considered, it's still fairly quiet since the mechanical parts are mostly covered by the plastic frame. There are also implications for heat retention, but that's not an issue, as we'll explain later.
You get exactly what you'd expect from a low-end printer: there's a single extruder and a maximum speed of 100mm/s. This is fairly standard and just means that you'll take slightly longer to print. However, as the build area is only around 6" in each direction, you won't be waiting hours unless you're trying to print a large, solid cube.
Printing
There are three different speeds to choose from. As expected, the faster you print, the rougher the final quality. We found that the fastest setting resulting in significant stepping on curved surfaces, while if you allow it to take its time, your models look far better, but still not professional-level.
In an attempt to keep things as simple as possible for new users, XYZPrinting has limited the Mini to using PLA filaments. This removes the need for an enclosure but does restrict you somewhat in terms of the things you can build. Still, for beginners, PLA is more than enough to get you started.
The overall quality of the prints is too low for manufacturing, and the build volume too small for mass-production.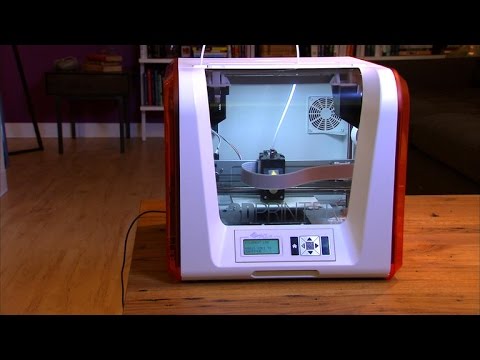 However, it's perfect for people looking to print things for their home or office. Better still, it takes any 1.75mm PLA filament – not just those made by XYZPrinting.
Features
So what other features does the Mini have to make things easier for beginners? Well, instead of adding things, XYZPrinting has removed components. There's no heated bed, for instance, and no built-in screen. You do have a USB connection, though, and WiFi functionality, which is almost unheard of in low-budget printers.
We were pleased to see that drivers are available for both Windows and Mac computers. On the other hand, there's no Linux support. It supports four different file types, though, so you're not really limited to using a particular modeling program, which is great.
Even the interface is simplistic. There's a single button for starting a print and a status LED that lets you know how your print is going. All in all, it's easy to use even if you're not particularly tech literate.
Let's be honest – that's never a bad thing.
Cost
Here's the thing: the Da Vinci Mini isn't available in the United States. You can buy it from several European locations, though. It costs around $700, which makes it among the cheapest, most robust 3D printers we've covered. Of course, you'll have to find a company to ship it over if you're in the US.
Running costs are minimal. PLA is among the least expensive materials you can use, and since while third-party filaments aren't supported, you can easily mod it to accept them. Large spools of PLA often cost less than $20 so really, your monthly material costs will depend on how often you print.
We think that this 3D printer is appropriately priced. It's clearly intended for novice users, and the price point helps it stay affordable, unlike more advanced printers that offer user-friendly features. You'll likely outgrow it in a year or two, but until then, it'll serve you well.
Support
XYZPrinting's support section provides customer help telephone numbers for 11 different countries.
Best of all, each of these can talk to you in the native language or English. This is almost unheard of, and we're genuinely delighted to see this level of help being offered for free.
The limited warranty period is similarly outstanding. You're covered from factory defects for up to two years at no extra cost, presuming you bought the printer from one of XYZPrinting's recommended sellers. There's no option to extend this warranty, though, which is a bit of a shame.
Customers can consult model-specific FAQs and tutorials in case they need any technical help. There are also different versions of the software, as well as documentation for each printer model here. All in all, it's one of the most comprehensive support packages offered by any major 3D printing manufacturer.
Orca 3D Printer Review
XYZprinting da Vinci Jr. 1.0 A Pro Review
It's easy to imagine a 3D printer as something of a magic cube in which all sorts of wonders are created. The $449 XYZprinting da Vinci Jr.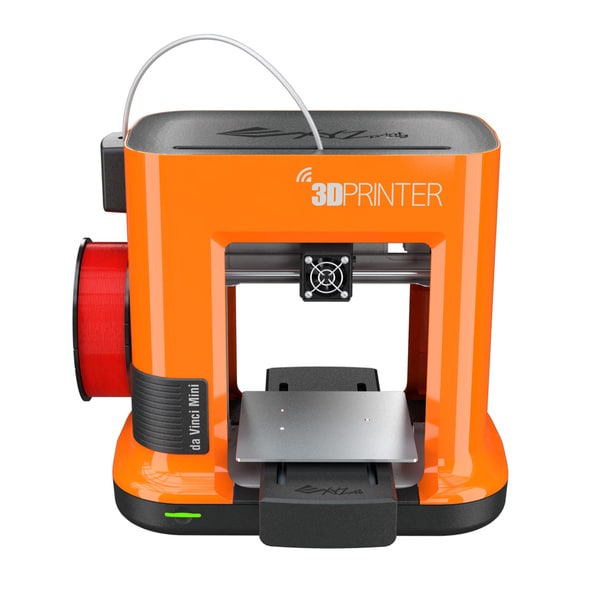 1.0 A Pro does its best to evoke this: a translucent-orange box that takes plastic filament and turns it into innumerable objects, practical and decorative by turn. This romanticized perspective of 3D printing, or some variation on it, doubtless runs through the heads of many of the newbies and students for whom the da Vinci Jr. 1.0 A Pro is intended, and this moderately priced 3D printer delivers an experience that should capture the imagination of young users, while offering add-ons to help stave off obsolescence for more experienced ones. Only a balky filament-feeding system encountered in our testing prevents it from earning a top pick.
---
A Newbie-Friendly Focus
The da Vinci Jr. 1.0 A Pro is a closed-frame 3D printer with a boxy shape, rounded corners, and angled top edges. In front is a door that swings upward, below which is an LCD for easy control of functions such as filament loading/unloading and setting the extruder the proper distance above the print bed (Z-axis alignment).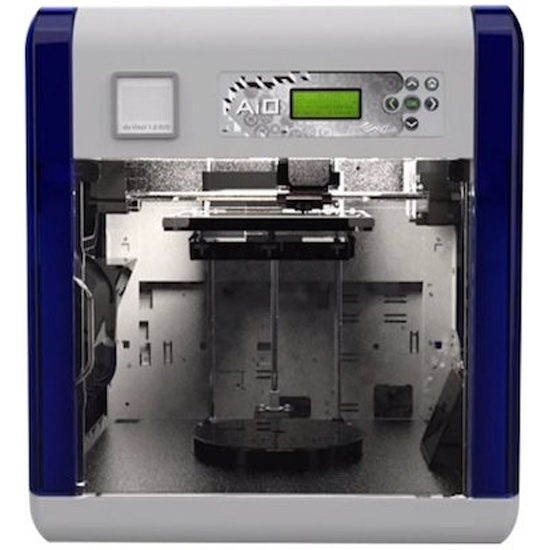 The 1.0 A Pro's closed frame reduces both noise and the potential for accidental burns from its hot extruder. Its primary supported kind of filament, polylactic acid (PLA), is easy to work and odorless. These factors make the da Vinci Jr. 1.0 A Pro a good choice for 3D-printing beginners, (supervised) children, and classrooms. 
The da Vinci Jr. 1.0 A Pro combines elements from both XYZprinting's Junior and Pro series. Junior models are customizable, supporting add-ons such as—in the case of the printer under review—a laser engraver module (a $200 option) and a hardened-steel nozzle extruder (see the image below) that supports printing with XYZprinting's carbon-fiber filament as well as metallic PLA. (XYZprinting often sells the hardened-steel extruder as part of a bundle with the 1.0 A Pro, which costs little more than the printer alone). Both the aforementioned accessories were sent to us with our test unit.
The company also describes its Junior printers, geared to the classroom, as small enough to fit on a desktop.
I suppose that depends on whether you need to use that desk for anything other than 3D printing; the 1.0 A Pro measures a sizable 15 by 16.5 by 16.9 inches.
Similar Products
4.0
Excellent
XYZprinting da Vinci Mini
4.0
Excellent
XYZprinting da Vinci Jr. 2.0 Mix
3.5
Good
Flashforge Finder 3D Printer
3.5
Good
Monoprice Cadet 3D Printer
3.5
Good
Polaroid PlaySmart 3D Printer
3.0
Average
Monoprice Voxel 3D Printer
The 1.0 A Pro's jumbo frame does allow for a large build area (6.9 inches in each dimension). That is slightly larger than the XYZprinting da Vinci Mini's 5.9 inches and considerably larger than the Monoprice Cadet (4.1 by 3.9 by 3.9 inches) and Polaroid PlaySmart 3D Printer (4.7 inches in all dimensions).
Like the printers in the Junior series, da Vinci Pro models support add-ons and also allow for the use of third-party filaments and software.
The da Vinci Jr. 1.0 A Pro is an upgraded version of the da Vinci Jr. 1.0 A. I had reviewed an even earlier model, the XYZprinting Da Vinci Jr. 1.0, in 2015, and the printer under review here is a marked improvement over it, with a larger build area and better software, among other advancements.
---
Care and Feeding of Filament (and Feeders)
After removing a copious supply of tape, clips, cardboard, and foam-rubber spacers—in place to prevent the 1.0 A Pro from being damaged in shipping—you install the XYZware suite of software, either from an included SD card or from XYZprinting's website. (To run it, you will need to set up and log into a free account with XYZprinting.) Next, you will cover the print bed with a square sheet of what resembles masking tape. Objects adhere to the sheet during printing, yet they can be pulled off with a minimum of effort when printing is complete.
The trickiest part of the printer's setup is in getting the filament to feed properly from the spool to the extruder.
Much of this involves correctly seating the filament-feeding guide tube—a so-called "Bowden tube," whose inner diameter is just larger than a strand of 1.75mm filament—that runs from the top of the filament feeder into the extruder assembly.  You have to jab one end of the tube into a small hole on top of the filament feeder, and the other end into the top of the extruder assembly.
To get the tube to stay in place required surprising force. It was helpful to press downward with the index and middle finger of my free hand on the sides of a tiny black gasket located on top of each hole while inserting the tube with the other hand. This was relatively easy to do for the extruder assembly, but harder for the less-accessible filament-feeder top. Even when the tube was in place, I learned to give it a gentle tug to make sure it was securely fashioned. (Left to its own devices, one end of the tube popped out a couple of times during printing, scuttling my print jobs.)
Once the feed tube is in place, you can add a filament spool to the spool holder located on the left side of the printer's interior.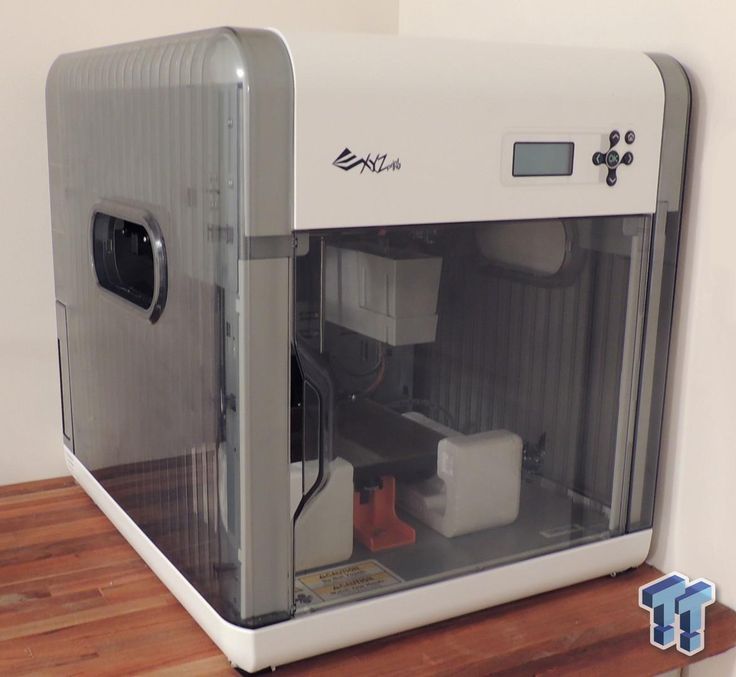 You then feed the free end of the filament into the bottom of the filament feeder, pressing down on a lever to clear its path upward into the guide tube. You can then run the loading routine from the printer's LCD, in which the extruder is heated up, and the filament gets pushed through the guide tube into the extruder.
The print bed is unheated, limiting the filament types that the 1.0 A Pro will support. XYZprinting sells 600g filament spools of standard PLA for $22.95, carbon-fiber ones for $29.95, and metallic PLA for $34.95. (The latter two require the hardened-steel extruder nozzle.)
You can use compatible third-party filaments, though they lack the RFID chip of XYZprinting's own spools, and you'll have to enter some settings in the software. You can also use larger filament spools, though you'd have to print your own external spool holder to support them.
---
Connectivity and Software
Connectivity is twofold. For standalone printing, you can process a file and save it to an SD card, which you then insert into the printer's card slot.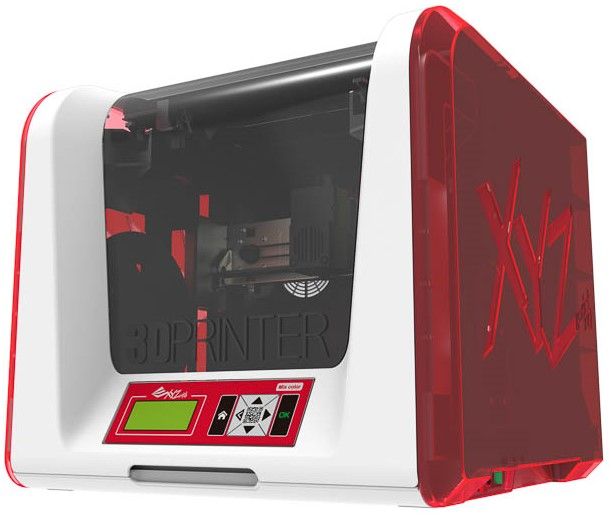 You can then view the files on the SD card on the LCD and access the one you wish to print. Alternatively, you can connect the da Vinci Jr. 1.0 A Pro to a computer via an included USB cable. I did all of my printing over a USB connection, first loading a file in XYZware's XYZprint program, processing (resizing, and so on) the object to be printed, which you can monitor on a representation of the build plate onscreen.
You then "slice" the file (the software breaks it into layers for printing), choose the type of filament to print with, and launch the print. XYZprint is adequate, although it lacks the range of settings found in the open-source program Cura(Opens in a new window), which many 3D printer manufacturers use as the basis of their software. Although Cura isn't included with the da Vinci Jr. 1.0 A Pro, you can print files created in Cura and saved to SD card on the printer.
The nine test prints I completed showed average overall print quality. The only misprints were from two cases in which the feed tube became detached from the filament feeder as described above.
I did eight of the prints at Normal (200-micron) resolution, and one at High Detail (100-micron). I noted a slight improvement at the latter resolution, but not enough to warrant the extra time consumed in high-resolution printing, except in cases where the best print quality is paramount.
The da Vinci Jr. 1.0 A Pro did well with a test object in which a variety of geometric shapes, as well as raised text, are printed at a steep angle—nearly all of the shapes were well formed. A couple of test prints looked a bit rough-hewn, with obvious layering, but most looked decent.
---
Verdict: Good for Beginners
The biggest selling point for the da Vinci Jr. 1.0 A Pro is its spacious build volume, which allows users to print considerably larger objects than they can with most open-frame budget 3D printers. (A related downside is that this makes it larger than many competitors.) The difficulty in securing the filament feed tube was an annoyance, but once firmly in place, it should stay secured (except, perhaps, if you get the hardened-steel nozzle and frequently change extruders).
On the whole, though, the XYZprinting da Vinci Jr. 1.0 A Pro's closed frame and its PLA-centric bent are ideal for newcomers (either at home or in a classroom), while it offers enough versatility and accessories to keep intermediate users happy.
XYZprinting da Vinci Jr. 1.0 A Pro
Pros
Spacious build area

Works with third-party filaments

Self-leveling print bed
Cons
Build plate is not heated

Limited to PLA- and PETG-based filaments

Guide tube is prone to detaching
The Bottom Line
The XYZprinting da Vinci Jr. 1.0 A Pro is a moderately priced closed-frame 3D printer with a large build volume and overall good performance, but a potentially balky filament-feeding system.
Like What You're Reading?
Sign up for Lab Report to get the latest reviews and top product advice delivered right to your inbox.
This newsletter may contain advertising, deals, or affiliate links. Subscribing to a newsletter indicates your consent to our Terms of Use and Privacy Policy. You may unsubscribe from the newsletters at any time.
Thanks for signing up!
Your subscription has been confirmed. Keep an eye on your inbox!
Sign up for other newsletters
3D printer XYZprinting Da Vinci 1.0
Cart is empty
---
Site search
Home / Catalog / 3D Printers / Large print area / 3D printer XYZprinting Da Vinci 1.0
Information for the buyer:
Delivery information
Information about payment methods
For more information about the product, please contact our consultants
+7 (8182) 637-737
XYZprinting Da Vinci 1.0 is a high-quality modern 3D printer that allows you to print objects up to 20 x 20 x 20 cm.
Another undoubted advantage is that there is no need for assembly and adjustment. Installing the cartridges is very easy and you are at ease. you can change the color and material for printing yourself. The closed chamber of Da Vinci 1.0 allows you to protect against foreign objects, and also makes the device safe at home. The installed auto-update system allows you to get the latest software version and thus the XYZprinting Da Vinci 1.0 3D printer is always ready to print.
Main features
| | |
| --- | --- |
| Manufacturer | XYZprinting |
| Print technology | FDM/FFF |
| Printable area | 200 x 200 x 200 |
Category:
Personal
Manufacturer:
XYZprinting
Max print quality:
100
Thread diameter:
1. 75
Country of manufacture:
Taiwan
Model:
Da Vinci 1.0
Dimensions:
468 x 510 x 558
Weight:
23. 5
Print technology:
FDM/FFF
Printable area:
200 x 200 x 200
Number of printheads:
1
Supported materials:
PLA plastic / ABS plastic
Number of nozzles:
2
Max print speed:
150 mm/s
Nozzle diameter:
0. 4
Interfaces:
USB
Supported file formats:
STL
Software Compatibility:
Windows XP (.Net 4.0 required), Windows 7 or later Mac OS X 10.8, 64-bit or higher
Power requirement:
-
Other offers:
Hercules Strong 3D printer

Price:

3D printer PICASO 3D DESIGNER PRO 250

Price:

3D printer XYZprinting Da Vinci 2. 0 Duo

Price:

3D printer XYZprinting Da Vinci 1.0

Price:
Repacks from Rabbit: programs, software
New comments see all
tsy1973 Today, 01:31
Thank you, great build.
lewba_33 Today, 01:19
Thank you fire!
DeathCat Yesterday, 23:42
Another update 7.0.7008 was released
SoftProgram Yesterday, 21:44
Please update the program, the servers completely fell from 4 computers, the program is not updated ((
ErveryBukit Yesterday, 21:14
Eh, but the version is only Trial. You can't create your own project. You cannot edit existing ones, etc. Alas(
tarasyukdjumm Yesterday, 20:49
Why can half a year be installed? About 50% was installed in 6 hours. The PC is fresh, not a mammoth In version 5000, I couldn't extract audio from the clip. The program writes to him - "ATTENTION: this version cannot
x100xx Yesterday, 18:49
There are no more fresh packs to build?
x100xx Yesterday, 06:49 pm
Is there any more fresh pack assembly?
HumblePie Yesterday 4:04 pm
Version 4.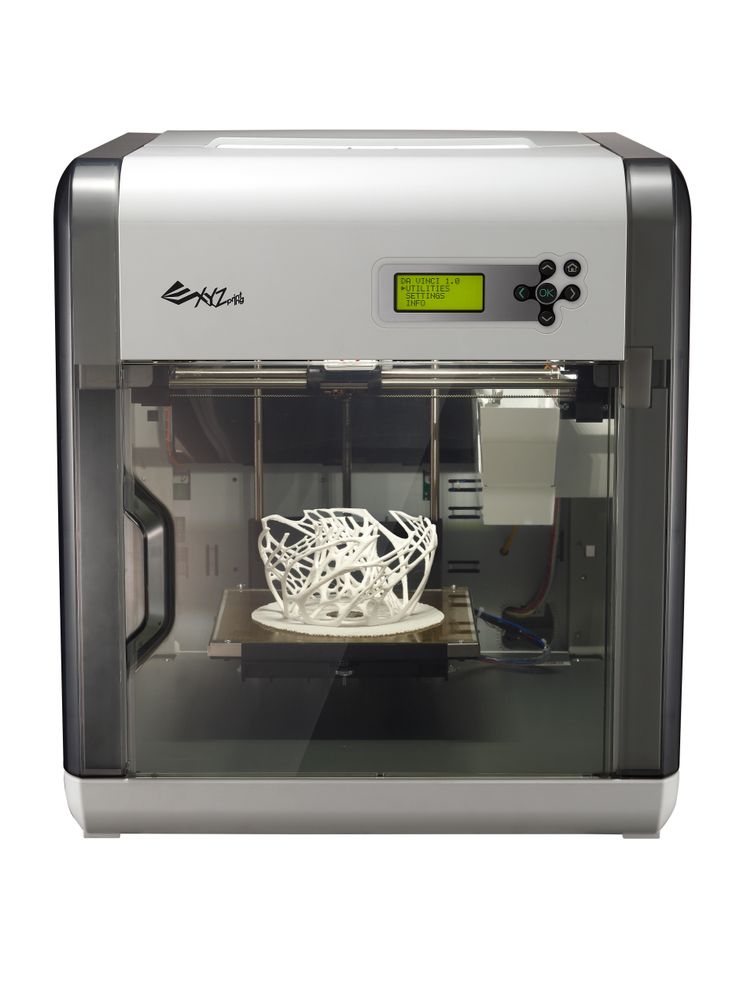 1.0 has been out since June. Why Rabbit has not updated to that version is unknown, but it's doubtful he would waste his time fixing
Views: 96 175 Comments: 92
One of the world's most popular benchmarks. It will turn the heat on your video card and processor, show the number of points scored, and you can compare them with the tested hardware on specialized sites. There are various tests, including for a laptop or mobile device. Well, the scenes themselves are very epic, you can get stuck well.
Views: 68 067 Comments: 96
EZ CD Audio Converter is a utility for converting audio CDs to high-quality digital audio files, and for burning MP3, WAV MP4, Windows Media Audio, FLAC, Ogg Vorbis, AAC and Monkey-s files to audio -CD. Can convert audio tracks directly to MP3, WMA, VQF, OGG or WAV and convert from one audio format to another.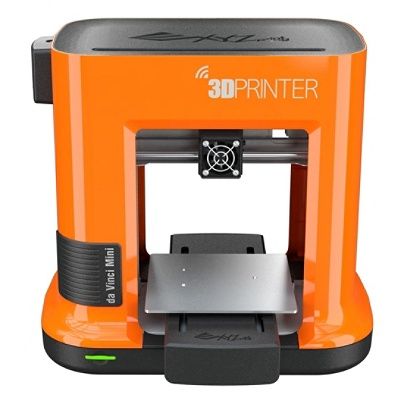 Views: 81 569 Comments: 207
EssentialPIM is a highly functional personal information manager with a thoughtful interface and many features. Contains tools for working with the calendar, task list, notes and contacts. There are ample opportunities for printing, importing and exporting information, the ability to run from portable USB drives (including U3 SmartDrive - a certified version), synchronization with PDAs and smartphones running Windows Mobile, PalmOS. Supports 128-bit encryption, data export/import from MS Outlook, Windows Address Book, advanced search, various printing options. Also includes a contact storage tool with an unlimited number of fields. In short, you won't forget your mother-in-law's birthday this time ;)
Views: 275 484 Comments: 611
4K Video Downloader is a good utility for downloading video, audio and subtitles from YouTube.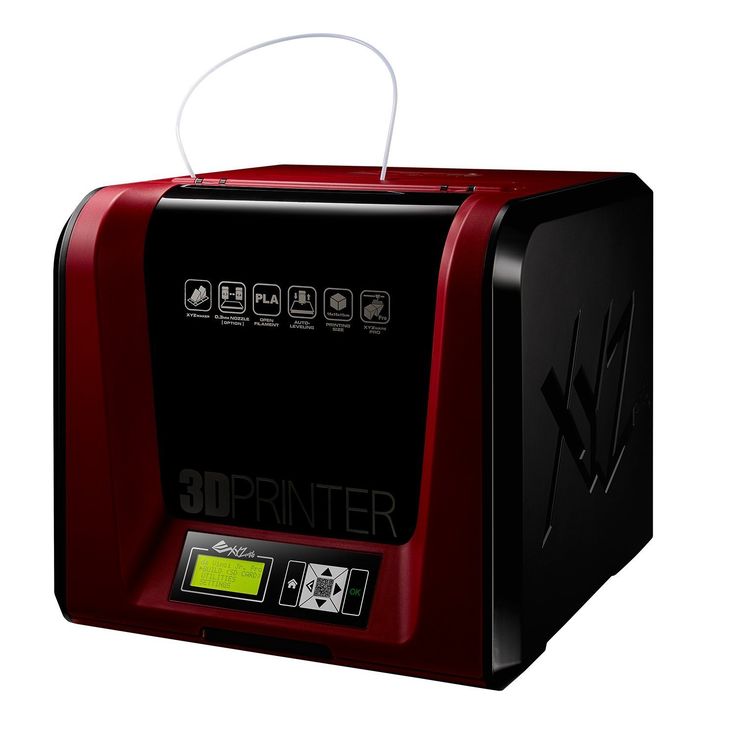 Of course, there are all sorts of online services for this business, but they do not provide such opportunities that this program has. For example, you can download an entire channel, subscribe to download new videos, download playlists, and import a list of download links. In the settings, you can choose the number of streams, download speed, as well as notification options.
Views: 357 644 Comments: 704
Bandicam is one of the best (if not the best) programs for capturing images from the desktop and DirectX/OpenGL applications (games). With its help, you can record everything that happens on the screen with high quality and convenience, add an image from a webcam, and audio tracks (for example, from a mixer and microphone) can be saved separately for further processing. Supports acceleration with AMD, NVIDIA and Intel graphics chips. Remarkably, the recorded files are small in size with excellent quality.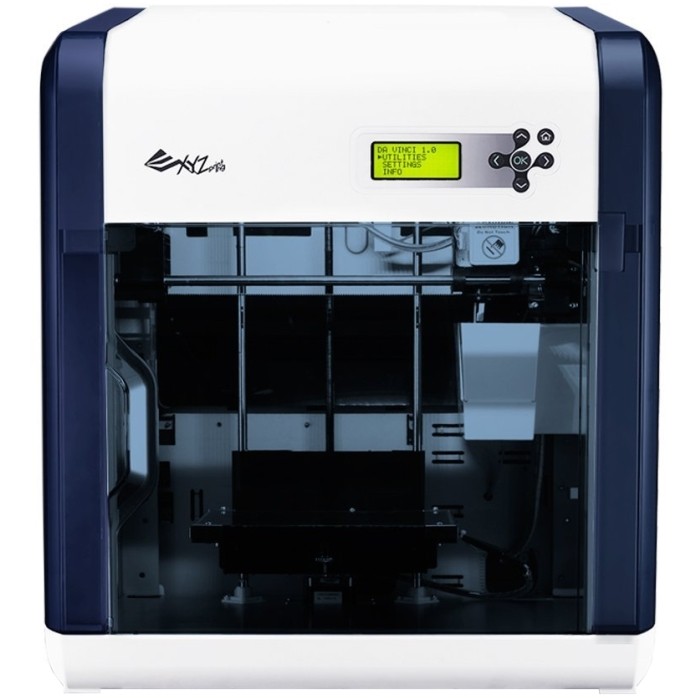 I use it all the time and recommend it to everyone.
Views: 88 296 Comments: 52
A multifunctional virtual printer with which you can work and print documents much more productively. Preview, editing, backgrounds, frames, watermarks and other delights at your service. Show your imagination and instead of three pages, all the information will fit on one. In general, you can save paper, save pages in various formats and have fun. And now to work, otherwise the boss will see!
Views: 113 129 Comments: 75
EmEditor Professional is a professional version of a powerful text editor for programmers, web developers and ordinary users with syntax highlighting and Unicode support. The editor has features such as search and replace in files using regular expressions, auto-detection of encodings, highlighting links and email addresses, block selection mode, customization of the button bar, menu, font and color of elements.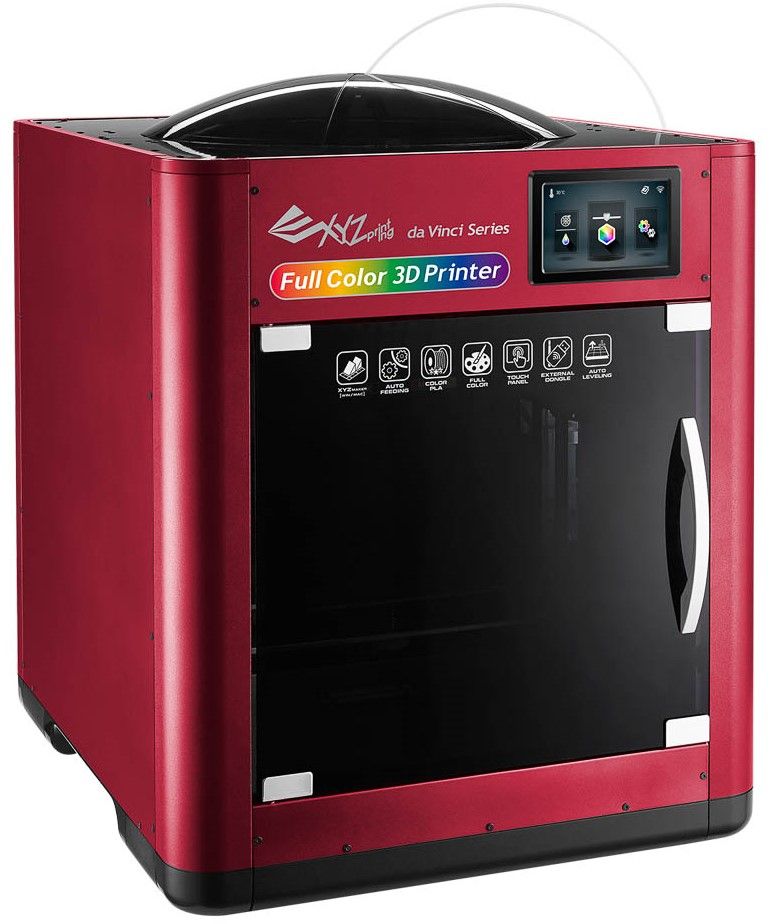 You can create a separate configuration for each language.
Views: 202 851 Comments: 636
Go on Skype? The most popular, despite the available alternatives, a program for text, voice and video communication with users around the world. In 2011, it was bought by Microsoft Corporation and then it started: glitches, problems, negative reviews, and, oh my God, surveillance, telemetry! In fact, the security leaves much to be desired, so I recommend refraining from transmitting confidential information through this software and changing the password to a more complex one. And for simple communication - why not? In my opinion, a program that is quite convenient and understandable to everyone, which allows you to transfer large files, show your desktop and, in fact, communicate with friends, parents and colleagues.
Views: 99 399 Comments: 296
NetLimiter is a program that solves the problem of network traffic control.
NetLimiter monitors the activity of every application accessing the Internet and actively manages traffic by controlling the data rate. You can independently adjust the speed of downloading and sending information for each individual application or connection. Thus, if a program consumes network resources too actively in the course of its work, then you have a real chance to moderate its appetite. NetLimiter also maintains detailed statistics for all connections, displaying it in the form of graphs or tables.
Views: 90 946 Comments: 336
Process RAW and JPEG images with the best quality and effortless. DxO PhotoLab provides a complete set of smart assistive fixes that you can manually tweak at any time. Control every aspect of your photos: effectively remove noise, get rid of light restrictions, restore color details, apply complex optical corrections and enhance details.
Views: 190 839 Comments: 544
F-Secure Freedome is another VPN app to keep you anonymous.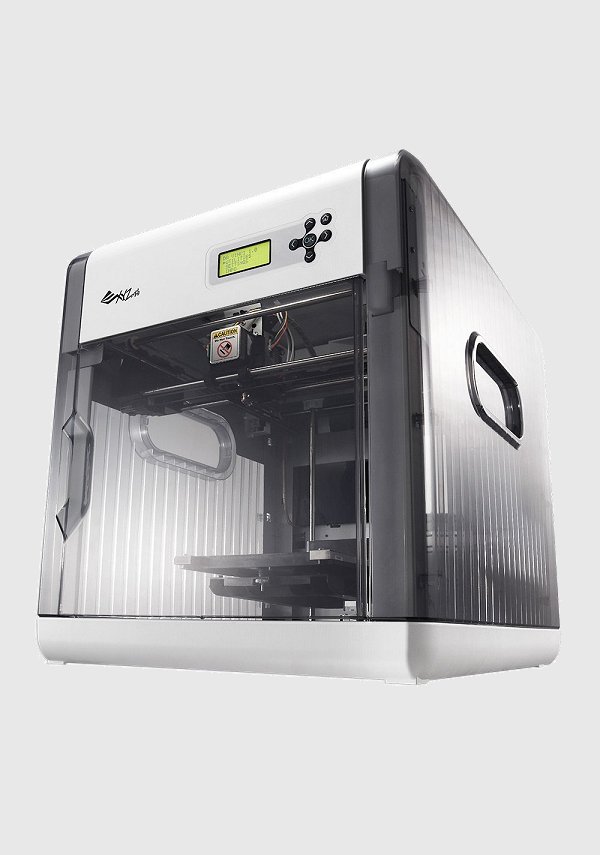 But in fact - just to change the IP address and access blocked sites. There are modules for blocking malicious sites and advertising trackers. Use it and don't let your redneck providers interfere with your traffic. The build is based on a 5-day trial version and automatically resets this counter every time you start your computer. Unfortunately, the auto-connect feature at system boot is poorly implemented by the developers, so it will automatically be disabled for your convenience (until the problem is fixed). This assembly is a great option to slightly increase your level of comfort and security on the network.
Views: 843 885 Comments: 2 430
Internet Download Manager - perhaps the best download manager today, capable of speeding up downloads several times. Probably, you, as a specialist, will say "No need la-la, I have a megabit pizza, it won't speed up anything!". That's how it is, but many sites limit the speed to one stream, but allow you to download to several of these very streams.
Do you understand what I'm getting at? Yes, exactly, your browser downloads in one stream, and this program in several, hence the acceleration. Moreover, IDM is highly configurable, it will help you download your favorite videos from YouTube, contacts and other supported video services, it has a site grabber (no, you won't be able to download anything forbidden, don't dream), a schedule, a speed limiter and other useful goodies. I use this rocking chair and I advise you. Get it quick!
Views: 7 320 Comments: 6
Boris FX Optics is a comprehensive digital photography toolbox. Created by professional VFX artists, Optics is designed to simulate optical camera filters, specialized lenses, film and grain, flare, optical lab processes, color correction, and natural light and photographic effects. Take your images to the next level, try Optics.
Views: 105 516 Comments: 355
The main tasks of The Bat! are: maintaining the confidentiality of correspondence, convenience and saving time when working with mail.