3D print adidas
DATA-DRIVEN 3D PRINTED PERFORMANCE TECHNOLOGY DESIGNED TO MOVE YOU FORWARD
Today we are unveiling the next step in data driven 3D printed midsole innovation, the adidas 4DFWD. Combining years of athlete data with the unique technology of 3D printing, adidas 4DFWD is created to provide runners with an all-new running experience.
For over four years, we have developed 4D lattice midsole technology in partnership with Carbon. Combining athlete data and Carbon's Digital Light SynthesisTM technology to produce precision tuned 3D printed midsoles. adidas 4D footwear is amongst the first in the world to use this cutting-edge technology which offers the ability to fine tune midsoles to specific patterns of movement, so that athletes can enjoy precision performance with every step.
Born from this process is the new adidas 4DFWD lattice midsole.
Identified from one of five million possible lattice structures and made of 40% bio-based material, the bowtie-shaped FWD CELL has been specifically coded to compress forward upon vertical impact. When compared to previous generations of 4D midsole, adidas 4DFWD generates three times as much forward motion under vertical loading in mechanical testing conditions. As a result, peak braking force experienced by the athlete during running is reduced by 15% as the midsole redirects these vertical impact forces into horizontal forward motion – delivering running economy comparable to that of Ultraboost midsoles in lab conditions.
adidas 4DFWD was tested through a range of bio-mechanical testing procedures at the University of Calgary, which analysed specific areas such as forward motion, braking force and running economy. The concept was also tested extensively with adidas runners local to the creation team in Germany and a carefully selected cohort of high-level running creators across the USA.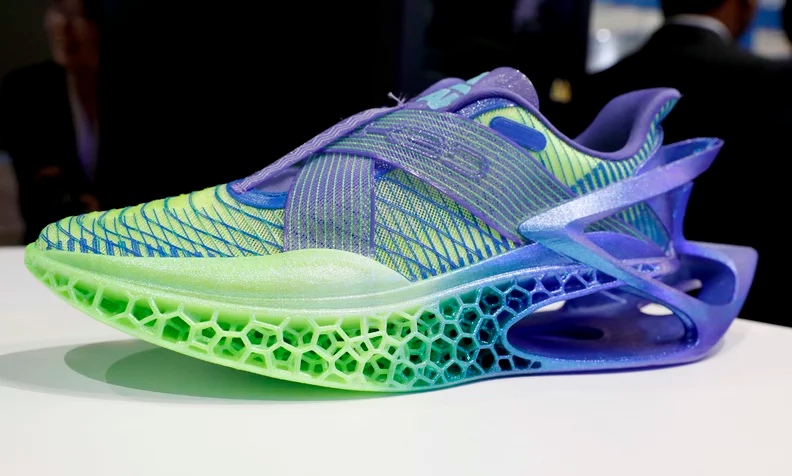 Furthermore, cutting edge cognitive perception testing was carried out at Arizona State University.
4D technology provides us with the opportunity to design in a way that conventional foam midsoles do not allow. We took inspiration from the first generation 4D lattice midsole and set ourselves the challenge to take it to the next level. Coding millions of potential lattice structures to see if we could specifically design to counter negative mechanical forces experienced during running.

Working closely with Carbon, our product teams, and testers we identified one perfect lattice midsole that is designed to compress forwards under loading and counter mechanical forces whilst delivering a unique gliding sensation for our runners.

Sam Handy, VP Design, adidas Running
Complementing the adidas 4DFWD midsole is a new PRIMEKNIT upper made from recycled polyester. Providing runners with a super-lightweight premium upper that encases the foot in a seamless sock-like fit.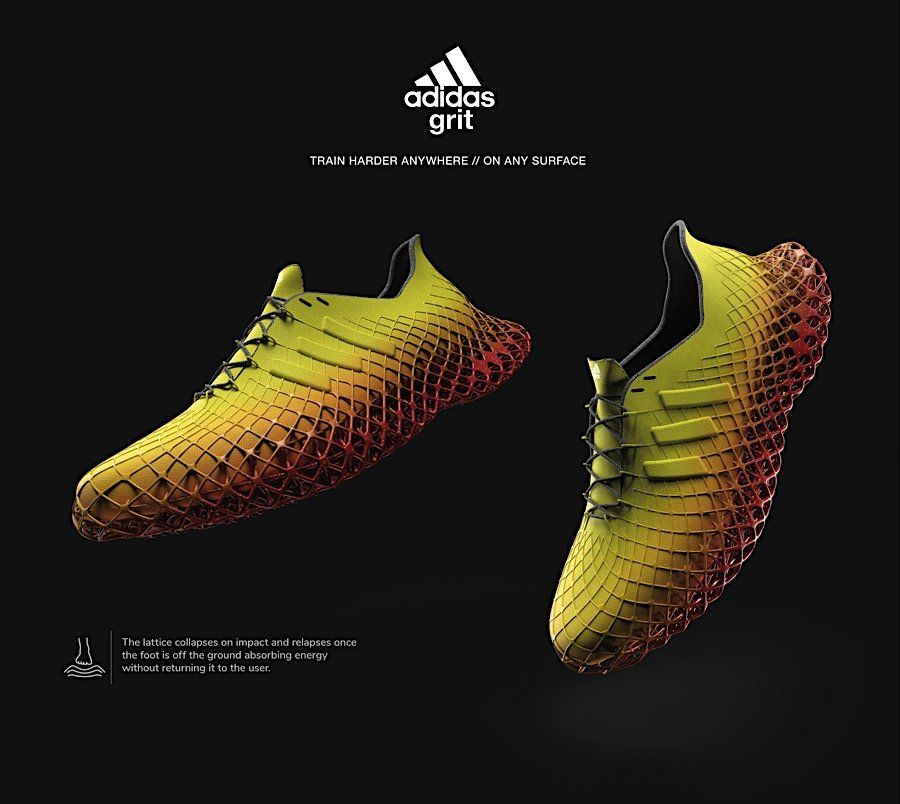 Historical mapping data has been used to code the PRIMEKNIT upper to perfectly align with the unique properties of the 4DFWD midsole. Helping to give runners all the support and comfort they need whilst on their run.
At adidas, we're always looking to combine athlete insights with new and innovative technologies to create the best performance running products. With this approach, we aim to serve and to delight different runners with diverse experiences depending on their needs, being it to run faster, or to achieve personal goals, or to run for longer, or to feel more comfort, always bringing new valuable benefit that runners can feel.

This industry first midsole innovation positions adidas 4DFWD as our most advanced digitally printed running midsole yet and showcases the potential of 4D technology in turning physics and bio-mechanic studies into performance solutions. We cannot wait for runners to feel and experience this new product that will deliver new and exciting sensations.

Alberto Uncini Manganelli, SVP and GM adidas Running & Credibility Sports
The adidas 4DFWD will drop in three specific colorways, including a special Tokyo Collection drop, which will be the main podium shoe for athletes in Tokyo this summer. Launching first in a black and fluorescent orange colorway, the adidas 4DFWD will be available to Creators Club members on May 15th. The Tokyo Collection colorway will be available from July 1st, before a worldwide drop from August 12th.
To find out more, please visit: www.adidas.com/4d. Follow the conversation on Instagram, Facebook and Twitter using #adidas4DFWD and @adidasrunning. 
Carbon and adidas Collaborate to Upend Athletic Footwear
adidas and Carbon are creating the next breakthrough in athletic footwear, leveraging the Carbon Digital Light Synthesis™ (Carbon DLS™) 3D printing process to bring a new product and platform to life: Futurecraft 4D. Together, we are developing the first mass-production process that makes previously impossible midsole geometries with revolutionary 3D-printable materials, paving the way for custom, high-performance shoes that meet the unique needs of each customer.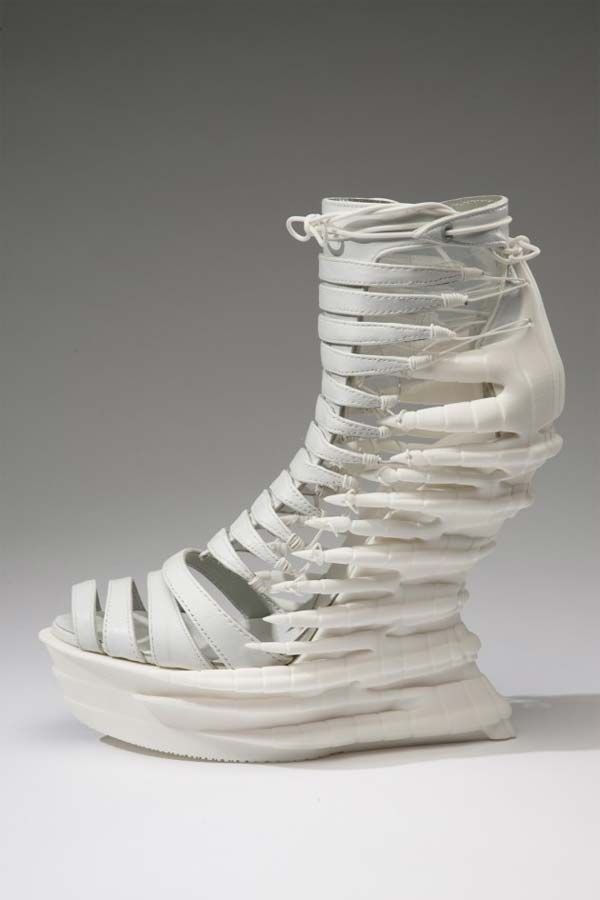 In close collaboration with the Carbon team, adidas is leveraging the Carbon DLS process and EPU 41 3D printing material.
adidas continues to challenge the industry with its relentless focus on innovation to improve the performance of athletic apparel. But their latest idea—creating shoes with variable properties across the midsole to improve shoe performance for different sports—presented a difficult hurdle. Midsoles cannot be injection or compression molded in one piece with properties that vary across the part. Although they can be assembled from multiple parts through a labor-intensive process, this introduces multiple potential points of failure. Confronted with this challenge, the adidas team shifted its focus to the possibility of 3D printing midsoles to unlock the design freedom needed to enhance shoe performance.
3D printing has previously been used mostly to prototype products in development before they were produced with traditional manufacturing techniques.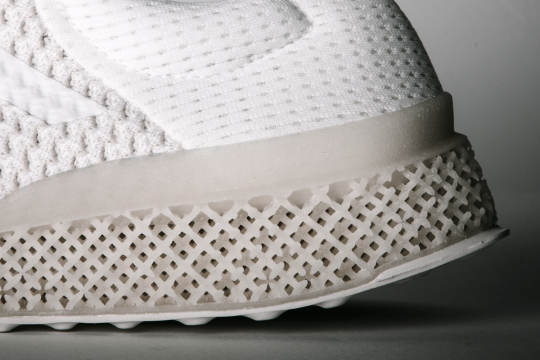 3D printers are generally not designed for manufacturing scale. Prints are often painfully slow, require wasteful part supports that are ultimately thrown in the trash, and use materials that are vastly inferior to those used for production, resulting in weak and brittle parts. For adidas, the 3D printing industry lacked the production-grade elastomers needed for a demanding athletic footwear application. As a result, while adidas could 3D print prototypes of their midsoles, the final midsole design was still constrained by the ultimate production process, i.e. injection and compression molding. To overcome this constraint and 3D print final midsoles, adidas turned to the Carbon DLS process, its factory-ready 3D printing method, and its high-performance materials to design and directly produce the next generation of athletic footwear. A trailblazing partnership had been forged.
"With Digital Light Synthesis, we venture beyond limitations of the past, unlocking a new era in design and manufacturing. One driven by athlete data and agile manufacturing processes. By charting a new course for our industry, we can unleash our creativity — transforming not just what we make, but how we make it."
Eric Liedtkeadidas Group Executive Board Member Responsible For Global Brands
Carbon's rapid product development process enabled adidas to iterate over 50 different lattices for the midsole before landing on the current design. Traditionally, product development has followed four steps: design, prototyping, tooling, and production. This process is so slow that many product development programs can only afford three to five redesign cycles before finalizing the design, constraining the product team's innovation. The Carbon-adidas collaboration made ten times as many iterations possible! Further, each iteration was produced with the same process and material as the ultimate product. These were not just prototypes for assessing a design's visual appeal: We could actually test midsole performance in the design stage.
In other words, Carbon's technology makes prototyping obsolete. Gone are the days when it was necessary to prototype a product using a technology that does not allow for scale-up.
Motivated to enable the best production solution possible for adidas, Carbon established an incubator factory at its headquarters to develop and validate a print method and materials for Futurecraft 4D. In the incubator factory, Carbon developed a full print and post processing solution and validated it even before the equipment landed at adidas's factory. It allowed the teams to closely collaborate throughout the shoe iteration process to ensure that the ultimate design was the best combination of design, material, and print process.
Having developed production ready printers and materials, Carbon was finally obliterating the barriers to using 3D printing for manufacturing real products at scale. Leveraging our programmable liquid resin platform that uses light to set the shape and heat to set the mechanical properties, the Carbon team developed a proprietary print strategy for midsoles that enables printing with essentially zero support material.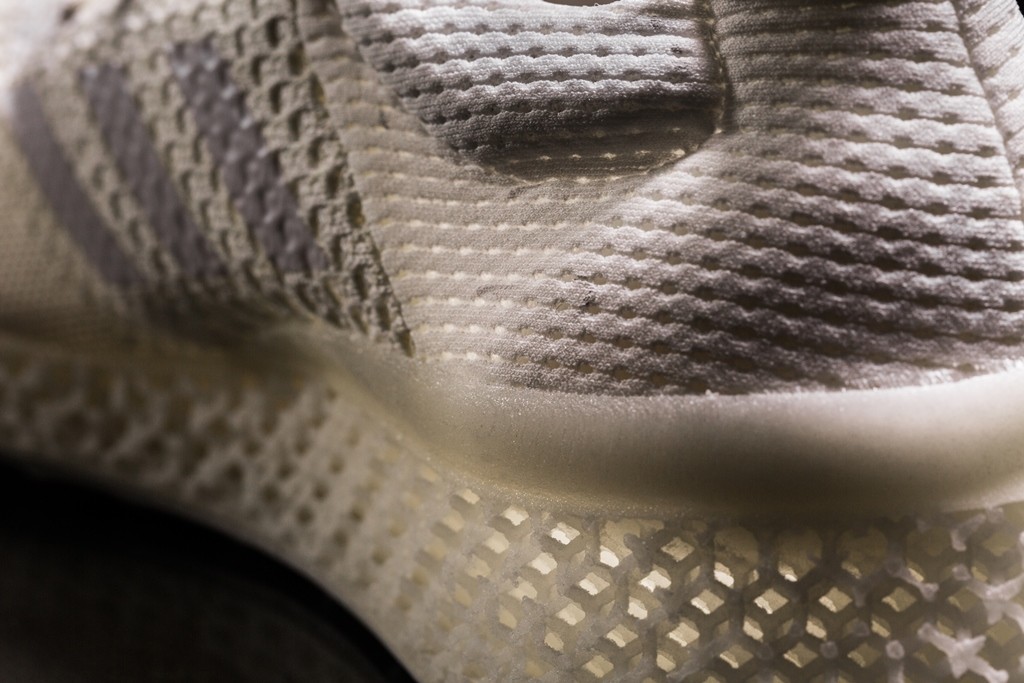 This not only saves on raw material costs, but also dramatically reduces manual post-processing steps of traditional additive manufacturing.
Moving quickly and gathering feedback with every iteration, the Carbon team developed a revolutionary elastic material for the Futurecraft 4D midsole. adidas needed to 3D print lattices in a stiff but resilient elastomer to create a high performance midsole with excellent energy return. Carbon's EPU 41 was the only 3D printable material that came close to the requirements for this application. When launching the collaboration, our teams realized that in order to make the shoe of the future, we needed to take what was already an incredible material and push the boundaries even further. Working closely with adidas to understand the use cases, the Carbon team iterated over 150 different material formulations to achieve the desired mechanical properties. The team also fine-tuned the color of the material to match the signature linen-green color of the launch shoe chosen by adidas's amazing design team.
Carbon enables the design and immediate production of products, eliminating the conventional prototyping and tooling steps of a traditional product development cycle. This new production process has already allowed adidas to put a new shoe design in front of select athletes to better understand customers' needs around Futurecraft 4D and, ultimately, to craft a better performing shoe. The process enables adidas to print previously impossible designs without labor intensive and complex assemblies. It has also opened up the ability to create optimal designs relying on software to simulate the production and use of athletic footwear. An industry leader with exceptional sport-science expertise, adidas will be able to use this production process to craft custom shoes with an ultimate performance uniquely tuned for each customer.
Stay tuned for future case studies that dive deeper into specific aspects of adidas's collaboration with Carbon. Read the full Carbon + adidas Futurecraft 4D press release here.
adidas new strategy — Trading on vc.ru
As a manufacturer of sportswear and footwear adapts to the changing retail market.
11613 views
At the end of 2016, a temporary adidas Knit For You store opened in the Bikini shopping center in Berlin. They sold only one item: merino wool sweaters for €200.
Merino is a breed of fine-fleeced sheep Wikipedia
Unlike regular points of sale, clothes were not brought there, but were produced on the spot individually for each client.
The purchase and production process consisted of several stages:
Pattern selection. In a dark room, the pattern of the future sweater was projected onto the torso of the buyer, something between camouflage and cobwebs. The patterns changed with gestures - sensors read the movements of the hands.
Size selection. Standard S, M and L and a body scan for a perfect fit. To do this, customers had to undress to the waist - no one, except for the car, saw a person.
Knit sweater. Machine knitted front and back. Then people finished production, processed, washed, dried and packed the goods.

Three knitting machines were installed in the mini-factory. The production process of one sweater took about four hours, which made it possible to sell up to ten pieces a day.
adidas is not experimenting to increase sales. The company is evaluating customer readiness for its new strategy, which includes:
digital design;
local automated production;
personalized products.
Manufacturing near customers
At the end of 2015, adidas opened its Speedfactory robotic factory in Ansbach, Germany, 40 km from its headquarters. Here, machines produce sneakers under the supervision of a small number of employees, in total there are about 150 people. For comparison: the factory in the Chinese city of Dongguan, where shoes for adidas are made, employs more than 4,000 people.
The first pair of sneakers rolled off the Speedfactory line in September 2016. The limited model called Futurecraft MFG (Made for Germany) was released in an edition of only 500 pairs. In Berlin, on the day of the start of sales, buyers camped on the street.
adidas says having a factory close to customers will help reduce shipping costs and shorten production time for new models. Making shoes in factories in Asia takes weeks, while it takes hours in a robotic factory. adidas plans to produce about half a million pairs of shoes a year at the Speedfactory, a tiny fraction of hundreds of millions of pairs.
According to Gerd Manz, head of technology and innovation at adidas, the ideal situation for using local factories is: "The red sneakers that a customer saw at a Kanye West concert are sold in the store the very next morning."
Local Speedfactories will not replace factories in China and other Asian countries where most of the stuff is made. It's more of a new business model based on customization so that customers can get a unique sneaker model in a short time.
If we can give the consumer what he wants, where he wants, when he wants it, we can reduce the risks. Now we are just guessing what might become popular.

Eric Liedtke
adidas is also looking at ways to remove machines from the production process. Their preparation takes weeks, which does not fit into the concept of fast production. 3D printing can help with this.
3D printing for customization
In 2015, adidas first introduced the Futurecraft 3D, a sneaker with a 3D printed midsole. In a marketing communication, the company said: this is the first step towards the production of shoes for individual measurements for everyone. The idea was that in the future, a customer would be able to walk into a store, have their feet scanned, and receive a pair of sneakers designed by a machine with physiological characteristics in mind.
Futurecraft 3D couldn't be mass-produced: it took 18 hours to create one pair of midsoles.
Of these, ten went to powder printing, and the rest of the time the finished product cooled down.
Since then, adidas has partnered with 3D printer manufacturer Carbon in California. Their machines print objects using Continuous Liquid Interface Production technology. To create products, liquid polymers are used, which are baked with ultraviolet light. The liquid is in a glass-bottomed tank, under which the lamps are located.
Here is a video explaining how Carbon printers work.
Carbon technology allows you to print objects in high resolution up to 100 times faster than printing layer by layer. Thanks to this, adidas released the first mass-produced sneaker with a 3D printed midsole in 2018, the Alphaedge 4D. Unlike Futurecraft 3D, it took only 30 minutes to create one pair of soles.
The bath is filled with liquid rubber for sole printing
The midsole in the Alphaedge 4D is made from a blend of polyurethane and UV-cured resin.
It is a rigid elastomer that can be printed as a computer generated lattice structure. The stiffness level of the outsole in different parts is based on big data obtained, among other things, using motion capture technology.
Lattice model generated by computer based on big data
To build the model, we used data on the force of impact of the foot on the ground during running
Ultimately, adidas and Carbon want to provide each customer with products tailored to individual physiology and requirements.
Technological innovations at adidas are developed by Futurecraft, an in-house division of the company. Here they plan to create new products with a horizon of seven years. For example, Futurecraft tried to print sneakers on a 3D printer in 2012. The prototype is very fragile, not only the sole is printed, but also the upper part of the shoe. Unfortunately, you can't take pictures of it.
Why all this adidas
In 2017, Amazon received a patent for on-demand shopping, where a user can order a custom-made item.
Screenshot of patent
Tech startups have already changed the taxi market and the hotel business. Traditional corporations have to find a foothold that will allow them to stay in business. To do this, they create internal startups, come up with new business models and try to understand how consumers will behave in the future.
Direct competitors from the sportswear market are also working on customized shoe models. In 2019, Nike updated the Nike ID platform, where customers can choose the color of individual details on the shoe. Now it is called Nike By You, and after setting it up, the user will be able to see the 3D model of the future sneaker in all its details.
US sportswear manufacturer Brooks has launched the Run Signature philosophy. Together with HP, the company collects information about the runner's gait and scans the feet on the HP FitStation. All in order to offer the client the perfect shoes.
In March 2019, the customization trend was (to some extent) picked up by Zara.
In three of the brand's stores - in Amsterdam, Barcelona and Milan - temporary points of sale for denim were opened, on which customers could embroider a word.
Two-thirds of experts polled by the trade publication Sourcing Journal believe that customers want customized clothing and footwear. We should expect custom clothing from other companies as well. Especially small ones that can provide small-scale production or manual refinement of parts.
New joint project Adidas and Marcolin • Limitated sports glasses on 3D printer
Application
Subscribe to the author
Subscribe
glasses Marcolin Group has introduced a new sunglasses printed on a 3D printer - 3D CMPT.
Video taken from YouTube channel MarcolinEyewear
Follow us on social networks: VKontakte, Telegram, Instagram, YouTube, Ya. Zen, Twitter, Facebook to be the first to receive the most interesting materials!
Adidas once again showed the world its vision of sports accessories. The goggles weigh just 20g and feature a flexible nylon base for improved ventilation. The matte black frame of the glasses is treated with a special rubber coating for cushioning during active physical exertion.
Limited edition 3D CMPT glasses for every sport, from cycling and running to tennis and golf.
The company said that the creators have chosen a new generation of 3D printers to make glasses. A 3D Printing Industry official said that the Marcolin Group will not reveal the platform or manufacturer due to a lot of competition.
3D CMPT Sunglasses
The 3D CMPT frames combine aesthetics and functionality that go beyond design and comfort. Each element has been designed with dynamics in mind, including weight and volume.
A weight-reducing lattice frame surrounds a mirror-coated spherical solar control glass.
The lens itself protects against UV rays, has multiple base curves, and is made from a lightweight polycarbonate material.
Adidas has also included anti-slip contact points for comfortable wear during training and competition.
In a press release, Adidas wrote: "In adidas development, characterized by a constant search for new methods of production and materials, a new frame has appeared, designed to make its mark on the evolution of glasses through the most modern technologies. The Adidas Sport 3D CMPT eyewear opens up a new dialogue with professional athletes and provides new opportunities for innovators."
The 3D CMPT Sunglasses have been produced in a limited edition of 150 pieces and will be available exclusively on Adidas.com during Creative Club week starting August 23, 2021. Naturally, buyers expect a product to have a high price. A pair of 3D CMPT glasses will cost $415.
A selection of articles from the "Knowledge Base" section from the LIDER-3D website: 1) How 3D technologies are used in different industries • 2) How to choose a good portable 3D scanner • 3) 3D printing in jewelry: how does it work? • 4) SLA vs. SLS - a simple explanation
3D printing of consumer goods
Video taken from the adidas YouTube channel
Sportswear fans already know that big brands like Adidas have already integrated 3D technology into their production. Late last year, the company released what it calls its "ultimate sneakers."
The Futurecraft "STRUNG" model with Futurecraft insoles is made using Carbon printing technology.
Video taken from the adidas YouTube channel
Just recently, Adidas and Carbon released the latest version of their 4D 3D outsole, the 4DFWD. The 4DFWD is currently being worn by athletes at the Tokyo Olympics and will be available to users around the world starting August 12th.
Video taken from adidas YouTube channel
Multinational footwear manufacturer New Balance has previously released a 3D printed sneaker called the FurlCell Echo Triple.
The forefoot is 3D printed by Formlabs SLA.
New New Balance 990 Sport look with 3D printed heel.
3D printed demo balls crafted from New Balance x Formlabs Rebound resin.
All current Formlabs brand printers can be purchased from LIDER-3D.
Main range:
Formlabs Form 3 - Check current price ◄

More interesting articles

16

Subscribe to the author

Subscribe

Don't want

Hello everyone! In this article, if you can call it that, there will be nothing special, just an experience of creating .