The best 3d scanner
The Best 3D Scanners in October 2022 (Hobbyist & Commercial)
3D scanners are changing how we make, design, and see the world. By scanning nearby objects, people and almost anything else, these scanners create entire 3D digitized models of physical objects in just seconds.
Sometimes called 3D laser scanners, 3D model scanners or 3D object scanners, 3D scanners are integral for custom 3D printing and other fun home 3D scanner uses, for saving historical artifacts as digital models, dentistry – and so much more.
What's more, you can now pick up powerful low-cost 3D scanners for just a few hundred dollars, and if you're content with low-quality basic scans, you can even use your phone!
BUDGET PICK
Revopoint POP 2
Versatile and portable with handheld & stationary options and color scanning
Up to 0.05mm accuracy on a small scanner that costs under $1000
Available at:
Revopoint here
MID-RANGE PICK
Matter & Form V2
Accurate 0.
1mm scans
Powerful stationary scanner for 25x18cm objects
Comes with specialized software
Available at:
Amazon hereDynamism here
PREMIUM PICK
Shining 3D EinScan H
0.05mm scan accuracy and 0.25mm resolution with 1.2 million points/s
Infrared scan sensors make scanning darker colors easier
Available at:
Dynamism here
To rank the best 3D scanners, we considered:
Accuracy and resolution
Scan area (benefiting handheld scanners that can scan larger areas)
Scan speed
Ease of use
Price-performance ratio
Versatility
We also separated our 3D scanner reviews into three main price categories:
3D scanners under $1000
Mid-range 3D scanners ($1,000 to $10,000)
Industrial 3D scanners ($10,000+)
The Best 3D Scanners for All Prices Ranges
| 3D Scanner Brand & Name | Type of 3D Scanner | Price | Where to buy and where has the best price |
| --- | --- | --- | --- |
| Revopoint 3D POP 2 | Structured Light | $699 | Revopoint 3D here |
| Creality CR-Scan 01 | Structured Light | $700 | Creality Store here |
| SOL 3D scanner by Scan Dimension | Desktop 3D Scanner | $699 | Amazon here |
| BQ Ciclop | Laser Triangulation (DIY) | Depends if pre-assembled or DIY | Amazon here |
| Matter & Form V2 | Desktop 3D Scanner | $749 | Amazon here |
| Shining 3D EinScan SE | Desktop 3D Scanner | $1,399 | Amazon here |
| EinScan H | Handheld | $4,999 | Dynamism Store here |
| Shining 3D EinScan Pro 2X Plus | Handheld 3D Scanner | $6,800-$8,300 | Amazon here |
| Scantech iReal2E | Handheld 3D Scanner | $3,980 | Scantech Site |
| Artec EVA | Industrial 3D Scanner | $19,800 | |
| Scantech SIMSCAN | Portable 3D scanner | Contact for price | Scantech site |
| Scantech KSCAN | Handheld 3D Scanner | Contact for price | Scantech site |
But before we get into the best scanners, here's a quick intro to how 3D scanners work:
How Does a 3D scanner Work?
3D scanners work by creating point clouds based on images taken of a solid surface or object — basically huge numbers of data points that denote where an object is — to create a 3D model of the scanned part.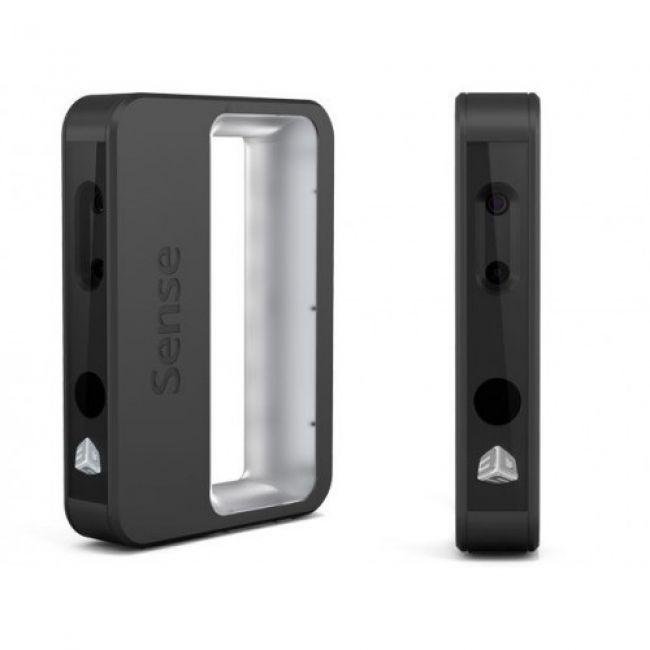 Millions of individual data points make up the model, which you can then export as an STL, OBJ or other file type and import to CAD software, or 3D print via a slicer.
3D scanning includes several different technologies, such as Structured Light scanning and Laser Triangulation, while some are stationary and some are handheld.
The Best 3D Scanners 2022: Budget Picks
3DSourced is reader-supported. When you buy through links on our site, we may earn an affiliate commission. Learn more
Revopoint POP 2
Price: $699 — Available at Revopoint Official store here
Precision: 0.05 mm
Scan Speed: 10 FPS
Minimum Scan Volume: 20 x 20 x 20 mm
Single Capture Range: 210 x 130 mm
Working Distance: 150 – 400 mm
Point Cloud Distance / Single-Frame Accuracy: 0.15 mm
We were extremely impressed with the Revopoint POP 2 when we tested it recently, and overall we feel it's the most versatile and powerful 3D scanner under $1,000.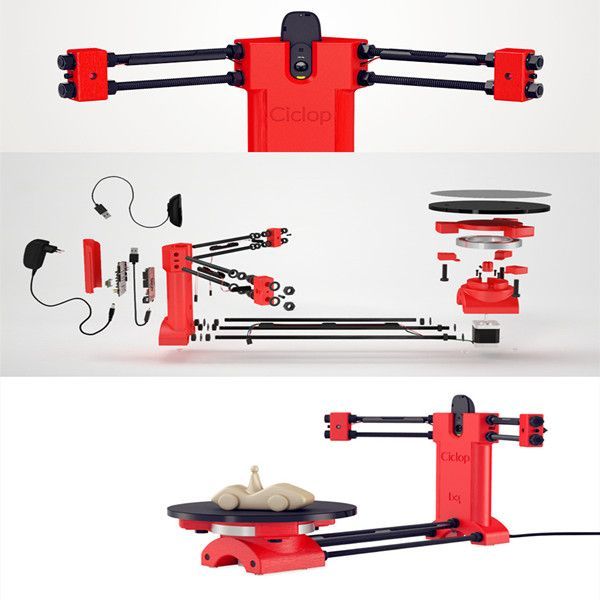 While there are some great stationary scanners like the Matter and Form V2, the Revopoint's usability for turnstile stationary scanning, color scanning, as well as handheld scanning for faces and bodies makes it the ideal multi-use 3D scanner.Scanning a toy with the Revopoint POP 2 using the "fill holes" setting (often leave it off and sort any errors in post).
The POP 2 notably upgrades on the original POP, with precision increased from around 0.3mm to up to 0.05mm (our tests found it to be in the 0.07mm range, which is still very impressive), a slightly faster scan speed of 10fps vs 8, and a slightly smaller minimum scan volume of 20mm³ vs the original POP's 30mm³.Testing the precision accuracy of the Revopoint POP 2 during calibration.
It scanned color images well when we tested it on some kids toys and a multi-color Rubik's cube, and scanned faces accurately (but you need to change some settings around to prevent any noise distorting your scanned faces).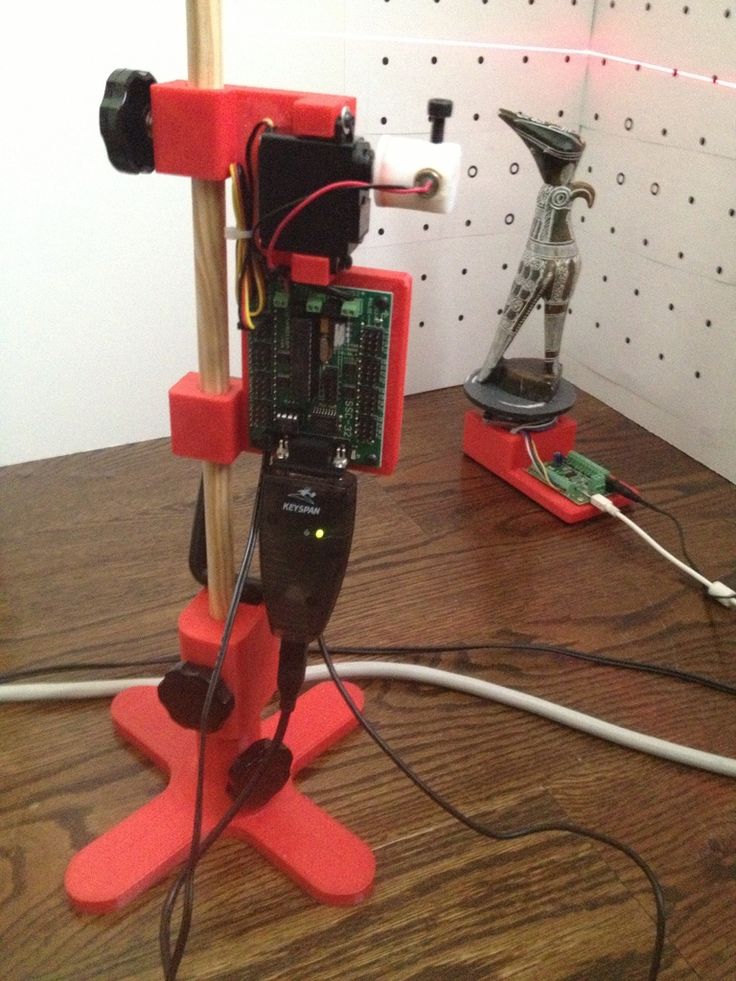 Don't automatically mesh clouds however when face scanning – it'll create distorted scans such as this one we tried.
Overall, we highly recommend it as one of the best scanners in its price range – standard scanning, face scanning, color, or entire body scanning, it's good for all uses.Testing the color 3D scanning and editing the scan in Revo Studio software.
Compare the scanners: Revopoint POP vs POP 2
---
Creality CR-Scan 01
Price: $650-$700 — Available at Creality Official store here / Amazon here
Accuracy: 0.1 mm
Resolution: 0.5 mm
Max Scan Volume: 536 x 378 mm
Technology: Structured light
Speed/Frame Rate: 10 FPS
With a cemented reputation for offering some of the best budget 3D printers on the market today, Creality aims to do very much the same with the affordable Creality CR-Scan 01 3D scanner.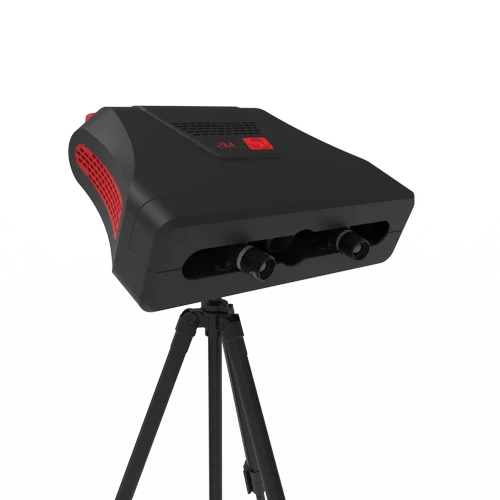 It employs structured light technology to feel out the shape, size, and texture of a 3D object to generate a digital reproduction.
Creality has fitted the CR-Scan 01 with both a handheld mode and a stationary turntable mode, each with their own set of advantages:
In handheld mode, the scanner quickly works through larger objects, offering flexibility and on-the-fly capture.
Switch to turntable mode, and the tripod-mounted Creality CR-Scan 01 creates an automated, higher-accuracy 360° scan as the object rotates on the turntable.
Both modes offer accuracy of 0.1 mm, a resolution of 0.5 mm, 24-bit high-fidelity color mapping, and marker-free scanning thanks to a clever alignment algorithm.
The Creality CR-Scan 01 also makes smart adjustments based on light levels, making it suitable for low-light environments. These are all excellent features for the asking price and sufficient for most hobbyist scanning needs, although somewhat lacking for high-precision scanning.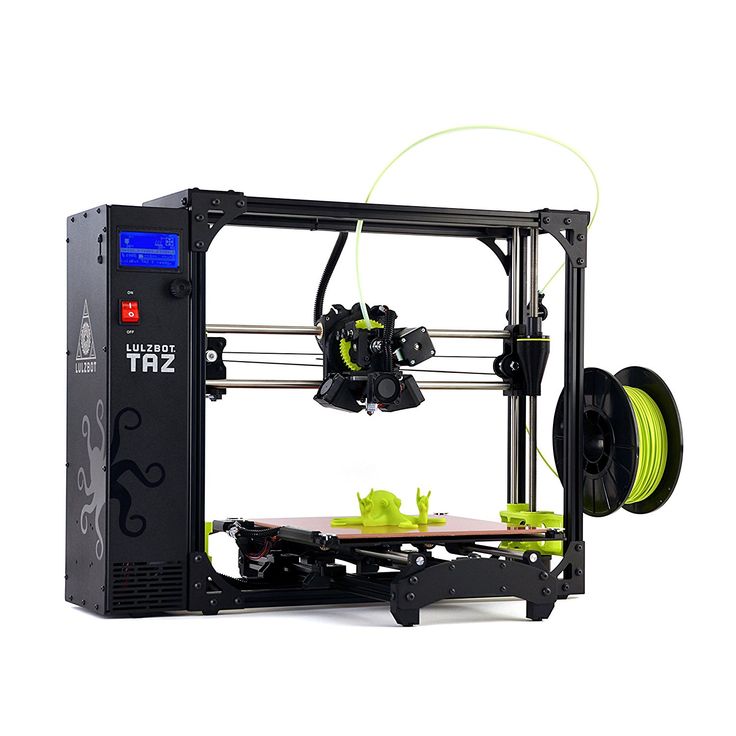 However, where the Creality CR-Scan 01 shines is a distance of 400-900 mm, which outclasses most budget 3D scanners, with a scanning area of 536 x 378 mm. In practice, you can scan medium to large objects further away with a larger frame size, which speeds up the scanning process considerably.
Finally, the bundled Creality's CR Studio is a robust post-processing suite with all manner of editing, repair, color, and smoothing tools to polish off digital scans ready for 3D printing or other applications. It's a solid competitor to the Revopoint scanners.
---
SOL 3D Scanner by Scan Dimension — Perfect desktop 3D scanner
3D scanner price: $699 — Available on Amazon here
Accuracy: up to 0.1 mm
Scan volume: up to 170 x 170 mm
Scan speed: 10 min in Turbo mode, 20 min normally
SOL is a desktop laser scanner designed for scanning small yet detailed items, with good accuracy for the price.
The actual scanner itself weighs just 7 pounds, and can scan objects that weigh up to 2kg. This light weight makes it a perfect portable 3D scanner if you're on the move.
It has two different modes depending on what you're scanning:
Near mode: for scanning objects of up to 100 mm in diameter and 100 mm in height.
Far mode: for scanning objects up to 170 mm in diameter and 170 mm in height.
The SOL boasts an accuracy of around 0.1 mm, extremely good for the price range. You scan objects with their included SOL 3D software, and can then easily export your scans as OBJ or STL files and import them into a 3D slicer for 3D printing.
Danish company Scan Dimension promotes this impressive 3D visualizer not only for makers or hobbyists, but also for entrepreneurs. They sell the SOL 3D scanning camera as a way for entrepreneurs to show their products off with a 360-degree view, with easy ways to share these scans on Facebook.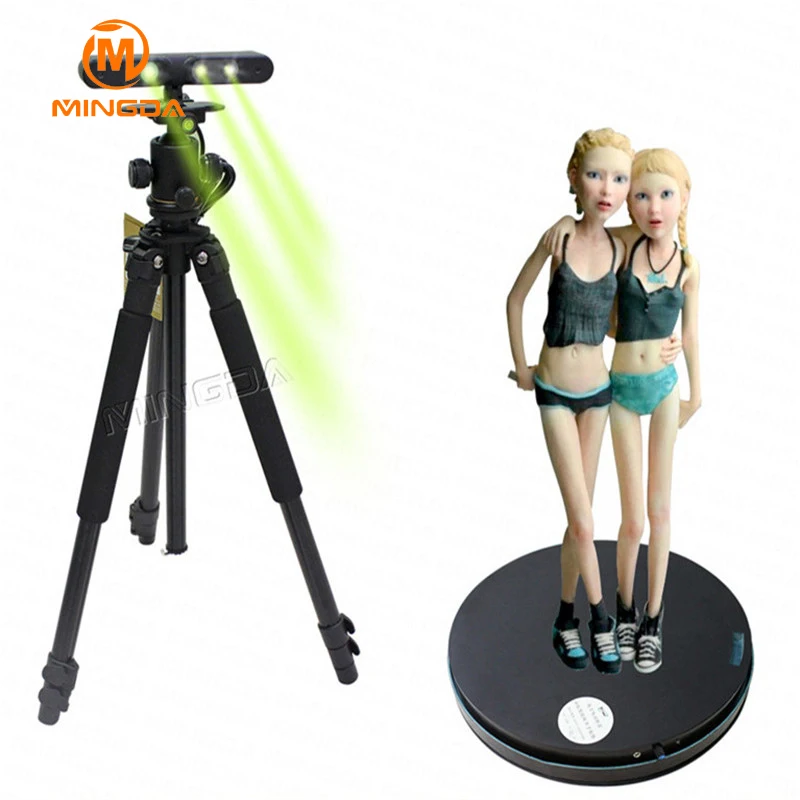 Additionally, Scan Dimension say the scanner is also perfectly suited for education, for teaching students STEM education through scanning and editing structures.
Overall, it's well suited as both a 3D scanner for businesses, as well as a home 3D scanner for hobbyists.
---
BQ Ciclop — Home-made 3D scanner for technical makers
Price: Depends if buying or DIY — Available on Amazon here
Resolution: 0.5 mm
Scan time: 2-8 mins
Maximum scan volume: 200 x 200 x 205 mm
3D scanning technology: Laser Triangulation
Unlike many scanners, this DIY 3D scanner is open source, with all the files hosted on Thingiverse for you to download and print. The Ciclop has proven popular, with tens of thousands of downloads on Thingiverse alone.
BQ provides all of the information, software, and electronics for this 3D scanner kit which you can modify for yourself on their website, and other variations have been brought to market offering tweaks and improvements on the opensource design, such as CowTech's version.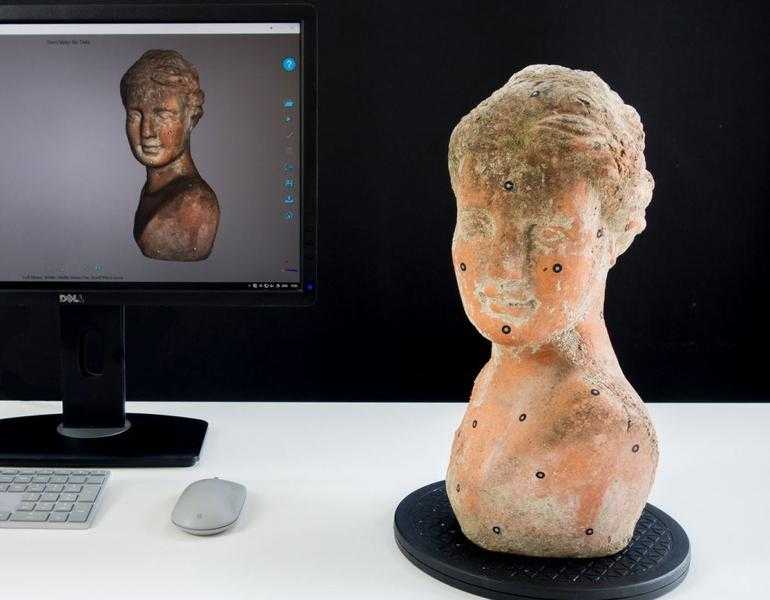 Read more: the other variations of Ciclop feature in our DIY 3D scanners review
The BQ Ciclop 3D scanner uses laser triangulation technology, and can scan objects in a few minutes. Moreover, the simple and well-written instructions allow anyone, no matter their skill level, to build the scanner in under an hour. BQ host downloads for all the drivers for the camera and firmware that you need, and developed a specialized 3D scanner app called Horus for scanning on your Ciclop.
It's simple but effective. It's made from ten 3D printed parts (download .STL files from Thingiverse), a threaded rod, a Logitech C270 webcam, two line lasers, and a turntable platform with a stepper motor, though you can edit and modify it as you wish.
The BQ Ciclop scans a volume of 250 x 205 mm and has a resolution of up to 0.5mm. It can be connected via USB or Bluetooth, making it a versatile and affordable low-cost 3D scanner for beginners.
Spanish tech company BQ have released this open-source 3D scanner which you can put together inexpensively.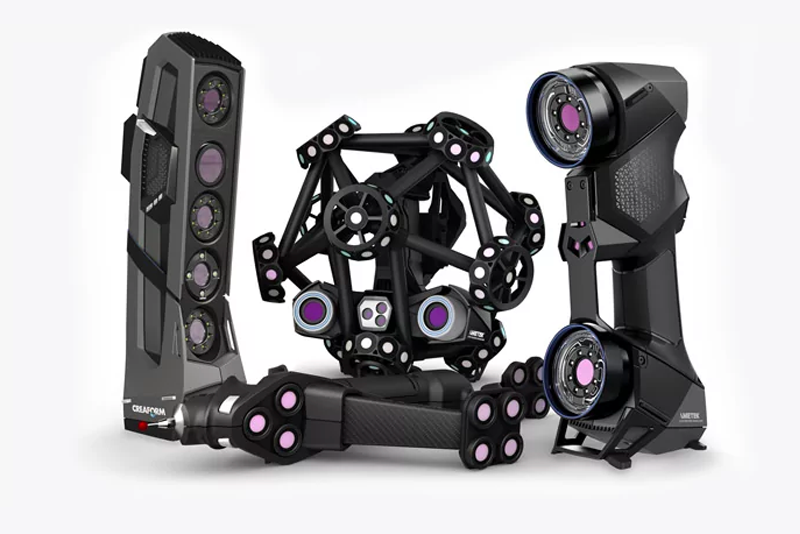 ---
Matter and Form V2 MFS1V2 — Portable 3D scanners under $1,000
3D scanner cost: $749 — Available on Amazon here / Available on Matterhackers here
Scan volume: 250 x 180 mm
Accuracy: within 0.1 mm
Scan speed: up to 65 seconds
The Matter and Form V2 is an updated version of the original desktop 3D scanner made by the Canadian tech startup. This low-cost 3D scanner uses 2 lasers and an HD-CMOS sensor to produce high-resolution, full-color 3D scans.
The scanner has an accuracy of up to around 0.1mm, and is easily connectable to your computer through USB to transfer over your scans.
For editing scans, the Matter and Form scanner comes with specialized Mfstudio, and +Quickscan which boosts scan speed to up to 65 seconds. You can then export the STL file and print them with your 3D printer.
The 3D scanner can scan objects in sizes up to 25 cm tall and 18 cm in diameter.
It is compatible with every major OS, so Mac users needn't worry. What we like most however is that it folds up, making it a perfect portable 3D scanner.The new Matter and Form scanner can generate a full 3D scan in 65 seconds.
---
Medium Priced 3D Scanners: $1,000 to $10,000
Shining 3D EinScan SE — Best 3D scanner under $2000
Price: $1,199 — Available on Amazon here / Dynamism here
Scan accuracy: within 0.1 mm for single shots
Scan range: single scan = 200 x 150 mm, maximum scan range = 700 x 700 mm
Scan speed: a single shot is under 8 seconds
Shining 3D have made a name for themselves in the medium-range 3D scanning sector, with cheaper options such as the EinScan-SE as well as more expensive scanners like the EinScan Pro 2X Plus.
The EinScan SE is one of the best 3D object scanners in its price range. It scans in around 8 seconds (versus 4 seconds for the EinScan SP) and can complete a whole 360-degree scan in its Automatic Scan mode in around 2 minutes.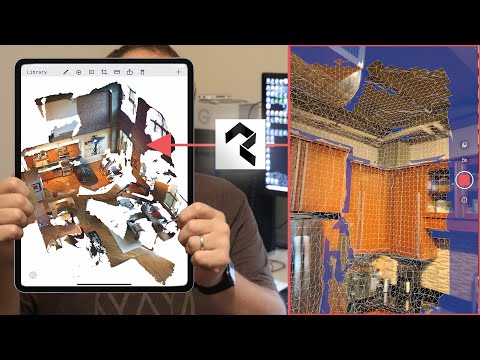 It can scan objects up to around 200 mm wide and 150 mm tall, with a single shot accuracy of within 0.1 mm — making it one of the best 3D scanners under $2000. For a fixed scan without the turntable, max scan volume increases up to 700 x 700 mm.
Overall, this 3D model scanner is accurate, reliable, and makes it easy to quickly scan stationary objects and 3D print them with ease. The EinScan SP — described in more detail further in this guide — is more precise, but costs more. Therefore, it's a matter of your budget and how important this additional quality is for you personally.
---
EinScan H
Price: $5,000 — Available at Dynamism here
Accuracy: 0.05 mm
Resolution: 0.25 mm
Max Scan Volume: 780 x 900 mm
Technology: Hybrid structured light LED and infrared
Speed/Frame Rate: 1,200,000 points/s, 20FPS
The EinScan H is a professional-grade handheld 3D scanner that combines speed, accurate reproduction, and ease of use with a particular emphasis on bringing usually tricky 3D objects to digital life.
The EinScan H combines two light sources – structured LED and invisible infrared – to cover a wide range of 3D objects, modes, and applications.
For example, the infrared light excels at capturing the detail and intricacies of darker colors, notably those of human hair and general facial scanning – with dark hair the bane of any experienced face 3D scanner.
An added benefit of the invisible light is more comfortable scanning for the subject and no on-face glare to complicate the scanning process.
Manufacturer Shining 3D has also gone to considerable lengths to merge impressive accuracy and resolution along with fast scanning speeds. The EinScan H pushes a resolution of 0.25 mm with accuracy as low as 0.05 mm, all at roughly 1,200,000 points/s at 20FPS.
The scanner also features authentic, full-color reproduction with solid texture mapping that translates to systematically excellent scan quality.
According to Shining 3D, it's possible to scan an entire human body in fine detail in a matter of minutes.
A generous 420 x 440 mm single capture range helps keep things speedy even when scanning large objects aided by an optimized alignment algorithm to keep scans crisp and precise.
Although priced at $5000, the EinScan H falls roughly in the affordable range and is a versatile tool suited for healthcare, art, forensic science, and other professional 3D modeling applications.
---
Scantech iReal 2E Color 3D Scanner — A complete 3D scanning solution
Price: $3,980
Scanning area: Up to 850 mm x 800 mm
Accuracy: Up to 0.100 mm
iReal 2E is a professional handheld color 3D scanner manufactured by Scantech. The company specializes in developing, manufacturing, and selling intelligent visual inspection equipment and sells an entire range of 3D scanners for various applications and sectors.
The iReal 2E uses red VCSEL structured light technology to offer you a simple and safe 3D scanning experience, eliminating the issues of dazzling lights and difficulties in hair 3D scanning.
Without attaching markers, a quick and accurate texture and geometry scan can be achieved with a wide scanning area of 850 mm x 800 mm, 750 mm depth of field, 1.5 million measurements per second, and at 0.100 mm accuracy. Mixed alignment modes meet various scanning situations.
---
Shining 3D EinScan SP
Price: $2,599 — Available on Amazon here / Dynamism here
Scan range: single scan = 200 x 150 mm, max scan range = 1200mm³
Accuracy: within 0.05 mm for single shots
Speed: single shot speed of under 4 seconds
The second Shining 3D medium-range 3D scanner in our ranking, the EinScan SP is more accurate than the EinScan SE, with accuracy up to 0.05 mm rather than 0.1 mm, and scans single shots in half the time (4s vs 8s).
To save you time: double the price, double the accuracy — and half the scanning time.
The scanner uses white light scanning technologies to make very accurate scans of objects as small as 30 x 30 x 30 mm.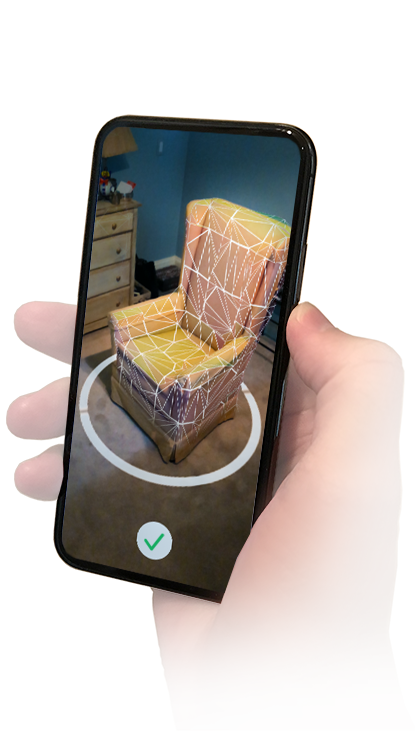 Full objects are typically scanned in less than a minute, and images in less than four seconds.
What's more, despite its cheaper price, many buyers have reported that it can compete with scanners costing ten times as much for scan quality. It also comes with a tripod for stationary object 3D scanning.
---
Shining 3D EinScan-Pro 2X Plus — One of the best 3D scanners around
Price: $5,999 (full industrial pack costs extra) — Available on Amazon here / Dynamism here
Accuracy: up to 0.04mm in fixed scan turntable mode
Volumetric accuracy: 0.3mm/m
Speed: fixed scan single shot in under 0.5 seconds / up to 30fps with handheld use
The EinScan-Pro 2X Plus costs more than the EinScan SP and H, and can be used as a fixed or handheld 3D scanner to capture various-sized objects.
It uses white light 3D scanning technologies to increase accuracy and scan faster (sub 0.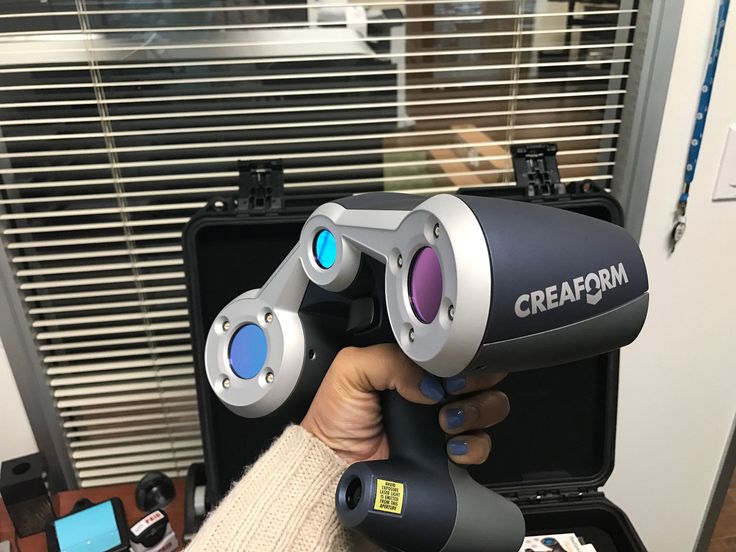 5-second single shot scans), creating high-quality scans in record time.
You can simply hold the scanner and point it towards the object or room you want to 3D scan, and instantly record crisp scans of your surroundings. Whereas lower-cost scanners limit you to desktop sizes, the Pro 2X Plus frees you to capture entire rooms.
You may want to 3D scan a car, your friend, or even turn it into a baby 3D scanner for a 3D memory of your child before it grows up!
You retain the accuracy however with the scan volume freedom, with accuracy up to 0.03mm for objects less than 4m away.
---
Industrial & Professional 3D Scanners: $10,000+
Artec EVA — Powerful handheld 3D scanner
Price: $19,800
Accuracy: up to 0.1 mm + 0.3mm/m
Resolution: up to 0.2 mm
Speed: captures up to 16fps in HD and full-color
Working distance: 0.4m – 1m
Creating new innovative solutions in 3D technology since 2007, Artec 3D is a global leader in handheld 3D scanners.
Their most popular scanner, the Eva, is a handheld, industrial 3D object scanner, and an excellent solution for medium-sized objects ranging from motorcycle wheels to car exhaust systems, human busts and facial close-ups.
Light, quick, and versatile, Artec Eva captures precise measurements in high resolution, while structured light scanning technology makes the scanner safe to use in any situation – even difficult to scan surfaces such as black or shiny surfaces are effectively captured by Eva.
Ideal for use in industries including product design, heritage preservation, healthcare, and reverse engineering, this market leader can accurately scan full-color objects at a range of up to 100cm with color and texture, making it a great solution for fast and accurate 3D models.
---
Scantech SIMSCAN — hand-sized portable 3D scanner
Accuracy: up to 0.020 mm
Resolution: up to 0.025 mm
Scanning area: up to 410 x 400 mm
Scantech's SIMSCAN consists of two sets of industrial black & white cameras, a laser projector with 30 laser lines, and a set of multifunctional buttons.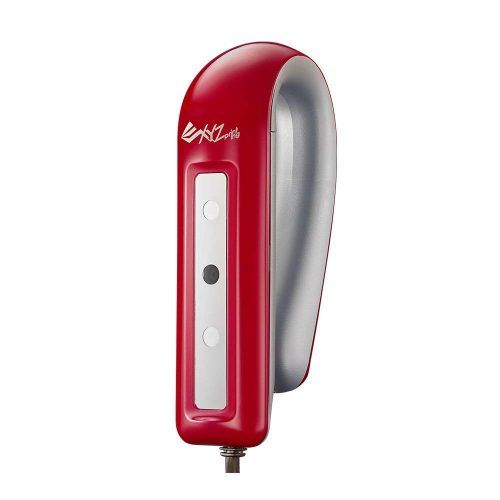 Its high-quality components ensure fast and stable 3D scanning.
It features three scanning modes: ultra-fast scanning, hyperfine scanning, and deep hole scanning optimized for different scanning situations. With its intelligent auxiliary lights, it can even scan darkly lit objects.
Powered by a robust algorithm, SIMSCAN's measurement rate can be up to 2.02 million measurements/s with an accuracy of up to 0.020 mm. It has a field of view of up to 410 x 400 mm.
With a net weight of 570g, SIMSCAN can be among the top list of the most lightweight and portable 3D scanners in the market. It is designed for both beginners and professionals to conduct 3D scanning regardless of ambient conditions. Thanks to its compact size and portability, SIMSCAN enables on-site and efficient 3D scanning, and it suits well for scanning hard-to-reach areas.
Made from aerospace-grade aluminum-alloy, Scantech's SIMSCAN scanner is sturdy and durable and performs well in heat dissipation. Its material ensures a prolonged use of the 3D scanner.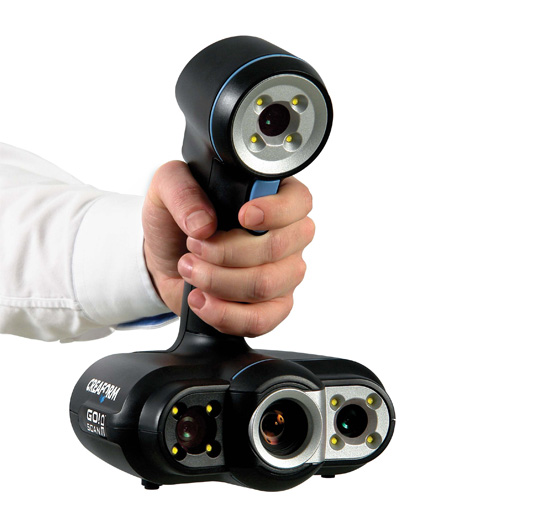 With an anti-slip shell and a hand strap, you can orient this scanner in any way you choose to suit your 3D scanning needs.
---
Scantech KSCAN-Magic — industrial handheld 3D scanner
Resolution: 0.010 mm
Scanning rate: 1,350,000 measurements/second
Scanning area: 1440 x 860 mm
Esteemed 3D scanner company Scantech have announced the launch of their latest KSCAN 3D scanner, with 5 five different modes for all types of scanning. These include a large area scanning mode, fast scanning mode, photogrammetry, as well as a fine scanning mode. Featuring both infrared lasers and blue laser technologies allows the KSCAN-Magic to accomplish a wide range of scanning functions effectively.The KSCAN-Magic 3D scanner can handle large, industrial objects like plane parts, as well as intricate, smaller objects.
It scans accurately, quickly, can handle small and large objects, and is designed to accelerate time-to-market. The 41 equipped laser lines can handle an incredible 1.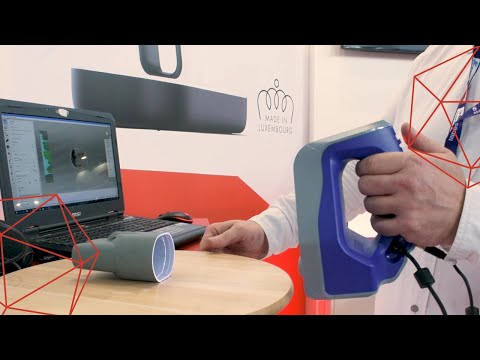 35 million measurements per second, creating detailed scans in record time.
If you are looking for leading-edge 3D solutions for your business, KSCAN definitely surpasses expectations with its resourcefulness and precision.
---
Are 3D Scanners Worth It?
3D scanners are almost always worth the investment, but to decide which is best for you, you'll need to consider your budget, needs, and priorities. Keep an eye on scan resolution quality and accuracy, scan speed, and price to find a 3D scanner that's worth it for you.
Buyer's Guide – Things To Consider When Buying A 3D Scanner
Budget
Expect to pay anywhere from $400 to $200,000 for a 3D scanner. There are numerous options suited to all budgets dotted between those two extremes.
Entry-level hobby scanners suitable for 3D printing are available for less than $1,000, while more robust machines suited for light-professional scanning sell for around $5,000.
Should you want the cream of the crop scanners designed for the most-demanding industrial-level applications such as engineering, expect to pay more than $10,000.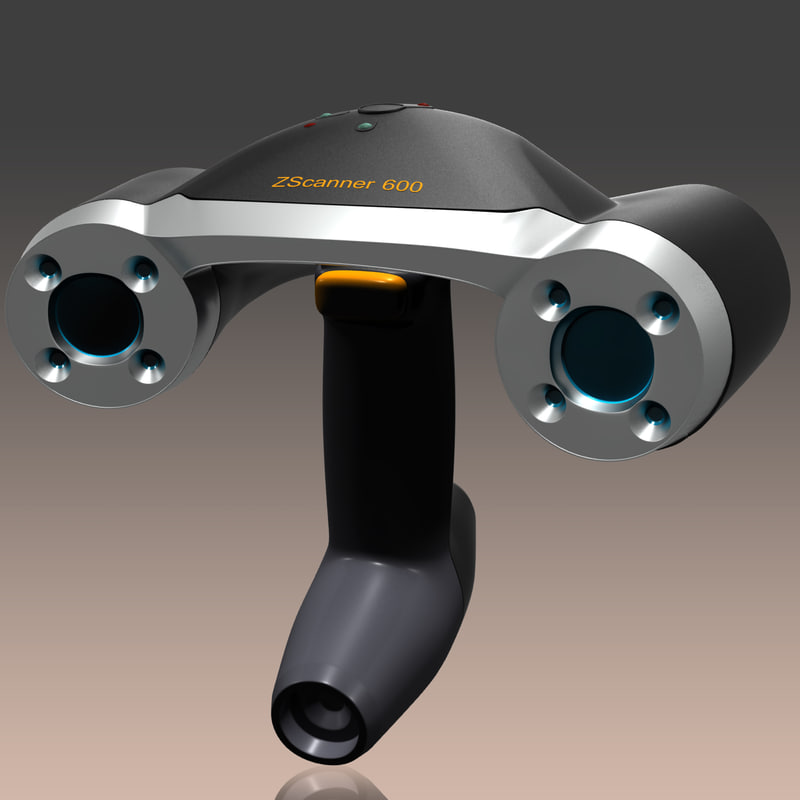 Speed
When applied to 3D scanners, speed refers to the rate at which a machine captures or scans a 3D object. Consumers and most professional 3D scanners record speed in points per second or frames per second. The higher the count, the faster the scanner.
If you're buying for a professional setting where productivity is critical, we recommend eyeing faster printers, which generally push points per second into the millions and frame rates around 20 FPS.
Resolution and Accuracy
Accuracy refers to how well the finished digital object matches its real-world counterpart. Accuracy pops up in specification sheets expressed in mm, which indicates to what degree the 3D scan sticks to the shape, size, features, etc., of the real-world object.
For a budget 3D scanner, 0.1-0.2 mm is a solid reference point, while much more expensive industry scanners can jump to as low as 0.009 mm on the most powerful devices.
Though similar to accuracy, the resolution refers to the smallest possible distance between points on a 3D scan.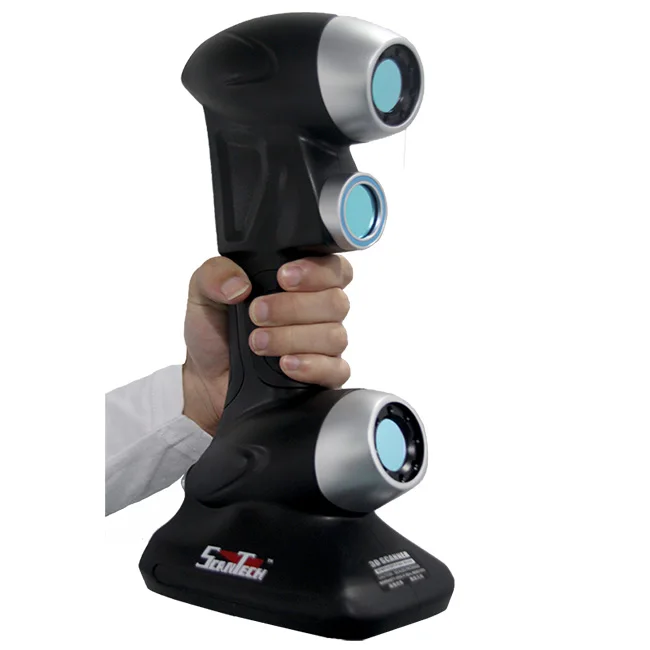 In layman's terms, a higher resolution delivers finer details and more intricate, faithful features. You'll find manufacturers refer to resolution in mm, a measure that balloons and shrinks based on the price of the 3D scanner.
Budget printers waver around 0.3-0.5 mm, while professional scanners can push resolutions as high as 0.1 mm.
Software and Connectivity
Connectivity refers to how a 3D scanner allows you to scan, export work, and interface with a PC or other device as well as the source of power. In most cases, USB is the standard, with some outliers offering Bluetooth.
If you're looking for portability, consider handheld scanners that pair with Smartphones and power banks so you can quickly scan on the move.
Software tied to 3D scanners come in all shapes and sizes, from barebones scanning tools to advanced suites with all manner of post-processing touch-up options.
It goes without saying that software capabilities match the target audience of each scanner.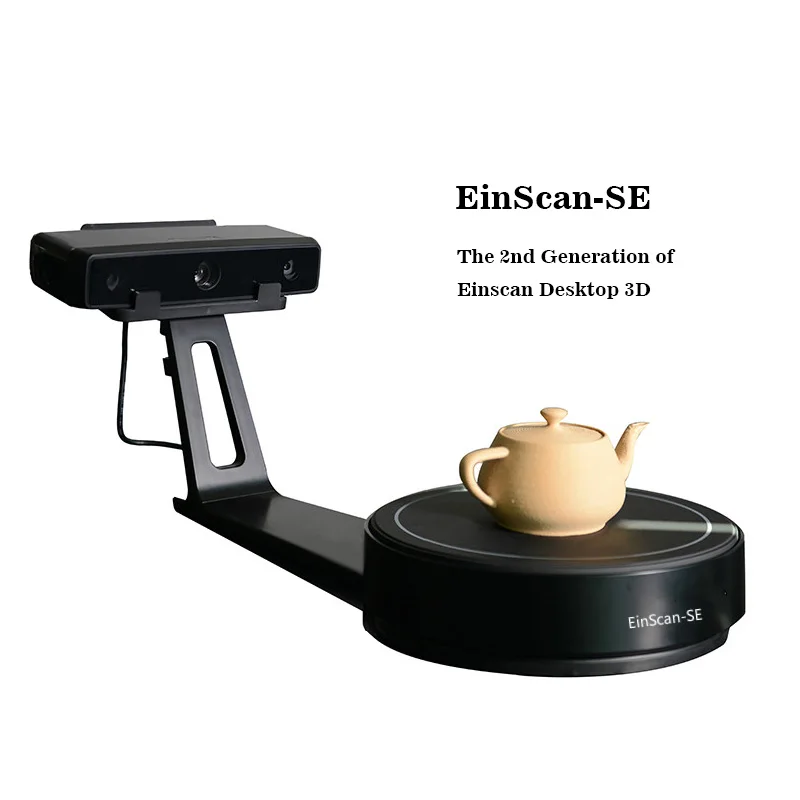 Pay more for a professional scanner, and the software generally features a more robust set of tools.
Use Case
Entry-level 3D scanners are a good option for hobbyists looking to scan objects with 3D printing in mind. They are just about affordable and work well, although they lack the detail and speed of pricier models.
We recommend handheld 3D scanners for larger models. These grant a degree of freedom and movement to capture all the detail and breadth of bigger objects. A large scan area helps speed up scanning large objects, too.
For small fixed object scanning, where capturing all the rich details and texture of a model tops your list of requirements, look to stationary scanners, ideally with a turntable, tripod, and an optimized alignment algorithm.
3D Scanning to 3D Print
3D scanners are often used to create 3D printable models, with 3D scanner and 3D printer setups allowing you to replicate almost anything in front of you. Simply use the 3D scanning camera to create a digital model of your object, and then 3D print the scan.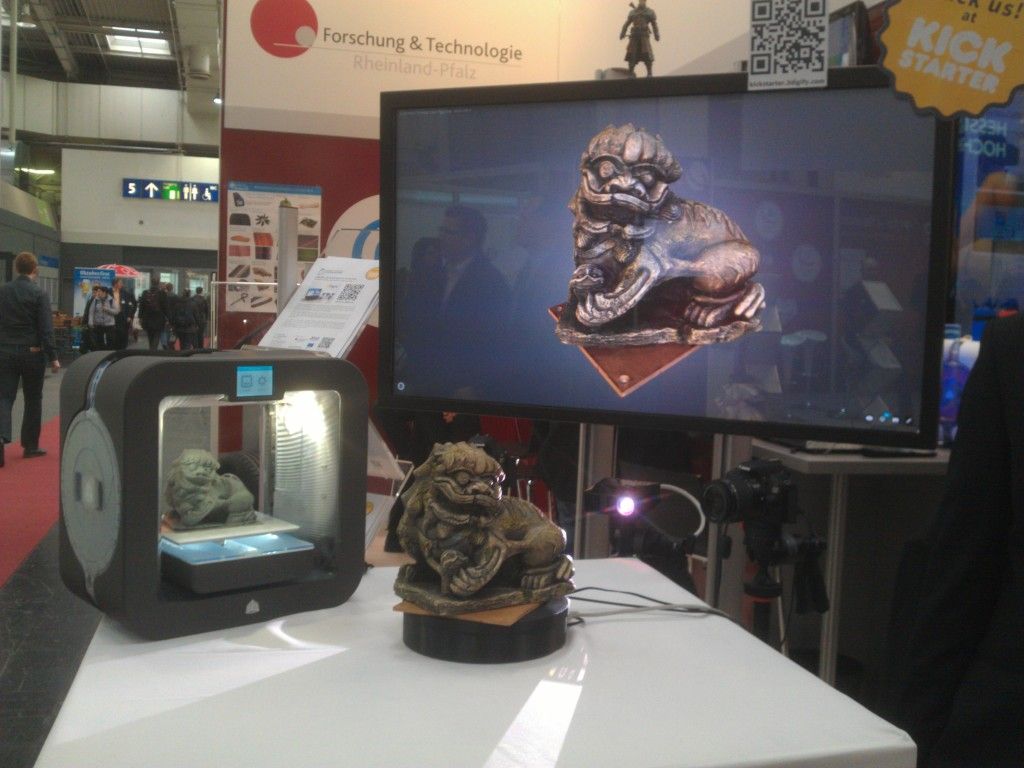 Large objects can be scanned using handheld 3D scanners and moved around the object's dimensions, and then sized down and 3D printed as a scale model. These 3D printer scanner combos offer almost limitless versatility.
3D Scanner Cost
Budget/entry-level
Thanks to efforts from companies like Creality and Revopoint, there's a concerted effort to lower the cost of entry and boost accessibility to 3D scanners.
It's now possible to buy a decent entry-level scanner for under $1,000, with ultra-budget options like the Phiz 3D scanner dropping as low as $400.
Even though the experience and features measure up to the price paid, budget 3D scanners offer everything needed to create decent quality scans suitable for hobbyist applications.
Read more: the top low-cost 3D scanners
Mid-range
Jumping up to the mid-range category, you'll find 3D scanners priced anywhere from $1,000 to $10,000. These are generally professional-grade machines with a range of tech, modes, and excellent scan quality, striking a balance between functionality and price.
Top-range/Industrial
The top-shelf 3D scanners. Expect to pay upwards of $10,000 for industrial-grade devices. These are very much no-compromise options boasting the peak in accuracy, resolution, and scan speeds for industry applications such as scientific measurements, reverse engineering, demanding 3D visualization, architecture, and rapid prototyping.
3D Scanner Uses
Medical: custom orthopedics, wheelchair and mobility aids, prosthetics, plastic surgery implants, protective equipment, realistic dummies for training.
Dental: bespoke implant and crown design suited to specific patients.
Jewelry: bespoke designs, repairs, and easy duplication/replication of damaged family heirlooms or discontinued jewelry with sentimental value.
Hobbyist 3D Printing: scanning real-world objects for reproduction using a 3D printer. Miniatures, cosplay, household items and repairs, toys, and other functional parts.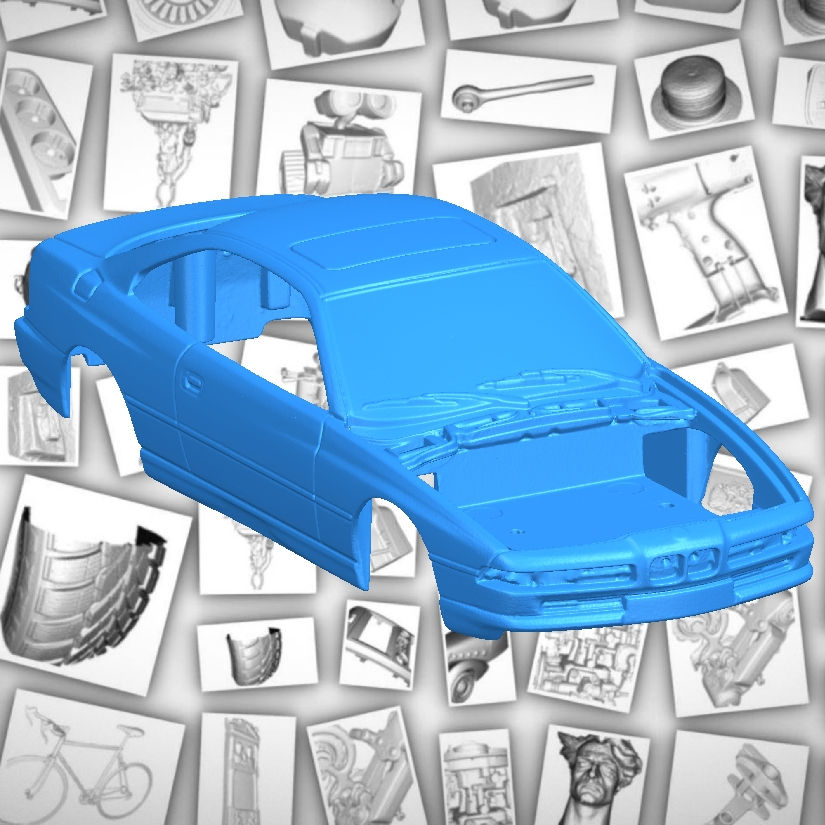 Virtual Reality and Game Design: real-world object/landmark scanning for use in VR environments, and body scans to create realistic animations and in-game models.
Engineering: tolerance testing, quality control, data analysis, fully textured models, infrastructure building and monitoring.
Reverse Engineering and Repairs: automotive, aviation, naval repairs, and restoration of antique or discontinued vehicles.
Archeology and Conservation: heritage conservation of objects, artifacts, and skeletal remains.
Architecture: building scanning for surveying, design, and reverse engineering degraded exteriors for repair.
Forensics: digital replicas of crime scenes to capture evidence such as shoe prints, blood stains, bullet holes, and so on.
---
Types of 3D Scanners
The main types of 3D scanners include:
Laser triangulation 3D scanners
Structured light 3D scanning
Photogrammetry
LIDAR (time-of-flight)
Metrology 3D scanners
Intraoral 3D scanners for dentistry
3D body scanners
The two most-used technologies are structured light scanning and laser triangulation.
Structured Light Scanning
Structured light scanning is commonly used in handheld 3D scanners and involves projecting patterns of light at an object, with two cameras usually placed on either side of the projector to measure the light pattern from each side and calculate precise differences at every point in their field of view.
These cameras measure how the light deforms the light pattern, and by triangulating these multiple different reference points across different images of the scan from each camera view, you can accurately calculate the dimensions of the object.
As a result of its portability and accuracy, dental 3D scanners typically use structured light scanning to scan patients' mouths and create dental implants and models. Beyond this however, architects and historians are using these types of 3D scanning to keep digital records of priceless historical monuments, and NASA even use it to map interplanetary terrains.
However, the use of projected light makes it very sensitive to the lighting conditions in the scanning environment, so working outside or in other similar environments can be difficult.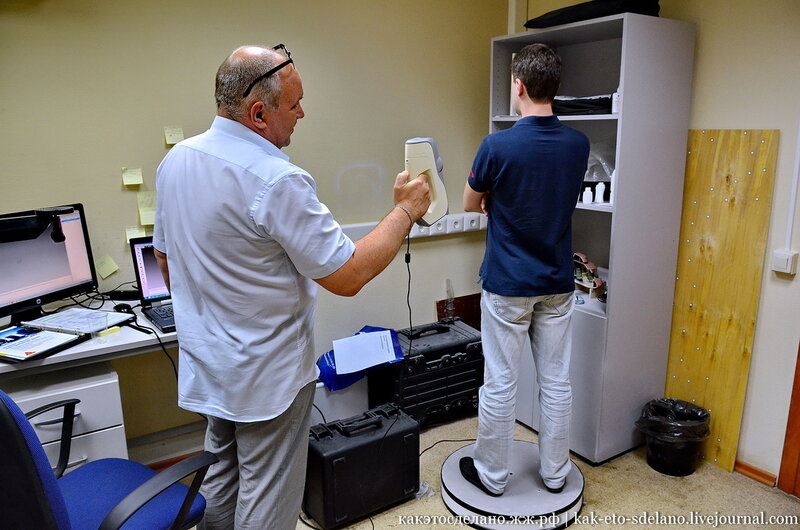 Laser triangulation
Laser scanning involves projecting a laser point on an object and then using sensors to capture the reflections to gather data on the object's size. Based on the reflection angle from the laser's sensors, the 3D scanner can create accurate textures and surfaces using trigonometric functions.
However, because it works off reflections it can be ineffective if scanning shiny or reflective surfaces, and won't work well with anything transparent.
Structured light scanning is generally considered more accurate than laser scanning, with less noise in scans.
LiDAR 3D scanning and Time of Flight 3D scanning
Another form of 3D scanning, and the technology used in the latest iPhone 12 Pro, is LiDAR. Light Detection and Ranging involves shooting out light beams and calculating the object's area — based on the speed of light — on the time taken to reflect back to the Lidar 3D scanner.
These are very similar to time-of-flight 3D scanners.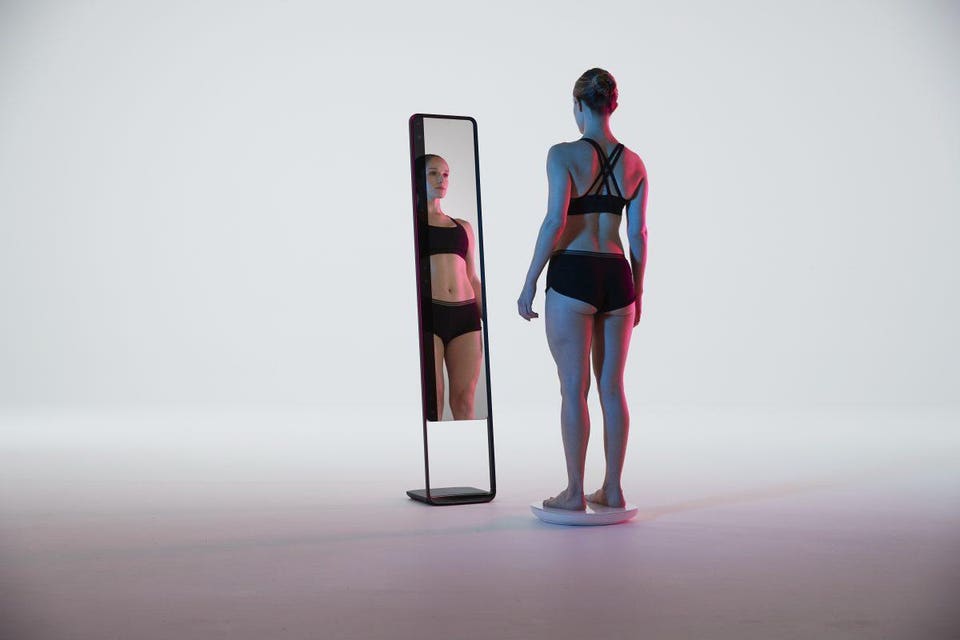 These scanners shoot light pulses, calculating the time of flight for each pulse to create a 3D visualization — or point cloud. They're commonly used to map terrains, measure real estate, and in architecture and construction.
Handheld 3D Scanners
Portable and versatile by design, handheld scanners allow you to efficiently and freely scan large objects, narrow spaces, or all the details of a human subject, for example.
Stationary 3D Scanners
Fixed scanners are a solid option if you plan to scan small objects and want the device to do most of the heavy lifting. They generally come with a stand or tripod and turntable. Automated scanning is also typically part of the deal here, with different modes of alignment to choose from.
3D Body Scanners
As the name implies, 3D body scanners are specifically designed to capture a full 3D scan of human bodies.
Towering machines, usually priced in the tens of thousands of dollars, 3D body scanners provide a fast and accurate 3D body scan for various applications, including health, fitness, animation, and more.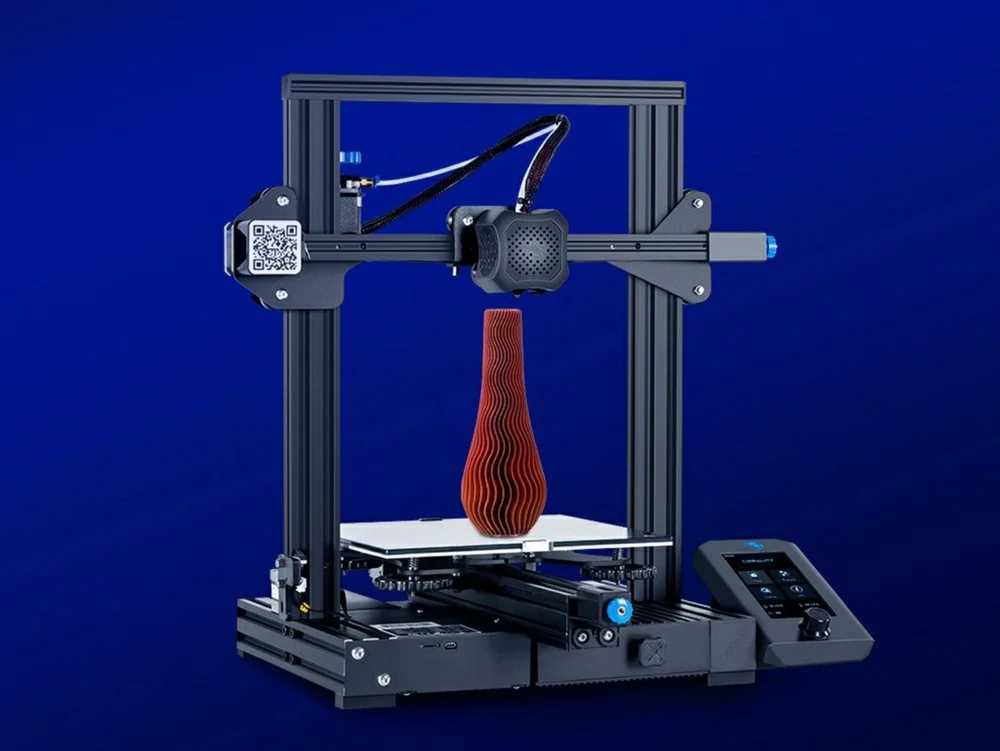 Read more: our feature story on 3D body scanners.
3D Scanner FAQs
Which is the Best 3D Scanner?
For those on a budget, our top pick is the Revopoint POP. It's versatile, portable, affordable, and offers a solid level of accuracy for the price.
The EinScan H is a solid mid-range option for businesses and professionals looking for fast, highly-accurate printing.
Finally, if you want the best on the market today and have the budget to spare, Scantech's SIMSCAN and KSCAN or the Artec EVA are all top-shelf options for the most demanding applications.
Who Makes the Best 3D Scanner?
Revopoint with their POP 3D scanner range, along with Creality's low-cost scanners, make some of the best 3D scanners for hobbyists at home.
Companies like Artec, Shining 3D with their Einscan range, Scantech, and Creaform are known for high-quality commercial scanners.
What Is The Best 3D Scanner For Small Objects?
We recommend a stationary 3D scanner like the BQ Ciclop for affordable home scanning, and the Shining 3D EinScan SP for professional small object scanning.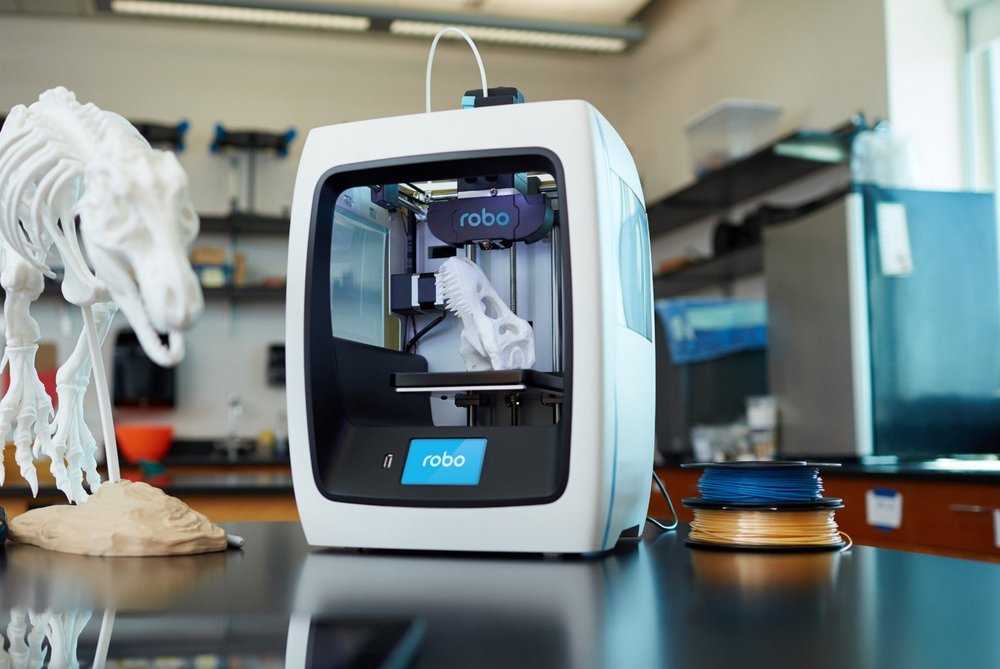 What Is The Best 3D Scanner For 3D Printing?
We recommend the Creality CR-Scan 01. Creality has made the most of its 3D printing know-how to design a scanner that blends seamlessly into the 3D printing workflow. It's compact, versatile, and reasonably accurate, perfect for most 3D printing hobby applications.
What Is The Best 3D Scanner For Reverse Engineering?
Scantech's SIMSCAN rises above the rest as our top choice for reverse engineering. It's particularly adept at capturing highly-detailed and accurate scans of objects in hard-to-reach spaces, perfect if you're looking to reverse engineer a part from an aging piece of machinery or antique car, for example.
Best 3D scanner 2022 - Expert selections for every need
What is the best 3D scanner?
Many different types of 3D scanners exist, from desktop 3D scanners to handheld 3D scanners and advanced metrology systems.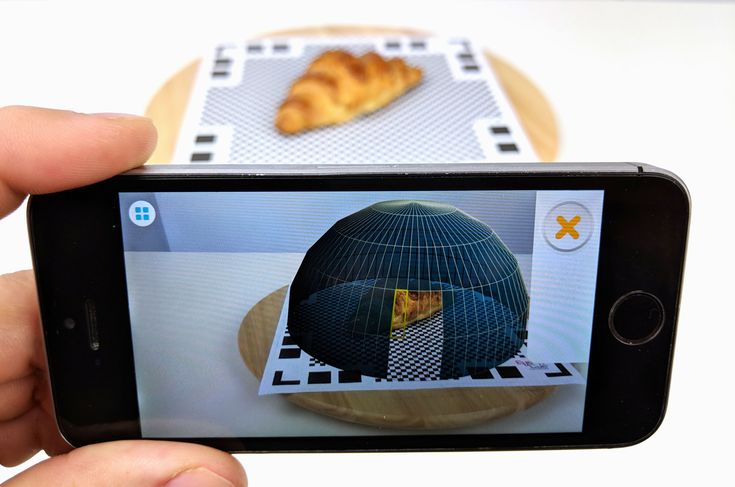 3D scanners serve an extremely wide range of applications, from reverse engineering to 3D body scanning or even forensic investigations.
However, given the low number of reliable 3D scanner reviews, it can be challenging to find the best 3D scanner. It can also be complex to know what kind of 3D scanner to get based on your application. A $2,000 3D scanner won't be sufficient for part inspection, and a $60,000 3D scanner would be overkill if you don't need the precision.
With that in mind, our goal is to offer an overview of the best 3D scanners in different categories. We broke down our best 3D scanner picks into actionable selections:
Professional: A mix of the best desktop and handheld options for professionals
Affordable: Entry-level 3D scanners for makers with prices starting at around $400
Metrology: High-precision 3D scanners for demanding use cases
Handheld: Portative devices that can access hard-to-reach places
SLAM and iMMS: Mobile laser 3D scanners for BIM and other large-scale applications
TLS: Terrestrial LiDAR scanners
Dental (desktop): Stationary 3D scanners for the dental labs
Jewelry: Closed, high-precision 3D scanners for jewelers
3D body scanners: Booths and handheld color 3D scanners
Note that there can be some overlap between categories.
For example, some handheld 3D scanners are precise enough for metrology or can capture colors and work for 3D body scanning.
Tip: Use the table of contents to the top left of your screen to easily navigate between our selections.
We also run through different 3D scanning applications (reverse engineering, 3D inspection, architecture, etc.) and provide concise explanations of the various 3D scanning technologies that exist.
Professional 3D scanner selection
This category groups some of the best professional 3D scanners. Our selection spans a wide price spectrum and includes both desktop scanners and handheld 3D scanners. These 3D scanners can cover most professional use cases.
Brand
Product
Accuracy
Country
Price

Approximate starting prices based on supplier-provided information and public data. Prices may vary by region, over time and do not include additional products or services (taxes, shipping, accessories, training, installation, …).

Scantech

This brand is a certified partner from our network.

iReal 2E
0.1 mm0.003937 in
China
$ 3,9803 980 €3,530 £593,243 ¥
Quote
Shining 3D

This brand is a certified partner from our network.

EinScan H
0.1 mm0.003937 in
China
$ 4,9994 999 €4,434 £745,131 ¥
Quote
Shining 3D

This brand is a certified partner from our network.

EinScan HX

This product has been reviewed by our team.

0.04 mm0.001575 in
China
$ 12,00012 000 €10,644 £1,788,672 ¥
Quote
Medit
Solutionix C500
0.01 mm0.000394 in
South Korea
$ 40,00036 500 €35,482 £5,962,240 ¥
Quote
Creaform

This brand is a certified partner from our network.

HandySCAN BLACK Elite

This product has been reviewed by our team.

0.025 mm0.000984 in
Canada
$ 65,00057 000 €57,658 £9,688,640 ¥
Quote
GOM
ATOS Q

This product has been reviewed by our team.

–
Germany
upon request
Quote
GOM
GOM Scan 1

This product has been reviewed by our team.

–
Germany
upon request
Quote
Scantech

This brand is a certified partner from our network.

SIMSCAN

This product has been reviewed by our team.

0.02 mm0.000787 in
China
upon request
Contact
Expand to see more specs
The products in the table are ranked by price (low to high).
Brand
Product
Technology
Category
Country
Price

Approximate starting prices based on supplier-provided information and public data. Prices may vary by region, over time and do not include additional products or services (taxes, shipping, accessories, training, installation, …).

Scantech

This brand is a certified partner from our network.

iReal 2E
Structured light
Mobile > Handheld
China
$ 3,9803 980 €3,530 £593,243 ¥
Get a quote
Shining 3D

This brand is a certified partner from our network.

EinScan H
Hybrid
Mobile > Handheld
China
$ 4,9994 999 €4,434 £745,131 ¥
Get a quote
Shining 3D

This brand is a certified partner from our network.

EinScan HX

This product has been reviewed by our team.

Structured light
Mobile > Handheld
China
$ 12,00012 000 €10,644 £1,788,672 ¥
Get a quote
Medit
Solutionix C500
Structured light
Stationary > Desktop
South Korea
$ 40,00036 500 €35,482 £5,962,240 ¥
Get a quote
Creaform

This brand is a certified partner from our network.

HandySCAN BLACK Elite

This product has been reviewed by our team.

Laser triangulation
Mobile > Handheld
Canada
$ 65,00057 000 €57,658 £9,688,640 ¥
Get a quote
GOM
ATOS Q

This product has been reviewed by our team.

Structured light
Stationary > Industrial
Germany
upon request
Get a quote
GOM
GOM Scan 1

This product has been reviewed by our team.

Structured light
Stationary > Desktop
Germany
upon request
Get a quote
Scantech

This brand is a certified partner from our network.

SIMSCAN

This product has been reviewed by our team.

Laser triangulation
Mobile > Handheld
China
upon request
Contact manufacturer
Overview of the best professional 3D scanners
The iReal 2E is another versatile 3D scanning option in the entry-level price range.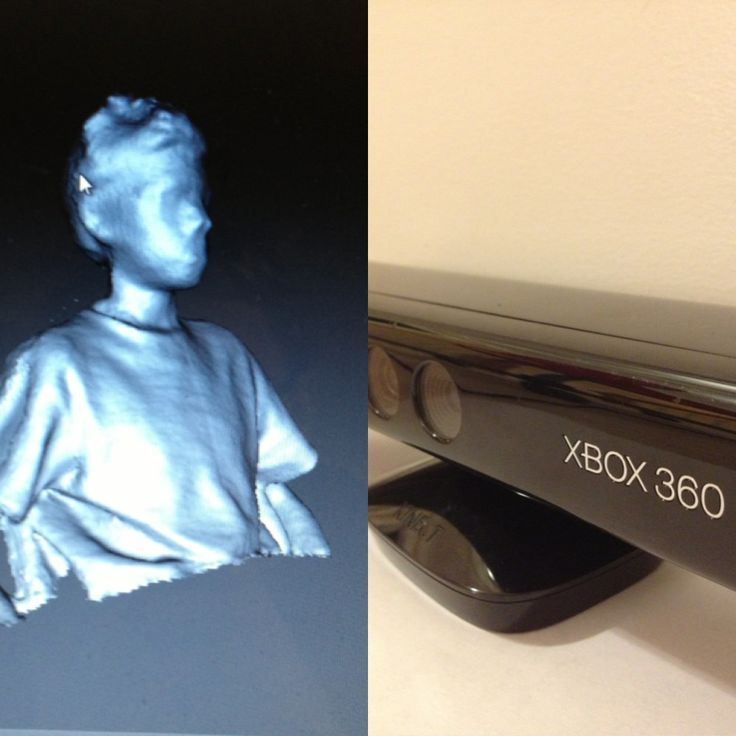 It uses VCEL structured light to capture medium- to large-sized objects. Like infrared light, VCEL light is invisible to the human eye and is therefore also particularly adapted to face and body 3D scanning.
Scantech has reported diverse use cases for the iReal 2E 3D scanner, namely in forensic investigations, healthcare, and even culture preservation. In the latter, Scantech's customer 3D scanned a woman performing different Tai Chi movements– an interesting and uncommon application!
Contact manufacturer Get a quote Add to comparison
The EinScan H was launched alongside the EinScan HX in September 2020. It uses a combination of structured LED light and infrared light, with a built-in color camera for texture acquisition.
This 3D scanner can therefore serve a range of applications involving color capture, with uses in retail, art preservation, healthcare, and more. Furthermore, its infrared light is eye-safe and won't blind users during a face or body scan.
Shining 3D's versatile EinScan H is a great entry-level deal for most basic use cases, and its software is getting more intuitive by the update.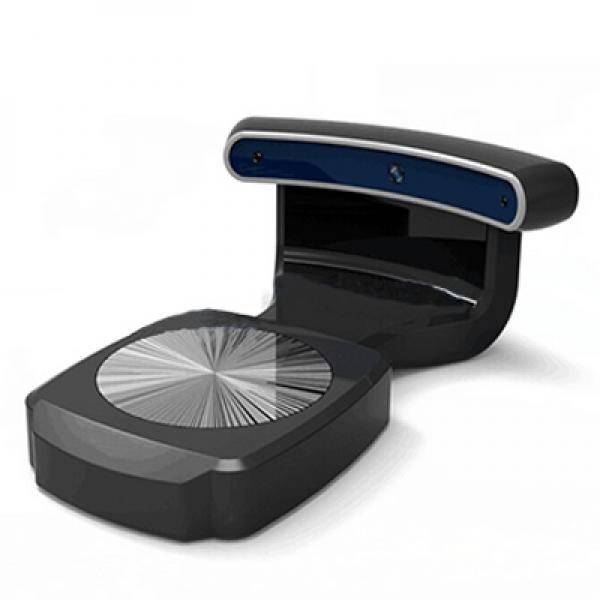 Contact manufacturer Get a quote Add to comparison
The EinScan HX features hybrid technology: it has both structured LED light and laser triangulation capabilities, an industry-first from Shining 3D. Each technology is accessible through a specific mode that the user chooses at the beginning of a 3D scanning process.
After reviewing the HX, we found that it is a powerful and versatile product, capable of 3D scanning parts of various properties (sizes, colors, textures). It has a nice and sturdy finish and is easy to manipulate. In addition, the little weight it has is very well distributed to offer an ergonomic balance.
In this price range and at this level of performance, the EinScan HX is unrivaled.
Read the full review: Shining 3D EinScan HX review
Contact manufacturer Get a quote Add to comparison
The SIMSCAN is extremely lightweight for a handheld 3D scanner, weighing only 570 grams. It's also very compact– the absolute smallest in its class– with dimensions of 203 x 80 x 44 millimeters.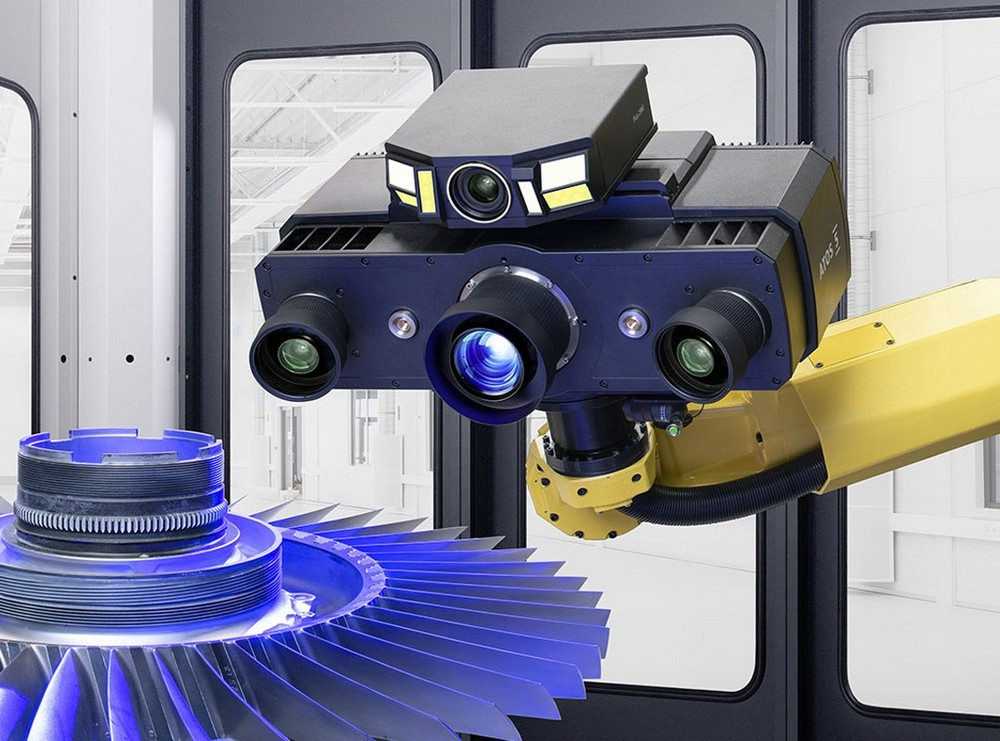 Scantech earned a Red Dot Design Award in 2021 for the SIMSCAN's disruptive design.
After using the SIMSCAN to 3D scan various types of parts, we can confirm it's an excellent product that feels, looks, and works great. With a price of around €25,000, the SIMSCAN's price-to-performance is outstanding. The only blemish lies in the software, but it receives updates regularly and you can export your scans to your preferred suite.
Read the full review: Scantech SIMSCAN review
Contact manufacturer Get a quote Add to comparison
The BLACK Elite tops out Creaform's flagship HandySCAN range, which we have reviewed several times over the years. It delivers a powerful performance that reminds us of the Metrascan 750, but without all the hurdles (complex setup, number of parts and accessories, and large footprint).
Creaform's HandySCAN BLACK Elite boasts a clean, robust finish. Everything exudes quality and rigor, the attention to detail is similar to the feeling that Apple products give off.
It's no wonder this scanner received a Red Dot Design Award (2019).
Read the full review: HandySCAN BLACK Elite review
Contact manufacturer Get a quote Add to comparison
With a starting price of around €20,000, the GOM Scan 1 is GOM's most entry-level, metrology-grade solution. We visited GOM's Benelux HQ to review the scanner in early 2022, and were not disappointed.
The offer? GOM quality and performance at an affordable price. It is on par with high-end metrology 3D scanners and is quite fast at 6,000,000 points per scan. The GOM Scan 1 also benefits from the same, powerful GOM Inspect software as its more premium counterparts.
It is a small, lightweight, and precise machine packed with very serious capabilities.
Read the full review: GOM Scan 1 review
Contact manufacturer Get a quote Add to comparison
The ATOS Q is part of GOM's ATOS lineup, a range of industrial-grade optical metrology solutions. It is aimed at industrial users looking for a powerful and flexible metrology solution at a reasonable price.
One of the ATOS Q's key selling points is the fact that it can be easily moved along an assembly line or from one site to another. It can't be qualified as "portable", but is without a doubt "transportable".
The scanner also offers a lot of flexibility in part type and size thanks to its multiple lenses and is able to acquire difficult surfaces thanks to its blue light equalizer.
Read the full review: GOM ATOS Q review
Contact manufacturer Get a quote Add to comparison
Solutionix is part of the larger, South-Korean Medit group, and is known for its high-precision dental 3D scanners. Their C500 is able to scan larger objects while benefitting from the same, excellent precision and resolution. Its automatic turntable not only turns but also tilts, providing very thorough scans.
While the Solutionix C500 is sensitive to dark and shiny surfaces, it offers very clean data and high resolution when such surfaces are matted with special spray (like AESUB). The C500 comes with four different sets of lenses for varying fields of view, resolution, and accuracy.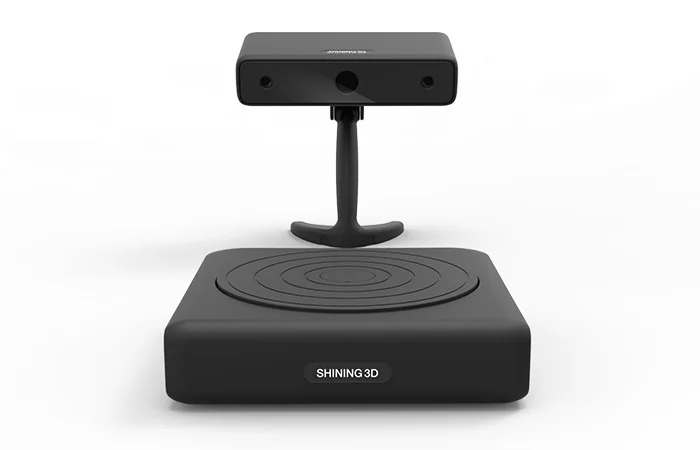 Its smallest lens set gives an accuracy of 10 microns and a resolution of just 28 microns (point-to-point distance).
The C500 is particularly adapted to small parts, but can be mounted onto a tripod for the occasional large scan.
Contact manufacturer Get a quote Add to comparison
Affordable 3D scanners for makers
This selection includes some of the best affordable 3D scanners for makers.
Brand
Product
Accuracy
Country
Price

Approximate starting prices based on supplier-provided information and public data. Prices may vary by region, over time and do not include additional products or services (taxes, shipping, accessories, training, installation, …).

Scan Dimension
SOL
–
Denmark
$ 599609 €531 £89,285 ¥
Buy
Revopoint
POP 2
0.1 mm0.003937 in
China
$ 699711 €620 £104,190 ¥
Buy
Creality
CR-SCAN 1
0. 1 mm0.003937 in
China
$ 700700 €621 £104,339 ¥
Contact
Matter and Form
Scanner V2
0.1 mm0.003937 in
United States
$ 749761 €664 £111,643 ¥
Buy
Shining 3D

This brand is a certified partner from our network.

EinScan-SE (Elite)
0.1 mm0.003937 in
–
$ 1,1991 219 €1,064 £178,718 ¥
Contact
Expand to see more specs
The products in the table are ranked by price (low to high).
Brand
Product
Technology
Country
Price

Approximate starting prices based on supplier-provided information and public data. Prices may vary by region, over time and do not include additional products or services (taxes, shipping, accessories, training, installation, …).

Scan Dimension
SOL
Laser triangulation
Denmark
$ 599609 €531 £89,285 ¥
Buy on Amazon France
Revopoint
POP 2
Structured light
China
$ 699711 €620 £104,190 ¥
Buy on Revopoint
Creality
CR-SCAN 1
Structured light
China
$ 700700 €621 £104,339 ¥
Contact manufacturer
Matter and Form
Scanner V2
Laser triangulation
United States
$ 749761 €664 £111,643 ¥
Buy on Amazon US
Shining 3D

This brand is a certified partner from our network.

EinScan-SE (Elite)
Structured light
–
$ 1,1991 219 €1,064 £178,718 ¥
Contact manufacturer
Overview of the best affordable 3D scanner options
Revopoint launched the POP 2 towards the end of 2021 after a successful Kickstarter campaign with the original POP. We reviewed the original POP shortly before this release, and it seems that some of the quacks (mainly software-related) we encountered have since been worked out. Their new software features a calibration process and a new "Wi-Fi host" mode.
The POP 2 is an interesting option for makers or beginners looking to learn more about 3D scanning. We wouldn't particularly recommend it for professional use cases, though it can get the job done if you don't need high resolution.
The Revopoint POP 2 can be used on a small tripod or as a handheld device, and is able to capture colors.
Buy on Revopoint Add to comparison
The EinScan-SE is a powerful entry-level desktop 3D scanner designed to capture small- to medium-sized objects in 3D.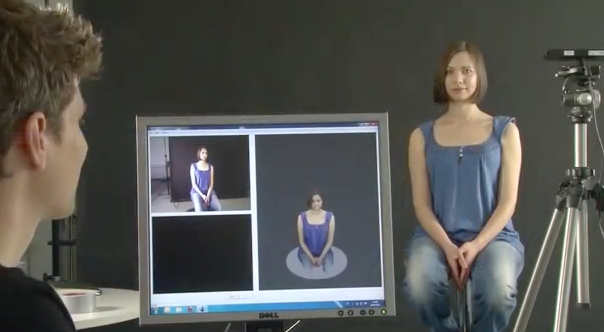 Launched back in 2017, it's still relevant today as an affordable, professional-grade option.
It is based on white structured light technology and offers two 3D capture modes: Fixed Scan and Auto Scan (with a rotating table). The Shining 3D EinScan-SE is a versatile and fast 3D scanner, suitable for a wide range of applications and designed with 3D printing applications in mind.
Contact manufacturer Add to comparison
This affordable desktop 3D scanner is geared towards hobbyists and tech enthusiasts. The SOL 3D scanner is equipped with an automatic turntable to complement its hybrid 3D scanning technology (a combination of structured light and laser triangulation).
Scan Dimension notes that this 3D scanner is easy to use, thanks to a simplified app that lets users avoid complex calibration and software manipulation.
Buy on Amazon France Add to comparison
The CR-SCAN 1 is another 3D scanner under $1,000. It can be used on a tripod as well as in handheld mode.
According to Creality, the use of markers is unnecessary thanks to their AI-based alignment algorithm.
Contact manufacturer Add to comparison
Matter and Form has been producing affordable desktop 3D scanners since 2014. The 3D Scanner V2 (a.k.a. MFS1V2) is, as its naming suggests, the second version of their flagship product, the Matter and Form MFS1V1 3D scanner.
It boasts a great price-to-performance ratio and is able to quickly scan 3D objects while displaying results in real time. Matter and Form also manufactures the Bevel dongle for use with 3D scanning smartphone apps.
Buy on Amazon US Add to comparison
Metrology 3D scanner selection
3D metrology is the process of acquiring highly accurate physical 3D measurements of an object. The result is a digital 3D model that users can analyze or retro-engineer.
Take quality inspection, for example. Professionals can compare the 3D scan to a reference CAD model to make sure the object respects established norms and standards.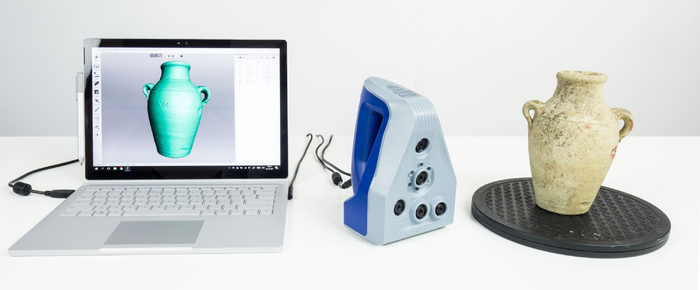 3D metrology helps ensure product quality while saving time and, thus, lowering costs.
Handheld 3D scanner selection
Handheld 3D scanners have been gaining a lot of popularity over the past few years. They offer various benefits over other types of 3D scanners:
Ability to access hard-to-reach places
Relative ease of use
Portability
Their versatility makes them suitable for a wide range of industries, including automobile, aerospace, engineering, and design, and some can even be used for 3D body scanning.
SLAM 3D scanner selection
SLAM (Simultaneous Localization and Mapping) technology allows a device to position itself and navigate through a given space based on its surroundings. Sometimes called CML (Concurrent Mapping and Localization), it was initially developed for robots and autonomous appliances.
In 3D scanning (mobile mapping), SLAM algorithms combine and use the sets of data collected from one or more sources to track the scanner's position, all while building up an accurate, complete 3D point cloud of the surrounding environment.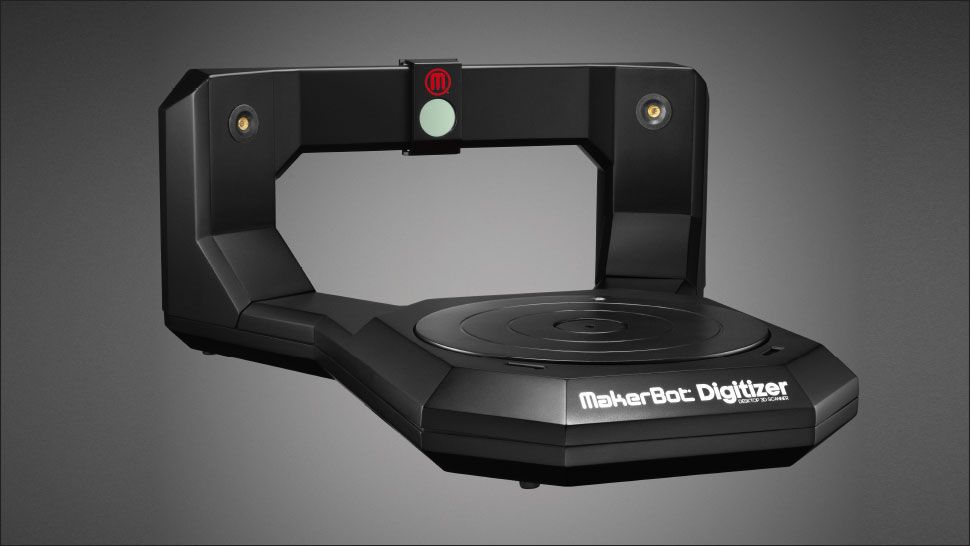 SLAM-based 3D scanners can work in extremely remote locations where GPS or GNSS signals are unavailable, and make it easy to quickly 3D scan large areas like building sites and underground caves.
TLS (Terrestrial Laser Scanner) selection
Terrestrial laser scanning (TLS) is a form of 3D scanning in which tripod-mounted laser scanners are used to capture large objects and environments. The technique is widely used in construction, surveying, forestry, and other disciplines.
Also known as long-range laser scanning, TLS involves deploying a scanner in a static location, whereas other laser scanners may be handheld or mounted to vehicles to capture data from a greater number of vantage points. TLS produces more accurate scans than mobile scanning — at the expense of speed and simplicity.
These 3D scanners are often generically called LiDAR scanners, though terrestrial scanners aren't the only type of scanner to use the technology.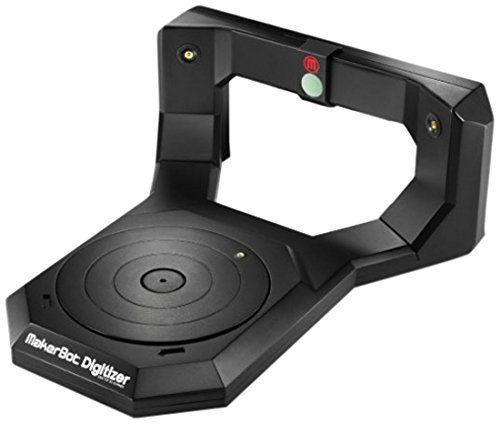 Desktop dental 3D scanner selection
Bit by bit, dentists are beginning to replace traditional methods with digital dentistry. This involves the use of digital capture, digital design, and digital production technologies to improve the speed, accuracy, and profitability of dental practice.
A key part of digital dentistry is the use of 3D scanners, which capture 3D shapes using a combination of cameras and light projection before transferring the result to a computer.
Desktop dental 3D scanners capture dental models or impressions (negative imprints of a patient's teeth and gums) and are usually used in a laboratory setting.
Jewelry 3D scanner selection
A popular use of 3D scanning technology is jewelry 3D scanning. This is the process of 3D scanning jewelry, precious metals, and gemstones with the goal of creating a digital copy of the original object. The digital twin can be used for many purposes, such as repairing or duplicating a valuable item.
3D scanners have been adopted as a supplementary tool by traditional jewelers, but the technology has also allowed newcomers to enter the field, many of which have combined 3D scanning with jewelry 3D printing.
Most jewelry 3D scanners are enclosed or partly enclosed desktop machines that offer ideal lighting conditions. Desktop jewelry 3D scanners almost always feature an automatic turntable, or auto-rotating table, on which the piece of jewelry is placed to be scanned.
3D body scanner selection
3D body scanners are designed to capture your full body in 3D. The result is a 3D model (or 3D avatar) of your exact body shape with accurate data such as body measurements, posture analysis, textures, …
Originally developed for the fashion industry as fast and accurate 3D measurement solutions, 3D body scanners are now used in various other fields such as healthcare, 3D figurines and 3D photos, fitness, and entertainment.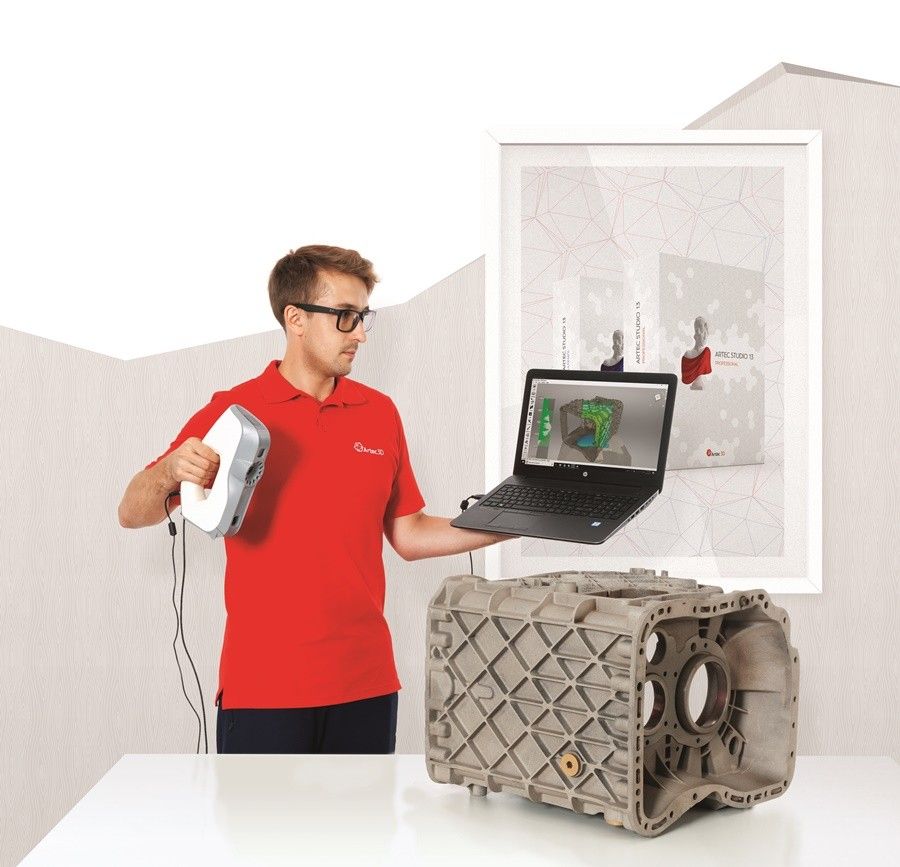 To obtain a full-body 3D scan, the customer or patient holds a pose for a few seconds, which is the time it takes for the 3D scanner to capture images from all angles. The 3D software then reconstructs the final 3D model of the body by "stitching" all of the images together, generating a highly detailed 3D model. Models can have colors and textures depending on the type of body scanner.
Which 3D scanner is the best for me?
3D scanning can be used in a large variety of fields. For every application, the features necessary to generate a great 3D model are different. The 3D scanner must be chosen according to your desired use and results.
What the best 3D scanner is for you will depend on many factors, detailed below.
3D scanning field of application
The first thing to take into consideration is the field in which the 3D scanner will be used. It could be for example:
Professional use
Small objects: dentists, jewelers, and other professionals can use 3D scanning to capture small pieces.
Big objects: professionals such as architects and archeologists might need to 3D scan large objects such as statues, archeological fields, or buildings.
3D body scanning is increasingly used in various professional fields such as healthcare and 3D figurines.
Personal use
Occasional scanning: A person might need to use 3D scanning on rare occasions or maybe just one time.
3D scanning on a regular basis: You can use 3D scanning for various things from making personalized objects to making a replica of yourself, friends, or family members.
Type of 3D scanned object
Dimensions and distance of the object (scan area and scanning range)
The "best 3D scanner" will depend on the dimensions and the distance of the objects you wish to 3D scan. A desktop 3D scanner can't 3D scan a 2-meter-tall statue, and a handheld 3D scanner might not be the best option to 3D scan a very small and precise piece.
Surface of the object
Not every 3D scanner is able to capture colors. For color capture, you need a scanner with photogrammetry.
It can also be challenging to capture objects with black, shiny, or reflective surfaces. However, as 3D scanning OEMs fine-tune their technology and hardware, such surfaces are becoming less and less of a challenge. For cases where it is a challenge, it is always possible to use a white mattifying spray.
Desired resolution
Not all 3D scanners offer the same level of resolution. Therefore, depending on the quality you need, some 3D scanner models are more adapted than others. Reverse engineering requires high resolution and precision, for example.
Desktop 3D scanners
Desktop 3D scanners can be ideal for both professionals and hobbyists that need to scan small parts. They tend to be more accurate since you aren't holding and moving the 3D scanner around yourself.
Also, many desktop 3D scanners come with (or at least optionally) an automatic turntable, which makes it much easier to get clean 3D scans.
Handheld 3D scanners
Handheld 3D scanners, a.k.a. portable 3D scanners, are versatile and can 3D scan small to very large objects. They also enable users to 3D scan hard-to-reach places. The precision and the ability to capture color and texture will depend on the 3D scanner model.
3D body scanners
3D body scanners have applications in numerous fields.
Professionals: professionals might want to 3D scan a person to make a 3D figurine, prepare for a surgical intervention, follow-up on a pregnancy or skin conditions, etc.
Individuals: 3D body scanners can help with fitness goals and personal shape. These 3D scanners usually can't capture color and texture but offer a high resolution.
3D scanning mobile apps
3D scanning mobile apps are ideal for occasional users that are not willing to or are unable to invest in a 3D scanner.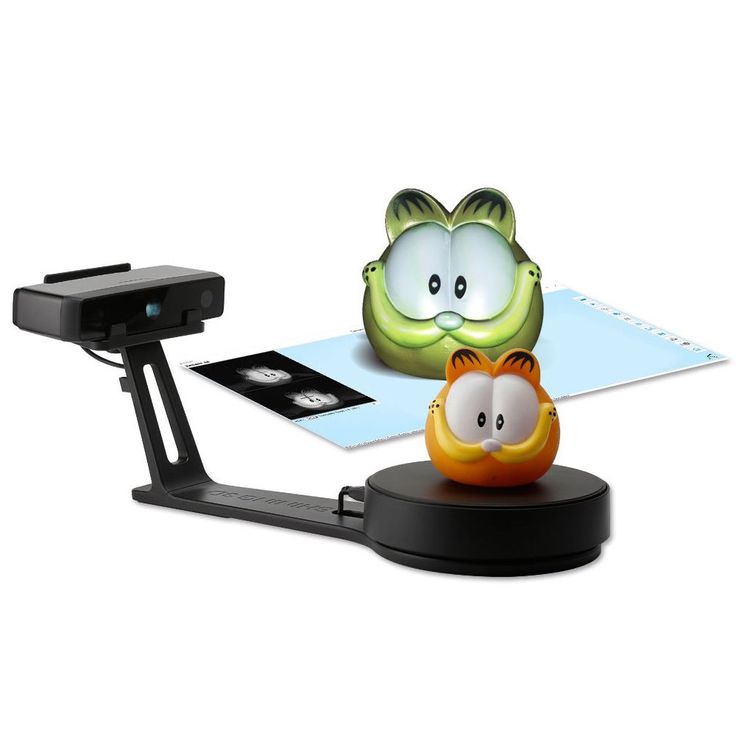 They are not as precise as most 3D scanners, but mobile apps are a great way to get familiar with 3D scanning.
3D scanner price
3D scanner prices can range from just several hundred dollars to over $100,000.
Desktop 3D scanner price
Desktop 3D scanner prices vary a lot from one model to another. It can start at a few hundred dollars and can top out at around $50,000 for the more advanced 3D scanners. More industrial-grade, robot-mountable scanners can cost double.
Handheld 3D scanner price
The handheld 3D scanner price range is very wide. A professional handheld 3D scanner can start at around $5,000 and can reach up to over $70,000 for very high-end and advanced 3D scanners.
There are plenty of great entry-level options for a couple of thousand dollars. Mid-range handheld 3D scanners tend to cost between $10,000 and $30,000.
Industrial 3D scanner price
Industrial 3D scanners generally offer more cutting-edge features and higher precision.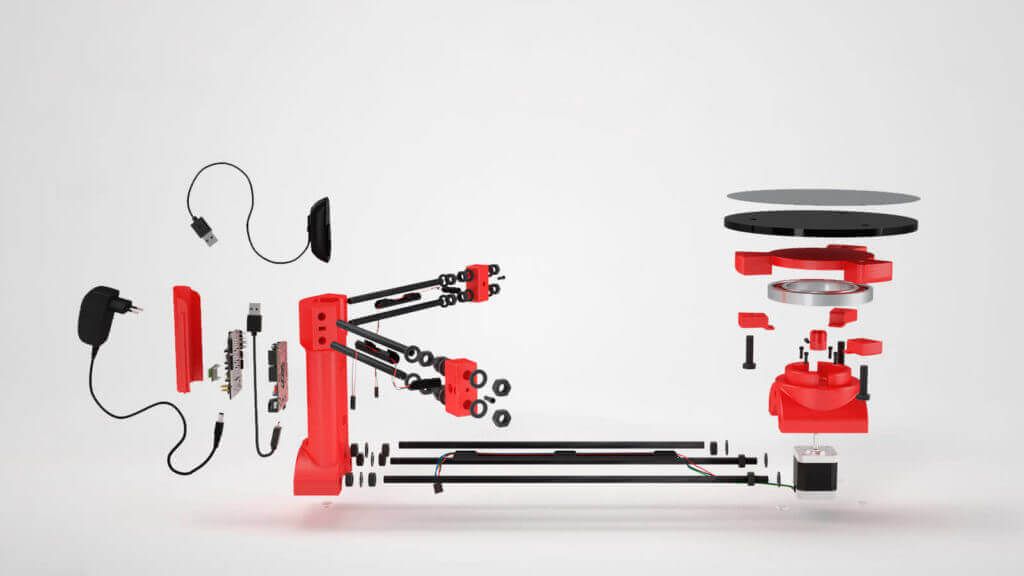 Hence, their prices can be pretty high, ranging from $10,000 for the simplest ones to more than $100,000 for the most evolved ones.
3D scanning applications
There are many reasons to buy a 3D scanner, for various industries and applications.
Reverse engineering
Reverse engineering, also known as retro-engineering, is the process of extracting information from an object or process and studying it. 3D scanners can be used to capture all the parts of a disassembled object to create a 3D model. The user will then be able to digitally study it in 3D afterward.
Jewelry
Jewelers are starting to use 3D printing and 3D scanning to build casts in order to create amazing jewels. Read more on our 3D printing and 3D scanning for jewelry page.
Dental
Dentists and dental labs are using 3D printing to build and create various dental appliances. Find more information on our 3D printing and 3D scanning for the dental industry.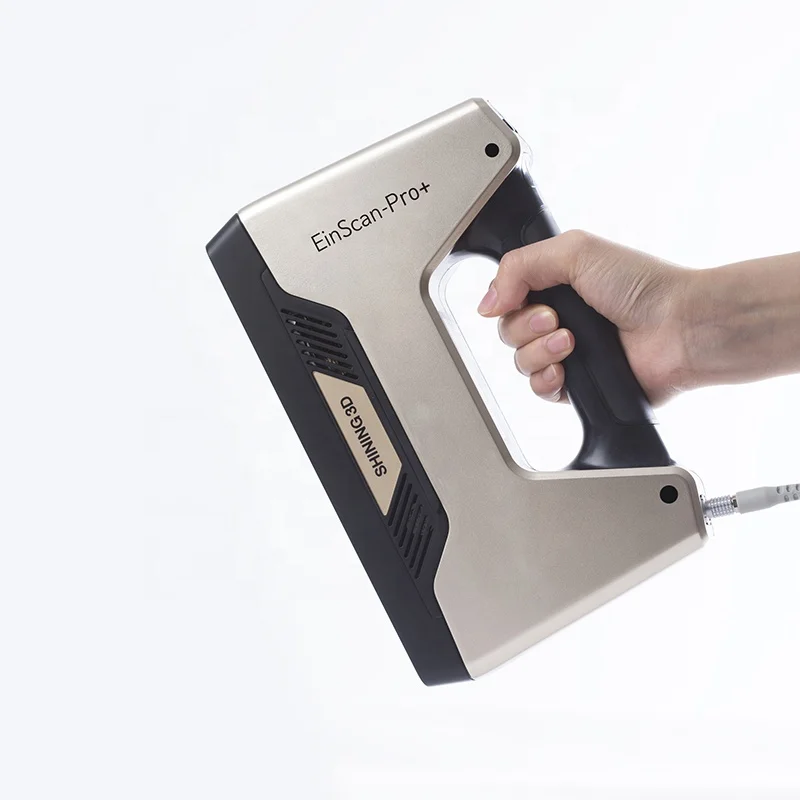 Medical
3D scanners are very versatile and are used in many different ways in healthcare, from making prosthetics to studying a person's posture. Find more information in our guide to 3D scanning and 3D printing for the medical industry.
A dental 3D scan by Pierre-Antoine.
Metrology/inspection
Industries need to make sure their factories are producing perfect products that are perfectly in line with the products' reference dimensions. 3D scanners enable professionals to efficiently measure potential discrepancies.
Figurines and 3D selfies
3D portraits or mini-me's are increasingly popular. To make one, you scan yourself in 3D and 3D print your mini lookalike. To learn more about the subject, you can visit our 3D printed figurines, 3D selfies, and 3D portraits page.
Architecture
Architects can use 3D scanning to capture an area, building, or habitation and present it in a more efficient way to their clients.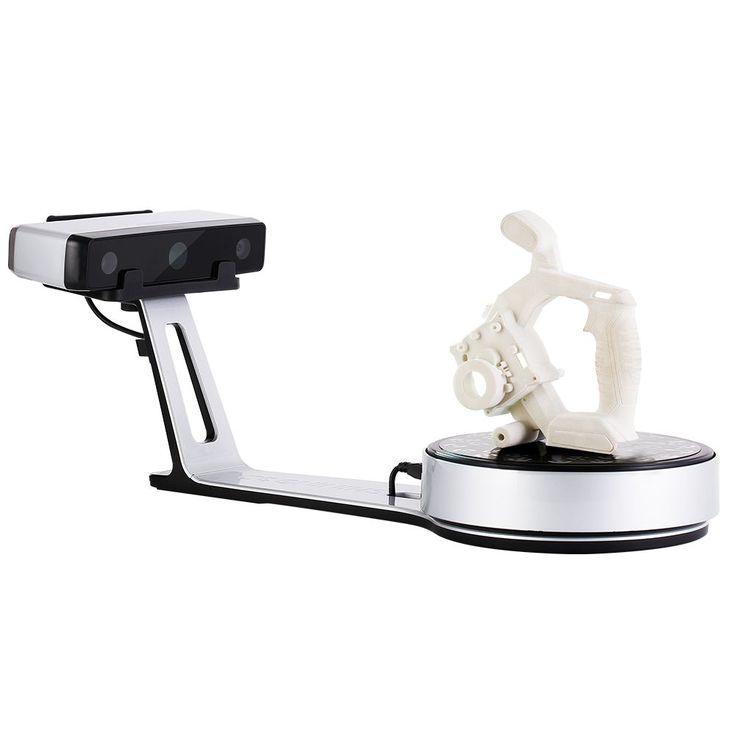 Find more information on our 3D scanning and 3D printing for architects page.
Archeology and museums
Archaeologists, museum curators, and researchers are starting to use 3D scanning to get a better view and capture ancient pieces. To read more about this topic, you can visit our 3D printing and 3D scanning in archeology and cultural preservation page.
A dot cloud of Notre Dame. Source: engadget
Overview of 3D scanning technologies
Photogrammetry
Photogrammetry consists of taking measurements from photographs to recover the exact positions of surface points.
The principle of photogrammetry is to analyze several photographs of a static subject, taken from different viewpoints, and to automatically detect pixels corresponding to the same physical point.
Photogrammetry enables scanners to capture an object's color (a.k.a. texture). This technology also often serves to detect positioning markers (sticky targets placed on or around the object to help the scanner precisely align scans together).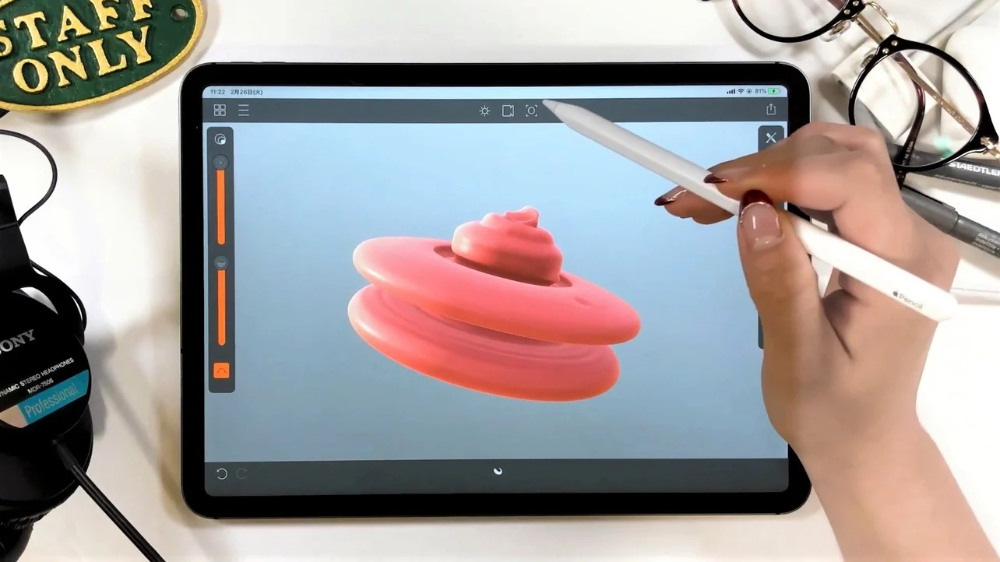 Structured light
3D scanners using structured light project a series of linear light patterns onto an object.
The system is then able to examine the deformations of each line and to calculate the distance between the 3D scanner and the object's surface. With this data, the software is able to build an accurate 3D model of the object.
Structured light 3D scanning technology. Source: Depth Biomecanics
Triangulation
A 3D scanner using triangulation technology will project a laser beam on the object's surface and measure the deformation of the laser ray (similar to structured light, but with one or more lasers).
3D scanning laser triangulation technology. Source: NeoMetrix
Contact
Contact 3D scanners probe the subject via physical touch. A touch probe moves along an object's surface to record 3D information.
For more precise and detailed explanations, you can visit our 3D scanning technologies page.
FAQ
What is the most accurate 3D scanner?
The most accurate 3D scanners are metrology 3D scanners, which generally offer an accuracy of around 20 microns.
Is a 3D scanner worth it?
This is entirely up to how much you will be using your 3D scanner. We can however say that 3D scanning is an impressive technology that does help save a lot of time for product design, reverse engineering, part inspection, and many other use cases.
How much does a good 3D scanner cost?
Again, the definition of "good" is quite subjective in 3D scanning. Some of the best 3D scanners we have reviewed cost between $10,000 and $30,000. But a $5,000 3D scanner can do "good" if its specs meet your requirements.
Is 3D scanning expensive?
Not only is 3D scanning hardware generally expensive, but so are the necessary, professional software solutions.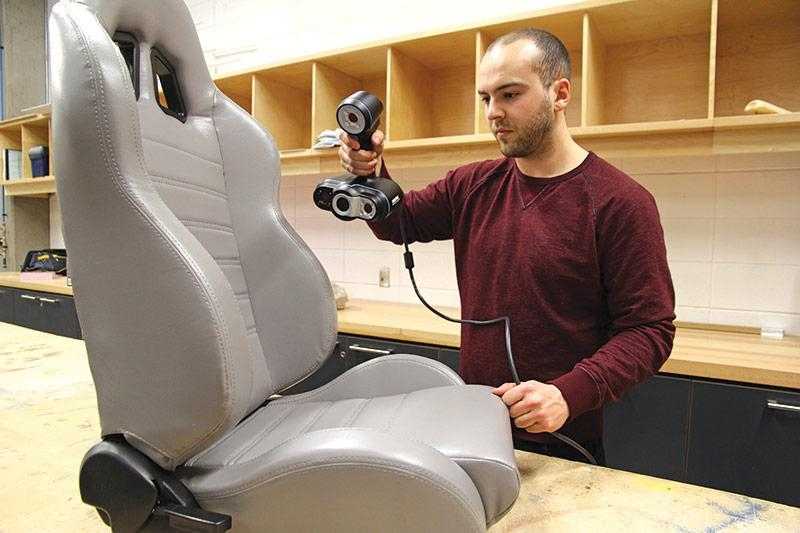 Sometimes, it's a one-time fee for a permanent license; other times, a monthly or yearly subscription is the only way to access a software suite. And to run such software, you will likely require a powerful, monster of a PC with a lot of RAM and a high-end graphics card. You may also need to buy a tripod or turntable if they aren't included in your 3D scanner package. All of this can quickly amount to several thousand dollars.
Day-to-day 3D scanning expenses can include cans of mattifying spray and rolls of adhesive markers if you need them. Other than that, aside from potential software subscriptions, there are no extra hidden costs.
we choose the best in 2022 in our direction
In order to expand the user audience, SHINING3D offers universal solutions - the same 3D scanner is able to satisfy the needs of ordinary consumers and be in demand in industrial production. Based on the feedback and reviews of device owners, the developers have improved the line of models, making 3D digitization and additive technologies even more accessible.
Contents:
EinScan 3D scanners
For beginners, designers or education
Scanners for objects of various sizes
3D scanning of people and their faces
EinScan Pro 2X 3D scanner 2020 900 Transcan0
3D-scanner 8 C007 indicators need to be understood in order to choose what you need
Accuracy
The use of professional 3D scanners in metrology
The use of 3D scanners in mechanical engineering
Reverse engineering
Quality Control
Laser 3D scanner Freescan UE
High-precision stationary 3D scanner Autoscan Inspec
OptimScan-5M Metrological 3D scanner 9000 EinScan Series 3D Scanners

For Beginners, Designers, or Educational Entities

The small-figure scanning application requires precision and advanced settings in the capture software. The first thing users are guided by is the scanning area. Using two models - EinScan-SP and EinScan-SE - it will be possible to scan an object from 30 × 30 mm.

EinScan-SP and EinScan-SE are useful for beginners, designers and educational users. Desktop scanners SE and SP are the easiest to learn.

Key benefits:

Easy device setup with Plug and Play technology;
Russian software interface;
the ability to scan objects of different sizes - from small to large;
texture tracking.

3D Scanner Photo EinScan-SP

4-8 seconds per scan;
Russified software;
automatic and fixed operation;
Aligns scanned data with marks.

3D Scanner Photo EinScan-SE

8 seconds per scan;
2 minutes for 360 degree Auto Scan;
Russified software;
automatic alignment of multiple scans;
API access service for 3D printers of any brand.

Scanners for objects of various sizes

a

In this category, models with the "H" index successfully demonstrated their capabilities: EinScan H , EinScan HX from the line of hybrid devices.

The portable EinScan H is the most affordable for the price.

0066

EinScan H - an infrared emitter has been added to the LED illumination;
EinScan HX - white LED light combined with a blue laser.

This high-tech solution makes it possible to use these two professional scanners. Manual mode allows you to scan objects of different sizes - medium and large.

Photo of a 3d scanner EinScan HX
Structured radiation of the LED source and scanner laser;
In Laser Scan mode, the scan accuracy is 0.04 mm;
Minimum point distance 0.05 mm;
High efficiency in fast scan mode - 1,200,000 points/s;
Full color copy.
Copying accuracy is so great that when scanning works of art, it is possible to obtain a perfect replica. For medical institutions, this is also a worthy find. Separately, it should be noted the presence of a built-in color camera.
3D scanning of people and their faces
Living objects require special scanning technology.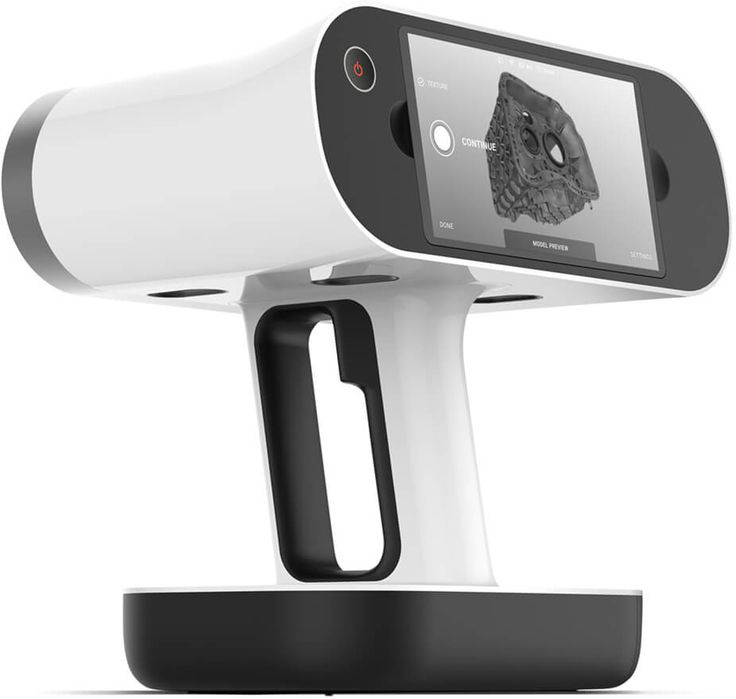 You can get a digital copy of a fragment of a human body, face and hair using EinScan H hybrid models - thanks to two light sources and a color camera, they produce an ideal 3D model with texture preservation.
Two scanning technologies - LED and invisible infrared light, combined in one device;
Scanning people (portrait, full-length) and other living objects;
High accuracy of scanned data up to 0.05 mm and volumetric accuracy of 0.1 mm/m;
Fast scanning and large FOV scanning 420*440 mm.
HX is a universal model, and Einscan Pro HD/Einscan pro 2x 2020 are multifunctional scanners, have the ability to perform tasks in various industries.
EinScan Pro HD is an upgrade from the older model of the Einscan Pro 2x series due to its ergonomic and high quality design. Models in this range can be used with a special tripod.
This professional 3D scanner provides high scanning accuracy in both operating modes: up to 0.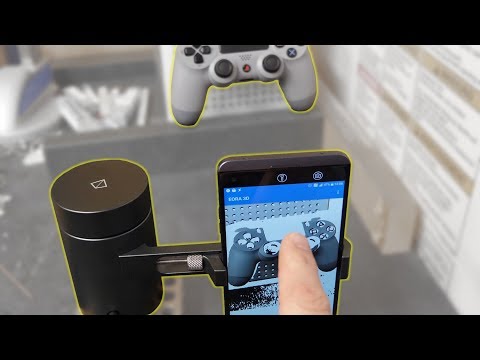 045+0.3 mm/m.p. in manual mode and up to 0.04 mm. in fixed scan mode.
Manual mode has two sub-modes: Rapid and HD, the latter providing a higher level of detail.
The maximum possible speed of this scanner is 3 million points per second. Even aside from the specs, you can see that the device is extremely fast in real-life scenarios. For example, a 220 x 71 cm low relief sculpture can be fully digitized in color in less than a minute.
Scanning of human bodies is also possible with this device, it provides decent quality. Last but not least, the device can scan color materials, including even textured images. This feature is available as a paid option called the Color Pack.
EinScan HX is more expensive than EinScan H, and professional scanners, which include EinScan Pro HD, are traditionally more expensive than other "classmates" and therefore available to large additive manufacturing.
EinScan Pro 2X 2020 3D Scanner
Portable and versatile handheld 3D scanner for high precision results
The EinScan Pro 2X 2020 3D scanner is an excellent option for scanning small, medium and large objects.
3D scanner
EinScan Pro 2X 2020
The updated model has improved the main characteristics, added new 3D scanning algorithms. Thus, Einscan Pro 2x 2020 has become a more affordable version of Einscan Pro HD, retaining the advantages and features of the old model.
The main improvements of the new model:
A new 3D scanning principle in HD handheld mode, which allows you to scan without using markers (as Einscan Pro HD does). The old model could not scan without markers in this mode. The quality and detail of scans have also been improved.
Higher scanning accuracy in manual HD mode, improved volumetric accuracy for scanning large objects
Higher scanning speed in manual HD mode
Increased 3D scanning area hybrid alignment. This expands scanning capabilities and efficiency in a wider range of tasks and areas.
Einscan Pro 2x 2020 is compact and lightweight, you can take it anywhere with you.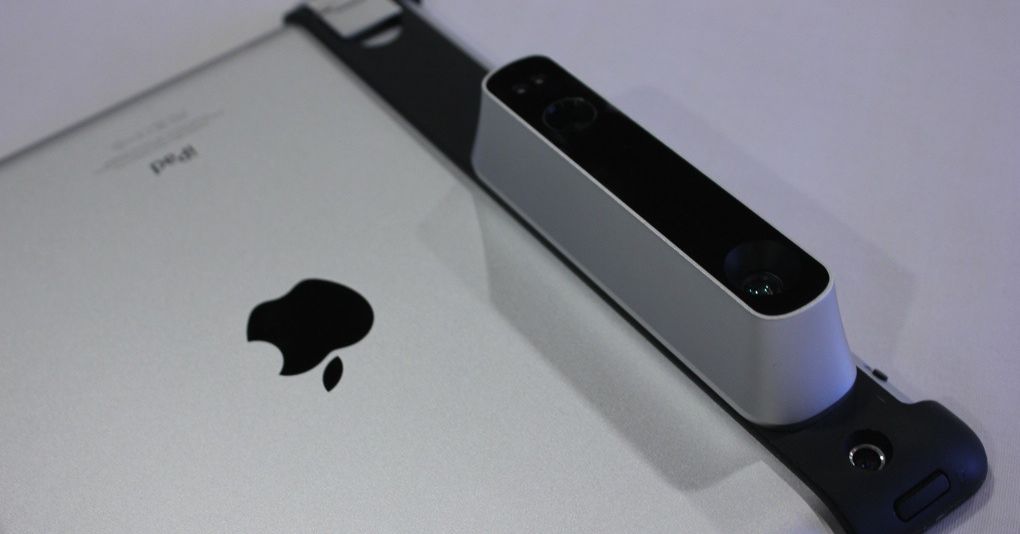 It has a comfortable grip and is light weight, and if you need HD mode accuracy, put the scanner on a tripod. The scanner is connected via USB 3.0 to a computer or laptop.
The latest developments in data capture and optimized algorithms make the Einscan Pro 2x 2020 3D Scanner a true breakthrough with a scanning speed of up to 1,500,000 points per second (at 30 frames per second) in manual scanning mode.
If you need to expand the functionality of the scanner, Shining 3D offers several options:
Color Pack 3D scanning module - an additional camera that allows you to scan with color and texture;
Industrial Pack - turntable and tripod. Suitable for high quality scanning of small objects in the studio.
Transcan C
3D Scanner
The professional-grade Transcan C 3D Scanner is capable of capturing "superiorly" accurate, high-resolution scans of small to medium objects thanks to two 12-megapixel color cameras with adjustable scan range and multi-level switching permits within a single project.
The 3D scanner has a sliding design that allows you to easily switch the scanning range between 150mm x 96mm and 300mm x 190mm to suit different sizes of objects. The multi-resolution fusion algorithm allows you to mix high, medium and low resolutions in the same project, making the scanner much more efficient, and its two cameras can capture a 24-bit color map for detailed 3D color data.
The
Transcan C features a structured light scanning mode with an automatic turntable that, in combination with the scanning software's stitching algorithm, allows "efficient 3D model acquisition without manual intervention.
What other indicators do you need to understand in order to choose what you need? - ease of setup and others. Of course, the properties are considered in a complex: the most important parameter is considered as a basic one, the rest are considered as auxiliary, but at the same time mandatory.
3D Scan Accuracy
The degree to which the copy matches the original is perhaps the most important indicator.
The technical characteristics of scanners indicate the maximum allowable deviation of the scan size from the real object. The smaller the number, the more accurate the 3D scan will be. But the deviation in reality can be greater, since it is quite difficult to create ideal conditions for the device to work, the result is affected by:
characteristics of the object;
user qualification;
scanner settings.
The use of professional 3D scanners in metrology
3D scanners handle the process of measuring the dimensions and shapes of models in a matter of minutes, unlike traditional coordinate measuring machines. The non-contact mode of operation makes it possible to scan surfaces of complex shapes (internal corners and edges), recesses and other hard-to-reach places.
After receiving all the necessary data, they are transferred to the computer for processing. The program performs a comparison of indicators in order to identify deviations - a mismatch in shape and size, the presence of chips, cracks and other deformations caused by mechanical stress or corrosion processes.
Innovatively adapted blue laser 3D scanning technology
For metrology purposes for scanning a small object, we recommend the OptimScan-5M, 3M and AutoScan Inspec Scanner-Inspector. All these devices to some extent belong to the same price niche, are multi-tasking, make it possible to obtain high-quality digital 3D models for comparison with reference samples, demonstrating:
the highest accuracy;
the ability to upload scans to processing programs;
compatible with CAD/CAM technologies;
work with objects of various sizes and shapes, including those with complex geometry;
texture tracking and color imaging.
Professional, they are also industrial, 3D scanners help to perform the following tasks:
reverse engineering;
ultra-precise 3D quality control;
implementation of intermediate stages of the technological chain of additive manufacturing;
faster prototyping and other operations.
3D scanning in mechanical engineering
The integration of 3D scanning technologies into production processes gives undoubted preferences. Properties of modern industrial devices:
high speed;
ultra-precise measurement and digital copy saving;
processing of objects regardless of the size and complexity of the form;
possibility of integration into automated production systems.
With the help of 3D scanners and specialized software, numerous processes can be performed:
reverse engineering, or reverse engineering;
metrological control;
test measurements of geometrical parameters for the purpose of quality control and detection of defects;
creation of archives of digital models.
Reverse engineering
Reverse engineering of complex shapes is one of the areas of industrial engineering. A physical sample is converted into a digital copy using a 3D scanner.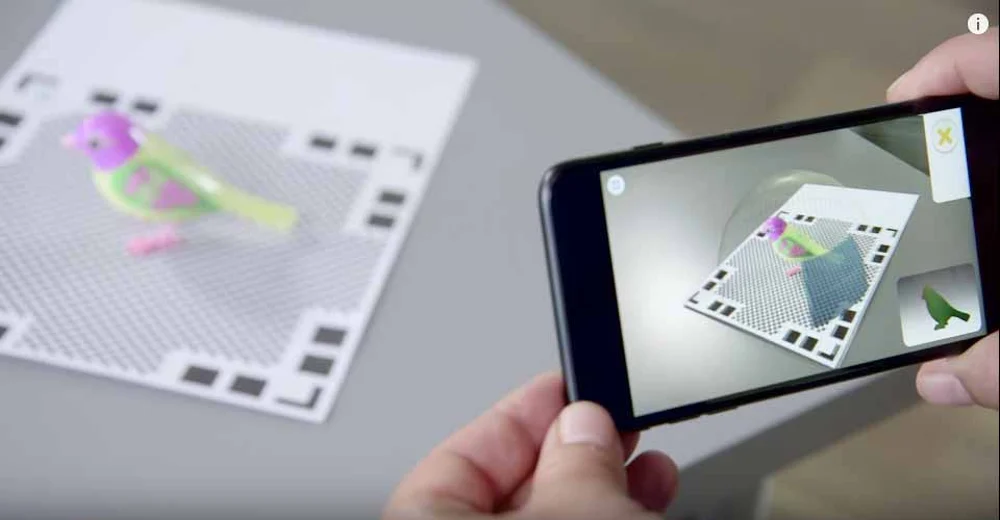 The resulting polygonal model is converted into a CAD format. The digital copy is modified and modified to achieve the specified parameters. Unlike traditional design, work takes many times less working time. The finished object becomes the basis for serial production.
Quality control
Metrological 3D scanners make it possible to obtain a point cloud of the test sample, on the basis of which an ultra-precise 3D model of the part is formed. It is compared with a digital copy of a reference sample or with an existing CAD model.
Benefits of 3D quality control:
Absolutely accurate data for reference comparison;
measurement of millions of surface points;
high speed operation;
possibility of automatic operation.
The obtained data can be used for reverse engineering.
Scanners from the metrological category are recommended for quality control.

FreeScan UE
Shining 3D Handheld Laser Scanner FreeScan UE is the latest addition to the FreeScan high performance 3D scanner line.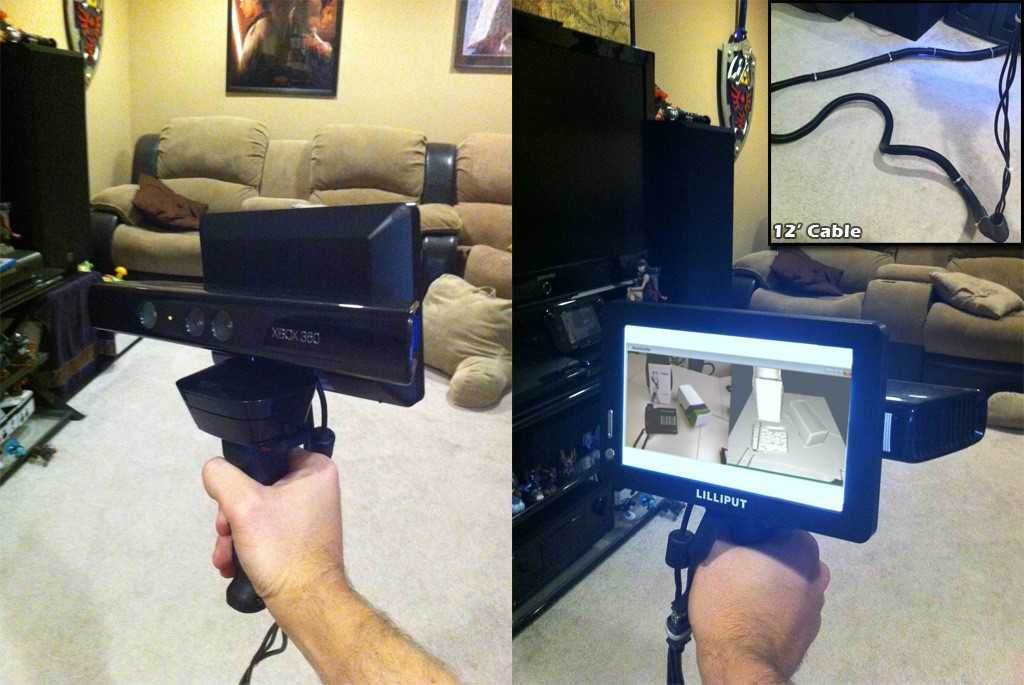 The device uses the patented blue laser technology and features high accuracy and stable repeatability.
Sunny Wong, product manager of Shining 3D, states: "Innovative adaptation of blue laser 3D scanning technology, high precision and stable repeatability, and easy and convenient operation of hardware and software, enable FreeScan UE to efficiently and accurately upgrade digital workflows in engineering and inspection tasks".
The metrology-grade FreeScan UE system delivers 0.02 mm accuracy and 0.02 mm + 0.04 mm/m volumetric accuracy. With a maximum scan area of ​​510 x 520mm, users get a field of view suitable for large-scale reverse engineering projects.

AutoScan Inspec High Accuracy Stationary 3D Scanner
AutoScan Inspec
user friendly interface;
the accuracy of the 3D model reaches the metrological level with an error of 10 µm;
the device can be used for non-contact measurement and quality control;
the process is fully automated.
Works with native software developed by SHINING 3D programmers for industrial applications.
OptimScan-5M 3D metrological scanner
OptimScan-5M
The professional 3D metrological scanner OptimScan-5M shows the best consumer characteristics required just for 3D inspection:
accuracy - 15 microns;
two 5-megapixel cameras;
high processing speed;
blue light scanning technology.
Desktop AutoScan Inspec is a two-in-one scanner-inspector that works in automatic mode. The scanner performs 3D scanning with the highest precision and 3D inspection of objects. This is one of the best devices for working with parts of complex shape and the smallest elements:
Solutions for dentistry
In dental orthopedics, 3D scanners - intraoral and dental - have become indispensable assistants for orthopedists and dental laboratory specialists. The former are used to create digital impressions and then produce perfectly fitted dentures, crowns, veneers and other dental restorations using a 3D model using CAD/CAM technology.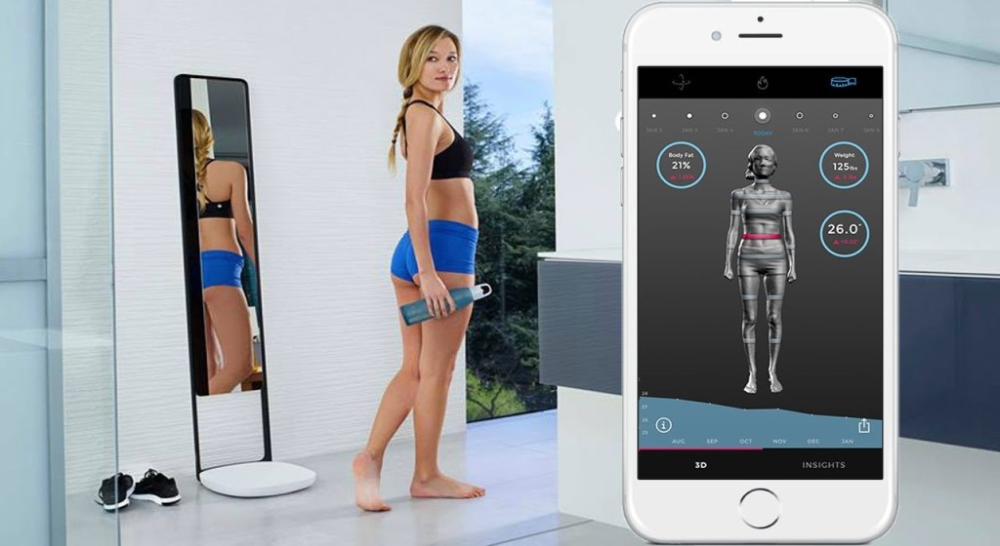 The second digitizes plaster casts or abutments with tiny elements.
Aoralscan 3
The Aoralscan 3 is a compact, powerful device with simple, user-friendly controls and an updated algorithm:
Light weight, only 240g;
Fast 3D scan, 25 sec single jaw, 1 min full arch;
2 tip sizes, suitable for adults and children;
AI Scan - speed up the scanning process;
Powerful software, ortho modeling and oral health report.
AutoScan-DS-MIX 3D Dental Scanner
AutoScan-DS-MIX
AutoScan-DS-MIX is an exceptional performance dental scanner with two 5 megapixel cameras and advanced blue light 3D scanning technology :
processing speed of one jaw - 13 seconds;
high accuracy - 7 µm;
data export to virtual articulator;
the ability to work with non-separable objects;
own fully Russified Dental Scan software compatible with most CAD/CAM solutions.
SHINING 3D's 3D modeling and additive manufacturing products make it easy to find the right equipment for solving tasks in industry, medicine, education and everyday life.

Top 13 3D scanners on the market!・Cults
In the past, 3D scanners were mainly used for industrial and professional applications. For example, scanning architectural objects or creating digital models for films. As technology advances, the price continues to drop. Now, 3D scanning gives the average person the ability to custom-make just about anything they want. With more affordable prices, 3D scanning is becoming more accessible to consumers for personal use.
But first, a basic overview of 3D scanning:
A 3D scanner scans real objects and passes the image data to a 3D modeling program. The object can then be manipulated in the software and - if desired - exported and created on a 3D printer.
1. Select any object (or person!) you want to scan
Why is 3D scanning useful?
Imagine if you could scan your body and see how clothes fit and look online before you order them? 3D scanning technology can do just that.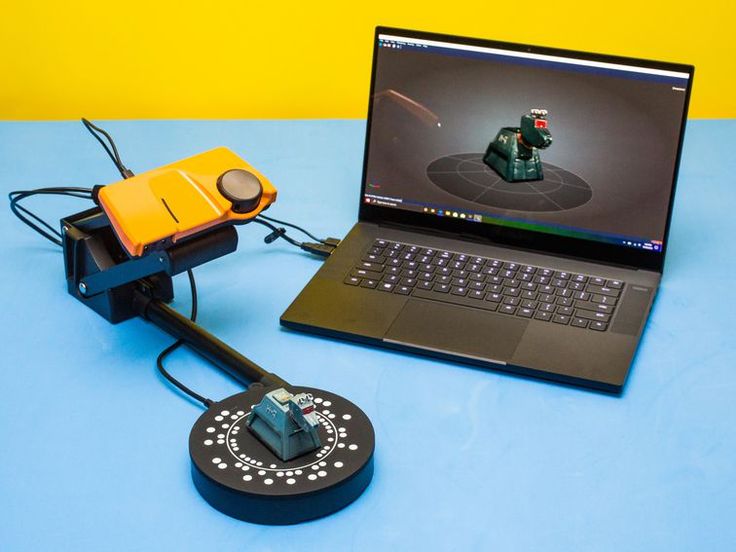 For example, bodylabs uses 3D scanning to understand how products will work for customers based on their body shape and posture.
2. Scan it and customize it in 3D modeling software
After scanning the object, you can reduce its size or edit it with free 3D design software. You can then choose to 3D print the edited file.
3. Export your model and print it in 3D!
Once the model has been scanned and edited to your liking, you can export it to .stl format and send it to a printer to bring it to life.
We have listed the 3D scanners below in ascending order of price (from cheapest to most expensive). Their rating does not necessarily reflect our judgment of the quality of the product. We've included some handy YouTube videos that go into more detail about each product.
1. XBox Kinect 3D Scanner - $95 USD
If you want to get by on the cheap, there are ways to use your old Xbox 360 or Xbox One Kinect device to get great results! If you have a Kinect.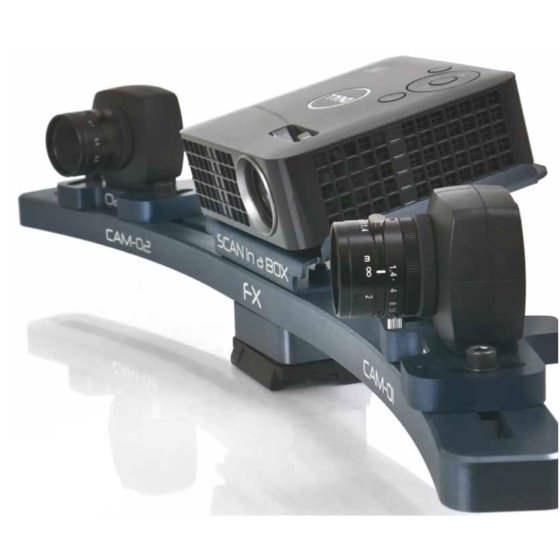 2. iSense 3D Scanner for iPhone/iPad - $99
This scanner was developed by 3D Systems as part of the Cubify family. Although they don't sell 3D printers anymore, they keep their 3D scanner in the market. Like a structure sensor, iSense attaches to an iPad or iPhone. Its range of motion is 0.5m more than the Sense.
3. XYZprinting 3D Scanner - $139
XYZprinting 3D Scanner is the cheapest portable 3D scanner on the market. At under $200, it's perfect for anyone looking to get into 3D scanning on a budget.
The size of the scanner is 60 cm x 60 cm x 30 cm, so it is best used for small items. It also uses the new Intel RealSense image capture software, which means it can connect to any Windows device with a 4th generation Intel processor.
4. BQ Ciclop 3D Scanner Kit - $199
This open source hardware project has been released under an open source license so that all mechanical design, electronics and software information is available to the community for further development .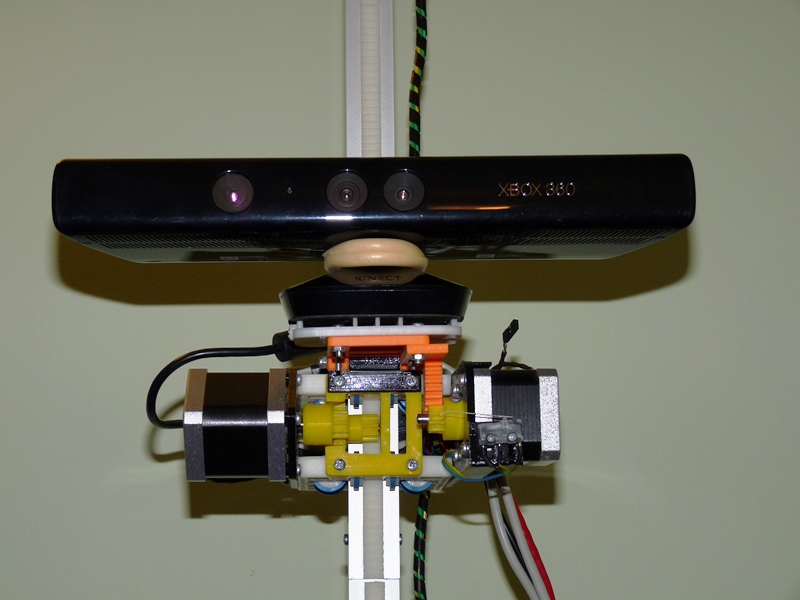 The full package costs about 199 USD. You can even download the design and print it in 3D!
5. Structure Sensor for iPad - $379
Arguably the best scanner on the market, the Structure Sensor was developed through a Kickstarter campaign that attracted over 3,500 people and raised $1.2 million. Structure Sensor turns your regular iPad into a 3D scanner that captures three streams of data at 30 frames per second.
6. Cubify Sense - $399 USD
Cubify Sense is a portable pen scanner that makes it easy to manually scan 3D objects. This makes it possible to use Sense in quite unique areas, with both advantages and disadvantages. Sense is compatible with Windows and Mac OS.
7. Matter And Form MFS1V1 Desktop 3D Scanner - $467 USD
The first ever crowdfunded 3D scanner, Matter and Form, is a Toronto-based company that has raised nearly half a million dollars to develop this product. It uses a 3D laser scanner with a movable camera head and a 360-degree rotating platform.
MFS1V1 generates a detailed point cloud, which again works very well in some scenarios and less well in others.
8. XYZprinting Da Vinci 1.0 Pro 3-in-1 3D Printer - $810
Da Vinci 1.0 Pro is both a 3D scanner and a 3D printer. It uses a laser diode module with a 2 megapixel camera (higher resolution than 1.2 megapixel iPad scanners). Please note that this machine uses proprietary 3D printing consumables.
9. Einscan-S - $999
Einscan-S has two scanning modes: automatic and free. The first one is the easiest: just place an object on the rotating surface of the Einscan turntable and the machine will scan it in just 3 minutes with an accuracy of .1 mm. For large models, free scan mode works by rotating the scanner on a tripod around the object. Einscan-S generates one STL file that can be sent directly to your 3D printer. Einscan-S produces 3D printable models with greater accuracy (using "Light Structure Phase Shift Technology" instead of lasers) than competitors, providing industrial quality 3D scanning technology within a consumer's budget.
10. IIIDScan PrimeSense 3D Scanner - $1441 USD
Greater accuracy comes at a price. This tripod-mounted 3D scanner is unique in that it uses a short-range image sensor capable of scanning 3D objects in more detail and at a faster rate than other scanners on the market.
11. Fuel3D Scanify - US$1,500
This is a very high speed handheld 3D scanner capable of capturing an object in less than 1/10th of a second. In this regard, it differs significantly from the other 3D scanners on this list. In practice, it's more like taking a 3D photograph than manually scanning an object. Fuel3D Scanify uses a dual HD stereo laser camera combined with photometric data from three xenon flashes to create reasonably realistic 3D scans in the blink of an eye (so to speak). High tech.
12. NextEngine 3D Scanner HD - $2,995 USD
The NextEngine 3D Scanner HD combines portability with very high accuracy - much better than the scanners at the top of this list. Of course, the higher the accuracy, the higher the price! It uses an electro-optical system with a laser array that scans in tandem.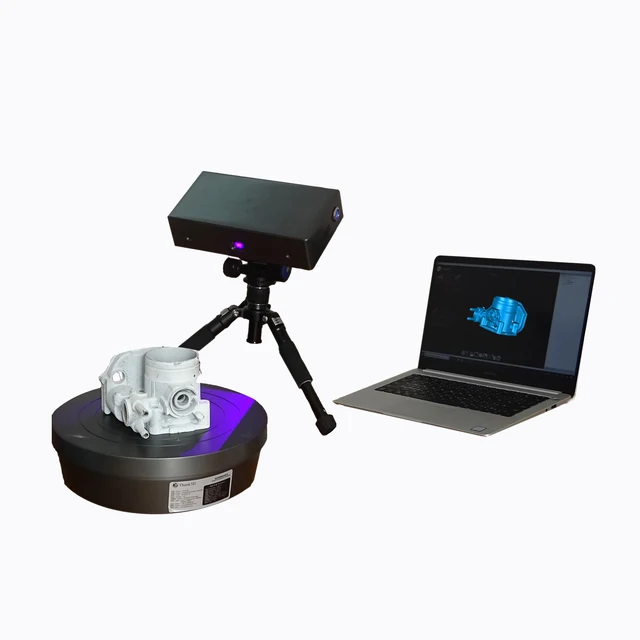 The advantage is that the high-precision scanner has no size limits. The scanner comes with its own mesh creation software package, and you can also check out their NURBS and Solid modeling packages as options.
This is the scanner for those who want to get really serious results from their 3D scanning efforts. If you check out the gallery on their site, you can see how much more detailed NextEngine scans are compared to some of the cheaper scanners on this list. Of course, these are the company's own comparisons for marketing purposes, so feel free to take them with a grain of salt!
13. DAVID SLS-2 Laser Scanner - $3,275
The scanner is expensive, but it has a unique use of "light scanning". The company boasts that you can scan everything from insects to elephants. We are told that the SLS-2 can scan 1.2 million peaks in a few seconds. Blimey!
What if none of these scanners work for you? What if you want the best of the best? What if you have several thousand dollars set aside for a 3D scanning budget? If you happen to be in this position, take a look at some of these bad guys.