Monoprice mp delta 3d printer
Monoprice Mini Delta Review 2022
4.1
See Price
If you're looking to buy your first 3D printer, you probably won't pick a really expensive one. That's okay – there are loads of low-cost printers out there; you just have to know how to tell a good model from one that isn't worth your time. That's where we come in.
Today, we'll be taking a closer look at the Mini Delta from Monoprice, a company that claims to be the best-selling 3D printer brand in the world. That doesn't mean we'll go easy on them, though! If anything, it means that the Mini Delta is going to have to be better than most of its competitors to win our approval.
| | |
| --- | --- |
| Filament Diameter | 1.75mm |
| Extruders | 1 |
| Supported Materials | PLA, ABS, PETG, Wood |
| Connectivity | USB, SD Card, WiFi |
| Printing Speed | 150mm/s |
| Build Volume | 4. 33 x 4.7" |
Table of ContentsShow
Design
As you might guess from the name, the Mini Delta is tiny. It stands just 15" tall and is less than 10" deep. Accordingly, the build area is a little smaller than average: it's cylindrical and will do for making small-to-medium sized models. Larger objects will have to be assembled from parts afterward.
The build area is open, but this model doesn't really have any issues maintaining a consistent temperature. You can always create an enclosure for it, though, if you'd like. We were pleased to find that the simple construction provides plenty of scope for modification, though, including possible expanding its build volume slightly.
This is the ideal desktop printer for beginners. It has a very small footprint, a cool appearance, and more importantly, a higher top speed than many of its rivals. This does mean that it's a touch louder, but it's still quiet enough to use in an office setting.
Printing
You might not think a budget printer like the Mini Delta would have great print quality, but it's true.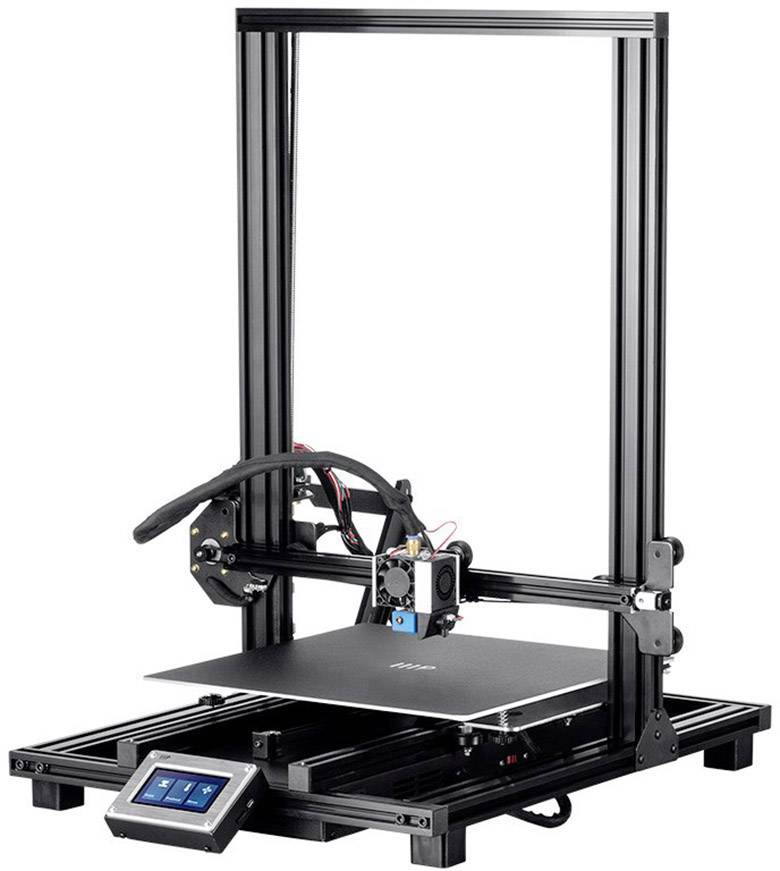 By lowering the print speed, you can drastically enhance your models. In fact, at the slowest setting, we found that the layers were far more difficult to discern, and there were far fewer excess strands of filament hanging off.
In addition to PLA and ABS, this printer can create models with PETG (the plastic used in drinks bottles) and wood-infused filaments (although this requires a metal nozzle). This gives the user much better flexibility in terms of what they can build – perfect for beginners or those looking to push the limits of entry-level 3D printers.
With a pretty small build area, this model isn't perfect for mass-production or commercial use. Its vertical shape makes injection-molding impractical too. However, it handles more materials and costs a lot less than some of its rivals, making it a strong choice for the budget-conscious consumer.
Features
The front of the unit features a large, vibrant screen. Despite appearances, it's not touch-controlled: there are three buttons to the right for navigation.
In contrast to the cluttered, endless menus we're used to, the Mini Delta shows just a few options per screen, and there's never any doubt as to an option's function.
We were amazed to see WiFi compatibility included in an entry-level printer since it's usually only found in premium models, and even then, it's not guaranteed. You can also choose to import models directly from your PC, USB stick or SD card, in case there's no internet connection where you are.
There's one more interesting feature: automatic bed-leveling. This can be done with a single click and takes much of the hassle out of preparing a print. Leveling is often the most difficult part for new users, so we're glad that this can be done with as little hassle as possible here.
Cost
So, how much do you think this printer costs? We're willing to bet you guessed too high. The Mini Delta retails for around $160, making it cheaper than even some of the open-source models we've covered before. Of course, it lacks some of the build volume, but let's be real: this is still awesome value.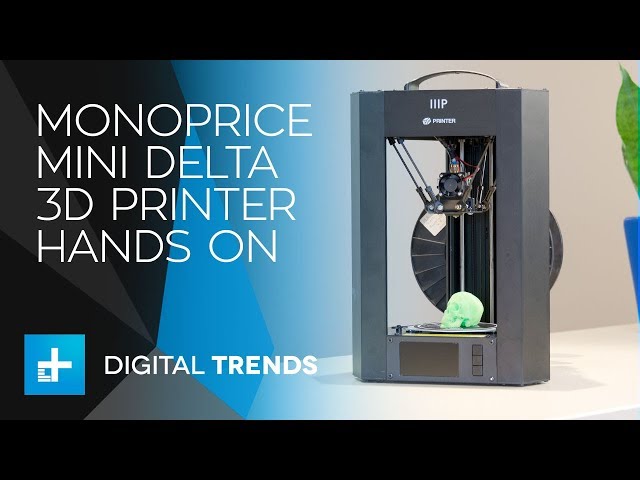 What's even better is that you can use any brand of filament. Too often, low-cost 3D printers lock users into a particular proprietary filament, but happily, that's not the case here. This gives users the freedom to experiment, find their favorite manufacturer, and tailor the printer for perfect prints almost every time.
We know that 3D printing can be a difficult hobby to start, due to the high initial cost. That said, the Mini Delta offers that which no other model does: both the ability to get started for less than $200 and room to grow in the long term. By adding your own modifications, this printer could even compete with some mid-range models.
Support
Monoprice's website has general FAQs and troubleshooting information for various 3D printers, but none specifically for the Mini Delta. That said, much of this knowledge is transferable and can be used to diagnose the root cause of any problem you might face.
Getting in touch for technical help couldn't be easier.
There's a mailing address, phone number, email form, and live chat. Additionally, your printer comes with a year's warranty and 30-day money back guarantee, which is exceptional considering its low price point. There's even a dedicated system for requesting a return, although you will have to register first.
This is how you do customer support. If a customer needs help, it's on the manufacturer to make things as simple as possible, and Monoprice has absolutely done this. Plus, since the Mini Delta is so popular if you can't find what you need on the website, there are a wealth of unofficial forums that can help you out.
Not the Monoprice that you want? Check our review about the Monoprice Select Mini, this 3D printer maybe the one for you. Read it right here.
Monoprice Delta Mini V2 3D printer review: Great for beginners
Tom's Guide Verdict
The Monoprice Delta Mini V2 is an excellent 3D printer for the price, and a good way to get started in 3D printing if you don't want to pay up for the Monoprice Voxel or Polaroid PlaySmart.
TODAY'S BEST DEALS
Pros
+

Low cost, fully-featured 3D printer

+

Prints PLA, ABS, PETG, and other materials

+

Excellent print quality for the price
Cons
-

The software has some rough edges

-

Prints are limited to 4.3 inches in diameter

-

Can't work with flexible materials
Monoprice Delta Mini V2 3D printer: Specs
Price: $199.99
Type: Delta Fused Filament Deposition (FFD) 3D printer
Filament Size: 1.75mm
Filament Type: PLA, ABS, PETG, Other
Interfaces: USB, WiFi
Storage: Micro SD
Size: 9.75 x 8.5 x 14.5 inches
Weight: 2.2 pounds
Even though it sports an unusual look for a 3D printer, there's something familiar about the Monoprice Delta Mini V2. That's because this is actually the second version of this device — we reviewed the original Monoprice Mini Delta a while back when it was a low-cost if flawed way to get started in 3D printing.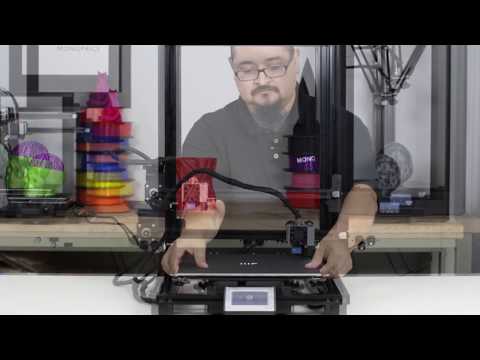 Does the new version address those flaws, which included unreliable USB connections and printing modes along with other bugs? Our Monoprice Delta Mini V2 3D printer review finds a much improved device, though software remains a weak spot.
Monoprice Delta Mini V2 3D printer review: Price
Monoprice Mini Delta V2 3D Printer (Black) at Amazon for $179.99
You can get the Monoprice Delta Mini V2 3D printer for $179, a very attractive price for entry-level printers. Consider that our top rated choice for best 3d printer — the Monoprice Voxel — costs $449, that's quite a bargain.
The Monoprice Delta Mini V2 is available directly from Monoprice .
The Monoprice Delta Mini V2 is a cute little printer, measuring just 14.5 inches high.  While most 3D printers use left-right and forward-back rails that the print head slides along, the Delta 2 uses three spider-like arms, with the print head attached in the middle. Move one of these legs up, and the print head moves in that direction.
By coordinating all three legs, the Monoprice Delta Mini V2 can move the print head anywhere in the print area. 
(Image credit: Monoprice)
It's a rather compelling motion to watch, but it does have one limitation: the print area is circular and is smaller than a more standard printer of the same size. For the Mini Delta 2, the print area has a diameter of just over 4.3 inches and a height of just over 4.7 inches. That's a total of about 81 cubic inches, which is somewhat smaller than the 107 cubic inches provided by the Polaroid Playsmart.
(Image credit: Monoprice)
The Delta Mini V2 features several ways to connect to the outside world, including a micro SD card slot, a Micro USB port and a Wi-Fi interface. The latter option is of limited use, though — you can't control the printer over a web interface or connect to it directly with a slicing app to send files. Instead, Wi-fi only works through a rather poor mobile app.
Monoprice Delta Mini V2 3D printer review: Controls
You've got several options for controlling the Delta Mini V2 — an on-device display, the PoloPrint Pro app, or through a slicer app such as Cura.
The small touch screen on the printer itself can be used with a fingertip or with an included plastic stylus. The latter is preferable, especially for precise jobs like entering a Wi-Fi password via the on-screen keyboard. Fingertips are fine for simpler jobs like pressing the start button, though. 
(Image credit: Monoprice)
The pre-release version of the PoloPrint Pro app that I tried is available for both iOS and Android. It's a bit rough around the edges: I found that it often crashed or failed to connect to the printer. When it did work, I was able to start a print from the micro SD card or from the online library and monitor the print progress, although there is no camera in this low-cost printer that lets you see the print in progress. Another omission here is the ability to load your own models and print them from the app; Monoprice told us that this might be added at a later date.
The best way to set up a print is with a slicing app such as Cura. A customized version of this open-source program for Windows and Mac is included on the micro SD card that comes with the Monoprice Delta Mini V2, and that is what we used to print in our tests.
This doesn't support connecting to the printer over WiFi, but it does support USB or saving a print file to the micro SD card. So, if you are using Cura to prepare prints, you have to use USB or micro SD to print.
Monoprice Delta Mini V2 3D printer review: Print process
The Delta Mini V2 is a pretty simple printer to use. Once you've created your print file in Cura or another program and copied it onto the micro SD card, you hit the print button in the on-screen menu and select the file to start printing.
The first thing the Delta Mini does is automatically level the print bed, touching the print head to the bed in three places to press a switch underneath it. That lets the printer know exactly where the print bed is— an important step for laying down an even first layer. Once ready, the Delta Mini lays down the first print layer on the heated print bed, then moves up to do subsequent layers.
I found that prints worked well, with few errors and no major failures.
If anything, prints stuck to the print bed a little *too* well, as I usually had to pry the final print off the bed with a paint scraper. 
The Delta Mini V2 can handle multiple filament types including PLA, ABS, and PETG. You're not restricted to filament from any one source, as the Monprice 3D printer can use 1.75mm filament from any manufacturer. We tested the Delta Mini with both PLA and ABS material and found it produced excellent results with both. 
Your biggest limitation will be the maximum temperature of the print head and the print bed (250℃ and 100℃ respectively). The Delta Mini V2 also can't handle flexible materials, as these require a different style of print head. 
Monoprice Delta Mini V2 3D printer review: Print speed
The Delta Mini V2 is a pretty fast printer in draft mode: it cranked out a 3.5-inch high Thinker figure in a little more than 3.5 hours in this mode, which uses a 0.2 mm layer height. The 3D printer is a blit slower if you run it in normal quality, as my print took 7 hours and 10 minutes.
This mode halves the height of each individual layer to 0.1mm.
Monoprice Delta Mini V2 3D printer review: Print quality
We use several test models to test 3D printers, including a scan of Rodin's Thinker statue, a set of gears and a geometric sculpture. I was impressed with the quality of the prints that the Delta Mini 2 produced, thanks to the excellent detail. 
Image 1 of 3
(Image credit: Tom's Guide)(Image credit: Tom's Guide)(Image credit: Tom's Guide)
Our Thinker test print came out looking very nice, with smooth, natural curves on his shoulders and good detail on the face. There was some noticeable layering, though in both the draft and normal modes.
Image 1 of 3
(Image credit: Tom's Guide)(Image credit: Tom's Guide)(Image credit: Tom's Guide)
Our gears test model also came out well: All we had to do to fit the gears together was to remove them from the raft that they were printed on. We didn't need to do any other trimming, cutting, or tweaking to produce a set of gears that turned smoothly and evenly.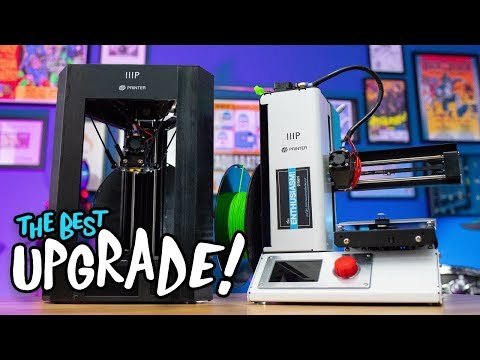 Image 1 of 2
(Image credit: Tom's Guide)(Image credit: Tom's Guide)
The geometric sculpture is a difficult print, which is why we use it in our 3D printer testing. It involves printing a lot of sharp edges at angles, which taxes the ability of the printer to precisely control the flow of the molten filament. The Delta Mini V2 handled it without issues, producing a print that had sharp, well-defined edges and points. Once we had trimmed off the support material that held the print in place during the printing process, we were left with a very well printed, spiky sculpture.
Monoprice Delta Mini V2 3D printer review: Verdict
The Monoprice Delta Mini V2 is a simple printer that does an excellent job. It prints quickly in high quality and can handle a wide range of different materials. The only limitation is the size of the print bed: with a diameter of 4.3 inches, it can't print anything wider than that or more than 4.7 inches high. That is plenty big for most users, though, and at the price, you can't beat the value the Delta Mini V2 offers.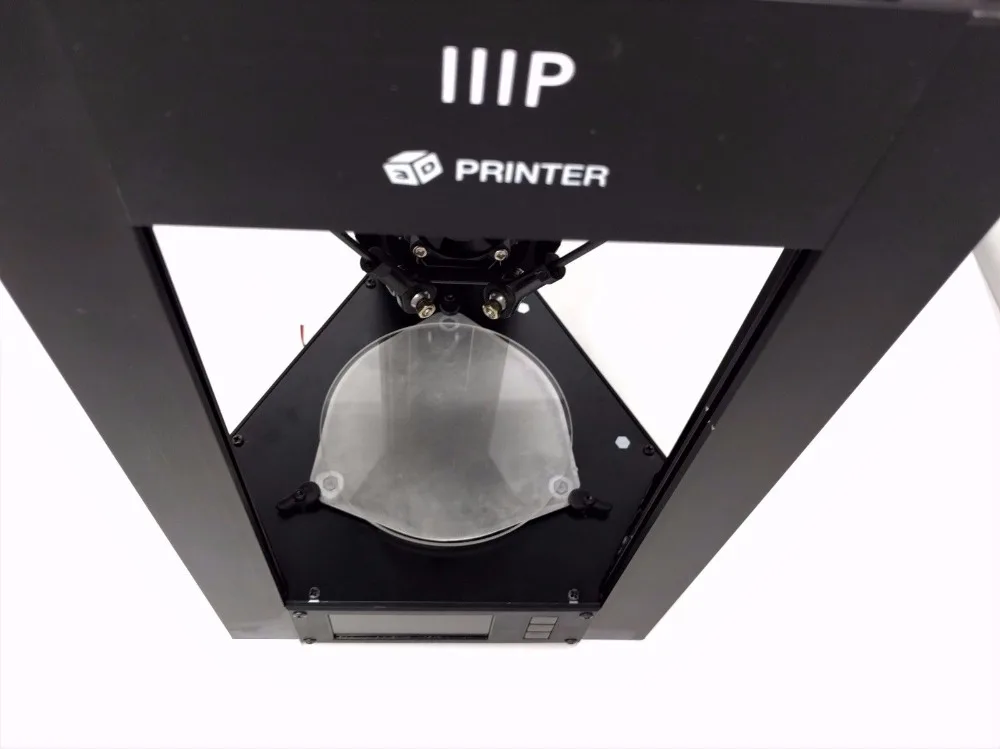 The mobile software issues still prove to be frustrating, but it's hard to find a better printer at this low of a price. The da Vinci Nano from XYZprinting hovers around $200, but it can be hard to find these days. For that reason, beginners would be wise to give 3D printing a try on a low-cost option like the Monoprice Delta Mini V2.
TODAY'S BEST DEALS
Richard Baguley has been working as a technology writer and journalist since 1993. As well as contributing to Tom's Guide, he writes for Cnet, T3, Wired and many other publications.
90,000 guide to the user of the 3D printer EZT1D T3 DELTA DIY
EZT3D T1 Management
Shenzhen Enzhuote Technology Co., LTD
Warning
. Do not touch parts directly. Even after printing is completed, the working parts will still be in a high temperature state for some time. Please wait for the working parts and print mode to cool down.
The 3D printer contains high-speed working parts, so be careful
Please use the 3D printer in an open and well ventilated area.
Please keep the 3D printer away from water.
Recommended temperature for using the 3D printer: 8℃~40℃, humidity 20%~50%, exceeding the allowable range may cause poor printing results.
In the event of an emergency, unplug the printer to directly turn off the power of the 3D printer.
Package Layout Card
Please check the details according to the list above.
Find the Memory_card, copy the software and instruction files from the card to the computer, assemble and use the 3D printer according to the instructions. files.
If ​​you have any questions, please contact us for technical support.
Check before starting
You must level the print bed for the first time before printing.
Leveling Instruction T1
Note:
You must level the print platform for the first time before printing.
Please clean the nozzle before leveling, make sure there are no other material residues.
For easy adjustment of the gap between the extruder head and the print bed, use A4 paper to drag them between them in a smooth motion.
Step 1 Smart Leveling
Look at the LCD, enter the menu, and then select "Setup" -> "Smart Leveling". At each breakpoint, use the rotary knob to reduce the gap between the extruder head and paper.
Use the rotary knob to adjust the gap between the extruder head and the paper.
Step 2. Confirmation
Select test file in Memory_card to start print simulation. Pay attention to the gap between the nozzle and the plate when working, the "return bottom" should be pressed when the gap between the nozzle and the greenhouse is too small or too large. Then adjust the z-height using the rotary knob to select "Adjust" -> "Z-height".
Customer advice
Dear customer!
First of all, thank you for purchasing this product.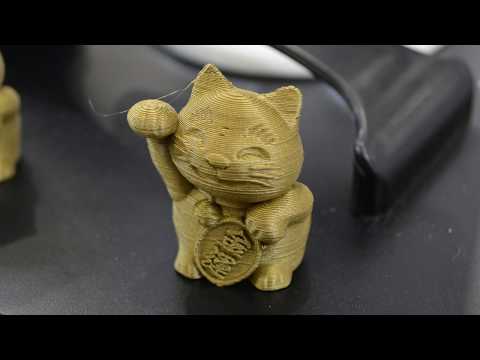 To make it easier for you to install and use our products, here are some tips that may help you.
Before installation, check that all parts are in good condition and free from shipping damage.
In order to protect the environment, we no longer offer paper instructions, all file instructions are loaded into the memory card that is included, find the memory card and check all files on your computer, if there are instruction files missing, please contact us to get them .
Any problem with the 3d printer (quality problem, damage, missed, not working, etc.), please take some photos or videos on it, and send the photos and videos to your supplier so that the after-sales engineer can look into your problem carefully and then provide you with the right solution and solve the problem perfectly, thank you very much.
Now start printing your designs and have fun!
- EZT3D Co., Ltd.
EZT1D T3 Delta DIY 3D Printer User Manual - Download [Optimized]
EZT1D T3 Delta DIY 3D Printer User Manual - Download
EZT3D T1 Delta
Monoprice Mini Delta 3D Printer Review: Great for Beginner Buyers - 9 Accessories0001
Tiffany Garrett
Accessories
Sometimes a company gets everything and releases a product that is almost perfect for a particular niche.
The Mini Delta by Monoprice is a fantastic entry or school level printer at an unbelievable price.
Monoprice sent us one of his Mini Deltas for review, and we're genuinely impressed.
Entry level amazing
MonoPrice Mini Delta
$160
Low Limit: For only $160, you can't go wrong with the Mini Delta, especially if you need multiple printers. You may think that this is too easy if you are an experienced amateur.
Pros:
Only $160
Start printing now
Quality prints
Easy to transport
Cons:
Automatic bed leveling not very good
Can be too easy for intermediate users
What are you
love
about Monoprice Mini Delta
One of the biggest obstacles to 3D printing is the cost.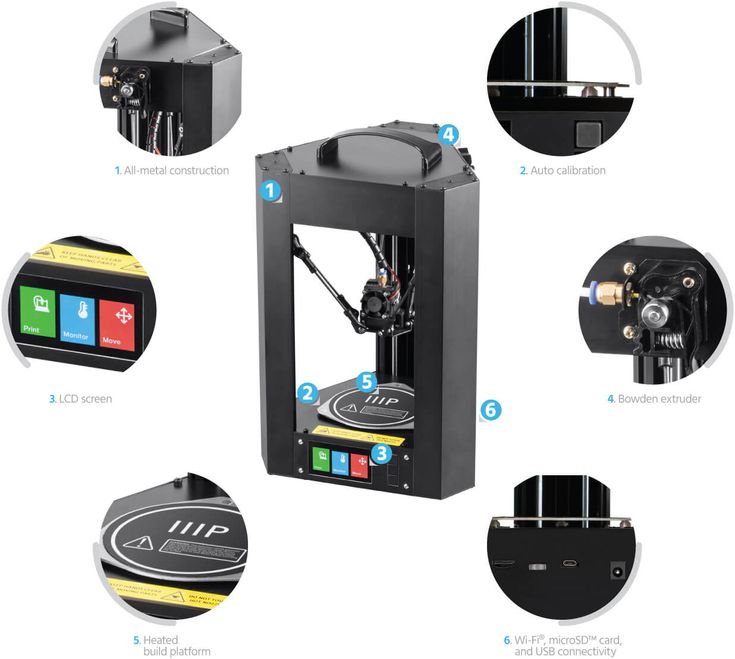 Now I know that cost isn't the most important indicator of how good a product is, but it's an indicator worth looking at. Whether you want to start a hobby from the first purchase, or want to set up a workshop in your school, then the cost of the product will change your mindset significantly. 9The 0005


Mini Delta is only $160 which is honestly amazing. The quality of the machine as well as the print quality far exceeds its tiny price.

The print quality on the Mini Delta was shocking at best. When I first printed the Joker Wekster I was amazed at the level of detail this cheap little machine gave me, even at 0.2mm layer height.

The Delta system made printing much quieter and fun to watch. You can even raise the delta and it will automatically correct itself and not lose its place. Very cool.




I did a few test prints on the Mini Delta, I recently went through a slump and had very few problems with any of them. I even picked up the printer in the middle of a print and wiggled the handy carrying handle slightly to see if I could break it and all I had was a perfect Kratos bust, nothing I did killed the print!
The print quality on the Monoprice Mini Delta is shocking at best.
Mini Delta's Bowden setup takes a bit of getting used to - Bowden is when the loom has a filament drive mechanism, not the hot end itself - but once you do, you'll see that the lack of weight of the hot end helps reduce wobble and visible lines on your models.
The Mini Delta menu system is also designed to be as easy to use as possible, with just three main options: Print, Preheat and Move. This is perfect for those who aren't interested in learning every little thing about their printer and want to focus more on what it produces rather than the device itself.
It seems like the Mini Delta was born for use in schools, where programs are designed to teach people how to model and build, not how to use a 3D printer. You could easily have 8-10 of these little printers in your workshop and not have to worry about learning how to use them. All your kids can just type from day one.
What you will love
less than about Monoprice Mini Delta
windows did not detect another display
Setting up the Mini Delta was the easiest thing I've done in 3D printing so far.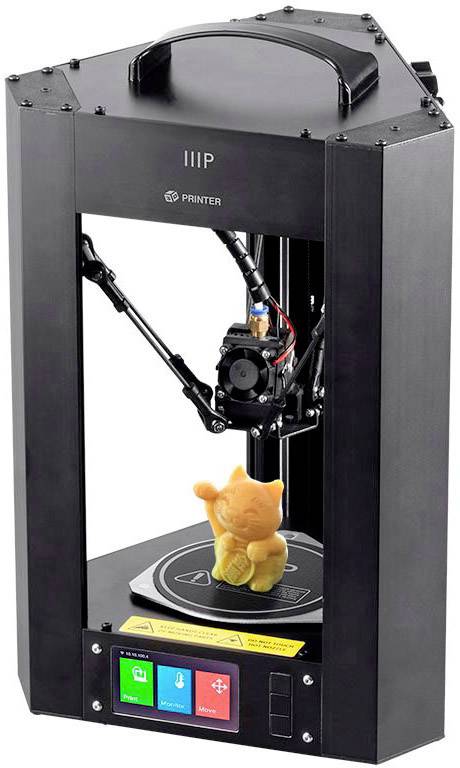 All you have to do is plug it in, feed the filament into the machine and press the print button. Unfortunately, the first layer can be problematic. Even though Monoprice claims the Mini Delta has an automatic bed leveling feature, it's not as solid as it could be.
On most machines, leveling is done with a sensor near the nozzle that measures the distance from the bed. All you need to do is press the level button and the printer will do the rest. However, the Mini Delta does not. This forces you to print a test print that sets up your bed. It's a bit slow and cumbersome compared to most alignment systems and doesn't seem to work as well.
You will need some time to level the bed and use the z offset to get the perfect layer. However, once you type it, the prints are worth it.
Read more: Everything you need to print at home
One of Delta's strengths is also its weakness. While the printer is very easy to set up and has very few active controls, this can sometimes be a real hurdle for those of us who are intermediate or advanced in our hobby.
If you don't want to connect the printer directly to a PC, connecting to a PC has its advantages, but they don't outweigh the problems associated with it. The menu catastrophically lacks any additional functions. It seems to be the trend now for Monoprice printers and I think it's a bad trend.
One of the best ways to learn and grow in a hobby is to get under the hood and do some digging. The Mini Delta and other Monoprice printers are a locked system, making learning much more difficult.
Should you buy
Monoprice Mini Delta?

If you're just starting out and wondering if this hobby of 3D printing is right for you, spending $160 on this little printer is a great idea. Sure, there are bigger, more expensive options, but for a hobbyist take on the Mini Delta, it shouldn't be a problem.

4 of 5

What a great little Mini Delta car. Despite a few minor issues, Monoprice made a great entry-level printer for a price I wouldn't have believed possible.