Faro focus 3d laser scanner price
FARO Focus 3D S120 Laser Scanner
Set up is in good condition and ready to go to work, FARO Scene 5.1 includes Hard Lock Dongle. Been serviced, calibrated by authorized Faro, set up ready to working condition and works flawlessly
FARO Focus 3D S120 for sale includes:
1x Faro Focus-3D S120, with Compass, Altimeter (Barometer), Dual-­Axis Compensator and WLAN
1x Power Supply, 2x PowerBlock Batteries and 1x Charging Cradle
1x Laser Protection Goggle
2x 32GB SD card, 1x SD Card Reader and 1x SD Card Cover
1x FARO Scene w/ Hard Lock Dongle
1x Rugged Transport Case
GITZO Carbon Fibre Tripod with Carry Bag
1x case with 6 reference spheres
1x Tribrach Adapter
FARO Focus 3D S120 | A leap in innovation and effciency to lower your costs
The Focus3D is a high-speed 3D laser scanner for detailed measurement and documentation. With a touch operated screen to control scanning functions and parameters, the Focus3D uses laser technology to produce incredibly detailed threedimensional images of complex environments and large scale geometries in only a few minutes.
The resulting image is an assembly of millions of 3D measurement points that provide an exact digital reproduction of existing conditions.
The Focus3D offers the most effcient method for three-dimensional documentation of building construction, excavation volumes, façade and structural deformations, crime scenes, accident details, product geometry, factories, process plants and more. Given its minimal size and weight as well as touch interface, the Focus3D is easy to work with and saves up to 50% of scan time compared to conventional scanners
FARO Focus 3D S120 Features:
Intuitive touchscreen display: Control all scanner functions with a touch interface for unparalleled ease of use and control
Small and compact: With a size of only 9.5 x 8 x 4in and a weight of just 11lbs, the Focus3D is the smallest 3D scanner ever built
Integrated color camera: Photorealistic 3D color scans due to an integrated color camera featuring an automatic 70 megapixels parallax-free color overlay
High-performance battery: Integrated lithium-ion battery provides up to fve hours of battery life and can be charged during operation
Data management: All data is stored on a SD card enabling easy and secure transfer to a PC. Using SCENE WebShare, images can be shared on the internet
Compass: An electronic compass is now included within the unit to associate directional data to your scans and facilitate the auto-registration process
Height Sensor (Altimeter): Each scan now includes height information which can be used to scan different foor levels in a building. The data can then be used to differentiate the ?oors
Dual Axis Compensator: To minimize the number of targets needed, the dual axis compensator enables every scan to have integrated level information
WLAN (WiFi): WLAN remote control permits you to start, stop, view or download scans at a distance
FARO Focus 3D S120 Perfomance Spesification
Ranging Unit
Unambiguity interval: 153.49m (503.58ft)
Range Focus3D 1201: 0.6m - 120m indoor or outdoor with low ambient light and normal incidence to a 90% re?ective surface
Range Focus3D 20: 0.6m - 20m at normal incidence on >10% matte re?ective surface*
Measurement speed: 122,000 / 244,000 / 488,000 / 976,000 points/sec
Ranging error2: ±2mm
Color Unit
Resolution: Up to 70 megapixel color
Dynamic color feature: Automatic adaption of brightness
Detection unit
Vertical feld of view (vertical/horizontal): 305° / 360°
Step size (vertical/horizontal): 0. 009° (40,960 3D pixels on 360°) / 0.009° (40,960 3D pixels on 360°)
Max. vertical scan speed: 5,820rpm or 97Hz
Laser (Optical transmitter)
Laser power (cw Ø): 20mW (Laser class 3R)
Wavelength: 905nm
Beam divergence: Typical 0.19mrad (0.011°)
Beam diameter at exit: 3.0mm, circular
Data handling and control
Data storage: SD, SDHC™, SDXC™; 32GB card included
Scanner control: Via touch-screen display
New WiFi(WLAN) access: Remote control, Scan Visualization and download are possible on mobile devices with Flash®
Multi-Sensor
Dual axis compensator: Levels each scan with an accuracy of 0.015° and a range of ±5°
Height sensor: Detects the height relative to a fxed point via an electronic barometer and adds it to the scan
Compass: Electronic compass gives the scan an orientation. A calibration feature is included
Hardware Spesification
Power supply voltage: 19V (external supply), 14. 4V (internal battery) Cable connector: Located in scanner mount
Power consumption: 40W and 80W respectively (while battery charges) Weight: 5.0kg
Battery life: Up to 5 hours Size: 240x200x100mm3
Ambient temperature: 5° - 40°C Maintenance calibration: Annual
Humidity: Non-condensing Parallax-free: Yes
Faro Focus S350 Laser Scanner
Faro Focus S350 Laser Scanner for sale, brand new 1 Year Faro Manufacturer Warranty including 1 Year License SCENE Software and Maintenance Contract.
Faro Focus S350 sale includes;
Faro Focus S350 Laser Scanner: with HDR Photography, GPS, Compass, Altimeter (Barometer), Dual-axis Compensator, WLAN, Accessory Bay, IP Rating 54, On-site Compensation Functionality, Calibration Certificate, Quick Start Guide, User's manual,  Rugged Transport Case
Battery Power Block, Battery Power Dock, 90W Power Supply
Optic Cleaning Fluid, Optic Cleaning Tissues
32GB SD Card, SD Card Reader, SD Card Cover
Allen Wrench
USB stick with SCENE software Licence
Tripod
We currently have for sale used Faro Focus S350 3D laser scanner, very lightly used, still like new in perfect condition, used on a single project in the past, the project is wrapped up and the owner no longer use the scanner.
Everything is fully functional in excellent perfect condition, full calibration, re-certification and services by authorized Faro service to enhance its performance and accuracy to meet factory specifications. Fresh 12 months calibration certificate included, 1 Year extended Faro warranty.
FARO FOCUS S350 LASER SCANNER
The Faro FocusS 350 combines all benefts from FARO's well-known Focus3D Laser Scanners with today's most innovative features to perform laser scanning in both indoor and outdoor environments - truly mobile, fast and reliable. The FARO FocusS 350 provides the next level of laser scanning for all applications in industries like Construction, BIM/CIM, Public Safety and Forensics.
BENEFITS
Scanning in rough environments while providing protection from dust, debris and water splashes
Confdent data quality through the on-site compensation
Reality-like scan data by increased distance accuracy and angular accuracy
Future-proof investment and expandability due to the integrated accessory bay
Easy handling of scanner control through its large and luminous touchscreen
 
FARO FOCUS S350 LASER SCANNER FEATURES
- ACCURACY
The FocusS now captures environments with increased accuracy regarding distance, dualaxis compensator and angular measurement.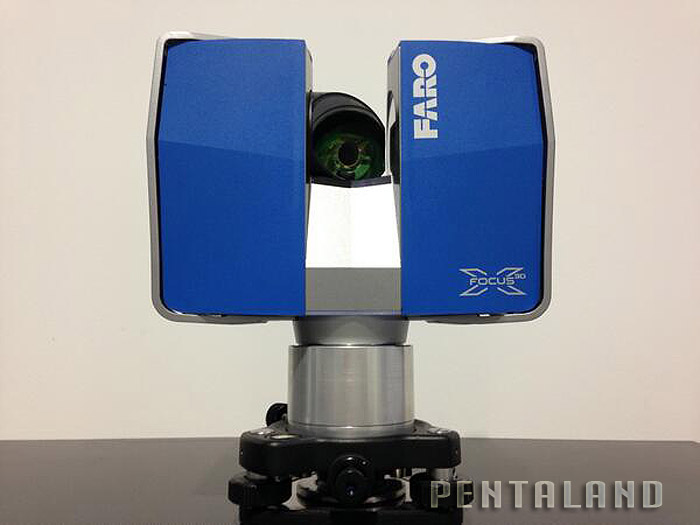 - TEMPERATURE
Extended temperature range allows scanning in challenging environments
- ON-SITE COMPENSATION
With the on-site compensation functionality users can verify and adjust the FocusS
compensation on-site.
- IP RATING - CLASS 54
With the sealed design, the FocusS is certifed with the industry standard Ingress Protection (IP) Rating and classifed in class 54 against environmental infuences.
- HDR PHOTO OVERLAY
The HDR camera captures detailed imagery easily while providing a natural color overlay to the scan data captured under extreme brightness gradients.
- ACCESSORY BAY
With this future-proof interface users can connect additional accessories to the scanner, which offers an option for user specifc customization.
FARO Focus S 350 Laser Scanner, the latest ultra-portable enables you to capture fast, straightforward and accurate measurements of complex objects and buildings.
The intuitive touch-screen of the FocusS models has been increased in size and clarity to deliver an extraordinary user experience. A built-in 8 mega-pixel, HDR-camera captures detailed imagery easily while providing a natural colour overlay to the scan data in extreme lighting conditions. Familiar traits such as light weight, small size and a 4.5-hour battery runtime per charge makes the Focus S Laser Scanner truly mobile for fast, secure and reliable scanning.
The Focus S 350 offers extra long range of 350m, with their sealed design, are certified via the industry standard Ingress Protection (IP) Rating, and classified in Class 54 for environmental protection. The devices are built to safeguard against intrusions such as dirt, dust, fog and rain as well as other outdoor elements which typically occur in challenging scanning conditions. In addition the laser scanner offers a future-proof interface to connect additional accessories to the scanner and provide a specific on-site compensation routine.
The FARO Focus S 350 is specially designed for outdoor applications due to its small size, extra light weight and extended scanning range. The FocusS 350 provides scanning results even in challenging environments, narrow job-sites, dusty or humid areas, in rain or direct sunlight applications. An on-site compensation tool allows data quality optimisation on-site. Integrated GPS & GLONASS receiver enable easy positioning. HDR imaging and HD photo resolution ensure true-to-detail scan results with high data quality.
Remote scanning as well as almost limitless scan data sharing via SCENE Webshare Cloud make the laser scanning solution truly mobile.
Faro Focus S 350 Technical Information
Range: 0.6 - 350m
High Dynamic Range (HDR) Photo Recording 2x/3x/5x
Measurement Speed: up to 976,000 points/second
Ranging Error: ± 1mm
Sealed Design - Ingress Protection (IP) Rating Class 54
On-site Compensation
Accessory Bay
Angular Accuracy: 19 arc sec for vertical/horizontal angles
Integrated Colour Camera: Up to 165 mio. pixel
Laser Class: Laser class 1
Weight: 4.2kg
Multi-Sensor: GPS, Compass, Height Sensor, Dual Axis Compensator
Size: 230 x 183 x 103mm
Scanner Control: via Touch Screen Display and WLAN
Downloads
FARO_Focus_S_350_Laser_Scanner_Datasheet
FARO_Focus_S150_S350_Laser_Scanner_Flyer
FARO_Focus_Series_Laser_Scanner_Datasheet
Faro_Focus_M70_S70_S150_S350_User_Manual
Faro_Focus_M70_S70_S150_S350_Quick_Start_Guide
Laser 3D scanner Faro Focus 3D X120 description and characteristics, scanning features and measurement results.
3D laser scanner Faro Focus 3D X120 is a portable, high-speed 3D laser scanner for high-precision scanning and documentation of measurements. Using laser scanning technology, the Faro Focus 3D X120 laser scanner in a matter of minutes creates a three-dimensional digital model of the surrounding space and objects, including geospatial data.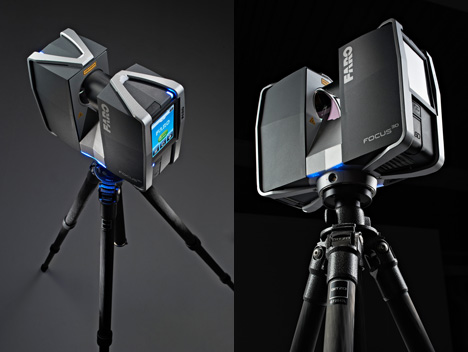 The 3D Focus laser scanner is equipped with a touch screen to control scanning options. The resulting image is a cloud of millions of 3D points in color, which creates an accurate color digital 3D model of the existing environment.
Measuring range Faro Focus 3D X120 - up to 120 meters. It is ideal for outdoor use, 3D building documentation, accident and crime scene recording, building shrinkage monitoring and construction work, and more.
Application of Faro 3D laser scanner in architecture
Architectural measurements, geodetic support for the design and installation of facade structures, control of deformations when loads are applied to structures, three-dimensional modeling of buildings, streets and quarters, drawing up detailed plans and 2D drawings, monitoring of facades , creation and restoration of as-built design documentation and the creation of working drawings, laser scanning and road mapping. This entire list of applications of 3D scanners in architecture is constantly expanding by professionals who daily find new applications for laser scanning technologies.
Technical characteristics
General technical characteristics
Weight: 5.0 kg
Gabarit dimensions: 240 x 200 x 100 mm
Calibration: Annually
Parallax: there is no
Vertical sensor from
Lontaniya for two axes: accuracy 0.015 °;
Range ±5°
Voltage: 19V (external power),
14.4V (battery)
Power: 40 W (powered by battery or external power)
80 W (powered by external power while charging battery)
Battery life: up to 5 hours
Ambient temperature: +5°C ÷ +40°C (continuous use)
From -20°C (short-term, up to 30 minutes).
Humidity: Non-condensing
Cable connector: Located on scanner base
Measuring speed: 122 kpts/s
244 kpts/s
488 kpts/s
976 kpts/s
System error: ±2 mm at 10 m and 25 m, at 90% and 10% reflectance
System noise:
* 10m - raw data:
0.6mm at 90% reflection
1.2mm at 10% reflection
* 10m - noise filter:
0.3mm at 90% reflection
0.
6mm at 10% reflection
* 25m - raw data:
0.95mm at 90% reflection
2.2mm @ 10% reflection
* 25m - Noise filter:
0.5mm @ 90% reflection
1.1mm @ 10% reflection
camera
Resolution: up to 70 MPIX, color
Dynamic color: Automatic adaptation of brightness
Paralyx: absent (camera is built -in the measurement channel)
Feature area
Vertical field of view: 305 °
Horizontal field of view : 360°
Vertical pitch: 0.009° (40.960 3D pixels at 360°)
Horizontal pitch: 0.009° (40.960 3D pixels at 360°)
Maximum vertical scan speed: 5.820 rpm or 97Hz
Laser (Optical Transmitter)
Laser Power: 20mW (Laser Class 3R)
Wavelength: 905nm
Beam Divergence: Typical 0.16mrad (0.009°)
Output Beam Diameter: 9005, 3.8mm Scanner control and data storage
Scanner control: Touch display
Data storage: SD, SDHCTM, SDXCTM; 32GB card included
---
Print
FARO Focus 3D laser scanner from Vivtech.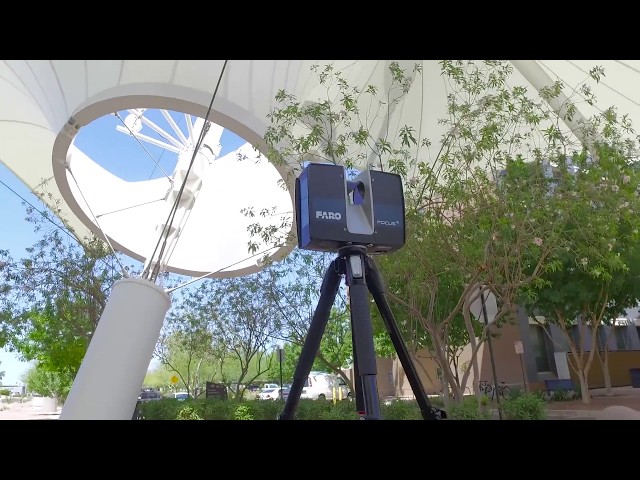 For 3D scanning of large objects Tel. in Moscow +7(495) 755-91-45
Is that right?
YesChange city
High-speed laser scanner FARO Focus allows you to get a three-dimensional digital model (point cloud) of the surrounding space within a few minutes. Two modifications of the device are designed for an operating range of up to 20m and 120m. The received data contains millions of points (scan speed up to 967000 points per second) and the most detailed detailed information about the environment. Thanks to a special technology, it is possible to combine several scans into a single point cloud, which makes it possible to obtain the geometry of objects whose size exceeds the working area of ​​the device.
Applications:
Reverse engineering
High-precision scanning of industrial objects
Criminalistics
Architecture scanning
Digitization of tunnels
Measurement of linear-angular dimensions of large items
Control and analysis of complex curved surfaces by comparison with a CAD model.
Features:
Millimeter precision
Scanning speed 976,000 points per second
Color scans possible with built-in camera
Complete autonomy. Li-Ion battery allows you to work up to 5 hours. No additional devices required for scanning
Wireless control capability via WiFi
Built-in touch display and intuitive interface make it easy to operate the
scanner
Compass and altimeter are built into the FARO Focus 3D scanner to simplify the stitching of point clouds
All data is stored on an SD card and can be easily transferred to a computer.
An example of laser scanning of an architectural object using FARO Focus
Scan result
Example of the industrial product scan
Using the Faro Focus scanner to fix DTP
The result of scanning of the production premises 9000 9000 9000 Hallows of the marshmallow of the museum using Far Far Far.
FARO SCENE software interface
Specifications of the FARO Focus 3D laser scanner:
Measuring unit
Working area:
Model Focus 3D 120: 0.6m to 120m
Focus 3D 20 model: 0.6m to 20m (indoor/outdoor with ambient light and 90% reflective surfaces).
System error: ±2 mm when measured from 10 m to 25 m, at reflectance from 10% to 90%
Acquisition rate: 122000 / 244000 / 488000 / 976000 points per second.
Digital camera unit
Resolution: up to 70 MP
Dynamic color: Automatic brightness adaptation
Parallax: None.
Optics
Horizontal field of view: 360°
Vertical field of view: 305°
Vertical pitch: 0.009° (40.960 3D pixels at 360°)
Horizontal pitch: 0.009° (40.960 3D pixels at 360°)
Max vertical scan speed: 5,820rpm or 97Hz.
Laser
Laser power : 20 mW (Laser class 3R)
Wavelength: 905 nm
Beam Divergence: Typical 0.