Chinese 3d printers
Best Chinese 3D Printers on the Market
Hi everyone! Today, we will tell you about the best 3D printers manufactured by Chinese companies, which have greatly contributed to the development of additive manufacturing. In this article, we list both FDM and resin solutions, dividing them based on their price range. Here, you will find the best Chinese 3D printers better suited for beginners, enthusiasts, or seasoned professionals. 
FDM 3D Printers
3D printers under $500
Anycubic i3 Mega S
Specifications
Extrusion type: Single
Nozzle diameter: 0.4 mm
Build volume: 210 x 210 x 205 mm
Max. print speed: 100 mm/s (recommended 60 mm/s)
Min. layer thickness: 100 µm
XY accuracy: 12 µm
Outer dimensions: 410 x 405 x 452 mm
Weight: 14.5 kg
Connectivity: SD card, USB
Price: $239.00
Overview
The Anycubic i3 Mega S is an affordable all-metal FDM 3D printer that provides high-quality prints while costing less than $250.
Minimum shaking and vibrations allow for more accuracy and repeatability. The Ultrabase heated platform, print resumption after a power failure, and the mechanical filament sensor streamline your printing experience taking care of the most common problems. The sensitive, multilingual touch screen ensures easy navigation and operation. The Anycubic i3 Mega can be easily upgraded to meet your requirements. With the 0.4 mm nozzle, the device is able to produce accurate, smooth-surfaced models with a high level of detail. The print head uses rods with linear bearings; the machine also features double-Z limit switches, making it more powerful and accurate.
Pros and Cons
Pros:
Filament detection and print recovery;
Great quality and material compatibility;
Affordable 3D printer.
Cons:
No actual auto bed leveling;
A little noisy.
Print example
An interesting model by hobbyist @ill_mandy528.
Source: instagram.com
Creality Ender 5 Pro
Specifications
Extrusion type: Single
Nozzle diameter: 0.4 mm 
Build volume: 220 x 220 x 300 mm
Min. layer thickness: 100 µm
XY accuracy: ±100 µm
Outer dimensions: 552 x 485 x 510 mm
Weight: 26 kg
Connectivity: SD card, USB
Price: $414.99
Overview
An upgraded version of the well-known budget Ender 5, the Pro version features open-frame aluminum construction granting high stability and precision while keeping the printer easily accessible. This affordable kit has a soft magnetic self-adhesive heated bed, a metal extruding module, and an independent motherboard ensuring quiet operation. The wear-resistant, firm structure includes high-standard V-slot profiles and pulleys along with a double Y-axis control system, which makes for stable, smooth operation and higher durability.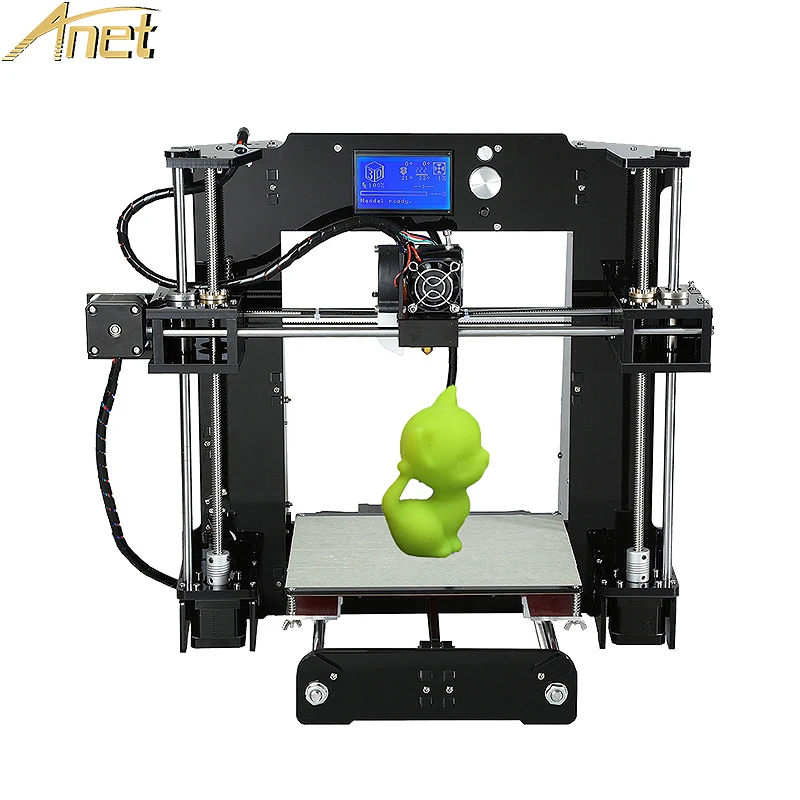 The printer is ideal for rapid prototyping and home use, being employed to print a variety of models including figures, toys, buildings, prosthetics, and so on.
Pros and Cons
Pros:
Print recovery after a power outage;
Removable heated bed;
Super quiet operation;
Large build volume.
Cons:
No filament runout sensor;
Excessive wiring.
Print example
Amazing models of Hatsune Miku, the Japanese Vocaloid, printed by @benerullanart.
Source: instagram.com
3D printers under $1000
Creality CR-10S Pro V2
Specifications
Extrusion type: Single
Nozzle diameter: 0.4 mm 
Build volume: 300 x 300 x 400 mm
Max. print speed: 180 mm/s
Min. layer thickness: 100 µm
XY accuracy: ±100 µm
Outer dimensions: 550 x 490 x 650 mm
Weight: 13.7 kg
Connectivity: SD card
Price: $616.99
Overview
The Creality CR-10S Pro V2 kit sports such smart features as a BL-Touch probe providing automatic bed leveling, a filament runout sensor, dual-gear extrusion, improved filament feeding tube, and a resume printing function. Besides, the device has a powerful 480W Mean Well power supply and a motherboard with an extra-silent stepper driver ensuring quiet operation.
The machine is perfect for entry-level users and more experienced makers. It is used to produce various household items, original designs, prototypes, accessories, tabletop models, souvenirs, props, and more. The extruder of the CR-10S Pro V2 is equipped with an upgraded fan for printing with PLA-type materials.
Pros and Cons
Pros:
Large build volume;
Highly upgradable;
Sturdy and powerful.
Cons:
Open frame;
Inconsistent automatic bed leveling.
Print example
Source: instagram.com
Qidi Tech X-Pro
Specifications
Extrusion type: Dual
Nozzle diameter: 0.4 mm 
Build volume: 230 x 150 x 150 mm
Max. print speed: 100 mm/s
Min. layer thickness: 50 µm
XY accuracy: 11 µm
Weight: 28 kg
Connectivity: USB, Wi-Fi, Ethernet
Price: $599.00
Overview
Made of strong aluminum frame and quality components, the Qidi Tech X-Pro is a personal FDM 3D printer used by hobbyists and students. Shipped mostly assembled, it will be up-and-running within an hour.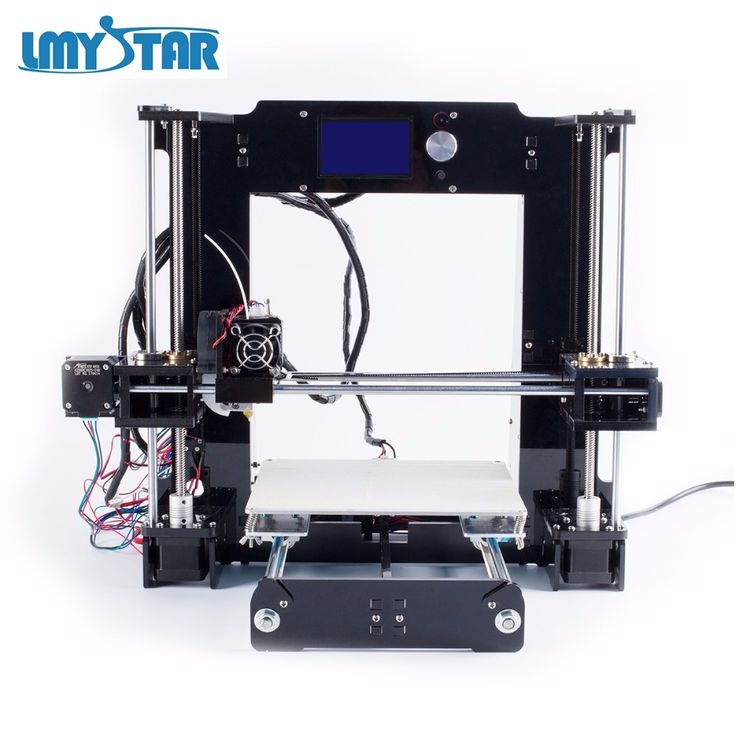 It provides above-average print quality and, thanks to its robust design, ensures high accuracy and reliability. The heated print bed grants good adhesion without needing external aids. The X-Pro features power-off resume, flashy interface and Wi-Fi connectivity. It is equipped with a front door that closes magnetically and lets you easily access the print chamber. It's been used to print a wide variety of models, including home decorations, gadgets, miniatures, and upgraded components.
Pros and Cons
Pros:
Remarkable stability;
Print recovery after a power failure;
Redesigned double extruder;
Convenient price.
Cons:
The extrusion unit requires installation;
Manual bed leveling only.
Print example
A peculiar vase by @morrow3dprinting.
Source: instagram.com
Enthusiast/Professional 3D printers
Raise3D Pro2 Plus
Specifications
Extrusion type: Dual
Nozzle diameter: 0.2–0.8 mm 
Build volume: 305 x 305 x 605 mm
Max. print speed: 100 mm/s
Min. layer thickness: 10 µm
XY accuracy: 0.78125 µm
Outer dimensions: 620 x 590 x 1105 mm
Weight: 52 kg
Connectivity: Wi-Fi, Ethernet, USB
Price: $5,999.00
Overview
The Raise3D Pro2 model represents an upgraded version of the Raise3D N-Series. It has a fully enclosed chamber, aluminum frame, dual extruder, and the print recovery in case of a power outage. Although the printer resembles its predecessors, it has a number of structural differences and improvements. Thanks to the ability of the hotend to heat up to 300 °C, the machine supports a wide range of consumables including PLA, ABS, HIPS, TPU, FLEX, nylon, bronze, wood, carbon, and some others.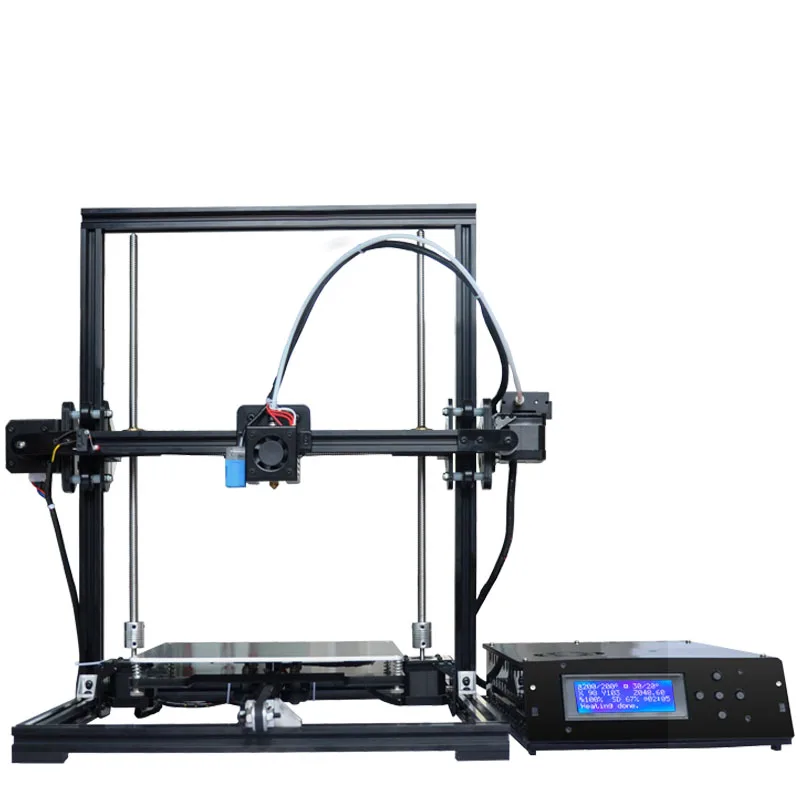 The device features a HEPA filter which absorbs more than 91% of harmful substances. The well-designed kinematics and replaceable nozzles add to the excellent print quality and high accuracy. (It is advisable to use a 0.2 mm nozzle for better detail.) The extruder is equipped with filament runout sensors, ensuring more reliable printing. Switching between extruders takes less than one second. For the user to be able to monitor the print process remotely, there is a webcam embedded in the device. The 7" touch screen with color interface ensures convenient, comprehensive control.
Pros and Cons
Pros:
Large build volume;
Outstanding print accuracy;
Print recovery after a power failure;
Filament runout sensors;
The webcam inside the device allows monitoring the printing process remotely.
Cons:
Possibly tricky calibration;
No notification once a print is finished.
Print example
A skull of Tyrannosaurus Rex made with the Raise3D Pro2 Plus by maker @james_drake1.
Source: instagram.com
Qidi Tech X-Max
Specifications
Extrusion type: Single
Nozzle diameter: 0.4 mm 
Build volume: 300 x 250 x 300 mm
Max. print speed: 150 mm/s
Min. layer thickness: 50 µm
XY accuracy: 11 µm
Outer dimensions: 600 x 550 x 600 mm
Weight: 27.9 kg
Connectivity: Ethernet, USB, Wi-Fi
Price: $1,299.00
Overview
The Qidi Tech X-Max is a large-sized, semi-professional device aimed at hobbyists, students, tinkerers, and professionals. It comes with such noteworthy features as easy bed leveling, silent operation, good air filtering, Wi-Fi connectivity, pause-and-print function, power-outage recovery, high build quality, and dual-Z axis.
Although it is a single extrusion machine, the Tech X-Max benefits from two extruders that support different kinds of materials, standard or high-performance ones. Backed by a reliable support service and ongoing upgrades, it delivers accurate prints with great quality at a good price point. It is used to print a wide variety of objects, including ornaments, characters, cosplay accessories, and functional elements.
Pros and Cons
Pros:
Large build volume;
Advanced technology;
Smart features;
Supports specialty filaments.
Cons:
No filament runout sensor;
Lack of remote control and monitoring options.
Print example
TierTime X5
Specifications
Extrusion type: Single
Nozzle diameter: 0. 2–0.5 mm 
Build volume: 180 x 230 x 200 mm
Max. print speed: 200 mm/s
Min. layer thickness: 50 µm
XY accuracy: 100 µm
Outer dimensions: 850 x 625 x 520 mm
Weight: 52 kg
Connectivity: USB, Wi-Fi, Ethernet
Price: $3,699.00
Overview
The Tiertime X5 is a continuous 3D printer targeted at small-scale manufacturing. It adopts a Melted Extrusion Modeling technology and was designed for printing multiple objects without interruption. To achieve this goal, it is engineered with a build plate auto-swapping mechanism and a clever print queue management function. It is a sturdy, reliable printer with a fully-enclosed design.
Thanks to the auto-swapping system, the device is capable of automatically ejecting a completed print from the build plate and reloading up to 8 trays, starting a new job immediately. Additionally, the printer has a pause-and-print function, an end-of-the-filament detection system, and an internal build plate vault that can house 12 print beds.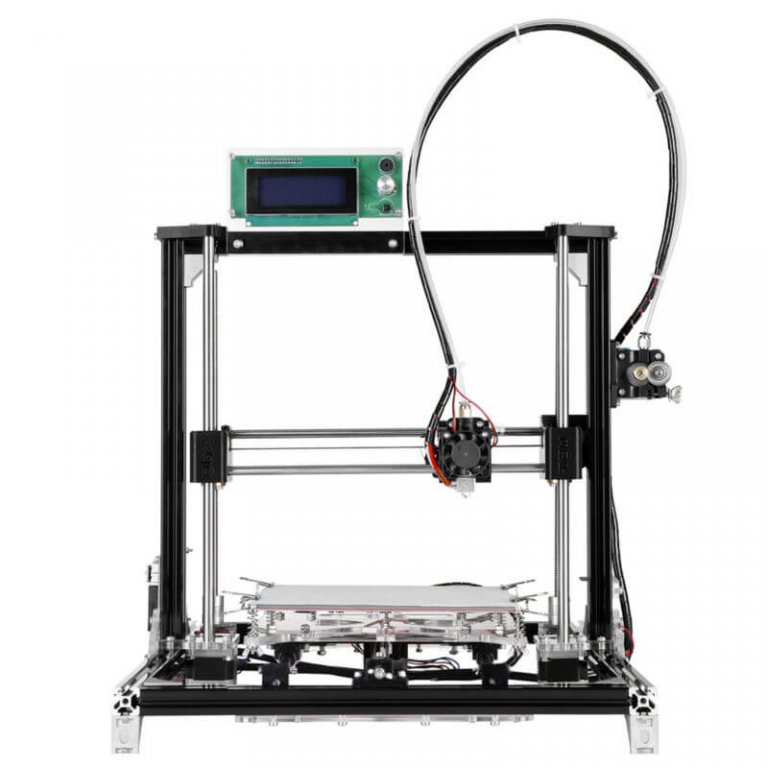 These smart features make X5's exceptional peculiarity possible. The device is also equipped with a heated bed, which is automatically calibrated after each print.
Pros and Cons
Pros:
Continuous 3D printing;
High level of automation;
Air filtration system;
Automatic tray replacement system.
Cons:
In spite of the chamber illumination, it is difficult to see what's going on inside.
Print example
A beautiful rose bouquet by @dtslasia.
Source: instagram.com
Resin 3D Printers
3D printers under $500
Anycubic Photon S
Specifications
Optical system: UV LCD (wavelength 405 nm)
Build volume: 115 x 65 x 165 mm
Max. print speed: 20 mm/h
Min. layer thickness: 25 µm
XY accuracy: 47 µm
Outer dimensions: 230 x 200 x 400 mm
Weight: 5.9 kg
Connectivity: USB
Price: $419.00
Overview
Being an improved version of the original Anycubic Photon, the Photon S model boasts upgraded software and hardware that make the operation more convenient and the prints more accurate. Other upgrades include an enhanced UV LED and a charcoal air filter. A new Z-axis dual linear rail enhances the stability of printing by reducing wobbles and improving print results. With the layer thickness of 25 microns, it is possible to make objects with smooth surfaces and complex geometries, and the pause-and-play function enables you to check the status of printing. The device is operated via a convenient touch screen with an intuitive menu.
The Anycubic Photon S is used in small-scale production and prototyping (jewels, art designs, miniatures).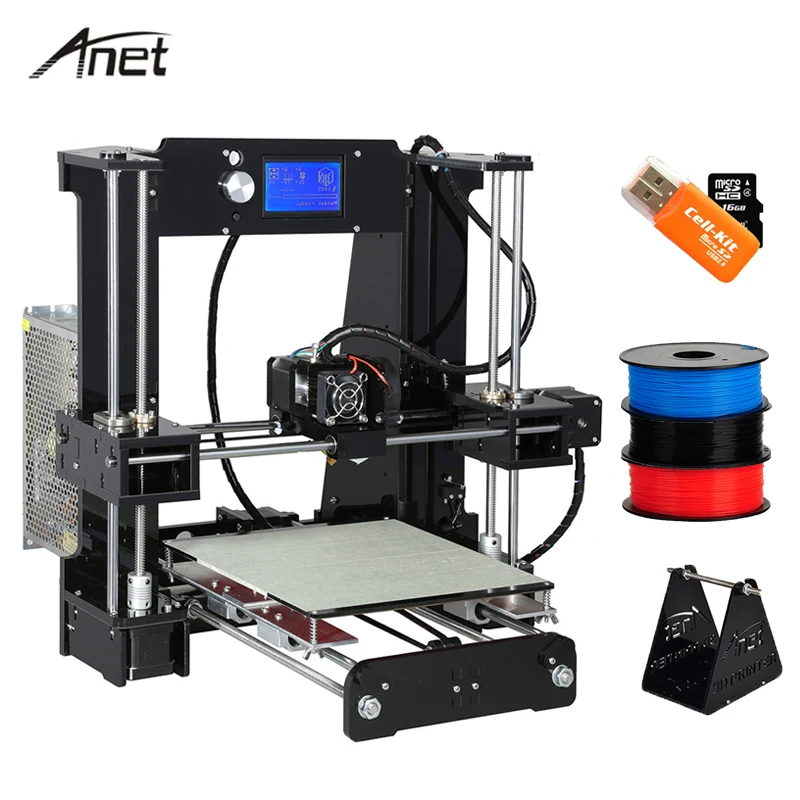 It is available at quite a competitive price.
Pros and Cons
Pros:
Great price/performance ratio;
Easy to set up and operate;
Accurate details;
User-friendly, simple-to-use slicer.
Cons:
Relatively small size of the build chamber (typical for the segment).
Print example
Source: instagram.com
Source: instagram.com
Anycubic Photon Zero
Specifications
Optical system: 405 nm UV LED
Build volume: 97 x 54 x 150 mm
Max. print speed: 30 mm/h
Min. layer thickness: 10 µm
XY accuracy: 115 µm
Outer dimensions: 180 x 195 x 367 mm
Weight: 4.7 kg
Connectivity: USB
Price: $219. 00
Overview
This smaller version of the original Photon comes with a 480 x 854 pixels LCD screen and uses 405 nm matrix UV light technology. It is available at a very convenient price, making resin 3D printing accessible to anyone. Compact and cheap, it is the perfect fit for almost any desk.
The device comes fully assembled. Despite its low price tag, the Anycubic Photon Zero includes some thoughtful features and improvements. For example, it combines linear rail and lead screw for better Z-axis motion. This results in higher accuracy and quality printing results. The UV module has been upgraded, too. It relies on a parallel lights matrix that provides uniform distribution of the light for higher print quality. The resin tank includes level marks to easily check the resin level at a glance. Also, it benefits from a quick FEP replacement mechanism. Ideal for beginners, the printer can be used to produce a variety of tiny models with decent print quality.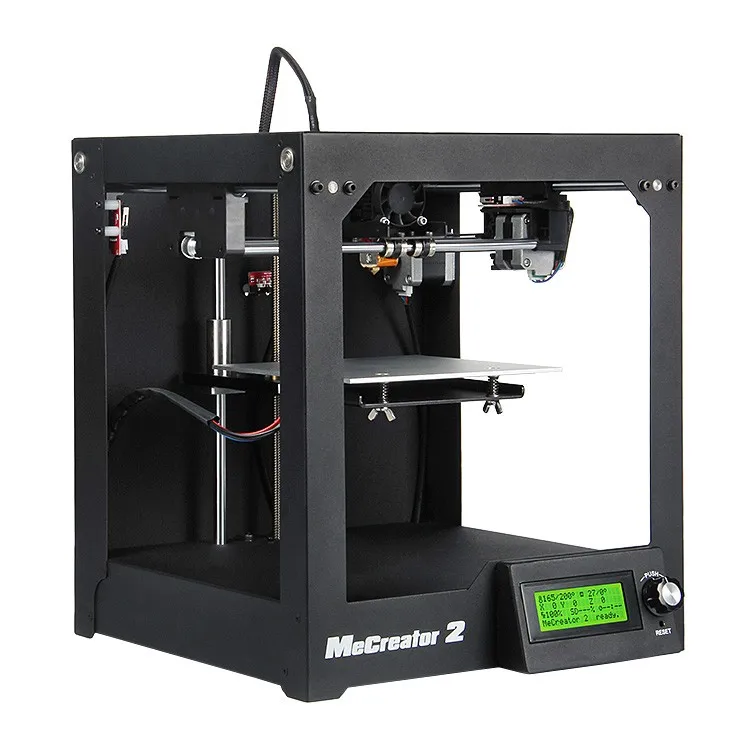 Pros and Cons
Pros:
Extremely convenient price;
Quick FEP replacement;
High-precision Z-axis motion.
Cons:
Proprietary software only.
Print example
An enchanting palace printed with the Photon Zero by @rmsilver7.
Source: instagram.com
Creality LD-002R
Specifications
Optical system: UV integrated lamp bead (wavelength 405 nm)
Build volume: 119 x 65 x 160 mm
Max. print speed: 30 mm/h
Min. layer thickness: 20 µm
XY accuracy: 75 µm
Outer dimensions: 221 x 221 x 403 mm
Weight: 7 kg
Connectivity: USB
Price: $239.99
Overview
The Creality LD-002R comes with an all-metal body with CNC-machined aluminum parts.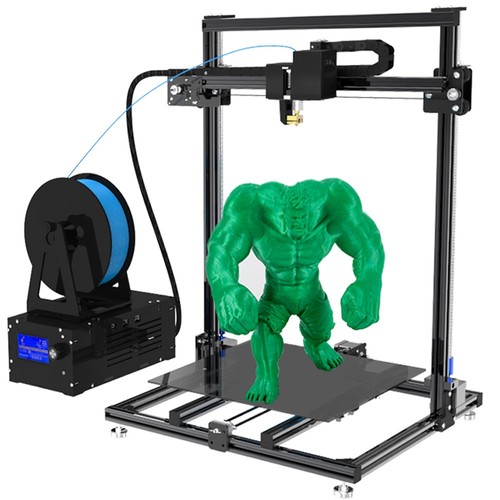 Its robust fully-enclosed case helps reduce vibrations, providing higher quality outputs. The printer adopts a Z-axis ball screw and single linear rail, which ensures steady yet accurate movement. The quick manual leveling system lets you align the build plate to the LCD screen only by loosening 4 hex screws.
The printer comes with a resin vat with a redesigned structure which includes a special long-lasting FEP release film tightened from both sides of the tank. Thanks to its configuration, by removing the film you will be able to remove any residue from the tank. The device is equipped with an effective air filtering system composed of a dual-fan system and an active carbon air filtering. Thus, it is able to minimize odors and harmful emissions while printing. Ideal for home and educational uses, it can be employed to produce a broad range of resin models with ease.
Pros and Cons
Pros:
Extremely convenient price;
Air filtering and purification system;
User-friendly design.
Cons:
Controversial perforated build plate;
Some users complain about the quality of the touch screen.
Print example
Source: instagram.com
3D printers under $1000
Wanhao GR 1
Specifications
Optical system: 6.3-inch 2K LCD
Build volume: 140 x 78 x 180 mm
Max. print speed: 33 mm/h
Min. layer thickness: 10 µm
Outer dimensions: 500 x 280 x 260 mm
Weight: 12.5 kg
Connectivity: USB
Price: $669.00
Overview
The Wanhao GR 1 is a desktop-sized resin 3D printer and an advanced version of the Wanhao D7 Plus. Powerful yet affordable, the GR 1 comes with a larger active build volume and lets you create parts with a resolution of 54 microns.
The printer uses a direct UV MSLA LCD technology and is equipped with a 6.
3" 2K LCD panel. The custom-made UV light array has 9% extra power than standard resin printers. It relies on Uniformtrix technology, which grants up to 89% optical uniformity without distortion. Unlike its predecessor, the GR 1 features an improved and more durable metal construction with enhanced linear guides, dual Z-axis rails, and an openable window. It also includes a radiator fan and a built-in power supply for safe use. The device comes fully assembled to start printing just out of the box.
Pros and Cons
Pros:
High level of detail;
Air filtration system;
Decent build volume;
Uniformtrix technology.
Cons:
Print example
A refined miniature by @cholubin.
Source: instagram.com
Wanhao Duplicator 7 Plus
Specifications
Optical system: 405 nm UV lamp, DLP curing system
Build volume: 120 x 68 x 200 mm
Max. print speed: 35 mm/h
Min. layer thickness: 35 µm
XY accuracy: 0.1 µm
Outer dimensions: 200 x 200 x 430 mm
Weight: 12 kg
Connectivity: Wi-Fi, Ethernet, SD card
Price: $799.00
Overview
This one is a professional 3D printer by the renowned Chinese company Wanhao. This Duplicator 7 Plus is capable of printing small 3D models, highly detailed and with complex shapes. It is one of the most affordable DLP printers currently available on the market. Compared to its predecessor, it comes with some noteworthy improvements, including higher accuracy down to 0.0001 mm, a redesigned touch screen, better air-cooling system, and faster print speed.
The device features a triple cooling fan minimizing the risk of overheating. The auto-generated supports are easy to detach by hand, ensuring smooth results. A redesigned control box has been integrated into the machine. The built-in touch screen gives you full access to all the printing settings.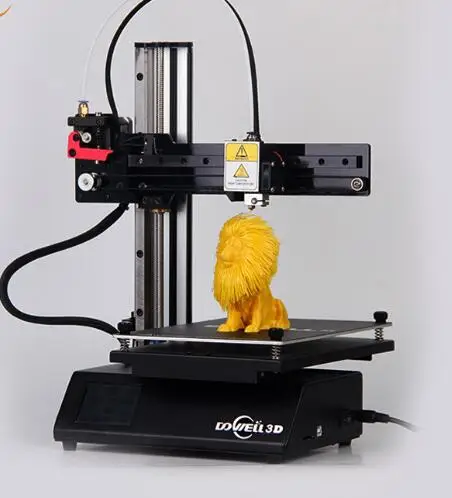 The Duplicator 7 Plus comes almost fully-assembled, you only have to set up the build plate and fill the resin tank.
Pros and Cons
Pros:
High precision;
Fast printing speed;
Great price for a DLP printer.
Cons:
Cooling fans are relatively weak.
Print example
Enthusiast/Professional 3D printers
Flashforge Hunter
Specifications
Optical system: 405 nm LED
Build volume: 120 x 67.5 x 150 mm
Max. print speed: 10 mm/h
Min. layer thickness: 25 µm
XY accuracy: 62.5 µm
Outer dimensions: 360 x 309 x 614 mm
Weight: 17.7 kg
Connectivity: Wi-Fi, USB
Price: $3,999.00
Overview
The Flashforge Hunter is notable for producing objects of exceptional quality.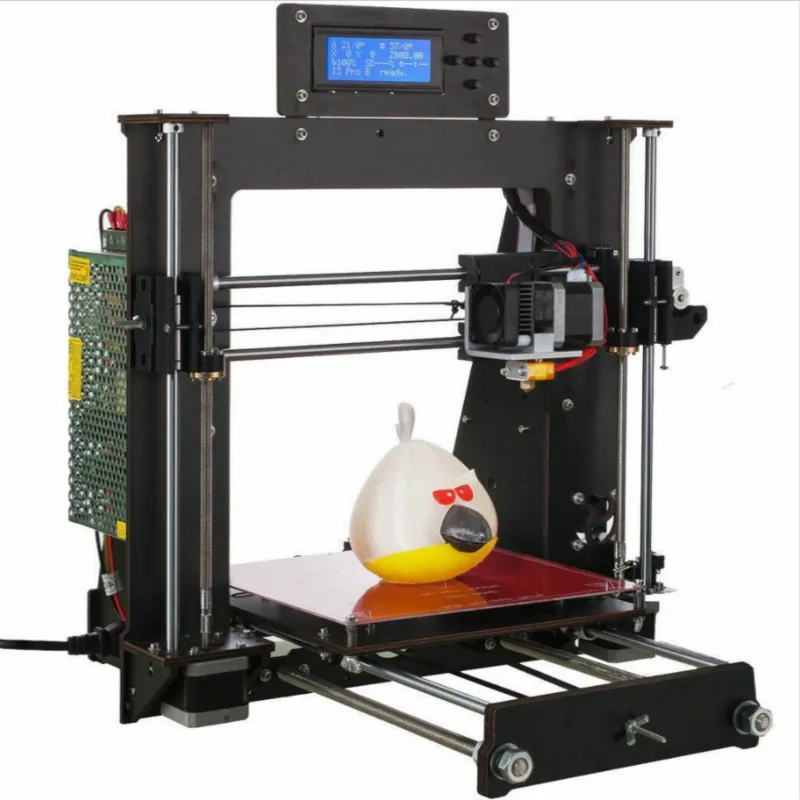 The device employs a self-developed full HD projector that ensures more stability and greater printing quality. It also comes with a durable resin vat made of aluminum and adopts a purpose-built light engine. The engine can be tuned to specific wavelengths ensuring uniform UV exposure and high printing quality. The printer adopts a linear motion system that allows achieving fine surface finishes with faster build times.
The printer is controlled via a color touch screen and a button with a simple and intuitive UI. This versatile machine is used to print hearing aids, dental impressions, castable ring models, and many other functional tools. It is also suitable to print small, highly precise and accurate models.
Pros and Cons
Pros:
Outstanding print quality;
High-quality proprietary light engine;
Intuitive UI.
Cons:
Inconvenient film replacement.
Print example
Source: instagram.com
Wanhao Duplicator 8
Specifications
Optical system: 405 nm UV LED array design with 90% optical uniformity
Build volume: 192 x 120 x 180 mm
Max. print speed: 30 mm/h
Min. layer thickness: 35 µm
XY accuracy: 75 µm
Outer dimensions: 450 x 450 x 600 mm
Weight: 12 kg
Connectivity: Wi-Fi, USB 
Price: $1999.00
Overview
Another great product by Wanhao, the Duplicator 8 is capable of printing one full layer at once with Z-axis resolution up to 10 microns. It is equipped with a temperature controller, 2K high-definition LCD, inner air-filtration system, and resin sensor. The high resolution of the printer provides fine, quality details.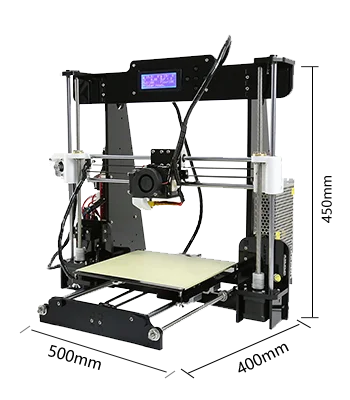 3D models can be printed via USB flash drive or over Wi-Fi. You will be able to print wirelessly in 3 simple steps by dragging and dropping your 3D models from your device to the printer.
Pros and Cons
Pros:
High print speed;
Real-time operation via Wi-Fi;
Fairly large build volume;
Plug-and-play; easy to operate.
Cons:
No print recovery after a power outage;
Noise.
Print example
Source: instagram.com
Uniz Slash Pro
Specifications
Optical system: 5500 Lux blue LED array liquid cooling system
Build volume: 192 x 120 x 400 mm
Max. print speed: 200 mm/h
Min. layer thickness: 10 µm
XY accuracy: 75 µm
Outer dimensions: 350 x 400 x 730 mm
Weight: 18 kg
Connectivity: USB, Wi-Fi, Ethernet
Price: $4,499. 00
Overview
An upgraded version of the standard Uniz Slash, the Pro version shares all the main features of the original model while relying on the innovative proprietary Uni-Directional Peel (UDP) technology. Based on the reduction of the up-and-down peel to a one-directional action, this technology increases the print speed of the resin printer up to 600 mm/hr, without the need of pure oxygen or exotic separation materials. The high speed is also achievable thanks to the effective liquid cooling system adopted.
The Slash Pro UDP printer has a stable structure, which helps reduce column distortion, and its large print volume allows producing big parts in one go, making intricate geometries up to 400 mm tall. Thanks to its accuracy and capability, the Slash Pro can be used by both hobbyists and professionals. The final resolution and surface finish of the printed models makes them ready-to-use fresh off the printer.
Pros and Cons
Pros:
Ultra-fast resin printing;
Proprietary peel technology;
Huge print volume.
Cons:
Print example
Uniz Slash 2
Specifications
Optical system: 5500 (±300) Lux blue LED array R/I matched liquid cooling
Build volume: 192 x 120 x 200 mm
Max. print speed: 200 mm/h
Min. layer thickness: 10 µm
XY accuracy: 50 µm
Outer dimensions: 350 x 400 x 530 mm
Weight: 15 kg
Connectivity: USB, Wi-Fi, Ethernet
Price: $3,500.00
Overview
The Uniz Slash 2 is a next-gen 3D printer powered by an 8.9" 4K ultra HD LCD light engine. The printer adopts a powerful 6-core CPU with 4GB RAM capable of ensuring a high level of dimensional accuracy and resolution.
The stable and robust device is composed of CNC-machined/cast aluminum parts and injection-molded elements. It features a strong, easy-to-remove dual-layer vat designed to be used with all Uniz resins.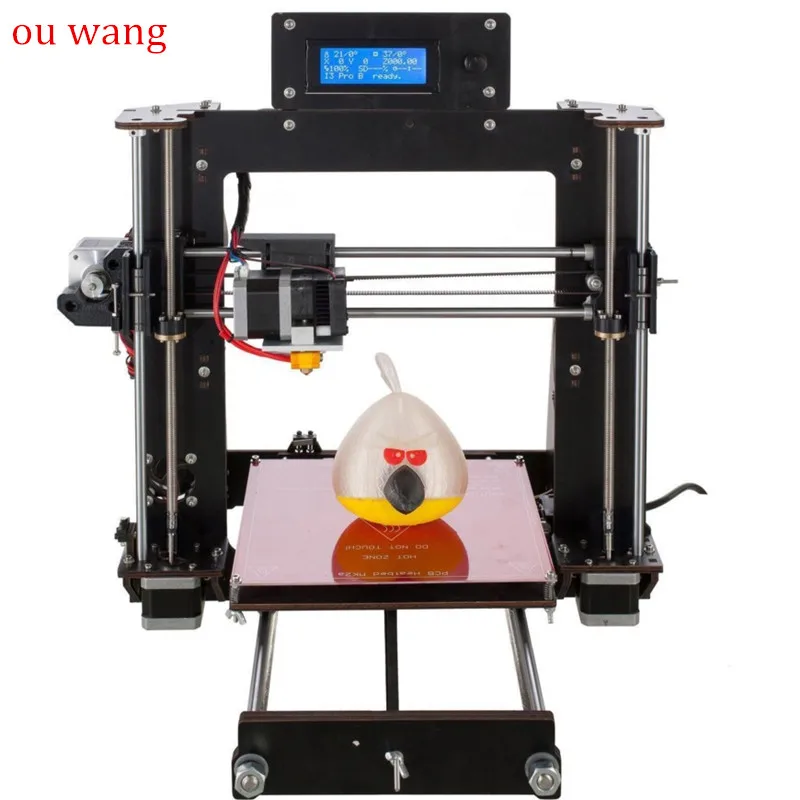 The device boasts a reliable and user-friendly 4K LCD screen, which can be easily replaced. The Uniz Slash 2 can be used for producing dental models, jewelry, miniatures, and figures.
Pros and Cons
Pros:
Custom-designed long-life LCD;
Ultra-durable resin tank;
Intelligent thermal design;
Large build volume.
Cons:
No screen to control the device without the PC/mobile connection;
Unlikely affordable for hobbyists.
Print example
Buy an SLA/DLP/LCD printer from Top 3D Shop and get the original device with an official warranty and the best service possible.
20+ Chinese 3D printing companies you'll need to know in 2022 »
Stay up to date with everything that is happening in the wonderful world of AM via our LinkedIn community.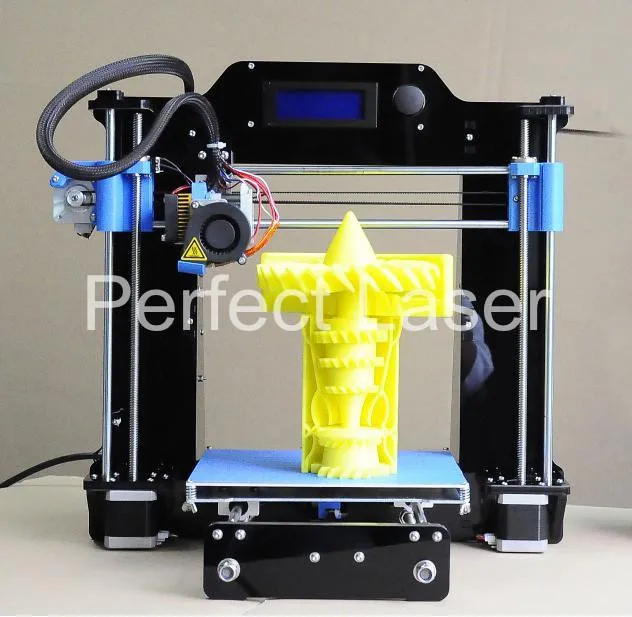 Obtaining information and interacting with Chinese 3D printing companies is no easy task. The way we do business and the way we communicate in most Western countries are often so different and the language barrier does not help. However, that is also what makes Chinese 3D printing companies so interesting and fascinating. Over the past five years, China went from a very marginal presence in the AM industry to a leading nation, with dozens of companies producing (and increasingly exporting) hardware systems and hundreds of companies using AM for prototyping, tooling and actual final parts production all over China.
A common stereotype is that Chinese 3D printing companies don't innovate, rather they take existing technologies and make them available at lower costs through economies of scale. Apart from the fact that this would already be quite an achievement in 3D printing in and of itself, it is far from being the entire story. In fact, Chinese 3D printing companies continue to improve on technologies and register new patents, leveraging often unique know-how in materials, robotics, mechanics and engineering.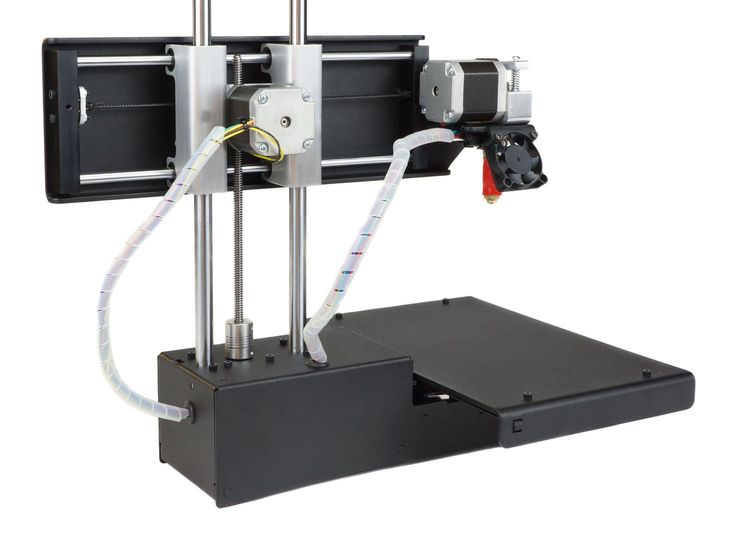 Perhaps more importantly, they also use them a lot. We often joke around that, in AM, Europeans tend to highlight everything that is not yet working to perfection; Americans tend to highlight the fact that everything is working to perfection while Chinese don't highlight anything and just put the technology to work.
The Chinese presence in today's AM market spans multiple segments. One is the entry-level 3D printer segment, where Chinese companies have been able to now offer ultra-affordable systems for both filament extrusion and LED photopolymerization, with the added benefit for the entire global AM industry of enabling an unprecedented number of people to enter the world of 3D printing. The next level is production capabilities: there are now service facilities in China that house more than 100 industrial machines, either SLA (laser stereolithography) or SLM (L-PBF) and do serious parts production for the domestic market. Then there are those Chinese 3D printing companies that have begun to build their presence abroad, offering increasingly competitive machines.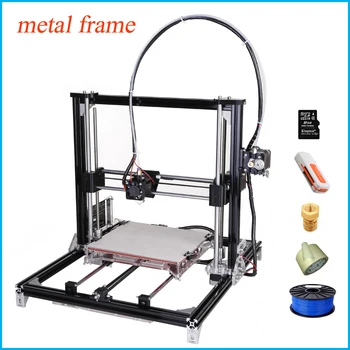 Let's take a look at some of the most important ones.
All 3D printing companies are based on the more industrialized Pacific Coast of China. The positions of the companies' logos on the map do not reflect the exact location; they are meant to indicate the approximate geographic area of each company's HQ.
Dominating the desktop
Where is China dominating in the AM industry? Desktop 3D printers are certainly a big part of it. Not so long ago, our friends at Nanji Xiong, China's leading 3D printing news website, organized a conference with leading Chinese 3D printing market operators and reported that as much as 70% of the desktop 3D printing market is now controlled by Chinese manufacturers. Who are they? Let's take a look.
1 – Creality 3D
With the ultra-successful Ender series of 3D printers, Creality became the leading manufacturer of entry-level filament extrusion systems worldwide. Founded in 2014, the company grew rapidly from a four people workshop to over 550 employees.
Besides extrusion systems, Creality also markets DLP/SLA light curing printers, 3D scanners, 3D viewers and 3D printing filaments. In 2021, Creality also launched the ambitious Creality 3DPrintMill(CR-30)project together with celebrity maker Naomi Wu, an infinite-Z volume 3D printer building on the work of Karl Brown and Bill Steele.
2 – AnyCubic
Founded in 2015, Shenzhen-based Anycubic is one of the most credible competitors for entry-level market dominance, with a team that has now grown to over 300 employees. Unlike Creality, Anycubic owes its popularity to the price and quality of its Photon LED stereolithography line of resin 3D printers, which truly made high-resolution printing accessible to everyone. Like Creality, Anycubic also manufacturers and markets other types of products, including the Vyper line of filament extrusion systems. Not content, the company also ventured in the more advanced DLP segment, with the recent launch of the Anycubic Photon Ultra.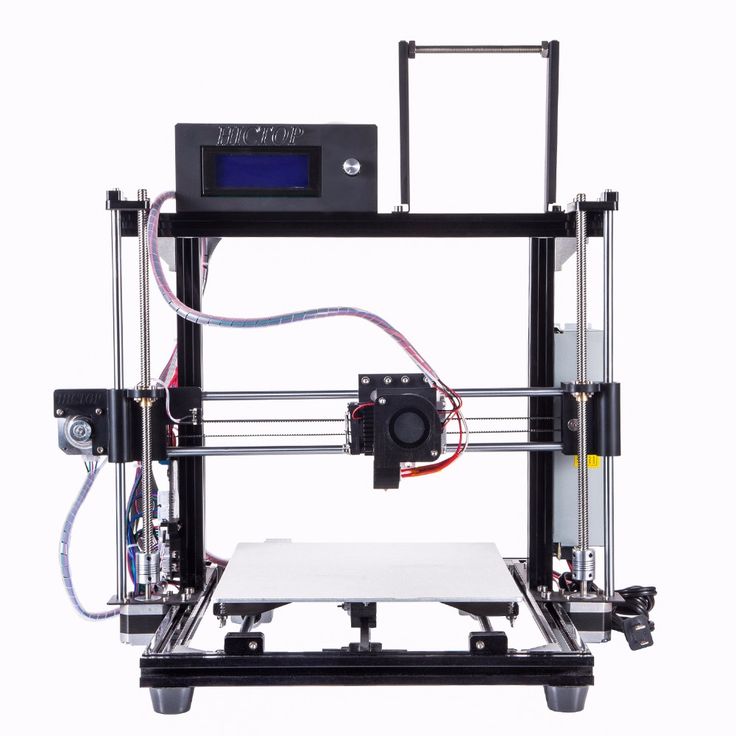 3 – FlashForge
With its first Creator and Dreamer printers dating back to 2011, FlashForge is one of the "founding fathers" of Chinese 3D printing and of desktop 3D printing in general. The company's core systems are positioned in a generally higher tier compared to both Creality and Anycubic, with professional-level machines (both extrusion and photopolymerization) costing in the order of a few to several thousand (FlashForge now even offers a material jetting system for the production of wax patterns) and the lowest-priced, consumer-targeted systems costing a few hundred. Recently FlashForge also ventured in the ultra-low-cost segment with the new Voxelab sub-brand.
4 – TierTime
Founded back in 2003, to study 3D printing technologies, by Allen Guo and schoolmates from Tsinghua University, TierTime is one of the most fascinating stories in 3D printing, not just in China. It is also one of the first Chinese 3D printing companies to target and succeed in Western markets.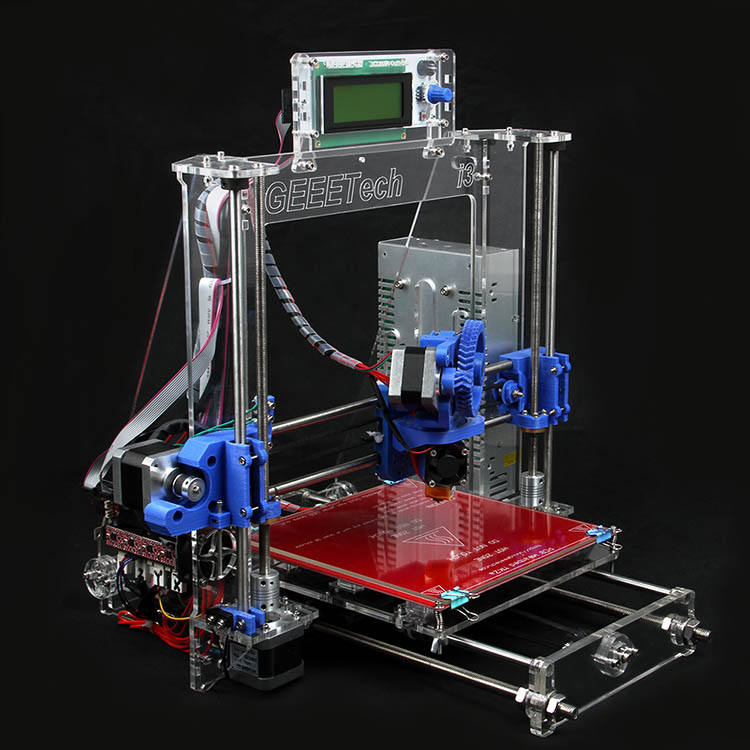 TierTime's first 3D printer, the UP Plus was launched in 2009, together with other systems that emerged from the RepRap project (like the first MakerBot, Ultimaker and Prusa), leveraging an independently developed, proprietary system. It featured stepper motors and 1.75mm filament for much finer control with a full metal body. It was a huge success for the time. Today TierTime is somewhat less popular as a brand as it used to be but continues to develop and market technically advanced systems such as the newest X5 with interchangeable build platforms for continuous 3D printing.
5 – INTAMSYS
The INTAMSYS FUNMAT PRO 610HT top of the line system
With INTAMSYS we increasingly blur the lines between consumer, prosumer, professional and industrial 3D printers.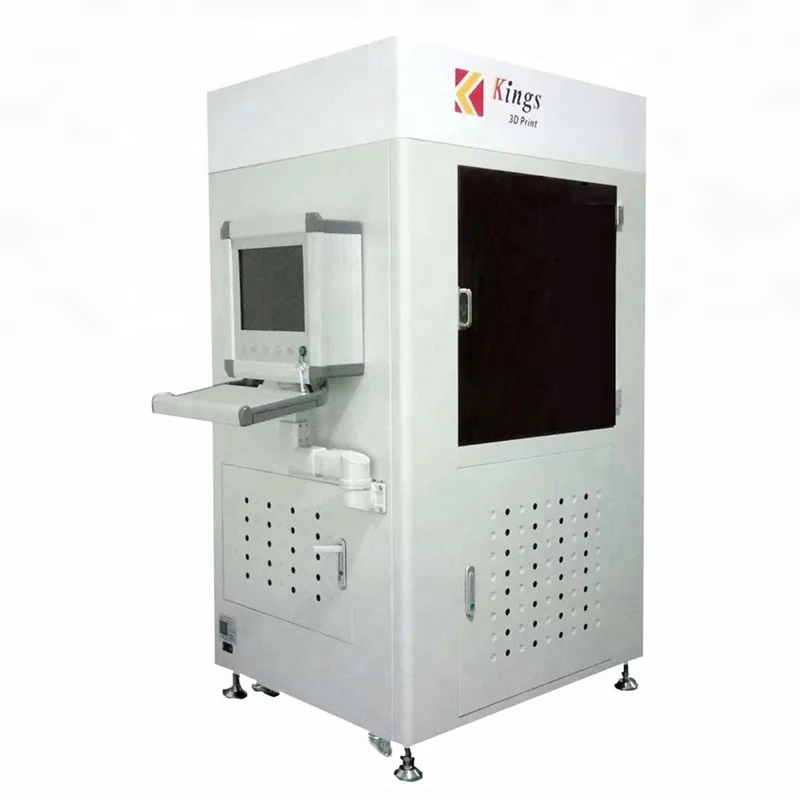 The company, based in Pudong, the modern business district of Shanghai, describes itself as an industrial 3D printer manufacturer targeting industries such as consumer products, medical, oil & gas & aerospace. The name INTAMSYS is an abbreviation of INTelligent Additive Manufacturing SYStems) and its systems are reportedly in use at Honeywell, Jabil, Bosch, FLEX, Sabic, UK Atomic Energy Authority, TE Connectivity, Stanford University, Tsinghua University. This is due to the high-end machines' ability to process high-performance plastics such as ULTEM, PEEK and PSU, making INTAMSYS the most technologically advanced Chinese filament extrusion company today (a segment where most Chinese 3D printing companies have been focusing on entry-level systems). In addition, INTAMSYS has already begun its expansion to western markets, opening an EMEA HQ in Germany and a US base in Minneapolis.
Mastering metal
But the desktop is only part of the full picture. Especially over the past two years, many Chinese manufacturers have significantly scaled up their metal 3D printing.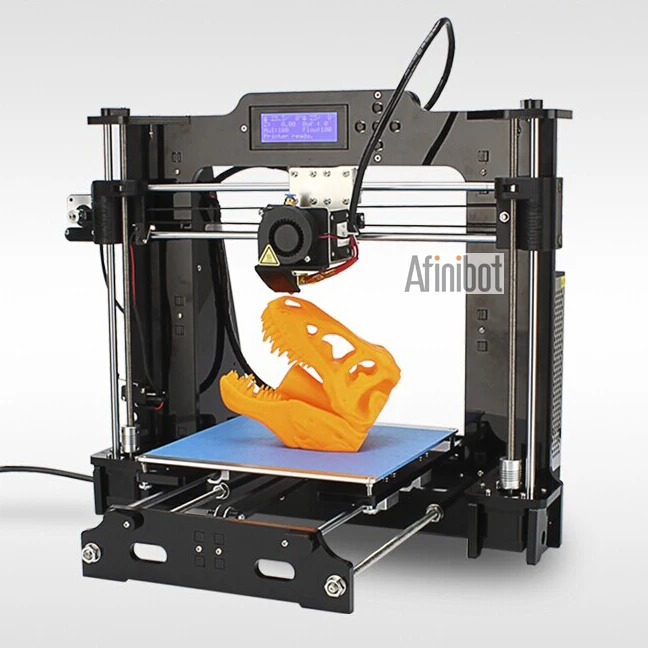 Today there are Chinese 3D printing companies that can offer a lineup of dozens of systems, from compact machines priced around $100,000 to giant production systems with up to 10-lasers priced over $1 million (but still less than their European counterparts). European and American companies do invest more in innovation and reliability of their machines, however, Chinese companies are catching up and can leverage local 3D printing service providers—or we should probably call them AM Factories—that are now capable of running more than 200 machines in one facility.
6 – BLT
The 10-laser BLT S800
Founded in 2011, BLT is a pioneer for metal 3D printing in China and was also the first company to show an ability to compete with Western (especially German) industry leaders. The acronym stands for Bright Laser Technologies, which is the name it used to go by until it realized that the acronym worked better for marketing (although it's not clear whether the management is aware that the company is now named as a popular sandwich).
Either way, BLT is a giant of 3D printing by any standard, employing more than 1100 employees, of which 21.7% hold a master's or above degree and 30.3% are R&D personnel. BLT invests over 10 million RMB (about $1.5 million) in R&D annually and is listed on SSE STAR Market since 2019. Much of BLT's activity, however, is directed towards the internal Chinese market, where it's likely to be the largest overall metal AM player. This impression is further reinforced by the fact that BLT is currently the only Chinese manufacturer to offer a 10-laser system, the BLT S800, which is the only machine in the world with more than 8 lasers besides SLM Solutions' newest NXG XII 600 (and now also the new Sapphire XC from Velo3D). However hardware is not BLT's only strength: among the biggest highlights of 2021, the company installed the 200th metal AM system for its internal metal AM service, making it the largest metal AM service provider in the world by number of units.
7 and 8 – Farsoon and Falcontech
Farsoon is one of the first Chinese industrial 3D printer manufacturers that took steps to expand in Western markets.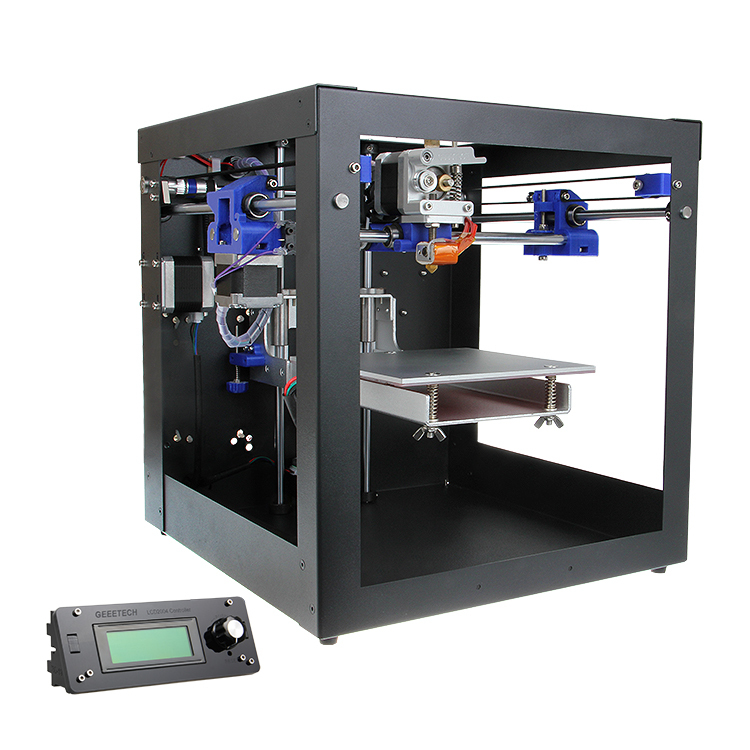 The company, whose name is a portmanteau of the words "Far" and "Soon", referring to its founder's, Dr. Xu Xiaoshu's, growth expectations, was founded in 2009 and was among the first in China to develop large size SLS 3D printers. Dr. Xu served as a technical director at the industry's first SLS laser sintering company, DTM Corporation (now 3D Systems), in the early 1990s.
An array of 18+ Farsoon's FS421M metal systems are installed at Falcontech Super AM Factory. Image courtesy: Falcontech
Farsoon's expansion in Western markets began by forming a strong partnership with French 3D printing company Prodways in 2015. The French company, part of the large Group Gorgè, which is involved in nuclear energy and robotics at the highest levels, was already marketing a unique, large-format DLP technology called Movinglight and wanted to expand its offer with large size SLS 3D printers. Farsoon wanted to sell its SLS systems in Europe and did so through the "Prodways powered by Farsoon" brand.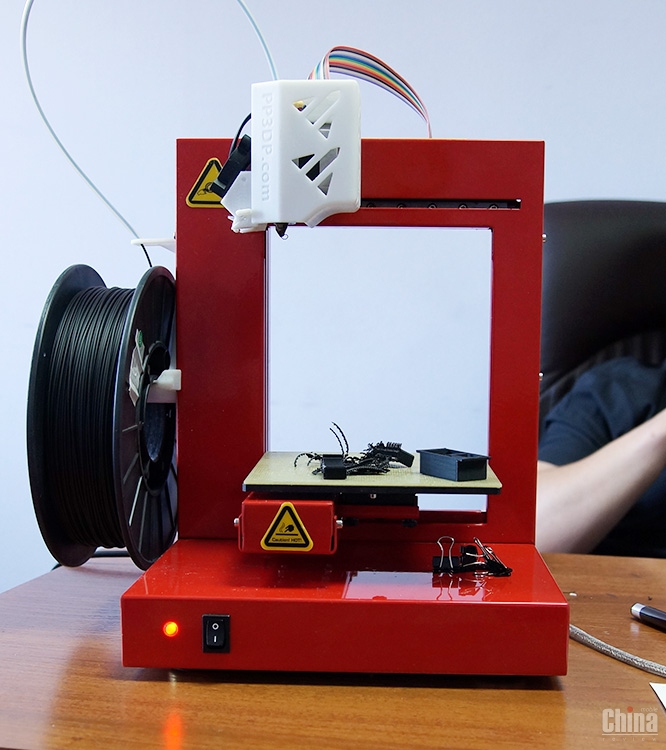 In 2021 the two companies officially parted ways and Farsoon has now established a direct presence in Europe (Germany) and North America (USA).
Unlike other Chinese industrial AM hardware companies such as BLT and HBD, Farsoon offers both polymer and metal 3D printing solutions, making it similar to Germany's EOS in this approach. In August 2021, the company reported that the total installed base of its polymer and metal PBF 3D printers passed 500 units at customer sites. Such customers include leading Chinese AM service provider Falcontech, which is planning on installing 50 Farsoon 3D printers in its AM Factory, as well as a growing number of Western clients.
9 and 10 – EPlus3D and SHINING3D
The name EPlus3D (aka E-Plus-3D, EPLUS3D) is one of the latest ones in AM to reach Western shores, however, the company is not as young as it may seem. It was founded in 2014 and its core technical team has more than 25 years of AM technology experience, including MPBF™ (Metal Powder Bed Fusion), PPBF™ (Polymer Powder Bed Fusion) and stereolithography 3D technologies.
Mr. Feng Tao, the founder of Eplus3D, presided over the development of China's first selective laser sintering (SLS) equipment in 1993 and cooperated with South China University of Technology to develop China's first selective laser melting (SLM) AM equipment in 2002.
The reason why most in the West have only recently heard this brand is that EPlus3D initially formed a partnership with 3D scanner specialist SHINING3D to market its systems in Europe and North America. The company provided the machines that were sold under the SHINING3D brand, similarly to Farsoon's deal with Prodways. As of this year, Eplus3D parted ways amicably with SHINING3D and opened a new facility in Germany to market its systems directly. In China Eplus3D has two facilities in Beijing and Hangzhou, exporting machines to more than 40 countries, including regions in Europe, America, Japan, South Korea, and Southeast Asia. The company's focus is on metal systems however its offer is competitive on SLS as well as large format SLA machines for parts mass production.
11 and 12 – HBD and Wenext
While it is also one of the newest names to emerge from China, HBD (Guangdong Hanbang 3D Tech Co) is a company focusing specifically on metal 3D printing hardware: as such it has developed a total of 23 models in large, medium and small sizes. Available HBD systems include multi-light path metal 3D printing large-size equipment measuring 600mm*600mm*1000mm, all the way up to the massive HBD-1500, introduced at the TCT Asia show in May 2021. The HBD-1500 metal additive manufacturing system has an extra-large fabrication size of 460x460x1500mm, one of the largest and widest in the market for metal PBF technology.
HBD also recently made headlines for signing some of the biggest sales deals ever in metal AM hardware. Earlier this year, the China Iron & Steel Research Institute Group  – CISRI – completed the installation of 23 HBD metal 3D printers. These are mainly medium and large format machines, with plans to expand the fleet to a total of 150-200 metal 3D printers by 2025.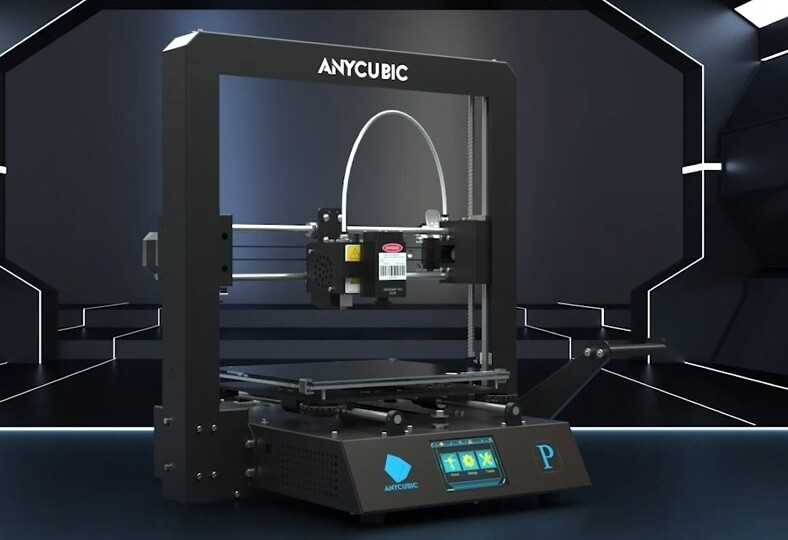 Recently HBD also completed the one-time sale of 30 medium size HBD-350T systems to Wenext, a giant Chinese AM service provider with a current fleet of 1000 polymer 3D printers, and looking to establish a strong presence in metal AM production as well.
13 – ZRapid
Don't let its position in this list fool you (companies are not listed in order of importance): ZRapid is one of the most interesting and relevant companies not only in China but in the entire global AM landscape. Its activities are still mostly focused on the domestic and Asian market but the company has already exhibited at shows in Europe (such as Formenxt) and will increase its exports eventually. Like other Chinese industrial 3D printing leaders listed above, ZRapid produces and markets both polymer and metal PBF systems. In addition, the company produces and markets a huge range of stereolithographic systems of all sizes (like many of the companies listed below).
What makes the company particularly interesting is that it also developed two proprietary technologies for processing various materials, including ceramics.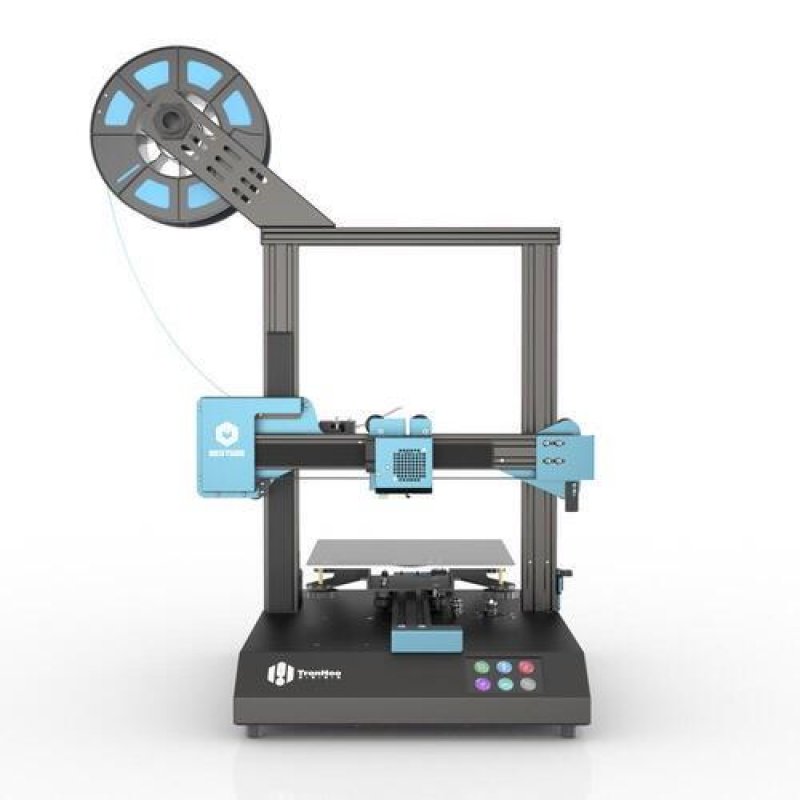 The first, which it refers to as AMC (Additive Manufacturing for Ceramics), is actually a modification of its SLA capabilities to process ceramic paste materials, with an approach similar to the French global leader of this segment, 3DCeram. The second, which it refers to as FMS (likely an acronym that stands for Fused Material Sintering), is actually a hybrid of L-PBF and bound material technologies. The iFMS 400 system that implements this technology works by using a laser to sinter ceramic and metal powders that are coated by a polymeric binder material. The resulting green parts are subsequently sintered in a furnace as in other bound materials processes.
14 – Huake 3D
Many in the West became familiar with Wuhan only after it became identified as the initial epicenter of the ongoing COVID-19 pandemic. However, Wuhan, the capital of the Hubei region, is much more than that: it is one of China's fastest-growing production and manufacturing technology hubs, with several Chinese 3D printing companies now based there.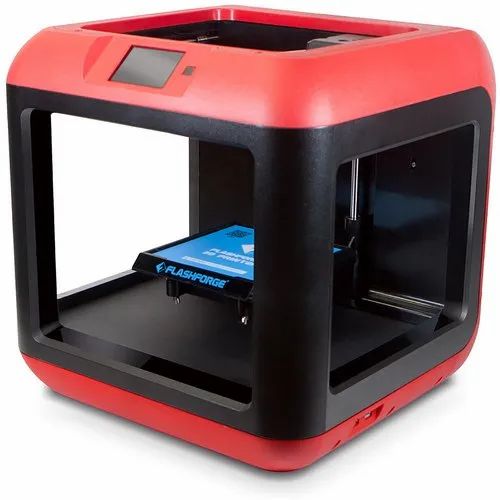 Most of these companies are focusing specifically on the domestic market, which is why many of them are not yet known in the West. That is likely to change and it's good to prepare by knowing who they are: Wuhan Huake 3D Technology Co. Ltd (Huake 3D) is one of the most important ones.
With a registered capital amounting to 60 million USD, the largest such investment in the central part of China for an AM company, Huake 3D Technology Co. Ltd is a new high-tech enterprise which was established jointly by Huazhong University Of Science and Technology Industry Group, Huazhong NC and the Rapid Prototyping and Manufacturing Center of HUST.
Additively mass producing
Enabling metal AM for parts mass production is certainly a major focus for the Chinese AM industry today. At the same time, several Chinese 3D printing companies have already implemented mass production capabilities by focusing on consolidated polymers AM technologies, such as SLS and SLA. What is most striking is that many of these companies are able to achieve cost-efficiency by building large AM factories with multiple installed systems rather than incrementing machine productivity via new technologies (such as thermal polymer PBF processes like MJF from HP or layerless photopolymerization like DLS from Carbon).
To date, no Chinese company has yet introduced a planar polymer PBF technology while only one Chinese, Luxcreo, company has so far introduced a layerless photopolymerization process, which is marketed primarily in Western markets.
15 – LuxCreo
Originating from China but also now solidly based in California, LuxCreo is the most credible Chinese competitor to Carbon's high-speed photopolymerization technology for volume production. The company developed LEAP technology to simplify digital light processing, DLP, and achieve high printing speeds and production part performance, making customized volume production possible.
Unlike many other Chinese companies, LuxCreo pays a lot of attention to its image and English-language international communication activities, presenting an elegant and curated branding along with a solid technology. It provides fully integrated solutions – cloud-connected 3D printers, AI-enabled printing software, and advanced materials transforming the way businesses design and manufacture products in consumer, medical, dental, and industrial industries.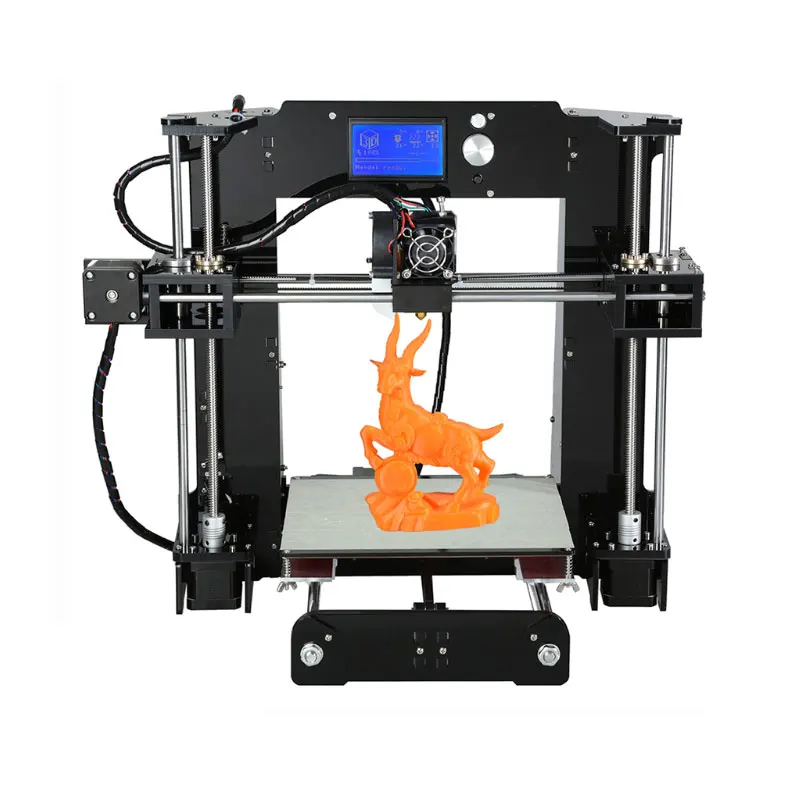 Backed by Kleiner Perkins, LuxCreo is a privately held company with North American headquarters in the San Francisco Bay Area, and Asian headquarters in Beijing, China.
16 – UnionTech
With some 5500 industrial SLA 3D printers shipped and installed worldwide (mostly in China) to date, UnionTech is very likely, as the company claims, "the largest industrial stereolithography 3D printer manufacturer in China" and also one of the largest anywhere in the world. Founded in 2000, the company is one of the longest-established additive manufacturing (AM) operators in China. It registered revenues of 300 RMB (about 47 million USD) in 2019, up from 100 million RMB in 2015 and 200 million RMB in 2017.
UnionTech products include both large-format SLA systems (as large as 2100 mm) and DLP systems targeting dental applications primarily (mostly compact but also as large as 768 mm in width). In terms of global expansion, UnionTech did open a demonstration center in Chicago in 2018 however the company's role may be even more relevant for bringing western products to the Chinese market.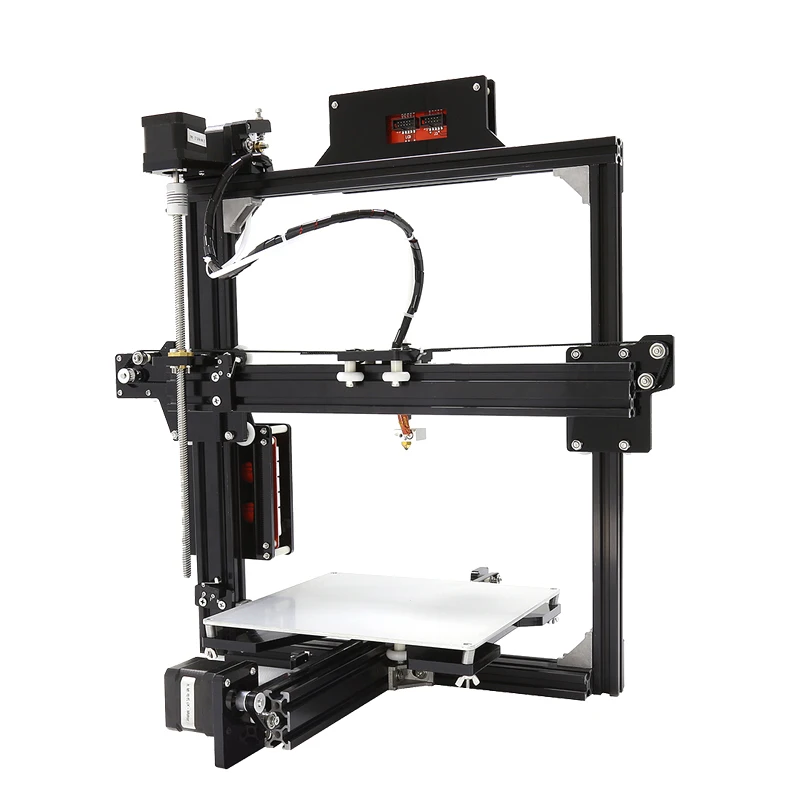 Over the past couple of years, UnionTech became an agent for Materialise software and DSM Somos (now Covestro) photopolymer resin materials, while also seeing Evonik Venture Capital acquire a minority stake in the company.
17 – Kings3D
While the company has only recently expanded westwards past Turkey (by signing its first distributor in Germany, Omnitec, last November), in China Kings 3D is emerging at the… king of additive production, at least concerning production of tools and final parts via stereolithography for huge consumer product segments such as footwear in particular. In fact, the company developed a unique know how and developed specific software to help footwear designers in China, the largest footwear production nation, create new products much faster and more cost-effectively.
This year the company completed a Series B financing of more than 100 million RMB (nearly $16 million USD). The investment was led by Rongyi Investment and jointly participated by multiple institutions including Jiafa Venture Capital, Jiafa No.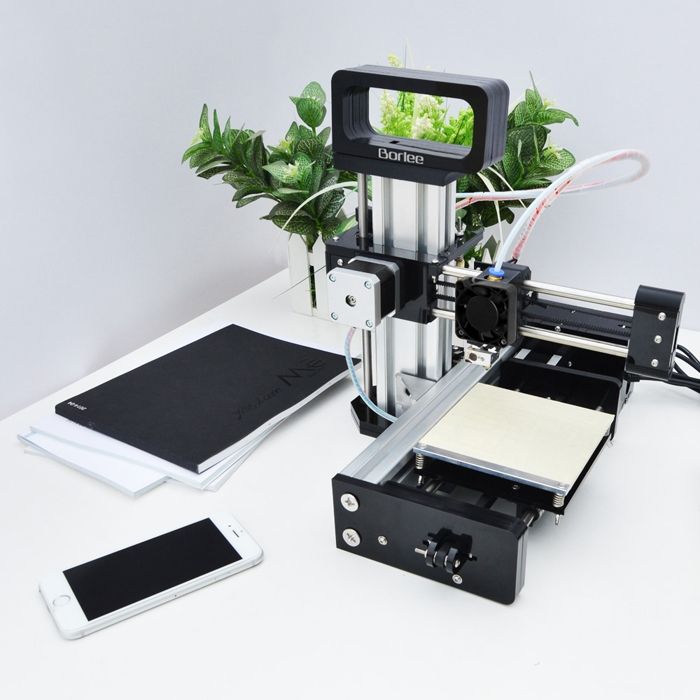 1 Venture Capital, Furong Capital, Zhongwei Yihe Equity Investment Fund and Qingjue Capital. Furthermore, Kings' existing shareholders Firstfortune Investment and SGT Capital continued to offer their support. This round of funds will be used by KINGS 3D on research and development of existing SLA 3D printing technology, and further development of metal 3D printing technology in dental, ceramic 3D printing technology, new materials and to build a global commercial network. The company also just inaugurated a large new HQ (in the images above).
19 – EasyMFG
EasyMFG's Easy3DP-M500 metal binder jetting system.
Could there not be a company in China that develops and offers binder jetting capabilities? In fact, there are several and EasyMFG (aka Wuhan Yizhi Technology) is probably the largest and best known, offering metal and sand binder jetting (similar to ExOne and voxeljet) and full-color binder jetting capabilities (like 3DSystems/ZCorp). The company began to develop full-color 3D printers in 2013 and made its debut in 2015, when it was named the "Most Innovative Enterprise" and "Top Ten Most Popular 3D Printing Companies in 2015" by the Chinese industry media.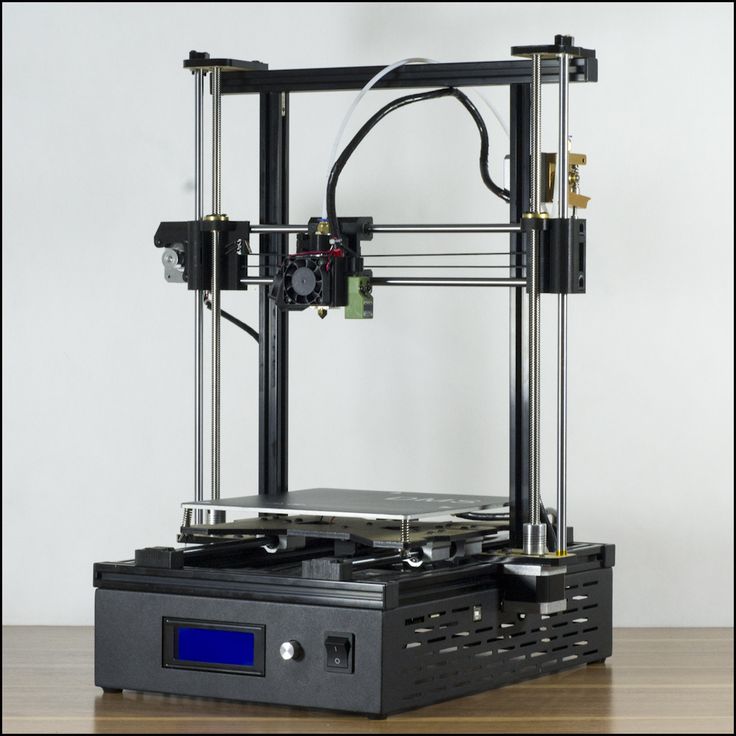 The company's main product lines are the high-speed production "Binder Jet Metal 3D Printing System", "Sand Printer" and "Full Color 3D Printer". The "Binder Jet Metal 3D Printing System" is the first such system produced and marketed in China, looking to compete with similar rising technologies from Desktop Metal, HP and GE Additive in a field that has been rated one of the top ten breakthrough technologies in the world in 2018 by the Massachusetts Institute of Technology Review. When the metal binder jetting takes off, EasyMFG will be a credible contender with systems already available such as the Easy3DP-M500, used mainly for automated tool production in industries such as shoe sole molds and faucets. In the meantime, the company is already selling numerous large-format sand binder jetting systems into the Chinese foundry industry
20 – Winsun
For a few years, Winsun was dominating the then very young construction 3D printing global market. In recent months the company has been quiet (possibly due to the recent troubles of the Chinese real estate market) and its feats have been overshadowed by rising stars in this increasingly crowded segment such as COBOD and ICON.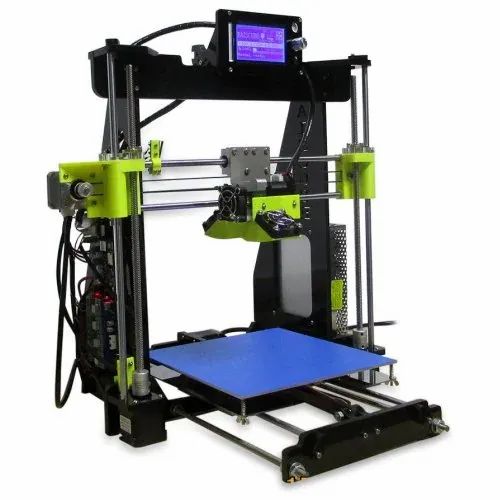 Some would read into this that "you reap what you sow" since Winsun itself initially overshadowed the original inventors of these construction processes, companies such as Contour Crafting and D-Shape. Nevertheless, Shanghai-based Winsun (aka Yingchuang Building Technique) is a giant and a pioneer of concrete 3D printing, especially in the Chinese market.
The company was founded in 2003 and now holds 325 national patents, having been recognized for its key role in the "one belt one road" policy and for its impact on Chinese real estate. Over the years Winsun developed a series of new materials for its 3D printing technology, including mixtures such as GRG (glass fiber reinforced concrete), SRC (special glass fiber reinforced concrete), Crazy Magic Stone, and FRP.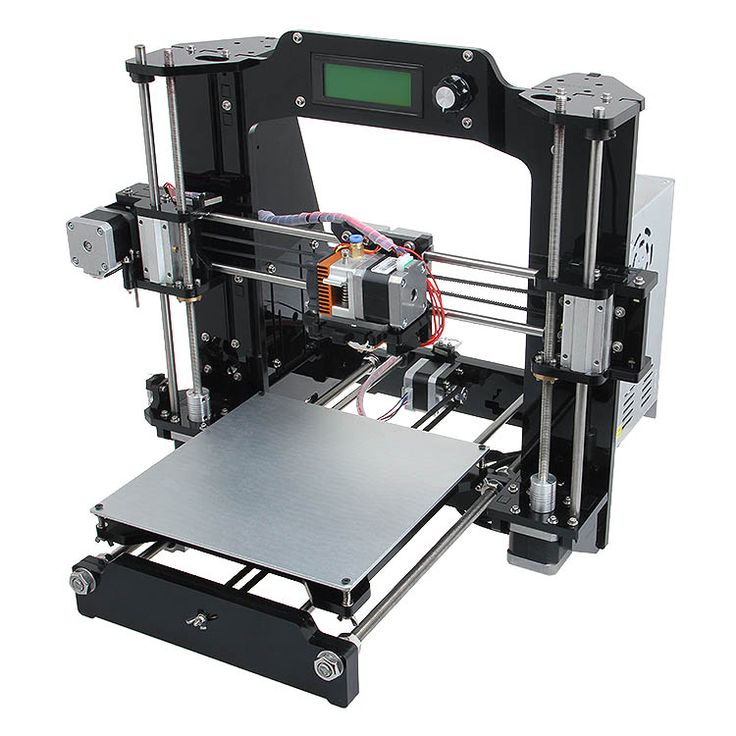 In 2020 the company reported that as many as 400 national landmark buildings have used its services and products, including the National Grand Theater, National Aquatics Center(Water Cube), Shanghai Expo Centre, Guangzhou Baiyun International Convention Center, Phoenix Media Beijing building, the APEC summit Lianxi Hotel, as well as the Dubai Government Office building and the Expo 2015 KIP Hotel in Milan.
Exploring new AM worlds
21 – Latec
While there are many large Chinese companies that we don't yet have a large amount of verified information on, Latec is the opposite: an interesting startup that we know everything about since we were able to visit its facility in person in 2019. In many ways, Latec symbolizes the incredible possibilities that exist for young AM entrepreneurs in China. The company was founded in 2017 by Shuai HouTwo as a startup offering both DED and laser PBF metal 3D printers. Mr. Hou studied in the UK and spent time at the MTC, Britain's Manufacturing Technology Center.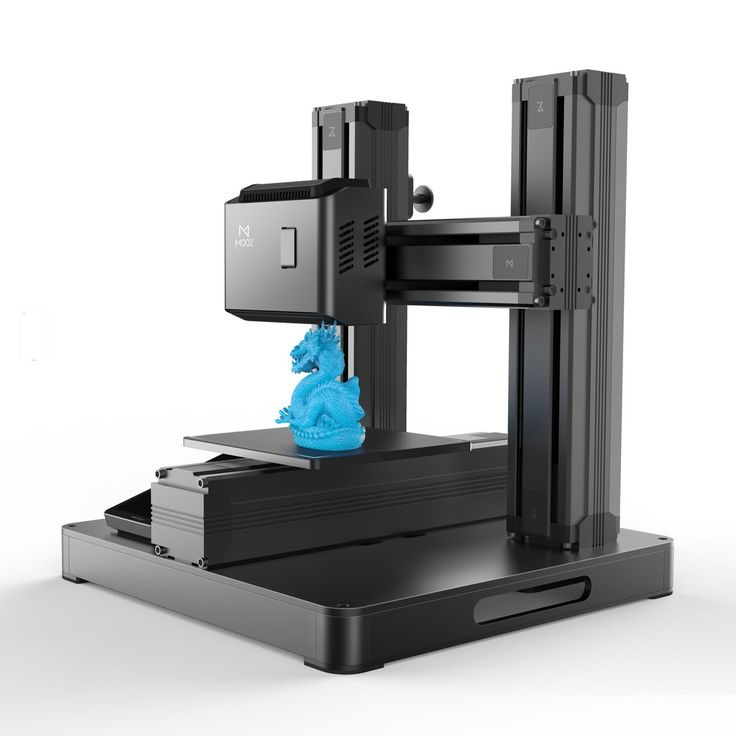 After moving back to China he founded Latec, spent one year in an incubator, and within two years moved the company to a much larger facility to begin production.
Latec's systems are customizable and can cost between $300,000, for the PBF and the smaller DED systems, and $500,000 for the larger Hybrid DED machines. Although it is still young, Latec has applied for over 10 patents and its systems are solid and efficient, leveraging current technology but making it more affordable and producing it on-demand to cater to the local market's demand for tools (especially) and final parts.
[Continues…]
Top 10 Chinese 3D Printers | 3D Print Expo
There is a wide range of 3D printers on the market today. The most reliable and high-quality devices for three-dimensional printing from American or European manufacturers are considered. However, not everyone can afford them due to the high cost. A good alternative to expensive devices is Chinese printers.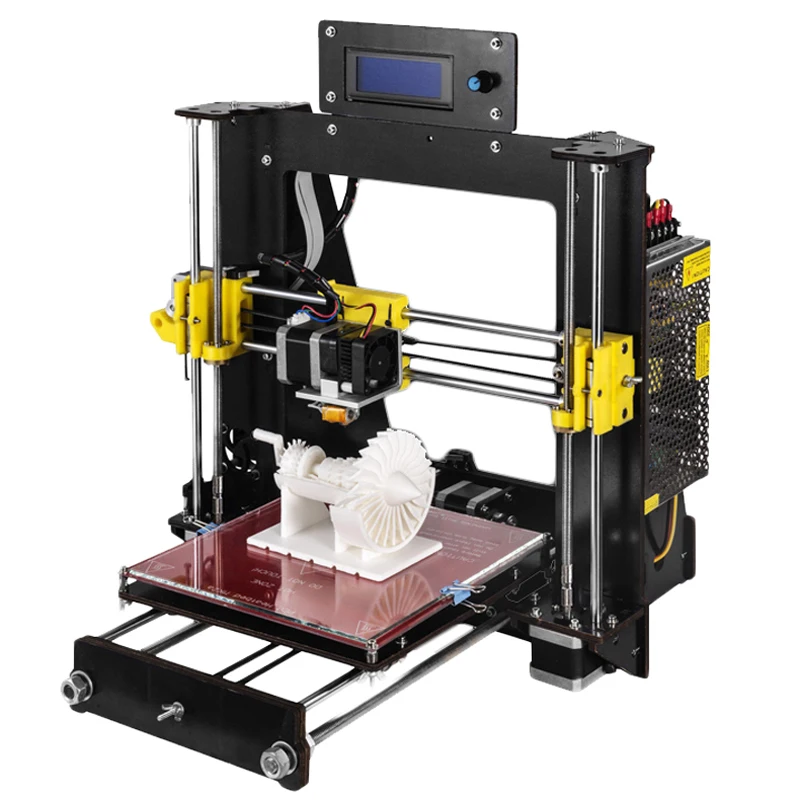 Such equipment is functional, but inexpensive. Let's take a closer look at the top ten 3D printers from Chinese manufacturers.
How to choose a 3D printer: selection criteria
When choosing a 3D printer, pay attention to the following parameters and characteristics:
scope of use of the device. Today, Chinese companies produce construction and industrial printers, equipment for commercial and home use. Before making a purchase, decide for what purpose you need a 3D device;
printing technology. There are three most common 3D printing technologies: SLA, FDM and SLS.
SLA is suitable for creating more "precise" products (jewelry, detailed objects, etc.). FDM is realized by layer-by-layer deposition of molten material. SLS is the most reliable printing method. With its help, prototypes and full-featured products are produced;
print materials. The most popular consumables for 3D printing include: ABS, PLA, PET, PETT, PVA, HIPS. Also, for the manufacture of three-dimensional products, more specific raw materials are used: metal, carbon fiber, concrete, etc.;
printer mechanics. These are all moving and static elements of equipment: body, guides, bearings and much more. The reliability of the device, its speed and smoothness depend on their quality;
print speed. The parameter depends on the quality of the mechanics and the printer body. If the frame of the apparatus is made of a more durable material, such as metal, then its moving elements move faster;
print area. The larger the work area, the larger objects you can print on it.
Please note that many Chinese 3D printers are sold unassembled. You need to collect them with your own hands. In addition, some devices need additional upgrades. Buying them is for those who have a high level of technical literacy.
Top 10 Chinese 3D printers
We bring to your attention an overview of the best 3D printers from Chinese manufacturers.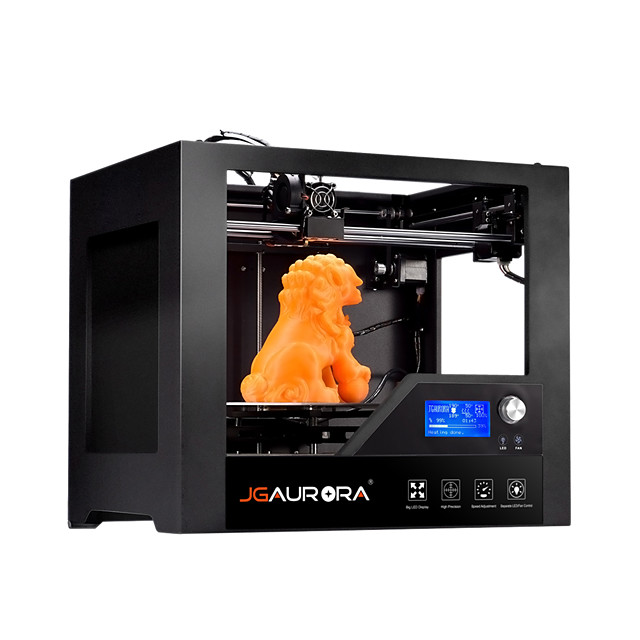 Here you will find budget devices for home use and more expensive models that can be used for commercial purposes.
1. Anet A8
Minimum purchase: $110.
The body of the printer is made of acrylic and the work platform is made of aluminum. The maximum print size is 220x220x240 mm, the print speed is 10-120 mm/s. The device allows you to create products from various materials. For best results, experts advise using PLA and ABS plastics.
Among the shortcomings of the printer: the main elements of the device are made of poor quality materials. Because of this, in some cases, parts are damaged during transportation to the buyer.
Features. 3D printer needs an upgrade. For it to work properly, you need to install additional parts and calibrate it correctly. As a result of such an upgrade, you will receive a device that, in terms of its characteristics, will not be inferior to more expensive models.
2.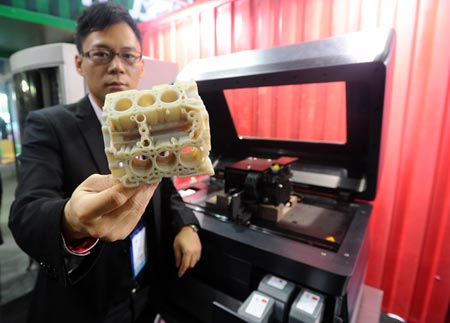 Anycubic 3D Printer
Minimum cost: $151.
3D Printing Equipment is shipped unassembled. If you decide to buy such a device, then you will have to assemble and configure it yourself.
The printer prints at a speed of 20-60 mm/s. However, this does not prevent him from creating products of good quality. The positioning accuracy along all axes of the device is 0.01 mm, the nozzle diameter is 0.4 mm. The model supports work with such types of plastic as PLA, ABS, Wood, HIPS.
Features: is compact and lightweight - only about 7 kilograms. This makes the printer easy to use and transport.
3. Flsun 3D
Minimum cost: $160.
The printer is easy to assemble and quickly set up, making it the right product for newcomers to the world of additive manufacturing.
Machine with aluminum legs and stainless steel moving parts. The device is complemented by a touch screen, which provides comfortable control.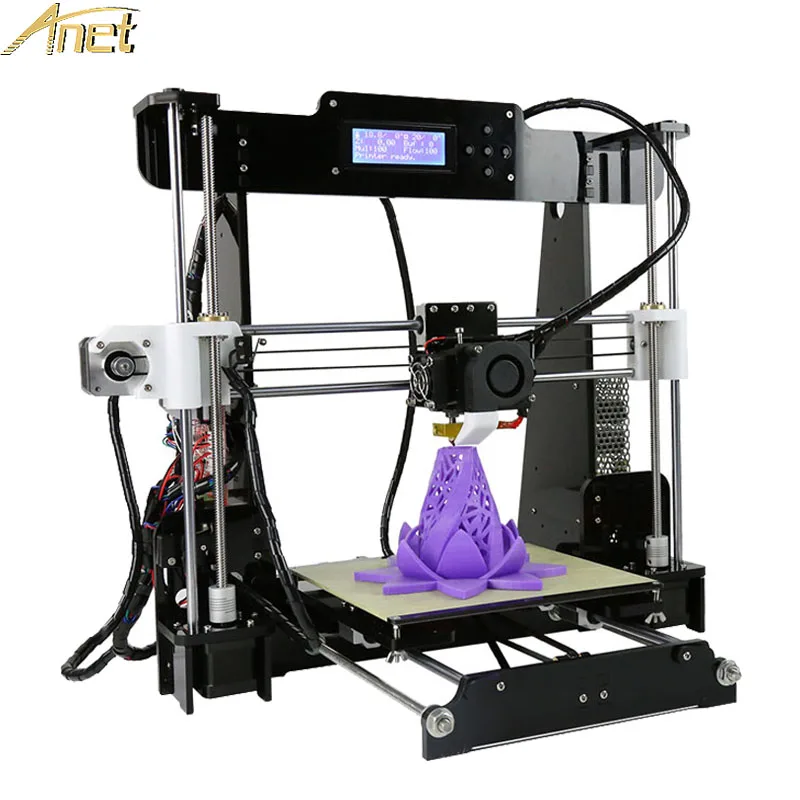 The dimensions of the working area are 260x260x350 mm. Supported print materials: PLA, ABS, Flexible PLA, HIPS, PVA. The minimum layer thickness is 0.05 mm.
Features: double extruder. This allows you to simultaneously use plastic of different colors and set the intensity of melting of a particular material at the program level.
4. Geeetech A10
Minimum cost: $186.
The size of the working area reaches 220x220x260 mm. The extruder is capable of heating up to 250 degrees Celsius, and the printing platform - up to 100 degrees Celsius. Print speed - up to 180 mm / s. The printer allows you to create products from such types of plastic as ABS, PLA, PVA, HIP. The machine is equipped with a remote file printing function.
Features: is based on the open source GT2560 platform. Thanks to this, you can write a program to work with the printer yourself and configure it according to your needs.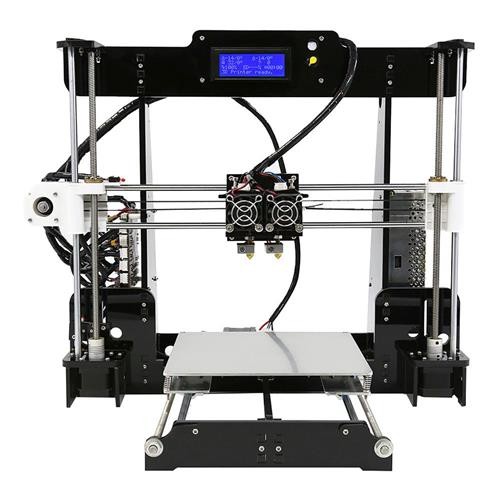 5. Anet A3S
Minimum purchase: $194.
3D printer suitable for home use. With it, you can make prototype parts and various household items.
Budget machine with an open body, equipped with an LCD display and one extruder. Print speed - 40-120 mm / s. The nozzle can heat up to 260 degrees Celsius. Supported materials: PLA, ABS. Printing can be done directly from a computer or via an SD card.
Features: comes to the buyer assembled and does not require assembly. Equipped with a durable housing. Due to this, the printer is more stable, works well and is used for a long time.
6. Flying bear P905X
Minimum purchase: $285.
The P905X is an open cabinet printer with an aluminum frame. The size of the working area is 280x340x360 mm. The maximum print speed is 150 mm/s. To obtain better products, experts recommend operating the machine at lower speeds.
Supported media types: ABS, PLA, PVA, PETG and flexible filaments.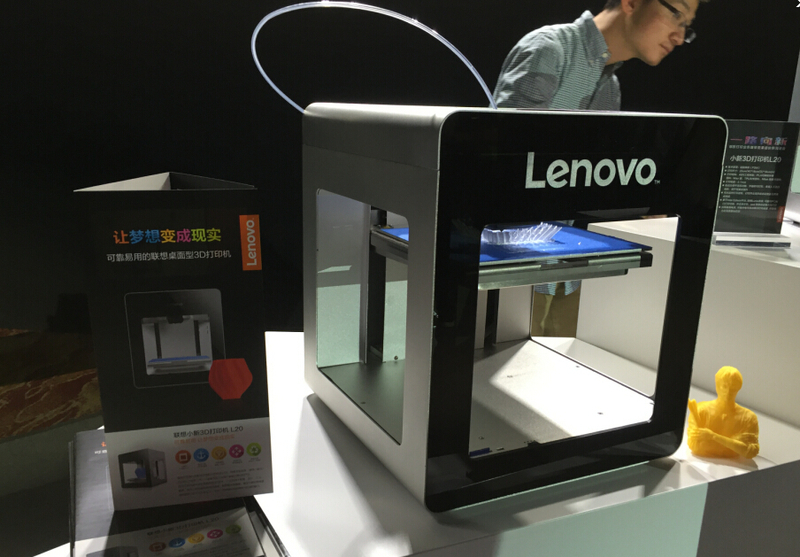 The layer thickness is adjustable and ranges from 0.05 mm.
3d printer needs an upgrade. When using two extruders, you will need to install a larger cooler.
Features: is equipped with a high-quality and quiet ventilation system.
7. TEVO Tornado
Minimum purchase: $288.
Tornado is suitable for printing large sizes. However, it should be borne in mind that their creation can take up to several days.
The 3D printer prints products at speeds up to 150 mm/s. Supports work with plastic PLA, ABS, PETG, Wood, PVA. The extruder is heated up to 260 degrees Celsius. However, the manufacturer recommends printing at 210 degrees Celsius.
Among the disadvantages of the device: the inability to install a second extruder and the lack of an automatic calibration function.
Features: large print area - 300x300x400 mm, as well as ease of installation. The device is delivered to the buyer assembled with a pre-configured and calibrated system.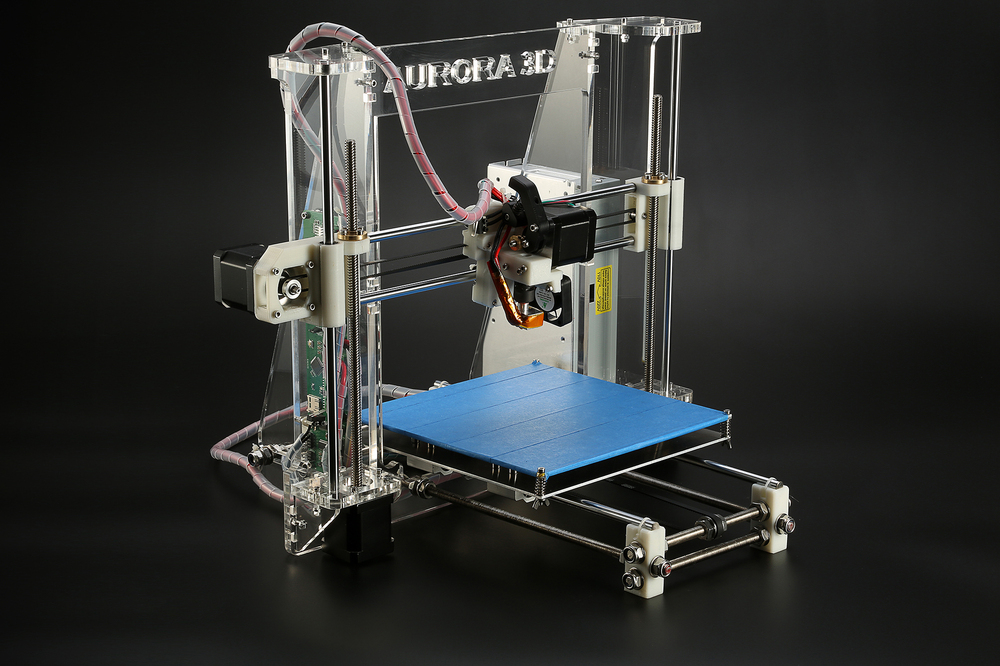 Also, the device is equipped with an extruder that allows you to print high quality products at medium speeds.
8. FlyingBear Ghost
Minimum purchase: $318.
This is a convenient and reliable 3D printer that allows you to print products at high temperatures. The size of the print construction area is 230x230x210 mm. The device works with filaments: PLA, ABS, Wood and HIPS. Print speed - up to 150 mm / s.
Features: closed on three sides. If desired, glass can be installed on its facade. Another plus of the device is the high positioning accuracy of the extruder and Wi-Fi support.
9. Creality 3D CR-10
Minimum purchase: $345.
This 3D printer model is suitable for those who want to print large items. The size of its working area is 300x300x400 mm. Due to the high printing speed (up to 200 mm/s), products are printed in the shortest possible time.
Printer frame made of aluminium.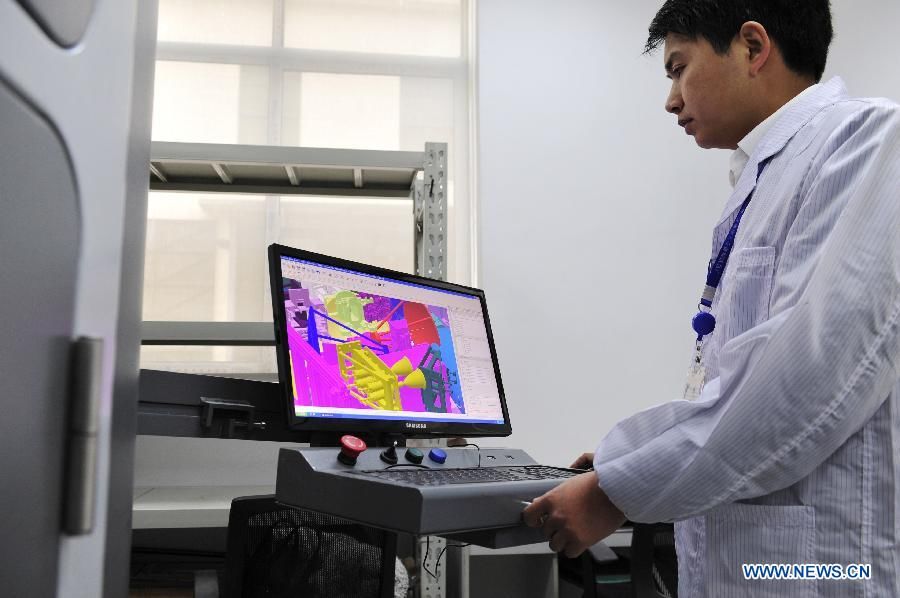 Experts advise installing a closed case on the device if you plan to make models from ABS plastic or PETG threads when the table is heated up to 95 degrees Celsius. This will make the printing process more reliable.
Features: high printing precision. The error is only one millimeter.
10. Flying Bear Tornado 2
Minimum purchase: $592. Flying Bear
Tornado 2 is one of the highest quality 3D printers from Chinese manufacturers.
Machine body, extruder, guides and other parts are made of aluminium. The heating temperature of the table is 120 degrees Celsius, and the extruder is 240 degrees Celsius. The maximum print speed is 150 mm/s.
The printer can be supplied as standard, with two extruders or with a color touch screen. Its assembly and further modernization require knowledge in the field of electrical engineering and engineering.
Features: The 3D printer is large and allows you to create parts with a size of 360x360x360 mm.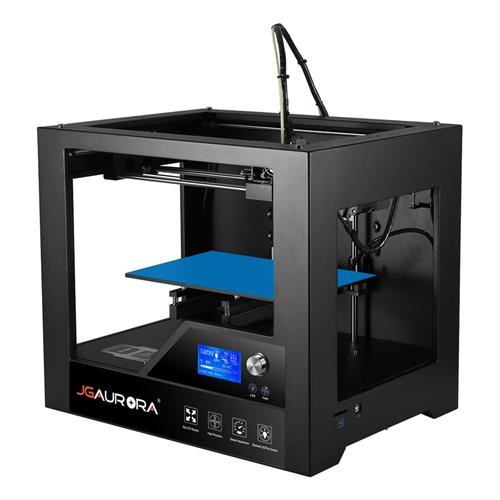 The minimum layer thickness is 0.03 mm. Thanks to these characteristics, the device prints high-quality products that do not require additional refinement.
The best Chinese 3D printers from Aliexpress in 2021 - 2022 - FAQPC
In the 21st century, 3D printing has become closer than it seems to ordinary users. With the help of these devices today you can create various figurines, decorative elements of the interior, household items, toys for children. Professional 3D printers make it possible to produce dentures, edible products of various kinds, medical implants, toys with complex mechanisms and in complex shapes. Today, with the help of 3D printing devices, building materials, devices and elements for them, and even weapons are made.
Why you may need a 3D printer in everyday life
First of all, 3D printing devices are used for the manufacture of plastic parts and items for various purposes. For example, in the case when a knife handle is broken, a 3D printer will help replace the broken part by printing a new one.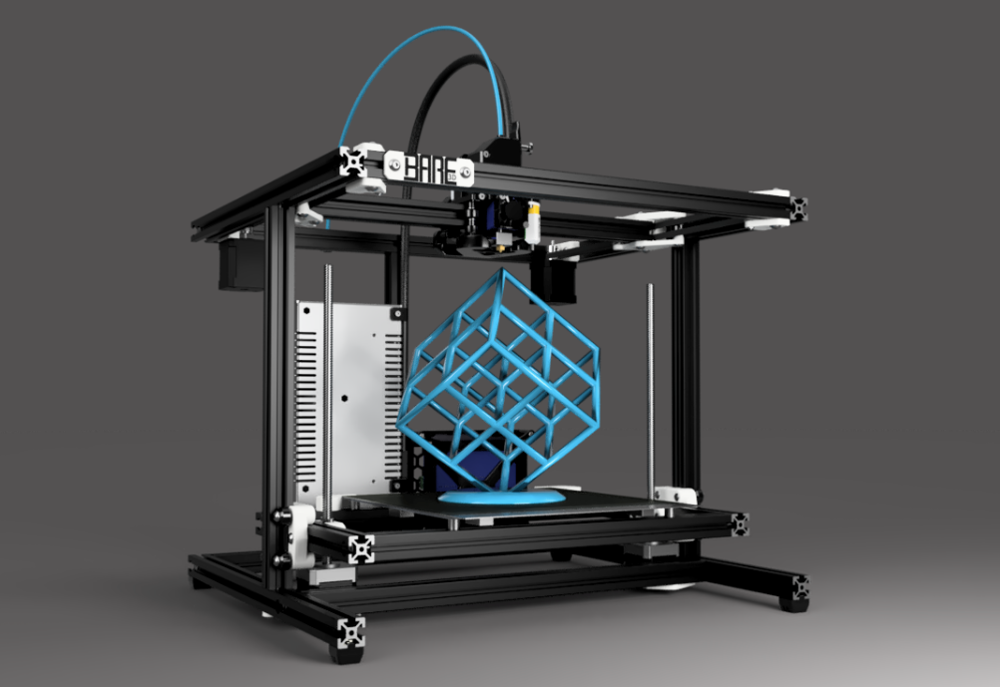 You can make almost any plastic object, the main thing is to correctly prepare the drawing of the product, since it will determine the final shape and size of the printed figure. Otherwise, there is no limit to fantasy - at home, on a regular printer, you can print whatever you want.
Tips for choosing a 3D printer
What are the nuances to consider when choosing a 3D printer on Aliexpress. First you need to decide for what needs the device is purchased. If the printer is needed for the manufacture of high-precision models, for example, for subsequent sale, then devices that implement technologies such as SLA and DLP are suitable. For home use, you can purchase inexpensive models of the FDM category. If the first two technologies use a laser beam for printing, then the latter allows you to make products from layers of molten plastic.
If you decide to buy an FDM 3D printer from China, the next factor to focus on is the products that you plan to manufacture and their dimensions.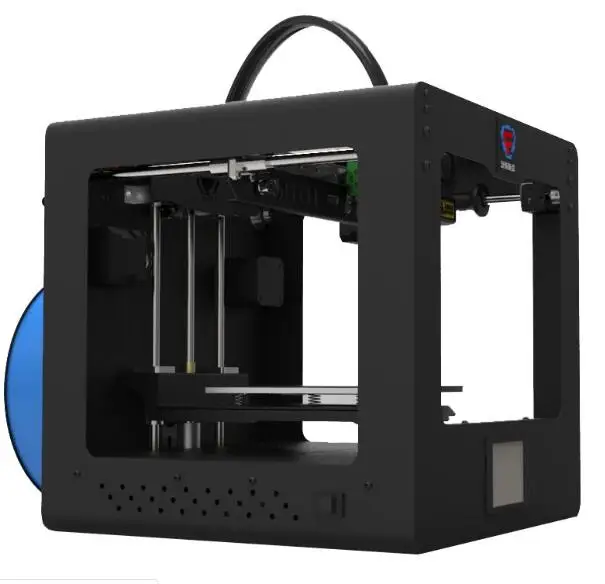 This will determine the size of the printable area, which varies from miniature to large. The universal area is 200x200x200 mm. This is usually enough to solve everyday problems, and the price of such printers is lower than for large-sized counterparts.
Before you buy a Chinese 3D printer on Aliexpress, check the user reviews and technical specifications of the device. The following nuances are considered the main ones when choosing devices in this category:0003
Construction;
Nozzle - its diameter and the possibility of replacement;
The thickness of the print layer - the optimal is 0.1-0.2 mm;
Extruder type - Direct prints with all available materials, and Bowden only with flexible plastic, but has a high print speed;
Print technology - any of the three main SLAs, DLP, FDM will do.
It is also important to immediately decide on the materials used. If you already know your supplier of plastic for 3D printing, then you can rely on it to purchase a suitable model.
The purchase of materials will bring the greatest costs, so they should be taken into account in the first place. Not all plastics are compatible with the Bowden extruder, this should also be understood.
The best 3d printers for beginners with Aliexpress
Anet ET4/ET4 Pro
A universal Chinese 3D printer that allows you to print plastic products using STL and OBJ / g encoding models. Printing is carried out in layers of 0.1-0.2 mm, which is sufficient for the manufacture of toys, plastic parts, interior items, etc. Working area - 220x220x250 mm. The device supports threads from most available materials:
Wood;
Nylon;
PVA;
PP;
Fluorescent;
ABS;
TPU;
PLA.
Future product models can be sent to the printer via an SD memory card. A filament is supplied with the device. The Anet ET4/ET4 Pro model has a print speed in the range of 20-150 mm/sec.
The manufacturer recommends maintaining a speed of 30-60 mm/sec for maximum quality. The nozzle can be changed, and its diameter is 0.4 mm.
This 3D printer guarantees quality printing, very easy to operate, intuitive settings, therefore suitable for beginners.
View on Aliexpress
KINGROON KP3S
An improved model of a budget 3D printer for beginners and home use. Working area 180x180x180 mm. Printing technology - FDM. The layer thickness during printing depends on the settings, from 0.1 to 0.4 mm. The model of the future product can be loaded into the device using USB or TF. The print speed is above average in the budget segment and is 50 mm / s with an accuracy of 0.1 mm. It is powered by a household electrical network with a voltage of 110-220V.
Kingroon KP3S is suitable for household printing, children's toys, plastic parts. Unlike most devices, this model can work with any operating system, has several language localizations (including Russian).
You can print objects from files on this 3D printer with Ali: obj, afm, stl. The dimensions and weight of Kingroon KP3S allow it to be used in any room and easily transported, for example, from home to office.
View on Aliexpress
Easythreed X1 Mini
Mini desktop 3D printer suitable for teaching and printing small plastic models. The device supports PLA type filament, printing thickness 0.05-0.3, printing technology - FDM. Desktop Easythreed X1 Mini has miniature dimensions, so it is convenient for carrying and transporting, as well as for storing in a cabinet, on a shelf, on a table. The working print area is 100x100x100mm. Works with any operating system of the Windows family. Despite the miniature size, the print speed is on average 10-40 mm / s with a print accuracy of 0.1-0.2 mm.
View on Aliexpress
Best cheap 3D printers for home from Aliexpress
NEJE DK-8-KZ
Laser 3D printer with Ali, for printing on various objects.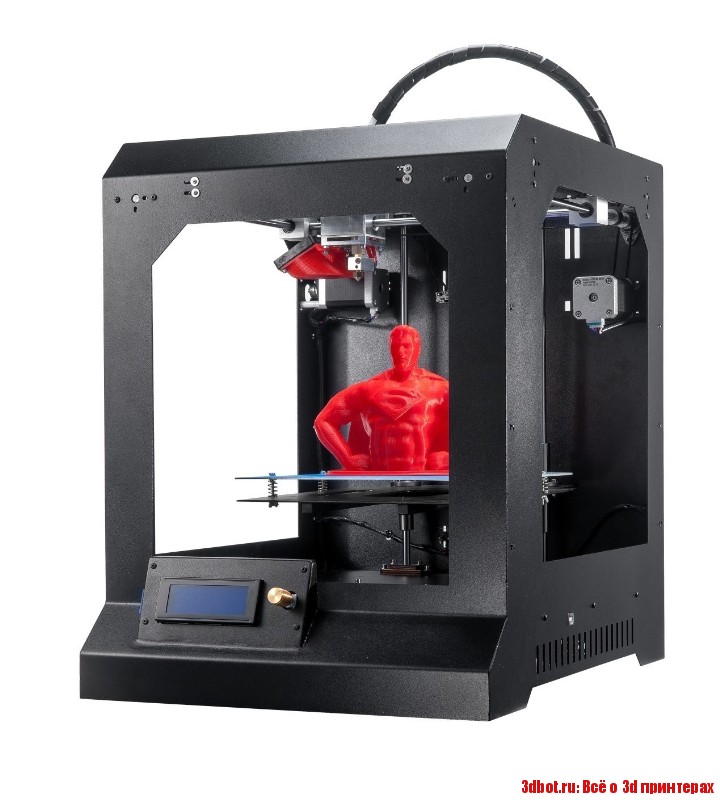 The device allows primarily engraving, but can also be used to print 3D models. As a cutter, NEJE DK-8-KZ can cut wood, bamboo, paper, cardboard, bone, leather and any metal. The laser inflicts an image that models from BMP, JPG, PNG files. The laser power is 1500 MW at a wavelength of 405 nm. It is convenient to manage the printer through the application for Android smartphones - NEJE Scanner.
The device only supports Windows OS: XP, 7, 8, 10. The device is only suitable for printing 3D images on objects, but it will not help to make models and plastic products.
View on Aliexpress
Anet ET4X
A new version of semi-professional 3D printer with high printing precision. The device supports Russian, Czech, English and Chinese. The standard working area for 3D printers from Anet is 220x220x250 mm. Thickness of the press is 0.1-0.2 mm, at a speed up to 120 mm/sec. Printing technology - FDM. This model allows you to print models from obj, STL, G-code files.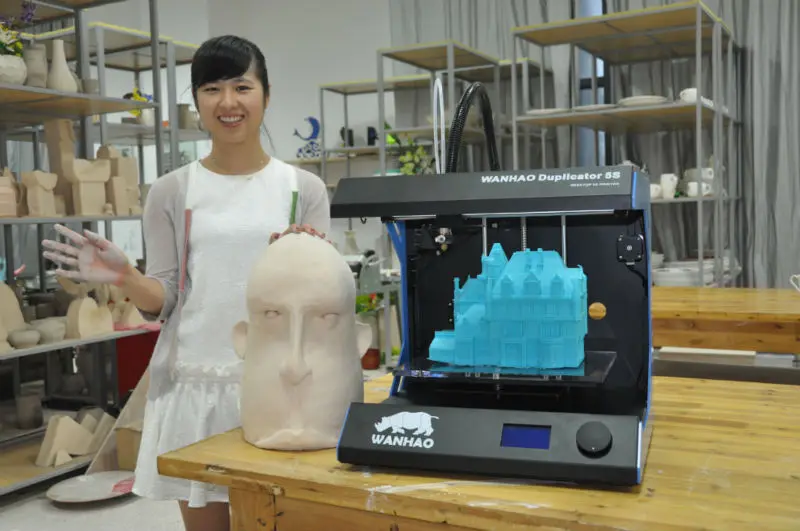 The printer is localized in English and can be used with Windows and MacOS systems. Filament used: PLA, TPU, ABS, WOOD, PVA, PP, Nylon, HIPS etc. Of the advantages, we note the ability to continue interrupted printing due to a power outage. Notification when it detects that a thread has ended.
View on Aliexpress
Anet A8 Plus
This model is similar in functionality and specifications to the Anet ET4/ET4 Pro model, but features high printing speed and a large working area of ​​300x300x350 mm. The recommended printing speed is in the range of 30-60 mm/sec. The power consumption is 360W.
A8Plus also allows you to create more dotted models, printing thickness has a wide range - from 0.1 to 0.4 mm. 3D printing technology of the FDM category, the filament used is PVA. The printer has a built-in USB port, SD card reader, LCD display. A key feature of this model is the ability to print from metallic materials. Localization only English, readable format - STL, OBJ, JPG.
View on Aliexpress
The best 3d printers in terms of price / quality with Aliexpress
Anycubic Mega X
A semi-professional 3D printer that got into this rating of devices from China due to its high quality at a low price. Anycubic Mega X can use filaments of all popular categories: ABS, PLA, WOOD, HIPS. Works with Cura software. The working area of ​​300x300x305 mm allows you to print almost any product at home. The device uses an SD card reader through which you can upload obj, STL, G-code files. The print speed is high - 100 mm / sec. The technology used is FDM, which is standard for Chinese 3D printers in the ranking of the best from Aliexpress. The dimensions of the printer itself are 500x500x553 mm.
View on Aliexpress
Crealuity Ender-3
This 3D printer model is suitable for both home use and for use in small design firms. The press is made by layers from 0.1 to 0.
4 mm, with a speed up to 180 mm/sec. These are very high values, so the printer can be considered the best in the category. Creality Ender-3 prints products in STL, obj, g-code formats. Four localization languages, light weight and convenient dimensions. The working area for 3D printing is 220x220x250 mm. Despite the declared print speed of 180 mm/sec, the maximum detail of objects is achieved at 40-60 mm/sec. Supports Cura software for versatility and access to numerous templates.
View on Aliexpress
LONGER Orange
The most affordable printer with SLA printing technology. The device is presented not only in orange, but also in other trim levels. Among the main advantages of the gadget, one can distinguish not only 3D printing technology, but also Russian localization, the minimum thickness of cutting in a niche, the ability to work with innovative formats. The device allows you to print models from TF memory cards in STL, LGS, ZIP format files.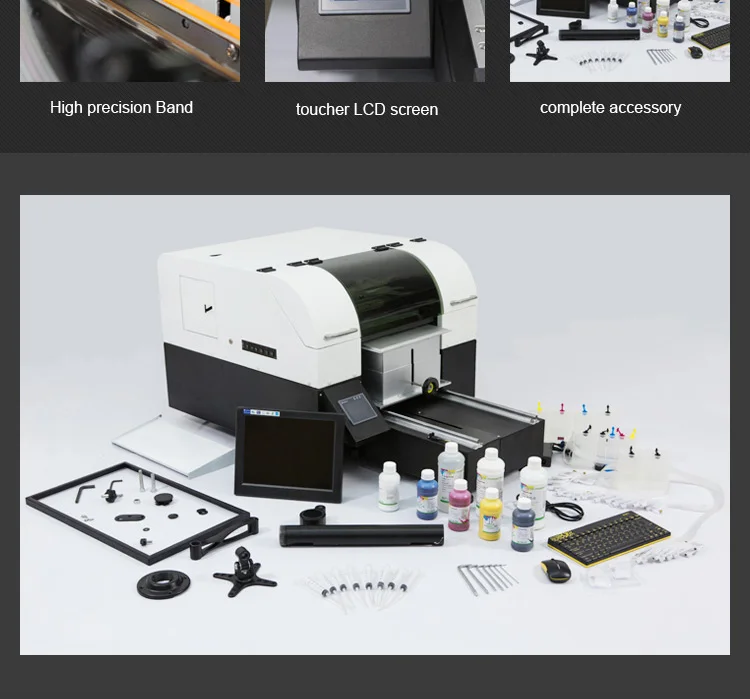 High speed - 30 mm/h, support for model preparation software from Longer and Chitubox. The 2.8 inch full color touch screen makes the printer easy to use.
Almost all types of filaments can be used in the printer. Users indicate in the reviews that this is the best model in this price category, and also emphasize its attractive appearance and the ability to use LCD type injection molding technology.
View on Aliexpress
The best professional 3D printers from Aliexpress
Ender-3 Pro
Professional 3D printer from China, with high layering speed. The device can apply layers with a thickness of 0.1 to 0.4 mm. Supported filaments: ABS, PLA, TPU, Cooper, Carbon, Wood, Fiber. The technology used is FDM, with support for STL, G-Code, OBJ formats. The working area for printing is 220x220x250 mm. The device works with removable media such as TF and USB, and also supports online file transfer. The print speed is very high, averaging 200 mm/s.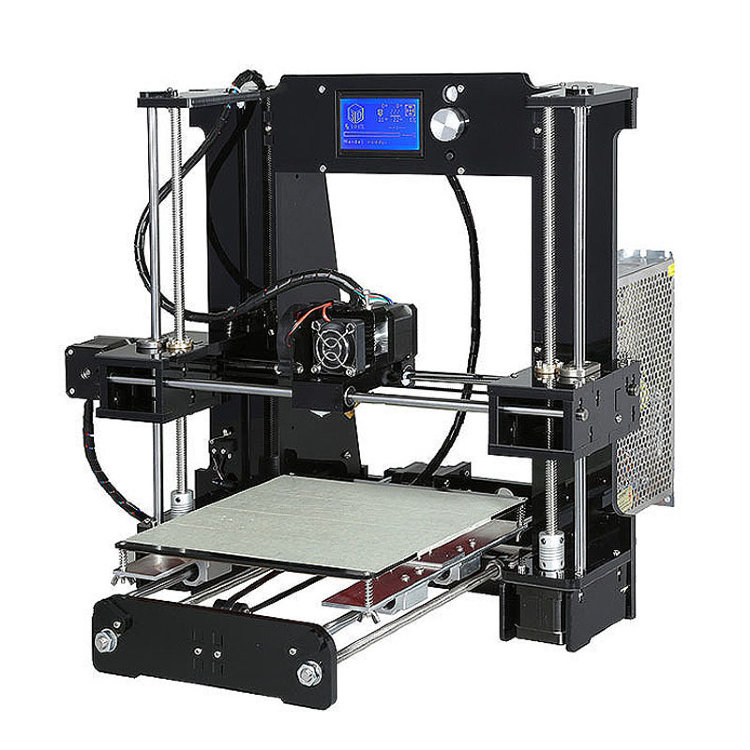 The Ender-3 Pro is available in several configurations, including both professional and beginner versions. Supports Windows and MacOS operating systems.
View on Aliexpress
Anycubic Mega-S NEW
Professional version of the 3D printer mentioned in the ranking of the best devices in the price / quality ratio. The model is also known as Anucubic Impresora 3d Mega-S NEW. Printing technology - FDM, maximum speed up to 100 mm / s, minimum 20 mm / s, working area 210x210x205 mm. In Anucybic, you can use standard file projects and filaments of categories: ABS, PLA, WOOD, HIPS. Support for USB and SD card. The dimensions of the printer case are small - 405x410x453 mm.
Several localizations, fast delivery (from 12 days) and the ability to order the device from warehouses in the USA, Czech Republic, Russia, Germany, Poland, and not just China, makes it a profitable purchase.
View on Aliexpress
Two Trees Sapphire Pro1 and Sapphire Pro2
Two models from Two Trees fall into the rating of the best professional printers at once.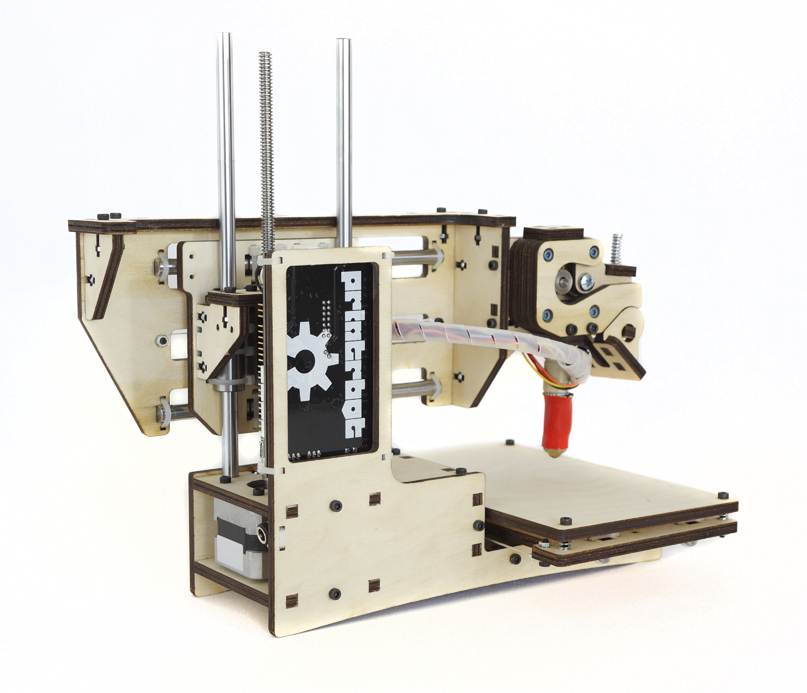 Both configurations allow 3D printing at speeds up to 300 mm/s, which is an absolute record among all analogues in the list. The print thickness is 0.1-0.4 mm, if possible, adjust it in increments of 0.01 mm. Thanks to this, the device can be used to print complex objects. The printer can use PLA, ABS, PETG and wood filaments. The working area of ​​the device is 235x235x235 mm. There is a Russian localization, along with 6 others. Among the advantages, we highlight easy assembly (120 minutes) and practically does not require additional configuration. The set comes with a thermal screen for the table.
View on Aliexpress
Conclusion
Having decided on the direction of activity and goals for which you plan to buy a Chinese 3D printer, you can begin to evaluate models. These four collections contain the best models from Aliexpress according to different parameters. If you want to learn how to use devices for 3D printing, then choose from models for beginners, and if this is not your first unit of this type, then you can consider a professional machine.