3D printing watches
Is It Now Possible To 3D-Print A Mechanical Watch Movement?
Written by Ashley Sandeman and edited by Ariel Adams

The first time I saw a Star Trek replicator, I knew I had to have one. And high on the list of objects I'd like to print at home is my own mechanical watch.
Advertising Message
But despite all the promises of 3D printing technology, miniaturizing metallic parts at a watchmaking scale has remained elusive. Hopes, however, remain high as the technology in question is evolving rapidly. Cracking the shell of the 3D-printed metal mechanical watch movement could forever change the economics and power bases of today's luxury wristwatch industry.
Photo Credit: SSPopov
Back in 2014, I became excited by the work of watchmaker and software engineer Nicholas Manousos, who 3D-printed the Tourbillon 1000%.  Printed in PLA (Polylactic acid) plastic at a ten-fold size increase of a normal tourbillon, this was part of a larger project to produce a fully functioning movement.
It was later abandoned due to technical challenges.
In 2016, Christoph Laimer gave us further hope. He 3D-printed a tourbillon pocket watch at 98mm in diameter that ran for about 30 minutes using a consumer-grade printer.
Advertising Message
More recently, Panerai used the 3D printing technique DMLS (Direct Metal Laser Sintering) on the case of the Luminor Marina – 44mm (PAM01662).  This makes Panerai one of the few companies to take 3D printing to production. Elsewhere, we've seen 3D Printing used for rapid prototyping in R&D departments at IWC, A. Lange & Söhne, Parmigiani, and the R&D Q-Lab at Roger Dubuis. Admittedly, these uses are not related to internal watch movements or mechanisms.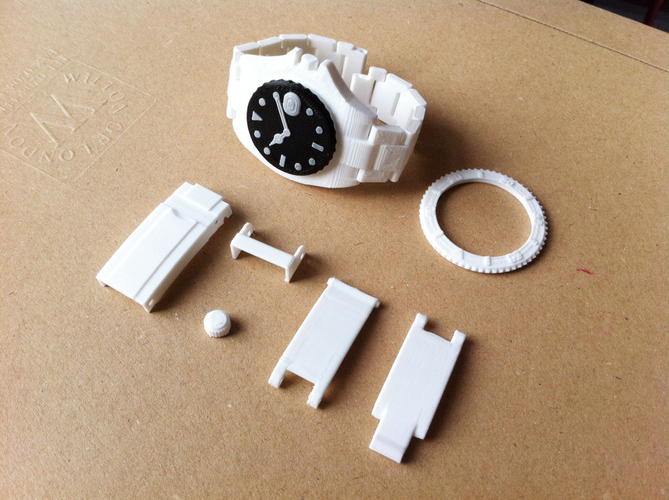 Rather, they are mostly decorative or helpful in the context of testing new product designs.
Over the same recent timeframe, the most visible miniaturization of consumer technology means smartphones can now replace laptops. And your smartwatch can replace some functionality of your phone. So, with all these advancements, why isn't anyone able to solve the challenge of 3D printing a fully metallic watch? The answer comes down (ironically) to accuracy and precision.
The layperson might think 3D printing a watch is straightforward. You take a CAD model of the watch, feed it into a machine, and out pops your product. No more Rolex shortages, right? But while we can print basic parts at home in rough plastic, it's more complicated when it comes to precise metal parts. And with regard to 3D printing, the frontier has moved beyond plastic. Certain forms of metal can now be 3D-printed, as well — which is where real watchmaking comes in.
Timepiece aficionados often forget that beneath the dial, a movement's components make up the majority of parts in a watch — which typically number in the hundreds of — if not several hundred — parts).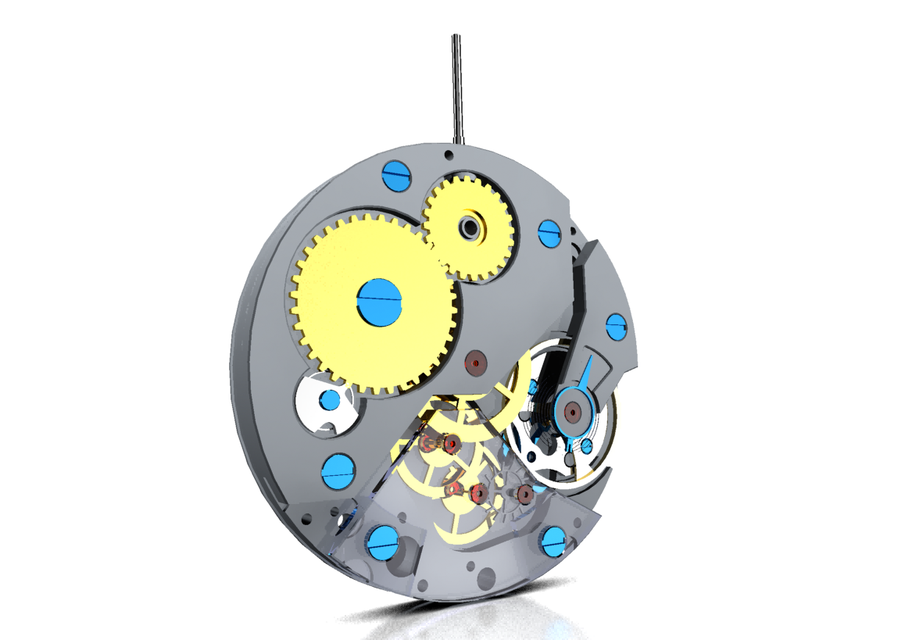 Precision intolerance is one of the major reasons we haven't seen printed movements yet. The current landscape of commercial and industrial 3D printing machines simply aren't suited for the tiny sizes and near-perfect tolerances even the most basic of mechanical watch movements require. In many ways, the industrial machine that the traditional watch industry built to mass-produce precision parts is a key component in its longevity. Much of the know-how remains tightly guarded at companies in Switzerland. For example, there are only a handful of companies that can produce their own regulation system balance springs. The Swatch Group's Nivarox is among the few companies that can mass-produce them — and they still don't have very many competitors.
To help understand the 3D printing precision gap, I sat down with British watch designer, aerospace engineer, and expert in 3D printing, Gregg Cowell. Cowell has undertaken this challenge over the past three years and answered using his pictured prototype watch to illustrate.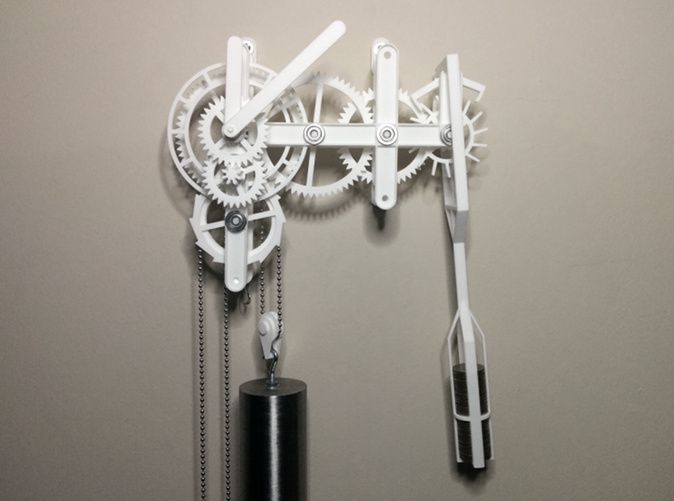 The watch was produced using production-level manufacturing equipment across four different locations in the UK.
His watch (pictured within this article) demonstrates what different 3D printing techniques can achieve (and not necessarily mainstream tastes). The case is produced under high-resolution laser titanium melting. Cowell has taken his prototype further, printing a single interlinked bracelet using a coarser powder mixture under a standard resolution titanium laser method.  Meanwhile, the bracelet clasp is produced in steel using binder jetting, as printing titanium is prohibitively difficult at the scale of the clasp. Finally, the high-finish rhodium dial is produced using a mixture of old and new technology called lost wax casting.
The different techniques are important, maximizing the product definition of each part. For example, Lost wax casting was used on the dial of Gregg's watch because it produces a better finish than laser sintering.  Similarly, the DMLS process used to produce the Luminor Marina case isn't suitable for the precision parts of movement manufacture because where laser melting is used, it produces tiny surface bubbles that must be removed after printing.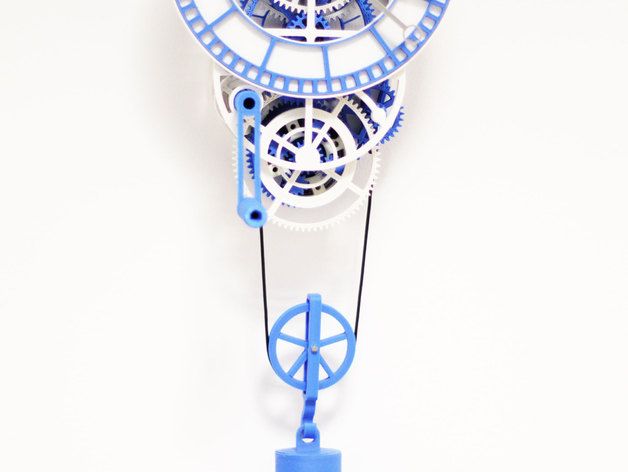 The difficulty comes in manufacturing highly finished parts small enough and strong enough to withstand the forces generated by the movement. There are new and experimental miniaturizing processes, such as MICA Freeform, but this focuses on sizes too small to replicate traditional escapements. Cowell has produced a metallic escapement fork but has been unable to achieve a tolerance for it to operate in a working movement.
An easy way to improve 3D printing precision is to simply make a finer writing instrument. In 2014 the hefty size of the Manousos Tourbillon 1000% was dictated in part by the nozzle width-limitations of the printer and the tolerances required to make it function without ripping off gear teeth. Manousos wasn't able to achieve the needed tolerance precision with 3D-printed plastic until working at 1000% of the original metal movement's size. Cowell likewise believes traditional escapement designs are ill-suited to manufacture given the current limitations and capabilities of current printing technology.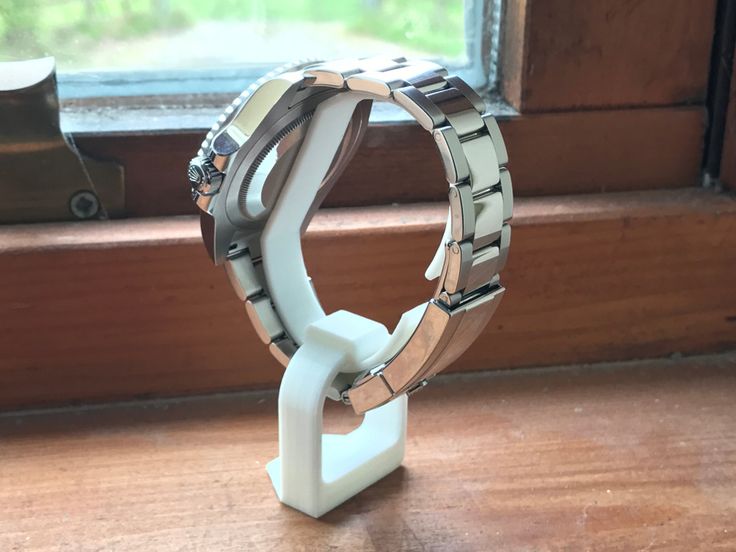 Photo credit: Marina Grigorivna
As watch lovers, we can only speculate that applicable 3D printing experts over at the larger watch brands have all come to similar conclusions about how 3D printing currently can't do much for them. Today, 3D printing technology isn't well-suited to the lilliputian part size-needs of traditionally manufactured watches. That said, the tolerance of 3D-printed metal (in combination with some finishing processes) might be a welcome addition to the construction of watch cases and other structural elements.
I asked Alessandro Ficarelli — Product Development Director at Panerai — why the brand chose a 3D-printed component for a case construction part for the PAM01662, and also what developments we can expect to see next from the Panerai Laboratorio di Idee. Here is what he said [edited]:
"3D printing technologies are often used for prototyping since the quality level normally reached by the printed material is not sufficient for production parts.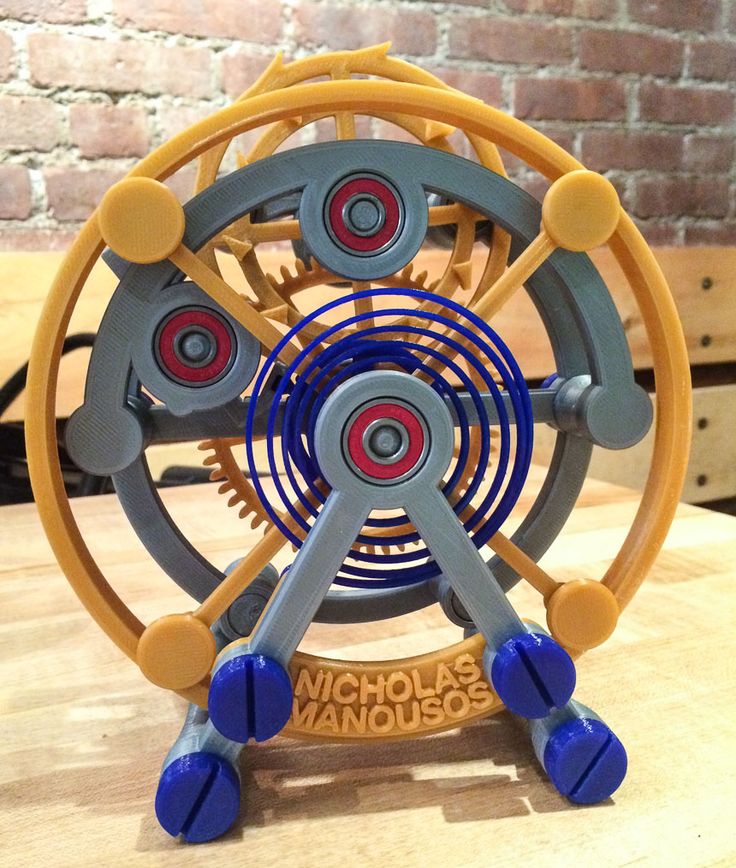 "Panerai, after a long development phase … started with the improvement of the powders used as raw material and ended with the configuration of the entire 3D printing process. [Panerai] managed to achieve a quality of the printed material without equal. This material has no porosity; its behavior is perfect through all the printed part and makes it possible to produce technically and aesthetically perfect components, meeting the very high standards of Panerai. Looking at the future, we will further explore the universe of more durable, eco-friendly materials to ride the new sustainable challenges of tomorrow."
This final statement refers to Panerai's 2020 developments of the eco-sustainable basalt-fiber composite material Fibratech™ and the new EcoPangaea™ composite. It points toward another change we've seen since 2014: the rise of company eco-credentials and the environmental awareness of consumers that are driving innovation and sales. But that is another story altogether that aBlogtoWatch has also been covering.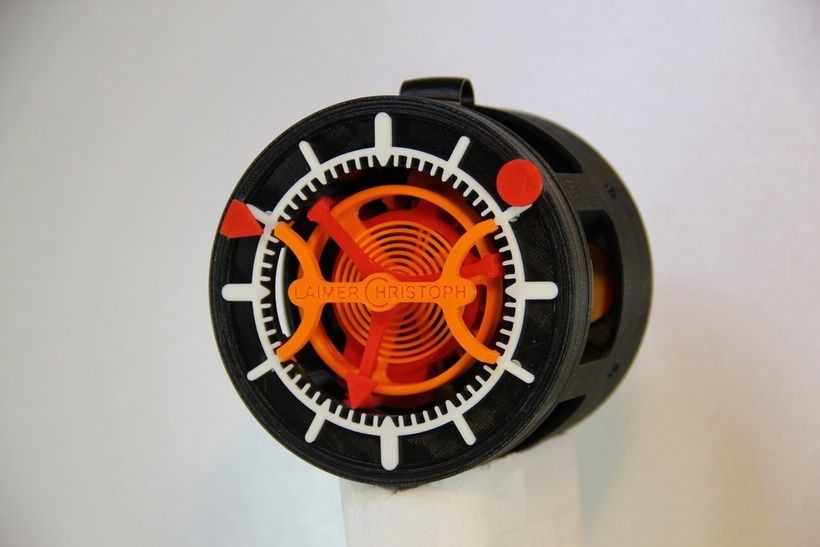 In 2018, Roger Dubuis CEO Jean-Marc Pontroué was quoted in the South China Morning Post as saying there was a "high likelihood" we would see 3D printed movement parts in its watches by 2019. That date has passed, and Pontroué is now CEO of Panerai. I asked current Roger Dubuis CEO Nicola Andreatta if he could expand on the comments of his predecessor, but for now, Roger Dubuis is making no comment.
Photo credit: Moreno Soppelsa
Unless that comment comes in the form of a product, it looks unlikely we're on the verge of a 3D printing revolution in the mechanical watchmaking world. Like many industries, material developments in watchmaking are increasingly used to highlight environmental awareness. 3D printing is not as cool these days as saving the planet. But it is probably technology we need if we are ever going to get off this planet.
Relatively modest consumer demand for luxury 3D printed products makes it unlikely that many brands will invest in vanity 3D-printed watch case materials today.
Consumers will spend a premium on products that apparently have some connection with earth-friendly sustainability — even if there is no direct evidence those products actually result in net gains for ecological impact reduction.
Photo credit: Marina Grigorivna
The current nerdy unsexy view on 3D printed components, from a pop culture perspective, makes it hard to imagine that established luxury watchmakers will be striving to press the boundaries of 3D printing technology, especially when the security of machined movements is under no threat from the market or driven forward by consumer pressure.
Watchmakers all seem to agree that if one could 3D-print metal watch parts it would be a game-changer — not merely in being able to mass-produce parts in a new way but also to solve some old problems while answering new ones. The vintage and restoration market will fundamentally change when brand new parts (that have the potential to again ask the question of what is "vintage") for old watches can be produced out of relative thin air, and then simply polished to perfection.
Creatives would also love the new level of design freedom afforded by an ever-expanded set of structural part opportunities. A 3D-printed part could easily befuddle even the most complicated of computer-controlled cutting (CNC) machines. What the CNC machine has on 3D printing today is, again, precision. Given the incredible promise to the watch industry afforded with the eventual availability of precision 3D-printed parts, the technology's advent is worth watching out for.
Ashley Sandeman has loved watches since getting a Casio TS-100 at age six. Now a little older, he helps businesses deliver strategy and writes about watches, lifestyle, and fiction. He sometimes still wears the TS-100, and anything else he can. Connect with Ashley on LinkedIn.
Producing High-Precision Prototypes for Mechanical Watches Using 3D Printing
Watches and their movements are accurate measuring devices that should both look good and suit customers' tastes. Combining these two requirements is not always easy.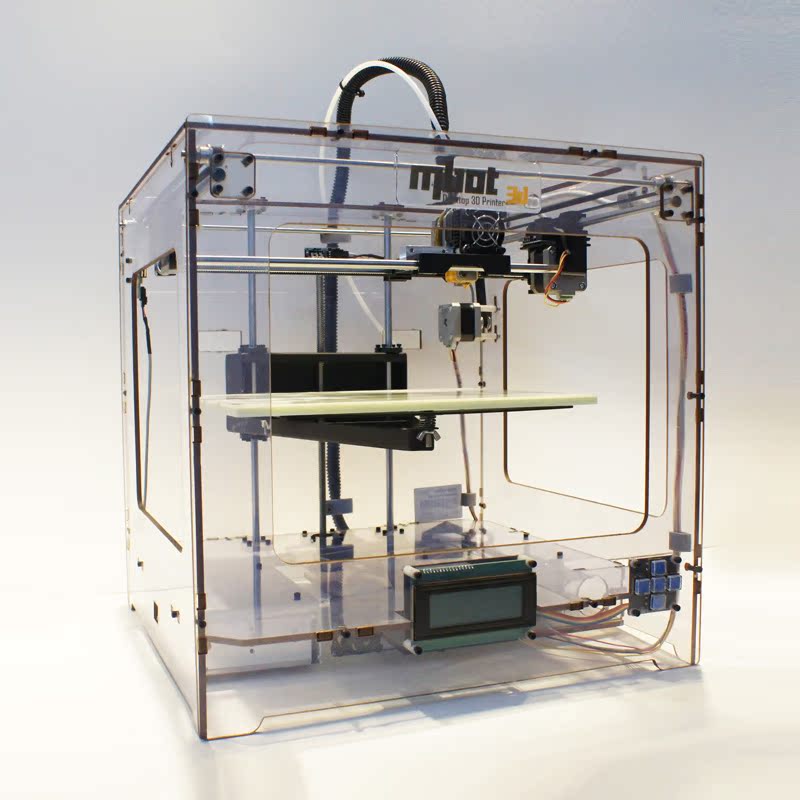 Petra Möller, Head of Product Management at Sinn Spezialuhren, and her team regularly face the challenge of transforming product ideas into reality. To achieve this, they have recently started using the Form 3 stereolithography (SLA) 3D printer to create prototypes of their watch designs.
3D printed prototype of a watch produced using the Form 3 next to the final product.
For almost 60 years, Sinn Spezialuhren has been synonymous with feature-rich mechanical watches. Their product portfolio ranges from aviator's watches to diving watches, chronographs, and mission timers worn by pilots, divers, and the GSG 9 elite tactical unit of the German Federal Police. During the development process, the design of a watch is heavily influenced by its intended functionality, which often poses challenges for the team.
Nils Hunder works in Petra Möller's team on the development and engineering of watch cases, movements, and armbands. The team's job is to drive product development to serial production and collaborate with all departments.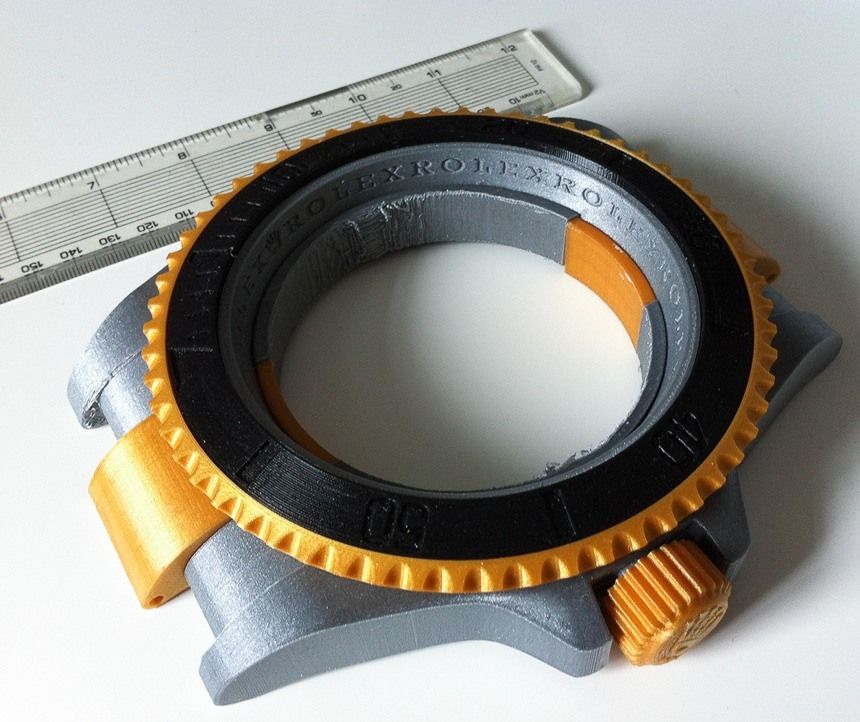 Watch parts are often small, with fine details significantly influencing the appearance and functionality of a timekeeping device. Some of the fundamental questions during the development process are whether the proportions of the watch are correct, how the case shape looks on the arm, or how the strap can best be attached to the case. 
Oftentimes the computerized or handmade product drawings do not optimally convey the reality of the end product on the arm. For the product development to be successful, it is extremely useful to create prototypes before the watch goes into mass production.
Petra Möller and Nils Hunder comparing the technical drawings with the 3D printed model of a watch.
"The early use of prototypes minimizes wasted investments and misguided developments."

Petra Möller, Head of Product Management
Until now, Sinn commissioned an external service provider to produce the prototypes. At first, watch models were made from a synthetic resin using SLA 3D printing, which was very delicate and easy to break.
It was not the right material for models that also need to be worn on the arm for the right look and feel. The team later switched to 3D printing using fused deposition modeling (FDM) 3D printers and a wax-like material. However, these still had to be cast in aluminum, which was very time-consuming and costly. "In the past, prototypes were used much later in the development process. Everything was already finished by that point, and before pressing the start button on the CNC machine, we looked at the watch a final time," said Hunder.
The team's desire to bring 3D printing in-house meant that Hunder spent a long time following Formlabs. He was enthusiastic about the smooth surface quality of the SLA 3D printers, even if the Form 1 and Form 2 did not fully convince him of their added value. As it is often necessary to use support structures with SLA technology, the team was unsure for a long time whether an FDM printer with washable support structures and a coarser surface would be the better choice.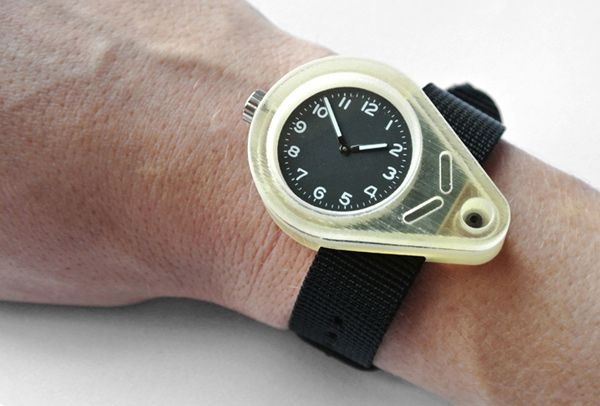 In the end, it was the surface quality and the easily removable support structures of the Form 3 that convinced Petra Möller and Nils Hunder to purchase the Form 3 along with the Form Wash and Form Cure post-processing tools. Since then, their new Low Force Stereolithography (LFS) printer has been used regularly for prototype development. 
Nils Hunder using the Form 3.
Thanks to the Form 3's high-precision laser, fine details such as engravings or corrugations on the crown of the watch case can be printed. Their preferred material is Black Resin for printing watch cases. Details come out best with a layer thickness of 25 microns. There is almost no post-processing required and the case can be further finished later, for example, airbrushed to achieve the desired color.
"We mainly use the Form 3 during the design process to see the first drafts as soon as possible and to understand how the watch looks in terms of proportions and how it feels on the wrist.'"

Nils Hunder, Engineering and Product Development
The team found that using Form Wash and the correct washing process of the printed parts in tripropylene glycol monomethyl (TPM) with subsequent rinsing in isopropyl alcohol (IPA) was essential.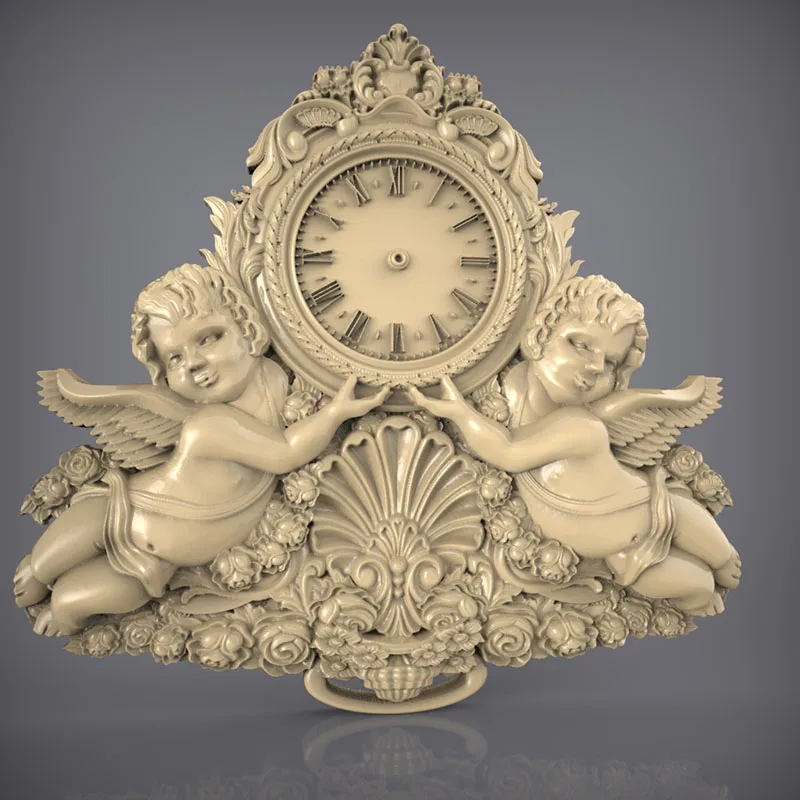 The armbands feature fine channels that can get sealed and trap resin inside during post-curing if the models have not been thoroughly washed. 
Aside from this detail, the implementation of 3D printing at Sinn Spezialuhren was child's play. 3D printing is now being used in the early stages of prototype and model development. Models are often printed overnight so that adjustments and new iterations can be made early on.
The prototype of a watch in front of the Form 3.
Thanks to the constantly evolving material portfolio for Formlabs 3D printers, the team also regularly receives suggestions for new ideas to test in prototyping. For example, the new Flexible 80A Resin has the same shore hardness as the silicone used for actual watch armbands, so Sinn's team has already used the material to 3D print silicone-like prototypes.
3D printed, prototype watch parts, fixtures, and testing equipment produced using the Form 3.
After purchasing their first 3D printer, Sinn's team quickly discovered other valuable use cases for the machine beyond prototyping.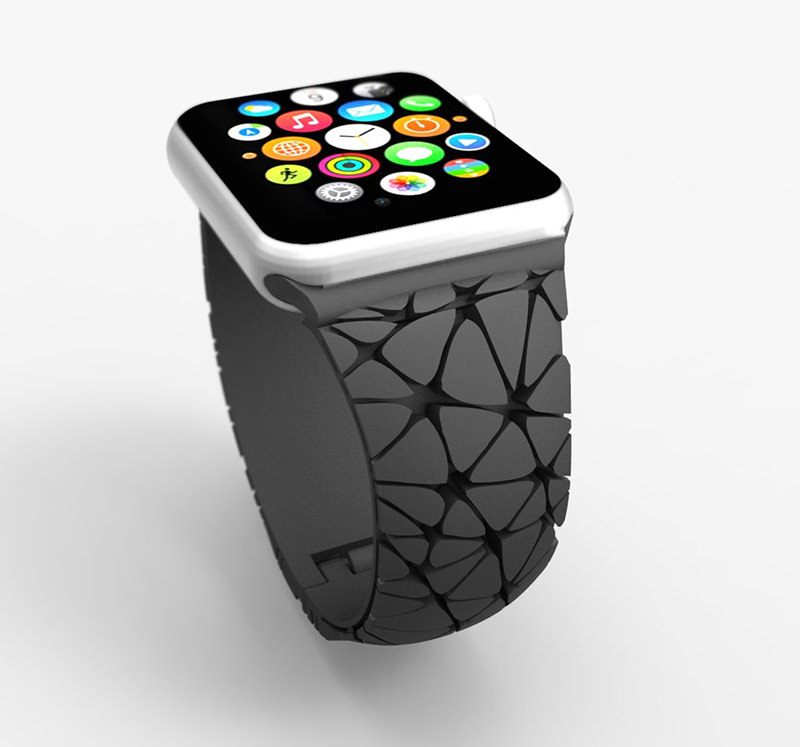 The Form 3's versatility and consistency in producing high-quality prints lend itself to different applications throughout product development and production.
Read our next article to learn how the company leveraged 3D printing for producing manufacturing tools, such as mounts, fixtures, and testing equipment.
Learn How Sinn Uses 3D Printing for Manufacturing Tools
How to 3D print your own watch・Cults
3D printing technology has revolutionized the creation of many things, including watches. Yes, now you can design your own watch and 3D print it. Thanks to this, you can personalize the watch and decide how colorful, simple or complex it looks. You can now create your own clock at home.
Wristwatch is one of the oldest and most popular watches. This Garmin Instinct review post tells us that a wristwatch is not only a fashion statement, but also a very useful piece of your wardrobe. If you know how to design your own watch, you can easily match it to your outfit and lifestyle.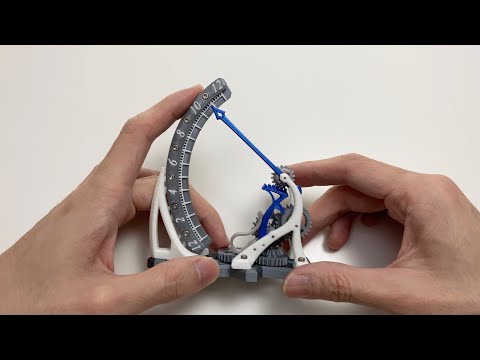 To create this watch, you will need some tools, including a 3D printer, a computer, a soldering iron, clockwork parts, and a small screwdriver.
Here's how to make your own watch with a 3D printer:
The first step is to design the basic look of the watch. This includes the type of dial, the material of the strap, the bottom of the case, and other small details. You can come up with the design yourself, download free files from the Internet, or outsource it to a professional design company. If you choose to work on the design yourself, you can proceed to the next step, which is choosing the type of 3D printing software you will use for the process.
CAD software allows you to design clocks simply by using CAD drawing tools and features including animated models. If you are new to clock design, you can learn how to design clocks with this software. The learning curve isn't too steep, but you'll have to spend time getting familiar with the various controls and features.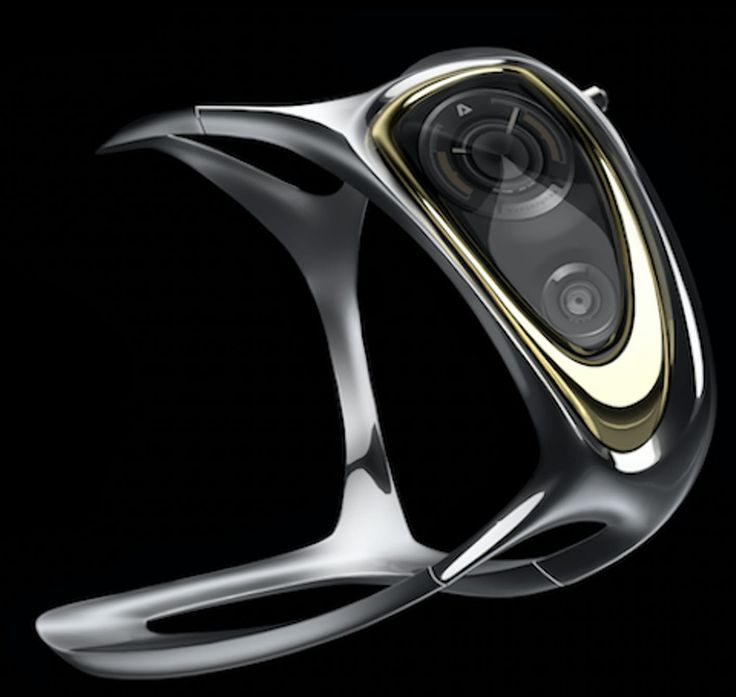 You can also download ready-to-print files from the Internet if you're not so picky about clock design.
Now that you have your design and a CAD drawing program, it's time to get your design onto paper. This step may seem tedious, but it will be worth it when you see the finished product. If you like to design your own, you might want to consider making your own printed clock.
The next step in creating a 3D printed clock is to print your design on a 3D printer. For best printing results, make sure you are using filament that comes with a high quality surface finish, and then set your printer settings to the highest resolution. Also, make sure the outer cases print with support. Printing the remaining parts without support is not difficult. If you're printing at 60mm/s, it should take 3.5 hours to print the parts.
Before assembling the watch, it is necessary to polish the printed parts. Start by removing any support materials you have used. If you don't have a grinder, you can do it by hand.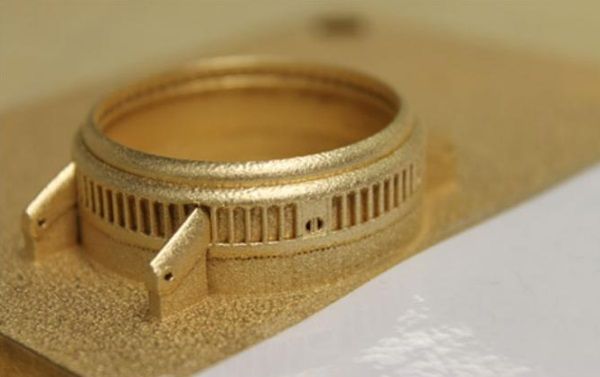 If surface defects remain as a result of printing, you can use a specialized putty, let it dry, and then sand it again to smoothness.
If you want to coat the watch, apply one or two coats of primer and then sand the dry primed parts with 600+ grit sandpaper. With a slightly damp cloth, wipe the sanded parts and remove dust. Then you can apply two or three coats of paint. You can choose between standard spray paint or airbrush. Let the paint dry and apply a clear coat.
The last step in making your own 3D printed watch is assembling the watch. To do this, you will need some type of plastic tube, wire, or needle. Depending on the design of the watch, you will also need an adhesive that will allow you to keep the design intact and allow you to add details if you wish. Before assembling the clock, make sure that all the parts line up correctly and that the screws are as tight as possible.
Final Thoughts
Making your own watch has never been easier with this new technology.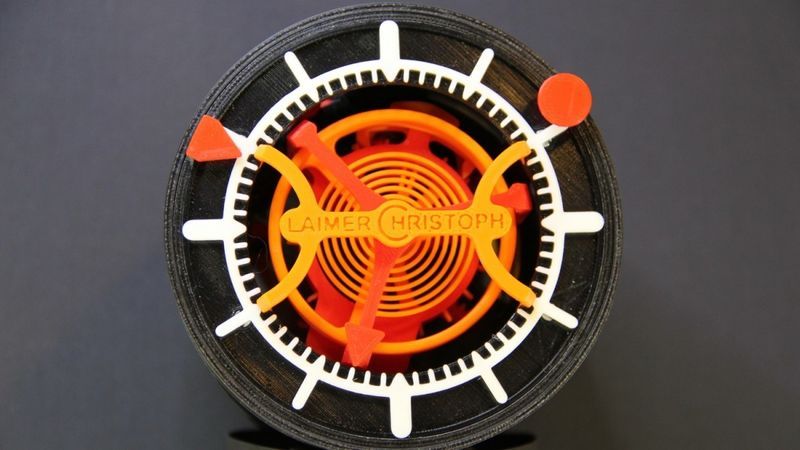 If you love customizing the look of your watch to suit your outfit and lifestyle, now you can do it with a design program and a 3D printer. If you're curious about what else you can do with a 3D printer, check out the numerous videos and tutorials online.
This page has been translated using machine translation. Suggest the best translation
2000 hours of printing or a 3D printer - your personal couturier / Sudo Null IT News
Home 3D printing has officially taken a huge step into the fashion industry. But first things first.
Danit Peleg is a talented student at the Shenkar College of Engineering, Design and Art in Israel. She has always been interested in the use of modern technologies in the field of fashion. In search of her "perfect textile", the girl tried laser cutting, screen printing and, finally, 3D printing. The latter became her main tool in the development of her graduation project.

For the Faculty of Design, the diploma is, as you might guess, their own collection, presented at a fashion show.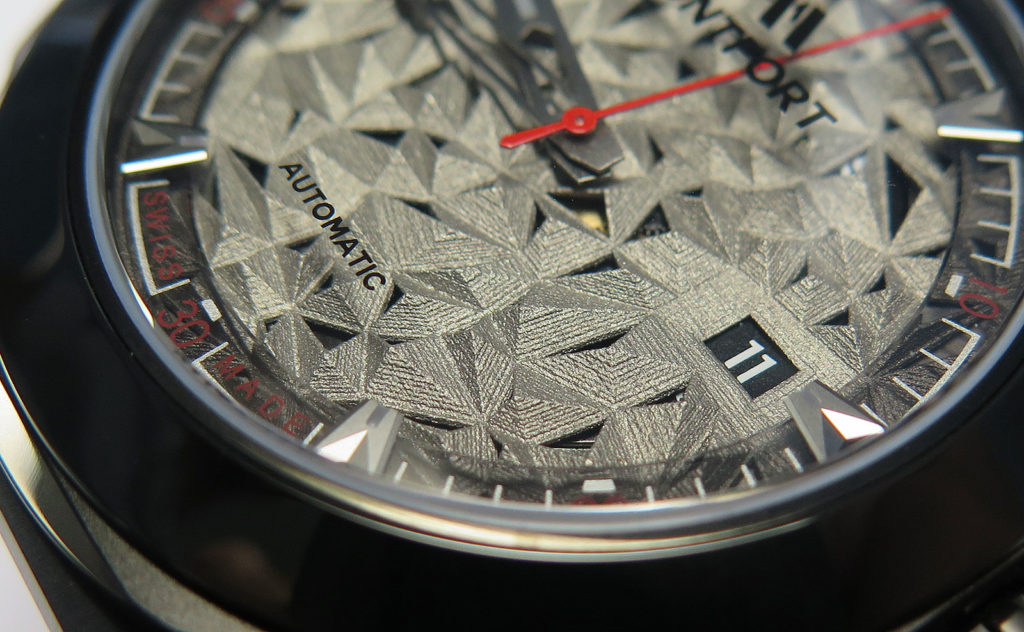 Danit had an academic year for the entire project and preparation began in September 2014.
As Peleg herself admits, she was familiar with 3D printing, but had never worked before. She had no idea what the result would be in the end, but decided to give up all her efforts to understand whether it was possible to create a technologically modern fashion collection using only those technical means that are available to everyone.
The main inspiration for the collection was the painting "Liberty Leading the People" by Eugene Delacroix. Danit presented the picture as a series of triangles that make up a single composition. Armed with her own vision of the famous painting and modern technology, she set about creating the LIBERTE jacket. It was modeled in Blender as a set of through triangles. Having received a model suitable for 3D printing, Danit Peleg plunged headlong into experiments with various materials and 3D printers.
The girl worked not alone, but with teams of makers from TechFactoryPlus and XLN.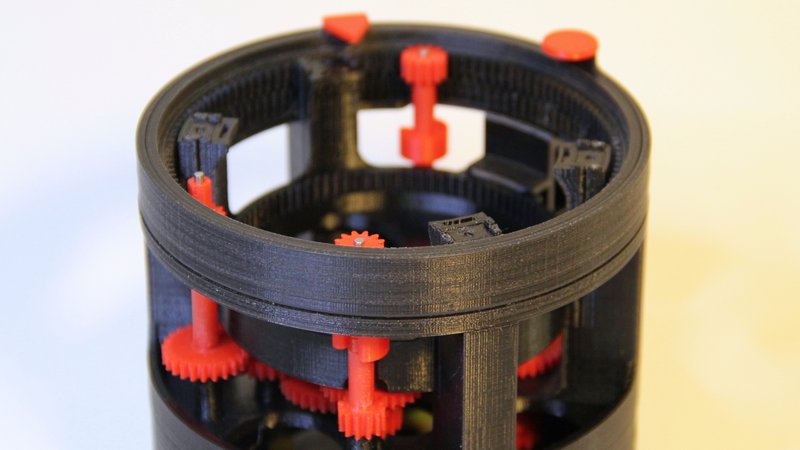 About the 3D printing community, Danit speaks exceptionally warmly - a community that constantly exchanges knowledge and experience was still delightful. As mentioned above, the experiments were not only with materials, but also with 3D printers. For her project, the girl used Witbox, Prusa i3 Hephestos and MakerBot Replicator 2. PLA and soft, flexible PLA became the main materials for future garments. Because this collection was to be worn by models, the choice fell on ecological and skin-friendly filaments.
However, during her first month of work, Danit became disillusioned with PLA. It was hard, brittle and, most importantly, inflexible - the girl tried to achieve the properties of "real" textiles and this plastic could not satisfy her.
However, the real breakthrough came when Peleg discovered FilaFlex, a flexible plastic. It was with his help that the red "LIBERTE" jacket that was mentioned above was completed at Witbox.
Despite the well-printed jacket, Danit wanted more sophisticated designs for the next pieces in the collection.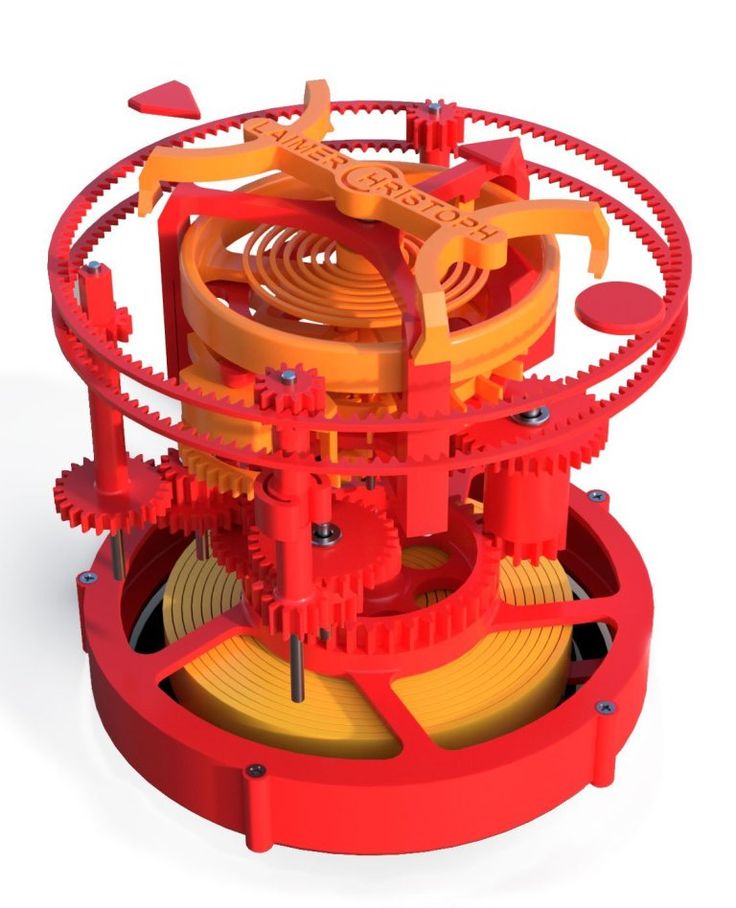 having found the right material, she began to search for the most successful patterns. And I came across the work of Andreas Bastian, his so-called "Mesostructured Cellular Material", which can be easily found on thingiverse. Using a similar principle, Danit created her own structure, which brought the printed product as close as possible to the product sewn from fabric.
For the black dress, she restructured it a bit so that the end result is more "topographical" and different from flat textiles.
Finally, the experiments were completed and it was time to come to grips with my graduation project. The total print time was estimated at 2000 hours. On a platform the size of an A4 sheet, one print cycle was 20 hours. Therefore, Danit had to move away from games with a printer and organize a real 3D printing farm at home.
When the project was almost completed, the girl even printed shoes - she wanted the models to be dressed 100% by 3D printing.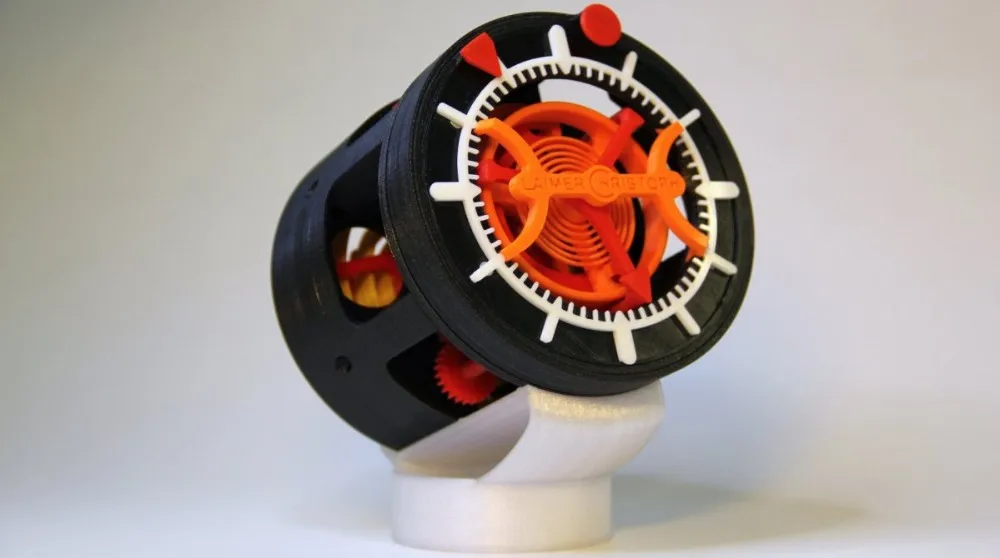 And-and-and-and, finally, the collection was ready!
What conclusions did Danit come to after using 3D printing? The absence of any intermediaries led her to absolute delight - she was no longer limited to the choice of fabrics that suppliers offered her. She could create any textile she needed herself, without even leaving home!
Video:
Now a certified designer, she is sure that with the development of 3D technologies, this process will become easier and very soon anyone will be able to dress up by organizing a fashion house at their home, pardon the pun.
In the future, Danit wants to work with specific fashion designers who, like herself, are interested in introducing modern technologies into fashion design.
So, gentlemen, we have become witnesses of the Event. This is not the first time that 3D printed items have been seen at fashion shows. But earlier it had the character of a curiosity, a kind of zest.