3D printing model ships
15 Best Models Ever Crafted
Navy, pirate, military, battleship vessels have always fascinated the minds of sailors with their size and ability to plough the high seas. If you are much in love with the romance of sailing you might wish to collect your favourite vessels as 3D printed ships. Such projects are incredible to craft. There are so many details in every model powered by oar or sail that your pastime will never get boring.
It is easy to open the oceans to yourself by adding one of the detailed 3D printed ship models to your collection. Even when you do not sail, you can look at the vessel figurine and imagine how waves direct your boat to the fantastic adventures.
3D Printed Ships
Humans have built so many boats that it is a real challenge to choose your favourite 3D printed ship model. A lot depends on your taste. Some of us are in love with antique ships. Some of us enjoy medieval boats built in Europe that had conservative designs or were influenced by ancient Viking or Roman vessels.
Some people are in love with boats invented during the Age of Sail.
Others have a passion for the military vessels used during the Second World War. Adding such a WWII ship 3D model to their collection could be the most cherished dream.
Modern navy and old pirate ships also carry the spirit of romance and adventure. Thus, it is better to look at the creations of different eras to figure out your preferences.
Read also: Amazing 3D Printed Boat Models and Parts
Ship 3D Model Print: Top 15
These are 15 most impressive 3D printed ships found on the web. This way you can choose something for your likes.
1. Patrol Boat River MK2
Every country wishes to keep its water borders under full control, especially when the war is going on between its parts.
During the Vietnam War that lasted from 1955 to 1975, everyone wished to control local canals and rivers. Water provided access to most of the region's resources, and different countries that supported the South or North Vietnam in that war wished of more capabilities.
The River Patrol Force was initiated for this goal. Patrol Boat River shortly called PBRs were employed by U.S. Navy to search river traffic and intercept unwanted vessels and ships.
Patrol Boat 31 MK 2 is a famous PBR that could operate in shallow waters. It was a well-armed, pretty fast and manoeuvrable boat that could be led by a small crew of four people. Such a craft can be used in modern wargames, and, luckily, Gambody – Premium 3D Printing Marketplace has this 3D printing model available.
She is a fantastic model designed at 1/30 scale and cut into 31 printable pieces. You can build a stunning detailed replica of this historical craft at the size of 12 cm x 33 cm x 16 cm (4.5 inches x 13 inches x 6 inches) for your collection.
Download STL files for patrol boat 31 MK 2 3D printing model.
2. Roman Bireme 3D Model
Many medieval crafts made in Europe were influenced by old Roman vessels. Thus, it could be interesting to start your collection with the original prototype that existed many centuries ago.
For example, you can choose a bireme galley.
This was a famous warship built by the Phoenicians and Greeks and used by Romans. A bireme was invented for transportation and naval war purposes. It had two sets of oars on its sides, was 4-6 metres long and boasted a beautiful design.
The 6-piece 22-centimetre long Roman bireme 3D model should be simple to 3D print and assemble. It has some impressive décor details, including naval ram, lion sculpture symbolizing Hercules, Mars-Ares sculpt, removable sail and oars.
Image source: MyMiniFactory
If you enjoy the looks of this 3D printed bireme, you can download its STL files and build this ancient beauty for yourself.
3. Spanish Galleon Ship 3D Model
Galleons were huge sailing ships invented in the Age of Sail in the sixteenth-eighteenth centuries. Spanish sailors loved to use those multi-decked vessels as armed freight transporters. They served as warships and for maritime commerce.
Galleon ship 3D print can be proudly added to your display shelf.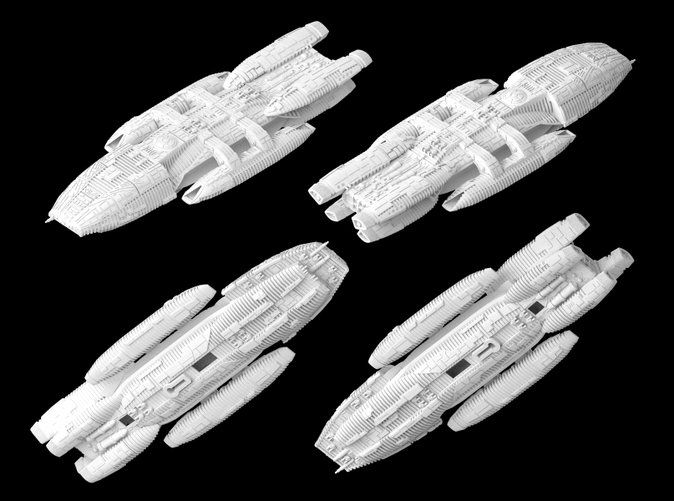 She is a vast craft with four masts boasting more than twenty cannon ports and several interior decks. She reaches 64 cm (25 inches) in length and 61 cm (24 inches) in height.
Image source: Printable Scenery
With additional accessories (food, barrels, bags, anchor, cannons, rope, etc.), it is a complex project to craft on your 3D printer. While it will definitely take much of your time, the result will be outstanding, once you choose to download Spanish Galleon STLs to work on this venture.
4. Frigate 3D Printed Ship
This warship type was invented in the seventeenth century. It was a fast and manoeuvrable full-rigged vessel with three masts. Its single deck was used for carrying weapons and guns. Frigates were top-rated in France and Britain, and they are still used in the twenty-first century (although they are modernized) as a protector of other warships in the sea.
Modern frigates sometimes resemble battleships, and they are fun to display on your shelf or use in wargames in your swimming pool.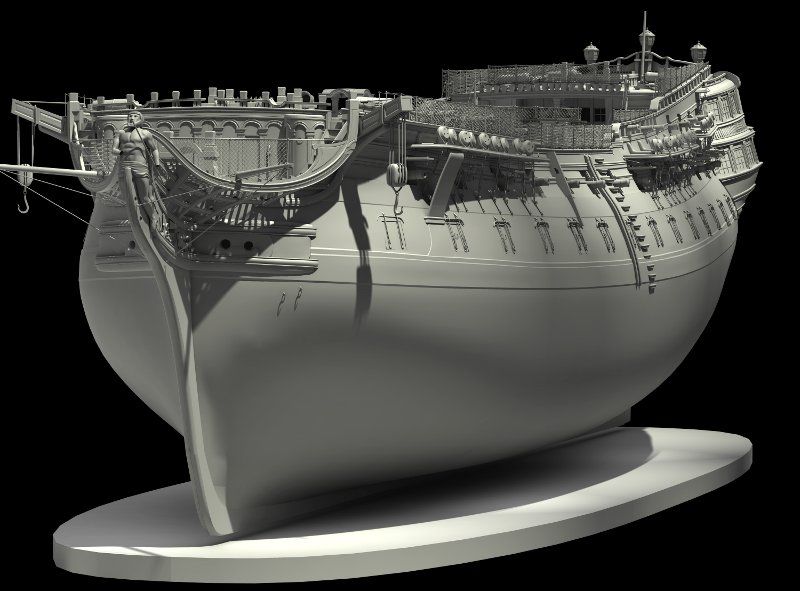 Image source: ARTEIS
This frigate 3D printing model is a complex project that requires skills and some experience with 3D printers. Still, if you choose to build this battleship, you will fall in love with the final result.
5. Sloop Ship 3D Print File
All sloops typically have only one mast and one headsail with additional foresails if needed. These sailing boats got their name from the Dutch word "sloep."
They are relatively small. But you can make a ballista version of a one-mast sloop that could remind of a pirate ship 3D print when finalized. Such a project is less complicated if compared to crafting the Galleon or Frigate.
Image source: ARTEIS
Still, the Sloop looks fantastic in the wargaming pool field or on a display shelf.
6. Titanic Ship 3D Model
Most of us remember the sad story of Titanic shipwreck. This famous ship sank near the coast of Newfoundland over a century ago. The voyage of this ship ended when she collided with an iceberg in 1912.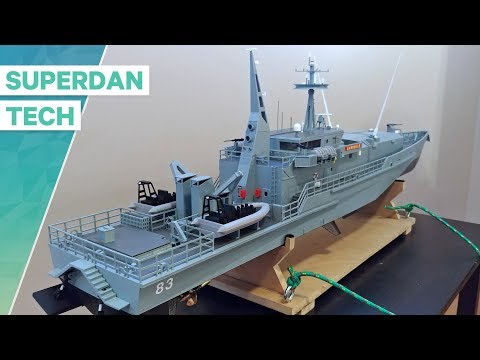 Thanks to James Cameron, the whole world could witness the love story between the imaginary passengers of Titanic in the incredible 1997 romance and disaster movie.
Those hobbyists who are fascinated with the story and film can 3D print a Titanic model. There are many STLs you can find on the web.
You can craft a low poly version of Titanic on FDM/FFF 3D printer. The most challenging part about this project is printing the props. Once you manage them, your figurine will be impressive:
Image source: MyMiniFactory
You can also go with the 1/500th scale model of Titanic, which looks very accurate and fantastic. Still, users who chose to make this version report multiple problems when trying to use supports and suggest to avoid them for all the pieces except the stern:
Image source: Thingiverse
Of course, being printed at nearly 4 meters length, Titanic looks impressive:
Maker: BernCo Models
Such projects require much patience, filament, money and time.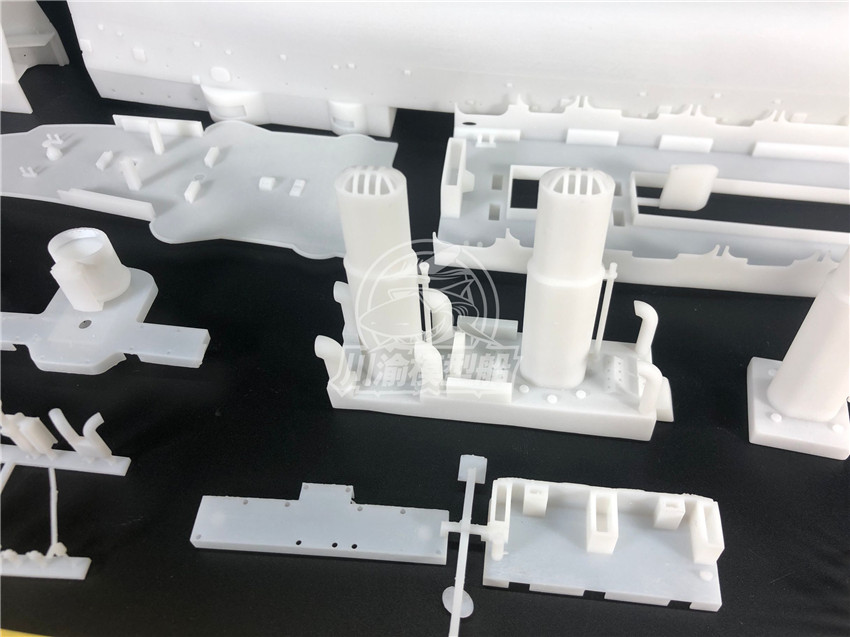 But the result achieved by BernCo Models is outstanding!
Maker: BernCo Models
7. Viking Longship Model to 3D Print
Quick Viking longships usually had one mast with a square sail and a row of oars on both sides. These simple yet impressive medieval vessels were used in battle. The front of the longship was often decorated with a dragon head.
You can choose to make a cute medieval Viking longship that can carry 2.8 cm (1 inch) sailor figurines. It looks fantastic with 27 oars, Viking shields, a dragon head and other details.
Image source: Printable Scenery
The ancient 3D printed ship looks gorgeous. It is perfect as a display and a great element of the wargames if you are fond of them.
8. Brig Ship 3D Model
Brigs were initially created as sailing vessels during the Age of Sail. They had two masts, were manoeuvrable and used as merchant boats and naval warships with 10-18 guns. Their size was not huge, but they still had a challenge of sailing into the wind.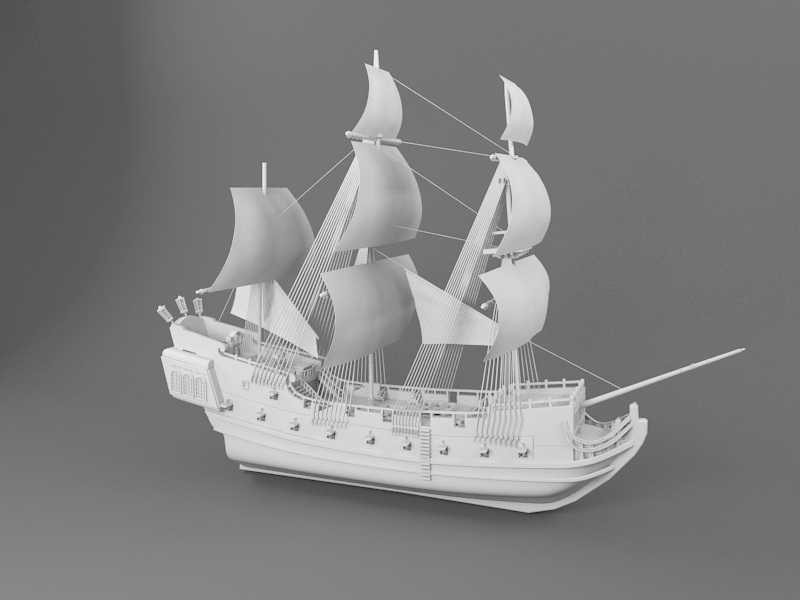 The happiest Brig's years were in the eighteenth and early nineteenth centuries. With the construction of steamships, the destiny of Brigs was defined, and they fell out of use.
Image source: Printable Scenery
If you are in love with this vessel, you can craft a Brig for your collection. She is designed with two masts, a removable wake and impressive details. This gorgeous project can be the bright exhibit in your collection of 3D printed ships.
9. WWII Ship 3D Model
Most crafts used during the Second World War were military vessels. They participated in the combat operations, repatriation of prisoners, surrenders, etc. Some ships were relatively small, of less than 1000 tons, and others were huge. Many of those creations are of historical interest, and it can be a great idea to print the WWII ship 3D model you like the most.
For example, you can make a craft of King George V. She was a lead royal navy battleship of over 35,000 tons and reached 227 meters (745 feet) in length.
She was built in 1937. The commission year was 1940.
For several years this WWII ship was operating in the Pacific, Atlantic and Mediterranean waters. She helped to sink a German ship Bismarck and the Royal Navy's HMS Punjabi. She took part in port and island bombarding and lived a life full of adventures until she became a training battleship in 1947.
Here is a render of a low poly model vs the original King George V class battleship:
3D printing model vs real King George V class battleship. Image sources: Free3D; USN
10. Flower Class Corvette 3D Model
The list of royal navy boats is pretty long. Not only King George V class battleship can be turned into a 3D print, but also a flower class corvette. This British vessel is also known under the Gladiolus class, and it was used during the Second World War.
While the majority of flower class corvettes were not preserved as a museum vessel, you can 3D print one of these projects for your collection of navy craft.
Here is an example of 3D printed corvette of flower class. It is radio-controlled and resembles HMS Agassiz's design. Reaching approximately 1.3 meters (over 4 feet) in length, it is an impressive collector's figurine with many fantastic details:
Image source: cgtrader
11. Armidale Class Patrol Boat Model
Some 3D printing hobbyists love modern vessels as much as ancient and medieval ships. One of such crafts, a patrol boat of Armidale class, was created for the Royal Australian Navy in the 1990s. The commission of the first boat took place in 2005, and the last one was commissioned in 2008.
The main task of these boats was to patrol the borders, including the offshore territories, and intercept the unauthorized arrivals by sea.
Maker: BernCo Models
A 3D printed model of such a modern Armidale class ship looks impressive. The boat is made at 1/35 scale. She is about 1.7 meters (over 5 feet) long. While the project requires about 7 kg (15 lbs) of the spool, it is still an excellent 3D print of which you can be proud.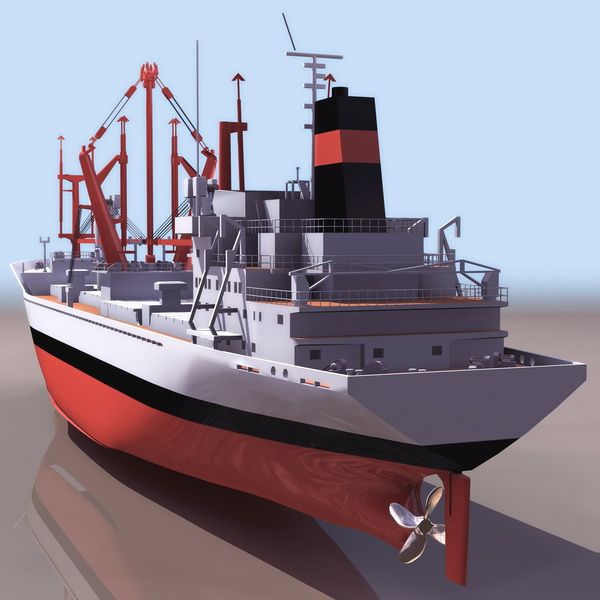 12. Liberty Ship WWII Model
Every country that participated in the Second World War had to build and use its own ships. The USA, for example, was symbolized by low-cost and mass-produced Liberty ships that belonged to the class of cargo vessels.
More than 2,700 Liberty ships were built in the USA throughout 1941-1945. Each one was designed to carry over 10,000 tons of cargo. However, their capacity was even higher because, during WWII, such vessels could carry loads far exceeding their initial volume.
Adding such a model to your collection of WW2 ships is a fantastic idea. And here is a beautiful Liberty ship 3D model for printing although it is not historically accurate:
Image source: cgtrader
13. Pirate Ship 3D Model STL
Piracy is a horrible thing that terrors the world, even in the twenty-first century. Still, it might be a great idea to 3D print a pirate ship for your collection or wargames in the pool.
Actually, there is no such a class or type of vessels as "a pirate ship.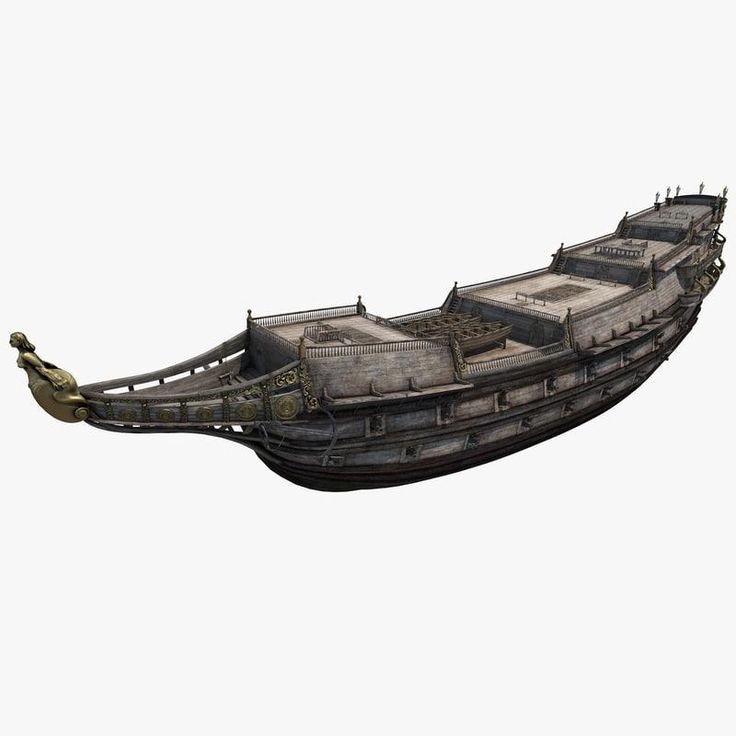 " No shipyard officially builds anything under such a title. Pirates have always preferred to capture any well-made, well-armed, fast and reliable ship for their "bad navy business." Usually, such vessels sailed under the black sails depicting human bones or a pirate hat, and their crew members were all involved in piracy.
This outstanding pirate ship 3D print was designed by Chris Hunt. She depicts a two-mast model with pirates on board:
Maker: Chris Hunt
When painted, Hunt's project looks like a fairy-tale:
Maker: Chris Hunt
There are many great 3D prints in Hunt's ShipWorks Terrain Group on Facebook:
Maker: Bastian Melsheimer
Here is a simplified version of a pirate vessel 3D printing figurine:
Image source: Thingiverse
14. World
W
ar 2 Ships
Most vessels used during World War 2 were armed. Hobbyists who study the ships of that period and wish to add some models to their collection can find many great designs on the web.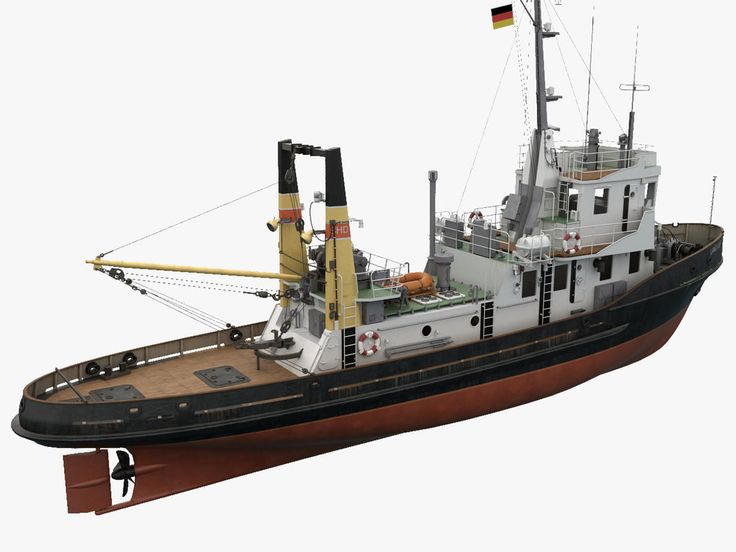 For example, you can 3D print some models used by Britain, the USA, Japan or other countries.
Some of these projects have many delightful details, while others lack many particulars and still look great as an addition to the wargaming or tabletop games.
Here are some impressive British World War 2 ships which you can craft after downloading STLs:
Image source: cgtrader
This is a collection of the USA and Japanese STL files of WWII ships to 3D print:
Image source: cgtrader
Of course, there were so many WWII ships that you can 3D print any project you will find on the web or design it yourself. Here are some great examples of what other hobbyists have crafted:
Image source: instagram.com; @wargaming3dImage source: instagram.com; @wargaming3d
15. Medieval Ship 3D Models
The design of most medieval ships is awe-inspiring. It is one of the reasons why many crafters are more than happy to find a high-quality 3D printing model of some vessels of early, high and late middle ages.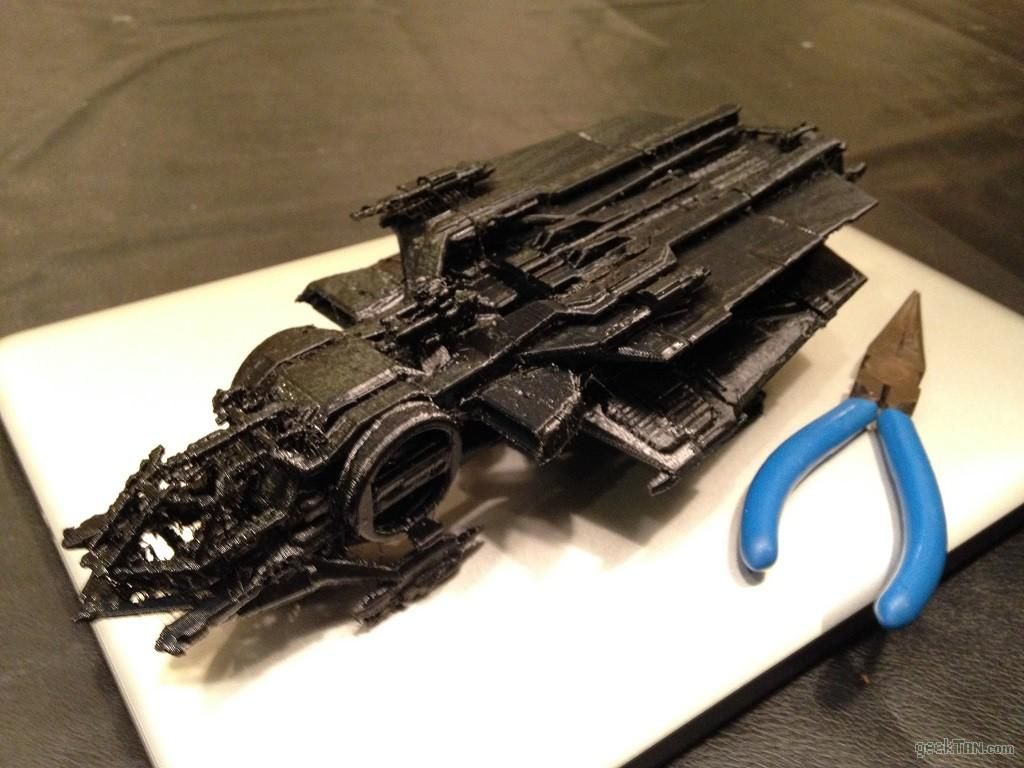 Some of the most recognized boats of the medieval era are Cog, Knarr, Hulk, Carrack, Longship and Galley.
Here is an outstanding 3D printed Cog ship that could proudly decorate your display shelf at home:
Image source: Everpunk Games
These are beautiful examples of 3D printed Endeavor, Drakkar and Sao Cristovao:
Image source: 3DR Holdings
Here are some more ancient projects brilliantly 3D printed by Tucho Fernández Calo which you can enjoy:
Maker: Tucho Fernández Calo
What do you think about the most impressive 3D printed ships? Is there a model you would be happy to craft yourself? Share your thoughts in Gambody Facebook Group. It is your unique chance to influence the decision of which new vessel 3D print file to add to the marketplace in the future.
(Visited 17,016 times, 1 visits today)
Author
3D Printable Frigate
$19.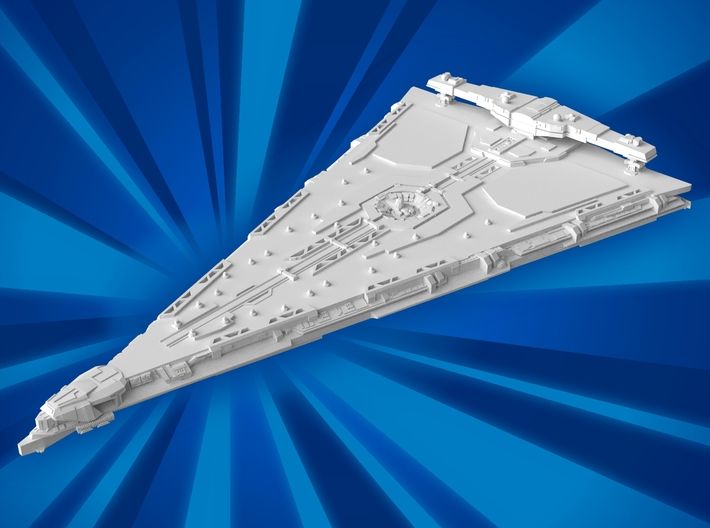 95
The Frigate has been updated with new cuts that allow it to be easily printed in parts on a conventional 3D printer bed.
There is a legacy version of the ship which includes a smaller solid version of the ship so you can scale down to 10mm.
Please look closely at the parts of this model and decide if your printer will need supports. The rigging pieces with larger holes will need to be printed at 33%.
USA (Only) Dungeon Torch USA (Only) Vegabond3D USA (Only) The Broken Token UK (Only) Highlands 3D Prints Australia (International) OTP Terrain USA (International) Dungeon Artifacts USA (Only) Majestic Miniatures USA (International) 3degos USA (Only) AltRealityTerrain USA (Only) Tabletop Terrain South America (Only) Fragua 3D USA (Only) Simply 3d Hawaii UK (Only) The Artificers Forge USA (Only) Dented Helm Gaming Ltd USA (Only) Midwest Token 3d France (Only) 3dndprint Canada (Only) Level Up Games UK (Only) Forged Terrain Germany (Only) Fantasy Terrain UK (Only) Zeak France (Only) My Scenery USA (Only) EnderToys UK (Only) CNC Universe LTD USA (Only) Nexus Game Lounge
If you are a Kickstarter backer you must login to access your pledge
This product is delivered as a .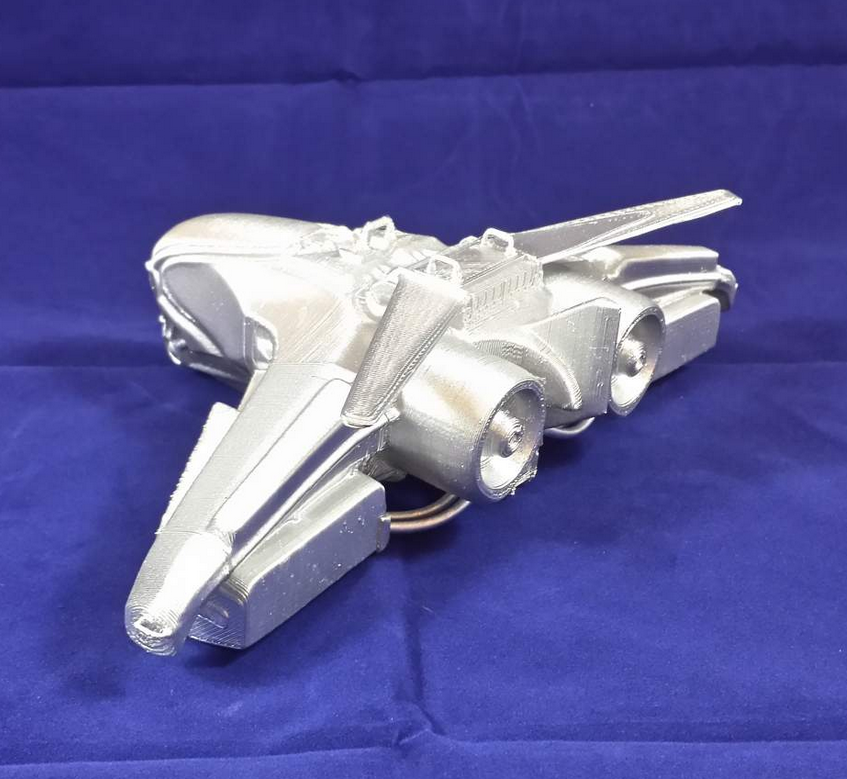 ZIP file pack containing STL files for use on a home 3D Printer. The files are set to 28mm scale but can be rescaled before printing.
Description
Additional information
Q & A (31)
Description
With the prow cutting through the waves like a hot knife through butter, the frigate was a dominating presence on the seas.
Updates:
(version 5.1) Small interior deck piece 'Printable-Ship-deck-back-A-v4' has been scaled to match.
(version 5.2) Fixed scaling on deck.
(version 5.3) Deck piece Ship-deck-back-B-v2 now in both folders.
29 June 2017 (version 5.4) Small mesh repairs to Ship-big-back-v1.0, Printable-Ship-deck-middle-A-v1. 0, Ship-canon-A-v1.0, Ship-canon-B-v1.0, Ship-wheel-A-v1.0, Ship-wheel-B-v1.0.
2nd March 2018 (version 5.5) Ship-big-front-v1.1 part placed to Zero origin.
24 September 2018 (version 6.0) Updated Frigate to include to an easy to print version. Requires 6'X6′ print bed.
11 October 2018 (version 6.1) Block and Tackle added for customers who have printed the original version.
12 October 2018 (version 6.2) Now includes the Mk2 version of the Decks and Wake for customers who have requested this.
Notes:
This model is suitable for those who have some 3D printing experience. If you are new to 3D Printing you should print some of our other models first. Print with 20% infill at .2 micron.
There are 3 options. These are located in 3 separate folders within the zip file.
Large parts. This requires a 145 high and 120 wide print area.
Small parts. These are to be printed on a 100mm print bed.
Solid option. This will print as a solid object and requires supports touching build plate.
 Ship-Big-Deck-middle.stl is 200mm wide so you can print the small options printable-ship-deck-middle-A, B, C, D instead.
 Please ask questions. [email protected] if you get stuck and I will also update these notes.
The small solid option is simple to print and prints as a standalone model.
The deck sections are curved and will need supports.
Most of this model will print without supports. The bow section and some of the 'options' are the only parts that require, Supports Touching Build plate.
I recommend you check each piece and look to see if you need supports, this often depends on your printer settings.  A slow print speed will cause stringing and will need supports. The decks need supports but the underside is not visible when it's assembled, the support material remains can't be seen. Also, under the bow needs supports if you print at a slow speed.
Right-click on the image below and "Save As" to download the reference sheet for this pack.
Product measurements can be found in the image gallery.
Small version Reference
Where 3D printing leads
3D printing
Subscribe to the author
Subscribe
Don't want
71
Hello Everyone!
Life's path led me to work in a mock-up workshop, where I met a wonderful person, a master of his craft and now my friend! At that time, my friend was skeptical about the possibility of 3D printing and had a negative experience, so to speak (hairy parts with holes).
The theme of the LAYOUT was intertwined with ship modeling, a matter quite new to me, unexplored and thus quite interesting. The first emergency task was to model two ships in 350 scale Corvette project 20380 and a rather old large landing ship project 1171.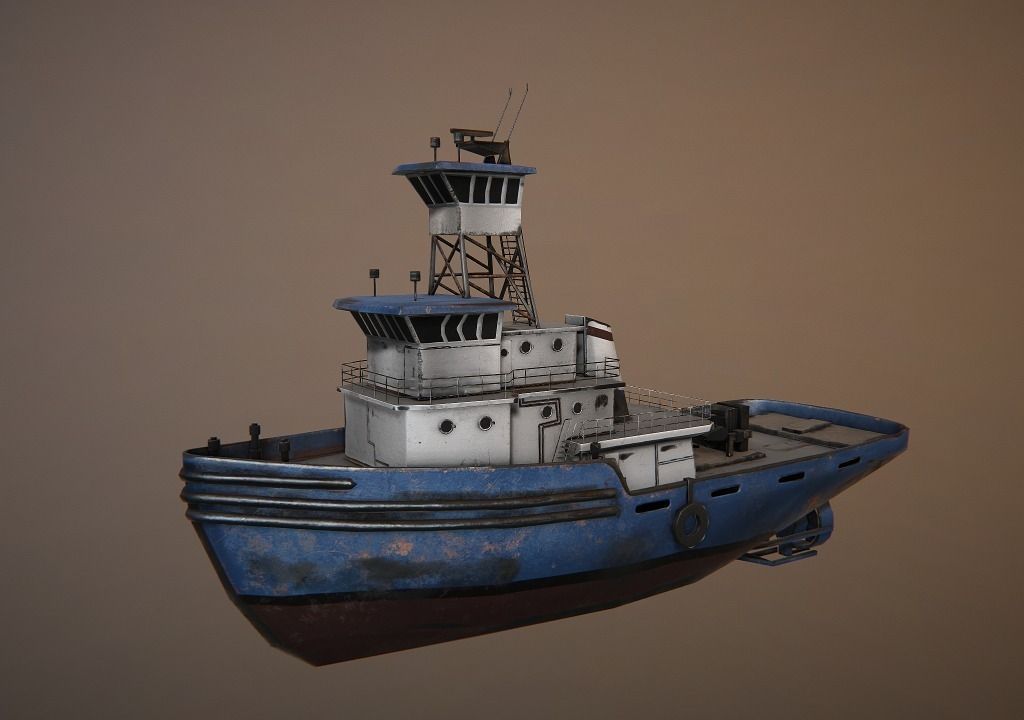 To be honest, I'm a little sweaty, but my eyes are afraid, but my hands are doing it. I will give photos of ready-made models, so as not to heavily upload photos of blanks.
Corvettes of project 20380, BDK of project 1171, scale 1:350.
And my friend was surprised and delighted that 3D printing could be different. In general, the end result pleased us both. And then excitement appeared in the work))) During this period, I discovered many new nuances in modeling and printing.
Then they made a couple of project 775 large landing craft. At that time, FDM printing, photo-etching and various improvised materials were used in the work.
BDK project 775, scale 1:350.
Two most interesting projects followed - the hospital ship Irtysh (modeled almost from the photo) and the handsome BDK project 1174 (just an interesting ship that absorbed all the power of the design ideas of engineers).
Ship hospital Irtysh, scale 1:350.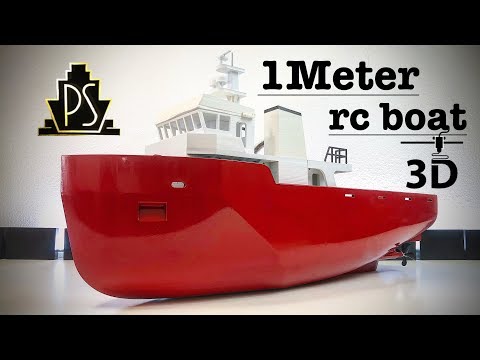 BDK project 1174 Ivan Rogov, scale 1:350.
We made two civilian projects, a fairly old dry cargo ship and a fishing boat.
Transport refrigerator Orion, 350 scale.
Fishing boat, 42 scale.
Finally bought a photopolymer printer. The thing is awesome! Learning to print on a new device took place, of course, in an emergency. An order was received for the manufacture of a semi-submersible floating drilling rig. Here we are both sweating)))
MODU, complete, 200 scale.
Removable dome of the MODU, for a visual representation of the internal structure of the drilling part.
Drilling part of the MODU.
And a little Easter egg.
But the most difficult thing for me to model was the Large anti-submarine ship of project 1155. Its peculiar complex architecture drove me into a creative crisis, but still a harmonious and beautiful project.
Project 1155 BOD, 200 scale.
Photopolymer opened new interesting possibilities in printing.
Small things for 200 scale.
Small things 350 scale.
BDK project 775, 350 scale, there is already a superstructure and all small things made on photopolymer.
There were many more recurring projects, but maybe next time about them.
I would like to continue building ship models because there are still a lot of interesting projects.
Now we are looking for possible cooperation with organizations and people interested in this topic. We will consider any suggestions.
Please feel free to ask questions if you are interested in this post.
Thank you for your attention.
All the best!
More interesting articles
brtv
Loading
10/16/2022
1230
9
Subscribe to the author
Subscribe
Don't want
Hello my friend! Today I decided to assemble a simple pneumohydraulic generator or Generator.
..
Read more
Leoluch
Loading
09/07/2015
352447
343
Follow author
Follow
Don't want
Good afternoon, dear visitors of the portal.
Today I decided not to leave in art...
Read more
Dima_pb
Loading
04.02.2016
74460
157
Subscribe to the author
Subscribe
Don't want
Everyone knows about the rollback, but few people understand where to start to manage it properly....
Read more
How the 3D printer industry turned into weapons, organs and spacecraft in a decade
The inventors imagined everything differently.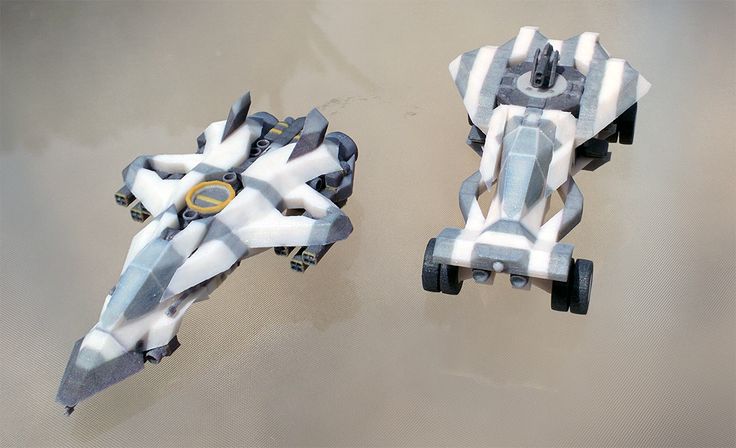 How the 3D Printing Industry Became Used to Make Weapons, Organs, and Spaceships
Over the past decade, 3D printing has gone from a hobby for geeks to one of the most sought-after technologies in the world. It is used from the aerospace and military industries to medicine, design, construction and cosplay. Completely different from what the inventors of the technology in the 80s of the last century intended. We decided to recall how the eyewash cup has become a universal technology for the production of parts, weapons, and even internal organs.
ZMorph VX Multi Tool 3D Printer
https://unsplash.com/photos/UqCCSbAIaDU
Zmist
1 History of 3D printing

1.1 Different 3D printing technologies

2 technologies
3 How 3D models began to be used in various fields
4 Bottom line: why they created and what they ended up with
The history of the emergence of 3D printing
Many sources consider Charles (Chuck) to be the father of 3D printing ) Halla, it was him on August 8, 1984 filed a patent for a technology called "Apparatus for creating three-dimensional objects using stereolithography (STL)".
As often happens in the history of science, the discoverer was not the one who did it first, but the one who received funding in time and created a more universal technology. A few years before Charles Hull, several other scientists worked fruitfully in this area, but failed to get a patent, although they made significant progress.
Course
Frontend
Earn $1800 already in two weeks and study at the right time
REGISTER!
Japanese Hideo Kodama was one of the first to invent single-beam laser polymerization. Unfortunately, he failed to get a patent for the discovery.
https://www.sculpteo.com/blog/2017/03/01/whos-behind-the-three-main-3d-printing-technologies/
Before Hull started experimenting in 1981, Dr. Hideo Kodama from the Municipal Industrial Research Institute in Nagoya described in the article a process during which "a solid model is made by exposing a liquid photopolymer to ultraviolet rays, <..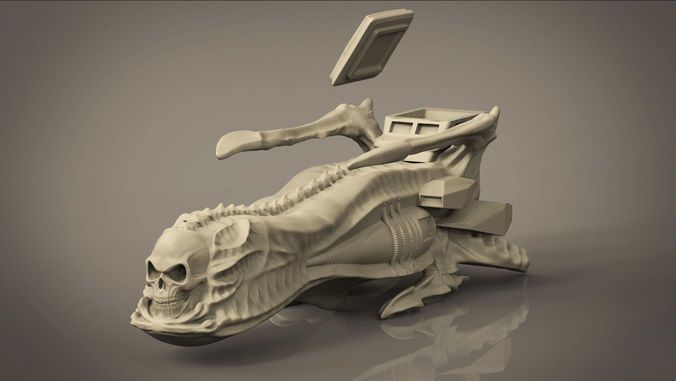 .> laying down transverse hardened layers." He was able to create some prototype parts, but never completed the patent specification, and over time he refused to develop the idea. And all because of the lack of funding!
The second major claim to success in creating 3D printing was the experiments of three French engineers: Alain Le Mecho, Olivier de Witt and Jean-Claude Andre. In the dining room, they discussed creating a "fractal object" using a laser and a hardening polymer. But the first experiments failed and then, Jean-Claude Andre, a specialist from CNRS French National Center for Scientific Research , proposed building a model not from blocks, but layer by layer. In this way, they were able to create a prototype of a spiral staircase. Engineers filed a patent for the stereolithography process three weeks before the American Chuck Hull and received it at 1986 year. But CNRS and Alcatel, on the basis of which the research was carried out, did not see the prospects in stereolithography technology, so the patent was not used.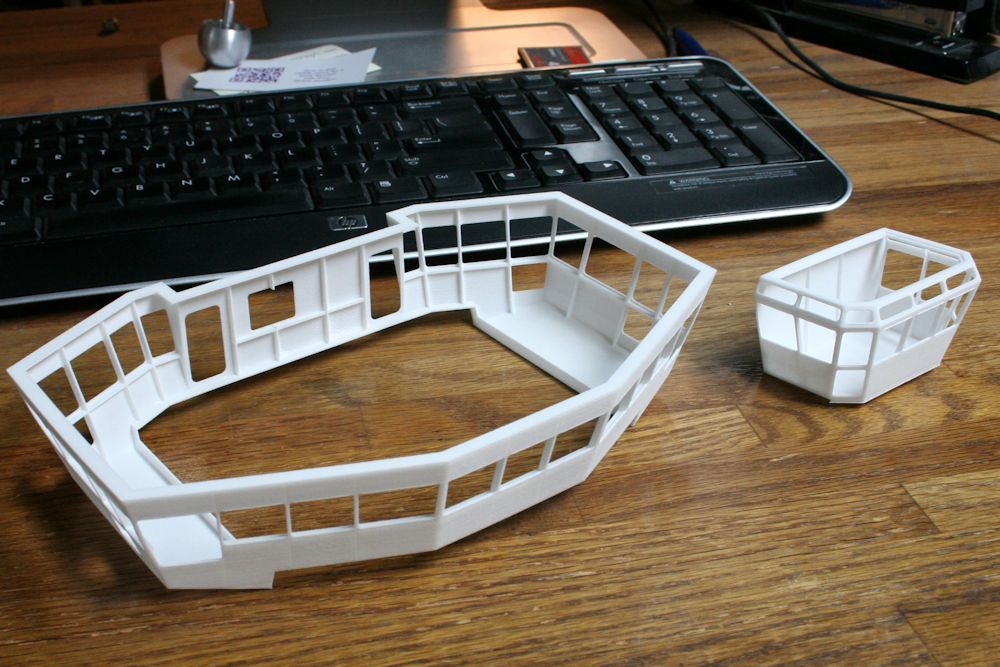 Dr. Jean-Claude André (second from left) receives an award at the European Conference on Rapid Prototyping and Additive Manufacturing in 2013.
https://www.arsmathematica.org/is2013/
Let's go back to Charles Hull. He planned to use 3D printing technology in furniture production. Using ultraviolet rays, he wanted to prototype small parts for countertops. The management of the company where he worked approved Hull's initiative, gave him a small laboratory and funded research. He described the whole process as follows: "ultraviolet light hits the surface of a container filled with liquid photopolymer, under computer control the beam "paints" each layer on the surface of the liquid, causing the photopolymer to turn into a solid."
Description of the first stereolithography project filed by Charles Hull for a technology patent.
https://patents.google.com/patent/US4575330?oq=4%2c575%2c330
At the same time, Autodesk's Fusion 360 separates the computer model into thin layers that are printed in succession, solidifying as the model is built.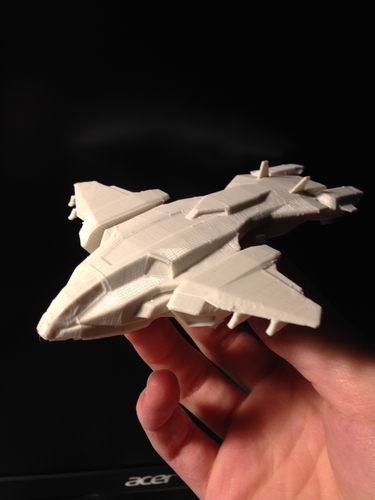 One night, Hull's experiments resulted in a complete 3D model. He pulled his wife out of bed and proudly showed her... a black eyewash cup. It was he who became the world's first "official" 3D model made using STL technology, and at 1986 Charles Hull received a patent for his discovery. The inventor's next step was to set up 3D Systems in Valencia, California and expand the patents to include different starting materials and continue to commercialize the process.
Photo 1:
The same eyewash cup that became the first 3D model in 1983
https://www.3dsystems.com/our-story
Charles Hull (second from left) and the 3D Systems team in Valencia
3dsystems.com/our-story
A Canadian investor believed in the technology, and as soon as the company was able to launch a commercial 3D printer on the market in 1988 - model SLA-1, car manufacturers, medical institutions and aerospace companies are interested in it.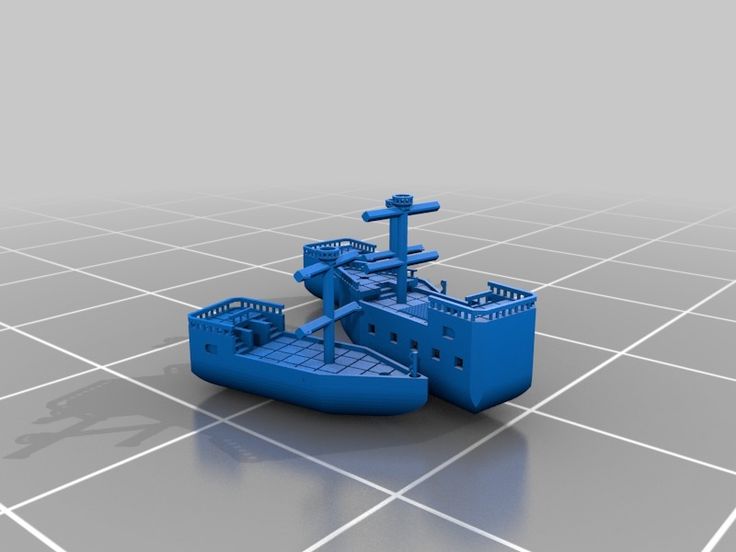 Today, 3D Systems, led by Chuck Hull, continues to play a leading role in the 3D printing technology market, and Hull himself was inducted into the National Inventors Hall of Fame in 2014 for his achievements.

Model of the first commercial stereolithography SLA-1 3D printer
https://www.3dsystems.com/our-story
Miscellaneous 3D printing technologies
Nearly the same time as Hull, University of Texas at Austin student Carl Deckard came up with an alternative 3D printing technology called selective laser sintering, or SLS. While working with a TRW machine that made parts for oilfields, Deckard realized that productivity could be increased by reducing the number of castings.

Carl R. Deckard and Dr. Joe Beeman with one of the first SLS devices
https://3dprintingindustry.com/news/carl-deckard-the-inventor-of-sls-passes-away-166853/

About two and a half years he needed to develop technology that would allow the machine to produce parts without casting. Carl Deckard filed a patent for SLS in 1987 and received it in 1989.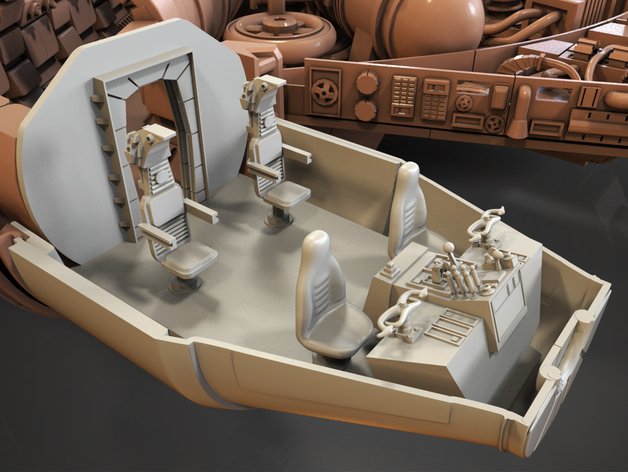 The main difference between his technology and stereolithography is the material at which the laser is directed: instead of a polymer (resin), Descartes acted on a free-flowing powder, turning it into a solid. Thanks to the support of Professor Joe Birman and investors who believed in the project, Desk Top Manufacturing (DTM) Corp. was born. But it took more than 20 years for SLS printing to become financially affordable for the average consumer.

Selective laser sintering technology
https://en.wikipedia.org/wiki/Selective_laser_sintering#/media/File:SLS_schematic.svg

But the most affordable printing technology was born in a garage from engineer Scott Crump's desire to make a frog figurine for his daughter. In the late 1980s, Crump mixed candle wax with polyethylene and used a hot glue gun to make a three-dimensional frog. This is how the first model was made using FDM - technology of layer-by-layer deposition using molten plastic.

In 1989, together with his wife Lisa Crump, who strongly urged her husband to turn the discovery into a business, they patented the FDM technology.
In 1992, Scott created the first working FDM 3D printer. Soon the couple became co-founders of Stratasys, one of the modern leaders in the industrial 3D printer market. In less than a decade, three 3D printing technologies were born that changed the course of events: stereolithography (SLA), selective laser sintering (SLS), deposition deposition modeling (FDM).

The same garage where Scott Crump picked up a hot glue gun and came up with FDM technology
https://www.tctmagazine.com/additive-manufacturing-3d-printing-news/exclusive-stratasys-scott-crump-3d- printing-legacy/
When the tipping point and mass adoption of the technology occurred
Despite the fact that in the 1980s several inventors made a breakthrough with the discovery of stereolithography and other types of 3D printing, until the early 2000s, the technology did not receive widespread. First, the cost and scale of the equipment: for a long time, only the automotive and aerospace industries could afford to buy equipment for the production of three-dimensional parts.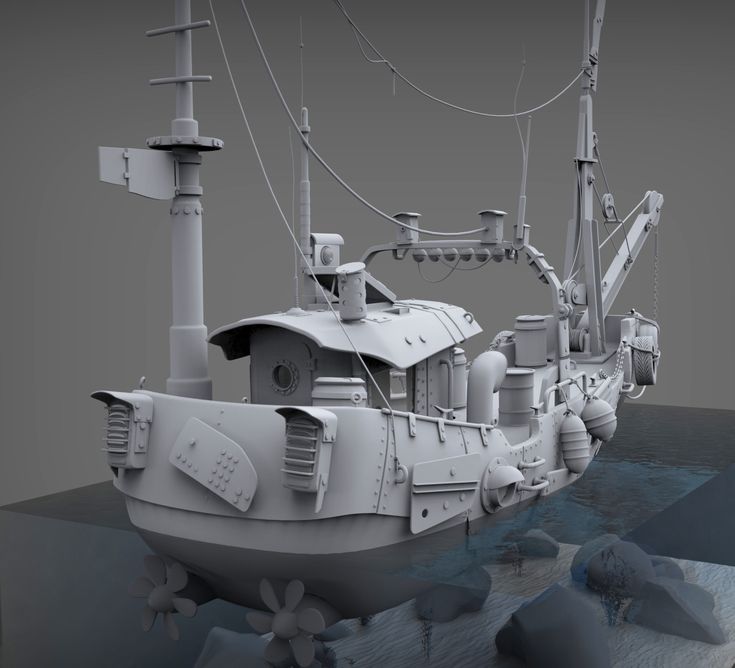 Secondly, the first 3D models were fragile, limited in shape and materials from which they were created, so for a long time the wider adoption of 3D printing seemed futile.

Until the RepRap (Replicating Rapid Prototyper) project appeared in 2005. Dr. Adrian Bauer of the University of Bath came up with the idea for a 3D printer to reproduce its own open source parts. In 2006, for the first time, scientists successfully reproduced a part for a "child" printer on a "parent" one.

All plastic parts for the machine on the right were made on the machine on the left. Adrian Bauer (left) and Vic Olliver (right) are members of the RepRap project.
https://stringfixer.com/files/704541002.jpg

The first such printer under the name Darwin was released in 2007. Then came Mendel, Prusa Mendel, and Huxley, all named after evolutionary biologists. Over the next few years, RepRap was able to reproduce more than 50% of the details. This technology not only made it possible to use 3D printers more without global restrictions to test future replicas of the original devices, but also save on production processes.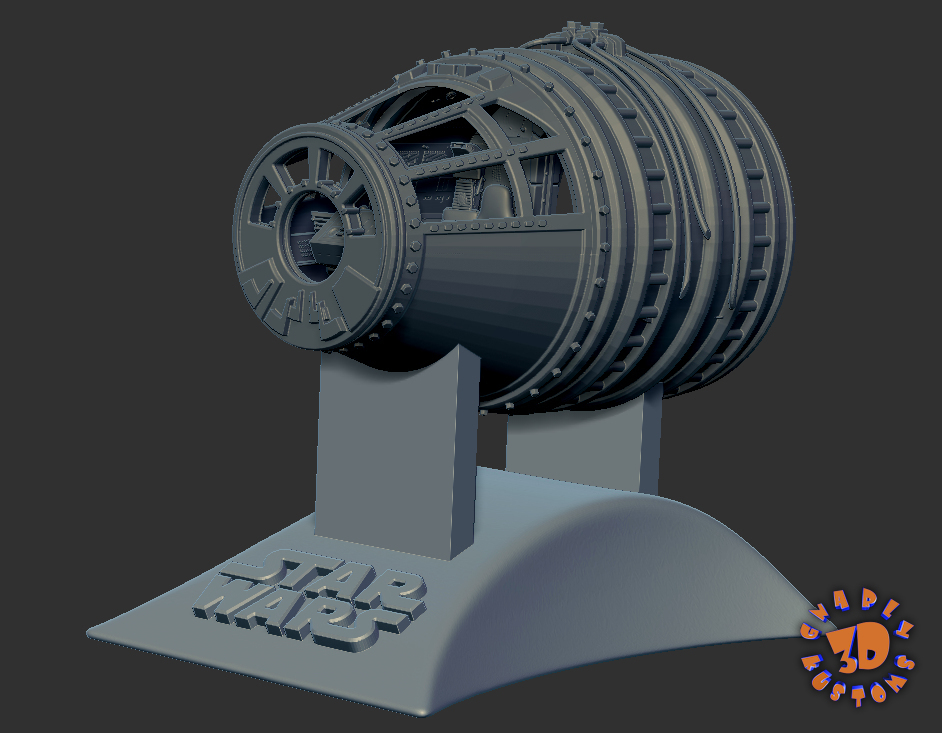 This resulted in the Prusa MK3 or Lulzbot Mini 2. Both machines use a lot of printed parts and their manufacturers provide STL files for download. It was no longer necessary to rely on expensive parts made on commercial 3D printers. Every year the number of replicas that were created with the help of "parent" printers, and then "child" printers, grew and in 2008 exceeded one hundred.

Lulzbot Mini 2 (left) and Prusa MK3 (right) 3D printer models
https://threedpr.com/lulzbot-mini-2-vs-prusa-mk3/

Not only engineers and scientists were interested in making 3D printing accessible for all. In 2009, the Kickstarter crowdfunding platform was launched, where dozens of companies and individuals raised money for projects to create mass-produced and inexpensive 3D printers.

Many of the ideas have remained as descriptions on the site, while others have received phenomenal support on Kickstarter. For example, to create the "first true consumer 3D printer", a group of startups asked for $50,000 in aid, and ended up raising a record $3,401,361.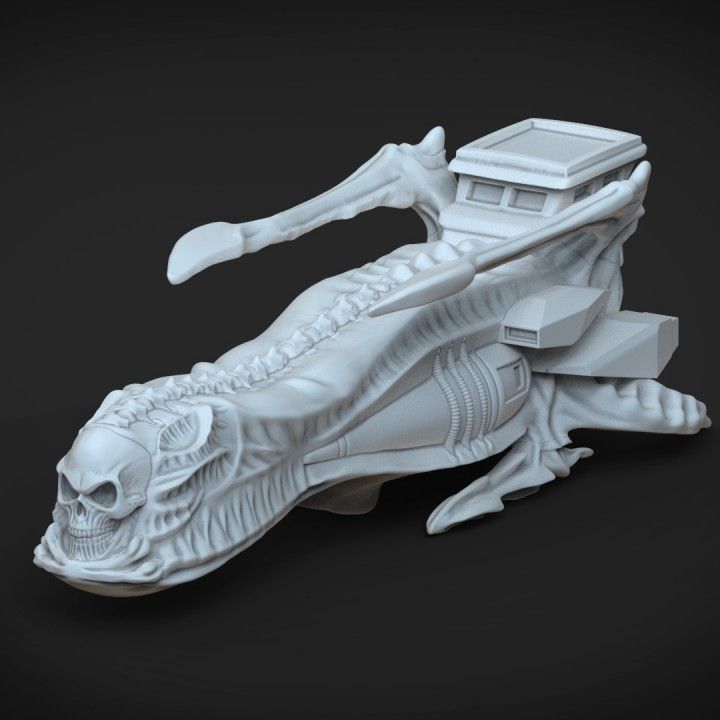 And in 2014 they introduced the Micro, a compact printer that runs on PLA polylactide is a biodegradable, biocompatible, thermoplastic, aliphatic polyester whose monomer is lactic acid or ABS acrylonitrile butadiene styrene - belongs to the styrenic polymer family and shares many properties with polystyrene .

Micro's developers set themselves three goals: affordability, ease of use, and compactness.
https://www.kickstarter.com/projects/m3d/the-micro-the-first-truly-consumer-3d-printer

It's time for desktop printers. By this time, the main patent for FDM technology had expired, and in 2009 the guys from Marketbot fulfilled the dream of many self-taught engineers. The D.I.Y. sets are released to the market. open source for anyone who wanted to create their own 3D printers and models. Following this, the company opens the Thingiverse online library, where users can upload and download ready-made files for 3D printing. To this day, Thingiverse remains the largest repository and online community in the industry.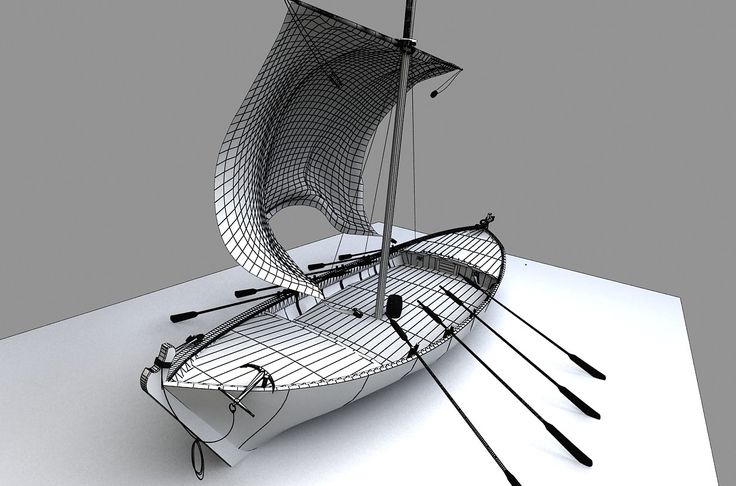 How 3D models began to be used in various fields

In parallel with the attempt to make 3D printing as accessible as possible for all users, biotechnologists have learned to use 3D printing to create viable cell-based models. The dream of any transplant doctor is that there is no need to look for tissues or organs from a suitable donor.

The new technology would make it possible to grow a 3D model from the patient's own cells and, over time, would have to fully take root in the body. The first patent for bioprinting was received by Organovo. Using the NovoGen MMX apparatus, the company "grows" skin, heart, and blood vessel tissues. During a TED talk, surgeon Anthony Atala showed the beginnings of a project to grow a kidney on a 3D printer. He believes that one day such experiments will lead to the fact that we will no longer need donors.

About 90% of people in need of a transplant are waiting for a kidney. Therefore, scientists aim to recreate this particular organ.
The structure of a kidney can be created on a 3D printer in seven hours, but due to the complexity of the structure, it is still too early to talk about a full-fledged printed organ.
https://www.ted.com/talks/anthony_atala_printing_a_human_kidney

More than in medicine, military structures of different countries became interested in the possibilities of 3D printing technology. By investing multi-million dollar budgets in various developments, the ministries of defense and private military corporations have at their disposal: the SULSA 9 drone0211 Southampton University Laser Sintered Aircraft , drone hulls, rocket hulls, R.A.M.B.O.

Photo 1:

Aerospace engineers at the University of Southampton designed, built and in 2011 flew the world's first "printed" aircraft.

https://phys.org/news/2011-07-southampton-world-aircraft.html

Photo 2:

R.A.M.B.O. consists of 50 individual 3D printed parts, excluding springs and fasteners.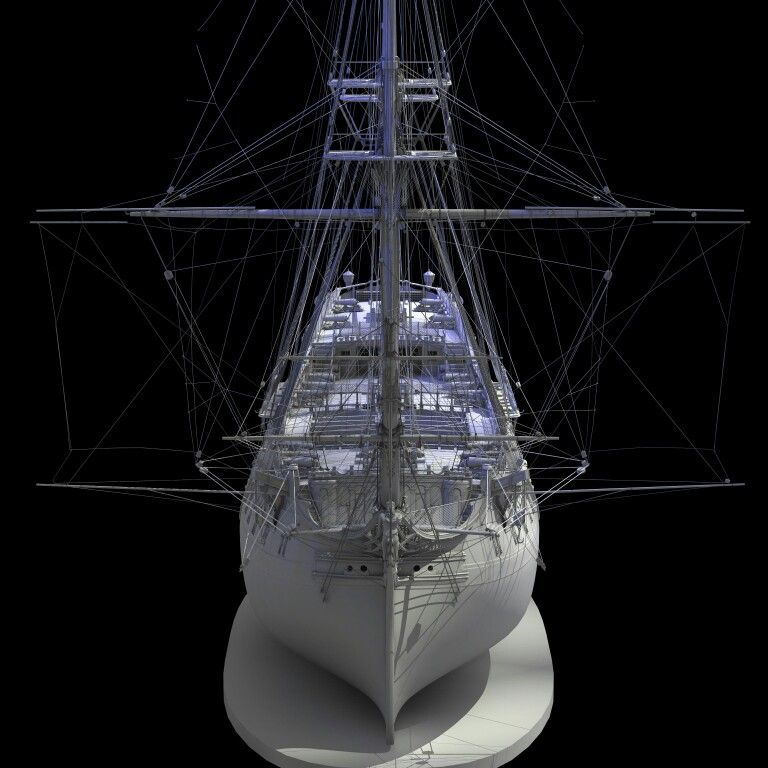 This is a modified M203 grenade launcher with a pistol grip.
https://all3dp.com/3d-printed-grenade-launcher-rambo/
In 2021, the US military entered into a deal with the non-profit organization ASTRO America, which is to develop the largest 3D printer capable of creating monolithic cases from metal for combat vehicles. The technology of monolithic hulls has already proven to be resistant to damage, while the military wants to speed up and reduce the cost of converting vehicles through 3D printing.
Individuals are also not far behind. Several scandalous cases in America have long been known, for example, Texan Cody Wilson is selling a CNC milling kit called Ghost Gunner 3 for $ 2.5 thousand. The technology allows you to turn raw aluminum into an untraceable small arms, and its creator proudly says that that sells 55 units weekly. Cody Wilson shows the world's first working 3D model of the Liberator pistol he created in 2013.
https://slate.com/technology/2018/08/the-latest-ruling-about-3d-printed-guns-misunderstands-the-technology.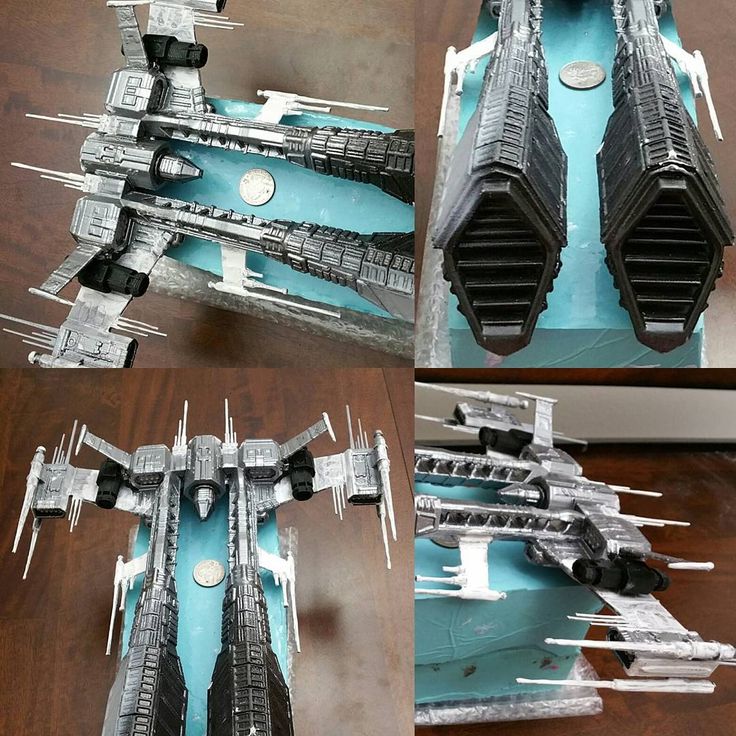 html
It is difficult to overestimate the contribution of 3D modeling to architecture and construction. Surely Chuck Hull did not think that it was possible to print an entire building at home while he was trying to "layer" the first eyewash glass. But residential buildings, which were created from parts printed on a 3D printer, no longer surprise anyone. The first residential building in the EU was the Milestone project. Designers from Saint-Gobain Weber Beamix created a boulder-shaped room to experiment with the shape of the model and expand the creative possibilities of designers.
Photo 1, 2:
The concrete structure is visually indistinguishable from the houses formerly occupied by the Dutch couple who received the keys to Milestone.
https://www.designboom.com/architecture/project-milestone-first-3d-printed-concrete-house-europe-eindhoven-netherland-completion-04-30-2021/
But the most surprising thing seems to be the possibility that three-dimensional models will be mass-produced right in space.
NASA has successfully delivered an improved Made in Space Manufacturing Device (ManD) 3D printer to the ISS on the Redwire Regolith Print (RRP) spacecraft. Scientists want to know if the printer can work in zero gravity and use regolith 9 as a feedstock0211 soil rock on the moon to create future colonies. If successful, the scientists also hope to solve the problem of sarcopenia, loss of muscle mass and functionality in microgravity.
Redwire Regolith Print Complex, consisting of the Redwire additive manufacturing facility, printheads, wafers, and lunar regolith simulation feedstock.
Bottom line: why they created it and what they ended up with
The scientific world never ceases to amaze: a whole industry was born from a technology that could speed up work in furniture production, or the desire to create an original toy for a daughter. From a technology only available to the military, automotive giants and NASA, 3D printing has moved into the category of things where a child can use a pen and plastic rods to create a three-dimensional figure of the Eiffel Tower.