3D printer for architects
10 Of The Best 3D Printers For Architects [Top Brands Compared]
Disclaimer | This article may contain affiliate links, this means that at no cost to you, we may receive a small commission for qualifying purchases.
The right 3D printer can be an absolute godsend for architects.
Using a 3D printer saves a lot of time in the initial phases of creation and designing. In the initial stages, a lot of different concepts are tested out, and as a result, multiple iterations are required.
Having a 3D printer to print those models can allow multiple iterations performed exceedingly fast. Making a model of a structure was a process that used to take weeks earlier. Now it's just a matter of a few hours.
They are also cost-effective. Some estimates say you can save up to 75% more money by using 3D printers instead of traditional techniques. This is because the models are printed out of a single plastic material, keeping costs to a minimum.
3D printers are also capable of producing exceptionally detailed and intricate structures.
This capability comes in particularly useful when you need to dazzle a potential client at a sales meeting or a presentation.
That's why we have compiled this list of the best 3D printers for architects.
Best 3D Printers for Architects
Contents
Best 3D Printers for Architects

9676 – Ultimaker 3 Extended 3D Printer
Creality3D CR – 10 3D Printer
Creality3D CR – 10S Pro  
MakerBot Replicator+ 3D Printer
Creality3D Ender – 3 pro-High Precision 3D Printer  
Dremel Digilab 3D45
LulzBot Mini Desktop 3D Printer
Robo R2 Smart Assembled 3D Printer
da Vinci Jr. 2.0 Mix Wireless 3D Printer
Formlabs Form 2 SLA 3D

3D Printers For Architects Buyer's Guide

Build volume
Printing speed
What materials can be printed
Software compatibility
Wifi compatibility
Final Words
Related Articles
9676 – Ultimaker 3 Extended 3D Printer
This one from Ultimaker gives you choices for a wide range of printable materials and the print comes out looking great in every one of them.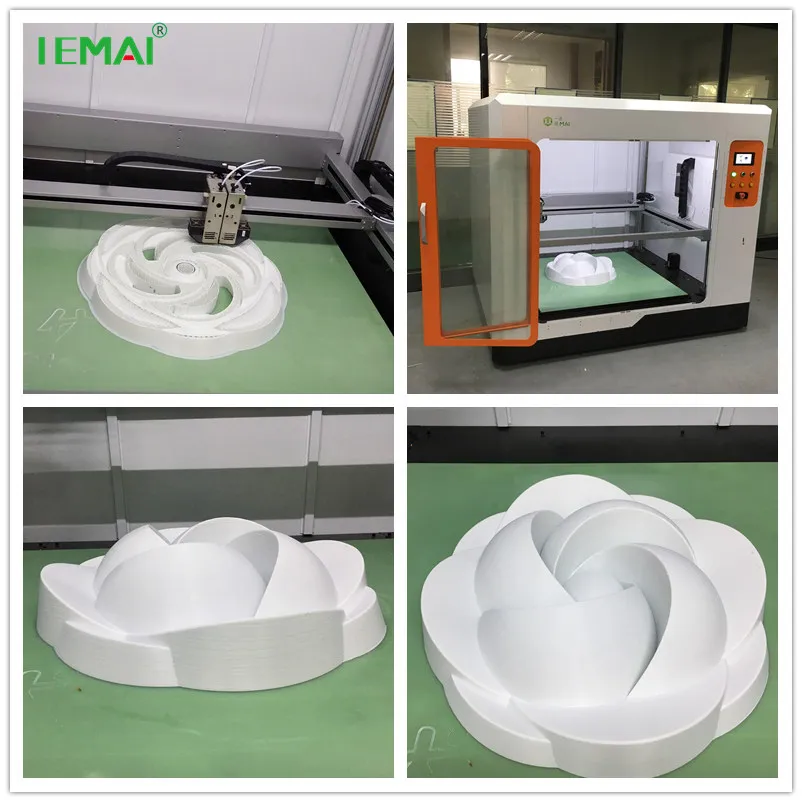 3/s.
The fan system of this model is also very commendable. It makes very little noise and creates greater pressure buildup for increased airflow. This allows for better cooling, high-quality bridging, faster prints, and smoother print surfaces.
LED lights on the interface blink whenever any interaction is required. This allows for a worry-free printing experience.
Pros
Dual Extrusion for combined printing
Highly Reliable And Precise
Powerful fans for better cooling
High-speed printing
Low maintenance
Cons
Problems with ABS printing
Slightly expensive
Creality3D CR – 10 3D Printer
This one is another DIY assembly model, which is easy to assemble and retains that handmade charm, even though it has an LCD screen with a keypad for more comfortable offline usage. This printer is capable of printing pretty large structures in a short span of time.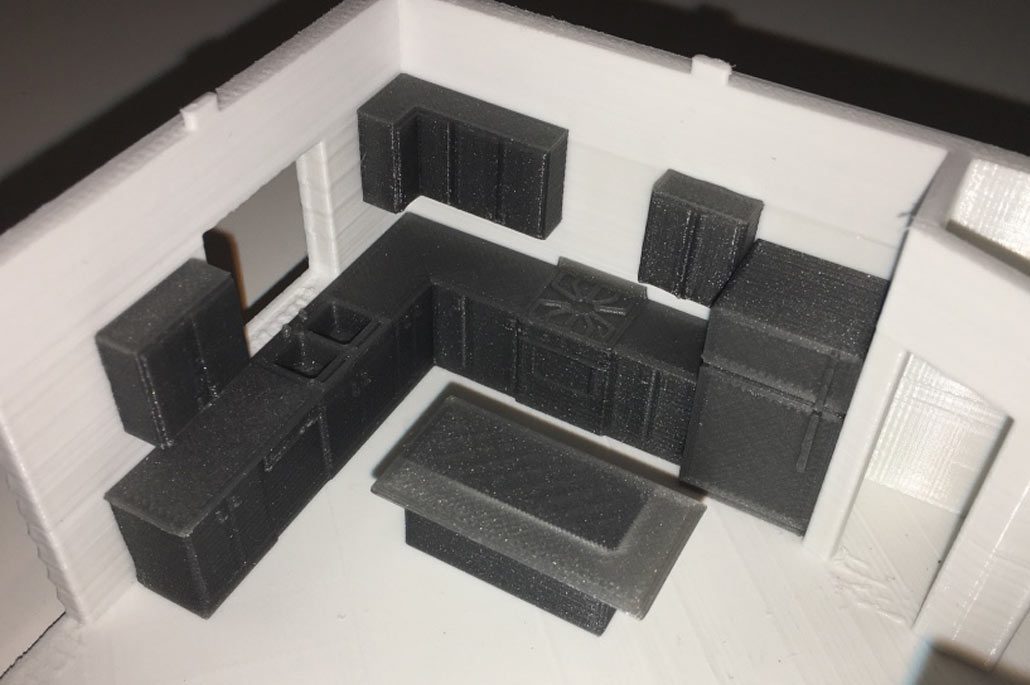 3/s, which is pretty fast for how precise the printing is. A 100-micron layer resolution and an exceptionally stable metal plate lead make for a perfect recreation of your architectural 3D files.
It comes packaged with several tools for assembly, printing tools, and even a micro SD card and an adapter for the same. Using the tools and following the instructions, you can get the machine up and running in less than an hour. It is really very simple.
Pros
Great Value For Money
Brilliant print quality
Sturdy design
Large printing area
Supports multiple 3D printing filaments
Cons
The bed is not always level
Fans make a lot of noise
Creality3D CR – 10S Pro  
This one from Creality3D is another excellent printer, for both beginners and professionals alike.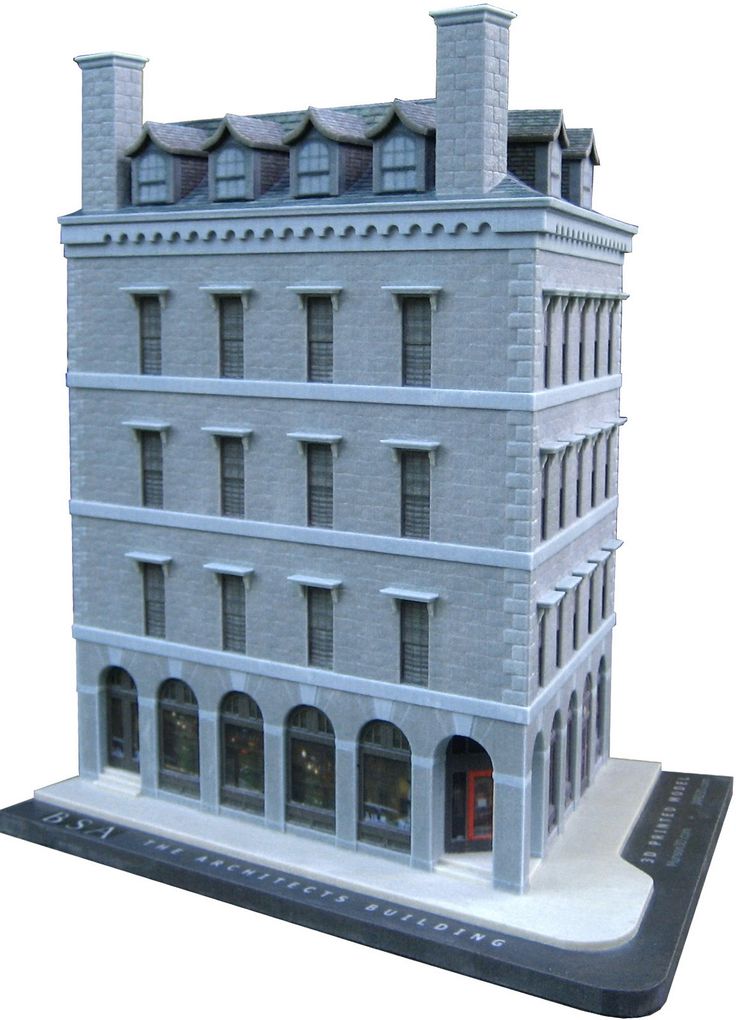 A huge volume lets it tackle mammoth challenges. It has a huge host of features which address common issues facing most 3D printers of today. On top of that, it looks just as good as it prints.
No products found.
Experience
The volume of 300*300*400 is a lot larger than most 3D printers and lets you print bigger, more detailed models.
An automatic leveling functionality, powered by a very intuitive and intelligent four layer motherboard fills in all gaps dynamically and provides for greater printing accuracy. The statuses of all functions and parameters are on display on a full-color touch screen control, which makes using this printer an absolute breeze.
The motherboard has other functions as well. It can automatically sense changes in the filament being used and can even detect transparent filaments. It shuts down the system automatically when you are running out of filament.
If you accidentally power off the printing, it will simply just pause, and you can resume printing at your convenience.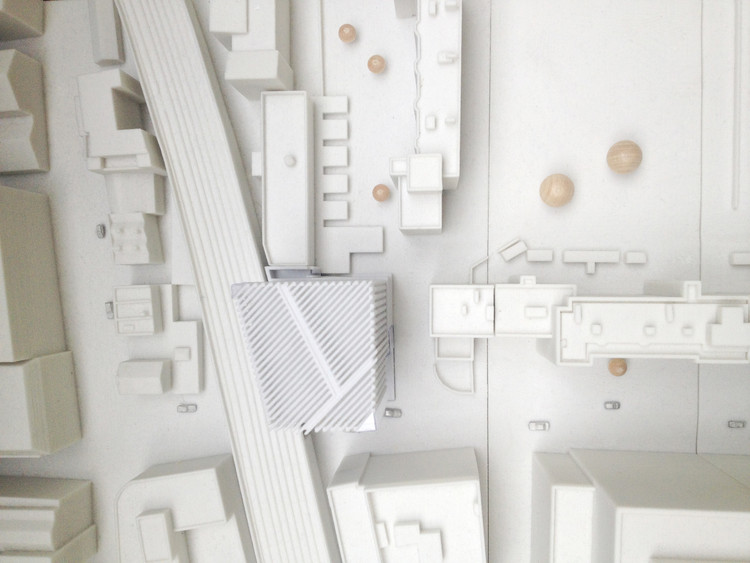 3/s
Pros
Double resume function for power outage and filament shortage
Dual Gear extrusion for natural feeding
High precision printing
Automatic leveling for greater stability
Cons
Heavy and big
Makes a lot of noise
MakerBot Replicator+ 3D Printer
The MakerBot Replicator has been designed for more precise, reliable and faster printing. It is sturdy, easy to use and has a huge amount of versatility because of the MakerBot print software you use with this product. Designed for architects and engineers, we think this is an excellent choice of printer.
MakerBot Replicator + 3D Printer, with swappable Smart Extruder+,...
Your purchase includes One MarkerBot Replicator,...
Item's dimensions – 17.4" W x 20.8" L x 16.2"H |...
Experience
The MakerBot Replicator prints 30% faster than previous models and has a much larger print volume as well.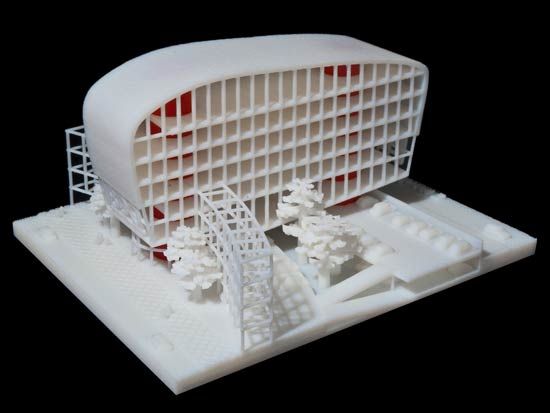 They have re-engineered and improved the hardware as well, with a redesigned gantry and Z-stage. All the hardware has gone through an intensive quality control check for many thousand hours.
What we really like about this product is its seamless integration with the MakerBot print software and MakerBot Mobile. This software allows you to find, prepare new designs, and manage and share all of your prints. You can make your own designs or just use a model from their online library.
This software also lets you connect to the inbuilt camera inside the printer, which lets you monitor progress while you're away from your computer. It allows cloud functionalities as well.
The MakerBot Smart Extruder has automatic jam detection and out-of-filament notifications. MakerBot SlatePLA Filament Bundle is as secure as they come and makes for prints high in tensile and flexural strength.
Pros
Rigorous quality testing
MakerBot Print Software integration
Large build volume & high-speed printing
Great customer support
Access to millions of online designs
Cons
Poor adhesion at parts
Little distortion at corners
Creality3D Ender – 3 pro-High Precision 3D Printer  
First up on our list comes this very efficient 3D printer, that is precise, works fast and is easy to use.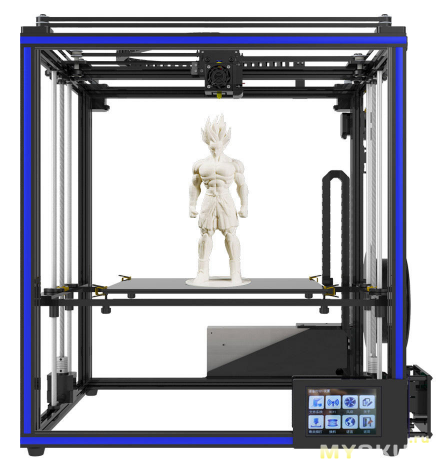 It is simple with a very humanized design yet fulfills a wide variety of printing purposes from architectural models to movie props to furniture design.
Creality3D Ender - 3 pro High Precision 3D Printer
CMAGNET BUILD SURFACE PLATE: Provide all-round...
SAFE POWER SUPPLY: Ender 3 Pro comes with a Mean...
Experience
Straight out of the box, it's a DIY model and comes packaged with pliers, nozzles, pneumatic fittings, cable tie, blade, Allen key, screwdriver and plenty more. Following the instructions, it is pretty easy to assemble the printer with all the included tools.
Because of the technology used, the risk of spillage and plugging is really small, and the high-quality structure ensures smooth and stable function with minimal wear and tear.
What we also liked was that it heated up in only 5 minutes to the temperatures required to print certain filaments.
We also found the mounting groove and structure to be very stable, and the printing was exceptionally precise.
Another feature we really liked was you can resume printing while the printer is powered off. Thus it is not necessary to keep the rest of the device powered on while you are printing.
Pros
Oversized nuts for greater stability
Precise printing
Great customer service
Quick Heating Up
Cons
The mat doesn't always sit flat 
Dremel Digilab 3D45
One of the most popular choices of 3D printers out there, it has won several awards, and it is easy to see why. It has every feature you can think of in a printer included in it and then some more. Designed for engineers by its parent company (Bosch) this is indeed a great choice, as testified by hundreds of satisfied customers.
Sale
Dremel DigiLab 3D45-01 3D Printer with Filament - Heated Build Plate &.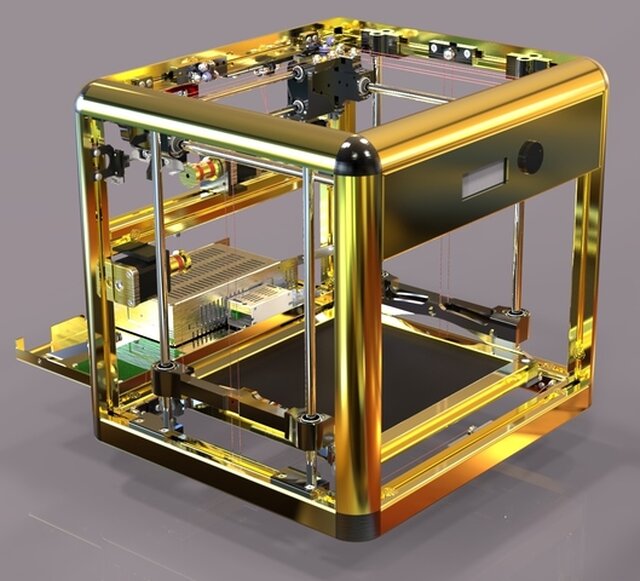 ..
ADVANCED 3D PRINTING: The Dremel Digilab 3D45 Idea...
BEST IN CLASS: The winner of PCMag.com's 2022...
Experience
What we really enjoyed about this product is the host of things they offer along with just the printer:- 1-year warranty, stellar customer support, UL safety certification, free desktop, and cloud-based slicing software and also one nylon and one eco-ABS filament roll. That's an awful lot of perks for just a 3d printer.
The build volume is a very large 6. 7″ x 10″ x 6″. The design is a  very sturdy plastic which provides for enhanced security and less warping. It also includes a carbon and particulate filter.
There are no compromises when it comes to reliability. A sensor technology makes this extruder functioning smooth as silk without ever clogging up.
But what is by far, the best feature is its filament recognizing technology. This technology automatically updates extruder and build plate temperatures, along with print speeds depending on the kind of filament being used.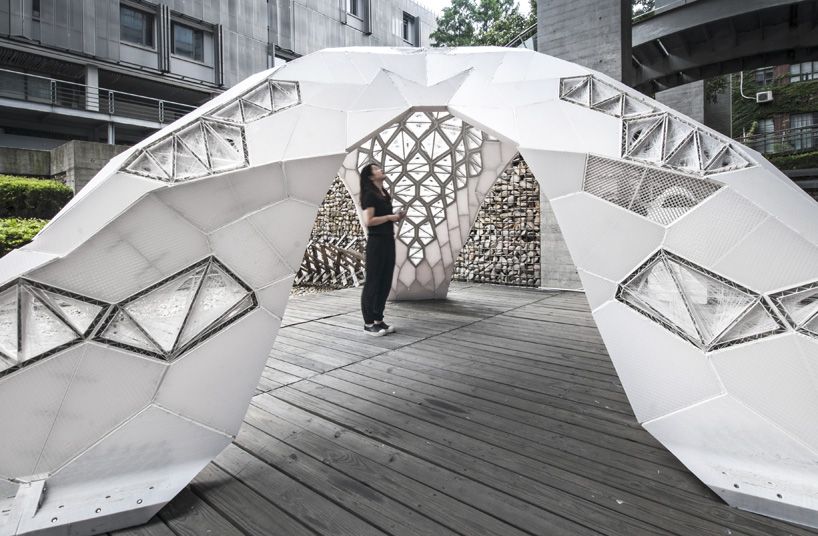 The glass plate can heat up to 100-degree Celsius, and the full metal  0.4mm nozzle can go up to a whopping 280 degree Celsius. This level of heat easily allows it to print nylon and ABS.
It has a semi-automatic leveling technology for easier calibrations and greater accuracy. The 5-inch full-color touchscreen lets you precisely level the plate in real time, with just turning a knob.
Pros
WIfi Enabled for Cloud Printing
HD camera for monitoring
Unsurpassed reliability
Large build volume
High heat generating capability
Filament recognizing technology
Cons
Does not accept many aftermarket filament spools
Sensitivity on the touchscreen can be better
LulzBot Mini Desktop 3D Printer
This is a desktop 3D printer which literally looks like a desktop CPU. This model has a lot of versatility like it can be used with any 3D printing software program, and it has open source hardware.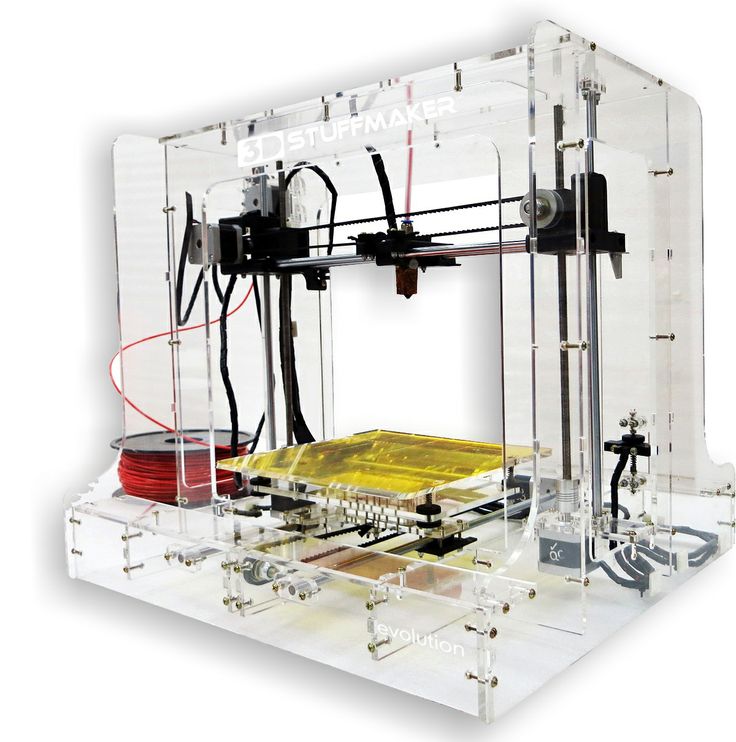 All this means you're free to use this 3D printer any way you like. This opens up a world of possibilities.
LulzBot Mini 2 Desktop 3D Printer
Maximum print size: 160 mm x 160 mm x 180 mm (6. 3...
Tool Head: E3D Titan Aero with . 50mm Nozzle –...
Experience
What we think is the best feature of this printer is the self-leveling and self-cleaning nozzle. Each print starts with a nozzle cleaning and probing sequence that guarantees a neat and perfectly smooth first layer.
Next up comes the build volume of 6in x 6in x 6.2in. There's a large range in layer resolution as well. It can be as fine as only 50 microns, and it can also be as coarse as 500 microns. All of it depends on the geometry and speed requirements.
The all-metal hexagon hot end provides temperatures of 300-degree celsius and also as low as 120-degree Celsius. Active heat sinks ensure the heat stays where you need it to be.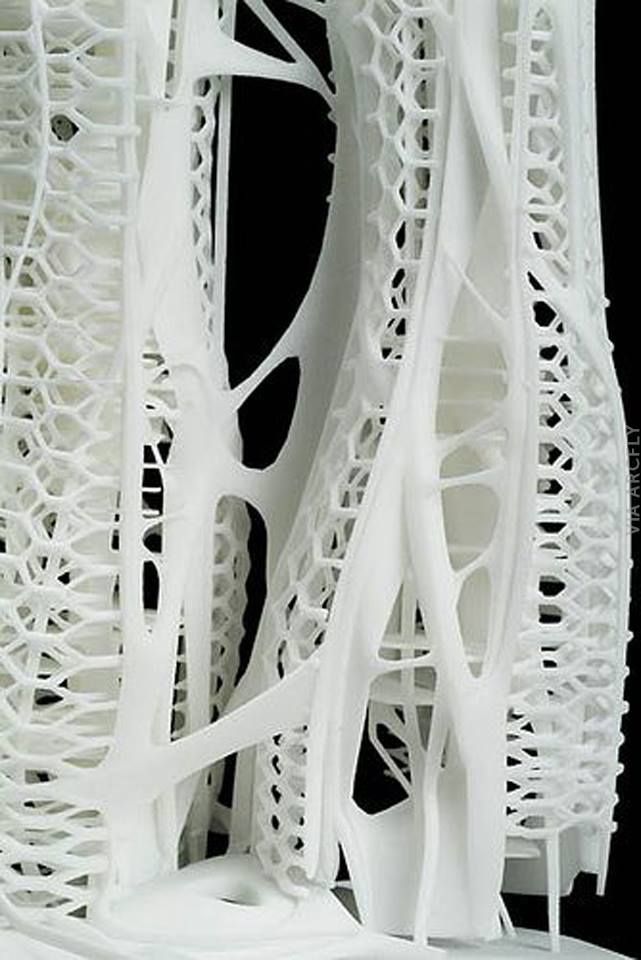 3/sec at 0.18 mm layer height.
You can even take out the tool head and plug in different print heads for printing on a variety of materials, even filaments which are mixed with real wood, stone or metal. We find this functionality to be astounding.
Pros
High temperatures on the hot end
Large build volume
Heated printing surface for better adhesion
One year warranty
Self-cleaning nozzle
Cons
Customer service isn't all that great
Expensive for its range
Robo R2 Smart Assembled 3D Printer
This one is hands down the fastest and the printer with the biggest build volume in this price range. It has won a ton of awards for its innovation and has a multitude of smart features and sensors that are sure to make your life a lot easier.
Robo R2 Smart Assembled 3D Printer with WiFi, 8"x8"x10".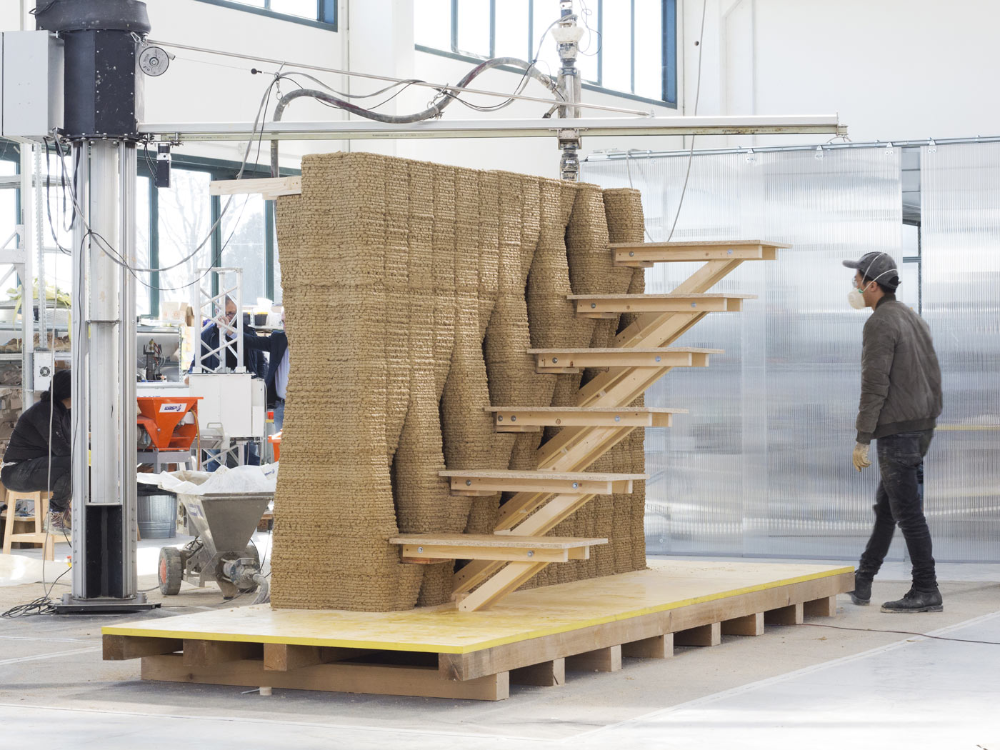 ..
3D printing has never been easier than with the...
Print BIGGER and BETTER 3D prints than ever before...
Experience
What we found very impressive about this printer was its huge build volume of 8" x 8" x 10".  On top of that, it has a print range of 20 to 300 micron in layer height. All this ensures it can tackle whatever project you have in mind.
It has an open source filament system. What that means is that you can print on any material available in the market, even carbon fiber, nylon, and wood. You can try out anything you want.
What's also impressive is its whole host of smart features like automatic detection leveling, sensors which alert you when the filament runs out, an onboard camera so you can see your prints and wifi connectivity through the Robo App.
It can directly print 3D models in .stl format. You can slice it right on the intuitive 5 inch touch screen, and you can even store up to 4 GB of 3D models.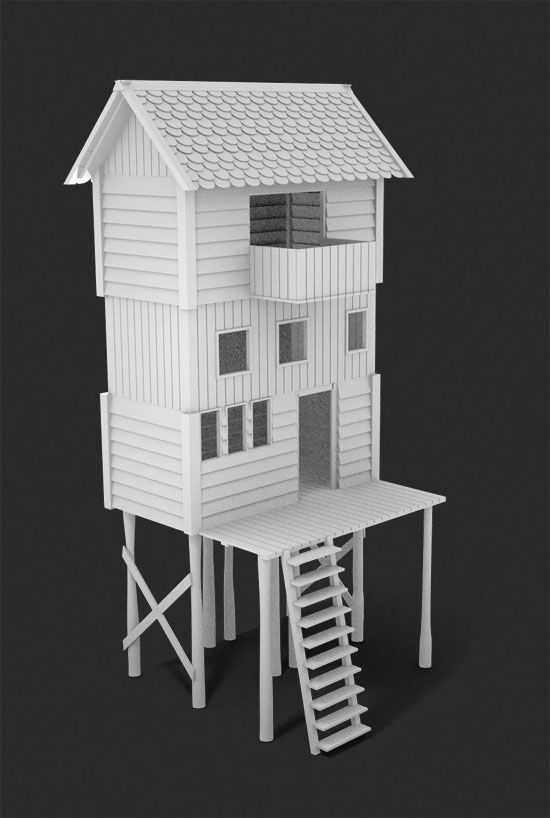 3/s.
Pros
Open Source Filament System
Large Build Volume
Fast printing
Online repository of models
Automatic Sensors
Onboard cameraa
Cons
Prone to crashes
Not that durable
da Vinci Jr. 2.0 Mix Wireless 3D Printer
This is a very attractive product which is sure to make for a very aesthetically pleasing addition to your repertoire. On top of that, it can produce prints just as colorful as its own color scheme.
No products found.
Experience
The primary advantage this printer has over other printers in the market is that it has a very innovative dual feeding single extruder module. What this allows it to do is you is you can blend two different colors in a single model. As a result, you can have two different colors on different parts of the same model.
You can even print in gradient mode. This allows you to mix two colors partially and slowly allowing you to come up with many other shades formed by the mixture of those two colors.
3/s.
It has wifi connectivity so you can send files over your computer or mobile device without ever having to worry about wires.
Pros
Dual color printing
Color gradient implementation functionality
Wifi connectivity
Good customer support
Fast printing
Cons
Can't print third party filaments
Jams sometimes
Formlabs Form 2 SLA 3D
The last 3D printer on our list, this one from Formlabs is an excellent option for budding architects. It is simple, yet highly functional and makes for a nice polished print whenever you give it a run.
Formlabs Form 2 SLA 3D Printer Complete Package
Experience
It has a pretty impressive build volume of 5.7″ * 5.7″ * 6.9″. Although that's not very big, it's still sufficient for most projects.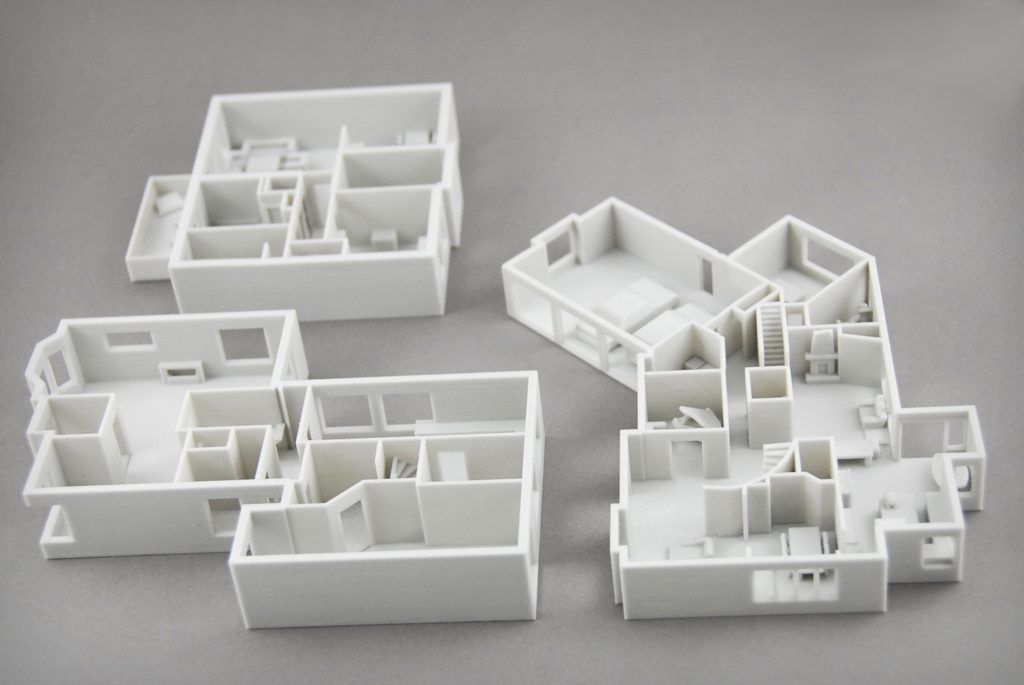 The layer height range is 25 to 100 microns, which is again decent enough.
Where this printer really scores its point is the finish. It has several washing and post-curing facilities which make sure every part that comes out of this printer looks absolutely gorgeous. It is excellent for printing detailed models which require a dazzling finish.
This printer has an integrated resin system which lets you switch between different materials by simply swapping cartridges. They have 20 different materials, and as soon as you load one of them, the printer automatically detects the resin type and starts configuring settings for it.
When making designs, you can design it in regular CAD software, or you can import an STL or OBJ  file into the PreForm print preparation software. You can send prints over WiFi, or reprint previous jobs, and directly from the touchscreen interface.
Pros
Great finish
Switching between different materials is easy
Easy designing and printing
Good customer support
Cons
You can only use their cartridges
Small layer resolution
3D Printers For Architects Buyer's Guide
Build volume
This is the single most important factor in a 3D printer.
 The larger the build volume, the bigger and more detailed your architectural models can be.
If you're designing a whole apartment complex or a government building, large build volumes help you build the whole thing at once, without individually creating separate parts and then amalgamating them together.  
Printing speed
Printing speed is also critical. Some of the more complicated models may take hours to get done, even overnight. The faster it prints, the faster your job gets done.
What materials can be printed
You need to know what kind of filaments can be printed by your printer. Some printers can only print a couple of materials, and others can print only proprietary materials, i.e., materials manufactured by the company itself, while there are other printers which can print all available filaments on the market.
If you want more choices, get a printer which has versatility in selection of the filament.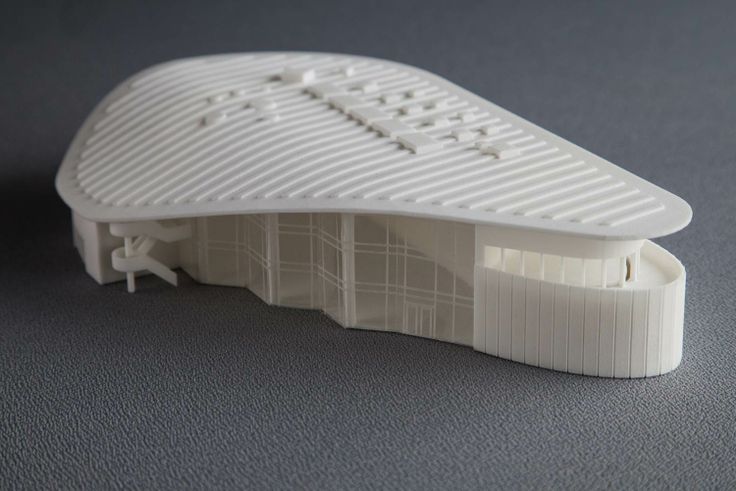 Software compatibility
Some printers can print files created on any CAD software whereas others require you to use their own software or they require you to convert your designs into a specific format.
This conversion can be cumbersome and might also cause a few errors. It's best to get a printer that is compatible with all designing software.
Wifi compatibility
If it has Wi-fi compatibility, it entirely removes the hassle of wires. What it also does is, it opens up mobile phone compatibility. This lets you use your phone to control your printer, and you don't always need to be logged into your computer.
Wi-fi compatibility also gives you cloud functionality allowing you to store your designs online, so you can access them wherever you go.
Final Words
In conclusion, buying a 3D printer requires a fair amount of research beforehand. There are plenty of different types available out there, and each one has different features.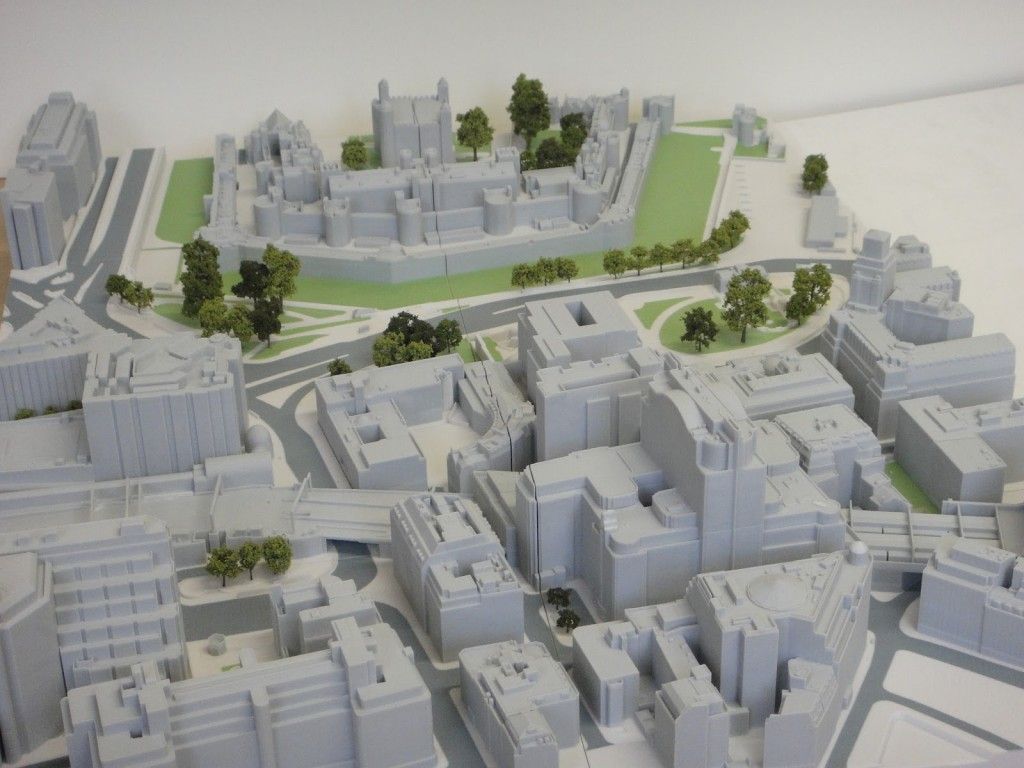 Be sure of what features you need and then check the system specs to see if those features are there. The products listed above are tried and tested, and they do a pretty good job. Just go through the specs to see which one is the best fit for you.
Related Articles
47 of the Best Gifts for Architects
23 Best Gifts for 3D Artists
25 Best Gifts for 3D Animators
Architect vs. 3D Artist Differences | All You Need to Know
3D Printing – Eco-Friendly Tech Changing the Construction Sector 
5 Best 3D Pens [Reviewed & Buyer's Guide]
Simply the Best Computer [Desktop] for Architects
22 Best Apps For Architects to Consider
Top 6 Best 3D Printers for Architects 2022 (In Every Price Range)
Creating a 3D model is a great way for any architect to impress a potential client.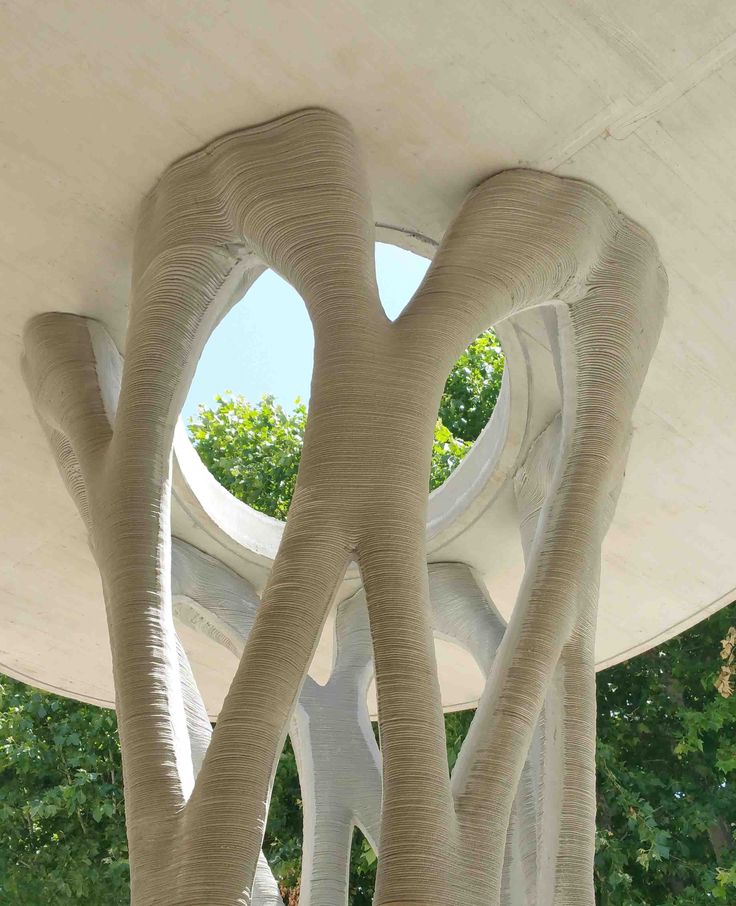 Bringing the model to life makes it easy for a client or customer to understand your vision in all its glory — and 3D printing makes this easier than ever.
How 3D printers help with architectural projects
✅ Cheaper 3D printed architectural models
It can cost thousands of dollars for an architectural model if you go down the traditional route. However, if you have a 3D printer capable of 3D printing architectural models, your only costs are the filament you use.
✅ Faster to produce in-house
With time your only constraint, 3D printers make reprints and adjustments an affordable option. Also, having physical models ready in just a day or two is an excellent selling point for a potential client.
✅ Easier to present and show stakeholders your vision, and diagnose errors
In architecture, you don't always know what will work until you can see it for yourself. Printing multiple concept models allows you to determine which design works best, and tweak them before any concrete is laid.
Seeing the model in real life first prevents costly mistakes that can slow a project down.
When trying to win a new contract, your scale model needs to stand out. Using multi-colored 3D printing will also make your models different from the competition. For example, anyone with an Ultimaker printer and Palette filament splicer can make concept models with different-colored sections to emphasize certain characteristics.
Using multiple colors makes architectural models look classier. This reflects well on the person behind the pitch, so clients know they have a knowledgeable architect at the helm.An Ultimaker 3D printer with some architectural models it 3D printed.
3D Printers vs Traditional Scale Models
3D printing doesn't just save you money, it also speeds up production compared to traditional methods. What used to take weeks can now be completed in a matter of hours. This frees up more time for working on the creative side so you can meet your clients' needs.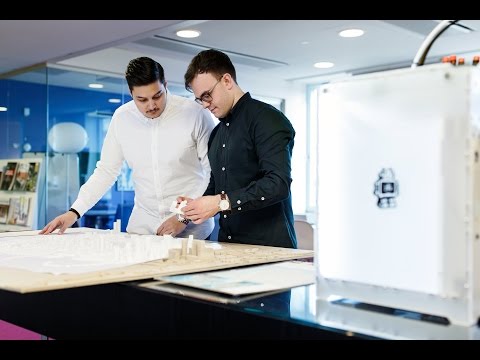 3D printers are now so advanced that they can add detail to a concept design, and will be able to make intricate finishing touches that will be a real highlight in any presentation. 
There are so many reasons why the industry is turning to this new approach. We therefore put together our recommendations for the best 3D printers for architects in every price range, from under $500 for any small businesses or individuals looking to start cheaply, up to more professional printers for commercial architectural projects.
The best 3D printers for architectural projects
3DSourced is reader-supported. When you buy through links on our site, we may earn an affiliate commission. Learn more
Crealty CR-10 / CR-10 Smart – Best Under $500
Price: $369-499 — Available on Creality Official Store here / Available on Amazon here
✅ Pros
Generous build volume
Large prints make for impressive models
Simple assembly
Thanks to the generous 300 x 300 x 400 mm print area, this is one of the most popular 3D printers for making impressive concept models.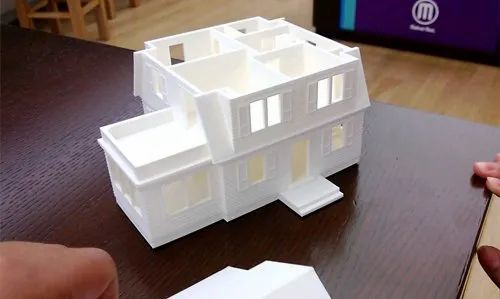 Anyone looking to make even bigger models will find the CR-10 SS with its 400 mm cubed work area, or the massive CR-10 Max, which boasts an area of 500 mm cubed for making even more impressive models. This does mean the print bed takes a little while to heat up, so it requires a little patience when starting a new print.
The CR-10 Smart requires self-assembly, but even for a first-timer it only takes a maximum of 30 minutes before it is up and running.
Print management is made easy as it has USB connectivity and an SD card slot (a microSD card is included). Using the control wheel to navigate the LCD screen, and an intuitive keypad makes print preparation easy. Tweaking those fine details to meet your client's changing needs is simple.
The aluminum structure is what makes it so stable, inspiring confidence for reliable prints so you can keep to those tight deadlines. Also, the 100-micron layer resolution means you 3D print models that will wow your potential clients with excellent surface finish and precision.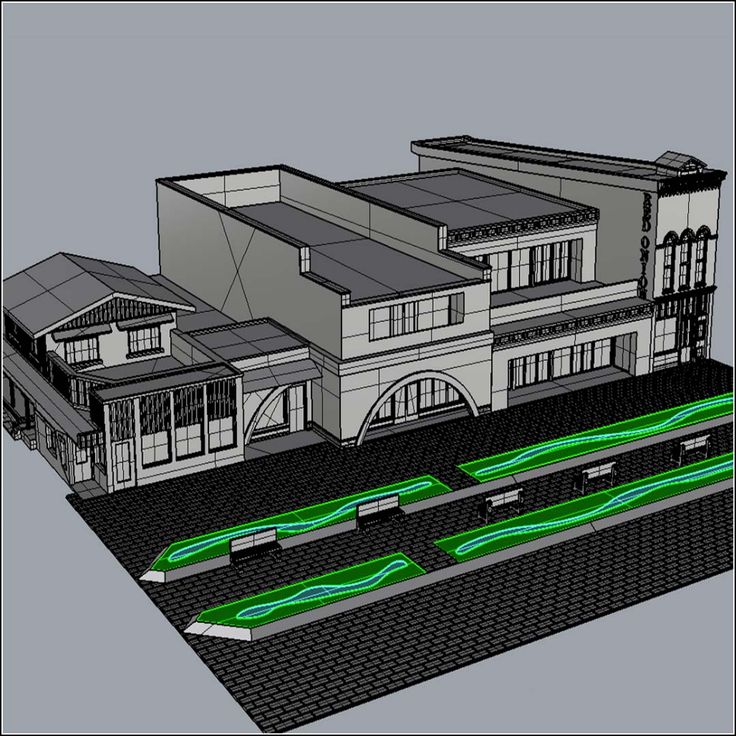 The downside is that it will take up a fairly large area on your workspace. For anyone with a limited workspace, the CR-10 might be difficult to accommodate.
Still, with Cura software, it can be used in different settings. These include different methods of printing. They vary in their complexity and include full, expert, and even quick print. Once you get up to speed, this is an intuitive 3D printer at a very reasonable price and is ideal for architectural projects.
Flashforge Creator Pro 2 – Best Dual Color 3D Printer For Multi-Color Architectural Models
Price: $649 — Available at Flashforge here / Available on Amazon here
✅ Pros
Dual extrusion offers multiple color and filament options
Touchscreen display
Easy setup
Tidy design
? Cons
The print bed isn't removable 
The print cooling system takes a little longer than some others
Every creative wants to be able to work with multiple colors, which is why the Flashforge Creator Max is one of the best 3D printers for architects.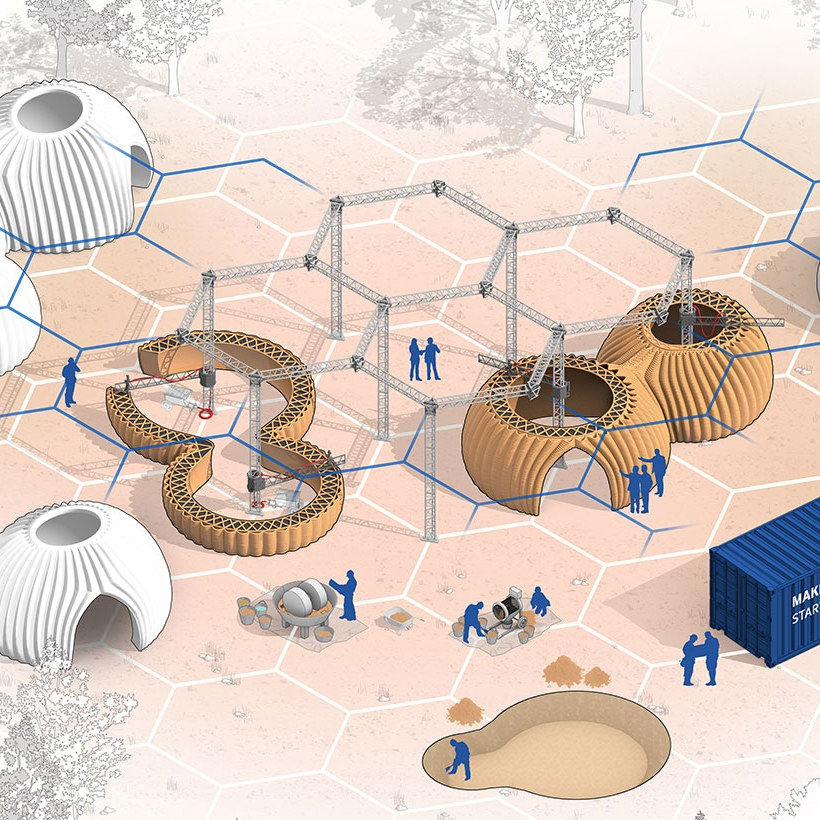 A dual extrusion 3D printer, it can work with a variety of materials and offers you the ability to make rapid prototypes that capture the imagination of potential clients.
For a printer that uses dual extrusion, it is a shame to see the cooling fan only operates from the left. This means each print takes a little longer before it is ready, but upgrading to a dual-fan duct can fix this. 
There are small conveniences that make a difference such as the carry handles on either side of the enclosed unit. Every build can be watched through the acrylic door and the option of the acrylic lid means you can improve ventilation.
It takes a little while to level but produces impressive results that bring every concept building to life. The print bed measures 227 x 148 mm, which should be enough for reasonably-sized architectural models. However, you'll likely need to attach multiple models together anyway for any reasonably-sized architectural model anyway, it just means more prints will be required than on a larger 3D printer.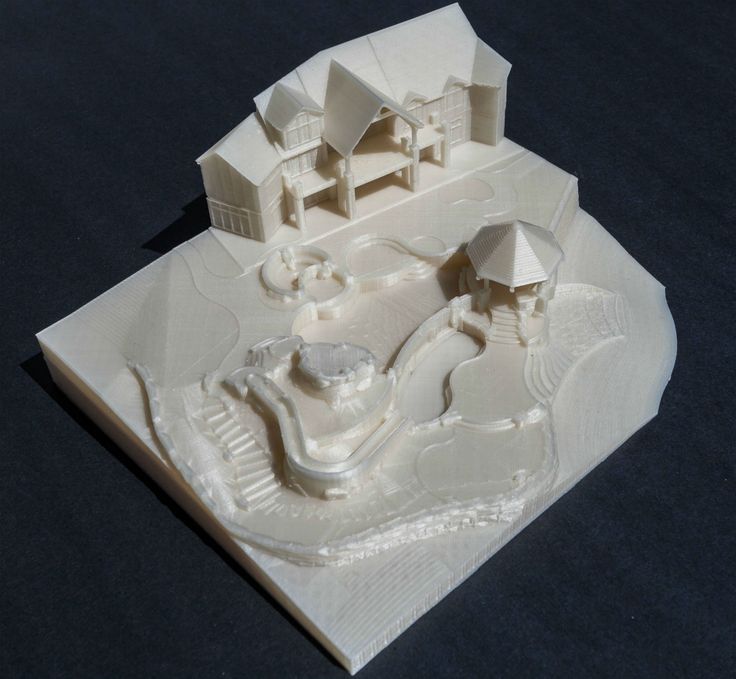 The print bed isn't removable so print removal can be tricky at times, but a spatula and a little encouragement will always remove those scale models.
All in all, it is a viable 3D printer for any architect. Setting up is simple, just attach the print head, connect it to WiFi, and use the touchscreen interface to navigate to start the journey of printing affordable, impressive models.
Qidi Tech X-Max – Best For Different Materials
Price: $1,099 — Available on Amazon here
✅ Pros 
The enclosed design prevents warping
Wifi connectivity
Large 5-inch touchscreen display
Removable build plate
Generous build area
? Cons
No filament runout sensor 
With a 5-inch touchscreen display, this is one of the easiest 3D printers for an architect to navigate. You can see how those models are going to come to life before printing.
Its enclosed design is essential for making consistent prints since the temperature within the unit is easy to regulate.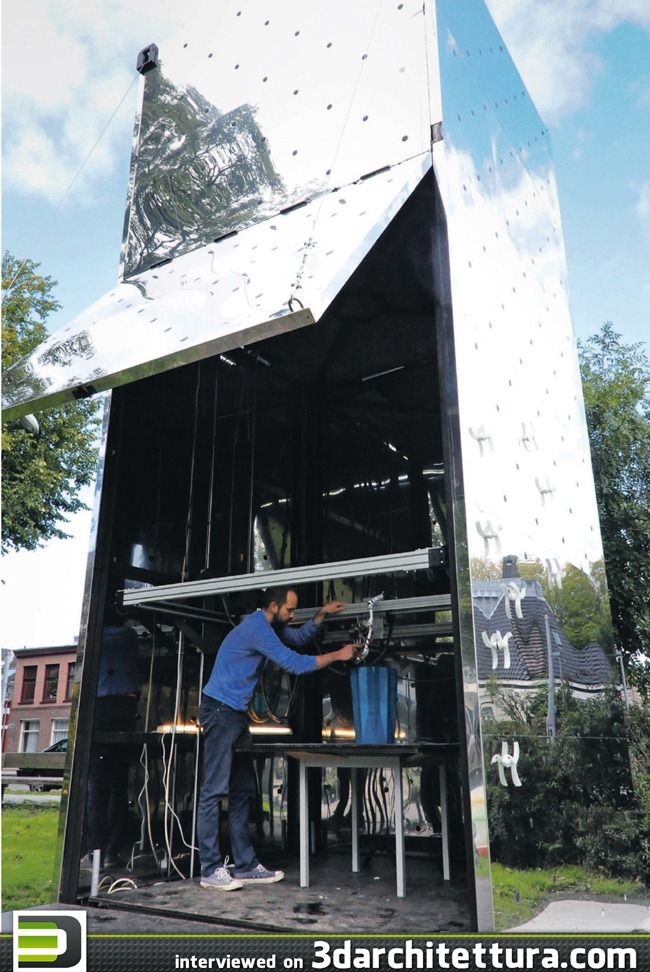 This is vital for certain materials such as ABS which can warp if the temperature starts to dip.
Considering it boasts intuitive features like Wi-Fi connectivity as well as quiet printing, it is surprising that it does not boast a filament runout sensor. Still, compared to other brands, it is easy to use for a first-timer, and still has a pause and resume function that makes it easier to switch between filament.
Read more: the best quiet 3D printers
The removable build plate makes it easier to pry your finished masterpiece away so you can meet tight deadlines without having to worry about how long it is going to be before it is ready.
The build area of 300 x 250 x 300 mm is more than generous enough for most large projects, and means you can create big concept models that are the talk of the presentation.
Any architect wants their models to stand out, which is why it is great to be able to work with a variety of materials. Opt for the common ABS, PLA, and TPU, or go for carbon fiber or Nylon and make sure your models are ones to remember.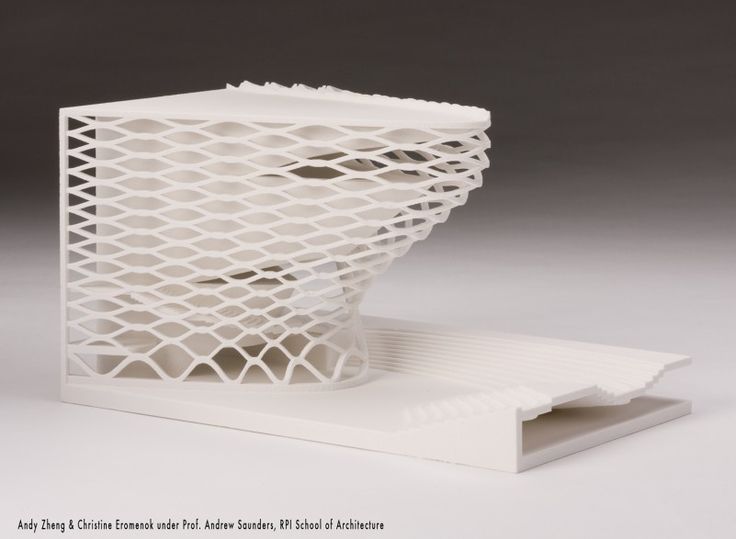 Because you are going to be printing tall architectural models, you need more than build space. You also need stability, which is where the double Z-axis comes in. This is an upgrade from the previously questionable single Z-axis that provides a solid base to ensure consistent prints, and 3D print accurate building models.
Dremel 3D45 – Best Under $2,000
Price: $1,899 — Available at Matterhackers here / Available on Amazon here
✅ Pros
Can read Dremel branded filament for quick set up
Comes pre-assembled 
Removable glass plate 
Easy to control via WiFi
Heats up fast
? Cons
The touchscreen could be more responsive 
The build volume of this 3D printer measures 254 x 152 x 170 mm, meaning it isn't one of the biggest on our list. However, if you aren't looking to make huge models, this is likely to be plenty enough for making architectural models that have plenty of detail.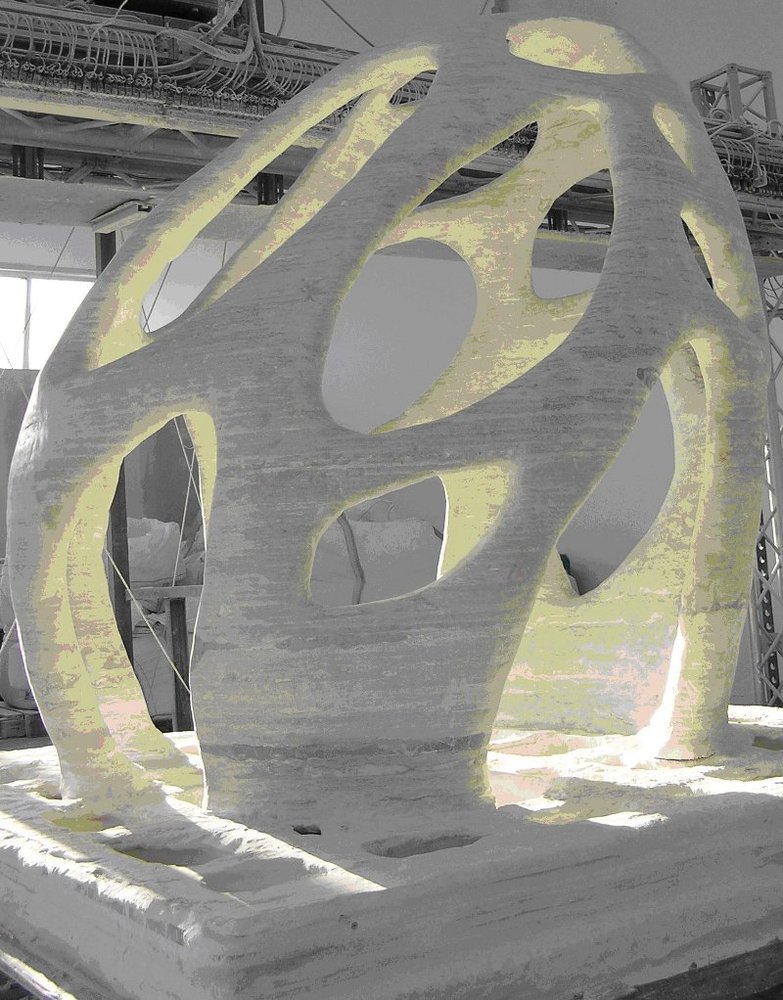 The brand prides itself on making 3D printers that are easy to use, which is evident in the longevity of its brand. The direct extrusion system feeds filament from within, which makes it easier to load for each new project. 
Although it is an open material system, it can work with an RFID sensor. This means it can read Dremel-branded filament, and quickly provide the print settings for easy set up every time.
What sets it apart is that the print bed comes in two parts. There is a heated bed that can reach a temperature of 100°C to prevent warping and make smooth first layers for a solid foundation for every architectural mode. Then, the glass plate can be removed to make it easier to pry the finished print, ready to present in front of a room full of stakeholders.
The 5-inch touchscreen navigation display ensures it is easy to make minor adjustments to please a fussy client, and if you are working within a tight timeframe, it only takes a couple of minutes before it is hot enough to get going.
There is plenty to like about the Dremel 3D45. Not only does it come pre-assembled, but it is easy to use, makes reliable prints that look professional, and has a closed frame design that looks great.
Ultimaker S3 – Best 3D Printer For Architects Overall
Price: $3,980 — Available at Matterhackers here / Available at Dynamism here
✅ Pros
20-micron layer resolution
Fast printing
Compact footprint
Can print two materials in one job
? Cons
Might be a bit pricey for some
It is easy to see why the Ultimaker S3 is often considered the ultimate 3D printer for architects. 
Boasting a decent 230 x 190 x 200 mm print area that will be more than enough for most models but it is the 20-micron layer resolution that provides impressively smooth surfaces that is sure to be the talk of client presentations. 
The 4.7-inch touchscreen display is pretty straightforward, so making those custom changes doesn't feel like a chore.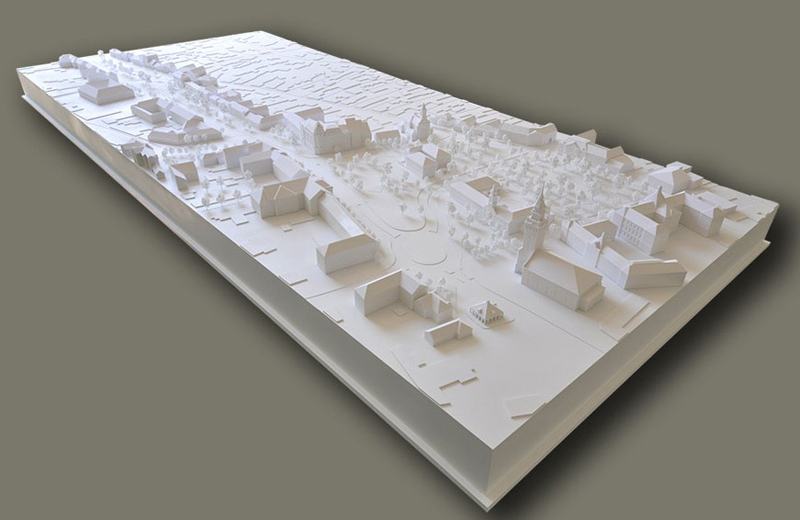 At 24 cubic millimeters a second, this is also one of the faster options on our list. Why is that important? Because printing 3D models for architecture is so convenient you are going to want to use it as much as possible. 
A lot of 3D printers that are big enough for an architect to make use of are guilty of having a bulky footprint. This is another area where the Ultimaker S3 excels. It takes up a total area of 394 x 489 x 637 mm, so it should fit conveniently into almost any work area without taking over a room. 
At nearly $4,000, it could be out of budget for some. Still, this is an impressive option for any professional. It can print two materials in one job, offers automatic bed leveling, and WiFi connectivity.
For more: the best auto-leveling 3D printers to save you hassle
Formlabs Form 3 — Best for high-resolution architectural models
Price $3,499 — Available at Dynamism here
✅ Pros
Incredibly easy printing
Extremely fine details and precision
One-click printing 
? Cons
Smaller build area — so less suited for larger architectural models
People don't generally think of resin 3D printers for architectural models, instead opting for FDM, but for high-resolution models with precise surface finishes and details, there is no better than Formlabs' Form 3.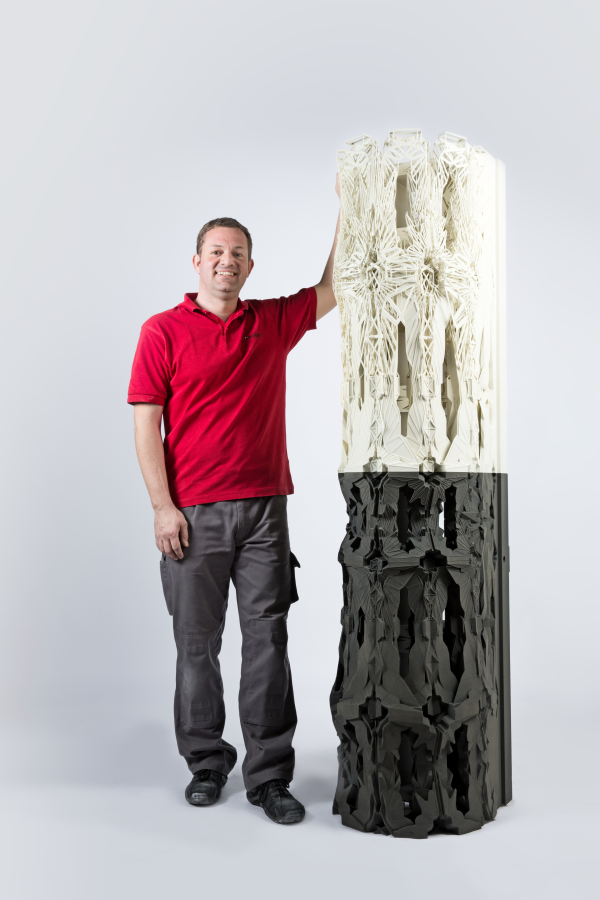 It can print in incredible detail thanks to it being a stereolithography (SLA) machine. It works by hardening liquid resin and turning it into a solid 3D architectural model, layer-by-layer. The sensors used at every stage of the print are highly intuitive and help to create fine details that make 3D models of buildings that stand out and look highly professional on a board room table.
One of the most reliable options for making a consistently high standard of prints, the Form 3 inspires confidence that your models are going to come out as you intended the first time.
There is a larger color touchscreen that allows you to watch the material cartridge whilst it is being used. You can even view a chart of how the print went, to see where any failures or imperfections may have occurred.
Automation is the name of the game with this option. The Form 3 tries to make life as easy as possible so the user doesn't have to spend much time holding its hand. You can operate multiple Form 3's like a factory with Formlabs' software to create larger models quickly.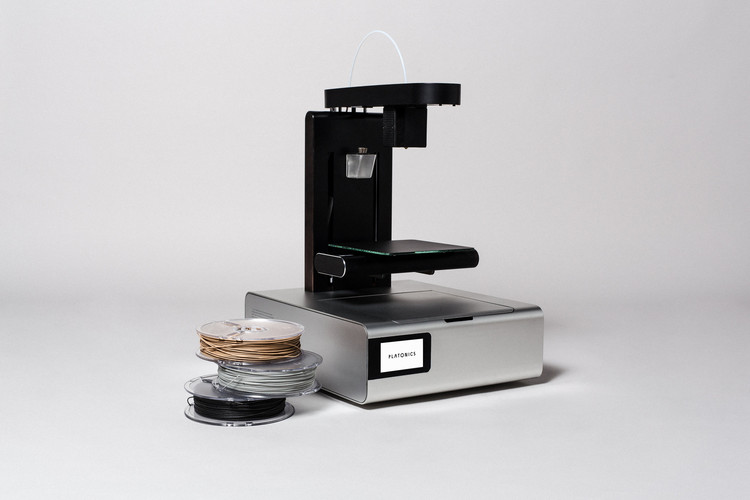 The technology is impressive, but the volume of 145 x 145 x 185 mm might be restrictive for some. Therefore, we recommend it for smaller, more detailed projects where communicating certain features within a larger build is important.
3D printer for architect and designer, pros and cons, examples of use
3D technologies are becoming good helpers in various fields. In architecture and design, 3D printers are successfully used mainly to create architectural models.
Illuminated layout

Architectural layouts can be divided into several types:
Layouts can be used for a variety of purposes:
Visualization for buyers or to coordinate the project with the client. Many customers find it much more difficult to perceive a digital layout of a building or interior. 3D printing allows you to quickly and inexpensively produce, for example, a miniature apartment model with a furniture model. The client himself will be able to visually see a variety of interior options and choose the one he likes the most.
Project presentation. A presentation with a beautiful layout looks much more colorful and effective, for example, a building or an entire microdistrict. But making an architectural model in the classical way is a long and painstaking, often manual, work. What if you need multiple layouts? A 3D printer can significantly speed up and reduce the cost of production of a layout.
The cost of the layout depends on several factors - this is the complexity of manufacturing and artistic value. The use of a 3D printer allows you to speed up and significantly simplify the production of complex and simple layouts. For example, making a layout of modern buildings with non-linear geometry becomes a real headache for layout designers. 3D printing allows you to quickly and accurately reproduce an exact copy of any building, regardless of its geometry.
Non-linear building layout
FDM printers for architecture and design
FDM is a technology for layer-by-layer deposition of plastic to obtain a physical model.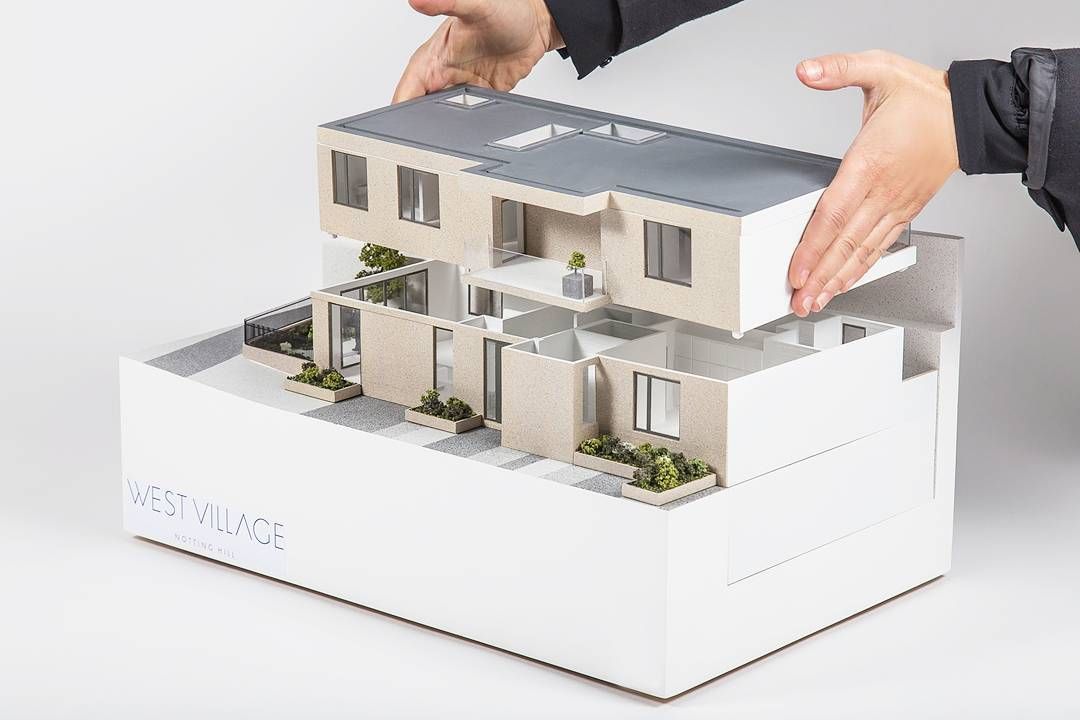 As a consumable material, a plastic thread is used - a filament.
FDM printers are very popular due to their large working area, printing speed and inexpensive consumables.
The choice of printer model depends on what needs to be produced. Some devices are poorly designed to work with some engineering plastics.
Pros and cons
pros
Models of 3D printers appeared with an "infinite" printable area along one of the axes. These printers use a conveyor belt instead of a printtable. Such printers are suitable for mass production.
For the manufacture of simple layouts, you can give preference to models with a single extruder. But if a 3D printer is required to solve a variety of tasks, then models with two extruders and a closed chamber should be preferred. Such devices are universal and can print on almost any material.
Minuses
Application and printing examples
Model of the city of Astana.
Production took 1 month.
Building kit
Prefabricated house model
San Francisco layout
Furniture and interior elements made on a 3D printer
Layout of the floor of the building for arranging furniture
Printer Rating
CreatBot D600 Pro
CreatBot D600 Pro
Features:
Print technology: FDM/FFF
Workspace size: 600x600x600
Number of extruders: 2
Max. extruder temperature: 420 degrees
Closed Camera: Yes
Heated table: Yes
Plastic type: ABS, ABS+, PLA, PLA+, PETG, Flex, Nylon (Nylon), ASA, Carbon, PEEK, Decorative plastics, others
CreatBot D600 Pro is a professional device that has many options that will be useful not only for a beginner, but also for an experienced user.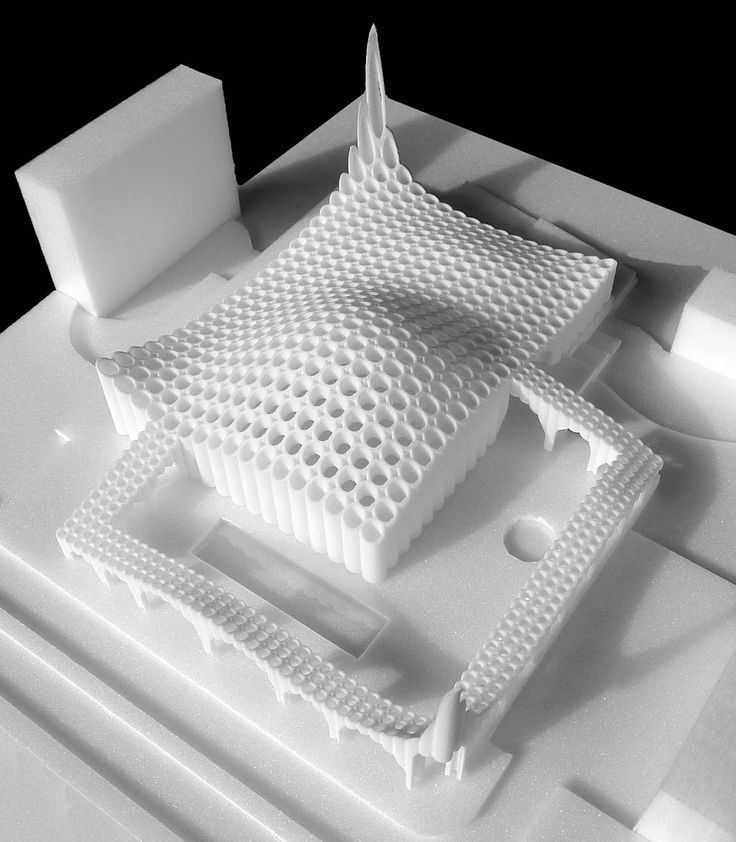 Two extruders with a high heating temperature and a closed chamber allow you to print on all available types of plastics. And automatic table calibration using the BL-Touch sensor eliminates the need to level the table plane.
Raise3D E2
Raise3D E2
Features:
Print technology: FDM/FFF
Working area size: 330 * 240 * 240 mm - when printing with the 1st extruder
295x240x240 mm - when printing with 2 extruders
Number of extruders: 2
Max. extruder temperature: 300 degrees
Closed Camera: Yes
Heated table: Yes
Plastic type: ABS, ABS+, PLA, PLA+, PETG, Flex, Nylon (Nylon), ASA, Carbon, Decorative plastics, others
Raise3D E2 is a small device with unusual kinematics. Raise3D E2 has two independent extruders that allow the printer to work in several modes:
In addition, Raise3D E2 is equipped with a convenient touch screen, automatic table calibration, an assistant for calibrating the height of extruders relative to each other and other nice features that do not affect the final print, but make working with the printer easier and more comfortable.
Raise3D Pro2 and Pro2 Plus
Raise3D Pro2 left and Pro2 Plus right
Features:
Print technology: FDM/FFF
Stage size: Raise3D Pro2
305x305x300 mm - when printing with the 1st extruder;
280x305x300 mm - when printing with 2 extruders
Raise3D Pro2 Plus 305x305x605 mm - when printing with the 1st extruder;
280x305x605 mm - when printing with 2 extruders
Number of extruders: 2
Max. extruder temperature: 300 degrees
Closed Camera: Yes
Heated table: Yes
Plastic type: ABS, ABS+, PLA, PLA+, PETG, Flex, Nylon (Nylon), ASA, Carbon, Decorative plastics, others
As you can see from the specifications, the only difference between Raise3D Pro2 and Pro2 Plus is the size of the workspace in height. Pro2 Plus has twice as much.
The Raise3D Pro2 series has proven itself in various fields.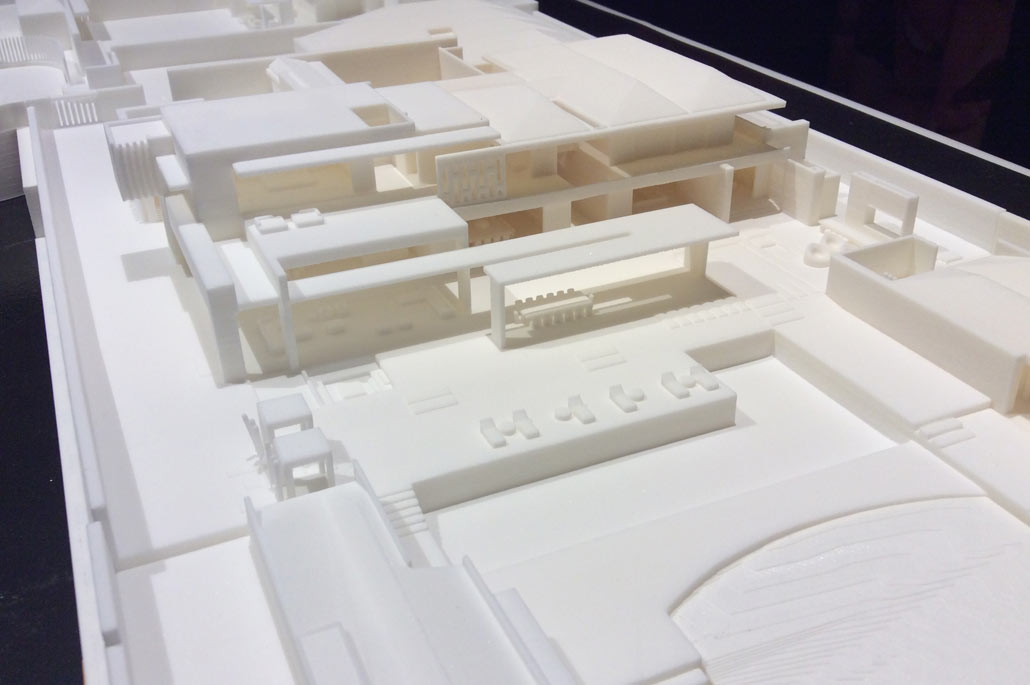 These are reliable workhorses with a set of all the necessary options for high-quality printing, and the presence of two extruders allows you to make models of any complexity.
PICASO 3D Designer XL Pro
PICASO 3D Designer XL Pro
Characteristics:
Print technology: FDM/FFF
Working area size: 360 x 360 x 610 mm
Number of extruders: 2
Max. extruder temperature: 410 degrees
Closed Camera: Yes
Heated table: Yes
Plastic type: ABS, ABS+, PLA, PLA+, PETG, Flex, Nylon (Nylon), ASA, Carbon, PEEK, PC, Decorative plastics, others
PICASO 3D Designer XL Pro is a Russian-made professional printer with an enlarged working area. Designer XL Pro is equipped with automatic table calibration, plastic feed control sensor and other nice features.
Photopolymer printing in architecture and design
The principle of operation of a photopolymer printer is based on the illumination of a special resin using directional UV radiation.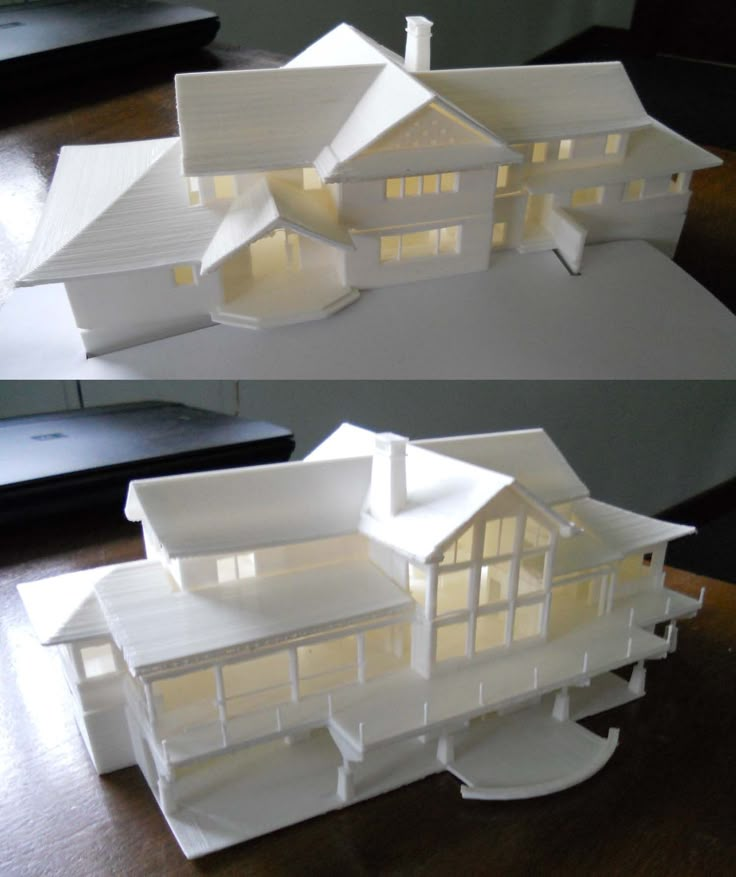 Photopolymer printers can work on one of three technologies:
Photopolymer printers allow you to get a product with an ideal surface. It is not for nothing that LCD, DLP and SLA devices are actively used in the jewelry and dental industries, where accuracy and the ideal surface of the finished model are important.
Currently, LCD technology has gained particular popularity due to its availability and inexpensive printers.
Pluses and minuses
pros
Minuses
After printing, it is necessary to rinse and dry the product in a UV chamber. After printing, it is necessary to wash off excess polymer from the surface of the finished print. For this, isopropyl alcohol is usually used, although resins have now appeared that can be washed with plain water. In order for the photopolymer to gain the declared strength, it must be additionally illuminated under an ultraviolet lamp or in a special box.
Application and printing examples
Miniature model of building
Model of the Cathedral of the Intercession of the Most Holy Theotokos on the Moat (St.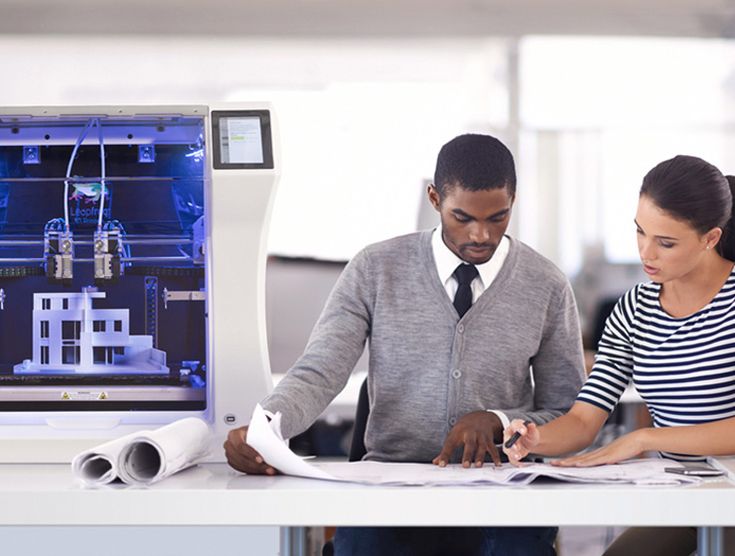 Basil's Cathedral)
City map
Miniature "extras" for layout
Printer rating
Prismlab RP400
Prismlab RP400
Features:
Print Technology: DLP/LCD/SLA
Material: Photopolymer resin
Construction area size: 384x216x384 mm
XY positioning accuracy: 100/67/50 microns
Z-axis positioning accuracy: 100/50 microns
Prismlab RP400 is a professional photopolymer machine with a large printable area. Humidity and temperature sensors in the build chamber allow Prismlab to adjust print settings for the best print quality, while open source software allows the use of third-party photopolymer resins.
Peopoly Phenom XXL
Peopoly Phenom XXL
Characteristics:
Print Technology: DLP/LCD/SLA
LCD display resolution: 3840x2160 (23.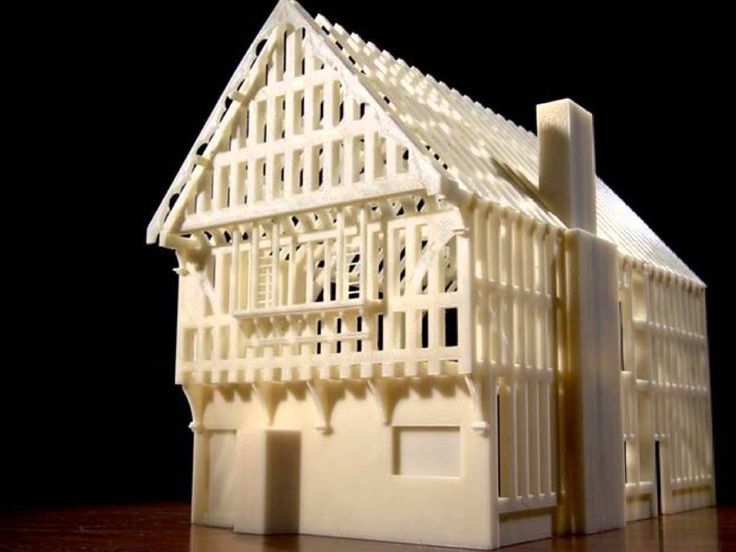 8", 16:9, UHD 4K)
Material: Photopolymer resin
Construction area size: 527x296x550 mm
XY positioning accuracy: 137 µm
The Peopoly Phenom XXL is a large format photopolymer printer with a huge printable area. The improved monochrome LCD matrix allows you to quickly and accurately produce large models or small batches of small products.
Phrozen Sonic MEGA 8K
Phrozen Sonic MEGA 8K
Features:
Print Technology: DLP/LCD/SLA
LCD resolution: 15" 8K Mono LCD
Material: Photopolymer resin
Build area size: 330 x 185 x 400 mm
XY Positioning Accuracy: 43 µm
Sonic Mega 8K is the first LCD printer with a matrix resolution of 8k, but the accuracy of printing depends on the resolution of the matrix. Sonic Mega 8K allows you to produce large models with amazing clarity, without "blurring" or smoothing small elements.
Construction printers
Construction printers are just groping for their niche for application, and the technology itself is still far from ideal.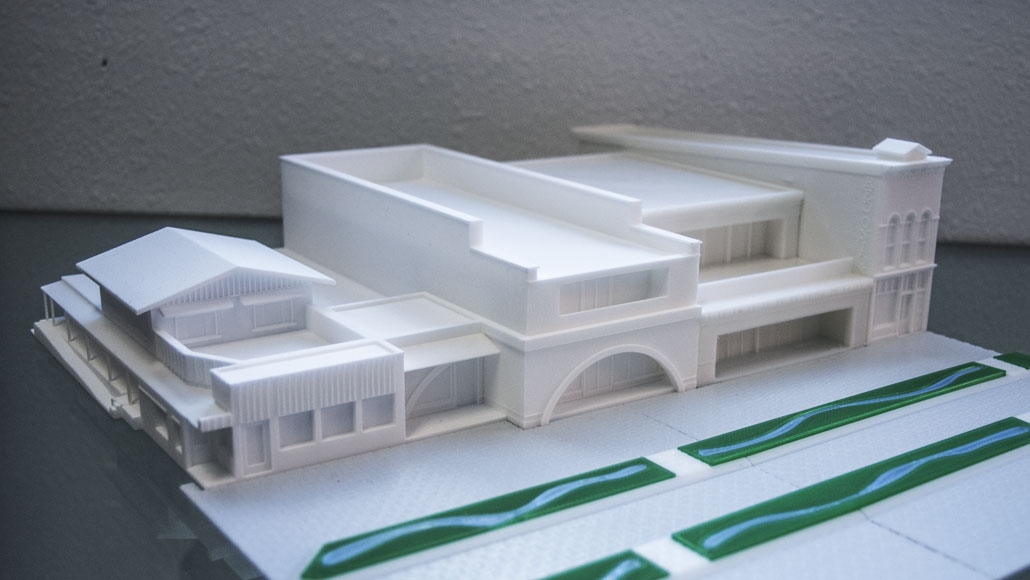 But the projects already implemented allow us to imagine a possible future where it will be possible to print entire houses.
Application and printing examples
Bridge in Shanghai.
In Shanghai, using a construction 3D printer, a whole bridge was printed and installed over a pond in the Baoshan area. The new bridge is 26.3 meters long and 3.6 meters wide.
Shanghai Bridge
Before making a concrete, full-size model, a reduced copy of the bridge 1: 4 was printed for testing the strength and safety of the structure. 3D printing took 450 hours. A load and deformation monitoring system was installed in the finished bridge. This allows you to explore the properties of printed concrete elements in real time.
Up close, you can see the concrete layers that appeared due to the peculiarities of printing
Bridge in Amsterdam
In Amsterdam, a printed steel bridge was installed.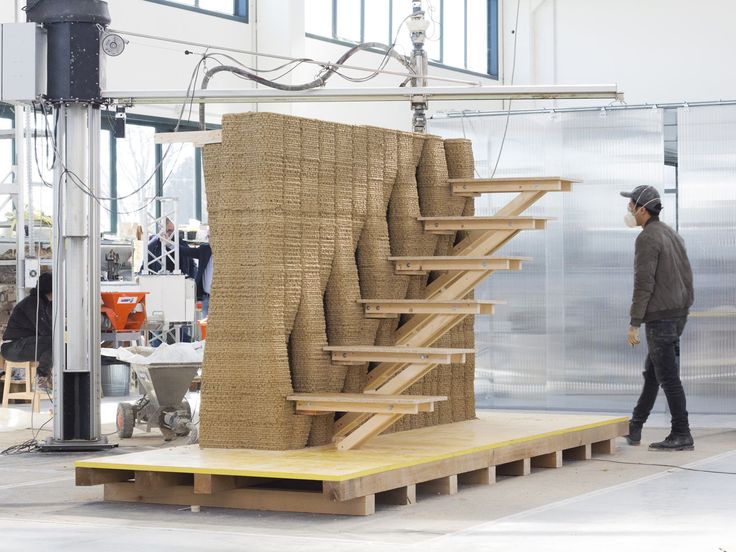 It connects the embankments of the Oudesijds Achterburgwal canal. The length of the finished bridge is 12.2 m, the width is 6.3 m, and the weight is 6000 kg.
Bridge in Amsterdam
Sensors were installed in the bridge to track the deformation of the structure and count the number of people passing through it. For the manufacture of a modern "crossing" 4 robots for 6 months layer-by-layer made a construction of stainless wire.
Bridge manufacturing process
Printed house in Germany
In Germany, builders built an entire house using a 3D construction printer. The house is designed for 5 families, the total area is 380 sq.m.
Almost finished house
In the model of the house, cavities are initially laid for all communications, which the builders will later install. Thus, while the printer is building walls, the workers are solving other tasks.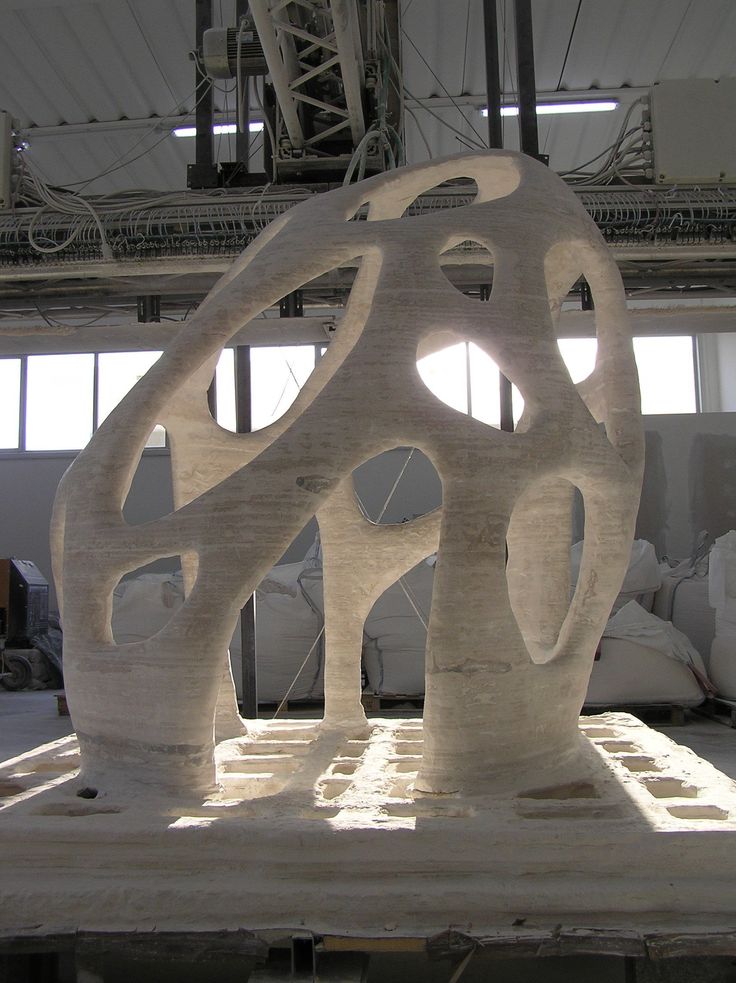 The structure of the walls is hollow, after hardening it is filled with a special insulating material.
After all the work, the apartments in the house will be rented out, and one, the manufacturer, will be used as an exposition to demonstrate the possibilities of construction 3D printing.
Totals
Architecture and design are already firmly established digitally, making it possible to more visually demonstrate models of future buildings and interiors. It is already difficult to meet an architect who draws his masterpieces only on paper.
Three-dimensional technologies make the visualization process simpler and more visual. Already today, 3D technologies make it possible to partially abandon painstaking manual labor in the manufacture of models, and perhaps in the future, with the help of construction 3D printers, it will be possible to build beautiful architectural structures much faster and easier.
3D printing in architectural design
Contents
Parametric architecture
Urban infrastructure
Presenting projects
Starting an architectural career
Experimental design
What equipment should architects choose?
To date, the design of architectural objects has completely moved to a digital format.

All architects are familiar with design software products and all these programs create three-dimensional models for maximum visualization of the created objects.
In this regard, the question that quite often arises among potential users of 3D printers, namely, where to get a 3D model, is completely irrelevant for architects. All the objects they create are a priori in the form of 3D models. If we are talking about existing buildings, then 3D scanners for large objects can come to the rescue, with which you can create a 3D model of even huge objects.
So, it immediately becomes clear that architects have no problems with what can be printed.
It remains only to understand why architects need 3D printing?
I suggest going from smallest to largest. Let's look at some interesting cases:
1) Visualization of objects before their sale
When buying real estate or planning housing, the client faces a difficult task - to visualize how the house or apartment will look like after construction and completion of all work.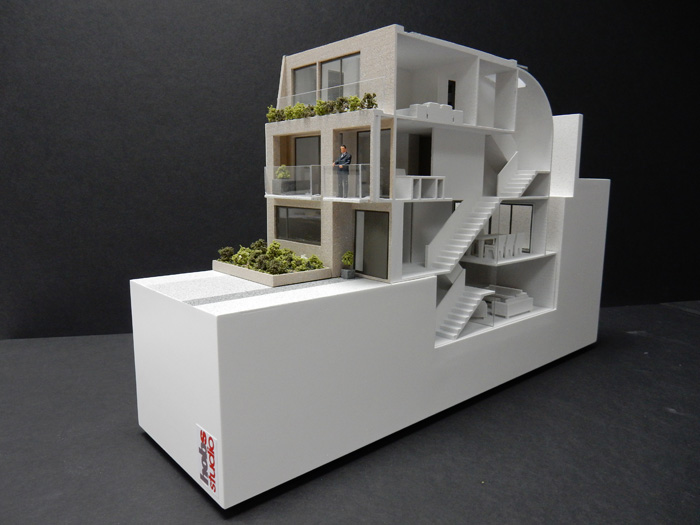 Nat Ellis, Head of Architectural 3D Visualization at JB Architecture, uses a 3D printer to print prototypes of his future buildings.
According to him, after the introduction of the printer into the workflow, it became much easier to build communications with customers and achieve the desired result. The client receives his project in miniature with a detailed interior, even with arranged furniture, from a toaster to a refrigerator. For clients, this is like a game, they can participate themselves - make a different arrangement, try several options. In such orders, the risk of project order rejection is much lower.
2) 3D digital modeling
When creating large architectural objects, a 3D physical model is indispensable; such a model can significantly speed up interaction, first of all, with a customer who is not used to analyzing digital models and perceives the future object on a physical layout much more fully.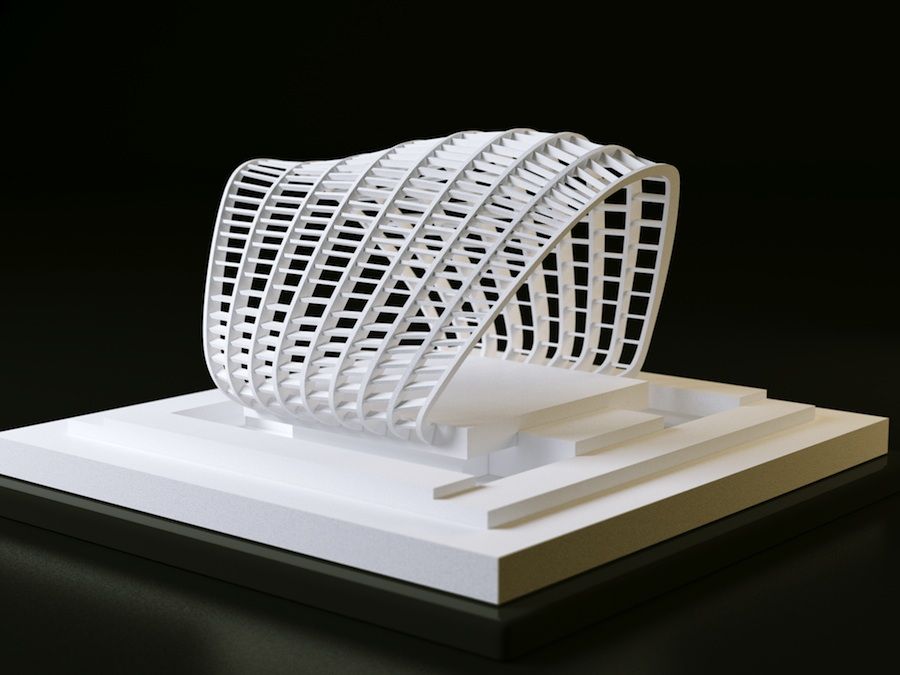 In fact, the physical model is the only way to quickly and clearly communicate the proposed project to the customer.
R. Parthasarathy, the creator of India's first architectural 3D printing service bureau iKix, has been solving the main problem of architects for 20 years - helping to accelerate the promotion of the product to the market. By experience, he found out that the 2 most important problems in this area are poor mutual understanding with the customer and insufficient development of the project at the initial stage. For these purposes, and need a physical layout.
Making layouts by hand is very time consuming and costly. In fact, each such layout becomes a separate creative project, and not a tool for optimizing work. And most often it is done at the final stage of creating a project for presentation to a client.
Parthasarathy says that with a printer, the project is ready in 6-10 days, while a hand-made layout takes more than a month.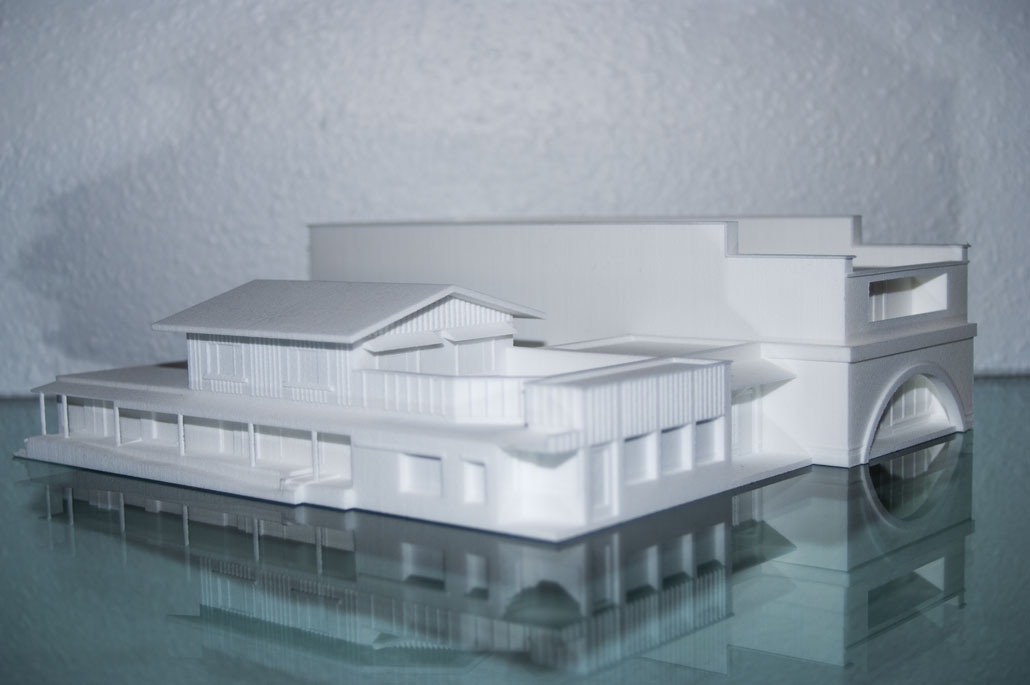 In addition, you can simultaneously print several layouts for the customer, general contractor, authorities, etc.
As for mutual understanding, printed layouts help to avoid unpleasant situations. Parthasarati spoke about the project, in which the customer was satisfied with the drawing of the residential complex. But looking at the 3D layout, he was confused by the too close location of the buildings. The problem was solved by adding a swimming pool and a fitness room.
Parametric architecture
Separately, it is worth mentioning the parametric architecture, in which, due to the complex shapes of objects, it is not possible to implement a three-dimensional physical layout by anything other than 3D printing.
This style is a kind of mix of architecture and mathematics, as a result of which special, unlike building structures, are obtained. Here, a huge number of components lend themselves to analysis, which then line up in a well-defined algorithm.
One of the most prominent representatives of this trend is the legendary Zaha (Zahirela) Hadid, who was one of the first to use 3D visualizations and computer graphics.
The architectural agency Zaha Hadid is still engaged in research in the field of 3D printing and digital design.
Projects in parametric architecture are usually implemented as plug-ins to existing programs, or as a combination of Rhinoceros+Grasshopper programs. This is the development of the American organization McNeel & Associates, which is loved by architects for its original interface with a script in the background, which simplifies the work.
Urban infrastructure
3D printing helps not only in the design of houses and residential complexes. In urban infrastructure, when building roads, bridges, public buildings, landscapes, etc., they even help win tenders.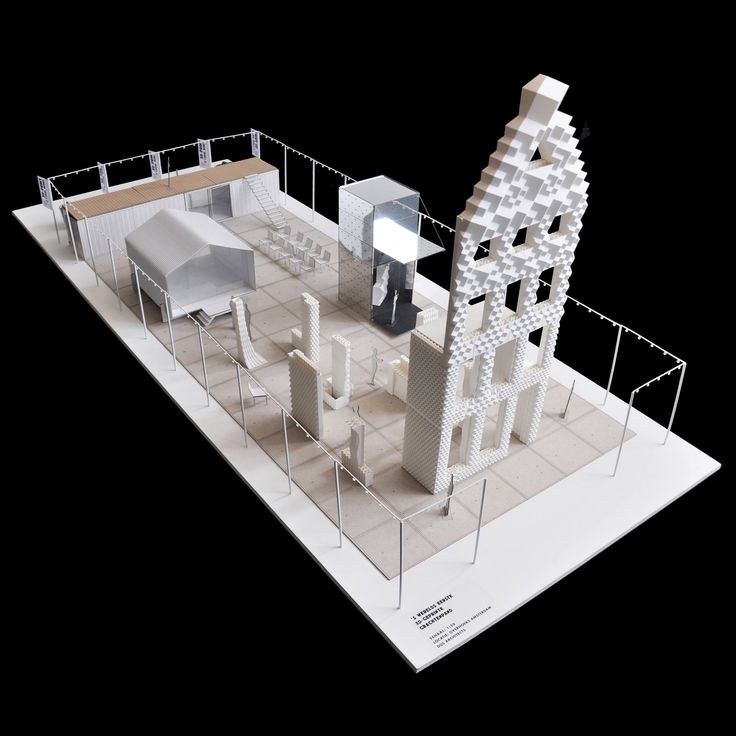 Scandinavian consulting company Ramboll Group's uses color 3D printing. Volumetric layouts made in color with texture and landscape turn out to be 3 times cheaper than physical layouts that are created in the traditional way, and require almost no effort, you just need to set the correct scale.
Any architect who owns programs developed by Autodesk or other graphic applications, special slicer programs cut the model into many parts. Next, the printer's extruder builds the model layer by layer.
These opportunities distinguish the company from competitors and help win tenders. A coastal landscape in San Diego was printed in just half a day, it would have taken several weeks to create it by hand.
Project presentations
Another successful example of using 3D printing for presentations is Robin Lockhart of OBM International. There was a problem - too long coordination of design projects.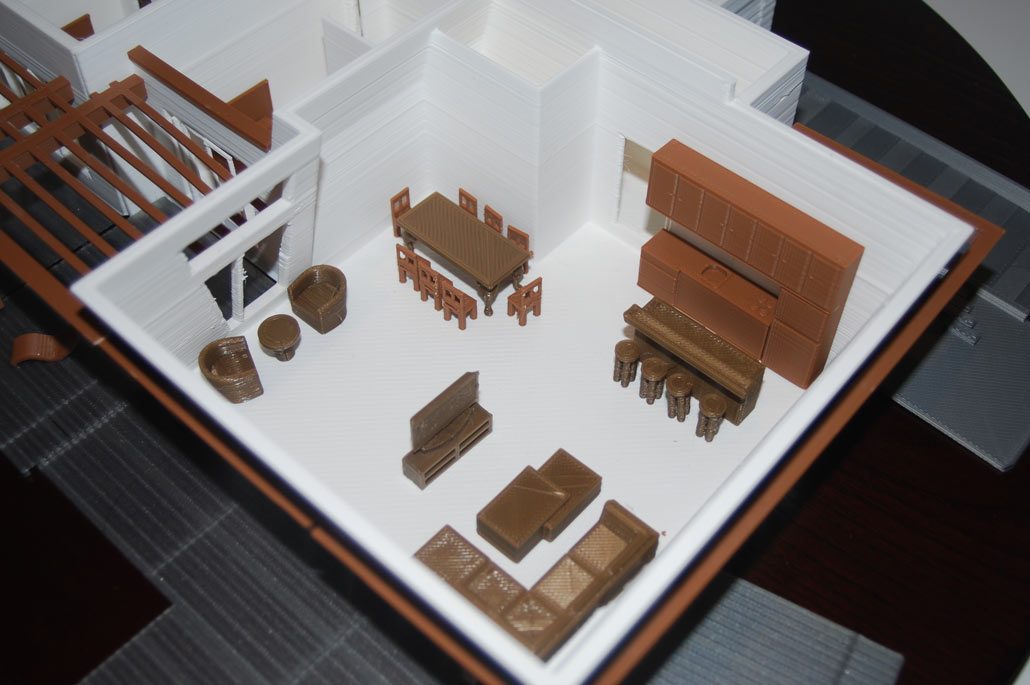 The integration of the 3D printer into the workflow helped a lot with the construction of the new headquarters. A layout of workplaces was printed with the possibility of creating different configurations. Design components were placed in different places and this helped to make the right decision.
Starting an architectural career
For aspiring architects, a 3D printer is a very important and valuable tool to gain experience and avoid costly mistakes.
Also, an important point is that you can quickly make changes both to important elements of the project and to individual decorative details. In addition, in large architectural firms, dozens of people can work on one project, and it is much easier to establish more effective interaction between them if they have a common physical object for analysis.
Experimental design
If we are talking about abstract, difficult to implement projects, the construction of which is not planned (at least in the near future).
These can be objects for a Ph.D. thesis, for master's work, research. Most often, they mean complex sponge or honeycomb structures that cannot be built at the moment, but in the future, when innovative, advanced materials become available, they can be realized. In such experiments, for the most part, a 3D model of the object is printed.
3) Restoration of damaged architectural monuments using pre-made 3D models
It is very difficult to restore an architectural monument that has been damaged during a fire, flood or for other reasons. It takes years, and sometimes even decades of painstaking work of restorers, architects and artists. Therefore, in China, for example, there is a program of widespread 3D scanning of cultural heritage sites so that they can be recreated in case of complete or partial loss.
An ancient city in Thailand has been digitized, which will provide archaeologists and historians with important information about in the future.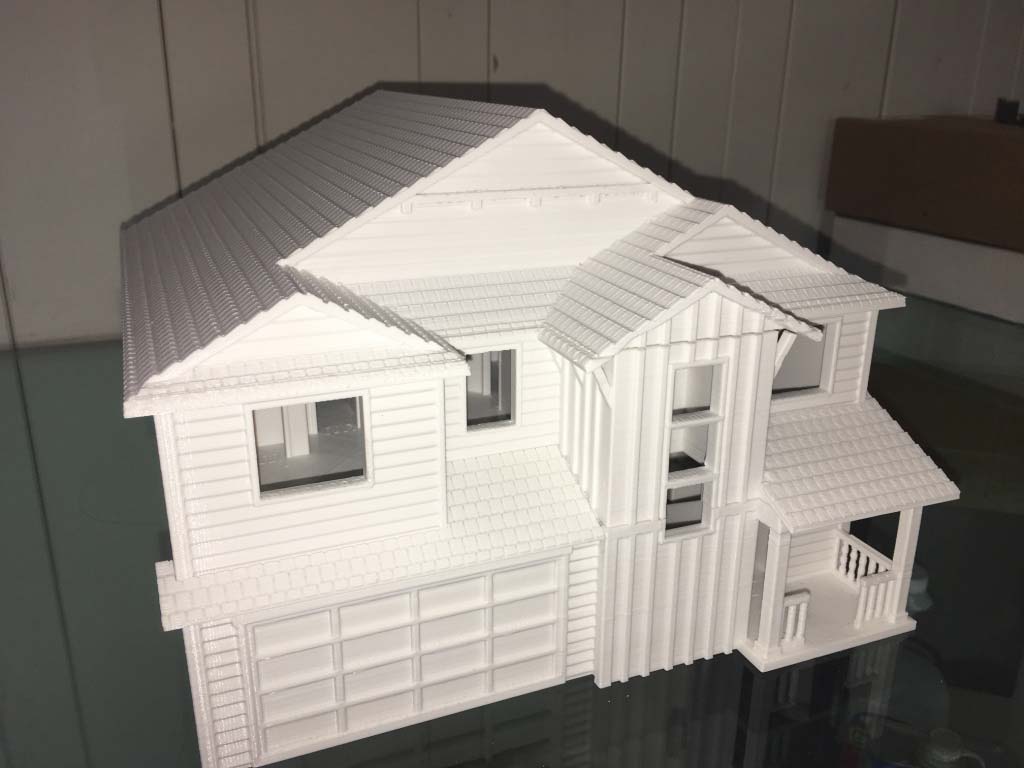 Also, with the help of scanned historical objects, digital mapping is implemented to create virtual architectural monuments.
For example, this was done with the ancient Chinese caves, which are under the protection of UNESCO. Carbon dioxide from a large number of visitors destroys ancient frescoes and sculptures. And by creating virtual caves, people will be able to visit them at any time and avoid harming the relics.
To create such virtual spaces, photographs, video recordings, 3D scanning, as well as panoramic roaming technology for digital protection of the cave are used.
In addition to creating virtual reality to reduce the flow of visitors to the cave, Chinese developers also want to use AR glasses in the project. Perhaps in the coming years, this technology will be widespread, as well as audio guides in museums.
Subsequently, with the help of 3D printing, it will be possible to restore the damaged object much faster.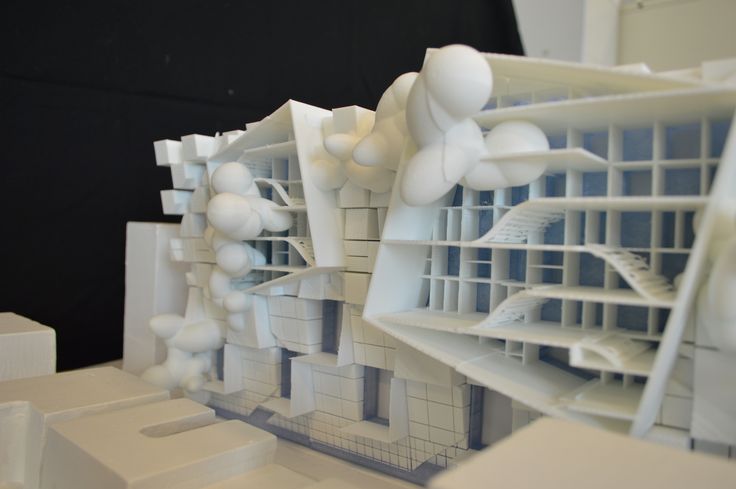 Which equipment should architects choose?
What equipment is best suited for the production of architectural prototyping? The answer may seem paradoxical - any.
Every existing 3D printer can be used for these tasks. All 3D printing technologies can become useful. Resin 3D printers such as the Phrozen Transform are ideal for creating small, detailed models, with a large printable area and a 4K matrix that allows you to print miniatures with maximum detail.
Larger camera 3D printers such as the Raise3D Pro2 Plus are great for mockups.
For example, in the well-known architectural workshop "Atrium" the Raise3D printer is used for architectural layout, creating prototypes of buildings according to their projects.
Before the 3D printer, drawings printed on a regular printer were used in the office, but this did not give such visibility as a 3D layout.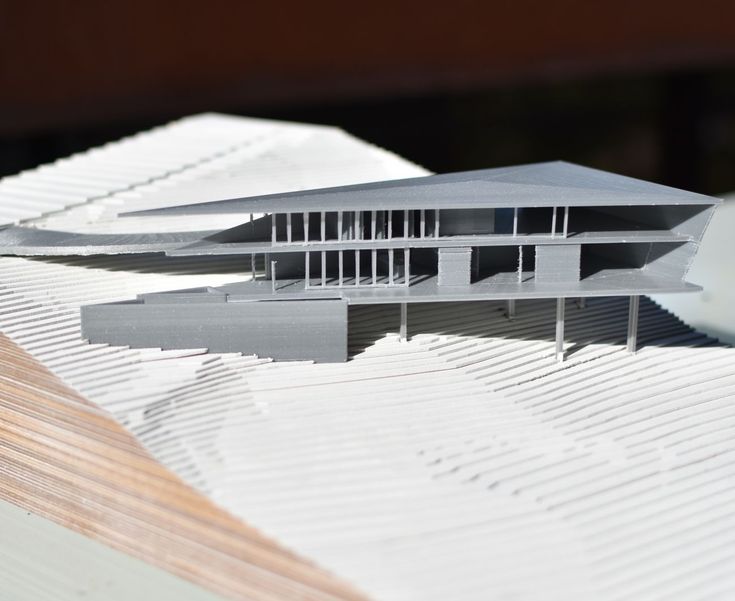 The workshop was prompted to purchase a 3D printer by a large-scale project of the Neskuchny Home&Spa residential complex on Leninsky Prospekt. A 3D model helps the customer to form the correct idea of ​​the object, demonstrate the details, and quickly make changes.
To create color detailed layouts, plaster printers, such as the 3D Systems ProJet 660, are used, with their help you can get a full-color model that will not require post-processing and painting.
Large-chamber SLA 3D printers (such as the Formlabs 3L) can quickly create large objects for scale models.
Printers using SLS technology are able to create layouts of complex shapes that are not available to printers using other technologies.
Scanners include models such as the Shining Pro 2X Plus for small objects…
.