3D printed motorbike
NERA: World's first 3D printed E-Motorcycle
NERA. A new era in 3D printing.
With additive manufacturing and rapid prototyping you can get from the first idea to a fully functioning motorcycle in just 12 weeks.
NERA is fully 3D printed, only 15 parts.
Discover how you can save time and money with 3D printing.
The NERA e-motorcycle started with an idea: create a functional prototype that revolutionizes mobility and can be produced entirely with 3D printing.
Let´s look at the complexity of the process:
With Marco Mattia Cristofori in the design lead, we engineered NERA e-Bike from the ground up, disrupting traditional design, engineering and production in every aspect. The result is a 100-percent, customizable, functional prototype, designed and produced with more time- and cost- efficiency than previously imaginable.
In building NERA, our designers and engineers didn't simply adapt existing motorcycle designs; instead they envisioned a bike designed for large-format FFF technology, setting a benchmark for truly creative design and breaking the limits of traditional mindsets.
To hear more about the design process behind the NERA, watch our OnDemand webinar Optimize your Design Process with 3D Printing hosted by Daniel Büning, BigRep's Chief Innovation Officer and one of the NERA's creators:
Watch the webinar
How additive manufacturing technologies disrupt existing possibilities:
Ideation: First, we worked on the basic bike aesthetics. From the basic mechanical functionality to a unique design language, we started sketching in five design iterations.
3D printing changes the perception of design language and allows total freedom in terms of design: bionic, organic, edgy – any designs are only one thought from reality.
FFF-based Design: We ideate especially for the FFF technology with its unique possibilities: design and functionalities are exclusively FFF-based and don`t work with any other production technology. Prototyping for standard manufacturing methods has extremely limited design possibilities when it comes to mechanical functions, as well as to the design language of objects.
The low polygon/ stealth design of the outter shell avoids top layer.
Design process: First, we arrange the functionally relevant core parts, then design the outer shell translating the chosen design language into the functional parts. We decided to pursue a low polygon/ stealth design language, which allowed us to avoid top layers that can be a weakness of FFF printing.
Embedded Electronics: Battery, motor, cable and control systems are not printed. The motor is electric since traditional combustion engines cannot be embedded in polymer objects. The electronics can be adjusted individually and are integrated as a modular system that allows individual settings.
Battery, motor, cable and control systems are not 3D printed.
Materials: NERA is printed with BigRep Pro Flex, BigRep ProHT, BigRep PLA, and BigRep PETG materials. While we use ProHT for rigid parts, PLA for color details and PETG for the light reflectors, Pro Flex allows us to embed functionalities in a unique way. Tires, bumper, seat and handles are printed with the flexible material and fulfill functions that usually require complex mechanical constructions such as hydraulic, shock absorbing suspension systems.
The strength and elasticity of the material allowed us to come up with completely new design approaches that replace the traditional mechanical components. A horizontally embedded Pro Flex suspensor with honeycomb structure, for example, replaces a traditional hydraulic system integrated in metal fork steering systems for motorcycles.
Forkless steering: Instead of a fork steering, NERA has eight pivot points, clamping vertically instead of assembling the fork to rotate the wheel on a horizontal axis.
Print parameters: Our design team used 12 percent infill almost everywhere. This was determined by testing several small portions and then determining that 12 percent is the perfect fit for structural stability.
NERA eBike parts printed with BigRep's TPU filament.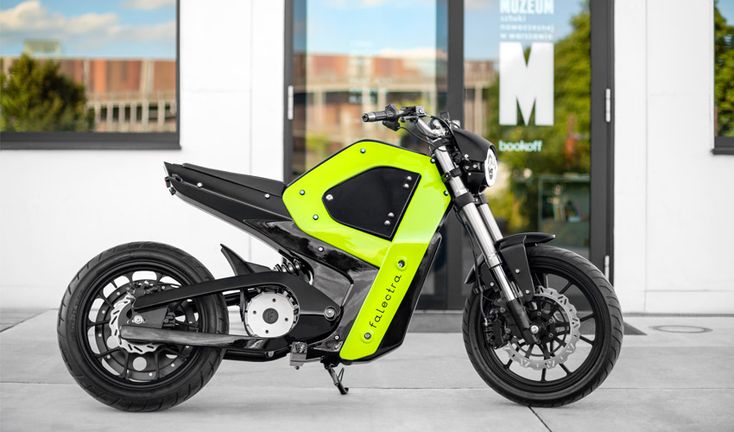 In total, the design features include 15 fully 3D printed parts:
Fully-functional, full-scale 3D printed prototype
All parts printed with BigRep printers (except electronics), including body, rims, tires, steering, seat, headlight and shocks
Flexible parametric bumper replaces suspension as a shock absorber
Custom-fitted seat and chest rest printed with flexible thermoplastic
Airless tires with customized tread printed with flexible thermoplastic
Front tire has an arch structure for a softer, smoother ride
Back tire has a stronger hexagonal structure for load-bearing parts
More than just an exercise in what can be achieved with 3D printing – and specifically FFF printing with BigRep technology – the NERA shows that the low cost and fast results of additive manufacturing allow designers to immediately test prototypes and rapidly produce iterations of experimental engineering.
The NERA also illustrates the massive benefits that 3D printing offers to produce functional parts, particularly for unique- to small-series production, by reducing lead times and costs, optimizing supply chains and limiting dependency on supplier networks.
Daniel Büning, Co-Founder and Managing Director of NOWLAB, explains, "Our NERA E-Motorcycle is the perfect example of the disruptive capabilities of additive manufacturing in the mobility sector. The bike is the result of a radical new approach to product development, seamlessly spanning digital simulation to custom manufacturing. Therefore, NERA combines several innovations developed by NOWLAB such as the airless tire, functional integration, and embedded sensor technology. We push the limits of engineering creativity to reshape additive manufacturing technology as we know it."
A truly industrial 3D printing experience
The BigRep PRO is a large-format 3D printer designed for high productivity in industrial manufacturing environments.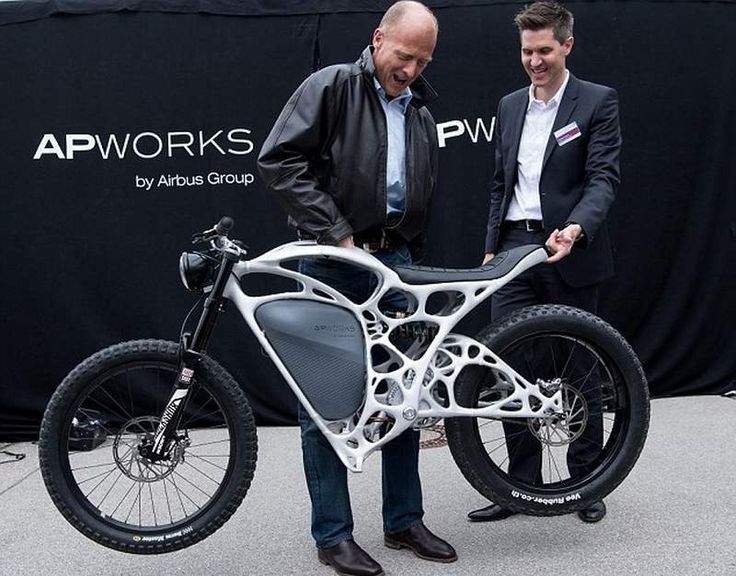 It provides engineers and manufacturers with a highly scalable solution, able to efficiently manufacture end-use parts and products or factory tooling with high-performance, engineering-grade materials. With a generous 1m3 build volume, it's an industrial 3D printer with the speed and reliability to supercharge your production.
BigRep PRO 3D Printer
CHEAPER & FASTER 1:1 PROTOTYPING
Steelcase, global leader in office furniture and space solutions maximizes their prototyping efficiency with the BigRep ONE. Learn how designers create real size prototypes.
Download Ebook
How Airbus Manufactures Shipping Cases In-House
Learn how Airbus is leveraging BigRep large-format 3D printers to eliminate a regular expense of up to $10,000 by reinventing a traditional manufacturing workflow.
Guide to Large-Format Additive Manufacturing
3D printing a large part all at once means less time is spent designing around multiple print jobs, less time assembling multiple parts, and more time getting those parts to work for you.
🏍️ Best 3D print files for bikes and motorbikes・Cults
🏍️ Best 3D print files for bikes and motorbikes
Download 3D print motorcycle files
Designers who are passionate about motorcycles have managed to model in STL models that are true replicas of existing machines. Some of these 3D objects even have the ability to be remote controlled. In this collection you will find everything: racing bikes, vintage bikes, motocross bikes, etc.
Harley Davidson
Free
2016 Suzuki GSX-RR MotoGP RC Motorcycle
Free
2016 Suzuki GSX-RR 1:8 Racing RC MotoGP Version 2
Free
Joe Bar Team Paulo les gazs
Free
Peugeot 104
Free
2016 Ducati Draxter Concept Drag Bike RC
Free
Harley Davidson Ashtray
Free
Harley Davidson
Free
Jawa 250
Free
Motorcycle cafe racer 2D
Free
motorcycle coaster quartararo
Free
KTM Motorcycles Sign
Free
Jawa 250
Free
Handle for 1966 HD M50S
Free
Sportster Harley Davidson
Free
MT-09 Protection of handlebar end cap -motorcycle handlebars cap
Free
SPORTSTER HARLEY DAVIDSON V2
Free
Motorcycle ToolBox
Free
Motorbike Agusta Bestiale
€7.
49
Shoei Keychain motorcycles
Free
Motorcycle helmet fan - motorcycle helmet dryer "dual" fan
€7.50
handlebar mirror support
Free
Motorcycle helmet fan - motorcycle helmet dryer single
€5
Buell American Motorcycles Pegasus Logo Sign
Free
skull helmet support
€13
Super Bike
€0.50
motorcycle key ring
Free
1988 Suzuki DR 750 Chain Guide
Free
Mobile phone holder - phone holder
€1
Motorcycle helmet holder hook hanger
€2.50
Yamaha XSR 700 Gauge relocation
€2
Yamaha motorcycle phone mount
€3
Zündapp KS 750 scale 1:48
€7.
13
BMW motorcycle mirror extender
€1.66
Super Motorcycle Keyring
€0.50
Harley-Davidson Softail Slim S
€3.36
motorbike cutter
€1.93
Motorcycle Helmet Devil Horn
€13
Model Harley Davidson Bike
€50.90
Junak 123 motorbike phone mount
€2
motorbike with sidecar
€2.50
"Stay True" Motorcycle and Rider
€6.61
Phone Holder Universal
€1.60
Naked bike V-twins Ducati style
€5
AfricaTwin XRV650
€49.95
Yamaha dt175
€8.23
DeskCycles Simply Z Model
€4.07
Harley Harley-Davidson Fender Trim
€3
---
Check out our selection of the best 3D print files for 3D printer in the motorcycle world.
All these STL files are easily 3D printable, so just download them, fire up your 3D printer and play with them. This collection was made by selecting the best creations from the Cults 3D library.
Here you will find different types of 3D printed motorcycles, there are models to build yourself, functional motorcycles that don't need any work afterwards, but also 3D models for fans of modeling. By adding various elements and a motor you can 3D print your own remote control motorcycle. There are really incredible examples that you can use directly on a track!
These replica motorcycles are suitable for both children and adults. Many motorcycle manufacturers and brands use 3D printing to produce some parts of their machines, but rare are the 100% 3D printed projects. This selection might make you want to create a real 100% 3D printed motorcycle! All the fans of Honda, Suzuki, KTM and Triumph will be able to enjoy these beautiful creations.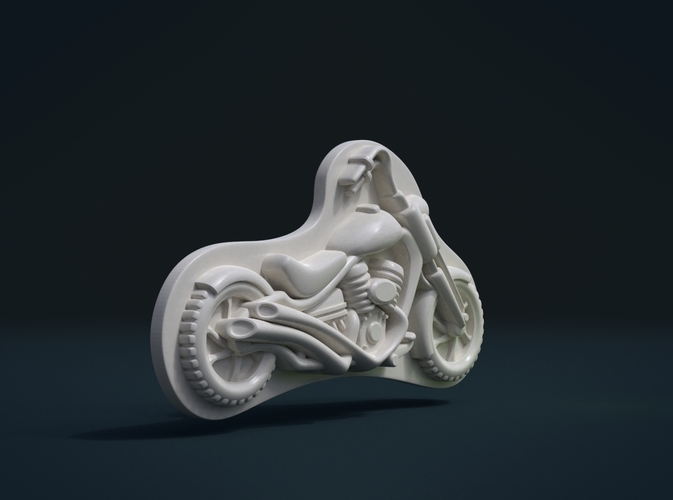 Nera E-bike is the first 3D printed electric motorcycle
Auto & Motorcycle, Architecture & Design, News, Educational
Leave a comment
German manufacturer of large-format 3D printers BigRep has unveiled the world's first functional 3D printed electric motorcycle. The manufacturer claims that every element of the NERA bike, with the exception of wiring, is made using 3D printing technology.
It took the engineers only 12 weeks to bring the idea to life, but the company does not plan to launch it into mass production in the near future. The exact specifications of the bike remain unknown, but designer Marco Mattia Cristofori, who got the chance to do a demo ride, shared that at this stage the speed of the bike is too low for commercial use.
The bike's minimalist design is reminiscent of the Batcycle, Batman's vehicle that he used as an alternative to the Batmobile. The 3D printed structure weighs less than 60 kg, all 15 elements of the Nera E-bike are created using additive technology, including the frame, seat, wheels and even airless tires.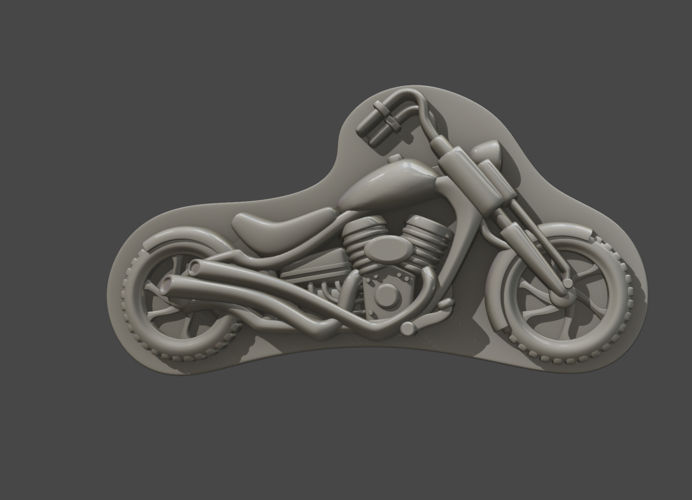 At first glance, the gaping void in the place of the engine of a traditional motorcycle catches the eye - the Nera E-bike electric motor is hidden in the rear wheel rim, and the batteries are located in the body of the bike. Nera is devoid of suspension in the traditional sense - its function is performed by the entire body of the motorcycle, its flexibility allows you to dampen vibrations when hitting bumps.
The goal of the creators of the Nera E-bike was to prove the possibility of using unusual materials and technologies to solve a wide variety of problems. Classical production methods should not limit designers and engineers in their search for more progressive ideas and their implementation.
What is 3D printing and how does it work?
3D printing, also known as additive manufacturing, was invented by Chuck Hull. In the 1980s, an engineer and physicist developed a technology for creating objects using layer-by-layer buildup of materials.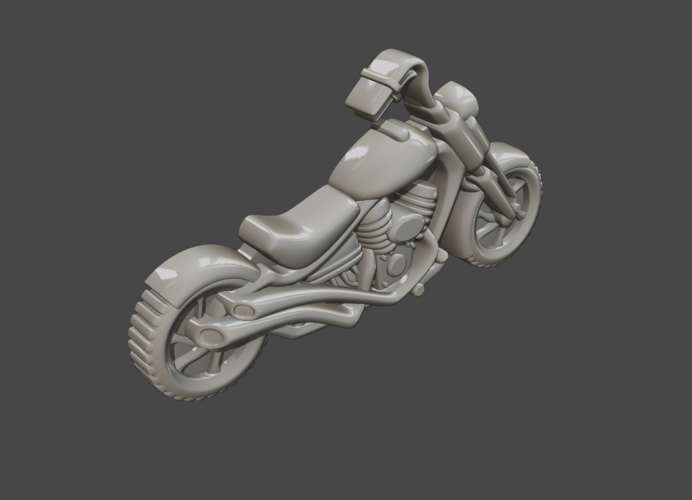 Like a conventional inkjet printer, a 3D printer adds material at the right points, focusing on a given file.
Chuck Hull
Traditional production consumes a large amount of material, in some cases up to 14 kg of waste per half kilogram of finished product weight (data from Oak Ridge National Laboratory in Tennessee, USA). When using 3D printing technology, 98% of raw materials become part of the finished product, which makes such production practically waste-free. In addition, additive technology devices can work with unusual materials, ranging from metal and plastic powders to food and biomaterials similar to human cells. There are several processes by which it is possible to create a 3D object, but the most common is extrusion - heating and extruding material from a printer nozzle.
Today, 3D printers are used quite widely for the manufacture of a range of products - from prostheses to robots, but in all areas, the printing process consists of several basic steps:
Creating a digital model using computer-aided design (CAD) software ).
Splitting a digital model into two-dimensional layers using slicer programs. Slicers also add support elements to structures needed to support the object during printing and cool the material. After processing, the program creates a G-code that is recognized by the printer.
Preparing the printer for work: filling raw materials - powders or other materials.
Printing an object directly - this process can take quite a long time, depending on the size and complexity of the object, the quality of the model, the thickness of each layer and the diameter of the nozzle. In particular, nozzles with a diameter of 0.6 to 1 mm were used for Nera E-bike, and the layer thickness was 0.4-0.6 mm.
Depending on the media, post-printing may be required, either chemical or mechanical. As a rule, such processing includes smoothing out irregularities and removing supporting structures.
Source: www.dailymail.co.uk
Share on social networks
3D PrintingNera E-bike Find:
3d printer helps to improve the design of a racing motorcycle
Implementation stories
Automotive industry
Rapid prototyping
Author: Viktor Naumov
Author: Viktor Naumov
3D printing and motorcycle racing: when every detail matters | Drilling templates | Footboard attachment | Air intake | results
The idea of ​​using 3D printing is based on its technological features (such as the possibility of customization and reproducibility of the object), which allow the development of innovative solutions for the creation of racing motorcycles.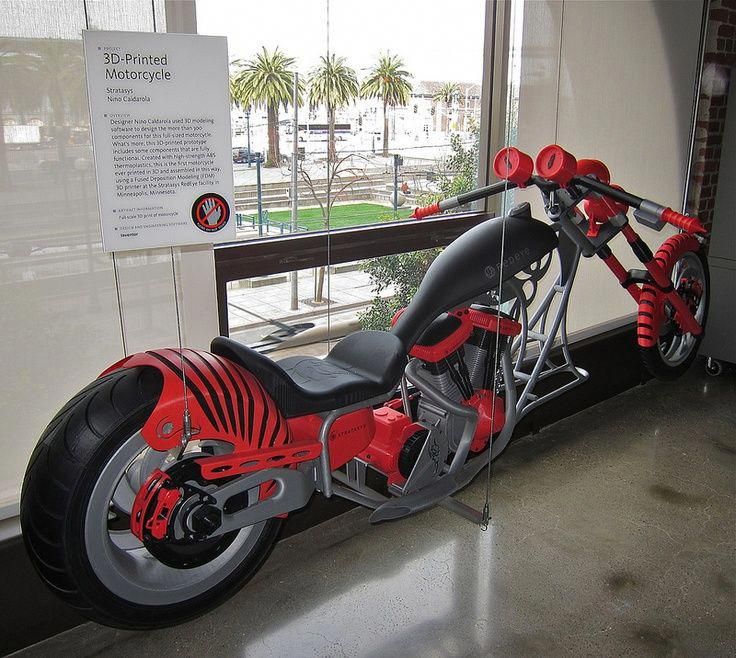 Motorcycle racing is a highly competitive field where even the smallest detail can affect the result and lead you to victory.

Andrea Pirazzini, founder and director of Help3D, a 3D service provider, has a passion for racing and competes in the Velocità CNV Motoasi Italian Championship for 100 octane pit bikes. In Andrea's opinion (and we fully agree with him), the advantage of additive technologies is the ability to create unique shapes from technical materials is exactly what you need to work on prototypes and models of racing motorcycles.
Another big advantage of 3D printing, according to Andrea, is the variety of materials that can be used. The world of additive manufacturing is constantly evolving and there is a need to develop technical materials with advanced performance characteristics to create better and more efficient parts. That is why 3D printing can be applied to any manufacturing process, streamlining and streamlining prototyping.
Andrea has already used a Sharebot 3D printer to print plastic prototypes for racing bikes and has worked with the Quarto di Litro team at the University of Pavia on parts for the concept bike.
All parts were made on Sharebot Q and Sharebot 42 3D printers (modified version - Sharebot 43). For example, a multi-component fork assembly that was printed on the Sharebot 42 in just 20 hours using PLA plastic, or spacers and links made from thermoplastic polyurethane (TPU). The choice of these elastic materials is due to the high load that they must withstand. The printed part was tested and no problems were found as a result.
One of the most interesting prototypes is a 1:1 printed pit bike body (23 hours of work). Thanks to 3D printing, Andrea Pirazzini was able to reproduce every technical and aerodynamic detail with the highest precision and resolution. He also created the air intake and spigot from high-strength polybutylene terephthalate (PBT).
---
iQB Technologies experts recommend article: Plastic works wonders: how a 3D printer imitates human organs
---
3D printing and motorcycle racing: when every detail counts
MotoGp is ​​the world championship in road racing, the main competition in its class.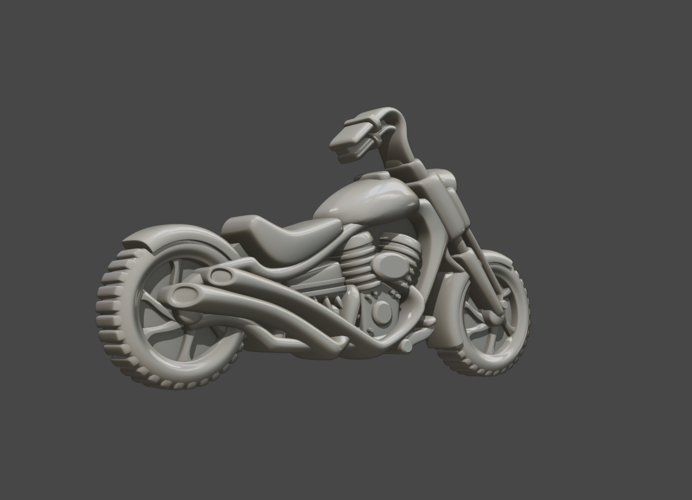 At an event of this caliber, every detail counts, and the bike's continuous optimization helps the rider lap a few precious tenths of a second faster.
We used to think that only a better motor is enough for more speed, but in fact, everything is not so simple. Over the last few years at MotoGp, motorcycles have been getting aerodynamic fenders on the front of the fairing: at first they were thought to be just a beautiful accessory, but over the years fenders have become the basis of motorcycle aerodynamics, especially because they increase downforce, and therefore traction on asphalt, and also reduce the resistance to movement during acceleration.
Drilling templates
In preparation for the next racing season, the famous Italian racing motorcycle manufacturer Aprilia, using Sharebot 3D printers and Help3D technical support, has developed drilling templates for the motorcycle front fairing. The template 3D models were created directly from the fairing CAD models and then printed using the Sharebot QXXL and Sharebot 42 printers.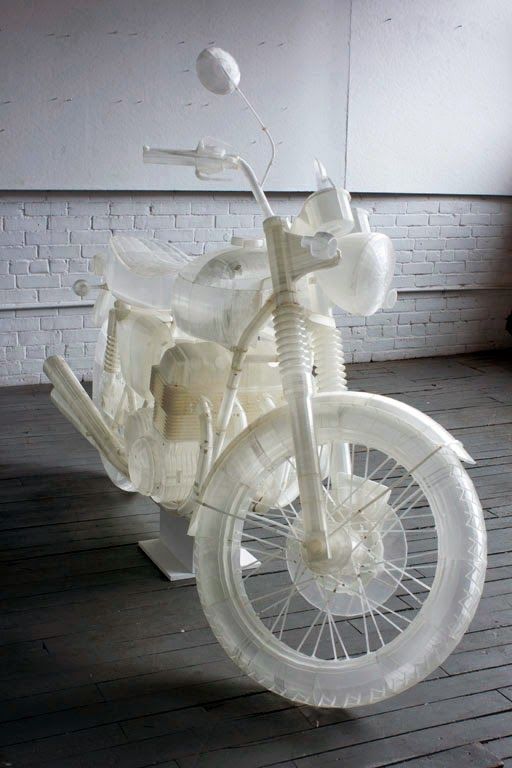 These templates made it possible to create holes with exceptional precision, which is not possible with classical manual template creation methods. It should be noted that the shape of the wings (made of carbon fiber) is adapted to the fairing, so it is important that the holes in the body provide a snug fit at an ideal angle.
Footrest attachment
It's no secret that a rider on a motorcycle should sit "like a glove." It's not just about a comfortable posture, but also about optimizing the rider's aerodynamics on the bike.
The kickstand plays a vital role in the rider's riding position: it is more rearward and higher than in a road bike. If it is the wrong size, then the rider may feel discomfort, and in this position he will be uncomfortable.
Sharebot 3D printers allowed the Aprilia Racing team to create a series of PLA footpeg mounts to see which model would work best for the team's riders. After analyzing different solutions and selecting the ideal model for each rider, the parts were made on a CNC milling machine.
With this solution, Aprilia has been able to reduce the design time and, above all, the production costs for each footpeg, while at the same time creating the optimal model for each rider.
Air intake
Engine performance also depends very much on how and how efficiently it "breathes". Sizing an air intake for a MotoGp requires careful study of the flow and turbulence created within the design. The air intake uses lightweight and ultra-strong carbon fiber. The downside is that a mold is required to make the part: thin sheets of carbon fiber pre-impregnated with epoxy are placed in a mold and then placed in an autoclave to complete the catalysis process and eliminate air bubbles.
In preparation for the season, the Aprilia Racing team created a series of PLA gearbox prototypes on the Sharebot QXXL 3D printer. By simulating various adapters and reducers, the sports division technicians were able to test different volumes on the test rig, starting with just the air intake.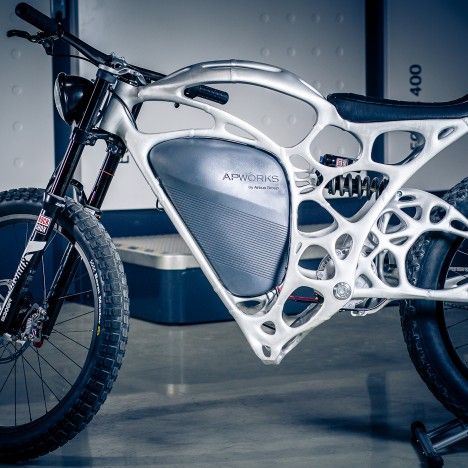 This approach made it possible to determine the optimal air intake geometry without the need to first create a mold and exfoliate the carbon fiber, thereby saving time and money. The printed reducer can be tested on the bench, simply replacing one model with another, without removing the air intake each time. After determining the optimal geometry, one final mold was made to create the air intake.
Results
Let's summarize the 3D printing projects using Sharebot FDM printers, which allowed us to optimize the design and aerodynamics of motorcycles for the MotoGp World Championship.
Drilling templates for front fairing: 3D template models are created directly from fairing CAD models, then 3D printed. This solution made it possible to make holes with exceptional accuracy, which is unattainable using traditional methods.

Motorcycle Footrest Mounts: A series of parts are printed in PLA plastic to choose the most suitable for each of the team's riders, then the final products are produced by a CNC milling machine.