3D printed concrete bridges
World's longest 3D printed concrete pedestrian bridge unveiled in Nijmegen
0Shares
The Dutch city of Nijmegen has unveiled what is reportedly the world's longest 3D printed concrete pedestrian bridge, spanning a length of 29 meters. 
The project was undertaken by Rijkswaterstaat, the Dutch Directorate-General for Public Works and Water Management, and designer Michiel van der Kley, in honor of Nijmegen's election as a European Green Capital in 2018. 
The partners turned to TU Eindhoven and consultancy and engineering firm Witteveen+Bos to help bring the 3D printed bridge to fruition, which was then manufactured by construction firms BAM and Weber Beamix in the latter's concrete printing factory.
"The city of Nijmegen is very honored to receive this innovative 3D printed bridge," said Alderman Bert Velthuis of Nijmegen City Council. "We are a city of bridges, and this special, innovative bridge is a wonderful addition. The bridge leads to connection: in the design and construction phase it connected the different partners, and from now on the bridge connects our residents.
"
The "world's longest" 3D printed concrete bridge in Nijmegen. Photo via Municipality of Nijmegen/Michiel van der Kley.
Freedom of design with AM
The partners first announced details of the bridge project back in April, and revealed their intention to break the world record for the longest 3D printed bridge which, until now, had been held by Tsinghua University for its 86-foot concrete bridge in Shanghai.
The project sought to utilize concrete 3D printing technology to provide van der Kley with complete freedom of form for the bridge's design. Without being restricted by material choices or the limitations of traditional processes such as concrete formwork, van der Kley was able to design the bridge to absorb different forces in various places, while adding a more personalized touch. 
To realize van der Kley's vision, Witteveen+Bos translated the bridge's design into 3D printable structural components. Based on this data, a parametric model created by Summum Engineering was then used to generate the final design of the bridge.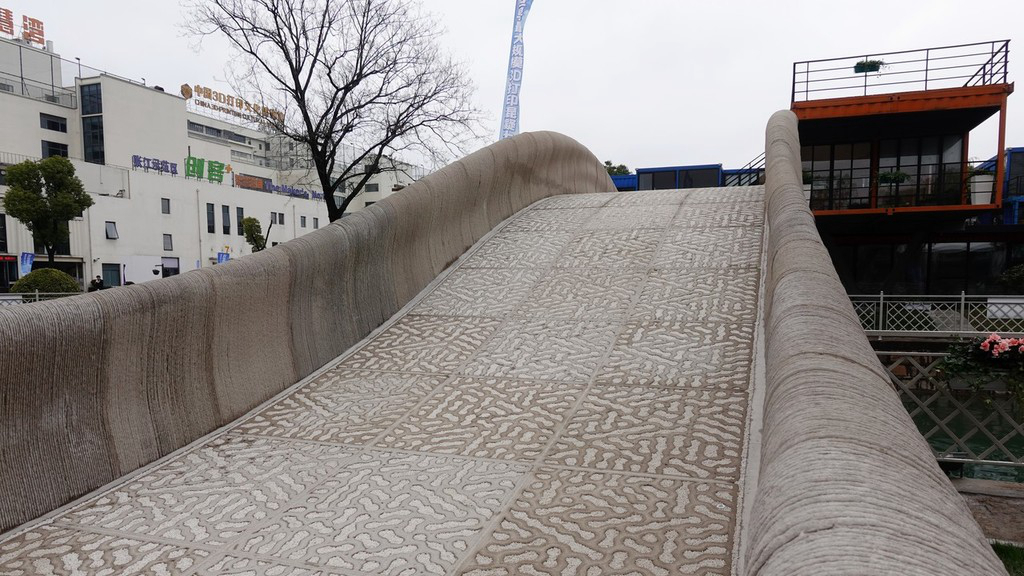 The model conformed the original design to a set of structural constraints, segmented it based on printing specifications developed by TU Eindhoven, and generated an optimized internal geometry for the bridge.
"I found it especially important to show where we stand with 3D printing technology," said van der Kley. "The design is inspired by a shape that arises in nature because it has to absorb a certain force in the most efficient way, and now translated into a digital process.
"With this shape we have made 3D printing of concrete objects more interesting again."
3D printing the structural concrete components of the bridge. Photo via Municipality of Nijmegen/Michiel van der Kley.
Demonstrating sustainable construction techniques
The overriding aim of the project was to showcase the design and sustainability benefits of utilizing concrete 3D printing methods to produce not only bridges, but also houses and other buildings.
3D printed bridges can be constructed much faster than those built via conventional methods, and also require less concrete. It is these factors, according to the project partners, that makes concrete 3D printing technology an attractive technique for future construction projects in terms of sustainability and freedom of design. 
"The printing of concrete has enormous growth potential," said Theo Salet, Professor of Concrete Structures at TU Eindhoven. "We use less raw materials and can drastically increase the construction speed. In the future, we want to make concrete more sustainable and also reuse it. There is much more to achieve. I am also proud that the knowledge developed has found its way to the industry so quickly."
Once the design of the bridge had been finalized, construction got underway at Weber Beamix's concrete printing factory in Eindhoven. The bridge was printed using BAM's concrete 3D printing technology, and was then assembled piece by piece on-site.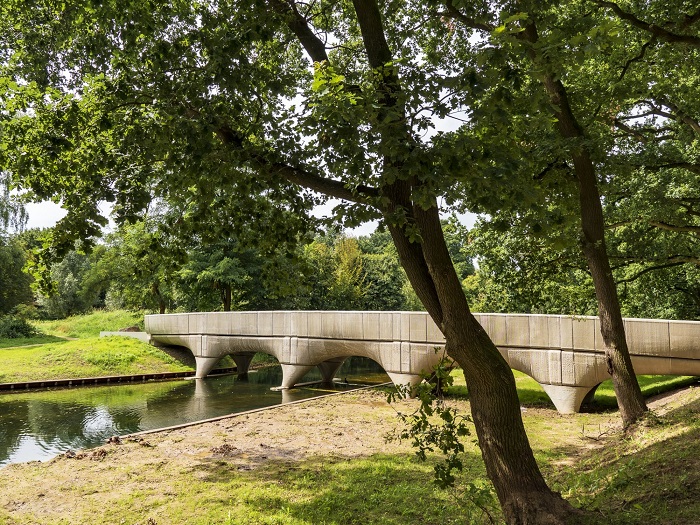 The bridge spans a total of 29 meters, reportedly taking the title of the world's longest 3D printed concrete pedestrian bridge. The bridge was officially opened yesterday, 8th September.
"This 3D production technique delivers savings of up to 50 percent in materials, because the printer only deposits concrete where it is needed for structural strength," added Bas Huysmans, CEO of Saint Gobain Weber Benelux. "3D technology is maturing and is becoming a serious option for faster, more sustainable and cheaper construction of, for example, bicycle and pedestrian bridges."
Assembling the 3D printed concrete bridge. Photo via Municipality of Nijmegen/Michiel van der Kley.
3D printed bridge construction
Compared to conventional construction, concrete 3D printing yields substantial cost and lead time benefits, thus the technology is increasingly being used to build structures such as bridges, viaducts, and even commercial buildings. 
As such, the technology has recently been deployed for several bridge building initiatives.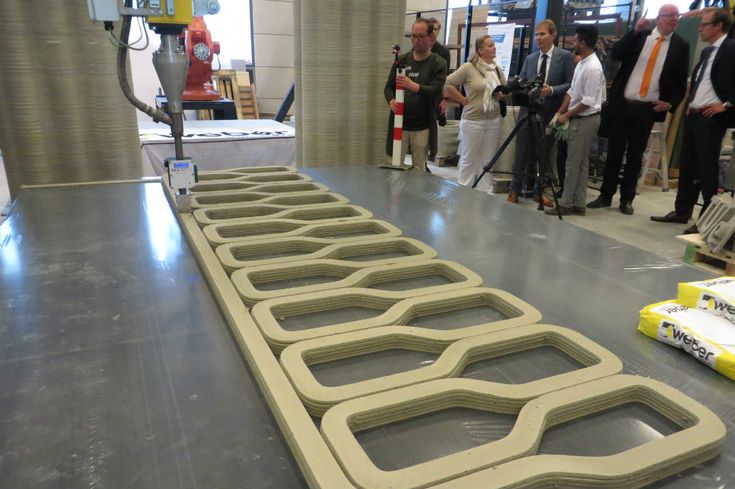 One such project is being carried out by a consortium that includes building materials specialist LafargeHolcim and large-scale 3D printing firm XtreeE. The consortium has been tasked with designing and building a 40-meter pedestrian footbridge made from 3D printed structural concrete in Paris, in preparation for the 2024 Olympic Games.
More recently, ETH Zurich's Block Research Group successfully 3D printed a concrete footbridge that required no steel or mortar reinforcement. Using significantly less concrete, the bridge was built by leveraging robotic 3D concrete printing to directly print the structural blocks.
The 29-meter 3D printed bridge. Photo via Municipality of Nijmegen/Michiel van der Kley.
Subscribe to the 3D Printing Industry newsletter for the latest news in additive manufacturing. You can also stay connected by following us on Twitter and liking us on Facebook.
Looking for a career in additive manufacturing? Visit 3D Printing Jobs for a selection of roles in the industry.
Subscribe to our YouTube channel for the latest 3D printing video shorts, reviews and webinar replays.
Featured image shows the "world's longest" 3D printed concrete bridge in Nijmegen. Photo via Municipality of Nijmegen/Michiel van der Kley.
Tags Alderman Bert Velthuis BAM Bas Huysmans ETH Zurich ETH Zurich Block Research Group LafargeHolcim Michiel van der Kley Rijkswaterstaat Theo Salet Tsinghua University TU Eindhoven Weber Beamix Witteveen+Bos XtreeE
Hayley Everett
Hayley is a Technology Journalist for 3DPI and has a background in B2B publications spanning manufacturing, tools and cycling. Writing news and features, she holds a keen interest in emerging technologies which are impacting the world we live in.
The Future of 3D Printed Bridges and Construction
In a decade, 3D printing has already innovated several industries, from medical implants to engineering, to aviation. The technology is achieving the unthinkable in construction, from 3D printing a house in under 24 hours to creating a prosthetic hand.
After developments in other industries, 3D printed bridges are next.
The 3D printing buzz continues to gain steam as more industries learn the benefits of the technology. The industry is projected to grow to $35.6 billion by 2024. Much of the 3D printing industry's boom is in construction. Although the industry is growing, it's a slow process to begin large-scale constructions.
While 3D printing isn't used in every day bridge-building, it has future potential. Opportunities for 3D printed bridges will continue to grow as the industry expands.
The First 3D Printed Bridges
Throughout the world, big steps in 3D bridge printing have changed the industry within the last five years. These designs are using fewer materials to reduce environmental impact. Surely these earliest 3D printed bridges will continue to inspire future development as the 3D printing industry grows.
The Netherlands' 3D Printed Bridges
The first-ever 3D-printed bridge was installed in the Netherlands in 2018. Eindhoven University of Technology designed the 26-foot bridge, which integrated concrete with steel wires and took three months to construct.
"The steel cable is the equivalent of the reinforcement mesh used in conventional concrete," the University's statement said. "It handles the tensile stress because concrete cannot deal with tensile stress adequately."
In a country known for using cycling as a mode of transportation, the bridge serves cyclists primarily.
In Amsterdam, MX3D led by The Alan Turing Institute developed the world's first 3D-printed steel bridge. Pedestrians and cyclists will use the bridge to cross the Oudezijds Achterburgwal canal in central Amsterdam.
The bridge is the largest 3D printed metal structure in the world, tested and completed in October of 2018. The bridge also collects data on the structure's strain, displacement, and vibration as it's in use. These factors, combined with temperature and environment, can indicate the bridge's health and monitor when it may need further inspection.
As a first in engineering, the completion of the multi-disciplinary bridge took years. But the approach has a future in the construction and management of bridges. Notably, the goal for MX3D is to expand the applications of multi-axis 3D printing. Thus, 3D printing has a chance to re-engineer bridge building in the future.
China's 3D Printed Bridges
In 2019, a group of architects installed the world's longest 3D printed bridge. The team from the Tsinghua University School of Architecture in Beijing built the 86-foot-long bridge and installed it in Shanghai.
The team produced the bridge in 450 hours using two robotic arms. Even with robots, the University said it was a third of the cost of a standard bridge of equal size. It uses similar systems to the Amsterdam bridge to track stress and strain, so its condition can be monitored.
Although it is the longest, the bridge is not entirely 3D printed, as the structure underneath the concrete is metal. Another 15-meter 3D printed bridge was installed in January of 2019 in Shanghai as well with a similar purpose.
The U.S. Marines' 3D Printed Bridges
The U.S. Marines are 3D printing functional concrete footbridges to reduce work time. The 3D printing started in January of 2019 with efforts from the 1st Marine Logistics Group in California.
They combined gravel and other heavy materials to reduce work from what would be six people to eventually just one.
Subsequently, the Marine Corps plans to expand these 3D printing strategies with its investments in 3D printers. In contrast to the previous bridges, these types of concrete structures don't need to last as long, and can quickly create a temporary shelter.
Benefits of 3D printed Construction
With tight schedules and budgets, construction companies are always looking for new ways to reach their objective. Though large-scale projects cannot be fully dependent on 3D printing, the technology offers several potential improvements to the construction sector to increase efficiency.
There are several benefits, but certainly, the industry will face challenges in its growth as well. While 3D printed bridges are still relatively new, the benefits of construction have been clear. Here are just a few.
Reduce Waste
Waste from construction is running rampant, with more than 1 billion tons of waste each year.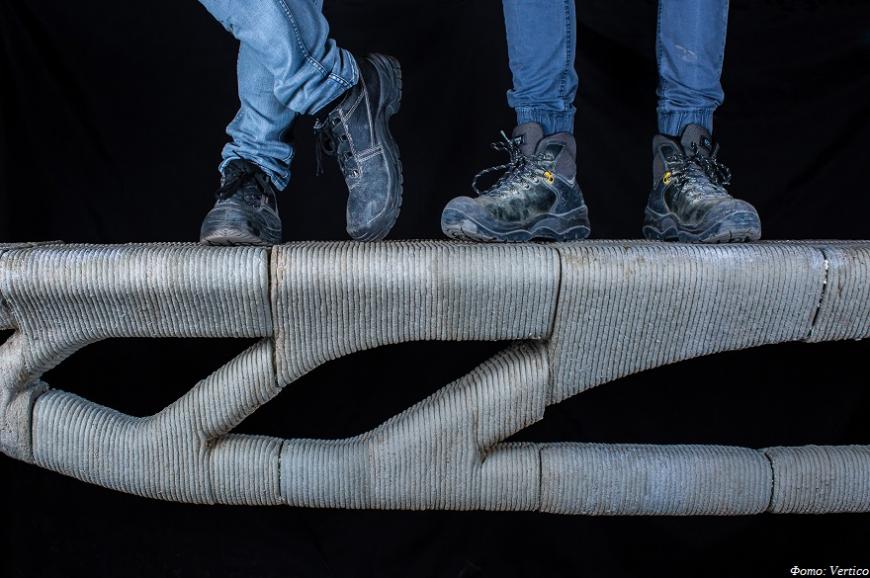 In fact, it's estimated to double by 2025. And it's only going to get worse. 3D printing is a layer by layer process. Thus, the material that is used is what is necessary to create a structure. This can create a near-zero waste in building new bridges.
Custom Design
Teams of engineers and architects can create designs that may not otherwise be possible in construction. 3D printing makes designs truly indistinguishable and unique. In addition, 3D printing allows for more innovation in the design of commercial construction.
Quicker Construction
The quickness of these machines in building homes should be an indication of what they can do with bridges. For instance, machines have built simple shelters in a matter of hours. In the case of bridges, technology could take more time, but it will be faster and more accurate without human error.
Risk Reduction
With construction done by printing machines, health and safety risks can be reduced. To put it another way, an adaption of 3D printing could absolutely lead to lives being saved.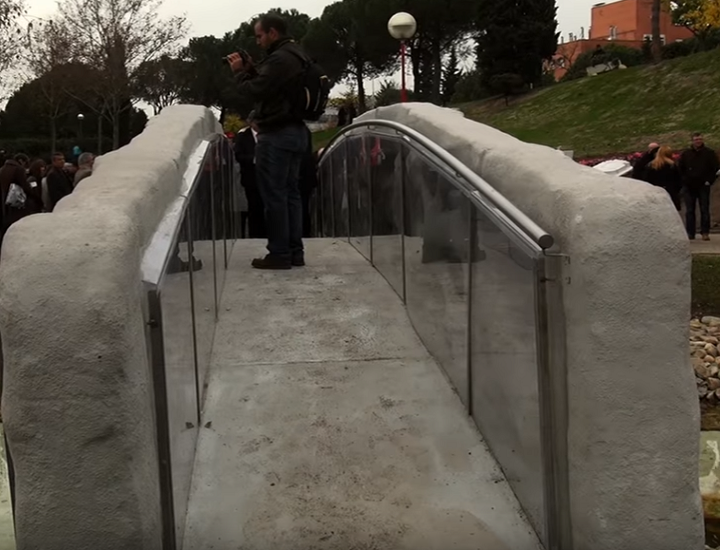 Build your Bridge with U.S. Bridge
Although 3D bridge printing may not be here yet, U.S. Bridge has several solutions for you.
U.S. Bridge focuses on strengthening infrastructure and bridge repair to connect communities. Our bridges are long-lasting and safe, making transportation possible for people everywhere. Our bridge engineers meet the safety needs and design requirements to ensure durable quality prefabricated bridges. Get a quote online or visit our website for more information from our bridge experts.
Record-breaking 3D printed concrete bridge erected in Shanghai
News
Shanghai has the largest 3D printed bridge to date. The design of the building is inspired by the historic Anji Bridge, the oldest surviving bridge in China.
The fourteen-meter construction very, very approximately repeats the appearance of the historical 1400-year-old bridge in Hebei province, called the "Anji Bridge" or "Big Stone Bridge" [ not to be confused with the bridge of the same name across the Moscow River - approx.
ed. ]. The modern version has dispensed with masonry in favor of steel, concrete and additive manufacturing.
As you can see in the illustration below, the problem with reinforcement was solved very simply: 3D-printed elements play a rather decorative role and rely on a steel arch that acts as a supporting structure. The structure is 14.1 meters long and 4 meters wide, making it the longest 3D printed concrete bridge in the world.
Examples of similar structures already exist: in October last year, Dutch builders completed work on a pedestrian and bicycle bridge, in principle capable of supporting the weight of a truck and connecting the suburb of Gemert with the ring road. The project was carried out by the Technical University of Eindhoven with the support of the construction company Royal BAM Group. But this eight-meter design was not the first.
The championship belongs to the Institute of Modern Architecture of Catalonia, which in December 2016 built a crossing over the canal in Alcobendas, a suburb of Madrid.
Both the Spanish and the Dutch bridge also consist of separate 3D printed blocks assembled into a single structure, but with built-in tie cables.
It was not possible to find out exactly who was responsible for the production of 3D-printed blocks of the new bridge, but it can be assumed that the well-known company WinSun, which managed to mark a number of demonstration projects using building additive technologies, completed the contract.
Meanwhile, local construction company Shanghai Construction Group is teaming up with 3D printing material manufacturer Polymaker and large-format additive systems developer Coin Robotics to decorate the city with its own record-breaking fifteen-meter-long plastic bridge, the world's largest plastic bridge.
Acrylonitrile-styrene-acrylate structure with fiberglass reinforcement has already been printed and will soon be installed in the Taopu Smart City technology park during the renovation of Shanghai's Putuo district.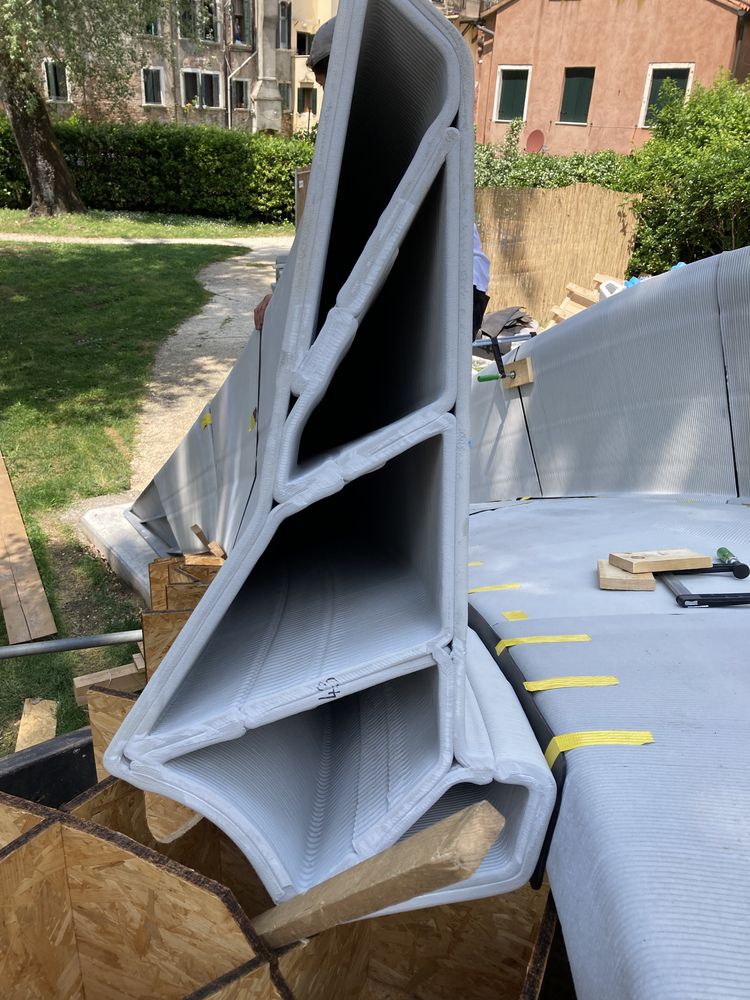 Do you have interesting news? Share your developments with us, and we will tell the whole world about them! We are waiting for your ideas at [email protected]
Subscribe to the author
Subscribe
Don't want
5
More interesting articles
6
Subscribe to the author
Subscribe
Don't want
Scientists from the Ural Federal University and the Ural Branch of the Russian Academy of Sciences determine...
Read more
5
Subscribe author
Subscribe
Don't want
REC offers a set of 1.8 mm filaments, primarily for 3D printer operators...
Read more
82
Subscribe to the author
Subscribe
Don't want
Collaboration 3D
We are pleased to present you our joint development with Speci.
..
Read more
Zaha Hadid Architects creates a 3D printed unreinforced concrete bridge at the Venice Architecture Biennale standing and assembled without mortar.
Named Striatus, the 16 meter long bridge was built by Zaha Hadid Architects' calculation and design team, known as ZHACODE, in collaboration with the Block Research Group (BRG) of the Swiss University ETH Zurich. It was built from 53 hollow blocks, each printed with 500 layers of printed concrete.
Above: 3D printed bridge. Above: It was collected at the Venice Architecture Biennale.
The structure is an unreinforced arch bridge that uses compression and gravity to maintain its shape. The studios arranged 3D-printed wedge-shaped elements known as voussoirs into arches and vaults.
The bridge has a double curvature deck with stepped entrances at both ends of the bridge leading up the structure from its abutments.
The bridge has several entry points.
"The intention was to meet the challenges facing the architecture, engineering and construction industry by demonstrating a responsible design approach using one of the most widely used and durable materials - concrete" - Shajay Bhoshan, co-founder of ZHACODE and co-director BRG Philip Blok said Dezin.
"To do this, we rely on one of his most ancient wisdoms - stone construction and improve it with the help of calculations."
Printed Blocks Transfer Load to Supports
The studio turned to historic stone vaults to communicate their design by positioning the printed parts in such a way that the load on the structure is distributed across its foundation without the need for internal auxiliary support such as post-tension cables .
No glue or adhesives were used during construction, instead neoprene spacers were placed between each of the printed blocks during assembly to control friction levels and stress concentration. External bracing was added to the bridge to absorb axial stress.
The bridge is exhibited at the Venice Biennale of Architecture.
"The individual blocks of the funicular structure are only held together by gravity in compression, so all blocks remain compressed together with the individual layers of printing, using the same principles as Gothic cathedrals or structures such as the Armadillo Vault," said Bhoshan and Block.
"Striatus could literally stand happily for centuries, like historic masonry, because the forces are transferred in a natural way for concrete, only through compression and with very low stresses, that is, without demanding much from the material."
Unlike typical 3D printing methods that use horizontal layer extrusion methods, the bridge used a single six-axis robotic arm to print heterogeneous and non-parallel layers on 53 blocks.
Each of the 53 blocks took 84 hours to print and 35 days to complete, including foundation pouring, assembly, stairs and decking.
The bridge has a wooden deck.
By creating 3D printed hollow blocks, the structure aims to reduce the typical use and consumption of materials. While its voussoir-style construction and lack of internal structural reinforcement means the bridge is easy to dismantle and reuse.
The bridge was installed at the Giardini della Marinaressa at the Venice Architecture Biennale as an opportunity to showcase the possibilities of unreinforced concrete and computational design.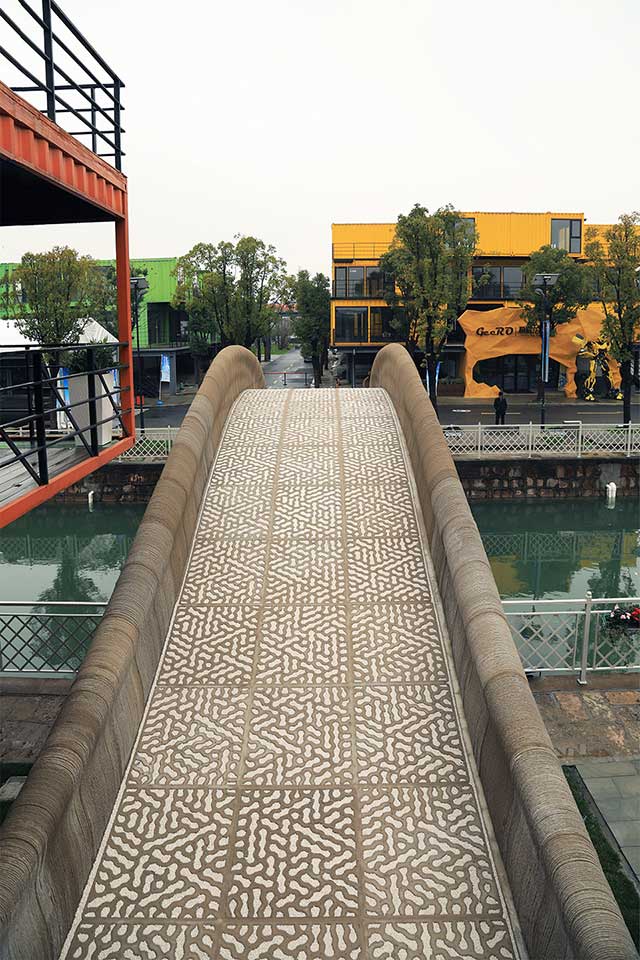 Each block was printed with over 500 layers of concrete.
"We wanted to demonstrate that 3D printed concrete elements can be used directly as structural components when designed as an unreinforced masonry system," said Bhoshan and Block.
"Not only for simple vertical structures such as a wall or a moderately curved structure, but also for more complex space-spanning structures."
The printed layers form a ribbed texture
Although the structure was made of concrete, Bhoshan and Block explained that they hope materials such as low carbon concrete or earthen concrete can be developed for such printing methods.
"The challenge now for materials scientists is to make [low-embodied-carbon concrete] 3D printing," Bhoshan and Block explained.
"These materials and manufacturing improvements are being actively developed and point to positive prospects for improving the benefits of the 3D concrete masonry demonstrated in Striatus."
It took 84 hours to print the bridge.