3D printed ball bearings
3D Printed Ball Bearing Services
Are you looking for a reliable source to get your 3D printed ball bearings that perform better in the machines?
Well, no need to search more for these services! DEK can be your right hand in providing the highest quality of 3D printed ball bearings with an extended lifespan.
21+ Years
Manufacturing experience
72M+ Parts
We had finished
2300+ Clients
Over the world
99.9%
Satisfaction
Get Reliable 3D Printed Ball Bearing Services
All our manufacturing techniques and professionals perform their best to produce reliable 3D printed ball bearings.
We think more like users than suppliers or manufacturers. That is why all our customers are delighted with our services around the orb.
Contact service providers for details.
Top-notch 3D Printed Ball Bearing Services
Forget the days when you have to put your thoughts and vision into the designing of ball bearings! We are going to help you best in it.
DEK is now setting records among the Chinese manufacturers and suppliers by providing top-notch 3D printed ball bearing services to facilitate you more.
Don't Forget to Look Out Our Fast and Accurate 3D Printing Techniques
SLA 3D Printing
This printing technology can be defined as the additive manufacturing process that is related to Photopolymerization. This process mainly comprises of hardening resin plastic to generate the high-quality 3D printed products. In addition to this, many industries use this method to generate prototypes, patterns and production parts of different tools.
SLS 3D Printing
Unlike the other 3D printing processes, SLS can be defined as a unique printing process that integrates the use of a high-powered laser for sintering small particles.
Many manufacturers adopt SLS printing technology to create versatile bearings with high productivity and demand the finished item's accuracy.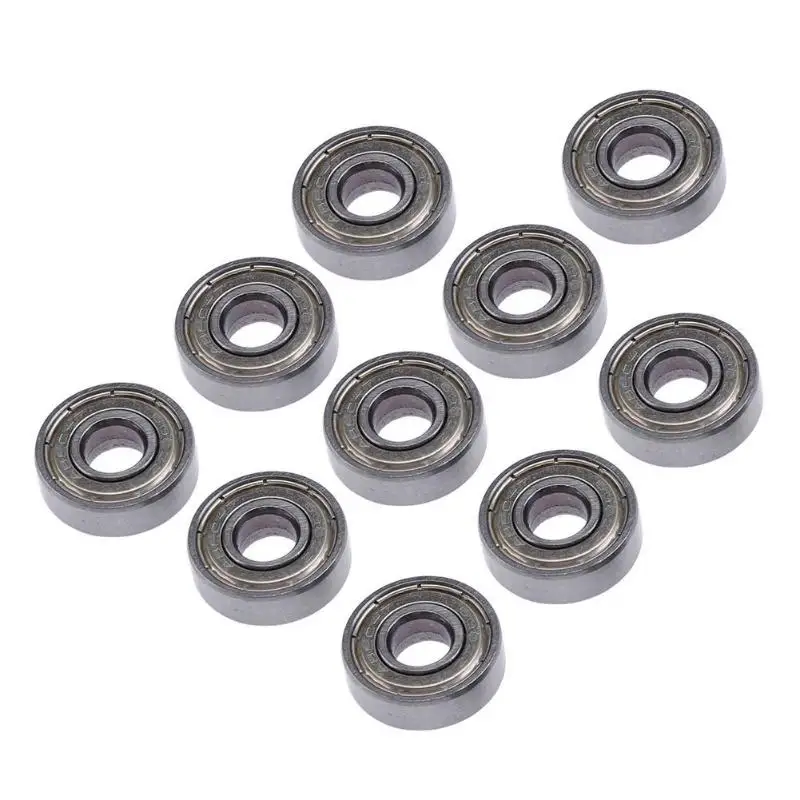 MJF 3D Printing
It is considered one of the most modern yet most active printing processes used to produce the highest quality of operational ball bearings.
In addition to this, nylon prototypes and complex tools can easily be 3D printed by MJF without saving time, money, and energy.
DLP 3D Printing
It is included in the list of digital printing methods where a digital light projector is used as a constant light source. This light can be used for curing photo-reactive polymers.
DEK provides this printing technique for ball bearings since it costs low to manufacture complex objects.
FDM 3D Printing
With the help of particular printers, Fused Deposition Modeling corresponds with the reliable production of operational ball bearings. The printer used in this printing technology, a filament, is pushed in the hot extruder. In short, the overall process yields quality products.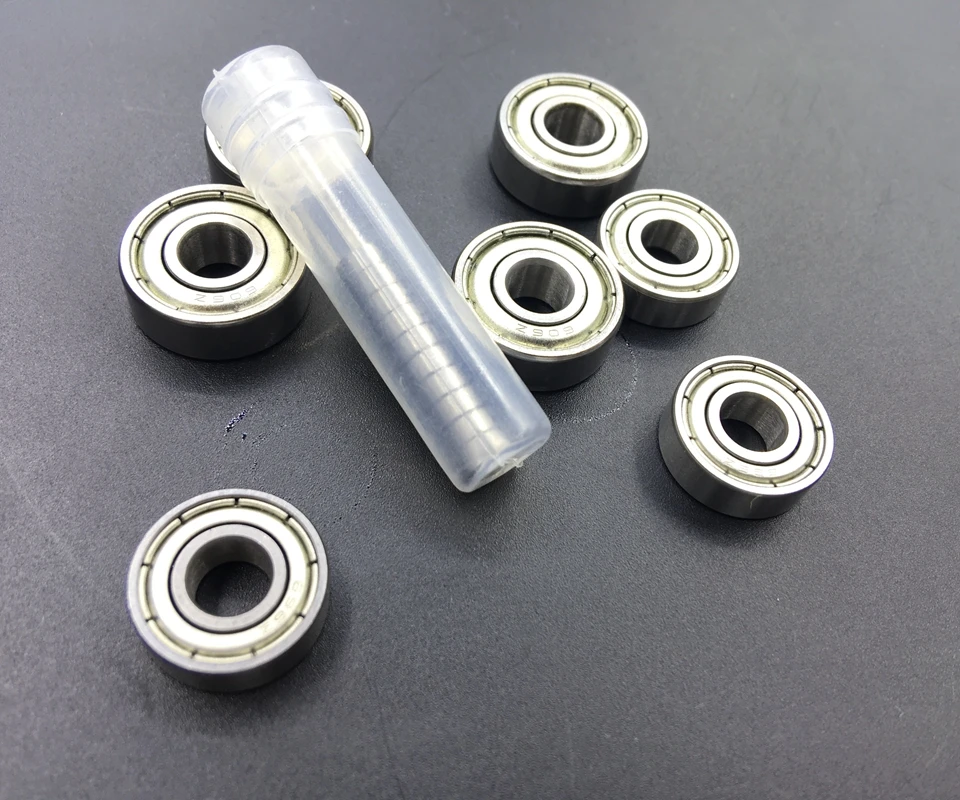 Polyjet 3D Printing
An inkjet printer is integrated into the Polyjet 3D printing technology to create the ball that bears versatile designs and shapes.
The drops of the ink from the inkjet are solidified with the help of UV light. All the printing layers are accumulated on the build tray for completing the printing processes.
SLM 3D Printing
Selective Laser Melting is used for printing specialized objects such as 3D ball bearings and other mechanical tools.
In this method, a high power-density laser fuses the metallic powders, creating a clear print on the ball bearings.
Recent projects we finished
Before you, we have successfully manufactured 72M+ different parts.
Why choose us?
Working with market leaders in the On-demand manufacturing industry, without the busyness and risk.
High Precision
Precision and accuracy come as our first and foremost priorities.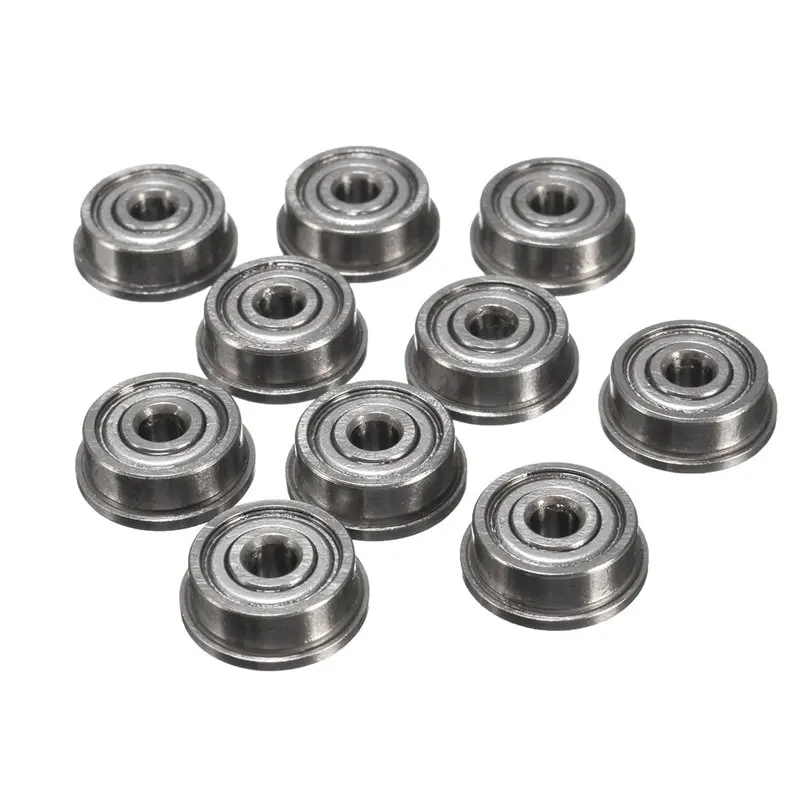 We don't let our customers suffer from the low quality of the printed products.
Excellent Quality
The use of reliable raw materials and machinery in 3D-printed ball bearings ensures the prolonged lasting activity of the produced items.
Low Cost
All our demanded services are available at reasonable prices. When you contact DEK, you don't have to look further to get your hands on the 3D printed ball bearings.
Quick Turnaround Time
DEK is famous all around the world for providing a better turnaround time when it comes to the shipping of printing products. You'll get your order on time!
Business Partnership
You'll find us more like your business partner than the printing supplier or manufacturer. We aim to aid our customers in creating their business in the most well-defined ways.
24x7 Services
All our services are available on all days of the week without any break. Don't worry about the time of the day when it comes to contacting us.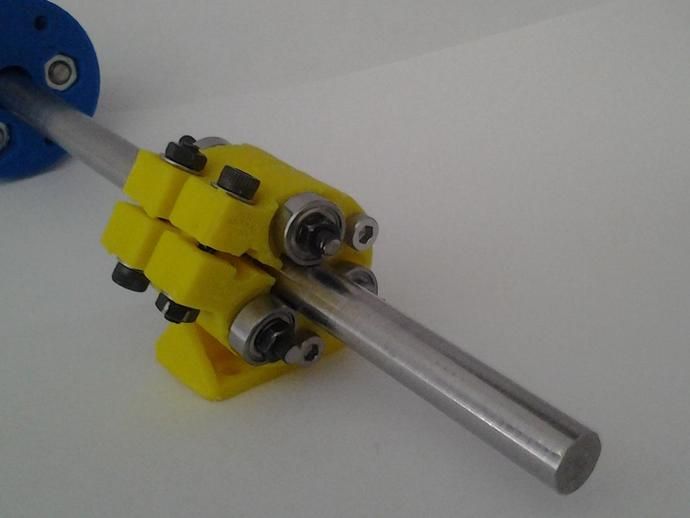 Quality is our top priority
"QUALITY COMES NOT FROM INSPECTION, BUT FROM IMPROVEMENT OF THE PRODUCTION PROCESS."

-DR. W. EDWARDS DEMING
To DEK, Dr. Deming's textbook remark is not a theory, but a practice we have been conducting every day. We use advanced production technologies and strict control systems to ensure high quality. More importantly, the quality-oriented attitude has been so entrenched in the mind of every single employee.
We never stop improving
"We use advanced 3D printing technologies and strict control systems to ensure high quality. More importantly, the quality-oriented attitude has been so entrenched in the mind of every single employee." ​

-Austin, GM of DEK
In DEK, we never stop improving the quality of our product. This is how we differentiate ourselves from the competition and is also why we can remain on top of the game for so many years.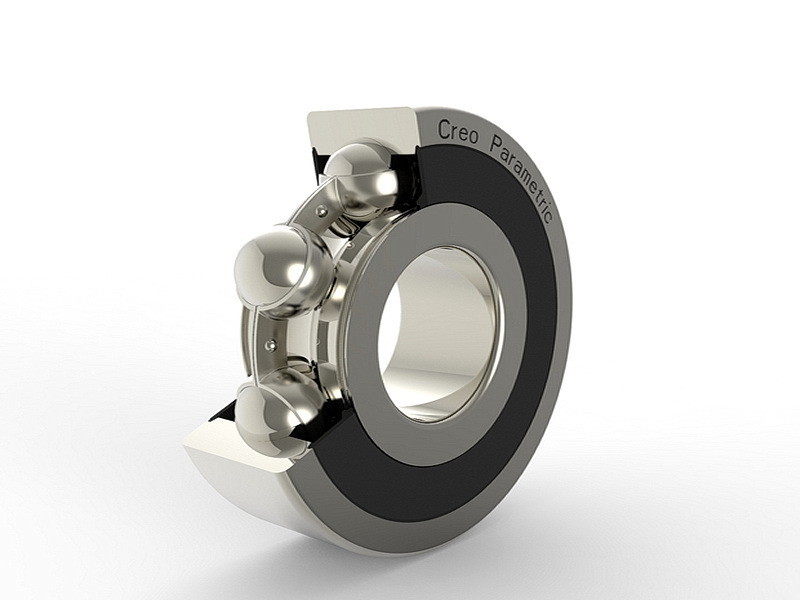 Will you optimize the design?
Yes, we will analyze your 3D files and make recommendations suitable for 3D printing.
Do you provide surface finishing services?
Yes, we can perform surface finishes such as sanding, polishing, and coloring on the 3D printed parts.
Do you provide parts assembly services?
Yes, after printing the parts, if necessary, we can assemble them.
How long does it take to print?
Generally within 1-3 days, depending on your requirements, such as quantity, material, surface finishing, etc.
How to pack?
The product will be wrapped with foam cotton to avoid bumps, and then placed in a reinforced 5-layer corrugated box.
How to transport to our company?
For small-sized goods, we will deliver them directly to you via DHL, FedEx, UPS, TNT.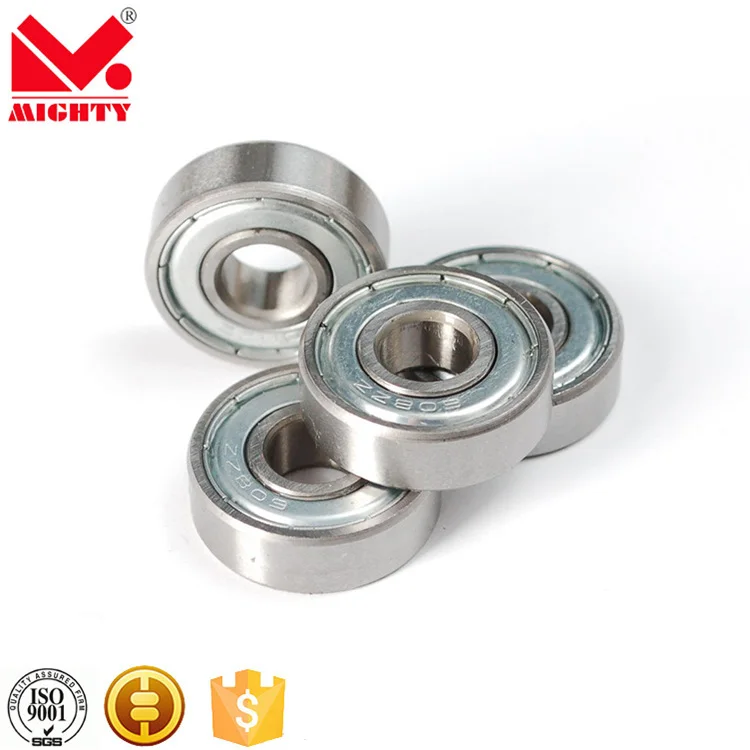 It usually takes 3-7 days.
It's our honor to be their best partner
I was looking for a Chinese supplier who could aid me in the timely production of leading 3D printed ball bearings. And then I came into contact with DEK. All their professionals are highly friendly to solve all my concerns regarding the quality and durability.
William L.
All my tensions related to the production of excellent printing services for my company got resolved when I contacted DEK for their services. I'll surely recommend you to try them out! I was lucky enough to get all my needs fulfilled within my budget.
Benjamin A.
Bearings for 3D Printers - 3DJake International
Sort by
RelevanceBestsellersCustomer ReviewsPrice, Low to HighPrice, High to LowNew arrivalsHighest Discount
E3D Ball Bearings 5 Model types

With metal cover
Many uses

BROZZL Linear Bearings LM6UU - LM12LUU

High precision
Long life span
Easy exchange

Creality Roller with Bearing

Original spare part
For all CR-10 models

E3D Linear Ball Bearings (Set of 2)

Good quality
Good price
Suitable for linear shafts

BROZZL V-​Slot Guide Wheel Including Bearings

Outstanding rigidity
Wear-resistant
For high loads

E3D Titan Bearings

Stainless
Stable and robust
Good quality

BondTech Needle Roller Bearings

High precision
For shaft diameters of 3 mm
Two bearings per drive wheel required

Artillery Wheel Bearing

BIQU Roller Wheel Bearings

Original spare part
From BIQU

Voxelab Roller with Bearing
All prices incl.
VAT.
Site map
Site map
Main page-Personal pages-Dmitry Konovalov
SCIENCE

Topics
Seminars
Publications
Highlights
Conferences

Upcoming conferences only
All conferences (+ past)

Partners
Scientific schools

Scientific school "Ion-beam and pulse-energy modification of materials"
Scientific School "Chemical Physics"
Scientific School "Coherent and Quantum Optics"

EDUCATION

Research and Education Center

Regulations on REC
Composition and structure of REC
Education
Activities
Links and contact information

Postgraduate

Students
Schedule
Educational programs
Information resources

Basic chairs
Personal scholarships
EPR - electronic lesson

ACHIEVEMENTS

Highlights
Developments

Magnetic resonance imaging

Our customers
Main technical parameters and characteristics of tomographs
Operational characteristics of tomographs KFTI
Detectable pathologies
MRI images
Feedback on the use of our
tomographs

Patents
Awards and prizes

INSTITUTE

Name
Structure of the institute
Manual
Councils

Academic Council

Meetings of the Academic Council

Dissertation Council

Recommendations for dissertators
News and announcements
Video archive
Theses (archive)

Council of young scientists

Trade Union
Awards and prizes
Contacts
Regulations on KPTI OSB FRC KazSC RAS ​​
Requisites
Results of a special assessment of working conditions

English page
3D printed bearing design and manufacture
German manufacturer Franke GmbH designs and manufactures wire cage rolling bearings as a lighter alternative to traditional rolling bearing designs ( fig.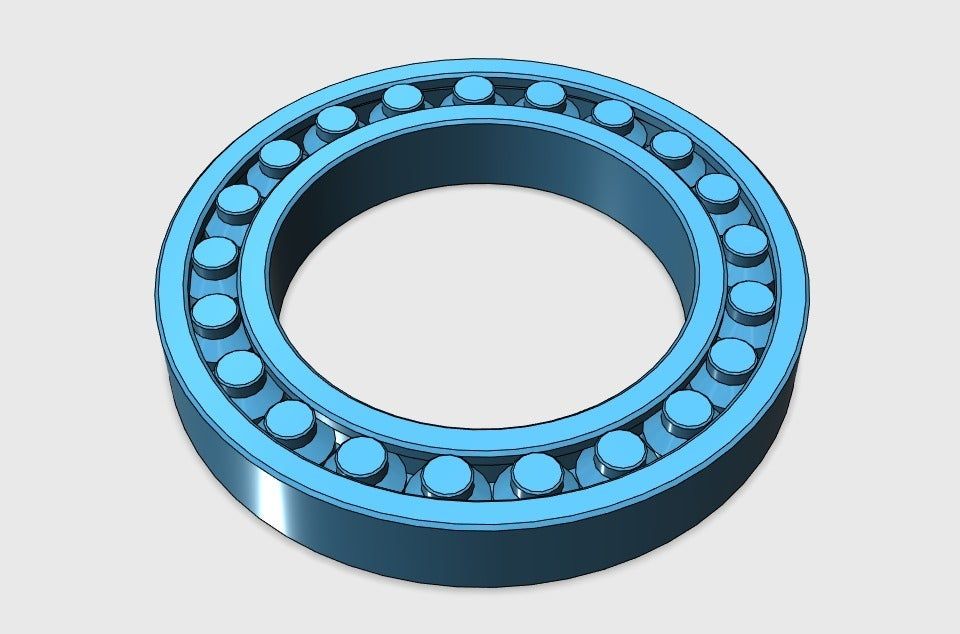 1). The history of this product began in 1936, when engineer Erich Franke, while developing an optical device, was looking for a solution to save space and invented a special rolling bearing. A feature of this type of bearings was its non-standard design: instead of ordinary and outer rings, 4 round guides were used ( fig. 2 ). They formed the basis of the products manufactured by Franke GmbH and today are used in many industries such as
aerospace and medical equipment, as well as for the automation of various processes. Despite the fact that bearings of this design have been thoroughly researched, the specialists of Franke GmbH decided to apply innovative approaches and methods in their design - in particular, topological optimization. This allowed to reduce the weight of the structure.
Fig. 1. Use of wire race bearings for telephony and internet in aircraft
Fig. 2. Image of a bearing from the official Franke product catalog
It is worth noting that Franke GmbH has been using 3D printed aluminum housings for several years now.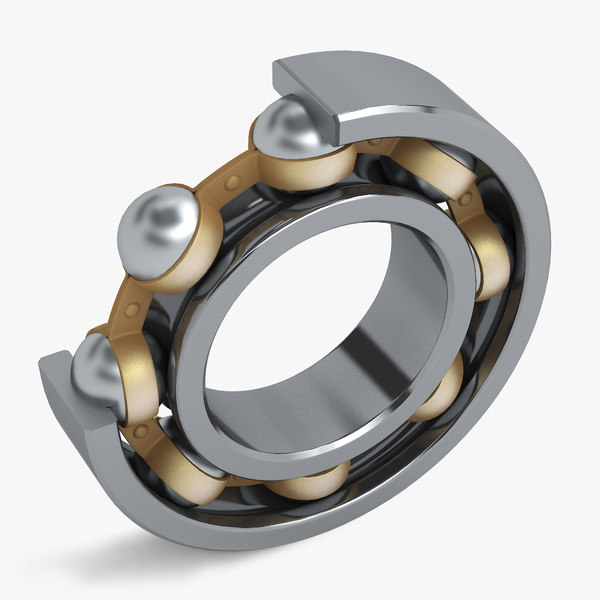 The applied additive manufacturing methods allow saving material without losing the strength characteristics of the product.
Wire cage bearings are used in the installation of satellite dishes and are needed for organizing telephone and Internet communications in aircraft ( fig. 1). These types of antennas are often located in the rear fuselage and must be turned on during flight, staying in line with the satellites to ensure unhindered data transmission. At the same time, the swivel mechanism itself should be as light as possible.
3D printing and modeling
In order to understand the economic impact that modern technologies such as topological optimization and additive manufacturing can achieve, Franke GmbH engaged two partners, Rosswag Engineering, an integrating additive manufacturing and 3D printing, as well as the company CADFEM GmbH, specializing in numerical modeling.
The original bearing provided by Franke GmbH was 25 cm in diameter and contained outer and inner rings.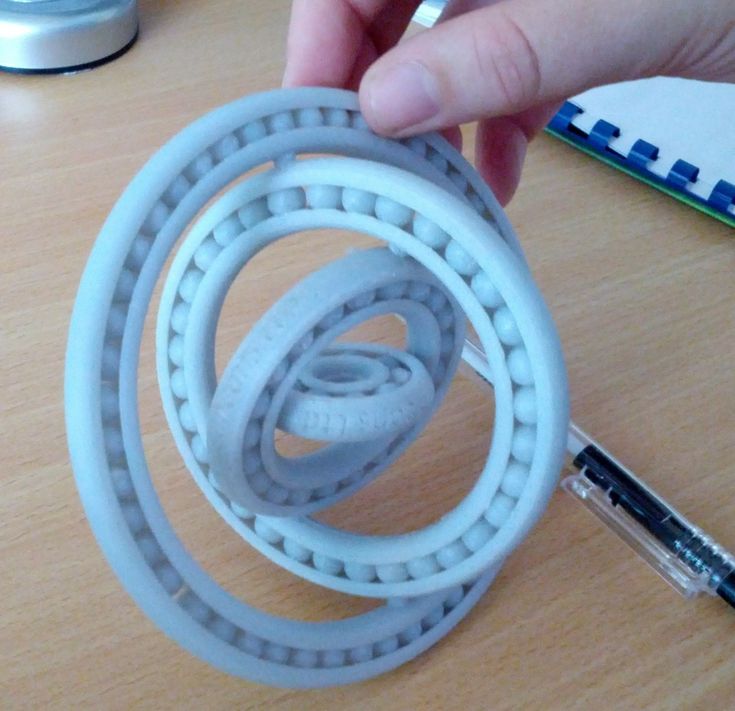 They consisted of two parts, which were made of aluminum, maximally optimized for weight and prepared for CNC machining.
CADFEM GmbH imported the geometry provided by Franke GmbH into a single integrated system for working with the Ansys Workbench design project to use it for preliminary modeling. It allows you to determine how the original bearing works when operating in various modes. The data obtained provided criteria ( fig. 3 ), which experts later compared the original design with the optimized one. After determining all loads and sections without change, topological optimization was started. The Ansys Mechanical solution made it possible to determine insignificant stresses over the entire area of ​​the cage, and the topological optimization tool proposed to completely remove the material in this area ( fig. 4, 5 ).
Fig. 3. Stress-strain state of the clip
Fig.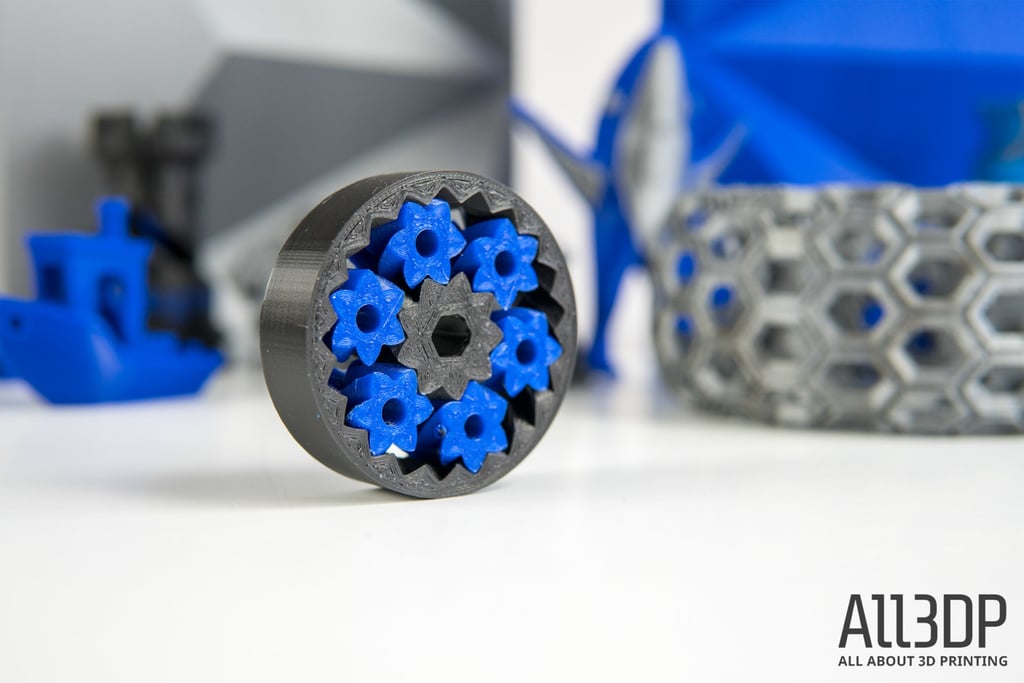 4. Red areas show which material to keep, blue areas to remove
fig. 5. Stage of topological optimization. Remaining material is shown in gray
Fig. 6. Filling the "empty" space with a lattice structure
After that, it was decided to fill the empty space with a lattice structure. Such structures bring additional advantages at a very low weight and maintaining the rigidity of the model ( fig. 6 ). The lattice had minimal dimensions, which made it possible to produce it using 3D printing.
16% weight reduction
Initially, the bearing housing was made in the traditional way and sufficiently optimized. Topological optimization reduced its weight by another 16% using additive manufacturing.
But the simulation itself does not end there. The second important area of ​​application of numerical simulation is the printing process itself ( fig.
7, 8 ). Metal printing uses a significant amount of energy to completely melt the metal powder particles. At the same time, the cooling rate is also quite high. These temperature gradients create strong stresses in the workpiece itself. Supports are required to ensure thermal conductivity during the manufacturing process and to absorb the resulting forces and stresses. Their creation, in turn, increases the printing time and makes subsequent machining a necessary step.
Fig. Fig. 7. The obtained results of modeling the process of 3D printing of the body
8. Simulation of the printing process. Milestones
"We worked on this model with parameters that match exactly the selected material. We've already done calibration tests on projects we've previously done with Rosswag Engineering. Thanks to this data on material properties, we were able to optimize the shape and type of supports, while also taking into account such print parameters as movement speed, laser power and component orientation in space," comment CADFEM GmbH.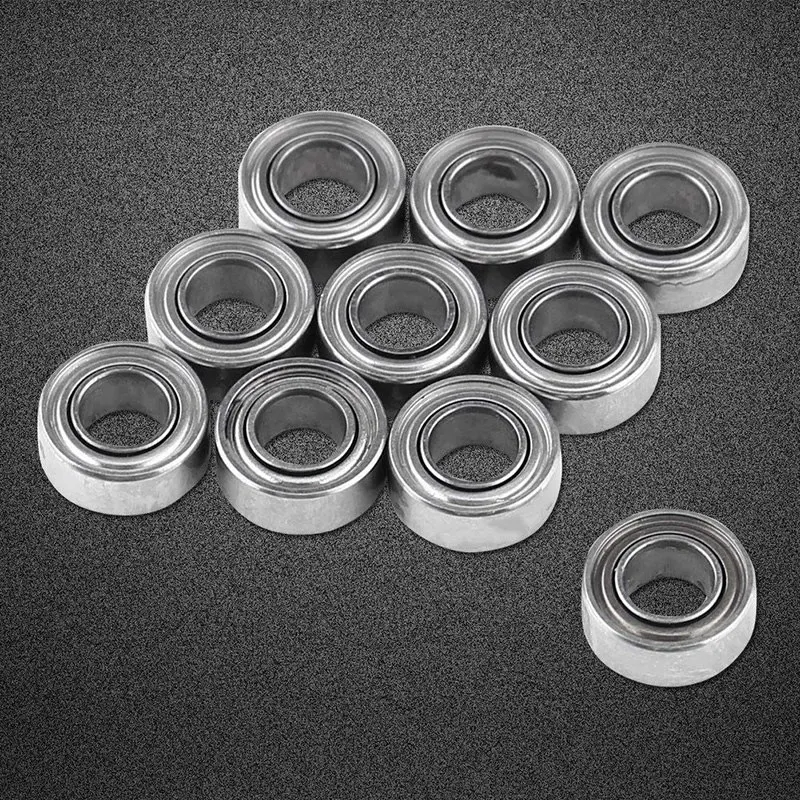 "For the print simulation, the specialists worked closely with Rosswag Engineer-ring," says Franz Öhlert, designer at Franke GmbH. Each of us shared our experience. We have added additional points for post-processing. Material is specifically added to the product at points where post-processing is needed, such as at the location for installing a bearing. We also determined the location of the supports. The whole model was then brought back into CADFEM to simulate the printing process."
In the final step in Ansys Additive Prep, a custom print solution, the engineers created layout files for the SLM Solutions printer that produced all the parts ( fig. 9 ). The finished printed bearing housing was delivered to Franke GmbH for further processing, assembly and assembly with wire rings, rolling elements and a cage.
Fig. 9. Rosswag 3D printers.
Image courtesy of Rosswag
Collaboration between real experts (fig.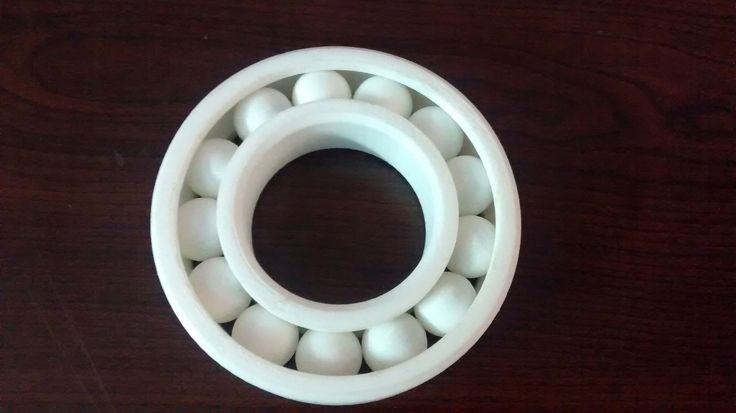 10)
10. Manufactured case.
Photo: Franke Gmbh
Franke GmbH says: "It was a pilot project. We wanted to know how much savings can be achieved through topological optimization and 3D printing. But it was a very interesting collaboration. We have shown that we can control the printing process with Ansys Additive software. Modeling and optimization are so realistic that the process itself runs smoothly. And the 16% weight reduction of an already optimized component also confirms that topological optimization and 3D printing are taking their rightful place in manufacturing.0003
cycle". ■
Author: Denis Kondratyev, Head of Additic Production, Cadfem SI-Ai-ES
Source Additive Technology Journal No. 3-2021
9000
Tags:
Design and manufacture of a bearing using 3D printing, CADFEM CIS, Franke GmbH, wire cage rolling bearings, 3D printer, additive manufacturing methods, Additive Technologies magazine No.