M bot 3d printer
Software | MBot 3D Printer by Magicfirm
MPrint 2.0
Windows 7/10
MPrint 2.1.0
MAC
MPrint 2.0.10
Linux
MPrint
Windows Vista/Win7
MPrint 1.3.0.6
MAC
MPrint 1.2.3.6
User Guide
MPrint User Guide
Windows 7/10
Cura 4.6
MAC
Cura 4.6
User Manual
MBot Grid IV
User Manual English
MBot Grid IVs
Spark 3D Cloud quick start
ReplicatorG
Windows XP/Vista/Win7
MBot3D ReplicatorG Install for Windows
MAC
For Mac
Linux
For Linux
Firmware
Firmware
Sailfish 4.5 / 7.5 Release Notes
MBot3d's Firmware
Firmware updater
AvrdudeTool
USB Driver
Change Log
2019/12/23 MPrint 2.1.0
1. Change print setting panel, fix many bugs in setting;
2. Add Grid 2+, Grid 2+ Dual, Grid 4S, Grid 4 Dual, Grid Pro printers.
3.
And Gcode Preview
4. Fix many bugs.
5. Upgrade slicer engine to latest version.
6. Add software update function.
2018/12/19 MPrint 2.0.10
1. Update new UI
2. Add T480S printer
2018/8/28
1. Add Grid 4 Dual, support dual head Grid 4 printer.
2018/8/23
1. New MPrint 2.0 release
2016/7/18
1. MPrint 1.3.0.6 is upgrade only for Windows OS
2. Added Slic3r Slicer. It only supports a single head
3. All MBot3D printer with motherboard Atmega 2560 able to print from PC via USB connection. MBot Grid II+ and MBot T480 will detecte automatically. Rest of other model need to select manually
4. MBotslicer and Slic3r both will show approximate the filament consumption and printing time
5.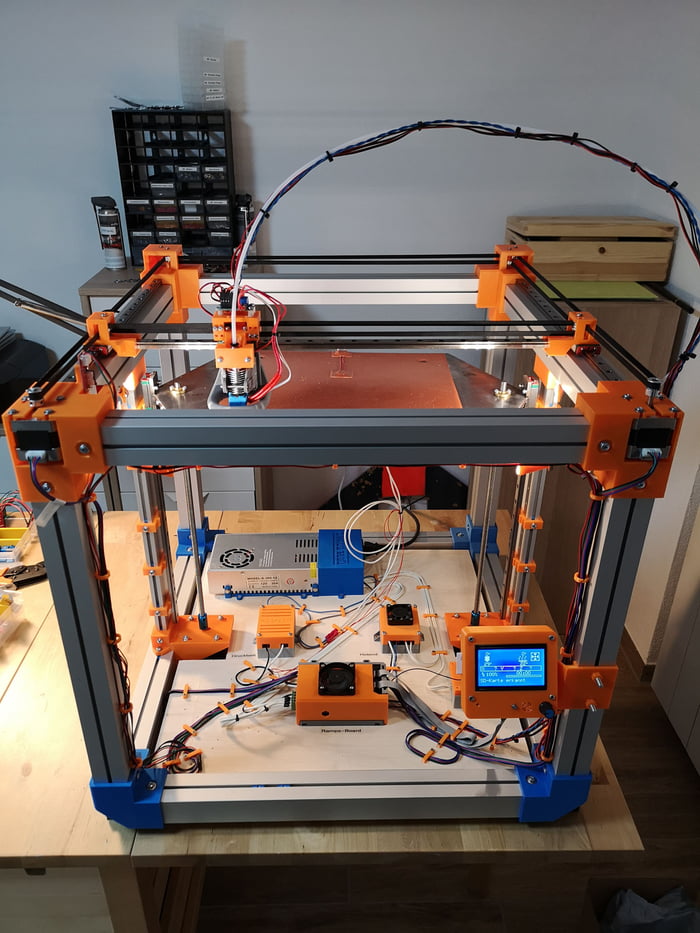 Added calibrate print size function
6. Added model viewing by holding right button on the mouse and move the mouse to view
7. Added cooling fan setting on MBotslicer
8. Creating custom profile bug is fixed
9. Optimize slicing and printing process
2016/3/7
1.MPrint 1.2.6.1 is upgrade only for Windows OS
2.The slicing engine is optimized, speeding up slicing by two times
3.Time estimation of slicing is deleted
4.Parameters of raft printing is optimiazed
2015/12/16
1.Add the new function building plate auto commissioning to MBot Grid II+ SH ex factory after Dec 2015
2.Renamed Grid M to Grid T480, and modified certain parameters
3.Added user manual and user help to software
4.Fixed several bugs
2015/10/29
1.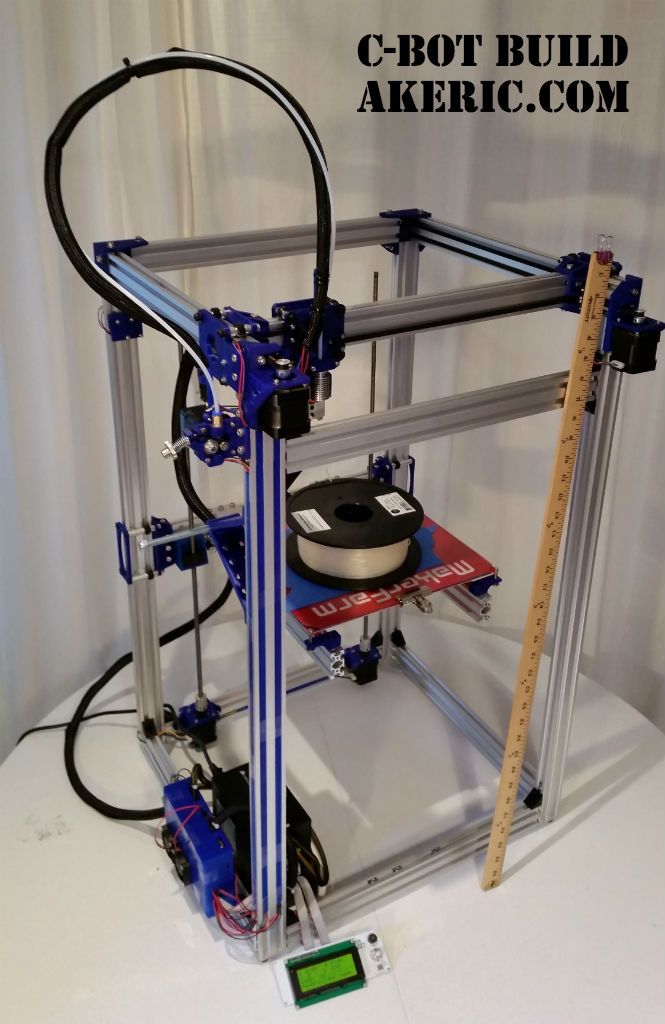 The new version is for Windows
2.Some printing paramaters are adjusted
3.Some bugs are fixed
2015/8/24
1.Fixed bug in maximizing models
2.Cube Dual(17) is available now
3.Models can be scaled at the original aspect-ratio even without "selecting all"
4.Fixed bug in the conflict between "selecting all" and "adding shortcut keys"
5.Fixed bug of immovability of extruder and plate when canceling online printing
6.Added reminder of checking a new version
7.Added machine dynamic configuration and display of the current machine type
8.Added GPX configuration file
9.No support to online printing from Cube and Grid II any more
2015/6/5
1. New function: parameter can be saved.
2. Bug fix: a suspend won't ruin a online-printing .

3. Bug fix: easy change of param-set between single head and double head printing. 
4. New function: Instant alert if the model extend beyond the operation interface.
5. New function: Fracture surface repair for Meshfix Model.
6. New function: printing pause when Z-axis reaches the determined position.  
2015/4/20
1.Software is updated to Mprint1.1.0  
2.Parameter is optimized, including the default parameters of printing temperature and switch of fans in specific printing stages.
3.The exported file generates a default name same as the input name. 
PS: file of a single model is named as stl format, and file of multiple models is named as MultiMesh.x3g or MultiMesh.gcode format.
4.Precision of rotation angle reaches to 0.1degree.
5.Multiple models can be processed simultaneously, including moving, rotating, and scaling the models synchronously.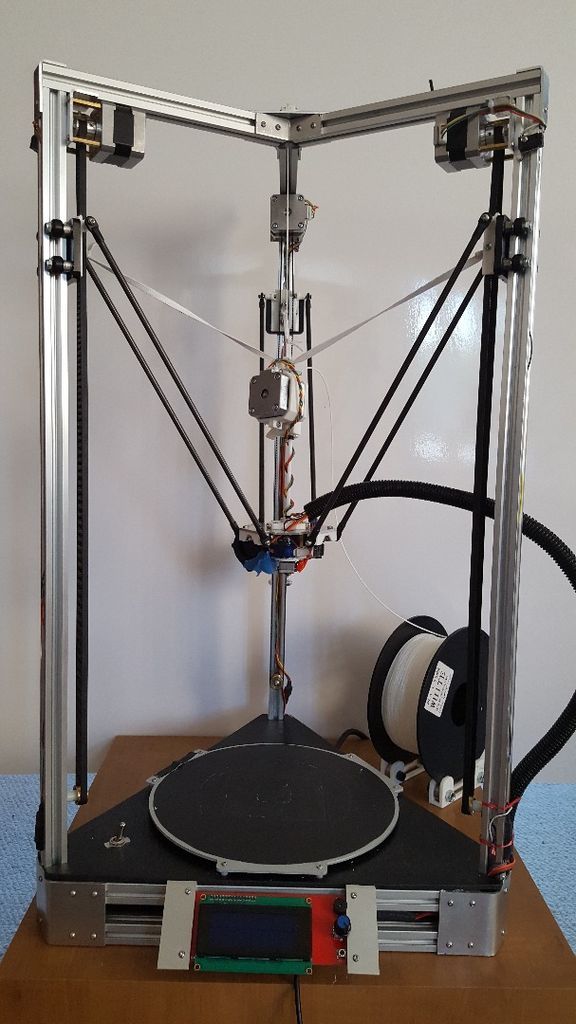 2015/3/24
1.New upgraded software Mprint 1.0.5 is accessible.
2.New functions of Cube series are added.
PS:  Manual operation is needed for selecting Cube Series model here since the hardware don't support automatic identification of Cube series yet.
3.Printing bug of Mbot Mini are fixed.
2015/2/10
1.Updated to MPrint 1.0.4
2.Fix bug:During building,the status bar stops at 99.9% while the print is completed actually.
3.Fix bug:Dialogue pops up below the main window.
4.Translation mistakes are fixed.
5.Support more machine models.
2014/12/5
1.Updated to MPrint 1.0.3 programming with C++.
2.New UI.
3.Automatically recognize connected printers.
Note: Recommend updating to MPrint1.0.3, in order to get better printing experience.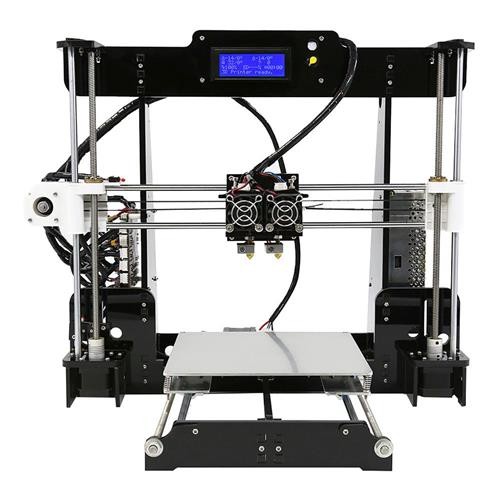 It is in beta test, only the simplified Chinese version available. The connected printers with GRID2 firmware can be recognized, and will suppoort more soon. If it doesn't work, use ReplicatorG to generate GCode.
2014/07/25
1. Fix GCoder generator error in Win32. 
2. Fix Dual printing setting.
2014/07/13
1. Update mg fast gcode generator with a user friendly interface of configure.  
2. New software boot splash image. 
3DPrinter Kit Kit, MBot 3DPrinter Kit | MBot 3D Printer by Magicfirm
Benefits
Specifications
Media
Brochures
[email protected]
Find Assembly And Howto Document From https://github.com/MBot3D/3DPrinterKit
Reliable Print Head
Print head are from Grid and the print quality is very good.

New Designed Build Platform
We design new build platform which can ensure the print quality. At the same time
increase printing success rate avoiding fragile glass plate.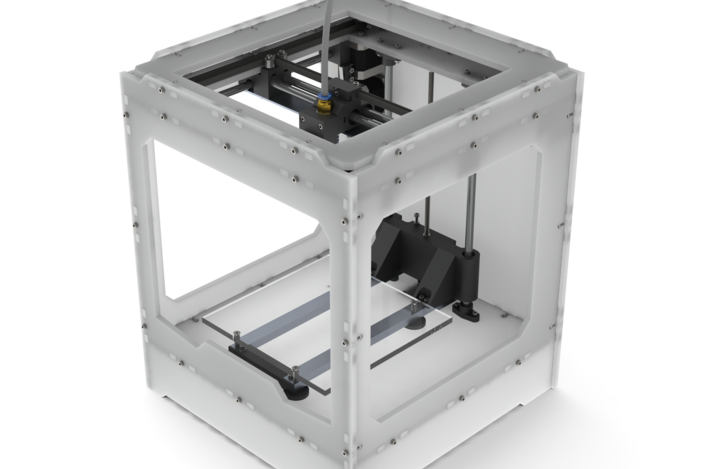 All Needed Tools and Accessories
The 3DPrinter includes all necessary tools and accessories, such as screw keys, SD card,
SD card reader, spatula scraper, pinch tool, filament holder and ribbons.
Multi Materials Supported
PLA,  ABS,  HIPS, PETG, ASA etc (Temp. under 260 C)

Perfect Print Quality
After properly assembly, the print quality are very good. The quality can compare with most of
the desktop 3D printer in the market.  The parts used in the 3DPrinter are from the Grid and
some parts are redesigned.
Repetier Slicer Softerware
Cura and Slic3r slicer engine both included in Repetier, users can choose either of them.
TIME TO HAVE YOUR OWN 3D PRINTER!
The product uses the current mainstream hardware market, we have the standard of
most of the features, there is no standard function, will allow users to expand their own.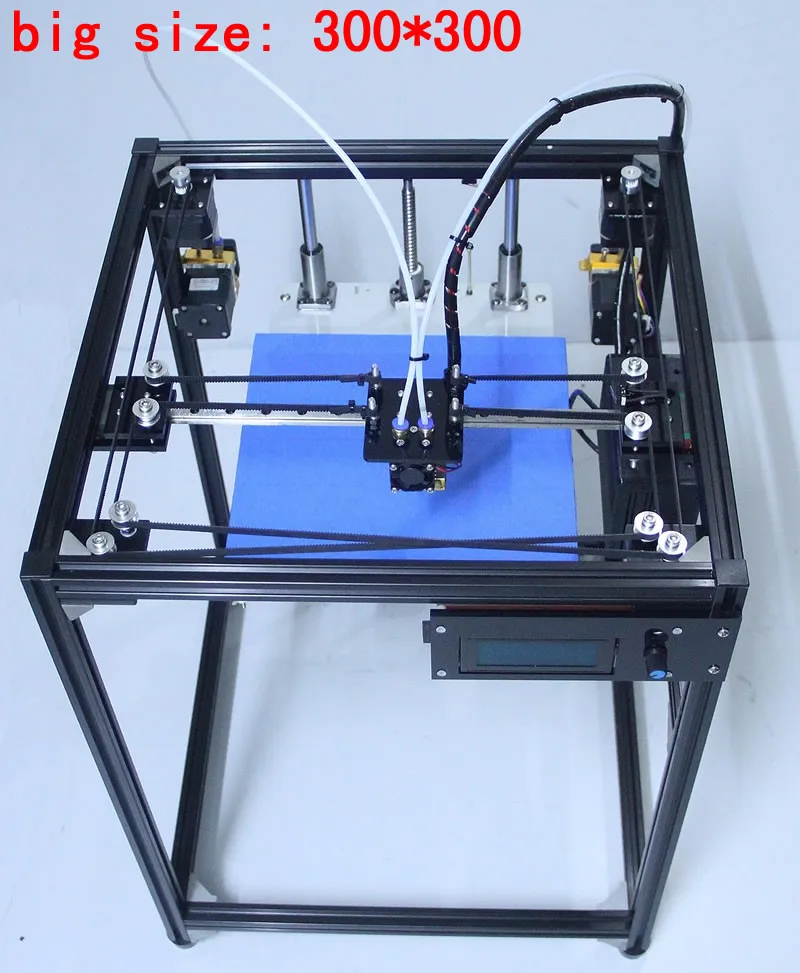 Loading images...
Parameters
| | | | |
| --- | --- | --- | --- |
| Print Accuracy | 0.1mm | Print Material | PLA/ABS |
| Layer Thickness | 0.1-0.3mm | Material Diameter | 1.75mm |
| Print Technology | FDM(Fused deposition modelling) | Human-computer interaction | LCD2004 Screen |
| Nozzle Diameter | 0.4mm | Type of Power Supply | 150W |
| Input | USB Cable/SD card | Net Weight | 8kg |
| Shipping Volume | 610*510*170mm(W*D*H) | Gross weight | 9. 2kg |
| Build Volume(WxDxH) | 240*220*200mm(W*D*H) | Software | Repetier |
| Product Dimensions | 410*400*410mm(W*D*H) | Design File | STL |
| Nozzle Temperature | <260℃ | Compatible Software | Win7/8/10/vista、Linux、Mac OS X |
| Printing Speed | 90-120mm/s | | |
Product Specifications
| | | | |
| --- | --- | --- | --- |
| Material of Body | Basswood board | Build Plate Leveling | Manual leveing |
| Interface Language | English | Heated Bed | Available |
| Number of Extruder | 1 | Filament Run Out Detection | Optional |
selection of models-cubes CoreXY and H-Bot / Collections of products from Aliexpress and not only / iXBT Live
How to make the right choice of a 3D printer and not regret it? What would the purchase not be spontaneous, but deliberate and justified? No need to scatter money by buying the cheapest options from aliexpress.
As a rule, stores offer outdated, poorly selling items, for which cunning sellers slightly drop prices. Choose carefully, as it's better to pay a little extra but get a hassle-free rigid frame printer. A good choice would be models in the form of a "cube" with kinematics such as H-Bot or CoreXY. The printer can be made of stamped steel or profile. Modern models come already partially assembled and configured, it is enough to assemble a part of the frame and connect the electronics, then perform the alignment procedure. When choosing, pay attention not only to the size of the printable area, but also to the type of extruder (Bowden / Direct), the type of guides (rails / shafts), as well as additional equipment: titanium nozzles, touch displays, Wi-Fi connection, etc. d. A quality 3D printer must be tough! 9Flyingbear Ghost 5 3D Printer , as well as silent TMC drivers in the database. The touch screen is used for control from the panel. The printer is in stock in the Russian Federation ("Express Delivery").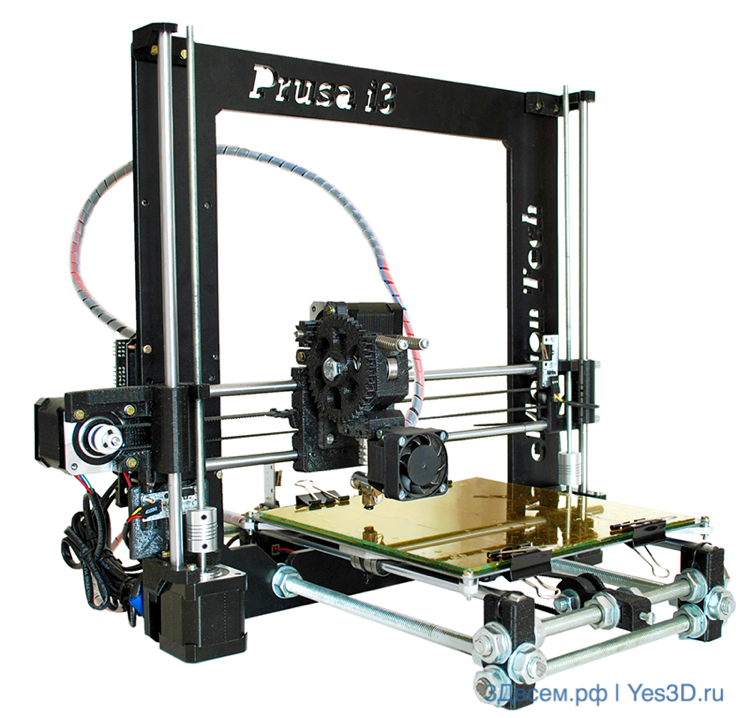 Features:
Table size: 255 x 210 mm
Print Height: 200mm
Extruder Type: Bowden
Features: Partially Enclosed Chamber, Touch Screen, Wi-Fi, Quiet Drivers TMC2208/TMC2225
Buy Flashforge Adventurer 3 3D Printer
Official Flashforge
One of the most advanced printers, the Flashforge Adventurer 3 factory assembled model. Comes ready to go. Wi-Fi can be used to connect from a smartphone or tablet. FlashCloud cloud service is provided for remote control of printing. It is easy to maintain the printer - the nozzle is easily replaced, there are breakage and end of filament sensors.
Specifications:
Table size: 150 x 150 mm
Print height: 150 mm
Extruder type: bowden
Features: alignment, Wi-Fi, built-in surveillance camera, quiet drivers, detachable nozzle
-printer ANYCUBIC 4Max Pro

Buy at the store ANYCUBIC

ANYCUBIC offers a simple and convenient option for a 3D printer. Model 4Max Pro comes with a closed chamber, that is, the print area is protected from drafts. This option will be convenient both for home and hobby, and for the office and small runs of models. The display is touch-sensitive, a printer calibration system is provided.

Characteristics:

Table size: 270 x 210 mm
Print height: 190 mm
Extruder type: bowden
Features: alignment, closed working chamber, touch screen.

Creativity Elf 3D Printer

Buy from Creativity Official

A large 3D printer in the form of a structural profile cube from Creativity. The Elf model is equipped with two vertical drives at once, a calibration system, a touch screen, and is also easy to assemble and prepare for work. The printer comes partially assembled - the base and electronics are assembled, you just need to assemble the top of the cube and level the table before the first print.

Characteristics:

Table size: 300 x 300 mm
Print height: 350 mm
Extruder type: Bowden
Features: alignment, Press resumption, touch screen

3D printer Creality Ender

Buy 3D printer CREALITY Ender-5 Pro

CREALITY is known not only for its popular 3D printer Ender-3, which has long become a "folk" model, but also for the development of the model into the "cube" Ender-5. I note the presence of models Ender-5 Pro (advanced) and Ender-5 Plus (with an increased size of the print area). The printer is quick to assemble, table leveling is provided, and quiet TMC drivers are installed.

Characteristics:

Table size: 220 x 220 mm
Print height: 300 mm
Extruder type: Bowden
Features: Alignment, Press Right

3D 3D 3D 3D 3D

BUY Tronxy Official

One of the most recognizable and popular models from TRONXY. These are TRONXY X5 series 3D printers, or rather several available modifications at once. We are talking about X5SA PRO with dimensions from 330x330x400 mm to 500x500x600 mm. I note the rich package: 32 bit control board, linear guides (rails), as well as a titanium hotend in the base.

Features:

Table size: 330 x 330 mm / 400 x 400 mm / 500 x 500 mm
Print height: 400 mm / 600 mm
Extruder type: Bowden
rail, titanium extruder

Twotrees 3D printers

Buy Twotrees SP-5 3D printer Buy Twotrees SP-3 3D printer

Quite thoughtful series of "cubes" from Twotrees. These are SP-5 (larger) and SP-3 (smaller) 3D printers based on a pre-assembled base and a rigid structural profile frame. The Twotrees SP-5 model is interesting due to its dual vertical drive (Dual Z Axis) as well as quiet TMC-based drivers.

Characteristics:

Table size: 220 x 220 mm / 300 x 300 mm
Print height: 220 mm / 330 mm
Extruder type: Bowden
Features: alignment, touch screen, quiet drivers TMC22225

0004 3D printer QIDI

Buy in the official store QIDI TECHNOLOGY

Serious 3D printer from QIDI TECHNOLOGY. The QIDI TECH X-PLUS model is equipped not only with a touch screen and a draft-free camera, but also has a Wi-Fi wireless access module. The kit includes two extruders - the main (Bowden) and replaceable (Direct) for printing with various materials. The coil can be placed both outside and inside the printer body.

Specifications:

Table size: 270 x 200 mm
Print height: 200 mm
Extruder type: direct/bowden
Features: touch screen, alignment, Wi-Fi, closed chamber 3D printer
ZONESTAR

Buy at ZONESTAR Official

A rather interesting model of a large ZONESTAR Z9V5Pro 3D printer, a distinctive feature of which is 4 installed extruders for color mixing at once. The software allows not only to alternate the colors of the filaments, but also to mix with a gradient. An interesting option for crafts and souvenirs.

Specifications:

Table size: 300 x 300 mm
Print height: 400 mm
Extruder type: Bowden, Mix 4-in-1, color mixing
Features: touch screen, 32bit board, TMC drivers , Alignment Sensor, Filament Sensor, Print Resume

Add selected options to cart, compare. If you have decided and there is availability in the local warehouse ("Express Delivery"), then you can immediately proceed to checkout. If you have chosen, but hesitate - wait for the next sale. The price will change in the basket and it will be possible to buy the desired model at a reduced price. From December 6, 2021, you can additionally apply discount promotional codes: NEWYEAR1000 (1000/11000 rubles), NEWYEAR1300 (1300/15000 rubles) or NEWYEAR1700 (1700/20000 rubles).

Other reviews and tests of smartphones, tools and gadgets you can find in my profile and links below.
Thank you for your attention!

News

Publications

A DVR is one of the most important assistants of a modern motorist, it will help confirm your case and sort out a controversial situation on the road, provide protection from auto-fraud....

Probably you have already wondered why all civil and modern transport aircraft have only one keel in the tail, and in most cases the military has two. Many believe that two ...

What to try in Kyrgyzstan? First, drinks. We drink kvass in the summer, and kvass, maksym, chalap and aralash in Bishkek. Sold on tap in glasses and plastic bottles. Aunts sitting under umbrellas...

USAMS T50 Charger (US-CC163) is an update of the previous USAMS T44 version. Both models are made with gallium nitride (GaN) transistors and have a maximum power of 100W per...

weather stations rather got stronger: This is curious because ...

Double-decker vehicles were used and are now used not only in the UK, but also in some cities in Europe, Asia and Australia. In addition, at one time the citizens of the USSR also had...

A big change: why the A101 development group took up pedagogical design

Any new district of Moscow or any other city should be provided with social infrastructure - primarily gardens. A101 Group of Companies solves this problem in the most creative way: not only designs non-standard buildings focused on the harmonious development of students, but even trains teachers and provides extra-curricular education.

According to the results of the first half of 2022, as calculated by the real estate company Metrium, three residential complexes from different developers became the leaders in sales in New Moscow. In particular, 959 apartments were sold in the Prokshino residential complex — slightly less than those of the competitors closest in the ranking, but with an average purchase price per square meter 12% and 33% higher. The demand for residential real estate is known to be influenced by many factors, including the surrounding infrastructure.

Photo of GC "A101"

According to the A101 Group of Companies, almost 60% of buyers are interested in the presence of schools and kindergartens in the area, however, they mainly add that the school should be "good", that is, be in a shameful place in the ranking, have a good score in the Unified State Examination and the opportunity to teach the child various useful skills. To create such an environment of little interesting building and equipment, you need the right motivation, that is, the school must be able to interest the student and give the opportunity to stay after class with friends and come up with an interesting project, play, etc.

"An example is the Ayb school in Yerevan, where children were ready to go on Saturdays and Sundays," says Ignatiy Danilidi, General Director of A101 Group of Companies.

The project of each district of the A101 Group of Companies provides for the construction of a modern school. And in Prokshino, an educational center will open (a kindergarten plus a school), which will be a branch of the famous school No. 109 of Evgeny Yamburg, one of the most titled teachers in Russia and the creator of a unique education system.

"There will be a planetarium, medical and engineering classes, separate spaces for chemistry and biology classes, a design workshop, as well as a full-fledged theater hall for school performances," Ignatius Danilidi lists. "The theater is very important because it develops communication skills in children, teaches them to look at the world through the eyes of different people, to understand different points of view."

Photo of A101 Group of Companies

All of the above is not something exclusive for A101 Group of Companies. All schools in the developer's residential complexes are created according to this model. They are created, not just built.

A palette of possibilities

In 2018, A101 Group of Companies developed its own educational cluster project. In figures, it looks like this: by 2035, build 15 schools, 48 ​​kindergartens and eight educational centers in the Novomoskovsky and Troitsky administrative districts. The goal is to create a system of holistic and harmonious development of children in the new districts of Moscow based on the best world and Russian educational and architectural practices.

"A good school is a space for development. All premises should be "sharpened" for the educational function, - says Yulia Chernets, head of the Social Objects Directorate of the A101 Group of Companies. — Whatever the student is doing, the equipment and environment are designed to create an atmosphere of adult activities - something that children naturally gravitate towards. At the same time, they should not be forbidden to remain children: comfort for a child is both noisy common spaces and quiet secluded "minks". And also the opportunity to see through the space of the school and at the same time not get lost in it, feeling safe and comfortable."

Photo of A101 Group of Companies

All projects of educational facilities of A101 Group of Companies are subject to this ideology. With observance of one more condition - absence of identicalness. For example, consider two schools that are opening this year in the Scandinavia residential area (No. 1 in the Metrium ranking for 2021 and No. 4 in the first half of 2022).

School "Energy" focuses on the study of natural sciences and a comprehensive workshop. Accordingly, a large laboratory, a prototyping center and a block of workshops are provided here. The walls of the laboratory are completely transparent so that anyone can see how exciting science and engineering can be. The second floor of the school with a maximum of natural light is allocated for an art zone and a cluster for self-study. A cafe-dining room with an amphitheater area is the center of informal communication. And there is also a space-transformer that can serve as a conference room or a theater venue.

The Holst School, as its name suggests, will offer opportunities for additional education in the field of culture and art. Students can choose from painting and sculpture workshops, a media lab with professional equipment, a computer class, a fab lab with 3D printers, plotters, etc. Thanks to cross-subject teaching, artistic development will proceed without compromising general education. And to demonstrate the results of creativity, the entire space of the school is given, up to the ceilings, on which installations can be mounted.

"Amphitheaters and atriums for parties, transparent walls, cozy sofas in the corners – in such an environment, children of the alpha generation feel very comfortable, and this has the best effect on productivity," notes Yulia Chernets. — We built our first school building in Kommunarka in 2017 just like that. As a result, school No. 2070, which took it, a year later was immediately in 64th place in the rating of Moscow schools.

Photo by A101 Group of Companies

Environmental impact

A creative approach to the developer's social obligations has transformed the original construction and educational concept of A101 Group. At the end of 2021, the group created its own educational bureau.

"The Lerniti Bureau is an attempt to concentrate all the experience and knowledge we have accumulated in the field of designing and building educational facilities, as well as a systematic approach to creating and filling new schools within the framework of cooperation with the Moscow Department of Education," explains Ignatius Danilidi. — The creation of a new structure is a key element of the systemic development of the educational ecosystem in the TiNAO. With its help, we improve the quality of life in the territory, create conditions for creating a close-knit community of parents, teachers and children. "

Pedagogical expertise of architectural projects of schools and kindergartens is only the first level of Lerniti's responsibility. If a couple of years ago A101 Group of Companies doubted whether the developer needed to participate in the management of the educational process, now such participation is an integral part of the educational cluster project in New Moscow. "We influence the quality of education in the schools and kindergartens built by the A101 Group of Companies by attracting the best teaching staff there," comments Elena Bulin-Sokolova, Director of Lerniti, Doctor of Pedagogical Sciences with extensive experience in managing educational projects (ANO Center for the Development of Effective Education "," Khoroshkola", "International Gymnasium Skolkovo"). "However, the programs that we are already actively running are aimed at all of our key audiences. These are, in particular, children's programs and parenting courses. School teachers are learning a methodology focused on achieving individual results for each student, and not on the teacher's time.

Photo by A101 Group of Companies

For example, for adults there is a course "How to play with children?", and for children three times a week there are classes for the development of soft skills and creativity Odissey of Mind. Lerniti has opened workshops: carpentry and sewing, where parents can come to study and work with their children, or vice versa. For teenagers this winter, they took courses in game design, in the spring - a hackathon for schoolchildren "App! 101", which resulted in the selection of eight projects aimed at improving the developer's mobile application. In the summer, another two-day BugHack hackathon was held, dedicated to insects useful for the city and the arrangement of their habitats in the urban environment. The hackathon participants first studied the insects of the Novomoskovsky District, and then made "houses" that would help the survival and reproduction of certain insect species. Moreover, for such development, not only carpentry tools were used, but also a 3D printer.

All this is not architectural, but pedagogical design - the creation of educational solutions aimed not only at the assimilation of knowledge, but at their further application. Why does A101 Group of Companies need to expand its infrastructure program so much? According to Yulia Chernets, the presence of a good educational environment contributes to housing sales, but indirectly. It is more correct to talk about increasing the prestige and attractiveness of the location in the eyes of apartment buyers, as well as the impact on the economy and the overall potential of the area. But this is ultimately the return for the developer. All apartments in the first stage of the Spanish Quarters, where Logic operates, have long been sold. The second and third stages and an educational center are being built - a school plus a kindergarten (the idea is still the same: "Happy children are our main task"). And here is the intermediate result: if at the end of 2021 the new "Spanish Quarters" were No.