Filament 3d printing definition
What is 3D Printer Filament?
3D printer filament is a certain kind of printing material used by the FFF type 3D printer. It is one of the most commonly used 3D printing material categories in the world now. Differentiated from powder and liquid resin for other 3D printing technology, the filament is produced into one continuous slender plastic thread in hundred meters long, which is usually spooled into a reel for purpose of storage and printer feeding. Determined by the thermal extrusion process of FFF printers, the raw material of filament is thermoplastic material including most widely applied plastics in life, as well as some special formula material for a certain purpose.
Currently, Filaments are manufactured with two standards as 1.75mm radius and a 3mm radius. The former one has a dominant market share due to its better printing performance such as extrusion flow consistency. Consumers can find most 1.75mm plastic filament is sold in 1KG per spool as much as the length of 330 meters.
Total usage from such a roll can be expected to be approximately 98 iPhone 5 cases.
Filament with different material has different printing temperature and properties which will be discussed later. Generally, consumable FFF printers provide maximum printing temperatures around 260 Celsius Degree, which can cover basic plastic filament printing. While more advanced filament and printing efficiency require higher capacity from professional FFF printers whose printing temperature can reach 300 Celsius Degree, such as Raise3D E2.
How is 3D Printer Filament Used?
3D printed objects by filament have been applied in wide areas. Although its thermoplastic nature decides its limitation in the mechanical dimension, filaments find its value in prototyping and light-duty usage. Prototyping is the most common application which requires lower mechanical property from the material itself. For similar reasons, many enterprises and professionals choose filament for props, jigs and fixtures, toys, assemble parts, and education models.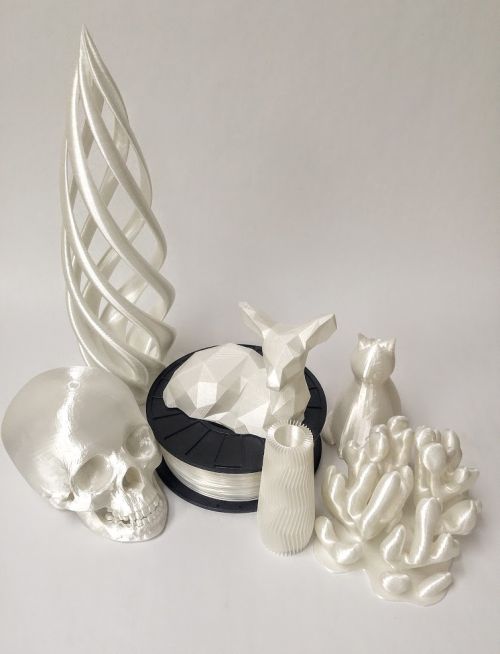 One exceptional case is the flexible filament. This category, primarily TPU, is applied for the functional part since its emergence, especially in footwear industries. Footwear manufacturers enjoy its rubber-like property which hits their core requirement for the material mechanical property.
What is the Future of the 3D Printer Filament?
As is happening and is expected by the market, filament property is marching to a higher level with more market value, and closer to serious industrial application. In these years, almost every chemical giant is exploring and launching high-functional plastic such as PEI and PEEK. More sophisticated, advanced filament solutions are joining the big family as well, such as composite filament consisting of carbon fiber, fiberglass, ceramic, even metal powder.
Filament Development is towards High Functional Application
3D Printer Filament Quality
3D printer filament may look the same and easy to manufacture from appearance, but the quality still matters.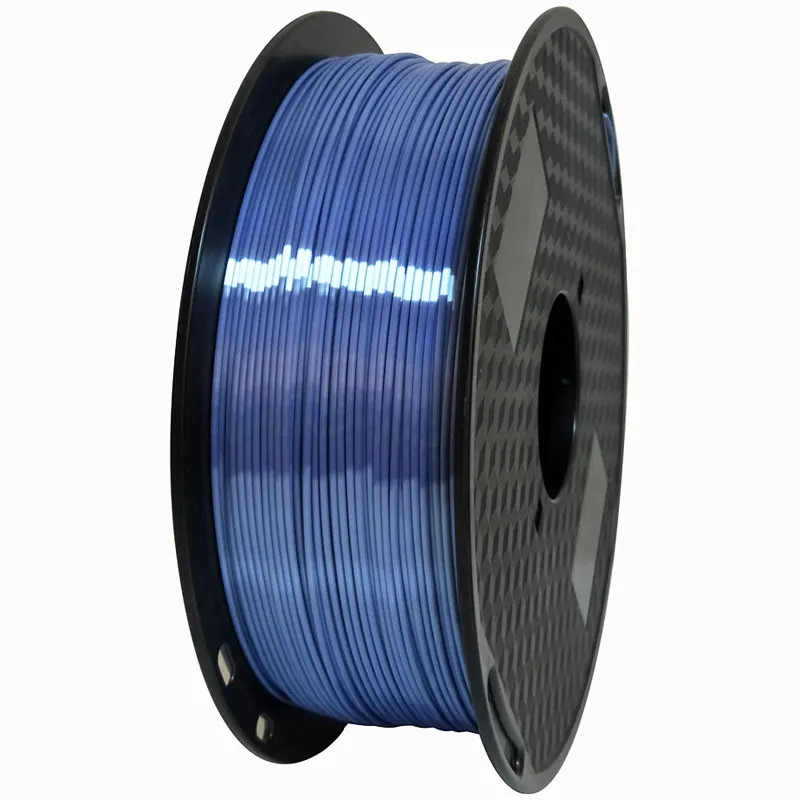 Most obvious, all filament has a radius variety. The professional manufacturer can control the scale within +/- 0.05mm. The larger variety will result in poor printing performance such as surface quality and part accuracy. Material purity, batch consistency, spool winding, and moisture absorbing are all factors to affect printing performance and result quality. Different application scenarios and filaments are sensitive to certain factors above. For example, the printing shoe upper face with TPU is sensitive to moisture and radius variety. Absorbing moisture too quickly during printing will cause vapor to burst from inside and leads to a lag between extruded thread. One spool with too large variety range will create an uneven extruded thread and probably will lead to the broken fabric.
The result from TPU Filament Absorbed Moisture vs. Result from Dry TPU Filament
How to Choose 3D Printer Filament?
For a 3D printed object, its material properties decide half of the value.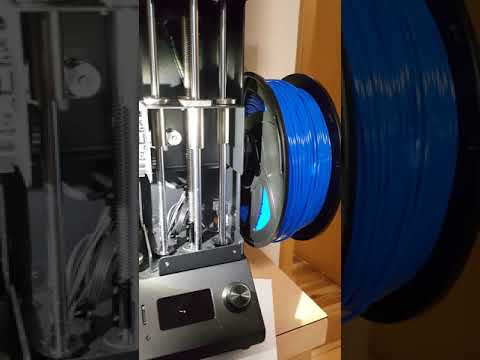 Mechanical property is the primary factor for application performance, then is the chemical property. To better understand filament property difference, or choose appropriate filament, user can evaluate by plastics pyramid, since mainstream of filament is plastics. The plastics pyramid indicates a simple rule that filament with higher performance should have a higher melting temperature. Therefore, if someone is looking for a filament with higher performance, they need to ready a FFF 3D printer with higher heating temperatures.
Beginner Level 3D Printer Filament
To begin with, PLA is the most easy-to-print filament with the lowest melting temperature (190-205 Celsius Degree) and minimum calibration requirement on the printing parameter and printer itself. It is below the bottom tier of the plastic pyramid. Even middle school students can print PLA filament into very fine geometry. However, as the plastic pyramid indicated, users can expect a PLA object to easily fail in a mechanical challenge.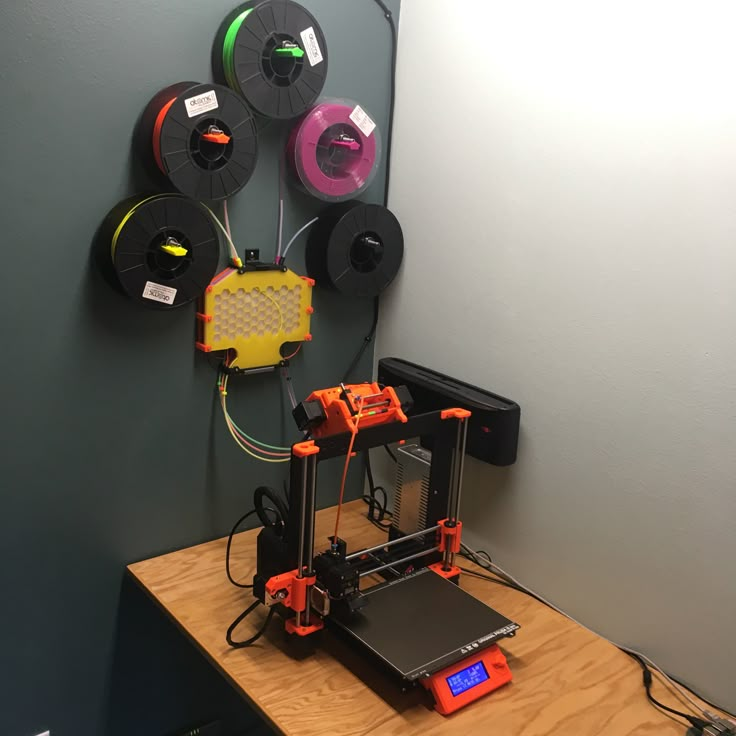 Also, PLA filament has the lowest price level. Therefore, it is the first choice for 3D printing beginner and hobbyist for visual purposes including cosplay props, statues, toys, and decorations.
3D Printing Visual Application by PLA Filament. Click to view more.
Meanwhile, the company and institute users exploit PLA for rapid prototyping regarding its low printing condition and fine geometry result. However, PLA's fragile and brittle property prevent it away from the complicated and dynamic application.
3D Printing Prototyping Application by PLA Filament. Click to View More.
Commodity and Engineer Level 3D Printer Filament
Above PLA, it is a commodity and engineer level where filaments are booming last a few years. Popular filament types include ABS, PC, PETG, TPU, ASA, PA, and PP. These filament types feature more distinct property and higher melting temperature. Comparing to PLA's limited performance, these group filaments are adopted in serious commercial and manufacturing production.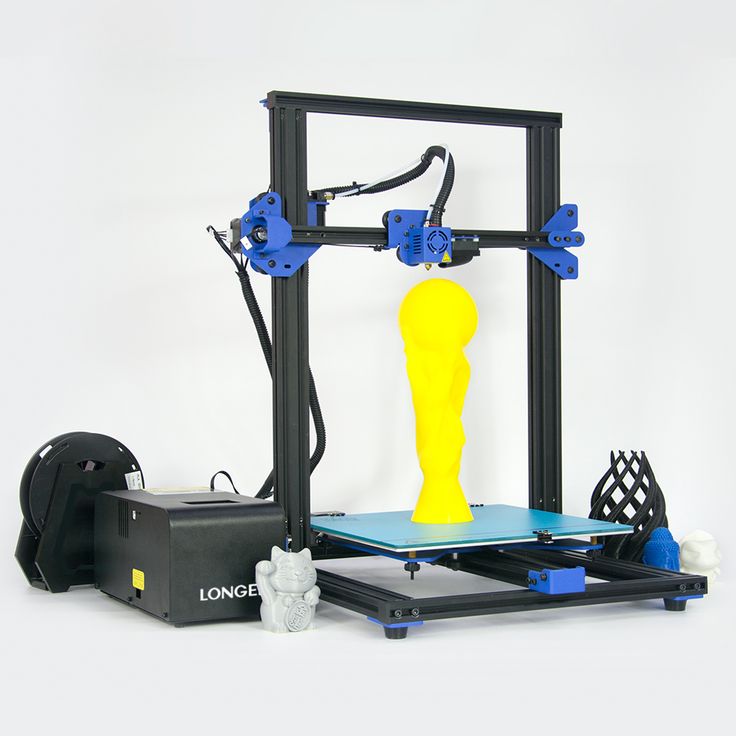 For example, ABS has been found applied in the orthodontic model, jigs, and fixtures for automotive assembling. While PC is found printed as a frame to keep air drone integrated. TPU, as mentioned previously, has been directly printed as orthotic insoles and sneaker uppers.
Blackbird Drone with PC Printed Frame. Click to View More
When considering these two levels filament for serious application, users should aware of filament property difference. Plastic property is not the focus of this blog, but some descriptions are given to provide a big picture. In terms of mechanical properties including stiffness, strength, toughness, tensile modulus, and hardness, each material has its unique mixture, thus leads to different performance under certain physical conditions. User should choose appropriate filament with properties can achieve the desired purpose. For example, like jigs and fixtures, tool heads should not scratch the product surface. Thus, ABS is usually chosen as its relatively lower hardness among other plastics.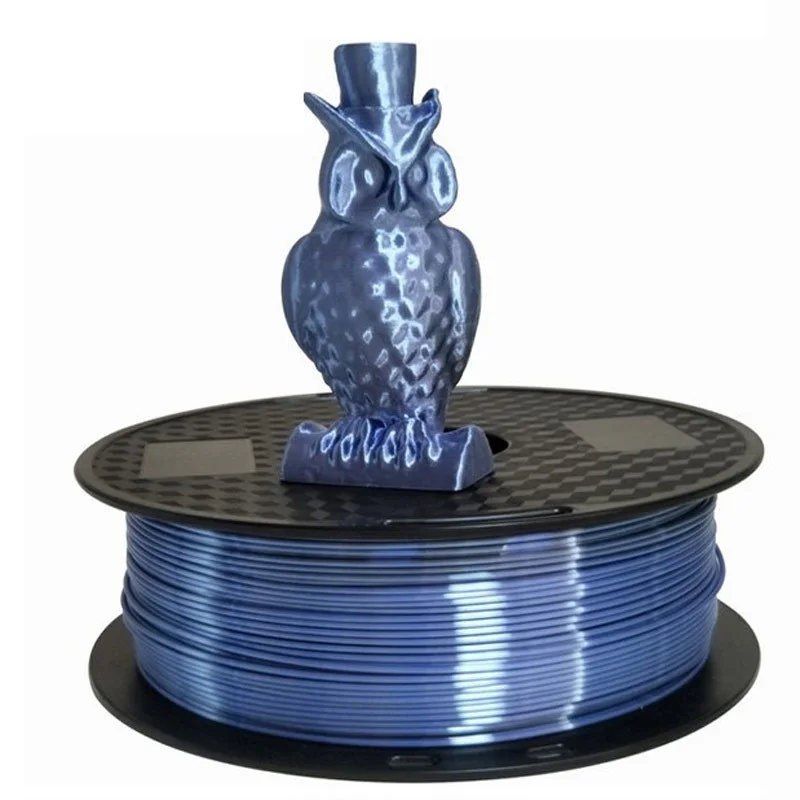 The theory behind is that, when two materials cut each other, one with lower hardness will be left a scratch on its surface, not the other one. On the other hand, PETG filament is preferred over ABS filament for package and container due to its better impact resistance and durability. When adding more aspects like chemical property, ASA is better for automotive parts because of its UV stability when exposed to sunlight.
Gears by Different Filament for Different Usage. Click to View More.
Aligning with a complicated plastic family tree in the chemical industry, filament suppliers are developing and launching various specifications for every single plastic-type, to fulfill numerous economy sectors (Check Raise3D Open Filament Program to glimpse filament subdivision). Users can expect the filament family to get more complete in the future since suppliers want to seize more profit from selling. For example, Taulman3D provides a nylon filament category including 9 different specifications.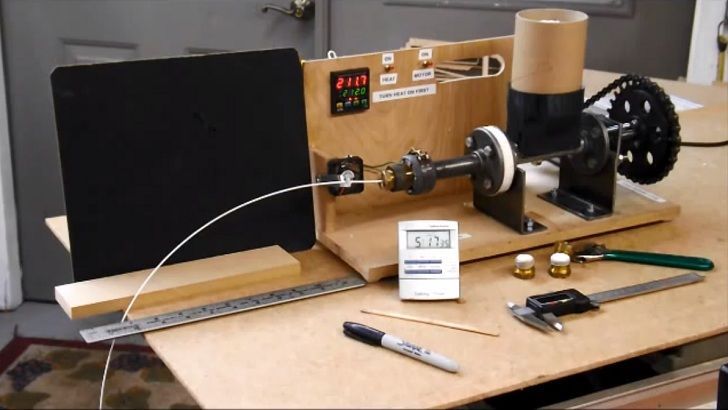 The Trend of Advanced 3D Printer Filament
There are a few trends for filament development as high-performance plastic filament, composite filament, and metal filament. At this moment, the filament industry is breaking through high-performance material categories such as PEEK and PEI whose melting temperature is beyond professional FFF 3D printer capacity. These materials' properties are valuable for more advanced applications such as human implants and aerospace. The metal filament is a blend of metal powder and adhesive. It doesn't need the superior temperature to meltdown but needs extra sintering process to burn out adhesive and fuse the metal powder. Composite filament refers to plastic filament reinforced with fiber. It intends to raise the 3D printed part's tensile strength. But the tricky situation is that many suppliers reinforce filament with shredded fiber because it is hard to add in continuous long fiber. Only a few high-end brands provide such composite filament solutions which can raise tensile strength of 3D printed parts to a similar level as traditional reinforced part, to some extent.
In conclusion, this blog draws a clear picture of 3D printing filament. It enables FFF 3D printer users to appropriately choose, apply, and further research into filament. Users can expect rapidly updating in the FFF printer and filament industries in at least a decade. How to efficiently match up between filament and printers will grant company user speed advantage in production upgrading.
Connect with Raise3D:
Have you had a great experience with Raise3D that you would like to share? Please contact us at [email protected]. We look forward to hearing from you.
For more information about Raise3D printers and services, browse our website, or schedule a demo with one of our 3D printing experts.
What is PLA plastic filament and how to use it for 3D printing ?
What is PLA plastic material ? Get all information and advice to help you print your 3D model with filament fabrication, using FDM 3D printing technology.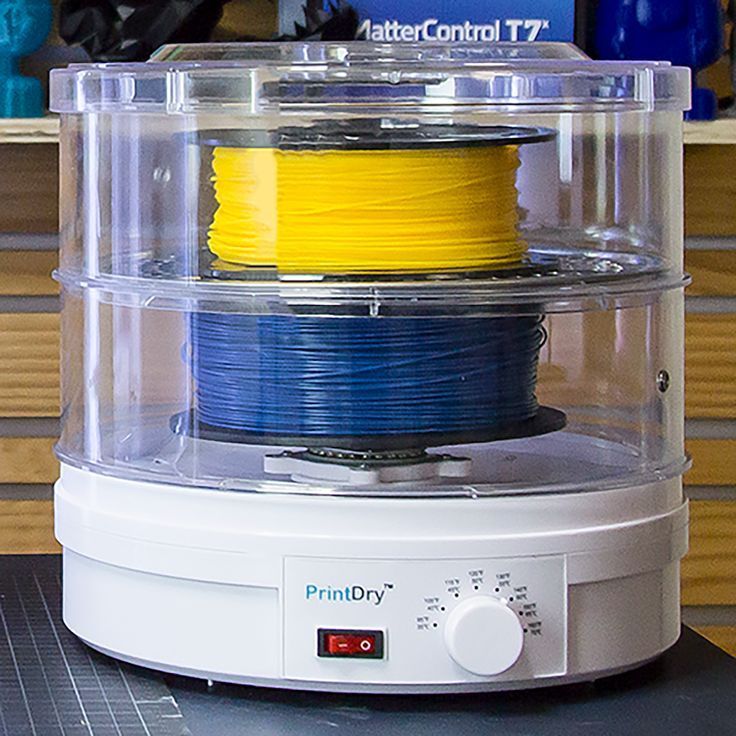 Affordable and reliable, start 3D printing using PLA filament.
Colors
Characteristics
Surface Look
Details
Strength
Flexibility
PLA Filament Material Guide
Overview
Design Guide
Technical Specifications
What is PLA material?
PLA plastic or polylactic acid is a vegetable-based plastic material, which commonly uses cornstarch or sugarcane as a raw material.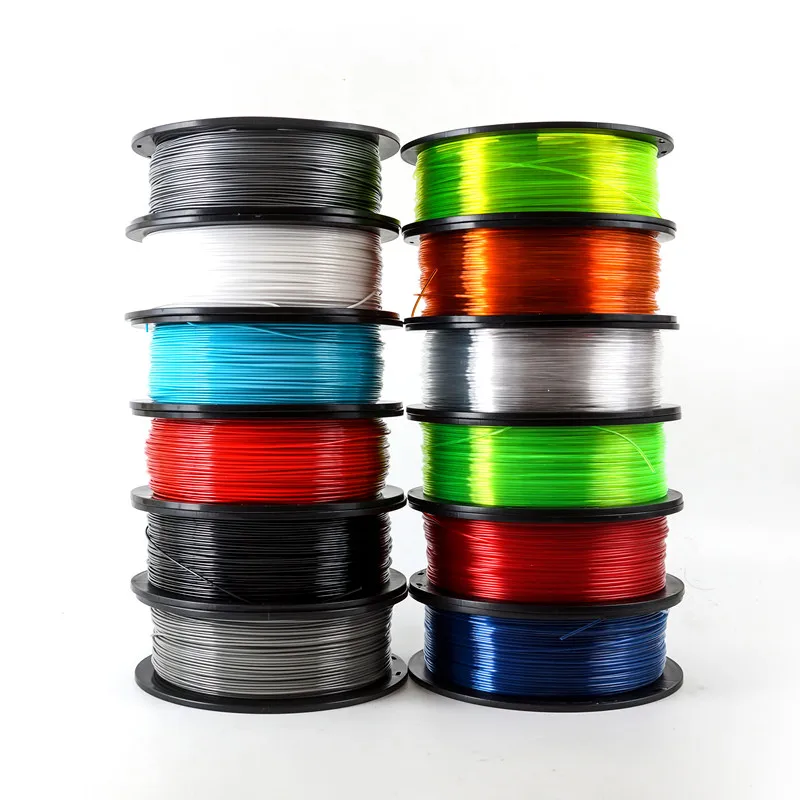 The monomer is usually made from fermented plant starch. This material is a thermoplastic aliphatic polyester and it is the primary natural raw material used in 3D printing. PLA is a fully biodegradable thermoplastic polymer consisting of renewable raw materials. Among all 3D printing materials, PLA is part of the most popular materials used for additive manufacturing for filament fabrication.
PLA is a bioplastic, used in 3D printing using the FDM (Fused Deposition Modeling) technology, and along with ABS (Acrylonitrile Butadiene Styrene), this material is one of the standard materials for this technology. There is often a tendency to compare these plastic materials, as they are the two most common alternatives available for consumer printers. PLA plastic material is easy-to-use and offer some interesting mechanical properties.
PLA material is printed using BigRep 3D printers and mainly used to manufacture big parts up to 1x1x1m.
Even if this PLA material offers the opportunity to 3D print impressive big parts, please keep in mind that you will have to respect specific design guidelines to avoid any problem during the additive manufacturing process.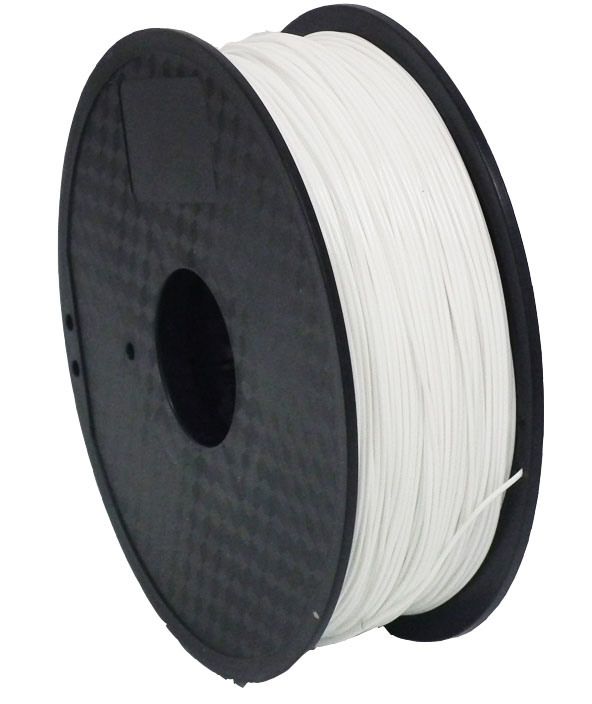 Be sure to check the material design guidelines while creating your 3D file and before you send it for 3D printing.
If you want to know more about the general properties of PLA filament, you can check our "Technical Specifications" part.
What is PLA plastic used for ?
PLA plastic filament quickly became a popular material due to it being economically produced from renewable resources. PLA plastic material comes in the form of wire on a spool, which is fed into the extruder head where the plastic is melted and deposited in a continuous extrusion on the printing tray. This material is translucent in its natural form, but spools of coloured filament can be used to make objects in different colors.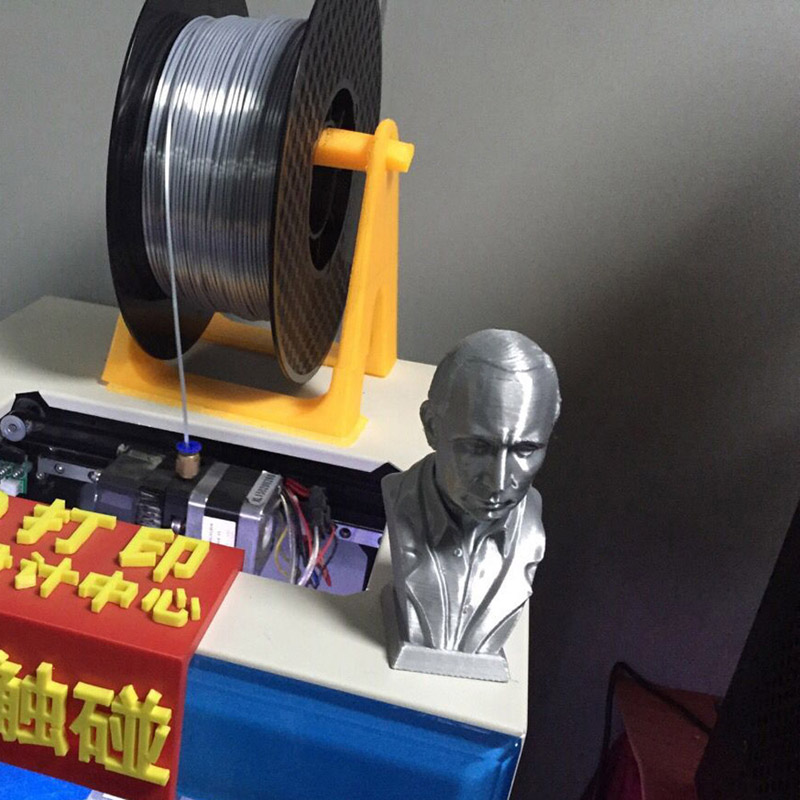 When cooling, this material shrinks less than ABS, which gives it good geometric stability during the manufacturing process.
PLA can be useful for your product development, as this material can be used for rapid prototyping.
Large-scale 3D printing is the main advantages of the PLA we are offering at Sculpteo, which can be a great benefit for a wide range of applications. This material offers you the possibility to print professional and industrial parts of 1m x 1m x 1m thanks to a large 3D printer! BigRep PLA material, has good strength and stiffness, making this 3D printing material filament is ideal for demanding industrial production. 3Dp BigRep PLA can perfectly be used to 3D print large objects for architecture or construction fields but also for marketing displays, exhibitions or signage.
This 3D printing filament is an affordable and versatile plastic. It can easily be used for prototypes, pattern making, tooling parts, or end-use parts.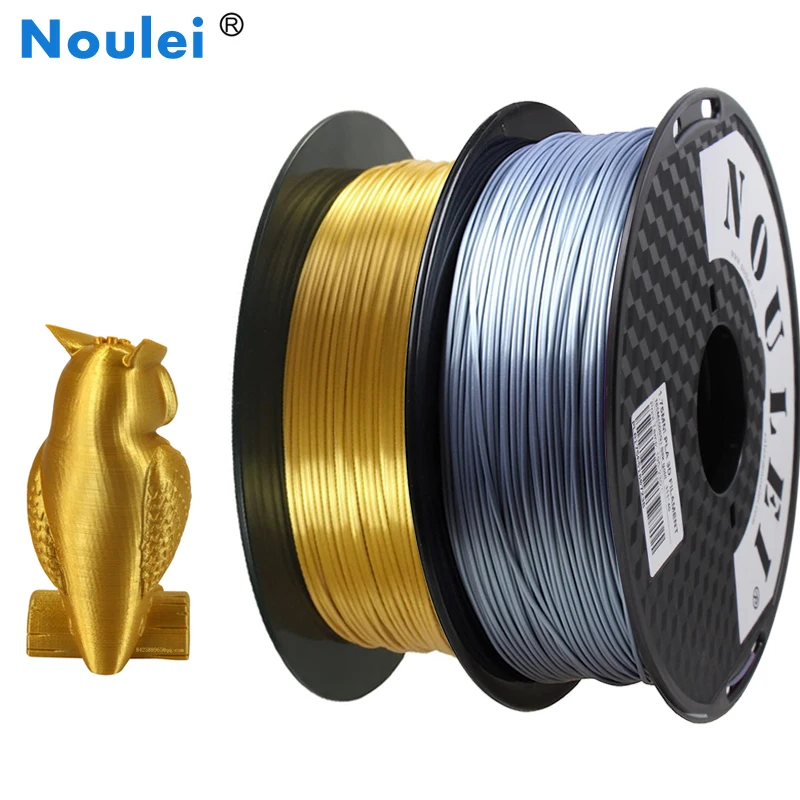 However, there are still some disadvantages such as photodegradation which is caused by UV radiation if PLA is exposed to sunlight.
We inform you that this material is not suited for applications requiring suitability with high humidity (more than 98%) or high temperatures (above 60°C). Make sure you check the physical mechanical properties of the PLA plastic 3D printing material before.
Pricing for PLA 3D printing filament
To get your PLA parts 3D printed, please contact directly our sales team to place your order. It is not possible to order your parts on the website. 
However, the price of the design is calculated on a series of factors, including its size, its volume, and the amount of material needed to manufacture your parts. 
Our sales team will keep you updated regarding the price and the shipping time of your parts.
How does FDM 3D printing technology work?
BigRep PLA parts are 3D printed using a traditional FDM 3D printing process.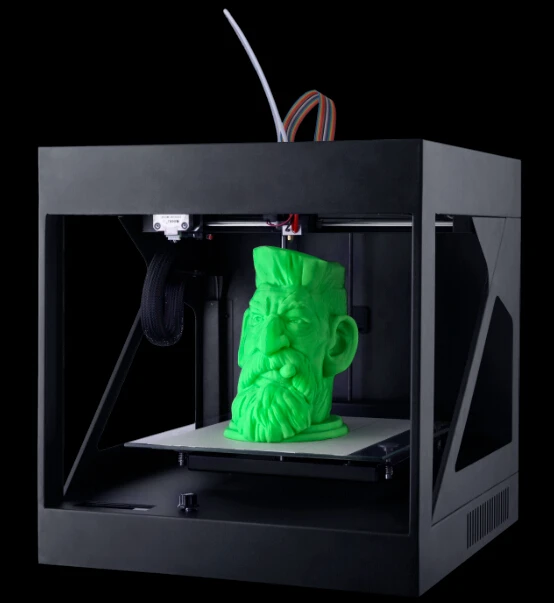 Even if BigRep printers are impressive and big machines, the FDM printing process stays the same. During the FDM 3D printing process, the filament is extruded through a nozzle which melts while being gradually deposited in a structured way on the build platform of the 3D printer until the object is finished. 
Colors and Finishings available for PLA plastic material
Your PLA plastic parts can take on a variety of colors with many color options available according to your project specifications. We are also offering Chemical Smoothing and painting options, please contact us to discuss your color and finishing options to your 3D printed PLA parts. 
Maximum size
| | |
| --- | --- |
| Maximum size |    1 x 1 x 1 m |
The maximum size of your models are limited by the physical size of our 3D printers – nothing can be printed larger than the printer bed.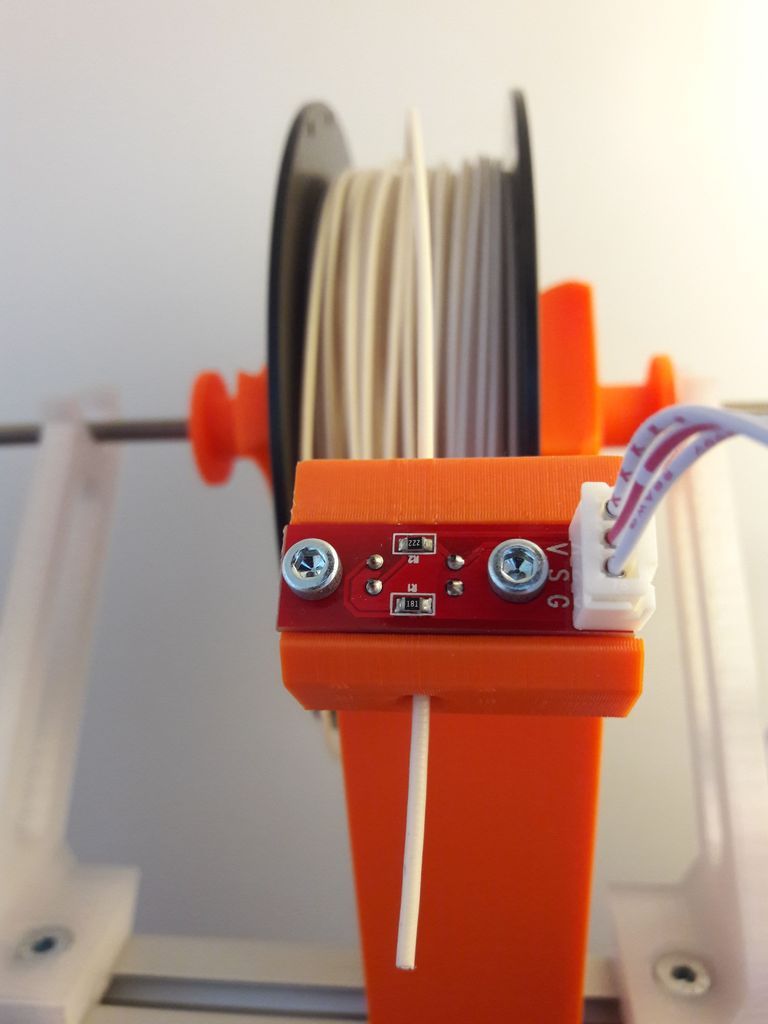 Mechanical Properties
Documentation
| | |
| --- | --- |
| Filament Sizes: | 2.3, 4.5, and 8.0 kg |
| Diameter: | 2.85 mm |
| Density: | 1.24 g/cm³ |
| Flexural Modulus (ISO 178): | 3800 MPa |
| Tensile Strength (ISO 527): | 60 MPa |
| Impact Strength Notched: | 7. 5 kJ/m² |
| Heat Resistance HDT / B (ISO 75): | 40 °C |
| Hardness (Shore): | D 60 |
What does PLA material stand for?
PLA stands for Polylactic acid. It is a thermoplastic monomer derived from renewable, organic sources such as corn starch or sugar cane. 
Is PLA plastic biodegradable?
PLA is biodegradable under certain composting conditions.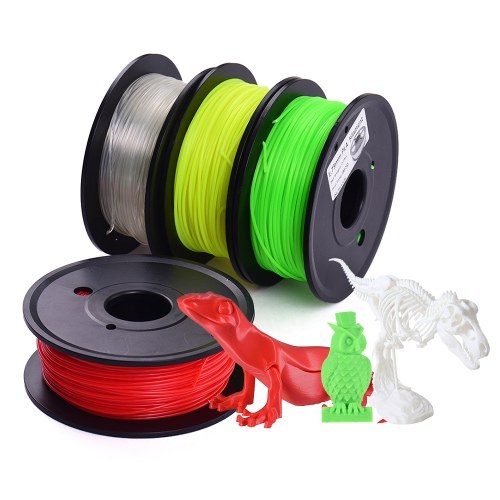 PLA is still a plastic material and requires a laundry list of conditions to effectively break down. 
Is PLA actually plastic?
PLA is a plastic material. PLA is made from a biomass resource, it is a vegetable-based plastic material, which commonly uses cornstarch as a raw material.
Is ABS or PLA better for 3D printing?
PLA is a perfect material if you need to 3D print parts where aesthetics is important.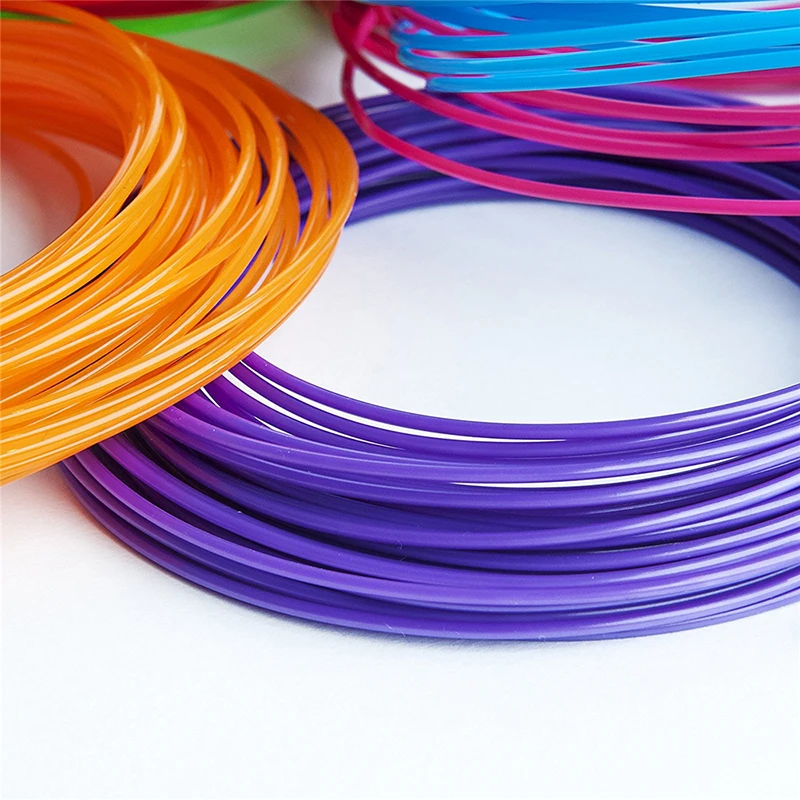 ABS is a good material for applications where strength, ductility, machinability and thermal stability are required.
Related blog posts:
Ready to 3D print with PLA plastic material?
With Sculpteo's online 3D printing service you're just a few clicks away from professional PLA 3D printing. Your 3D model is printed with the highest quality and delivered straight to your door. 
Get started now to get your PLA prints!
Discover our other plastic materials...
Threads in 3D printing
Dear friends, welcome!
This article would like to highlight the appearance of threads in printing. I will try to note the main factors influencing the appearance of threads.
1) Idling speed and acceleration. The idle run consists of the following stages - first there is a retract, then the movement of the extruder, then again a retract.
The plastic is spontaneously squeezed out precisely during the idle time, forming various kinds of defects. Now imagine an example if the idling takes zero seconds. Under this condition, the plastic will not have time to spontaneously extrude. Therefore, the higher the speed and acceleration, the less time the idling lasts, which means there will be fewer threads. But speed and acceleration are limited by the motor driver, the motors themselves, and the rigidity of the printer frame.
Therefore, you can try to slightly increase the speed and acceleration with each print, but at the same time make sure that the motors do not overheat, otherwise microsteps may be skipped, which will lead to print rejects.
2) Idling path. Different slicers process parts according to different algorithms, which means that the idling trajectory may differ. Some slicers build more rational extruder motion than others. Therefore, you can try to prepare the same part in several slicers and stop at the option that will be more rational.
3) Feeder dependent, i.e. from the plastic supply system. Printers most often have one of two options: "bowden", i.e. far-distance or "direct", this is when the "feeder" is located near the extruder. Under the same printing conditions with direct, there will always be fewer threads than with bowden. But this does not mean that you can always switch from Bowden to Direct. It may also be that your printer will not be able to work with "direct" for one reason or another. The transition to "direct" must be considered with each printer individually.
4) Retract setting, i.e. plastic rollback - its task is to remove the residual pressure in the extruder during idling. Without retract, the threads will appear more intensely. For most printers, the values ​​are as follows - for direct, the range is from 1 to 6mm, and for bowden, from 4 to 12mm. (the amount of retract also depends on the diameter of the nozzle).
5) Plastic quality. If you are constantly printing only budget plastics and are unhappy with the result, then try to buy plastic in a higher price category, and more importantly, with good reviews.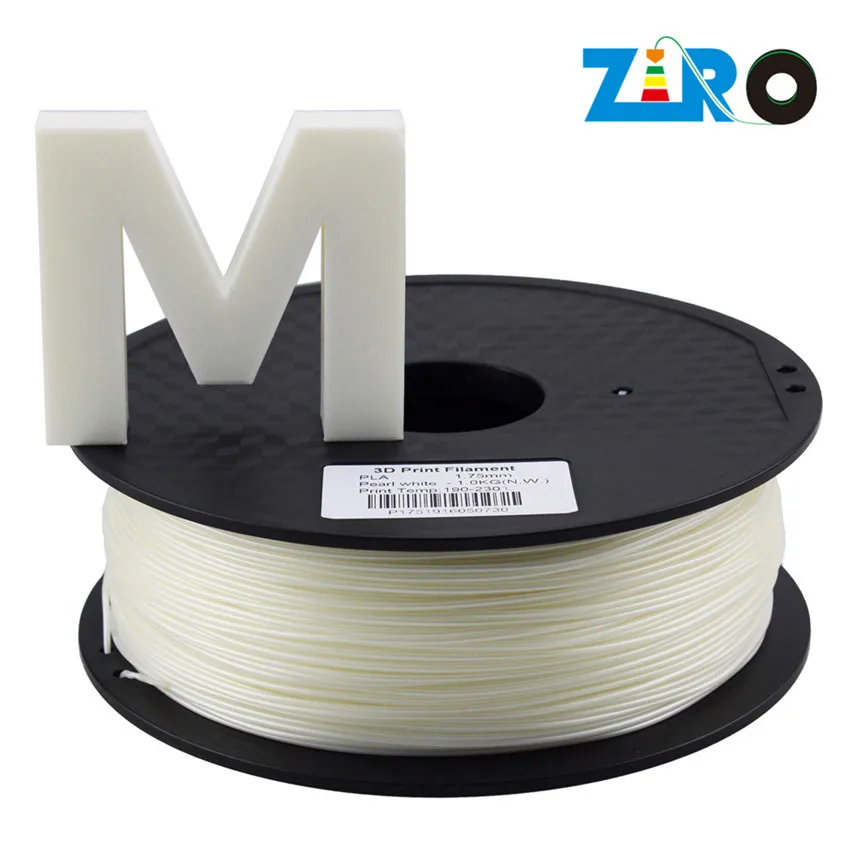 And then compare the print quality. But the main thing - from different manufacturers, compare the same types of plastic - you should not compare, for example, ABS from one manufacturer, and PLA from another.
6) Plastic drying. By the way, this applies to almost all plastics, not just nylon. If you have unnamed or cheap plastic in your hands, it is recommended to dry it after opening it, because. it is not known whether the plastic was dried before packaging.
7) Nozzle diameter. The larger the diameter, the more plastic will spontaneously squeeze out during idling. There is nothing you can do about it, it just needs to be taken into account when choosing a nozzle diameter.
8) Extruder temperature. If you heat the extruder to the upper limit of the recommended range (indicated on the plastic that is being printed), then the fluidity of the plastic will be higher, and it will be more easily extruded from the nozzle. Plastic manufacturers give a temperature range for a reason.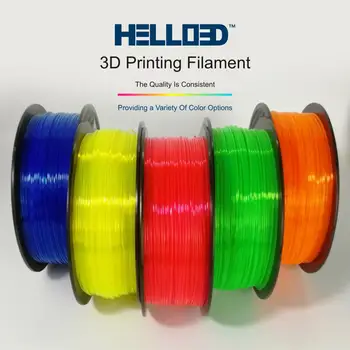 If you set the print speed to high, then the extruder temperature should be in the upper limit of the range. But if the print speed is low, then there is no need to heat up the extruder much, otherwise filaments may appear due to overheating of the plastic.
Therefore, you can try to reduce the temperature of the extruder as follows - during printing, every couple of minutes, reduce the temperature by 5 degrees over and over and watch the print closely. If the threads disappear, remember the temperature and stick to it. But if the temperature is greatly lowered, then the plastic will not be able to extrude at all. Don't overdo it.
9) Dependence of temperature on the type of extruder. There are many different models of extruders. For example, consider the E3D V6 and E3D V6 Volcano extruder. The E3D V6 Volcano has an extended nozzle and an extended aluminum block. And this means that the zone where the plastic is in the molten state is larger, so it can push through a larger volume of plastic per unit of time.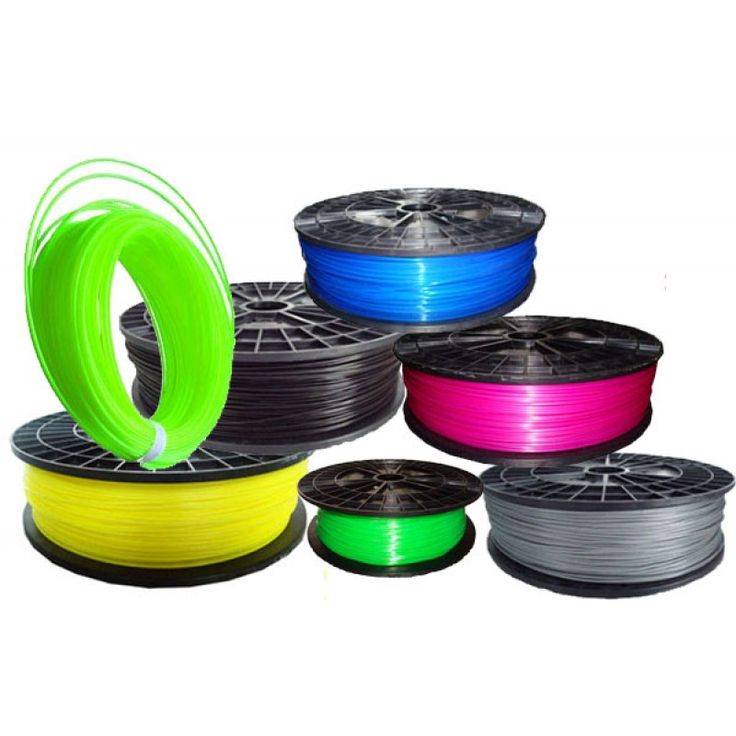 As a result, this extruder will be able to print at higher speeds than the regular E3D V6. But here you need to understand the following - if you have a "powerful" extruder, and you print at low speeds, then the plastic will overheat, which will lead to the appearance of threads. Therefore, for powerful extruders, it is better to set the temperature in the lower limit of the recommended range. And on the contrary - for an extruder that cannot heat up a large amount of plastic, the temperature should be kept in the middle or at the upper limit of the recommended one.
The conclusion here is the following - for different models of extruders, different printing temperatures are needed.
10) Free travel distance. If you are printing multiple parts at once, try to space them closely to reduce the dry travel distance. Well, if a solid part is printed, with individual elements at a great distance from each other, in this case, you can try to change the location of the part in space so that there are fewer idle moves.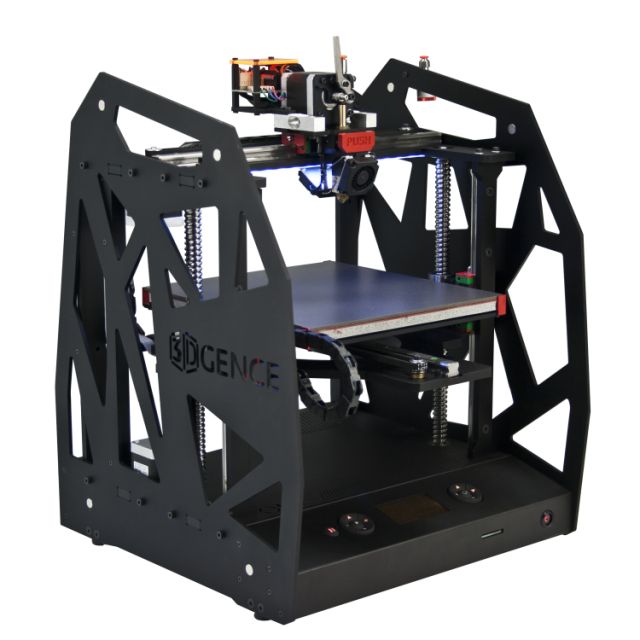 11) File analysis before printing. When your G-code is ready, do not be lazy and meticulously analyze it before printing, because. at the verification stage, you can detect unwanted elements that can create various kinds of defects, including the appearance of threads. By the way, in whatever slicer I prepare the file, I almost always check the finished code with the help of "Repetier-Host", because it shows all the movements that can lead to certain defects.
12) Plastic type. All plastics have both strengths and weaknesses. For example, PETG plastic has a high tendency to filament. ABS, on the other hand, has a low predisposition to threads, but it will have to concentrate on the problem of shrinkage and a low degree of sintering of the layers.
Therefore, before printing, familiarize yourself with the pros and cons of the plastic with which you plan to print.
13) Using the "Lift Z" function. When enabled, a gap will be created between the extruder and the printed part.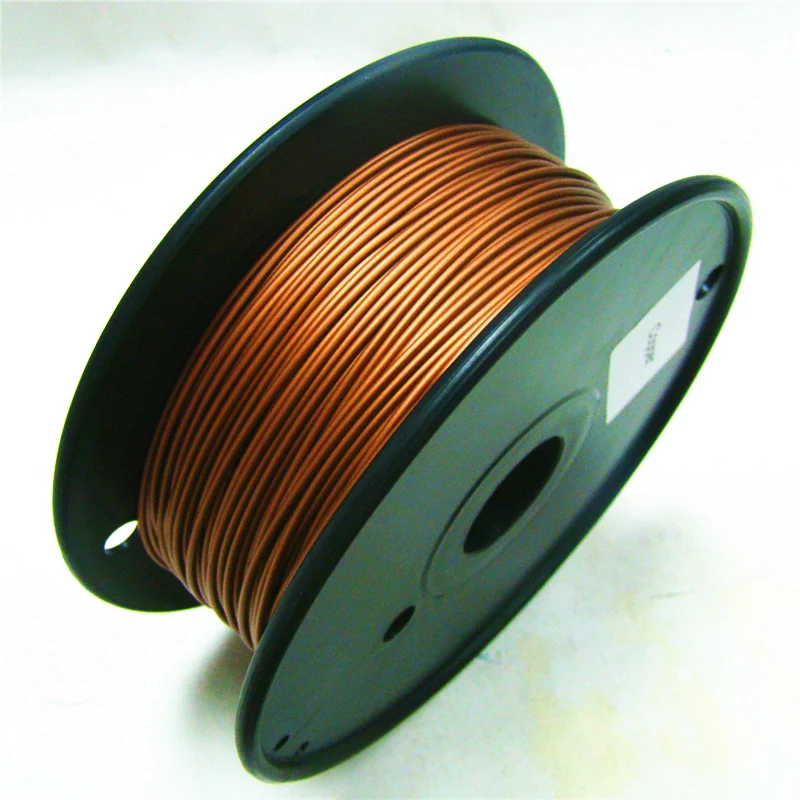 It is needed so that during idle the extruder does not cling to the outer walls of the part. This feature can significantly reduce the number of threads. But it should be used if the printer has a powerful driver and a motor along the Z axis, as well as a screw with a thread pitch of at least 8mm. This is necessary to achieve high speed and acceleration on the Z axis. Well, if you try to use this function at low speeds, the problem will only get worse and there will be more threads, because. idle time, taking into account "Lift Z", will increase significantly. The idling time with the "Lift Z" function consists of: movement along the Z axis + retraction + idling + retract + movement along the Z axis.
Therefore, you can try to experiment with this function and see the result.
14) Problems with the extruder. Imagine a situation where you put a large retract, but a large plug of melted plastic formed in the thermal barrier between the nozzle and the Teflon tube. In such a situation, no matter how big you put the retract, this plug will not disappear, but will remain in its place.
And, therefore, the retract will not be able to completely relieve the pressure in the system. Therefore, keep your extruder clean and in good working order.
15) Problem with the driver on the motor in the feed system (motor on the feeder). It's a rare phenomenon, but it's still there. I've run into a problem where the driver only spins the motor in one direction, regardless of the command, whether it's spinning one way or the other -- the motor only spins in one direction.
And in practice it looks like this: the motor advances the plastic during printing, and at the moment of idling, when a retraction should occur, the motor sharply squeezes out additional plastic (because the driver rotates the motor in only one direction).
As a result, although this phenomenon is rare, it still took place in my practice.
Thank you for your attention, I hope the material was useful, I wish you all the best!
What is 3D printing and how it can be used! Interesting!
What is 3D printing
3D printing technology was patented in the 80s of the last century, but gained popularity relatively recently.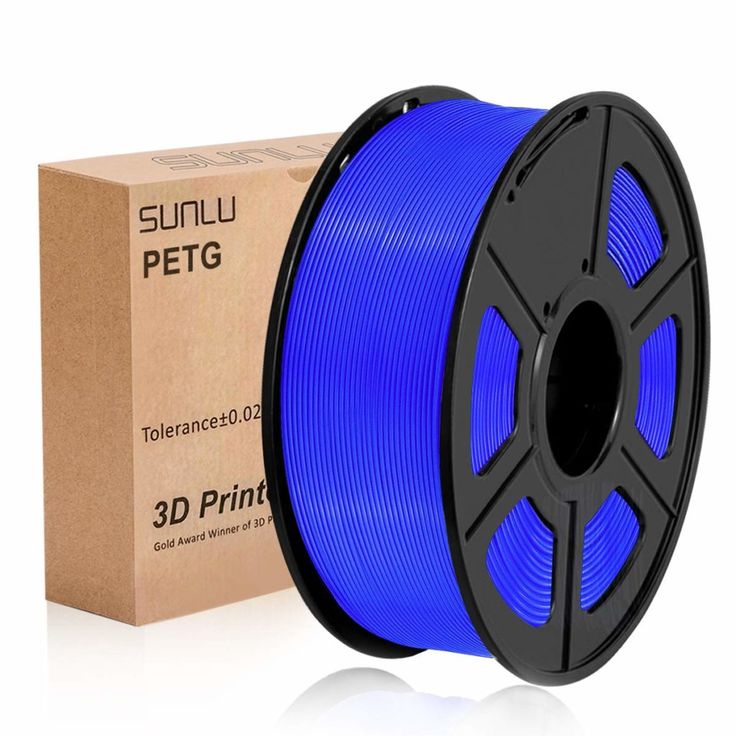 New, promising techniques have been developed and the possibilities of 3D technologies have reached a completely new level. However, to this day, the technique is not known in all circles, and not everyone is aware of what 3D printing is. In today's article, we will try to explain in detail and in an accessible way what 3D printing is and where it is used.
In short, 3D printing is a technique for manufacturing three-dimensional products based on digital models. Regardless of the specific technology, the essence of the process is the gradual layer-by-layer reproduction of objects.
This process uses a special device - a 3D printer, which prints certain types of materials. More details about it are written here. Other names for the technology are rapid prototyping or additive manufacturing. Often the phrase "additive technologies" is used in the meaning of "3D technologies".
3D printing steps
To make it clearer what 3D printing is, let's take a look at the playback process step by step.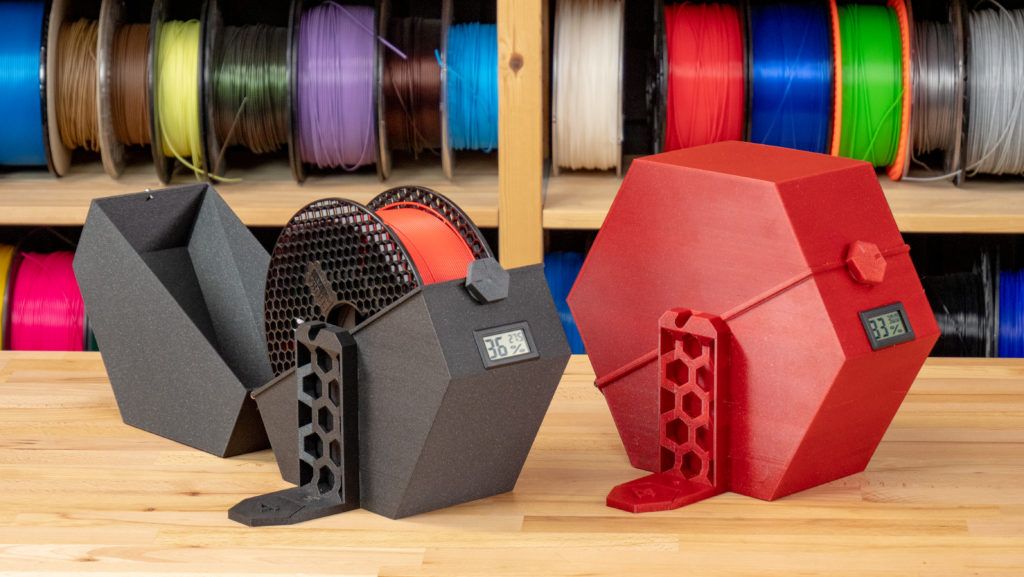 Below are the specific stages of 3D printing. How it works:
3D modeling of the required object is performed according to certain rules;
The file with the digital model is loaded into the slicer program, which generates the control code for the 3D printer;
Sets required 3D printing options;
The code is written to a removable memory that connects to a 3D printer;
The 3D model is reproduced.
Objects are played gradually. According to the required shape, the selected material is applied layer by layer, forming the finished product. It is worth noting that the possibilities of 3D printing are almost limitless, that is, anything can be made. In some technologies, very thin overhanging elements are provided with supports, thanks to which they can be avoided from sagging.
Naturally, this is a very simplified description of the stages of 3D printing, but they give a very clear idea of ​​the essence of the technique.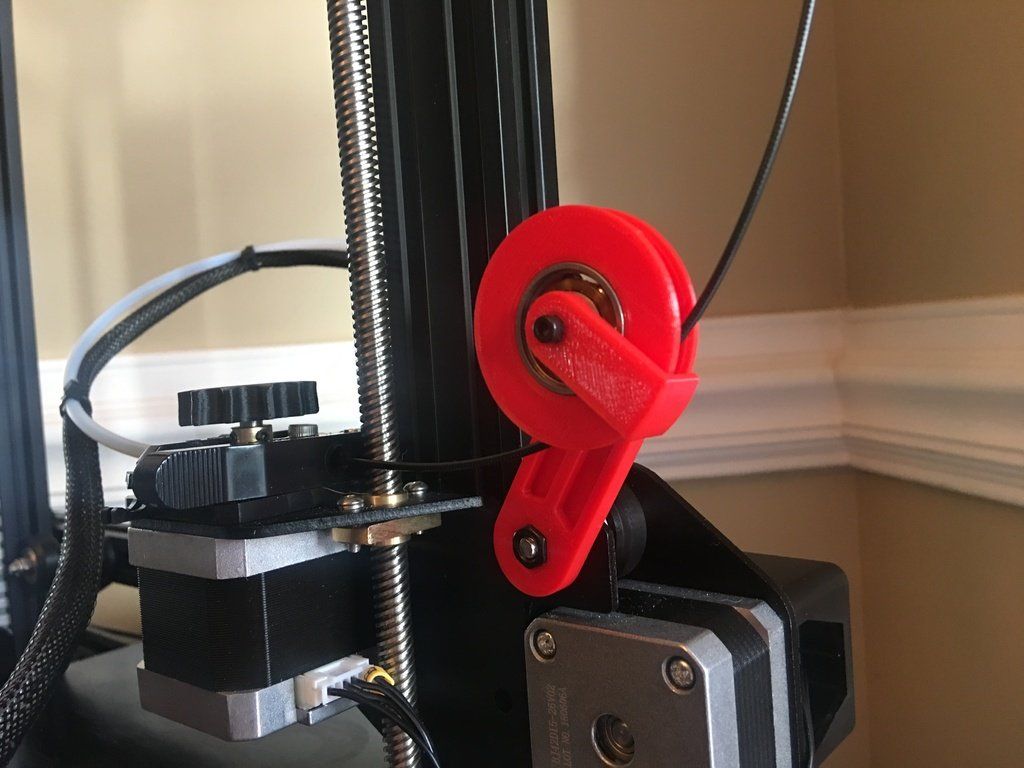 Other questions and answers about 3D printers and 3D printing:
Basics What is 3D scanning?
Basics What is a 3D model?
3D Printing Technologies
Different 3D printing technologies are used to reproduce different objects. They differ both in the consumables used, and in the speed and accuracy of printing. Here are the main 3D printing technologies:
Fused deposition modeling (FDM) . One of the most common 3D printing technologies, used in most desktop 3D printers, and represents an ideal price / quality ratio. Printing occurs by layer-by-layer supply of a thread of molten plastic;
Laser stereolithography (SLA) . The formation of the object occurs due to the layer-by-layer illumination of a liquid photopolymer resin by a laser, which hardens under the influence of radiation. One of the variations of this technology is DLP 3D printing. It uses a special projector instead of a laser. Both 3D printing methods are used to create objects with a high degree of detail. In the case of DLP printing, speed is also an added advantage;
Selective laser sintering (SLS) . Reproduction is performed by layer-by-layer melting of a special powder under the action of laser radiation. This 3D printing method is widely used in the industry for the manufacture of durable metal elements
Applications for 3D printing
As you probably already understood, the applications of 3D printing are extremely wide. The second name of the technology - rapid prototyping - speaks for itself. In the manufacture of prototypes and models of models, 3D printing can be simply indispensable. It is also a very cost-effective solution for small-scale production. In the aerospace and automotive industries, 3D technologies are already being used with might and main due to the high profitability and speed of manufacturing components. Culinary professionals are working on the development of 3D food printers, and in medicine, 3D printing has become something of a technology of the future.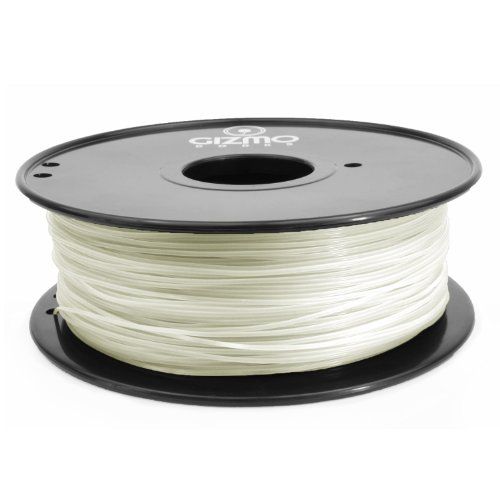 With the help of 3D bioprinting, it is planned to produce bones, organs and living tissues, but for now, implants and full-fledged medicines are printed on 3D printers. Desktop 3D printers can be used for domestic purposes: for repairs, making various household items, and so on. And designers, fashion designers, sculptors and artists appreciate the possibilities of 3D printing and 3D modeling as an unusual way to realize their talent.
Well, that was a brief description of what 3D printing is. We hope we were able to provide the necessary information in an accessible way. If you have additional questions that we have not covered, write to us by e-mail and we, if necessary, will add your questions! Best regards, 3DDevice team.
We also want to remind you about the possibility to order 3D printing, 3D scanning, 3D modeling services or purchase of related equipment and consumables with delivery throughout Ukraine in 3DDevice. If you have any questions, please contact us at one of the phone numbers listed here.