Fashion design 3d printing
3D Printed Fashion: The Top Designs
Published on August 4, 2022 by Alexandrea P.
Fashion brings together several industries, whether it is clothing, cosmetics, or luxury. All sorts of products are being created to embellish and affirm a style, a look, a way of being. In the world of fashion, it is necessary to know how to stand out and how to present ever more original and innovative designs. For that reason, many brands and designers are now turning to 3D technologies, which is understandable, given the number of new options the technologies present to express creative freedom while allowing mass customization and a reduction of environmental impact. The textile industry, as you've probably already heard, is known to have a negative impact on our planet. 3D printing, however, presents an opportunity to mitigate these effects, by using only the material that is necessary and by producing on demand. What applications of 3D printing are available today in the fashion industry? From haute couture dresses to handbags, we'll take a look at a few initiatives, listed in alphabetical order.
NFT Collection by Danit Peleg
Danit Peleg is the first designer in the world to have created a collection entirely using desktop 3D printers. The structure of his designs is inspired by mixing traditional textile properties with new technologies, which is how this lace-like texture was created. According to the designer, 3D printing allows digital fashion to become physical, which reduces the limits of creativity. The garments are printed layer by layer with a flexible filament using a desktop 3D printer to create a three-dimensional structure that fits the body shape. Danit Peleg believes that in the near future, we will have more wearable materials made by additive manufacturing to choose from.
Iris van Herpen
Dutch designer Iris van Herpen was one of the first to use 3D printing in the fashion industry. She already managed to impress everyone at this year's Met Gala with her extraordinary 3D printed creations which were worn by Teyana Taylor, Winnie Harlow, and Fredrik Robertsson.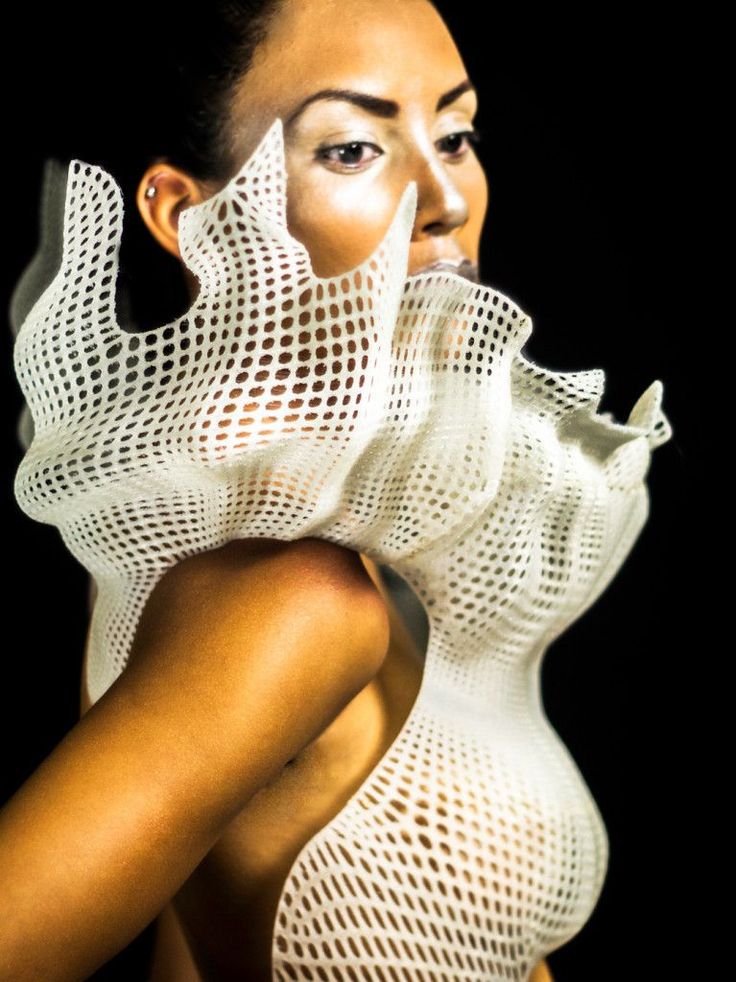 At this year's Fashion Week in Paris, she also unveiled a 3D-printed haute couture dress that was developed in a collaboration between the designer and Belgian ice cream brand Magnum. The dress was made entirely from a vegan organic material based on cocoa bean shells. Iris van Herpen's work is an intersection of fashion, design, technology, and science. In her designs, she brings together nature, fashion, and technology by using unconventional materials and technologies and combining them with traditional sewing techniques.
Galerie Dior
Additive manufacturing also found its way into the field of haute couture, as the example of the reproduced fashion pieces at  Galerie Dior in Paris shows. On display at the Boutique Dior located in the world-famous Avenue Montaigne, interested visitors can find several hundreds of 3D-printed replicas of former Dior garments, handbags, or even shoes. The manufacturing process took place thanks to the collaboration between the ALIGHIERI agency and LA FERME 3D ©.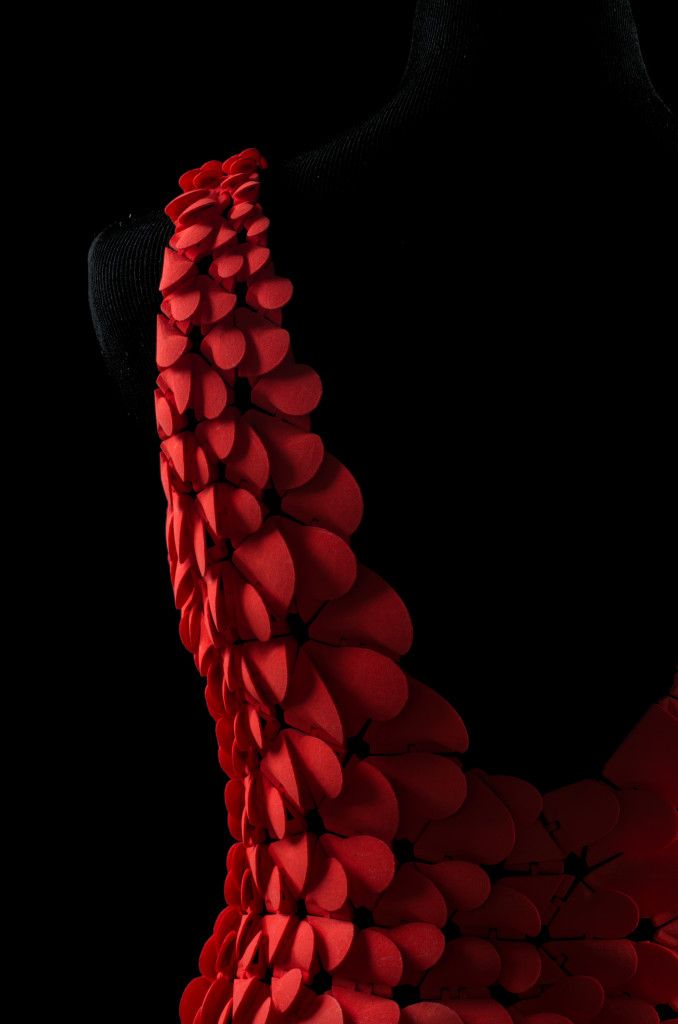 Together, they invested over 100,000 hours of printing and 10,000 hours of post-processing in the reproduction of the fashion elements. The printing was done by more than 30 3D printers, which were put to work for a total of six months, day and night, to complete the iconic Dior project. The material used for the production is entirely bio-based.
Kornit Digital and Its 3D Printed Knitwear
The high amount of society's consumption of fast fashion was the turning point for Ronen Samuel, CEO of Kornit Digital, a sustainable fashion brand that uses additive manufacturing to produce knitwear. For its sustainable and waste-reducing fashion, Ronen uses direct-to-yarn printing, which is printing directly onto all types of textiles. In this case, the company uses MAX technology, which applies ink layer by layer. The result is a garment that looks like it was knitted traditionally. Ronen Samuel's designs have already been presented at the Tel Aviv Fashion Show.
A 3D Printed Skeletal Mask for High Fashion
A great example of how 3D printing can be used to create a unique piece that can even give an outfit the missing touch which ultimately completes it is this skeletal mask created by designer Kevin Freitas Conlin.
The exotic-looking accessory, that was worn by drag queen Aquaria on the tenth season of the popular show Ru Paul's Drag Race, helped her win in the show's final. The bone-like structure of the mask, which was customized to Aquaria's face, was reportedly 3D-printed in laser-sintered nylon by American AM company Shapeways. This was the first time that 3D printing technologies were used on the show, and it inspired designers in later seasons of Ru Paul's Drag Race to experiment with it as well and create other unique pieces, such as the fashionable exoskeleton worn by contestant A'whora during season 12.
Julia Daviy's 3D Printed Skirt
Julia Daviy started creating 3D printed fashion back in 2017 and has since released a variety of amazing 3D printed clothing collections. With a special focus on sustainability, the California-based fashion designer, who has quickly become a pioneer of sustainable 3D-printed fashion, designed and produced many examples of fashion, jewelry, and home décor.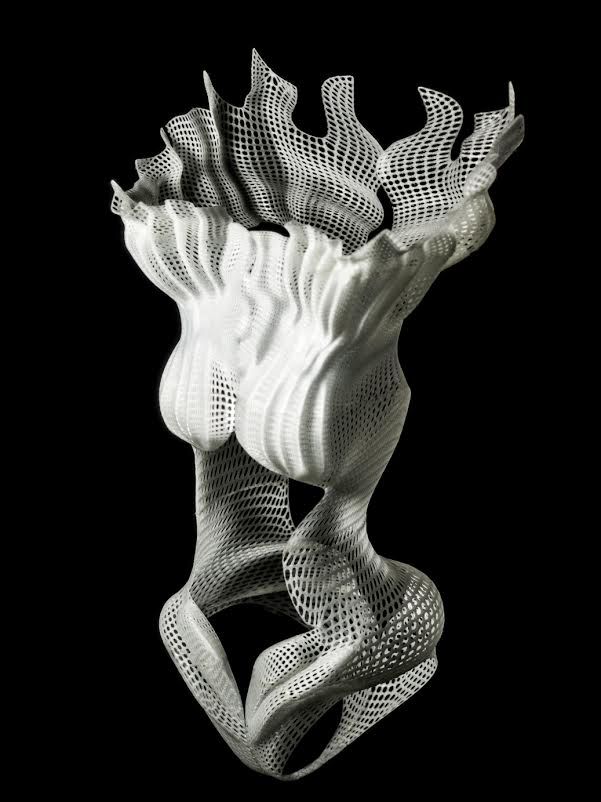 One interesting example of her work is The Organic Skirt. This particular piece is the central element of a 3D-printed collection that was released in 2019. In the project titled the After Forever Collection, all items of clothing were 3D-printed by using large-format 3D printers. The Organic Skirt was the first digital 3D-printed piece of clothing available on the U.S. market and is digitally customizable in over 1,000 variants.
VIP TIE
VIP TIE is an Italian company that is famous for 3D printing ties. The goal of the company is to offer fashionable accessories that are as personalized as possible in order to satisfy the needs and desires of the customers. VIP TIE combines both luxury and innovative high-tech design. The creation process of just one tie can include an intricate mix of several complementary procedures and materials: craftsmanship, embroidery, 3D printing, exotic leather, mother-of-pearl, carbon fiber, silver, gold, and silver plated solid. Apart from highly customizable products, another advantage of VIP TIE is that more than 80% of the materials used are 100% environmentally friendly.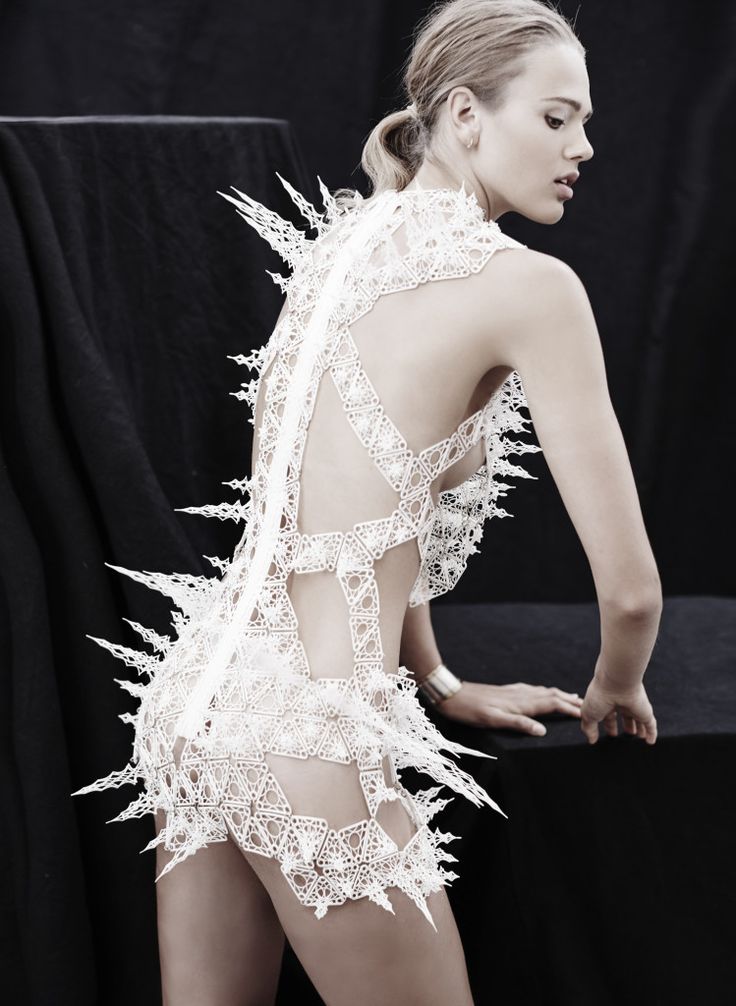 Patronace
Patronace is a sports brand created by award-winning designer Bastian Müller. The Munich-based brand offers 3D printed activewear for those who lead a fast-paced lifestyle. The clothes are made for everyday urban mobility, no matter if you commute by skateboard, scooter, or e-bike. For the production of the clothes, the brand uses a lightweight and flexible textile printing technology called GRDXKN, which transforms substrates into smart textiles. This unique material, with which Patronace manufactures these garments includes integrated protection and insulation, and has a special kind of grip thanks to the textile layer that controls moisture, is breathable, water repellent, abrasion resistant, and shock absorbing. The fashion created by the company with its intelligent textile allows you to feel both, safe and stylish at the same time.
3D Printed Leather Which Could Revolutionize the Fashion Industry
When it comes to materials in fashion, one that will never go out of style is leather.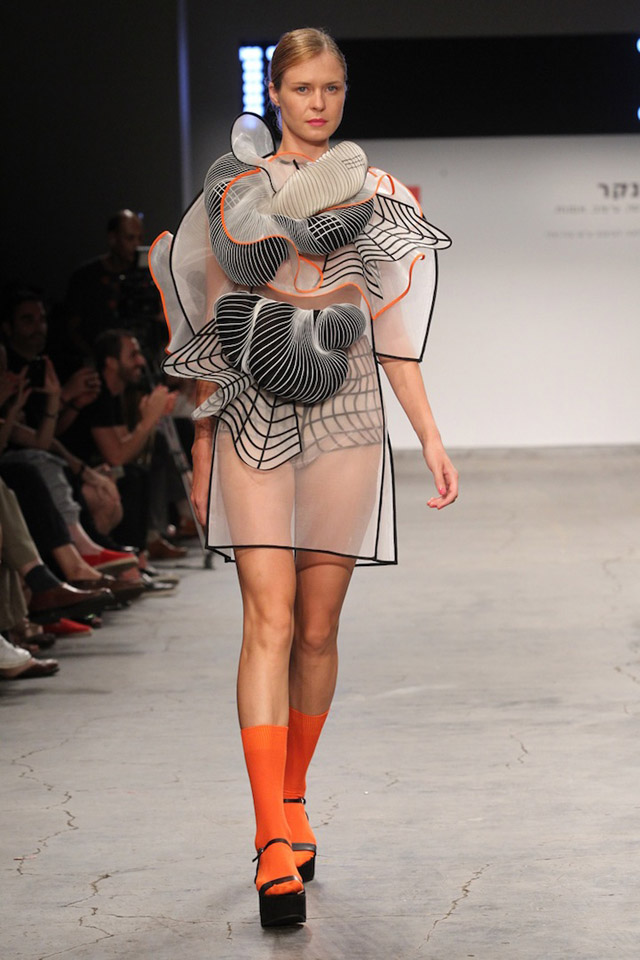 For jackets, boots and everything in-between, leather is a cornerstone in the industry. However, ethical use of the material can be difficult. Real leather is often touted as far superior to its alternatives, but many still would prefer leather to be animal free. Thankfully, researchers from Tufts University might have a solution. Using silk cocoons from the silkworm Bobmyx mori and 3D printing on a custom-built pneumatic extrusion 3D printer, the researchers were able to produce an environmentally friendly, animal-free leather alternative that not only resembles real leather but also has the same mechanical properties. Though as of now they have only made a wallet out of the material, the find could have a major impact on the fashion industry at large in the near future.
Stratasys and The SSYS 2Y22 Reflection Collection
Recently, well-known manufacturer Stratasys introduced its new commitment to the 3D printed fashion world with the launch of its J850 TechStyle 3D printer.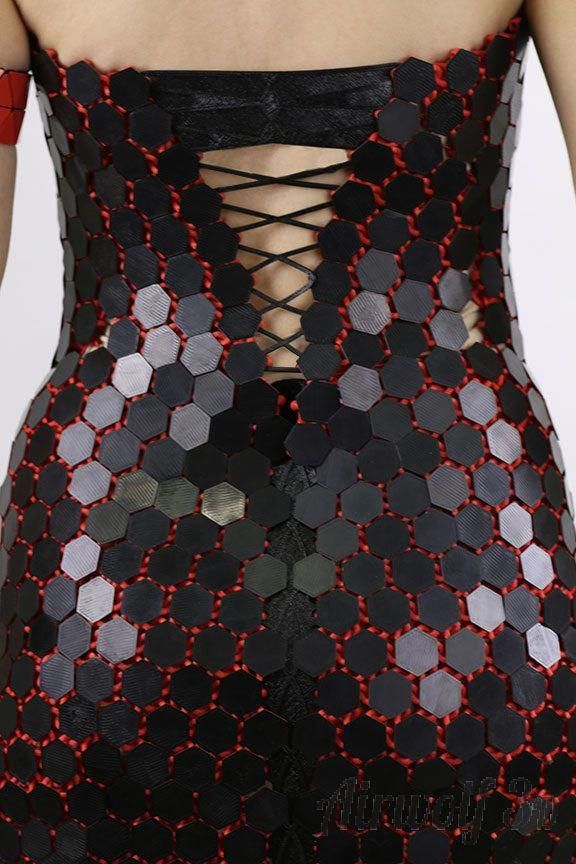 Following that, the American-Israeli company has continued to demonstrate the capabilities of additive manufacturing in this field. During Milan Design Fashion Week, it unveiled its SSYS 2Y22 Reflection collection, consisting of high-end accessories and apparel, which were all 3D printed. This was possible thanks to the collaboration with 7 other groups of designers that, together with the technology of its J850 TechStyle solution, allowed the development of an innovative line of products that aim to reflect the social impact observed in recent years. In the video below you can see the use of 3D printing to create these fashion garments, specifically from the hand of Ganit Goldstein, one of the designers who participated in the SSYS 2Y22 Reflection:
What do you think of this 3D printed fashion? Let us know in a comment below or on our LinkedIn, Facebook, and Twitter pages! Don't forget to sign up for our free weekly Newsletter here, the latest 3D printing news straight to your inbox! You can also find all our videos on our YouTube channel.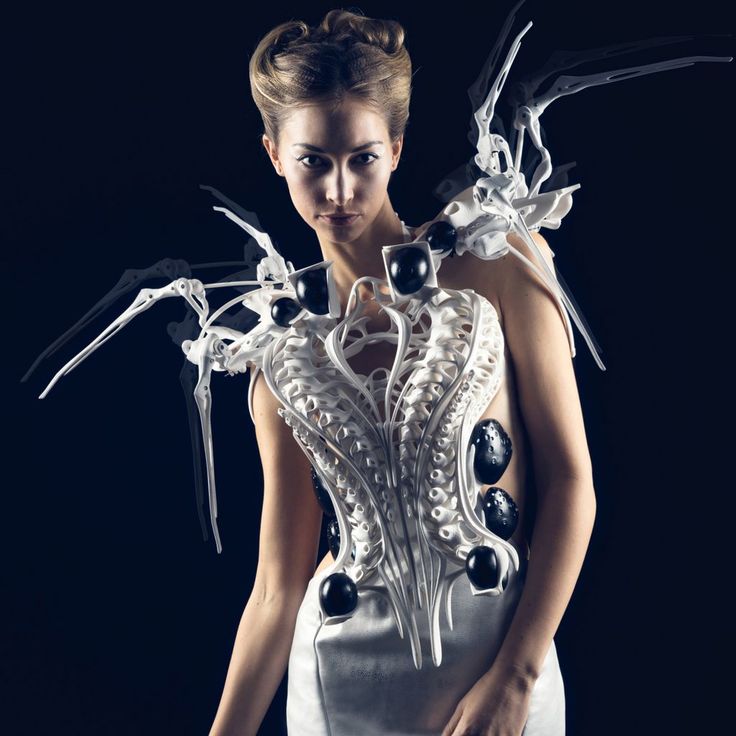 About - Danit Peleg
---
Danit Peleg and her team are eager to keep pushing the boundaries of 3D printed fashion. They are passionate about challenging the ecosystem to develop new materials, new printing techniques, and new software breakthroughs.
In 2017, Danit launched a revolutionary platform on her website that allows customers to order and personalize their own 3D printed garments. In 2020, Danit went a step further by offering digital files of 3D printed garments that can be downloaded and then printed at the customer's nearest 3D printer. It's like the iTunes store for clothes – it's truly Beauty You Can Build.
Danit also teaches a virtual workshop that introduces beginners to the amazing world of 3D-printed fashion. This live virtual course is one of the first of its kind. Danit believes that the generous exchange of ideas in fashion drives positive change and growth in this industry.
---
---
Danit Peleg is a fashion designer and a pioneer in 3D printed fashion.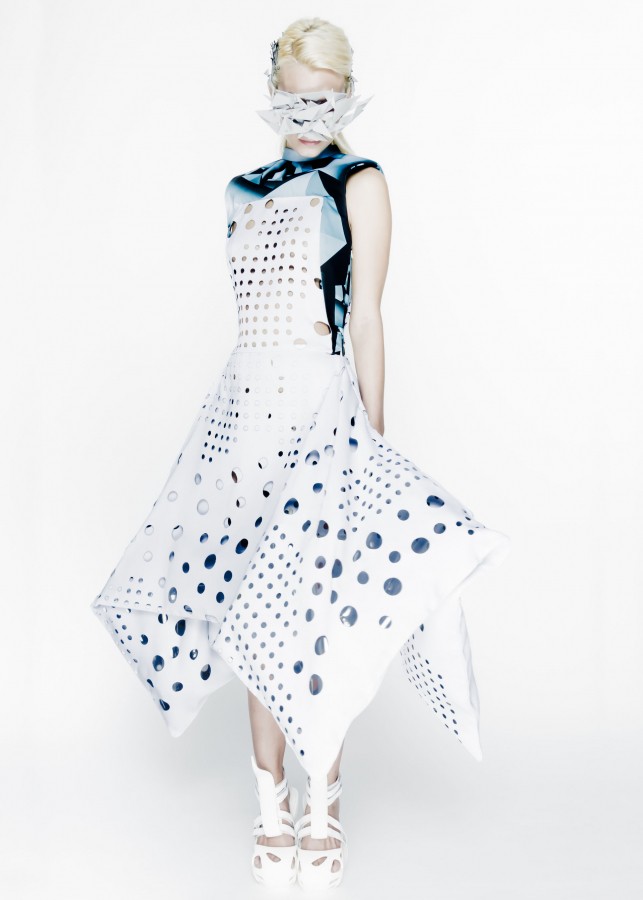 In 2015, she made international headlines for being the first designer in the world to create an entire collection using desktop 3D home printers for her graduate project at Shenkar College of Engineering and Design. In 2016, she was invited by the Paralympic Games to design a 3D-printed dress for Amy Purdy, a double-leg amputee dancer, who performed at the Opening Ceremony.
The Danit Peleg 3D Team works closely with both material researchers and printing companies to realize the dream of making 3D printing in fashion accessible to everyone. The team also aims to revolutionize the fashion industry by drastically cutting waste and pollution. This means disrupting traditional fashion supply chains and ultimately creating a more sustainable, hopeful alternative for the future.
Danit Peleg is also a consultant who advises fashion brands on how to incorporate this fascinating new technology into their work. She deeply believes that the generous exchange of ideas and knowledge in fashion drives positive growth and change in the industry.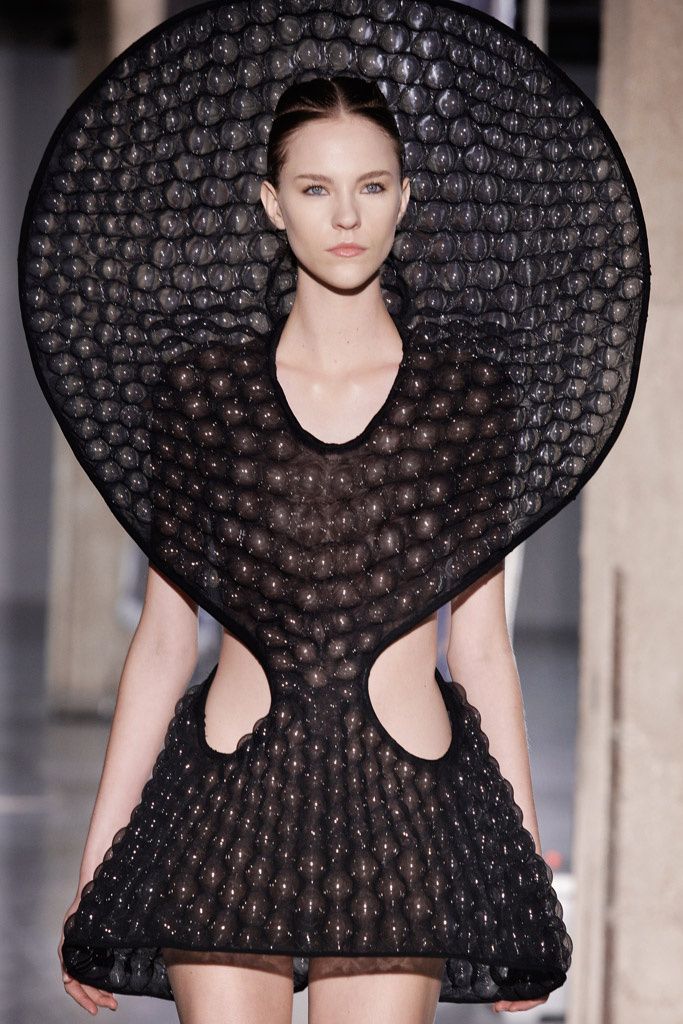 Her 3D-printed fashion items are highly coveted and have been sold and loaned to fashion icons, schools, museums, and events around the world.
Danit is also a TED speaker and has been featured in world-renowned publications such as Vogue, The New York Times, and Women's Wear Daily. In 2018, she was recognized as one of Europe's Top Women in Tech by Forbes. In 2019, the BBC named her as one of the 100 most inspiring and influential women in the world. Danit believes that 3D printing opens up fascinating new opportunities in fashion and wants to inspire future generations of designers to dream big. She is based in Tel Aviv, Israel.
Vito Peleg
Software Solutions
Fima Egorov
Research
---
Internship Opportunities
---
Danit believes in inspiring and equipping the next generation of fashion designers. She offers internship opportunities to those that have a passion for excellence and a curiosity for the extraordinary.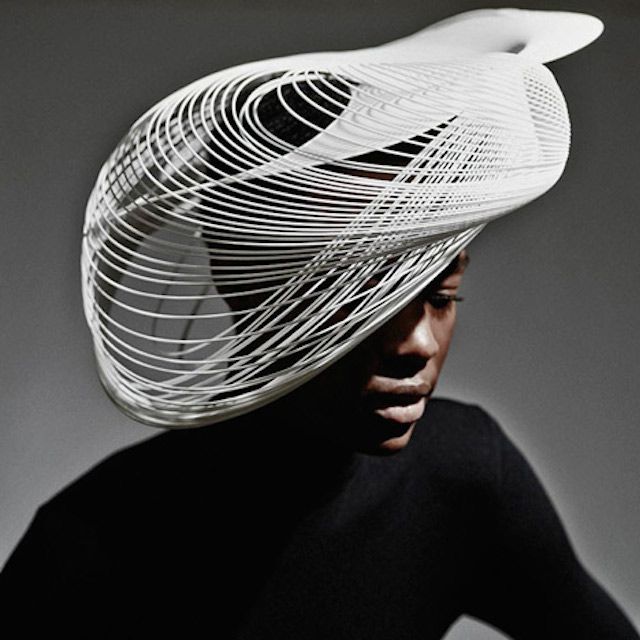 She personally interacts with her interns and oversees their work. Danit loves building meaningful relationships with her interns and they enjoy doing the same with her too.
We can accept interns from these programs: http://www.destinationisrael.com/ and
Israel Experience https://www.israelexperience.org/.
Please get in touch with these programs if you wish to apply to be an intern.
For more information, please email [email protected]
Public speaking
---
I feel very fortunate to be one of the world's pioneers in 3D printed fashion, and I didn't get to where I am today by myself. I had a lot of help from amazing makers in the 3d printing community.
I deeply believe that the generous exchange of ideas in fashion and technology drives positive change and growth in the industry. This is why I love opening up my heart and my knowledge to like-minded people through public speaking and sharing my personal vision and experiences in 3D printed fashion.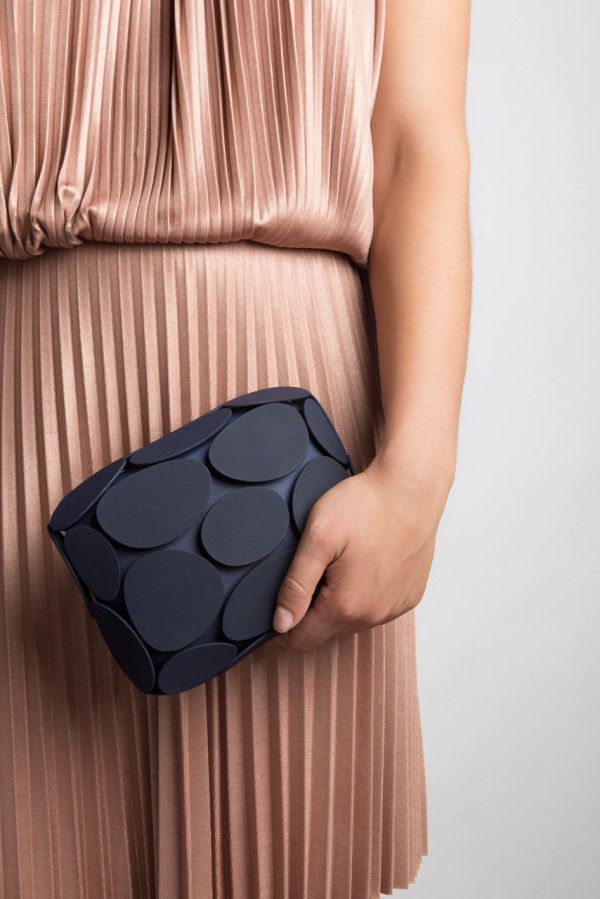 I enjoy talking about the power and potential of 3D printing in fashion, as well as where I think this technology is taking us next.
Feel free to email [email protected] to discuss your upcoming conference and how we can work together.
Titles of talks:
3D Printed Fashion – The Future Of Fashion?
Model the future of fashion technology with 3D printing pioneer Danit Peleg
---
Public speaking
---
as a photopolymer 3D printing can be useful in the fashion industry
Home / Blog / Application / As a photopolymer 3D printing can be useful in the fashion industry
01.07.2021
Brooches
Rings
Bracelets
Clothes and shoes
We are witnessing what many call the third industrial revolution: 3D printing or additive manufacturing could move us away from the era of mass production and lead to a new reality of customized custom manufacturing.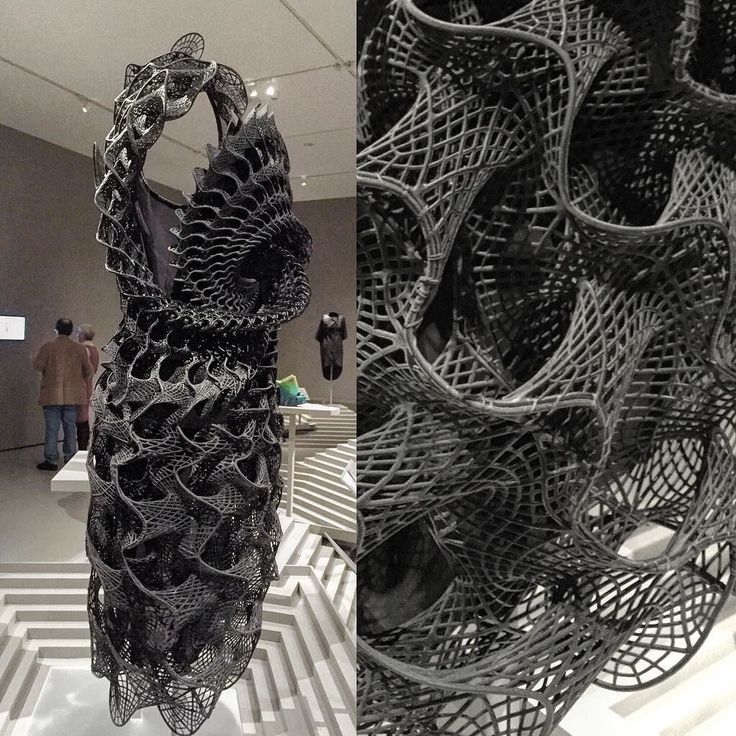 A good example is fashion. In the recent past, "fashion houses" were more like multidisciplinary research institutes. To create a collection of clothes, in addition to an expert sense of style, you need knowledge in anatomy, advanced sewing machines, appropriate fabrics and accessories, accessories, shoes, people (cutters, seamstresses, models, and many others). Through trial and error, an art object is created, rarely successful, but always laborious. 3D printing is a toolless manufacturing method that allows physical objects to be produced from a 3D model, usually in layers. The term is also used generically as a synonym for rapid prototyping. The scope of technology is endless - from tools and toys to robots and mechanical parts. There is no limit to what a 3D printer can create.
Fashionable, futuristic design requires innovative production technologies, and this is where 3D printing comes to the rescue. A wide variety of fashion accessories including bracelets, rings, brooches, necklaces and pendants can now be easily 3D printed.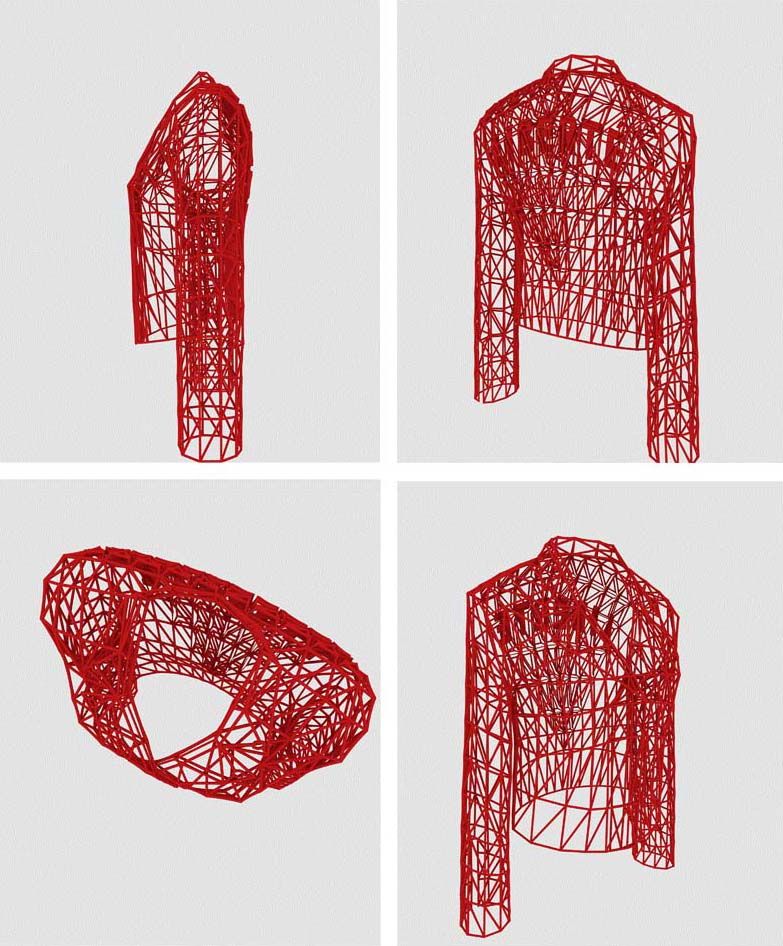 Let's take a closer look at how this technology can be used in the fashion world.
Individual design
One of the unique aspects of 3D printing is the ability for designers to create custom shapes and sizes that would be impossible to produce with traditional methods.
Photopolymer 3D printing allows designers to produce products in small batches. Fashion designers can now create bold, one-of-a-kind pieces. In addition to time, technology can significantly reduce costs.
Accessories
The range of fashion accessories depends more on the imagination of the creator than on the capabilities of your wallet. All this can be easily printed using a conventional photopolymer 3D printer. Need a flower ring? No problem! 3D printing can do this and more. What else can be produced in this way?
Brooches
Brooches are intricate pieces of jewelry that will highlight your personality. Business women especially like to use them to decorate and complement their business suits.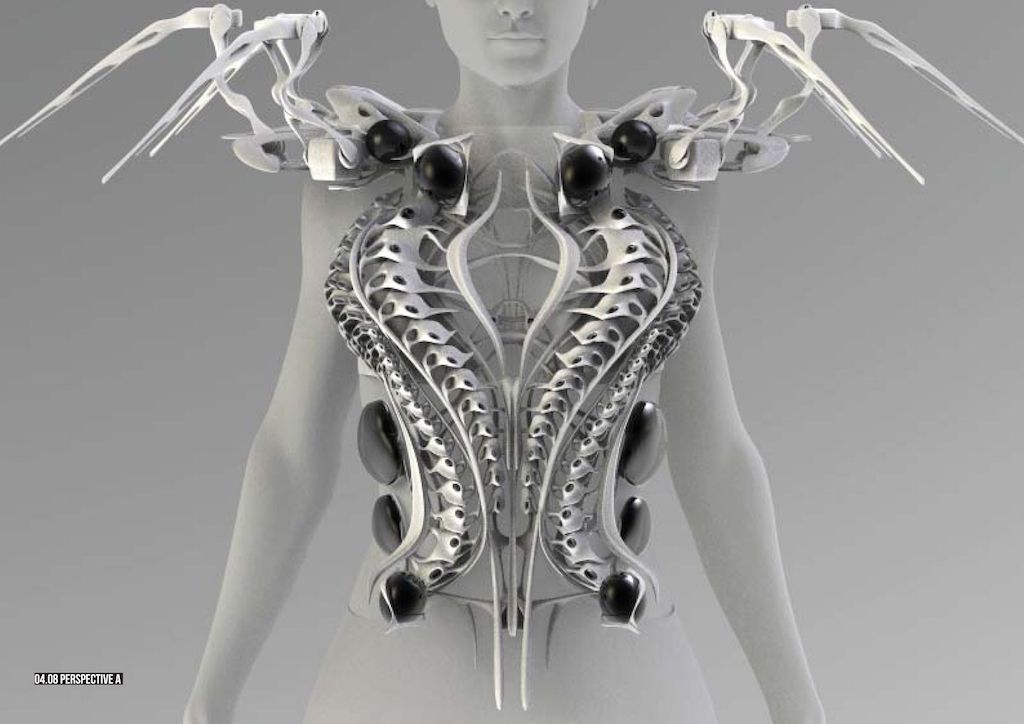 For example, Madeleine Albright, the first female US Secretary of State, over the years of her career has created a new diplomatic language, full of metaphors and hidden meanings. Through jewelry, she expressed her mood, intentions or the situation at the negotiations, and political scientists and journalists vied with each other to interpret the images on the left lapel of her jacket. 3D printing can be used to produce a custom brooch that can complement the look, and perhaps say something to the "initiates".

Rings
3D printing can be used to prototype a ring before making it into the final form in precious metals and stones. This will allow the designer to easily and quickly make adjustments, ensuring the ring fits perfectly and matches the client's expectations and end result. Important factors are saving time, money and certainly a significant reduction in the likelihood of errors in the final product.
If earlier only professional 3D printers costing from 50 thousand dollars were suitable for the purposes of the jewelry industry, now, with the introduction of inexpensive mono LCD displays with 4K resolution, such printing is available to any jewelers and designers.
The budget for such a purchase fell below $500.
Bracelets
Similarly, intricately designed bracelets can be created using photopolymer or wax 3D printers. It can be an exclusive version, one of a kind, which, if necessary, can be mass-produced. Technology allows you to think more broadly and not be afraid to experiment with expensive precious metals and stones. After all, modern consumables allow you to create prototypes with a high level of reliability.
Clothing and footwear
Shoes, dresses and other fashion items can also be printed using 3D printers. This allows you to create ready-made items for wear, as well as improve the design of the model before launching into mass production. Shoes with geometrically complex 3D designs often find their way into the fashion mainstream. And for more mundane purposes, there are sneaker soles. For example, Adidas makes them from a mixture of polymer resin with the addition of polyurethane and prints in a lattice structure that promotes proper load distribution.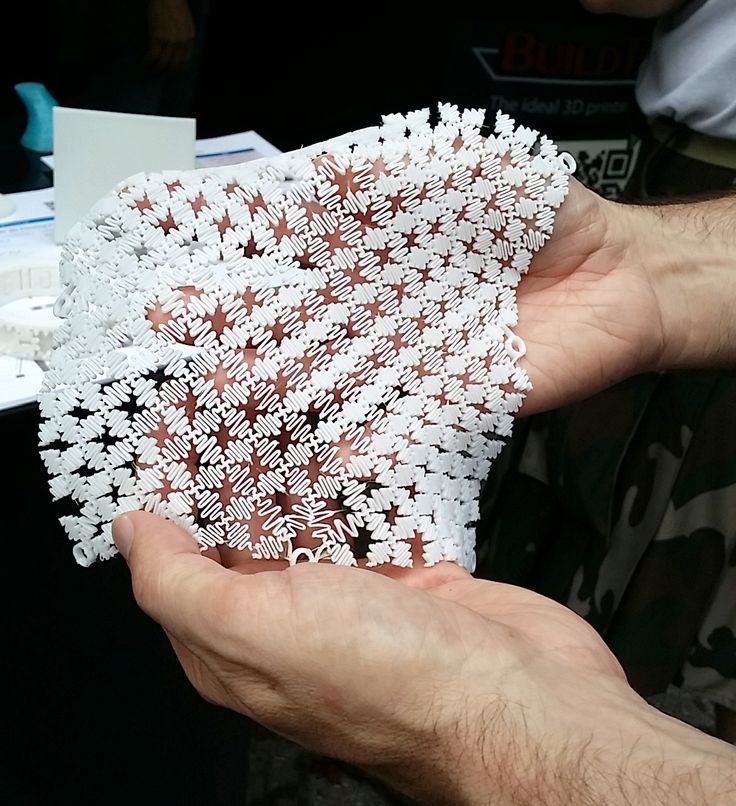 According to Adidas, Futurecraft 4D shoes are characterized by incredible comfort, as well as unique ergonomics and wear resistance.

Simultaneously with shoes, there are numerous experiments on the use of 3D printing to create designer outfits and especially dresses.
One of the first 3D printed dresses was presented by American model and singer Dita Von Teese in March 2013 in New York. Couturier Michael Schmidt and Francis Bitonti teamed up with 3D printing service Shapeways to print it using additive manufacturing technology. It consisted of 17 nylon pieces, which were painted black and encrusted with 13,000 Swarovski stones.
In 2019, a whole series of such models was already presented at the famous charity Met Gala in New York. The photo shows American celebrities in outfits with 3D printed elements. Especially everyone was struck by the dress in the form of a rose petal
(center) in which British model Jourdan Dunn appeared at the ceremony.
It, like the entire collection, was created by fashion designer Zac Posen in collaboration with GE engineers and 3D printers and made a splash on the red carpet of the event.
It is too early to talk about the widespread introduction of 3D printing in the fashion industry, but it is already clear that this process will continue. Creating jewelry to order is not a trend of the future, but of the present, a prerequisite for meeting the needs of the customer.
Source: https://www.if24.ru/3d-pechat-v-industrii-mody-novoe-izmerenie/
#Application
Russian entrepreneur, expert in the field of additive technologies and 3D equipment. Founder and head of the Tsvetnoy Mir company and the Center for Innovative 3D Printing Best3D Print.
Share
all materials
Do you have any questions?
Our specialists will help you with the choice of 3D equipment or accessories, consult on any questions.
Possibilities of 3D printing: art, fashion, medicine
Sculpture by Monika Gorchikova (Czech Republic)
Expressive sculptures by contemporary artists, dresses for fashion shows, architectural models and parts of the human body - a short guide on how to use 3D printing was compiled by Artyom Dezhurko .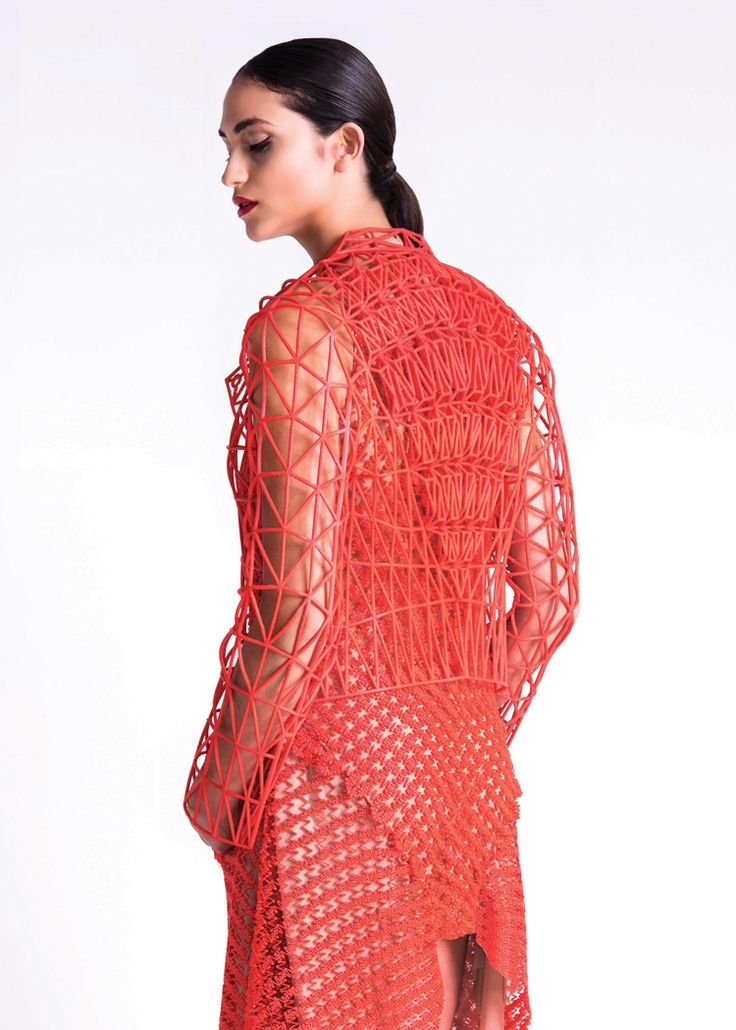 3D printing was invented by American Chuck Hull in 1984. Modern 3D printers are capable of printing large objects, up to a car body; and use different printing techniques (stereolithography invented by Chuck Hull is just one of them). However, whatever the technique may be, the essence is the same: the printer creates an object by building up the material in layers. Thus, you can create an arbitrarily complex shape. 3D printers print from different materials: plastic, cellulose, ceramics, metals, sugar.
This material is an illustrated overview of how 3D printing is currently used in various fields: art, architecture, technology, fashion, medicine.
Richard DuPont, USA
Nick Erwink, USA
"Princess", Eric van Straten, Netherlands
A modern 3D printer prints layers so thin that they can no longer be seen with the naked eye. Therefore, sculptors love it: 3D printing is the same casting, but technologically simplified and allowing endless replication of the object.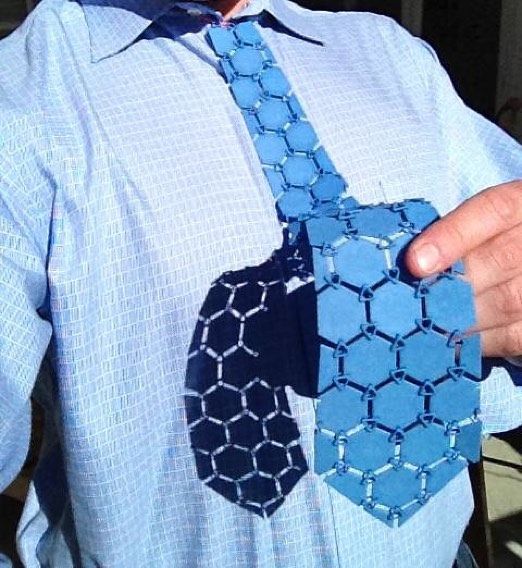 Sculptures with her help are very different: from photographically accurate images of famous football players to the vicious postmodern statuettes of Eric van Straten.
Michael Hansmeyer and Benjamin Dillenburger. Digital Grotesque, 2015
Study paper by Andy Zheng and Christina Eromenok at RPI School of Architecture
PTW Architects. Model of the Beijing National Water Sports Center, 2007
Most often, 3D printing is used for rapid prototyping - creating models of mechanisms and, especially often, architectural models. In addition, now 3D printers have begun to be used to produce large parts from which prefabricated houses are created. The Chinese company Winsun is experimenting with this technology.
In the automotive industry, 3D printing scale model production is widespread and seems to have completely supplanted the old plasticine sculpting technique. A model of James Bond's car from the movie "Skyfall" was printed on a 3D printer. And in 2010, a prototype of the Urbee car was created, the entire body of which was printed on a 3D printer.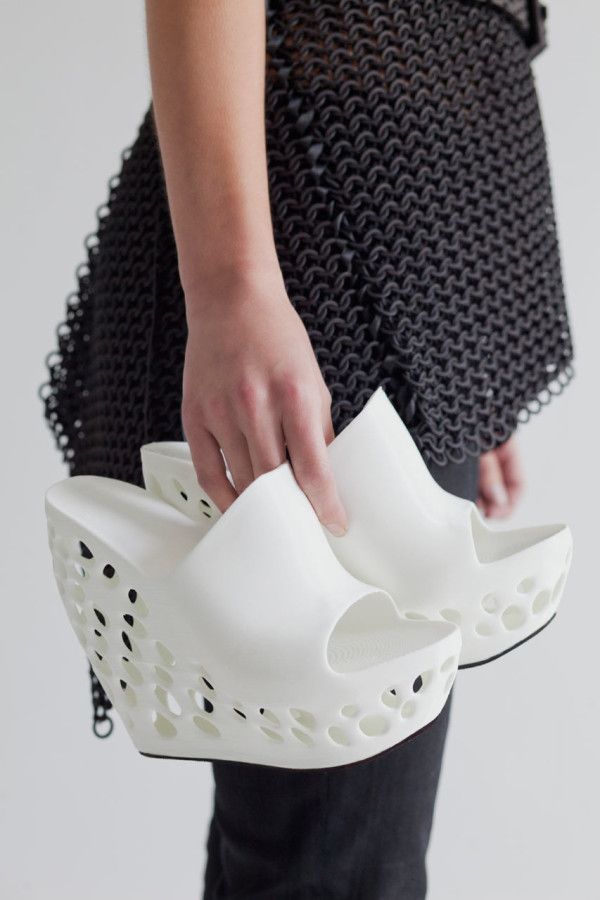 ideas2cycles, Finland, The Fixer, 2012
Several bicycle frames have been created using a 3D printer (and even an entire Airbike bike - developed by EADS), but in their case there is no talk of mass production yet. More promising is the printing of couplings made of durable plastic, with the help of which in small "garage" bicycle workshops it is possible to assemble frames from factory metal tubes.
Chair Gaudi (Bram Genin)
A mold is printed on a 3D printer, which is then used to cast the supporting structure of the chair.
Hot Pop Factory
Sculpture of Charles and Ray Eames DSW chairs scanned and 3D printed.
LINK system
Christian Sjöström, Sweden, 2015.
Prototype Node
Modeling in Grasshopper. Charles Freed, UK, 2015.
3D printed as whole furniture (e.g. Gaudi chairs, designed by Bram Genen, 2009) and piece by piece (designed by Benjamin Vermeulen), as well as connections with which prefabricated furniture can be assembled without using bolts and nuts.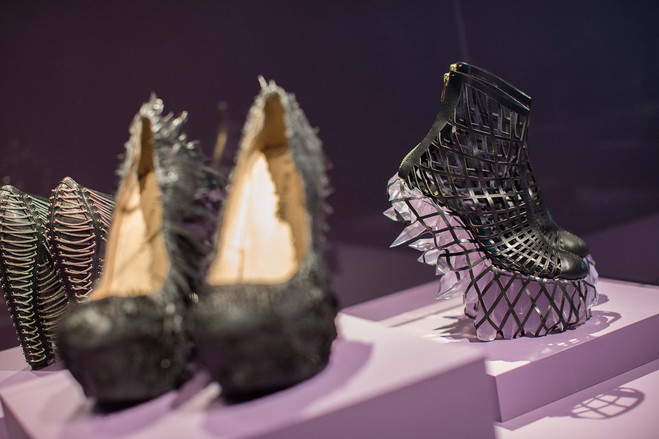 Such joints have been made before, but 3D printing has greatly simplified their production.
Noah Raviv. Hard copy collection. 2014
Noah Raviv. Hard copy collection. 2014
Chromat. Formula 15 collection. Spring-summer 2015
Michael Schmidt, Francis Bitonti. Dita Von Teese dress. Laser printing (SLS). 2013
Iris van Herpen, Julia Koerner, Voltage Show. Print materialize. 2013
Iris van Herpen. Crystallization Collection. Summer 2010
Iris van Herpen. Autumn-Winter 2013-14
3D printers can print elements from which plastic fabric is then woven. Either from this fabric, or directly from plastic, dresses, bathing suits, shoes are created. Iris van Herpen has released several collections of 3D printed dresses and shoes. United Nude prints shoes designed by famous designers and architects: Zaha Hadid, Rem Koolhaas, Ross Lovegrove. But the most famous piece of clothing created using this technology is Dita Von Teese's mesh nylon dress.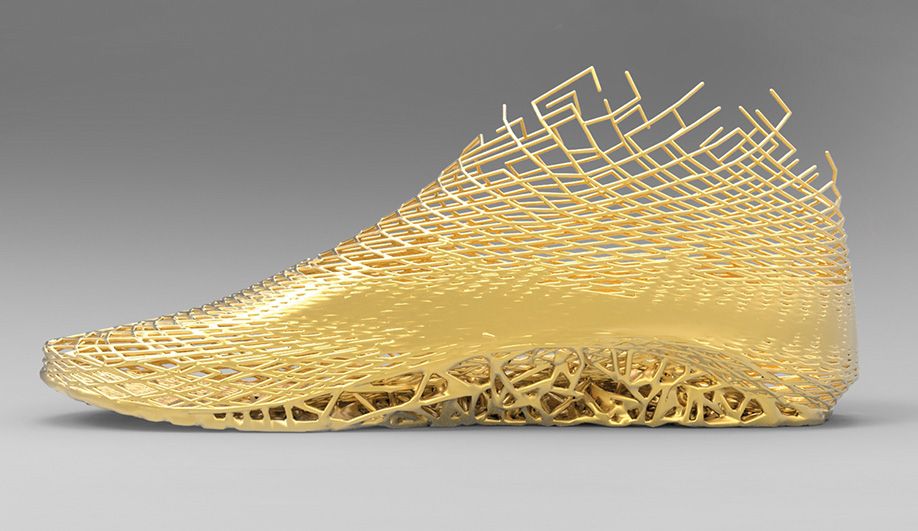 #Cast is a custom tire consisting of the letters that the patient most often typed on Twitter. Manufacturer FATHOM, designer Eva DeCapri (USA). 2014
Prosthesis on the model of the patient's skull. Photo from Walter Reed Hospital in Washington
Arm splint. The developers are UCLA School of Architecture and Urban Planning students Nicholas Solakian, Peter Nguyen and Derek Buell. 2013
Medicine is the most promising application for 3D printing. By scanning the surface of the body, it is possible to create fixation bandages that exactly match the anatomy of a particular patient, "custom" prostheses and implants that reproduce lost parts of the skeleton. One unfortunate man who lost half of his face had the missing half printed on a 3D printer. There is no photo of this person here, but you can easily find it if you wish.
Printer self-reproduction
There are printers that can print parts of themselves. Undoubtedly, in the coming years they will learn to breed.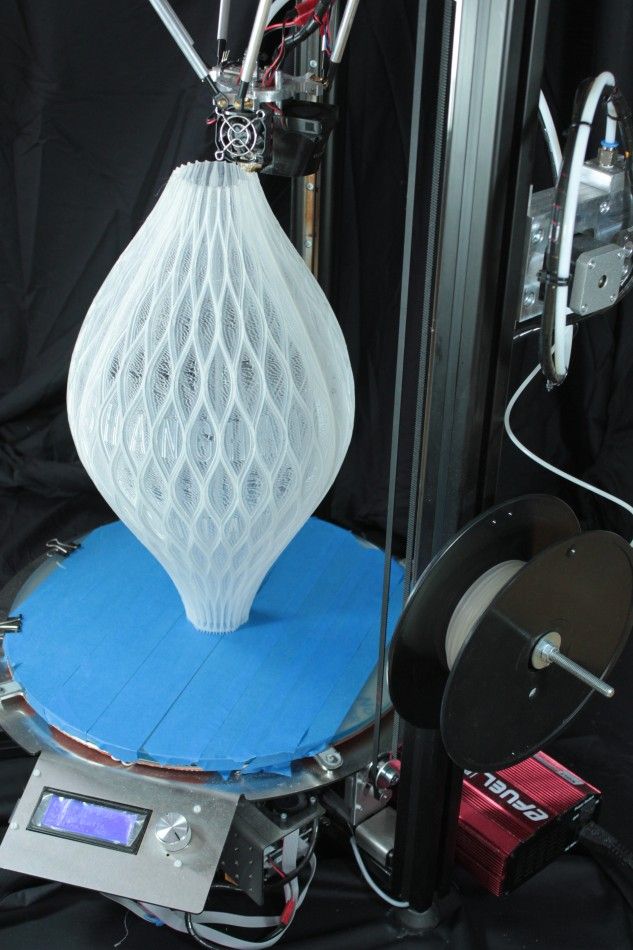 Growing donor organs
3D printing technologies for living tissues and organs are being developed. Living cells are used as the material, with which the printer "seeds" the matrix.
The text was first published in the online magazine of the Rizoma Design School, edited by Tatyana Bakina.
Artem Dezhurko
Art and design historian, exhibition consultant and curator, architectural journalist.
More
Fashion Architecture
Field of study
Fashion field at the HSE School of Design
HSE School of Design is a meeting place for the most talented students in Moscow and Russia who see their careers in the fashion industry. They learn under the guidance of curators - current designers and industry professionals who immerse students in the current context. Deep theoretical and practical training allows students to choose any profession in the fashion world, not limited to fashion design, and a student portfolio and participation in specialized competitions and fashion weeks helps to express themselves in a professional environment while still being students.