Best delta 3d printer 2023
7 Best Delta 3D Printers 2022 in Every Price Range
Named after the delta robots which inspired the RepRap Rostock and Kossel 3D printers, there are a number of small yet key differences between a delta 3D printer and a standard Cartesian FDM 3D printer.
Best Sewing Machine 2022 | Unbiased...
Please enable JavaScript
Best Sewing Machine 2022 | Unbiased Reviews & Ultimate Buying Guide
Tall and extremely fast, we explain everything you need to know about delta 3D printers, and the best delta printers we recommend in every price range.
The Best Delta 3D printers and where to buy them
| Name | Max Build Volume (mm) | Speed (mm/s) | Price | Where to buy for best price |
| --- | --- | --- | --- | --- |
| Monoprice Mini Delta | 110 x 110 x 120 | 150 mm/s | $179 | Amazon here |
| FLSUN Q5 | 200 x 200 x 200 | 150-300 mm/s | $260 | Amazon here |
| He3D K280 Delta | 280 x 280 x 600 | 150 mm/s | $320 | Amazon here |
| FLSUN QQ-S | 255 x 255 x 360 | 300 mm/s | $379 | Amazon here |
| Frankensbox FX-800 | 150 x 150 x 175 | 150 mm/s | $299 | Amazon here |
| Monoprice Delta Pro | 270 x 270 x 300 | 150 mm/s | $699 | Amazon here |
| WASP Delta 2040 PRO Turbo | 200 x 200 x 400 | 500-600 mm/s | $3,400 | Amazon here |
What is a Delta 3D Printer? How does Delta 3D Printing work?
Delta 3D printers are tall and thin; they can easily be told apart from standard Cartesianprinters from their cylindrical build.
They use Bowden extruders, and usually have round rather than square print beds, which do not move.
Instead, the extruder above the print bed moves using 3 arms attached to individual posts located every 120 degrees to form a triangle. Though each individual arm can only move up and down on each post, by moving each of these delta arms individually using trigonometric functions the extruder can reach any part of the print bed and move in any direction.
Delta robots like this design inspired the first delta 3D printers.
Delta 3D printers are known for their speed. Everything about them is built to be fast — the motors and extruders are fixed around the top and sides of the printer, and the print head is as light as possible to minimize drag and retain accuracy at such high speeds. It is not unusual for a good delta printer to print at 300mm/s, whereas most Cartesian printers average around 60mm/s. They're a joy to watch at such high speeds and make large prints far more bearable.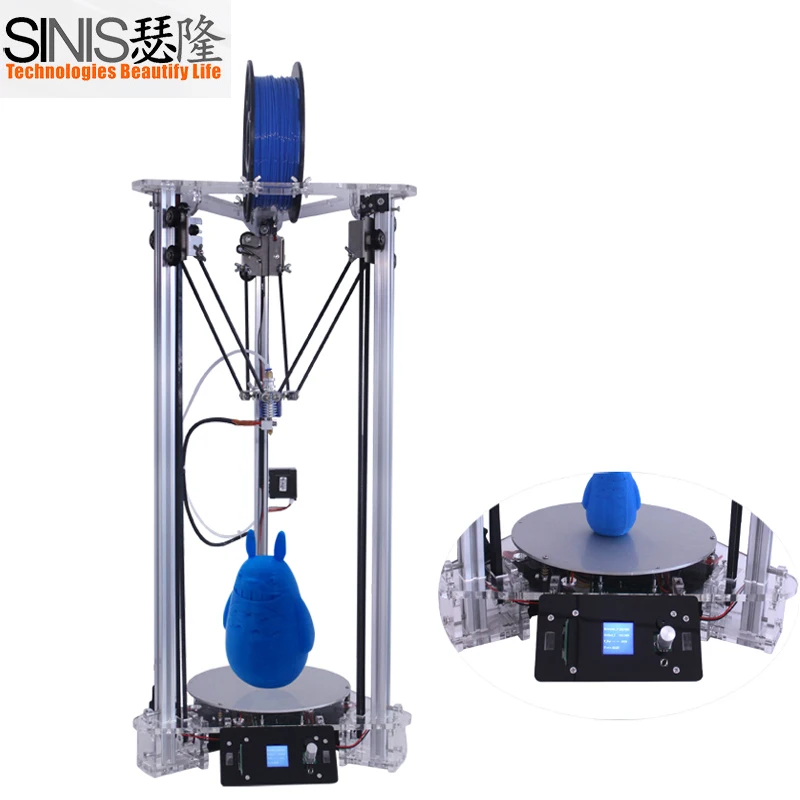 How much does a Delta 3D printer cost?
Cheap Delta 3D printers can start at just a couple of hundred dollars, with cost savings if you're willing to build the printer yourself. The lowest price printer we recommend is under $200.
For a delta 3D printer that prints faster, more accurately and more reliably, you can spend a few hundred dollars up to a few thousand depending on your preferences.The 3 arms on a delta 3D printer can be seen here. They influence the movement of these very accurate 3D printers.
Delta 3D Printer Pros and Cons & Comparison vs Cartesian 3D Printers
Advantages of a delta 3D printer
Extremely fast — even the cheapest delta 3D printer is twice as fast as most Cartesian printers. Cartesian printers are heavier and risk printing inaccurately by 'overshooting' the STL file dimensions if they try to print too fast, resulting from the momentum required to move the heavier printer parts.
Large build volume 3D printing — delta printers can usually print very tall structures.
Hypnotic print style — the speed and style of a delta print makes it almost a hypnotic experience. Not a technical advantage, but an aesthetic one.
Disadvantages of a delta 3D printer
Smaller community of users — there are less users of delta printers so those facing problems may have more difficulty finding solutions. There are however facebook groups and forums for specific delta 3D printer owners to share information and help each other.
Higher learning curve — many DIY delta 3D printers can take many hours to assemble and require previous electronics or 3D printing experience. Delta printers are generally known for being more for experts than beginners. We have however listed pre-assembled delta 3D printers in our ranking as well for those less confident in their DIY skills.
3DSourced is reader-supported. When you buy through links on our site, we may earn an affiliate commission.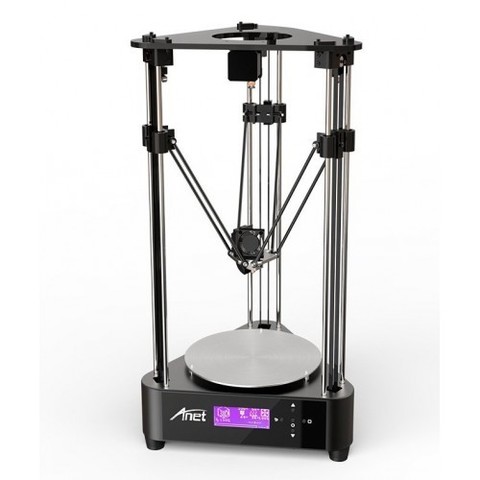 Learn more
Best Delta 3D Printer
1. Monoprice Mini Delta
Delta 3D printer price: $179 — Available on Amazon here
Maximum print volume: 110 x 110 x 120 mm
Speed: up to 150 mm/s
Weight: 1.8kg
Monoprice make some of the best budget 3D printers around, with the Monoprice Mini Delta no exception. Despite the low price, the Mini Delta features a solid steel and aluminium frame to retain stability and durability. Additionally, the heated bed means you can print ABS and PLA — though beginners to 3D printing will probably most enjoy the fact that the Mini Delta comes fully assembled and doesn't require any DIY skill.
Incredibly, the Monoprice Mini Delta can print at 50 micron layer resolutions, fantastic for such a low price printer. The printer calibrates itself you don't need to, and you can print remotely via WiFi, as well as by USB or SD card.
However, the print speed isn't as fast as some delta 3D printers in higher price ranges.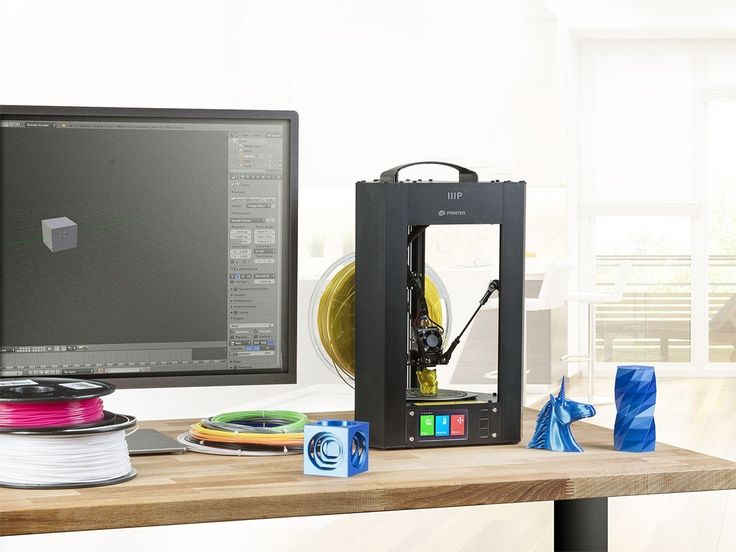 Though the 150 mm/s speed is still far faster than most FDM 3D printers, for a delta printer this is still mediocre. It is easy to use, comes assembled, and compatible with Cura or Repetier-Host 3D slicers, so for a cheap delta 3D printer it's a great choice.
2. FLSUN Q5
Price: $260 — Available on Amazon here
Maximum print area: 200 x 200 x 200 mm
Speed: up to 300mm/s (recommended around 150mm/s)
Weight: 6.5kg
The lower price version of the highly rated FLSUN QQ-S, the FLSUN Q5 is one of the best delta 3D printers around. It still features a solid metal structure for stability, still has the easy-to-use touchscreen, and can still print up to 300mm/s.
One of the key differences between the QQ-S (apart from being $100 cheaper) is the smaller print volume: 200 x 200 x 200 mm. This is still large enough for most prints, but those looking for a large 3D printer may prefer the QQ-S or another delta 3D printer we recommend. It's easy to assemble, prints almost all the standard FDM filaments, and has a power resume function that can save you so much stress in the event of a power outage.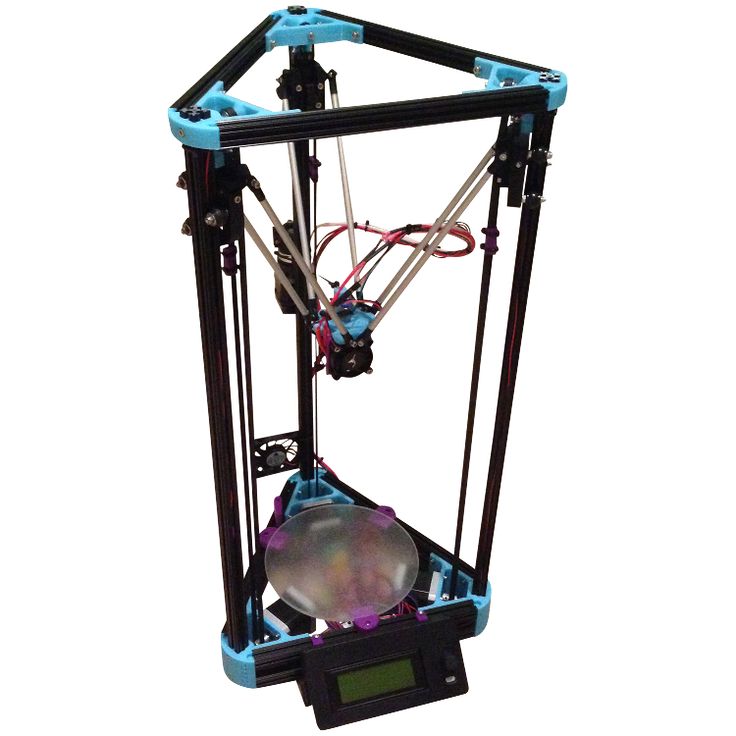 It's not quite as accurate as some of the printers on this list, but for a low cost 3D printer that can print quickly and with reasonable accuracy, it's a great choice.
3. He3D K280 Delta — Huge delta 3D printer
Price: $329 — Available on Amazon here
Maximum build area: 280 x 280 x 600 mm
Delta 3D printer print speed: 150 mm/s
Weight: 10.5kg
The He3D K280 Delta is a truly massive 3D printer. You'll need to assemble it yourself, but when you have, this beast prints taller parts than almost any other 3D printer in the world.
The frame is made of solid aluminium and steel, and prints a wide variety of filaments including Wood filaments, Nylon, TPU, HIPS, Flexible PLA as well as standard PLA and ABS. It's compatible with Repetier-Host and like the Monoprice Mini Delta can print with a very impressive minimum 50-micron layer resolution. Like the Mini Delta you can also print over WiFi, or with a USB or SD card.
The reason you get so much printing volume for such a low price is that you do need to build it yourself.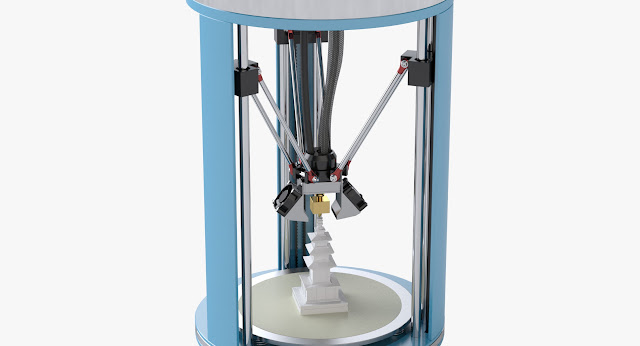 Some Amazon reviewers have highlighted difficulties with some of the screws during the build process, but fairly simple fixes have been found. There is an active Facebook group for the K280 Delta if you do run into problems, which you can find here.
If you're a beginner or not as confident with your making skills, go for the FLSUN QQ-S (or Mini Delta if you want to save money), but if you've got the skills you can reap the print size benefits with the He3D K280 Delta. Oh, and they also make a really neat 3D scanner.
4. FLSUN QQ-S
Delta 3D printer cost: $379 — Available on Amazon here
Max print volume: 255 x 255 x 360 mm
Speed: up to 300 mm/s
Weight: 12.5kg
We recommend the FLSUN QQ-S highly as one of the best budget delta 3D printers around. It comes 90% assembled (the last few steps take around 20 mins to complete), comes with a 3.2 inch touchscreen, and can level itself.
We were lucky enough to be sent a FLSUN QQ-S to test and review. Check out our FLSUN QQ-S review!
Influenced by the RepRap Kossel and in true delta 3D printer style, the FLSUN QQ-S has both a large printing area and fantastic print speed, able to print up to 300 mm/s. It can print PLA, ABS, HIPS, PVA, wood-filled filaments, and its heavy metal frame keeps the printer stable during printing.
Another feature that improves your 3D printing experience is the lattice platform bed, designed to make it as simple as possible to remove prints after printing has finished, as well as maintain temperatures to reduce warping. And it does all this while remaining under 50dB, one of the quietest 3D printers around! It's very highly rated as one of the best 3D printers in its price range.
5. Frankensbox FX-800 — Best Delta 3D printer for Beginners
Delta 3D printer price: $299 — Available on Amazon here
Max print volume: 150 x 150 x 175 mm
Speed: up to 150 mm/s
Weight: 10kg
The Frankensbox FX-800 is a compact delta printer, printing smaller sizes than the FLSUN QQ-S Delta and also able to print at noises under 50 dB.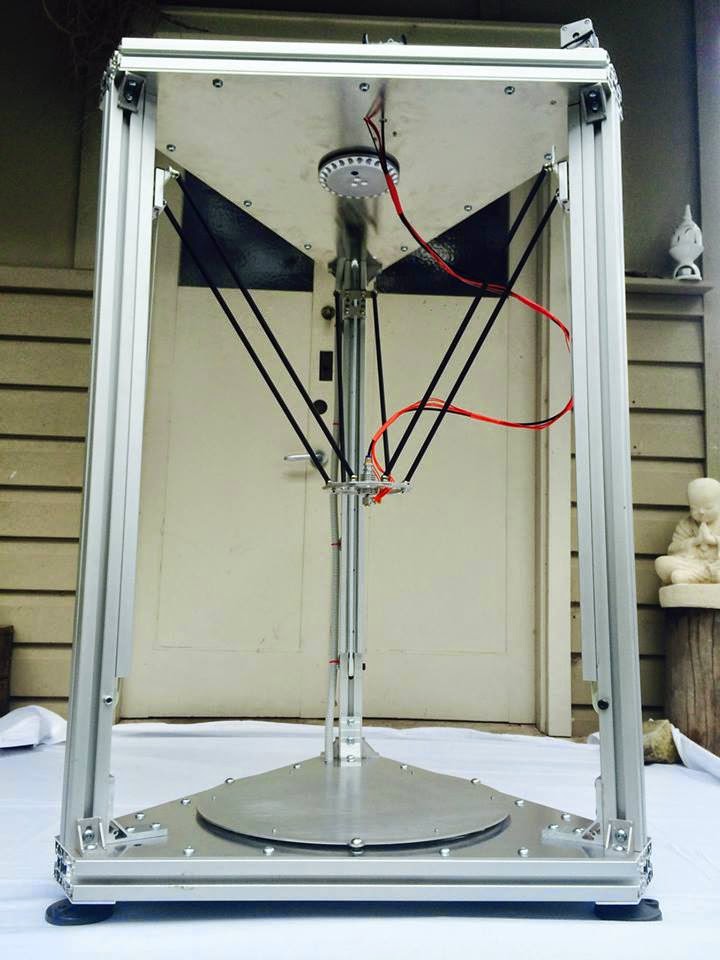 Like the FLSUN QQ-S it comes assembled — fully, rather than 90% — and is designed for those who value convenience. It's the perfect delta 3D printer for those that want to just plug it in, set up the 3D printer software, and run it straight away. The FX-800 can print with resolutions of up to 100 microns, features one button leveling, and can print remotely via WiFi, SD card or USB stick.
With a max speed of 150 mm/s, it isn't as fast as the FLSUN QQ-S, but sells itself on convenience. You get a 1-year warranty with your purchase so you're insured against any problems, and if you have any issues with your FX-800, Frankensbox have US-based customer support to help you find a solution.
6. Monoprice Delta Pro
Price: $699 — Available on Amazon here
Maximum print area: 270 x 270 x 300 mm
Speed: up to 150mm/s
The premium and upgraded version of the cheaper Mini Delta, the Delta Pro has a much larger build area, can auto level, and features full metal parts for stable printing unaffected by vibrations.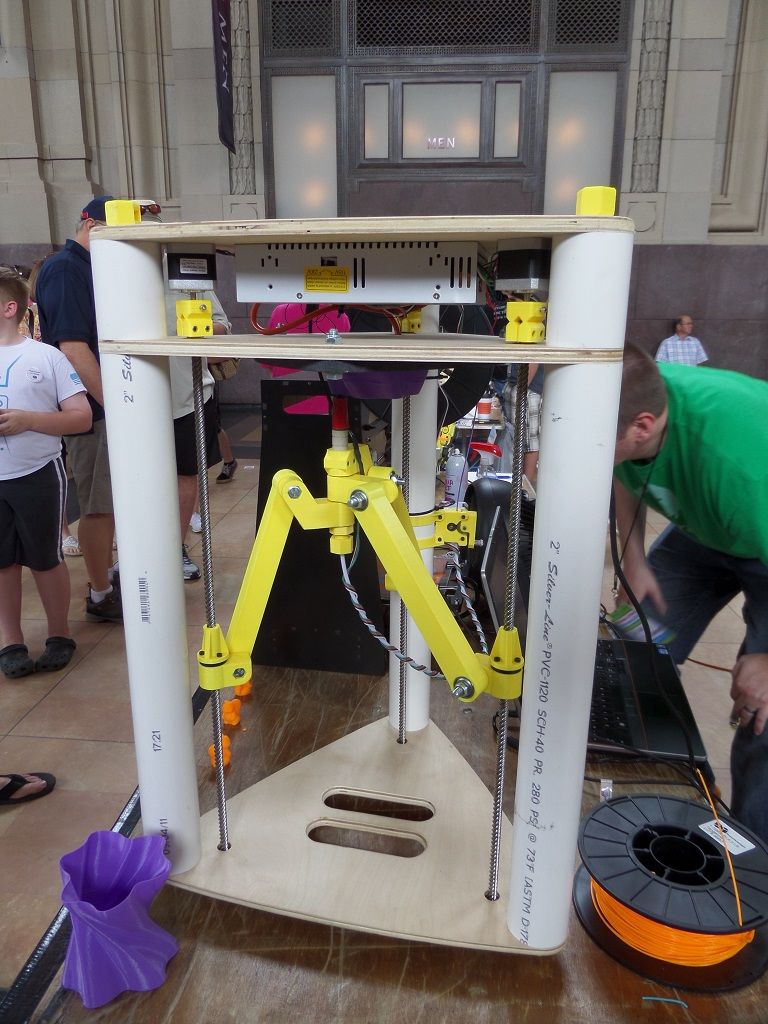 It comes with all the features you'd expect: a sensor for detecting when filament is low to avoid ruining prints; and a glass print bed for good adhesion and easy print removal.
The Delta Pro is compatible with all common filaments, like PLA, ABS, PETG and wood filaments, as well as tougher filaments like Nylon, and metal-filled materials. It's accurate, with up to 50-micron layer resolutions, and prints up to 150mm/s. 
Overall, it's one of the best delta 3D printers under $1,000.
7. WASP 2040 PRO Turbo — Fastest Delta 3D printer in the world!
Price: $3,400 — Available on Amazon here
Max print volume: 200 x 200 x 400 mm
Speed: up to 500-600 mm/s
Weight: 25kg
Italian 3D printer company WASP not only make great delta 3D printers but have also made great contributions to 3D printed houses. They claim that the WASP 2040 Pro Turbo is the fastest 3D printer in the world, with a maximum print speed of 600mm/s, 10x the speed of some Cartesian printers! It's popular with busy makers who value the speed, and small businesses looking to make fast plastic prototypes.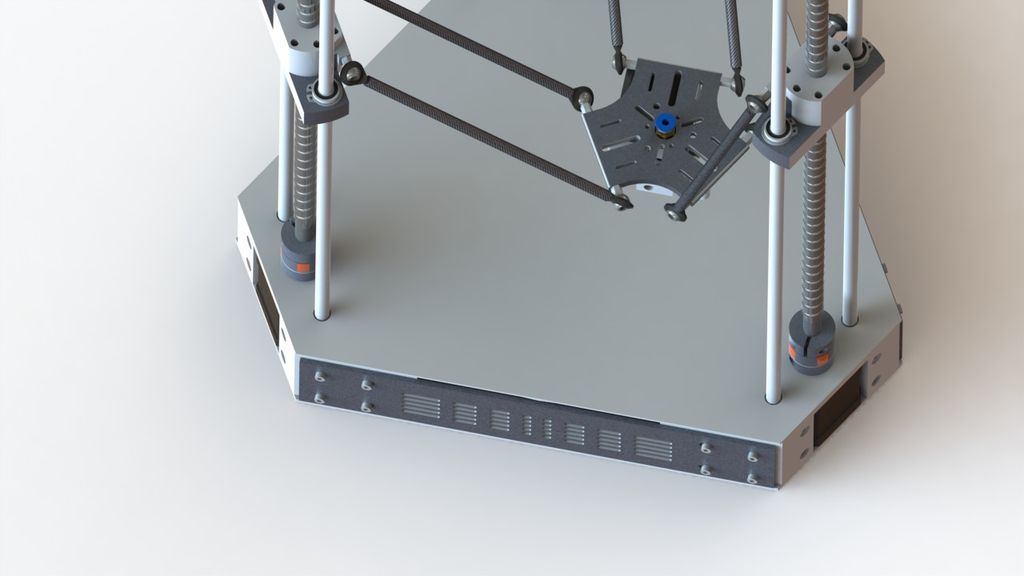 Everything is optimized for speed, but that doesn't mean anything is sacrificed. The WASP 2040 PRO can still print with great accuracy — up to 50 microns — and with good stability from the strong aluminium frame for crisp looking finished prints. It can also fully calibrate itself with its auto calibration system.
Quality of life features include the ability to resume at the exact point on the exact layer where printing was paused or stopped — for example in the event of a power outage. This is an underrated benefit; we all have a horror story of a 40 hour print that was ruined because a random circumstance caused a print error with just a few hours to go, having to start all over again. But not with the WASP. The filament detector also informs you and stops printing when you run out so that prints never fail.
The WASP 2040 PRO Turbo can print a variety of 3D printer filaments, including PLA, PETG, ABS, PA, Carbon, and can be upgraded if you buy the clay extruder add-on for 3D printing clay.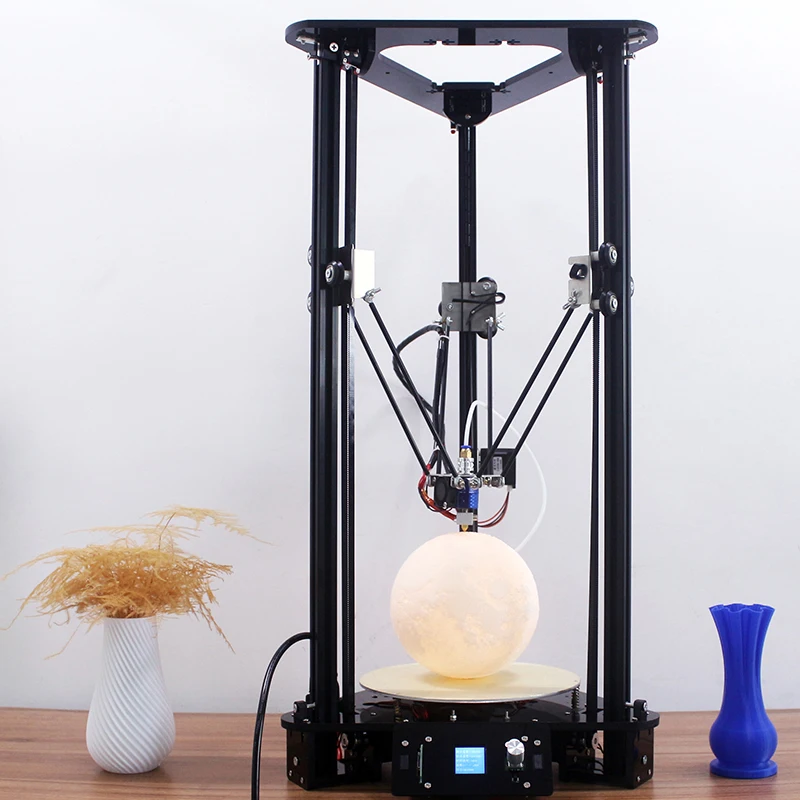 You can use the WASP with Cura, Slic3r or Simplify3D for slicing, and know that the printer is fast, effective and reliable. Undoubtedly one of the best delta 3D printers around, it just becomes a question of money as the WASP is noticeably more pricey than some lower priced delta printers we recommend.
The Best Cheap 3D Printers for 2022
While we'd hesitate to call 3D printing a mature technology, you might say it has reached its teenage years. Through their first decade-and-change, 3D printers have come down in price, grown easier to set up and operate, and become more reliable. And you may pay less than you expect: Many once-high-end features have migrated down to inexpensive models.
PC Labs has been reviewing 3D printers since 2013. Today, the state of 3D printing is strong, but that wasn't always the case. For the first several years, it was often an adventure getting one of these printers up and running, let alone successfully through our testing regimen. Issues with filament-based—aka fused filament fabrication (FFF) or fused deposition modeling (FDM)—printers were abundant.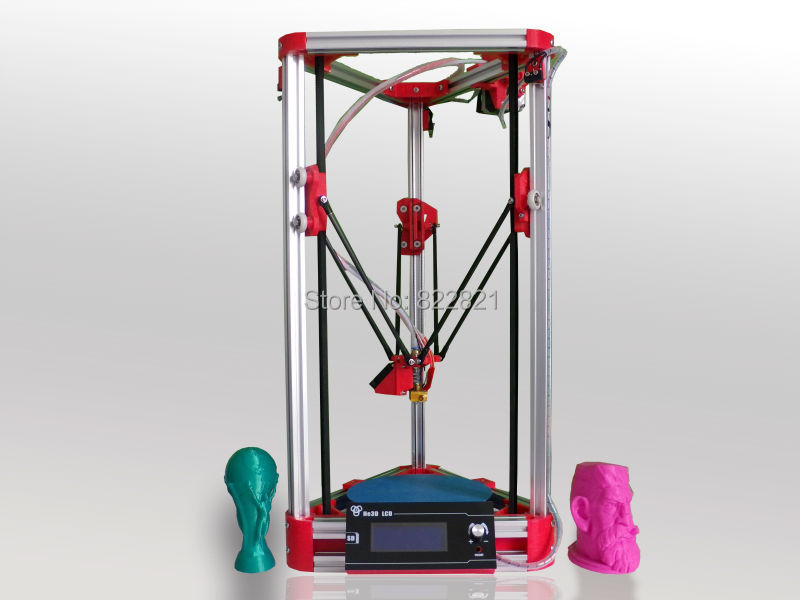 Filament feeders had to be coaxed into delivering filament from the spool to the extruder. Print beds had to be manually aligned. The extruder or hot end had to be positioned just right to minimize the gap between the nozzle and the build plate (the flat surface on which the object is printed). Objects frequently stuck to the build plate, and required careful, sometimes unsuccessful, efforts to pry them off. These and other issues required painstaking effort to resolve, often combined with calls to tech support.
Not so much anymore. While they can still be rebellious at times, 3D printers have grown up a lot, and achieving the 3D printer basics has gotten a lot less likely to end in a shouting match over small things. And they've gotten a lot more affordable, too, for curious DIY-ers and hobbyists to try.
If you're in the market for a beginner or low-cost 3D printer, it's important to know how lower-end models differ. Read on for mini-reviews of the top budget 3D printers we've tested.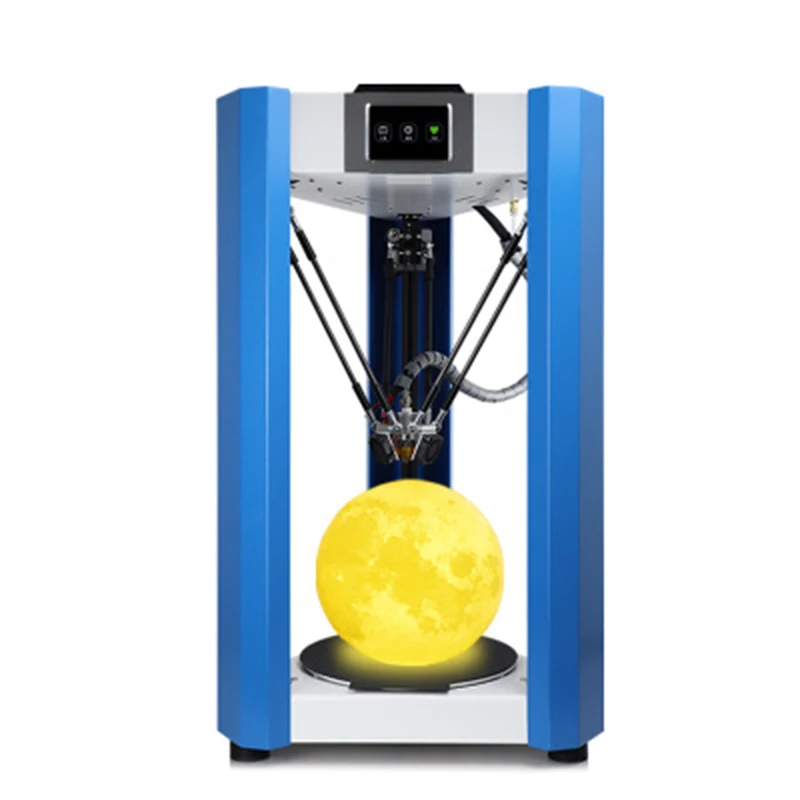 After that, we go into more detail on understanding the 3D printer specs and tech relevant to beginning buyers. Ready to take the plunge? Read on.
Original Prusa Mini
Best Overall Budget 3D Printer
4.5 Outstanding
Bottom Line:
It requires assembly and calibration care (plus shipping from the Czech Republic), but the Original Prusa Mini is a compact, open-frame 3D printer that consistently produces superb-quality output for a great price.
PROS
Top-notch object quality
Supports a variety of filament types
Useful, professionally printed user guide
Great support resources
Versatile, user-friendly software
CONS
First-layer calibration can be tricky
Only includes starter packets of filament
Requires monitoring if young children or pets are around
| Sold By | List Price | Price | |
| --- | --- | --- | --- |
| Prusa Research | $399. 00 | $399.00 | See It (Opens in a new window) |
Read Our Original Prusa Mini Review
XYZprinting da Vinci Mini
Best Budget 3D Printer for Schools, Community Centers
4.0 Excellent
Bottom Line:
The XYZprinting da Vinci Mini is a consumer-oriented 3D printer that provides a winning combination of low price, ease of setup and use, solid print quality, and smooth, misprint-free operation.
PROS
Very low price.
Reasonably priced filament.
Good print quality.
No misprints in testing.
Easy setup and operation.
Quiet.
Prints over a USB or Wi-Fi connection.
CONS
Occasional problems in trying to launch prints.
Removing printed objects from the print bed is sometimes tricky.
| Sold By | List Price | Price | |
| --- | --- | --- | --- |
| Walmart | $199. 95 | $199.95 | See It (Opens in a new window) |
| Amazon | $199.95 | $199.95 | See It (Opens in a new window) |
Read Our XYZprinting da Vinci Mini Review
Toybox 3D Printer
Best Budget 3D Printer for Children
4.0 Excellent
Bottom Line:
The Toybox 3D Printer works well as a model designed for children, offering reliable printing from a browser or mobile device and a few thousand toys to print, plus creative options to output drawings or photos. Just bear in mind the tiny build area.
PROS
Reliable, misprint-free printing
Easy setup
One-touch operation
Well-composed help resources
Access to more than 2,000 printable toys and projects
Lets you create your own printable designs
CONS
Tiny build area
Not ideal for importing 3D files created elsewhere
| Sold By | List Price | Price | |
| --- | --- | --- | --- |
| Amazon | $299. 00 | $299.00 | See It (Opens in a new window) |
Read Our Toybox 3D Printer Review
Monoprice Mini Delta V2 3D Printer
Best Budget 3D Printer for Beginners, Non-Techies
4.0 Excellent
Bottom Line:
3D printing gurus will be intrigued by the Monoprice Mini Delta V2's use of the delta rather than Cartesian coordinate system, but beginners will just enjoy its low price, ease of use, and speedy printing.
PROS
Sub-$200 price
Quick, nearly misprint-free printing
Easy setup and operation
Sturdy steel-and-aluminum frame
Supports multiple filament types
CONS
Tiny build area
So-so print quality
Mere one-year warranty
| Sold By | List Price | Price | |
| --- | --- | --- | --- |
| Amazon | $179. 99 | $179.99 | See It (Opens in a new window) |
Read Our Monoprice Mini Delta V2 3D Printer Review
Anycubic i3 Mega S
Best Budget 3D Printer With an Open Design, Big Build Area
3.5 Good
Bottom Line:
The Anycubic i3 Mega S, an inexpensive open-frame 3D printer, produced decent-quality prints in our testing. To get the most out of it, though, may require precise calibration.
PROS
Modestly priced
Large build area for an inexpensive printer
Supports a variety of filament types
Generally solid print quality
Uses well-known Cura software
CONS
Finicky print-platform alignment
Supported coils of filament are small
Poorly placed spool holder
| Sold By | List Price | Price | |
| --- | --- | --- | --- |
| Amazon | $259. 99 | $229.98 | Check Stock (Opens in a new window) |
Read Our Anycubic i3 Mega S Review
Anycubic Vyper
Best Budget 3D Printer for the Biggest Build Area Possible
3.5 Good
Bottom Line:
Anycubic's modestly priced Vyper whips up large 3D prints on its open-frame design, and provides automatic print-bed leveling. Just know that some minor assembly is required—and printed objects may require a bit of cleanup.
PROS
Relatively large build area
Automatic bed leveling
Simple assembly
CONS
Short (one-year) warranty
Includes only a small starter filament coil
Using Cura software with the Vyper requires tweaking a couple of settings
Test prints showed some "hairy" filament residue
| Sold By | List Price | Price | |
| --- | --- | --- | --- |
| Amazon | $429. 99 | $429.99 | See It (Opens in a new window) |
| AnyCubic | $369.00 | $319.00 | See It (Opens in a new window) |
Read Our Anycubic Vyper Review
Creality Ender-3 V2
Best Budget 3D Printer for Tinkerers and DIY Types
3.5 Good
Bottom Line:
Hands-on tweaking defines Creality's budget-price Ender-3 V2, an open-frame 3D printer that you build from a kit. It produces generally above-par prints, but its print bed can be tricky to keep leveled.
PROS
Inexpensive
Slightly above-average print quality
Good-size build area for its price
Supports several filament types
CONS
Manual print-bed leveling can be tricky
Setup instructions could be deeper, more legible
Questionable quality control on some parts
| Sold By | List Price | Price | |
| --- | --- | --- | --- |
| Amazon | $299. 00 | $246.00 | See It (Opens in a new window) |
Read Our Creality Ender-3 V2 Review
Flashforge Finder 3D Printer
Best 3D Printer for the Very Tightest Budgets
3.5 Good
Bottom Line:
The Flashforge Finder 3D Printer is moderately priced and offers good print quality, but it proved tricky to get up and running in our tests.
PROS
Quiet.
Good print quality.
Connects via USB 2.0 cable, USB thumb drive, or Wi-Fi.
Reasonably priced.
CONS
Some objects pulled off the platform during testing.
Poor documentation.
Modest build volume.
Limited to printing with polylactic acid filament (PLA).
| Sold By | List Price | Price | |
| --- | --- | --- | --- |
| Amazon | $729.00 | $729.00 | Check Stock (Opens in a new window) |
Read Our Flashforge Finder 3D Printer Review
Polaroid PlaySmart 3D Printer
Best Budget 3D Printer for Dabbling in Small Objects
3.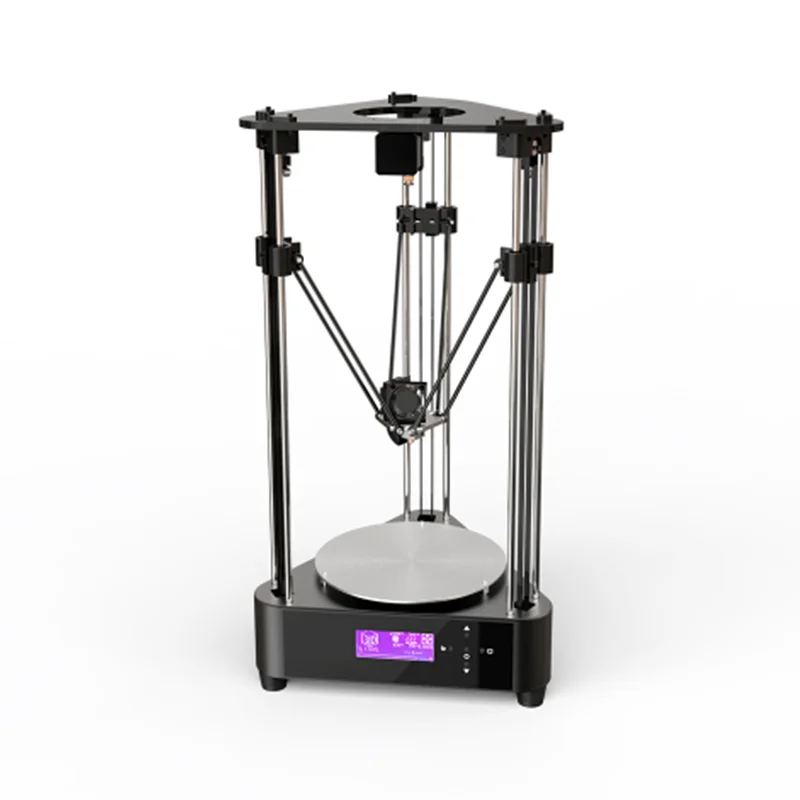 5 Good
Bottom Line:
The Polaroid PlaySmart 3D Printer is a compact, stylish 3D printer with above-par overall print quality, but, alas, a tiny build area for the money.
PROS
Small, lightweight for a desktop 3D printer.
Easy to set up and use.
Supports PLA, PETG, and wood composite filaments.
Multiple-color support.
Wi-Fi camera monitors print jobs.
Prints from USB drives, SD cards, or mobile devices.
CONS
High price for its capabilities.
Small build area.
Too-brief warranty.
| Sold By | List Price | Price | |
| --- | --- | --- | --- |
| Amazon | $699.00 | $699.00 | See It (Opens in a new window) |
Read Our Polaroid PlaySmart 3D Printer Review
XYZprinting da Vinci Jr. 1.0 A Pro
Best Budget 3D Printer With Closed Design, Roomy Build Area
3.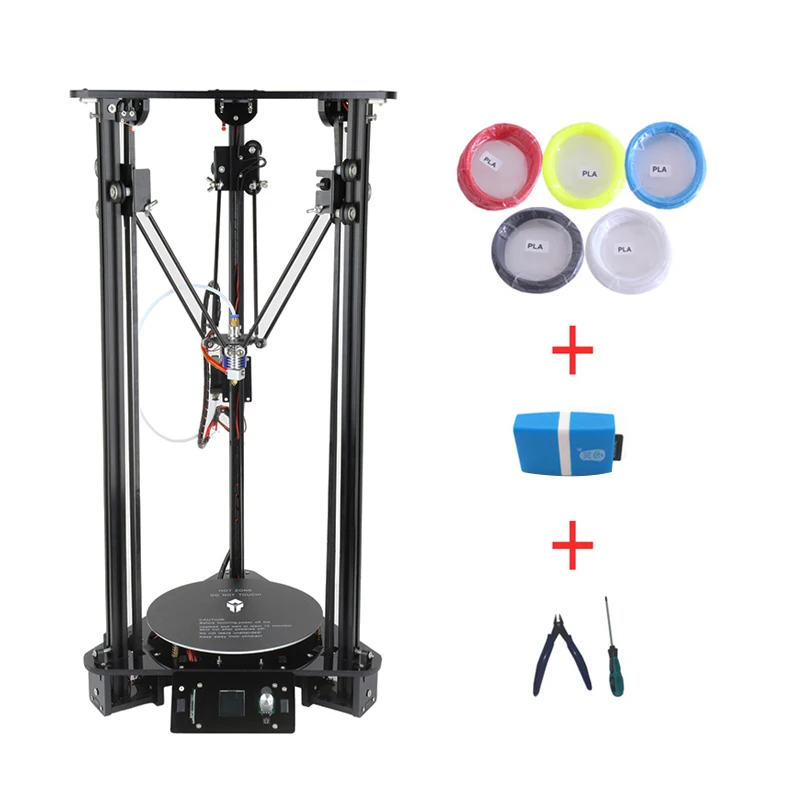 5 Good
Bottom Line:
The XYZprinting da Vinci Jr. 1.0 A Pro is a moderately priced closed-frame 3D printer with a large build volume and overall good performance, but a potentially balky filament-feeding system.
PROS
Spacious build area
Works with third-party filaments
Self-leveling print bed
CONS
Build plate is not heated
Limited to PLA- and PETG-based filaments
Guide tube is prone to detaching
| Sold By | List Price | Price | |
| --- | --- | --- | --- |
| Amazon | $299.95 | $199.95 | See It (Opens in a new window) |
| Best Buy | $449.95 | $449.95 | Check Stock (Opens in a new window) |
Read Our XYZprinting da Vinci Jr. 1.0 A Pro Review
Monoprice Voxel 3D Printer
Best Budget 3D Printer for Cheap Filament
3.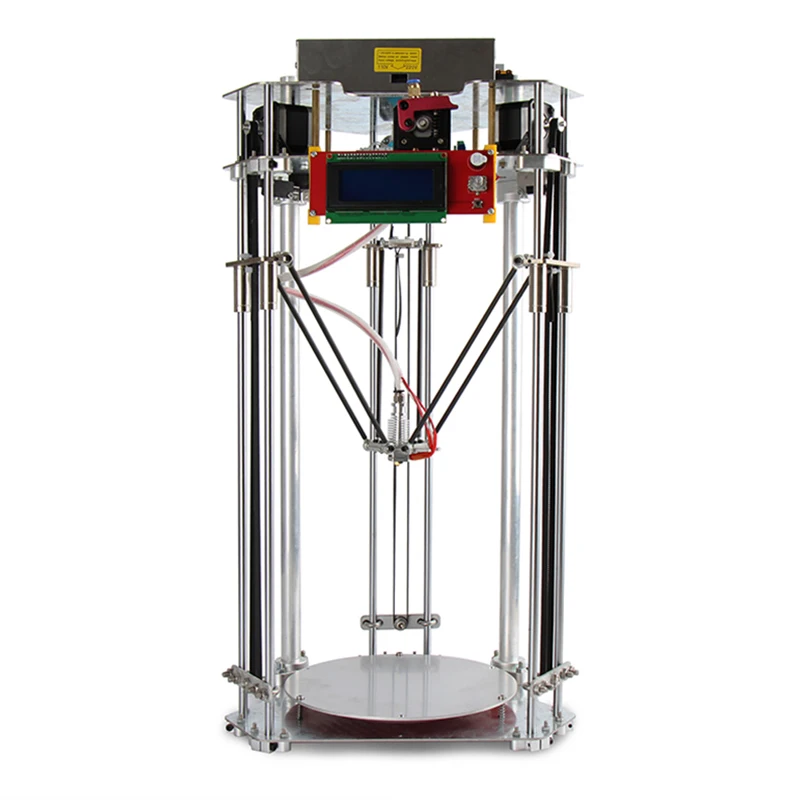 0 Average
Bottom Line:
The Monoprice Voxel is an under-$400 3D printer that's easy to set up and use. It exhibits generally good print quality, but it was unable to print two of our test objects.
PROS
Easy to set up and use.
Budget price for printer and filament spools.
Supports PLA, ABS, and several composite filament types.
Versatile software.
Prints over Ethernet or Wi-Fi, or from a USB thumb drive.
CONS
Frequent misprints on certain test objects.
Slightly balky touch screen.
| Sold By | List Price | Price | |
| --- | --- | --- | --- |
| Walmart | $429.99 | $369.26 | See It (Opens in a new window) |
Read Our Monoprice Voxel 3D Printer Review
Buying Guide: The Best Cheap 3D Printers for 2022
---
How to Buy a Cheap 3D Printer
The biggest changes to 3D printers over the last few years have come to the cheaper models.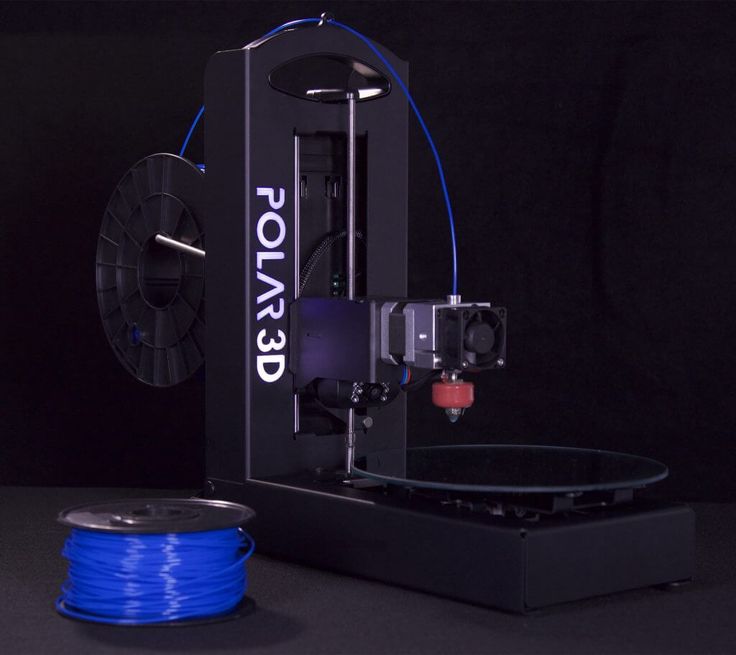 Nowadays, many of those classic, ornery 3D-printing issues have been resolved (most of the time, anyway), even for consumer and bargain-priced 3D printers. Automatic print-bed leveling is the norm, and you can usually remove 3D-printed objects from heated and/or flexible build plates with a minimum of coaxing. And most 3D printer manufacturers have either developed and refined their own software, or have adapted an open-source printing platform such as Cura(Opens in a new window).
(Credit: Zlata Ivleva)
What separates more expensive 3D printers from cheap ones ("cheap" defined as $500 or less, for the purposes of this article) is often a select group of features. These include the build volume, the type of frame, the varieties of supported filament, the software, and the connectivity mix. Let's run through those in turn.
---
What's the Right Build Volume for a 3D Printer?
A 3D printer's build volume is the maximum dimensions (HWD) of a part that it can print.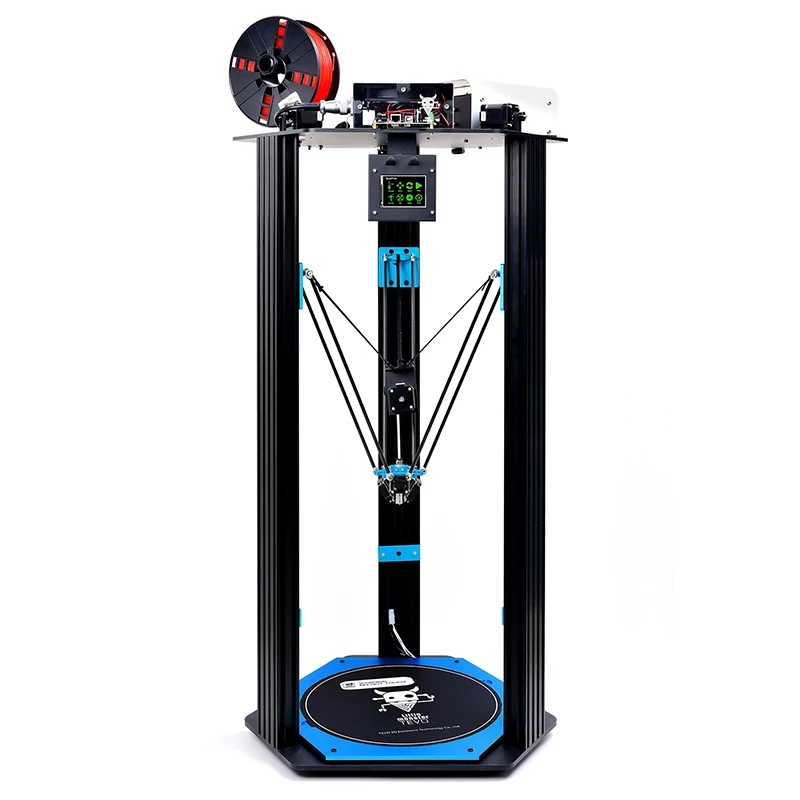 (We say "a part" because a 3D-printed object can consist of multiple parts that are printed, then glued or otherwise pieced together.) While the smallest build volume of any 3D printer we have tested is 3.9 by 3.9 by 4.9 inches, we consider any build volume smaller than 6 by 6 by 6 inches to be small, any between that and 10 by 10 by 10 inches as medium, and any printer with at least one build dimension of more than 10 inches as having a large build volume.
(Credit: Molly Flores)
As a general rule, inexpensive 3D printers have small build volumes, while more expensive ones have larger build volumes. This depends in part on the type of printer. Closed-frame 3D printers—and most semi-open models, which have a rigid top, base, and sides but are open in front and, often, back—tend to have small build volumes, while open-frame printers, lacking as rigid a physical structure, often have relatively large build volumes for the price. You'll want to weigh the build volume against the kinds of objects you will print.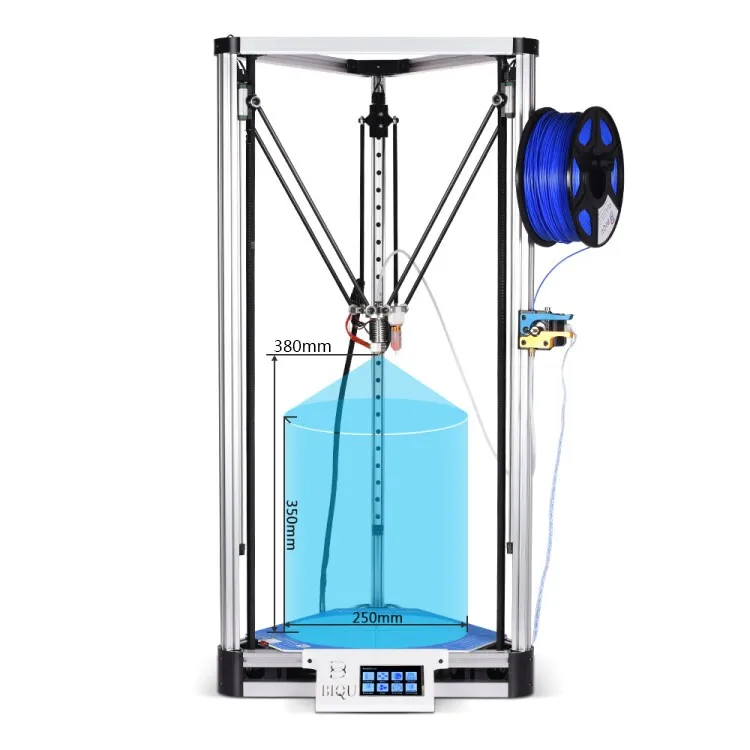 ---
Should I Get an Open-Frame or Closed-Frame 3D Printer?
Which brings us to the frame "form factor" question: open-frame versus closed-frame. Closed-frame 3D printers are boxlike devices, with a rigid base, walls (with a see-through door in front), and top. Among their advantages? They muffle the operating noise, as well as reduce the odor from melted filament (which is potentially an issue with ABS plastic), and they provide some protection for people or pets who might inadvertently touch the hot extruder. A downside: They tend to have smaller build volumes than open-frame 3D printers, which have fewer (often, no) walls to constrict them.
(Credit: Zlata Ivleva)
Low-cost 3D printers include both open-frame and closed-frame models, as well as a few stereolithography printers. If a relatively large build volume is a priority, you're likely to get more bang for the buck with an open-frame model. Open-frames do have some clear downsides by definition: They tend to be noisy, emit odors when certain plastics are melted, and provide little protection for someone who might touch the hot extruder.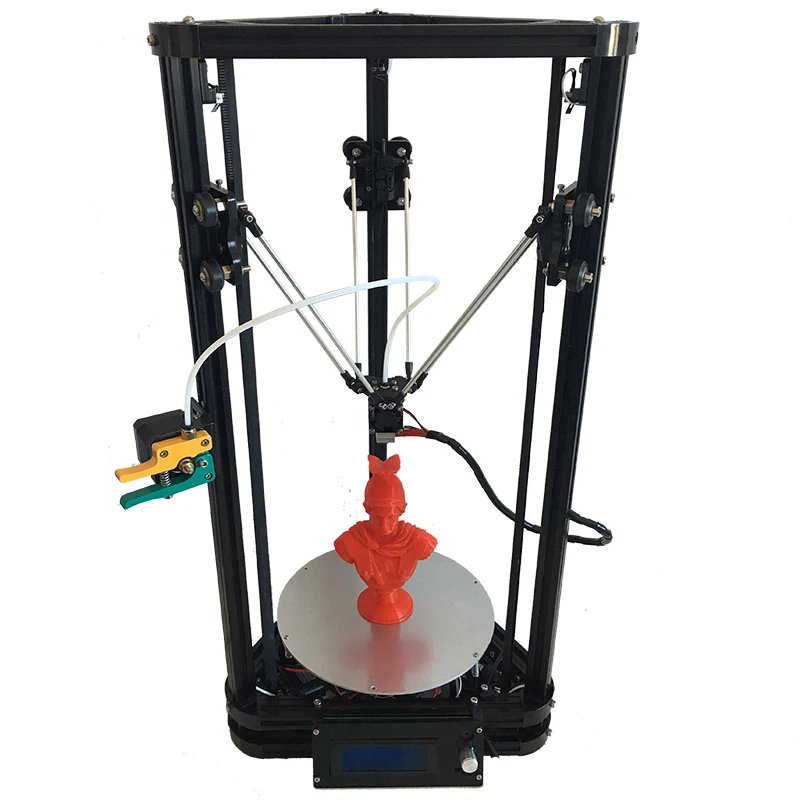 (Credit: Molly Flores)
Also, recognize some potential negatives of open frames, depending on the model. Some require assembly, being essentially kits, and most require more setup care than a closed-frame printer, plus more maintenance to keep them running smoothly. Still, these very traits should not deter—and may even appeal to—hobbyists and DIY folks.
---
What Should I Look for in 3D Printer Software and Connectivity?
Gone are the days when tinkerers had to cobble together several different programs to get a 3D printer to run. Manufacturers either include their own 3D printing program or modify an existing platform such as the open-source Cura.
3D printing software performs three main functions: processing an object file (resizing, moving, rotating, and in some cases duplicating it), slicing it (into virtual layers, based on your chosen resolution), and printing it. These are almost universally combined into a seamless process. Some high-end printers have software that supports a wider range of settings you can tweak, but even the basic suites work at least reasonably well.
More likely to vary among the cheaper set is the array of connection options from model to model. Nearly all have a USB Type-A port to fit a thumb drive for printing from document files. Most also have a USB Type-B port for connecting directly to a computer, and some offer Wi-Fi, too (or as an alternative), while a handful let you connect via Ethernet to share the printer across a local network.
Some printers support storing 3D files on an SD or microSD card (which may also contain the printer's system files). Most 3D printer manufacturers (even the discount ones) have a mobile app to launch and monitor print jobs, and a few provide access to cloud services from which you can print.
While high-end 3D printers tend to have an abundance of connection choices, discount models vary widely in their choices. Some are generous and some are basic, so it pays to assess what a given model offers.
---
What Should I Look for in Filament Support?
Filament support tends to be a key area that separates the cheaper models from the higher-end ones.
(See our guide to understanding 3D printing filaments for more particulars.) Inexpensive 3D printers tend to support a limited number of plastic filament types, some of them only PLA and/or ABS.
Recommended by Our Editors
3D Printing: What You Need to Know
3D Printer Filaments Explained
(Credit: Molly Flores)
PLA (polylactic acid) is a biodegradable, plant-based polymer, while ABS (acrylonitrile butadiene styrene) is the same tough plastic that Legos are made from. Objects printed from ABS are durable and nontoxic, though the material can be tricky to work with. ABS can emit an acrid, unpleasant odor during printing, and the bottom corners of objects being printed with it have a tendency to curl upward a bit, especially if you are using a non-heated print bed. This can lead to unsightly prints, and/or prints prematurely pulling off the build plate, ruining them.
Many entry-level and low-price 3D printers stick exclusively to PLA.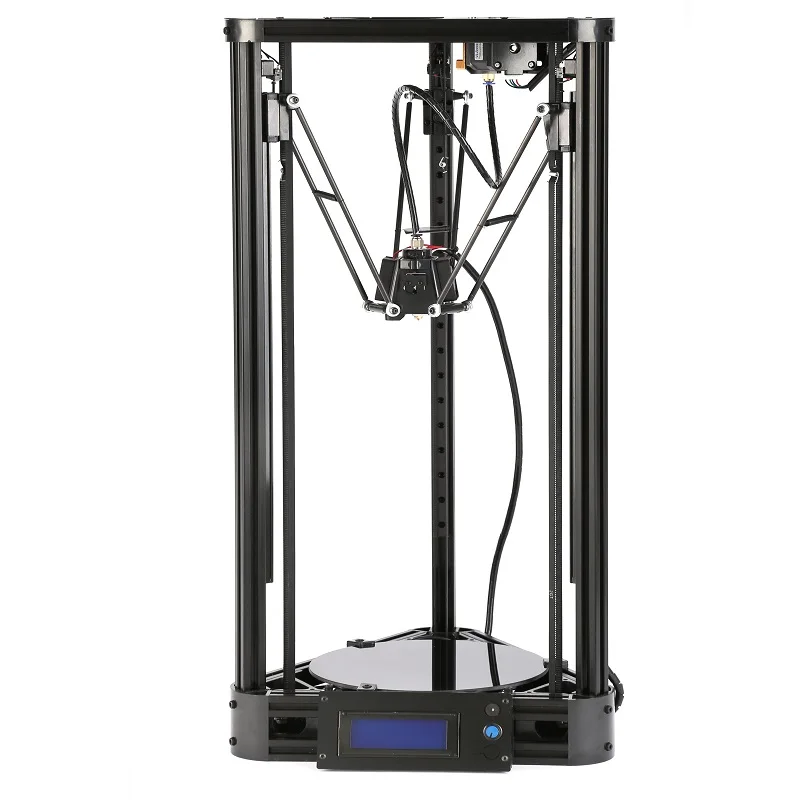 If you want to experiment with a larger variety of filaments—which include water-soluble filament, wood- and metal-laced composites, and both tough and flexible varieties—you may have to pay more, although a few discount models support a wide range of materials.
---
Should I Consider a 3D Printing Pen Instead?
Although they aren't printers per se, inexpensive 3D pens are close kin to 3D printers—using the same filament types and a similar extrusion system—and we include them in the 3D printing category. Rather than tracing out a programmed pattern, you use the 3D pen much like a normal pen, except that you draw with molten plastic. You can trace a pattern or draw freehand, and even draw in three dimensions as the plastic quickly solidifies and hardens once extruded.
(Credit: 3Doodler)
Most 3D pens cost less than $100, and some cost $50 or less. At a glance, 3D pens may appear to be toys, but some artists and craftspeople have taken to them, as it is possible to make quite complicated and beautiful objects with them.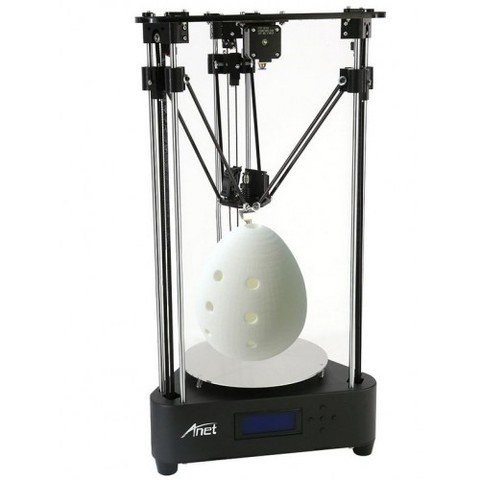 If your aim in 3D printing is something closer to freehand design and free expression than computer-centric, structured, and repeatable output, you might give one a try.
---
So, What Is the Best Cheap 3D Printer to Buy?
Buying a budget 3D printer needn't mean a world of sacrifice. Plenty of capable and reliable models sell at less than $500, and while they may not be as feature-rich as their more expensive cousins, there's no sense in paying for things you don't need.
Many casual 3D-printing experimenters will be fine with printing over a USB cable or from a thumb drive, and sticking to PLA may be the best choice for a starter 3D printer. If you focus just on the features you want, you may be pleasantly surprised at what you find. Below, check out a spec breakdown of the best under-$500 3D printers we have reviewed, paralleling our picks above. Also, for a look at the broader market, see our guide to our favorite 3D printers overall.
Delta Top 5 3D Printer Review and Buyer's Guide
The Delta printer is a type of 3D printer that is designed to perform a more systematic printing procedure.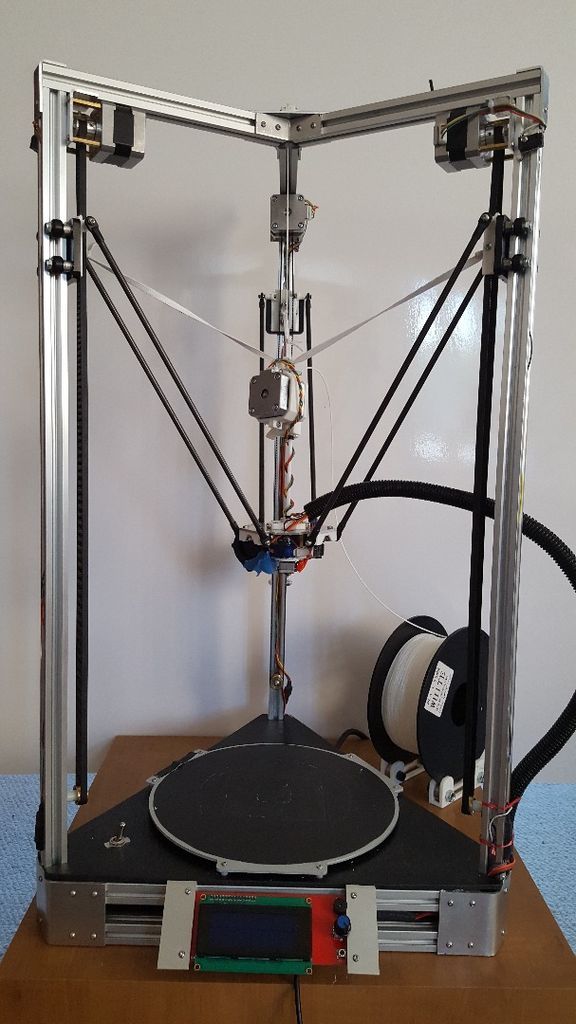 It has three arms that move up and down trigonometrically. They determine the exact location of the printhead, which is usually lightweight. This allows you to print faster than other types of printers.
Another good feature of this type of printer is that it is able to print tall models due to its natural construction and design. Models are printed on normally stationary print platforms, which ensures a more stable process.
However, due to being a fast printable 3D model, they usually provide a less detailed finish. Most Delta printers also have more limited capacity when it comes to the types of fibers they can use.
Fortunately, there are many improvements and innovations in the delta 3D printer models now. We have been looking for all units that have these new upgrades that can solve the above problems.
After some tests and observations that we have made with enthusiasts and professionals in the field, we have compiled a comprehensive list and information about each of them.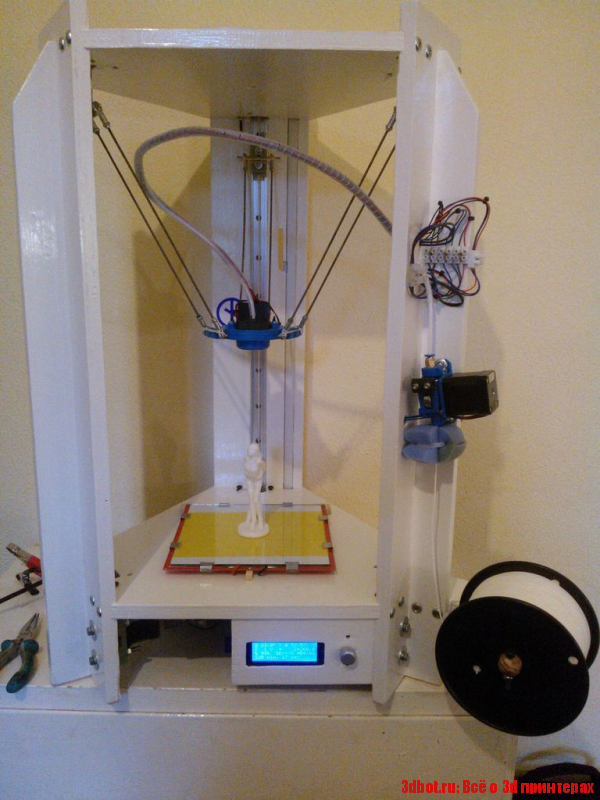 And to better guide you on your buying path, we've put together the best deals on Amazon for them. So, weigh each delta 3D printer we have listed and hit the buttons below.
2. 3D printer FLSUN Mini Delta
20-150 mm / s

Automatic alignment function

Large print size 10.2 x 10.2 x 14.5 dum

3. Monoprice 121666 Mini Delta 3D printer

150 mm / sec

180 - 260 ° C Extruder temperature

Cuppest 110 x 120 mm 120 mm 120 mm0043

Has a large built-in slatted bed measuring 255 x 360 mm. Provides strong adhesion when printing.
Most filaments can be used such as ABS, PLA, PVA, flex, HIPS and wood.
Made of high quality metal material that is durable and stable for maximum print accuracy even at high speeds.
Features a full color touch screen for ease of use.
Effective at 24 volts.
Supplied assembled. The rest of the parts can be quickly assembled.
Good bed adhesion.

Cons:

Although the model states that it only works at 50 dB, it is still quite loud.
Frame assembly is quite thin.

Final take:

This 3D printer is designed to print at high speeds up to 300mm/s with high print precision. The hot grate stand and high quality metal material body ensure that it is stable enough to ensure quality print accuracy even at high print speeds. The printer has an auto-leveling function that makes it easy to use and saves you time. Pre-assembled by the manufacturer, and the rest of the parts are easy to assemble. This saves you the hassle of assembly and saves you time. It also offers a Titan extruder which provides a smoother feeding process with higher extrusion power. Finally, since it can use different fibers on the market, you have the freedom to choose among the many fibers you like for your printing project.

Supplied assembled. This saves you time on installing the rest of the parts.
Has auto leveling function. You only align once and save the alignment data.
Has a large print size of 10.2 x 10.2 x 14.5 inches. This allows you to print larger models.
Can print quickly and efficiently with a recommended speed of 50mm/s.
Has an XY positioning accuracy of 0.012mm and a Z-axis positioning accuracy of 0.004mm.
Equipped with Wi-Fi function. This allows you to control the printing process even when you are away from the printer.
Has an automatic calibration function.

Cons:

A little labor intensive when manually leveling the bed.
Instruction manual lacks details and useful information.

Final take:

If you are looking for a printer that prints quietly, the FLSUN Mini Delta 3D printer is the best option for you. The printer may also return to the previous print position after a power outage or unexpected power outage. You can start printing right out of the box as it comes with a Micro SD and test filaments. The extrusion temperature is 240-260°C. The printer can also continuously heat the bed up to 100°C for 48 hours. So if you're going to be using it for large print projects that could take all day, this is the perfect option. Finally, the aluminum material that the printer body is made from makes it more stable when printing and ensures that it will serve you effectively for a long time.

You can print directly from your computer or laptop via Wi-Fi, USB connection or offline microSD card.
Automatic calibration. This ensures that you will not have any problems leveling the bed.
Supplied fully assembled for ABS and PLA.
Has a high print speed up to 150mm/sec.
Extruder nozzle temperature is 180 to 260°C and up to 60°C for build plate.
Has a build area of ​​110 x 120 mm.
Has a free microSD card loaded with 3D printable models.
Provides layer resolution down to 50 microns.

Cons:

Small print area.
The surface of the bed is rather rough, making it difficult to clean.

Final take:

This delta 3D model is undoubtedly one of the best 3D printers you should consider. It has a solid construction, as it consists of a steel frame and an anodized aluminum body. The temperature ranges of both the extruder with nozzles and the print platform ensure that you can work flawlessly with ABS and PLA fibers from different manufacturers. The auto-calibration design also ensures you have an easy bed leveling time that won't take up much of your time. The package also comes fully assembled, so you just need to unpack it and you can start printing with a reloaded MicroSD card loaded with sample 3D printable models. It also has great potential for upgrades. So if you love customizing your car, you better have this one.

Features a touch screen interface for easy operation and parameter setting.
Equipped with an auto leveling function.
Allows you to create larger models due to the large construction volume of 270 x 300 mm.
The extruder is heated to a maximum temperature of 310℃.
Produces a very low noise level of less than 50 dB.
Low filament sports sensor.

Cons:

Not suitable for beginners.
Although it has an auto level feature, you still need to calibrate the high limit sensors before use.

Final take:

Monoprice 130993 Pro 3D is designed for beginners and professionals. It has a solid and durable construction to ensure you get great prints with it every time. It is also equipped with a glass plate which ensures printing precision. In addition, it is equipped with automatic PID control, which ensures that the printer is constantly heated during printing. Also, fairly reliable parts: the machined actuating plate, magnetic actuating arms and machined parts are all Japanese and Taiwanese components. The 32-bit ARM processor is great and can run comparatively faster than most brands of printers. Also quite detailed at 50-300 microns.

Has nozzle temperature up to 250℃.
Has a print size of 150 x 150 x 175 mm.
Printing speeds up to 150 mm/s possible.
Can print from iOS, PC, Mac, or the included Micro SD card.

Cons:

The spool holder on the top of the printer is very small.

Final take:

If you're an amateur and want to create fun 3D prints, then you should consider the Frankensbox 3D printer. It's easy to use as it's ready to print right out of the box. What's more, it comes pre-installed with a port for USB, Wi-Fi and Micro SD. It allows you to easily connect to your PC or laptop and start printing. Despite its small size, it produces high quality prints. Children can use it at home as it is safe and fully enclosed, stops when the door is opened or power outages, and resumes printing when the door is closed or power is restored. It also makes it easy to extrude filaments because its extruder uses high temperatures efficiently. At 250°C, it can melt filaments and print your model at 150mm/s.

Check Price

3D printers in the production of spare parts - Abiznews

With the availability of additive technologies and their development, more and more industries began to pay attention to 3D printing, including the automotive business - manufacturers of cars and components for them.

Svetlana Bodilovskaya from Formlabs talks about how Brose uses 3D printing in her work.

Brose is a large, family-owned German company that manufactures mechatronic components and systems such as seat structures, door components, as well as various electric motors and drives. With more than 80 car brands partnered with the company, in fact, every second new car in the world is equipped with some kind of Brose product.

The company began 3D printing over a decade ago when it purchased a FDM printer. Since then, they have expanded their capabilities to virtually every 3D printing technology on the market, from stereolithography (SLA), selective laser sintering (SLS), and even metal 3D printing. The technology itself is needed for prototyping, tooling and fixtures. Brose's print fleet is equipped with a variety of SLS printing systems, from small desktop machines to the largest traditional industrial printers. Brose was one of the first companies in Europe to use the Fuse 1 floor standing industrial 3D selective laser sintering (SLS) 3D printer.

With the Fuse 1, Formlabs aims to bridge the gap between traditional industrial SLS printers and affordable small format printers by offering high quality, compact size and a complete, simplified workflow at a fraction of the cost of traditional industrial SLS systems.

There is an opinion that large printers are more suitable for automotive parts. However, the Fuse 1 print volume is sufficient for most projects. For example, the maximum size of 80% of the parts that Brose prints can be compared to the size of a fist. Therefore, the company can print almost all parts on Fuse 1.

The printer thus opens up most of the possibilities that a large printer can give a company, but with less effort. While a larger machine can take a week to set up and run, the Fuse 1 setup process is effortless. The printer does not take up much space, there is no need to calibrate it. To start work, you only need a closed room with air conditioning, and that the printer is level. After connecting, the setup process begins and you can print immediately on the day of delivery.

Manufacturing SLS parts on the Fuse 1 also requires little effort and time to prepare a new assembly, maintain the printer, and post-process the parts. In addition, a great advantage is the ability to maintain continuous operation, which is very convenient for planning. The machine is not idle and can work around the clock.

Fuse 1 has been tested very extensively - Brose has printed many parts with minimal thickness, as well as very thin and long designs. After testing the parts, the specialists determined that even if the dimensions of the parts were violated, they always deviated in the same direction. Therefore, by optimizing the process, you can end up with very accurate parts. The Brose team ran multiple print jobs on the Fuse 1 to test its capabilities, from short overnight builds of around 12 hours to full build chambers with over 1,000 small parts that took four days to complete. The company made sure that the quality of the parts received allows them to be used almost immediately after they come out of the printer and have been cleaned of the last particles of powder.

An important advantage is that the Fuse 1 can be supplied with Fuse Sift, a post-processing station that integrates part extraction, powder recovery, storage and mixing in one stand-alone unit. In the past, post-processing equipment had to be purchased separately. Fuse Sift, on the other hand, is an integrated system where all the dust removal fans are there and restrictive personal safety equipment can be kept to a minimum. In addition, the station is designed in such a way that the powder is sieved, so any large particles that do not pass through the sifter can be collected for processing. The system also allows you to mix the powder and set your own refresh rate.

SLS for End Applications: Spare Parts and Parts for End of Life Products

Brose plans to use the Fuse 1 for functional prototypes to take advantage of fast lead times and material (Nylon 12) that has similar properties with current production materials. The team is already testing the parts and creating cases for the first end uses. We are mainly talking about spare parts and parts for end-of-life products.

After a car model is discontinued, car suppliers are still required to supply parts. As a rule, an estimate is made of how many spare parts will be needed. After which they are cast under pressure, and then placed in a warehouse. This is a big waste of resources. 3D printing eliminates mold and part storage for the next 15 years.

There is a lot of demand for parts and end-of-life parts because the product is always running low and the company has a lot of plastic injection molded parts. 3D printing has a big advantage in this case, because if you can arrange the parts efficiently, then the process becomes economically viable.

In the automotive industry, it is important to provide the best possible quality at the best price. Currently, anything under 10,000 parts per year can be printed with SLS.

SLS can be called the ideal technology for manufacturing due to a number of advantages:

It allows you to create high-quality parts with properties similar to injection molded;
Can be implemented in a production environment;
This is one of the most economical and clean additive manufacturing processes, which is becoming increasingly important for manufacturing;
Engineering resins can be used to create technical parts without the use of supports;
Post-processing is also very clean, most of the powder is removed from the part before blasting.

Waste-free printing is also very important, and many of Brose's customers agree with this policy. The technology allows the company's specialists to reuse the powder and not throw it away. In addition, there are no other chemicals to be recycled. Brose aims to have all SLS machines running zero waste by the end of next year.

The future of SLS in serial production

The company's ultimate goal is, of course, to use SLS to mass produce parts for the next generation of automotive products that will appear in the near future.

Prototyping and spare parts can be done now. At the moment, looking at technical developments, mass production will become possible in the next four to five years.

To achieve this, two key changes must occur: considering additive manufacturing in product development from the design stage, and further reducing the cost of materials and equipment. The main hurdle is for the product designer to understand what can be done with 3D printing and be able to make a decision to 3D print the part.