3D scanner line laser
Industrial 3D-Scan Line module

Dimensions
Ø12.5 x 30 mm
Ø9 x 26 mm
Ø10 x 27.1 mm
(W)14 x (H)14 x (L)26 mm
Ø10 x 26 mm
Ø10 x 38 mm
Ø10 x 40 mm
Ø10 x 40 mm
Operating voltage
2. 6~6 VDC
2.6~6 VDC
3~6 VDC
2.6~6 VDC
3~6 VDC
3~6 VDC
3~6 VDC
3~6 VDC
Operating current
Less than 50mA / 55mA
Less than 35mA / 100mA
Less than 35mA
Less than 40mA / 60mA
Less than 50mA
Less than 35mA / 100mA
Less than 80mA / 100mA
Less than 50mA / 100mA
Less than 50mA / 100mA
Optical power
Less than 2mW / 4~5mW
Less than 2mW / 12~15mW
Less than 2mW
Less than 5mW / 20mW
4~5mW / 12~15mW
Less than 2. 5mW / 20mW
Less than 4~5mW / 9~10mW
Less than 5mW / 10mW
Less than 5mW / 10mW
Laser power output
Less than 0.39mW / 1mW
Less than 0.39mW
Less than 0.39mW / 1mW
Less than 0.39mW / 1mW
Less than 0.39mW / 1mW
Less than 0.39mW / 1mW
Less than 0.39mW / 1mW
Less than 0.39mW / 1mW
Laser class
Class 1M / Class 2M
Class 1M
Class 1M / Class 2M
Class 1M / Class 2M
Class 1M / Class 2M
Class 1M / Class 2M
Class 1M / Class 2M
Class 1M / Class 2M
Wavelength
630~645nm / 645~665nm
645~665nm
635~665nm
630~645nm / 645~665nm
635~665nm
630~645nm
630~645nm
630~645nm
Collimating lens
Plastic lens
Plastic lens
Plastic lens
Glass lens
Plastic lens
Glass lens
Glass lens
Glass lens
Line lens
Plastic lens
Plastic lens
Plastic lens
Glass lens
Plastic lens
Glass lens
Glass lens
Glass lens
Beam shape
Line
Line
Line
Line
Line
Line
Line
Line
Laser Line width
3 ±0. 5mm at 5M
6 ±0.5mm at 10M
1.2mm at 1M
Less than 1.6mm at 40CM
2±1mm at 5M
4±1mm at 10M
Less than 1.2mm / 1.5mm
3±0.5mm at 5M
6±0.5mm at 10M
Less than 1mm
Less than 1mm
Laser line accuracy
40" (±1mm @5M)
1/100
4/1000(less than 1.6mm @400mm)
20" (± 1mm @10m)
1/100
40"(±[email protected])
40"(±[email protected])
40"(±[email protected])
Emitting angle
More than 90°
More than 60°
60° / 90°
More than 120°
60° / 90°
60°
5°, 10°, 15°, 20°, 30°, 45°, 60°, 110°
5°, 10°, 15°, 20°, 30°, 45°, 60°, 110°
Operating temp. range
+10°C ~+40°C
+15°C ~+30°C
+15°C ~+40°C
-20°C ~+50°C
+15°C ~+40°C
-20°C ~+65°C
-20°C ~+60°C
-20°C ~+60°C
Storage temp. range
-20°C ~+65°C
-20°C ~+65°C
-20°C ~+65°C
-40°C ~+70°C
-20°C ~+65°C
-20°C ~+85°C
-20°C ~+85°C
-20°C ~+85°C
Housing material
Brass
Brass
Aluminum
Aluminum
Aluminum
Aluminum
Stainless steel
Stainless steel
Potential of housing
VDD(+)
VDD(+)
Insulated
Insulated
Insulated
Insulated
Insulated
Insulated
Electrostatic discharge (ESD)
30KV
30KV
30KV
30KV
30KV
30KV
30KV
30KV
Moisture sensitivity level (MSL)
Level 1 - acc to JEDEC J-STD-020E.
Level 1 - acc to JEDEC J-STD-020E.
Level 1 - acc to JEDEC J-STD-020E.
Level 1 - acc to JEDEC J-STD-020E.
Level 1 - acc to JEDEC J-STD-020E.
Level 1 - acc to JEDEC J-STD-020E.
Level 1 - acc to JEDEC J-STD-020E.
Level 1 - acc to JEDEC J-STD-020E.
Wire type
1007-26AWG
1007-26AWG
1007-26AWG
1007-26AWG
1007-26AWG
2464 2-WIRE CABLE 26 AWG
2464 2-WIRE CABLE 26 AWG
2464 2-WIRE CABLE 26 AWG
Cable length
115±15mm
115±15mm
250±10mm
115±15mm
115±15mm
330±30mm
330±30mm
330±30mm
Mean time to failure (MTTF) 25°C
10000hrs
10000hrs
10000hrs
10000hrs
5000hrs
10000hrs
10000hrs
10000hrs
Application
General industrial alignment
Economic 3D scanner
Precision 3D scanner
Precision industrial alignment
Precision 3D scanner
Precision industrial alignment
Precision fine line for Automation, Machine vision and Medical
Precision fine line for Automation, Machine vision and Medical with modulation function
Suggestion work distance
Above 2 meters
0. 3~1.8 meters / 1~6 feet
20~60 cm / 8"~24"
1~20 meters / 3~60 feet
20~60 cm / 8"~24"
1~20 meters / 3~60 feet
0~1.2 meters / 0~4 feet
0~1.2 meters / 0~4 feet
Datasheet download
Download
Download
Download
Download
Download
Download
Download
Download
Download
Download
Understanding Laser Scanners | Article
Article
When complex or large environments need to be documented, Laser Scanners provide a practical and economical solution.
Traditionally, capturing large environments relied on tools that produced single point measurements, such as tape measures, piano wire, plumb bobs, laser range finders and total stations. While they are familiar tools, they are often time-consuming, often taking days, weeks or months depending on the space. Additionally, traditional tools often produce inconsistencies in measurements from user to user and ultimately data often get missed, leading to potentially cascading inaccuracies.
In contrast, Laser Scanners are non-contact devices that capture millions of discrete data points to measure an object or space using laser infrared technology that produces detailed 3D images in minutes. The images comprise millions of 3D data points, known as a point cloud.
So, how do they accomplish all of that so quickly? The Laser Scanner emits a beam of infrared laser light onto a rotating mirror that effectively paints the surrounding environment with light. The scanner head rotates, sweeping the laser across the object or area.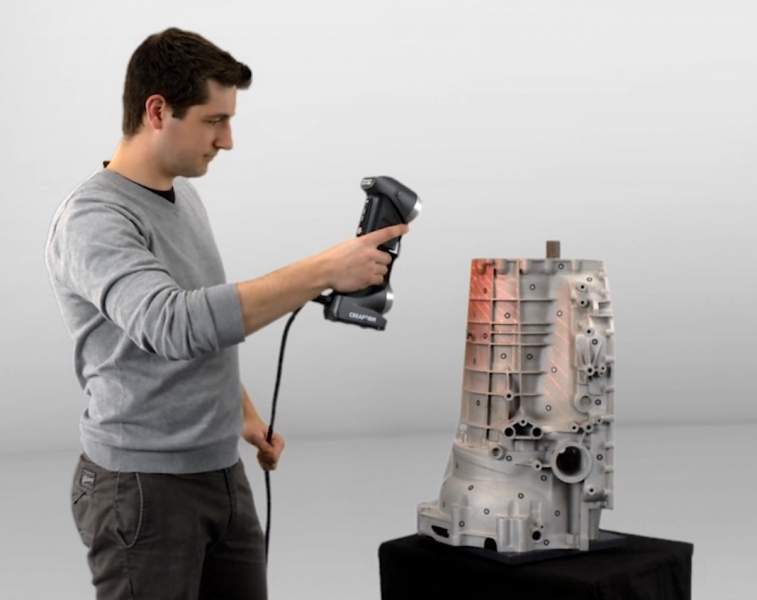 Objects in the path of the laser reflect the beam back to the scanner, providing the geometry that is interpreted into 3D data. In addition to the distance measurement, Laser Scanners also capture measurements on the horizontal and vertical planes, providing a full scope of measurement data.  
A Laser Scanner typically captures data through two kinds of systems:
Time-of-flight systems: Also known as a pulse measurement system, this works by emitting a single pulse of laser light and determining the distance to the end point by measuring the time it takes for the light to be reflected back to a sensor on the scanner.
Phase-shift systems: Similarly, this system also uses an emitted laser light, but in this system, the intensity of the light is modulated with specific wave forms. The reflection of the intensity patterns is displaced by the impact on the surface of the object. Measuring the displacement between the sent out and the received laser signal provides a precise distance calculation. Generally, Laser Scanners that use phase-shift systems are accurate, fast and provide high-resolution data.
---
Applications and Industries:
Laser Scanners are versatile, easy to use and move, and accurate, making them an ideal tool for many applications and industries:
Law enforcement & fire safety: Laser Scanners are effective tools for crime scene documentation, crash and accident scene reconstruction, fire scene analysis, forensic investigations and more. Laser scanning saves hours of documentation time and preserves a digital replica of scenes that may be environmentally vulnerable.
Safety & security: Laser Scanners capture highly detailed, valuable data used by security personnel to save lives when responding to potential threats. 
Insurance: Laser Scanners are used to document the actual state of a piece of property at a point in time, helpful for setting a baseline for value and obligation, as well as documenting losses with vehicles, damaged properties or products.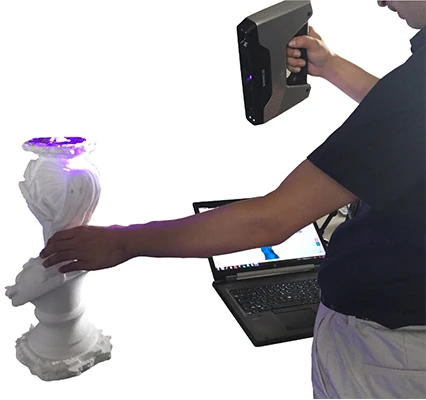 Oil & gas: Laser scanning is well-equipped to assist in engineering, maintenance and planning on oil platforms and in refineries. They are also highly useful in documenting complex piping structures to avoid installation issues or errors.
Heritage & historical preservation: Laser scanning can document the complex geometries of existing buildings in order to study, preserve or restore them.
Site surveying: Laser Scanners can be used to make volume calculations as well as topographic and as-built surveys.
Construction: Laser scanning can provide continuous in-field verification at every stage of a construction project lifecycle, helping predict and prevent errors and enabling significant cost, scrap and time savings.
Architectural & civil engineering: Laser Scanners are useful for capturing as-built documentation of existing buildings and in developing 3D models as part of project planning.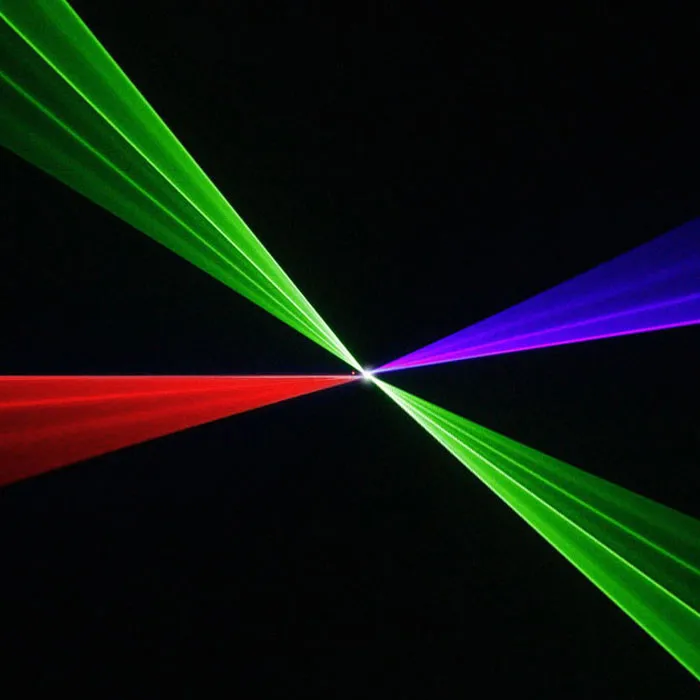 Facilities management & asset documentation: Laser scanning offers precise data of complex factory and plant installations, useful in maintaining and documenting assets and facilities. 
In each application scenario, a Laser Scanner produces accurate results in less time and with fewer errors than other, more traditional methods. And in some cases, such as documenting crime and crash scenes, the time saved offers downstream benefits such as being able to open roadways to the public earlier. In applications that require outdoor work, Laser Scanners can document complex areas where inclement weather is a concern.
Article
Architecture, Engineering & Construction
Public Safety Analytics
As-Built Capture & Modeling
Construction Prefabrication
Construction Quality Control
Design Layout & Projection
Digital Twin for Asset & Facility Management
Historical Preservation
Crash Reconstruction
Crime Scene Investigation
Arson Investigation
Safety Planning
Failure Investigation
Architecture, Engineering, Construction
Defense
Fire and Rescue
Forensic Engineering
Geospatial
Insurance
Law Enforcement
Measurement Service Providers
Media & Entertainment
Mining
National Security
3D Scanners
Focus
Build & Construct
Awareness
Related Content
scopes and overview of models / Sudo Null IT News
3D laser scanning - creating a digital model of a physical body using a laser beam.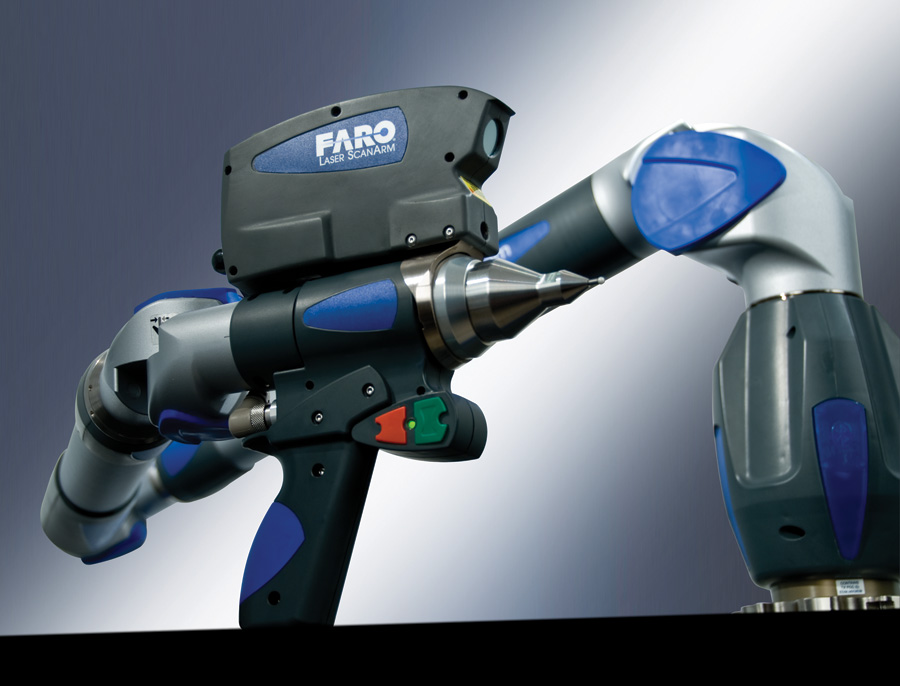 The technology is non-contact, works at close and long distances, eliminates damage to objects during scanning. The principle of operation of 3D laser scanners: a directed laser beam is reflected from the surface of an object, forming a cloud of points. Each point has its own coordinates in space. The software identifies them and creates a finished 3D digital model based on this data.
From the overview you will find out where laser scanning is used and what equipment is used to solve related problems.
Purpose of laser scanners
Source: newequipment.com
In comparison with traditional measurement methods, laser scanners have an important advantage - they can digitize objects with complex surfaces and work in hard-to-reach places for humans. The main areas of application of devices are input and output quality control in production, inspection of working devices in order to prevent and eliminate defects, reverse engineering and other areas.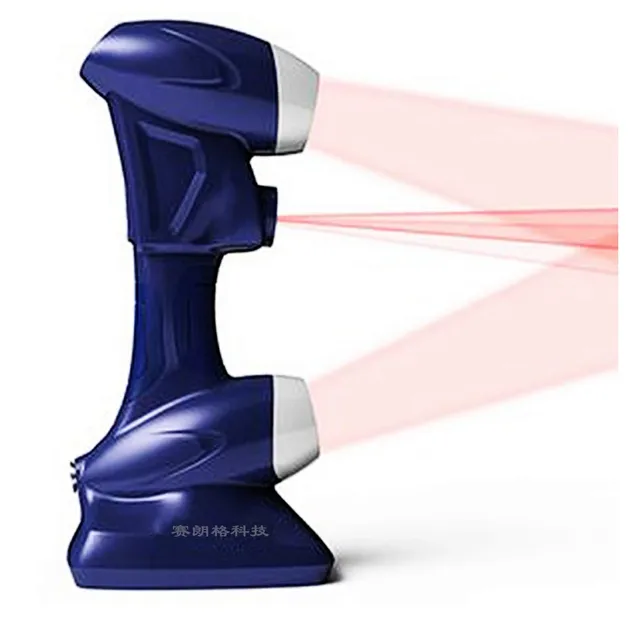 Construction, renovation and renovation of objects
Source: ellisdon.com
During the preparation of the building design, it is necessary to evaluate the features of the site and the cost of the forthcoming works. With the help of 3D laser scanners, a landscape model is created, on the basis of which further work is carried out. During the construction process, intermediate control of the geometry of future buildings is required: walls, corners, openings, etc. Laser scanning copes with this task more accurately and faster than conventional measuring technologies.
The basis for an exterior or interior renovation is often an accurate digital model, on the basis of which changes and additions to the current interior or exterior are planned. Laser scanners are also indispensable in this area.
Road networks and transport
Source: autodesk.com
Laser scanning is becoming an integral part of the planning and creation of urban and suburban road networks, tunnels, pedestrian sections, railways, ports.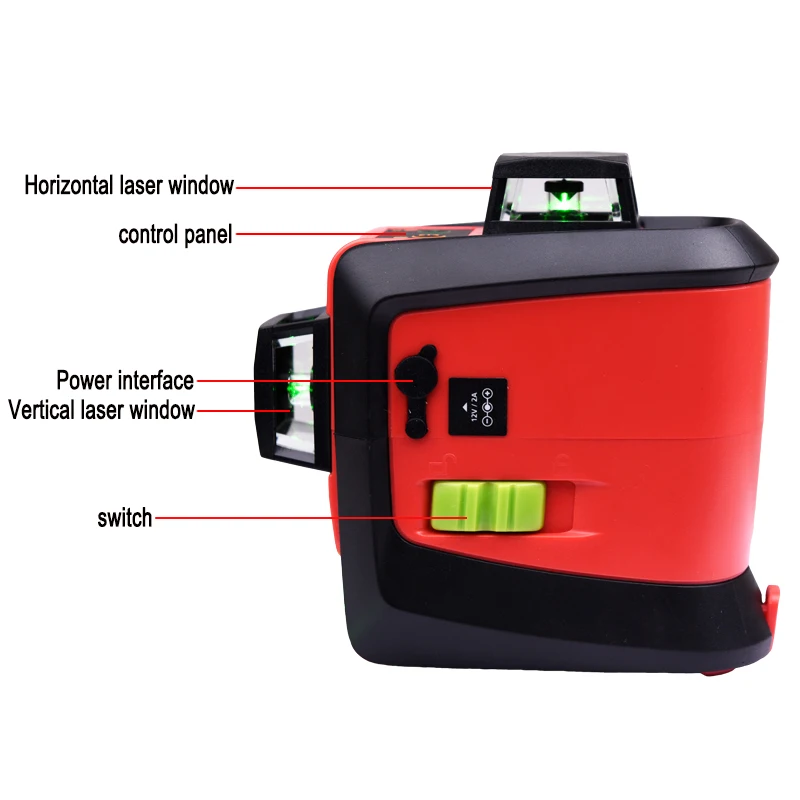 The technology is used to assess the current state of coatings, plan and estimate the cost of repairs, to obtain models of perennial structures, such as bridges. The equipment is involved in the design, manufacture, repair and tuning of cars, air transport and ships.
Public utilities
Source: 3dscanner.es
With the help of 3D laser scanners, it became possible to quickly digitize and document engineering communications. Scanning significantly saves time during maintenance and reconstruction. The devices work remotely, minimizing the risks of people when working in adverse conditions and in hard-to-reach areas.
Oilfield installations
Source: ramboll.com
Oil production complexes located in the water require constant monitoring of work processes. Objects are regularly exposed to adverse and changeable environmental influences: winds of different strengths and directions, currents, temperature changes, etc.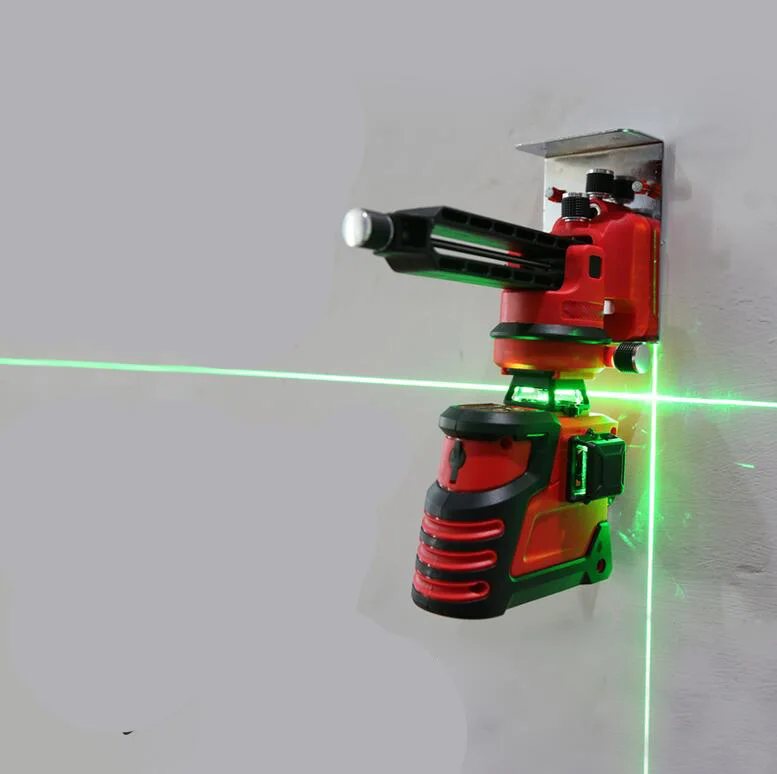 3D laser scanning is becoming an integral part of the inspection of oil production installations. The equipment allows you to quickly identify and fix deformations and other damage, control wear, calculate the timing of scheduled maintenance, and prevent accidents.
Forensic examination
Source: faro.com
Photographs and manual measurements in investigative processes and forensic examinations are being replaced by 3D laser scanning. The devices create three-dimensional models of scenes of incidents with accurate fixation of the location of objects and the distances between them. The data is used in the process of pre-trial and litigation.
Other applications
Source: news.microsoft.com
3D laser scanners facilitate and optimize workflows in the following areas:
In cartography and geodesy - when creating terrain plans, maps, geographic information systems (GIS).
In archeology - in the restoration and preservation of ancient artifacts.
In paleontology, to create missing parts of excavated skeletons.
In medicine, including plastic surgery and dentistry.
Overview of models and manufacturers
FARO Focus
Source: ifworlddesignguide.com
FARO is one of the popular manufacturers of laser scanning devices. The new Focus3D S-series instruments stand out from other scanners in lightness and compact size, as well as the ability to work in bright sunlight and keep in touch with the location using GPS.
The FOCUS 3D S 150 scanner works at a distance of up to one hundred and fifty meters, with an accuracy of up to ±2000 microns at a maximum distance. The device is used in design, architecture and construction, for digitizing equipment and other objects.
You can learn more about this model on the website.
Source: youtube.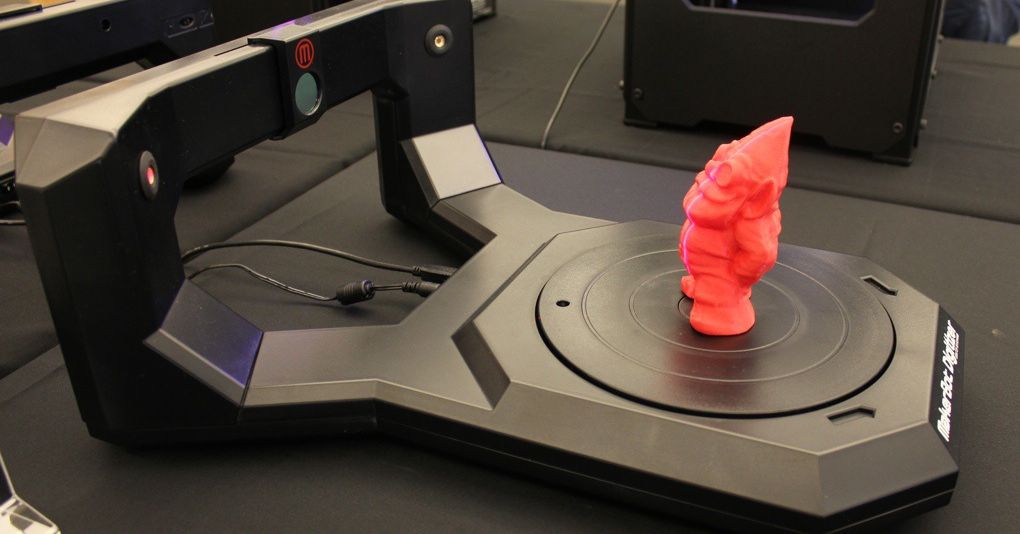 com
Focus3D S 350 scans with the same accuracy as the previous device, but the distance to the measurement object is increased to 0.35 km. The device is designed for outdoor use.
Source: kkgeosystem.blogspot.com
SHINING 3D
Source: shining3d.com
FreeScan is a line of well-known Chinese manufacturer of digital equipment SHINING 3D. These are universal laser handheld 3D scanners FreeScan X5 (X5+), FreeScan X7 (X7+) weighing up to 1 kg, with an excellent set of professional features.
Basic parameters:
Specifications

Creaform
Source: foundry-planet.com
Creaform's SCAN 3D range is characterized by high scanning quality combined with ease of use. Portable laser scanners HandySCAN 3D, MetraSCAN 3D have a clear interface, do not require special skills and complex user training.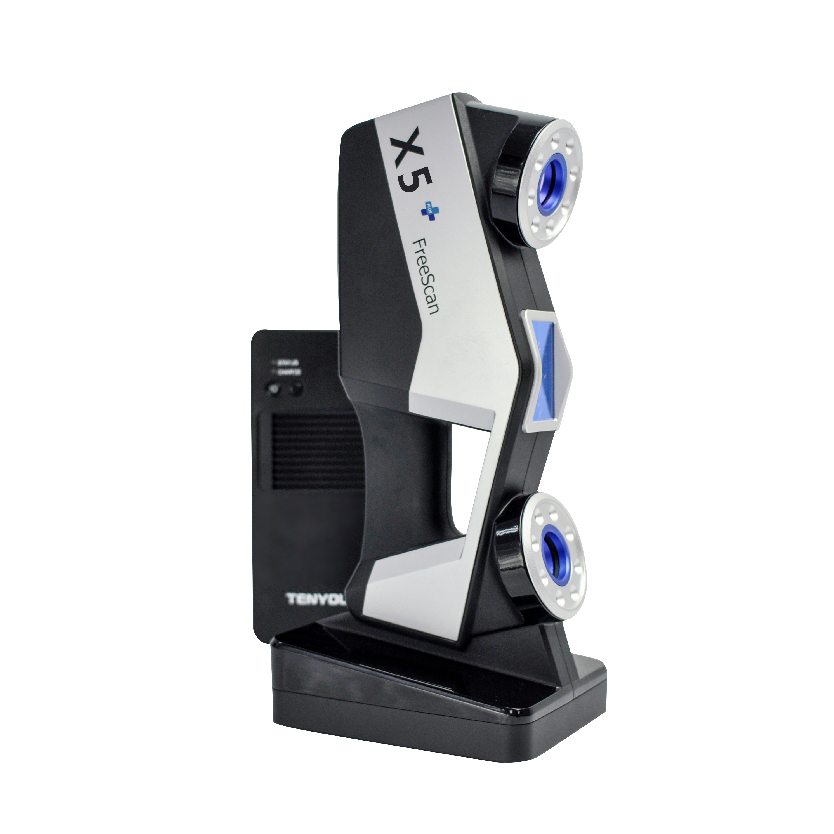 Instrument features:
ScanTech
Handheld range
Source: cmmxyz.com
The HandHeld Prince series uses blue and red laser beams to scan large and small objects with high accuracy. Scanners can operate in bright sunlight and low light conditions. Due to its compact size, high speed and detail, the equipment is widely used in reverse engineering, quality inspection, digitization of museum, archaeological and other objects.
Key features:
Composite series
Source: twitter.com
In addition to the dual scan mode, the KSCAN20 is equipped with a photogrammetry system, thanks to which the working area of ​​the device is 2.5 m * 3 m with an accuracy of 35 µm / m.
Blue and red lasers provide high-speed scanning of up to 650,000 measurements per second with a resolution of 0.01 mm.
Key Features:
3D Laser Scanner Applications
Reduce construction costs and time with FARO Focus
Source: autodesk.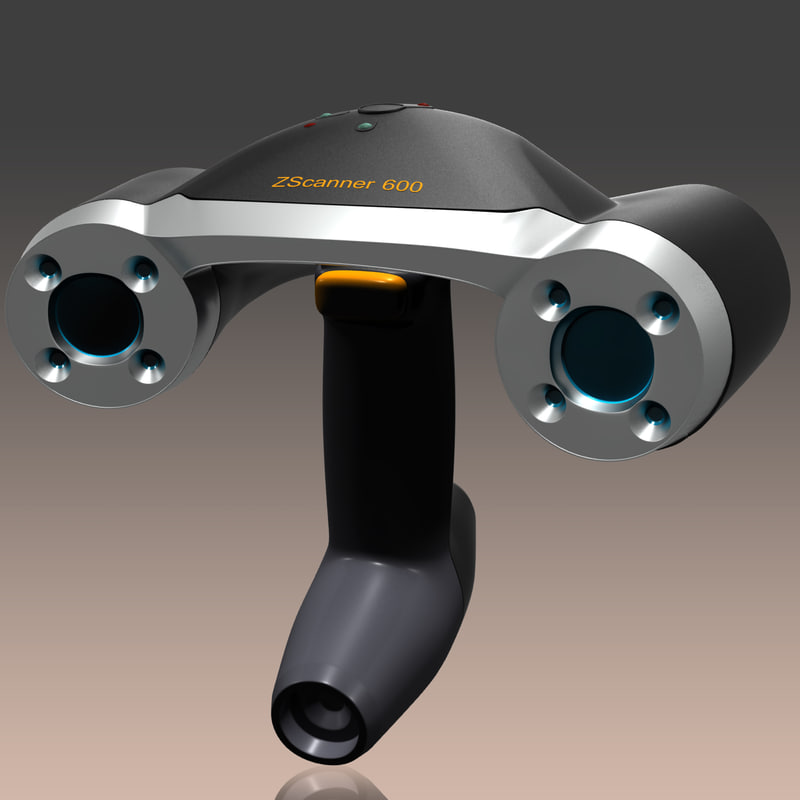 com
US construction company Gilbane invested $60,000 in a FARO Focus-S 350 laser scanner, software, and employee training. At first glance, the amount seems too large for a small-scale firm. But, after the calculations, the company's management came to the conclusion that the investment will pay off in the shortest possible time.
According to Gilbane's director of 3D design, John Tocci Jr., after introducing the expensive new technology, the company began to use the equipment even in areas where it was not originally planned. The specialists managed to save $30,000 for one hour of Focus-S 350 and Autodesk Revit software.
Source: autodesk.com
Building a digital model of air ducts and other systems made it possible to avoid errors during the installation of physical objects, which could take several weeks. The use of FARO Focus in the assembly of plumbing, electrical and mechanical installations helped to optimize costs at all stages of work
Case "Modernization of the building of the University of Miami"
Source: elevar.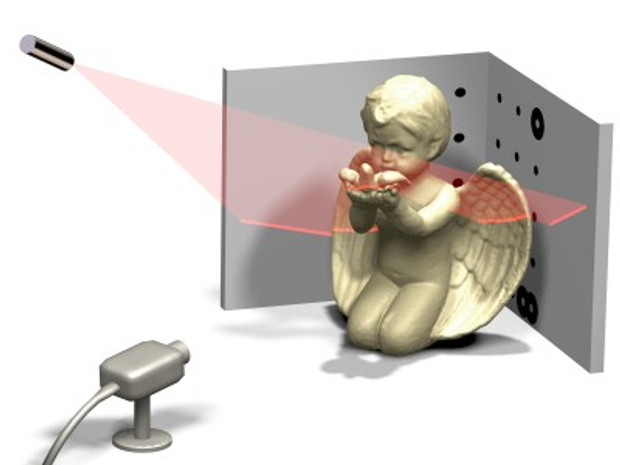 com
At the time of the start of work, the architects had drawings made 85 years ago, and a little more than 4.5 thousand square meters of the old building. Using a 3D laser scanner, Gilbane digitized the training areas in one day. Modernization of load-bearing structures, as well as the main utility systems: plumbing, electrical and ventilation, was based on data obtained from scanning.
Quality Inspection with ScanTech
Source: 3d-scantech.com
The advantage of metal stamping over forging and casting is the lower weight and thickness of the resulting parts. The use of molds gives high accuracy and maximum compliance of the obtained parts with the specified characteristics, but does not completely exclude deviations and deformations. Which, in turn, can lead to difficulties in assembling finished products and reducing product quality. Therefore, constant quality inspection is a necessary part of production.
Having understood the problems of the manufacturer, ScanTech experts proposed to check the quality of stamped parts using the PRINCE laser scanner. The ability to switch blue and red laser modes allowed the device to combine the functionality of traditional portable and metrological 3D scanners. The mode of operation with an active beam of a red laser provides fast digitization of objects. In the case of increased requirements for accuracy and detail, turn on the blue laser beam mode.
The photo shows the stages of work:
1. Installing markers - takes about two minutes.
Source: 3d-scantech.com
2. Digitizing a part takes about three minutes.
Source: 3d-scantech.com
Source: 3d-scantech.com
3. Deviation detection - lasts 3 minutes.
Source: 3d-scantech.com
The digital model shows the parameters and deviations, allows you to correct errors at the design stage.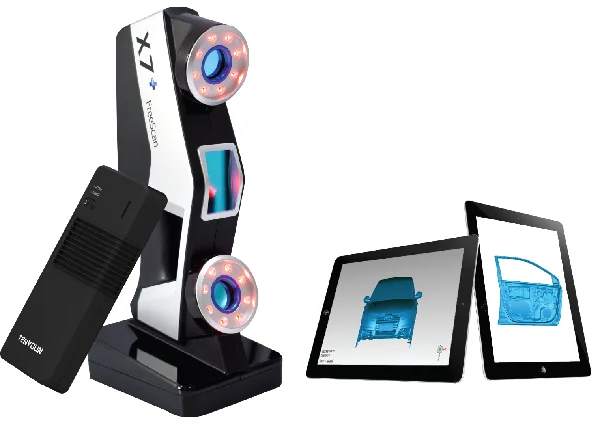 The case clearly shows that the process required a minimum of time and effort.
Using FARO 3D scanners on Justin Timberlake's world tour
Source: disguise.one
Timberlake's "Man of the Woods" program features scenery brought to life on stage. First, the ScanLAB team digitized a number of corners of the forest in the US state of Oregon. Laser projectors then directed images over the auditorium and stage, painting amazing pictures of the Portland landscape on translucent canvases suspended in the air.
Source: faro.com
Two Faro Focus X 330 laser scanners, Faro Scene 6.2 software were used to prepare visual effects. In total it took 40 digital copies and 1 working day in the concert hall.
Source: www.esa.int
Considering the limited preparation time, the large surface areas for displaying the image and the corresponding need for high image resolution, creating visual effects in a short time without using the chosen technology was impossible.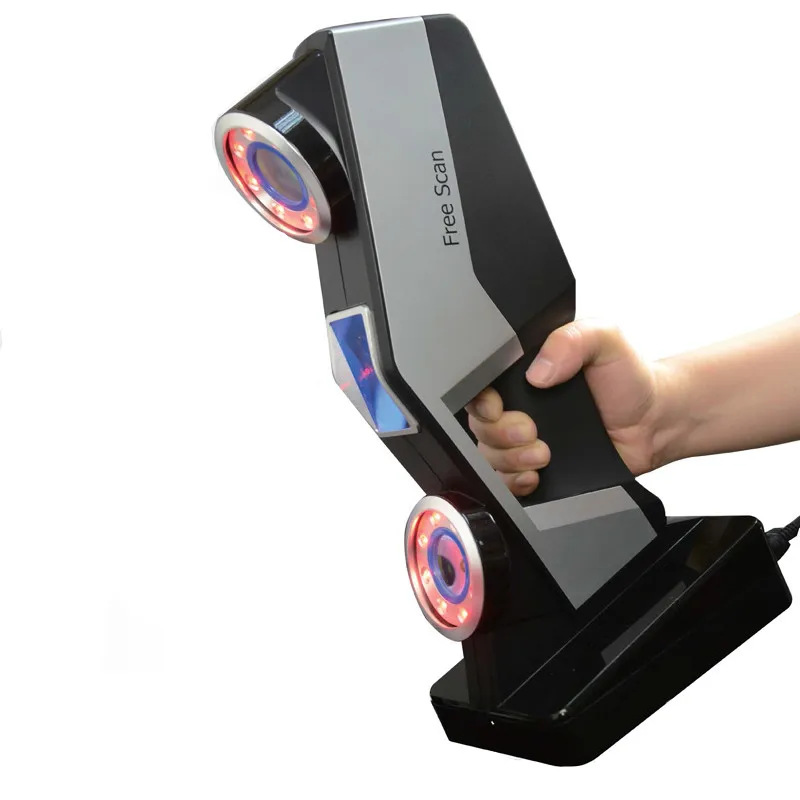 Selection guide for 3D laser scanners
In the review, we introduced you to the equipment of market leaders with an excellent reputation. All the devices described have high performance, so we recommend that you pay attention to these devices for use in various fields:
FARO Focus: Focus3D S350, Focus 3D S150.
Creaform: MetraSCAN 350 (350 Elite), MetraSCAN 750 (750 Elite), HandySCAN Black (Black Elite).
SHINING 3D: FreeScan X5 (X5+), FreeScan X7 (X7+).
ScanTech: KSCAN20, PRINCE 775, PRINCE 335.
Results
Source: 3d-scantech.com
The cases discussed clearly prove that the use of 3D laser scanning optimizes workflows in many areas. The range of tasks solved with the help of 3D laser scanners is constantly expanding.
Buy a professional 3D laser scanner in Top 3D Shop — experienced specialists will help you choose the most suitable equipment, software for your business, and offer a project to modernize production.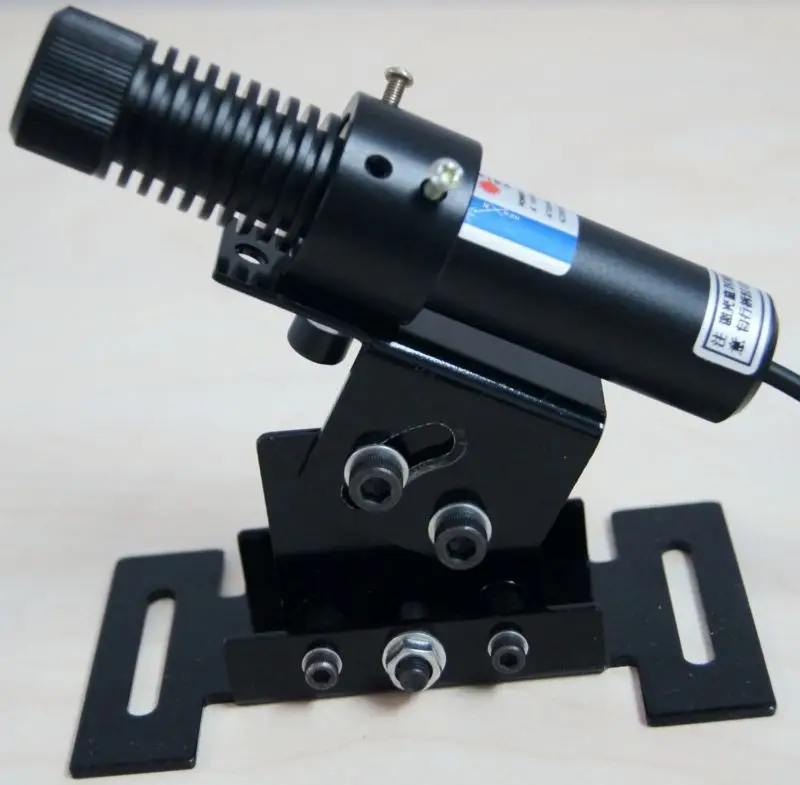 Manufacturing Intelligence | Hexagon
Skip to Main Content
English
Industries

Solutions

Products

Support & Success

Resources

Company
English
Tab Close Content Button
Alert
The page is not available in your preferred language.
English
English
Czech Republic
Deutsch
Espanol
Francais
Italiano
Magyar
Nederlands
Poland
Portugues
Romaneste
Suomi
Svenska
Turkish
Russian language
ภาษาไทย
한국어
日本語
---
Select your preferred language from the list below.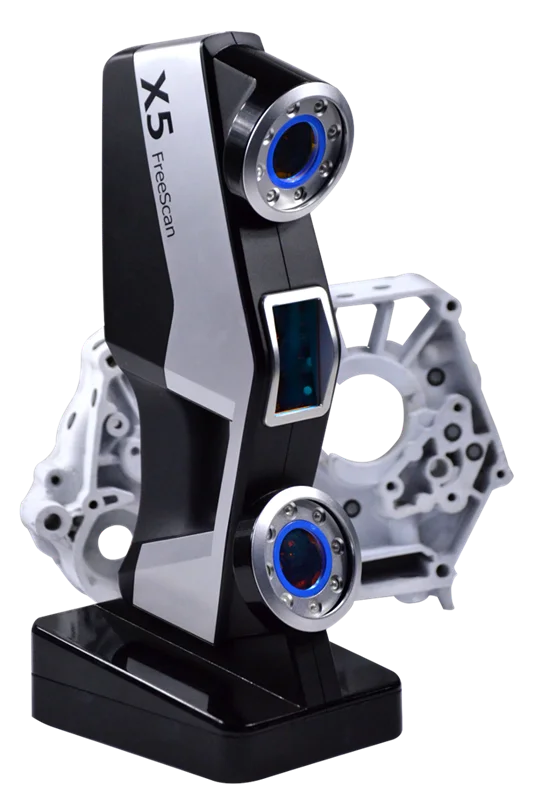 We will show you content in your preferred language when available, otherwise we will show English.
Preferred Language
Bahasa Indonesia
Czech Republic
Dansk
Deutsch
English
Espanol
Francais
Italiano
Magyar
Nederlands
Poland
Portugues
Romaneste
Suomi
Svenska
Turkish
Russian language
ภาษาไทย
한국어
日本語
To explore content available in a specific language, visit the page language directory.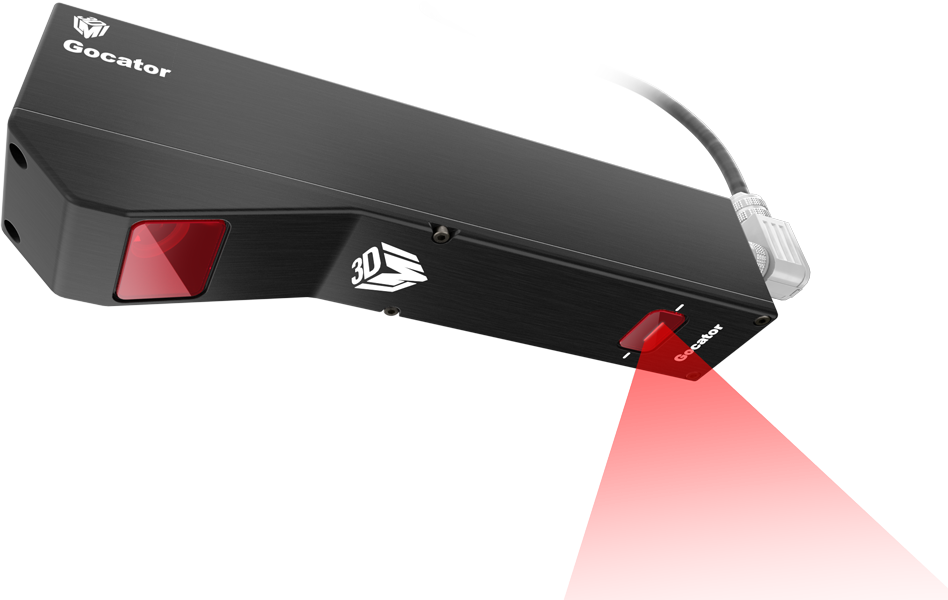 100% EV: accelerating electrification
Discover a faster, more integrated, sustainable approach to the design, development and production of electric vehicles.
Make it smarter
Today's manufacturers are looking for smarter ways to improve quality and productivity.
Hexagon's Manufacturing Intelligence division empowers customers to put data to work throughout the product manufacturing lifecycle, digitally transforming operations to improve productivity and efficiency while embedding quality throughout the process.
Our technologies enable manufacturers to access, analyze and actively leverage data from all key stages of the manufacturing process to empower better decision-making. Our knowledge and experience provides customers with the tools – and the confidence – to accelerate innovation and reduce time-to-market while delivering quality products.
Industries
While specific industries have their own unique challenges and motivations, productivity is central to manufacturers across the board.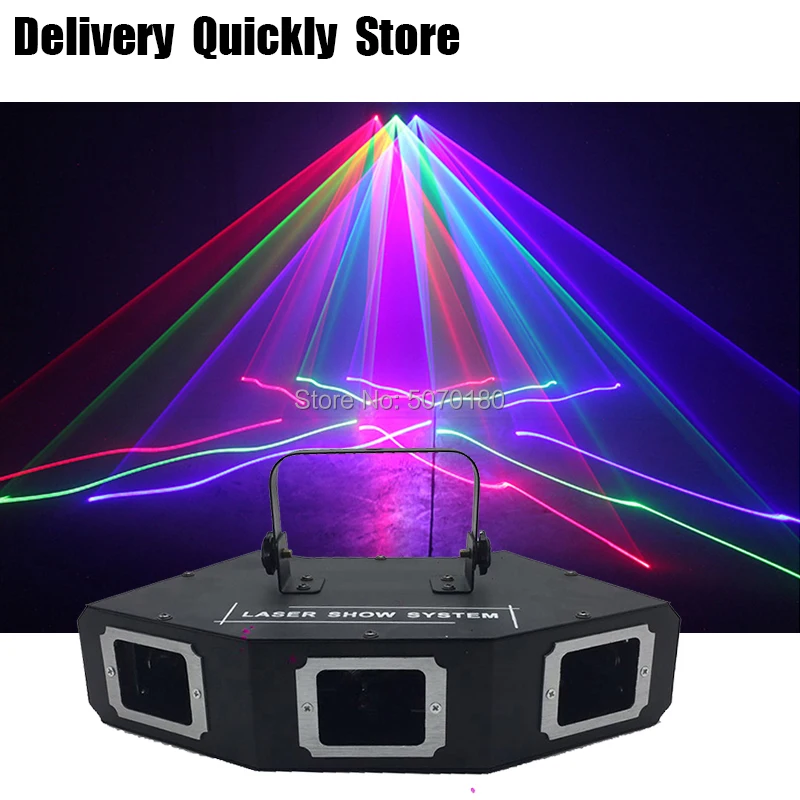 Continuously improving productivity is essential for competitive success.

Hexagon's Manufacturing Intelligence division helps customers put data to work to improve productivity and efficiency while embedding quality throughout the product lifecycle.

Our manufacturing intelligence technology enables manufacturers to access, analyze and actively use data from all the key stages of the manufacturing process. Through an unparalleled portfolio of digital manufacturing technologies spanning CAE solutions for design and engineering, CAD CAM and complementary software for production applications, metrology hardware and software solutions, as well as data management and analytics tools, we empower technology users throughout the process with deep and actionable insight into product quality, ensuring that quality drives productivity.

Together, our manufacturing intelligence software solutions create a digital thread throughout the manufacturing process, enabling the entire organization to take a holistic approach and work together with speed and confidence to achieve the desired outcomes.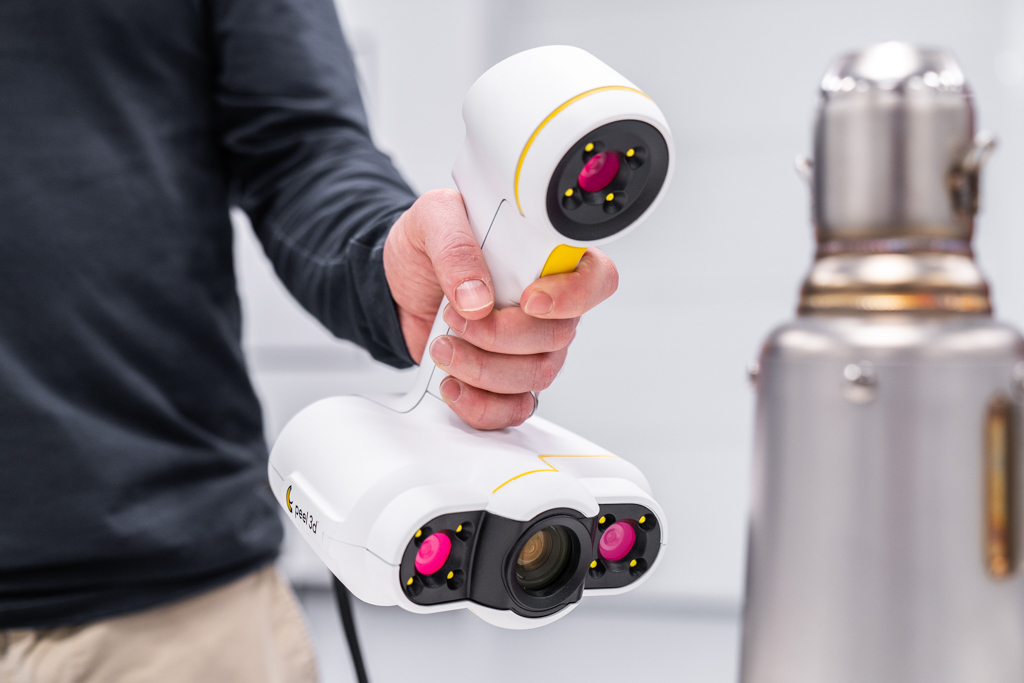 Our hardware solutions use metrology to bring real-world physical attributes to the digital thread to improve the accuracy of operations. The digital thread ties together a connected ecosystem for manufacturing and, with the addition of domain expertise and intelligence, enables continuous learning and improvement.
Digitalising aircraft development and operations to keep the world in transit.

Helping the automotive industry embrace electric, connected and autonomous vehicles.

Innovation, collaboration and visualization technologies for the buildings industry.

Reduce operational risk, increase efficiency and meet regulatory compliance.

Ensuring network capacity and service reliability for critical infrastructure.

Get the job done across all heavy construction project phases faster, simpler and safer.

Smarter, more efficient and more profitable building of industrial facilities.

Helping consumer goods manufacturers keep pace in a fast-moving industry.

Software, systems and data for military planning and operations.

Enabling education and research institutes to inspire new generations.

Delivering end-to-end solutions and process autonomy in the electronics industry.

Reduce operational risk, increase efficiency and meet regulatory compliance.

Accelerate your autonomous project needs with superior engineering solutions for a variety of industries.

As heavy equipment becomes more complex, lighten the load with digital solutions.

Helping the supply chain manufacture essential materials, tooling and components.

Bridging the virtual and physical to accelerate healthcare innovation and autonomy.

Connecting all parts of your mine with technologies for safer, smarter decisions.

Hexagon has experience serving a number of other industries including; arts and entertainment, real estate and retail.

Unfurling the power of data to digitally transform the shipbuilding industry.

Data, systems and insights for transportation planning and operations.
Solutions
Hexagon's solutions are critical to capturing, connecting and fusing the vast amounts of data required to deliver the world's safest, most advanced autonomous mobility solutions for on-and-off-road vehicles and equipment, marine vessels, drones, robotics and more.

Hexagon's solutions are changing the way buildings are planned, designed, constructed and utilised—ensuring data is captured, connected, visualized and updated throughout the lifecycle to deliver better performance and lower environmental impact and at a lower cost.

Hexagon's solutions make cities and nations safe, resilient, agile and sustainable while reducing their total operating cost by connecting mission and business-critical data to make timelier, well-informed decisions.

Hexagon's solutions are enabling customers to leverage data throughout the asset lifecycle—transforming industrial facilities into lean, efficient, safe operations that improve the bottom line while assuring a sustainable future.

Connect the vast manufacturing ecosystem via a Smart Digital Reality—a real-time 3D replica connecting product requirements with outcomes and enabling proactive corrective actions and maintenance while reducing waste and increasing productivity sustainably.

Hexagon's life-of-mine solutions connect and leverage data from planning to operations—from safety to sustainable reclamation—making it possible for customers to extract 100% of a mine's potential value safely, sustainably and profitably.
Featured products
All products
Embed quality into product design and engineering to ensure component manufacturability and downstream production productivity.
Maintain design intent throughout the product lifecycle, improve productivity and deliver high-quality components with maximum efficiency.
Capture real-world data for positioning and inspection, and gain actionable information that continuously improves efficiency, quality and productivity.
Service and support
Our global teams of local experts are here to support you with your manufacturing challenges.
Partnerships
See how our global partner network helps us innovative and provide smarter products and services for manufacturers.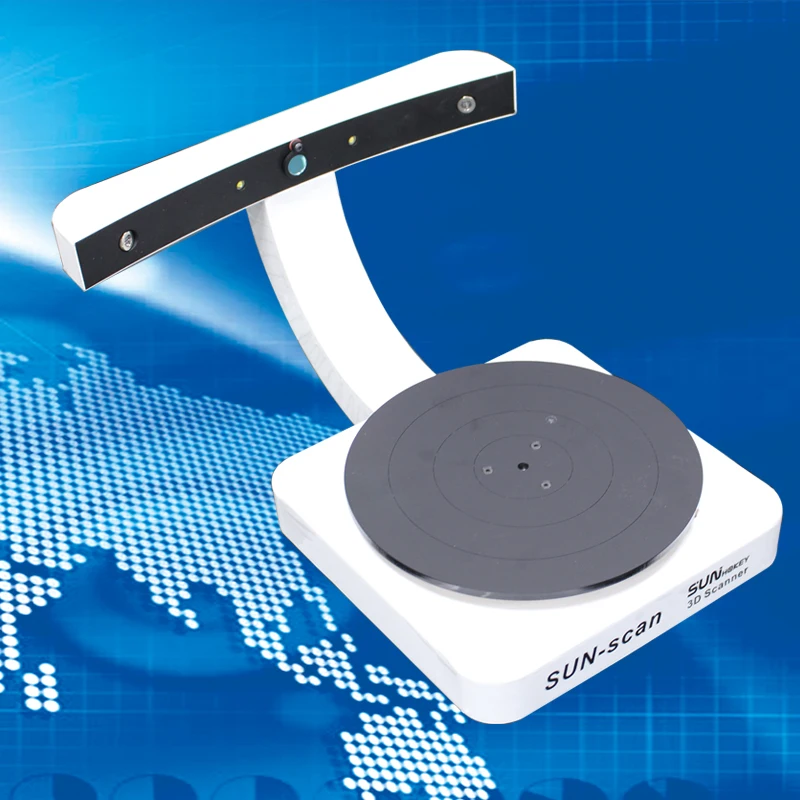 Resources
Access manufacturing-related content in the resource library to explore key trends and technology for your business.
Latest news
Read more
Hexagon Moves its Czech Republic Team to New Manufacturing Intelligence Division to New Center of Operations
30 Aug 2022
Global technology leader Hexagon recognizes manufacturing's best start-ups
09 Jun 2022
range laser tracker platform with wireless handheld probe from Hexagon
08 Jun 2022
Hexagon strengthens Central European support for CAM software portfolio with the acquisition of distributor Vero Solutions
23 May 2022
New wireless laser tracker automation system from Hexagon
26 Apr 2022
3
Upcoming events
Read more
Creutzwald, France
13 October 2022- 10 November 2022
Tampera, Finland
29 - 01 December 2022
$ProductName
$SustainabilityImpactLabel
$GreenGoalsLabel: $GreenGoalsContent
$ShortDescription
$SustainabilityCTABandHeadingLabel
$SustainabilityCTABandDescriptionLabel
Thank you – your preferences have been saved
To make changes please select the "Personalize Your Experience" option in the footer
Personalize your experience
Personalize your experience below.