3D printing filament dryer
6 Best Filament Dryers & Dry Boxes in 2022 (Every Budget)
3D printer filaments have a limited shelf life, which is why it's important to keep them dry whenever possible. Filament dryers and drying methods are imperative for making sure your materials don't go to waste, doubly so if you bulk-buy filaments or simply don't use your 3D printer very often.
It may be tempting to hang your filaments in your workspace or simply leave them within easy reach, but like food, they shouldn't simply be left out unless you're planning on using them very soon if not immediately.
Table Of Contents
What is a Filament Dryer?
What are the Risks of Wet Filament?
Best 3D Printer Filament Dryers – Buyable Options

Matterhackers PrintDry PRO – best filament dryer for multiple spools
Sunlu Dry Boxes
eSun eBox
Vacuum Seal Bags

Best DIY Filament Drying Options

Use an Oven
Use a Food Dehydrator

Which Filaments Degrade Fastest and Why?
Here we're going to look at the risks and dangers of filament degradation, why filament dryers are important, as well as how to keep your filaments in good condition for as long as possible.
The advice here is inexpensive, easy, and will save you plenty of money in the long run.
What is a Filament Dryer?
Simply put, filament dryers, or filament dehydrators, are designed to keep airborne moisture from affecting and degrading FDM 3D printer filaments over time. 3D filament dryers come in many forms, from specialty items you can buy online to simple methods using household items to keep filaments dry and smooth.
Filament dryers are often vacuum-sealed containers that remove any moisture in the air and keep any more from getting in. Sealing and storing them in this way is the best way to extend the lifespan of your 3D filaments.
While it may seem like an auxiliary purchase or add-on, having a filament dryer as well as knowing how to properly store filaments ensures that they'll be stable and usable for much longer than if left out and exposed to the elements.
Filament dryers are like storage boxes for your filament with temperature and atmosphere controls to create the best environment to increase the longevity of your filaments.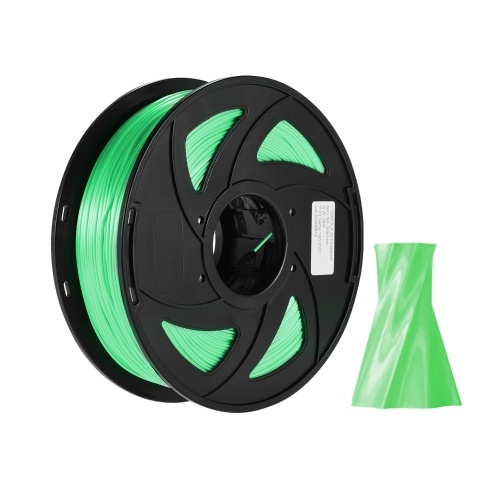 Personally, I recommend labeling filaments as soon as you get them so you have an idea of how long they should last, like how a café will label their food stock. After that, using filament dryers and carefully storing materials will be a lifesaver down the line.
---
What are the Risks of Wet Filament?
Most 3D printing filaments are hygroscopic, meaning that they absorb airborne moisture over time. If this happens, they will become unusable or even unstable. It's not enough to think that your workspace is dry, as a lot of that moisture is undetectable to us.
Other variables in filament degradation include direct sunlight, heat, and dust, all of which will wear away your materials faster.
While the sensitivity of a filament to these environmental effects depends on what they're made from, no 3D printer filament is impervious to damage, and will need to be stored correctly.
Absorbed moisture will expand the filament, imperceptibly in most cases, but enough to affect your print's appearance.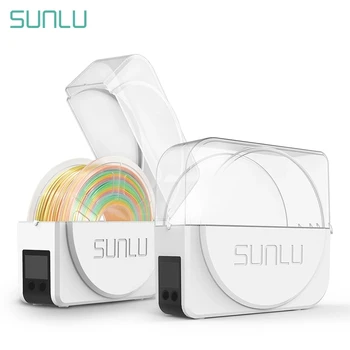 Wet filament will warp and disfigure 3D prints, and filament that's too thick for the nozzle will clog and cause long-term, potentially dangerous damage if left unchecked.
You can often tell if a filament has absorbed too much moisture if it is cracked or coarse. If your prints are coming out misshapen or rough on a regular basis, then your filament has probably been worn.
---
Best 3D Printer Filament Dryers – Buyable Options
3DSourced is reader-supported. When you buy through links on our site, we may earn an affiliate commission. Learn more
By now you should have a good idea of why 3D printer filament dryers are so important. And so now the important question is which dryer is right for you.
There are many ways to keep your filament dry, some of which are commercially made devices designed to maximize your filaments' lifespans. Which one you go for depends largely on what filaments you use, how long you want to store them for, and what kind of budget you're working with.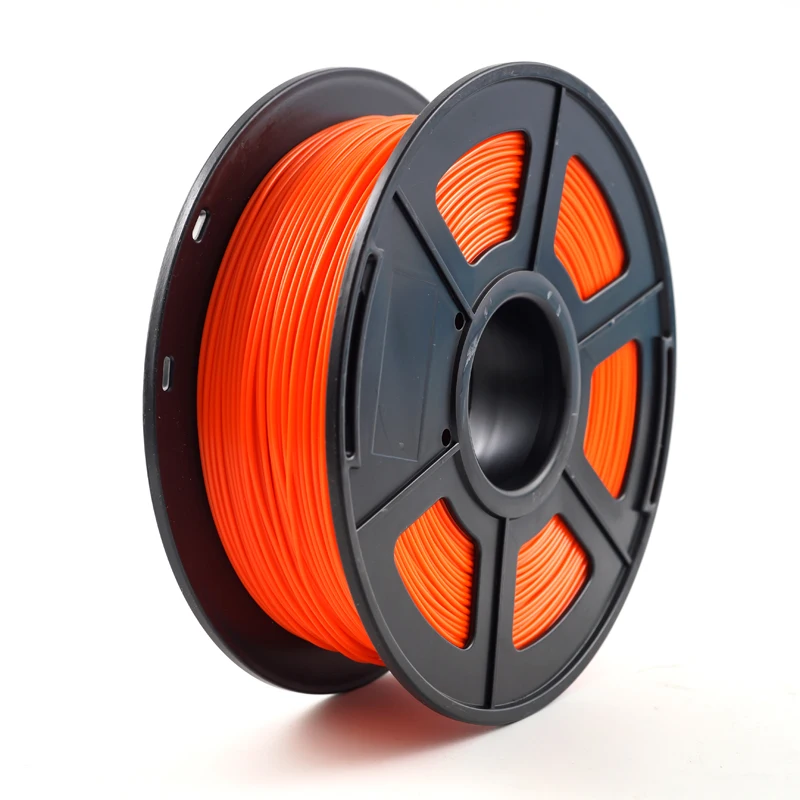 If you're on a budget, there are also DIY filament dryer options using household items, which we'll get to later.
---
Matterhackers PrintDry PRO – best filament dryer for multiple spools
Price: $189 — Available at Matterhackers here
The Matterhackers PrintDry PRO is a filament drying system that any 3D printing enthusiast should check out, and is a steal at under $250.
The PrintDry PRO holds up to 4 spools of 3D printing filament at once, and even has adjustable temperature controls which make it especially ideal for PLA and ABS users.
The best way to use the PrintDry PRO is as a storage container as well as a dryer. It's designed so the filament can be fed directly from the dryer to your 3D printer, eliminating the risk of further exposure between removal and printing.
This means you can leave your filaments in the PrintDry PRO overnight and then immediately and directly use your perfectly dried filaments whenever you like.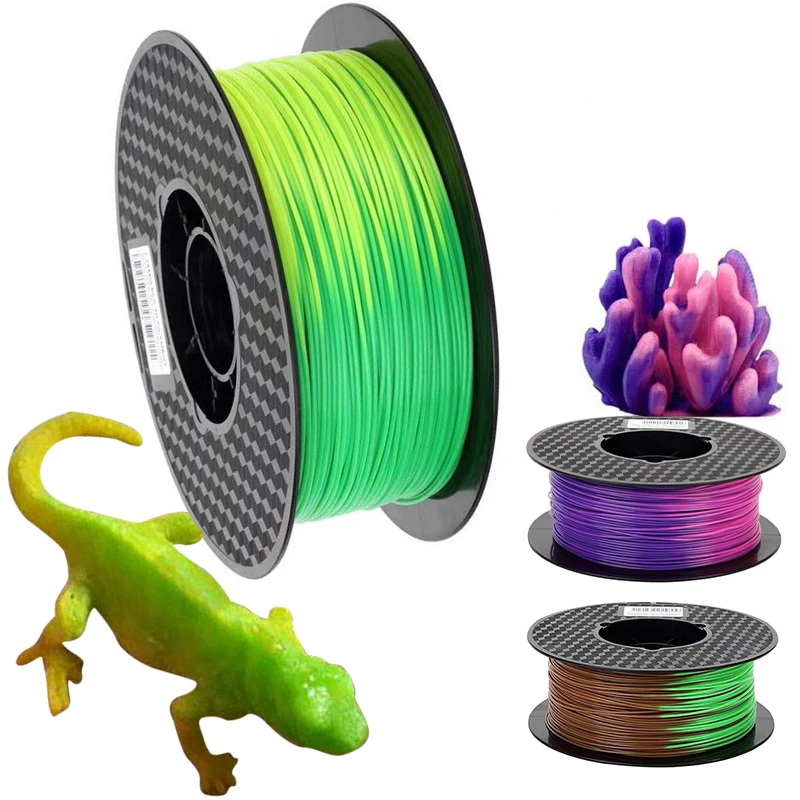 The temperature control system includes presets that are ideal for each type of filament, meaning you won't need to double-check the correct temperature for each one. Simply select the type of filament in the box, and the PrintDry system will know what to do.
It's the best filament dryer for Nylon, PETG, NylonX and tougher filaments, with its power and moisture control settings.
---
Sunlu Dry Boxes
Price: $49 — Available at Amazon here
If you're on more of a budget, or simply don't need the storage space of the PrintDry PRO, then a Sunlu Dry Box is the perfect fit for you.
Sunlu Dry Boxes give you more direct control over your filament drying procedure than the PrintDry PRO, allowing you to set the exact temperature and drying time so you don't end up 'overcooking' your filaments.
This means the Sunlu Dry Box is better for those of you with more experience in filament management and want a more hands-on experience when it comes to taking care of it.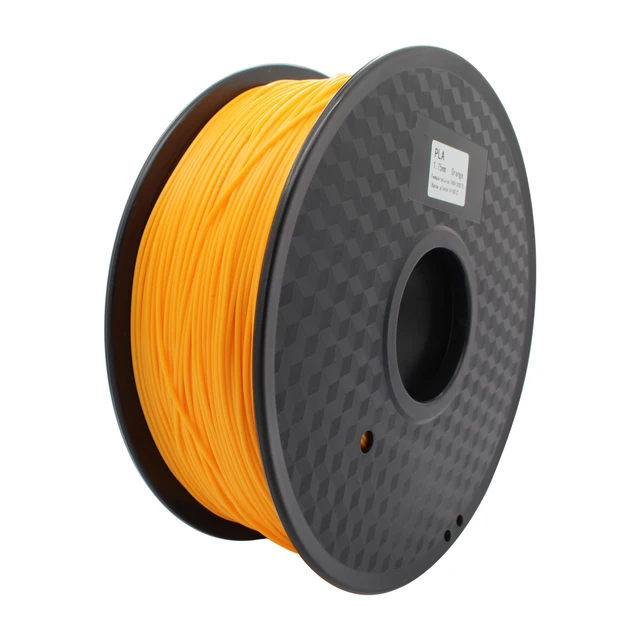 Sunlu Dry Boxes can only hold one spool of up to 1kg of filament at a time, whereas the PrintDry PRO can handle 5kg. Despite this, they do have a controllable and watchable temperature gauge so you can be sure you're keeping your filaments in top condition.
At around $50, they're half the price of a PrintDry PRO, and so are much more ideal if you don't have that kind of money to spend.
---
eSun eBox
Price: $59 — Available on Amazon here
The eSun eBox is very similar in both usability and price to a Sunlu Dry Box, with the key difference being that it also detects remaining material weight.
This means that it's the most ideal storage solution if you, like me, often find yourself excited to get a print going only to find that you've overestimated how much filament you've got left.
Like the Sunlu Dry Boxes, eSun eBoxes give you full control over how your filament is stored and dried. Though newbies shouldn't be dissuaded as the helpful instructions will tell you exactly what you need to do to keep your filaments ready to go.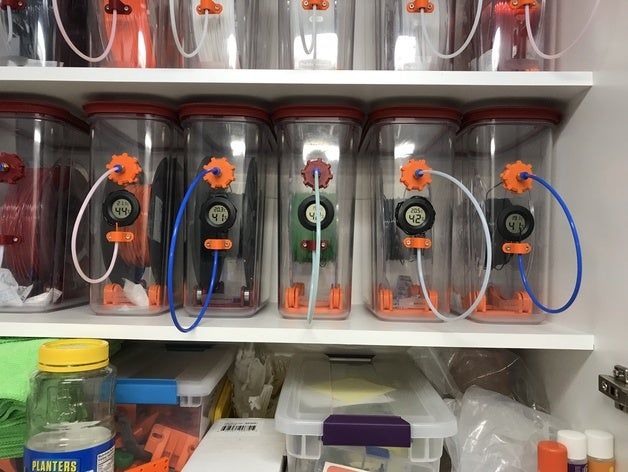 The eSun eBox dehumidifier is also designed to be 100% recyclable, so you can stay green when replacing it.
---
Vacuum Seal Bags
Our recommended vacuum seal bags are available here
If you're really on a budget, or simply have no real use for the added features of commercial filament dryers, then your best option is standard vacuum seal bags. If you've bought your own filament recently, it more than likely came vacuum sealed.
These bags can be bought from many online retailers like Amazon, and are by far the cheapest option for those of you who don't want to go down the DIY filament drying route. They also take up less space than standard 3D printer filament dryers, so they're good news if you have limited space to work with.
It's worth noting that while vacuum-sealed bags are the best way to keep away moisture and dust, they won't dry out the filaments if they've already been exposed, nor will they control the temperature at which the filaments are stored.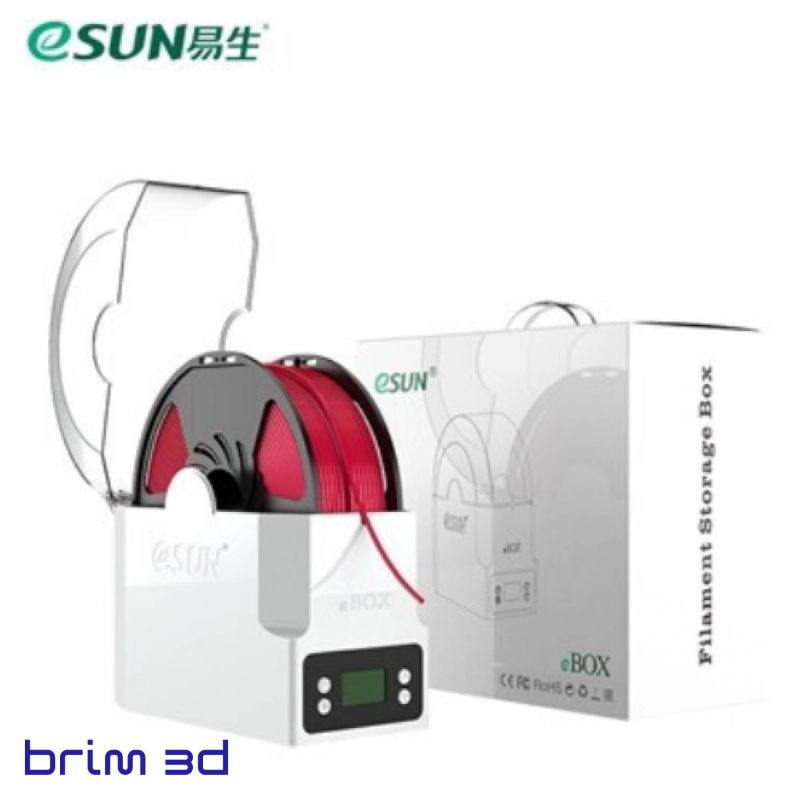 So if you decide to use these bags, then you will need to take extra steps to make sure your filament is kept out of sunlight and in cool, dry places.
---
Best DIY Filament Drying Options
If you don't have a lot of money to work with, or simply want an easy and fast solution to your filament drying needs, then there are a host of ways to dry your 3D printer filaments with things around your house.
These options are great if you need a quick, cheap fix, or if you don't want any more new machines clogging up your workspace.
Use an Oven
It may seem too simple to be true, but a standard electric oven is great for drying out filament that you're worried has been exposed to moisture.
After heating your oven to around 80℃ (or 45℃ if you're drying PLA), you can use it to dry out your filament in under six hours.
You will need to be careful, though. Overheating your filaments will cause them to melt and fuse, rendering them completely unusable.
The main downside to using an oven to dry your filament is that it gets expensive if you do it regularly. Using an oven for that long is not very energy efficient or green, and will add up to a far greater cost than using a standard filament dryer.
Use a Food Dehydrator
If you're an avid cook, then you probably have a food dehydrator in your home. These can work wonders for drying out filaments too. If you don't have one, you'd be surprised how cheap and useful they are.
If your food dehydrator is big enough, then you can fit the filament in and set it to the same temperatures as the oven method to allow the moisture in the filament to evaporate.
Read more: our guide to several DIY filament dry box projects.
---
Which Filaments Degrade Fastest and Why?
Not all 3D filaments degrade at the same rate. Depending on which filaments you use, you may need to take extra care when it comes to drying and storing them.
Let's take a look at which 3D filaments degrade faster than others, and what should be done to protect them.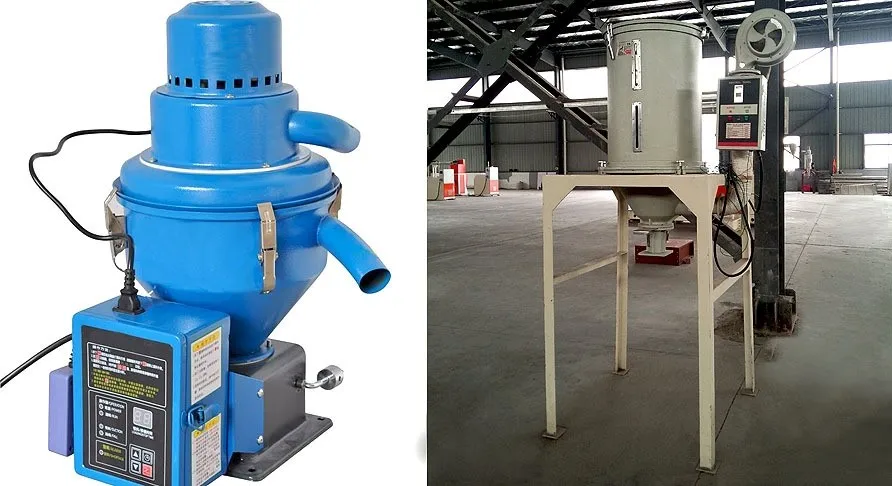 PLA
PLA has a lifespan of approximately three months if kept away from direct sunlight, making it one of the most susceptible filaments out there.
It's best to keep PLA dry and stored in opaque boxes, even better if the storage container is vacuum-sealed. Using a standard 3D filament dryer and employing careful storage methods, PLA can last up to two years before wearing down.
The absolute best way to store PLA is with a 3D filament dryer with adjustable temperatures, keeping it between 10-40℃.
ABS
ABS has a similar basic lifespan to PLA, but is more susceptible to UV light. However, by using the same storage methods as we've recommended for PLAs, you'll find ABS filaments to be perfectly safe and usable for five years.
Keeping ABS away from sunlight and UV light is just as important as shielding it from moisture, so make sure you use an opaque container after drying it carefully.
Like PLA, you should use an adjustable filament dryer and keep it between 5-50℃.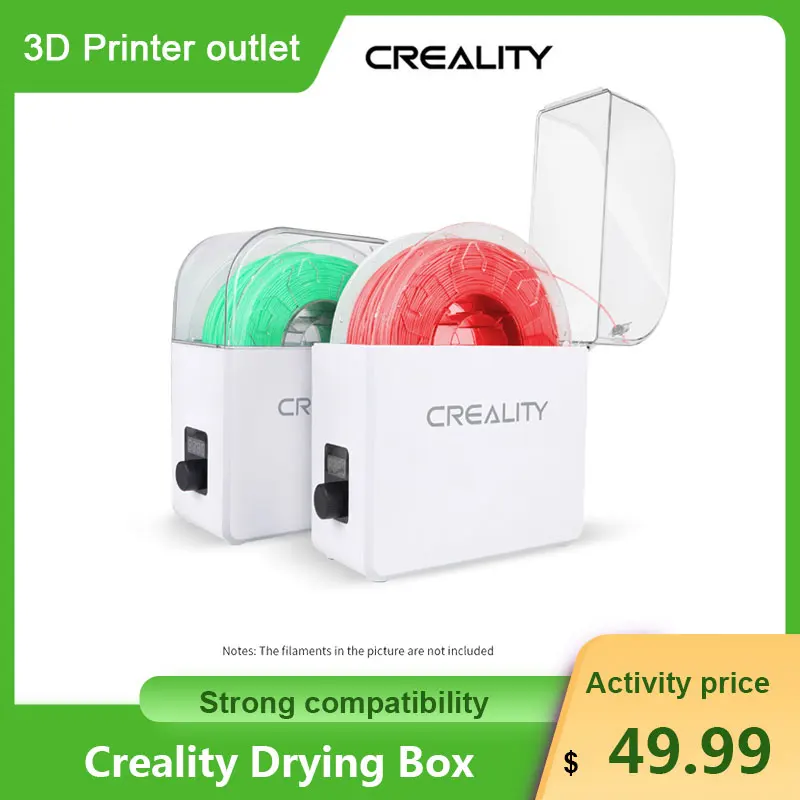 PETG
PETG lasts longer than many filaments, still being usable up to six months even if left out. It's not as sensitive to sunlight as either PLA or ABS, and is generally slower to absorb moisture from the air.
That's not to say that it's perfectly safe to leave out, so we recommend a vacuum-sealed container to ensure its much longer possible lifespan of around three years.
Nylon
While Nylon is UV resistant, it is one of the most hygroscopic filaments, meaning it's very sensitive to moisture and will need to be kept as dry as possible as soon as possible.
To keep Nylon going beyond its expected lifespan of around a year, you'll want to vacuum seal it at once. Using a filament dryer as storage is perfect for this.
It's worth noting that sunlight and UV light won't damage Nylon as much as ABS or PLA, it will wear away any dyes that have been applied. There's also the risk of shrinkage, which occurs if Nylon cools down too quickly.
Related articles:
Best 3D printer filament storage boxes
Best PLA filament
Drying wet filament guide
Best ABS filament
Best nylon filament
Best TPU filament
4 Best Filament Dryers For 3D Printing – Improve Your Print Quality – 3D Printerly
For top-notch 3D prints, we need to make sure that our filament is performing optimally, and drying the filament is something that's necessary to get there.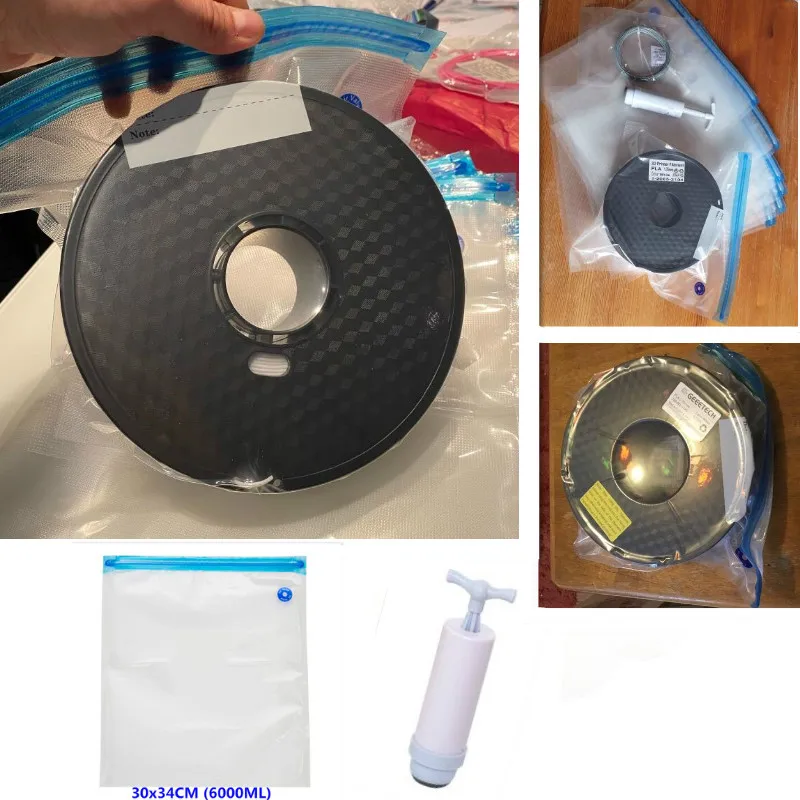 Many people start to see quality imperfections when they have filament filled with moisture.
In the past, there weren't many ways to fix this issue so easily, but as things have progressed with FDM 3D printing, we have some great solutions.
I decided to put together a nice, simple list of the best filament dryers out there for 3D printing so you don't have to look all around.
Let's get started with some great professional filament dryers.
A recent filament dryer model has been released which can hold two spools of filaments. I'd recommend checking out the EIBOS Filament Dryer Box on Amazon to remove moisture from filament, leading to better quality and more successful 3D prints.
At time of writing, it's rated 4.4/5.0 on Amazon with plenty of positive reviews from real 3D printer users out there who love it.
It has a whole host of cool features such as:
Adjustable Temperature
Humidity Monitoring
Heating Timers (6 hour default, up to 24 hours)
Compatible with Multiple Spools
Revives Brittle Filament
150W PTC Heater & Built-In Fan
A few users have actually tested the temperatures that are displayed on the dryer box and they say it's accurate.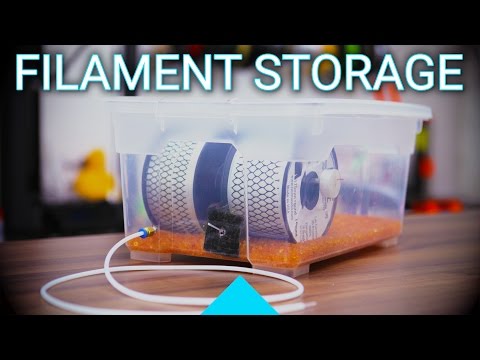 The ease of use is one of the main reasons why so many users love this machine.
It has rollers and bearings within the platform so you can 3D print while your filament is drying. Another ideal feature that similar products are missing is the surplus of holes where you can insert your PTFE tube so it can be mounted in many positions.
One of the hardest filaments to deal with and dry is Nylon filament since it absorbs moisture in the environment so quickly. A user who lives in a very humid environment with plenty of rainy weather had amazing results with the EIBOS Filament Dryer Box.
He previously tried other filament dryer boxes, but didn't get results as good as with this one. An old 2-year spool of Nylon was giving him issues because it wasn't sealed properly in a bag.
Rather than use an oven for this Nylon which can be troublesome and not temperature-accurate, he put the spool of Nylon in the filament dryer for 12 hours at 70°C (the maximum temperature) using the useful timer feature, and it completely dried the filament like it was a new spool.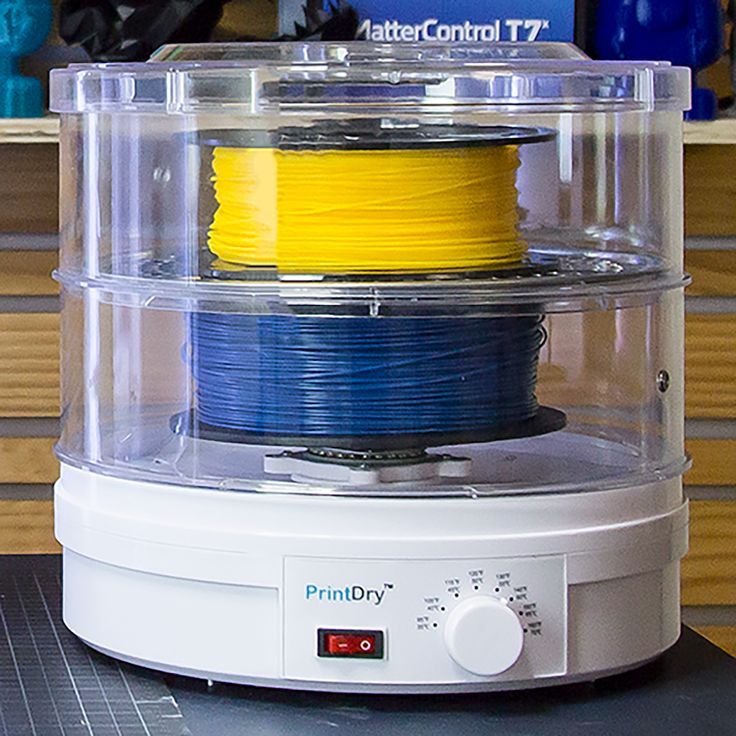 It's dust-proof, sealed properly, and has enough space for 4 rolls of 0.5KG filaments, 2 rolls of 1KG filaments, or 1 roll of 3KG filament. There is even a built-in fan to circulate the hot air inside the whole dryer box, improving the moisture removal.
If you want a simple solution to your filament drying problems for years to come, I'd highly recommend getting yourself the EIBOS Filament Dryer Box from Amazon today.
Second in this list is the SUNLU Dry Box for 3D printer filament storage, a cheaper option than the EIBOS Filament Dryer Box. This spool holder is compatible with filaments of 1.75 mm, 2.85 mm, and even 3.00 mm comfortably.
As it is designed particularly for the purpose of filament drying, there are a number of extra features that make it stand out as compared to other such products.
For one, not only does this Dry Box store and dry your filament spool whenever needed but because of two built-in holes that allow seamless extrusion, you can 3D print with your drying filament too.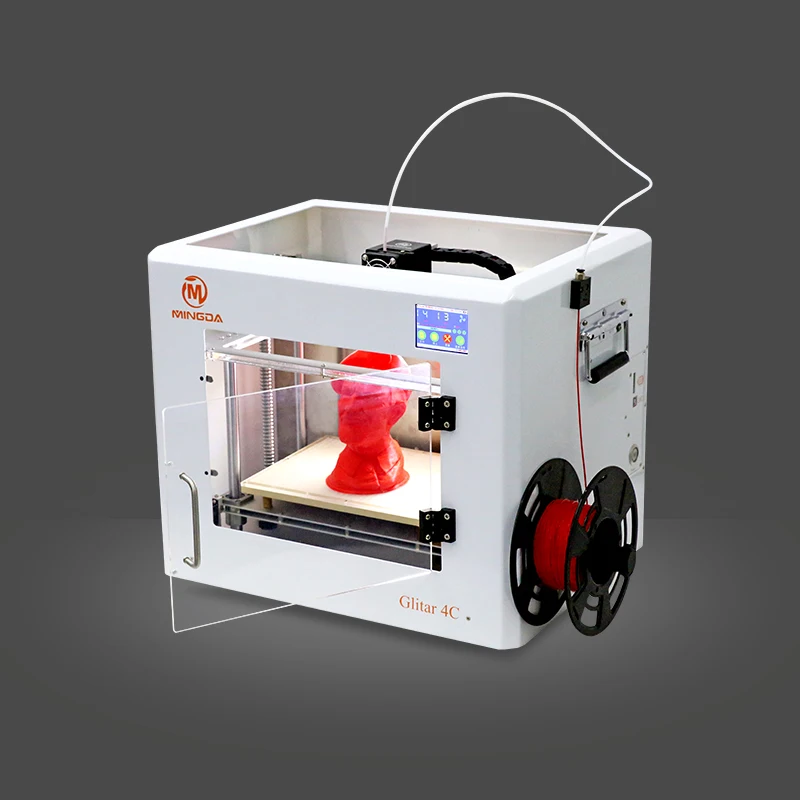 The SUNLU Dry Box aims to maintain a constant temperature and prevents excessive heating that could potentially damage the filament.
This will make sure your thermoplastic material is always at its best quality.
You can read more details about Which Filament Absorbs Water? How to Fix It.
I also wrote an article called Easy Guide to 3D Printer Filament Storage & Humidity – PLA, ABS & More which is worth checking out!
It tends to eliminate the build-up of moisture from the surface of filament so all your old materials can be brought back to life again.
This, in particular, is well-liked among people who have bought the SUNLU Dry Box. They say that it was able to dry their filament and make it as good as new.
You also can calibrate the temperature settings with ease. It has a set of two buttons, and those two can handle all the necessary functionalities that you desire.
By default, it maintains a temperature of 50℃ and dries for six hours straight.
Otherwise, you can always long-press this machine's left button to adjust the run time.
To talk about the build, the SUNLU Dry box comprises a transparent build from where the amount of remaining filament can be checked. Moreover, people have also admired its noiseless operation.
However, one of the most apparent downsides to this filament dryer is that it is only able to store one filament spool at once. As compared to other dryers, this comes off as a significant con.
Another user has pointed out that they would prefer a manual on/off button on the Dry Box since the current way of doing that demands a few too many presses from you.
While others have praised how it's very effective for drying Nylon and PETG, and some also spoke of the great customer service, many complained about the absence of a humidity sensor.
Get the SUNLU Dry Box Filament Dryer from Amazon today.
eSUN is a highly established name in the 3D printing world. They're very well known for making high quality filament, environment-friendly resins, and now, they've come up with a brilliant filament dryer as well.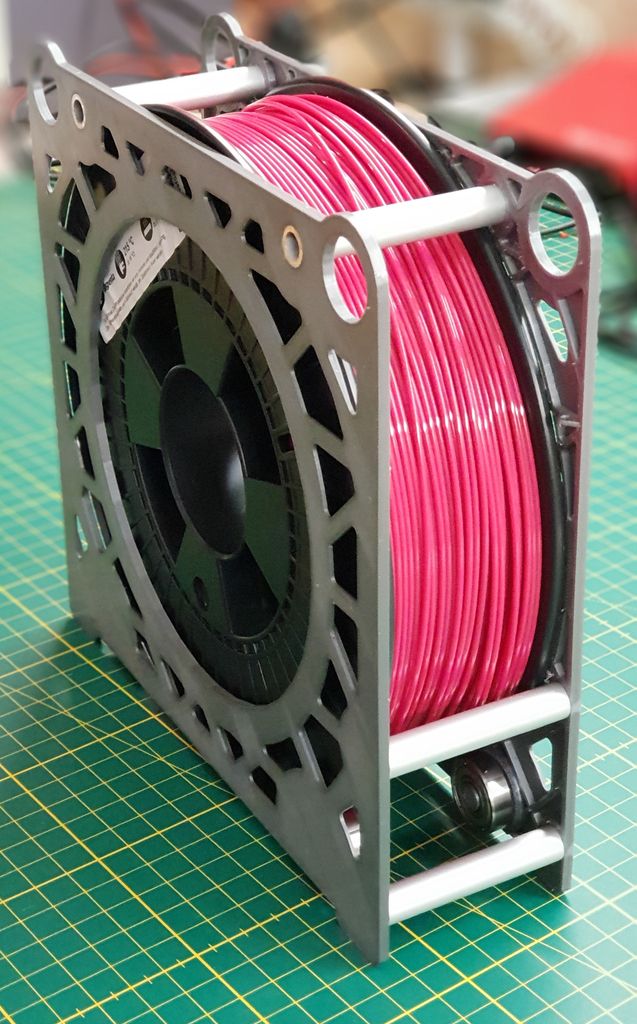 After using the Aibecy eBOX, people have seen significant differences in their before and after prints.
What people have really admired about this dryer is how it's able to store and dry filaments for long print jobs, making them fit for prolonged usage.
In short, it does make your prints much better than they were before, but there are a few things that you should know about this dry box.
According to multiple reviews on Amazon, this product isn't the one for very stubborn filaments that accumulate a heavy amount of moisture. Several have found no luck on that.
Secondly, if you compare it to the Polymaker PolyBox or even the SUNLU Filament Dryer, the Aibecy eBOX has much lesser functionality and is an underachiever for its price point.
You might not want it for you're looking for a standalone filament dryer. Where this product really shines is making an already dried filament stay dry for an extensive period of time.
If you are wondering which filament need the most care, check out my article Filament Moisture Guide: Which Filament Absorbs Water? How to Fix It.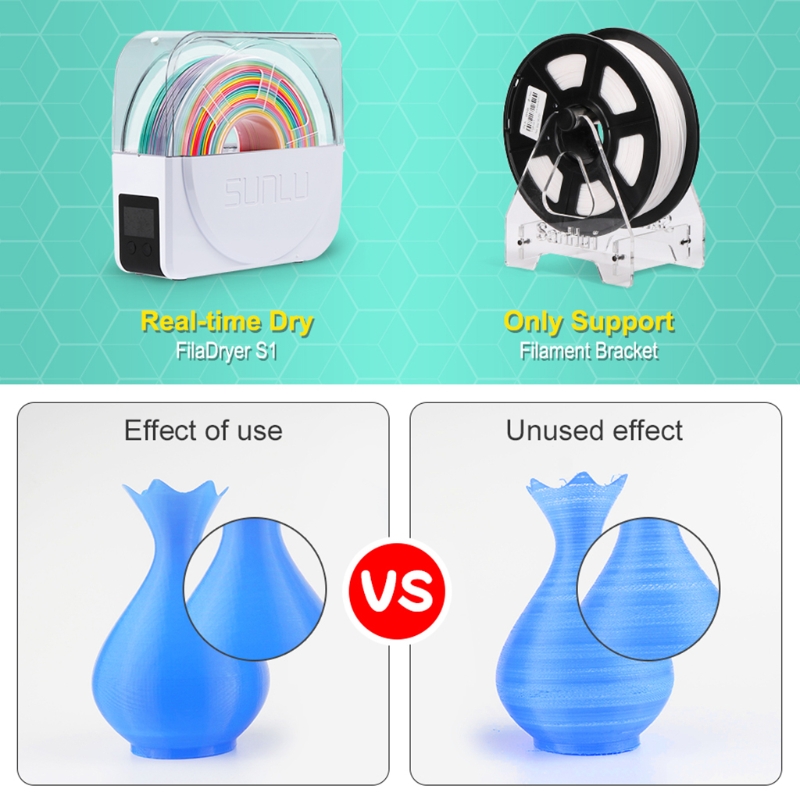 One unique feature that makes the Aibecy eBOX stand out is its weight scale. As you use your filament spool, it tells you by weight how much your material is left.
Also, it heats filaments up quite well, according to a customer on Amazon. Many users wish, however, that it had a humidity sensor, similar to the SUNLU Filament Dryer.
This dry box contains pockets in which you can place desiccant packs for extra drying. It proves effective for the whole process.
One user who had many failed prints with TPU went out to research exactly why this was happening. After some time, he found out that TPU is actually very hygroscopic, meaning it absorbs plenty of moisture in the nearby environment.
Even first layers couldn't complete after a while. He went out and got the eSun Aibecy eBox from Amazon, put it to the test and the results were surprising.
After putting the spool of TPU in the dryer box, it definitely did its job in allowing him to successfully 3D print some awesome models consistently.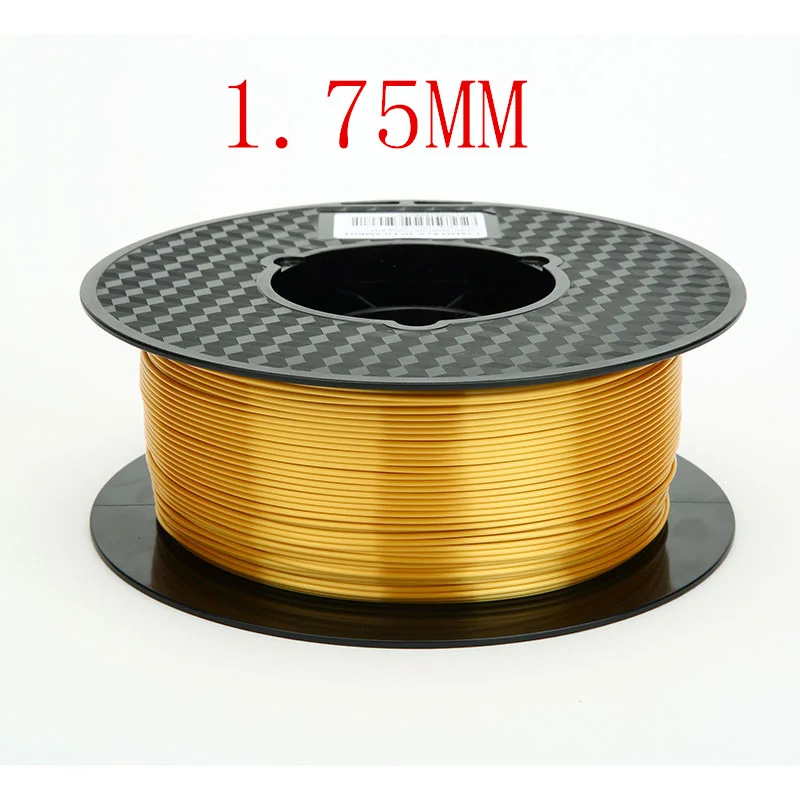 Since purchasing this product, he hasn't had any further issues with filament moisture.
He did mention though that the build quality in his opinion wasn't at the highest level, but still works nonetheless.
Sort out your filament moisture issues. Get the eSUN Aibecy eBOX from Amazon today.
Moving onto a heavy-duty filament dryer, the Chefman Food Dehydrator (Amazon) is a massive unit that outperforms every other dry box from the get-go. I wouldn't recommend it for the average user, more for someone fully immersed in 3D printing regularly.
It includes 9 adjustable trays that can be easily removed from the inside. This creates a lot of space inside the dehydrator, allowing one to store multiple spools of filament inside.
As a matter of fact, the storing capacity of the Chefman Food Dehydrator is above everything else on this list. Once you take all the trays out, you can layer plenty of filament flat and sideways as shown by Joel Telling on The 3D Printing Nerd below.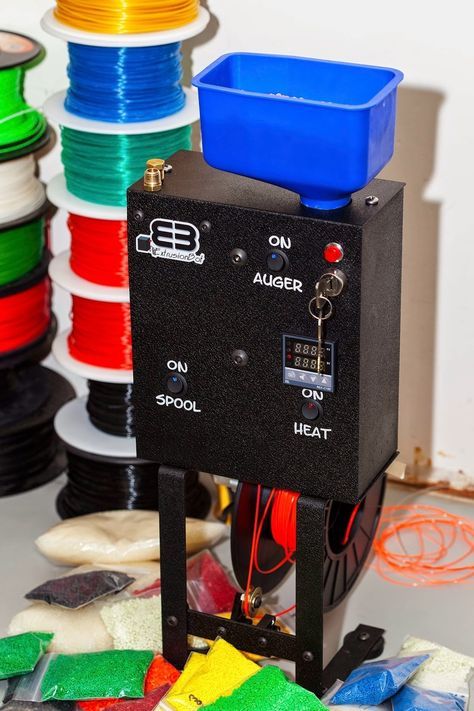 Additionally, this figure not only includes filament spools of the regular 1.75 diameter, but you can also fit in 3 mm filaments as well.  This just makes Chefman the best filament dryer in terms of storability.
The top of the dehydrator has a digital display where you can control the temperature and time. The timer goes up to 19.5 hours while the temperature ranges from 35°C to 70°C.
This is more than enough for you to dry the moisture right out of your filament with ease.
It also includes a single power button from where you can turn it on and off conveniently, unlike what was demanded in the SUNLU Filament Dryer.
Moreover, its transparent viewing window makes it easy to monitor what's happening on the inside while the dehydrator does its thing.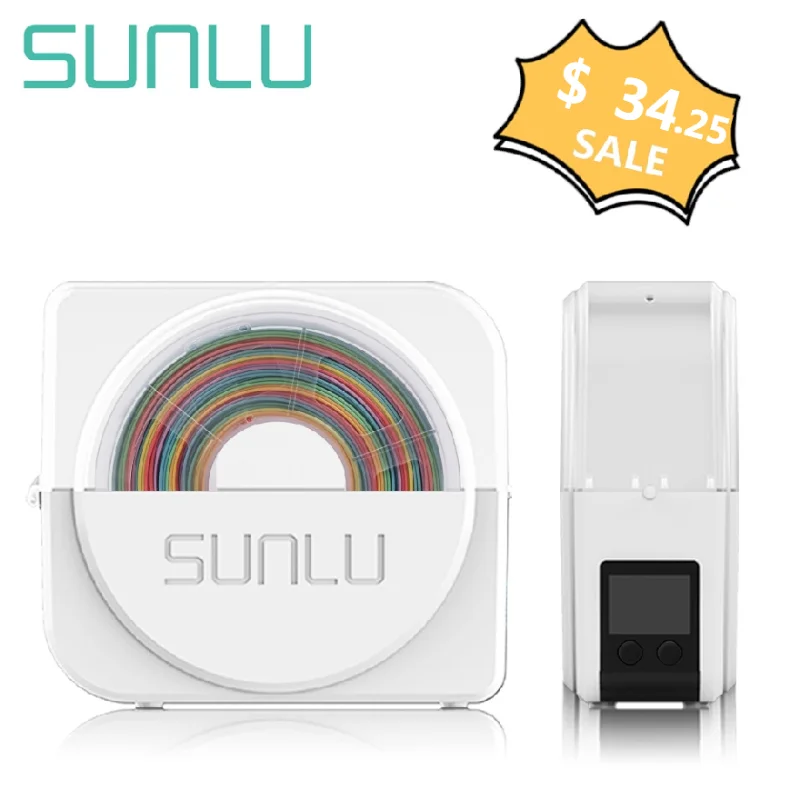 While people have loved what this dehydrator brings to their fruits and various foods, it's also worth noting that Chefman's multi-functionality brings great value for your money.
You can also use it to store and dry your food, apart from 3D printing filament. People have admired its ease of use, easy cleaning, and top-notch effectiveness.
However, to talk back in terms of 3D printing, a major downside to this dehydrator is that you can't print while your thermoplastic dries. It's possible to do a DIY project with bearings, rollers, and holes if you really wanted to.
Another thing to add is that there's no humidity sensor to tell how much moisture is present inside the dehydrator.
In conclusion, the Chefman's great performance and immense storability make it a first-rate product for your filament drying needs.
Get the Chefman Food Dehydrator directly on Amazon today.
How To Keep Filament Dry With a Desiccant Dryer
A desiccant screams filament drying on a budget.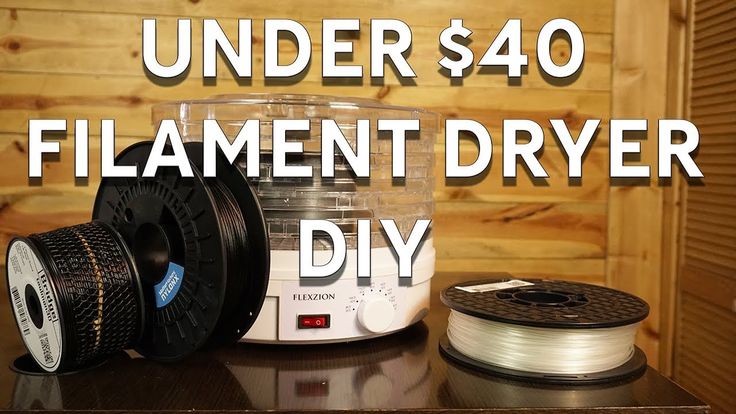 It's obviously the cheapest entry on the list, and works for maintaining the moisture levels of your filament without absorbing more afterwards.
To use a desiccant, you have to get yourself an airtight container or bag that can comfortably store your 3D printer filament. The size of the container entirely depends on you.
Continue by sealing the desiccant dryer inside the enclosed box right alongside your filament. This will help keep the moisture at bay and keep your material dry.
This Amazon product also includes a "Humidity Indicator Card" to track the levels of humidity inside.  Moreover, the product description seems to say that there are 4 packs of desiccant included with your package.
However, one reviewer said that the inside of the whole package contains loose material and not individual bags. This means that by 4 units, the manufacturer hints towards the quantity.
Other than all that, using a desiccant to dry your filament is a common standard nowadays.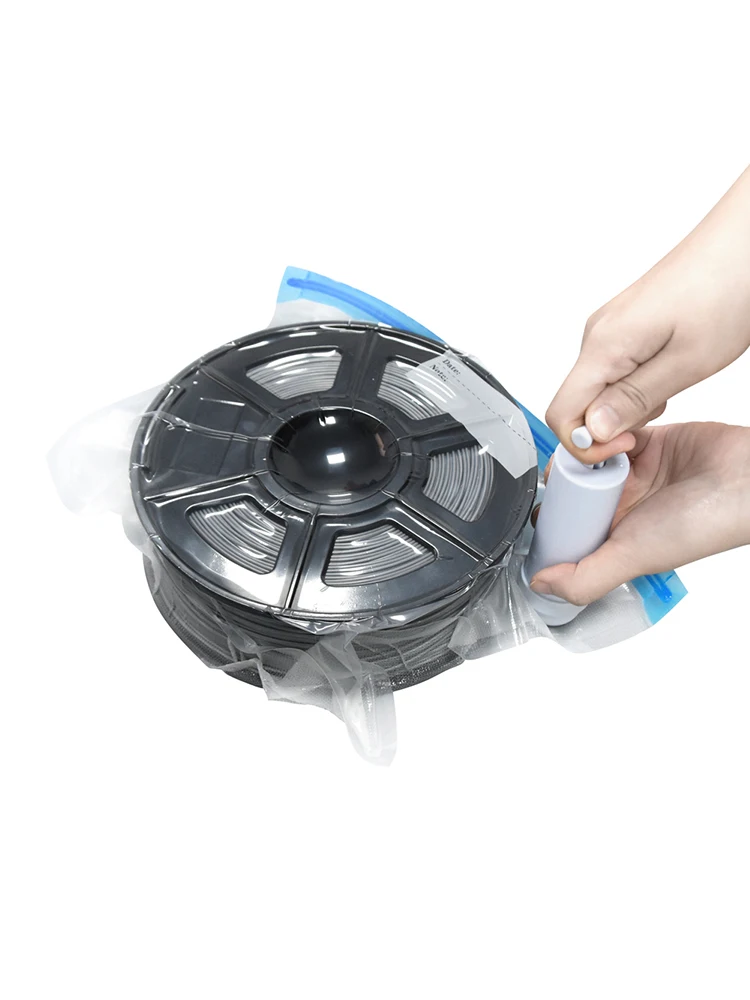 If you think it meets your needs, be sure to get it. If not, opt for a full-fledged dry box.
Desiccant bags work best when they are dry themselves since they do absorb moisture. They can be easily charged using your filament dry boxes or even by using a conventional oven at a low temperature for a few hours.
Their melting point is around 135°C so be sure not to heat them up to that point, or else their Tyvek wrapping will soften and render the whole operation useless.
Get some 3D Printer Filament Desiccant Dryer Packs on Amazon today.
If you want more information about drying out your filament properly, check out 4 Awesome Ways How to Keep Your 3D Printer Filament Dry
Does PLA Need a Dry Box?
PLA doesn't need a dry box to 3D print but using one can help produce optimal surface quality. PLA is known to be hygroscopic which means to absorb moisture from the environment. When PLA or filament has absorbed moisture, it can get brittle and even lead to print failures, as well as blobs/zits on your prints.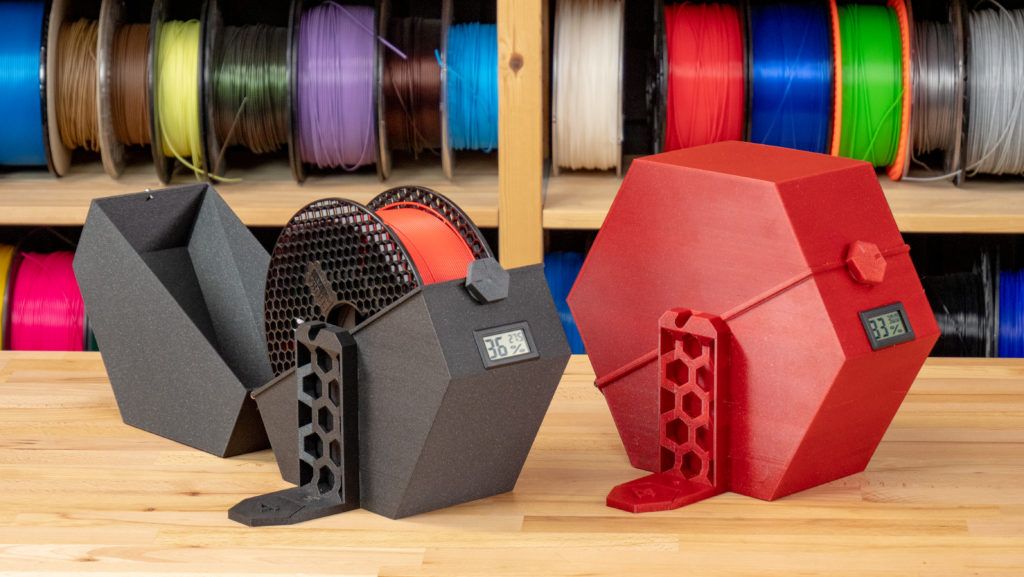 One user mentioned that he leaves his spools of PLA filament out for a few months before it gets too brittle to go through the Bowden tube without breaking. After drying the filament, it went back to its usual characteristics, being able to be bendable rather than snapping.
It really does depend on the quality of your filament and how much moisture has been absorbed, but having a dry box can be helpful but not needed. Moisture can be dried out of filament quite easily.
Some people use ovens to dry their filament, but not all ovens are calibrated so well at lower temperatures, so they may be a lot hotter than you actually set.
In certain environments, there is not much moisture or humidity to affect spools of PLA too significantly. The trickiest environments are in places that are humid like Mississippi which is known to get up to 90+% summer humidity.
Filament like Nylon or PVA would benefit highly from a dry box since they absorb moisture very quickly.
REC Wiki » Best Professional 3D Printing Plastic Storage Solutions
In this article, we'll cover some dryers and dry cabinets, the equipment you need to properly store FDM/FFF 3D printer filaments and get optimal 3D printing results.
Contents:
1. Introduction
2. Why dry cabinets are needed
3. Specialized solutions:
BigRep Shield
Essentium DryBox
Smart3D
Apium F300
X-Treme Series
Filaments.ca PolyDry
4. Borrowed solutions
Totech SuperDry HSD
Mancorp Ultra-Dry
It only takes a few printouts to ruin the need for filament dryers. Many professional and industrial grade FDM 3D printers come with these devices out of the box, either built-in or optional. If your 3D printer does not have a dry bay, you should consider purchasing a suitable device to protect the filament from light, dust and moisture.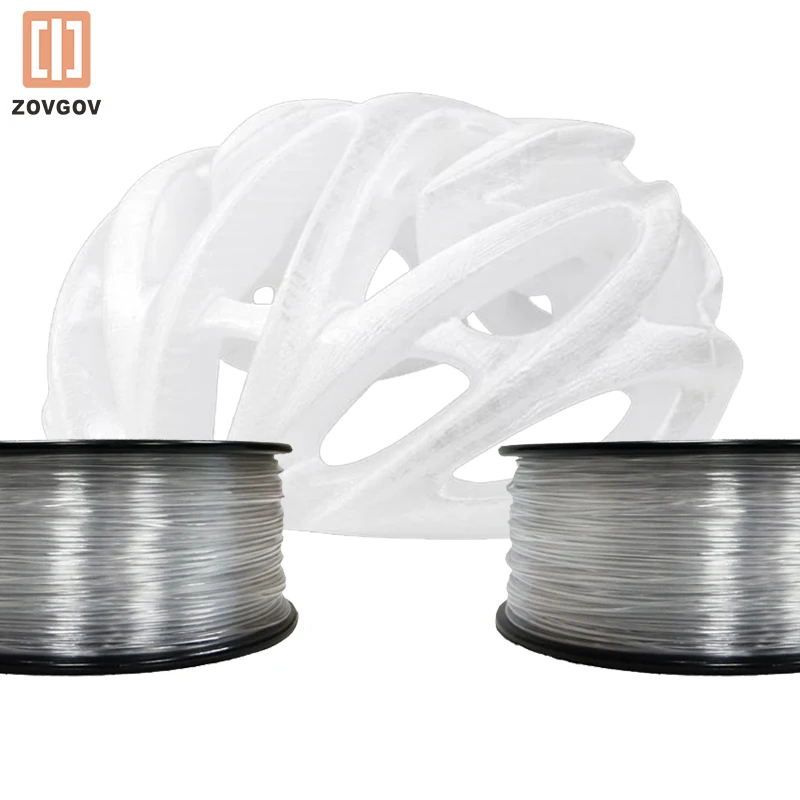 Some dry cabinets/compartments treat the filament with hot air heated to 60ºC or more. After drying, the filament remains in a space isolated from the external environment with low relative humidity (usually less than one percent) under the constant supervision of sensors that monitor humidity and, if necessary, start additional drying cycles.
Other options can keep the filament dry with a sealed chamber with warm air circulation, but are unable to remove significant amounts of accumulated moisture from the filament. Such cabinets or compartments work best in conjunction with specialized dryers.
There are many compact single or double spool dryers on the market, usually based on conventional fruit dryers, but if you work in industrial scale or frequently change materials, you will need larger equipment capable of handling ten to twenty spools at a time. The choice of such systems is relatively small, which is explained by the presence of integrated dry bays on many industrial 3D printers.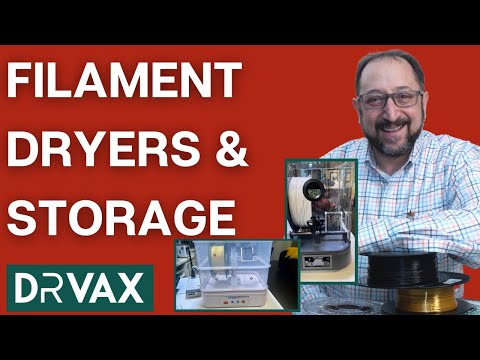 Fortunately, ovens are used in other applications as well, but are well suited to the needs of the additive industry. We will also consider some of them in this article.
Why dry cabinets are needed
The effect of moisture on the quality of 3D printing with the same material Illustration: Matterhackers
Wet filament can not only ruin the printout, but also potentially damage the 3D printer itself, for example by clogging the nozzle.
All filaments are hygroscopic to some extent and must be kept dry, but this is not the only problem. Dust, light, and extreme temperature changes can also cause problems, although different materials have different resistance to various environmental factors.
Proper filament storage is worth thinking about before you open the spool bag. Dry cabinets help not only to protect the filaments, but also to return materials that have absorbed moisture to an optimal state, which makes such devices an indisputable help in enterprises with high employment.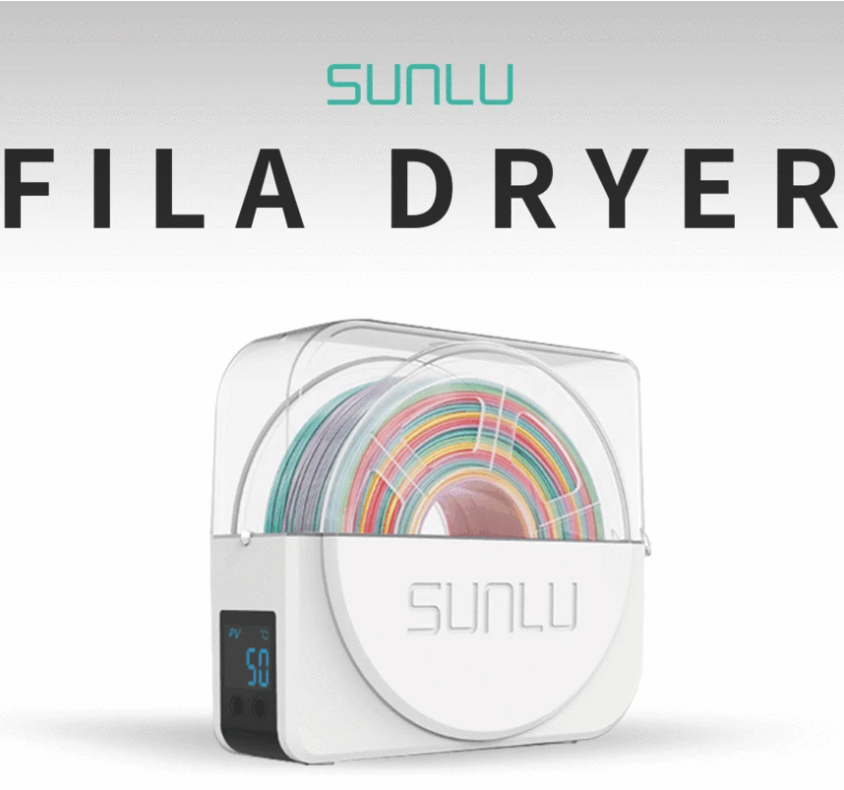 Professional dryer equipment can cost thousands of dollars, but it's worth it when there's a lot of work at stake with tight deadlines. Despite the often high cost, dry cabinets pay for themselves quite quickly due to the saved time, materials and nerves.
If you usually only have a few spools of filament on hand, it's more economical to get a fruit dryer, a homemade device, or even just sealed containers of silica gel. If you work as part of a whole team that operates a 3D printer farm and changes consumables several times a day, it makes more sense to purchase a specialized dry cabinet.
Specialized Solutions
BigRep Shield
Industrial dry cabinet BigRep Shield. Illustration: BigRep
These cabinets are manufactured by BigRep, a German company known for large-format FDM 3D printers. BigRep Shield does without heating: the humidity inside the sealed chamber is regulated by a recirculation system that forces air through the hydrophilic sorbent.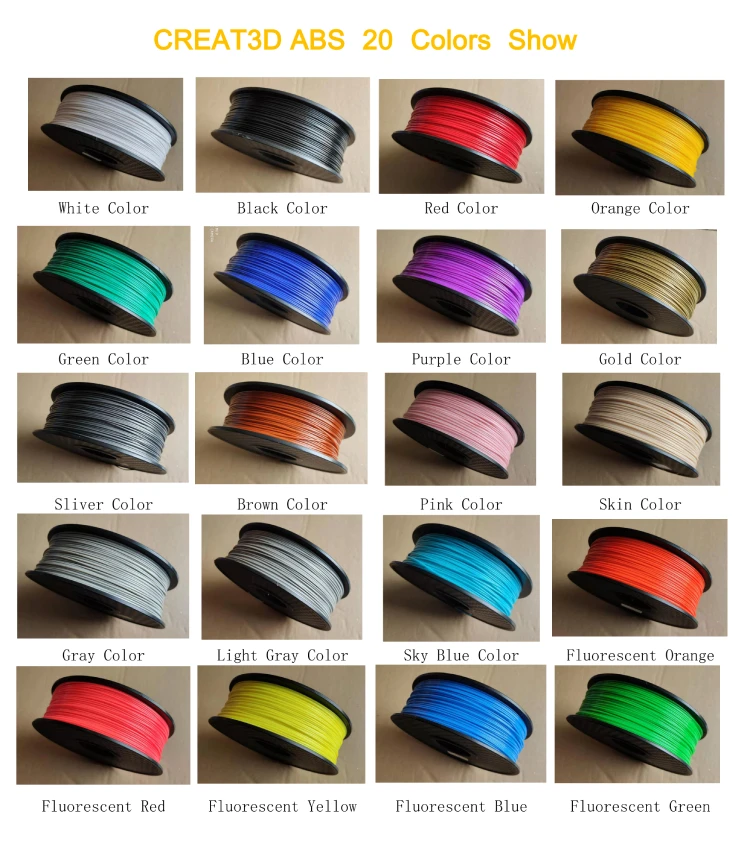 The device absorbs up to 99.99% moisture and keeps the relative humidity at 0.01% without heating the filament, which in some cases can damage the material during prolonged exposure. One of the reasons for not using heat is that BigRep 3D printers are often used to 3D print casting master patterns and other low-melting polylactide (PLA) products.
Coils with a total weight of up to 60 kg can be accommodated in the cabinet. According to BigRep's calculations, this is enough to provide one FDM 3D printer with consumables for a month of continuous operation. The cabinet is controlled by a Siemens control system that monitors the condition of the silica gel for timely replacement.
Essentium DryBox
Dry boxes DB90-SB (left) and DB270 (right). Illustration: Essentium
Essentium, a Texas-based 3D printer brand, has teamed up with drying equipment manufacturer Electronic Controls Design Inc. to create its own SmartDry dry cabinet shaped for filament storage.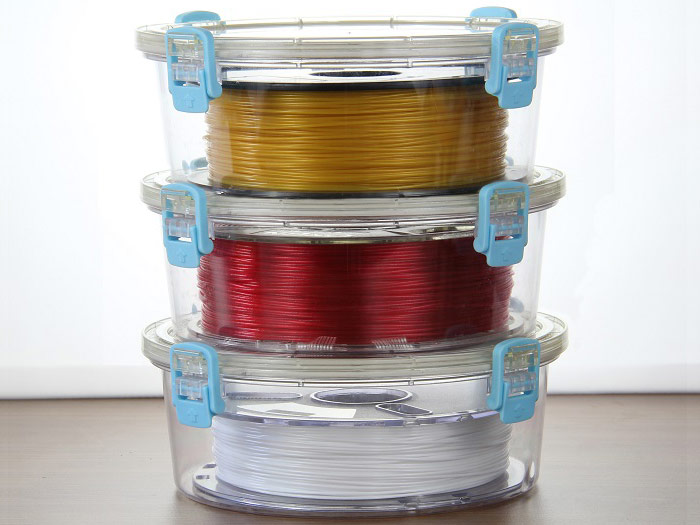 The DB90 cabinet maintains relative humidity below one percent and restores optimal storage conditions in less than three minutes after closing the door. The DB90-SB option includes a Smartbake system that maintains temperatures between 40-60°C. The system allows you to program the temperature, humidity and drying time.
The larger version is designated DB270. This cabinet has the same functionality as the basic DB90 cabinet, but with more than double the capacity: up to 72 spools weighing 750 g, or 24 spools weighing 2.5 kg, or 18 spools weighing 15 kg. The Smartbake system is not provided in this variant.
Optional indicator lights indicate filament readiness.
Smart3D
Smart3D multimaterial dryer. Illustration: Smart3D
Smart3D dryers are manufactured by the American company of the same name, which also produces 3D printers. This equipment provides drying and storage of the filament in optimal conditions before 3D printing.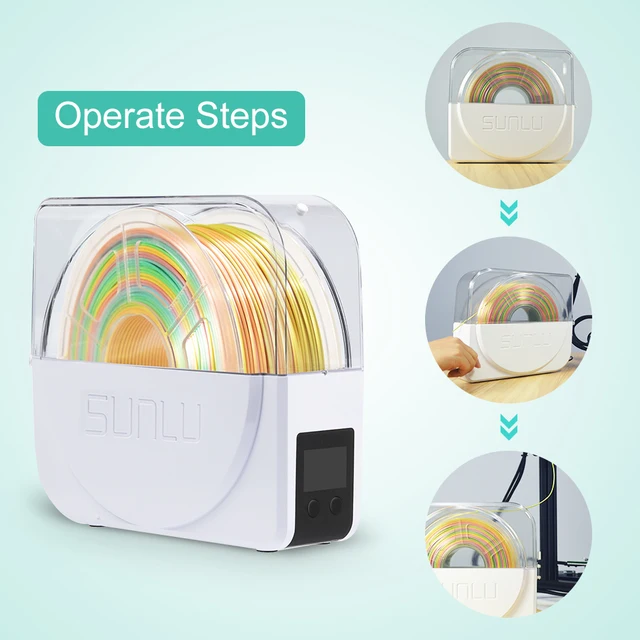 Most dryers only work with one or two coils at a time because different materials require different heat conditions. For example, drying polyetheretherketone (PEEK, PEEK) takes longer and requires higher temperatures than polyamide (PA, PA). The peculiarity of this "multi-material" system is that it performs alternating vacuum and heating cycles, allowing filaments from several materials to be dried simultaneously without the risk of damage to the polymers.
The dryer is equipped with a seven-inch touch screen that allows you to set the operating mode depending on the types of filaments and the number of spools, as well as displaying information about temperature, humidity and current modes. Typically, one complete drying cycle takes two to three hours. The system accepts coils up to 300 mm in diameter.
Apium F300
Apium F300 dryer. Illustration: Apium
F300 systems are offered by German additives and consumables supplier Apium.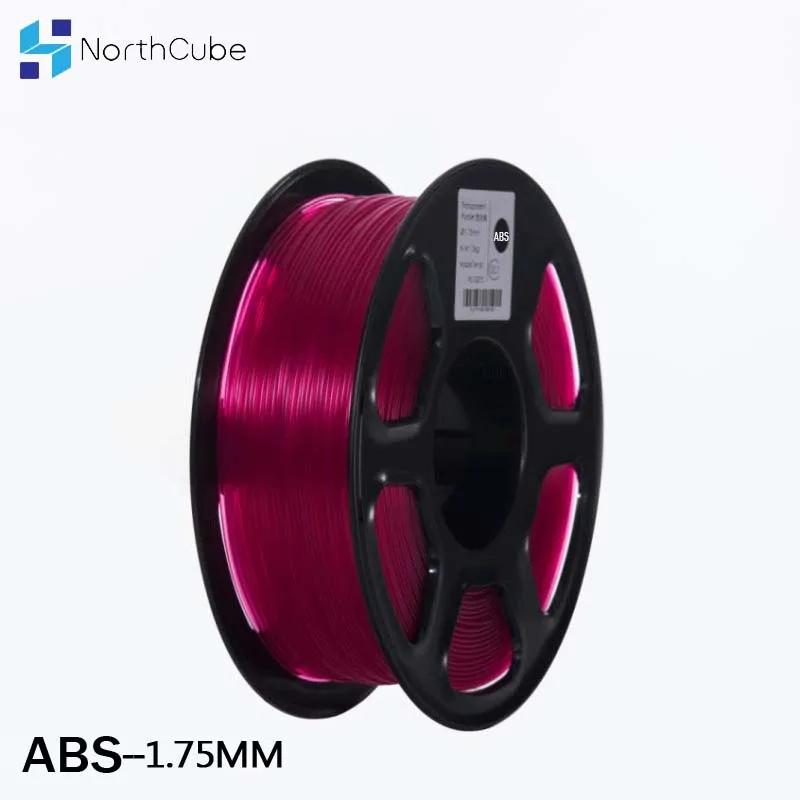 These dryers are optimized for engineering thermoplastics such as polycarbonate and polyether ether ketone (PEEK). For the most common types of polymers, profiles with temperature settings are provided, but if necessary, the values ​​\u200b\u200bare set manually. The working chamber is insulated to reduce heat loss and save energy. Operating temperatures can reach 150ºC.
One of the important features of this system is the ability to supply consumables to the hot ends of 3D printers directly from the dryer via a Teflon tube - up to three filaments at the same time.
X-Treme Series
Dry cabinets from X-Treme Series. Illustration: X-Treme Series
Turkish company X-Treme Series has been manufacturing drying ovens since 1987 and offers a line of devices that provide relative humidity below 1% and are excellent for storing filaments.
The principle of operation of such cabinets is based on forced air circulation through filters with silica gel that absorbs moisture.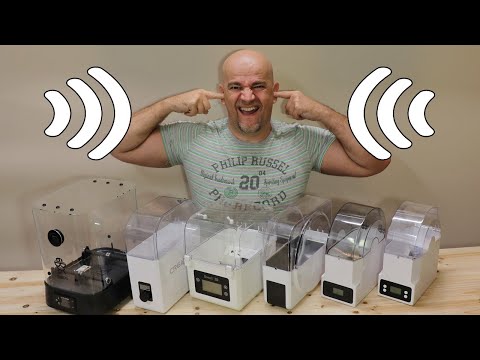 The capacity of silica gel is not unlimited, but the designers have provided for the possibility of automatic drying of the absorbent saturated with moisture for reuse.
Additionally cabinets can be equipped with active dryers with heating elements maintaining temperatures up to 60°C or 100°C, depending on the option chosen. Operating modes are adjusted and monitored using the on-board touch screen.
Especially for the needs of the additive industry, the company offers cabinets with the possibility of inflating with a protective gas, specifically nitrogen, and expelling humid air. This option is more likely to work with metal consumables - wire and fine powders from active metals and alloys. Such systems can reduce the relative humidity level in the chamber from 50% to 1% in less than seven minutes.
Filaments.ca PolyDry
PolyDry dry cabinet. Illustration: Filaments.ca
Canadian company Filaments.ca offers PolyDry, a fully automated, high-capacity, long-term storage system for filaments.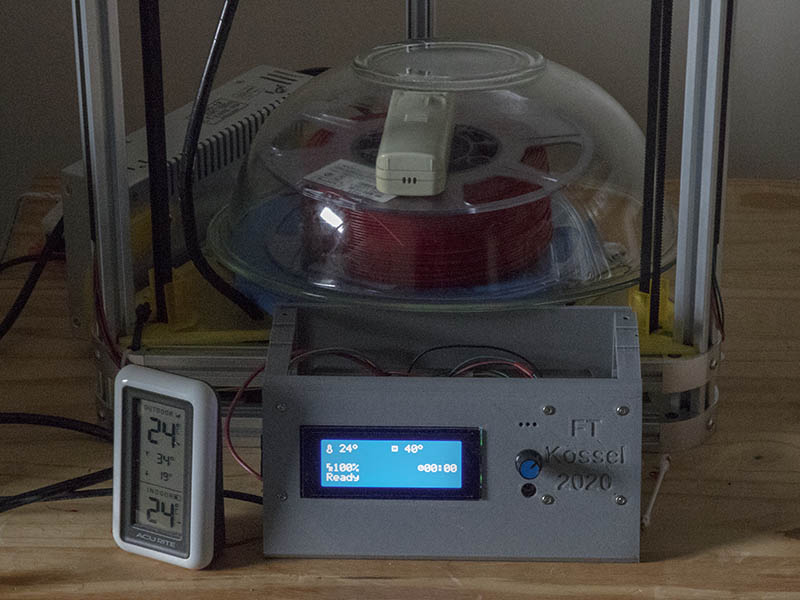 These cabinets, equipped with moisture and dust filtration systems, allow dozens of opened filaments to be stored in a clean and dry environment with a relative humidity of less than 3%.
The modular design of the internal racks allows you to choose a convenient configuration depending on the number and size of coils. Using the built-in touch display, you can select the operating mode, as well as enable or disable notifications for exceeding the permissible levels of humidity and doors not tightly closed. The system automatically regenerates the absorbent saturated with moisture.
Borrowed solutions
Drying cabinets are used in many areas and are not always used for their original purpose. For example, professional photographers often store expensive equipment in dry cabinets; in the electronics industry, such equipment is used to store circuit boards and chips, but this does not mean at all that it cannot be used to store filaments.
In such cases, you should not expect the functionality inherent in specially designed systems, for example, the same possibility of feeding the filament directly from the cabinet to the extruder of a 3D printer - it is hardly provided by the designers.
However, you can find devices that keep the humidity below 10% and are therefore well suited for long-term storage of 3D printing plastics. When choosing such equipment, be careful about the declared characteristics: for example, some cabinets are only able to reduce relative humidity up to 30%. This may be enough for storing photographic equipment, but not enough for storing filaments.
Some examples:
Totech SuperDry HSD
Totech SuperDry HSD. Illustration: Totech
These cabinets are designed from the ground up for storing electronic components and are available in several configurations. The devices can be equipped with optional heaters with air temperature inside the chamber up to 40°С and humidity less than 1-2%. Humidity and temperature levels can be adjusted using the on-board display. It takes about fifteen minutes to restore a dry atmosphere after opening and closing the cabinet.
Mancorp Ultra-Dry
Mancorp Ultra-Dry 1490H (left) and 490H (right).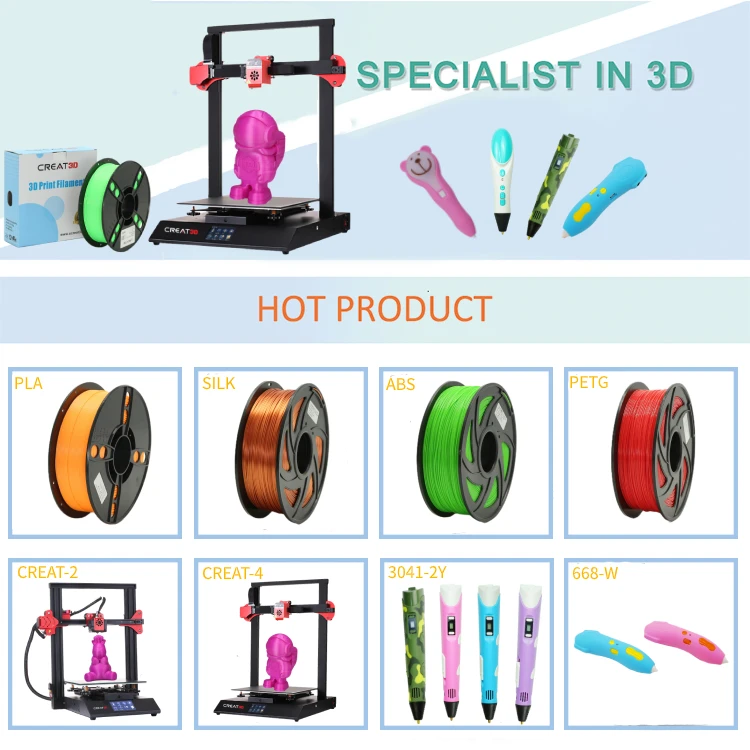 Illustration: Mancorp
The Ultra-Dry series from the American company Mancorp is another example of cabinets originally designed for storing electronics. These units have sealed doors and can maintain relative humidity below 5%. It takes up to thirty minutes to restore the "dry" atmosphere. Optionally, the company offers heating blocks with air temperatures up to 40ºC, however, the temperature cannot be manually set, so this option may not be suitable for drying some plastics.
Adapted from The Best Filament Drying & Storage Cabinets for Professionals. Original hosted by at All3DP.com.
3D printing accessories
3D printing accessories
FilDry Filament Dryer

The dryer is designed for drying filamentary filament. The drying chamber is designed for drying two coils. Dimensional dryer dimensions 230x150x305, weight 2kg.

More

Milling and engraving set

For milling and engraving work, 3DLaboratorio has developed a set of quick-change elements for coordinate machine SkyOne. The kit allows you to mill plastic and engrave soft metals and wood.

More

Lacquer for printing

Printing varnish is an essential tool, also improves the adhesion of the first layer and completely soluble in water.

More

ABS plastic

One of the most demanded types of plastic in modern 3D technologies. To the advantages of this type material thermal stability and high strength of products can be safely attributed. Recommended temperature mode to work with plastic: 210-270 degrees.

More

HTW SBS+ plastic

Heat-resistant plastic with low shrinkage, does not require the use of a protective thermal shield. 3D printing material HTW SBS+ as simple as PLA plastic.

More

HTW P-Carbon plastic

Wear-resistant plastic with a low coefficient of friction. Analogue of caprolon, low shrinkage of P-Carbon plastic does not requires temperature stabilization of the print area.

More

PLA plastic

Products made from PLA plastic are smoother and glossier. The service life of a model made of PLA is area 2 years at room temperature. Temperature regime for working with material: 190-230 degrees.

More

FLEX plastic

A distinctive feature of FLEX plastic is its flexibility. FLEX is widely used due to resistance to chemical influences (oils, gasoline, solvents).