3D print kid toys
Top 43 Fun 3D Printed Toys You Can Download Today!
3D printing has made exciting strides in practical uses over the years, but that doesn't mean there's no fun to be had. 3D printed toys can make for a great way to have your own personalized ornaments and fun playthings to express yourself and make your space your own.
3d Printing Hobby
Please enable JavaScript
3d Printing Hobby
Whether you're a parent looking to encourage a child's creativity, or someone who's just tired of paying too much for a factory-made toy that looks the same as everything else, 3D printing your own toys is a fantastic way to inject your personality into your fun and games, and we want to share some of our favorites.
3D printed toys can be decorative, practical, or even educational, since they can be made to encourage creativity by through customization and painting. With 3D printing, existing models can me modified or decorated to make something unique to the owner, as well as exercise or even teach creativity in both children and adults.

Whatever your reason, 3D printed toys make for great personal memorabilia or unique or wonderful gifts for people of any age with almost any hobby.
3D Printed Toy Video Game Figures
Have you ever wanted to own your own Pokémon, or play that famous Ocarina? Maybe have Cloud Strife or Vivi on your desk? If you're a gamer of any kind, you can find 3D models from any console or franchise to decorate your home.
Do you want Vulpix on your mantelpiece, Majora's Mask on your wall, or maybe a Kingdom Hearts keychain? Personalized 3D printed memorabilia can show off your gamer style.
Regardless of genre or generation, any gamer can find something they can use to keep the memories of time well spent alive even when the console's off and the PC has been shut down.
Pokémon figurines by Cults3d here / Ocarina of Time by Lykon here / FFVII Cloud Strife model here / FFIX Vivi model here / Vulpix by Ckyeli here / Majora's Mask model here / Kingdom Hearts Keychain by snoz58 here
Fidget Spinners
A blast from the recent past.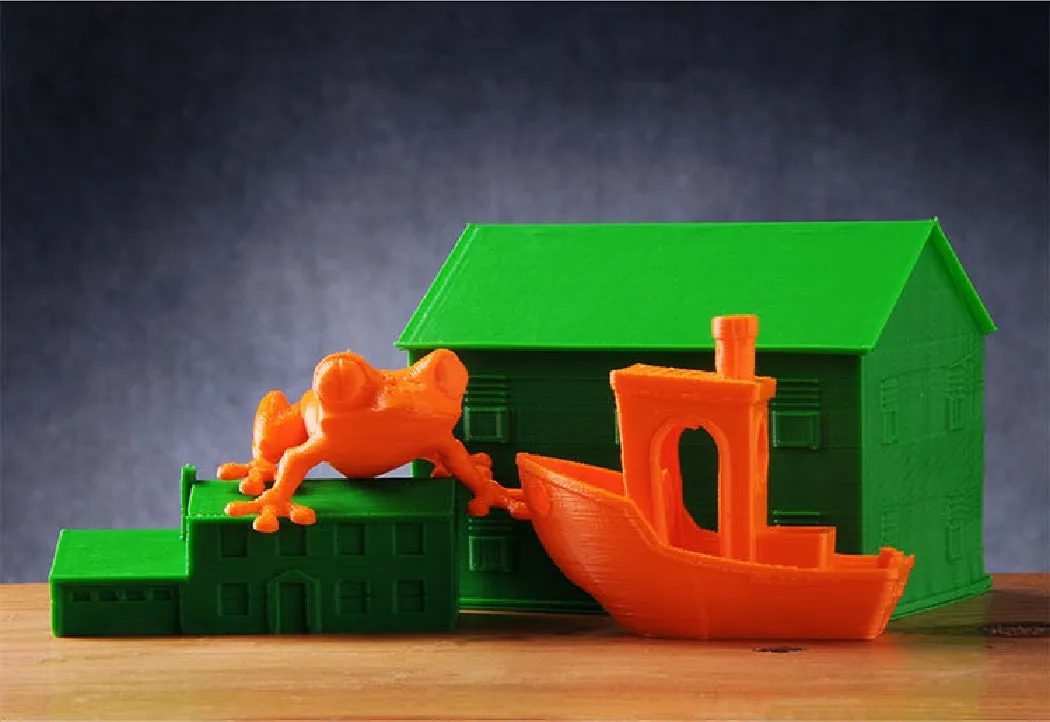 It wasn't so long ago that fidget spinners were everywhere you looked. Those who missed the trend may be happy to know that there is no shortage of models available to 3D print your own fidget spinner at home.
Available in styles from the classic mini drone to shuriken and even love hearts, there's a rotating desk ornament for any aesthetic.
If fidgeting isn't your thing, models for spinning tops and dreidels are also available, some with traditional letters of the Hebrew alphabet. For a faster toy, you can always go for a spinning top with a working pull cord for extra spinning power!
Shuriken Spinner model here / Dreidel model here / Pull Cord Spinning Top model by Ellswor here
Read more: 25+ cool 3D printed fidget toys you can print at home
3D Printed Board Game Pieces
3D printed toys don't necessarily mean playthings. A good board game collection is necessary for any host, but with the mass-produced store-bought sets found in every household, it can be hard to think of a game as really being yours.
Have you ever wanted to play Monopoly as R2D2? Or Carcassonne with an army of Bulbasaur? Now you can!
To put a personal touch on any board game, you'd usually have to ransack your house looking for a piece that you want, and then hope it's a decent size. With 3D printing, you can find minifigures with flat bases to move to your dice throws.
Speaking of, why not make your own dice? 3D printed dice models are simple to make and customize in any color or size to throw a little more of yourself into your favorite game.
Star Wars game pieces by Calimancil here / Pokémon Game Pieces by ransoing here / Dice model by RethinkEverything here
Chess Pieces
Any hardcore chess player will know how important a personal chess set is, and what could be more personal than a chess set you build yourself? Whatever your aesthetic preference, 3D printable chess pieces and boards are available as models all over from sleek modern designs to ancient figures and pop culture icons.
Even the city of Milan is available as a CAD model, featuring the city's skyline as the pieces. Lovers of Lovecraft need not be left out either, as the infamous Eldritch god Cthulhu chess set could be just the way to bring a little Arkham horror to your game.
Or for something a little more wholesome, there's no shortage of Pokémon chess sets out there. Mewtwo is king, after all.
Dark Chess models by 3dgregor here / Milan Chess models by Davide Cheisa here / Cthulhu Chess models by DiceHeads here / Pokémon Chess models by sch00f here
3D Printed Action Figure Toys
Thanks to the complex designs capable with CAD models, 3D printed action figures and toys don't have to just be statues.
Action figures are a great expression of imagination and humor, with interesting poses for tabletop tableaus or inspiration for artists.
3D models for action figures can be found as blank figures for customization, articulated robots, and even superheroes like Wolverine.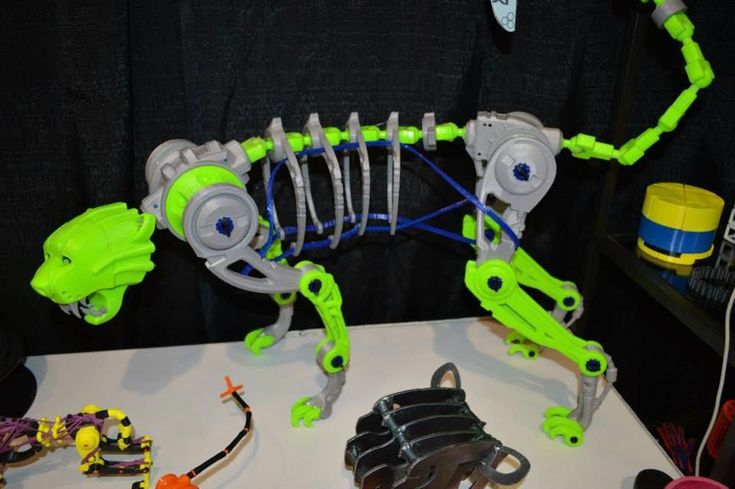 You can even find turtles with moving flippers and a fully poseable hand that can be moved into any gesture.
Poseable Male Figures by RikkTheGaijin77 here / Wolverine Action Figure model here / Poseable Loggerhead Sea Turtle model by 4MULE8 here / Articulated Poseable Hand model here
RC Vehicles
For the more engineering-savvy printers, models for RC-ready boats and cars are available for printing in a variety of styles. These models normally come in the form of a 3D printable chassis, which can be modified and customized before being fitted with an engine for a race around the park.
But not all the fun is restricted to tiny roads, 3D printed toy boat models are a nice way excuse to get to the water without the expense of factory-made RC crafts.
The styles for these vehicles come in all shapes and sizes, and can be printed to any specification.
RC Speedboat model by Winterfell321 here / Cybertruck model by ToddsWorld here / Wifi Propeller Boat model by Greg Zumwalt here / RC Car Chassis models by Dlb5 here
Fancy Dress and Cosplay
Costume parties and fancy dress are always a popular twist on a social gathering; but we've all been just that one or two little things short of the perfect get up.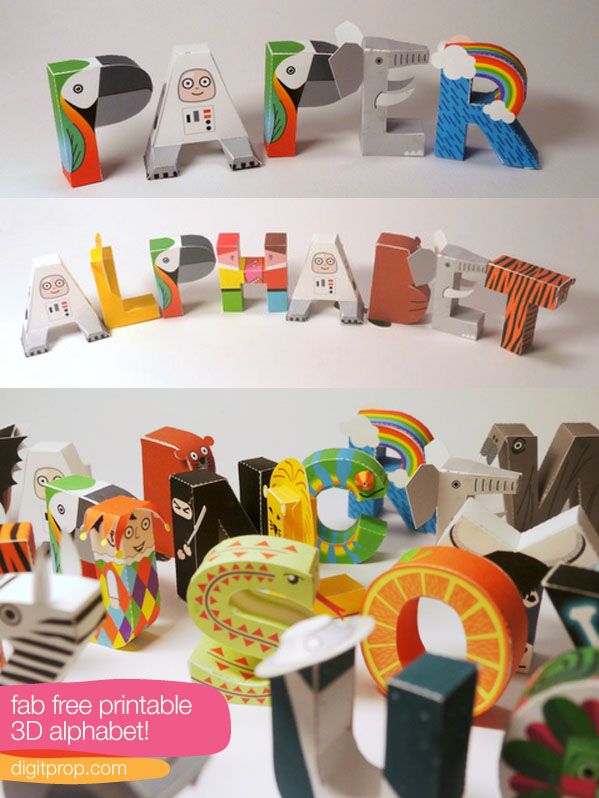 No one wants to show up as Link with no gauntlets or as Princess Leia without her famous braid.
Any cosplayer will tell you how much their costumes mean to them, and 3D printing toys, accessories, and clothing will always add that special touch. It could be something as grand as Batman's armor, or that perfect finishing touch with Cloud's iconic shoulder guard.
With the variety of 3D printed models around, any costume can be made perfect with the small additions that make all the difference. You can also print your own full suit to become your favourite hero.
No matter who or what you're wanting to emulate, you can 3D print your very own touches to make any costume or cosplay stand out.
3D printed clothing is currently on the rise. If you'd like to learn more about 3D printed clothing, you can read more in our article on how 3d printing is changing the world of fashion here.
Legendary Link Bracer model by zembacraftworks here / Princess Leia Braid model by 3dlyx here / Iron Man MK6 Suit here / Batman Armour model here / FF7 Cloud Shoulder by bindismalls here
3D Printed Puppet Toys and Dolls
For something more creative than statuettes and minifigures, 3D printed toy puppets can also be found online.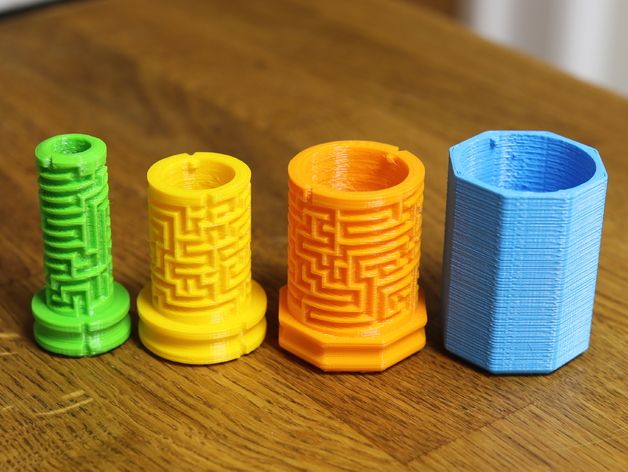 These range from collapsible animal statuettes to finger puppets and fully jointed marionettes. These figures can be painted and shaped for any design or character, original or otherwise, for fun indoor activities or creative storytelling methods.
Puppeteering can take a long time to master, and what better way to hone the craft than with a character you've printed and made yourself? You can even act out your favourite scenes or plays.
If marionettes aren't your thing, Russian nesting figures can also spruce up your décor with fun little surprises.
Lobster Marionette model here / Collapsing Push Puppets by ynze here / Finger Puppet models by pmoews here / Duplo Puppet model here / Nesting Doll models here
Piggy Banks
3D printed toys aren't just about decorative knick-knacks or playthings, you can also 3D print your own piggy bank! Be it for a child on their first lesson on savings, or an adult who's sick of loose change cluttering up their home; there's no solution quite like a 3D printed piggy bank.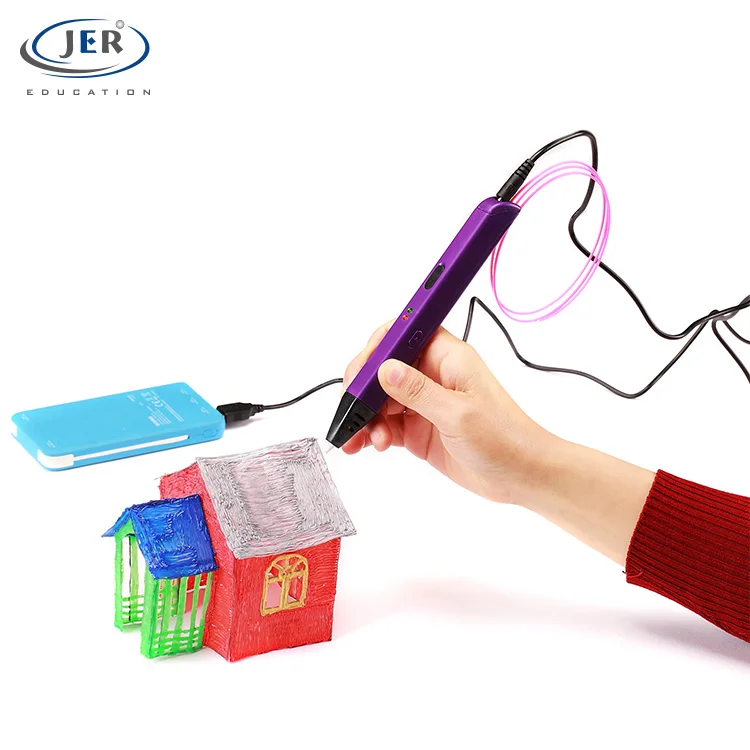 These money storing mantelpiece monuments can be cute, realistic, or even have bullhorns for a unique twist.
To keep an eye on your change collection, you can 3D print a mesh piggy that lets you see inside.
Are pigs not your style? Why not 3D print your own elephant or Homer Simpson head to store your pennies?
Mesh Piggy Bank model here / Mr Piggy Banks model by pongo here / Bull Piggy Bank model by Manfred Koska here / Elephant Piggy Bank model by linuxxx here / Homer Piggy Bank model by Dan10105 here
3D Printed Toy Boxes/Chests
We've gone through a lot of 3D printed toys for any age and preference. But what do you do with all these new playthings? Fortunately, 3D printed toy chests are also available! The personalization doesn't end with storage. Police boxes and treasure chests are available as CAD models, as well as more subtle designs with minimalistic patterns.
These containers come in all shapes and sizes, from large steampunk trunks to pirate chest ring boxes.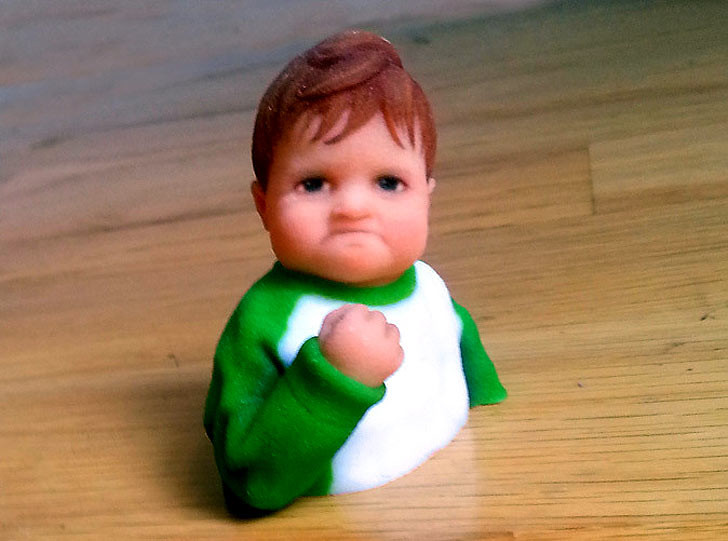 Regardless of size and style, you can keep your new 3D printed marvels safe, contained, and ready to be enjoyed another day.
Big Toy Box model by Nercury here / Phone Box Chest model by brlang here / Ziv Toy Box model by kizinfo here
Related articles:
Funny 3D prints (you can download and print today)
3D printed fidget toys
3D printed gears
3D printed chess set STL files
3D printed pokemon downloads
Best 3D printers for cosplay props
The best 3D printers for miniatures and 28mm
3d Printed Toys - Etsy.de
Etsy is no longer supporting older versions of your web browser in order to ensure that user data remains secure. Please update to the latest version.
Take full advantage of our site features by enabling JavaScript.
Find something memorable, join a community doing good.
( 1,000+ relevant results, with Ads Sellers looking to grow their business and reach more interested buyers can use Etsy's advertising platform to promote their items.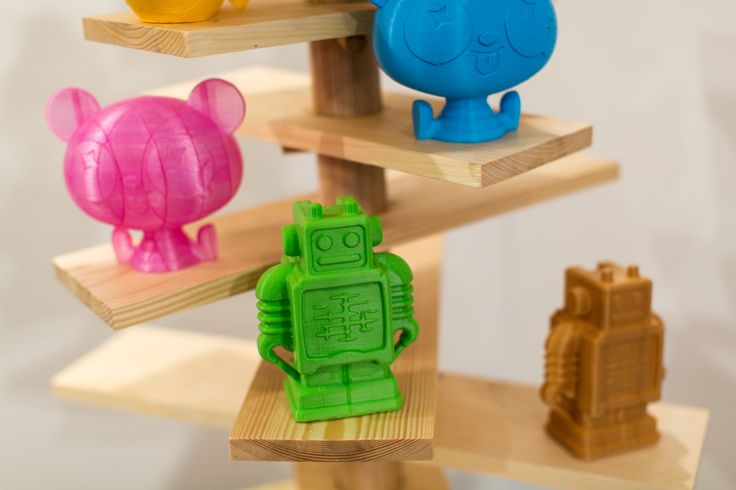 You'll see ad results based on factors like relevancy, and the amount sellers pay per click. Learn more. )
Top 20 3D printed toys
Why 3D print toys? What toys can be 3D printed? 1.
Mini monster truck 2. Surprise eggs 3. Gliders with elastic band 4. Folding sword 5. Micro catapult 6. Spinning top 7. Moving animals 8. Spirograph 9. Transformers 10. Toy tool set 11. Castle 12. Lego bricks 13 14. Edible toys 15. Anti-stress keychain 16. Chunky Trucks set 17. Sword rattles 18. Vikings Squigglepeeps 19. Math Spinner 20. Jumping Turtles Results
Today, 3D printing is developing and spreading very rapidly, gaining more and more popularity. And no wonder, because 3D printing is an invaluable tool for prototyping designs, creating mockups, fabricating parts, and more. At the same time, it is no longer difficult to buy a 3D printer at an affordable price even for home use. However, a 3D printer is not only a tool, it is also a kind of toy. A toy capable of creating other toys! Using a 3D printer to make toys gives you control over the material, color, size and other components, so the models you create with 3D printing will be unique!
But what if you don't have your own 3D printer and you need to print a toy or some part of it? It doesn't matter, in this case our 3D printing studio will help you! You only need to place an order by uploading the file of the desired finished model, after which our specialists will contact you to calculate the cost and resolve other possible issues.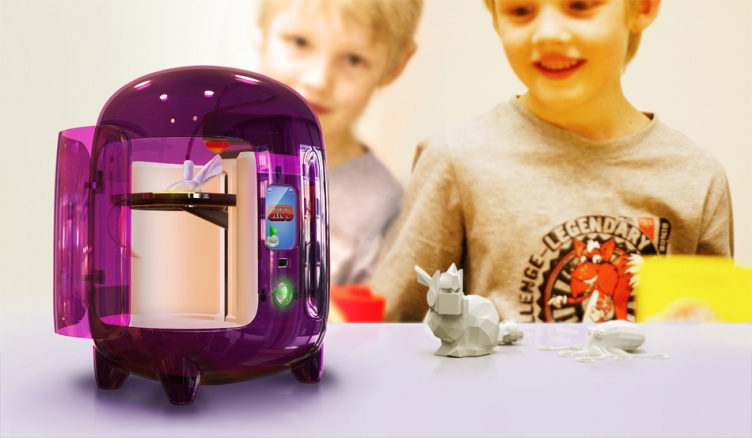 Why 3D printed toys?
This is probably the first question that comes to mind, and it is not surprising, because often 3D printing can cost you more than the cost of such a toy in the store. But there are also a number of advantages of 3D printing, as well as cases when it would be more profitable and appropriate to turn to creating models on a 3D printer.
As already mentioned, a toy printed on a 3D printer can be absolutely unique due to the ability to give it exactly the shapes, sizes and colors that you and your child want.
Some toys can be difficult to find in the store, and their cost may exceed the cost of their printed copy.
Sometimes you only need to replace one or a few broken or missing parts of a toy, such as a building toy. In this case, it will be much more profitable and more expedient to use a 3d printer than to buy a whole set for a high price.
An important factor is, of course, the impressions of the 3d printing process itself, which will captivate both a child and an adult. And the positive emotions of your child from the toy you created will be the best reward!
And for those who are just getting acquainted with their printer and 3d printing in general, the process of creating toys will be an excellent, exciting simulator to improve their skills and gain experience.
Which toys can be 3D printed?
In the context of constant development and increase in the possibilities of 3D printing technology, you can create almost any toy on a 3D printer, but the result largely depends on the capabilities of your device, your abilities, as well as the time, resources and effort that you are willing to devote to this process. Therefore, more or less simple projects are most often created on a 3D printer. But the relative ease of manufacture does not mean boring finished products! Below we will give you a list of 20 interesting 3D printed toys that are not particularly difficult to create. Among these crafts you will find toys for children of all ages, including the smallest: mechanical products, motion figures, building blocks and even rattles! For each toy from the list, we leave a link to the finished model so that you can try them yourself.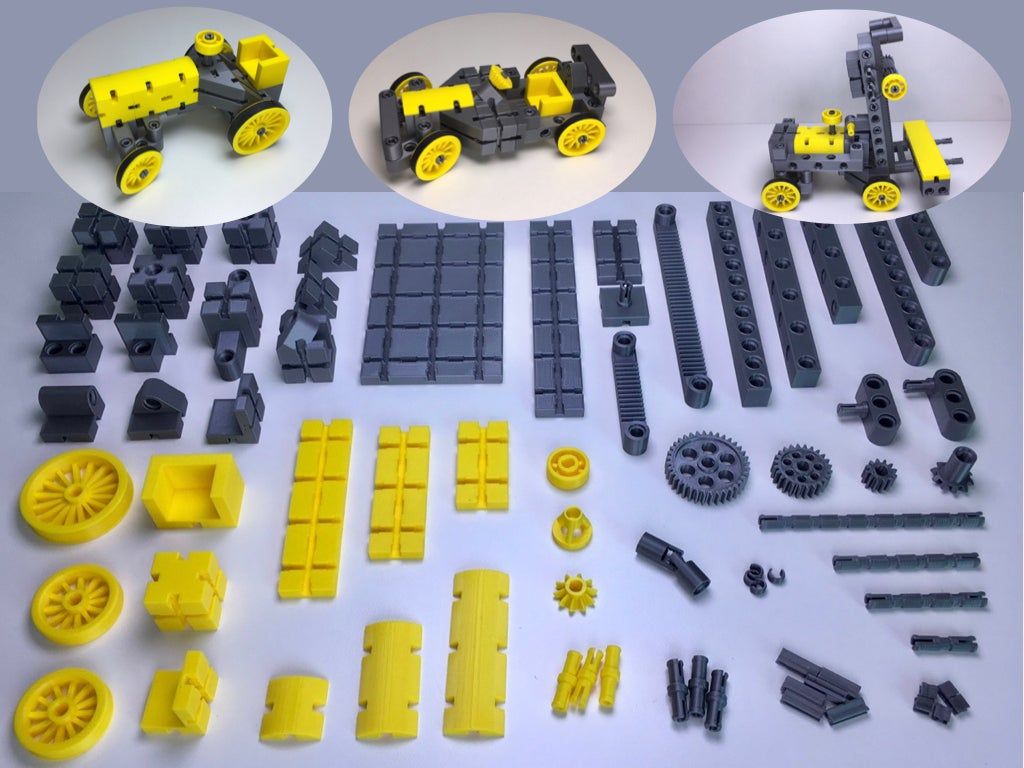 So let's get to know them better!
1. Mini monster truck
Two monster trucks. Source: Thingiverse
Not everyone can afford a monster truck, but if you have a 3D printer, you can print yourself a mini copy of it... which is almost as cool. Thanks to the all-printed suspension and removable discs that attach easily and without the aid of glue to the body, this truck is perfect straight from the printed surface.
You can even choose from a variety of body styles and wheels. And for a two-tone tire, stop printing the wheel at 19.8 mm and replace the filament.
Model files for download can be found here.
2. Surprise eggs
Surprise! Source: Twitter
Bigger is not always better. And often the most interesting thing is just a small size, and these 3D printed eggs with a surprise are an example of this.
These tiny cars with moving wheels and other accessories are amazing! Plus, you have plenty to choose from, as you can print surprise eggs with just about anything inside, be it a fire truck or even a fighter plane!
No support required for these models.
We advise you to use at least 40% infill to make sure that small elements are both beautiful and durable. Given the number of such tiny parts these machines have, be prepared that printing them can be a real challenge for you, but with good calibration and fine tuning of your machine, everything will work out in the best way!
3. Elastic Gliders
Get ready to take off! Source: Thingiverse
With 3D printed gliders you will be able to "pull out" even more fun from ordinary rubber band ! Just 3 simple steps, and your glider will take off: hook it with an elastic band, pull it towards you and release it.
With this model on Thingiverse, you and your friends can take to the skies a whole fleet of these rubber gliders!
100% infill and a layer height of 0.1 mm are recommended for greater aircraft strength and longer life for thin wings.
4. Folding sword
Telescopic pirate sword. Source: Thingiverse
This toy may not be best given to a child when there are breakable items nearby.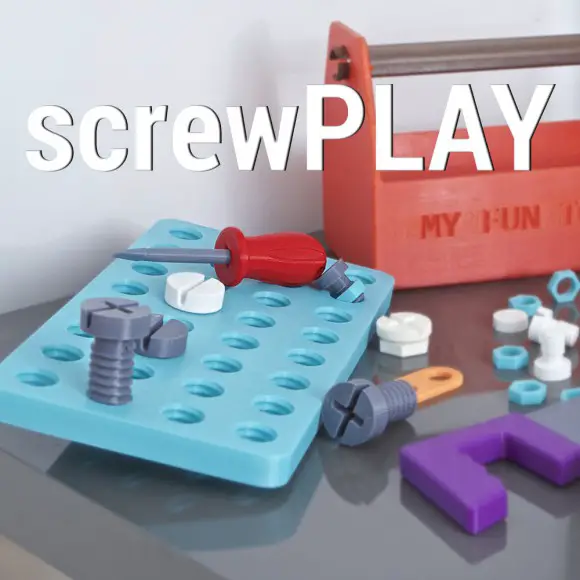 But in the right environment, telescopic swords will bring tons of fun and enjoyment to kids! From the designer of this folding pirate sword, you can also find models of telescopic katana, daggers and even lightsabers!
This Telescopic Pirate Sword is designed for printing at low speed using a 0.4mm nozzle. Also, successful printing requires a printer with a good retract and precise settings for Coast (turning off extrusion at the end of the layer print) and Wipe ("wiping" the nozzle at the end of the layer).
5. Micro Catapult
Hit all your enemies (or at least your deskmates). Source: Thingiverse
This little catapult is a great toy for kids and bored office workers alike. She can throw small crumpled pieces of paper and any other small things that will fit in her. Selected ammunition can fly about 2 meters, which is enough to hit unsuspecting victims at another table!
This model is an all-printed prefabricated assembly that does not require any supports or special adjustments.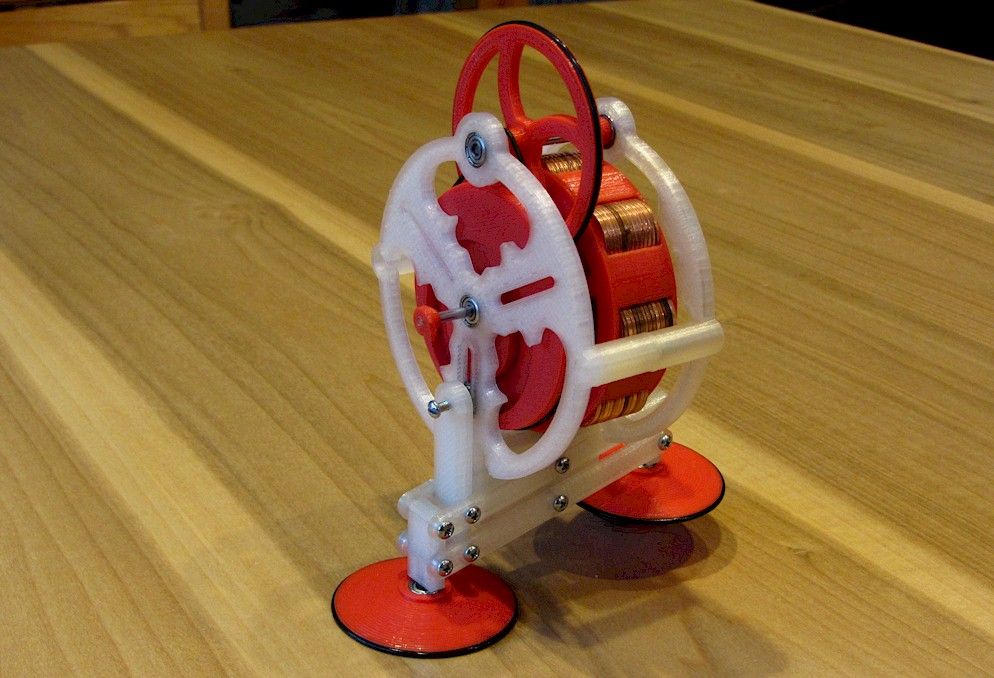 A minimum filling and layer height of 0.25 mm is sufficient.
Despite the fact that many catapults are made from PLA plastic, the author of the design still insists that this model is not for PLA, but for ABS plastic. We can also recommend PETG filament for this printing, which has the best qualities of PLA and ABS.
6. Top
The oldest toy for the whole family. Source: Thingiverse
As far as we know, the spinning top is one of the oldest toys in the world. In ancient times, tops were made from almost any material: from stone and wood to fruits and nuts. And now additive technologies allow you to make your own spinning top using a 3D printer! All you have to do is print this model, glue the pieces together and have fun with this simple yet fun toy!
Offered 0.2 mm layer height and 20% infill.
7. Moveable animals
Cute articulated octopus. Source: Thingiverse
Making flexible prints with a 3D printer has become completely affordable and common practice thanks to special filaments such as TPU.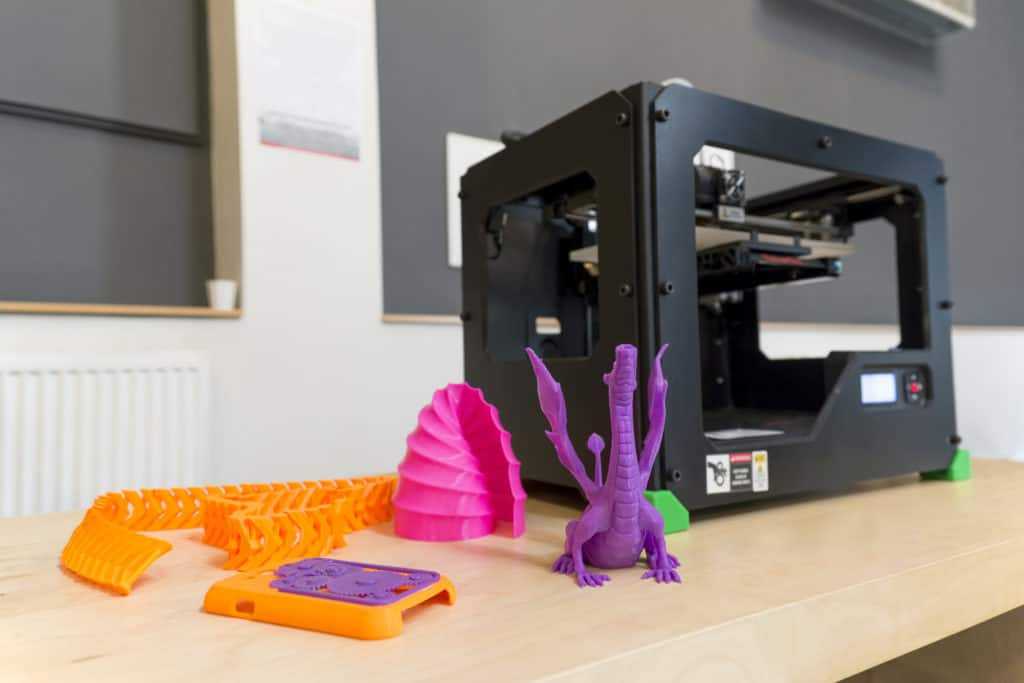 But what if we said that you don't have to use flexible plastics to create flex parts?
Using excellent hinges that are printed in one piece with the entire model, you can create movable flexing toys even from plastics such as PLA, ABS and PETG, without any additional settings and adjustments.
The standard specifies a layer height of 0.2 mm and an infill of at least 15%.
Most popular models:
8. Spirograph
Convenient case for creativity at any time. Source: Thingiverse
Everyone knows the children's toy spirograph, which allows you to easily draw masterpieces with repeating geometric patterns. But this model has gone a little further and is a whole case containing a platform for drawing and a compartment for storing gears and paper. It fits easily into your pocket, backpack and bag, so you can take it with you and paint whenever you want!
The case has several levels.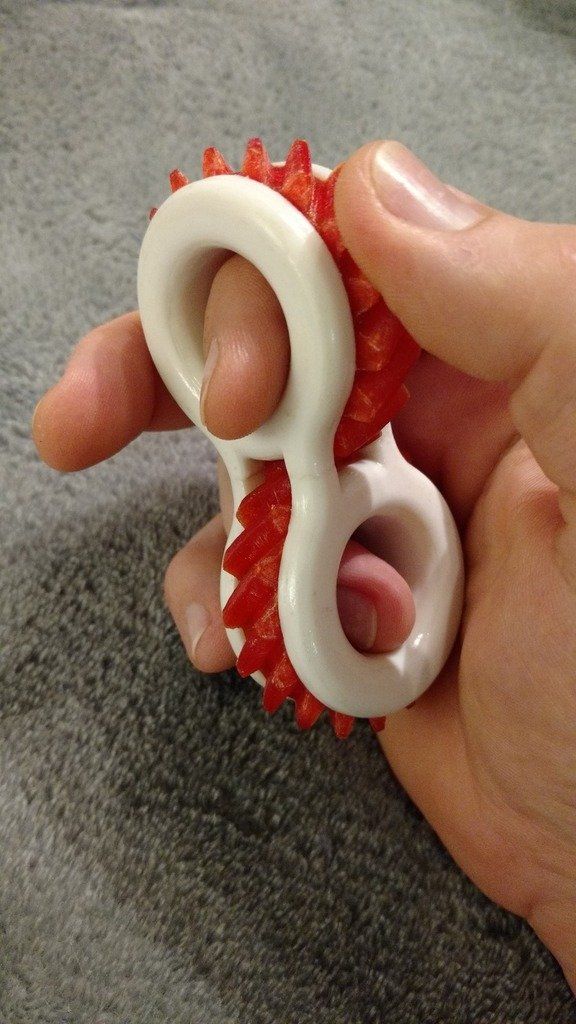 The lower level holds slips of paper for notes, drawing gears and, if desired, a small pencil or pen, if, of course, you can find one. The next level provides a secure, flat drawing surface so you can make art while walking! The top level has fixed gear teeth and holds the piece of paper in place.
A layer height of 0.2 mm and an infill of 20% or more is recommended. As a loop, a regular straightened 1.75 mm filament thread is used.
9. Transformers
Toys from the planet Cybertron. Source: Thingiverse
Transformers are a hugely popular children's toy to this day, so these Optimus Prime and Megatron are sure to please your kids.
This printed Optimus Prime transforms from a classic Optimus truck into a fully functional standing robot. And it's amazing, considering that you immediately get a ready-to-use all-printed model right from the printing platform, which does not even require supports!
But, of course, every Optimus needs an opponent to fight.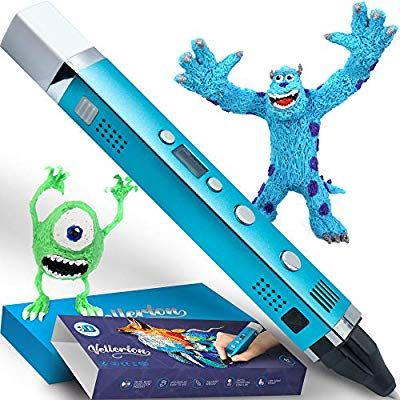 Therefore, you can also print Megatron, but it should be noted that his model is more difficult to print and consists of two parts.
10. Set of toy tools
The first tools for little craftsmen. Source: Thingiverse
The Toy Tool Set is a great way to introduce kids to basic tools, their appearance, purpose, and how they work. Print your child's first hammer, screwdriver and pliers and he'll feel like a real craftsman!
The hammer is modeled to fit two pieces together with a screw, but some users simply glue them together, which is just as pretty. You can also use a hammer to assemble pliers: just lay the two pieces on a flat surface with the screw down and tap lightly a couple of times.
Model can be found here.
11. Castle
Build your own medieval world! Source: Thingiverse
This medieval castle playset is meticulously designed for 3D printing. Walls and towers are easily attached to each other with a simple connection.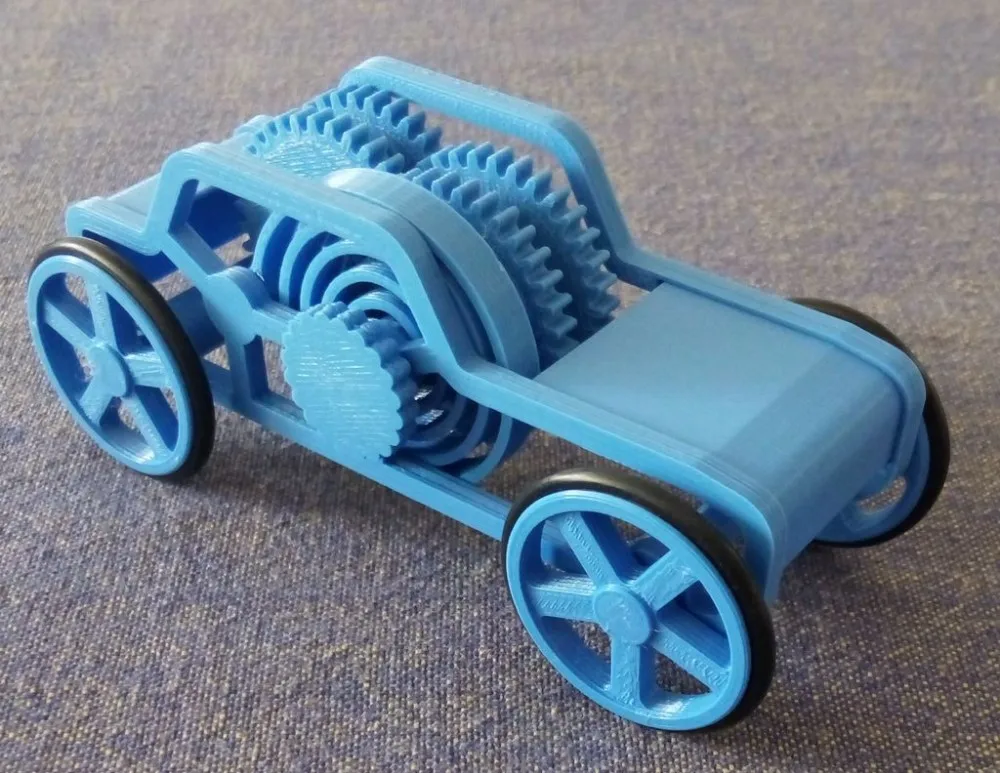 You can make as many details as you want to create a large or small original castle layout of your own! The set contains walls, towers, houses, characters, animals and a variety of props to add to the fun of this medieval set.
All parts are small enough to be printed comfortably even on 3D printers with a small printable area: 140x140x140mm. For such purposes, the Flashforge Creator Pro 2 3D printer is perfect, equipped with two independent extruders and has excellent printing accuracy. This printer will cope with the study of small details, and two extruders will help you print several parts at once or one part in two colors!
12. Lego bricks
Your favorite constructor is now more accessible! Source: Pinterest
LEGO is one of the most popular toys for children. At the same time, the cubes of this designer are made of ordinary ABS plastic. So, having your own 3D printer, you can print the missing/lost Lego bricks yourself or even some of your author's design of the details of this amazing designer! At the same time, you can use not only ABS, but also other 3D plastics: PLA and PETG are also great.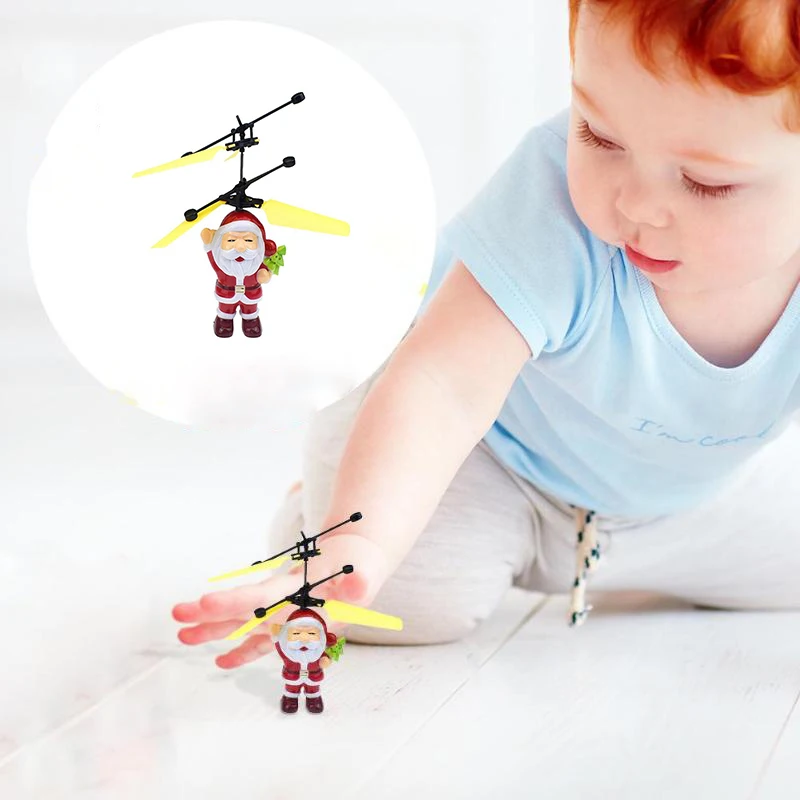 Thingiverse has a lot of Lego models, and we'll take a look at one of them. It's customizable model of several different LEGO and LEGO DUPLO pieces. These bricks are not completely identical to real Lego, but they are compatible in every way.
13. Ballista
Fire! Source: Thingiverse
Introducing a fully printed ballista model, ready to use right out of the box. One has only to set the string and load the projectile, and this ballista will impress you with its simplicity and good range of the arrow. As a bowstring, you can use several layers of thread or ordinary stationery gum.
Recommended to print in PLA or PETG with 90% coverage and 0.2mm layer height.
14. Edible toys
The Open Toys project turns ordinary vegetables into toys. Source: Thingiverse
The project was originally envisioned as a way to turn commonly discarded residual materials such as wood and cork into toys: helicopters, planes, cars and so on.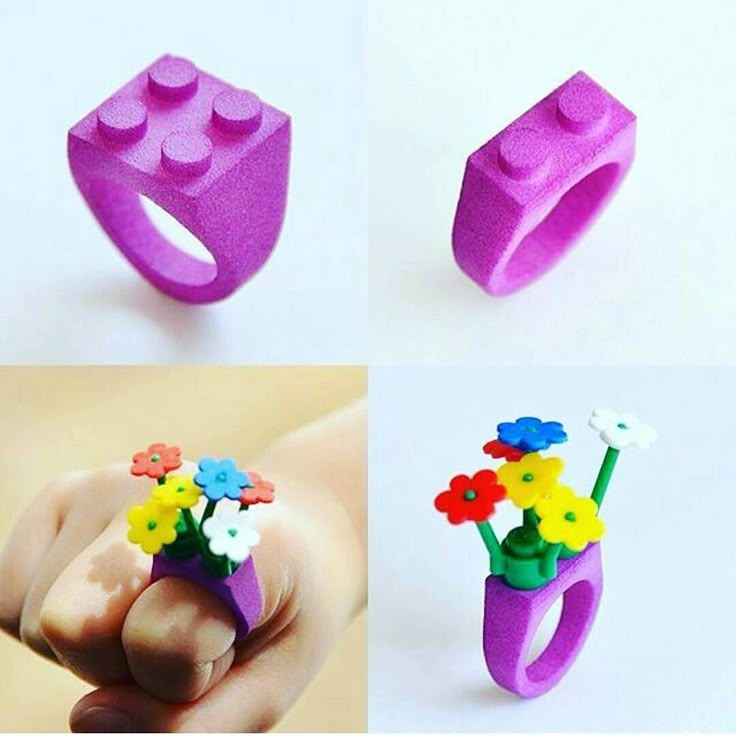 But soon, wood and cork were replaced by more accessible and easily pierced materials: fruits and vegetables. With this project, you can turn ordinary food items into fun personalized toys.
15. Anti-stress keychain
Entertaining keychain. Source: Thingiverse
Add some flair to your keychain with this cool little toy. She will entertain you wherever you are!
This model is not the easiest, but try it and you will definitely succeed! Important print quality settings are "Outer Walls Before Inner Walls" and being extra careful with temperature. It is printed with supports and requires a certain, sometimes lengthy, post-processing. Remove not only supports, but also make sure that the surface of the part is smooth, otherwise it will cling and stutter. A scalpel or a 1 mm drill will do. Periodically rotate the gears to see where it still sticks, which is especially true when using PLA.
16. Chunky Trucks set
Two models from the fun and cute Chunky Trucks set.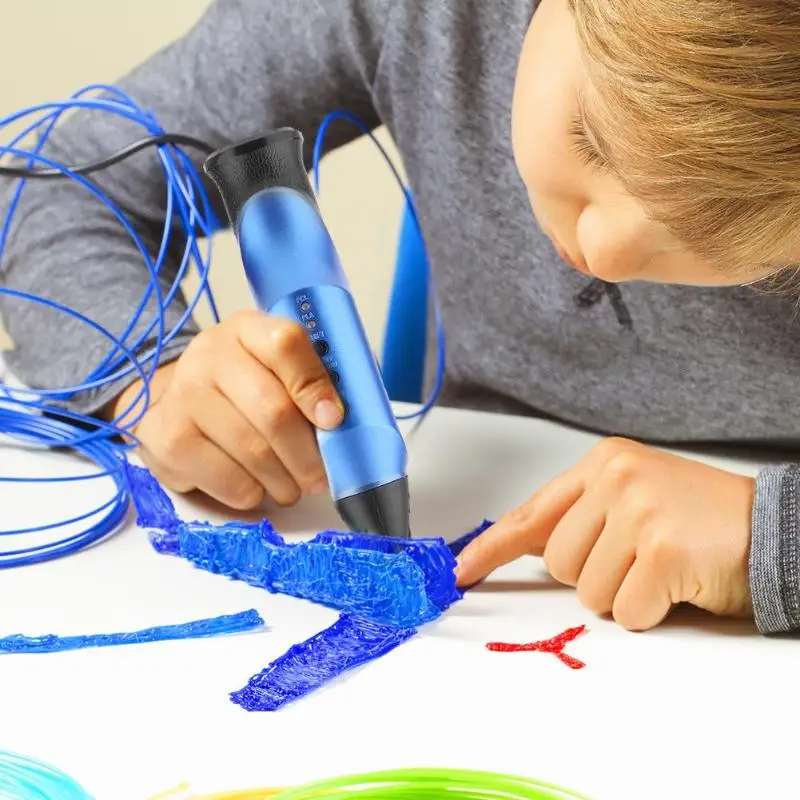 Source: Thingiverse
The adorable Chunky Trucks collection includes various unique models of small trucks, fun builders and even a movable barrier. The cars are specially designed so that even the smallest children can play with them. Unlike builders, who are not recommended to be printed for toddlers so that they do not try to put them in their mouths, but which will greatly amuse older children.
All models can be printed without supports. And for long truck life, at least 25% infill and three-wall use are recommended.
17. Rattleswords
Arm your warrior! Source: Thingiverse
Rattles are an integral part of all babies. But what if we move away from banal and boring designs and build a rattle in the form of a sword for your little warrior? This fun design will not only amuse your baby, but also you, as this rattle will be a lot of fun to print!
All corners of the model are rounded for safety. There are also two versions of the tip.
Initially, a gem was attached to the tip, but after some concern that the stone could slip off the tip and be swallowed by a child, a second version was created that did not include a gem.
Print two sets of peas first. Then, while printing the sword, throw them inside the blade. This will ensure that the peas stay inside the rattle forever. After printing all the elements, simply fasten them with superglue.
As with any printed toy, parental guidance is required. Be sure to throw away the toy if it breaks.
18. Viking Squigglepeeps
Three Viking Squigglepeeps set sail. Source: Thingiverse
Squigglepeeps is another kid-safe toy, this time with absolutely no glue required. These fun chubby Vikings and their boat are too big to choke on, making them suitable for kids of all ages. They look funny even in one color, but they will be even more beautiful if you paint them with child-safe paints! The model also absolutely does not require supports.
19. Math Spinner
A great way to have fun learning math! Source: 3Dtoday
This math spinner is the perfect companion for learning math. Moreover, it is suitable for all ages, because it is never too late to brush up on your arithmetic knowledge! You can print this finished model or modify it for yourself by removing or adding rings. This advanced design contains all the signs of addition, subtraction, multiplication, division, equality and inequality, as well as a pointer to the string to be solved! On the central insert there are special grooves for fixing. For this version, you will need to print 2 caps and 8 rings of numbers, the rest of the details are printed in a single copy.
Recommended coverage 25% and layer height 0.2 mm.
20. Jumping turtles
The variety of these turtles is amazing! Source: Thingiverse
Last but not least, jumping turtles! Agree, even the name sounds fun! And a variety of shell designs will give each turtle its own uniqueness.
This model uses the same flex concept as the Mini Monster Truck above, making the Turtles bounce when you tap on the body. Also in this turtle, the head can be drawn into the shell.
The model is assembled with printed H-clamps and does not require glue. All parts are printed without supports. Also note that using the raft (rafts) and brim (margins) options can have a negative effect on the results if you don't then take the time to sand and clean the edges at the base.
If you have problems with head slip, you can try to print 1 of the 3 narrower shaft head files that the author has specially uploaded for this case.
Results
We hope you enjoyed this selection of toys for 3D printing, and you will definitely choose some option for yourself, because 3D printing of toys is not only fun and interesting, it is also a new experience and knowledge for both you and and for the child. But we have considered only some entertaining options from the many existing ones.
And, of course, you can create your own unique designs and implement them on your 3D printer or contact our 3D printing studio for this. And toys printed by you can serve as a great unique gift, which is also one of the reasons to buy a 3D printer for your home.
printing of mechanical children's toys 3d models for children
In the modern world, additive technologies that allow the use of 3D printing are developing at an accelerated pace. The technological process involves the layer-by-layer application of the material in accordance with a pre-compiled digital model so that in the end the user can obtain a product with the specified parameters. 3D printers are no longer a rarity today and are increasingly found in home use. They allow you to create at home not only things necessary for everyday life, but also toys for children.
Why use 3D printed toys?
3D printed toys can be an endless source of joy for children. If the owner of a 3D printer has at least basic modeling skills, then he can easily bring to life any toy that will be of interest to the child at the moment.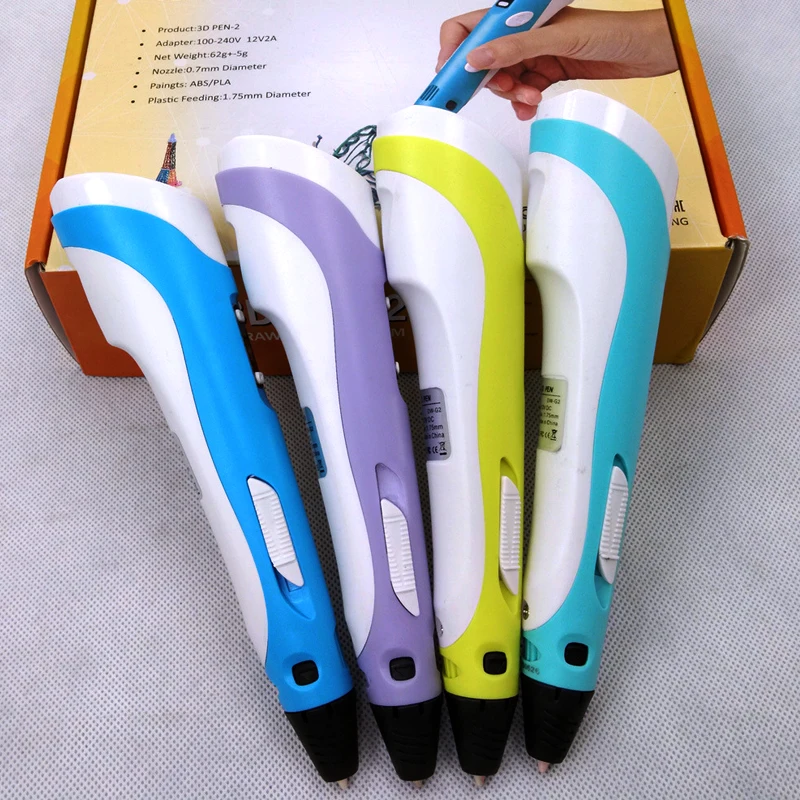 In addition, you can print those toys that are difficult to find in stores, or their cost is too high.
Lost or missing parts can also be 3D printed. This feature is especially useful for those who are not indifferent to designers and modeling.
Another factor that speaks in favor of home 3D printing of toys is their relatively low cost. For example, printing a few lost parts from a Lego set is much cheaper than ordering originals from a manufacturer.
It is also worth noting that due to the low requirements for the accuracy and quality of printing 3D toys, the process can be used to gain experience in applying a new material, final debugging of the device, etc.
Which toys can be printed on a 3D printer?
3D printing technology allows you to reproduce almost any toys at home, but most often it is used to create mechanical products, print figures and make lego parts.
The practice of home-made parts of this construction set quickly gained popularity among users.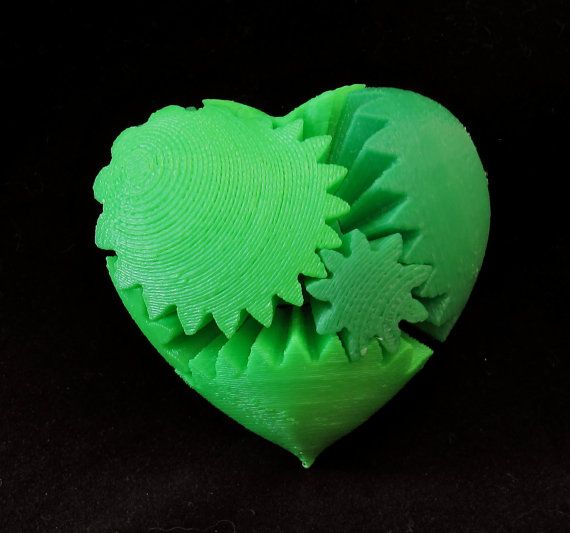 This happened due to a significant reduction in the cost of materials for 3D printing and the availability of the printers themselves.
Lego is made from ABS plastic. This material is readily available, making home-printed items difficult to distinguish from original parts. However, if desired, PLA can also be used for this, the plastic is non-toxic and made from natural materials.
Printing parts for a house constructor has several advantages at once:
A home 3D printer allows you to create fundamentally new parts that did not exist before.
Lost or broken parts can be replaced with new ones that are still as good as the original.
Collectors use 3D printing to recreate vintage Lego sets that have long since been discontinued.
Home-printed adapters allow you to combine the set with other fantasy worlds, including Meccano.
Printing a designer part on a home printer will cost its owner much less than ordering a similar one directly from the manufacturer.
Another indisputable advantage is the speed of production. Designer spare parts are easy to order on the manufacturer's website or other online resources, but delivery will take several weeks. With home printing, there are no such problems - printing lego on your 3D printer can take only a few hours.
Reproduction of iconic items from films has also become a popular trend for home 3D printing. So, for example, in a few hours you can print an exact copy of a lightsaber or a figurine from the Minecraft universe.
Mechanical toys such as articulated octopuses, spinning tops or dinosaurs are also popular.
Printing toys on a home 3D printer is interesting not only for children, but also for adults. Especially often the technology is in demand among professional cosplayers. 3D printing allows you to faithfully recreate the original details of the equipment of your favorite characters.
Printing toys on a 3D printer
Technologies and materials for printing toys
The following technologies are most often used for printing toys at home:
FDM/FFF. It implies that the filament, passing through the nozzle of the extruder head, is melted, after which the device deposits the material on the printing table, forming the product layer by layer. There, the product solidifies, forming a solid object.
SLA and DLP. The technology is based on the principle of digital processing of material with light. The principle of operation of printers using these technologies involves the selective polymerization of a photopolymer resin in a vat.
The most popular materials for making toys are the following types of plastics:
ABS is a material that is highly durable, lightweight and flexible. It is used in the production of designer parts and other products requiring high wear resistance. The disadvantage of the material is the relatively high melting point (from 210 to 250 degrees) and the inability to use without a special heated panel. Also, the use of this plastic involves installing the printer in a well-ventilated room, which is far from always possible at home.
PLA is a biodegradable plastic that is relatively less toxic than ABS. This polymer is less sensitive to temperature changes, so it does not require a heated table for its use. The melting point of the material is from 180 to 230 degrees.
PET - the strength and quality of this polymer far exceeds those of ABS and PLA. In addition, unpleasant odors do not occur during printing, and waste can be recycled. Most often, this material is used for products that require increased flexibility, toughness or impact resistance. The only disadvantage is the increased requirements for setting the nozzle temperature.
PVA - this material is used for printing supporting structures in the manufacture of objects with complex shapes. It is suitable for printing with two filaments and dissolves easily in water.
Laywood - belongs to the category of wood filaments. Toys made using this material have a tactile feel that resembles the surface of a tree. The material does not require a heated table, but at the same time it has relatively low flexibility.
3D models
3D printing is not possible without first creating a 3D model for the printer. A well-prepared model allows you to avoid unforeseen difficulties during the creation of the product.
Most modern printers support the STL format. It was originally developed by 3D Systems and was used to create products using the stereolithography method.
STL files describe only the geometric parameters of the model, without specifying its color, texture, or other characteristics.
3D printer slicers support common file formats OBJ, 3DS, as well as proprietary formats - FORM and PLG.
You can create a model for a 3D printer yourself using a CAD program or one of the 3D scanners (RangeVision, Einscan, etc.).
If the owner of the printer does not have 3D modeling skills, he can download one of the ready-made models created by other users and made available to the public.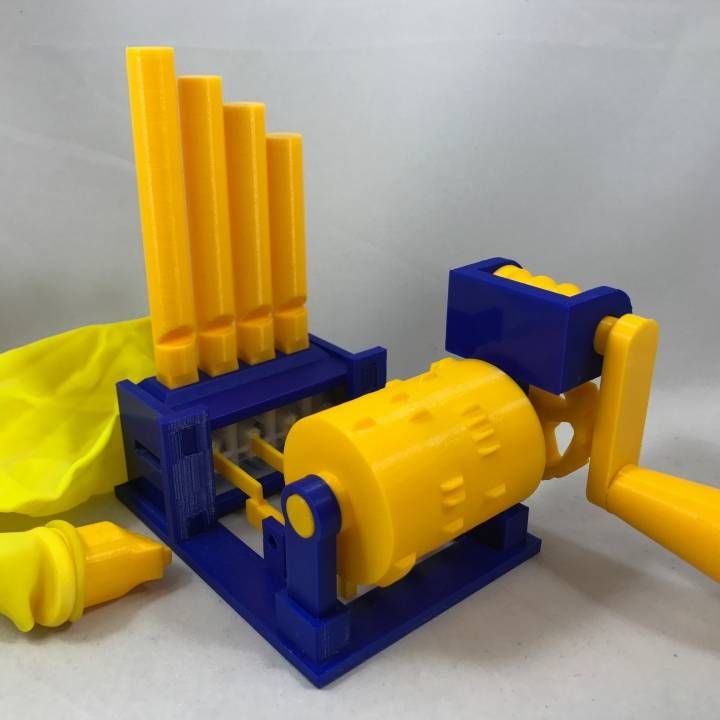 Printers
The most popular home 3D printers are the following models:
The main advantages of self-printing toys at home are:
Manufacturing speed. The whole process, including the creation of a model, takes no more than a day.
The cost of products printed at home is lower than ordering similar products from manufacturers or resellers.
Copy accuracy and quality.
The ability to recreate exactly the product that is needed at the moment.
Availability of materials.
The disadvantages include:
Less accuracy in compliance with the specified parameters (compared to serial stamping).
Limited dimensions of manufactured items.
Limited in materials used. Not all types of plastic are suitable for home printing.
3D printing toys allows you to create unusual and creative works that can not be purchased in stores, or quickly and cheaply replace broken or lost parts.