3D drone printing
Best 3D printed drone projects
Is a 3D printed drone as efficient as a traditional drone?
Drones and 3D printing are a perfect match! The benefits of drones are more and more attracting for numerous sectors, as it allows to go to areas which are inaccessible for humans. The problem is that a traditional drone can be very expensive if you want a high-quality device. Moreover, it may occur that the quadcopter that you chose isn't totally adapted to your project and doesn't have all the features you need. Or on the contrary, the drone can have too many features and you will not use all of them.
The 3D printing industry allows to create your own drone, it's the perfect way to get a drone customized to fit your needs. It's is cheaper and the product development process is faster with the additive manufacturing technology. It is possible to create really lightweight drones, little or bigger ones, and even faster ones. 3D printing appears to be a smart choice to develop a drone project.
And if you're not planning to use 3D printing to manufacture your drone, at least, it is possible to use 3D printing for your prototyping phase.
Now, let's see in our top the best projects developed with 3D printed drones!
Top 15 of the best 3D printed drone projects
1 – The 3D printed drone project of the Marine Corp
Drones are already well-used in the military sector since they allow the troops to get real-time images of dangerous areas and situations. But the major problem with a drone is its cost. If the drone is broken, it is quite expensive to replace. And even if there's just a broken part, the budget to fix it can be really high.
source: https://www.popsci.com/marine-corps-3d-printed-drones
As they were beginning to be unwilling to use it, they looked for another solution. With a more affordable drone, they would be more confident to use it. And here came the solution: 3D printing. To 3D print a drone is way cheaper and fast to assemble. By using additive manufacturing, the entire system that they are planning to use only costs 615$  while an individual Raven drone costs 30 000 $.
This 3D printed drone project is the proof that additive manufacturing can be useful in various sector: even the Marine Corp wants to 3D print their drone. It is also the proof that these kind of drones are reliable.
2 – 3D printed drone to save lives during disaster relief
This 3D printed quadcopter drone as designed by Yuki Ogasawara and Ryo Kumeda. The idea of the project emerged after the earthquake that touched Japan in 2011.
During this disaster, nearly 16 000 people were killed and 2 500 missing. The goal of this 3D printed drone is to fly in dangerous zones to find survivors, after a catastrophe, such as an earthquake. These drones could enable emergency services to see images in real time and be more efficient by saving time in the research.
Source: https://3dprint.com/181435/generative-design-x-vein-drone/
3D printing allowed them to create a model that they could customize and adapt to their project.
It has the perfect size and weight for these kinds of conditions, it has an extended flight time, and a reinforced frame. The drone is also capable of carrying thermographic and infrared-imaging equipment, which can be particularly useful to locate people needing help.
3 – UVify and their 3D printed racing drones using autonomous technology
UVify is an american tech company, working on racing drones, robotics, and artificial intelligence systems. Their will is to develop their drones with FPV (First Person View) in the e-sport world. This 3D printed drone is called Draco. Some of the drones created by UVify are raced by professionals in different competitions.
They are according a big importance to the drone design and the rapidity of the drones. They have to be efficient. Uvify wants to create an out of the box drone, specially made for the professional drone racing market.
"We used and are still using 3D Printing in our activity: we're creating at least a new iteration every week thanks to 3D printing prototypes.
" said Robert Cheek in one of our previous blogposts.
They are using the 3D printing technology both for prototyping and production. It allows them to get their drone with a fast lead time and get a high-quality final product.
4 – Earth observation with a 3D printed drone thanks to Svarmi
Svarmi is an Icelandic company, specialized in drones as a service, for remote sensing or earth observation. Their clients are architects, engineers, researchers, and any people wanting aerial images.
As their product development is based on their clients' expectations, 3D printing allows them to be free and customize their drone as much as their customers need it. As this company explained to us: "Other traditional manufacturing methods are too slow and costly for our purposes since we need to be able to have something ready within a week or two. After integrating the new sensors to our drones we test them out with our customers and redefine the requirements if needed to suit the task and sometimes redo the process again by refining the design or selection of sensors.
"
These 3D printed quadcopters are the challenging and innovative project of two mechanical engineers. They created 3D printed drones thanks to our online 3D printing service, they state that 3D printing allowed them to save 40% time on their product development process.
5 – CargoCopter 3D printed drones: the future of delivery
Delivery services are more and more requested. Recently, we've heard a lot  in the past few years about delivery services that could be using drones in the future. This is now a reality, and it's the goal of the CargoCopter, a fully 3D printed drone. This drone is able to transport a charge of 5 kg and reach the speed of 150 km/h. It is an efficient drone which aims to deliver goods on a long distance.
3D printing is allowing these KU Leuven researchers to do some rapid prototyping, so they can adjust the design of the drone through the years to finally create this CargoCopter.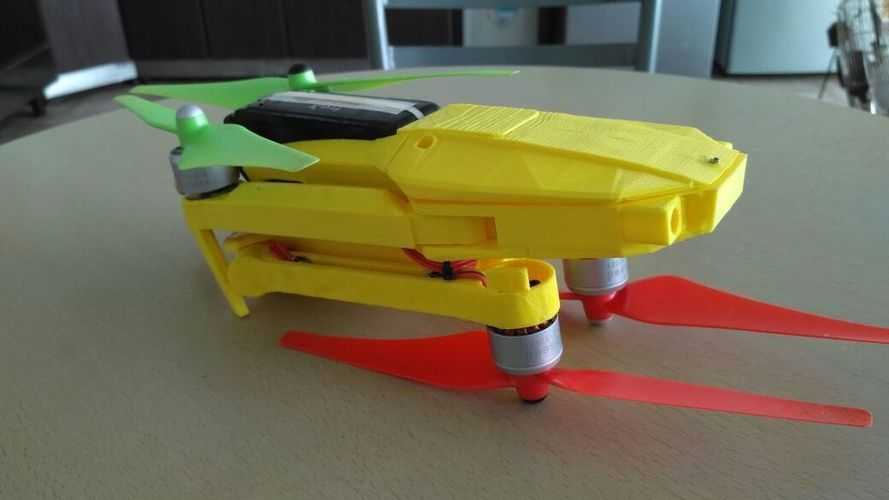 This drone project may be the future traditional way to deliver goods!
6 – Jarriquez and their 3D printed drone
As for the military or rescuing sector, using a drone is firstly a way to go where humans can't go. It is also the goal of the 3D printed drone developed by Jarriquez
This 3D printed drone is actually able to find its way with minimal human intervention. This unmanned aerial vehicle can generate a high quality 3D map, and can go in dangerous zones. Why did they chose 3D printing to develop their project? Because it was easy to get an object from a CAD model in a few days only, and with a reasonable price.
Jarriquez Drone with its 3D mount for the LIDAR sensor
"Our solution integrated a LIDAR sensor that could have been used for many different devices. Attaching it to the body of the drone in the proper way was essential for the feature to work.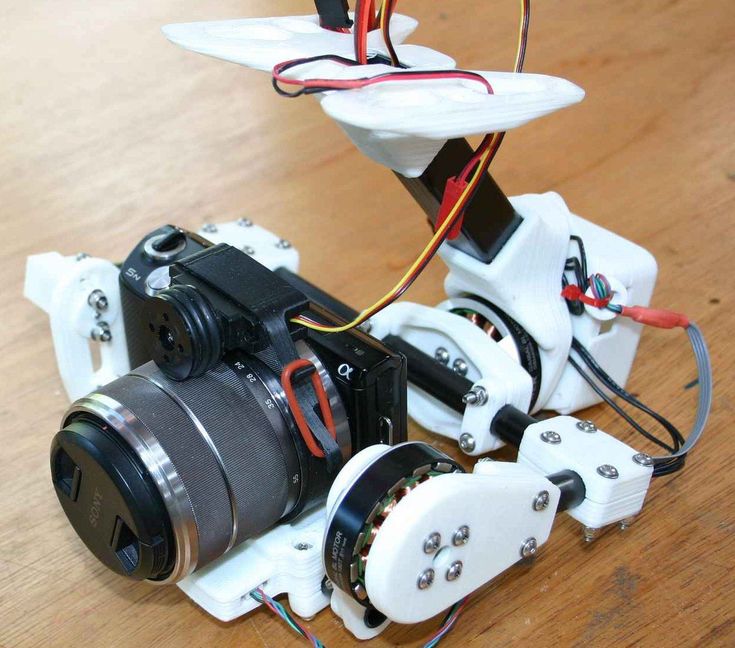 3D printing gave us the possibility to do it in a record time and at a very reasonable price" added Mathieu Agostinucci, from the Jarriquez team in our previous interview.
7 – A 3D printed drone for rescuing missions
This drone is the result of the work of a swiss-based doctoral assistant Przemyslaw Mariusz Kornatowski. This 3D printed drone is called PackDrone.
This quadcopter can be deployed in rescue missions. It is made to deliver water, food or any first aid equipment to people trapped after a catastrophe.
source: https://www.redbull.com/gb-en/packdrone-folding-drone
A lot of parts of this drone were created thanks to additive manufacturing. It has a particular design: it actually is a folding drone, created especially to be safe and easy to put in a backpack by the teams in charge of rescuing missions.
8 – Blue Robotics and their underwater 3D printed drones
The company Blue Robotics created underwater drones. This crazy project started with a crazy idea: they decided to send a GPS-guided solar-powered robotic boat from Los Angeles to Hawaii.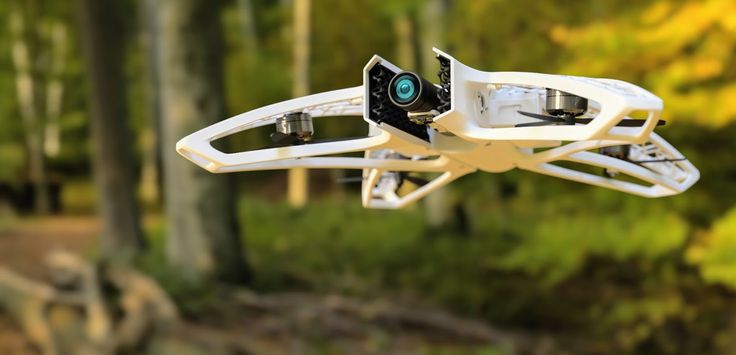 "The industry of Marine Robotics has stifled innovation by keeping the mechanics and technology expensive. With 3D printing people are able to prototype and final manufacture parts inexpensively and quickly. That's why we chose Sculpteo!" – said Rusty Jehangir, the founder of Blue Robotics
Using additive manufacturing is also a way to get small batches for the parts of the final product, which isn't possible with traditional manufacturing. This drone is quite a challenging project, as the final result has to be resistant, light, and ready for a special journey!
9- Local Motor and their 3D printed drone connected to its… 3D printed car.
This project is quite ambitious but it is above all managed to see the limits of three different technologies : autonomous cars, drones and 3D printing.
source: https://www.cnet.com/roadshow/news/local-motors-3d-printed-car-now-has-a-drone-because-autonomy/
It is an impressive challenge, driven by Local Motor.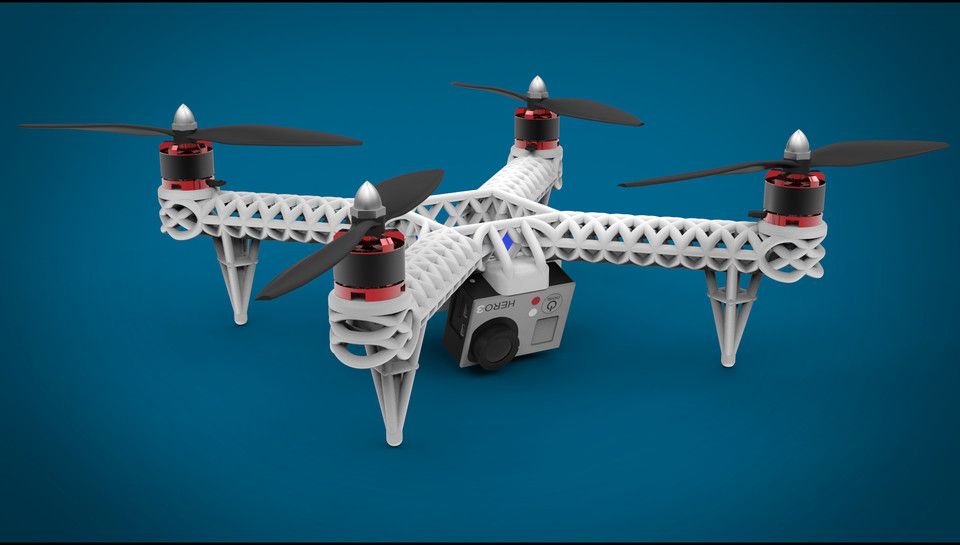 The autonomous car is able to drive by itself thanks to a dedicated software. In the meantime, the driver of the car is able to pilot the rc drone to look around with the specific view of the drone. It enables the driver to see eventual traffic jams, or just see the landscape, and explore new areas.
10 –  3D printed drone, created only using 3D printing and laser cutting technology
Most of the time, 3D printed drone projects are using additive manufacturing to create prototypes, and some parts of the finished product.
Here, the project was to create a traditional quadrotor drone, using exclusively 3D printing and laser cutting. They 3D printed the arms, the motor mounts, and every parts of the drone. It was a success, showing that it is possible to create anything with 3D printers. This drone is extremely light and it is the proof that everything is 3D printable, thanks to all of our 3D printing materials and technologies. Moreover, this project shows the capacity and accuracy of the laser cutting technology.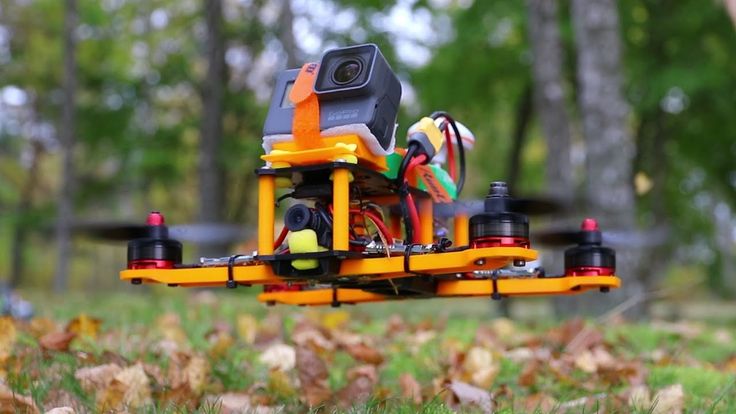 11 – A 3D printed drone to capture professional images with Hexadrone
Hexadrone is a company based in France, building drones and offering their service to film for TV shows, advertisements or movies. As they are creating high quality filming, they need a stable drone.
As there is actually a weight limitation for drones, Hexadrone needed to use a light material. And that is where 3D printing shows to be a helpful solution. They used our plastic material, and the SLS technology enables them to get resistant and complex parts, perfectly fitting their needs.
"Thanks to 3D printing, parts are really quickly available, which means we can test them within a few days, and make changes reactively" said Alexandre Labesse, CEO at Hexadrone.
12 – 3D robotics and My Mini Factory create 3D printed drones
3D robotics and My Mini Factory collaborated on the development of drones and the model Iris+ is one of them. You can then download all the technical STL files with great 3D details, and you can then 3D print at home using your 3D printer, or a 3D printing service such as Sculpteo.
13 – The Dark Matter, by Clogworks
The Dark Matter is a drone developed by Clogworks, based on a modularity concept. 
This drone is not fully 3D printed, but is manufactured using CNC Machining, Carbon fibre and 3D printing.  The goal of this Dark Matter project, was to create a drone with a bigger flexibility and a great ease of maintenance. The performances of the drone are quite impressive, all about precision.  
14 – The smallest drone, by UPenn
The 3D printed mini drone made by UPenn, Piccolissimo just has one motor and two rigid bodies. Researchers at the University of Pennsylvania's School of Engineering and Applied Science developed the smallest flying vehicle. In order to make a really light device, this tiny drone has been 3D printed with really light plastic.
15 – Skeleton x14 quadcopter
The Skeleton x14 quadcopter can be printed by any desktop 3D printers, as its STL files are available online. The design of this drone is quite interesting as it is based on an intricate design mesh.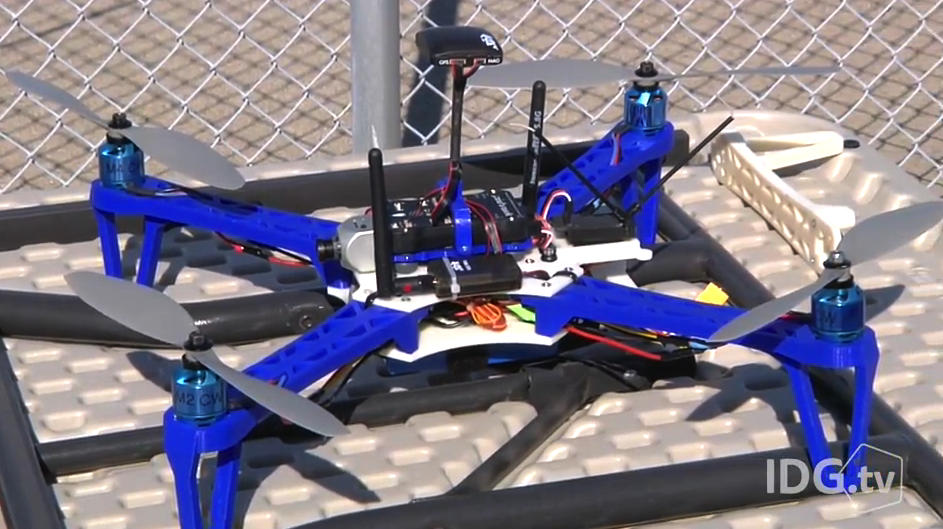 It is totally possible to customize it once you have the 3D files of the drone!
DIY: build your own drone!
You have an idea for a drone project ? Keep in mind that your ideas are 3D printable, and that we can totally help you with this, thanks to the 3D printers of our online 3D printing service. Here, at Sculpteo, an intern created a 3D printed drone from scratch and we are sure that you could do it as well.
As we just saw, it is possible to create a drone using 3D printing and laser cutting you don't need traditional manufacturing, just 3D printers. First, you will have to use a 3D printing software. If you don't know which software to use check out our blogpost to choose the perfect free 3D modeling software, adapted to your level of expertise. Some of them are pretty easy to use.
Once your drone is 3D designed, you can choose the 3D printing materials to print your parts. Then, you have to complete your order, and you'll receive your 3D printed models in a few days.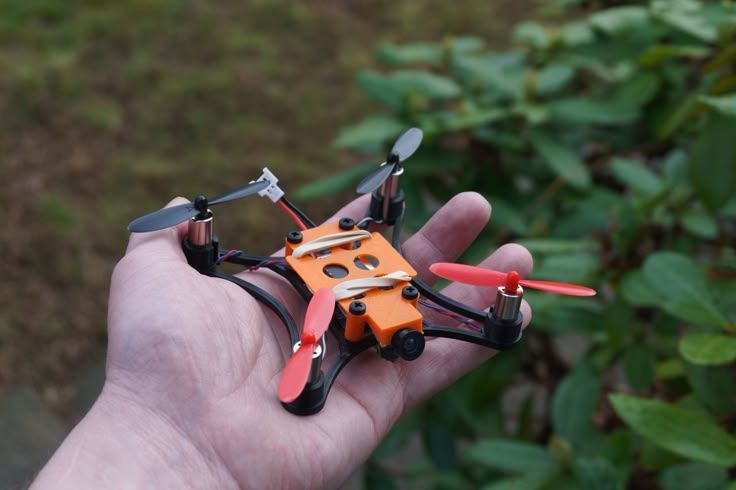 Obviously, you'll have to assemble the different parts. If you are a little bit crafty and determined, ready to deal with electronic components, motor mounting and camera mounting, you can achieve a great 3D printed drone project.
You want to give it a try ? Upload your 3D model now and 3D print your own unmanned aerial vehicle!
If you want more informations to 3D print your drone, don't hesitate to contact us.
🚁 Best STL files for 3D printed drones・Cults
🚁 Best STL files for 3D printed drones
Download free drones 3D files
Find out a selection of the best drones to make with a 3D printer. 3D printing is a world full of creativity and innovation. One of the most widespread uses are DIY drones. Nothing better than putting hours of work into a project and finally being able to fly your 3D printed done, like a real pilot! A true paradise for all the makers and UAV fans!
Quadcopter 915F
Free
XL-RCM 10.
0 PIXXY: Pocket drone / FPV quad
Free
UAV:MQ9 Reaper
Free
Tarot 680 canopy
Free
Pico 110 High Performance Foldable Micro Quad
Free
Q3D 220 FPV Racing Frame
Free
(Complete) 3D print drones' propellers easily & experiment
Free
Drone
Free
Indestructible Tiny Whoop TPU 90mm 2S
Free
Quadcopter T-1
Free
XL-RCM 8.0 XYPHER: Mini foldable FPV quad H frame for V929/HK Q-Bot
Free
MINI DRONE
Free
Prop Guard for 250mm Drone Protection Propeller with Stand
Free
Quadcopter
Free
QRH
Free
Tarot Motor Mount
Free
h225 Micro Quad V1 -7mm/8.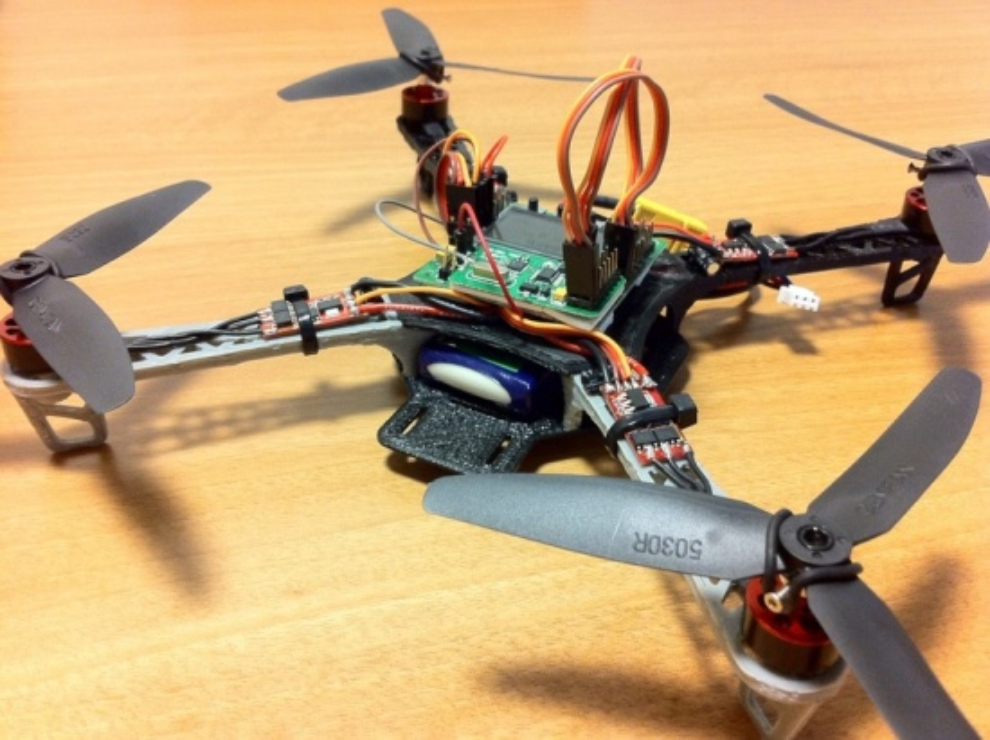 5mm Micro SciSky Based (under $50)
Free
OpenRC Quadcopter (Beta)
Free
Micro Quad fpv Racer 100mm Brushless 1S 0703 20.000kv
Free
Skeleton X-14 Quadcopter
Free
DJI Mavic Pro Foot L R and Rear Foot
Free
Big Whoop 170mm 4S polycarbonate
Free
QAV-M 110 Micro Quad FT Gremlin Frame
Free
Hexacopter 1S / 2S 125 / 110mm spracing f3 coreless 8.5x20mm
Free
Whoop Drone Cross 4S Night Flight Acro
Free
XL-RCP 22.0 Wide landing gear kit for DJI Phantom series
Free
DJI Ryze Tello Bumper Augmentation
Free
DJI Ryze Tello Bumper Augmentation
Free
Hovership MHQ - Foldable Mini H-Quadcopter
Free
Syma X8C GoPro Mount
Free
Mini FPV quad copter kit for V929 or HK Q-bot
Free
Hovership 3DFLY Micro Drone
Free
Thumb Savers
Free
Hovership MHQ2
Free
Tiny Whoop 2S 90mm Polycarbonate
Free
QAV250 TX mount
Free
Mini Quad Acro 120mm Micro Pico F3 Brushless 1103 2S 10.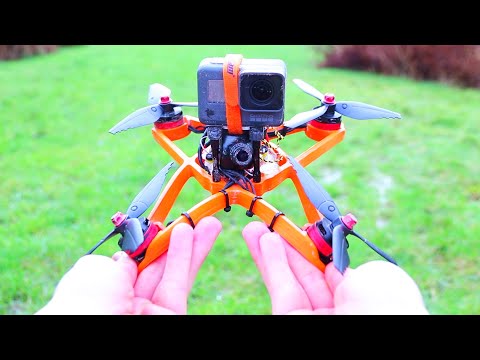 000kv
Free
XPANDER - 180mm foldable compact FPV racing drone
Free
WiFree Copter ... the RaspPi Zero lerns to fly by Android!
Free
Hubsan X4h207C Prop Guards
Free
DJI Spark Snap fit leg
Free
Autonomous Drone - Quadcopter (Silent Might) APM 2.5
Free
Frame anti obsolescence for Blade Nano QX 3D
Free
Mini Quadcopter fpv Racer 120mm micro FC lumenier racing F4 Brushless 1103 10.000kv 2S
Free
Speeder Bike StarWars Drone Racer
Free
Flexbot Kit Copter V1.6 (PCBA Frame)
Free
eTurbine TB250 single stilt or propeller protection
Free
IRIS LEDs and Prop Guards
Free
---
Here is our selection of the best UAV STL files, all these engines come from the 3D file library Cults and are perfectly 3D printable.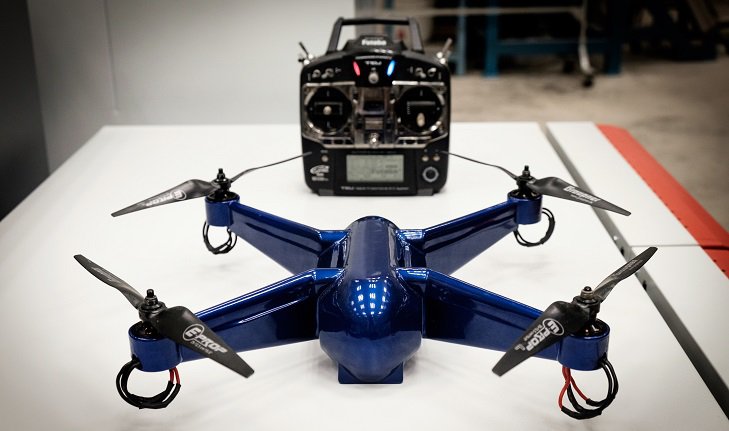 This collection includes free 3D files of drones of all kinds. There are many models of spare parts which can be 3D printed and which will allow all DIYers to make their own identified flying objects: propellers, shells for engines, protections for cables...
The drone market, like the 3D printing market, experienced a big boom on the professional market but also among individuals. The 3D printing will then make it possible to personalize some parts and also to make lower the price by printing even parts.
90,000 everything you need to know before starting
Content
1 Introduction
2 Fundamentals of 3D prints of drone details

2.1 advantages
2.2 The best materials
2.4 Applosability of materials
9000 2.5 Details of details

2.6 Functional Components
2.7 Security
3 Model Sources
4 Resources
5 Projects to Get You Started
6 Video
Introduction
If you are looking to 3D print a drone from scratch or make related parts for an already finished quadcopter, then this guide is for you.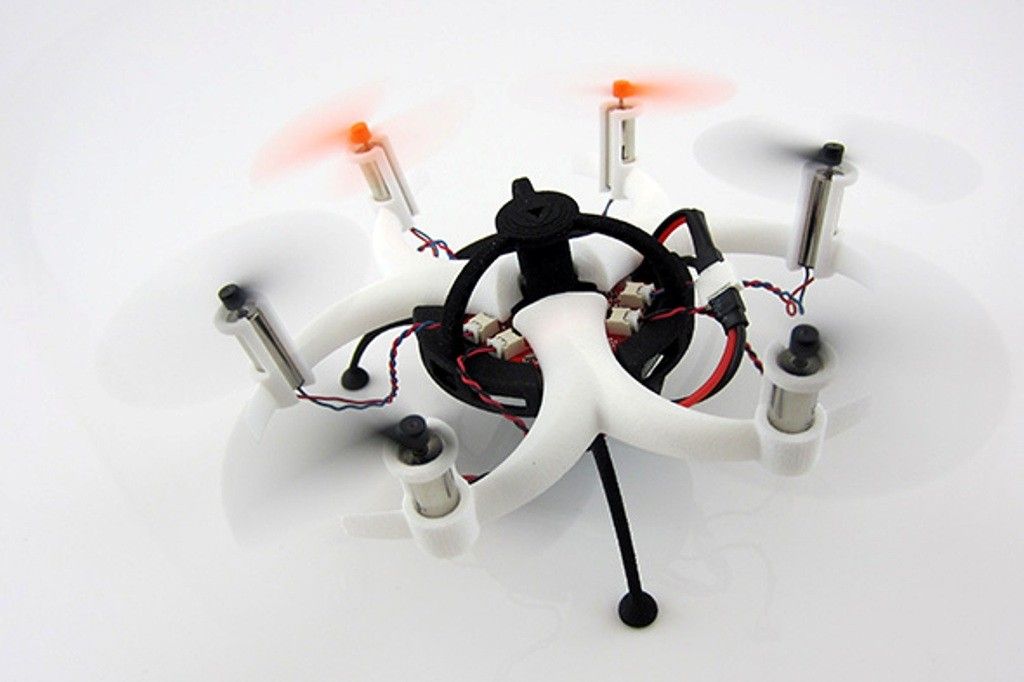 Read on to learn all about how to make your printed components fly!
Fundamentals of 3D printing drone parts
5" mini quad with printed Hero 8 mount (Source: Rob Davey via All3DP) are vehicles capable of operating autonomously. In other words, a drone is not necessarily an aircraft; they can also include cars, boats and even hovercraft. However, the term is used to refer specifically to an aircraft that has three or more rotors to provide lift and thrust. They are also commonly referred to as multicopters, tricopters, quadcopters, and so on.
In general, UAVs are mechanically very simple and consist of a frame, flight controller, el. motors, propellers, speed controllers and possibly first person view (FPV) equipment.
3D printing has long been a great drone hobby. This technology allows the user to easily produce many different parts on their own. This can be anything from protective bumpers and action camera mounts to accessories that add functionality to the quad.
In this article, we'll talk about what to consider when 3D printing drone parts, the most relevant parts to print, and where to find models and resources. We'll then wrap things up with a few projects to get you started. But first, let's figure out why you even need to print parts on a 3D printer. Read on to find out more!
Benefits
Smartphone holder (Source: Digit Design and Prints via Facebook)
The main advantage of 3D printed parts is that they can be completely customized. In addition, they are generally inexpensive (assuming you already have a printer and filament (3D printing filament)), and the design can be quickly iterated from initial to final version.
The printed parts can be made from different materials and in different colors. This approach allows the use of a material with better mechanical properties for specific elements. For example, your GoPro mount might be blue TPU with nylon prop guards. Camera holders are best printed with TPU (Thermoplastic Polyurethane; TPU) as this material absorbs vibration from the frame and holds the GoPro tightly in place, while the durable nylon can absorb shock and protect both the propellers and the object/obstacle itself. Other durable materials such as reinforced nylon can even be used to create gliders, awnings and camera hangers.
Another plus when using printed parts is their relatively low density. With 3D printing, parameters such as the number of perimeters and infill percentage can be adjusted to significantly reduce weight, with the former more predetermined in the final result.
This photo shows the manufacturing sequence for an FPV drone canupee. For example, when designing a canupi, the first draft of the blank can be printed from an inexpensive material such as PLA, and after the fitting process, all required changes can be easily made into the next iteration. Once the model is considered complete, it can be printed in more expensive material such as carbon fiber, nylon, or even, if budget allows, PEEK carbon fiber.
In addition, if you have a printer and filament, the problem of a broken part is no longer relevant, since you can start creating a new one right away. Even though many retailers offer fast shipping, it's always best to print the part yourself.
Considerations
Do you need all these components? (Source: Rob Davey via All3DP)

While 3D printing opens up a whole new world of possibilities in terms of additional features, the most important thing to keep in mind is the weight of your aircraft. Not everything that can be printed and installed is useful! It should be understood that every gram of a drone affects the flight time and flight characteristics, especially for rotorcraft. In other words, on a UAV whose primary purpose is long flight, the presence of components such as a GoPro mount, a head tracker, and a reset mechanism is not necessary.

You may also notice that large companies such as DJI who sell UAVs and similar aircraft usually offer the necessary mounts and accessories; they are all printed, but their number is as limited as possible, because they simply add weight.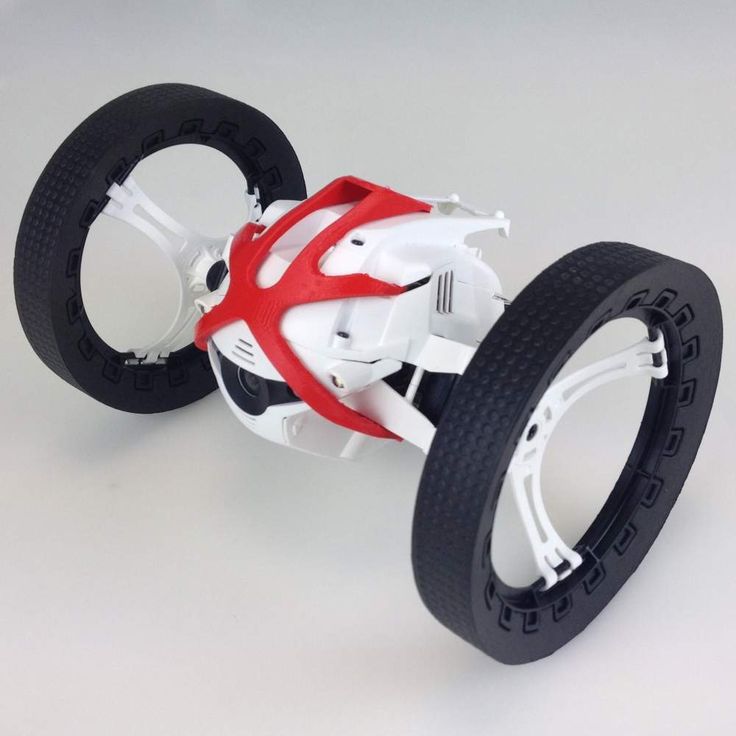 In addition, in many countries, including the Russian Federation, the rules require registration of models weighing more than 250 grams. Accordingly, the demand for quadcopters weighing below this limit is much higher.
Best materials
Beam shield, GoPro mount and antenna mount all printed in TPU (Source: Digit Design and prints via Facebook)

The most commonly used material for quads (especially for the mini niche) ) is TPU. This is because it is highly flexible and can deform on impact, absorbing energy and protecting important UAV components. Due to its flexibility, it can also absorb vibration, reducing visible artifacts in recorded video. Fortunately, this has become less of an issue with the introduction of in-camera stabilization. Another suitable material is nylon. It is stiffer than TPU, but still has some flexibility.
Material Applicability
The main parts printed on TPU are bumpers, camera mounts, antenna mounts and propeller guards.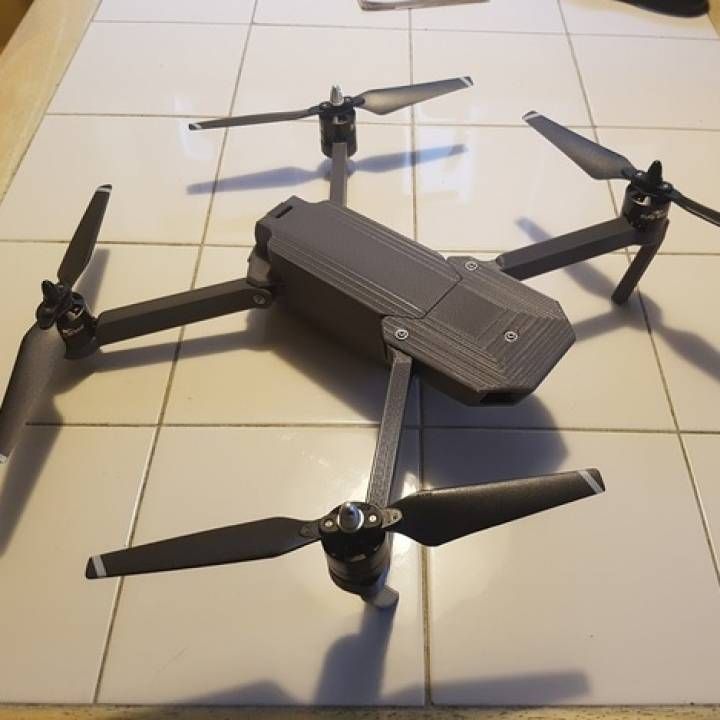 Nylon can also be used to protect props, but is less common because it is harder to print.

While TPU and nylon are versatile, they are not suitable for all parts. Where more rigidity and strength are required, such as in the manufacture of gliders, carbon-fiber-reinforced nylon (CFRPA6) is recommended. This approach will provide the benefits of standard nylon, coupled with the rigidity of carbon fiber. It's also easier to print on than regular nylon because it warps less and sticks better to the 3D printer's build plate.

One way to protect the underside of the boat's frame, as well as the motor mounting bolts, is to add 3D-printed "stands or landing pads". They are especially useful when flying over concrete surfaces. The ideal material for this is CFRPA6. You can also print them in TPU, but the abrasion resistance won't be as good.
Variety of Parts
5" Racing Quadcopter with Turtle or Turtle Mode Tandem Fin (Source: Rob Davey via All3DP)
Fins
If racing drones are your hobby, you should try using a fin.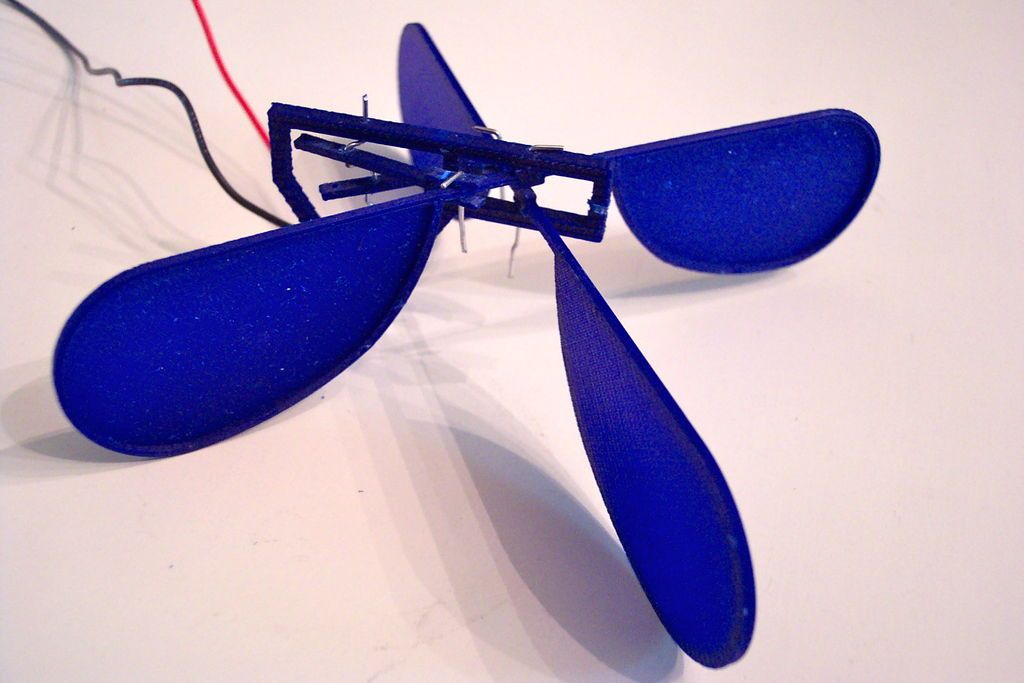 This component is especially relevant in tandem with the mode known as "turtle or turtle". When the drone is flipped upside down, thanks to the fin, the two motors free from contact with the surface will be able to rotate freely, which will subsequently allow you to quickly flip the quad and continue the race. They are most often printed in TPU and sometimes in nylon.
Antenna Mount
FPV transmitter antenna holder printed in TPU (Source: rapnit via Thingiverse)

If you are flying in FPV mode, VTX antennas are vital. Thus, there are many mounting options for such components. If the device is intended for flights over long distances, then enclosing the active part of the antenna in a TPU is not a good idea, as this will adversely affect the video signal. For them, TPU is the preferred choice because it is very elastic and can deform without breaking for a long time.

You can also enable head tracking in FPV mode, where the FPV camera is mounted in a motorized drive, allowing it to move in two or three dimensions according to your FPV goggles.
Thus, the camera copies the movements of your head, contributing to greater immersion. For this, inflexible materials such as PETG, ABS, ASA or even PC should be used. Rigidity is needed to eliminate play in the components.
Functional components
The 2-axis gimbal (to stabilize the camera) was printed in PLA (Source: turbi via Thingiverse).

If FPV flying or racing isn't your thing, you can always print the parts to expand the functionality. Maybe it's a camera stabilizer for aerial photography or video shooting, or a mechanism for grabbing and dropping objects? For a gimbal, the moving parts must be printed on a non-flexible material to eliminate play.
When installing the stabilizer on the drone, there must be a flexible part between it and the gimbal to isolate it from vibration.
Guard
This stick guard was designed by Fusion 360 (Source: Motorpixiegimbals via Thingiverse)

Finally, another good print option is parts to protect items like the control sticks of a remote control.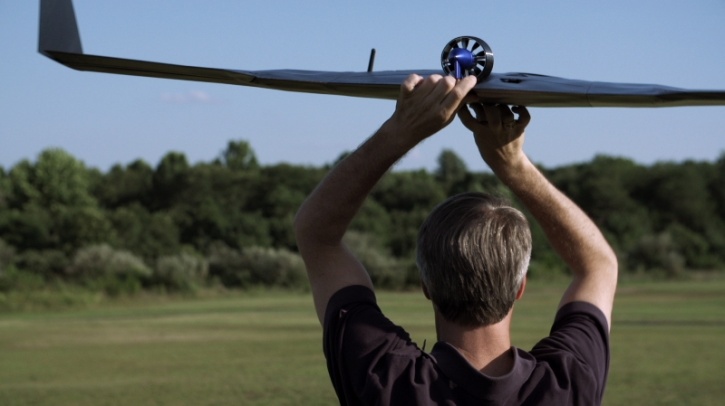 They can be either flexible or non-flexible, depending on your preference.
Model sources
GrabCAD search results for "Drones" (Source: GrabCAD)
Thingiverse is a great free resource for finding mounts for public cameras (GoPro, Insta 360, etc.) and frames (TBS Source One, ImpulseRC, Iflight, etc.).
GrabCAD is another popular free resource that tends to offer more engineering models, however there are still models related to quadcopters on the list. Please note that you will need an account to upload models (remarkably for Thingiverse this is not necessary).
If you download models from any repositories (including the websites listed above), be sure to check the license under which they are located so that they do not infringe copyright when selling.
If you happen to have a specific frame or chamber, remember that the manufacturer of those components often has design data available for download and printing. In this case, this approach will be most useful, because the likelihood that the part will match yours may be higher than if you use the data of a third-party website.
If you can't find what you need anywhere, you can design your own parts in CAD software or have someone else design them for you.
Resources
This site has an active user base and many helpful discussions (Source: DIYDrones)

While many of the individual components can be downloaded from the sites listed above, there are also additional resources such as forums. The main forums for drone manufacturers are DIYDrones and RCGroups. A complete list of printable gliders on RCgroups can be found in one helpful thread, or similar listings can be found on DIYDrones. In addition, there is a subreddit for drones that discusses 3D printing topics, as well as a subreddit for do-it-yourself drones.
Projects to get you started
Canupee model with custom molded GoPro holder (Source: basdelfos via Thingiverse).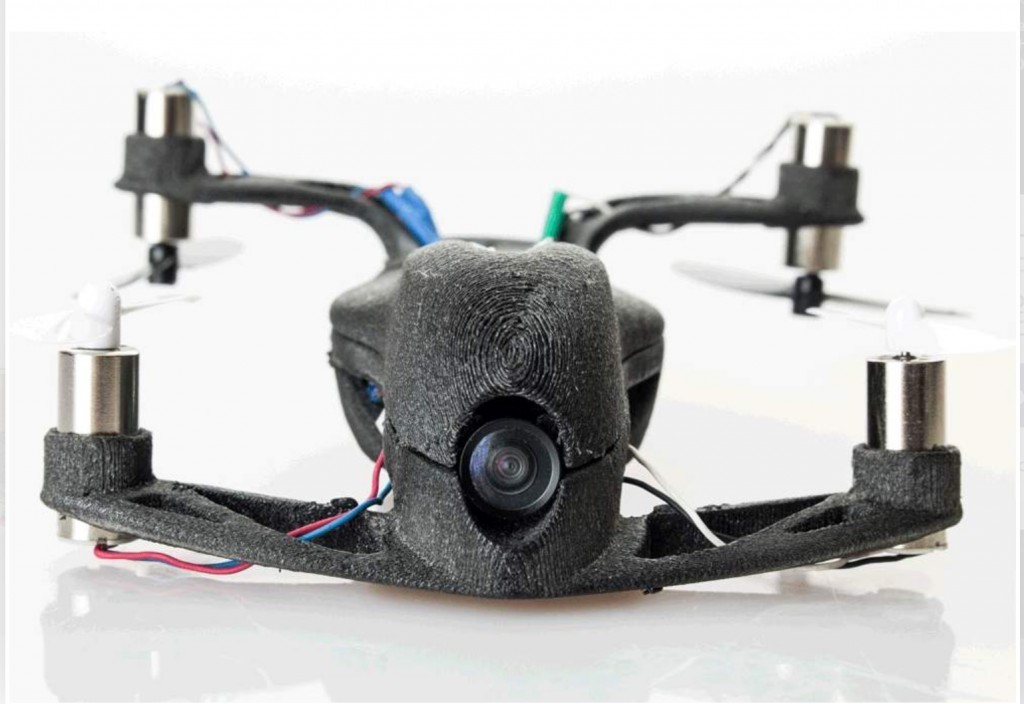 The only real limit to what you can print is your imagination! Before proceeding, it will be necessary to take into account the intended purpose of both the drone and the part, as well as the impact of any additional weight.

Here are some ideas from Thingiverse for printing, whether it's an entire quadcopter or just parts of it:
Quadcopter: family of frames that can be completely 3D printed (dozens of versions and variations) with molded GoPro holder (pictured above)
That's all for now. Thank you for your attention. We hope the presented material was useful to you. Stay with us!
video
Visual process of printing rays for an FPV drone made of carbon fiber reinforced nylon (CFRPA6).
3D printer drone and quadcopter models
This article is an introduction to building your own quadcopter drone with a 3D printer.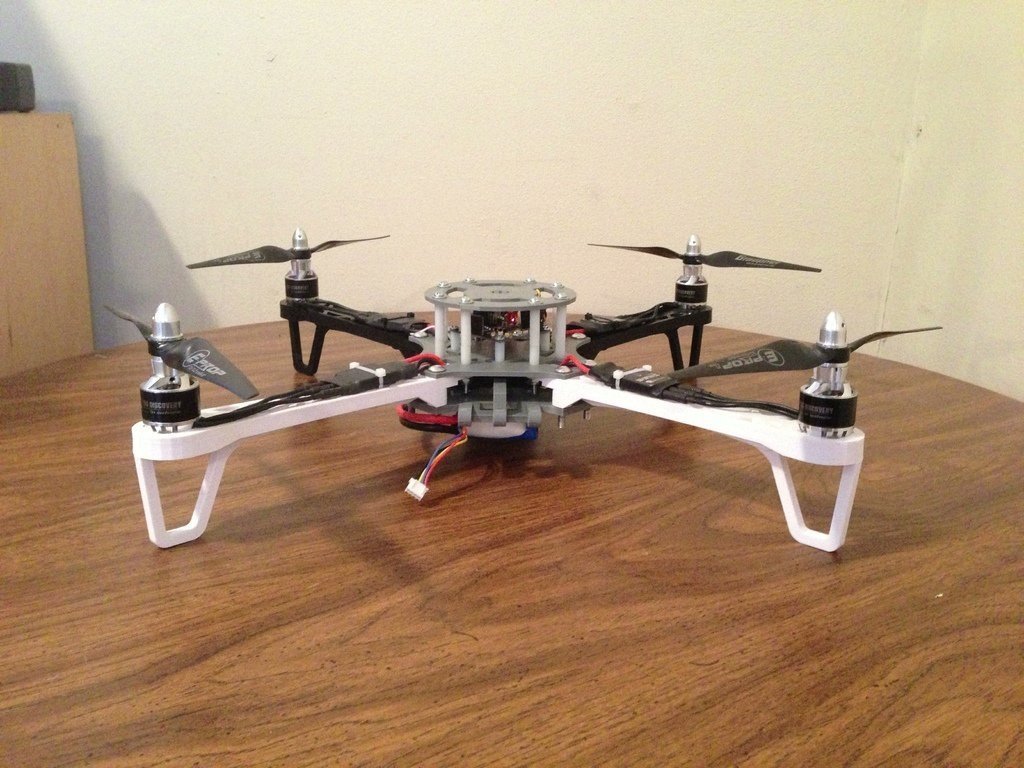 You will get acquainted with some basic principles of drone building, and we will describe some points step by step. The task will be relatively simple, since the description will be detailed.
What we need to get started
In addition to the 3D printer, we will need some non-printable parts such as a motor, batteries or accumulators, some electronics, sensors, a remote control and a knack to put it all together.
Why print a drone?
Actually, we will be printing the frame and body structure. Sometimes propellers can be printed. Why is it important? Because drones fall and break. Especially if you are a beginner pilot. Everything is clearly visible in this picture:

If we 3D print parts, we will have an almost infinite supply of spare parts, making it easier to survive pilot training and regular plane crashes. Apart from the fact that the quadcopter will be easier to repair, a homemade drone will allow you to get a better feel for its inner workings and mechanics.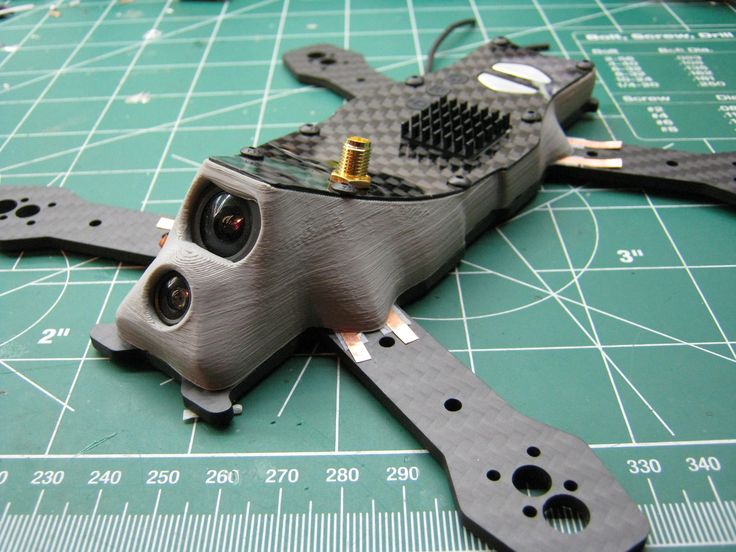 And one more important point: 3D printing allows you to quickly develop parts according to your own design. Let's say you have purchased a new camera and want to install it on your quadcopter. Then you just open up your favorite 3D modeling program and end up printing out the part and testing it. Make changes, print again, etc.
What is a quadcopter drone?
A quadcopter is a multi-rotor helicopter that rises and moves with four main rotors and does not have a tail rotor. This is the most common type of amateur radio-controlled drones.

With their small size and high maneuverability, these quadcopter drones can fly both indoors and outdoors. In addition, at this size, quadcopter drones are cheaper than conventional helicopters and more reliable due to their simple design.

Here is a detailed overview of the details of a commercially available high-end quadcopter drone used for aerial photography.

Almost all parts that are not motor or electronics can be 3D printed.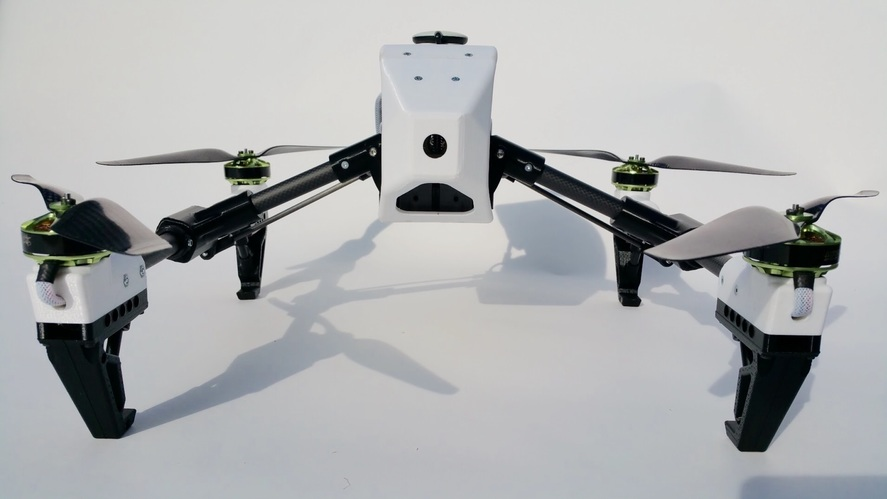 The printed version of the drone looks a little different.

3D printed Crossfire quadcopter. Project link: http://www.thingiverse.com/thing:32281


In addition to the visual and aesthetic differences, the printed version has the advantage of being easy to update and is modular. In the next video, Dennis Baldwin talks in detail about his quadcopter.
How to Print a Quadcopter Drone
If you want to build your own drone, we offer several entry points to the project. Here is a detailed guide for 3D printed quadcopter:
http://www.instructables.com/id/3D-Printed-Quadcopter-with-Arduino/?ALLSTEPS

Titch Micro Drone

https: /www.myminifactory.com/object/38967

Brushed Y6 Micro Quad

https://www.myminifactory.com/object/brushed-y6-micro-quad-31348

Millennium Falcon Drone Shell

https://www.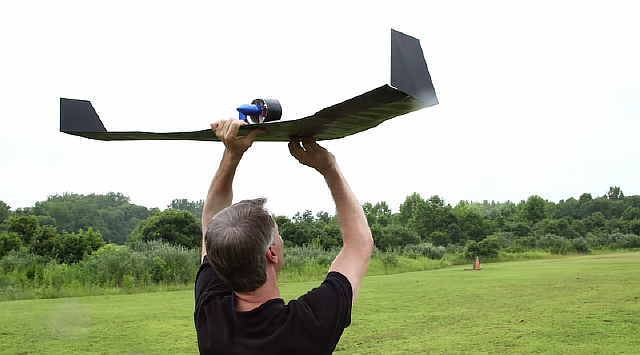 minifactory millennium-falcon-drone-shell-10144

 

Micro 105 FPV Quadcopter

https://www.myminifactory.com/object/micro-105-fpv-quadcopter-21362

 

Micro 105 FPV Quadcopter

https://www.myminifactory.com/object/3drobotics-iris-19615

Hexacopter drone

https://www.myminifactory.com/

0

0

And this is the instructions for building an H-shaped drone:
http://www.instructables.com/id/Make-an-H-Quadcopter-with-3D-printing/?ALLSTEPS remote control

If you want to 3D print a remote control housing and make your own joystick, you can go here:
http://www.instructables.com/id/DIY-quadcopter-joystick-and-frame/
Insectoid ornithopter on a 3D printer
Insectoid ornithopter detailed guide http:901:9051 //www.