Nylon 3d print filament
Ultimate Materials Guide - 3D Printing with Nylon
Overview
Nylon (a.k.a. Polyamide) is a popular material in the plastics industry, known for its toughness and flexibility. Nylon filaments typically require extruder temperatures near 250 ºC, however, some brands allow printing at temperatures as low as 220 ºC due to their chemical composition. Many printers do not include a hotend that can safely reach 250 ºC, so these lower-temperature versions can be useful and potentially save you from needing to upgrade your hotend. One big challenge with Nylon filaments is that they are hygroscopic, which means they readily absorb moisture from their surroundings. Printing Nylon after it has absorbed moisture will lead to several print quality issues, thus filament storage becomes very important and requires special attention.
Tough and partially flexible
High impact resistance
No unpleasant odor while printing
Good abrasion resistance
Prone to Warping
Air-tight storage required to prevent water absorption
Improperly dried filaments can cause printing defects
Not suitable for moist and humid environments
Hardware Requirements
Before 3D printing with Nylon make sure your 3D printer meets the hardware requirements listed below to ensure the best print quality.
Bed
Temperature: 70-90 °C
Heated Bed Required
Enclosure Recommended
Build Surface
Glue Stick
PEI
Extruder
Temperature: 225-265 °C
May require All-Metal hotend
Cooling
Part Cooling Fan Not Required
Best Practices
These tips will help you reduce the chances of common 3D printing issues associated with Nylon such as warping and moisture absorption.
Filament Storage
One of the challenging aspects of using Nylon is the need for a special storage system. Unlike other filaments, you cannot keep the filament spool exposed to the air for extended periods of time. Nylon easily absorbs moisture from the environment. Printing the moist filament will result in print quality issues like a foggy rough surfaces or even tiny holes or bubbles on the exterior. These printing issues can also significantly decrease the strength and performance of the printed parts. The typical solution for this issue is to remove the Nylon spools from the printer once you are done, and store the spools in an air-tight container along with some desiccants to remove the moisture from within.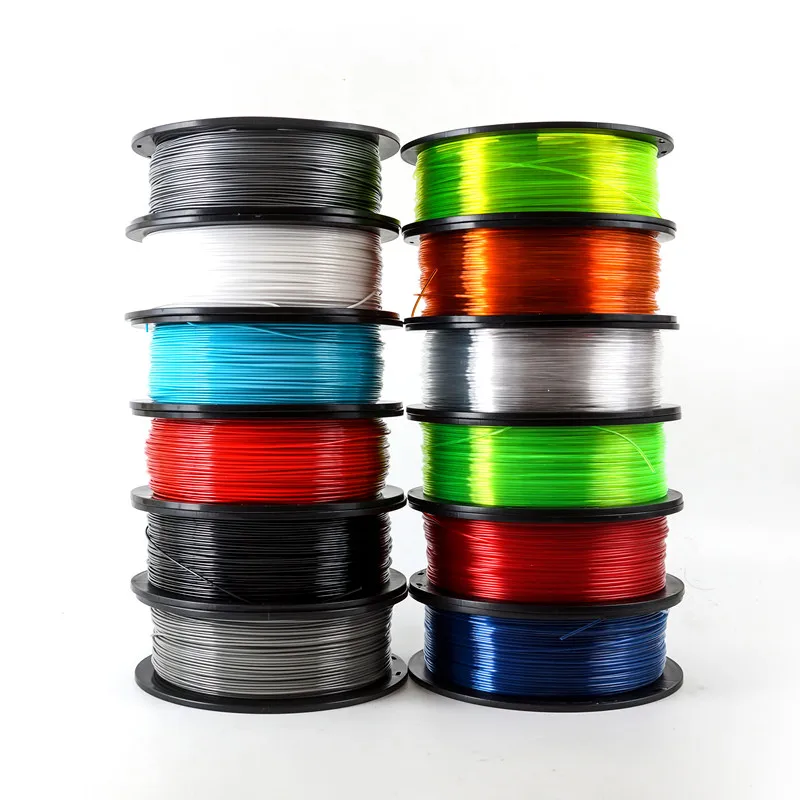 If you do not want to constantly mount and remove your filament spool, there are also commercially available storage containers that will keep the filament dry, while allowing it to feed out of a hole in the container.
Use an Enclosure to Prevent Warping
Some high-temperature Nylons are prone to warping due to the large temperature change between the extruded plastic and the ambient environment. Heated beds can reduce the warping to a some extent, but using a printer that has a heated chamber or enclosure would be the ideal solution. Keeping the air around your part at a temperature of about 45 ºC will help eliminate warping by reducing this temperature variation. If your printer doesn't include a heated chamber and you aren't able to add an enclosure, there are other tips that you can use to help prevent warping. Our Print Quality Guide has an entire section devoted to this issue which summarizes other common techniques: How to Prevent Warping.
Using Brims and Rafts
In situations where adding an aftermarket enclosure may not be an ideal option, consider using a brim or a raft to help with first layer adhesion.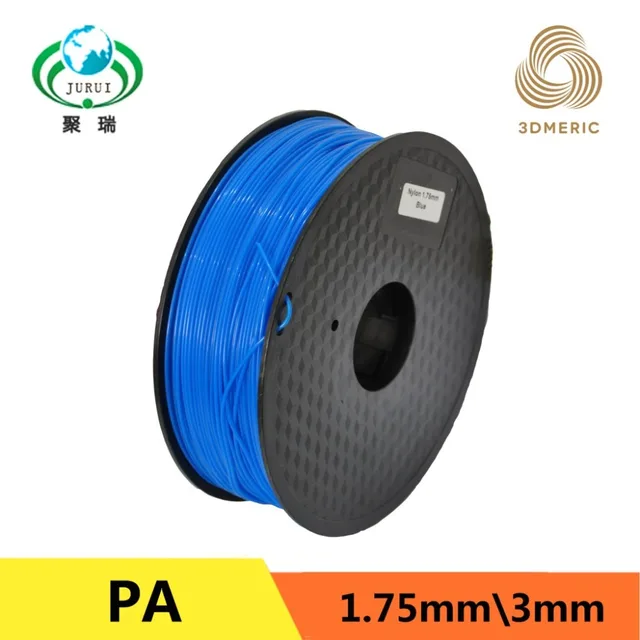 Adding a brim will add several loops around the bottom layer of your model, creating a larger surface area to hold down the edges of your print. Version 4.0 of Simplify3D introduced a completely new raft design that can also be very useful if you continue to have printing difficulties. For more information on the differences between rafts, skirts, and brims, please consult our in-depth article on this topic.
Pro-Tips
If you do not have air-tight containers for storing your filament, you can dry the spools just before use by running them through a Food Dehydrator. A few hours in this device will dry the filament significantly.
Nylon makes a good filament for cleaning your nozzle. You can use a technique called "cold pulling" where you allow the Nylon to bond to debris within the nozzle, and then after it partially cools, you pull the filament (and debris) out of the hotend.
Get Started with Nylon
Nylon can be a great material once you have mastered the basics.
Once you're ready to give it a try, here are some tips to help you get started.
Common Applications
Plastic Gears
Screws, nuts, bolts
Cable ties
Sample Projects
Cable ties
Nut, Bolt, Washer
Servo Gears
Popular Brands
Taulman Nylon
Matterhackers PRO Nylon
HobbyKing Nylon
GizmoDorks Nylon
The 7 Best Nylon Filaments for 3D Printing in 2022 (Including Hardware from Brands Like Polymaker and Dremel)
Welcome to the Thomas guide to the best nylon filament 2022. Thomas has been connecting North American industrial buyers and suppliers for more than 120 years. When you purchase products through our independent recommendations, we may earn an affiliate commission.
There is a diverse selection of materials available for choosing the right 3D printing filament, so it's understandable that anyone responsible for 3D printing would be selective about their printing material.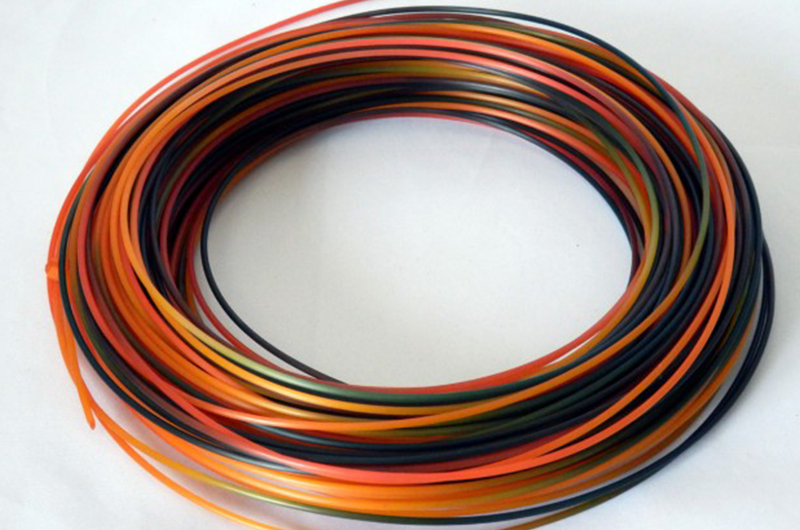 Larger factors, such as different printer technologies come into play as much as smaller details, like the temperature each heated bed can reach or the particular piece of hardware or model a user is looking to create. 
Using nylon filaments for 3D printing can increase durability and strength in the end product
Image credit: Shutterstock/cigdem
There are intricacies, frustrations, and important notable features of each, and one category that may make an appearance is nylon filaments.
Known for their durability and their tricky nature, nylon filaments are perfect for making quality prints of engineering material components, hardware, and functional printed parts. They are also flexible filaments with impressive tensile strength for various 3D printing projects.
Similar to other filaments—like polyethylene terephthalate (PET) and acrylonitrile butadiene styrene (ABS) filaments—a nylon 3D printing filament is hygroscopic, meaning it absorbs moisture and should be stored properly to prevent damage and wasting material.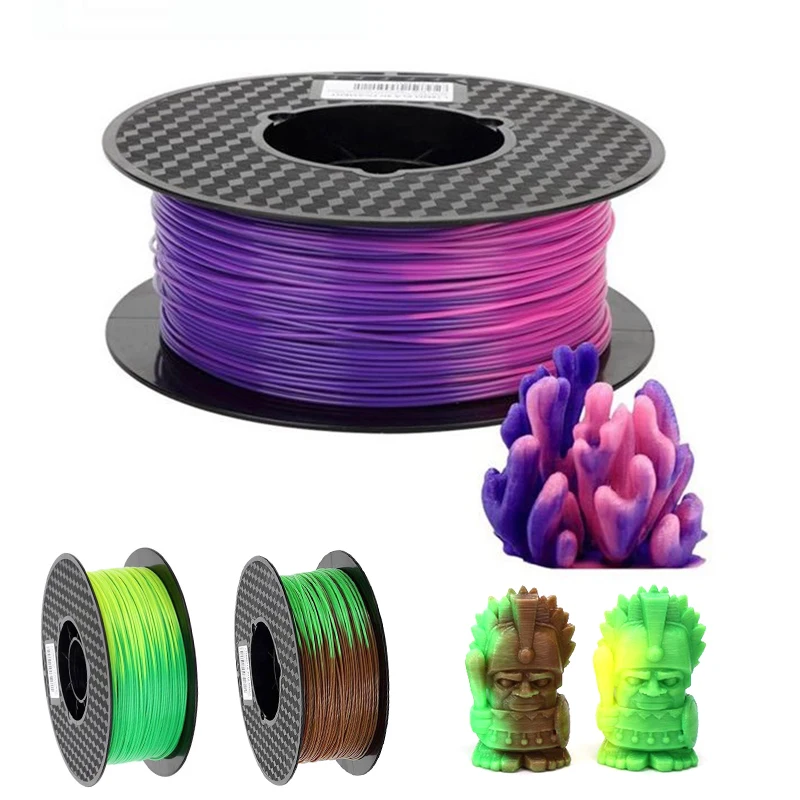 Best Nylon Filament—Buying Guide
Read on for a breakdown of nylon filament brands and what to expect from printing nylon products and models.
Best Nylon Filament Brands and Characteristics
Any 3D printing filament, nylon or otherwise, comes with its advantages and disadvantages and while there may be no such thing as a perfect filament, there is certainly a filament that's perfect for each scenario or product that needs to be printed. 
Here is what to keep an eye on when selecting a nylon filament with great print quality.
Purpose of the Nylon Print
Nylon is known for its strength, durability, and relative flexibility. Some are even impact resistant. Due to this, it's best when used to make more functional parts and hardware. Still, it's a great choice for prototypes and models that may do better with a higher resistance—especially if they're going to be used for testing.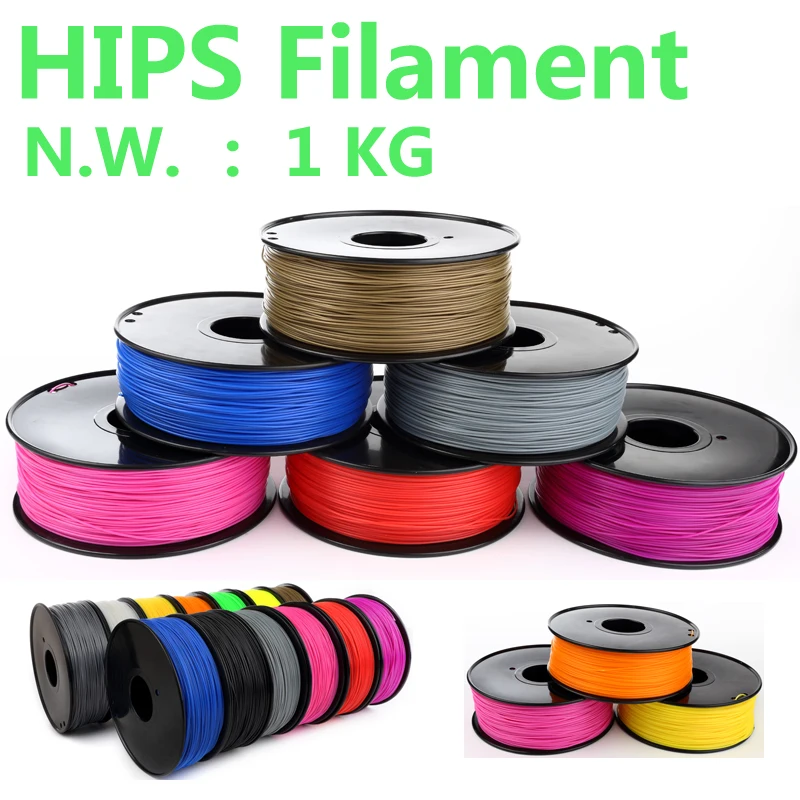 3D Printer Technology
Not all 3D printer technologies are built to handle all types of 3D printing filament. Selective laser sintering (SLS) uses powder forms of nylon, and some fused deposition modeling (FDM) printers can't handle nylon filaments.
It's best to check each printer's user manual prior to purchasing filaments and even double-check what a printer is best suited to before buying if you have a certain 3D printing filament in mind.
Bed and Extruder Temperature
The temperature a printer bed and extruder can reach is vital in determining if it can support nylon filaments successfully. Nylon's high heat resistance means it needs a fairly high temperature to melt and adhere properly.
Also, note that some 3D printing filament options won't necessarily need a heated bed or one with a high temperature at least. In those instances, the nozzle or extruder is what matters.
Layer Quality and Adhesion
Excellent layer adhesion, whether it's making the first layer stick or high inter-layer adhesion, is a non-negotiable for nylon filaments.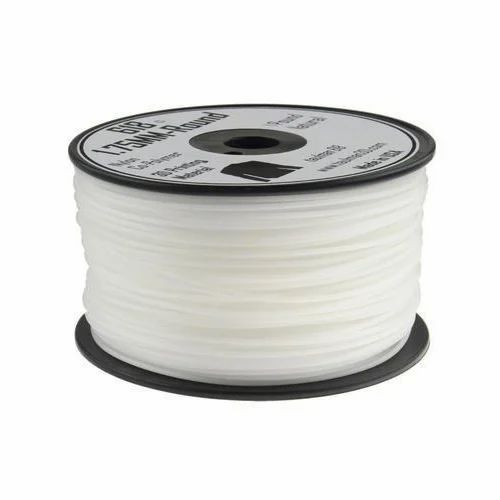 If the plastic thread isn't holding together, users can expect prototypes and components that fall apart, can't handle any kind of stress and have little abrasion resistance. 
This typically comes down to having printing settings squared away, but the quality of the nylon filament and a lack of moisture is also imperative. It's smart to test out a small object first to ensure the filament can handle the particular print settings and printer and not lose out on a good spool. Other nylon filaments that aren't immediately being used should also be stored in airtight containers.
Thomas' Top Picks for the Best Nylon Filament for 3D Printing 2022
Each of the following nylon filaments delivers excellent printing quality and is great for creating prototypes, prints, models, and hardware pieces with top-notch dimensional accuracy, low warping, and high durability and resistance.
Best Carbon Fiber Blend Nylon Filament for 3D Printing:
SainSmart 1.
75mm Black ePA-CF Carbon Fiber Filled Nylon Filament | Buy Now
Best Budget Nylon Filament for 3D Printing:
OVERTURE Nylon Filament | Buy Now
Best Overall 3D Printing Nylon Filament:
Polymaker Nylon Filament | Buy Now
Best Low Warping Nylon Filament for 3D Printing:
HATCHBOX PA Nylon 3D Printer Filament | Buy Now
Best Adaptable Nylon Filament:
Dremel DF45-NYP-B Nylon 3D Printer Filament | Buy Now
Best Nylon Filament with Heat Resistance for 3D Printing:
Polymaker Nylon Filament 1.75 | Buy Now
Best Nylon Filament Dryer for 3D Printing:
EIBOS Filament Dryer | Buy Now
Scroll down to read more about these top picks for the best nylon filament according to many happy buyers.
*Prices listed in this article were as shown in US$ on amazon.com (USA) as of May 2022
1.
Best Carbon Fiber Blend Nylon Filament for 3D Printing—SainSmart 1.75mm Black ePA-CF Carbon Fiber Filled Nylon Filament
A blend of nylon and micro carbon fibers has been used to create these SainSmart spools of 3D printing nylon. Together in one thread, the materials of this 3D printer filament are strong, heat resistant, and stand up to constant use.
The carbon helps make the nylon material more rigid, which may be especially helpful for 3D printing certain pieces of hardware. 
Some buyers warned that when sanding this down, proper personal protective equipment should be worn to prevent particles from getting into the eyes or lungs (the same should be done for glass fiber blends, too).
"Printing a nylon base filament is no longer a fear factor," wrote a reviewer of this carbon fiber filament. "It prints great with very little tweaking. It has a smooth layer profile, horizontal through-holes aren't a big deal, no stringing, clumps, mars, or warping.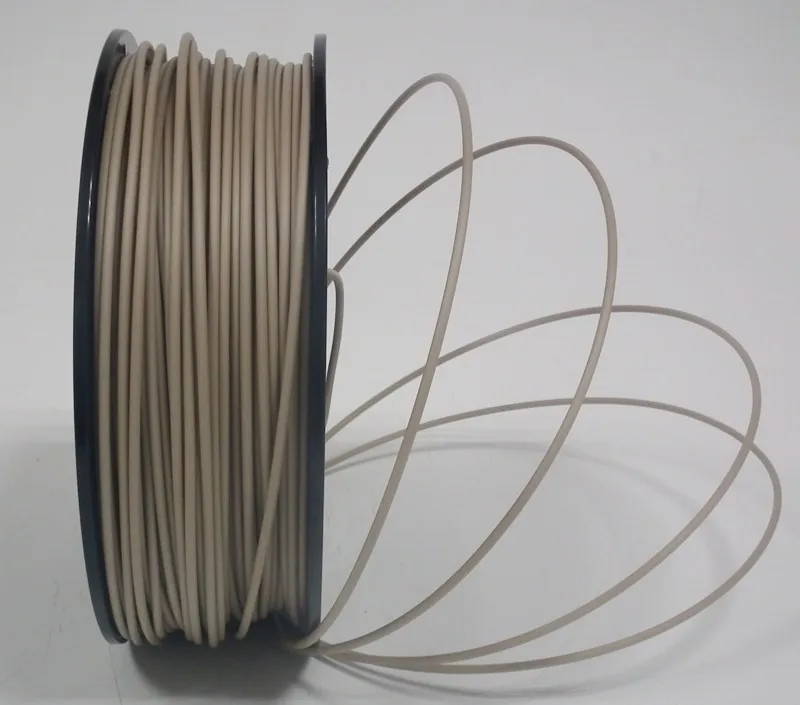 I basically use the same settings for PETG except for the larger harder nozzle and no part cooling fan(s). The biggest difference between NylonX and this filament is the cost… It was a no-brainer for me and I'm impressed."
Specifications
Best for:
Industrial components
Printing temperature:
500° F to 536° F
Filament diameter:
1.75 mm
BUY NOW:
US$67.99, Amazon
2. Best Cheapest Filament for 3D Printing—OVERTURE Nylon Filament
In general, nylon printing material isn't cheap. The filaments can sometimes be expensive as can the printing equipment. However, this spool from OVERTURE is $10–$20 less than standard 3D printer filament options but still creates a quality print.
The price of this copolymer nylon can be explained by the fact that it's a blend of different materials, but it still provides a quality print and a temperature-resistant material of up to 356° F.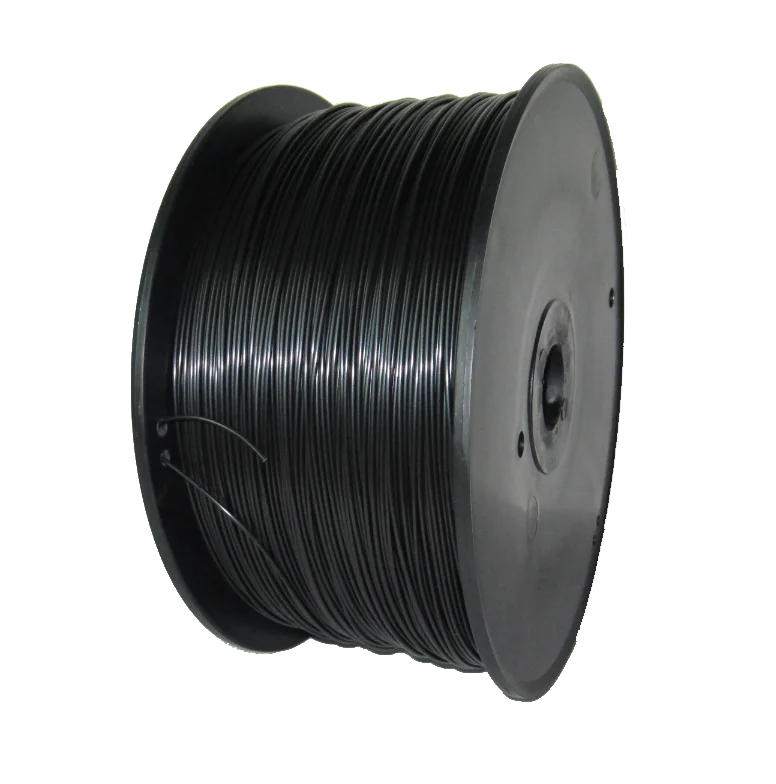 Printed creations will have decent tensile strength, but PVA glue is recommended for ensuring the layers fully adhere and stay together.
"This is a wonderful filament," began one buyer. "After a bunch of research, I was sure that starting to print in nylon would be a painstaking process. Instead, this filament came right out of the packaging and into the printer at 260° C. No moisture, no warping, perfect adhesion, excellent detail, and very strong. They nailed the mixture, and it was a pleasure to print with."
Specifications
Best for:
Prototypes, engineering parts, hardware
Extrusion temperature:
482° F to 518° F
Filament diameter:
1.75 mm
BUY NOW:
US$34.99, Amazon
3. Best Overall 3D Printer Filament—Polymaker Nylon Filament
Polymaker's durable yet flexible filament has been deemed a "very worthy addition" to 3D printing arsenals by many shoppers.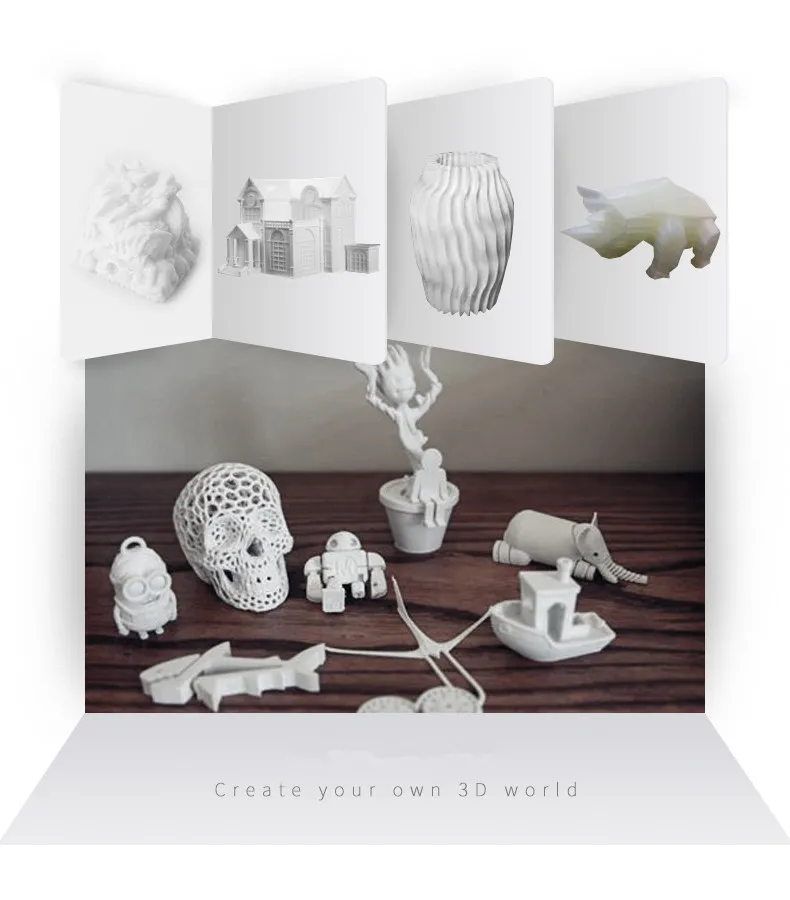 Printing projects that require the hardness of brittle materials but the flexibility of plastic will appreciate spools from this brand for 3D printing. The thread won't tangle, clog the nozzle, or poorly affect the filament sensor.
It requires high temperatures to melt and adhere, which also means it's impact resistant to everyday heat and wear and tear. Be sure that the printer used is well-equipped, though—abrasive materials like nylon and glass fibers can wear down on nozzles. 
Additionally, though a decent bed temperature is nice, a heated bed is not required with this specific printing material.
"No warping, parts are very strong and stiff, and the surface finish is probably the best of any filament I've tried," explained a customer. "Layer lines virtually disappear with the right settings. It's also significantly cheaper than all of the other glass-filled filaments I've found online. All around [a] great filament.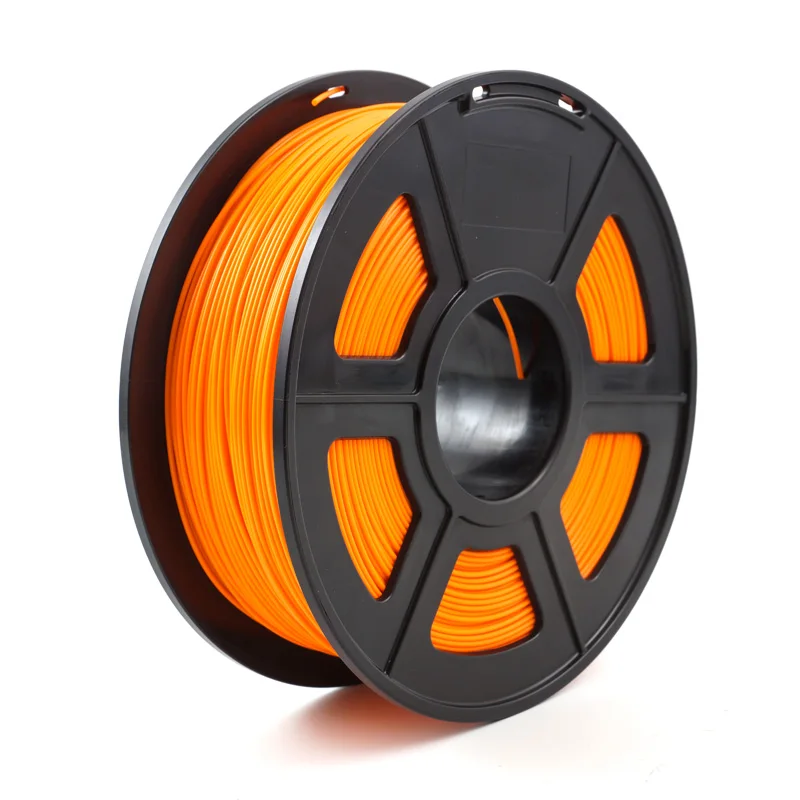 "
Specifications
Best for:
Functional parts, tough prototypes
Nozzle and bed printing temperature:
482° F to 518° F; Bed: 77° F to 122° F
Filament diameter:
1.75 mm
BUY NOW:
US$49.99, Amazon
4. Best Low Warping Nylon Filament for 3D Printing—HATCHBOX PA Nylon 3D Printer Filament
Warping is a surefire way to ruin any 3D printing project—it affects dimensional accuracy and ruins its useability. Therefore it's worth finding a nylon filament that's built to reduce this possibility, like this one from HATCHBOX.
This vacuum-sealed polyamide-nylon filament has a great heat resistance and is durable enough to be molded into strong structural parts as well as everyday products that see pressure, drops, and abrasion (like phone cases).
"Hatchbox has proven to be a good value," wrote a customer.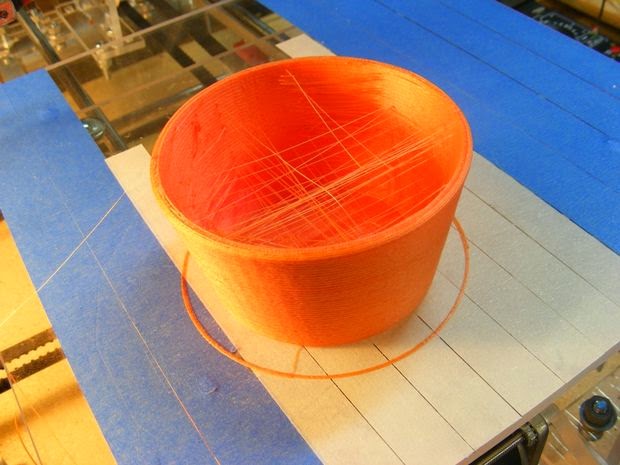 "Nylon is a bit tricky to print with, but the Hatchbox spool made it easier." 
Another person added, "If I want something really cheap, there are brands out there that print well enough, but HATCHBOX always seems to come out slightly better."
Specifications
Best for:
Prototypes and functional items
Temperature:
392° F to 428° F
Filament diameter:
1.75 mm
BUY NOW:
US$76.99, Amazon
5. Best Adaptable Nylon 3D Printing Filament—Dremel DF45-NYP-B Nylon 3D Printer Filament
There are numerous products that can be created with this nylon filament from Dremel, making it a great choice for users who are interested in a wide range of prototypes and projects.
Nylon is also known for its smooth texture, so manually processing prototypes and models after printing should be at a minimum.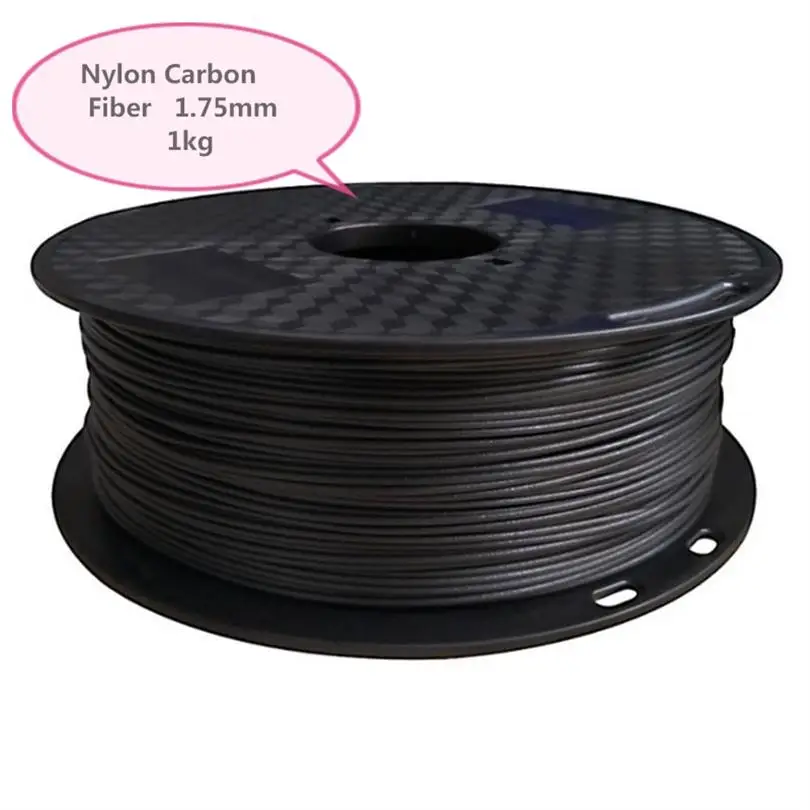 Though it's an optimized choice for functional pieces, this particular filament is specifically made for the Digi Lab 3D45 printer.
"I have had wonderful results with Dremel's Nylon filament," wrote one reviewer. "And with the RFID tag, it automatically configures the settings for my printer (bed temp, nozzle temp, speed, etc.). I've printed everything from replacement feet for appliances to 'ear savers' for holding masks. And everything has printed fine."
Specifications
Best for:
Everyday products, hardware, meant for Digi Lab 3D45 printer
Temperature:
446° F to 482° F nozzle temperature
Filament diameter:
1.75 mm
BUY NOW:
US$34.99, Amazon
6. Best Nylon Filament with Heat Resistance for 3D Printing—Polymaker Nylon Filament 1.75
This nylon filament from Polymaker is a thorough pick in terms of heat resistance and durability.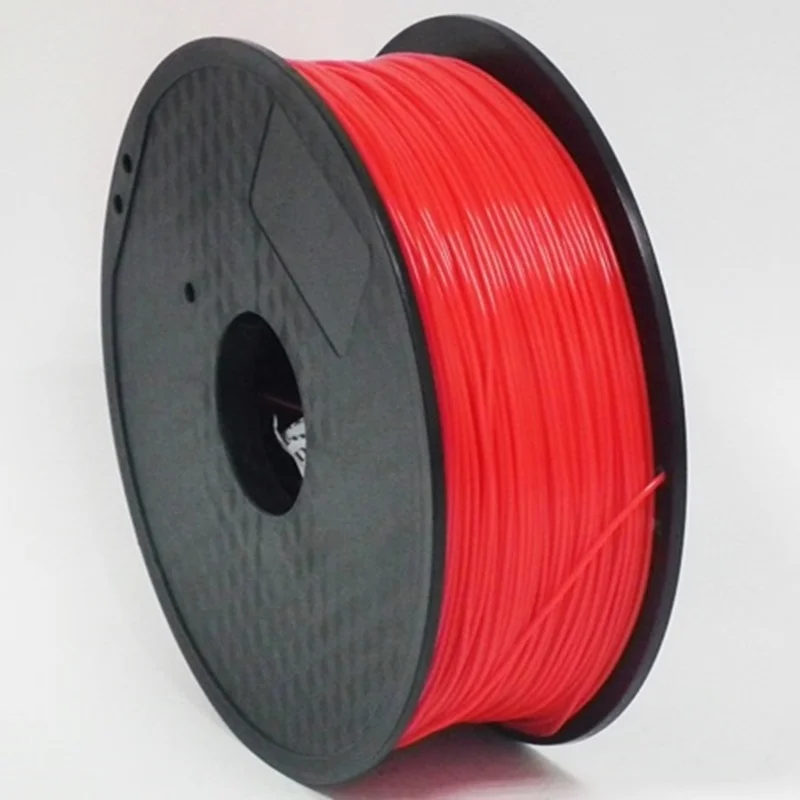 It's the natural color version of the Polymaker nylon in black and it's ideal for making more subtle pieces that need to blend in whether it's in a household or manufacturing plant.
This filament is also remarkably tough—nearly equivalent to bullet-proof glass, if not harder—as one buyer tried to destroy it with a firearm and had no luck.
It's notably easy to use in comparison to other filaments available (and even other nylon versions).
"This stuff is great quality and truly warp-free," wrote a customer. "Everything from the packaging to the actual filament exudes quality, though for the price—it is better." Another buyer noted that it's "probably the strongest [filament] I've ever used."
Specifications
Best for:
Functional parts, tough prototypes
Nozzle and bed printing temperature:
482° F to 518° F; Bed: 77° F to 122° F
Diameter:
1.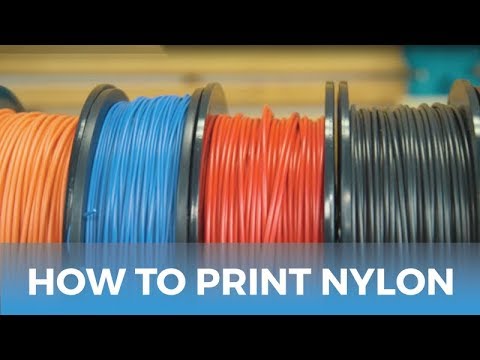 75 mm
BUY NOW:
US$49.99, Amazon
7. Best Nylon Filament Dryer—EIBOS Filament Dryer
As mentioned, nylon filaments can absorb moisture and ruin the integrity of the material. To prevent spools from absorbing moisture, a dryer is a tool worth investing in, such as this one with an enclosed chamber from EIBOS.
Any 3D printing specialist or hobbyist can use this container to set the temperature and an automatic timer, so filaments aren't left to deteriorate or gather moisture again. 
The enclosed chamber also has a built-in rotating platform to ensure all areas of the spool are exposed to heat.
"This dryer had a dramatic impact with my Nylon, which though pretty new, absorbed a lot of moisture from the air," explained a buyer. "The filament went from popping and generally printing sloppy to shiny and like new after drying for 12 hours.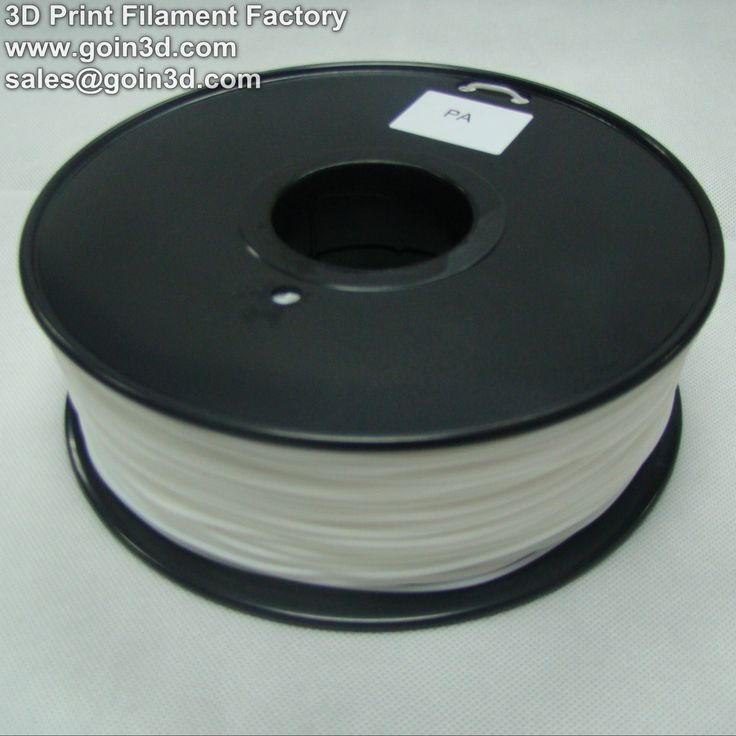 "
Specifications
Best for:
Absorbs moisture from nylon filaments
Container temperature:
Up to 158° F
Dimensions:
Can hold two 217 mm x 80 mm 3D printing filament spools or one 217 mm x 174 mm 3D printing filament spool
BUY NOW:
US$152.99, Amazon
The Best Nylon Filaments—Summary
Finding the right print material for 3D printing revolves around what's being created; sometimes wood filaments are needed or a water-soluble PVA filament, and other times a glass fiber blend, a plastic with chemical resistance, or a strong nylon is in order. Nylon 3D printer filament ensures outstanding mechanical strength and is a flexible material that's still durable enough to create functional prototypes. 
As long as the print settings are right and the bed surface and extruder are at the right temperature, the previously mentioned nylon filament options have these features and make nylon printing a favorite among 3D printer professionals and enthusiasts.
As a CoPa filament that's regarded highly by many reviewers, you can't really go wrong with Polymaker's nylon filament (US$49.99, Amazon). For a premium filament, HATCHBOX's PA Nylon 3D Printer Filament (US$76.99, Amazon) is fantastic and a great alternative to Ultimaker nylon filaments, which are beloved for their low friction coefficient.
Printers also need great tools on hand, including slurry, support material, a glue stick, Kapton tape, and other 3D printing must-haves. One tool that shouldn't be forgotten that absorbs moisture from various 3D printing nylon filament spools is the EIBOS Filament Dryer (US$152.99, Amazon). This or a similar option should be added to any 3D printing collection.
We hope our review of the best nylon filaments, support materials, and accessories from some of the best nylon filament brands has been helpful and you find 3D printing materials that are ideal for the printed parts you have in mind.
For more suppliers of related products, including PLA filaments, recycled plastic filaments, and ABS 3D printer filaments, consult our additional guides, or visit the Thomas Supplier Discovery Platform.
Sources
PLA vs PETG vs ABS vs Carbon Fiber vs Polycarbonate Thermal Test - Video
Other 3D Printing Articles
Top 3D Printing Services Companies in the USA
Origins of 3D Printing and Additive Manufacturing
Overview of 3D Printing Technologies
Top 3D Printing Manufacturers and Suppliers (Publicly Traded and Privately-Owned)
The Best 3D Printers under $300
The Best 3D Printers under $200
The Best 3D Printing Software
The Best 3D Printer Under $1000
The Best 3D Printer Under $500
All About Multi Jet Modeling (MJM) 3D Printing
All About Stereolithography 3D Printing
All About Direct Energy Deposition 3D Printing
Other Best Product Articles
The Best Commercial Backpack Vacuum
Best Mouse for Solidworks Users
Best Monitor for AutoCAD
The Best Garden Hose Reel
The Best Commercial Cotton Candy Machine
The Best Commercial Drones
The Best Commercial Hedge Trimmer
The Best Commercial Meat Slicer
The Best Commercial Chainsaw
The Best Wheelbarrow
The Best Commercial Ice Cream Machine
The Best Commercial Pizza Oven
The Best Commercial Deep Fryer
The Best Commercial Mop
The Best Arduino Starter Kit for Beginners and IoT Projects
The Best Mig Welders
The Best Pipe Wrench
The Best Single Stage Automotive Paint
The Best Drywall Knife
The Best Heat Gun For Removing Paint
The Best Polycarbonate Filament in 2022
The Best Reel Mowers
The Best Mulching Lawn Mowers
The Best Expandable Garden Hose
The Best Automatic Center Punch
The Best Rotary Laser
The Best Two Wheel Wheelbarrow
More from Electrical & Power Generation
3D Printable Nylon
1 Description
2 Specifications
3 Advantages and disadvantages of nylon

3. 1 Features
3.2 Disadvantages

4 3D printing use
5 Use of available materials
Description
Nylon is attractive as a material for 3D printing due to its high wear resistance, affordability and excellent slip coefficient, which allows the use of nylon in bearings and other similar mechanisms, often without the use of lubricants.
An example of a model created using Stratasys Nylon 12
Despite the widespread use of nylon in the industry, the use of this material in 3D printing is quite limited due to certain technological difficulties. However, in recent years, specialized nylon consumables have appeared, focused on use with SLS and FDM printers.
Taulman and Stratasys nylon threads are the most popular examples.

Specifications
| | | | |
| --- | --- | --- | --- |
| | Taulman 618 | Taulman 645 | Stratasys Nylon 12 |
| Density | 1. 134 g/cm³ | – | – |
| Hygroscopicity | 3.09% | 3.09% | – |
| Tensile strength | 65.99 MPa | 85.68 MPa | 48.26-53 MPa |
| Elongation at Break | Over 300% | Over 300% | 9.5-30% |
| Melting point | 218°C | 214°C | 178°C |
| Glass transition temperature | 49.4°C | 68.2°C | – |
| Extrusion temperature | 235-260°C | 235-260°C | – |
| Pyrolysis temperature | 350-360°C | 350-360°C | – |
Stratasys Nylon 12 is designed for use with Fortus brand 360mc, 400mc and 9 professional rigs00mc, while Taulman's nylon filaments are designed to work with any home and office 3D printer optimized for the popular ABS plastic.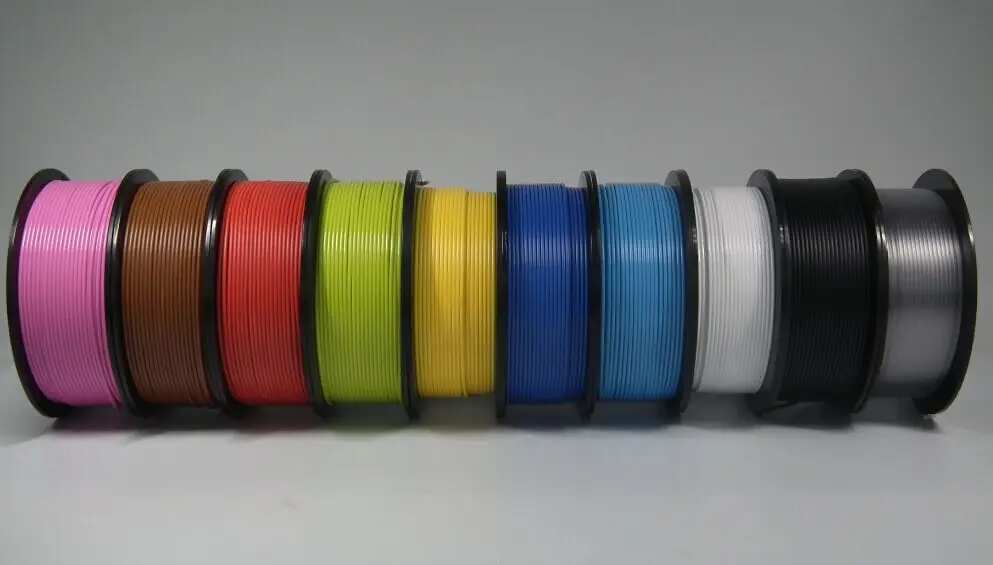 In addition, Taulman is testing a range of laser sintered nylon materials, including a powder version of Taulman 618.
Advantages and disadvantages of nylon
Advantages of
High wear resistance
High elasticity
Resistant to most organic solvents
High temperature resistance
Easy to machine
Disadvantages
High hygroscopicity
Release of toxic fumes during pyrolysis
Taulman brand nylon threads available in 1.75mm and 3mm diameters
3D printing use
---
Taulman brand nylon filaments are available in 1.75mm and 3mm diameters
Nylon printing technology is similar to ABS printing, but with some differences. Like ABS, nylon is prone to twisting and warping when cooled unevenly, requiring the use of a heated bed.
The nylon layers have excellent adhesion, which minimizes the chance of delamination of models.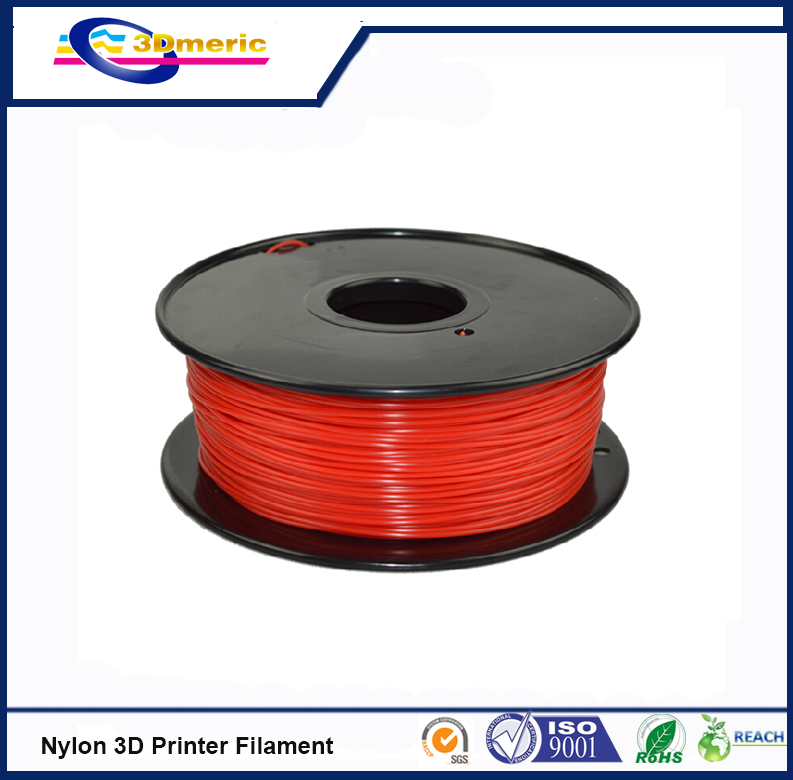 Users of Taulman plastics note the durability of models at the level of analogues made by traditional injection molding.
Nylon is almost impossible to bond, which makes it difficult to manufacture large-sized parts from components. Alternatively, it is possible to connect nylon parts by melting the surfaces to be joined.
Nylon can be dyed with acid-based dyes.
Nylon does not adhere to glass or other smooth surfaces, so it is recommended to apply painter's tape to the desktop or use a wood backing when printing.
Due to the high hygroscopicity of nylon (the ability to absorb moisture), it is recommended to dry the nylon filament immediately before printing. Otherwise, water vapor may be released from the nozzle, which is not catastrophic for the extruder, but may affect print quality.

Use of scrap materials
Some hobbyists prefer to use inexpensive nylon line for printing, which is fraught with some unpleasant consequences.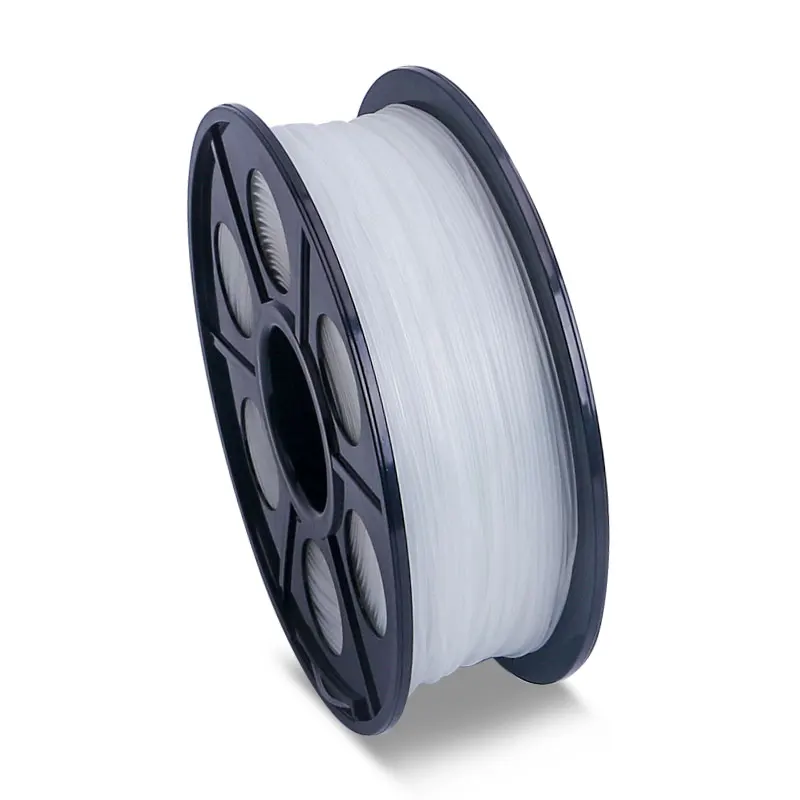 As a general rule, trimmer line is preferred, available in 3mm diameter, which is the same diameter as commercially available ABS filaments for FDM printing. However, these "nylon threads" are not pure nylon, which is evident due to their excessive stiffness, which is not characteristic of nylon. The reason for this is additives - usually in the form of fiberglass. Additives are designed to both increase stiffness and reduce the cost of the material. It should be borne in mind that the melting point of fiberglass is much higher than the melting point of nylon and, in fact, exceeds the pyrolysis temperature of nylon. Thus, it is impossible to achieve complete melting of such composite materials. As a result, tough glass fiber particles will contribute to increased wear and clogging of the extruder nozzle.
Go to the main page of the Encyclopedia of 3D Printing
Nylon Resin: 3D Printing Technologies and Features
Nylon Resin - belongs to the polyamide family, used in 3D printing, has strength and durability.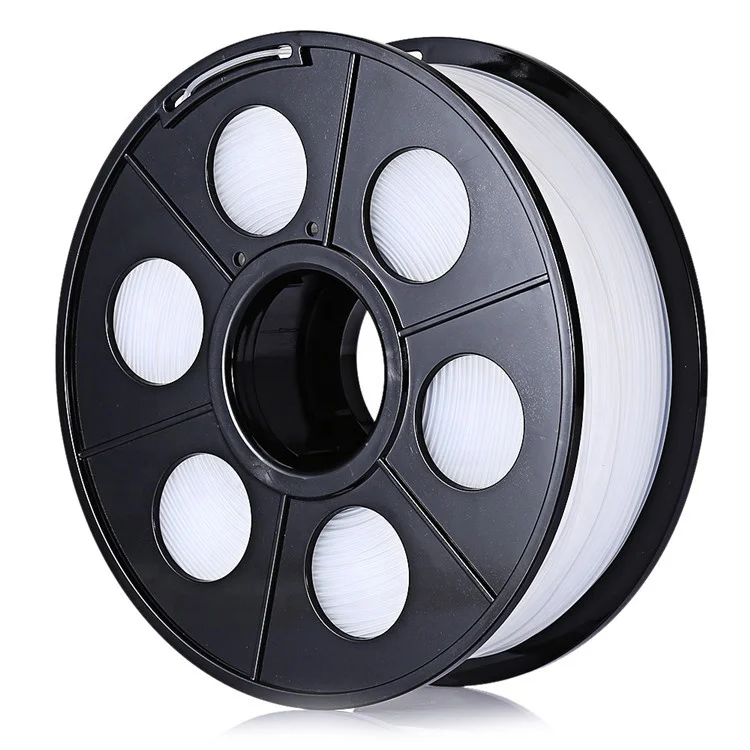 He is very popular in the printing business and for good reason. Plastic has a number of advantages and characteristics that contribute to the high quality of product manufacturing.
How to work with nylon filament before printing
The only problematic nuance when printing with nylon thread may be increased hygroscopicity. Therefore, the material must be dried before printing.
Dry filament will cause good adhesion of the layer, but if moisture gets on it, it will be more difficult to make the product when printing. Dry nylon has a smoother surface and even a sheen. It is recommended to dry nylon in the oven at a temperature not exceeding 82 degrees. Dry bags may not help in this case. It is necessary to print the material in a room where there is no cold and drafts.
Media warps
Media tends to warp if handled improperly, so all necessary process controls must be in place before printing.
What settings must be observed before printing with nylon:
The extruder must have a temperature of 240 to 260 degrees Celsius.
Printing must begin at a temperature of 250 degrees. In the process, you can search for the required temperature to obtain a smooth and even surface.
The bed must have a temperature of no more than 80 degrees.
Work at a speed between thirty and sixty millimeters per second.
The fan should not be cooled with a cooling layer.
What are the properties of nylon filament
Nylon filament is one of the best for 3D printing compared to many other similar materials.
Its main advantages are good durability, strength and flexibility, and they are not typical for all threads. Nylon is low friction, durable and cost effective. It is usually used for all types of printing from thin to hard. Available in clear or black material. For printing with nylon thread, printer models corresponding to its capabilities are selected to make it more convenient to work.
How nylon is used in 3D printing
Nylon is best used in industrial and engineering production.
It is used for the manufacture of automotive parts, tools and movable hinges. True, nylon also has its drawbacks - for example, a low level of flexibility. To avoid problems in the production of parts, nylon must be strengthened.
Nylon filament 3D printing advantages:
This printing material has good properties. Among them are:
Affordable price
Durability, strength, aesthetics
Materials melt well due to high temperature
Odorless when applied
Nylon is UV resistant Level of
is a product. For thin objects, flexibility will be at a fairly high level and vice versa. The material is easily dyed if dyes are added to the filament. You can also paint the finished product, giving it the desired color.
Among the shortcomings, one can also highlight certain difficulties when working with the material. To be ready for them, you need to have special knowledge. It is better for beginners to engage in materials of this kind and should be entrusted with the work of more experienced craftsmen.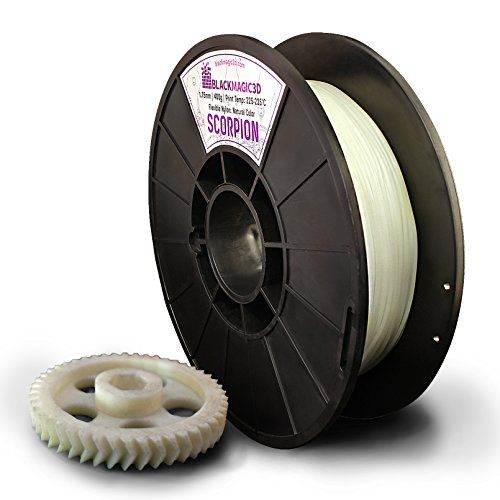 Also among the minuses are noted:
High hygroscopicity - it is better to avoid moisture on the material and pre-dry the thread before work.
Pyrolysis releases toxic fumes.
Some threads have a very small diameter.
Compared to the advantages, this number of disadvantages is negligible. Therefore, when selecting threads for 3D printing on printers, you can pay attention to this one.
Nylon does not adhere to glass or other types of plastic surfaces, so masking tape must be applied to the work surface prior to preparation. In order not to be disappointed in the quality of printing or the manufacture of objects, it is necessary to purchase nylon at a relatively high cost, since cheap options can lead to undesirable consequences. For FDM printing, a commercial version of ABC filaments is suitable. Also, during operation, temperature regimes should be controlled so that they are neither higher nor lower than the norm, so that future results of work are not deformed.