Go scan 3d scanners price
Creaform launches the HandySCAN Silver Series 3D scanner - technical specifications and pricing
0Shares
3D measurement system manufacturer Creaform has announced the launch of its latest handheld 3D scanner.
The HandySCAN 3D Silver Series is available in two models: the HandySCAN 307 at $19,990 and the higher-performance HandySCAN 700 at $29,900. Aimed at professional engineers and technology companies, the device is intended to provide repeatable metrology-grade 3D measurements for product development and reverse engineering applications.
"For the professionals who need to adapt quickly to their customers' needs and provide better answers to their inquiries, a reliable 3D scanning solution is indispensable," states Simon Côté, Product Manager at Creaform. "The possibilities presented by gathering such precise data can open doors to new projects and strengthen the partnerships with existing clients. It cannot be overstated how 3D scanning and 3D printing technologies have become vital for any small-to-medium sized company.
"
The HandySCAN 3D Silver Series. Photo via Creaform.
Professional 3D scanning with Creaform
Based in Québec, Creaform already has an extensive portfolio of professional 3D scanning devices. Go!SCAN, the company's most affordable line, is capable of capturing full color 3D models with a setup time of just five minutes. With a focus on accessibility and ease-of-use, the entry-level range is designed to be usable by individuals of any background in a pick up-and-play manner.
For those looking for more in the way of performance, the HandySCAN and MetraSCAN ranges might be a little more suitable. Built for manufacturing and metrology professionals working in dynamic manufacturing environments, these premium 3D scanner lines offer high-precision measurements for engineering projects.
Scanning a Koenigsegg with the HandySCAN Silver Series. Photo via Creaform.
The HandySCAN 3D Silver Series
The latest addition to the HandySCAN range is characterized by its precision and versatility.
Operating on seven red laser crosses, the Silver Series provides users with a scan area measuring 275 x 250mm, an accuracy of up to 0.03mm, and a measurement resolution of up to 0.05mm. With a recommended part size ranging from 0.1 – 4m, the device is reportedly compatible with a whole host of object types, regardless of complexity, surface finish, or color.
At 0.85kg, the Silver Series is lightweight and portable. Designed for both in-house and on-site use, the scanner fits comfortably in a small suitcase and can be set up in around two minutes. It triangulates its own relative position using in-built optical reflectors, meaning it can be used as a standalone device with no tripod or external tracking equipment. Featuring a simple UI and real-time visualization functionality, Creaform's Silver Series boasts a "shallow learning curve" regardless of the user's experience level.
The new Silver Series 3D scanning a helmet. Photo via Creaform.
Technical specifications and pricing
Below are the technical specifications for the HandySCAN 3D Silver Series.
The 3D scanner is available to order now, starting at $19,990.
| | | |
| --- | --- | --- |
| | HandySCAN 307 | HandySCAN 700 |
| Accuracy | Up to 0.04mm | Up to 0.03mm |
| Volumetric accuracy | 0.02mm + 0.1mm/m | 0.02mm + 0.06mm/m |
| Measurement resolution | 0.1mm | 0.05mm |
| Mesh resolution | 0.2mm | 0.2mm |
| Measurement rate | 480,000/s | 480,000/s |
| Light source | 7 red laser crosses | 7 red laser crosses + extra line |
| Laser class | 2M | 2M |
| Scanning area | 275 x 250mm | 275 x 250mm |
| Stand-off distance | 300mm | 300mm |
| Depth of field | 250mm | 250mm |
| Part size range | 0. 1 – 4m | 0.1 – 4m |
| Weight | 0.85kg | 0.85kg |
| Dimensions | 77 x 122 x 294mm | 77 x 122 x 294mm |
Subscribe to the 3D Printing Industry newsletter for the latest news in additive manufacturing. You can also stay connected by following us on Twitter and liking us on Facebook.
Looking for a career in additive manufacturing? Visit 3D Printing Jobs for a selection of roles in the industry.
Featured image shows the new Silver Series 3D scanning a helmet. Photo via Creaform.
Tags Creaform HandySCAN 3D Silver Series Simon Côté
Kubi Sertoglu
Kubi Sertoglu holds a degree in Mechanical Engineering, combining an affinity for writing with a technical background to deliver the latest news and reviews in additive manufacturing.
The Best 3D Scanners in October 2022 (Hobbyist & Commercial)
3D scanners are changing how we make, design, and see the world.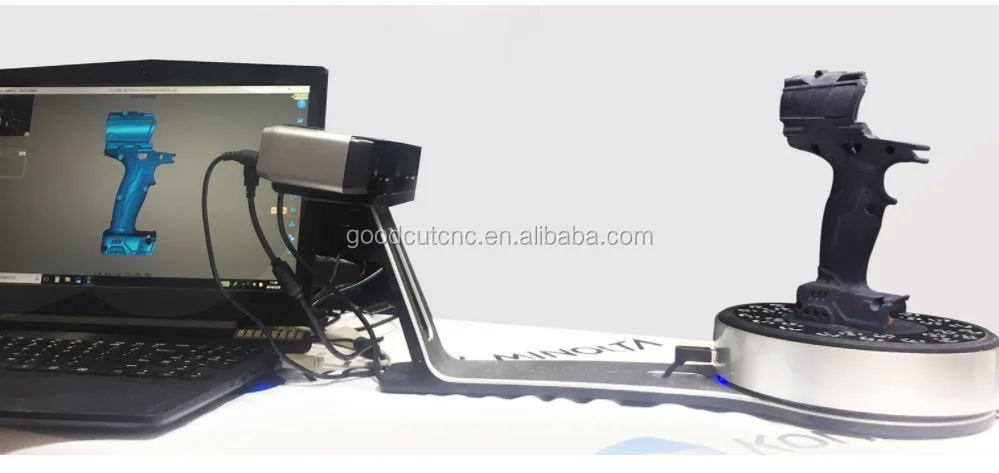 By scanning nearby objects, people and almost anything else, these scanners create entire 3D digitized models of physical objects in just seconds.
Sometimes called 3D laser scanners, 3D model scanners or 3D object scanners, 3D scanners are integral for custom 3D printing and other fun home 3D scanner uses, for saving historical artifacts as digital models, dentistry – and so much more.
What's more, you can now pick up powerful low-cost 3D scanners for just a few hundred dollars, and if you're content with low-quality basic scans, you can even use your phone!
BUDGET PICK
Revopoint POP 2
Versatile and portable with handheld & stationary options and color scanning
Up to 0.05mm accuracy on a small scanner that costs under $1000
Available at:
Revopoint here
MID-RANGE PICK
Matter & Form V2
Accurate 0.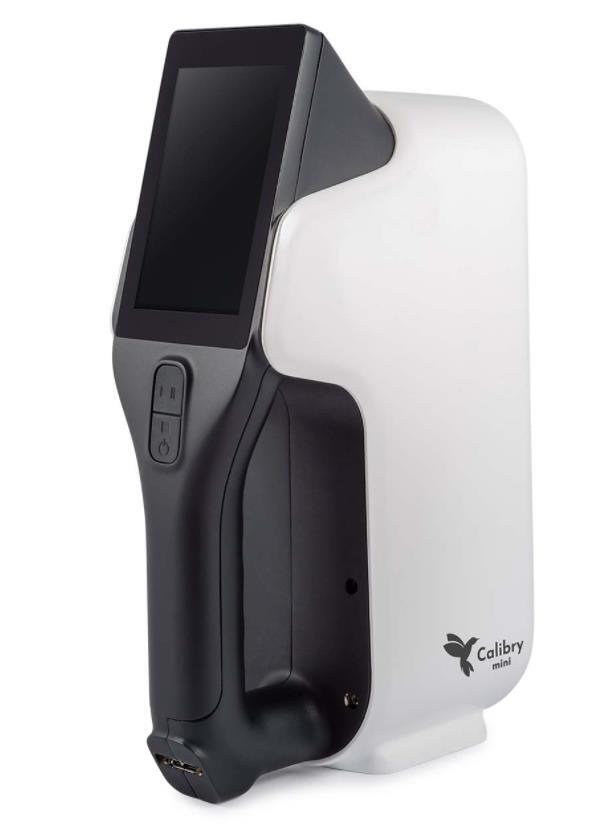 1mm scans
Powerful stationary scanner for 25x18cm objects
Comes with specialized software
Available at:
Amazon hereDynamism here
PREMIUM PICK
Shining 3D EinScan H
0.05mm scan accuracy and 0.25mm resolution with 1.2 million points/s
Infrared scan sensors make scanning darker colors easier
Available at:
Dynamism here
To rank the best 3D scanners, we considered:
Accuracy and resolution
Scan area (benefiting handheld scanners that can scan larger areas)
Scan speed
Ease of use
Price-performance ratio
Versatility
We also separated our 3D scanner reviews into three main price categories:
3D scanners under $1000
Mid-range 3D scanners ($1,000 to $10,000)
Industrial 3D scanners ($10,000+)
The Best 3D Scanners for All Prices Ranges
| 3D Scanner Brand & Name | Type of 3D Scanner | Price | Where to buy and where has the best price |
| --- | --- | --- | --- |
| Revopoint 3D POP 2 | Structured Light | $699 | Revopoint 3D here |
| Creality CR-Scan 01 | Structured Light | $700 | Creality Store here |
| SOL 3D scanner by Scan Dimension | Desktop 3D Scanner | $699 | Amazon here |
| BQ Ciclop | Laser Triangulation (DIY) | Depends if pre-assembled or DIY | Amazon here |
| Matter & Form V2 | Desktop 3D Scanner | $749 | Amazon here |
| Shining 3D EinScan SE | Desktop 3D Scanner | $1,399 | Amazon here |
| EinScan H | Handheld | $4,999 | Dynamism Store here |
| Shining 3D EinScan Pro 2X Plus | Handheld 3D Scanner | $6,800-$8,300 | Amazon here |
| Scantech iReal2E | Handheld 3D Scanner | $3,980 | Scantech Site |
| Artec EVA | Industrial 3D Scanner | $19,800 | |
| Scantech SIMSCAN | Portable 3D scanner | Contact for price | Scantech site |
| Scantech KSCAN | Handheld 3D Scanner | Contact for price | Scantech site |
But before we get into the best scanners, here's a quick intro to how 3D scanners work:
How Does a 3D scanner Work?
3D scanners work by creating point clouds based on images taken of a solid surface or object — basically huge numbers of data points that denote where an object is — to create a 3D model of the scanned part.
Millions of individual data points make up the model, which you can then export as an STL, OBJ or other file type and import to CAD software, or 3D print via a slicer.
3D scanning includes several different technologies, such as Structured Light scanning and Laser Triangulation, while some are stationary and some are handheld.
The Best 3D Scanners 2022: Budget Picks
3DSourced is reader-supported. When you buy through links on our site, we may earn an affiliate commission. Learn more
Revopoint POP 2
Price: $699 — Available at Revopoint Official store here
Precision: 0.05 mm
Scan Speed: 10 FPS
Minimum Scan Volume: 20 x 20 x 20 mm
Single Capture Range: 210 x 130 mm
Working Distance: 150 – 400 mm
Point Cloud Distance / Single-Frame Accuracy: 0.15 mm
We were extremely impressed with the Revopoint POP 2 when we tested it recently, and overall we feel it's the most versatile and powerful 3D scanner under $1,000.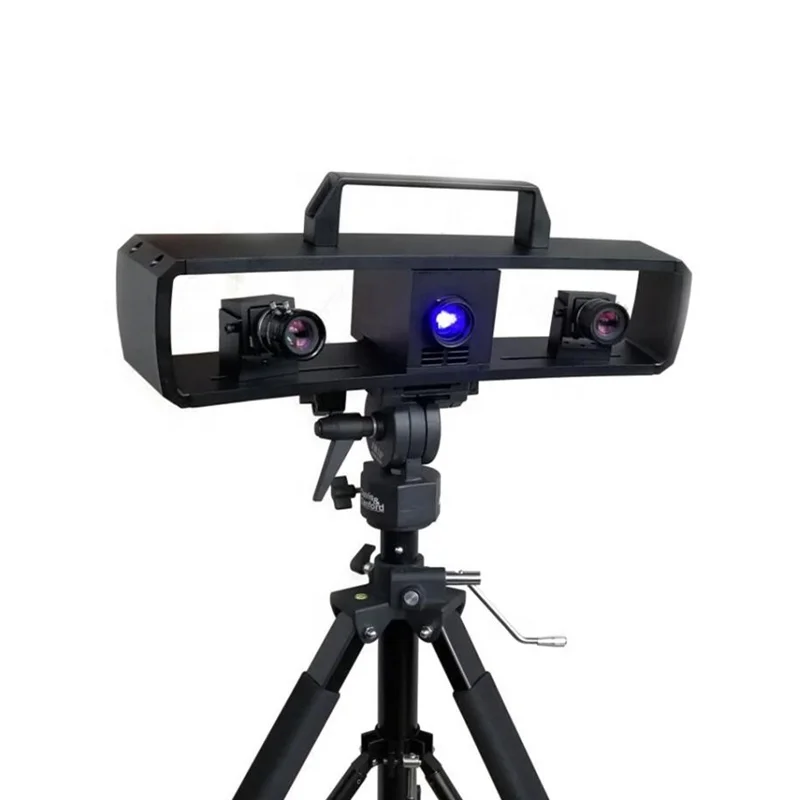 While there are some great stationary scanners like the Matter and Form V2, the Revopoint's usability for turnstile stationary scanning, color scanning, as well as handheld scanning for faces and bodies makes it the ideal multi-use 3D scanner.Scanning a toy with the Revopoint POP 2 using the "fill holes" setting (often leave it off and sort any errors in post).
The POP 2 notably upgrades on the original POP, with precision increased from around 0.3mm to up to 0.05mm (our tests found it to be in the 0.07mm range, which is still very impressive), a slightly faster scan speed of 10fps vs 8, and a slightly smaller minimum scan volume of 20mm³ vs the original POP's 30mm³.Testing the precision accuracy of the Revopoint POP 2 during calibration.
It scanned color images well when we tested it on some kids toys and a multi-color Rubik's cube, and scanned faces accurately (but you need to change some settings around to prevent any noise distorting your scanned faces).
Don't automatically mesh clouds however when face scanning – it'll create distorted scans such as this one we tried.
Overall, we highly recommend it as one of the best scanners in its price range – standard scanning, face scanning, color, or entire body scanning, it's good for all uses.Testing the color 3D scanning and editing the scan in Revo Studio software.
Compare the scanners: Revopoint POP vs POP 2
---
Creality CR-Scan 01
Price: $650-$700 — Available at Creality Official store here / Amazon here
Accuracy: 0.1 mm
Resolution: 0.5 mm
Max Scan Volume: 536 x 378 mm
Technology: Structured light
Speed/Frame Rate: 10 FPS
With a cemented reputation for offering some of the best budget 3D printers on the market today, Creality aims to do very much the same with the affordable Creality CR-Scan 01 3D scanner.
It employs structured light technology to feel out the shape, size, and texture of a 3D object to generate a digital reproduction.
Creality has fitted the CR-Scan 01 with both a handheld mode and a stationary turntable mode, each with their own set of advantages:
In handheld mode, the scanner quickly works through larger objects, offering flexibility and on-the-fly capture.
Switch to turntable mode, and the tripod-mounted Creality CR-Scan 01 creates an automated, higher-accuracy 360° scan as the object rotates on the turntable.
Both modes offer accuracy of 0.1 mm, a resolution of 0.5 mm, 24-bit high-fidelity color mapping, and marker-free scanning thanks to a clever alignment algorithm.
The Creality CR-Scan 01 also makes smart adjustments based on light levels, making it suitable for low-light environments. These are all excellent features for the asking price and sufficient for most hobbyist scanning needs, although somewhat lacking for high-precision scanning.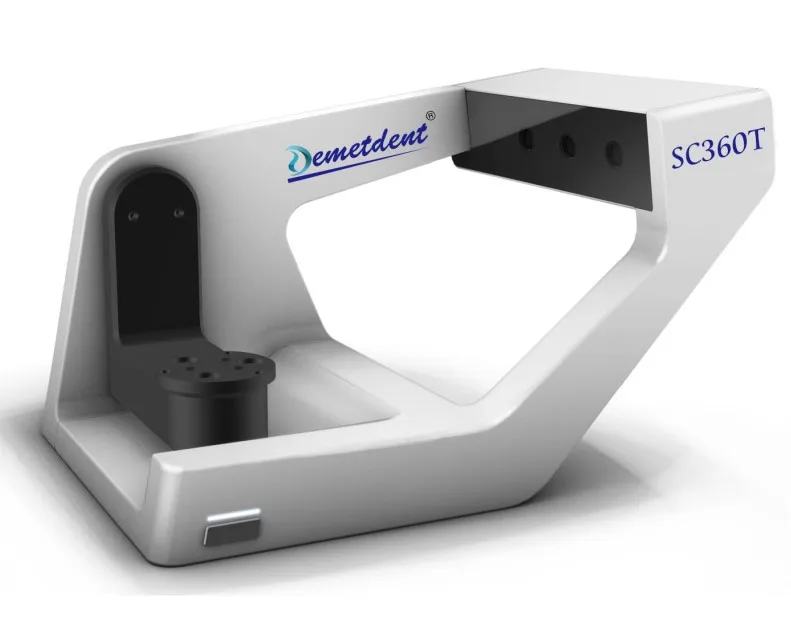 However, where the Creality CR-Scan 01 shines is a distance of 400-900 mm, which outclasses most budget 3D scanners, with a scanning area of 536 x 378 mm. In practice, you can scan medium to large objects further away with a larger frame size, which speeds up the scanning process considerably.
Finally, the bundled Creality's CR Studio is a robust post-processing suite with all manner of editing, repair, color, and smoothing tools to polish off digital scans ready for 3D printing or other applications. It's a solid competitor to the Revopoint scanners.
---
SOL 3D Scanner by Scan Dimension — Perfect desktop 3D scanner
3D scanner price: $699 — Available on Amazon here
Accuracy: up to 0.1 mm
Scan volume: up to 170 x 170 mm
Scan speed: 10 min in Turbo mode, 20 min normally
SOL is a desktop laser scanner designed for scanning small yet detailed items, with good accuracy for the price.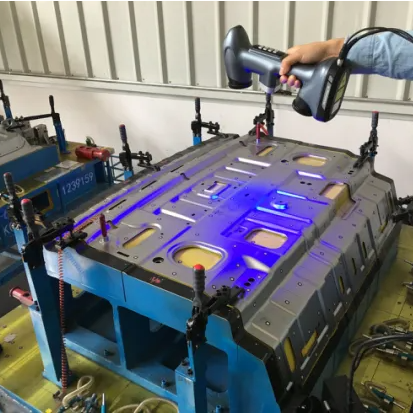 The actual scanner itself weighs just 7 pounds, and can scan objects that weigh up to 2kg. This light weight makes it a perfect portable 3D scanner if you're on the move.
It has two different modes depending on what you're scanning:
Near mode: for scanning objects of up to 100 mm in diameter and 100 mm in height.
Far mode: for scanning objects up to 170 mm in diameter and 170 mm in height.
The SOL boasts an accuracy of around 0.1 mm, extremely good for the price range. You scan objects with their included SOL 3D software, and can then easily export your scans as OBJ or STL files and import them into a 3D slicer for 3D printing.
Danish company Scan Dimension promotes this impressive 3D visualizer not only for makers or hobbyists, but also for entrepreneurs. They sell the SOL 3D scanning camera as a way for entrepreneurs to show their products off with a 360-degree view, with easy ways to share these scans on Facebook.
Additionally, Scan Dimension say the scanner is also perfectly suited for education, for teaching students STEM education through scanning and editing structures.
Overall, it's well suited as both a 3D scanner for businesses, as well as a home 3D scanner for hobbyists.
---
BQ Ciclop — Home-made 3D scanner for technical makers
Price: Depends if buying or DIY — Available on Amazon here
Resolution: 0.5 mm
Scan time: 2-8 mins
Maximum scan volume: 200 x 200 x 205 mm
3D scanning technology: Laser Triangulation
Unlike many scanners, this DIY 3D scanner is open source, with all the files hosted on Thingiverse for you to download and print. The Ciclop has proven popular, with tens of thousands of downloads on Thingiverse alone.
BQ provides all of the information, software, and electronics for this 3D scanner kit which you can modify for yourself on their website, and other variations have been brought to market offering tweaks and improvements on the opensource design, such as CowTech's version.
Read more: the other variations of Ciclop feature in our DIY 3D scanners review
The BQ Ciclop 3D scanner uses laser triangulation technology, and can scan objects in a few minutes. Moreover, the simple and well-written instructions allow anyone, no matter their skill level, to build the scanner in under an hour. BQ host downloads for all the drivers for the camera and firmware that you need, and developed a specialized 3D scanner app called Horus for scanning on your Ciclop.
It's simple but effective. It's made from ten 3D printed parts (download .STL files from Thingiverse), a threaded rod, a Logitech C270 webcam, two line lasers, and a turntable platform with a stepper motor, though you can edit and modify it as you wish.
The BQ Ciclop scans a volume of 250 x 205 mm and has a resolution of up to 0.5mm. It can be connected via USB or Bluetooth, making it a versatile and affordable low-cost 3D scanner for beginners.
Spanish tech company BQ have released this open-source 3D scanner which you can put together inexpensively.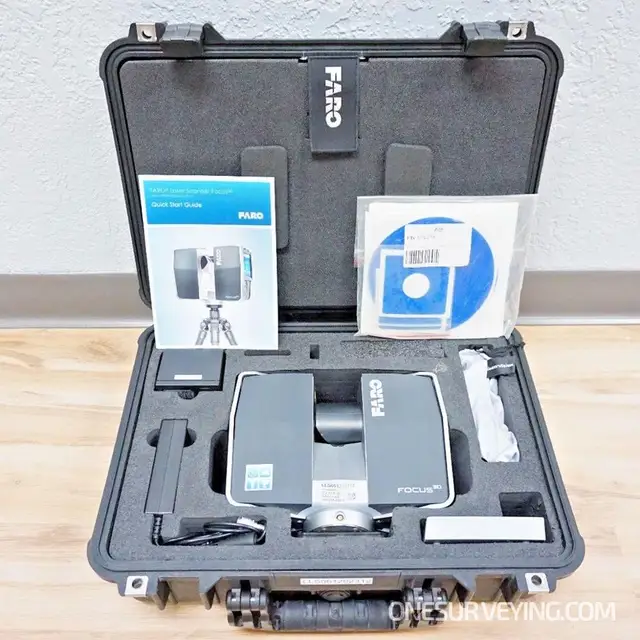 ---
Matter and Form V2 MFS1V2 — Portable 3D scanners under $1,000
3D scanner cost: $749 — Available on Amazon here / Available on Matterhackers here
Scan volume: 250 x 180 mm
Accuracy: within 0.1 mm
Scan speed: up to 65 seconds
The Matter and Form V2 is an updated version of the original desktop 3D scanner made by the Canadian tech startup. This low-cost 3D scanner uses 2 lasers and an HD-CMOS sensor to produce high-resolution, full-color 3D scans.
The scanner has an accuracy of up to around 0.1mm, and is easily connectable to your computer through USB to transfer over your scans.
For editing scans, the Matter and Form scanner comes with specialized Mfstudio, and +Quickscan which boosts scan speed to up to 65 seconds. You can then export the STL file and print them with your 3D printer.
The 3D scanner can scan objects in sizes up to 25 cm tall and 18 cm in diameter.
It is compatible with every major OS, so Mac users needn't worry. What we like most however is that it folds up, making it a perfect portable 3D scanner.The new Matter and Form scanner can generate a full 3D scan in 65 seconds.
---
Medium Priced 3D Scanners: $1,000 to $10,000
Shining 3D EinScan SE — Best 3D scanner under $2000
Price: $1,199 — Available on Amazon here / Dynamism here
Scan accuracy: within 0.1 mm for single shots
Scan range: single scan = 200 x 150 mm, maximum scan range = 700 x 700 mm
Scan speed: a single shot is under 8 seconds
Shining 3D have made a name for themselves in the medium-range 3D scanning sector, with cheaper options such as the EinScan-SE as well as more expensive scanners like the EinScan Pro 2X Plus.
The EinScan SE is one of the best 3D object scanners in its price range. It scans in around 8 seconds (versus 4 seconds for the EinScan SP) and can complete a whole 360-degree scan in its Automatic Scan mode in around 2 minutes.
It can scan objects up to around 200 mm wide and 150 mm tall, with a single shot accuracy of within 0.1 mm — making it one of the best 3D scanners under $2000. For a fixed scan without the turntable, max scan volume increases up to 700 x 700 mm.
Overall, this 3D model scanner is accurate, reliable, and makes it easy to quickly scan stationary objects and 3D print them with ease. The EinScan SP — described in more detail further in this guide — is more precise, but costs more. Therefore, it's a matter of your budget and how important this additional quality is for you personally.
---
EinScan H
Price: $5,000 — Available at Dynamism here
Accuracy: 0.05 mm
Resolution: 0.25 mm
Max Scan Volume: 780 x 900 mm
Technology: Hybrid structured light LED and infrared
Speed/Frame Rate: 1,200,000 points/s, 20FPS
The EinScan H is a professional-grade handheld 3D scanner that combines speed, accurate reproduction, and ease of use with a particular emphasis on bringing usually tricky 3D objects to digital life.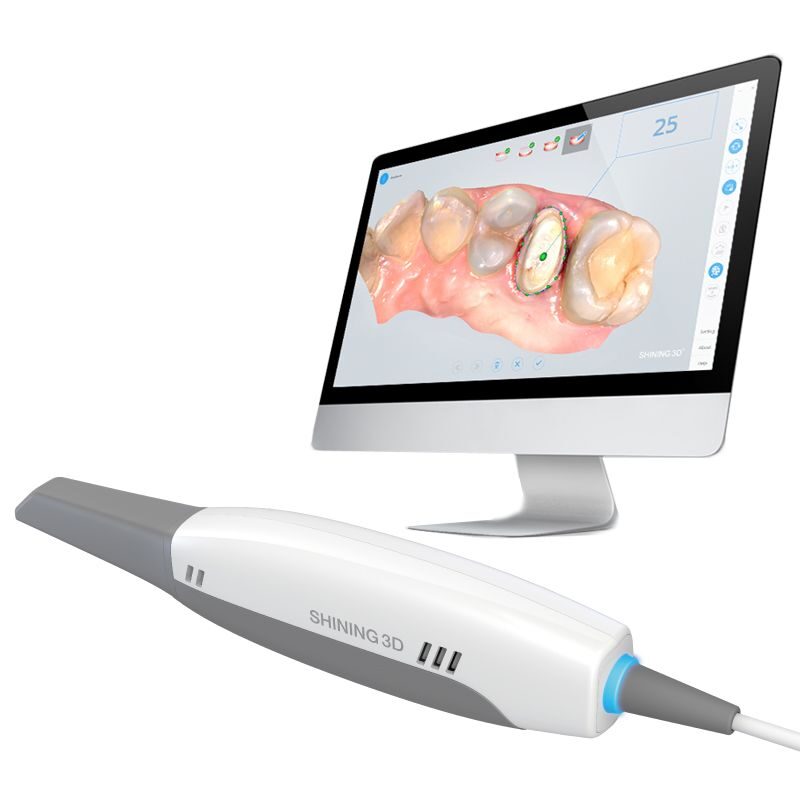 The EinScan H combines two light sources – structured LED and invisible infrared – to cover a wide range of 3D objects, modes, and applications.
For example, the infrared light excels at capturing the detail and intricacies of darker colors, notably those of human hair and general facial scanning – with dark hair the bane of any experienced face 3D scanner.
An added benefit of the invisible light is more comfortable scanning for the subject and no on-face glare to complicate the scanning process.
Manufacturer Shining 3D has also gone to considerable lengths to merge impressive accuracy and resolution along with fast scanning speeds. The EinScan H pushes a resolution of 0.25 mm with accuracy as low as 0.05 mm, all at roughly 1,200,000 points/s at 20FPS.
The scanner also features authentic, full-color reproduction with solid texture mapping that translates to systematically excellent scan quality.
According to Shining 3D, it's possible to scan an entire human body in fine detail in a matter of minutes.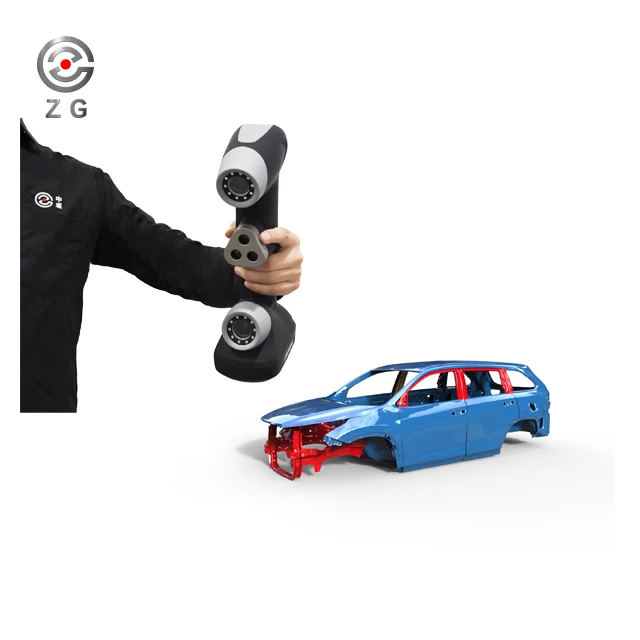 A generous 420 x 440 mm single capture range helps keep things speedy even when scanning large objects aided by an optimized alignment algorithm to keep scans crisp and precise.
Although priced at $5000, the EinScan H falls roughly in the affordable range and is a versatile tool suited for healthcare, art, forensic science, and other professional 3D modeling applications.
---
Scantech iReal 2E Color 3D Scanner — A complete 3D scanning solution
Price: $3,980
Scanning area: Up to 850 mm x 800 mm
Accuracy: Up to 0.100 mm
iReal 2E is a professional handheld color 3D scanner manufactured by Scantech. The company specializes in developing, manufacturing, and selling intelligent visual inspection equipment and sells an entire range of 3D scanners for various applications and sectors.
The iReal 2E uses red VCSEL structured light technology to offer you a simple and safe 3D scanning experience, eliminating the issues of dazzling lights and difficulties in hair 3D scanning.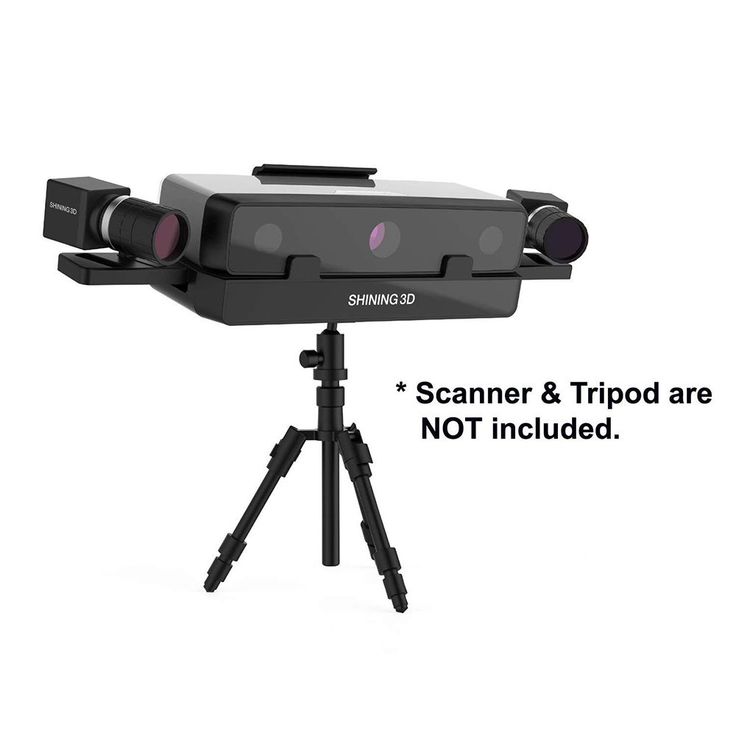 Without attaching markers, a quick and accurate texture and geometry scan can be achieved with a wide scanning area of 850 mm x 800 mm, 750 mm depth of field, 1.5 million measurements per second, and at 0.100 mm accuracy. Mixed alignment modes meet various scanning situations.
---
Shining 3D EinScan SP
Price: $2,599 — Available on Amazon here / Dynamism here
Scan range: single scan = 200 x 150 mm, max scan range = 1200mm³
Accuracy: within 0.05 mm for single shots
Speed: single shot speed of under 4 seconds
The second Shining 3D medium-range 3D scanner in our ranking, the EinScan SP is more accurate than the EinScan SE, with accuracy up to 0.05 mm rather than 0.1 mm, and scans single shots in half the time (4s vs 8s).
To save you time: double the price, double the accuracy — and half the scanning time.
The scanner uses white light scanning technologies to make very accurate scans of objects as small as 30 x 30 x 30 mm.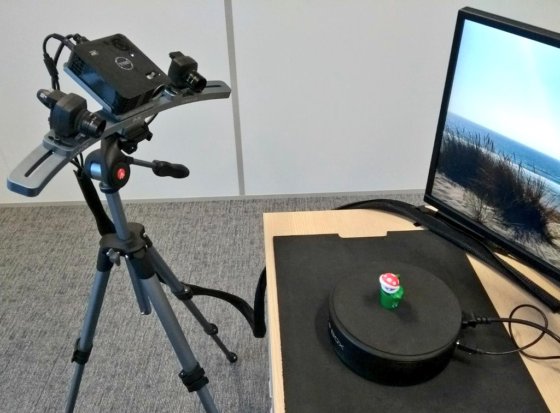 Full objects are typically scanned in less than a minute, and images in less than four seconds.
What's more, despite its cheaper price, many buyers have reported that it can compete with scanners costing ten times as much for scan quality. It also comes with a tripod for stationary object 3D scanning.
---
Shining 3D EinScan-Pro 2X Plus — One of the best 3D scanners around
Price: $5,999 (full industrial pack costs extra) — Available on Amazon here / Dynamism here
Accuracy: up to 0.04mm in fixed scan turntable mode
Volumetric accuracy: 0.3mm/m
Speed: fixed scan single shot in under 0.5 seconds / up to 30fps with handheld use
The EinScan-Pro 2X Plus costs more than the EinScan SP and H, and can be used as a fixed or handheld 3D scanner to capture various-sized objects.
It uses white light 3D scanning technologies to increase accuracy and scan faster (sub 0.
5-second single shot scans), creating high-quality scans in record time.
You can simply hold the scanner and point it towards the object or room you want to 3D scan, and instantly record crisp scans of your surroundings. Whereas lower-cost scanners limit you to desktop sizes, the Pro 2X Plus frees you to capture entire rooms.
You may want to 3D scan a car, your friend, or even turn it into a baby 3D scanner for a 3D memory of your child before it grows up!
You retain the accuracy however with the scan volume freedom, with accuracy up to 0.03mm for objects less than 4m away.
---
Industrial & Professional 3D Scanners: $10,000+
Artec EVA — Powerful handheld 3D scanner
Price: $19,800
Accuracy: up to 0.1 mm + 0.3mm/m
Resolution: up to 0.2 mm
Speed: captures up to 16fps in HD and full-color
Working distance: 0.4m – 1m
Creating new innovative solutions in 3D technology since 2007, Artec 3D is a global leader in handheld 3D scanners.
Their most popular scanner, the Eva, is a handheld, industrial 3D object scanner, and an excellent solution for medium-sized objects ranging from motorcycle wheels to car exhaust systems, human busts and facial close-ups.
Light, quick, and versatile, Artec Eva captures precise measurements in high resolution, while structured light scanning technology makes the scanner safe to use in any situation – even difficult to scan surfaces such as black or shiny surfaces are effectively captured by Eva.
Ideal for use in industries including product design, heritage preservation, healthcare, and reverse engineering, this market leader can accurately scan full-color objects at a range of up to 100cm with color and texture, making it a great solution for fast and accurate 3D models.
---
Scantech SIMSCAN — hand-sized portable 3D scanner
Accuracy: up to 0.020 mm
Resolution: up to 0.025 mm
Scanning area: up to 410 x 400 mm
Scantech's SIMSCAN consists of two sets of industrial black & white cameras, a laser projector with 30 laser lines, and a set of multifunctional buttons.
Its high-quality components ensure fast and stable 3D scanning.
It features three scanning modes: ultra-fast scanning, hyperfine scanning, and deep hole scanning optimized for different scanning situations. With its intelligent auxiliary lights, it can even scan darkly lit objects.
Powered by a robust algorithm, SIMSCAN's measurement rate can be up to 2.02 million measurements/s with an accuracy of up to 0.020 mm. It has a field of view of up to 410 x 400 mm.
With a net weight of 570g, SIMSCAN can be among the top list of the most lightweight and portable 3D scanners in the market. It is designed for both beginners and professionals to conduct 3D scanning regardless of ambient conditions. Thanks to its compact size and portability, SIMSCAN enables on-site and efficient 3D scanning, and it suits well for scanning hard-to-reach areas.
Made from aerospace-grade aluminum-alloy, Scantech's SIMSCAN scanner is sturdy and durable and performs well in heat dissipation. Its material ensures a prolonged use of the 3D scanner.
With an anti-slip shell and a hand strap, you can orient this scanner in any way you choose to suit your 3D scanning needs.
---
Scantech KSCAN-Magic — industrial handheld 3D scanner
Resolution: 0.010 mm
Scanning rate: 1,350,000 measurements/second
Scanning area: 1440 x 860 mm
Esteemed 3D scanner company Scantech have announced the launch of their latest KSCAN 3D scanner, with 5 five different modes for all types of scanning. These include a large area scanning mode, fast scanning mode, photogrammetry, as well as a fine scanning mode. Featuring both infrared lasers and blue laser technologies allows the KSCAN-Magic to accomplish a wide range of scanning functions effectively.The KSCAN-Magic 3D scanner can handle large, industrial objects like plane parts, as well as intricate, smaller objects.
It scans accurately, quickly, can handle small and large objects, and is designed to accelerate time-to-market. The 41 equipped laser lines can handle an incredible 1.
35 million measurements per second, creating detailed scans in record time.
If you are looking for leading-edge 3D solutions for your business, KSCAN definitely surpasses expectations with its resourcefulness and precision.
---
Are 3D Scanners Worth It?
3D scanners are almost always worth the investment, but to decide which is best for you, you'll need to consider your budget, needs, and priorities. Keep an eye on scan resolution quality and accuracy, scan speed, and price to find a 3D scanner that's worth it for you.
Buyer's Guide – Things To Consider When Buying A 3D Scanner
Budget
Expect to pay anywhere from $400 to $200,000 for a 3D scanner. There are numerous options suited to all budgets dotted between those two extremes.
Entry-level hobby scanners suitable for 3D printing are available for less than $1,000, while more robust machines suited for light-professional scanning sell for around $5,000.
Should you want the cream of the crop scanners designed for the most-demanding industrial-level applications such as engineering, expect to pay more than $10,000.
Speed
When applied to 3D scanners, speed refers to the rate at which a machine captures or scans a 3D object. Consumers and most professional 3D scanners record speed in points per second or frames per second. The higher the count, the faster the scanner.
If you're buying for a professional setting where productivity is critical, we recommend eyeing faster printers, which generally push points per second into the millions and frame rates around 20 FPS.
Resolution and Accuracy
Accuracy refers to how well the finished digital object matches its real-world counterpart. Accuracy pops up in specification sheets expressed in mm, which indicates to what degree the 3D scan sticks to the shape, size, features, etc., of the real-world object.
For a budget 3D scanner, 0.1-0.2 mm is a solid reference point, while much more expensive industry scanners can jump to as low as 0.009 mm on the most powerful devices.
Though similar to accuracy, the resolution refers to the smallest possible distance between points on a 3D scan.
In layman's terms, a higher resolution delivers finer details and more intricate, faithful features. You'll find manufacturers refer to resolution in mm, a measure that balloons and shrinks based on the price of the 3D scanner.
Budget printers waver around 0.3-0.5 mm, while professional scanners can push resolutions as high as 0.1 mm.
Software and Connectivity
Connectivity refers to how a 3D scanner allows you to scan, export work, and interface with a PC or other device as well as the source of power. In most cases, USB is the standard, with some outliers offering Bluetooth.
If you're looking for portability, consider handheld scanners that pair with Smartphones and power banks so you can quickly scan on the move.
Software tied to 3D scanners come in all shapes and sizes, from barebones scanning tools to advanced suites with all manner of post-processing touch-up options.
It goes without saying that software capabilities match the target audience of each scanner.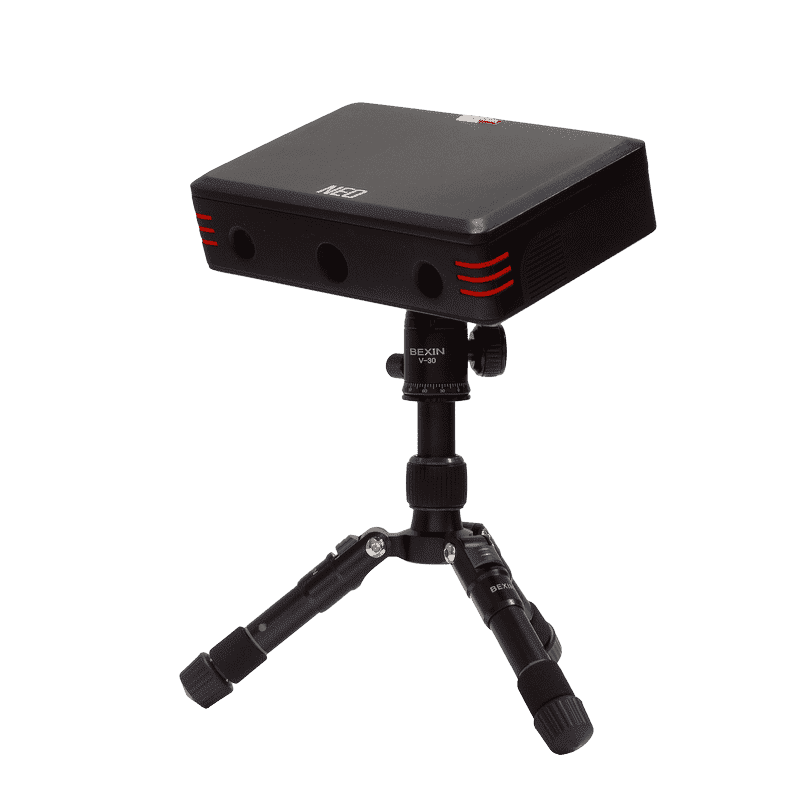 Pay more for a professional scanner, and the software generally features a more robust set of tools.
Use Case
Entry-level 3D scanners are a good option for hobbyists looking to scan objects with 3D printing in mind. They are just about affordable and work well, although they lack the detail and speed of pricier models.
We recommend handheld 3D scanners for larger models. These grant a degree of freedom and movement to capture all the detail and breadth of bigger objects. A large scan area helps speed up scanning large objects, too.
For small fixed object scanning, where capturing all the rich details and texture of a model tops your list of requirements, look to stationary scanners, ideally with a turntable, tripod, and an optimized alignment algorithm.
3D Scanning to 3D Print
3D scanners are often used to create 3D printable models, with 3D scanner and 3D printer setups allowing you to replicate almost anything in front of you. Simply use the 3D scanning camera to create a digital model of your object, and then 3D print the scan.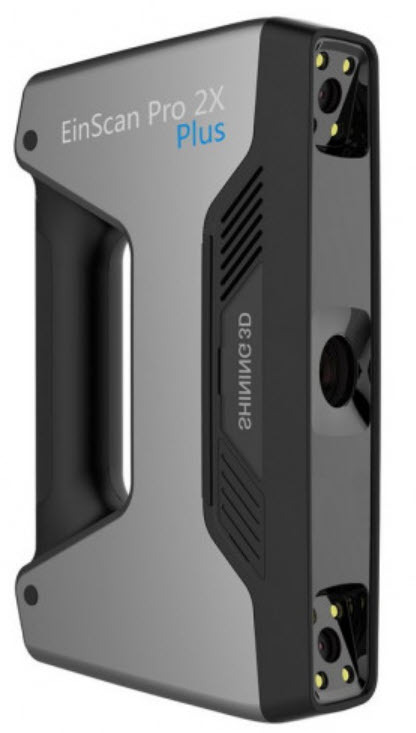 Large objects can be scanned using handheld 3D scanners and moved around the object's dimensions, and then sized down and 3D printed as a scale model. These 3D printer scanner combos offer almost limitless versatility.
3D Scanner Cost
Budget/entry-level
Thanks to efforts from companies like Creality and Revopoint, there's a concerted effort to lower the cost of entry and boost accessibility to 3D scanners.
It's now possible to buy a decent entry-level scanner for under $1,000, with ultra-budget options like the Phiz 3D scanner dropping as low as $400.
Even though the experience and features measure up to the price paid, budget 3D scanners offer everything needed to create decent quality scans suitable for hobbyist applications.
Read more: the top low-cost 3D scanners
Mid-range
Jumping up to the mid-range category, you'll find 3D scanners priced anywhere from $1,000 to $10,000. These are generally professional-grade machines with a range of tech, modes, and excellent scan quality, striking a balance between functionality and price.
Top-range/Industrial
The top-shelf 3D scanners. Expect to pay upwards of $10,000 for industrial-grade devices. These are very much no-compromise options boasting the peak in accuracy, resolution, and scan speeds for industry applications such as scientific measurements, reverse engineering, demanding 3D visualization, architecture, and rapid prototyping.
3D Scanner Uses
Medical: custom orthopedics, wheelchair and mobility aids, prosthetics, plastic surgery implants, protective equipment, realistic dummies for training.
Dental: bespoke implant and crown design suited to specific patients.
Jewelry: bespoke designs, repairs, and easy duplication/replication of damaged family heirlooms or discontinued jewelry with sentimental value.
Hobbyist 3D Printing: scanning real-world objects for reproduction using a 3D printer. Miniatures, cosplay, household items and repairs, toys, and other functional parts.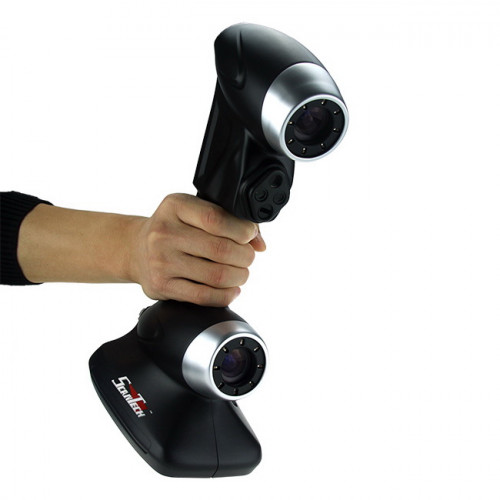 Virtual Reality and Game Design: real-world object/landmark scanning for use in VR environments, and body scans to create realistic animations and in-game models.
Engineering: tolerance testing, quality control, data analysis, fully textured models, infrastructure building and monitoring.
Reverse Engineering and Repairs: automotive, aviation, naval repairs, and restoration of antique or discontinued vehicles.
Archeology and Conservation: heritage conservation of objects, artifacts, and skeletal remains.
Architecture: building scanning for surveying, design, and reverse engineering degraded exteriors for repair.
Forensics: digital replicas of crime scenes to capture evidence such as shoe prints, blood stains, bullet holes, and so on.
---
Types of 3D Scanners
The main types of 3D scanners include:
Laser triangulation 3D scanners
Structured light 3D scanning
Photogrammetry
LIDAR (time-of-flight)
Metrology 3D scanners
Intraoral 3D scanners for dentistry
3D body scanners
The two most-used technologies are structured light scanning and laser triangulation.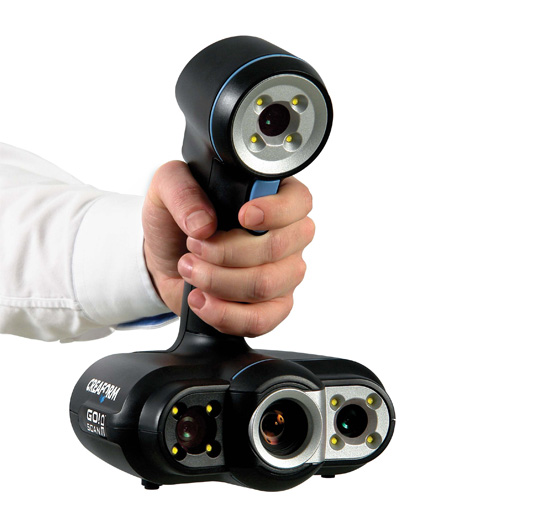 Structured Light Scanning
Structured light scanning is commonly used in handheld 3D scanners and involves projecting patterns of light at an object, with two cameras usually placed on either side of the projector to measure the light pattern from each side and calculate precise differences at every point in their field of view.
These cameras measure how the light deforms the light pattern, and by triangulating these multiple different reference points across different images of the scan from each camera view, you can accurately calculate the dimensions of the object.
As a result of its portability and accuracy, dental 3D scanners typically use structured light scanning to scan patients' mouths and create dental implants and models. Beyond this however, architects and historians are using these types of 3D scanning to keep digital records of priceless historical monuments, and NASA even use it to map interplanetary terrains.
However, the use of projected light makes it very sensitive to the lighting conditions in the scanning environment, so working outside or in other similar environments can be difficult.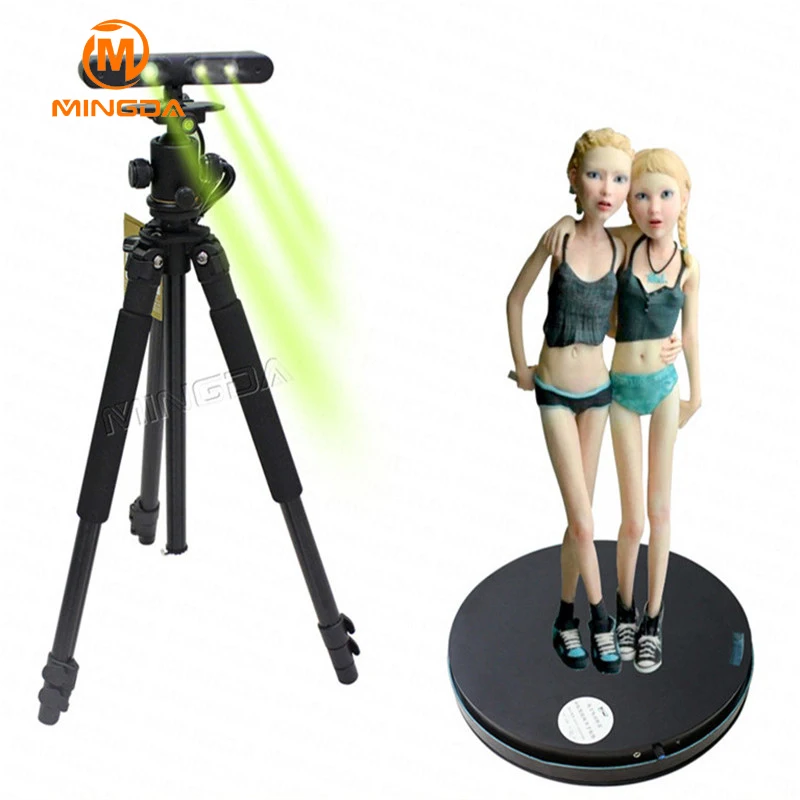 Laser triangulation
Laser scanning involves projecting a laser point on an object and then using sensors to capture the reflections to gather data on the object's size. Based on the reflection angle from the laser's sensors, the 3D scanner can create accurate textures and surfaces using trigonometric functions.
However, because it works off reflections it can be ineffective if scanning shiny or reflective surfaces, and won't work well with anything transparent.
Structured light scanning is generally considered more accurate than laser scanning, with less noise in scans.
LiDAR 3D scanning and Time of Flight 3D scanning
Another form of 3D scanning, and the technology used in the latest iPhone 12 Pro, is LiDAR. Light Detection and Ranging involves shooting out light beams and calculating the object's area — based on the speed of light — on the time taken to reflect back to the Lidar 3D scanner.
These are very similar to time-of-flight 3D scanners.
These scanners shoot light pulses, calculating the time of flight for each pulse to create a 3D visualization — or point cloud. They're commonly used to map terrains, measure real estate, and in architecture and construction.
Handheld 3D Scanners
Portable and versatile by design, handheld scanners allow you to efficiently and freely scan large objects, narrow spaces, or all the details of a human subject, for example.
Stationary 3D Scanners
Fixed scanners are a solid option if you plan to scan small objects and want the device to do most of the heavy lifting. They generally come with a stand or tripod and turntable. Automated scanning is also typically part of the deal here, with different modes of alignment to choose from.
3D Body Scanners
As the name implies, 3D body scanners are specifically designed to capture a full 3D scan of human bodies.
Towering machines, usually priced in the tens of thousands of dollars, 3D body scanners provide a fast and accurate 3D body scan for various applications, including health, fitness, animation, and more.
Read more: our feature story on 3D body scanners.
3D Scanner FAQs
Which is the Best 3D Scanner?
For those on a budget, our top pick is the Revopoint POP. It's versatile, portable, affordable, and offers a solid level of accuracy for the price.
The EinScan H is a solid mid-range option for businesses and professionals looking for fast, highly-accurate printing.
Finally, if you want the best on the market today and have the budget to spare, Scantech's SIMSCAN and KSCAN or the Artec EVA are all top-shelf options for the most demanding applications.
Who Makes the Best 3D Scanner?
Revopoint with their POP 3D scanner range, along with Creality's low-cost scanners, make some of the best 3D scanners for hobbyists at home.
Companies like Artec, Shining 3D with their Einscan range, Scantech, and Creaform are known for high-quality commercial scanners.
What Is The Best 3D Scanner For Small Objects?
We recommend a stationary 3D scanner like the BQ Ciclop for affordable home scanning, and the Shining 3D EinScan SP for professional small object scanning.
What Is The Best 3D Scanner For 3D Printing?
We recommend the Creality CR-Scan 01. Creality has made the most of its 3D printing know-how to design a scanner that blends seamlessly into the 3D printing workflow. It's compact, versatile, and reasonably accurate, perfect for most 3D printing hobby applications.
What Is The Best 3D Scanner For Reverse Engineering?
Scantech's SIMSCAN rises above the rest as our top choice for reverse engineering. It's particularly adept at capturing highly-detailed and accurate scans of objects in hard-to-reach spaces, perfect if you're looking to reverse engineer a part from an aging piece of machinery or antique car, for example.
3D face scan with 3D scanner
Solve individual problems in medicine and cosmetics
Test scan
Applications
3D Model Examples
Scanning tips
Hardware and software
Where to buy?
In the field of modern technologies, the terms "personification", "individualization" are increasingly used.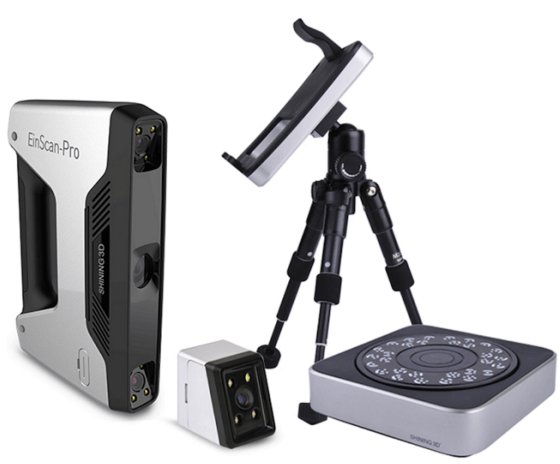 The solution of these problems becomes possible with the use of 3D scanners.
3D scanning is increasingly used by specialists in the field of medicine, health and beauty - cosmetologists, dentists, prosthetists, surgeons. In their work, they trust 3D scanners to solve problems such as the creation of individual prostheses, implants, surgical templates.
Also, 3D scanning of the face and body is used in the entertainment industry, in design and advertising to create souvenirs, individual packaging.
3D scanner captures
fine details
The peel 3d line of 3D scanners was created to digitize various structures, including the human face, skin and its defects with an accuracy of 0.1 mm.
Applications
Plastic surgery
3D facial imaging for maxillofacial surgery
plastic surgery modeling
Facial prosthetics
creation of individual prostheses, surgical templates, implants
visualization and modeling of the result of transplantation and prosthetics
Advertising, entertainment industry
production of promotional items, including 3D printing
3D visualization of art objects
creation of digital models for computer games and other programs
Souvenirs, designer accessories
making figurines of real people for printing
manufacture of personalized accessories and jewelery
digitization of mini-copies of real objects, sculptures, busts
Project examples
Lincoln's face
human ear
Human face in high resolution
More cases in different industries
Test the scanner for free and see how it performs for your needs Test scan
Human face scanning recommendations
Do you want to test the 3D scanner?
Order a scan in our office or make an appointment
for an online demo.
3D Face Scan Solutions
3D peel 3d scanner Face scanning is fast, easy and safe!
The compact peel 2, peel 2 CAD, Go!SCAN 20 scanners are professional solutions for digitizing objects up to 3 m with an accuracy of 0.1 mm and the ability to capture texture and color.
Go to catalog
Software Unleash your creativity with this powerful 3D modeling software!
The peel 3d software product allows you to solve all the main tasks when processing scanned data.
Go to catalog
Why order
solutions from iQB Technologies
Exclusive distributor of peel 3d in Russia
Professional
3D scanners at the price of budget analogues
Free test
3D scan of your part
Demo hall in Moscow: more than 10 scanners and 3D printers
Services for the implementation, maintenance and repair of 3D equipment
Training in the use of 3D scanners in prof.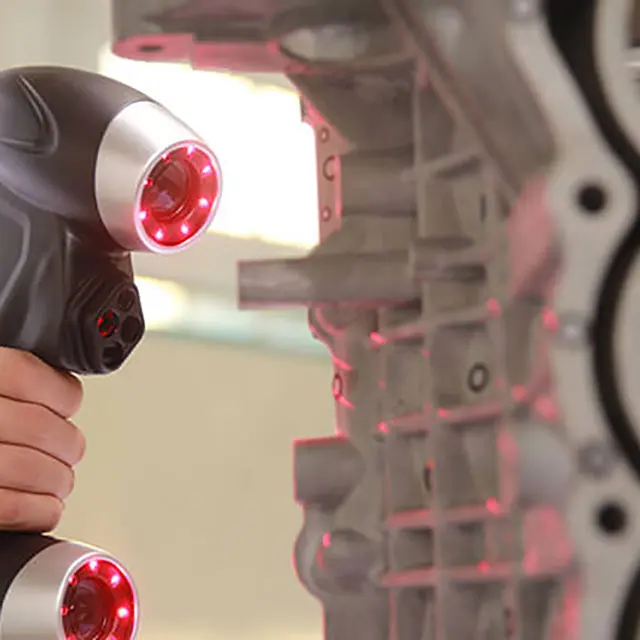 activities
3D scanning services based on our own fleet of equipment
About
3D Scanner Applications
3D scanning technology continues to gain popularity, and today the 3D Scanner (3D Scanner) It is used not only in production, but also for scanning a person's face. 3D scan first (3D Scanning) faces used for biometric access control systems, but now the technology is in demand primarily in dentistry, plastic and maxillofacial surgery, and cosmetology.
Scanning a human face with the peel 3d 3D face scanner can be done almost under any angle, unlike complex measurement methods such as magnetic resonance imaging (MRI) and computed tomography (CT). This greatly simplifies the process of creating a 3D model.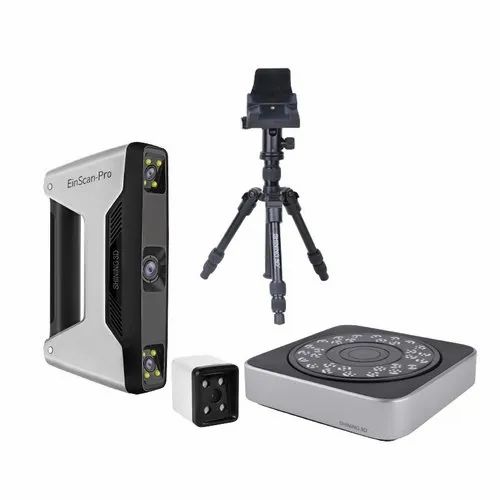 However, it should be taken into account that three-dimensional scanners can only recreate the surface of an object and are not suitable for obtaining a digital ideas about the internal structures of the brain.
Thanks to the 3D face scanner, you get an exact copy of the scanned object, which can then be used for rapid prototyping. peel 3d captures even the smallest human movements and corrects those caused inaccuracies, thereby providing a high-quality and detailed 3D face scan.
You can process the data obtained after scanning in the peel 3d software for detailed analysis of 3D scans. You can order it from iQB Technologies, the official distributor of solutions peel 3d in Moscow and throughout Russia, as well as in the CIS countries.
You can order a scanner from our warehouse in Moscow with delivery, and we will promptly bring the equipment to a place convenient for you.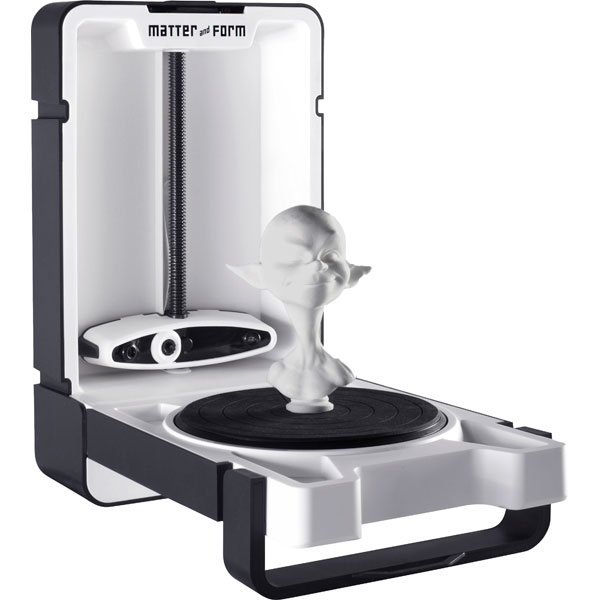 Why budget 3D scanners are not suitable for professional tasks / Sudo Null IT News
How to correctly choose and buy a 3D scanner for professional tasks? Why using budget devices can be a costly mistake?
Every year, sites such as Pinshape and 3Dprint.com publish guides for choosing the best budget 3D scanners available on the market, many of which are designed for amateur use. But what about high quality 3D scanners for industrial and professional applications?
Creaform HandySCAN 3D is one of the most advanced handheld professional 3D scanners on the market

Could insufficient coverage of metrology-grade 3D scanners in such manuals lead engineers and designers to use budget 3D scanners for their professional tasks? This article aims to complement such guides and explain why the use of low cost 3D scanners in professional applications can have costly consequences downstream.
Engineers and designers who want professional 3D scanning features but think they can get the same results with a cheap scanner will be disappointed.
Industrial 3D Scanner Price Factors
Engineers and designers need a 3D scanner that is highly accurate to ensure that the result matches the design exactly. A deviation of as little as 0.01 mm can result in product rejection.
They also need high resolution to ensure accurate positioning. If the data is incorrectly positioned, aligned, or integrated, the result is similar to scanning under unstable conditions.
In addition to accuracy and resolution, industrial 3D scanners have other features: speed allows you to reduce the time it takes to digitize an object and increase the speed of data collection and transfer.
Thanks to the versatility of the device, you can scan a variety of products regardless of their material, shape, color or size.
Finally, ease of use determines the quality of the work and the results obtained.
By using 3D scanners that do not have these features, engineers and designers risk poor scan results and inaccurate data, which in turn can jeopardize the projects they work on and their own careers.
Difference between industrial and budget 3D scanners
Metrology-grade 3D scanners are designed to enable engineers and designers to solve their professional tasks, while budget devices are more suitable for non-industrial use, especially if accuracy is not critical.
Inexpensive 3D scanners are ideal for hobbyists, for home use, while high-tech 3D scanners are aimed at professionals and allow them to obtain efficient and accurate results.
Non-industrial
Industrial
The professional Creaform Go!SCAN 50 3D scanner took 3 minutes 42 seconds to set up, scan and post-process 20 seconds.
Practical comparison of two 3D scanners
Below are the results of comparative testing of two portable devices for scanning objects up to 50 cm - an inexpensive scanner based on white light technology and Creaform's Go!SCAN 50 3D scanner.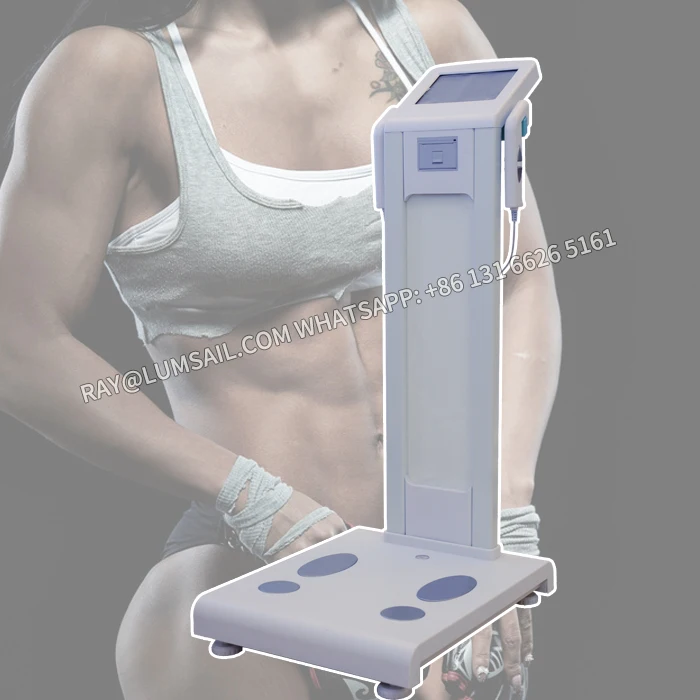 Many of the parameters of these scanners seem comparable at first glance.
Moving parts
The low cost 3D scanner uses a flash lamp as a light source and must be cooled by a fan. In addition to making the scanner quite noisy, moving parts are an important source of potential failure and will need to be replaced.
Go!SCAN 3D scanners, just like other technologies manufactured by Creaform, are solid state, which means they do not use moving parts. This minimizes the risk of malfunction and guarantees the longest possible period of reliable use.
Viewer
The viewer of a budget scanner fills up quickly, making it confusing and difficult to use. Also, only the last 50 last read frames are displayed.
The
Go!SCAN 50 offers superior real-time imaging.
Recalibration
The non-professional scanner manufacturer states that recalibration of their scanners does not require special equipment and recommends that users recalibrate the scanner by using the wall as a flat surface. However, the wall can in no way be considered a reference plane.
The
Go!SCAN 50 comes with an extremely stable and reliable instrument that guarantees maximum performance through a simple recalibration procedure.
Tracking
Inexpensive scanners are known for losing tracking during 3D scanning, making the process extremely difficult and tedious. If tracking is lost, the user can only start a new session or start over.
Creaform's VXelements software features very powerful tracking capabilities. This makes it nearly impossible to lose track when scanning a part with Go!SCAN.
Adding additional data
When discontinuity occurs, the user of the budget scanner must skim the original data, identify the frame of failure, split the sequence in this area, and then switch to manual alignment of the two sequences. This process must be performed every time a discontinuity occurs.
The
Go!SCAN 50 offers a continue scan feature (instead of manual alignment) that allows you to continue scanning from a user-selected point, the last edited 3D frame, known texture features, or any known mounted target applied to the part.
The result obtained on a professional 3D scanner
The result obtained on a budget 3D scanner
Work characteristics
The ability to use the target of the target can be compensated by the lack of geometry. A cheap scanner would have to use a workaround and mimic the geometry with external objects, or mimic the texture with colored stickers.
The
Go!SCAN 50 can use texture information for positioning (eg virtual target positioning) in a more reliable way, making it both more accurate and easier to use.
Workflow Comparison
The automated workflow offered by Vxelements saves a lot of user time and effort.
Because a regular scanner does not flatten data and generates matched results in real time, the user must go through several steps to create a mesh model. The calculations for some of these steps are very time consuming (20-30 minutes or more) and the user will have to go through this process to find out if more data needs to be collected for scanning.
Workflow Comparison for Generic Scan
Both devices were used for 3D scanning of sculpture (800mm) at 2mm resolution. The Go!SCAN 50 completed setup, scanning and post-processing in 5 minutes 42 seconds, while its "opponent" took 35 minutes 20 seconds. Thus, it takes 30 minutes longer to complete and export a scan using a non-professional scanner, and when using Go!SCAN 50, it takes about 7 times less time.
Accuracy
Scanning a 900 mm long ball tip with 38 mm spheres and a 1000 mm long ball tip with 50 mm spheres revealed that the accuracy of the Go!SCAN 50 is 2-3 times higher than that of an inexpensive scanner.