3D printing information for kids
The ultimate guide to 3D printing for kids! [2022 ]
This post may contain affiliate links.
Sharing is caring!
There are so many uses for 3D printing in today's world, and now kids can get in on the action, too! Here is how your kids can design and print in 3D!
When it comes to kids coding activities, there are a lot of options for screen-based activities. Finding a good balance between unplugged coding activities and screen-based activities is always a goal of mine.
3D printing has become a big deal in the last few years, and can help reinforce some of the basic coding concepts and help kids learn valuable critical thinking skills. The process is fairly simple; design, slice, print. But when it comes to the execution, you can teach or reinforce all sorts of coding concepts.
Read on to learn the specifics about how Your Kids Can Design and Print in 3D!
3D
Design
For Kids!
For the design process, you will need some kind of 3D design creation software.
These are sometimes called C.A.D., or "Computer-Aided Design". For kids learning to design, you don't need the top-of-the-line software. All the "extras" will just confuse your child. To help your child begin to design in 3D, first take a look at Thingiverse. 
Thingiverse is an online library of sorts, but instead of books, you can download 3D designs. When kids start to look at designing in 3D, having an idea of what the model will look like is helpful. They can find pretty much anything they want on Thingiverse, so whatever they are interested in, you will probably be able to find a model of it. 
Once you have an idea of what a 3D model looks like, you will need to learn how to move and design in a 3D space. It's not quite as easy as designing in 2D or just drawing on a piece of paper. I usually head to TinkerCad to get kids started. 
TinkerCad is awesome for helping kids learn to design in 3D.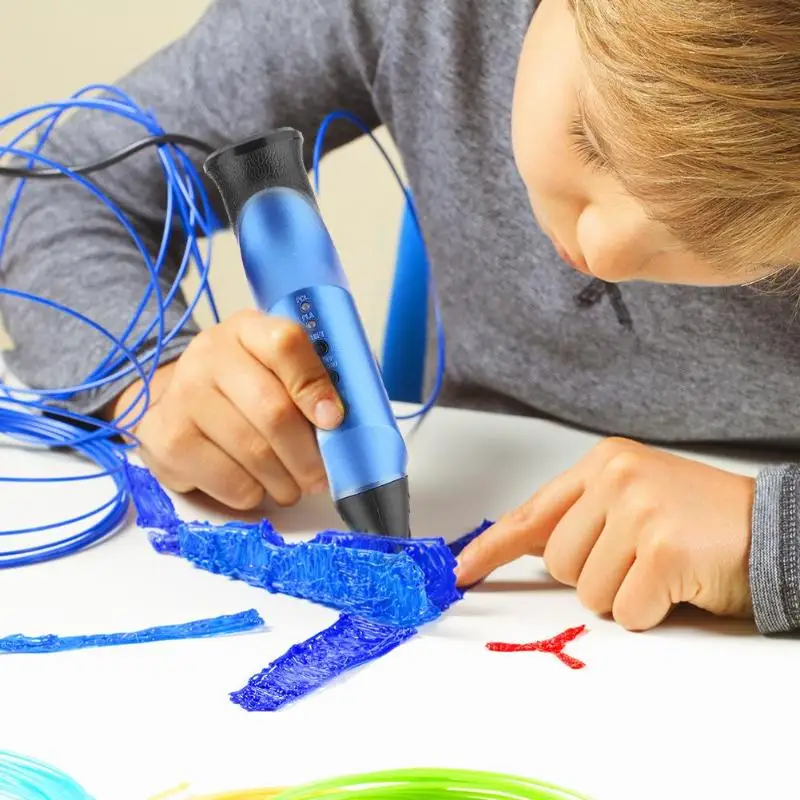 Once they get signed in, the "Starter" lessons teach them how to move, place, edit, and delete objects within the 3D world. After they get through the starter lessons, there is a bank of other, gradually harder lessons they can start on. If you want to get really fancy, you can have your child download one of the designs on Thingiverse, then drop it into TinkerCad so they can edit it and make it their own. Whatever they do, they will be working on visual-spacial skills and computational thinking, which are both wonderful skills to help develop a budding computer coder/programmer!
Slice (Adult Assistance Needed)
In order for a 3D design to be built, it has to be sliced into layers that the printer can understand. Each type of printer has it's own proprietary slicing software, so make sure you get the correct software for whichever printer you will be using. 
When you are done helping your kid design in 3D, you will export the print to a file.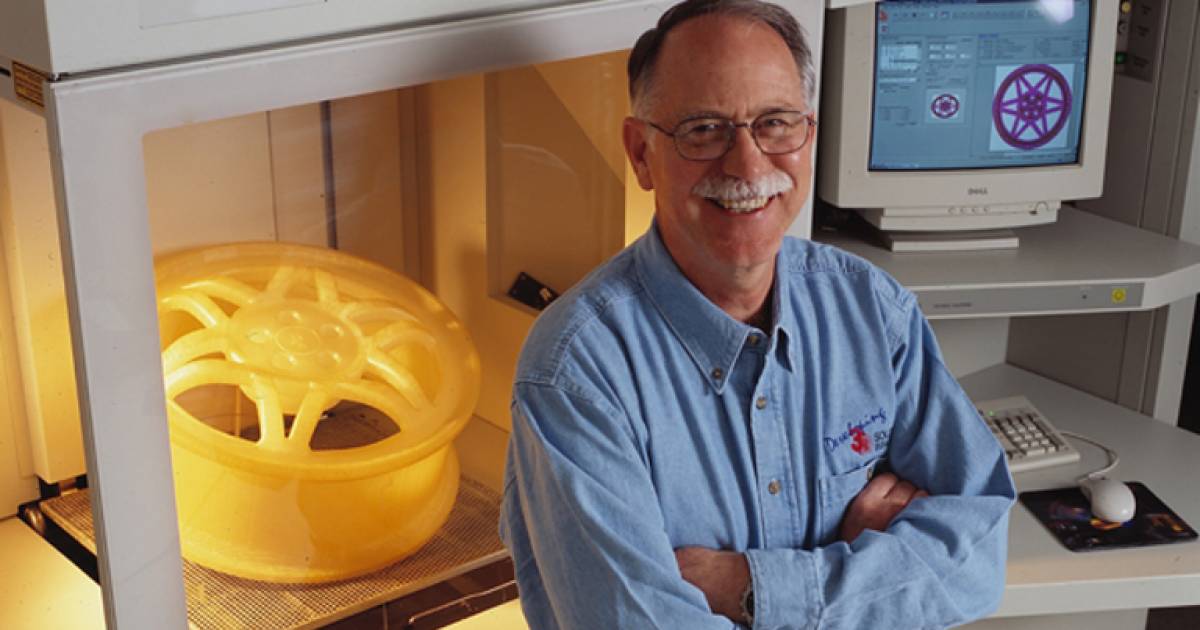 The best option is usually to export as a .stl file, the most common file type for 3D design. You will then open that .stl file in the software that works for your particular type of printer. 
What you will see from there depends on the printer and its software, but most of them have similar features. You will probably be asked to run some kind of repair check – where the software looks for possible printing issues and repairs the model for you to take care of them. You may be asked if you want to add a "raft" to the bottom of the model, making it easier to remove. You may also have the ability to scale up or down depending on the software, And then you will probably have some sort of "Slice" or "Print" button. 
Once you click on the "Slice" or "Print" option, one of two things will happen. If the printer is hooked directly to the computer, you might hear it begin to hum and warm up.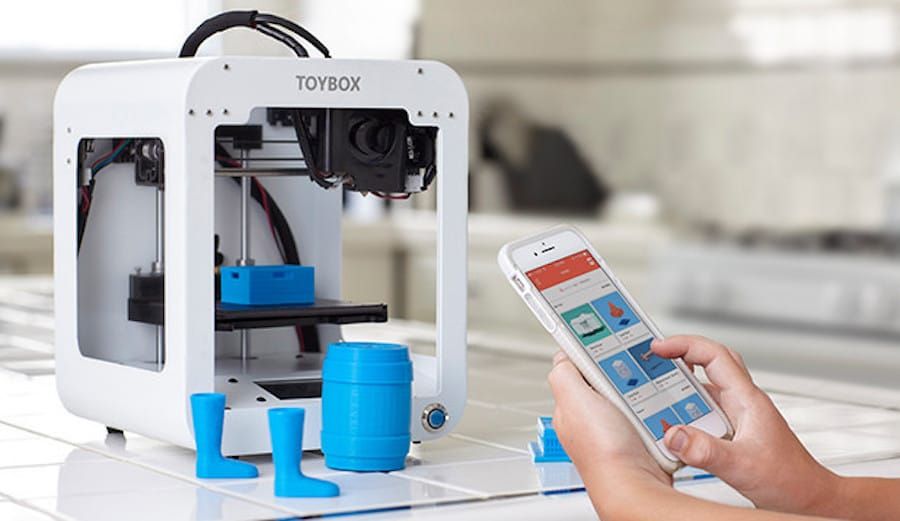 If not, you might be asked where you would like to save the new file. This should no longer be a .stl file. It will now have a new file extension, which will probably reflect the type of printer you are using. A flash drive (Thumb drive/USB stick) will be helpful here to get the file from the computer to the printer. 
3D
Printing for Kids (Adult Assistance Needed)
One of our first 3D prints – Design by MyGybeer
However you get the file to the printer, you will now be able to select and print it. A 3D printer works very much like a robotic hot glue gun. The printer can move side-to-side, forward and back, and up and down. The model has been sliced into layers, so the only time the printer moves up is when it has completed a layer and is moving to the next one. 
I like to teach my kids about 3D printing with a deck of cards. I hand them one card, and ask them to show me with their fingers how thick it is.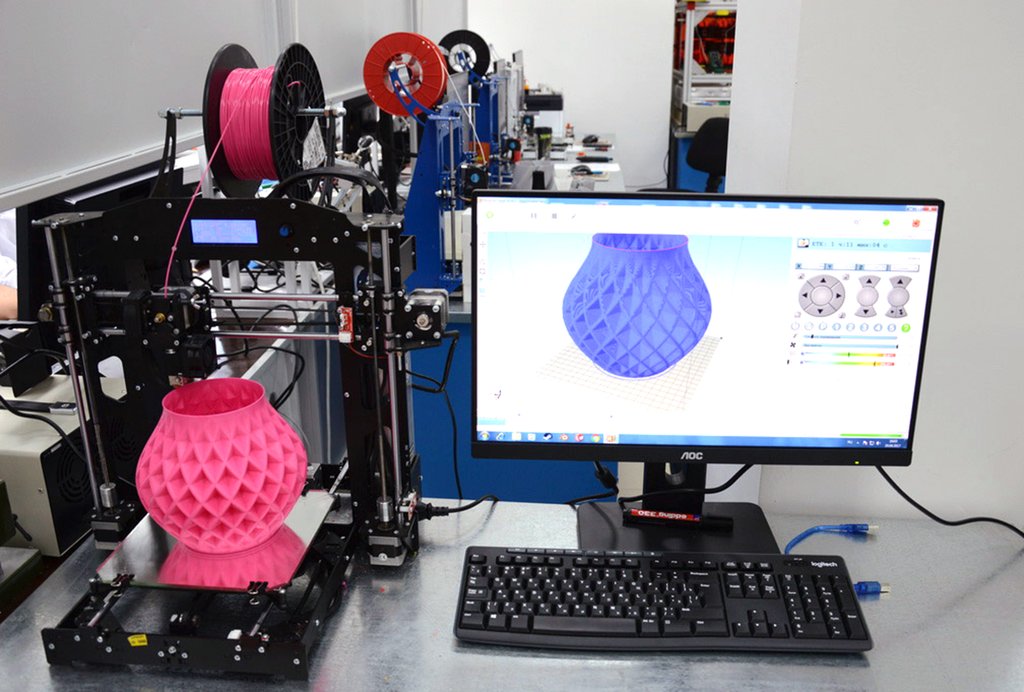 This usually gets a few laughs! I then have them help me lay out all the cards, end-to-end, across the floor. We talk about if the cards are all the same thickness, and how we have changed the way they look by laying them out. 
The next thing we do is stack the cards back up. As we go one-by-one, I teach my kids that this is how a 3D printer works; there are many layers that make up their model, and the printer simply stacks layer after layer to eventually create their design!
For adults, you should know that the printer nozzle gets quite hot. Once the printer is printing, you should encourage your child to watch, NOT touch. Many 3D printers in schools are enclosed in some kind of box or case, to make sure that no little fingers get hurt.
The Best 3D Printers for Kids
We use the Flashforge Finder 4.0 printer. We love this printer as its easy to use, comes with a flexible print bed (so helpful for getting the models off the plate!), and prints really well.
There are a lot of other options on the Market. You can check out our full review of the best 3D printers for kids.
1,051 Reviews
Flashforge 3D Printer Finder 3 Glass Heating Bed with Removable PEI Surface and Magnetic Platform, Fully...*
✅ 【Large Size & Direct Drive Extruder】Compared with Finder 2, the build volume of Finder 3 is increased by 270%. It increases the success rate of a perfect first layer and offers stronger compatibility and wider application range.
✅ 【260℃ High Temperature Nozzle & Support Various Filament】High filament compatibility. More printing possibilities. Finder 3 3d printer shows great performance on 3d printing PLA/ABS/HIPS/PETG/PETG PRO/TPU 95A and etc.
✅ 【Glass Platform & PEI Magnetic Build Plate】Good adhesion to the printed model and enables fast heating up of the heat bed. The build plates is not only durable but also flexible. Once the printing completes, users can remove the printed model effortlessly.
Bestseller No. 1
58 Reviews
Toybox 3D Printer for Kids, No Software Needed (Includes: 3D Printer, 8 Preselected Printer Food Rolls, Free...*
KID FRIENDLY: Built to be used by children, Toybox can be controlled with simple one-touch functions. No adult assistance needed, no need to adjust removable print bed, easy filament loading and novel print bed design that doesn't require a knife to remove prints like most 3D printers
UNLIMITED CATALOG OF TOYS: Thousands of awesome toys are available at your fingertips in our Toybox catalog. New toys added weekly and seasonally.
CREATOR SPACE AND EASY IMPORT: Upload designs to create your own toys or draw them and bring them to life through our user-friendly apps and tools. Your creations are stored on the cloud for easy access.
Bestseller No.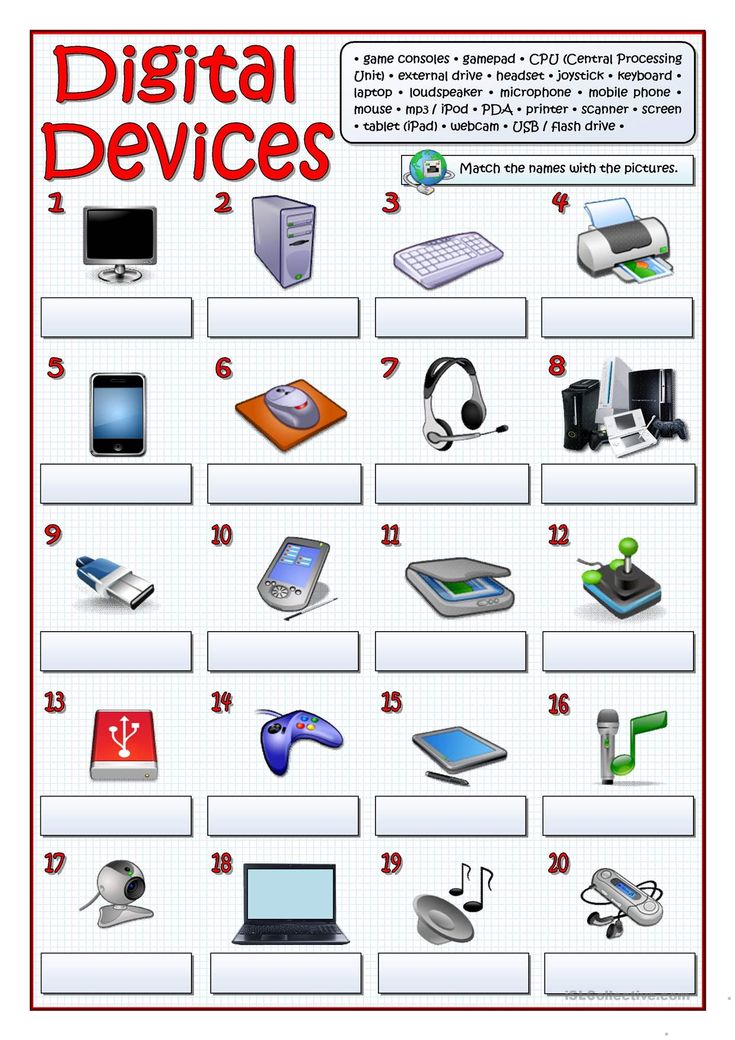 2
152 Reviews
Mini 3D Printer for Kids with Removable Magnetic Build Plate 1.75mm Free Test PLA Filament DIY 3D Printers...*
3D Printer Gifts for Kids and Beginners: As an entry-level version,our 3D printer is easy to install and operate,which means beginners don't have to spend much time of learning to enjoy 3d printing experience,allowing kids and beginners to get involved in the beautiful culmination of creativity and science with 3D Printing.
Quick Assembly & Easy Operating:The mini 3D printer consists of 3 main parts, normally it can be assembled in 5 minutes according to the assembly video (included in TF card and product page). It's easy operating, 'Power on', 'Feed', 'Stop feeding', 'Start printing', then you just need to wait for your project. You can print the attached model file or download model files online. Note: It will print the latest one if there are multiple model files in Micro SD card.
Massive Free Printing Models:We have plenty of models and self-slicing software for download,providing you a better printing experince.Please check attached user manual to download printing models and software
Where to find a 3D printer
There are now so many 3D printers on the market, and there are quite a few affordable 3D printer options. You also might try contacting your school librarian – They may be able to tell you where in the community you can find a public-use printer. If you can't find anything nearby, and don't want to buy a printer yourself, there are services that will print your kids 3D design for you, and ship it to you. However you get the design printed, you will love to see the look of surprise and joy on your child's face when they see their 3D design IRL! (In Real Life)
Step By Step Guide to 3D Printing With Kids
Ok let's review the exact steps needed to get started 3D printing with kids.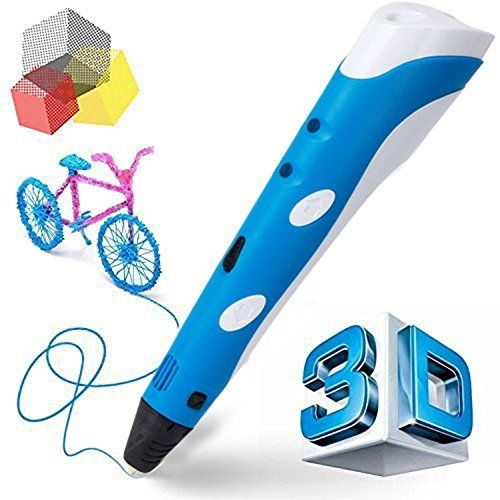 Brainstorm ideas for 3D print designs. Look on Thingiverse for inspiration. Or consider our 3D printer tutorial for a ready to go project.
Get started designing your first 3D print on TinkerCad. Keychains, bookmarks, and name tags are a great starter project. We have specific tutorials below that take you step by step through TinkerCad.
Once your design is complete click 'export' and save as an .stl file.
Open the software that came with your specific 3D printer. This will be different according to your printer model. Import the .stl file into this software and confirm the settings on your printer. Export this file to a usb stick and plug it into your 3D printer. Get ready to press print!
3D Printing for Kids Tutorials
Check out our collection of step-by-step guides to 3D printing with kids. These guides are designed to be used in a classroom setting and come with a google slides presentation and a set of worksheets for students.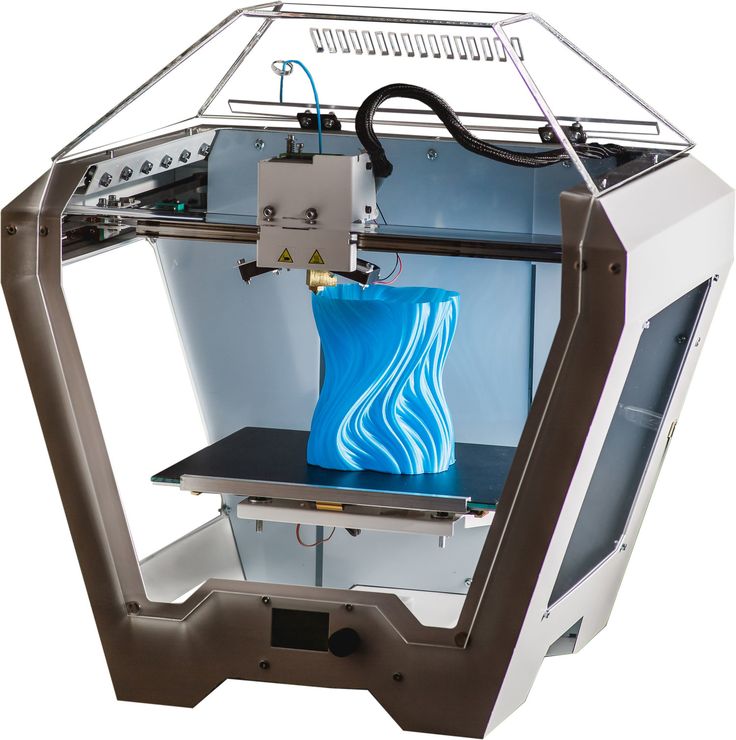 3D Printing Tutorial: Design Your Own Custom Name Tag
3D Print and Code Tutorial: Code Your Own Thanksgiving Turkey Napkin Ring
3D Printing Tutorial: Create your Own Custom Ornament
Final Thoughts
If 3D printing is something you never considered for your kids, you should start thinking about it! 3D design is a great way to get kids thinking about problem-solving, spacial skills, and critical thinking, all essential concepts when teaching kids to code.
Not yet ready for a 3D Printer? Why not try a 3D pen! 3D pens have become very popular for kids and will get your kids started with basic 3D design. Read our guide to the best 3D pens for kids.
3D design and printing is a great way to get artistic kids into coding and computational thinking. What experience do you have with 3D design and printing? Have you heard of the medical breakthroughs that are becoming possible thanks to this technology and dedicated designers? Did you know Your Kids Can Design and Print in 3D?
Frequently Asked Questions About 3D Printers for Kids
What age is appropriate for 3D printing?
We recommend 3D printing for kids 8 and older.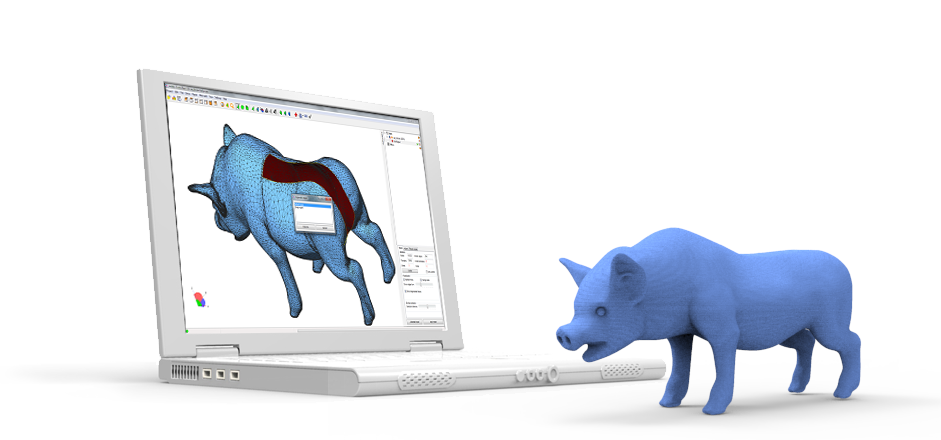 There are a variety of options of 3D printers perfect for this age group.
Is 3D printing good for kids?
Of course! 3D printing teaches kids about problem solving, spatial skills and critical thinking.
How much does a 3D printer cost?
3D printers can range from a few hundred dollars to a few thousand dollars. We have a range of affordable options reviewed above.
What can kids make with a 3D printer?
Check out Thingiverse to see all the great designs you can create with your 3D printer. From figurines to practical home accessories, the sky is the limit!
Pin for later!
Katie Victoria
Katie is mom of two rambunctious boys and a self-proclaimed super nerd. With a background in neuroscience, she is passionate about sharing her love of all things STEM with her kids. She loves to find creative ways to teach kids computer science and geek out about coding and math.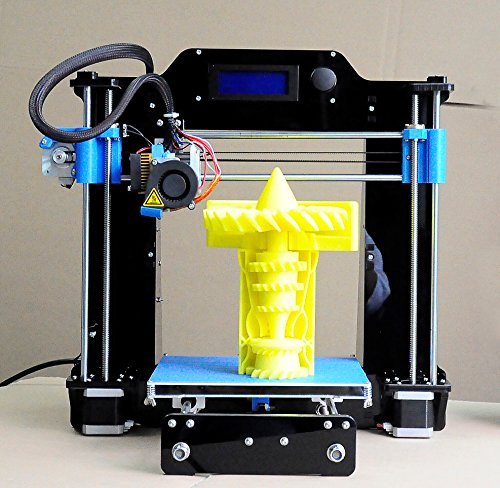 You can find her blogging at Teach Your Kids Code.
What is 3D Printing? - beanz Magazine
What is 3D Printing?
By Tim Slavin / Coding Concepts Articles for Kids / February 2015 Issue
Creative Tools on Flickr
A basic introduction to 3D printing with concepts, examples, and a glossary of 3D terminology.
This article provides a high level overview of 3D printing. While the technology has been around for twenty five years or so, it was used primarily by engineers to create prototypes. More recently, 3D printing technology has become available to more people at a lower cost to create objects on demand locally.
A Basic Definition of 3D Printing
We all know what printing is so let's begin with the 3D part of 3D printing. 3D is shorthand for three-dimensional. When you print a page on a printer, there are only two dimensions: the front of the page and the back of the page. Three-dimensional printing adds a third dimension, volume.
3D printing uses a printer to create three-dimensional objects, for example, a cup or Yoda doll or phone case.
3D printing has these qualities:
Objects are created by adding or depositing layers of material, not subtracting or cutting out pieces from a block of material.
Because objects are created by adding layers, the computer file with details about your model must be converted into slices the printer will create layer by layer.
Printing a three-dimensional object can take hours or days to complete, depending on the complexity and size of the object.
Cost is based on materials used, among other factors. In contrast, if you buy a piece of wood then cut out pieces to create your object you pay for the original piece of wood.
How 3D Printing is Used
Today 3D printing is mostly done by business, students, and designers. Home or consumer use of 3D printing is mostly limited to people trying out the technology. However, there's a lot of value in printing three-dimensional objects for students, designers, and anyone who needs a small object to demonstrate their ideas or create usable objects.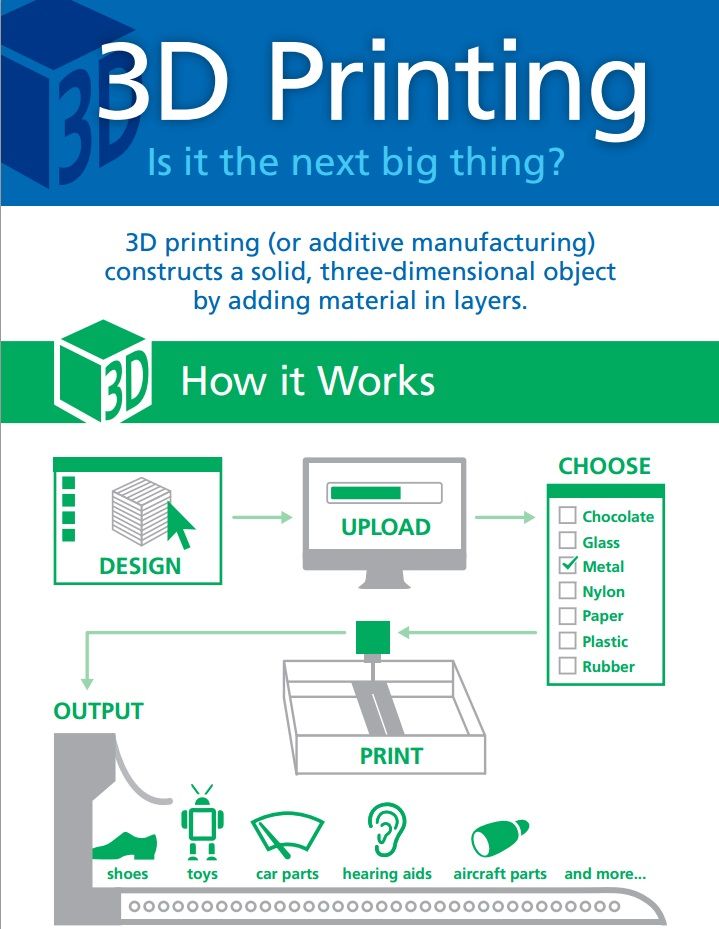 Students as young as 10 years old also might use a 3D printer in shop class.
It's the future uses of this technology which have people excited. For example, replacing the plastic back of your TV remote might involve going to a website, finding the part, then clicking a button to have the part printed locally where you can pick it up. Today you either replace the complete remote control or figure out where to get the replacement part which has been created elsewhere, likely overseas.
More interesting, 3D printing makes it possible to experiment with fashion and other parts of our lives we take for granted. It might be possible to create medical implants, for example, using tissue from the patient.
Perhaps the most talked about, and misunderstood, use of 3D printing involves making guns. While it is possible, there are many factors that make printing a gun dangerous and uncommon. It's easier and safer to create a light saber.
It's also possible 3D printing will be used as part of a larger manufacturing process, for example, to create cars.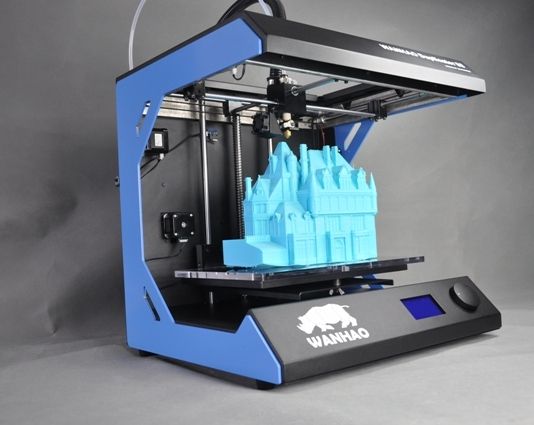 In addition to a new set of cars offered every year by automakers, 3D printing might make it easy to buy a 1967 Mustang with the latest engine, safety, and other technologies from your local car dealer.
The same dynamic applies to shoes and frames for glasses, for example, where older designs unavailable today might be available for 3D printing at home or nearby at a print shop.
In addition, there is at least one group that provides students a way to use their school 3D printers to create prosthetic parts for medical use. Students get hands on experience creating something other than a phone case while helping others.
How 3D Printing Works
At a high level, a 3D printer takes material, usually plastic wrapped on a spool, heats the material, and then fuses the material layer by layer to build a three-dimensional object. The material is extruded, or pushed out and deposited.
Precision is critical for 3D printers. The print head, pulleys, and extruder hardware must be aligned, as well as software dimensions translated to the correct real world dimensions used by the printer hardware.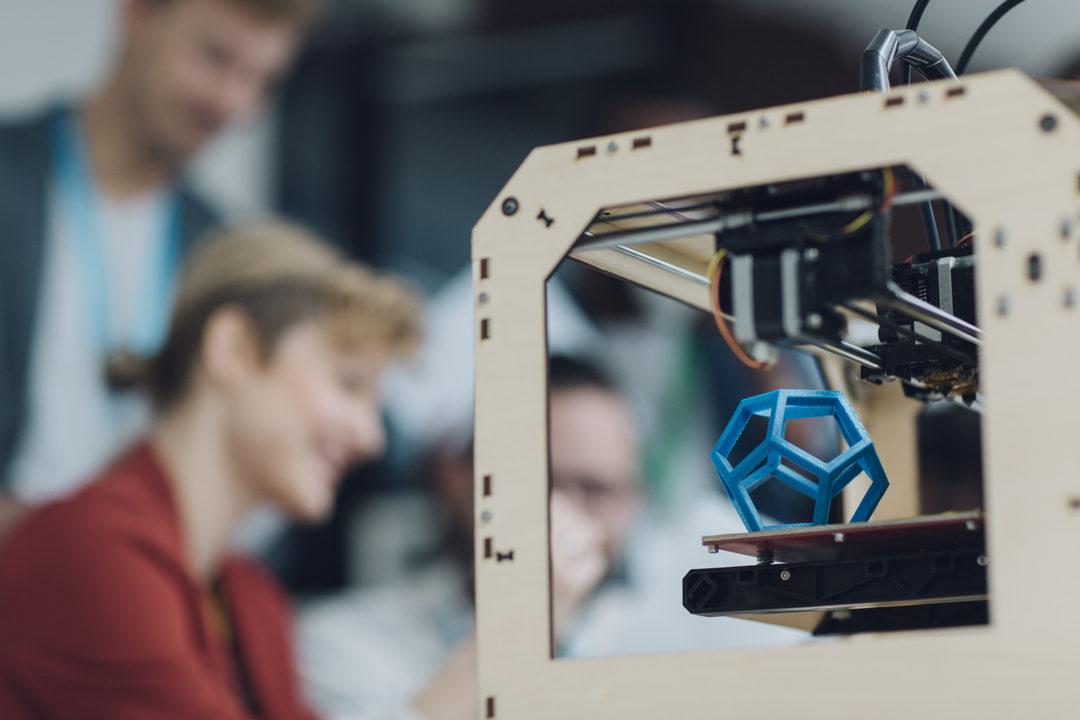 The Printrbot printer is a low end printer you can build yourself to understand how all the pieces of a 3D printer fit together and work. Most people, however, use a pre-built printer where they adjust the location of the print head and build platform, as well as test the extruder heads emit the material used to print.
There are at least two kinds of additive 3D printing, resin and non-resin. Printing objects with resin uses laser technology to solidify layer by layer to create objects. It often is extremely costly and uses light and chemicals to cure the object. However, the results are more precise than non-resin printing.
When people talk about 3D printing, they're mostly talking about non-resin printing. Instead of resin, lasers, and chemicals, non-resin printing uses plastic, food, ceramics, or other material and adds layer upon layer to create an object.
The 3D Printing Process
Printing a three-dimensional model is more complicated than opening up Microsoft Word and printing to your 2D printer.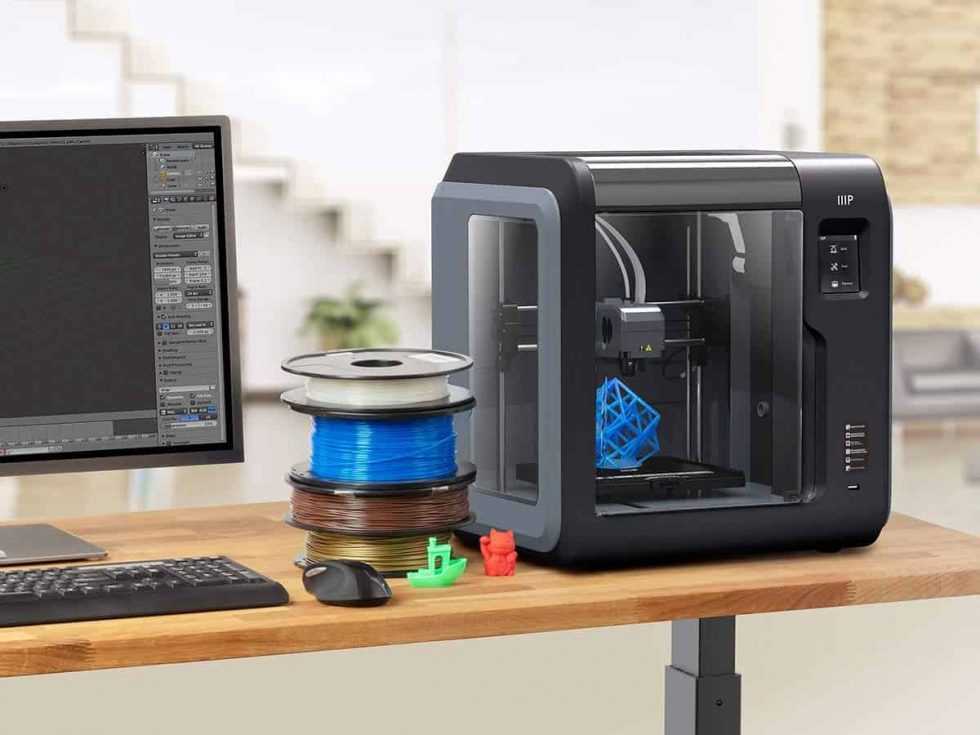 At a high level, to create a 3D model you follow these steps:
Find a model or create a model with Blendr, SketchUp, or OpenSCAD software.
Prepare your model for printing, for example, ensuring the model is watertight with no gaps.
Create an STL file which converts your model into code the 3D printer understands, using Netfabb, Meshlab, or similar software.
Print your 3D model, adjusting the printer as needed.
You might do some or all of these steps, depending on whether or not you have a 3D printer or use a printing service. There's also lots of help if you use a printing service or find help online or use a local hacker collective.
Materials Used in 3D Printing
Non-resin 3D printers use mostly ABS and/or PLA plastic which becomes pliable when heated then solid. There are other possible thermoplastics used. Some printers use metal wire. And newer printers can print ceramics or with food materials. Materials are fed into the printer with a spool that has plastic or other material wound around the spool.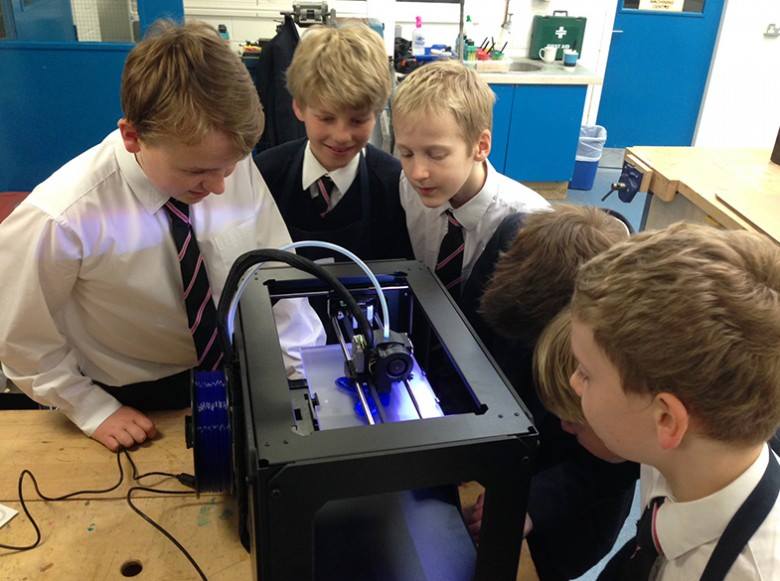 Resin 3D printers use custom formulated plastic resin poured into a tank. The resin is light sensitive and hardens when laser light heats a spot within the resin.
A Simple 3d Printing Glossary
These are key terms you will encounter with 3D printing:
3D — having three dimensions: length (width), depth, and height.
ABS — Acrylonitrile butadiene styrene (ABS) is one type of thermoplastic used in 3D printing. It becomes soft and pliable when heated. See PLA.
Additive — In 3D printing, the process of building an object by adding layer upon layer.
Build Platform — In non-resin 3D printing, the flat level surface used as a base to create a three-dimensional object. Resin 3D printing uses a tank filled with resin instead of a build platform.
Build Volume — The maximum length, depth, and height a 3D printer can use to build an object. Also called Print Volume.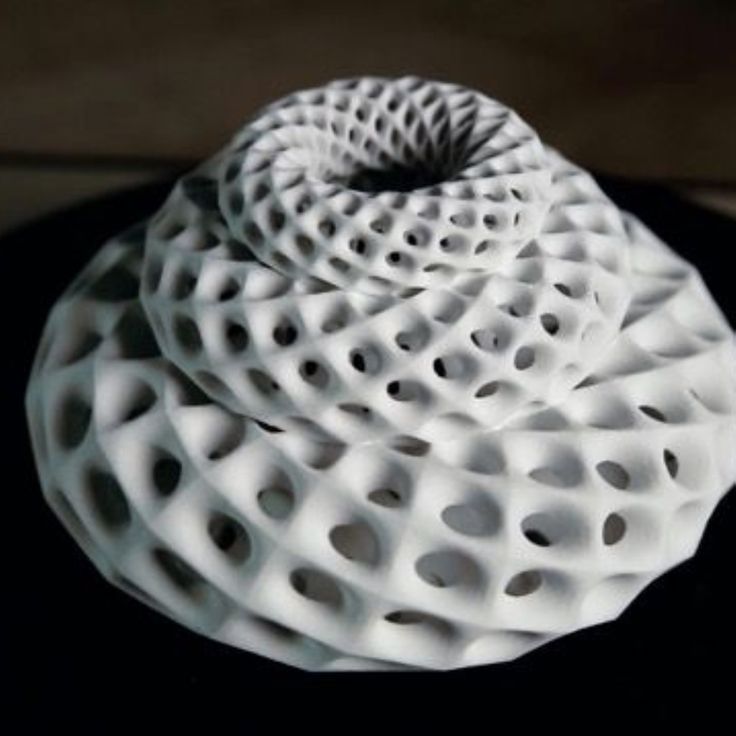 CAD — Computer-Aided Design (CAD) software is used to create complete models, usually buildings, structures, and mechanical parts. CAD models are more precise than other types of models. CAD models also use NURBs to define curved edges. Polygon modeling and sculpture modeling software also are used to create 3D models for printing.
Extruder — A nozzle that takes thermoplastic wire or other material and deposits the material at a precise location with the print head.
FDM — Fused deposition modeling (FDM) is a process to use a fused material to deposit layer upon layer and create a three-dimensional object. FDM is trademarked. An alternative un-trademarked term is Fused Filament Fabrication (FFF).
FFF — Fused filament fabrication. An alternative term for FDM which is trademarked. See FDM.
Gantry — Larger non-desktop 3D printers use a steel frame made of connected beams to suspend the print head and other parts of the printer as objects are created.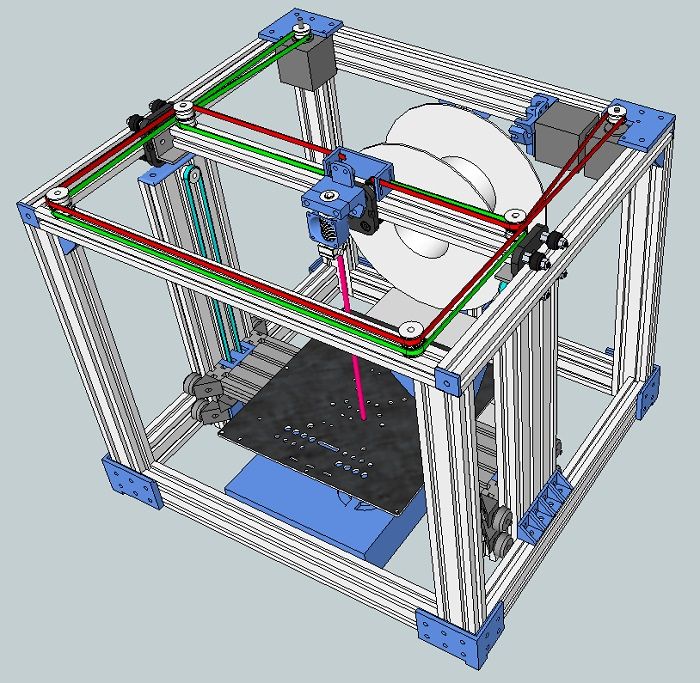 Gcode — a programming language used by machine tools, including 3D printers. A 3D model must be saved as an STL file format before it can be converted to Gcode for printing.
NURB — Non-Rational Uniform Splines (NURBs) are a type of shape where the edges of the shape are splines (curves) controlled and adjusted by handles visible onscreen. You drag a handle to change the length and position of the curved spline edge.
OBJ — The OBJ file format is a common 3D model format used by modeling software. For 3D printing, OBJ files must be converted to STL file format then Gcode for printing.
PLA — Polylactic acid (PLA) is a thermoplastic used in 3D printing as an alternative to ABS. Because it is made from sugars, PLA when heated can give off a sweet smell. See ABS.
Polygon Modeling Software — Polygon modeling software creates models by connecting and combining polygon shapes at their edges.
Polygon models rarely, if ever, use NURBs for curved edges. Instead, polygons are subdivided into new polygons to create the appearance of smooth round edges. Computer-aided design (CAD) and sculpture modeling software also are used to create 3D models for printing.
Print Volume — See Build Volume.
Quad Geometry — Quad geometry is used to describe 3D models as four-sided polygons, for example, in polygon modeling and sculpting software. Printing a 3D model requires converting quad geometry to the triangle geometry used by the STL (stereolithography) file format.
Sculpting Software — Sculpting programs can be used to create 3D models. They are polygon modeling software optimized to handle large numbers of polygons, for example, to create human shapes and round edges. Computer-aided design (CAD) and polygon modeling software also are used to create 3D models for printing.
Slicing — The process of converting (slicing) a 3D model computer file into layers and then translate each layer into machine code used by the 3D printer to build the three-dimensional object.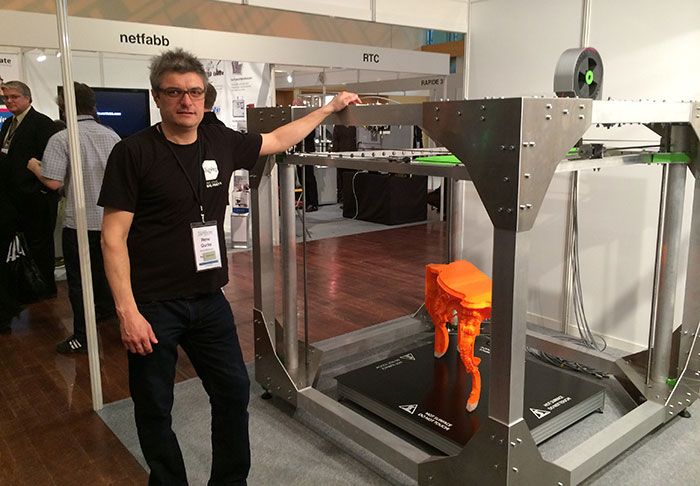 Stereolithography — An additive 3D printing process building layer upon layer by curing a resin with a laser.
STL — The STL (stereolithography) file format describes a 3D model as a set of triangles. STL files are converted to GCode which 3D printers use to print objects. Most 3D modeling software lets you save or export files in STL format. Otherwise, files are saved in OBJ (object) format and netfabb software is used to create the STL file from the OBJ format.
subD — A subdivision (subD) surface is used in polygon modeling software to provide rounded edges to otherwise square surfaces, for example, a cube with rounded edges. The subD surface allows a specified set of edges to be subdivided into additional polygons to provide the rounded edge.
Subtractive — Creating an object by removing (subtracting) parts of a single block of material.
Thermoplastic — Plastic that becomes pliable upon heating then solid when cooled.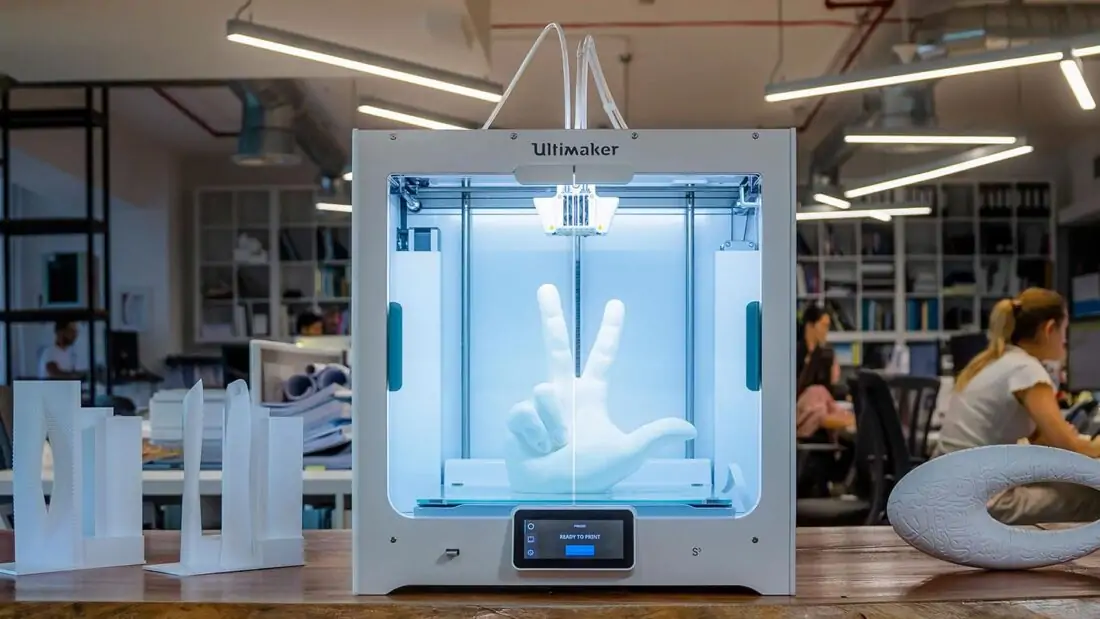 Triangle Geometry — The STL (stereolithography) file format describes 3D models as a set of triangles. Models also can be describe with polygons or quad geometry.
Watertight — A 3D object model is watertight when the printer can tell the inside from the outside of the model. If you filled up the model with water, no water would drain out.
Also check out the 3D Printing Resources page for links to 3D printers, buyer guides, software, and more.
Learn More
3D Printing
http://en.wikipedia.org/wiki/3D_printing
https://www.youtube.com/watch?v=UwPWLCVekGc
Bits to Atoms: Your 3D Printing Software Options
http://www.tested.com/tech/3d-printing/460165-bits-atoms-your-3d-printing-software-options/
Gartner Says Consumer 3D Printing Is More Than Five Years Away
http://www.gartner.com/newsroom/id/2825417
3D Printing Doesn't Live Up To The Hype Yet
http://www.forbes.com/sites/mitchfree/2013/03/12/3d-printing-hype-doesnt-equal-reality-ye/
The Sweet, Creamy Goodness of 3D Chocolate Printing From Hershey and 3D Systems
http://www.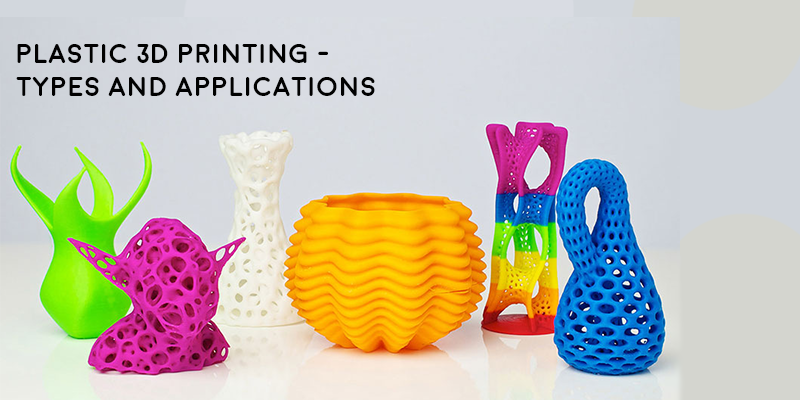 3dprinterworld.com/article/sweet-creamy-goodness-3d-chocolate-printing-from-hershey-and-3d-systems
Fused Deposition Modeling (FDM)
http://en.wikipedia.org/wiki/Fused_deposition_modeling
ABS/PLA Plastic
http://en.wikipedia.org/wiki/Acrylonitrile_butadiene_styrene
http://en.wikipedia.org/wiki/Polylactic_acid
http://www.protoparadigm.com/news-updates/the-difference-between-abs-and-pla-for-3d-printing/
http://en.wikipedia.org/wiki/Thermoplastic
Slicers and 3D Software
http://edutechwiki.unige.ch/en/Slicers_and_user_interfaces_for_3D_printers
http://slic3r.org/
8 Tips for 3D Printing with Sketchup
Includes a definition of "watertight" and solutions. Applies to any 3D software used to create models.
http://www.mastersketchup.com/8-tips-for-3d-printing-with-sketchup/
Sterolithography
http://en.wikipedia.org/wiki/Stereolithography
Author
Also In The February 2015 Issue
Concepts
What is 3D Printing?
A basic introduction to 3D printing with concepts, examples, and a glossary of 3D terminology.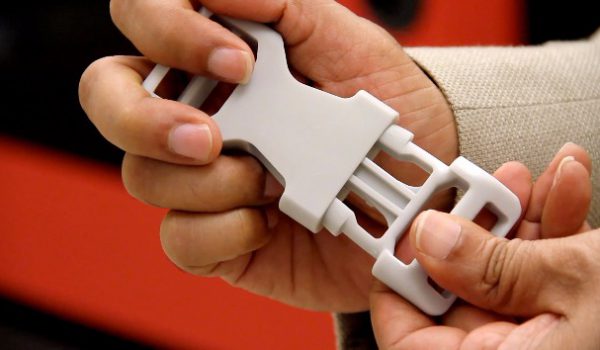 Read Article
History
Gnomes, Gnomedozers, Spoonriders, and Zen Gnomes
Why are there so many gnomes available for 3D printing?
Read Article
Projects and Puzzles
3D Projects
From simple to complex, nine three-dimensional models you can download then print to explore 3D printing.
Read Article
People
Jill Hodges Talks about Fire Tech Camp
An American living in the United Kingdom, Jill Hodges talks about how she started a summer technology camp for kids.
Read Article
Best Practices
What 3D Models Print Best?
When you create a three-dimensional model for printing, it's important to know what prints well and what does not.
Read Article
Notebook
Two Books Teach Coding and Computer Science
One book teaches JavaScript in a fun way, the other computer science as fable.
Read Article
Projects and Puzzles
Lateral Thinking Puzzles
Practice problem solving skills programmers use every day.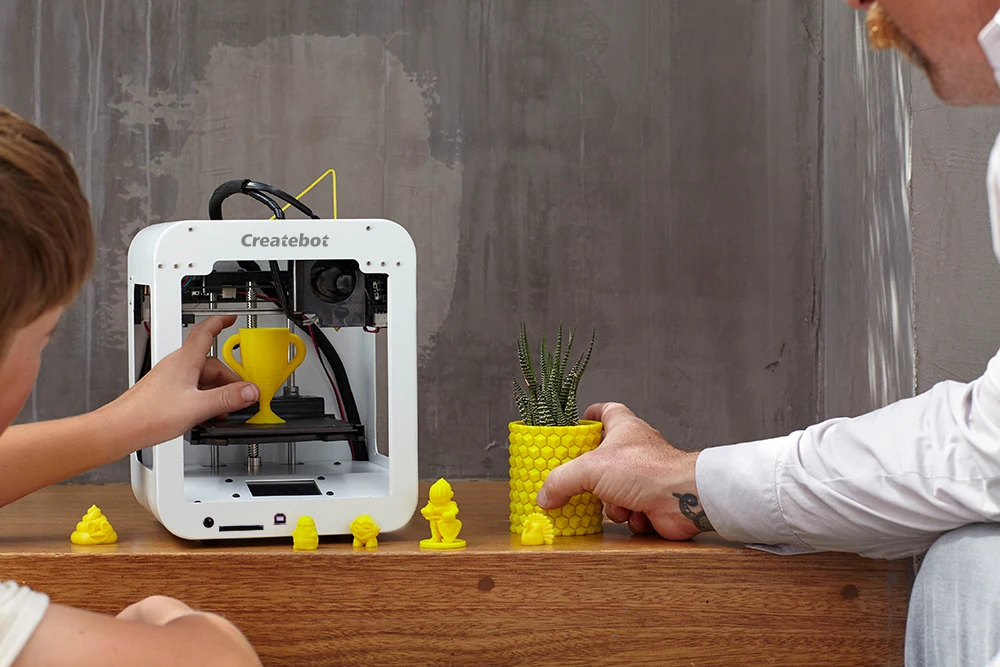 Read Article
History
Dead Programming Languages
Of 8500 plus programming languages, many are forgotten or lightly used enough to be called dead programming languages.
Read Article
Best Practices
Where Can I Find Local 3D Printing Services?
It's possible to print your 3D project the same way you print a flyer at the UPS store. Here are several options.
Read Article
Whatever good things we build end up building us.
— Jim Rohn
Language of the Month
VRML
The VRML language, or Virtual Reality Modeling Language, is ancient but still lets you create simple three-dimensional objects.
Read Article
Notebook
3D Printers
3D printers may be new technology but there are several printers individuals, schools, and businesses might buy.
Read Article
Learn More Links
February 2015 Learn More Links
Links from the bottom of all the February 2015 articles, collected in one place for you to print, share, or bookmark.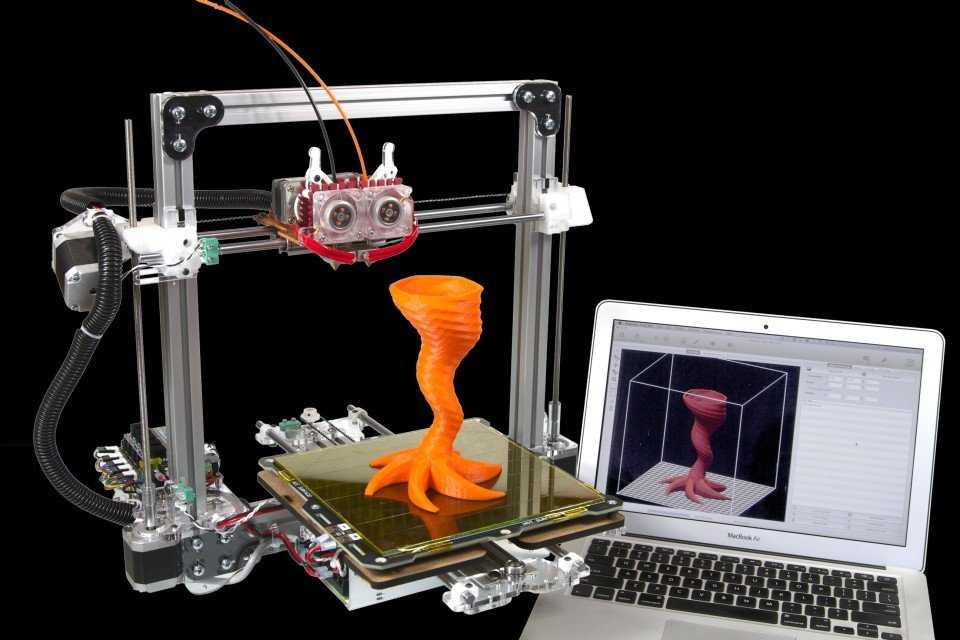 Read Article
News Wire
February 2015 News Wire
Interesting stories about computer science, software programming, and technology for December 2014 and January 2015.
Read Article
Concepts
Floating Point Numbers
While many people are familiar with floating point numbers in school math problems, they're very useful in computing.
Read Article
Best 3D printers for kids
This article will help you choose the best 3D printer for your child. The criterion that was used to determine these 3D printers is the age of the children. The printers discussed below will provide you with the opportunity to introduce your children to 3D printing and perhaps further interest them in engineering or a similar field.
Introducing children to 3D printers from an early age gives them hands-on experience making models to scale. Your kids will love creating their models and watching them take shape right before their eyes.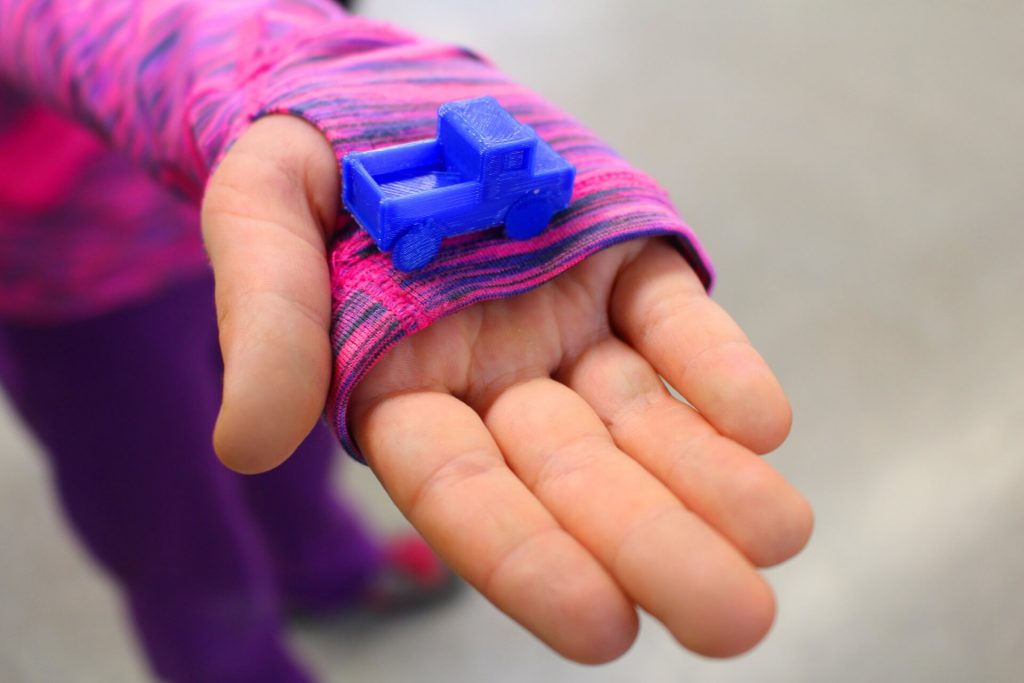 nine0003
Below are only the best 3D printers based on both objective and subjective criteria, the final choice is up to you, but we will provide you with as much useful information as possible.
Is your child ready for a 3D printer?
If you have already mastered the technology of 3D printing, you must have noticed that this is no longer something from the future. It's already here. 3D printing is useful for everyday use, from smartphones to cars, jewelry to medicine and more. nine0003
Kids should be early on about 3D printing technology. And with the 3D printers below, your kids will not only learn the theory, but also get hands-on physical experience in 3D printing.
Price should not influence your decision when buying a 3D printer for a child. Instead, think about the benefits your kids will have in terms of hands-on experience using it.
3D printer develops creative thinking
With 3D printing, you can get a small physical 3D model of plastic or other material in just a couple of hours.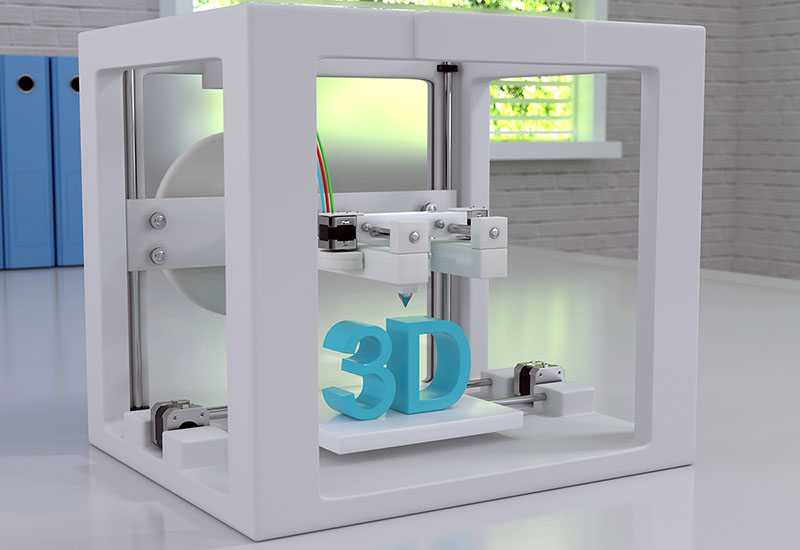 This technology not only speeds up simulation, but also significantly reduces the tedious development cycle of product development, design, production, testing, and product improvement. nine0003
For children who want to make a career as an engineer, a 3D printer will definitely help in their development. A 3D printer will give your child a hands-on physical experience of making their own products. This is what engineers live for.
Coming up with a design and having it in your hands in a few hours is a very exciting process. It can also be a good way to show your kids that engineering is fun.
The future of manufacturing is 3D printing
The introduction of new technologies in schools is relatively slow. This is usually due to the fact that schools do not receive sufficient funding and must follow the existing curriculum. Do not be surprised to learn that schools are still teaching children what they taught more than 10 years ago.
If your children are lucky, they can be taught to work with metal or wood anywhere from elementary to high school.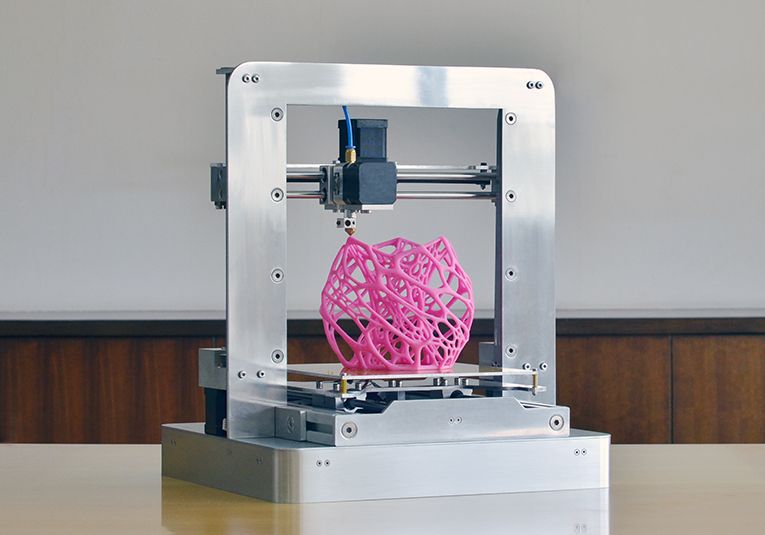 Even though they are learning these skills, it is very unlikely that they will touch a 3D printer. If the institution has a 3D printer, it may not be the latest model. nine0003
3D printers have changed a lot in the last 10 years. Today, printers have become much more affordable, and the choice and competition are quite high.
3D printer XYZPrinting Da Vinci miniMaker
First impressions of XYZprinting DaVinci miniMaker
XYZprinting DaVinci miniMaker looks like you will definitely like. Not only that, the bright appearance of this 3D printer will also impress your child. Instead of seeing a boring gray box, the first impression will be like a new toy. nine0003
A similar Da Vinci Mini is more orange and will cost about $30 more. However, it does have Wi-Fi.
The build quality of the DaVinci miniMaker is excellent. It is a rugged and reliable 3D printer with compact dimensions (15.75 x 13.23 x 14.25 inches).
Specifications XYZprinting DaVinci miniMaker
Age group: 14+ (8+ with adult supervision).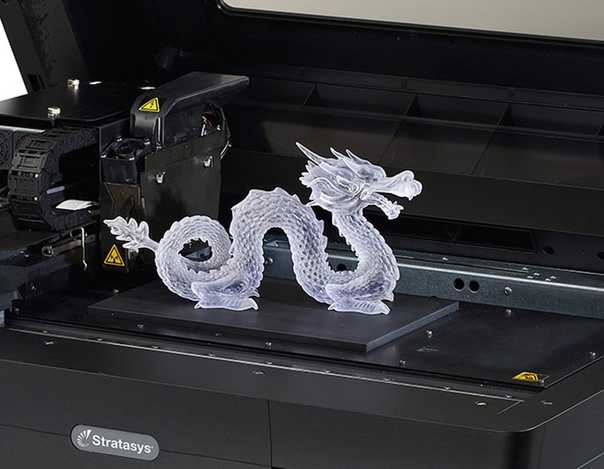 An adult will need to unpack it, set it up, remove the pre-assembled parts, and clean the 3D printer after each use. nine0003
Price range: Budget
Material type: PLA (non-toxic)
Resolution: 1 mm - 0.4 mm
Workspace: 9 x 5.9 x 5.9 inches
DainciMaker DainciMaker software
MiniMaker does not use the industry standard G-code. Instead, it uses the included XYZware software. This is the limiting factor for young hungry minds. However, the 3D printer is guaranteed to work immediately after purchase. nine0003
The XYZware software is a fairly simple program. However, there are problems in terms of feedback. For example, there will be no expected error warnings, etc.
XYZ MiniMaker Kids 3D printer displays useful information. For example, there is information about how much material the 3D model will use and how long it will take to print. Children usually lose patience when they have to wait a long time. So it's great that this 3D printer gives an estimated production time.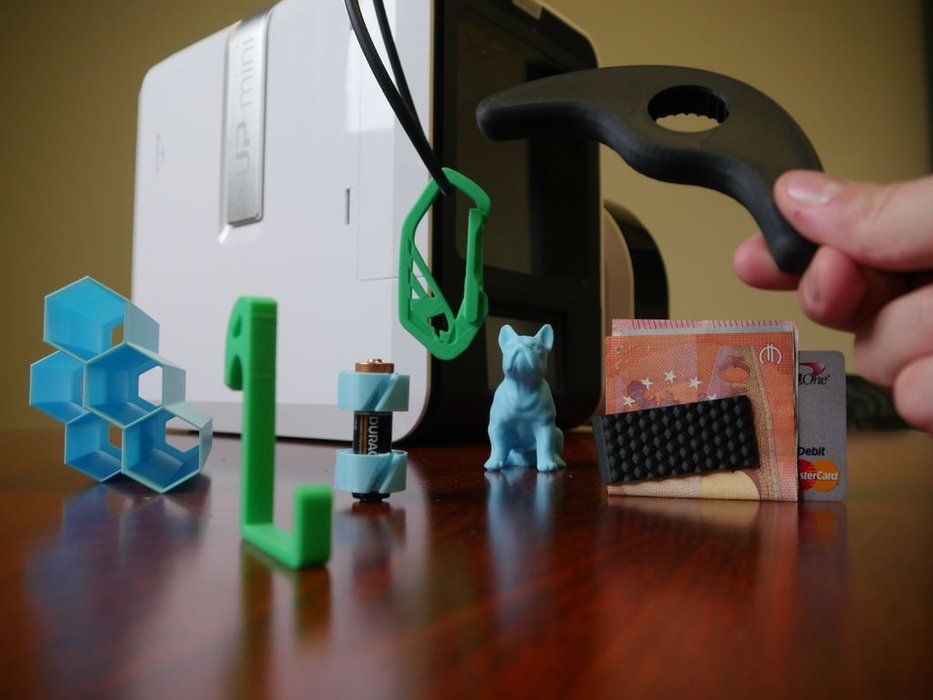 nine0003
The program does a great job of automatically preparing your 3D models for production. Unfortunately, there are limitations in terms of adding support materials in case of complex 3D models, so that the child will not be able to master this area of ​​3D printing.
XYZprinting DaVinci miniMaker setup and print quality
DaVinci miniMaker is easy to set up. All you have to do is plug in the USB cable and power cable, install the printhead, feed in the 3D printing material, and you're done. Calibration is not required. nine0003
This 3D printer comes with setup instructions that are a little vague at times. However, you won't have any problems setting it up, even if you're seeing a 3D printer for the first time.
XYZprinting DaVinci miniMaker 3D printing process
There are several models in the XYZ program that can be used for 3D proofing. If you need more models, I suggest you check out Thingiverse. Or, for example, you can download Pokemon characters and print their models.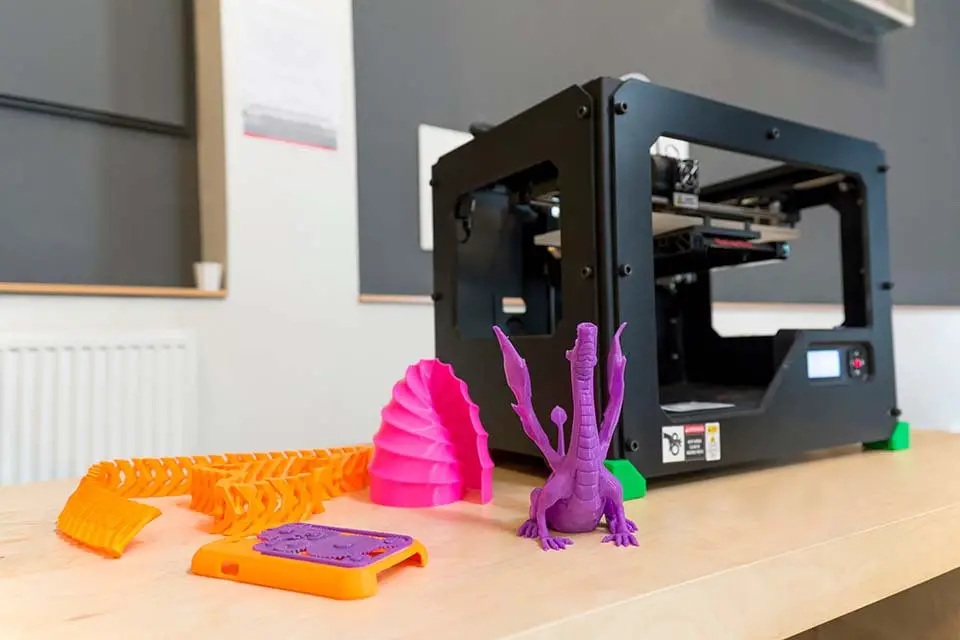 nine0003
The level of detail you get with DaVinci miniMaker 3D printing is commendable given how cheap this device is.
MiniMaker runs quietly. That's impressive considering it's an open design model.
Disadvantages of XYZprinting DaVinci miniMaker
The biggest disadvantage of the miniMaker 3D printer is that it can only use the exclusive XYZ filament. The problem is that filament is more expensive than conventional brands available on the market. The manufacturer of this 3D printer probably doesn't want entry-level users to put the wrong filament in the printer. Therefore, only one type of media is used in printers. Inside this 3D printer there is a chip that checks the markers on the material. By checking, he can find out how much material was used up. Therefore, if you insert a different brand of media, the printer will indicate that there is no media and therefore it simply will not work. The only way to get this 3D printer to use a different material is probably to change the main board.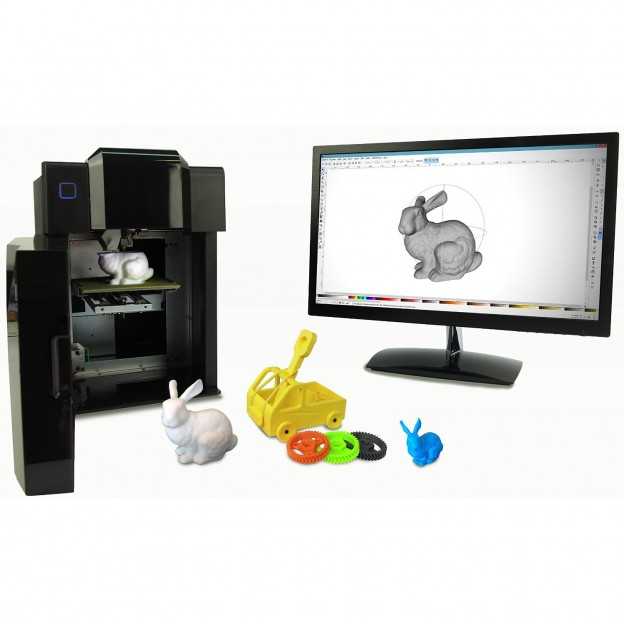 So keep that in mind when you're shopping for this 3D printer. nine0003
However, the inability to use other manufacturers' filaments should not deter you from buying a DaVinci miniMaker, as the filament spool can last quite a while. In addition, the 3D print quality of this printer is exceptionally high.
XYZprinting Conclusions DaVinci miniMaker
The XYZ miniMaker is a great 3D printer for young children and non-technical parents. Finished 3D models are very highly detailed and of excellent quality. nine0003
However, the simplicity of this printer can be a disadvantage because your children can outgrow it quite quickly, especially when they reach their teens. In addition, this 3D printer will not be able to 3D print more complex models.
If you are interested in a 3D printer, you can check out an alternative review of the DaVinci miniMaker, in which it is considered not in the context of a device for children, but as a full-fledged 3D printer.
Monoprice Select Mini 9 3D printer0009
First impressions of the Monoprice Select Mini
The Monoprice Select Mini V2 is a very durable 3D printer.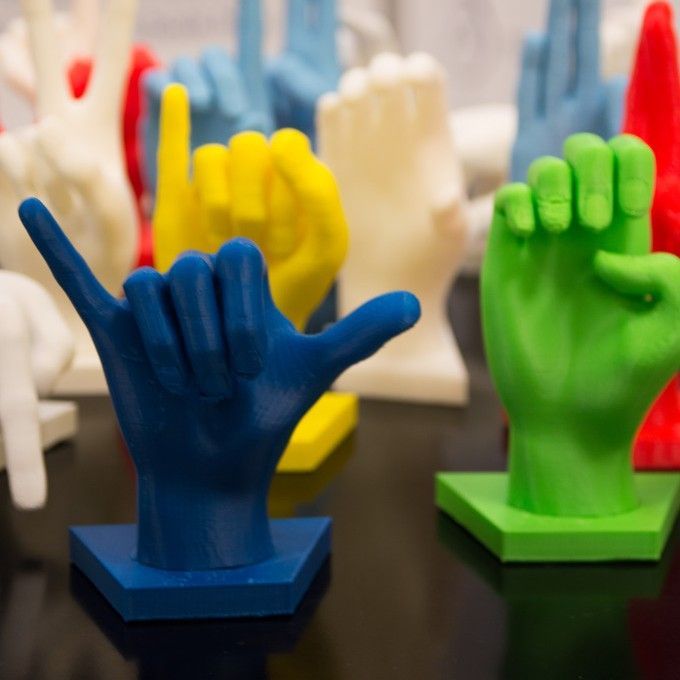 The steel construction of this printer is quite simple, but it looks reliable and there can be absolutely no complaints about it.
Important parts of the 3D printer are well sealed to avoid damage or injury during use. This 3D printer gives the impression that it should be operated by a white-coated lab technician.
Enthusiastic teens will love this 3D printer with a full color display. Although the display is not touch-sensitive, there is a thin control wheel next to it on a fancy polished steel plate. nine0003
The great news is that you can use PLA plastic from any manufacturer to print on this 3D printer.
Specifications Monoprice Select Mini
Age Group: 14+
Price Range: Budget
Material Type: ABS, PLA, XT Copolyester, PET, TPU, TPC, FPE, PVA, HIPS, Jelly, Foam, Felty
Resolution: 1 mm
Working space: 7 x 4.7 x 4.7 inches
Monoprice Select Mini 9 software0037
Monoprice recommends using Simplify3D, Replicator-G, Repetier or Cura software.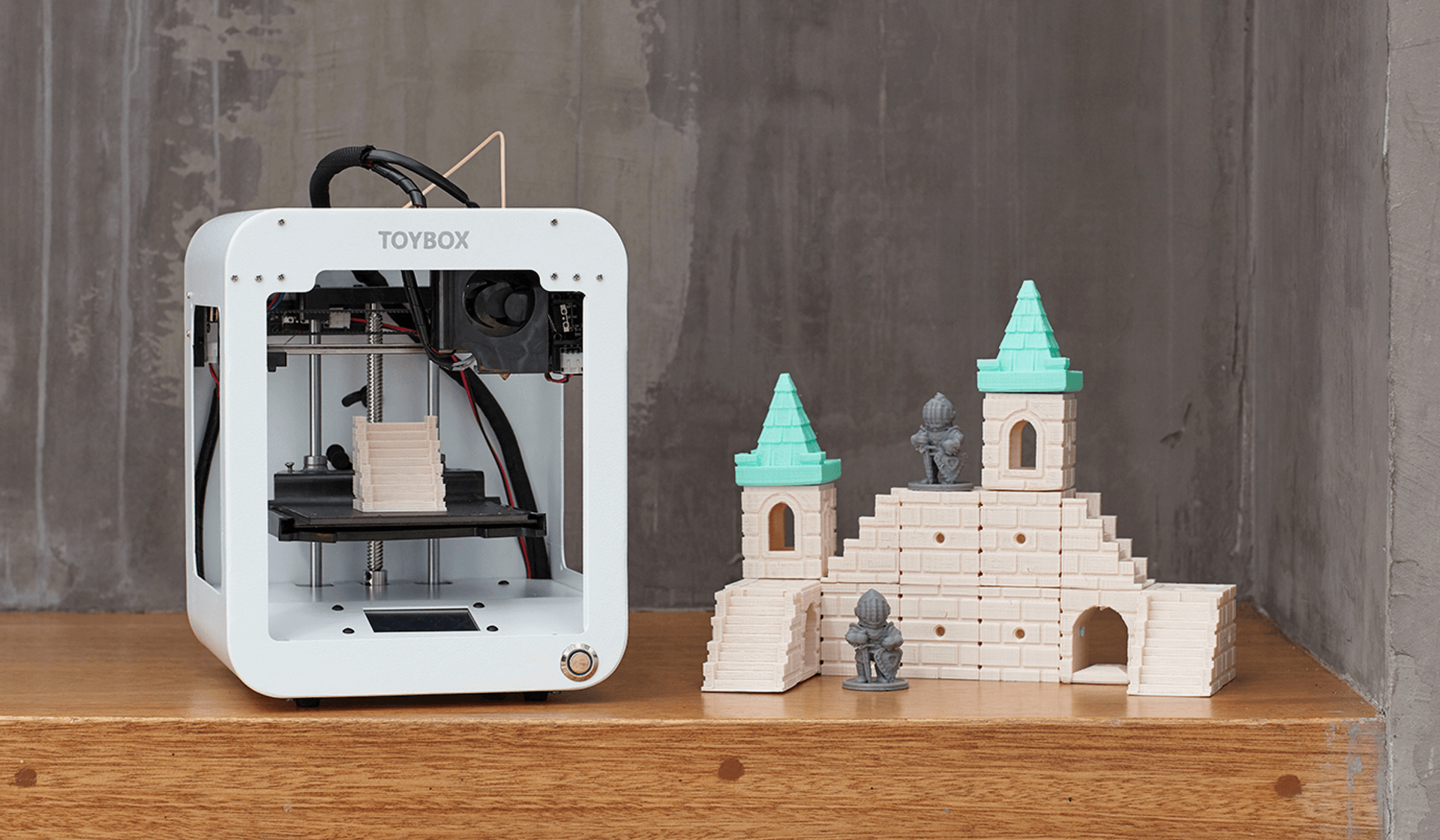 All of these slicers are 3D printer compatible. Cura is the recommended software for Monoprice. One of the benefits of using third party software is that they have advanced settings and more options for preparing a 3D model. All of the programs listed above are also used with professional 3D printers.
Monoprice Select Mini 9 setup and print quality0037
Monoprice Select Mini V2 does not come with installation instructions. However, you can download instructions from the Monoprice website.
This 3D printer comes with some default settings. However, it is worth figuring out and tweaking these settings.
The material feed to the printer is not very well implemented and can cause problems, but in general these are tolerable little things that you will encounter in most 3D printers.
3D printing process on Monoprice Select Mini
The Monoprice 3D printer is quite loud compared to the other 3D printers in this review. Moreover, it has the ability to use an SD card.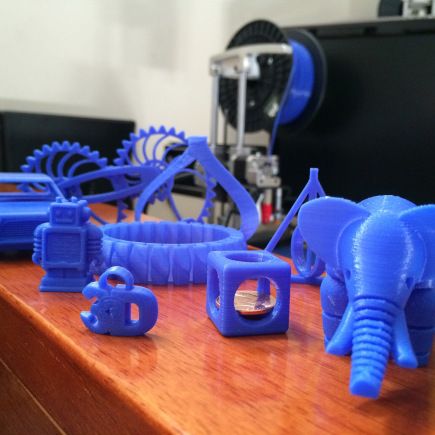 My 3D test model printed quickly and without problems. The quality of the model was excellent. However, test model settings can be optimized. The speed of 3D printing was also low, since the resolution in the Z coordinate was set to high. But this is the expected price that you have to pay for high-quality 3D printing. These shortcomings are corrected by the correct settings in the slicing program, as well as on any other 3D printer, so it's hard to say that this is a shortcoming. And the many options for print settings on the Select Mini will let your child (and probably you) learn even more about the 3D printing process. nine0003
Disadvantages of Monoprice Select Mini
Although Monoprice claims that you can use ABS plastic for 3D printing, you will definitely run into problems when using this material. This is because ABS requires a table temperature of 220°F while Monoprice's maximum table temperature is around 140°F. If you want to use ABS to build your models, consider buying another printer.
However, before thinking about using ABS plastic in principle, read the information about its toxicity and only then make a decision. Especially considering that a child will use this 3D printer. At the same time, it is worth noting that the quality of your PLA plastic products will be good, so this disadvantage should not play a decisive role in your choice of a 3D printer for a child. nine0003
Monoprice Select Mini Conclusions
Basically, if you're looking for the ultimate 3D printer for teenagers, the Monoprice Select Mini V2 is the perfect buy at an affordable price.
The disadvantages of this 3D printer can be overlooked, especially if you just want to buy your kids their very first 3D printer.
If you are interested in a 3D printer, you can check out an alternative review of the Monoprice Select Mini, which does not consider it in the context of a device for children, but as a full-fledged 3D printer. nine0003
Flashforge Finder 3D Printer
FlashForge Finder First Impressions
Unlike the other 3D printers for kids featured in this review, the FlashForge Finder 3D printer is more suitable for home 3D printing or an ordinary apartment environment.
This model matches perfectly with all your other gadgets.
The front of the machine has a nice, clear, full color touchscreen display. In general, the 3D printer looks bright and at the same time concise and fits perfectly into a discreet but thoughtful interior. nine0003
FlashForge Finder Specifications
Age Group: 11+
Price Range: Budget
Material Type: PLA
Resolution: 0.8 - 0.4mm
Working Space: 5 x 5.5 inch
FlashForge Finder Software
FlashForge Finder uses FlashPrint software to slice 3D models. The software allows you to fully automate the slicing, the support generator for complex 3D models works well. In manual options, you can change the temperature and speed of 3D printing for kids who want to take their part design to the next level. Standard features such as the amount of material used are also included in the software. nine0003
When you use the manual setting, you will notice that the FlashPrint software is more advanced than the XYZware that comes with DaVinci miniMaker.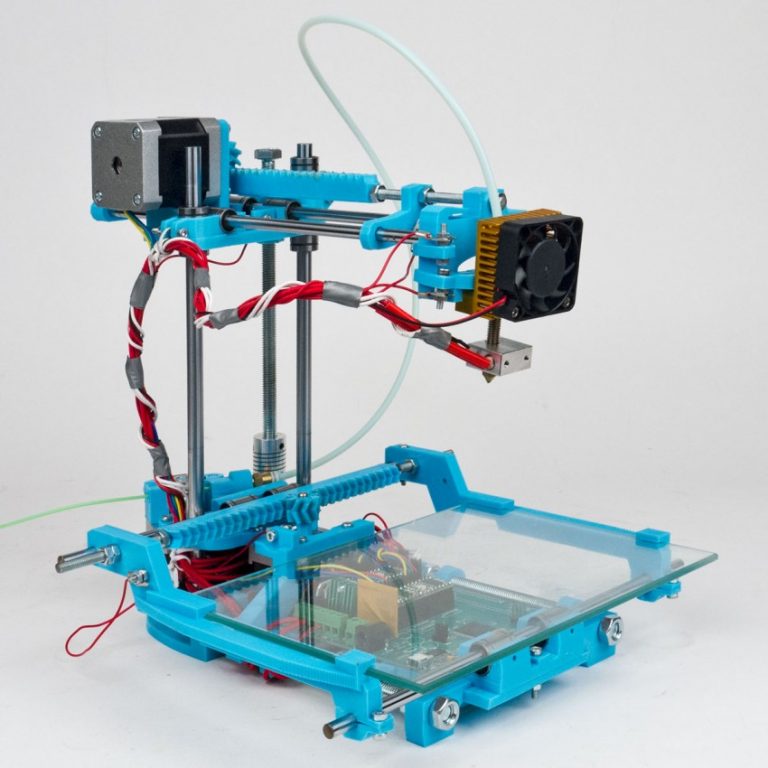 The software also has several advanced options, such as 2D to 3D, which allow you to create an approximate 3D model from a 2D image. For example, you can use the settings to turn a face into a 3D model and print it out.
FlashForge Finder 3D Printing Process
FlashForge Finder comes with a USB stick containing a user manual. When you turn on your 3D printer for the first time, the touch screen will guide you through the initial print bed calibration. You will see instructions on how to fasten the adjusting nuts and adjust them to the correct height. The guide is user-friendly and makes setup that would otherwise be frustrating for a novice as simple and straightforward as possible. nine0003
Feeding material to the 3D printer again can cause problems. You will need to apply some force to pull the filament through the extruder. You will definitely not succeed the first time, but it is a solvable task.
With this 3D printer, you can easily print almost any 3D model.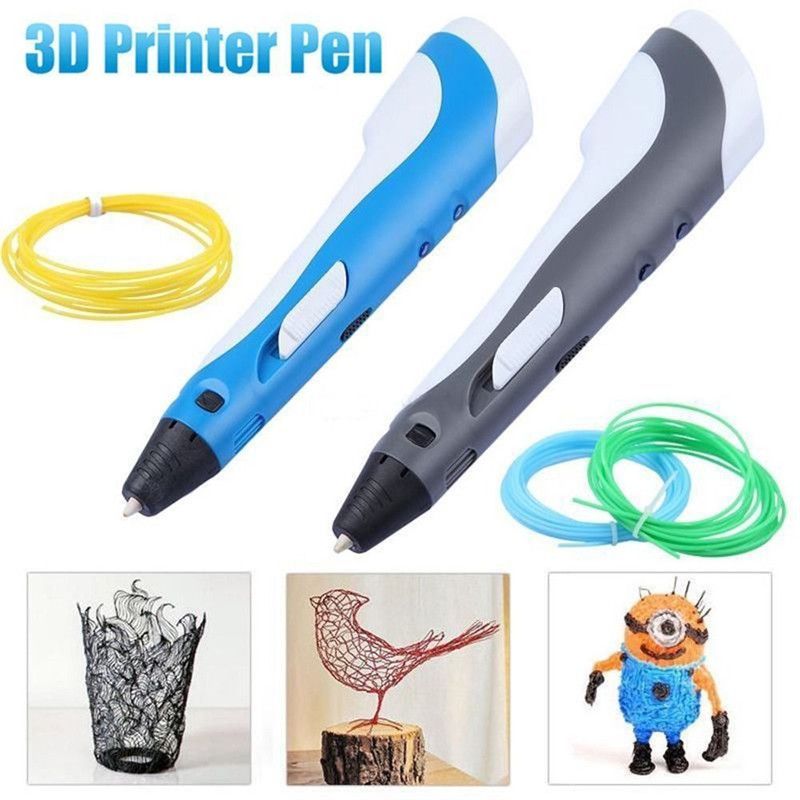 The printer heats up quickly and is relatively quiet.
Frustration with this 3D printer is low; very close to zero according to consumer reviews, even after a few weeks of use. nine0003
FlashForge Finder Disadvantages
Although the FlashForge Finder 3D printer can be used with a variety of PLA filaments, the onboard filament container is slightly smaller than a standard 3D printer. So if you are using other brands of PLA, keep the spool away from the printer, such as on or right above a bookshelf.
FlashForge Finder Conclusions
The FlashForge Finder 3D printer is a couple of years ahead of its time. Surely in a few years this 3D printer can be bought in any store, just like you do now with 2D printers. nine0003
The 3D printer is quite simple and given the manufacturer's warranty, this is the perfect option if you need to introduce your family to the world of 3D printing.
Sindoh 3DWOX DP200 3D Printer
Sindoh 3DWOX DP200 First Impressions
The Sindoh 3DWOX DP200 3D Printer looks more like a home appliance than a 3D printer.
The printer looks like an innovative microwave oven with a transparent front opening.
Media and print engine are inside the printer. The plastic parts inside the printer are solid to the touch, so the workmanship is clearly at a high level. nine0003
Since the material for 3D printing is inside the 3D printer itself, it is slightly larger in size than its counterparts. However, the printer's cubic shape makes it easy to install, unlike other open design 3D printers that require space to access removable covers and material.
DP200 is a large printer. 8.3 x 7.9 x 7.3 is one of the largest models in the home 3D printer market. If you are looking for a large 3D printer for kids, then Sindoh 3DWOX DP200 is your best choice. nine0003
Specifications Sindoh 3DWOX DP200
Age group: 13+
Price range: Expensive
Material type: ABS, PLA 4 inches
Sindoh 3DWOX DP200 software
Sindoh 3DWOX DP200 comes with its own 3DWOX Desktop software for slicing 3D models.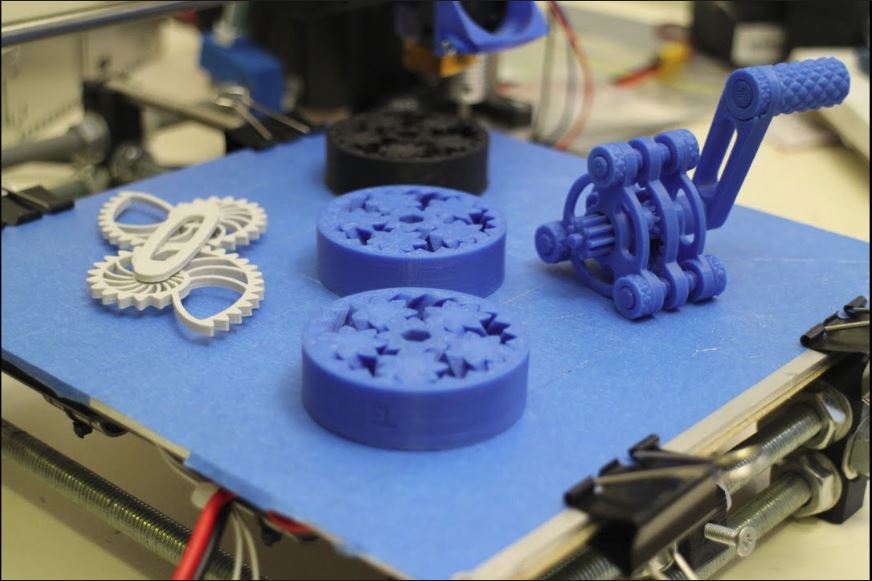 The software has two modes: advanced and simple, and also provides adequate control when preparing a file for 3D printing. nine0003
Simple mode has an intuitive interface and in most cases allows you to get reliable and high-quality 3D models.
When you get comfortable with this 3D printer, you can switch to advanced mode and start experimenting with settings to improve the preparation of files for 3D printing and the quality of your 3D models.
Setup and print quality Sindoh 3DWOX DP200
Sindoh 3DWOX DP200 is delivered already assembled. All you have to do is plug it in, add some material and calibrate the table to start printing. When you turn on the printer for the first time, the color display will guide you through the calibration process. nine0003
One advantage of the DP200 printer is that you can insert a filament cartridge into it just like you would with a regular desktop printer. The media container system that the printer uses makes changing media much easier.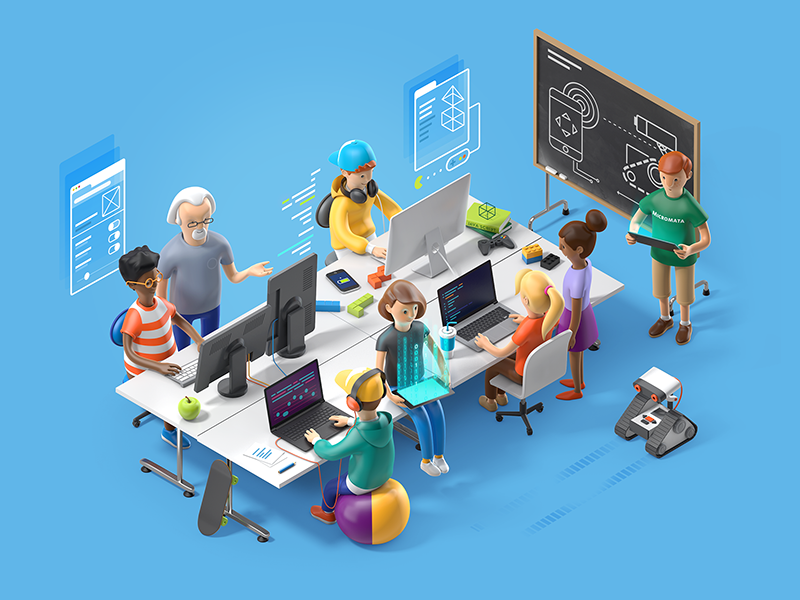 Sindoh 3DWOX DP200 3D printing process
After you have sent the file to the Sindoh 3DWOX printer, press the 'Start' button to make the machine start creating your model. If you have other things to do, you can step away from the printer and continue to monitor the printing process through the printer's built-in webcam.0003
Once your 3D model is printed, it is easy to take it out of the printer thanks to the flexible table.
Disadvantages of Sindoh 3DWOX DP200
The DP200 3D printer only works with Sindoh filaments. So your 3B models will be limited by materials and colors. The good news is that Sindoh filaments are of high quality. Moreover, they are affordable.
DP200 can print with ABS. Therefore, you should consider ventilation as the fumes are toxic to some extent. Make sure the room where your 3D models will be printed is well ventilated. nine0003
Conclusions on Sindoh 3DWOX DP200
If you don't mind spending money on a 3D printer for a child, then this printer is for you.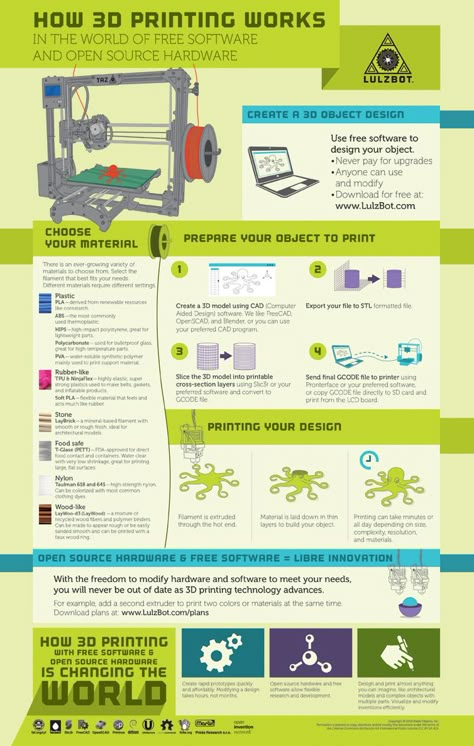 This machine produces high-quality 3D models, and its design is simple and concise. The installation and process of 3D printing will also not cause difficulties.
If your kids have experience with 3D printers or want to learn a little more about them, then definitely buy them this 3D printer, which can give them the joy of implementing their ideas with a minimum of time spent on 3D printer maintenance. nine0003
3D printing in education - what lessons a 3D printer is useful for
Contents
Mathematics
Biology
Anatomy
Geography

9025

This review article will focus on the use of 3D printing in education, in particular in school education. When starting to talk about 3D printing in schools, it is important to understand that 3D printing cannot be a separate discipline, teaching 3D printing as such cannot replace any existing school subjects, such as computer science, drafting or geometry. nine0003

First of all, I would divide the teaching of 3D printing in schools into two large components, which, in principle, can exist one without the other.

The first is learning 3D modeling , because in order to print any product, you need to have an object for printing. In the case of conventional printing, this any document, table, picture, photograph, presentation, etc. In the case of 3D printing, this is a 3D model that needs to be created in one of the many editors, such as a simple editor like Autodesk Tinkercad. nine0003

Learning the process of creating 3D models can be compared to a more advanced computer science lesson. Learning takes place in stages from simple to complex, you can start by creating a model like a cube, then draw a cone, a gear, a small vase, add an inscription on the cube, for example, your name or the name of the school.

Further, the lessons become more complicated, you can try to create a small car, a Lego man, etc. Depending on the direction of study - engineering, art or architecture, you can continue learning 3D modeling in programs such as 3D Studio Max, ZBrush, ArchiCAD and others. The whole process of learning 3D modeling as such is not related to 3D printing, only an insignificant part of all 3D models created today are subsequently printed. Of the models created, the vast majority exists in digital format, as does the vast majority of other digital information, such as documents and graphic content. Is teaching 3D modeling necessary in school education today, the answer is of course not. Does it help in the education of children? Of course, this makes it possible to better master the computer, as well as in the process of creating models to visualize the knowledge gained in the lessons of geometry, drawing and drawing. nine0003

So, we found out that 3D modeling is a separate discipline that can be taught in schools as an additional course or as part of computer science lessons, but it is indirectly related to 3D printing. I would compare it with photography and newspaper publishing - all newspapers have photographs and it is difficult to imagine newspapers without photographs, but at the same time a huge number of photographs do not end up in newspapers, but are used for other purposes.

Moving directly to 3D printing, it is important to note that 3D printable models come from 3 sources: nine0003

they can be simulated,
find ready-made models on sites such as MyMiniFactory and many others
obtained by 3D scanning.

The first step in getting started with typing is to get familiar with the slicing software. Slicer software is usually supplied with a 3D printer and is a "translator" from the language of the 3D model to the language of the printer. With the help of this program, the model is prepared for printing with the specified parameters. nine0003

The printer needs clear commands: what to do, how to move the carriage, how thick the layer will be printed, what material, at what temperature, how voids will be filled, and much more. Thus, a novice 3D printer needs to learn how to use this software product before starting direct printing.

The second part of the 3D printing training will be learning how to interact with a 3D printer, the 3D printing process requires certain knowledge and experience, in particular about the properties of various types of plastic or resin, interlayer adhesion, plastic sintering, its feeding, etc. With With an experienced mentor on the example of printing models of various shapes, with various settings, students can reach an initial level of knowledge of the printing process itself and improve them as they gain experience, taking into account the capabilities of the 3D printing equipment that they have at their disposal. nine0003

We understood how to get a 3D model, how to prepare it for printing and how to print it, but did not answer the main question, why do we need 3D printing at school?

It is important to understand here that it is pointless to teach 3D printing at school as a subject, since this is a highly specialized discipline that a small percentage of students need to apply in future professional tasks. Such knowledge is usually obtained during the acquisition of secondary specialized or higher education. But what 3D printing is great for is embedding it into the learning process in other subjects. At first glance, a bold statement is quite easy to prove on a number of simple examples. nine0003

Mathematics

A 3D printer will help you learn the multiplication table quickly and with pleasure.

Biology

It is not necessary to dissect a live frog, you can make a 3D printed model and carry out this procedure in a humane way.

Anatomy

You can print the skull or other organs and visually study its structure.

Geography

Each student can print a square and assemble the landscape of the earth's surface together.

A separate educational area where 3D printers are indispensable tools is the area of ​​additional education, namely the numerous and very popular today circles of robotics, modeling, prototyping and others.

3D printing is in great demand in such educational institutions as children's technoparks Quantoriums and TsMITs, which are analogous to the circles of young technicians from our childhood. These centers are equipped with everything you need, including 3D printers, 3D scanners, milling machines, mini CNC machines, and more. nine0003

This set of equipment allows not only and not so much to learn the skills of 3D printing, scanning, modeling, and so on, but also to create real design works that can be presented at olympiads, exhibitions, or even subsequently turned into technology startups. At the end of each module, a final lesson is provided, during which the team defense of scientific and technical projects, students and natural science research works takes place. nine0003

At the end of this short article, I'd like to give some tips for choosing the best equipment for schools and further education institutions.

If your school has 3D modeling in its computer science course or as a separate additional course and the task is to print simple models of an initial or intermediate level of complexity, then I would recommend paying attention to budget models of 3D printers created specifically for this purpose. nine0003

For example, the FlashForge Adventurer 3 3D printer model has a closed housing, a safe, easily removable nozzle, a webcam for remote monitoring of printing from an application, a color touch-screen display familiar to children from smartphones and tablets.

For a more advanced level of learning, a model like FlashForge Inventor is perfect, which allows you to create more complex semi-professional models. nine0003

If the task is to provide Quantorium or TsMIT with 3D printers, then you need to choose the most versatile models that can print a wide range of different materials, preferably with an enlarged camera for large projects. Such printers are able to cope with various, sometimes very complex and, most importantly, diverse tasks. These models certainly include the Raise3D Pro2 printer, which, due to its versatility, the presence of a fully functional slicer, cloud service and a host of additional functions, is rightfully considered a leader in its segment. nine0003

If some specific areas of printer use are known in advance, then you can choose a model for these specific tasks, for example, to create detailed miniatures, printers using photopolymer printing technology are suitable, for example, the Phrozen Shuffle 4K model, which is capable of creating models of jewelry accuracy and detail.

We hope this article was useful for you, and you got a rough idea about 3D printing in education, our company's specialists will always be happy to help you with the choice of the necessary equipment.