3D printer kit for sale
Cheap 3D Printer Kit, Best DIY 3D Printer and Reprap Kits
DIY 3D Printers
We have the collections of high quality reprap 3d printer kit to make your own 3d printer. 3d printer kit became very popular with students and enthusiasts who wants to make a 3d printer. Our store provides best 3d printer kits and you can choose your DIY 3d printer on your choice based on your budget and specifications.
3D Printing has been declared as one of the top emerging technology of the past decade and now is certainly the best time to get your hands on with it. 3D Printers have been around for some time now however the recent expiry of patents and the widespread availability at an affordable price has been a real catalyst in the spread of its acceptance with general public.
One of the most budget friend kind of the 3D Printers are the DIY (Do it yourself) 3D Printer kits. Although assembly of these 3d printers need some patience and some basic DIY skills, we have to point out that they are the one of best if you are inclined to understand the mechanics of these amazing machines.
All the DIY 3D printer kits available on our store have been handpicked and have gone through our strict quality control. We keep close eye on these printers and make sure every product delivered to our customers have gone through rigorous quality testing, such as inspection of raw materials used to make the kit , safety tests conducted on  electronics and circuits used, and inspection of all finished products before delivery to our customers.
DIY 3D printer kit is the best low-cost option if you want to learn the Nitty-gritty of 3D printing.
We are proud to pamper our customers with 3d printer options that are available at our store. You can chose from the widest range of 3d printer like 3D printer DIY Kits, Personal 3D Printers, Professional 3D Printers as well as Consumable which work with most kind of 3D printers.
Product Compare (0)
Filter
Sort By:
DefaultName (A - Z)Name (Z - A)Price (Low > High)Price (High > Low)Rating (Highest)Rating (Lowest)Model (A - Z)Model (Z - A)
Showing 1 to 25 of 92 (4 Pages)
Show:
255075100
QUICK VIEW
SALE
-54%
$139 USD$299 USD
(5 reviews)
(5 reviews)
QUICK VIEW
SALE
-36%
$145 USD$225 USD
(2 reviews)
(2 reviews)
QUICK VIEW
SALE
-36%
$159 USD$249 USD
(17 reviews)
(17 reviews)
QUICK VIEW
SALE
-11%
$169 USD$189 USD
(2 reviews)
(2 reviews)
QUICK VIEW
SALE
-20%
$179 USD$225 USD
(4 reviews)
(4 reviews)
QUICK VIEW
NEW
SALE
-22%
$179 USD$229 USD
(1 reviews)
(1 reviews)
QUICK VIEW
SALE
-28%
$179 USD$249 USD
(5 reviews)
(5 reviews)
QUICK VIEW
SALE
-54%
$183 USD$398 USD
(41 reviews)
(41 reviews)
QUICK VIEW
SALE
-38%
$186 USD$299 USD
(1 reviews)
(1 reviews)
QUICK VIEW
SALE
-24%
$189 USD$249 USD
(106 reviews)
(106 reviews)
QUICK VIEW
SALE
-46%
$189 USD$349 USD
(32 reviews)
(32 reviews)
QUICK VIEW
SALE
-60%
$199 USD$499 USD
(9 reviews)
(9 reviews)
QUICK VIEW
SALE
-23%
$199 USD$259 USD
(5 reviews)
(5 reviews)
QUICK VIEW
SALE
-31%
$206 USD$299 USD
(88 reviews)
(88 reviews)
QUICK VIEW
SALE
-43%
$209 USD$369 USD
(19 reviews)
(19 reviews)
QUICK VIEW
SALE
-56%
$222 USD$499 USD
(10 reviews)
(10 reviews)
QUICK VIEW
SALE
-54%
$229 USD$499 USD
(24 reviews)
(24 reviews)
QUICK VIEW
NEW
SALE
-8%
$229 USD$249 USD
(1 reviews)
(1 reviews)
QUICK VIEW
SALE
-41%
$234 USD$398 USD
(1 reviews)
(1 reviews)
QUICK VIEW
SALE
-21%
$235 USD$299 USD
(43 reviews)
(43 reviews)
QUICK VIEW
SALE
-20%
$239 USD$299 USD
(4 reviews)
(4 reviews)
QUICK VIEW
SALE
-20%
$239 USD$299 USD
(15 reviews)
(15 reviews)
QUICK VIEW
SALE
-38%
$248 USD$399 USD
(5 reviews)
(5 reviews)
QUICK VIEW
SALE
-22%
$249 USD$319 USD
(2 reviews)
(2 reviews)
QUICK VIEW
SALE
-49%
$252 USD$499 USD
(17 reviews)
(17 reviews)
This product has no stock!! Please enter your information to form bellow.
We will send you notification when it is back!
Your Name
Your Email
Your Phone
The 10 Best DIY 3D Printer Kits 2022 (Starting at $150!)
Increasingly, makers are turning away from desktop FDM 3D printers, preferring to buy a cheap 3D printer kit and build their own DIY 3D printer from scratch. Some of these are RepRap 3D printer kits, and some are specially designed kits.
The 3D printer kit revolution has reduced prices, led to a number of key breakthroughs, and has made 3D printing more accessible than ever before.
These 3D printer kits can take just a few minutes to assemble, or take hours or even days. They can also vary greatly in price, print accuracy, maximum build and print speed. Some even use technologies other than fused deposition modeling — you can now buy DIY SLS 3D printers and SLA 3D printers.
| 3D printer kit name and brand | Build Volume (mm) | Price | Where to purchase for best price | Alternative Purchase Option |
| --- | --- | --- | --- | --- |
| Creality Ender 3 | 220 x 220 x 250 | $189 | Creality Store here | Amazon here |
| Prusa Mini | 180 x 180 x 180 | $399 | Prusa Store here | |
| Creality Ender 3 V2 | 220 x 220 x 250 | $279 | Creality Store here | Amazon here |
| Creality Ender 5 | 220 x 220 x 300 | $349 | Amazon here | 3DJake UK & Europe |
| Flsun QQ-S | 255 x 255 x 360 | $369 | Amazon here | |
| Tronxy X5SA Pro | 330 x 330 x 400 | $399 | Amazon here | |
| Anycubic Vyper | 245 x 245 x 260 | $429 | Anycubic Store here | Amazon here |
| Creality CR-10 / V3 | 300 x 300 x 400 | $369 / $459 | Creality Store here | Amazon here |
| Prusa i3 MK3S | 250 x 210 x 210 | $749 / $999 | Kit available on Prusa store here | Fully assembled on Prusa store here |
| Peopoly Moai | 130 x 130 x 180 | $1,295 | Matterhackers here | |
Advantages of DIY 3D printers
Open source: Most homemade 3D printers are also open source 3D printers, meaning they can be tinkered with, upgraded, and modded freely with the creators' permission. Many Creality, Prusa and Anet printers are open source, as well as desktop 3D printers like BCN3D and Ultimaker printers.
Open build areas: 3D printer kits rarely feature closed chambers or enclosures as standard. This would affect the printing of filaments like Nylon or PEEK, but is less of an issue for standard filaments like PLA or PETG.
Easily upgradable parts: DIY 3D printer owners are frequently switching out parts, such as nozzles, hot ends and extruders for better quality parts.
Lower price: For the quality and size, you get a better deal if you build your own 3D printer.
Larger build volume: The open build area means that you can have a larger 3D printer build area for the same size, neglecting the need for an enclosing frame. Therefore, low cost kits like the Creality CR-10 can have huge build volumes.
Build your own 3D printer: what makes a good DIY 3D printer?
We used several criteria to determine which 3D printer kit made it into our ranking:
Cheap DIY 3D printer kits: We only included FDM 3D printer kits under $1,500. The printers are listed in price order, cheapest first.
Print quality
It it easy to build your own 3D printer: Not everyone is a technology wizard. Therefore, any kit that can be assembled quickly, easily, and is simple to operate, is at an advantage.
The best 3D printer kits
3DSourced is reader-supported. When you buy through links on our site, we may earn an affiliate commission. Learn more
1. Creality Ender 3
Price: $189 — Available on Creality Store here / Available on Amazon here
Build volume: 220 x 220 x 250 mm
The original Ender 3 is still one of the most popular 3D printer kits in the world, more than three years after it was originally released. The low price, great build area, and reliability have cemented the Ender 3 as one of the best 3D printer kits around.
The reliability is a major selling point in such a cheap 3D printer kit. Whereas most DIY printers in this price range are plagued by issues caused by low-quality parts, the Ender 3 is dependable and consistent, partly due to its upgraded extruder to prevent clogging or poor extrusion.
The resume printing function is useful if you're prone to power cuts or want to print for several days straight and don't want to risk a huge ruined print, and the Ender 3 is fairly quick to assemble, and shouldn't take more than an hour or so.
However, it doesn't feature auto-leveling — you'll need to install a BLTouch or similar kit for that.
2. Prusa Mini — Great Prusa 3D printer kit
Price: $399 — Available on Prusa Store here
Print volume: 180 x 180 x 180 mm
Print speed: up to 200mm/s
The Mini 3D printer version of the wildly successful Prusa MK3S, the Mini retains the 0.05mm layer precision and can still calibrate itself, but costs less than half of the i3 MK3S. With the Mini, you can build your own 3D printer — and one with Prusa-level reliability! — for just $349.
It's more compact, with a smaller build volume, and features removable spring steel sheets that make removing finished prints extremely easy — just flex the build plate and prints will come off with ease.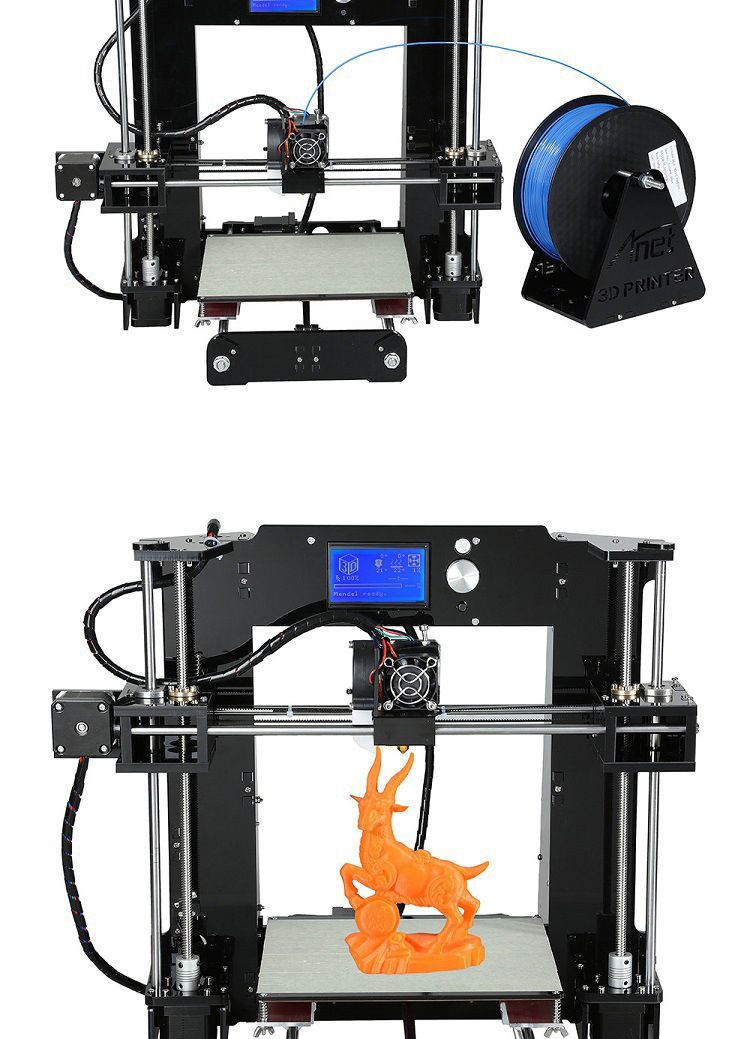 The extruder cannot reach the same temperatures during printing as the MK3S, though you can still print a number of tougher filaments like ABS, PETG, ASA and flexible filaments. The Mini retains the fast 200mm/s max printing speed, and can be upgraded to feature a filament sensor.
Overall, it's another reliable 3D printer by the trusted Prusa brand who have proven over the years that their printers are some of the best 3D printer kits around. If you have the money, go for the MK3S, but for those on a budget, the Mini does a great job.
3. Creality Ender 3 V2 — Best DIY 3D Printer Under $300
Price: $279 — Available on Creality Store here / Available on Amazon here
Build volume: 220 x 220 x 250 mm
Building on the success of the Ender 3 and improving and fixing its few flaws, the Ender 3 V2, while the same size build volume, is a much enhanced DIY 3D printer.
The upgraded motherboard makes the printer quieter than ever, and the extra power makes for a much more stable and precise printing experience.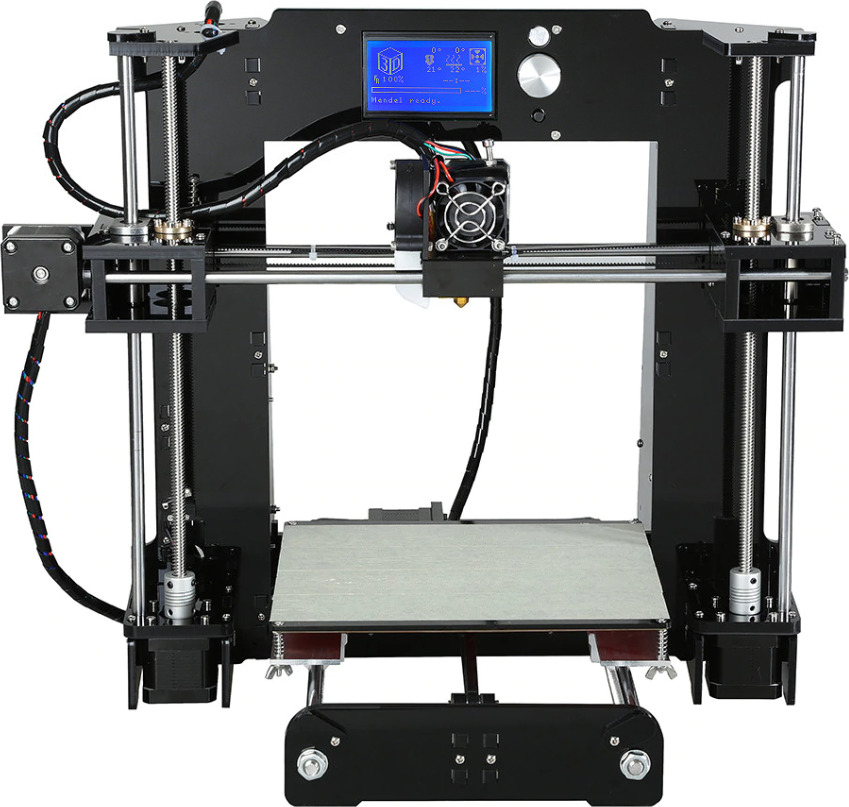 Read more: the quiet 3D printer buyer's guide
The upgraded extruder is also a great touch. It's easier to load and feed filament into via the rotary knob, ideal for PLA and flexible filaments. The large 4.3-inch screen makes the interface more intuitive, and the Ender 3 V2 is really easy to use overall.
Another extra is the carborundum glass platform, which can heat up faster than ever and improves adhesion so you can be sure of a great first layer. Overall, if you have the extra $100 to spare, consider going for the Ender 3 V2 over the original.
4. Creality Ender 5 — The Best DIY 3D printer under $500
Price: $349 — Available on Amazon here / 3DJake UK & Europe here
Print volume: 220 x 220 x 300 mm
Another Creality kit, the Ender 5 is another great 3D printer you can build at home. The Ender 5 is $100 more expensive, but boasts a number of improvements that make the extra money seem worth it.
Firstly, it can print taller prints than the Ender 3 — 300 mm high rather than 250 — important if you print tall structures like tall vases or monument 3D models.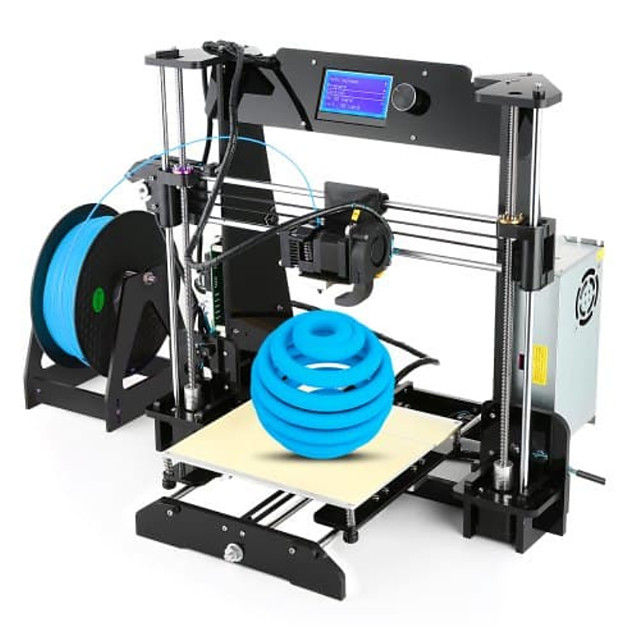 The structure is also stronger, having adopted a cube shape like the Tronxy X5SA which helps with stability, reducing vibrations or movements from external events, and improving part surface finish and quality.
Moreover, the minimum layer height of 50 microns is extraordinary for such a cheap machine. Review after review repeats how crisp the surface finish of their prints look with the Ender 5, so it's fair to say the Ender 5 is a smash hit.
For an extra $50 you can upgrade to the Ender 5 Pro printer kit, at $399. It's available to buy here.
Note: while the Ender 5 can be tweaked to increase print speed without a noticeable loss in print quality, we recommend you don't get too extravagant with this. Stick with 60 mm/s or below for models with intricate parts — it's worth a bit of extra printing time to guarantee crisp prints.
5. FLSUN QQ-S — Great Delta DIY 3D printer
Price: $369 — Available on Amazon worldwide here
Print volume: 255 x 255 x 360 mm
Print speed: up to 300mm/s
One of the best DIY delta 3D printer machines out there, the Flsun QQ-S features notable improvements on the original Flsun QQ.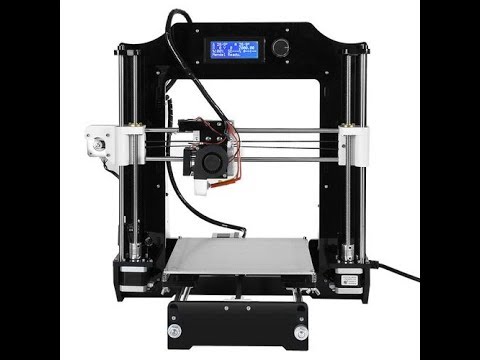 It comes 90% assembled, so though technically still a 3D printer kit it will take under an hour to get up and running.
We were lucky enough to test the FLSUN QQ-S, make sure to also check out our FLSUN QQ-S review.
Not only does it have a fantastic build volume for the price — especially the ability to print tall parts! — but it also comes with an upgraded lattice glass print bed, allowing for faster heating up to 100C in under 5 minutes, less warping and better adhesion during 3D printing. This is perfect for materials such as ABS filament, which are known to warp significantly under the wrong conditions.
Another advantage that beginners will enjoy is that as delta 3D printers don't move the print bed — the print head does all the moving — the printer only needs to be auto-leveled once. It comes with a titan extruder, and can print with common printing materials like PLA and ABS, PVA, and HIPS for supports, as well as wood-filled filaments and flexible filaments.
It's accurate, too, able to print at up to 50 microns. Overall, it's a fantastic delta 3D printer kit that prints accurately, and super fast — it even made it into our fastest 3D printer ranking. It's also one of the easiest DIY 3D printers to build, coming almost fully assembled — you just need to attach the gears and rods to hold the structure up, and then attach the extruder and filament holder.
6. Tronxy X5SA Pro — Huge Self-Assemble 3D printer
Company based: China
Price: $399 — Available on Amazon here
Build volume: 330 x 330 x 400 mm
Kit 3D printer kings Tronxy showed humility and dedication to improve the X5SA Pro, fixing a number of small issues that affected the original. The X5SA Pro addresses the X-axis issues and has made it more stable, and upgraded the materials forming the printer kit's structure. Now on the X5SA Pro, most of the printer is made from aluminum and is heavier and more stable, reducing vibrations and generally improving print performance.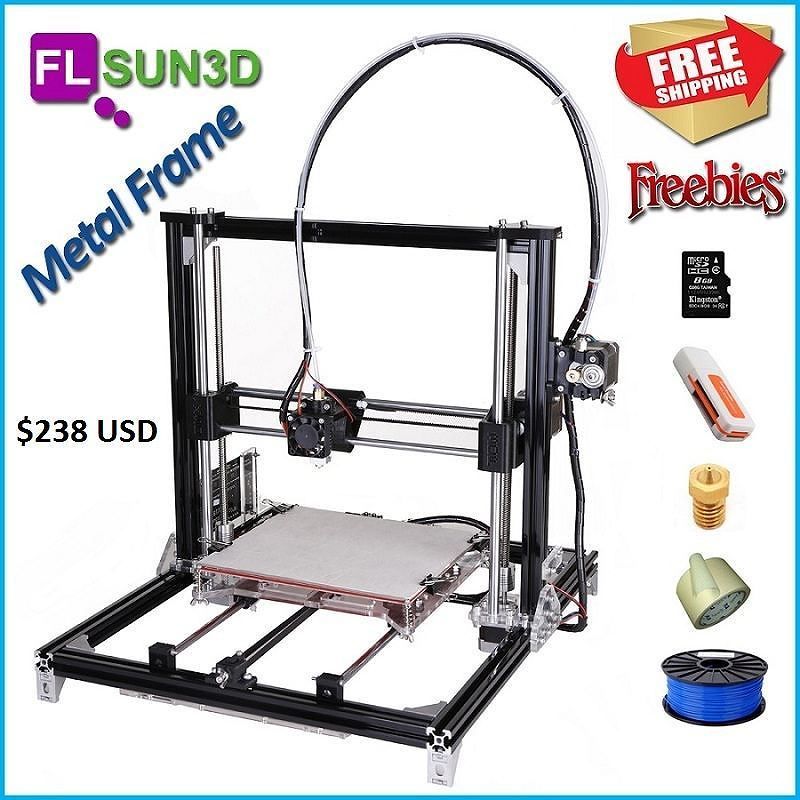 As for the X5SA's specs, it's a large 3D printer DIY kit with similar printing sizes to the Creality CR-10, and boasts a 330 x 330 x 400 build volume. It claims increased precision vs the original Tronxy X5SA, and has a maximum accuracy of 125 microns. It's impressive, reliable and one of the best cheap 3D printers you can get with such a large size — so those with big 3D printing ideas will enjoy both this and the Creality CR-10.
It'll probably take you around four hours to build this printer kit, but it'll be worth it once you start printing!The Tronxy X5SA Pro's cube shape offers stability benefits resulting in good surface finish.
7. Anycubic Vyper
Price: $429 — Available on Anycubic store here / Available on Amazon here
Build volume: 245 x 245 x 245 mm
A key feature on the Anycubic Vyper missing from many printers in this price range is that the Vyper self-levels. This is a huge relief for busy makers who would rather not re-level their printer every few prints, and who just want to get to the fun part — printing! The 16-point bed leveling process accounts for differences between the nozzle and bed and can be done in just one click.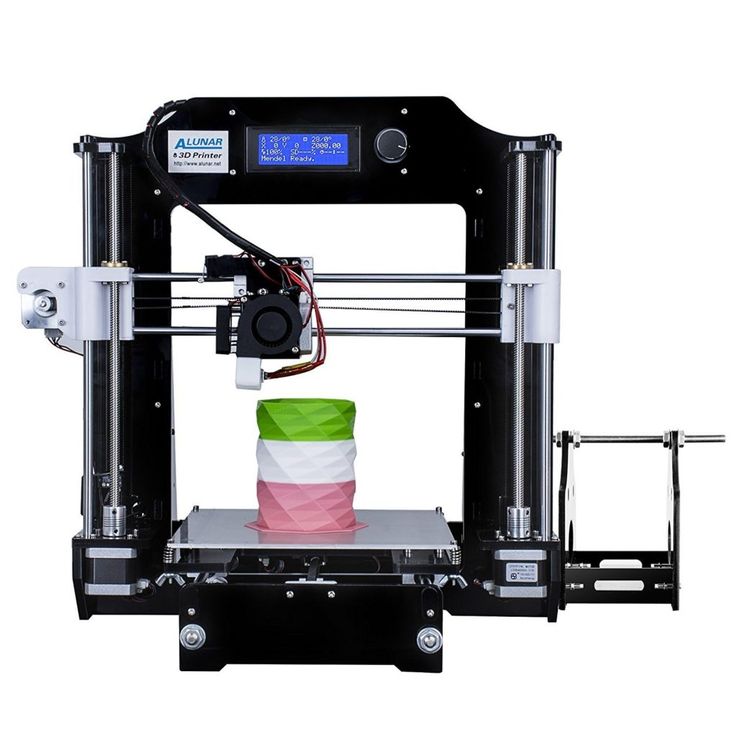 The 32-bit motherboard is beefed up compared to previous Anycubic 3D printer kits, offering silent printing and improved stability. We tested the Anycubic Vyper and found it to be consistent in printing, easy to operate with the 4.3-inch touchscreen, and it was incredibly easy to assemble — we built it in 10-15 minutes.
The new PEI spring steel magnetic print bed can be lifted off the platform easily for easy removal of your finished parts, and is designed to be scratch and heat resistant and to work well with standard filaments such as PLA, ABS, PETG, and TPU.
The Vyper also features an innovative new two-fan dual cooling system, cooling down parts quicker and enabling faster printing without causing errors — the Vyper can comfortably print at 100mm/s.
8. Creality CR-10 / V3
Price: $369 / $459 — Available on Amazon here / Available on Creality Store here
Print volume: 300 x 300 x 400 mm
The Creality CR-10 has a passionate group of supporters who hail it as the best DIY 3D printer kit in its price range.
Manufactured by Creality, the CR-10 is a fantastic 3D printer build kit that can be built within 45 minutes.
For a larger version, the Creality CR10 MAX has 450 x 450 x 470 mm maximum build volume, and costs $999. You can buy it here / or on 3DJake UK & Europe here
For a smaller version, the CR10 Mini is available — you can buy it here / or on 3DJake UK & Europe here
The Creality CR-10 has an accuracy and print volume which is competitive with printers 5 times more expensive. With it's minimum layer thickness of 0.05mm and fantastic 300 x 300 x 400 mm build volume, the Creality CR-10 is a great printer for just $370. It's easy to use, making it the perfect 3D printer for beginners.
9. Prusa i3 MK3S — best 3D printer kit
Company based: Czechia
Price: $749 as a kit — Available on the Prusa store here / $999 fully assembled — Available on the Prusa store here
Build volume: 250 x 210 x 210 mm
The Prusa i3 is known as the undeniable king of DIY 3D printer kits.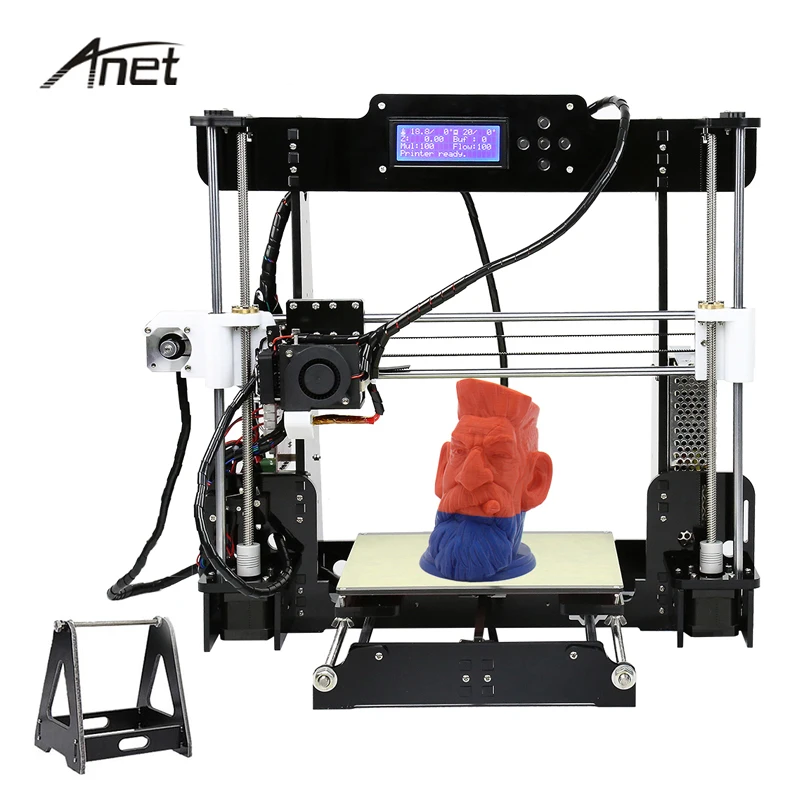 These RepRap kits are fantastic, sporting an impressive print volume of 250 x 210 x 210 mm, and being able to print at speeds up to 200mm/s! It's also accurate, durable and a complete workhorse, with layer heights from 0.05 mm and a bendable print surface to make removing finished prints as easy as possible.
Accessible via USB stick or by SD card, the Prusa i3 MK3 kits are designed to be simple to use as well as effective. With layer resolutions up to 50 microns, the Prusa i3 homemade 3D printer is so effective that it outperforms far more expensive 3D printers. It can print tougher filaments than more expensive printers too, with a Bondtech extruder that can reach temperatures of up to 300C, making printing Polycarbonate, ABS, Nylon, and other difficult filaments no problem.Colorful prints are possible with the Multi Material Upgrade Kit, which we discuss below.
Additionally, you can print up to 5 colors simultaneously with your Prusa if you purchase their multi-material upgrade kit, costing $300.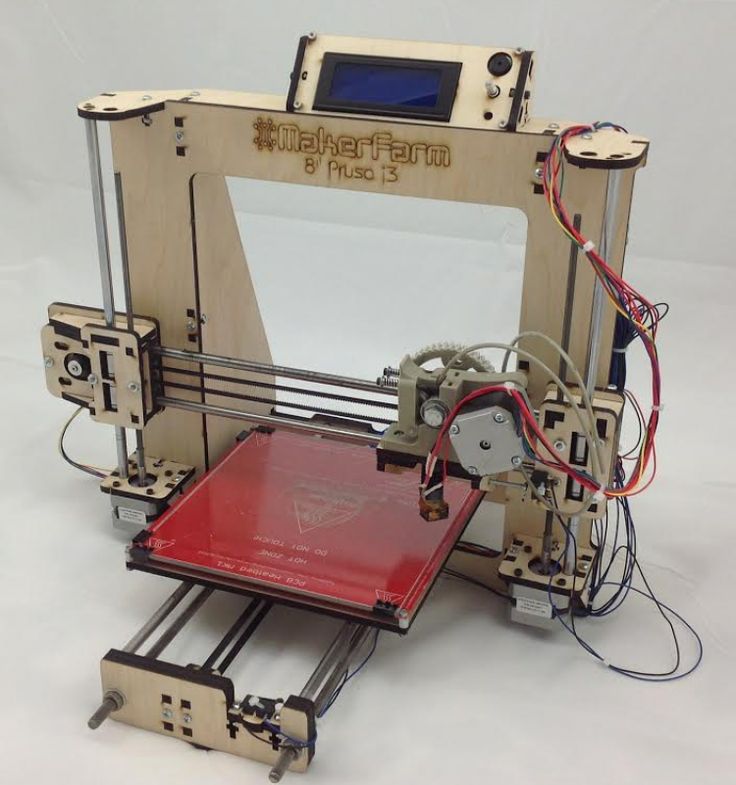 This makes colorful model printing a breeze, and opens up for far more extravagant printing projects.
With a Multi Material Upgrade kit, it can also print multiple colors. We explain more in our color 3D printer buyer's guide.
You can buy the Multi Material Upgrade Kit 2.0 here.
You can choose to either assemble the kit yourself or buy the printer pre-assembled, though this costs a few hundred dollars more. Overall, the Prusa remains the undisputed king of DIY 3D printer kits, with its competitors needing to do a lot of catching up to dethrone it.
The Prusa, with Multi Material Upgrade kit, allowing it to print multiple colors simultaneously. We explain this in our color 3D printer guide.
10. Peopoly Moai SLA Kit — Homemade resin 3D printer kit
Price: $1,295 — Available on Matterhackers here
Build volume: 130 x 130 x 180 mm
The only resin 3D printer featured in our 3D printer kit guide, the Peopoly Moai is an incredible feat of engineering.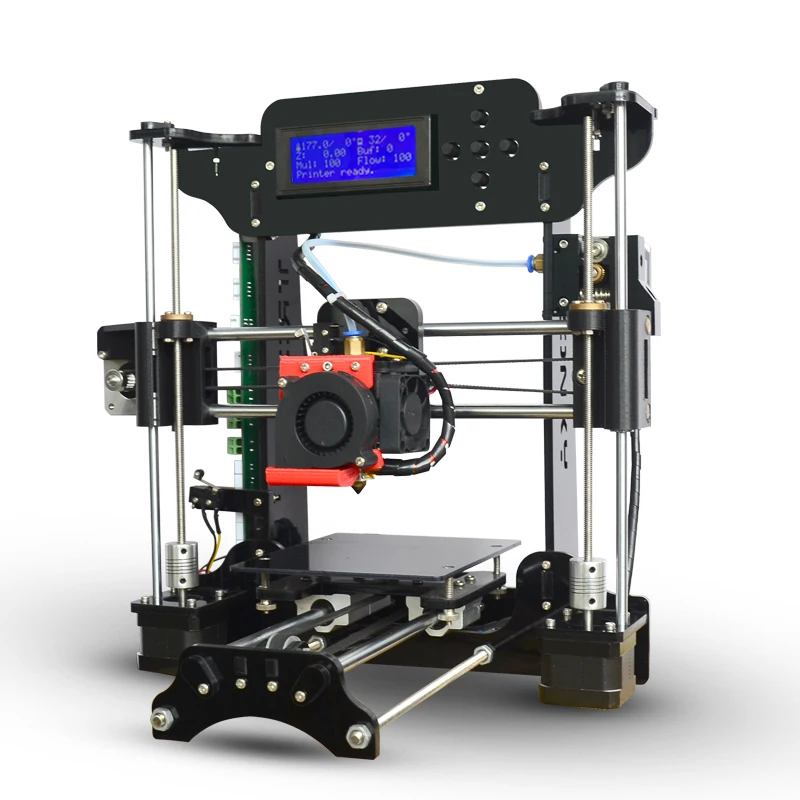 It's huge, offers incredible accuracy and precision, and best of all, you can build your own 3D printer at home from scratch.
For those looking for an effective SLA 3D printer, and who do not want to pay full price, the Moai kit could be the perfect printer for you. It is so accurate that it can mechanically print up to an astonishing 5-micron layer height, according to Peopoly, though you'll likely never reach this accuracy because you won't need to, nor would most resins or models accommodate this.
Featuring a 70-micron laser spot size, once you've built this homemade 3D printer you'll be ready to create resin molds for 3D printed jewelry, dental models, engineering pieces, as well as prototypes for rapid prototyping or fun characters if you use the Moai as a 3D printer for miniatures.
The Peopoly Moai is open to use third-party resins, for those who want to save money on lower-cost resins and are fine with the slight quality drop-off. The printer itself however does not come with any resin, so you'll need to purchase that with the kit.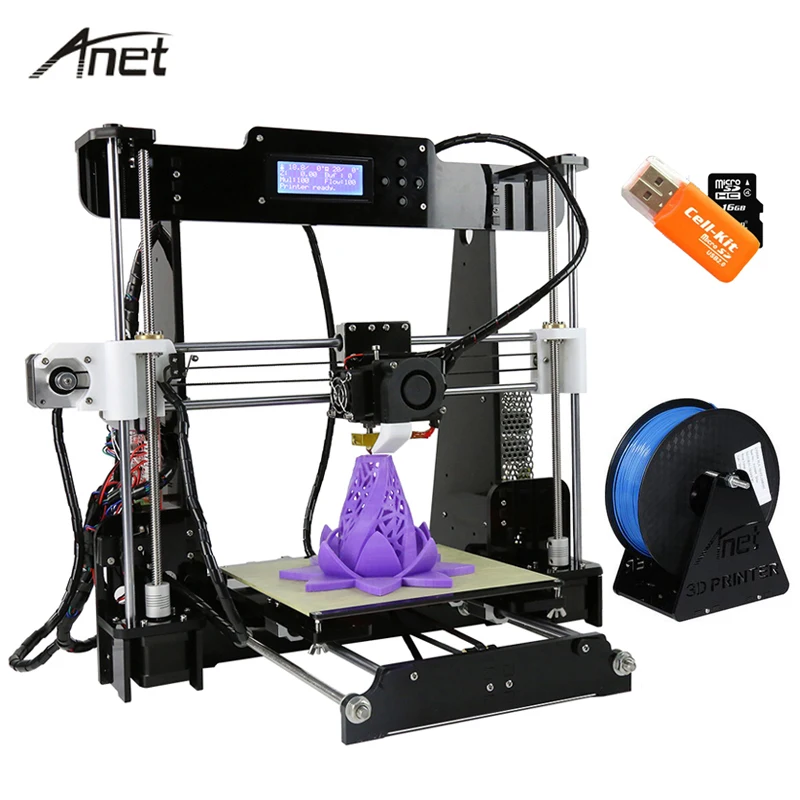 It is only to be expected that the Moai will take some time to assemble, as resin 3D printers are more complex than their FDM 3D printer counterparts, but most makers will be able to build their own 3D printer within 4 hours.
3D MC5 printer - Construction kit
3D MC5 printer - Construction kit - MC5 3D printer buy at Master Kit. Driver, programs, diagram, reviews, instructions, DIY, DIY
3D MC5 printer - Designer - MC5 3D printer buy at Master Kit. Driver, programs, diagram, reviews, instructions, do-it-yourself, DIY
You can buy Master Kit 3D MC5 printer from us - Designer - MC5 3D printer: price, photo, DIY, do-it-yourself, specifications and equipment, reviews, review , instruction, driver, programs, scheme
Master Kit, 3D MC5 printer, Designer - MC5 3D printer, price, description, photo, buy, DIY, DIY, reviews, review, instructions, delivery, driver, programs, scheme
https://masterkit.ru /shop/2085077
MC5 is a complete kit for building a REPRAP compatible 3D printer.
Kit for self-assembly within 12 hours.
Compact size
Ideal for learning the basics of 3D printing
Rugged design allows high speed printing up to 150mm/s
Comparison of 3D printers Master Kit DIY
is not available
29 990
On admission to the warehouse
---
MC5 This is a full set of parts for the assembly of the replace of a compatible 3D printer.
Kit for self-assembly within 12 hours.
Compact size
Ideal for learning the basics of 3D printing
Rugged design allows high speed printing up to 150mm/s
Supported sizes
STL, GCODE
Layer thickness
0.1 - 0.45 mm (for standard nozzle 0. 1 mm - 0.3 mm)
Operating temperature
270 ° C
Desktop heated
900 x 30025 Power
12 in
accuracy for axes X, Y
0.01 mm
The speed of movement X, Y
45 mm/s
9006 900 900. Z-axis travel
100 mm/min.
Tool type
single J-head extruder (2mm x 0.35mm)
Use
indoors only, natural ventilation required

---

Machine structure

Rigid 6 mm plywood frame. The extruder moves only vertically (Z-axis). Movement along the X and Y axes is carried out by the desktop.

---

The operating modes of the device

Interface
Autonomous printing from SD memory card

---

Additional information 9000 9000 9000 9000 9000 9000 9000 9000 9000 9000 9000 9000 9000 9000 9000 9000 9000 9000 9000

012

Complete kit: electronics, extruder (for filament 1. 75mm), body parts, fasteners (screws, nuts, washers), kinematics (guides, bearings, gears, belts), motors, travel stops.
"E3d V6 full kit" extruder for 1.75 mm filament. Nozzle 0.3 mm
The extruder nozzle can be easily replaced with the same or different outlet diameter: 0.2 mm, 0.4 mm, 0.5 mm. For optimum printing of various models.
Complete with electronics - Mastertronics for REPRAP 3D printers.
Fasteners for control boards (Mega 2560+Ramps1.4+4x DRV8825) during assembly, print from our files.

Electronics warranty 12 months!!!


Optional assembly, adjustment and calibration services available.

Please indicate this requirement in the order comments.

---

Schematics

Schematics

Schematics

Schematics

---

Delivery set

Buyers with this product

---

Discuss on the forum

Copyright www. maxx-marketing.net

I wanted to buy an inexpensive 3D printer, but I watched YouTube and didn't want

", at the end of which the author asks to answer a few questions. I will try to answer from the point of view of my seven years of experience as a 3D modeler and 3D printer. First, a few caveats.

This article will not contain advice: "Buy a printer from manufacturer X - it is good, but do not take manufacturer Y under any circumstances", only general recommendations.

Informal classification of printers, adopted in the domestic segment of printers.

Everything written is based on the personal experience of the author and is his personal opinion.

If these warnings do not scare you - welcome under cat.

---

First, let me introduce myself: my name is Maxim and I bought the first printer back in 2013. It was a Chinese clone of Makerbot 2 with the hilarious name "Migce Cuble".

Photo from the personal archive

There was almost no information on 3D printing on RuNet, only one topic on the "Roboforum" and several scattered articles about what a cool thing it is - 3D printing, so to master it I had to google a lot in English, come up with their crutches and delve deeply into the physics and technology of the printer. We must pay tribute, in the English-speaking segment, then there was an active development of this technology and interesting articles such as "Selection of the type of notches of the extruder feed gear for a specific type of plastic" or "Determination of the optimal printing temperature using a strain gauge installed on the extruder" came across. Since then, 7 years have passed. I managed to master modeling, assemble a printer from scratch, be a moderator of "3D Today" for a while, work as a freelancer in the field of modeling and printing, organize a prototyping circle for children and bring it to the Russian level. Recent achievements: volunteered as a coordinator for the supply of plastic in the project " Anti covid makers ". A lot has changed during this time, including printers in my home zoo. One thing has remained unchanged - the question: "What should I buy as my first printer?".

Currently, two types of printers are mainly used at home: printing using FDM (FFF) technology - layer-by-layer plastic fusing, which is fed in the form of a rod and SLA (LCD) - printing with a photo-curing polymer. FDM technology is more common, due to the lower cost of equipment and consumables, but in recent years, the prices of LCD printers and printing resins have decreased significantly and photopolymer printing has almost caught up with FDM printing in terms of cost and entry level.

SLA and FDM

To be honest, I almost never did SLA printing and I still don't have an LCD printer in my home zoo (but it may appear soon), so I will mainly talk about FDM printers. They can be divided into 3 main categories according to the type of mechanics:

Drygostables - printers with a table movable horizontally. Perhaps the most common printer model. It is distinguished by low cost of components, ease of assembly and adjustment, for which it is loved by the Chinese and printers. The disadvantages include the difficulty of creating a closed body and printing thin, tall parts that begin to wobble as the height increases, especially if the part is printed from flexible plastic such as TPU.

Typical drygosts

Cubes - printers in which the table travels vertically. The cost of such printers is higher, as are the requirements for straightness of hands during assembly and setup. But a properly designed die delivers faster print speeds while maintaining print quality. At the same time, the design of the printer is very easy to make closed, which allows printing with engineering plastics such as ABS and Nylon. This type of design is often used in semi-industrial and industrial grade printers. Some manufacturers manage to shove the drygost into the body of the cube, but this does not bring any special advantages for printers.

Typical cubes

Delta - printers with the so-called delta kinematics, when the print head, using a system of rods, is attached to carriages that move along vertical guides. The cost of the mechanics of such printers is comparable to the cost of dry-tables. Can print at very high speeds. But they are very demanding on the correctness of keeping the dimensions, the straightness of the hands during assembly and adjustment, and the speed of the "brains" due to the complex mathematical calculations of the trajectory of the head movement.

Strongly not recommended as a first printer, although the widespread use of the table level sensor somewhat reduces the requirements for straight hands during setup and operation.

Typical deltas

By availability on the market, 3 main categories can also be distinguished:

Chinese (cheap Chinese printers) are almost always designers, even if they come assembled.

The advantages include low cost, wide distribution and uniformity, which allows you to buy failed parts in the nearest radio shop or on well-known Chinese sites. Popular models gather around a relatively large number of users who actively share their experience in the field of self-repair and improvement of this type of printer. The most popular models will most likely be printed right out of the box, but will require improvements during more or less long-term operation.

The disadvantages include the quality of components / assembly and the need to refine these printers to obtain acceptable quality / print speed. It is recommended to take models that have already formed a large community around them. This means that most of the shortcomings have already been identified and there are standard inexpensive methods to solve them.

Kits (assembly kits, mainly domestic production) - google for the words " ZAV ", " UlTi ", " UlTi ", etc. Usually they are a set for assembling a plywood cube. Recently, options with metal cases have appeared. Supplied in different versions - from a kit for building a case with printed parts, ending with completely finished assembled products.

The pluses include a fairly good engineering study, the ability to choose the components for the mechanical and electronic parts and make the printer completely to your requirements. With good components, they provide fast, stable and high-quality printing. The price is somewhat more expensive than Chinese printers, but cheaper than semi-professional printers of domestic or European / American manufacturers.

The disadvantages include a decent amount of time spent on assembly and waiting for components if you decide to save money and order these components yourself from different sellers and assemble a printer from them. When assembling, direct hands are required.

factory printers (domestic or American/European semi-professional printers). There are a lot of models, the designs are very different.

The advantage of this class of printers is printing with acceptable quality out of the box. In addition, you get operational reliability and warranty support from the manufacturer.

The main disadvantage is the price. It is often not clear what factors it depends on. You can buy a high-quality printer relatively inexpensively, or you can take something incomprehensible for a high price. The second disadvantage is the presence of specific solutions that are incompatible with popular solutions on the market: these can be nozzles with their own thread pitch, special fans, electronics, belts, and even slicers. Some are demanding on the quality of plastic, there are models that work only on chipped coils.

Now that we have decided on the classification of printers, we can proceed to the procedure for choosing a printer for ourselves, our beloved. If you are on fire with the purchase of a 3D printer, first decide what you are going to take it for, the type and configuration of the printer depends on it. Let's analyze a few typical situations:

I want to do something for myself and my family - if you don't plan to print products from engineering plastics that can withstand decent loads and temperatures - a Chinese drygostol or a cube will suffice. If you have a budget and want to figure out how the printer works before starting, and not during printing, you can look in the direction of domestic assembly kits - with them you can get the best quality and painlessly switch to engineering plastics.

I can't do anything with my hands, but I have to. Therefore, I want a printer that will do everything for me - in this case it is better to look at semi-professional printers. If the budget is not enough, you can look at used ones or order an assembly of a domestic set - usually manufacturers offer this service through intermediaries. When ordering an assembly - look for experience and positive reviews, there are nuances.

I want to print for sale - a farm of the same type of printers, depending on the budget. If there is no budget, but there are resources for regular tuning / repair - you can even from Chinese drygosts. Additionally - a printer with a large print area, a printer with a closed case and a heated table for printing engineering plastics, an SLA / LCD printer for printing products with a high degree of detail.

Whether at work or at home, the need arises to design and print enclosures and parts. If only small prototypes are planned - an LCD printer, if functional products - a closed cube with the ability to print with engineering plastics.

Kids are growing up and this is the technology of the future, I want you to master - see which printers are used in prototyping competitions in your area. Take the same one. May be used.

I want to make figurines for desktops, beautiful little things for home - LCD printer.

I want to figure out what kind of technology and how it works in general - a kit for assembling a domestic manufacturer. By the time you collect it, you will understand.

There is no money at all, but I want to print, I will collect it myself from scratch - it will turn out better and cheaper than the Chinese. Strange as it may seem, no. The cost of components with Ali will be more expensive than a printer with Ali. Of course, if there is a machine park, the ability to use it, a set of iron, shafts and electronics lying around in the corner of the workshop, it can burn out. There are options for building printers from boards and furniture rails, but their print quality is, to put it mildly, lame. For example, the construction of the printer shown below cost its author 80-9, according to him.0 dollars.

If you want to completely build your printer from scratch, then it's better to treat this as a separate hobby and accept that it will not turn out very cheap. Well, or look in the direction of used printers.

I don't know why I need a printer, but I want to try - a Chinese or a domestic assembly kit. Can be used. If it doesn't work, you can always resell.

Decided on the type of printer - what to look for first of all when buying ?

First of all - on the rigidity of the structure - the accuracy and speed of printing depend on it. It is in the direction of strengthening the rigidity that your first modifications of the Chinese printer will be directed, since the material "steel plasticine 3 (c)" is considered an unaffordable luxury for the Chinese. In the case of the purchase of domestic kits, the situation is slightly better.

Secondly - if the printer will be in the apartment - "silent" drivers for stepper motors. 3D printing is not a fast process, and having a constant loud enough buzzer under your ear is annoying.

Third - the presence of a heated table and ease of modification to a closed case. Over time, the desire (need) to print ABS will come, and it is problematic to do this on an open drygost.

Fourthly, the presence of a good plastic blowing system is also important.

Fifthly, when choosing printers with CoreXY, H-Bot or Delta mechanics, it is highly desirable to have a 32-bit control board, or you will encounter fading (freezes) at high print speeds.

In the sixth, seventh, etc. - there are many nuances in the design of printers. If something is unclear, feel free to ask the community.

In any case, if you are going to buy or have already bought a 3D printer, start learning some 3D editor.