3D printed speed cube
Large 3D Printed Rubik's Cube Breaks Previous World Record! - 3DPrint.com
In 1974, the world of puzzles changed forever with the introduction of the Rubik's Cube. This puzzle, for anyone who has managed not to have seen one yet, is a cube constituted by smaller squares that can be twisted and shifted with the goal of getting one solid color on each side of the cube. Since then, we've witnessed some incredible puzzle solving skills, like a 14-year-old who solved the Rubik's Cube in under six seconds.  Some 3D designers have also broken new ground, as they attempt to 3D print large cubes that are still functional. Most recently, "corenpuzzle" has managed to design and 3D print a 22 x 22 Rubik's Cube that is even larger than the previous record holder Dutch puzzlemaker Oskar van Deventer's "Over the Top Cube," which measures 17 x 17.
For a brief history of the 3D printed Rubik's Cube, we first turn to Oskar van Deventer who holds a Guinness World Record for his 17 x 17 Cube.
Completed in 2011, van Deventer received acknowledgement of his world record and has comfortably maintained this record for almost five years. But now the record has recently been outdone by corenpuzzle's Cube that is larger than van Deventer's design. corenpuzzle reports that his Cube was also inspired by Matt Bahner's "Yottaminx," which previously held the title of the "highest order twisty puzzle ever created."  Now, corenpuzzle's own design is considered the "highest order end by end by end twisty puzzle ever made" and it has broken van Deventer's own record, too.
Corenpuzzle's Cube was 3D printed with a Prusa i3 3D printer — a "low end consumer 3D printer." In fact, the designer states he built the puzzle with the intention of demonstrating how far consumer 3D printers have come in the past several years. It took him eight months to complete the Cube, which has an edge-length of 200 mm and 2,691 functioning parts. With this many parts, the number of possible position variations is almost incalculable!
After printing and assembly, corenpuzzle's Cube initially came with some big problems mainly related to the inability to easily twist the puzzle.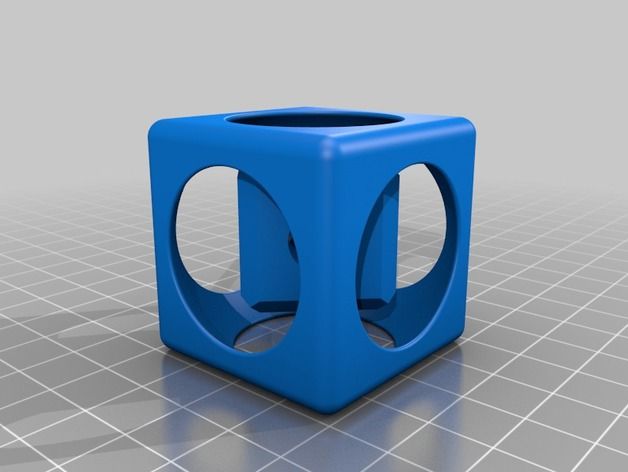 In fact, you can see here that in his first livestreamed attempt to twist the puzzle, the entire thing falls apart — ending in a disastrous pile of plastic pieces (see below photo)! Since then, he has posted better results on YouTube (see video below) that features accelerated footage of him more easily twisting the puzzle to create a checkerboard pattern. It took him 3 hours just to do that!
Corenpuzzle attributes early twisting problems to the lack of a strong puzzle core. After two fully-assembled puzzles fell apart on him, resulting in all of those pieces in one big pile, corenpuzzle was finally able to design a puzzle core strong enough to withstand any twisting motions. More than 869,00 people have viewed the video that demonstrates the puzzle's record breaking qualities, and over at Thingiverse the puzzle has received 2,742 views and 694 downloads.
I am sure that this is not the last 3D designer who will attempt to break the Guinness World's Record in this competitive category, and corenpuzzle has just raised the stakes a little higher with his 22 x 22 Rubik's Cube design: a true sight to behold.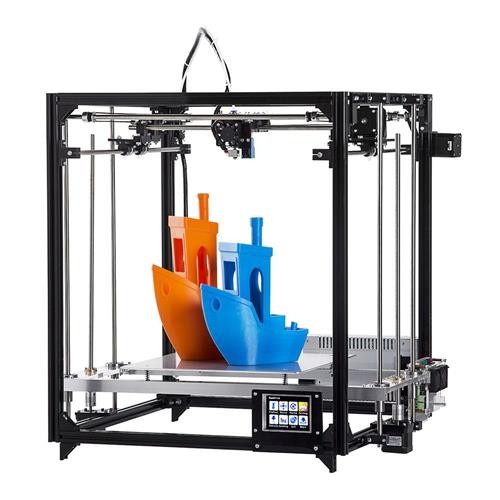 Tell us your thoughts on this 3D printed puzzle in the 3D Printed Rubik's Cube forum over at 3DPB.com.
Stay up-to-date on all the latest news from the 3D printing industry and receive information and offers from third party vendors.
Tagged with: 3d printable puzzles • 3d printed puzzles • 3d printed rubik's cube • corenpuzzle • Guinness World Records • Matt Bahner • Oskar van Deventer • Prusa i3 • rubik's cube • thingiverse • twisty puzzles • Yottaminx

Please enable JavaScript to view the comments powered by Disqus.
3D Printed Speedcube - Surprisingly Good
Welcome to the Speedsolving. com, home of the web's largest puzzle community!
You are currently viewing our forum as a guest which gives you limited access to join discussions and access our other features.

Registration is fast, simple and absolutely free so please, join our community of 40,000+ people from around the world today!

If you are already a member, simply login to hide this message and begin participating in the community!
JavaScript is disabled. For a better experience, please enable JavaScript in your browser before proceeding.
Thread starter The Bloody Talon
Start date

Tags

3d print custom puzzle handmade
The Bloody Talon
Member
I know it is not practical to 3D print a cube especially that it requires a lot of work.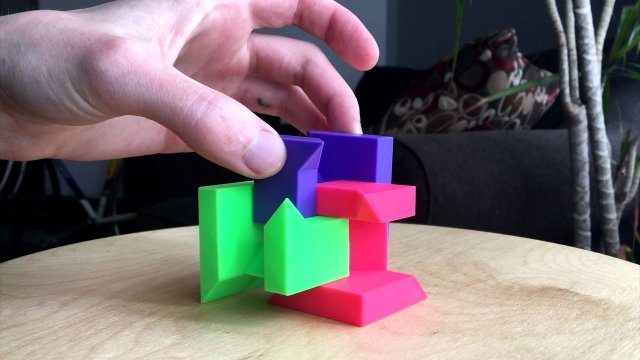 While a basic speedcube nowadays costs only around $2.
But when I unboxed the Weilong WRM 2020 and found out that it has extra core and spring, I decided to give this a try.
24hrs printing
I used Creality Ender 3. But a resin printer should be the best choice for this.
File is from Thingiverse
Required sanding
There are still lock ups and corner cutting is not good.
seanthecuber
Member
epik gizmotwist
You must log in or register to reply here.
Share:
Facebook Twitter Reddit Pinterest Tumblr WhatsApp Email Share Link
| | | | | |
| --- | --- | --- | --- | --- |
| | a 3d printed device to measure the actual difference magnets make to speedcubes. | General Speedcubing Discussion | 2 | |
| | 3d printed clock covers? | General Speedcubing Discussion | 4 | |
| C | 3D Printed cubes here (Megaminx mods, bump cubes...) | Buy, Sell, Trade | 5 | |
| | Rubikcube package for LaTeX - printed turotials | Software Area | 0 | |
| E | 3d printed cube? | Off-Topic Discussion | 3 | |
a 3d printed device to measure the actual difference magnets make to speedcubes.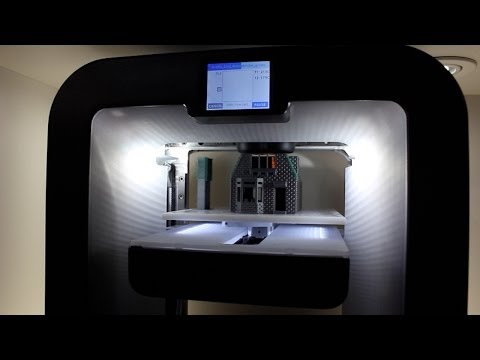 3d printed clock covers?
3D Printed cubes here (Megaminx mods, bump cubes...)
Rubikcube package for LaTeX - printed turotials
3d printed cube?
Top
French maker 3D printed Rubik's Super Cube
News
3Dtoday is not just a community of 3D printing enthusiasts, but also an open gathering of talented young people aged 8 to 80 who can build a 3D printer out of a sewing machine, a cabinet and a handful of bearings. And all why? Because the employees of our department love to puzzle over the most complex and sometimes incomprehensible tasks. Well, how to entertain such an audience, at the same time tickling the interaural ganglion? How about a Rubik's Cube with thirty-three elements along each face?
The classic Rubik's Cube has nine squares per side, 54 in total. But this was not enough for the French engineer and maker Gregoire Pfennig.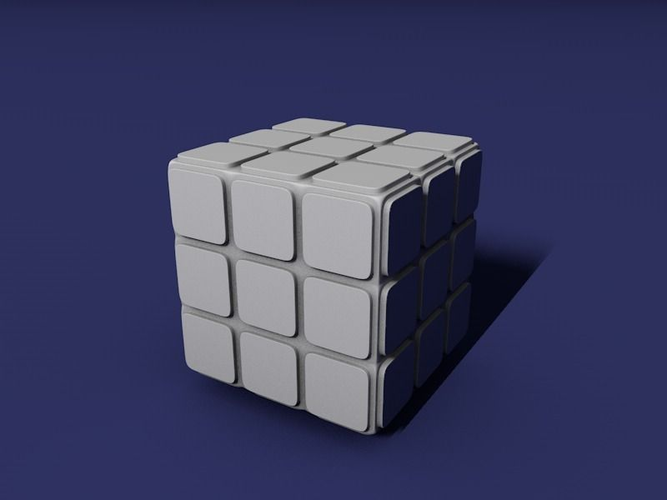 Having fired up a 3D printer, Grégoire printed a puzzle to the envy of all puzzles - a Rubik's cube with 6,543 elements - thirty-three along each face, 1,089 on each side.
Actually, this is not the first work of French talent: Gregoire even has his own brand and startup Greg's Puzzles, which creates puzzles for especially advanced geeks. Taking on the design of the super-dice, the maker immediately ran into a problem. The fact is that in an ordinary puzzle, the side length of each square is about a couple of centimeters, and if you simply scale and make a cube with similar proportions, then with thirty-three squares along each face it will not only be difficult to twist, but also problematic to simply lift. The original design had to be revised in favor of squares with a side length of about four millimeters. Plus rectangles around the contour. What for? To make everyone wonder. 94094," the prankster laughs.
Alas and ah, but you won't be able to download the model, at least not yet.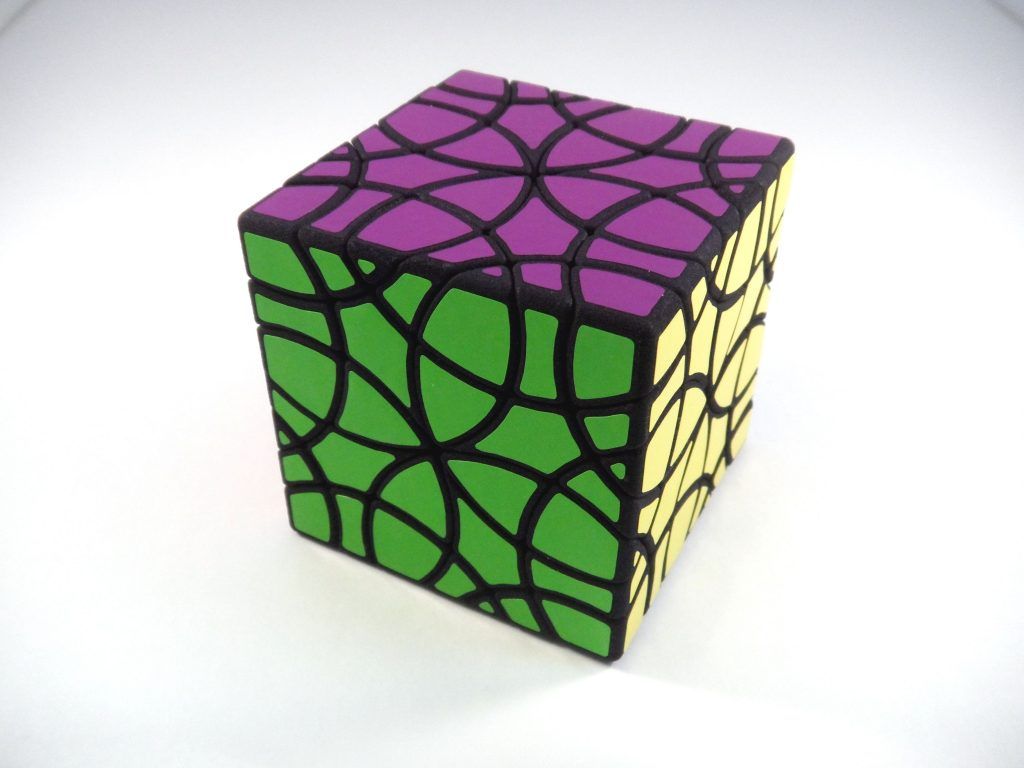 Gregoire generally releases his designs to the public, but so far he is offering the super cube ready-made through the Hungarian online retailer Oliver's Stickers. Orders are processed individually on SLS 3D printers by the Dutch 3D printing office 3D Fabriek within three months. In general, nothing surprising, because it took more than two hundred hours to print and assemble the prototype. The record-breaking puzzle costs only €15,200. We dare to suggest that modeling and printing such a cube from scratch for many Tudeev residents may turn out to be a much more interesting puzzle than the cube itself.
Do you have interesting news? Share your developments with us, and we will tell the whole world about them! We are waiting for your ideas at [email protected]
Follow author
Follow
Don't want
6
More interesting articles
ten
Subscribe to the author
Subscribe
Don't want
The results of the first experiments on 3D printing with polymer materials in microgravity, pro.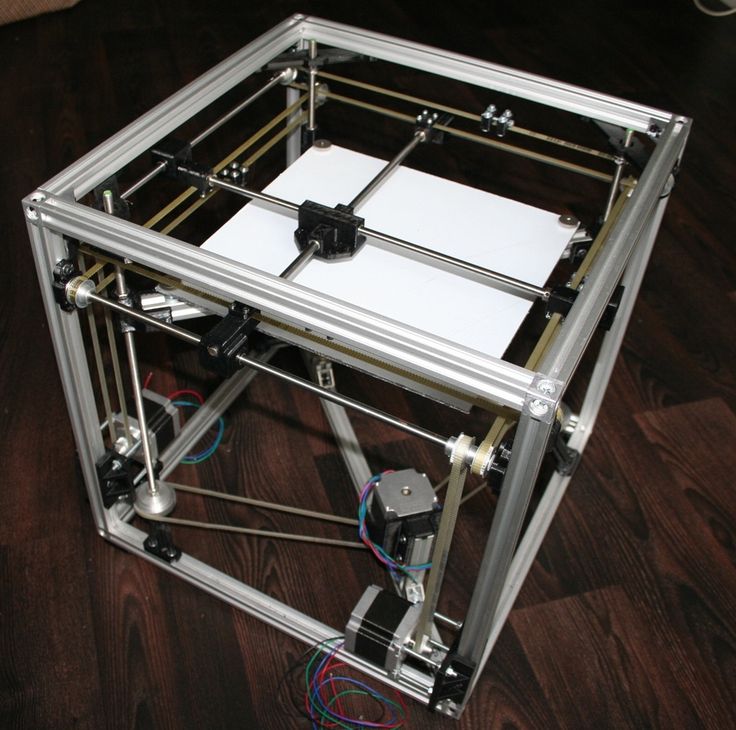 ..
Read more
7
Subscribe to the author
Subscribe
Don't want
In July, the international isolation experiment SIRIUS-21 ended in Moscow, which lasted 240 days...
Read more
59
Subscribe to the author
Subscribe
Don't want
The 3Dtoday portal, supported by Creality and Bestfilament, invites everyone to participate in...
Read more
8 models for test printing
Test models for 3D printers are required for:
When you bought a new printer and need to test it on your favorite media
When you have purchased new media and need to check the print specifications
When you have been using a material for a long time, but do not know its tensile strengths
We will talk about the 8 models most used for testing in 3D printing.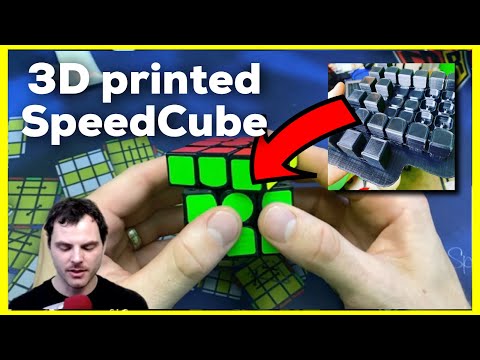 1. 3D Benchy
3D Benchy is one of the most popular 3D printer test models. The boat figurine perfectly demonstrates the capabilities of FDM printers in any price category. Such a model will help you determine exactly the settings you need to set in order to get the perfect 3D print.
Printing 3D Benchy - will allow you to see how the printer copes with the "rendering" of curved surfaces, inclined planes, arcs, holes. The model is available in several versions, including multi-color. It takes approximately one hour to print a standard size 3D Benchy.
Download model on Thingiverse
2. All-in-one 3D printer test

A comprehensive test model for a 3D printer will allow you to check the quality of printed overhangs, bridges, extrusion stability, the possibility of "snot" and the dependence of the result on temperature. An important advantage of this model is the instructions for it, which indicate potential solutions to various problems.
Quite a complex model in terms of setting all the parameters, but it's worth it, try it.
Download Thingiverse model
3. XYZ 20mm Calibration Cube

The main purpose of the XYZ 20 mm calibration cube is to establish the dependence of the movement of the extruder on the step of the motor.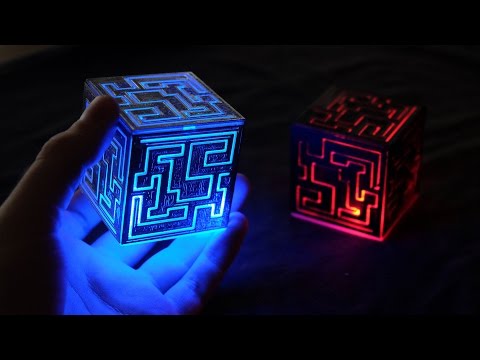 A test model for a 3D printer helps to make sure that 20 mm in the drawing corresponds to 20 mm of the printed product. At the same time, the calibration cube helps to establish the dependence of the degree of extrusion and print quality on the temperature of the extruder.
Download model on Thingiverse
4. Matter Hackers' Mascot Phil A. Ment

This is a small astronaut figurine that has elements designed to test 3D printing.
These are small inserts, small relief details, overhangs, vertical and horizontal cylinders, fillets, chamfers, lintels and a perfectly domed helmet.
A feature of the model is the ability to obtain accurate data for different dimensions of the printed product.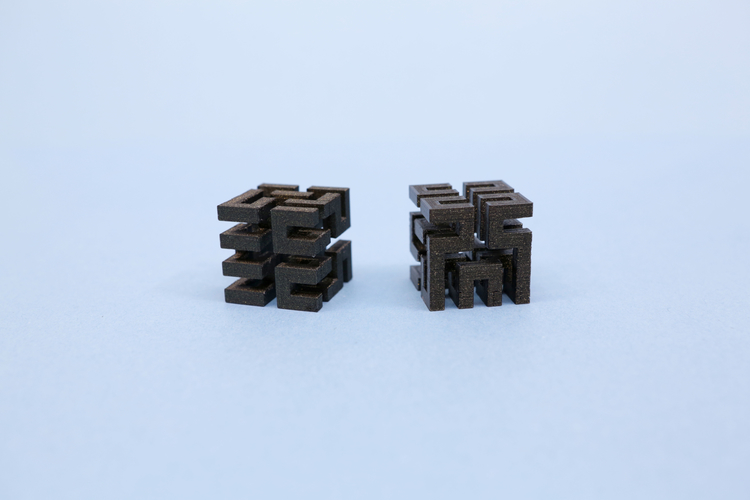 Download model on Thingiverse
5. Smart compact temperature calibration tower

The calibration scale demonstrates the capabilities of the 3D printer when printing at different temperatures with one filament. The test model clearly shows the quality of overhangs, lintels, tensions, and the product can also be used to judge the ability of a 3D printer to print curved surfaces with a certain plastic.
A simple and intuitive tool allows you to find out the possibilities of materials that have not previously been used in work or printed with only one temperature.
It is important to consider that the print temperature setting for each signed element (floor) must be set in the slicer or manually in Gcode.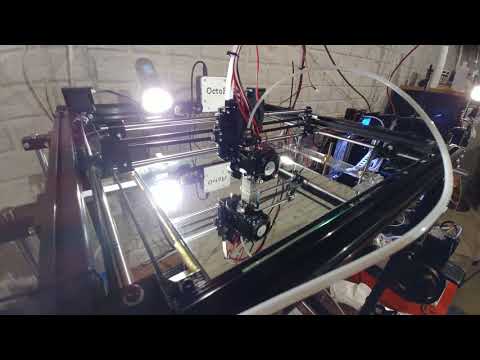 Download model on Thingiverse
6. Open-Source Printer Evaluation
This is a universal print model from Kickstarter and Autodesk. It was created taking into account the experience of using other models for testing. It contains bridges, overhangs, fine detailing and elements for assessing the spatial accuracy of 3D printing.
Download model on Github
7. Economical Stringing Test

When printing complex-shaped objects, without knowing the capabilities of the filament and the printer, the user may encounter stringing (from string - string), and in Russian simply "snot" - when plastic reaches for the extruder, forming thin plastic fibers in the air.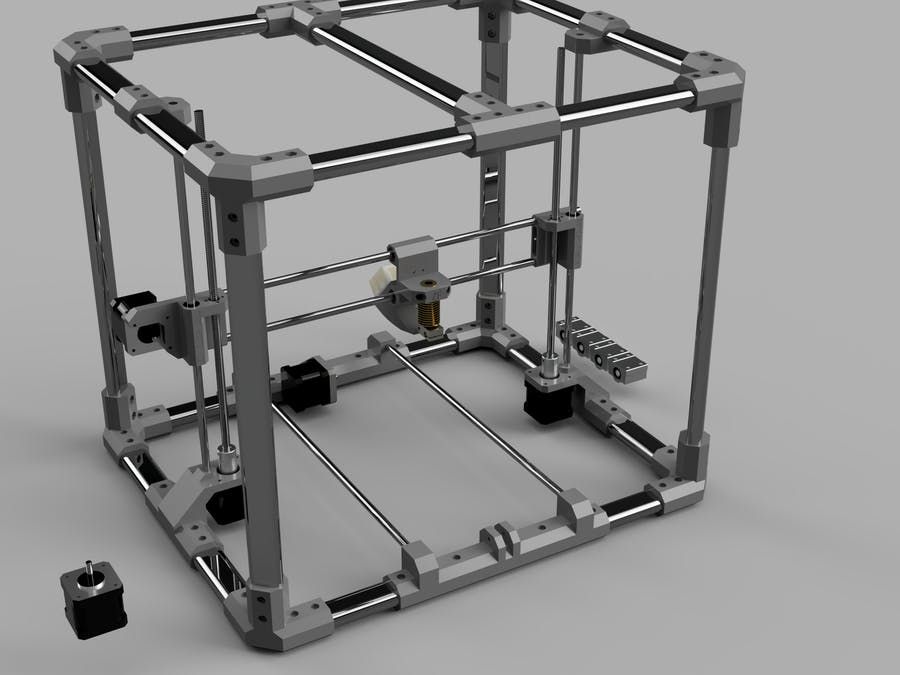 Such "snot" appears when the extruder is idle. To avoid this, the retract function is used - the retraction of the filament during idle movement. Correct setting of the retract level requires consideration of extruder speed, extruder temperature and filament properties.
This test model is used to quickly check the correct setting of the 3D printer. If the strings between the vertical pyramids do not form, then the settings are correct. If horizontal plastic filaments appear, then some of the 3D printing parameters should be changed.
Download model on Thingiverse
8. PolyPearl Tower (Pearl Tower)

The design features of the model allow you to check the quality of jumpers, bends, protrusions, fix the appearance of "snot" and establish the strength of the model as a whole.